Time For Change
The new Civic Type R is a stark reminder of how times are changing. Forced induction on a Honda motor might be considered sacrilegious by the purest of purists, but as fans of BMW M cars have come to understand, progress is called progress for a reason.
Honda could still make a highly-strung four-cylinder engine that's able to rev to the stratosphere and return decent – albeit peaky – power, but it wants to compete in today's lucrative hot hatch segment where 300hp-plus and forced induction is the norm.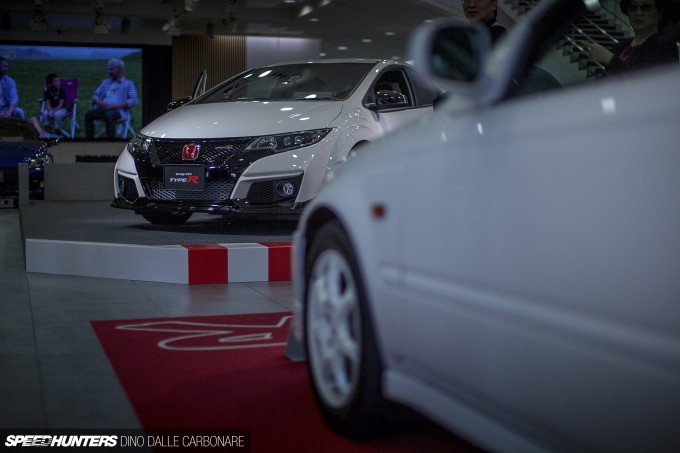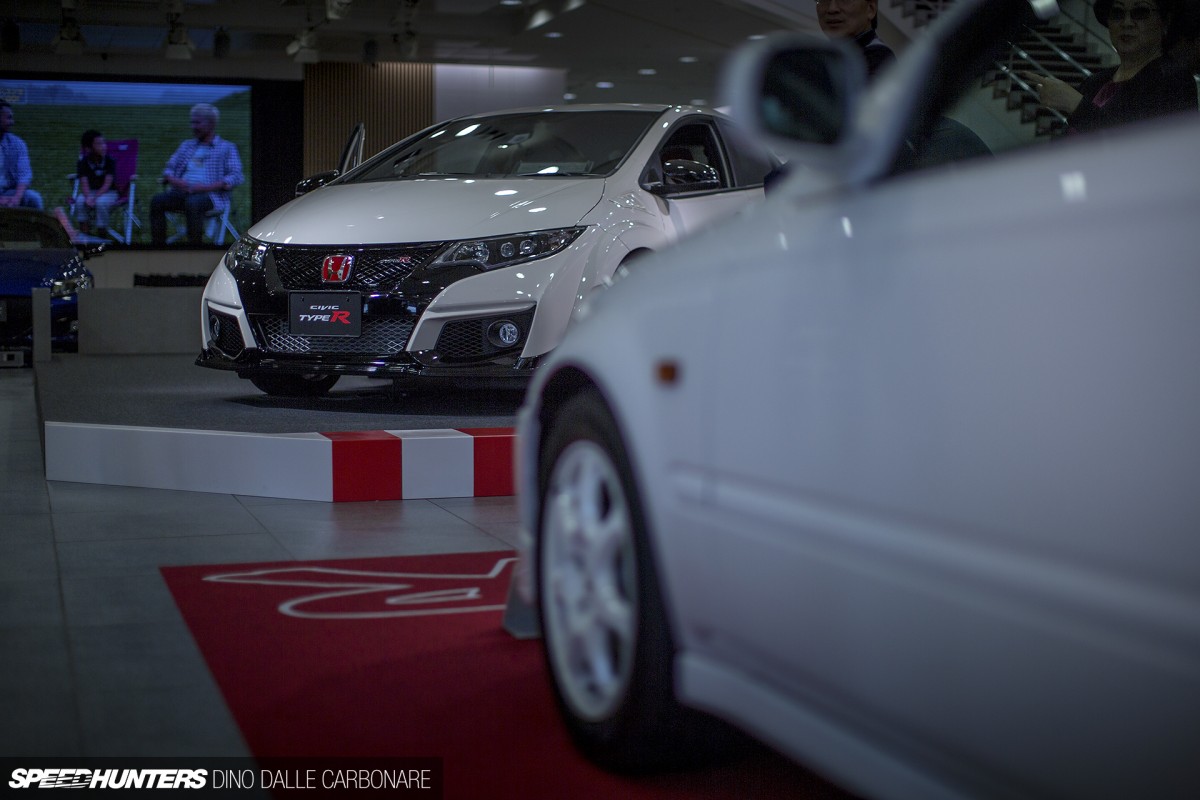 So Honda did what it had to do with the new Civic Type R and embraced turbo technology in the same way it has in many of its other cars in Japan. A factory-built turbocharged Civic Type R is as interesting as it sounds, and this is probably the most exciting car to come out of Japan in the past few years, as it's attempting to stay true to a very respected lineage of red-blooded performance models that have come before it. I'm sure I'll get to sample this new Civic soon enough, but for now I wanted to at least share it with you in a bit more detail…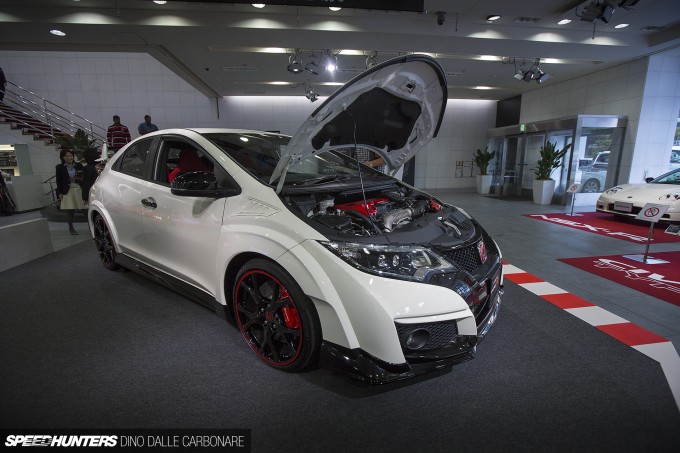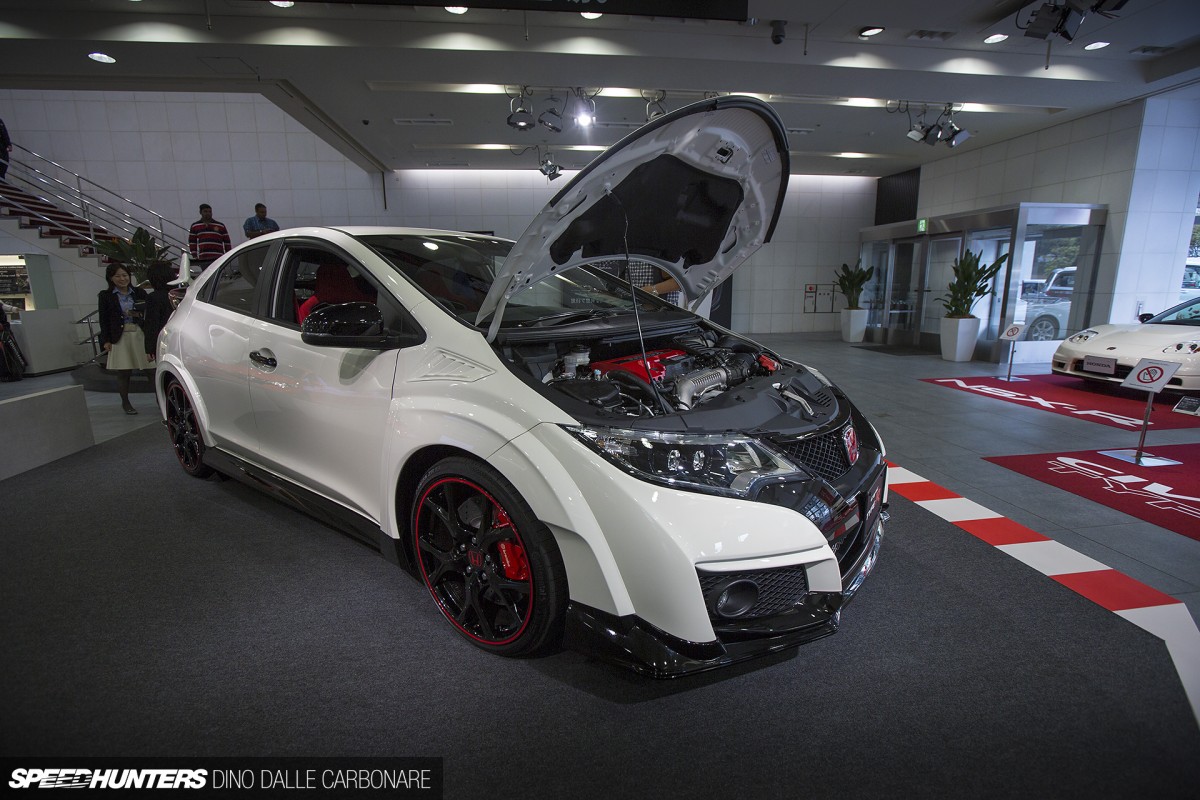 A few days after the Tokyo Motor Show I was passing by the Honda HQ in central Tokyo when I noticed there was a rather mouthwatering display to showcase the newest arrival to the Type R family. I saw this as a much better opportunity to shoot the car, than the crowded access everyone had at the show.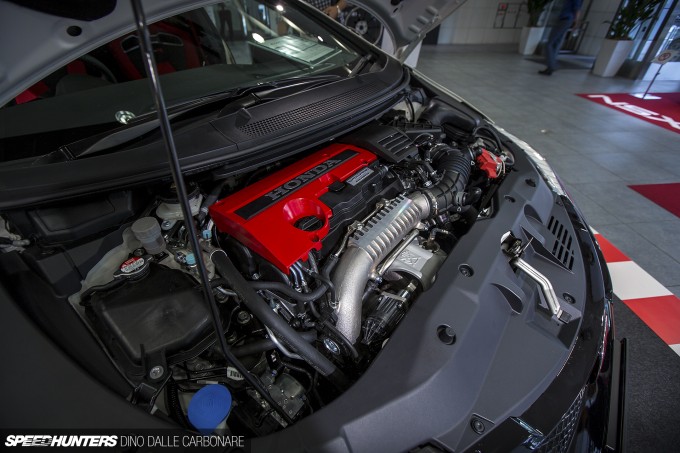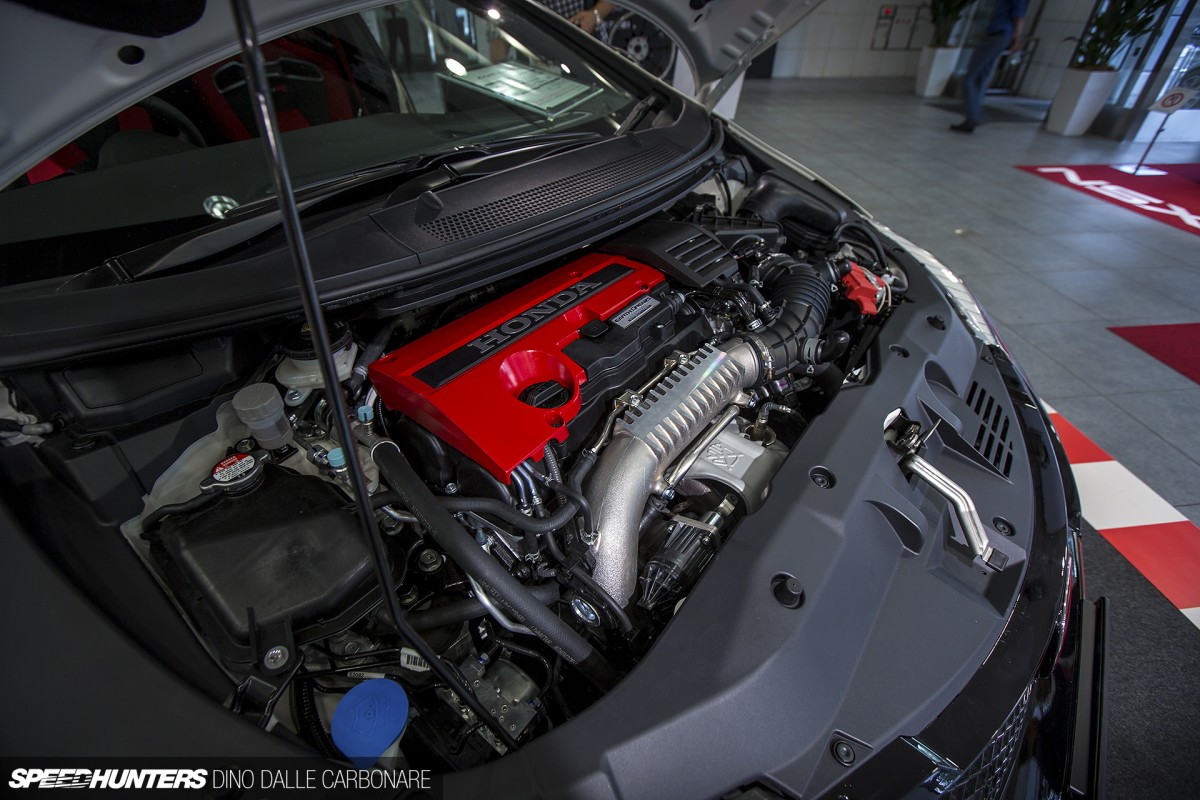 It was great, as people who stopped by the display area could sit in the car and really examine it properly. That included being able to look under the Civic's bonnet and check out the 2.0-liter VTEC turbo – the K20C – that powers its front wheels through a short-throw 6-speed manual transmission.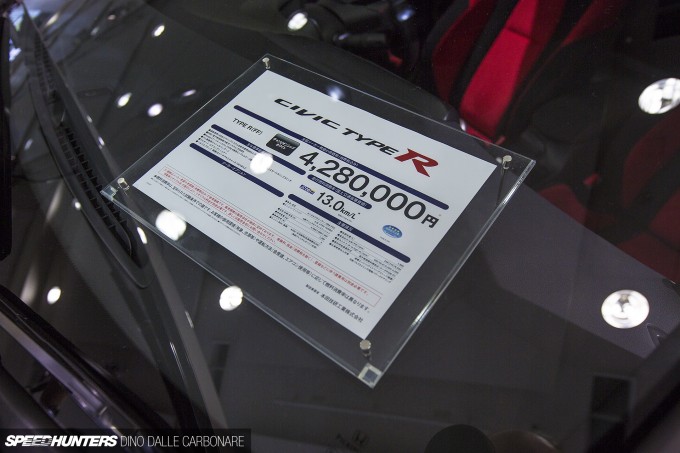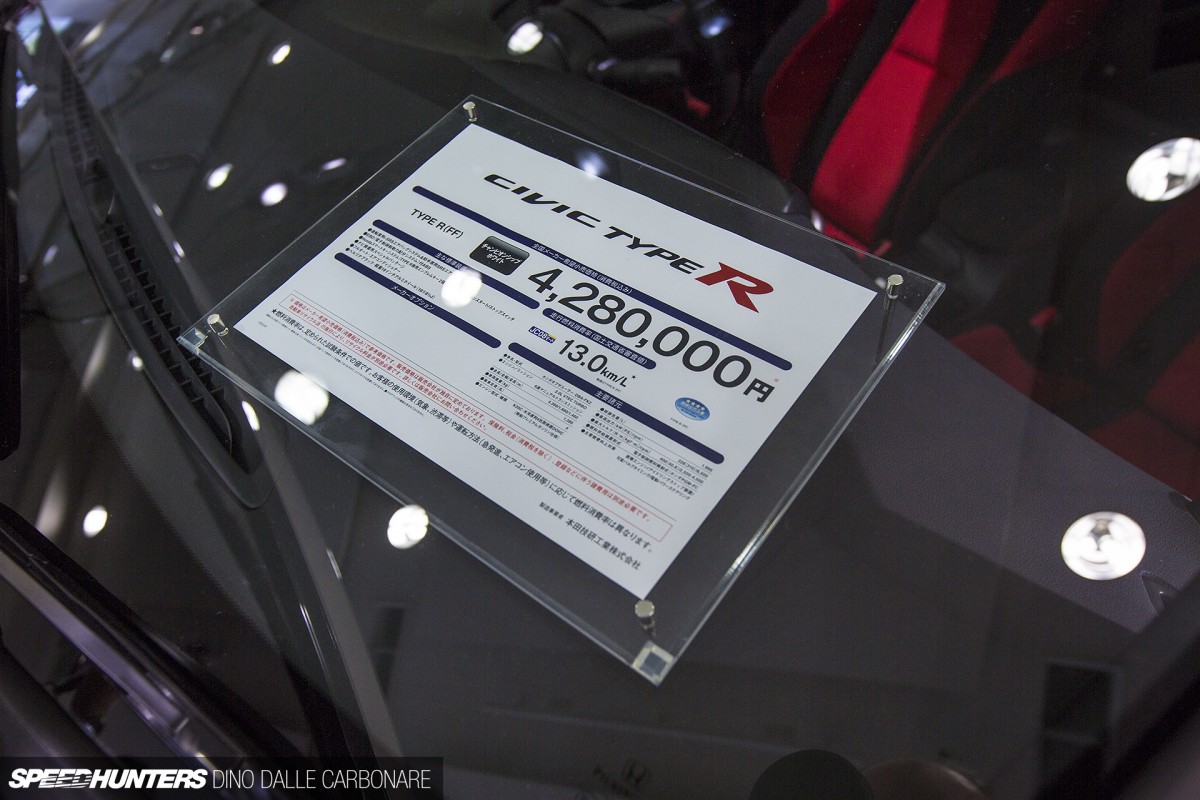 Since Honda has actually killed off the Civic in Japan, the Japanese market is only getting 450 of these cars – all imported from Europe where it was developed and is being assembled. It's a curious way to do things, but since there is no more JDM Civic, it's the only way to give the Type R to the Japanese public. Honda has done this before, and both the EP3 and later FN2 Civic Type R variants sold in Japan came from the UK. The only exception to the rule in recent times has been the JDM-only FD2 Civic Type R 4-door sedan which was discontinued a few years ago. The price for the new FK2 Civic Type R – just under US$35,000.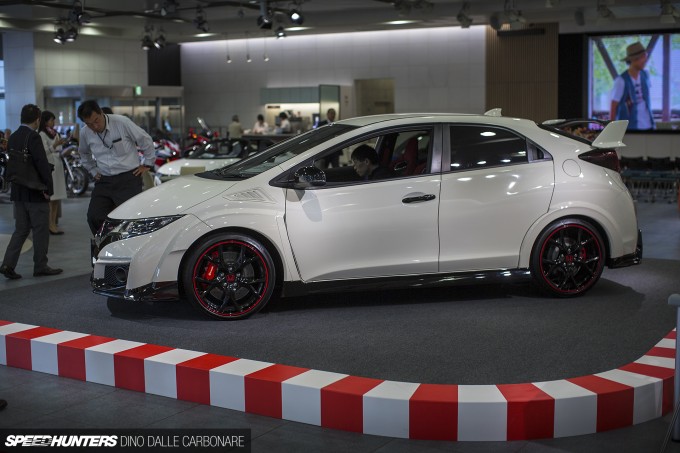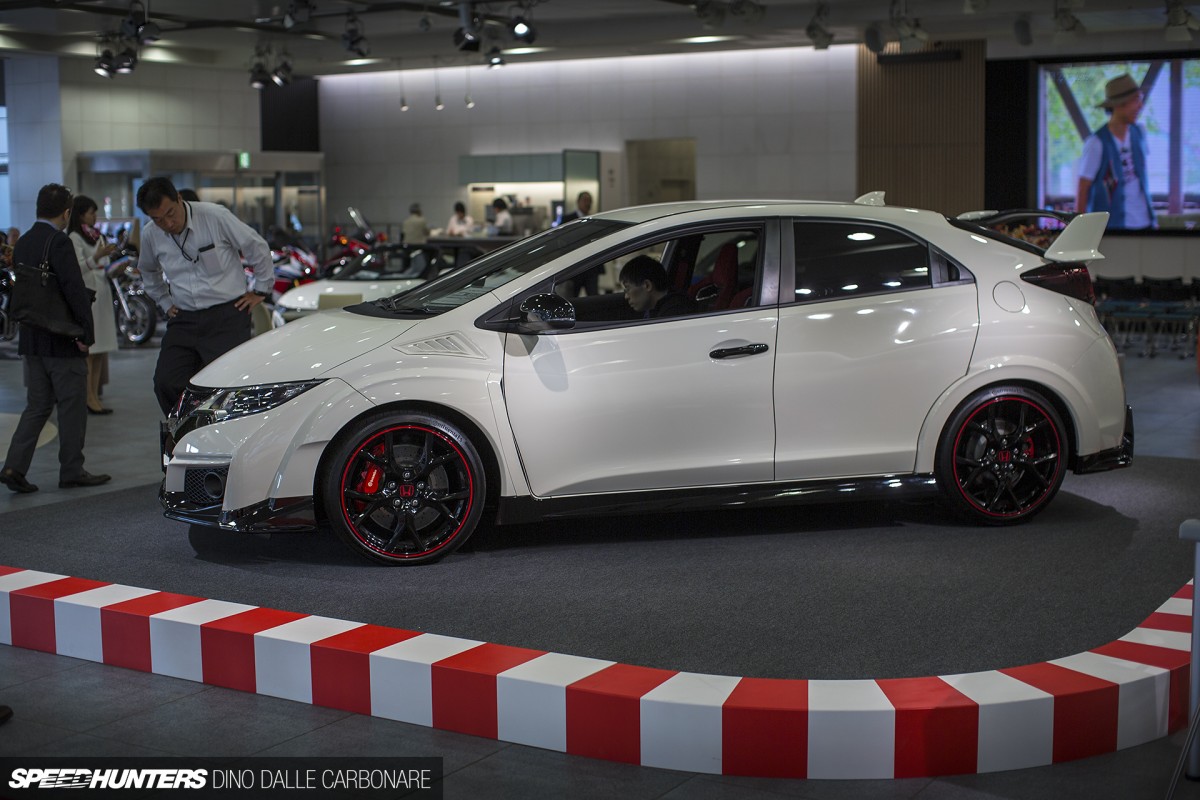 There's absolutely no chance the 450 cars destined for Japan will satisfy local demand, as this is set to be one of most exciting sports cars Honda has made in a while, bar the prohibitively expensive US$150,000-plus NSX.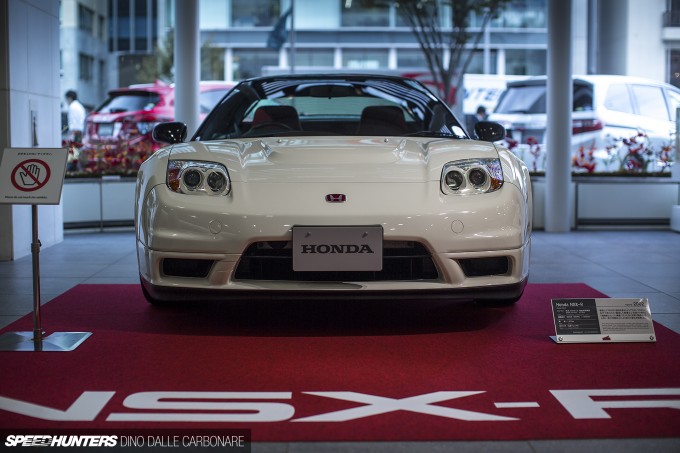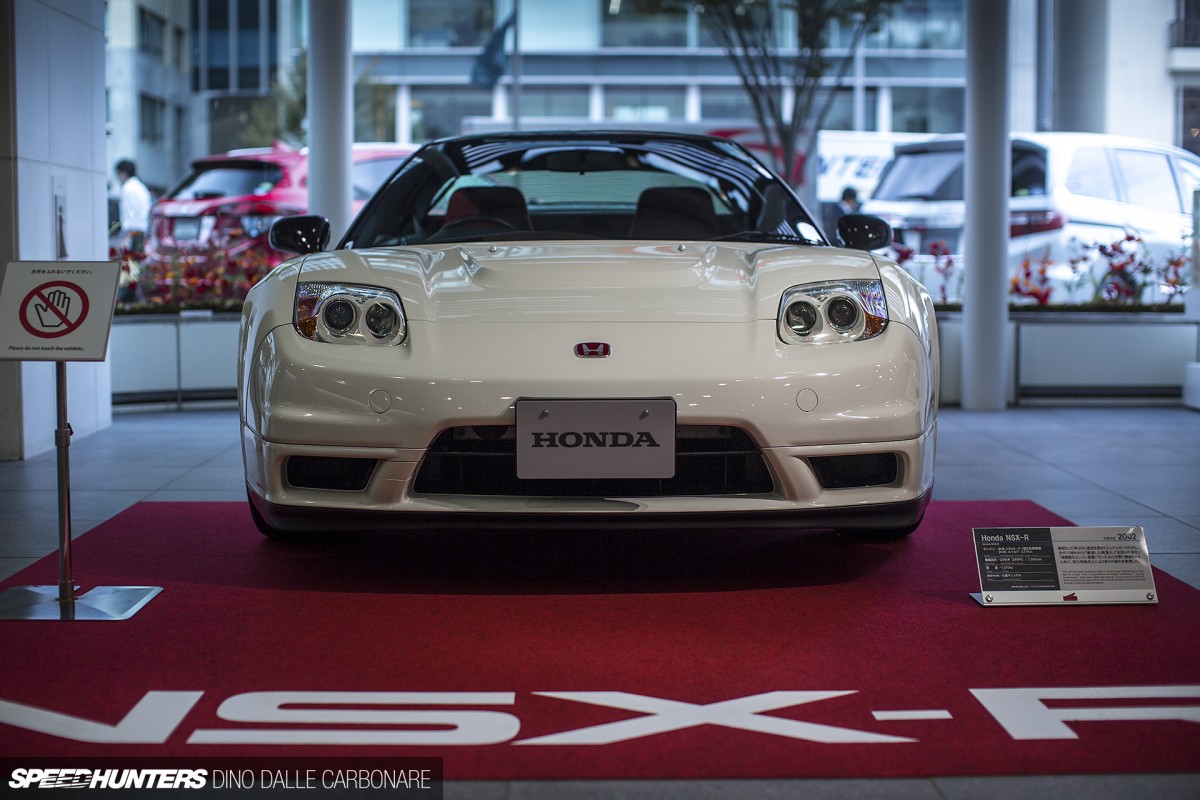 To promote the new high performance Civic, Honda brought out three important cars from the Type R's history books, which now spans more than 20 years. Of course, the NSX-R started it all back in 1992.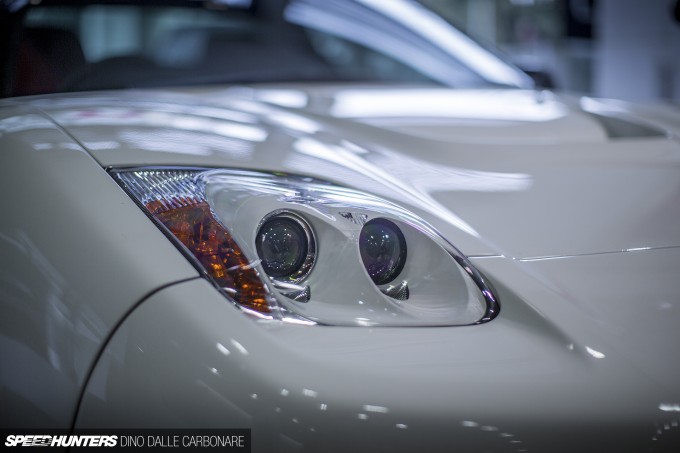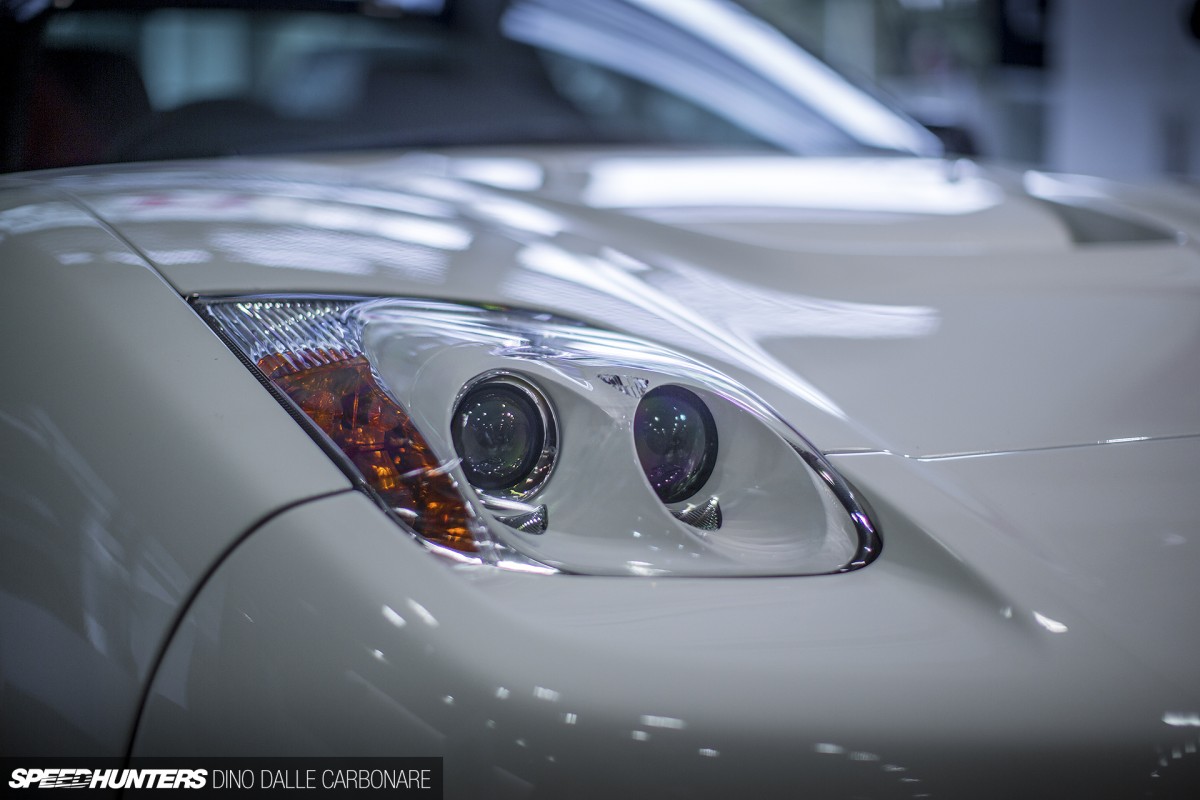 The car on display was a 2002 NA2 NSX-R, which is easily recognised by fixed headlights, rather than the pop-up units of the earlier NA1.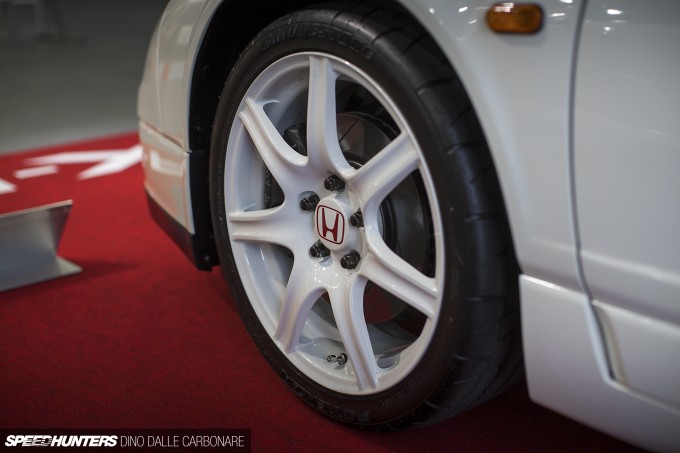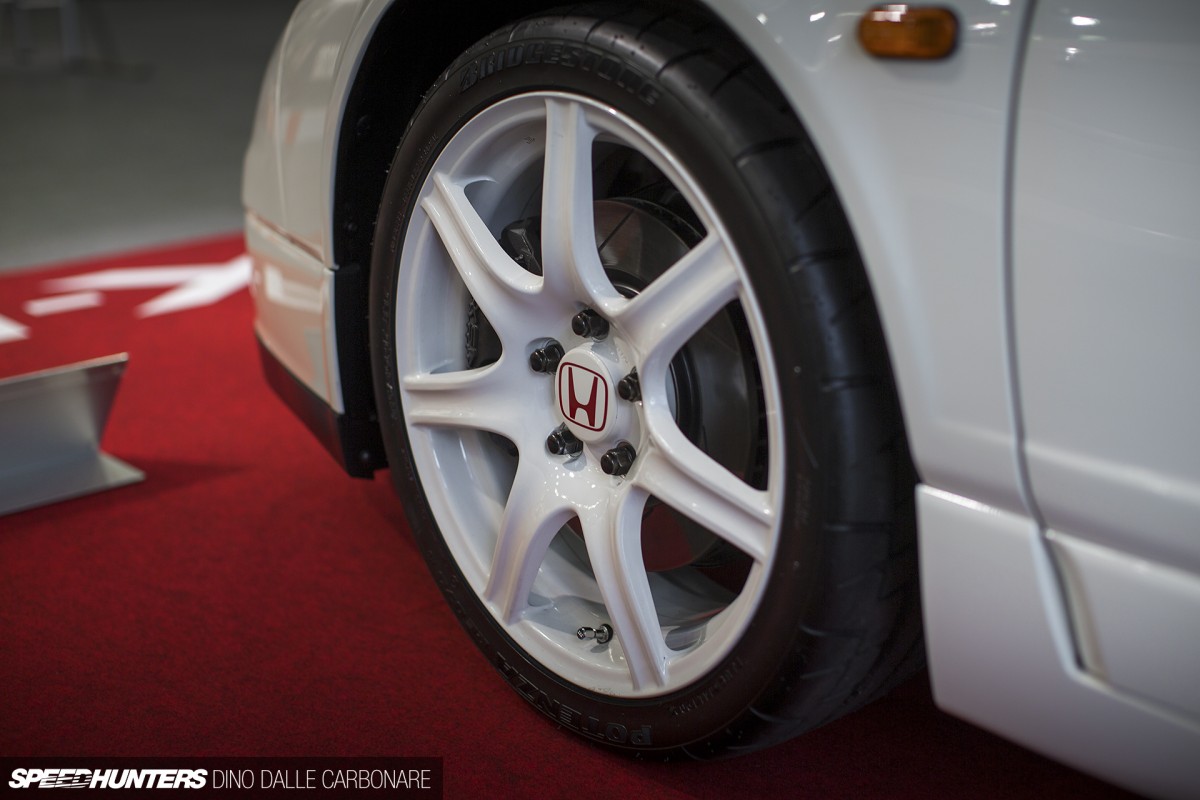 This particular NSX-R is usually on display at the Honda Collection Hall inside Twin Ring Motegi circuit in Tochigi-ken, and it remains in the exact condition it did when it came out of the factory 13 years ago, right down to its Bridgestone Potenza RE070 tyres!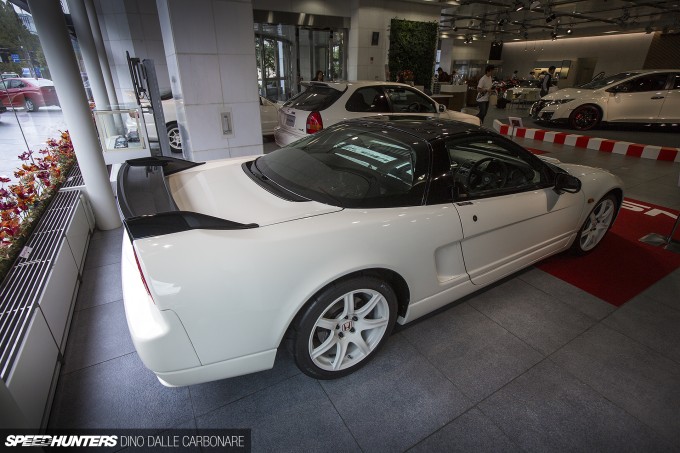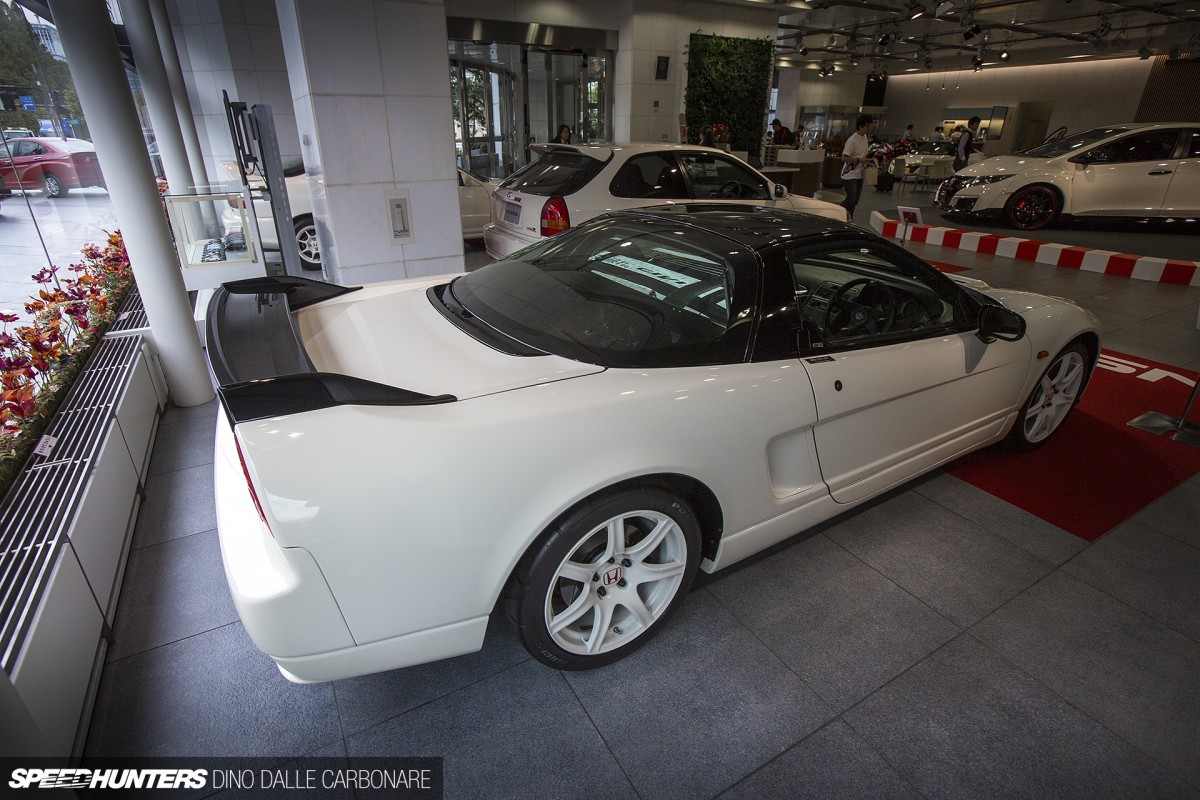 Looking at this car, I couldn't help but wonder if the Type R badge will also grace the new interpretation of the NSX that I had seen a few days prior at the Tokyo Motor Show. If it is going to, surely Honda will have to strip it down and give it a more track-focused identity.
The Beginning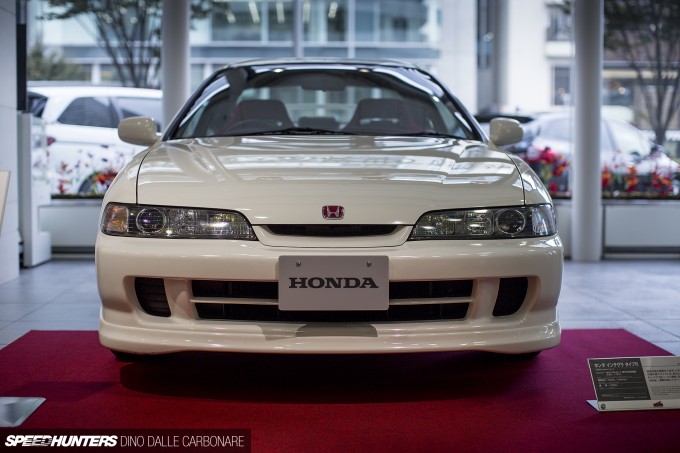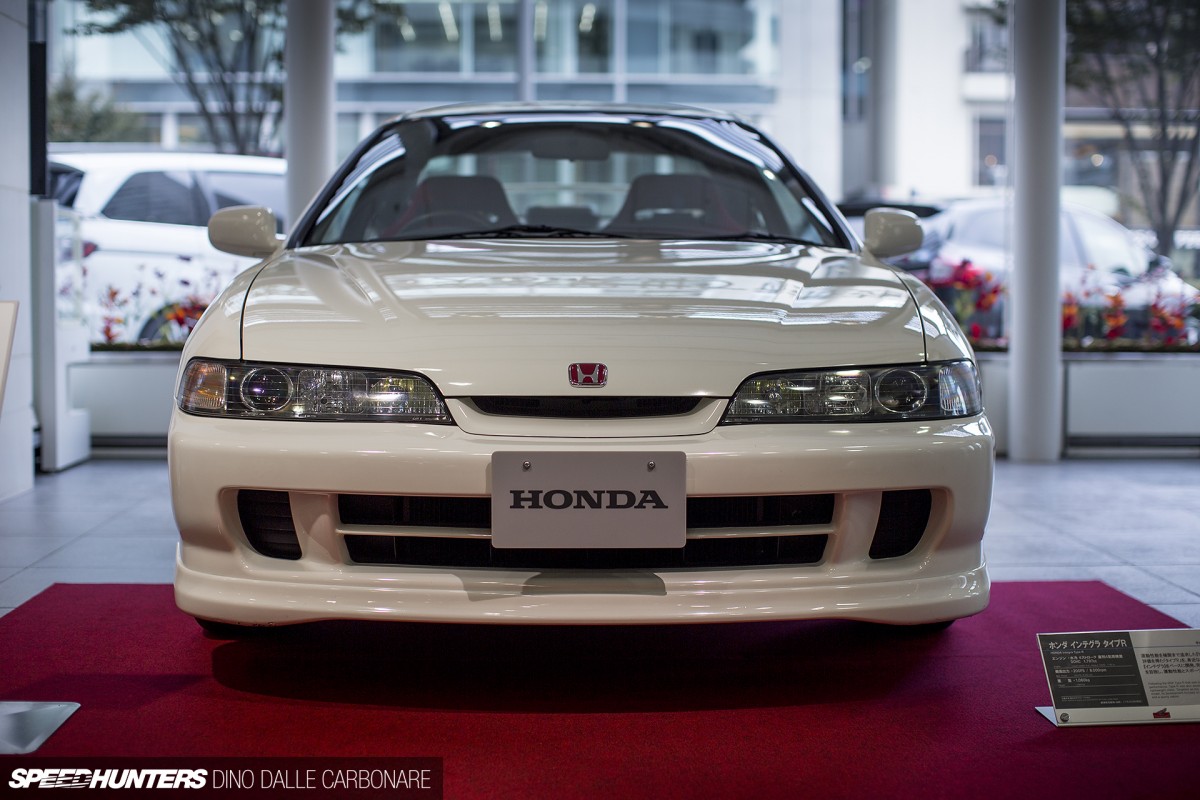 It was 1995 when Honda took the Integra and decided to create a more focused and thrilling version of it by shedding weight, stiffening the chassis, re-tuning the suspension and dropping in a high-revving 200PS version of the B18C. The DC2 Integra Type R was born, and with it came a legion of fans who enjoyed spanking 'faster' and far more expensive sports cars with their lightweight front-wheel drives.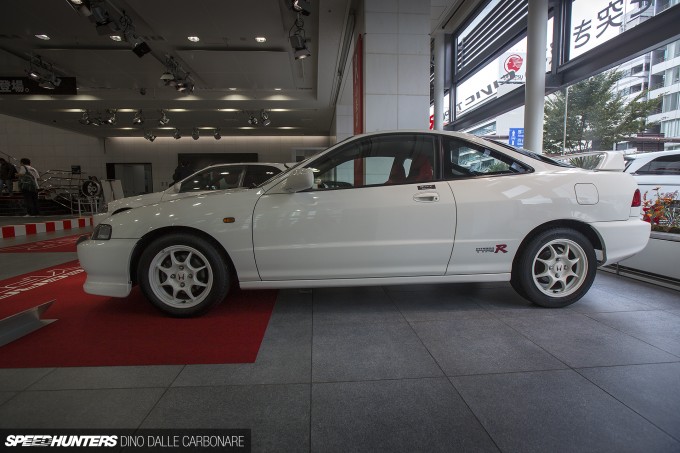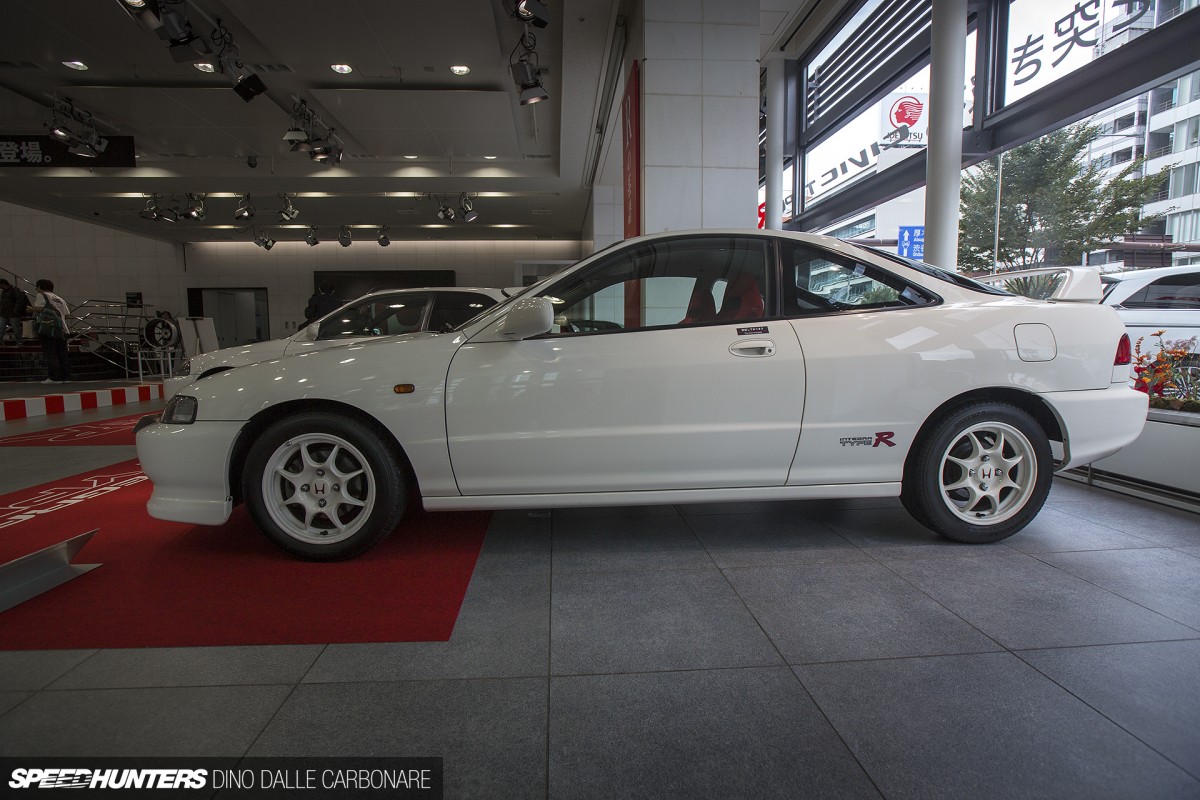 The whole Type R look began with the DC2; from no-frills Championship White exteriors…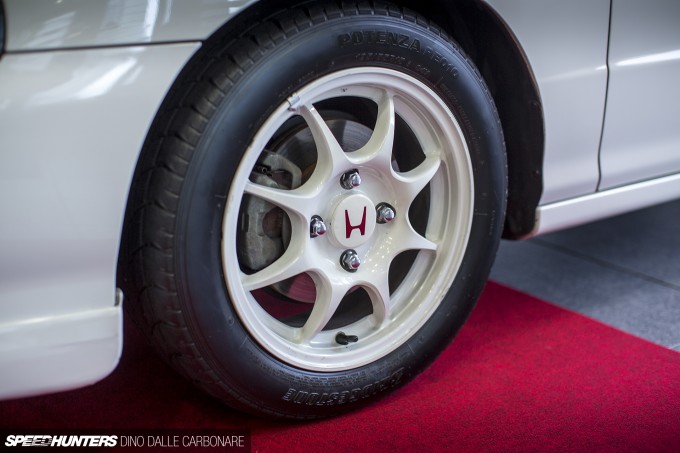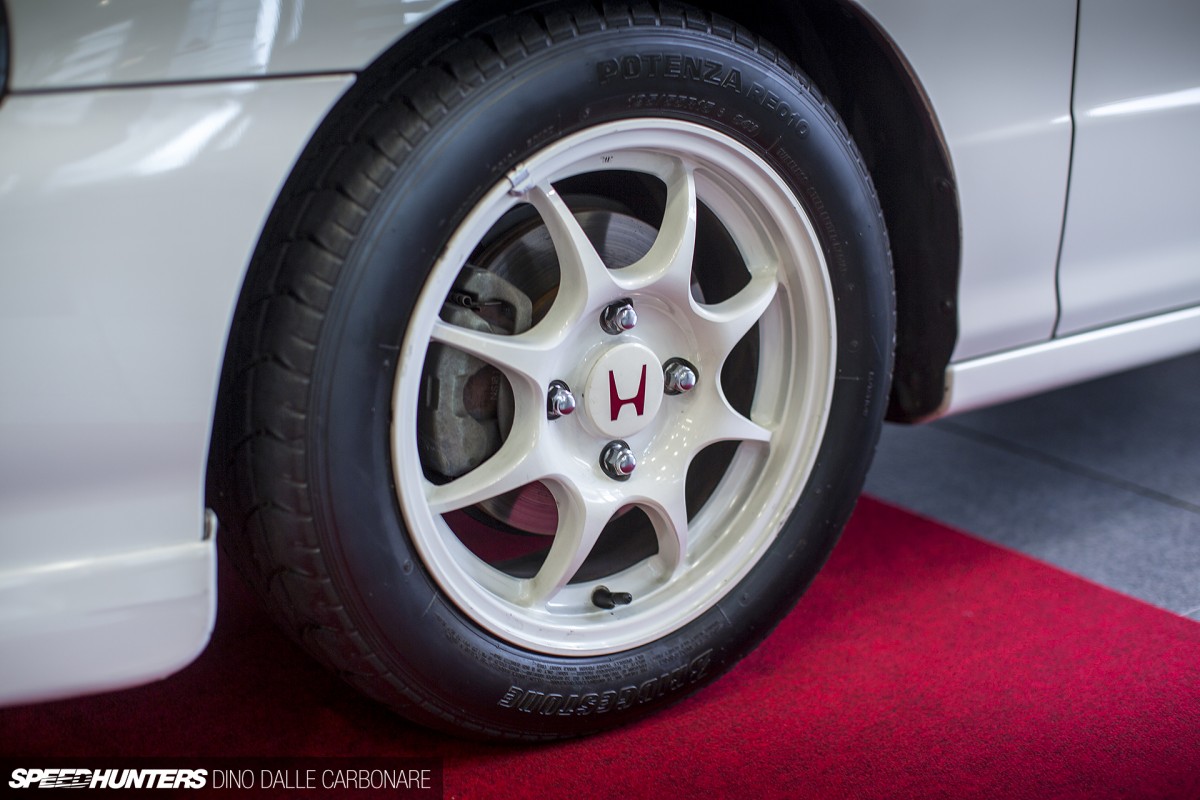 To color-matched wheels and a few simple aerodynamic additions.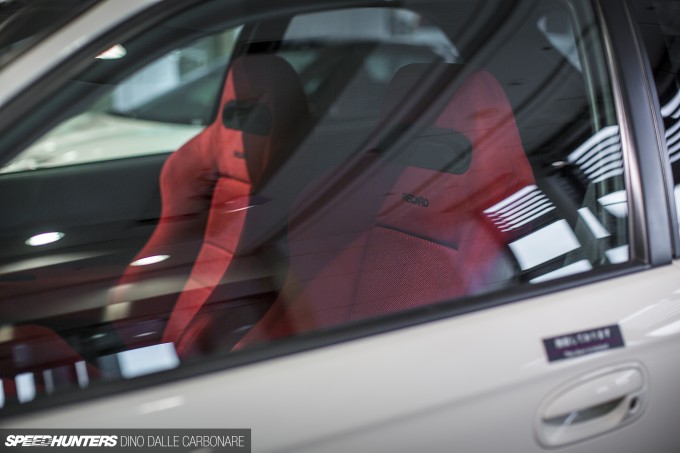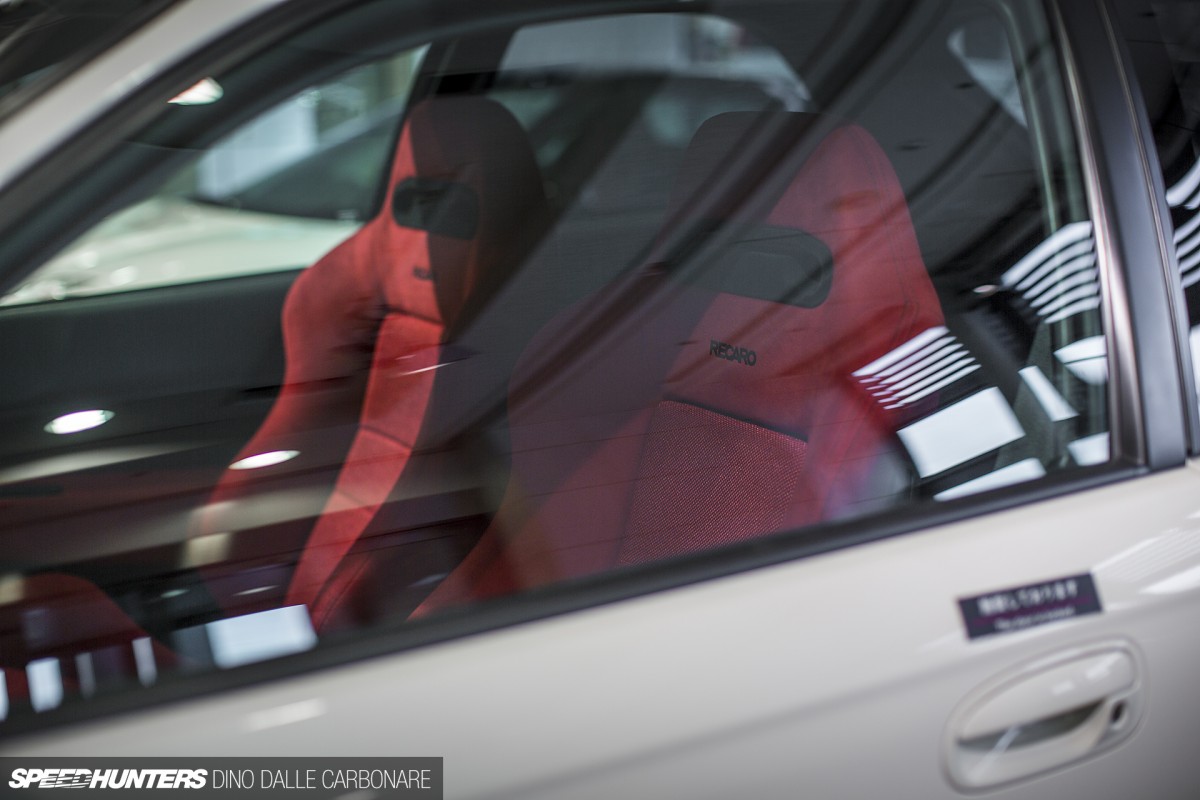 Red Recaro seats become synonymous with the Type R brand, as did the rest of the performance Integra's minimalistic interior.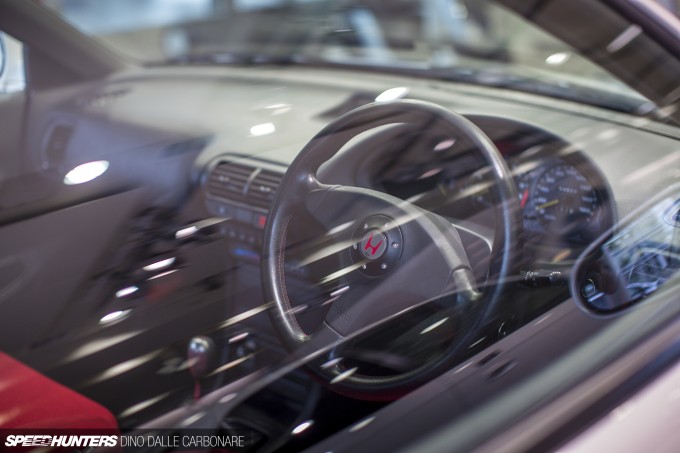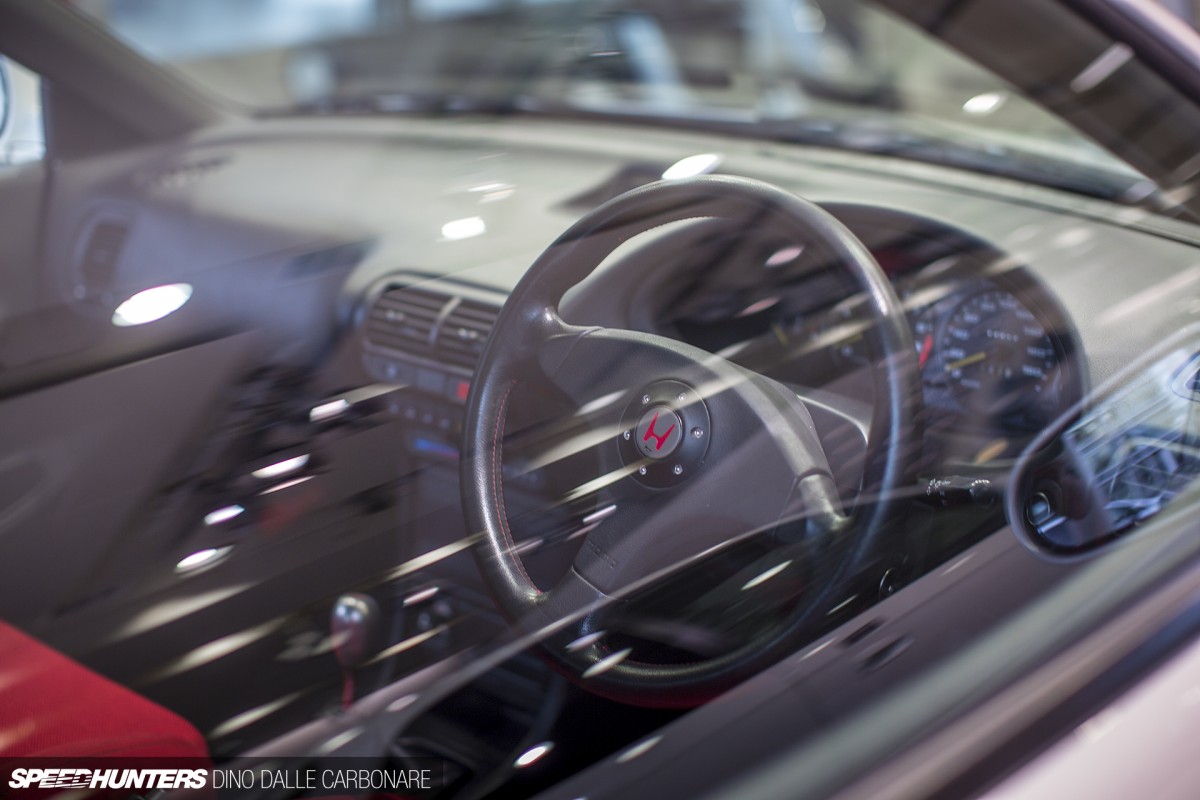 And to this day it's an interior that remains beautifully functional, just how you want it.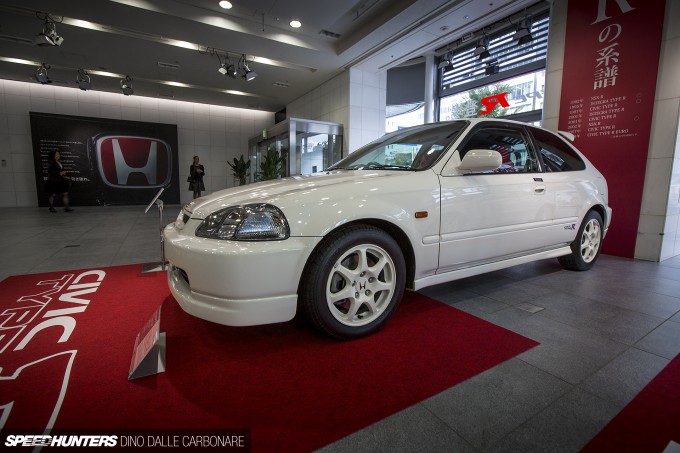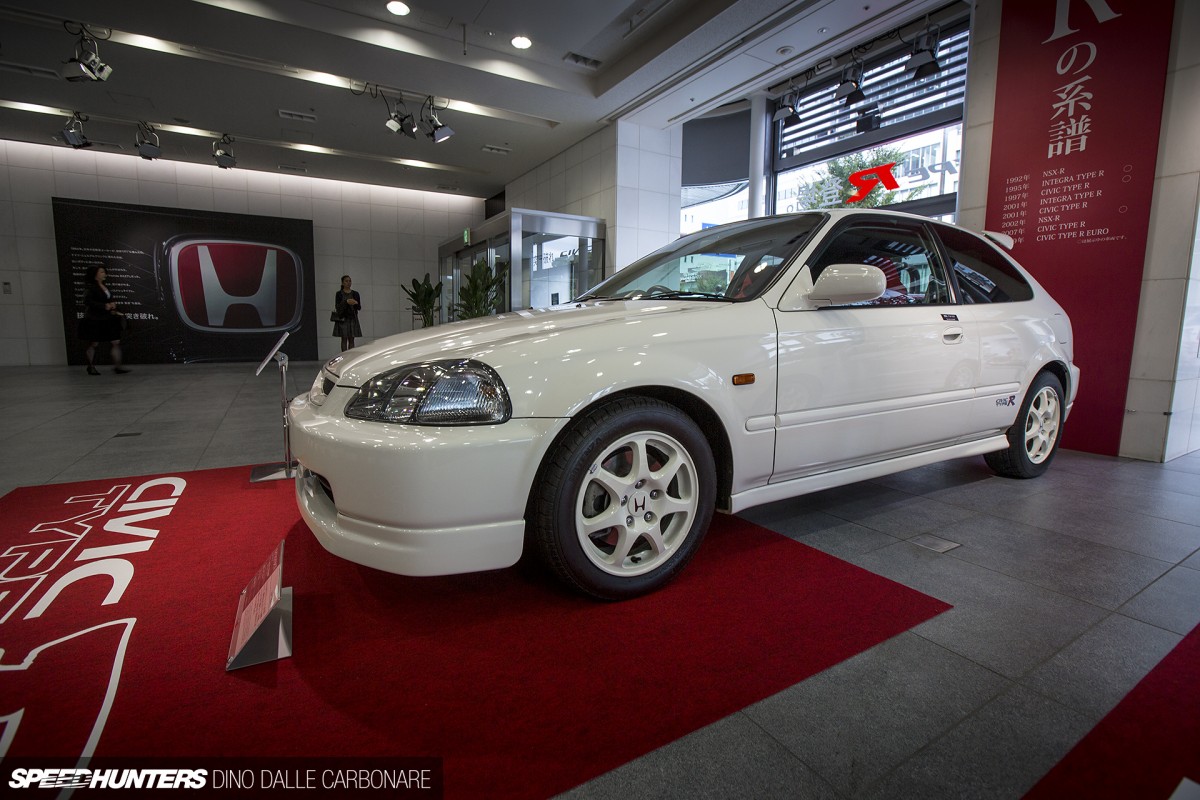 Two years later the Civic EK was given the Type R treatment too. In the same way the DC2 version was approached, it was stripped down and refined and then powered by a 185PS B16B.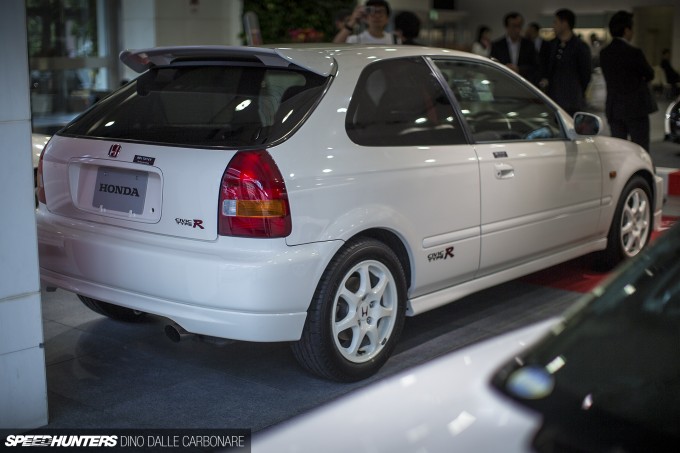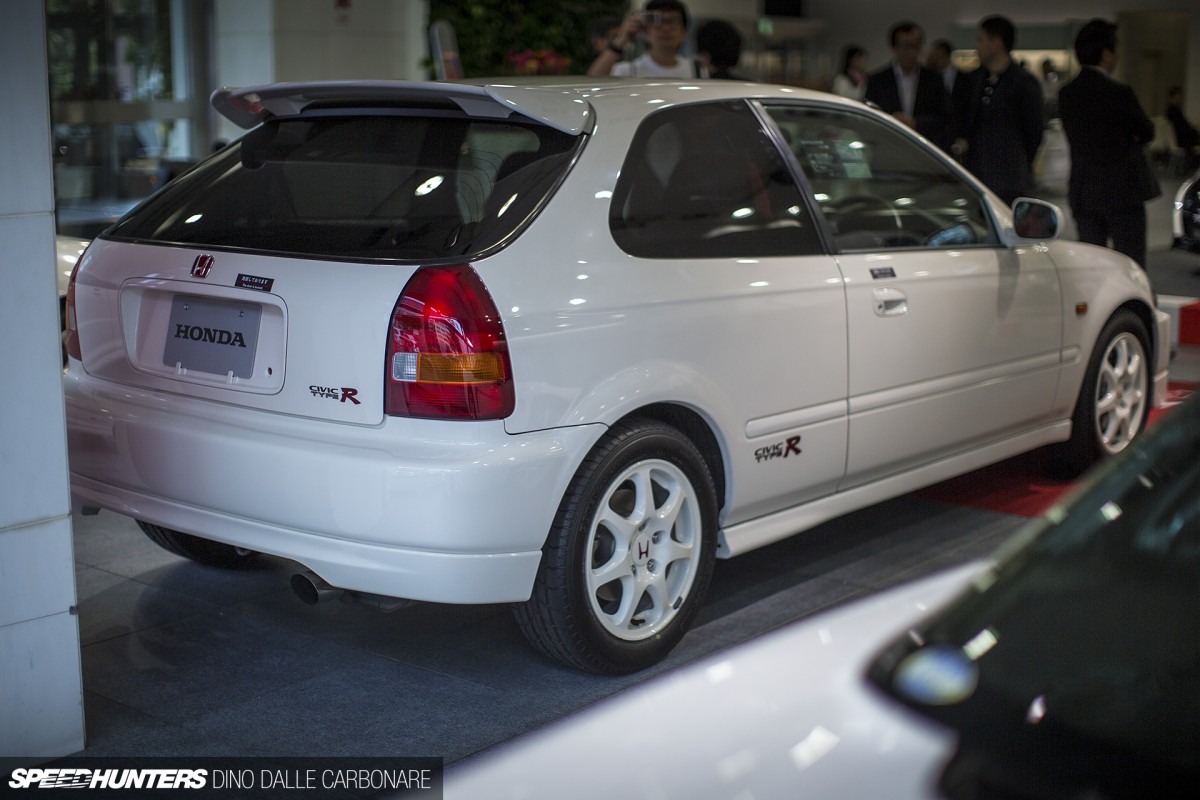 Until it was discontinued in 2000, the EK9 Type R remained a JDM-only car.
17 Years In The Making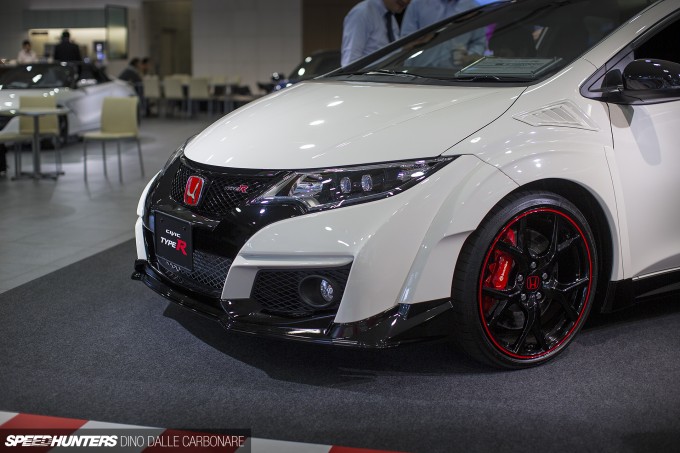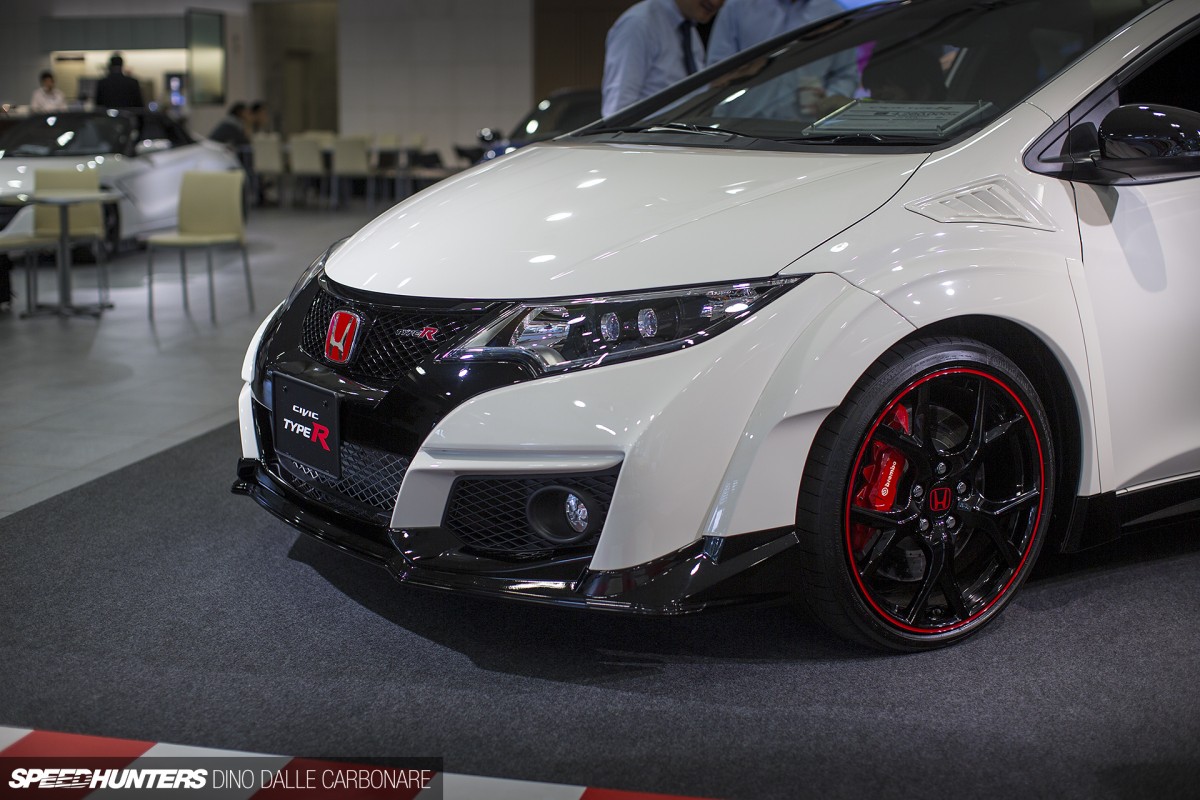 Fast forward 17 years; the new Civic Type R may have gotten a bit bigger and a little heavier, but it still stays true to the 'R' ethos.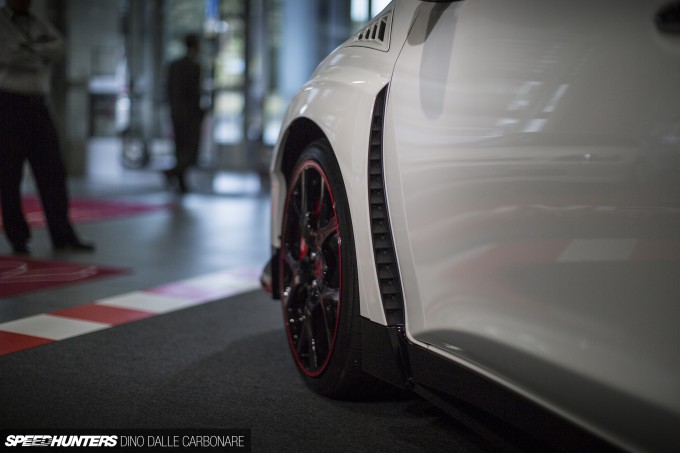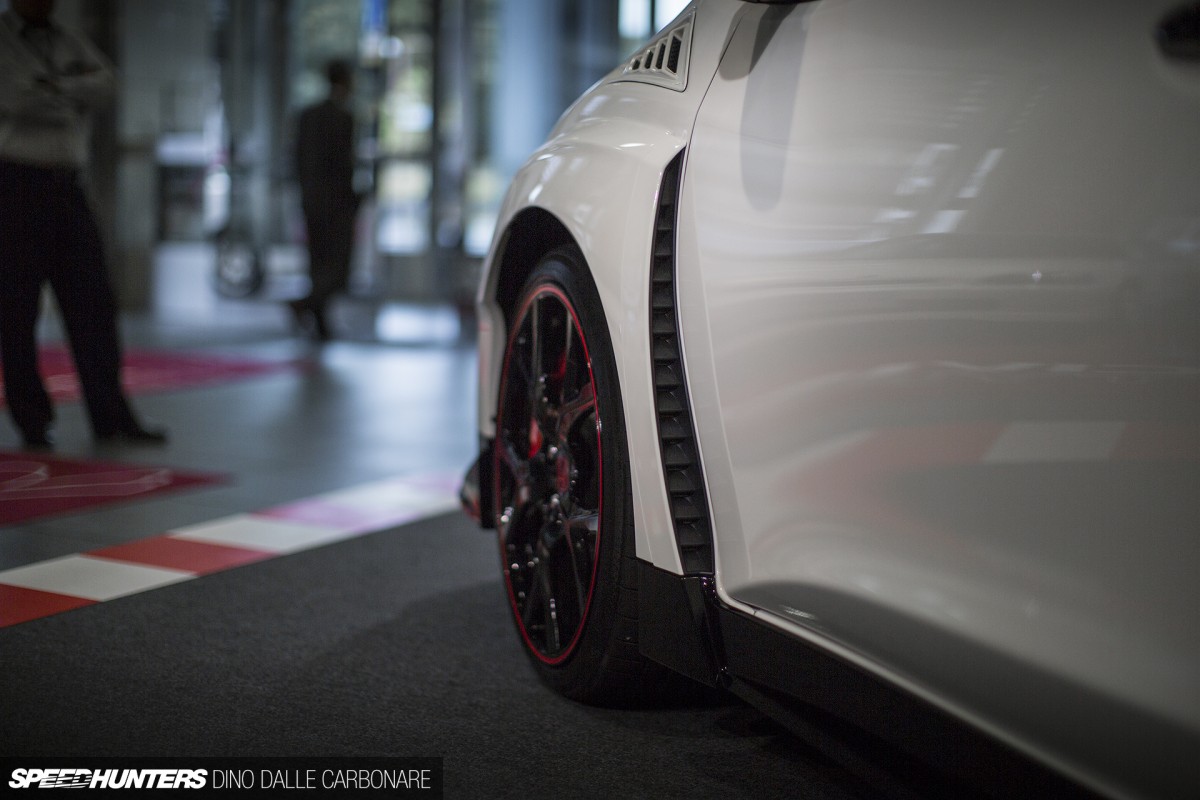 While the DC2 and EK9 were beautifully simple in appearance, there is a much heavier focus on looks with the new car; a wider pumped stance and plenty of vents and ducts adding visual aggression.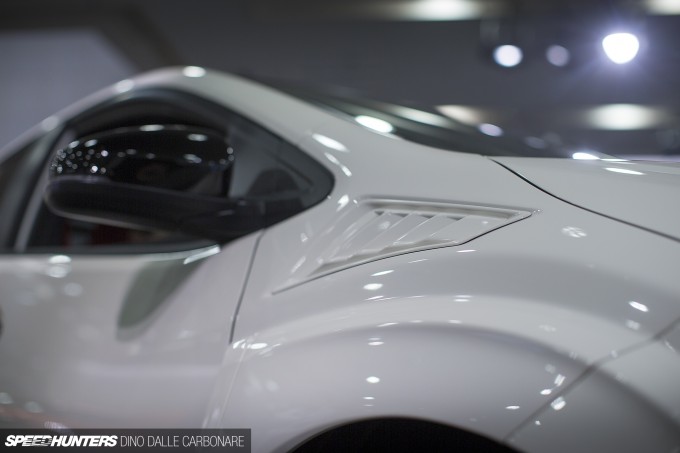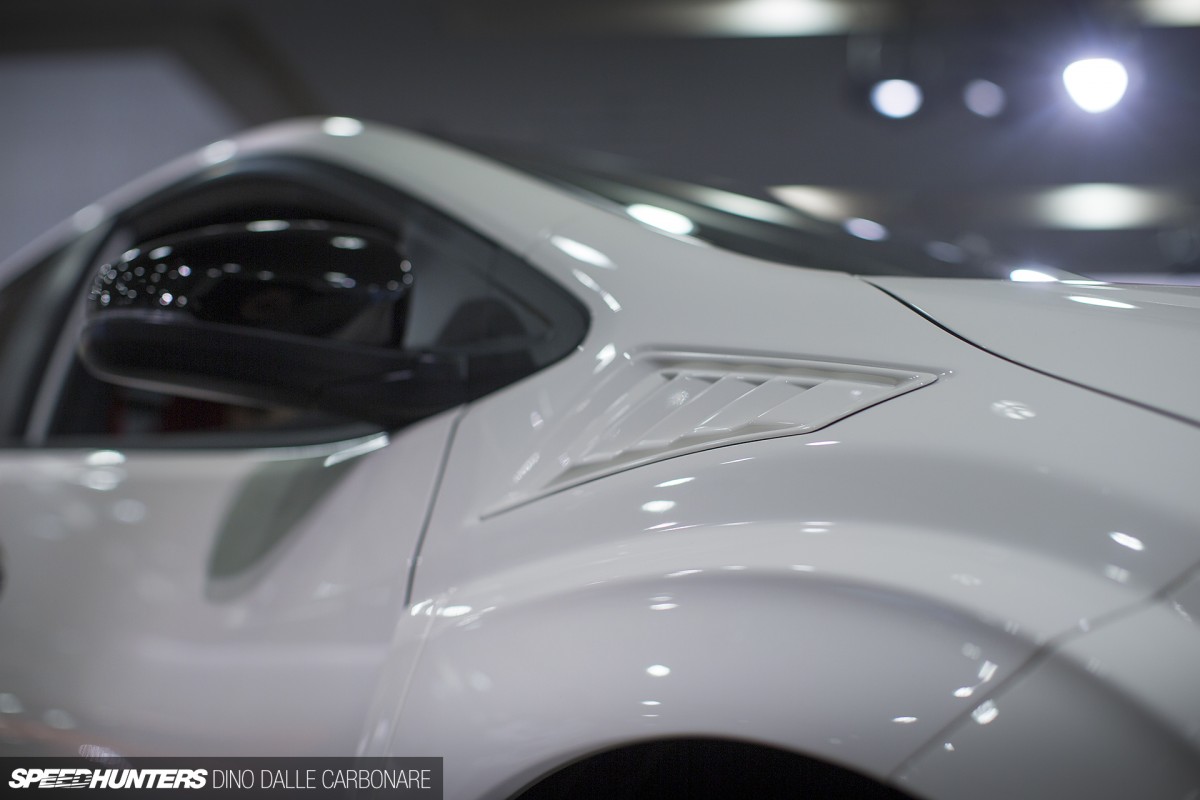 Some aero is functional, some is there for looks, but there's no doubting the fact that once you see one of these cars on the street, you will know what it's all about.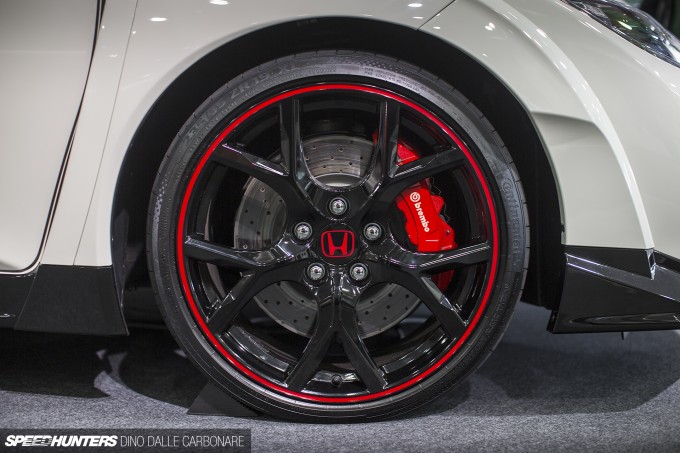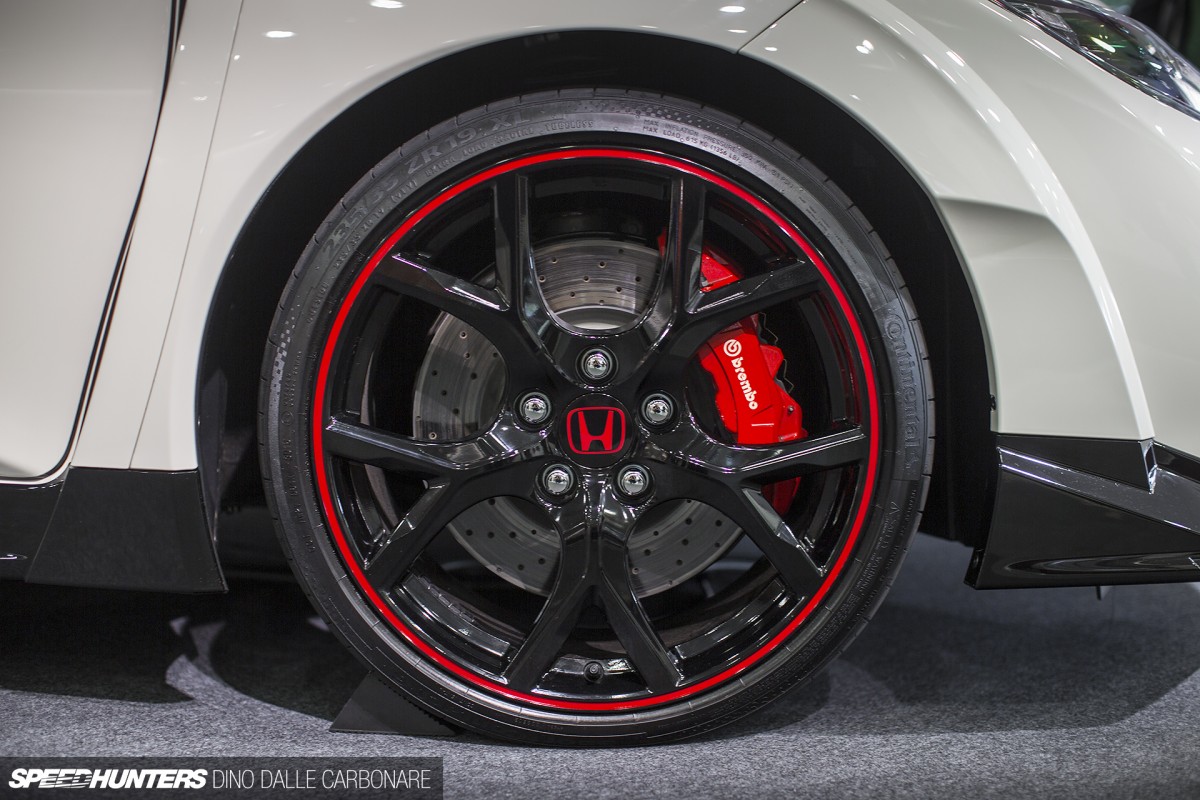 As is the trend these days, the FK2's wheels are massive – 19-inch to be exact. In an FF layout the front wheels have to do a lot of work, so it's impressive that engineers are able to achieve the levels of traction, lateral grip and ride quality with such a small sidewall. Braking is by Brembo, so you know that you can shave off speed as quickly as the turbo motor can pile it on.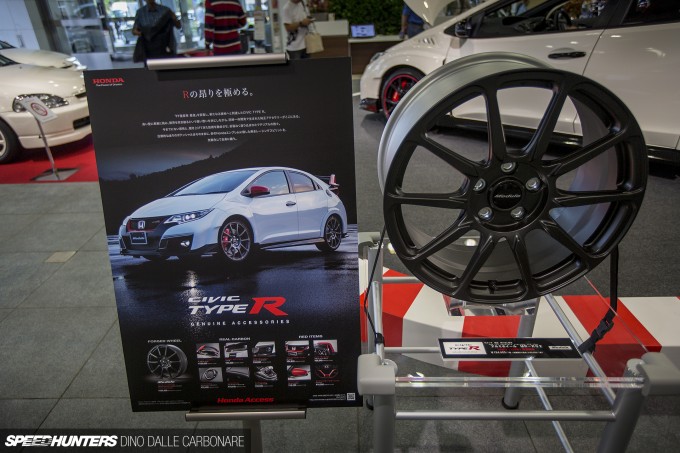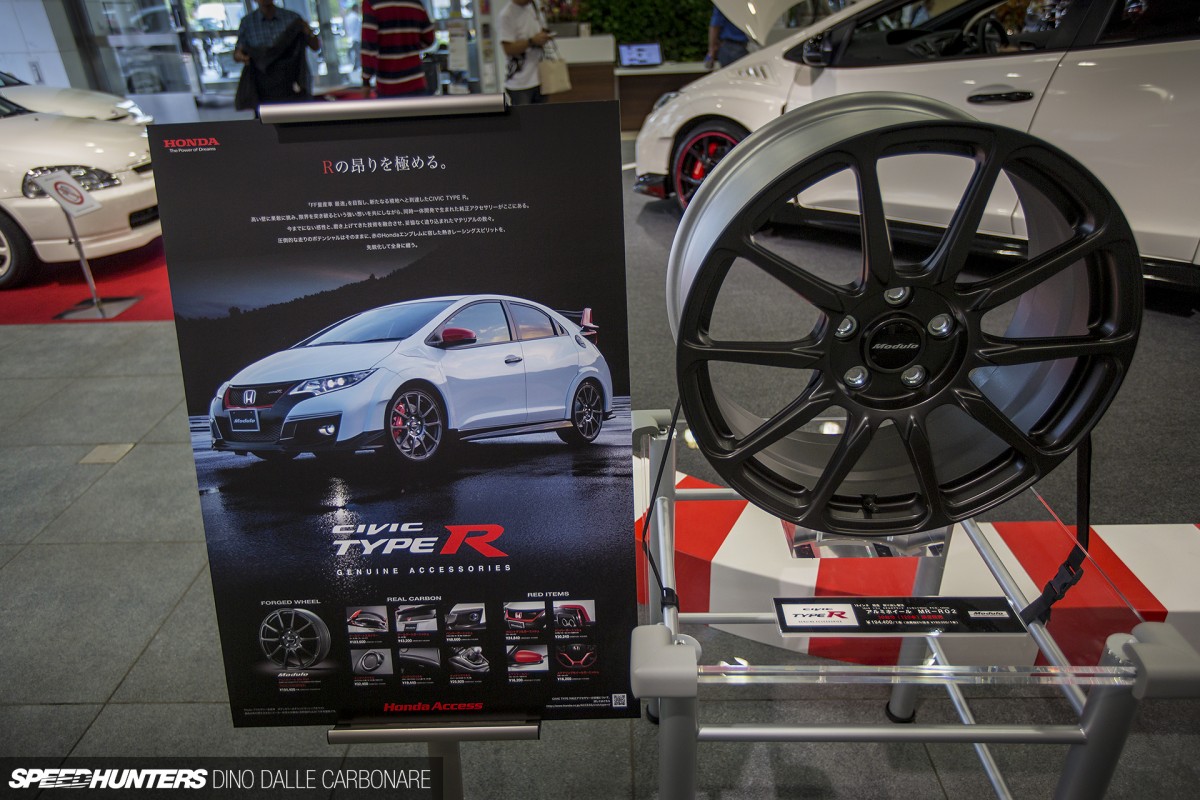 There are also some options available for the car through Honda Access, and next month Mugen will launch its version of the car which we will be seeing at the Tokyo Auto Salon in January.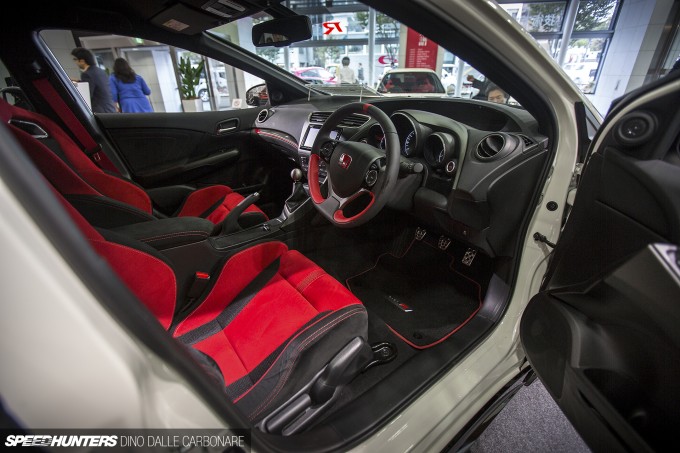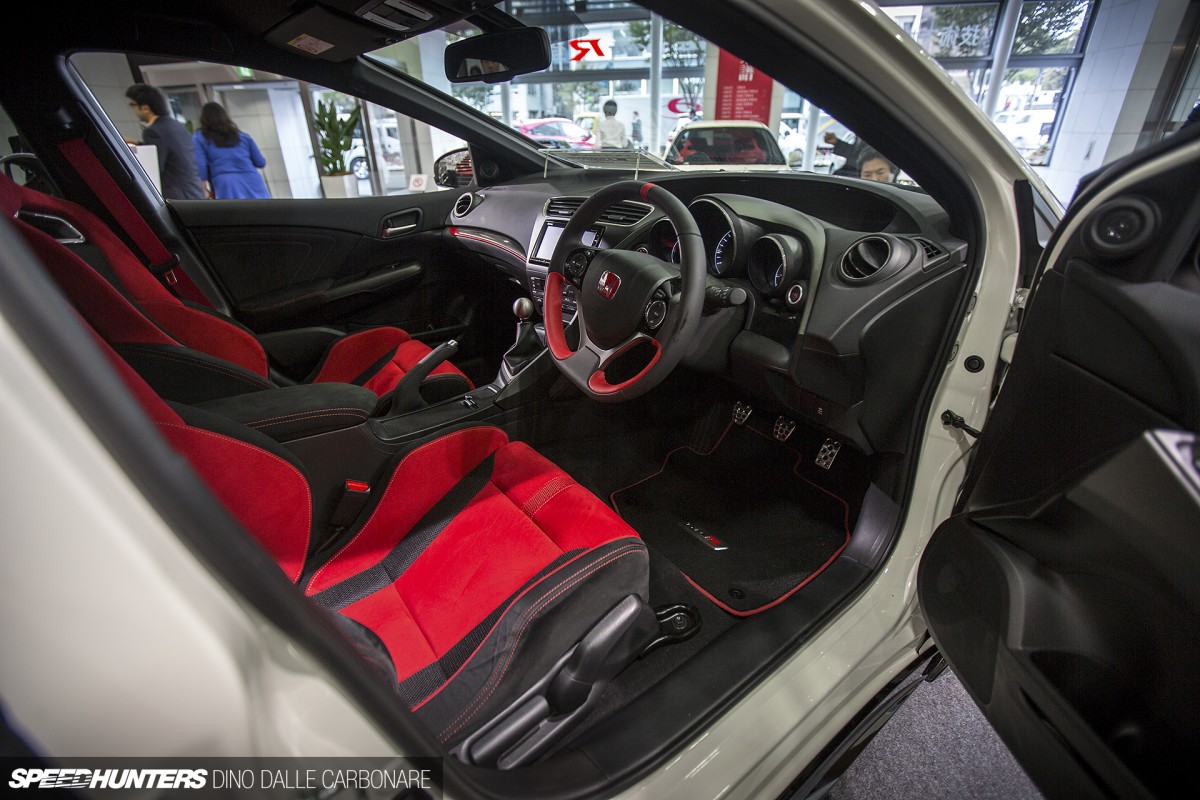 The cabin has all the right sort of touches, including the signature red supportive seats and plenty of similarly-colored accents around the place to give a sense of occasion to the passengers.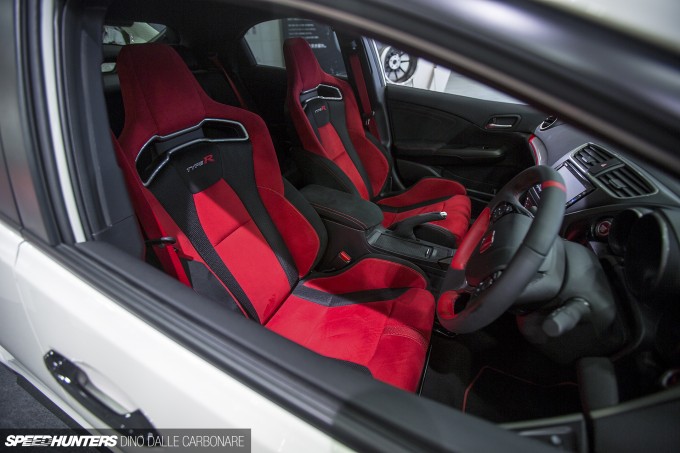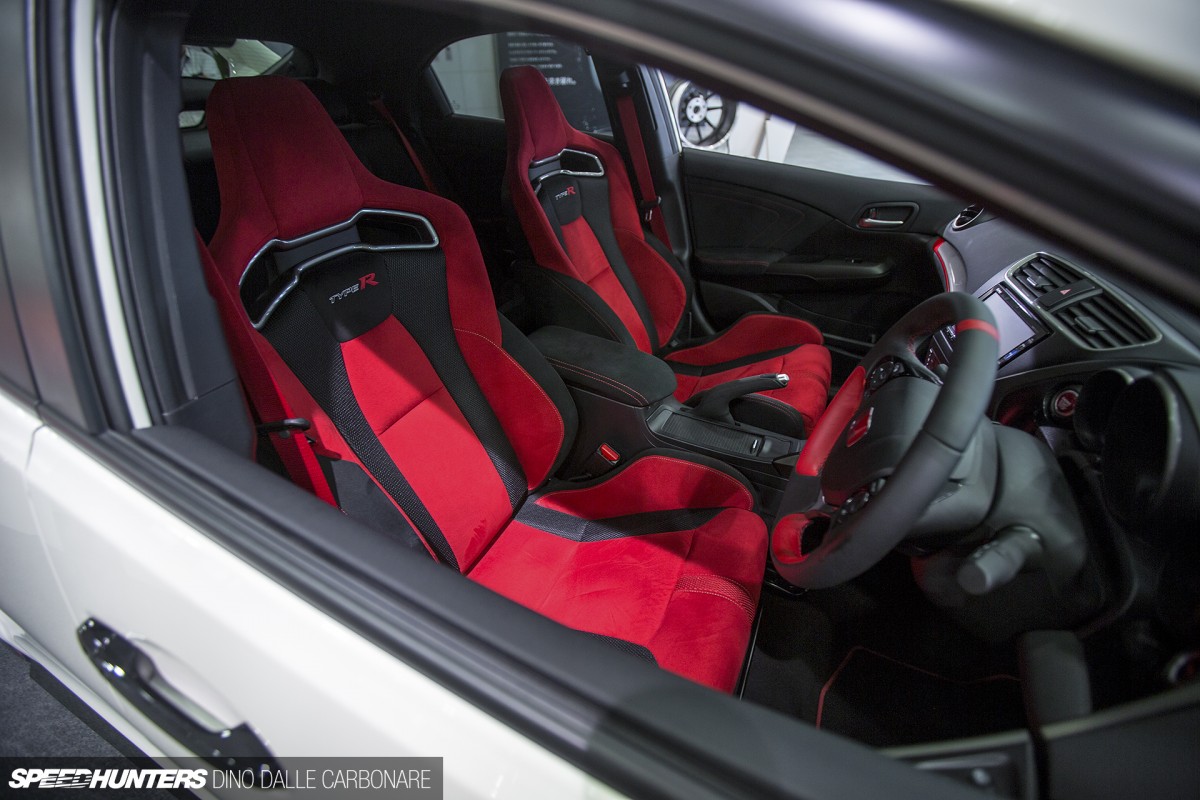 The seats on the 450 imported cars have slightly different springs and cushioning in the lower section of the seat and are a little shorter compared to the European market cars to cater more to Japanese body sizes.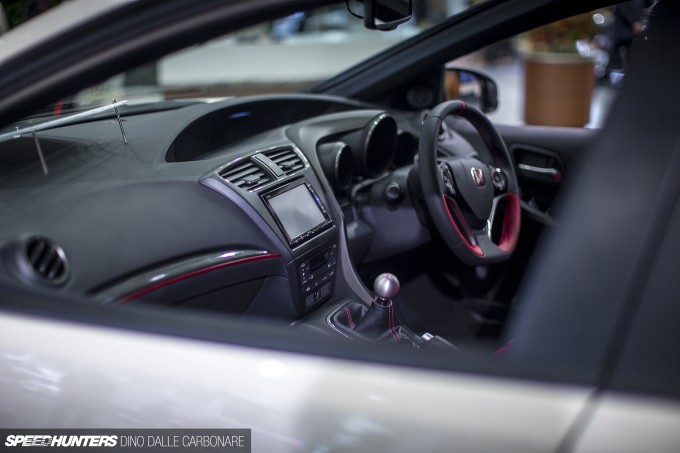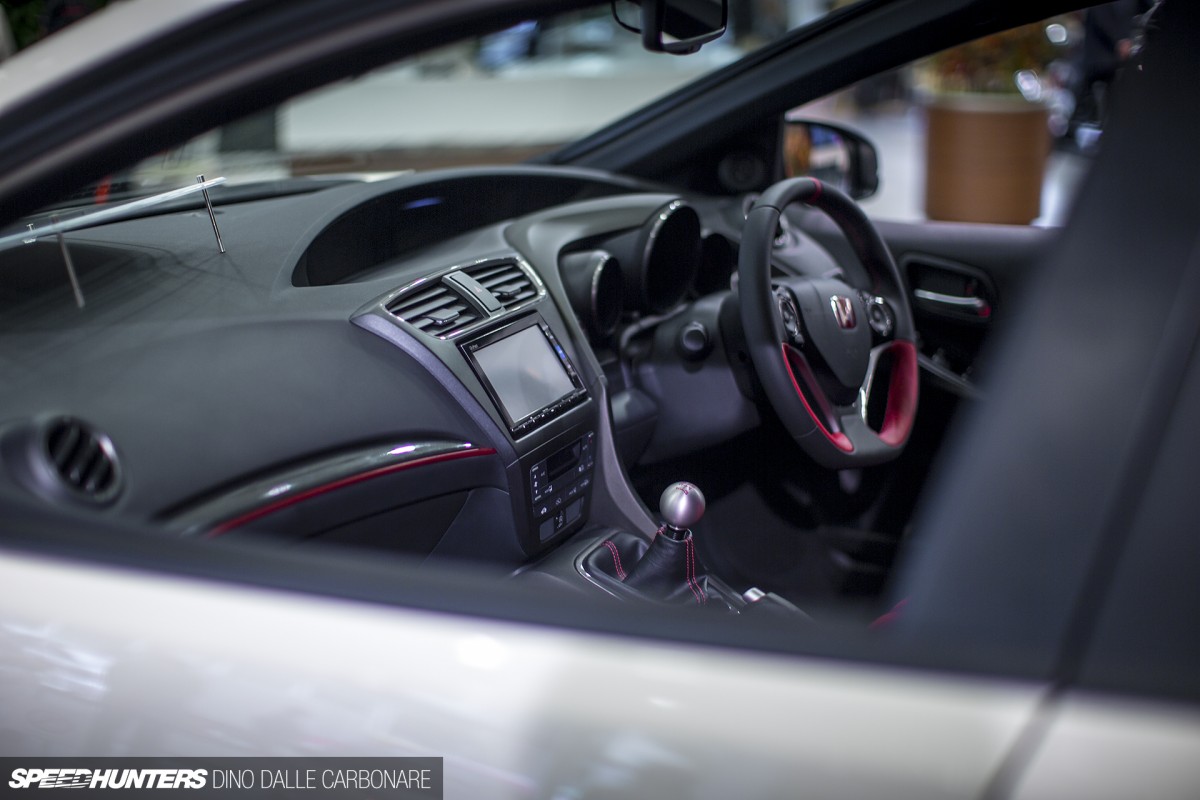 From what I was able to observe, the dash is nicely laid out with a split digital instrumentation section on a higher plane than the three analogue gauges. There's even an 'R+' button to sharpen up the feel of the car and engine when you really want to push hard.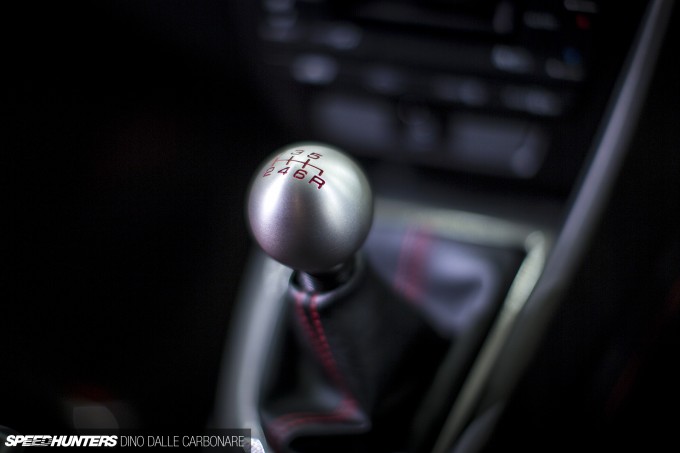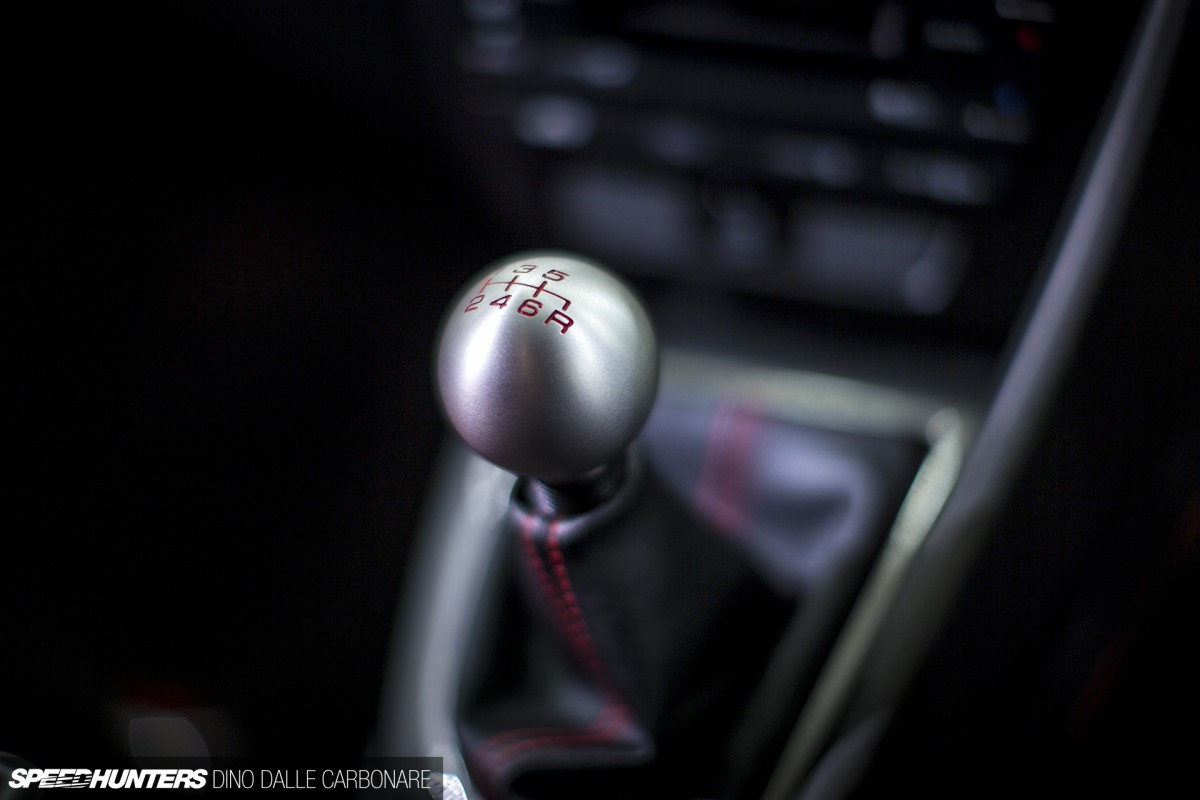 And look, there was even a strange long contraption topped with a with a lovely metal ball. They tell me this is a lever made for selecting gears yourself. Crazy, I know!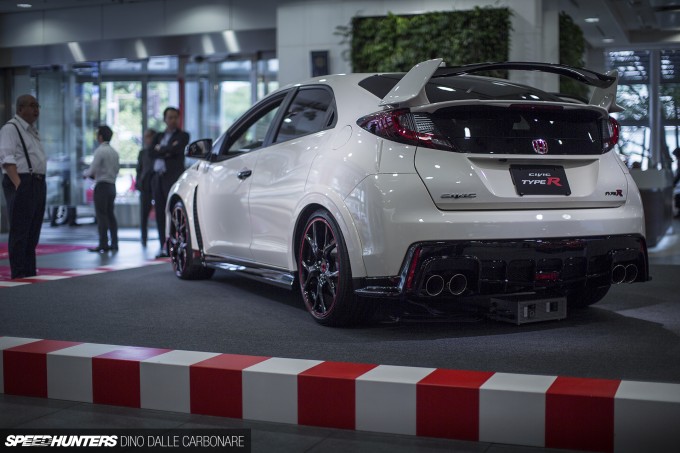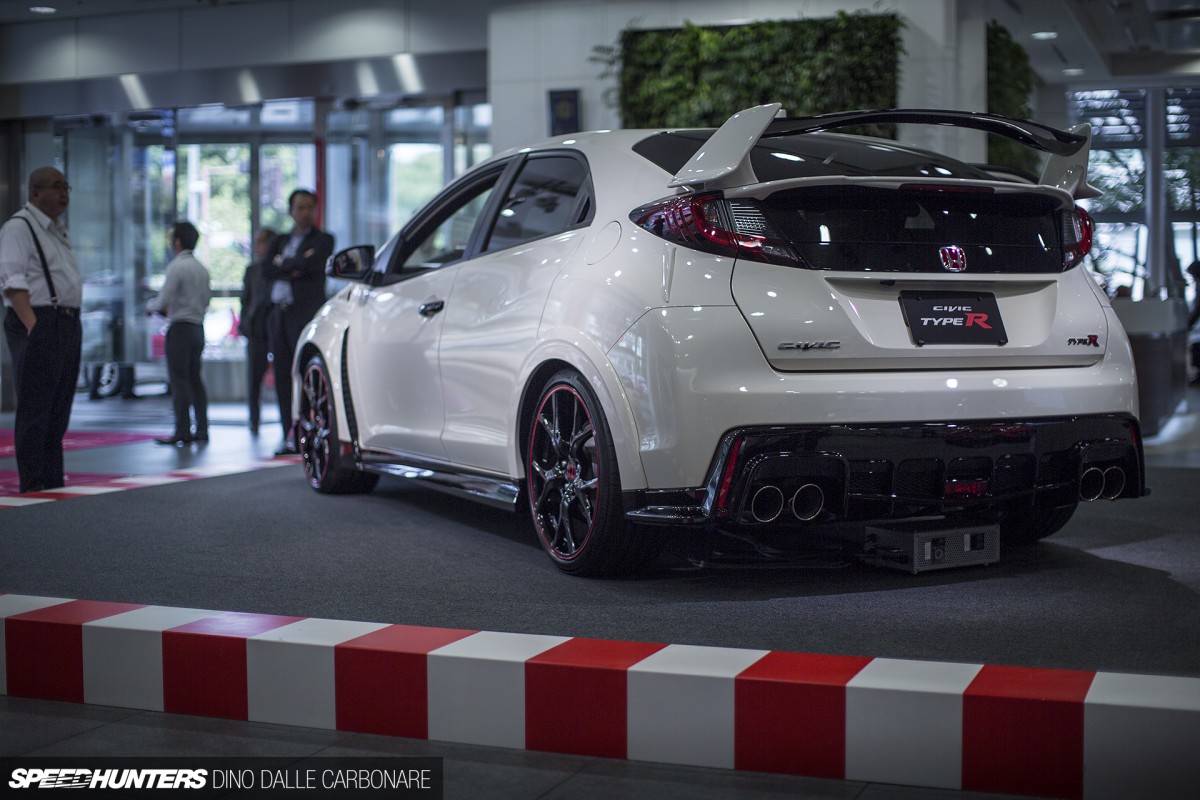 The tall rear end is finished off with a heavily-contoured spoiler, which is joined by a complex-looking diffuser housing the four (yes, four!) tailpipes.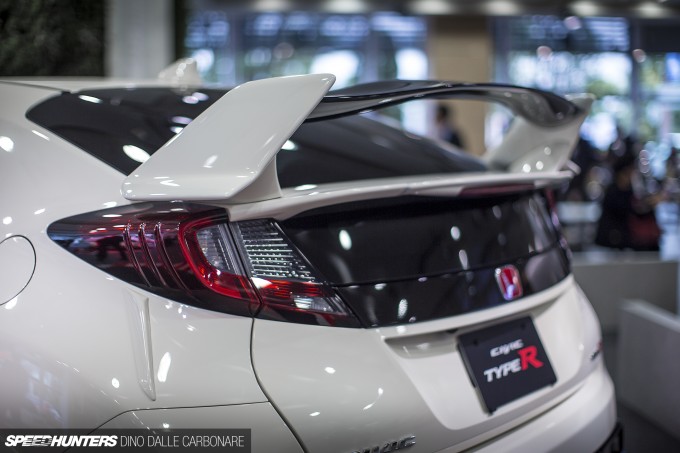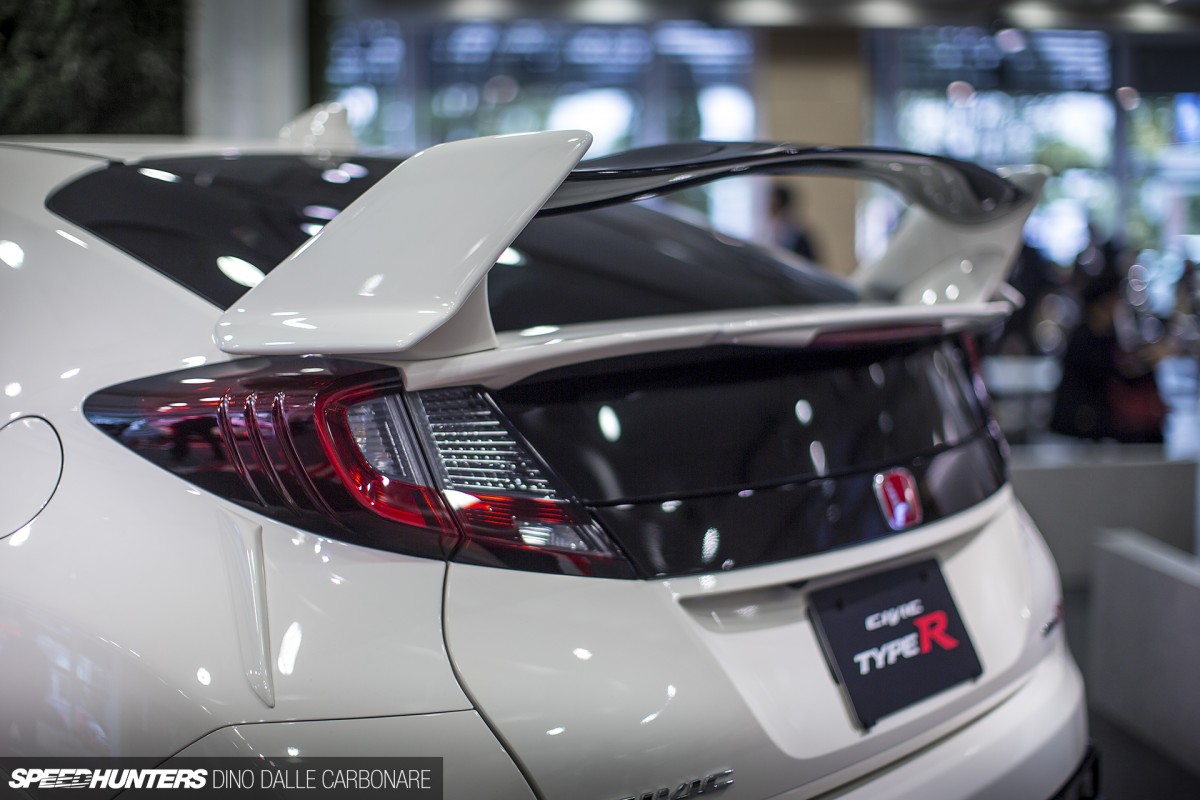 I also spotted some weird plastic strips added onto the car's flanks – obvious aerodynamic additions that may have been put there after engineers realised that the design was a tad too round and lift prone? That's my guess why at least anyway.
This is an impressive package and one that is very much welcome now that Honda is making big efforts in re-injecting sportiness back into its DNA. I really can't wait to drive the new Honda Civic Type R, but until then I hope you enjoyed this little preview.
Dino Dalle Carbonare
Instagram: speedhunters_dino
dino@speedhunters.com