Rebel Skylines With A Cause
I've always loved nostalgic Japanese cars, and this year I've picked up a bit of a thing for grassroots drifting too. But up until recently, I never thought these two interests would coincide with each other – or at least not quite like this, anyway.
It all began a few months back, when I happened to stumble across a video online that made me stop, and just keep watching it again and again. The amateur footage showed a pair of '70s Nissan Hakosuka Skylines blasting down the back straight of a Japanese race track, L-series engines howling at full noise. The part that had me so utterly mesmerised, however, was the moment they both initiated into the corner, drifting in close proximity with one another as plumes of smoke poured from beneath their wide over-fenders. Convinced that this was quite possibly the most badass thing I'd ever seen, I decided that I was going to have to investigate…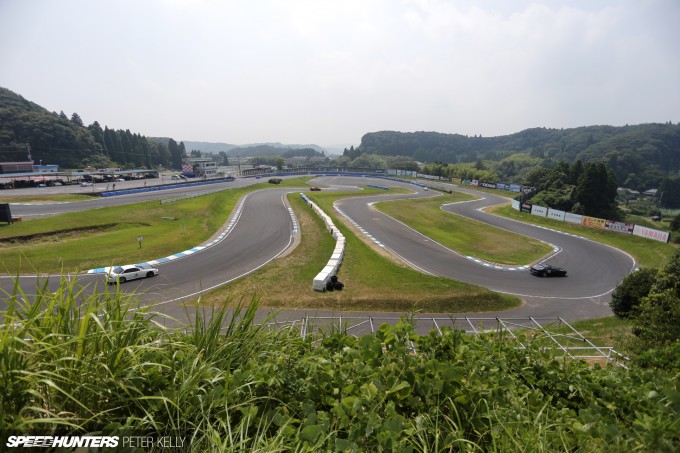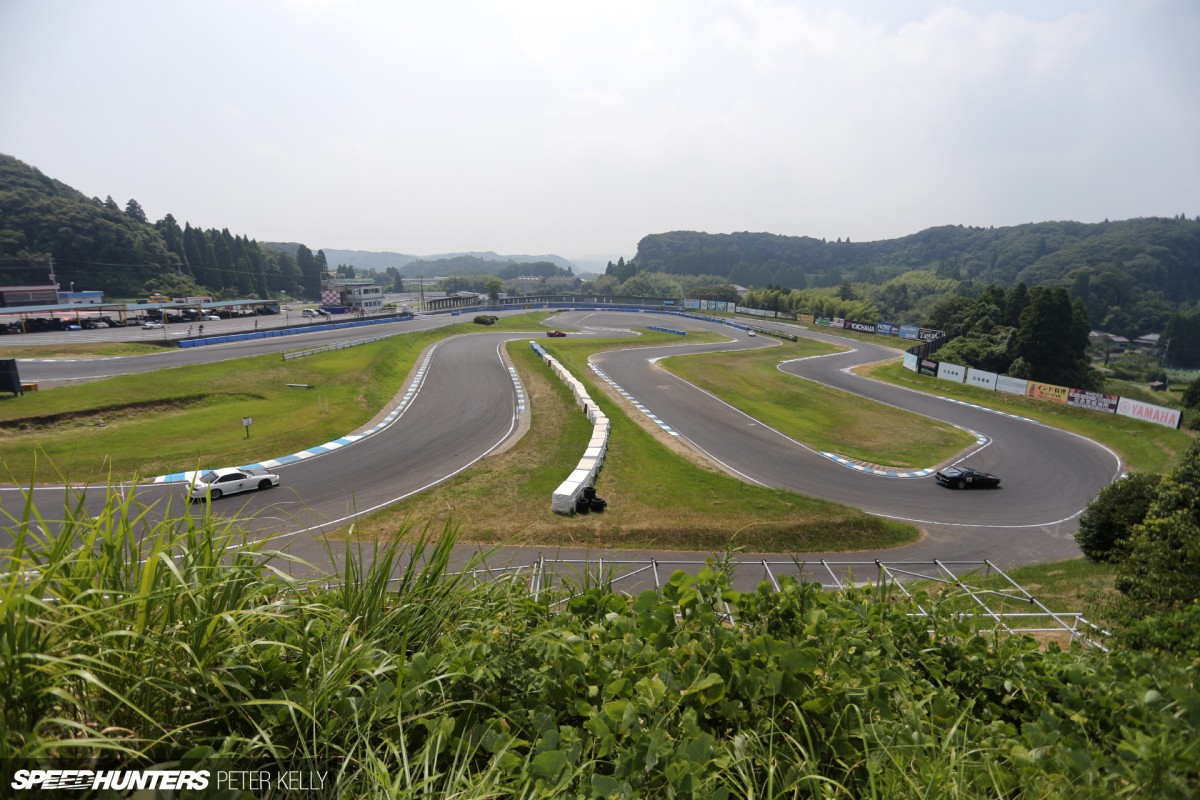 And when I say investigate, I mean field research. So, less than a month later I found myself at Mobara Twin Circuit in Chiba, where I'd be meeting up with these two fascinating machines and their drivers in person. To say that I was just a bit excited would be the understatement of the century.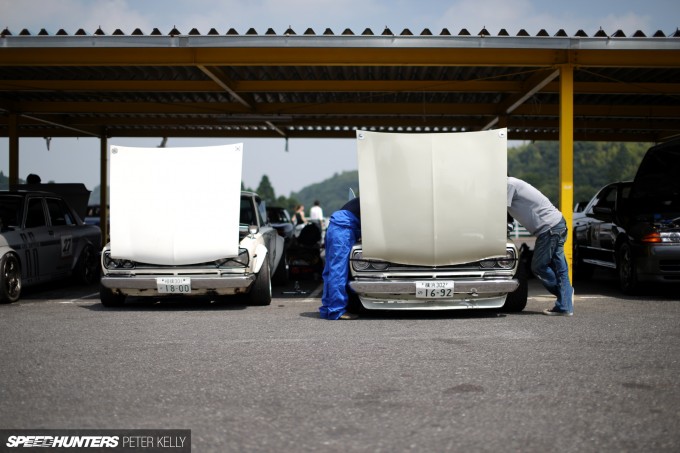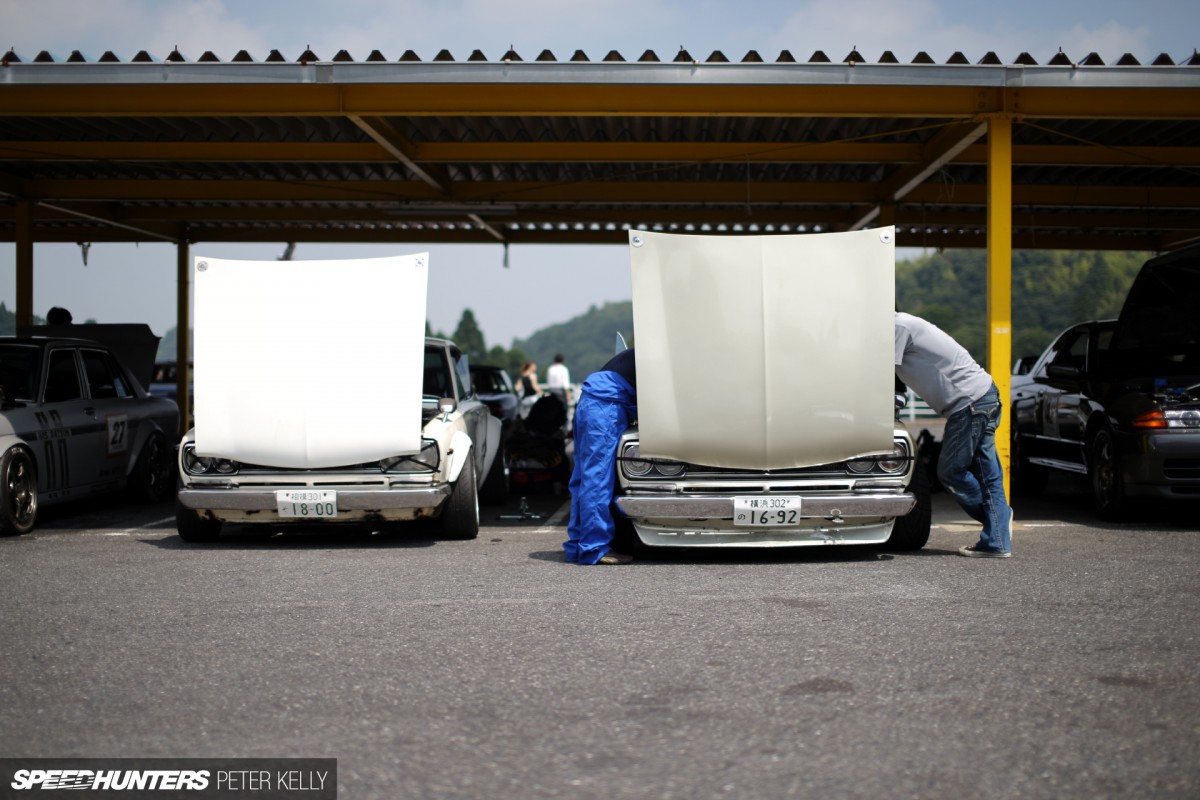 As we pulled into the parking lot and I opened my car door, the overwhelming humidity was a shock to the system after sitting in cool air conditioning; but I was soon distracted as I caught sight of two familiar-looking cars sitting in the pits with their bonnets open. Surrounded by all of the usual cars you'd see at a grassroots drift day in Japan – think Silvias, newer model Skylines and JZXs – the beat-up old Hakosukas stood out like sore thumbs. Or perhaps more like two gyrating grandpas at a Justin Bieber concert!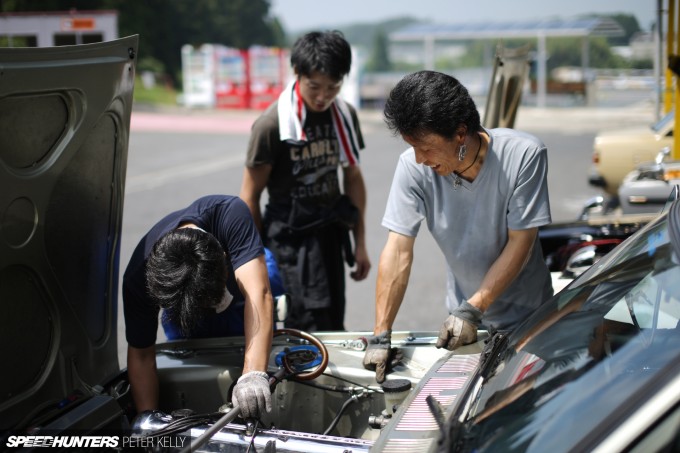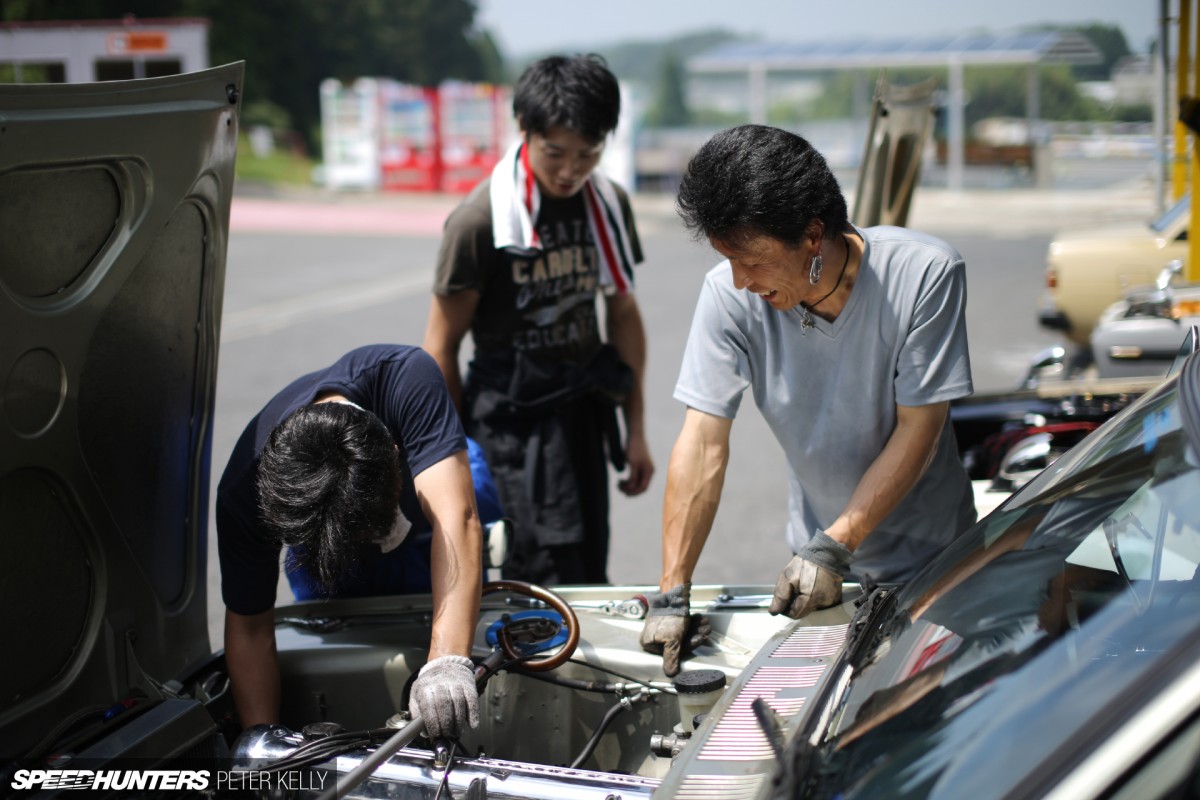 Meet Shin Yufune and Hide Toujou, two friends who've bonded over their love for old cars and driving them fast – and sideways. As it transpired, the original video I'd seen of Yufune-san and Toujou-san drifting together was from Yufune-san's Instagram account, through which I was able to get in touch with him. Seeing that I'm a learner drifter and classic Nissan owner myself, Yufune-san (in the bright blue overalls) was nice enough to invite me along for the day to check out the two cars in action.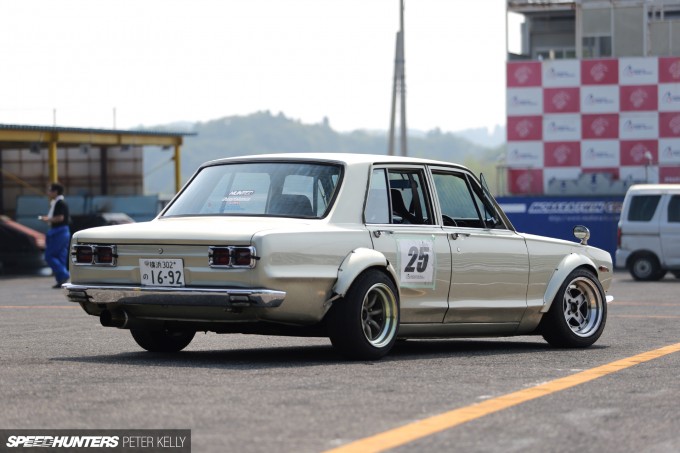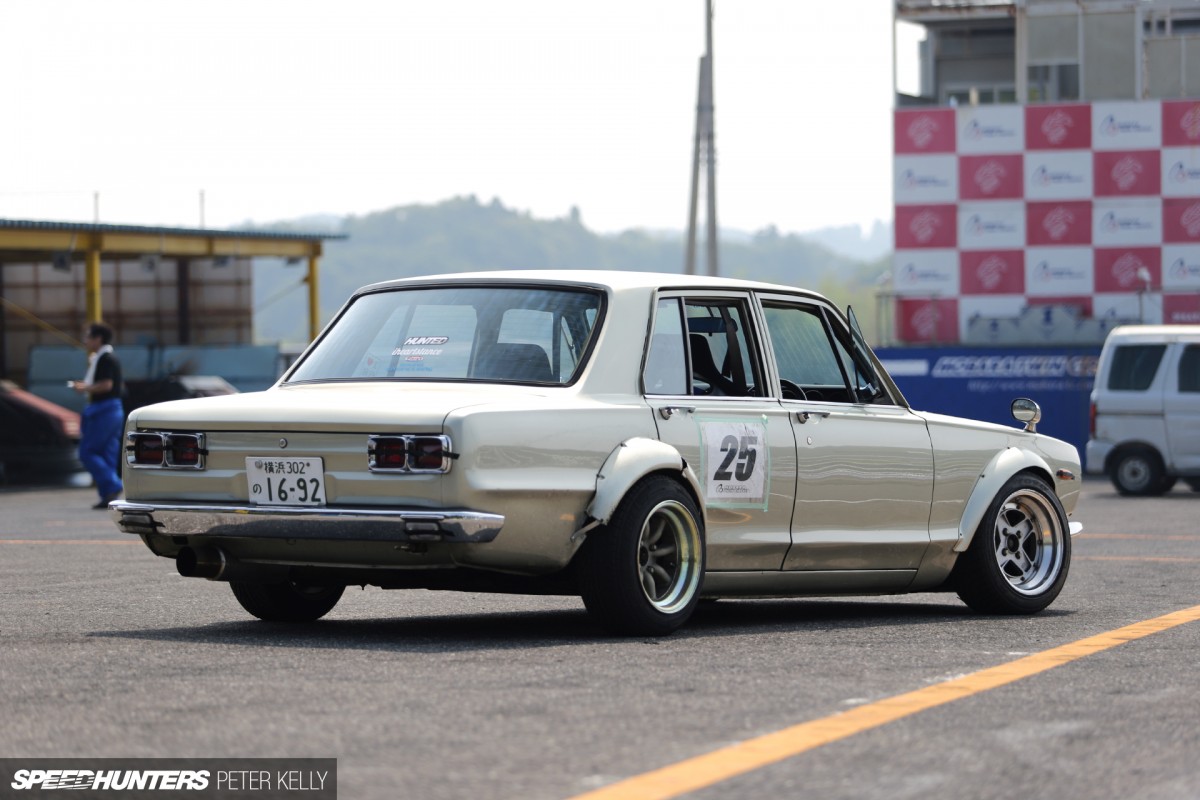 More on that soon; first let's take a closer look at the cars, starting with Yufune-san's 1971 Hakosuka 2000GT. It might look like your average classic '70s Skyline from the outside, but underneath that tired old skin it's a whole different story.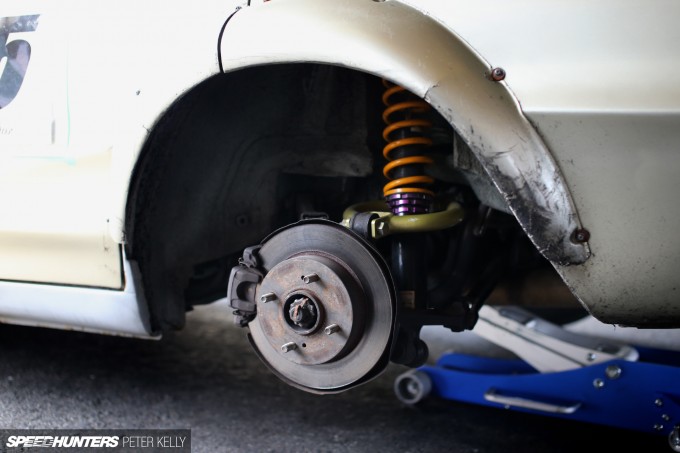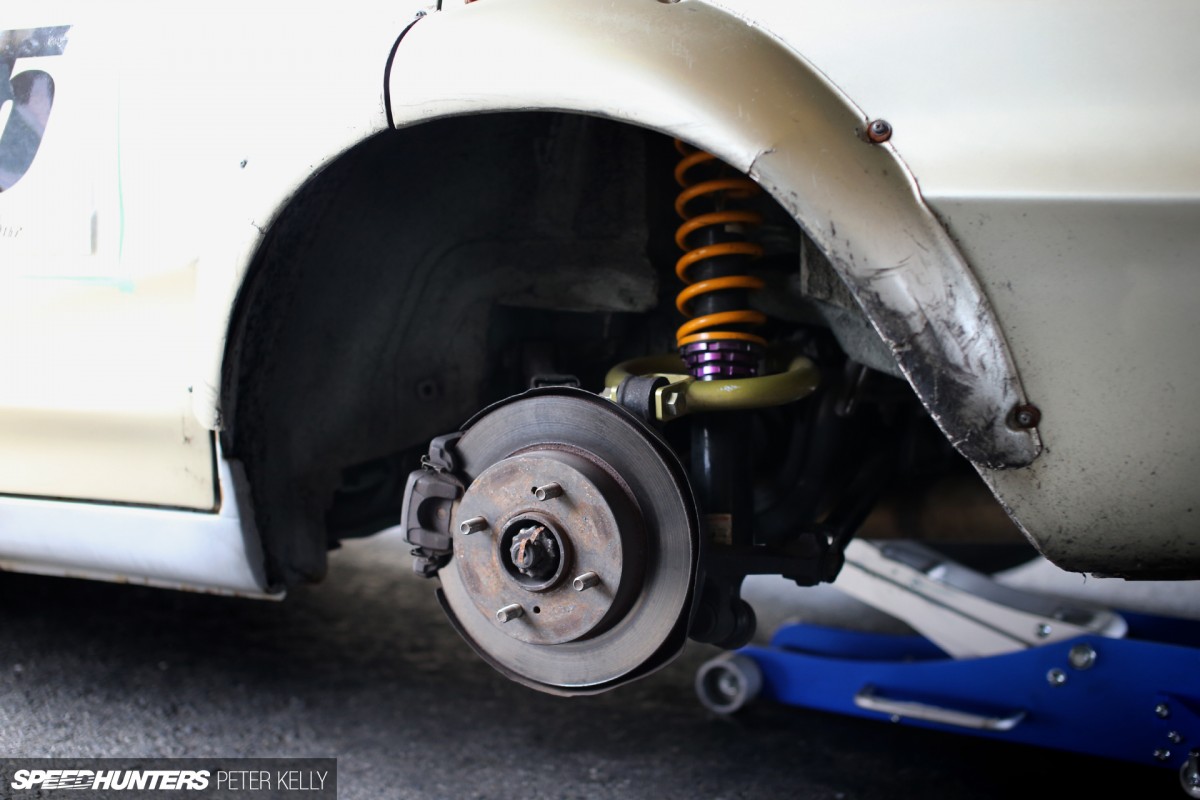 Everything starts to make a bit more sense when the rear wheels come off, revealing an S13 Silvia rear subframe, including an R200 diff, coilover suspension, hubs and brakes – the lot. Conveniently, the donor Silvia was a non-turbo model meaning the hubs run the same 4×114.3 stud pattern as all vintage Nissans, allowing Yufune-san to still run various sets of cool old school wheels. But this is only really the beginning…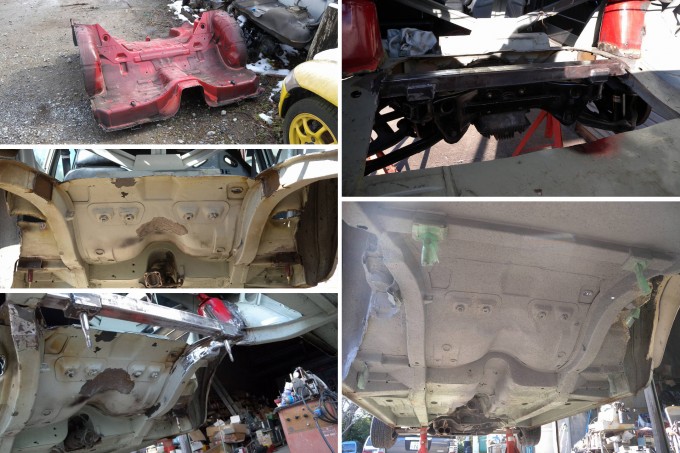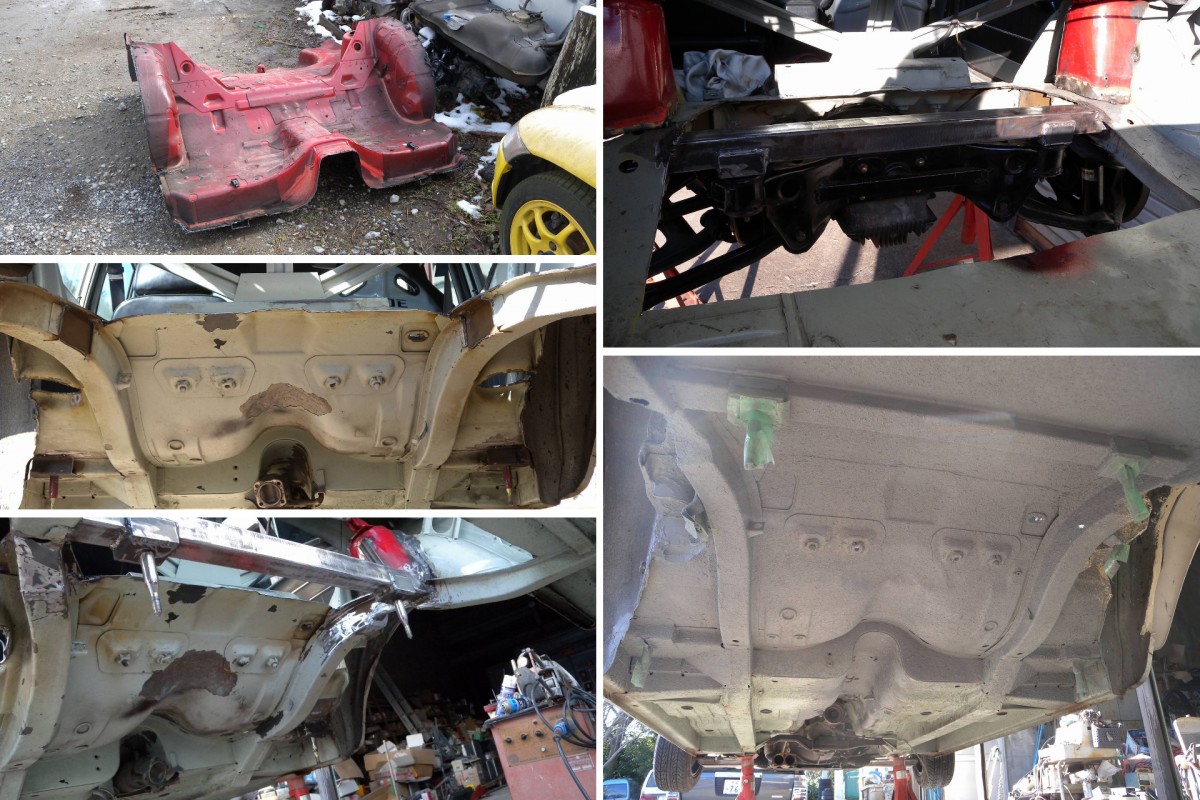 Fortunately for us, Yufune-san has documented almost every modification he's made to the car, so we can really get a proper idea of just how much work has taken place here. In these photos you can see the rear section of the Silvia floor outside of the car, and where Yufune-san has chopped out part of the Hakosuka floor and welded in box section for the new subframe to bolt onto. The S13 strut towers have also been swapped in, allowing the S13 suspension to fit straight in as well.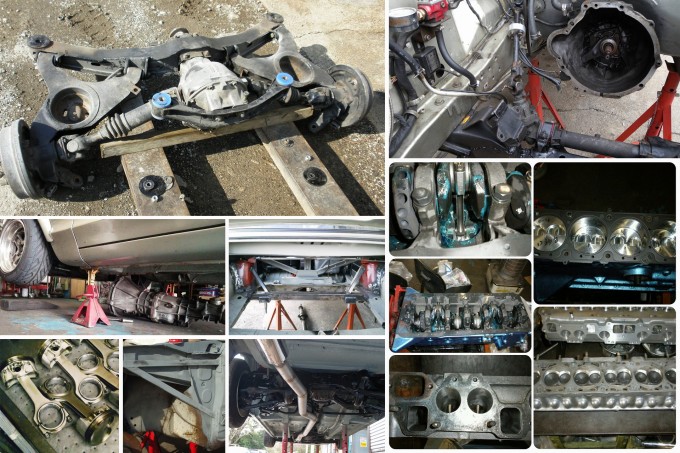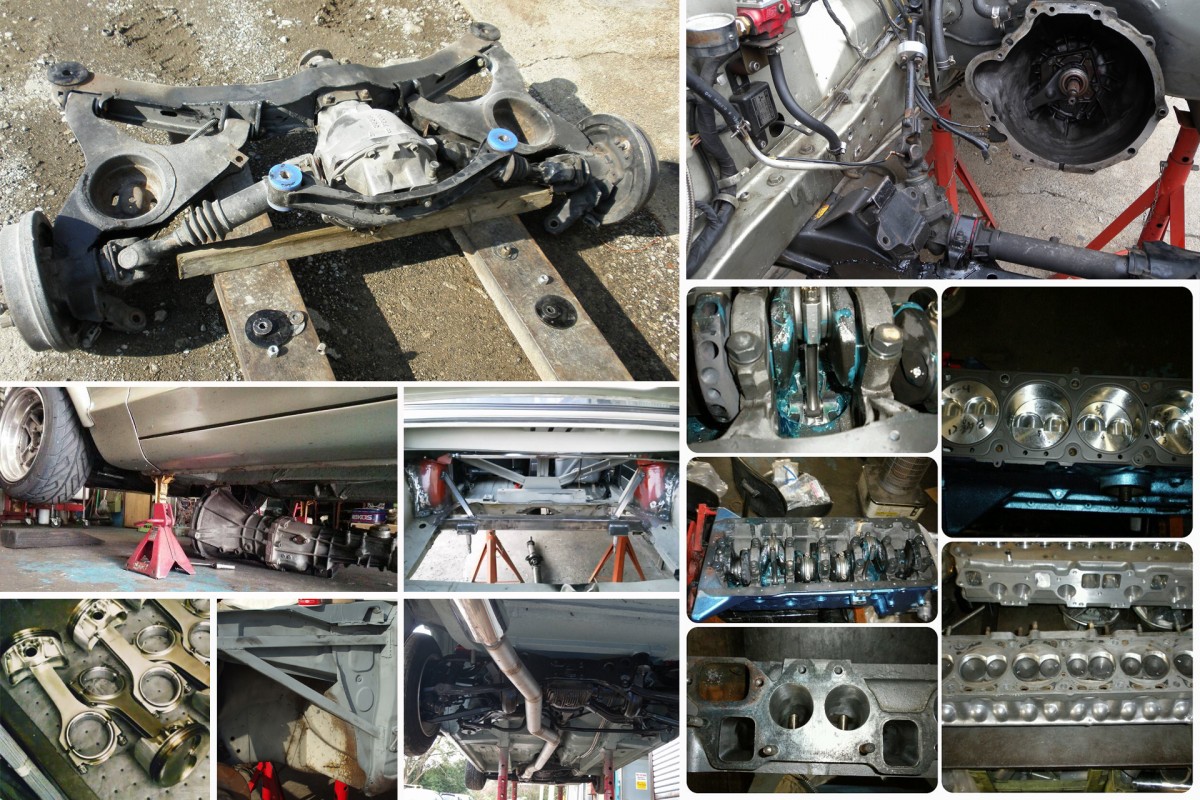 The rear of the Hakosuka might horrify classic car enthusiasts, but up front it's all about the period-correct L-series straight six. The naturally aspirated L28 motor has been fully rebuilt with strength and power in mind; modified with a ported and polished N42 head with bigger valves and a very aggressive camshaft, while the block has been beefed up with heavily bored cylinders and reinforced sleeves, upgraded 89mm pistons and strengthened rods. Combined with an L-series diesel crank for extra stroke, the vintage OHC motor has been expanded to a 3,100cc capacity, producing somewhere around the 320hp mark.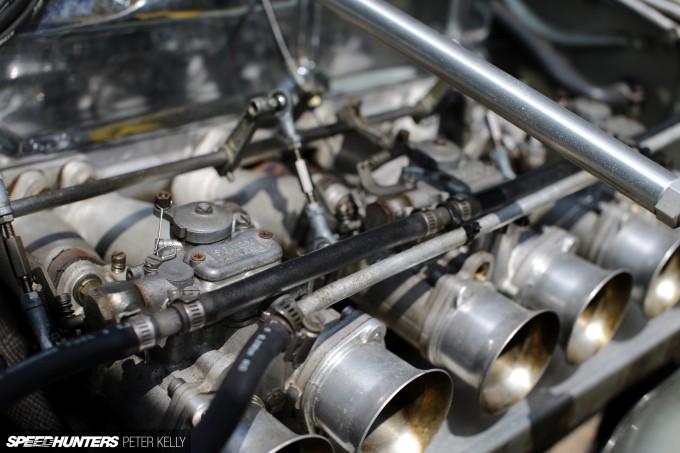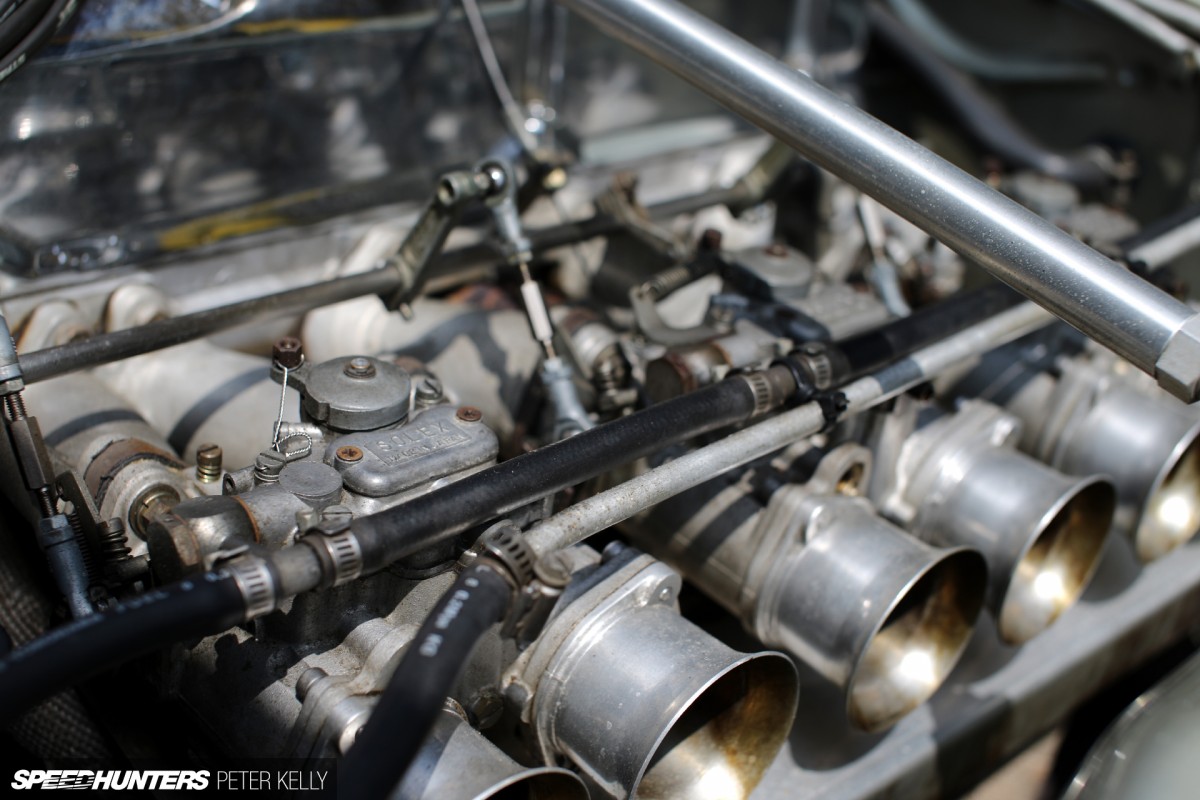 Although the rear end conversion is incredibly interesting, it's the choice of an old carbureted motor that I find the most fascinating. This sight just seems so out of place inside the engine bay of a purpose-built drift car, doesn't it? But the sound of those Solex 50mm carbs simply can't be beaten, and that's certainly part of the appeal for Yufune-san.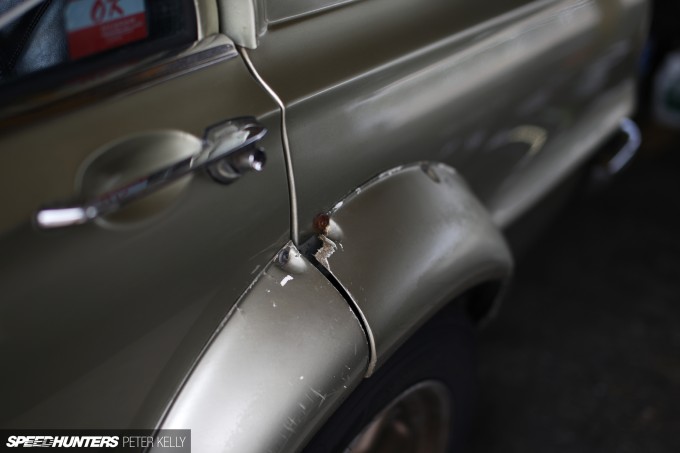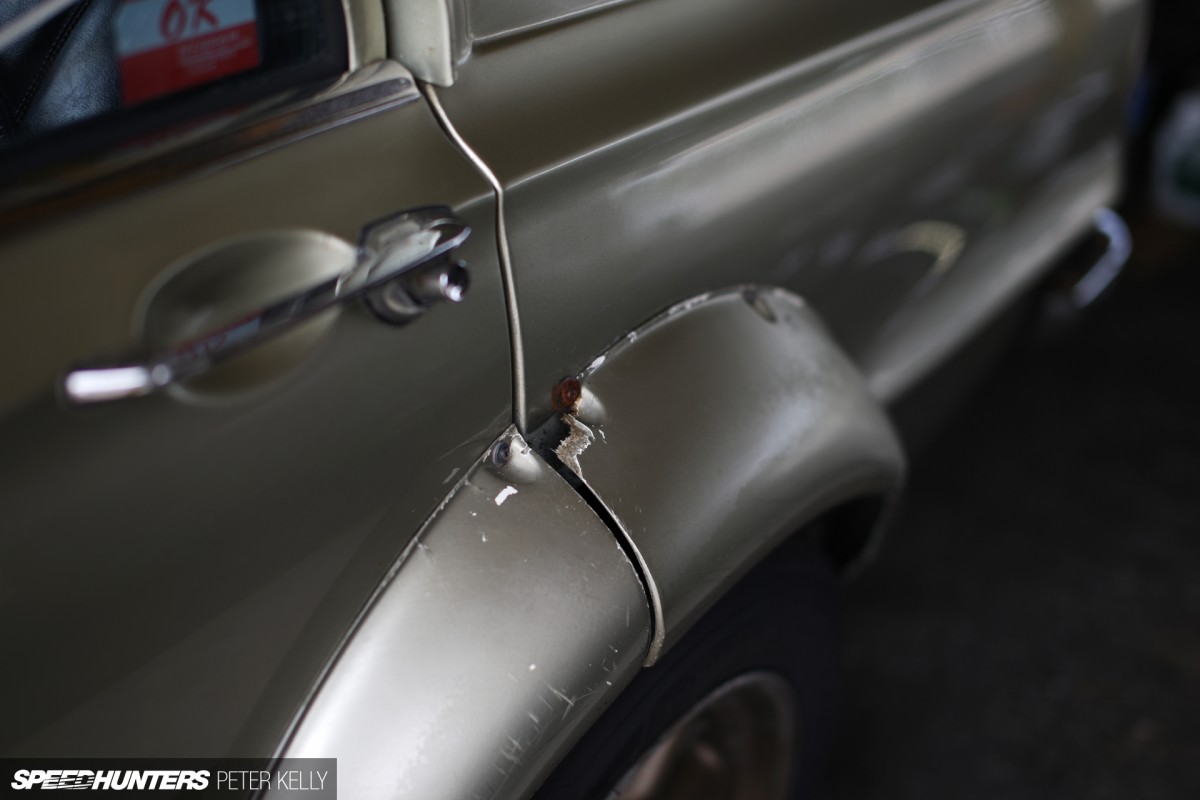 Everything about the car is built to his own specifications, even down to the split rear over-fenders. This is his only car after all, so he needs to be able to open the rear doors to fill the back of the car with as many spare wheels and tyres as possible to bring to track days with him. I should mention that since we shot these photos, he's replaced these fenders with some fresh new ones.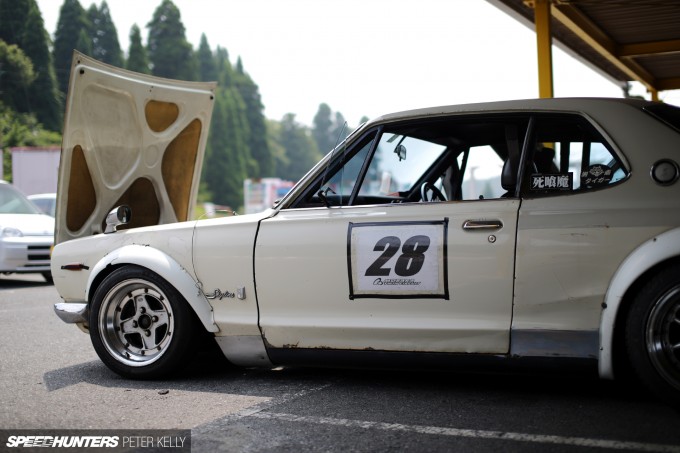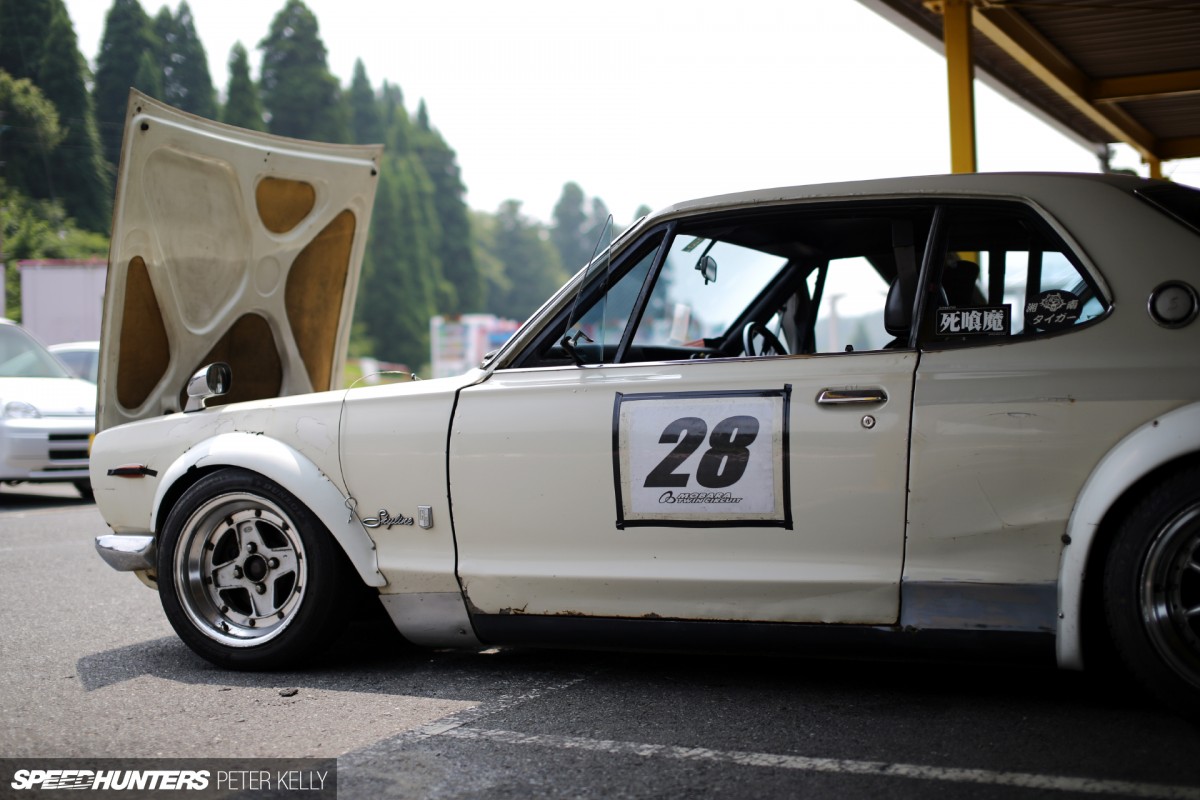 Then there's Toujou-san's car, which is the more desirable two-door version of the 2000GT. With its all-round dishevelled appearance, it was quite the experience just standing there and taking in its presence.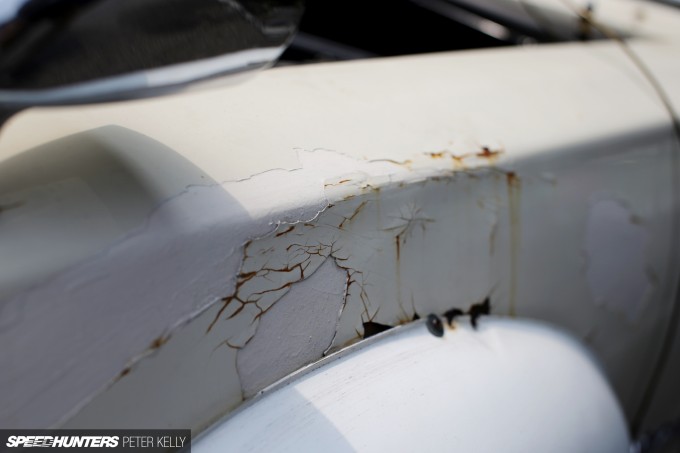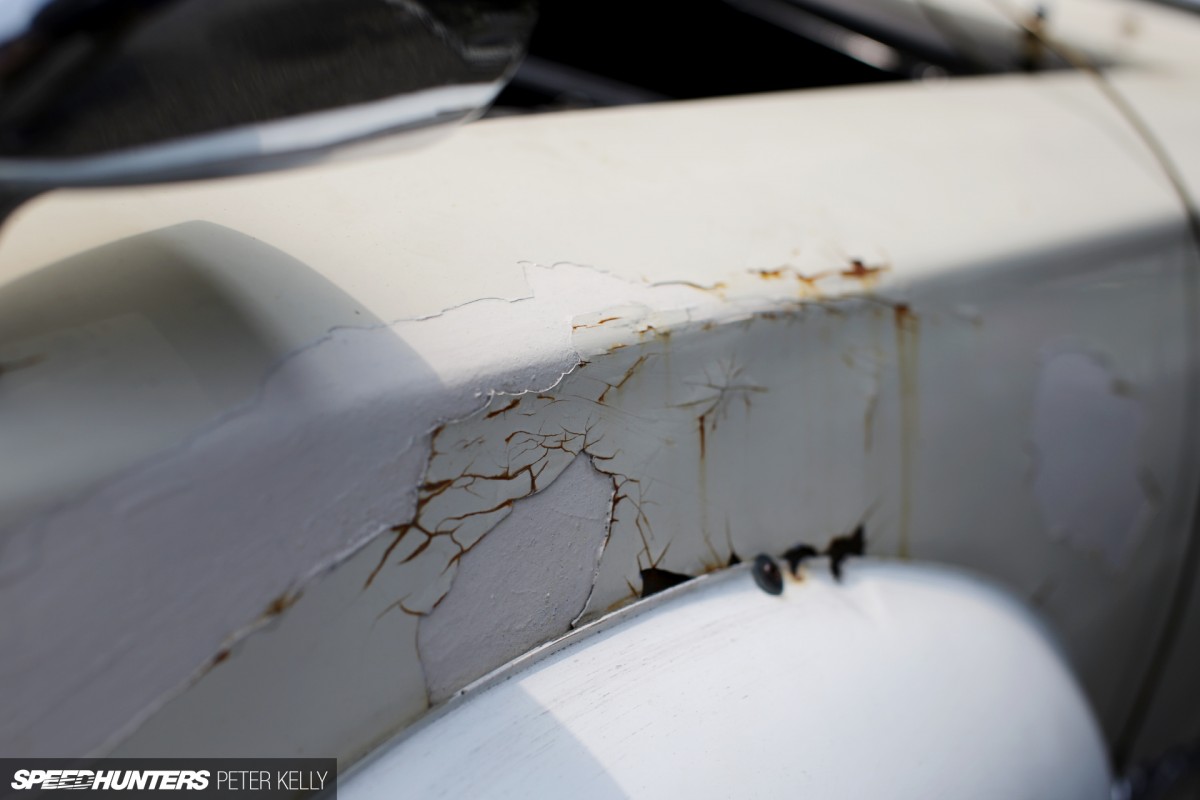 It was actually quite conflicting seeing what is essentially one of my dream cars in such a state of neglect. The thing was though, although the car definitely looked like it had seen better days, it now has a very unique purpose and is being driven regularly to its limits, which is something that I absolutely love.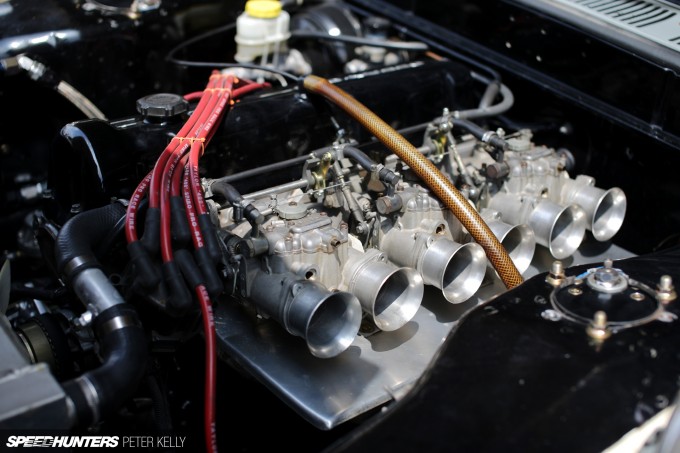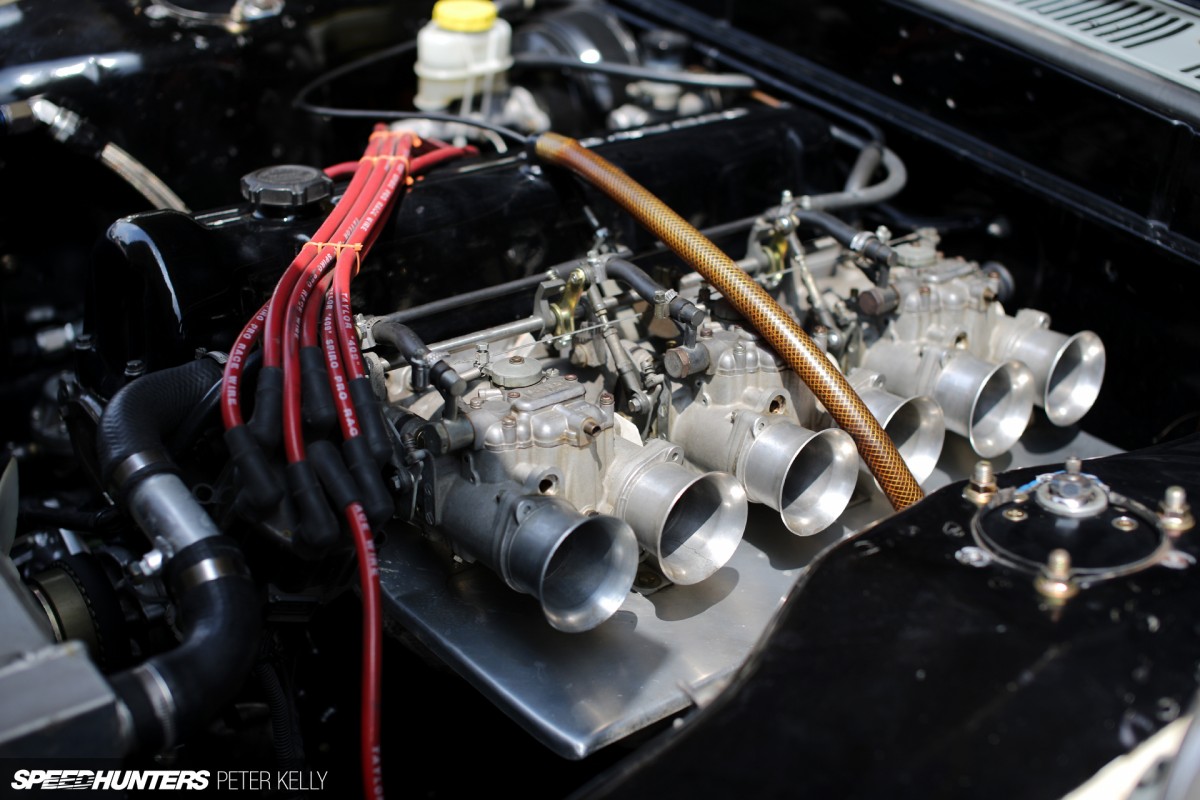 The L28 has gone through the same treatment; bored and stroked and transformed into a naturally aspirated 3.1-litre L-series monster.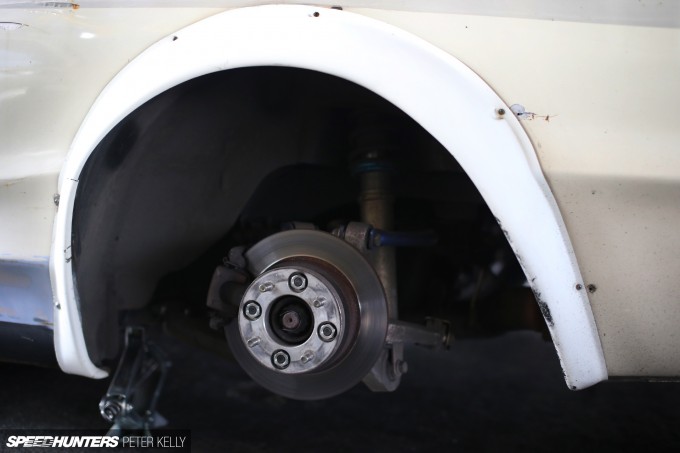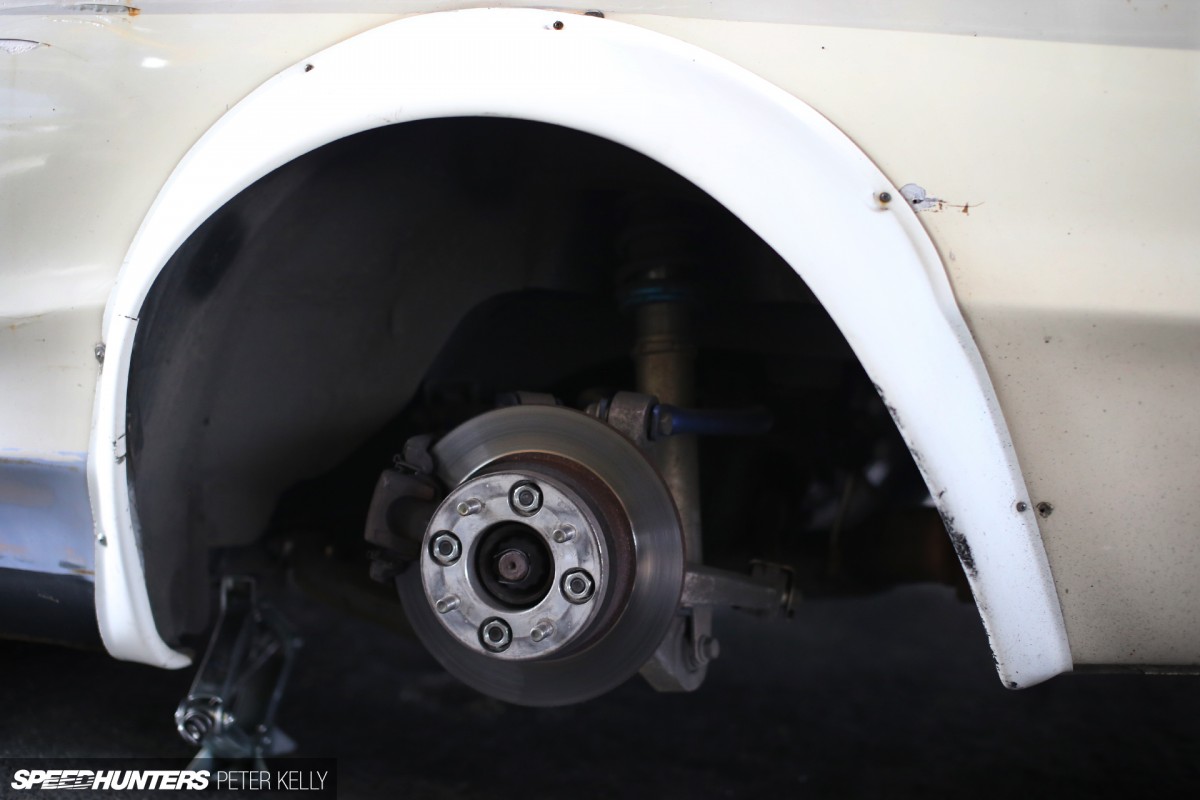 Toujou-san's Hakosuka has actually been set up very similar to Yufune-san's, but with an S14 Silvia subframe and suspension components instead.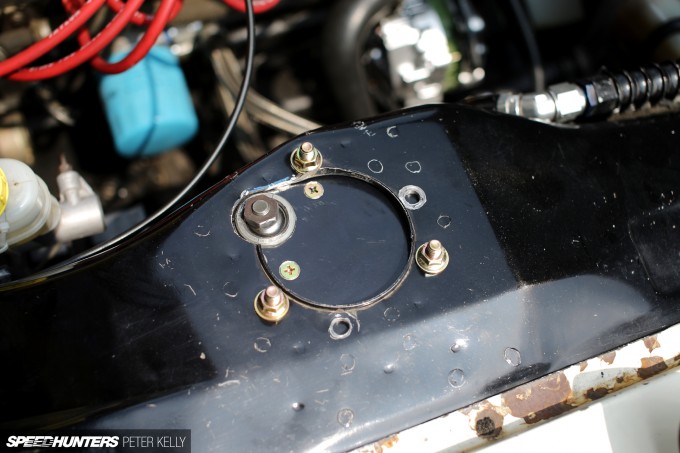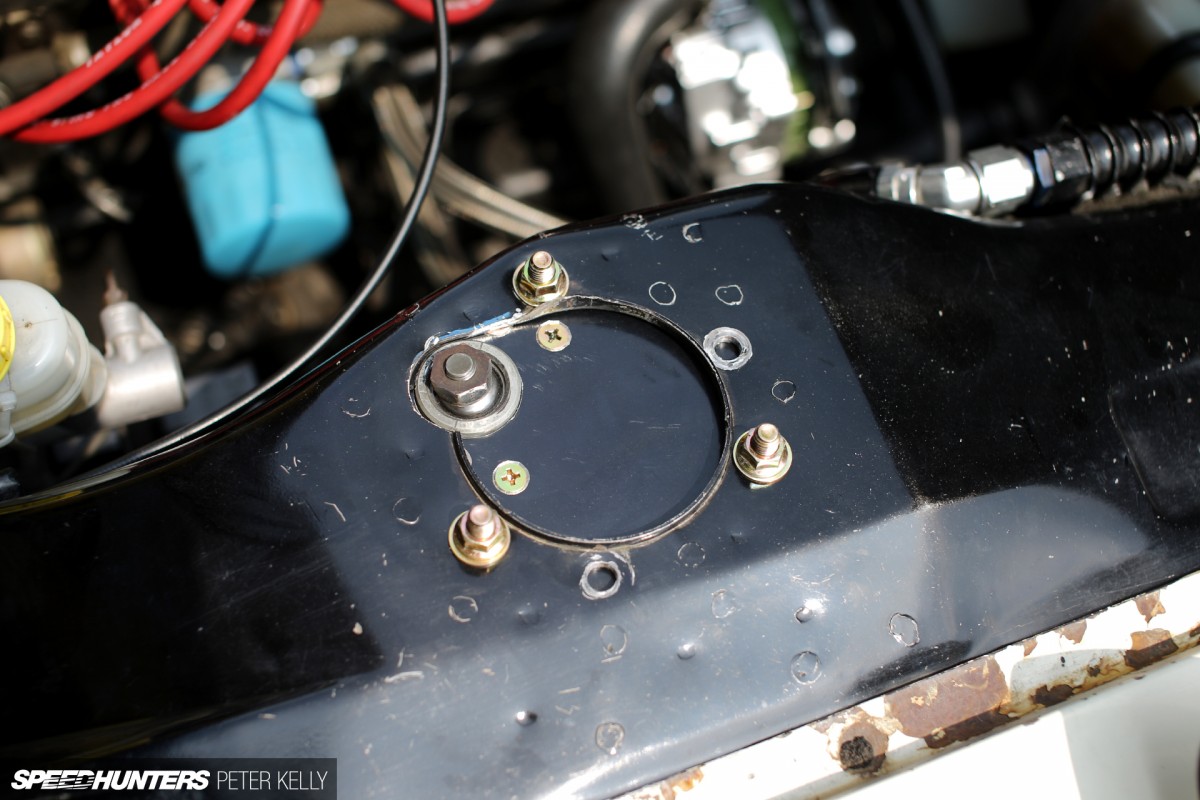 The front towers have also been modified in order to acheive the right geometry. These all seem like absolutely crazy things to do to a valuable classic car, don't they? I thought so too, but that was before I witnessed first-hand what they were actually capable of.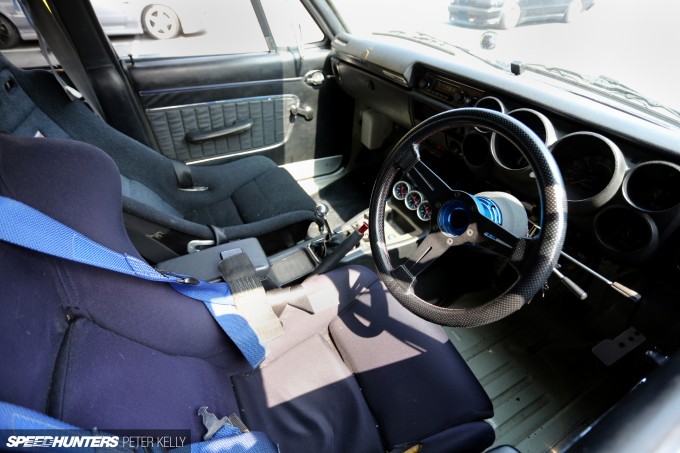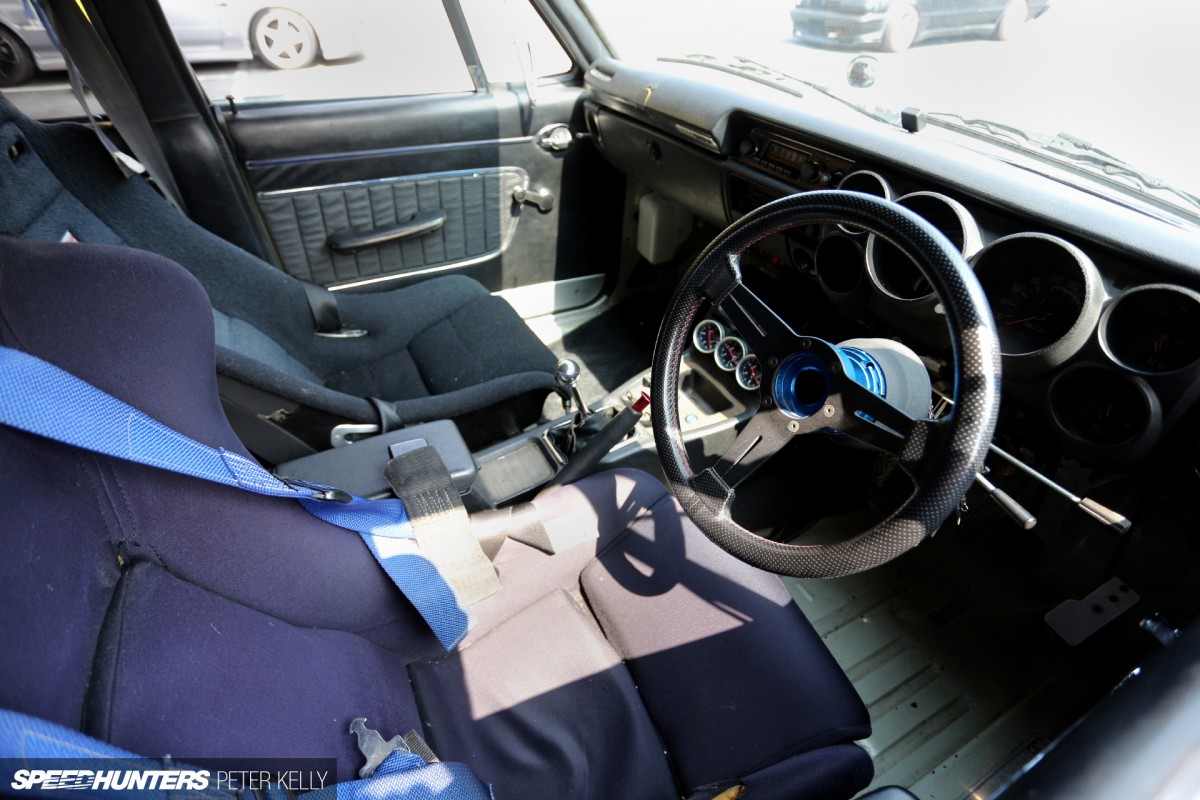 I'd be riding passenger with Yufune-san for the first few outings, so I put my helmet on, switched on my GoPro camera, hopped in the passenger seat and buckled up the old fashioned harness. Inside the car it was very basic, similar to my Datsun S30Z but with the addition of the bucket seats, a fly-on, fly-off handbrake button (aka spin turn knob) and some additional temperature and pressure gauges – that was really it. There were all the familiar sights and smells of my nostalgic 280Z – the old cracked dash, the worn leather gear boot and the faded door panels with their blue lacquered stripe, not to mention the strong stench of petrol. I know it sounds weird, but it just didn't feel like we were about to head out and go drifting in this. But then Yufune-san gave me the thumbs-up and the engine spluttered and roared to life, and off we went. It was time to experience the '3100GT' Hakosukas in action…
[chapterLet The Hakosuka Drift Battles Begin[/chapter]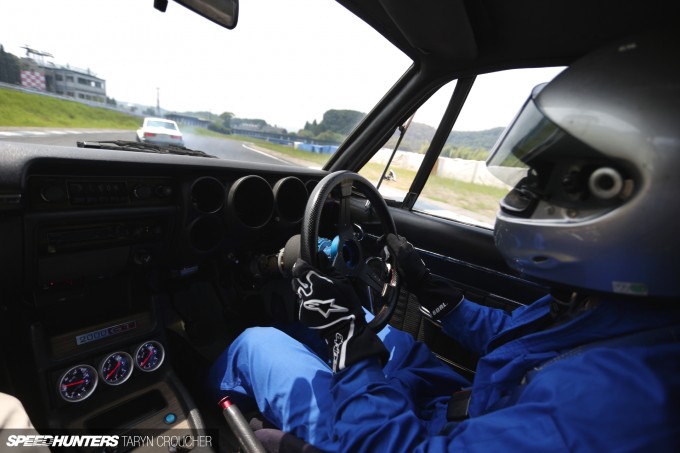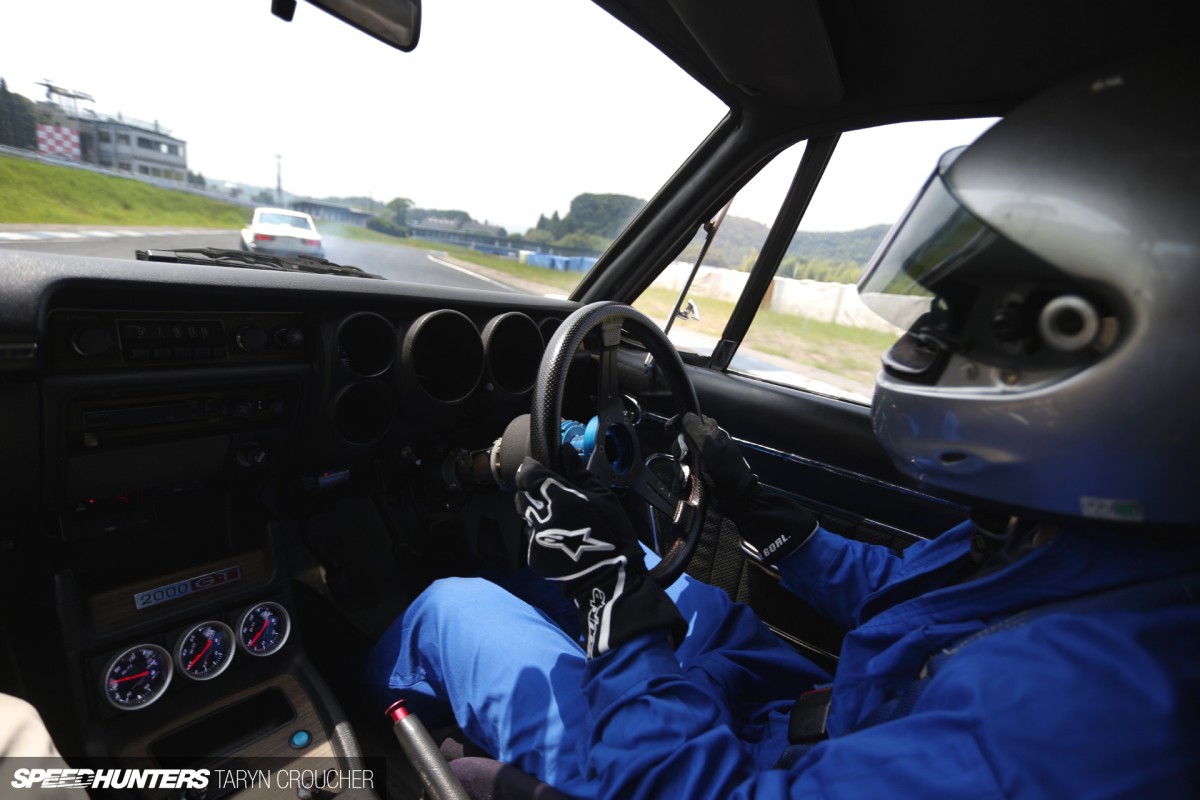 We entered at the back end of the main East Course and began with a warm-up lap, so nothing too unusual to start off with. But I was surprised at how stiff the car felt. The front strut brace and reinforced chassis really made a big difference, and despite the lack of a rollcage, the Hakosuka actually felt reasonably safe out on the track, which wasn't something I was expecting.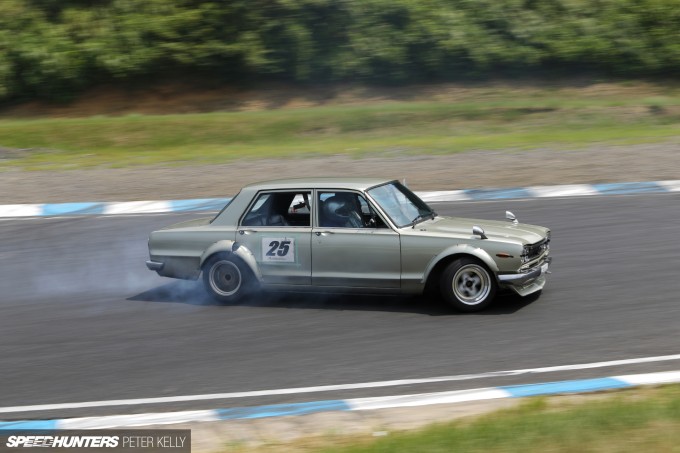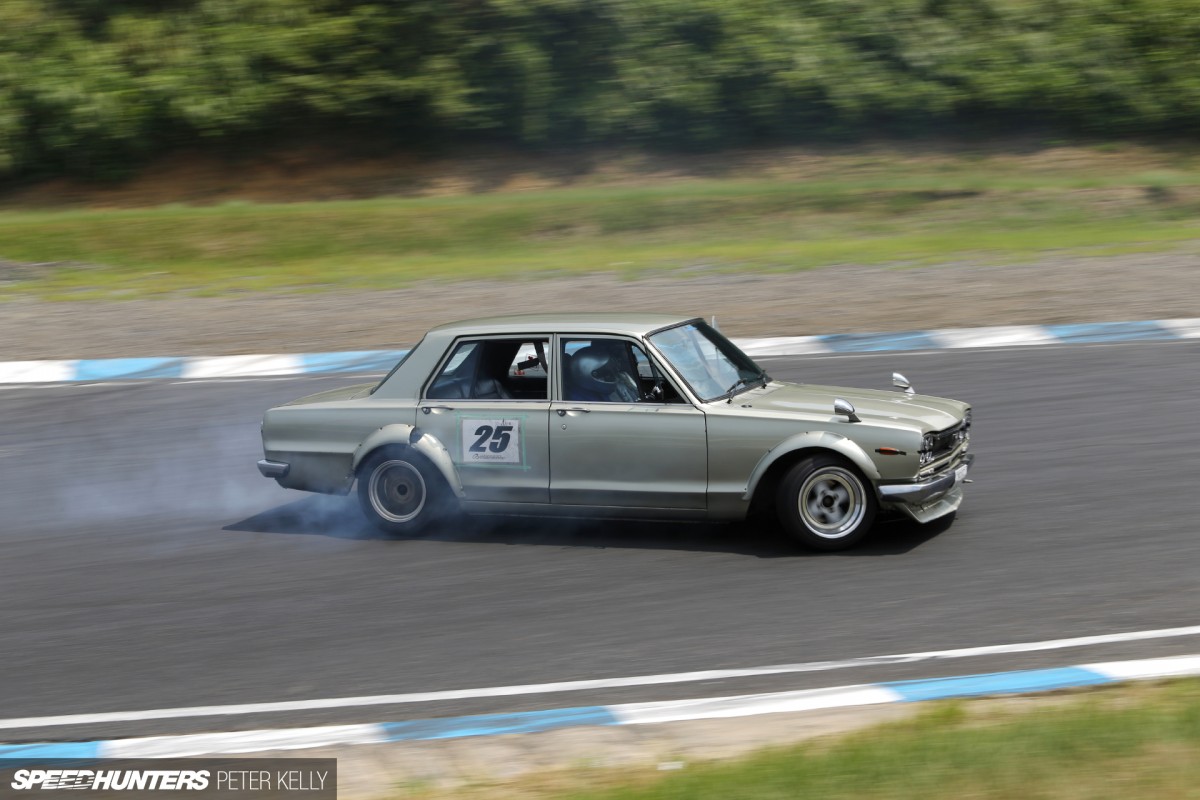 As the car lost traction for the first time, I was instantly made aware of the fact that Mr. Yufune is a great driver. I knew that he'd driven at Mobara a lot, but he also had a great understanding of his car and the way it handled and responded. Although he remained very focused, I could tell that he knew the right line and speed needed for each entry like the back of his hand. This might be something to do with the fact that he's owned his Hakosuka for over 15 years, and although he only performed the S13 rear end conversion back in 2012, he now almost exclusively drives at this circuit.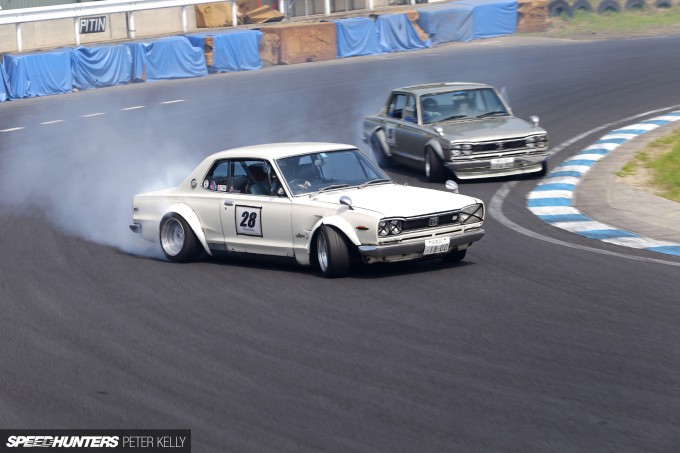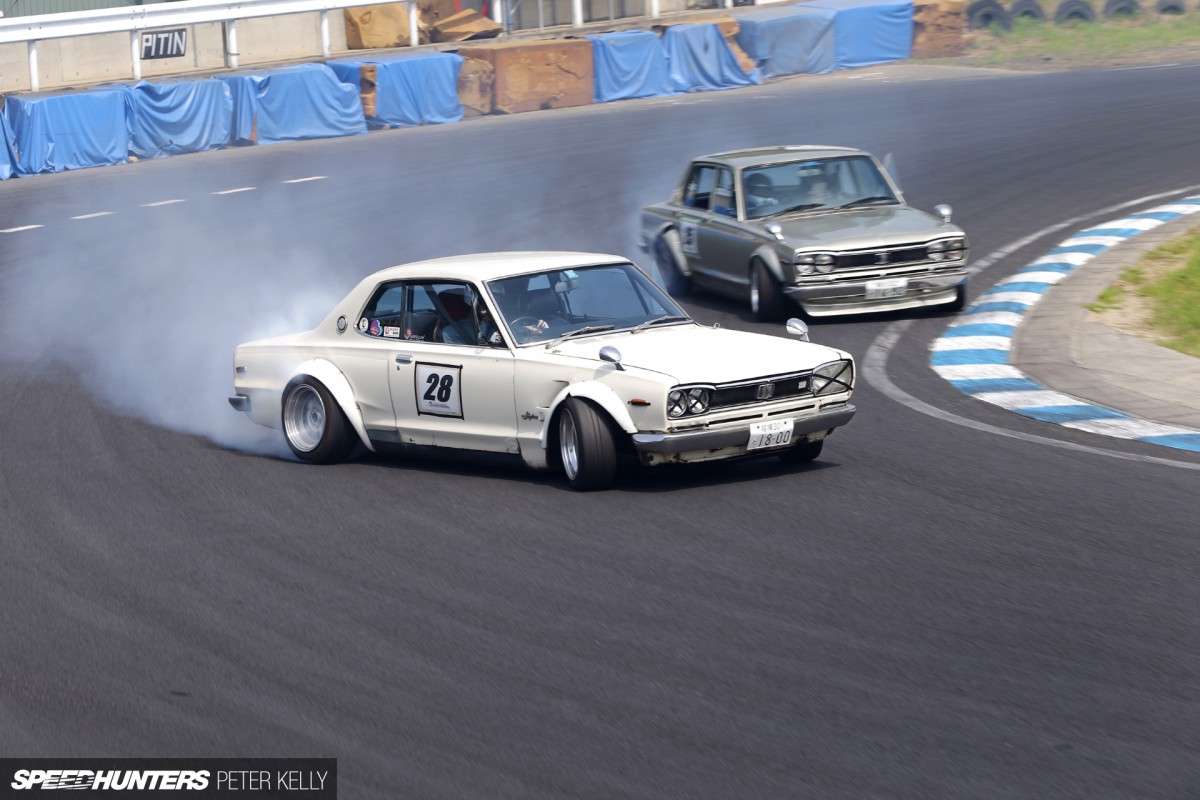 Suddenly, we picked up speed. We were heading down the back straight, with Toujou-san close in front. The hairs stood up on the back of my neck as I realised that the exact moment I'd seen in that video was about to unfold. That moment I'd watched over and over again, but this time I was in it!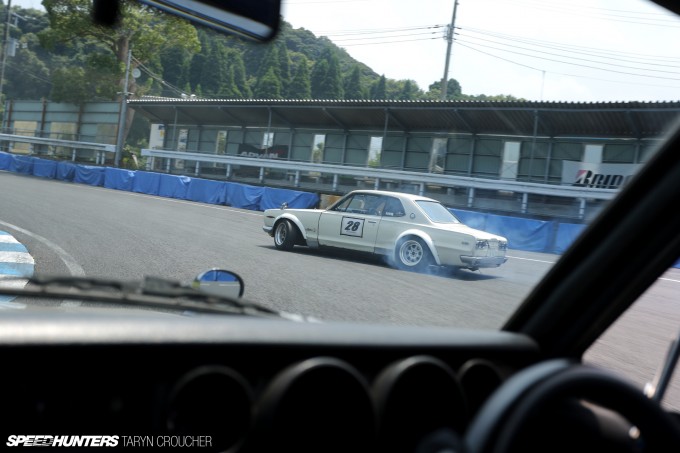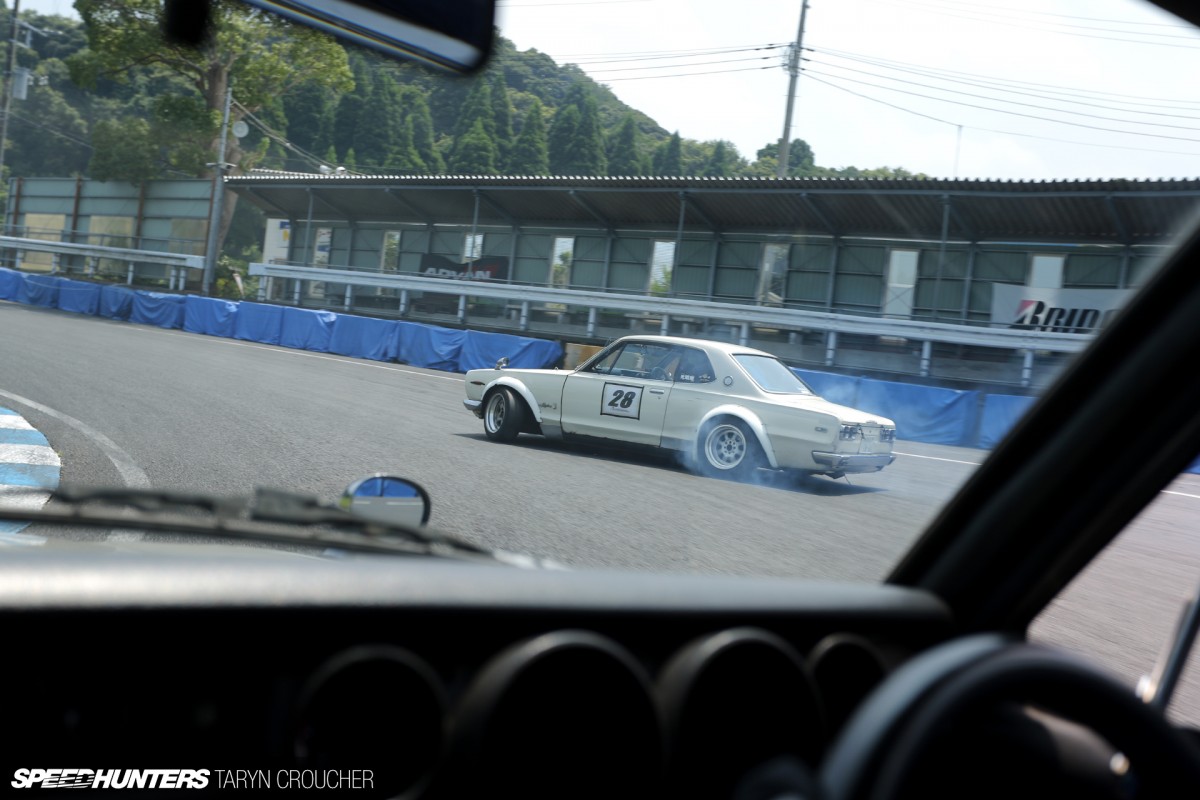 We entered the corner at speed and very sideways, but the initiation was controlled and still very smooth. And the sound; it was so raw, so exhilarating, so loud. It all made sense now, why these two friends were so addicted to this, and why they'd stuck with the old school carbureted engines. Fortunately, it was noisy enough to cover up my "Woo-hoo!" and "Yee-haa!" noises that I didn't seem to notice I was making at the time. How embarrassing.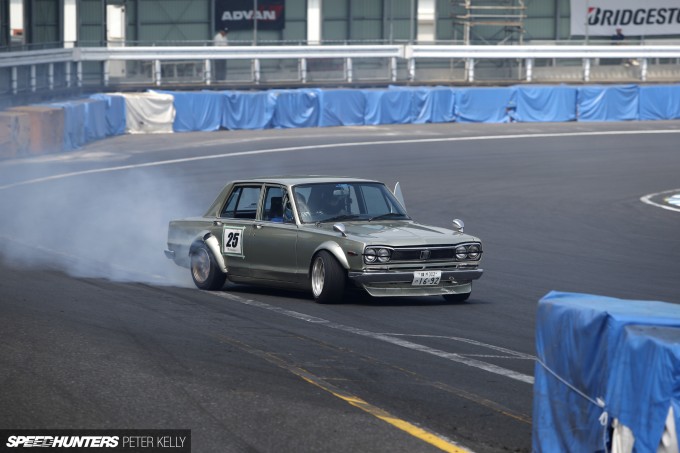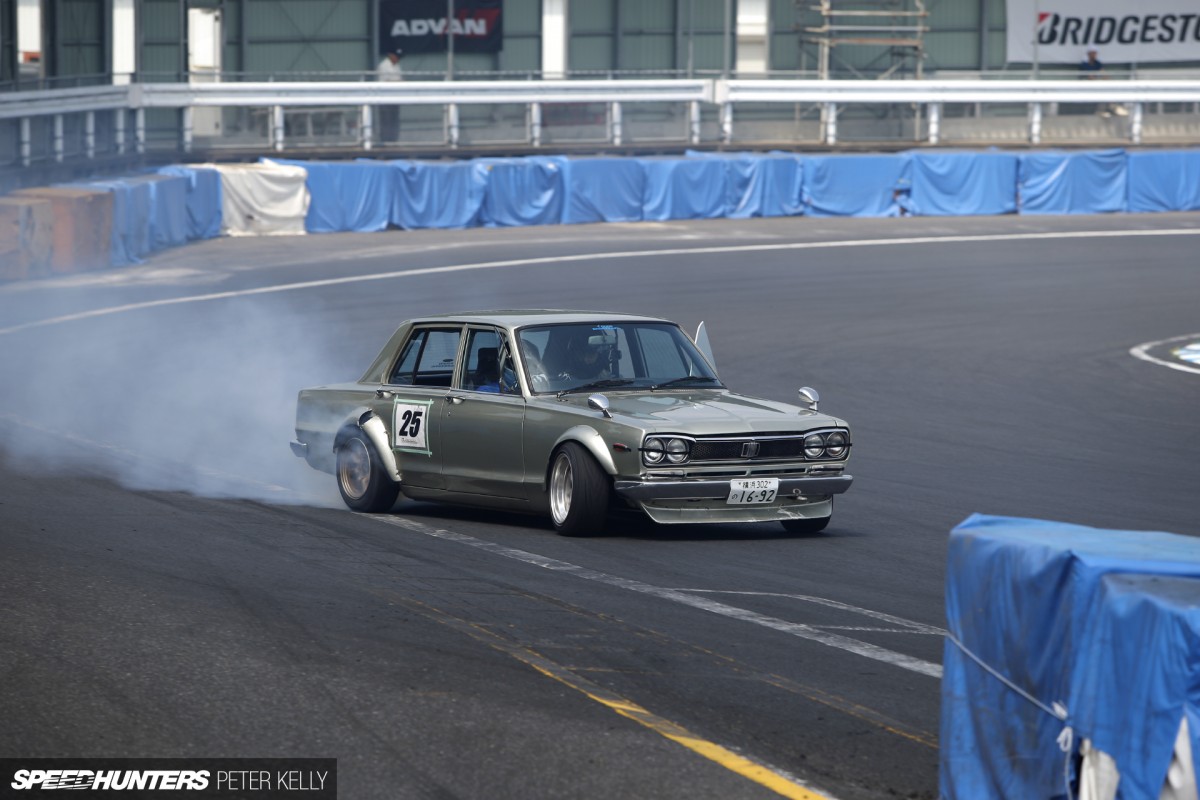 There's a dangerous side to Mobara's East Course though, which I was about to learn. As we exited the corner, I noticed that we were heading straight for the side barrier. If you were to take this corner too wide, or lose control here mid-drift, you'd be in serious trouble. Thankfully, Yufune-san knew what to do and he steered us away from the barrier in time. When I asked him about it, he just shrugged and said, "You get used to that."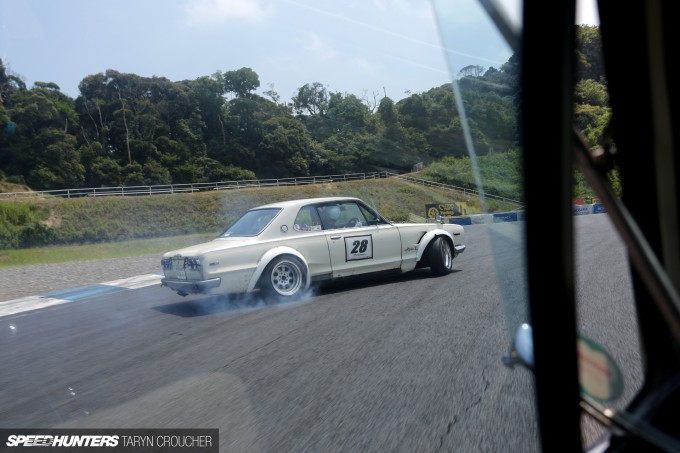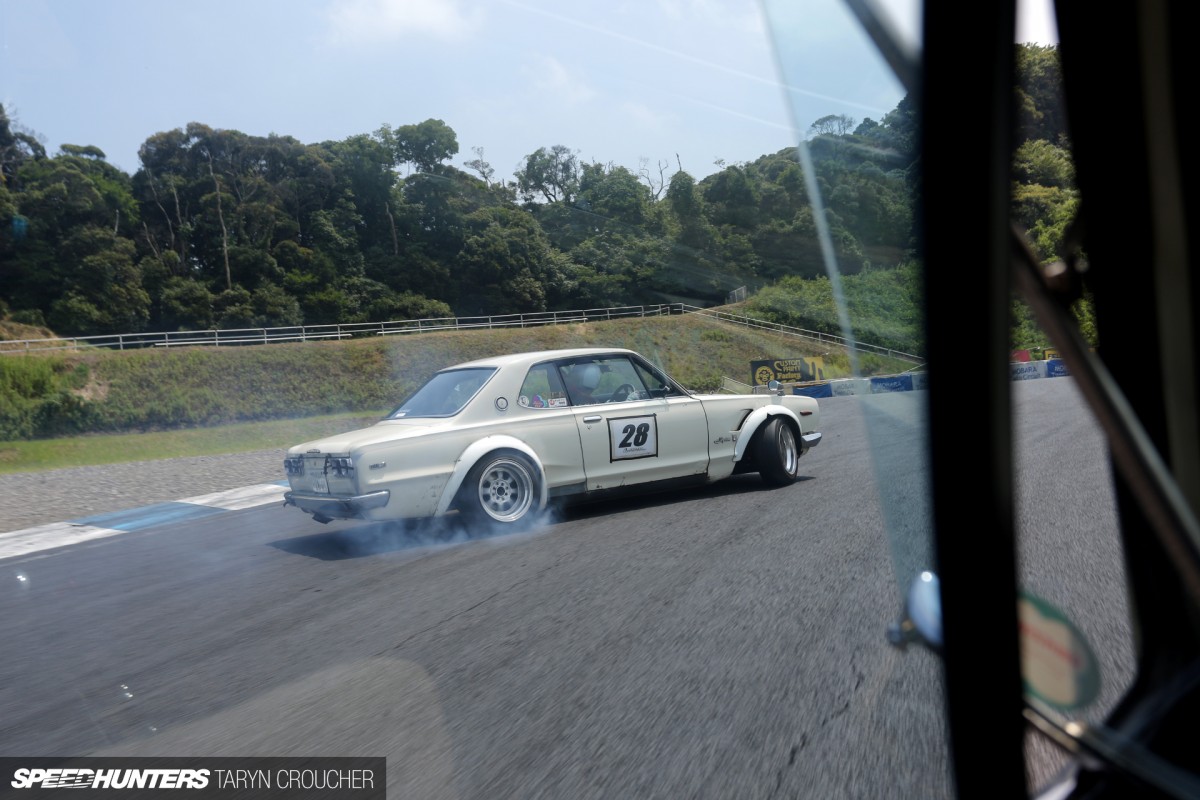 It was at this point that I had yet another realisation. No wonder they loved this track so much – it was actually possible for them to link up the entire course. From the previous corner they were able to drift out of this and along the front straight, which is still relatively short, and then switch straight into the next corner in the opposite direction. From there it was into a 180-degree turn, and then a series of super-fun twisties. This course was surely designed with drifting in mind.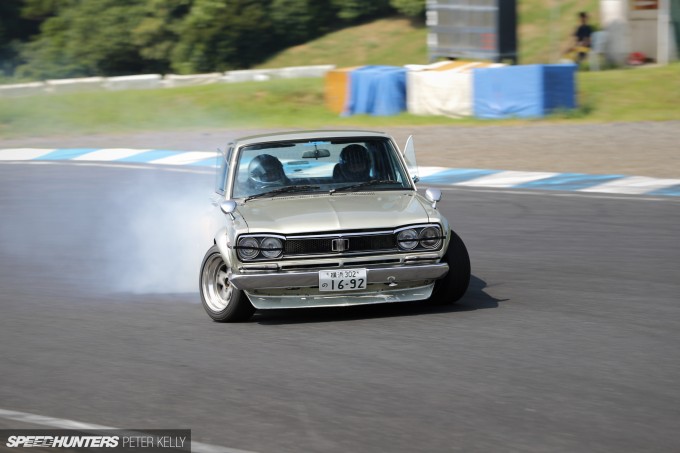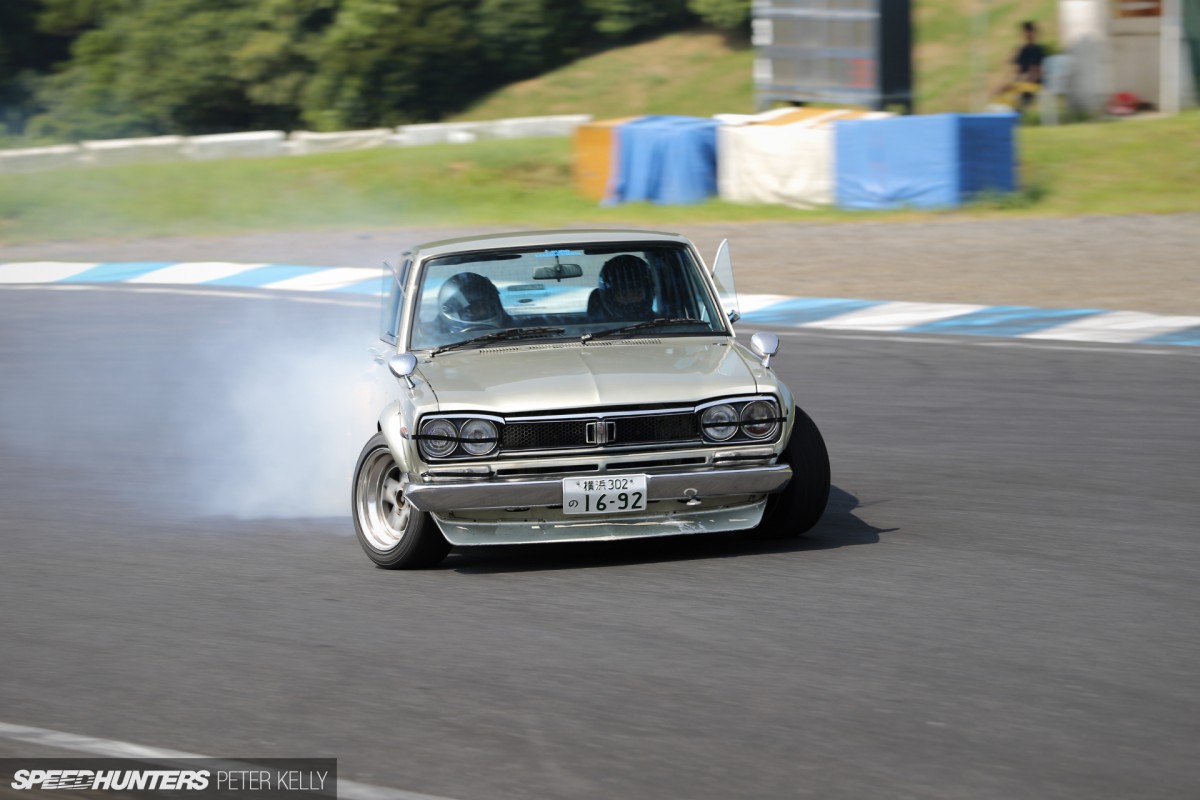 On the next lap, Yufune-san stepped on throttle even harder, and at first I though there might be something wrong with the car as it was much louder. An exhaust leak, perhaps? Nope, before was still just practice, as it turned out. I remember at this point, I was thinking, 'He's been holding back this whole time? What!?' This time we entered with more speed and Yufune-san was hot on the white Hakosuka's tail, as thick smoke and a nice spray of shredded tyre came flying through the open quarter glass window, and the sound of both L-series motors on open throttle sung a tremendous song.
Check out the above GoPro footage for some of the highlights. It was honestly beyond impressive, and I couldn't help but notice that each time we drove past the spectating area and the pits, everyone was watching and smiling.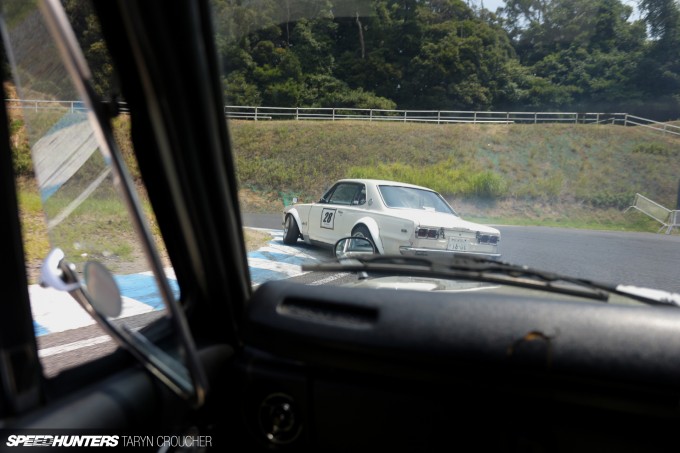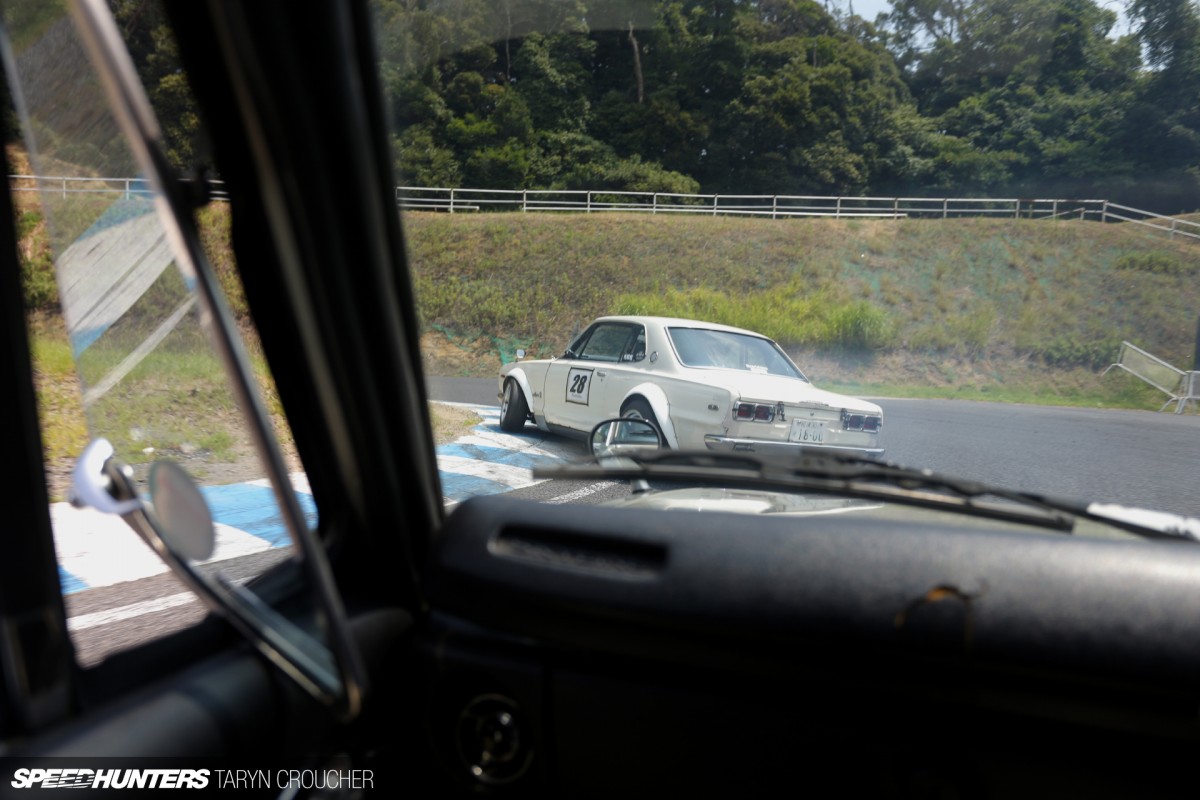 I'd just never really thought about an old car being used like this. Sure, I'd seen videos of nostalgic racing and I've even seen a few Hakosukas go all-out on Tsukuba Circuit before, but this was really something else. It got me thinking – would my '75 Datsun be capable of doing this? It would at least need a similar rear subframe conversion, as well as the R32 Skyline transmission and the S13 rack and pinion steering conversion that Yufune-san runs. Not that I would do that to my car anyway, but still… I just couldn't get the idea of a drift S30Z out of my head.
After the 4th or 5th lap, Yufune-san pointed to his water temperature gauge which was flashing red, so we headed back into the pits and then went over to check out the lunch menu at the restaurant.
Hold On!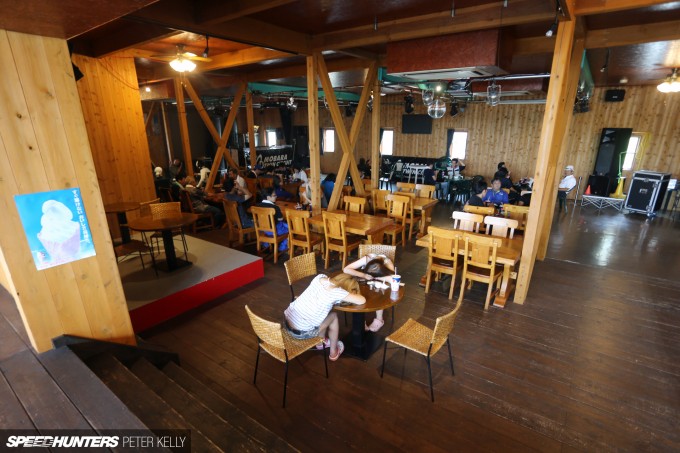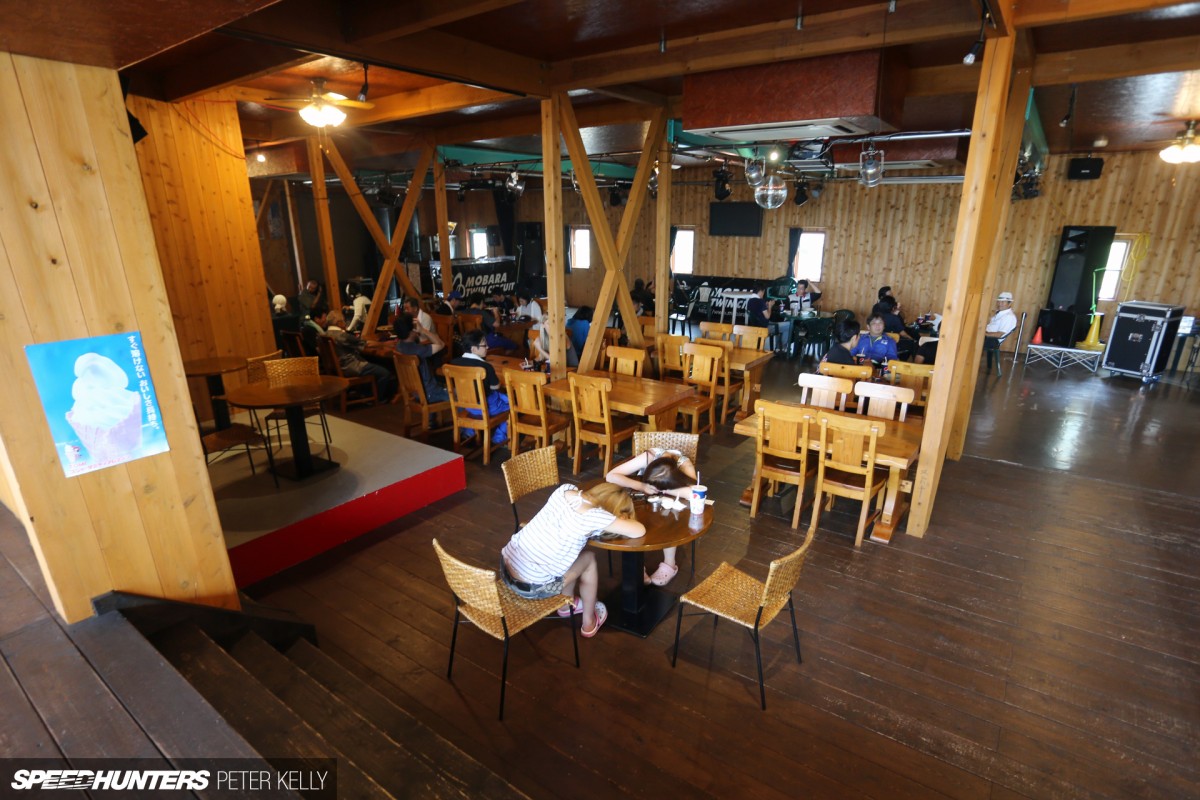 I can't even begin to express how horrible and overbearing the heat was at this time of year. If you can avoid traveling to Japan from mid-July throughout August, I would really recommend this, unless of course, for some reason you actually enjoy sweating more than you ever have in your whole life, and having to pour water over your head every half hour or so. Thankfully, Mobara has a great air-conditioned restaurant, which was a huge relief. The heat had obviously got to the girls sitting at that table, as they were both asleep; not actually that weird of a sight in Japan, though.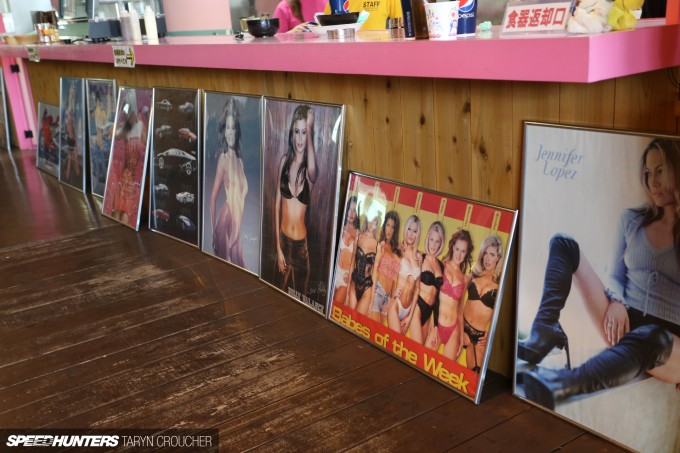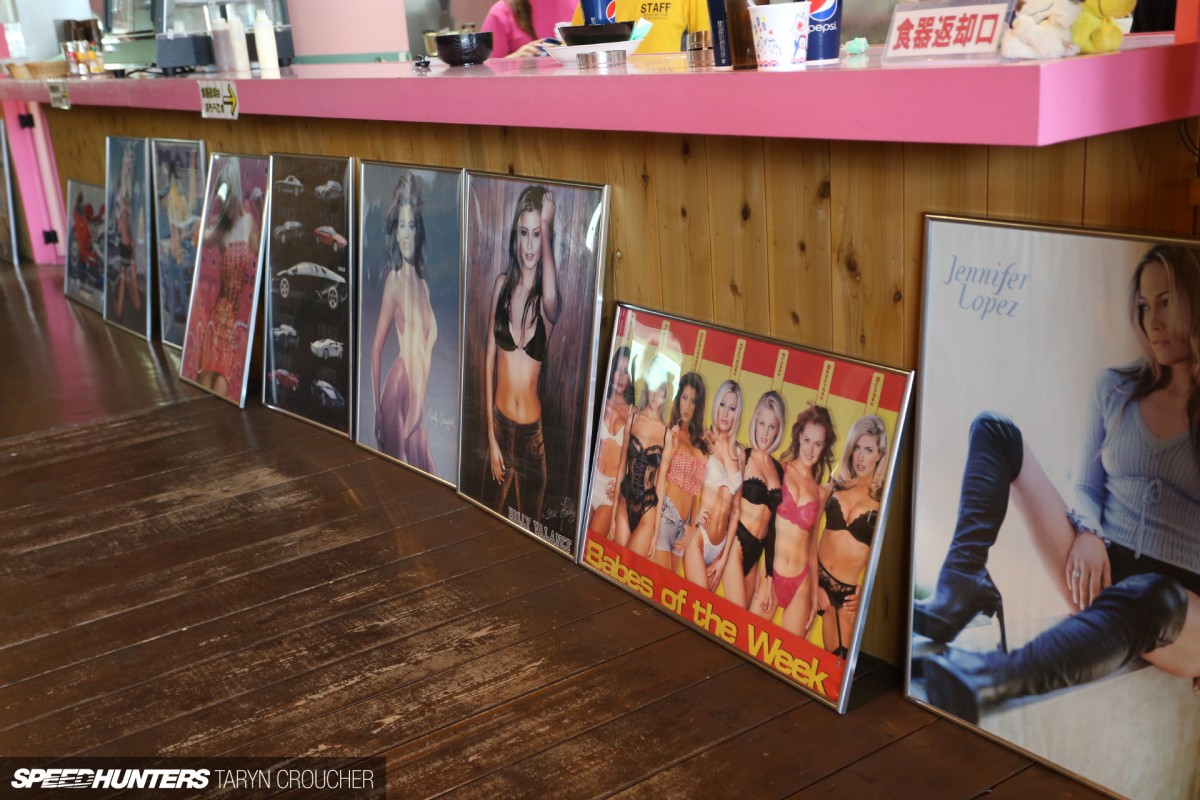 What was more weird perhaps, was the restaurant's fantastic décor, which mainly consisted of various posters of girl babes from the late '90s and early '00s.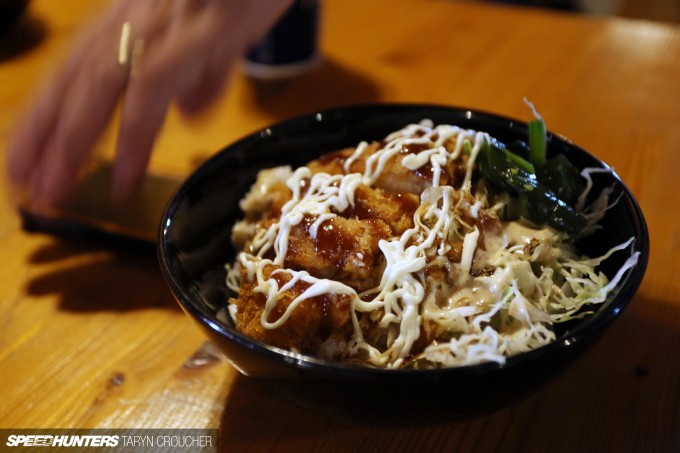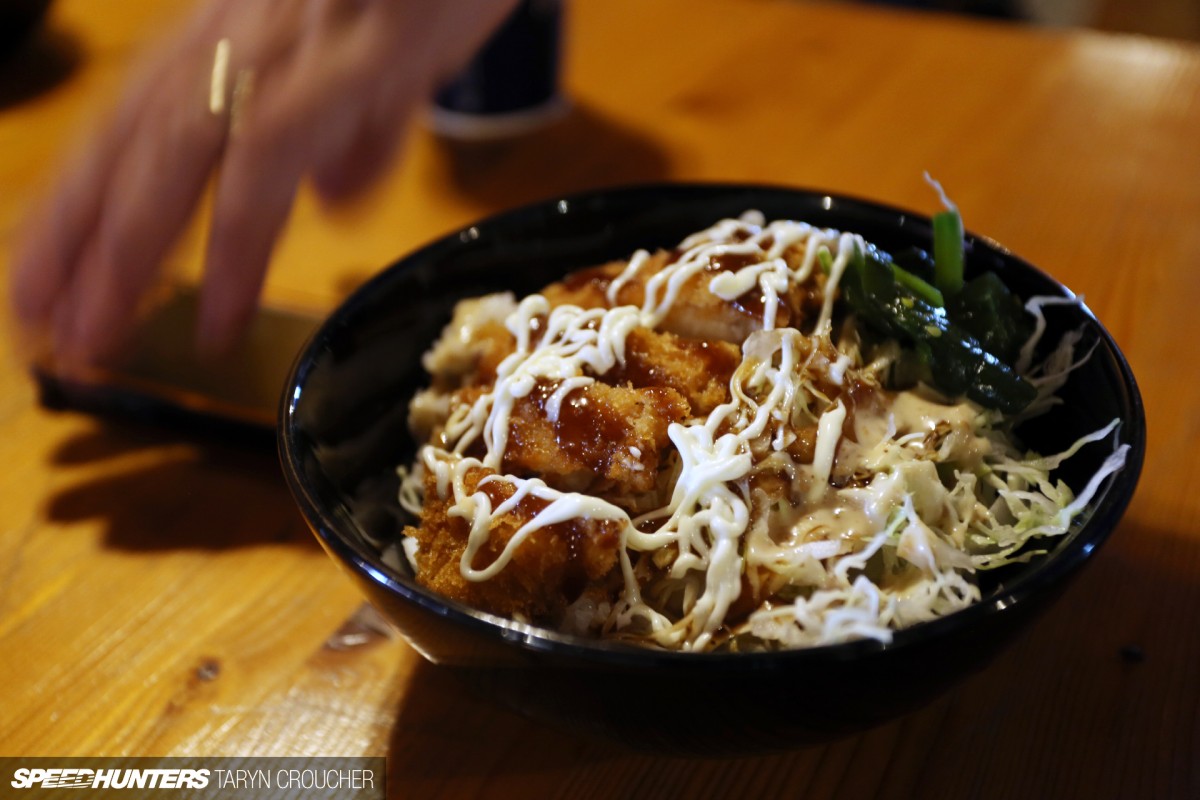 Unsurprisingly, the food was also great. They served chicken donburis, Japanese curry, ramen noodles and salads, which sure beats the traditional 'hot chips and hot dogs' race track food I'm used to, Plus, they had Wi-Fi which actually worked and was really fast. I think Mobara might be my new favourite race track.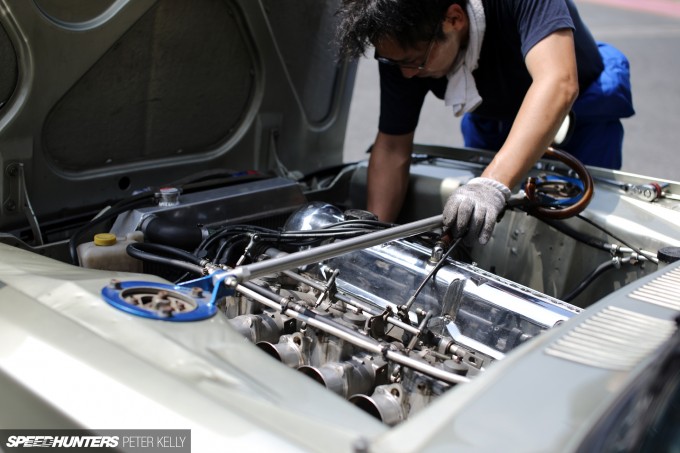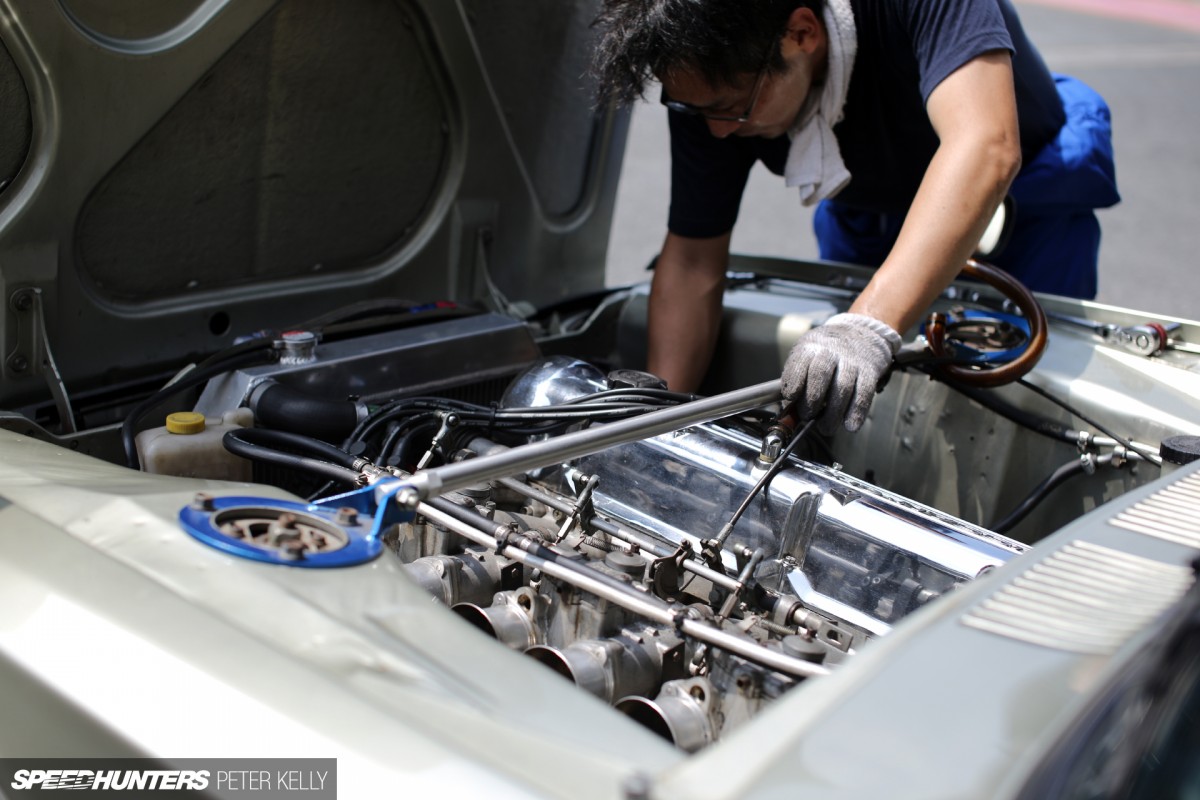 After lunch, Yufune-san checked out what was going on under the Hakosuka's bonnet and discovered the cause of the aforementioned temperature warning light – the fan belt had come off, meaning the water pump had stopped working completely. I'm sure the 36°C weather wasn't doing anything to help the water keep cool either, but fortunately it was an easy fix so we could get out for some more track time.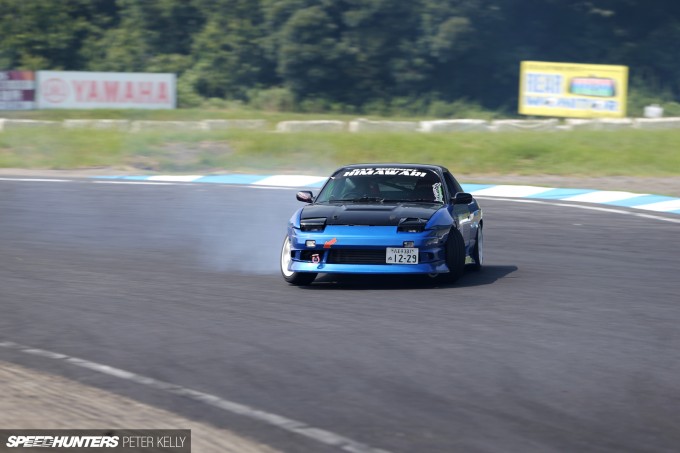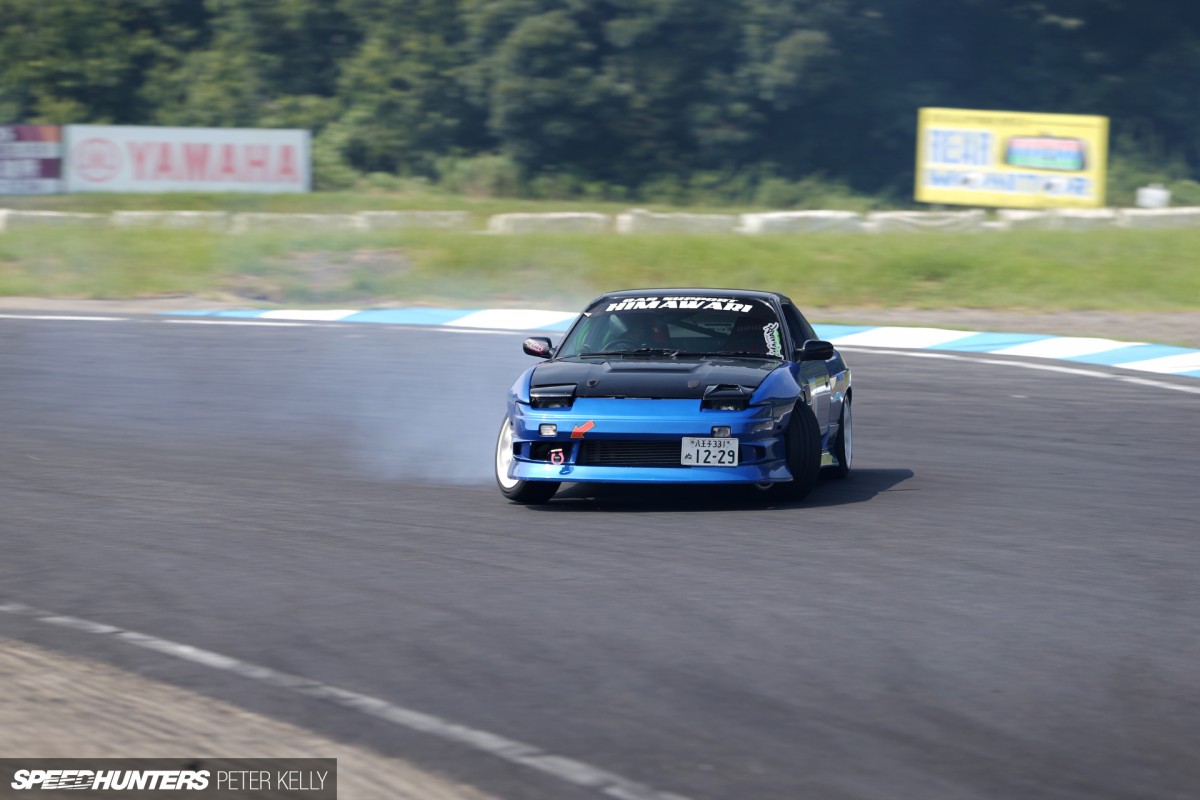 While we waited, we got to check out some of the other grassroots machines that had made it along to the open track day. There were actually some really cool-looking cars, like this Nissan 180SX which was going all out with some wild entries.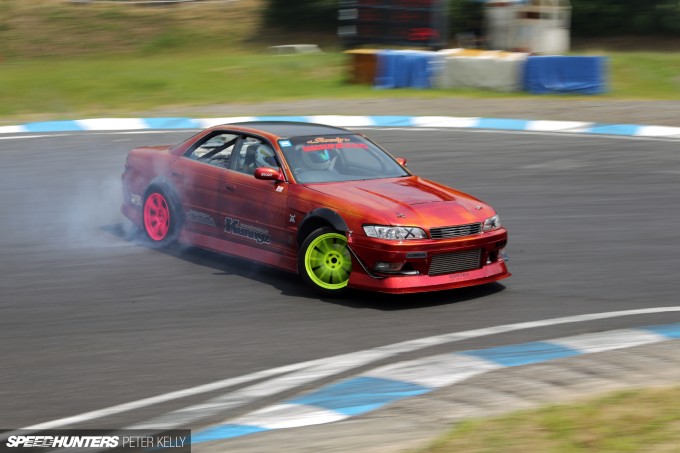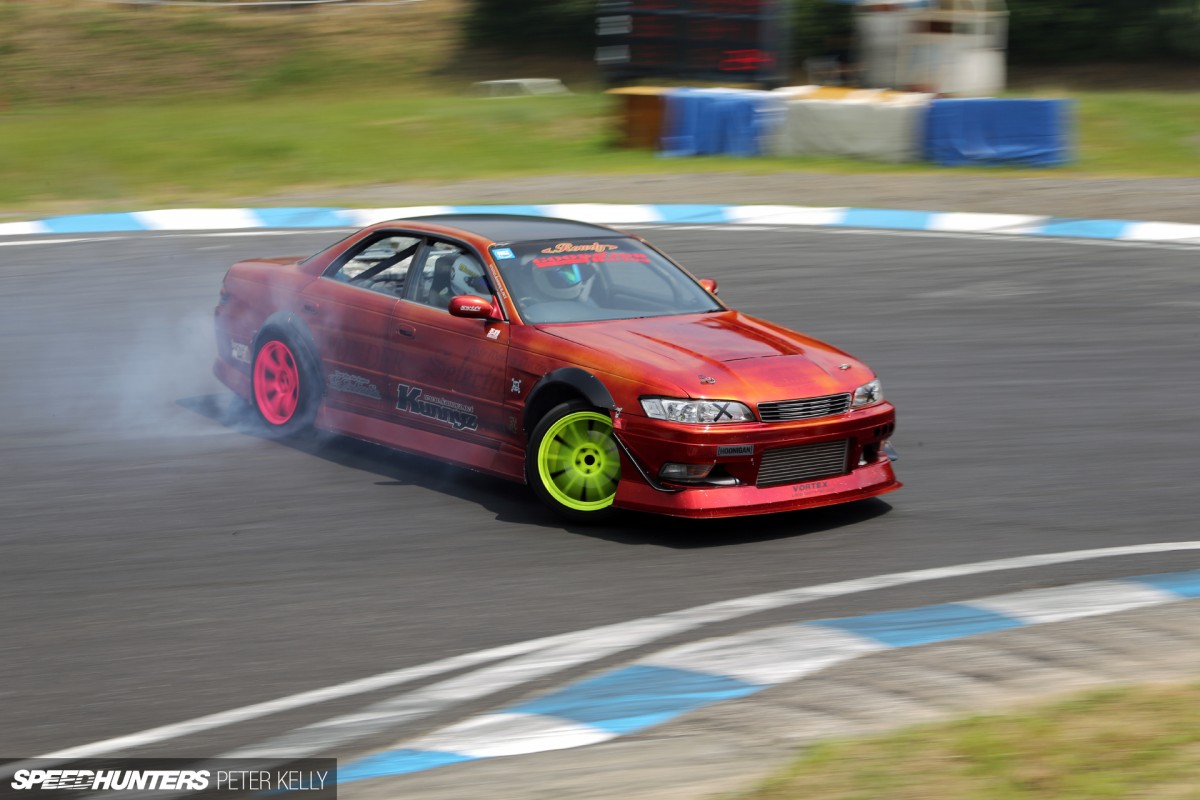 This big-boned JZX was making quite a scene too. This certainly wasn't a track day for beginner drivers.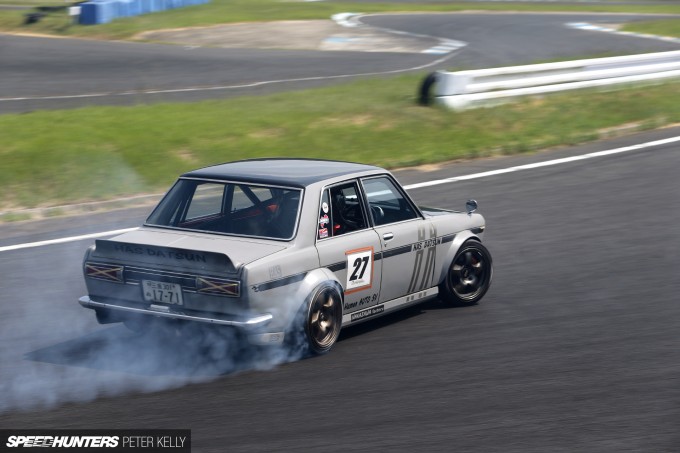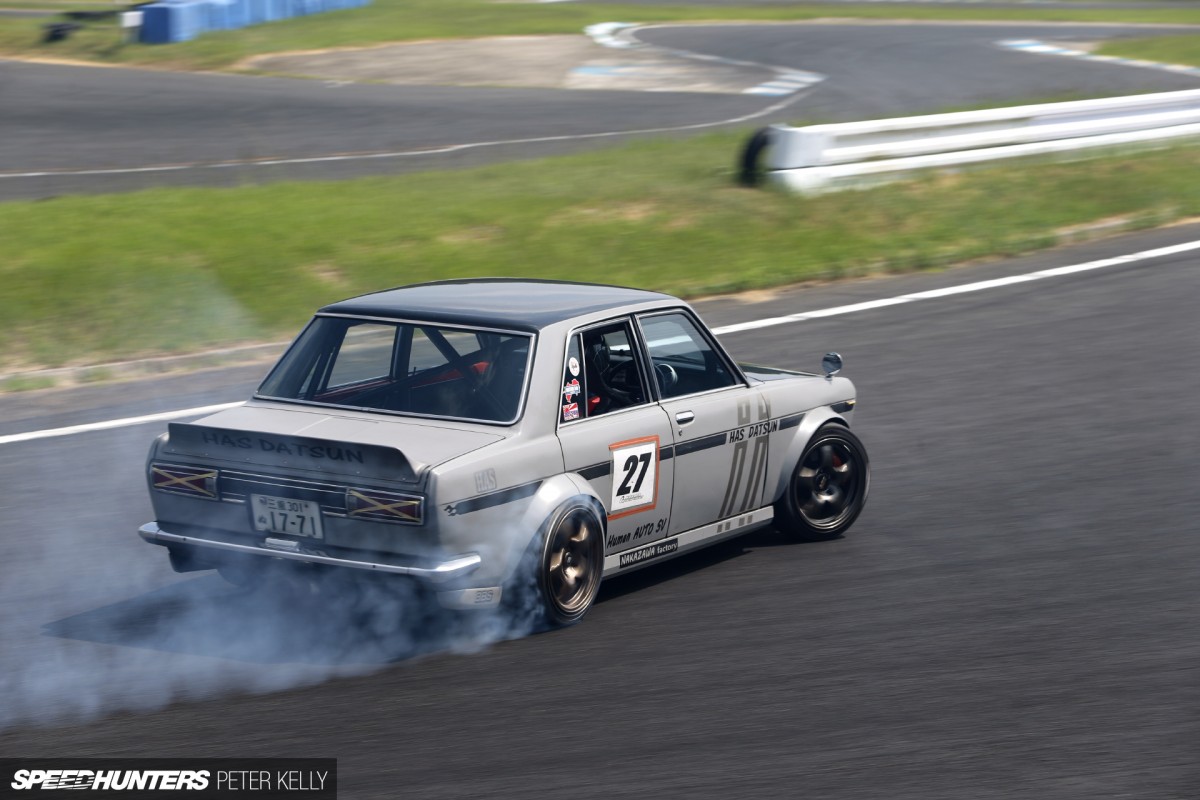 There was also this awesome Datsun 510, owned by Yufune-san's friend Morishita-san from Mie Prefecture.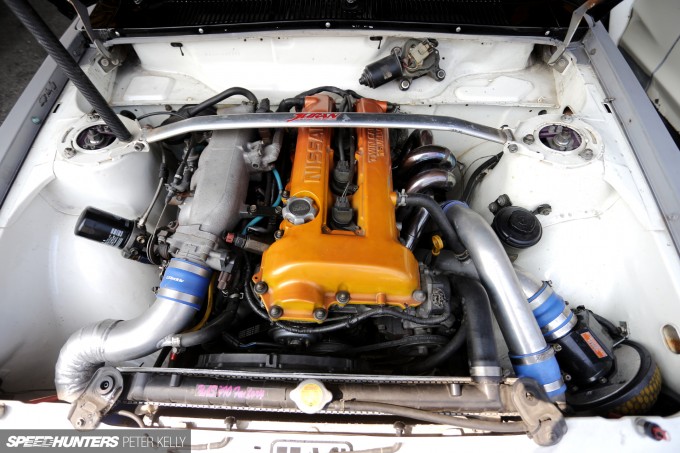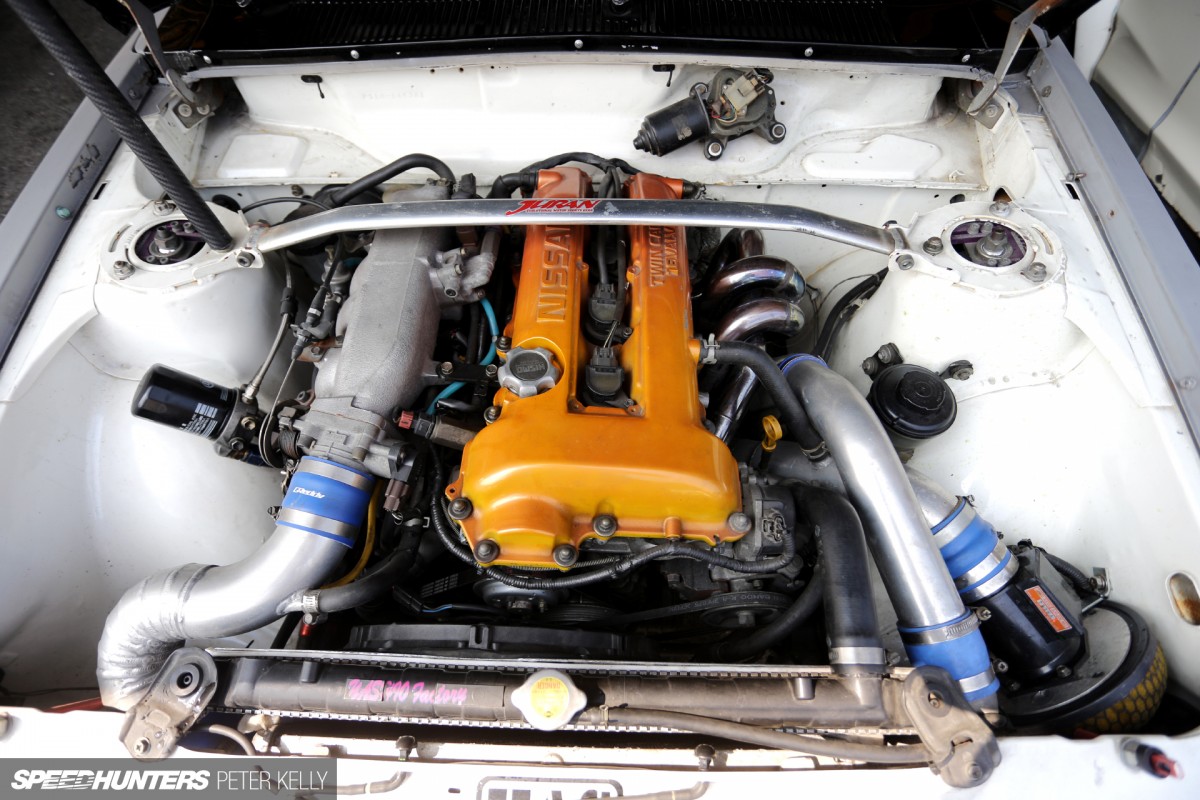 It took me a while to realise on the day, but I'd actually seen this car before at a car show back in 2014. But seeing as the car was parked up with the bonnet shut, I had no idea that an SR20 was hiding under there, and I definitely didn't know that the owner was into drifting it!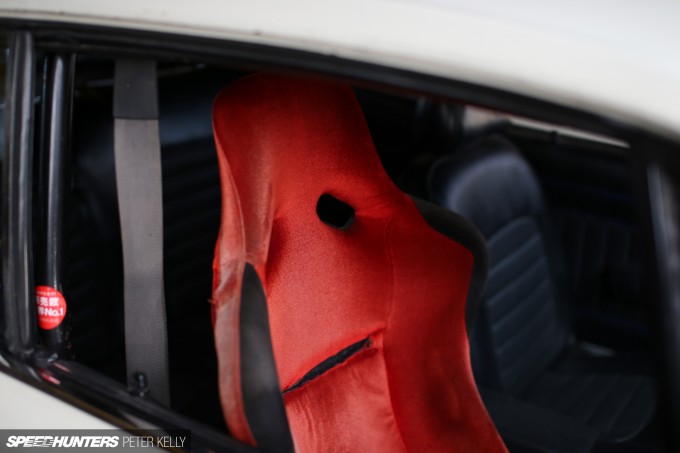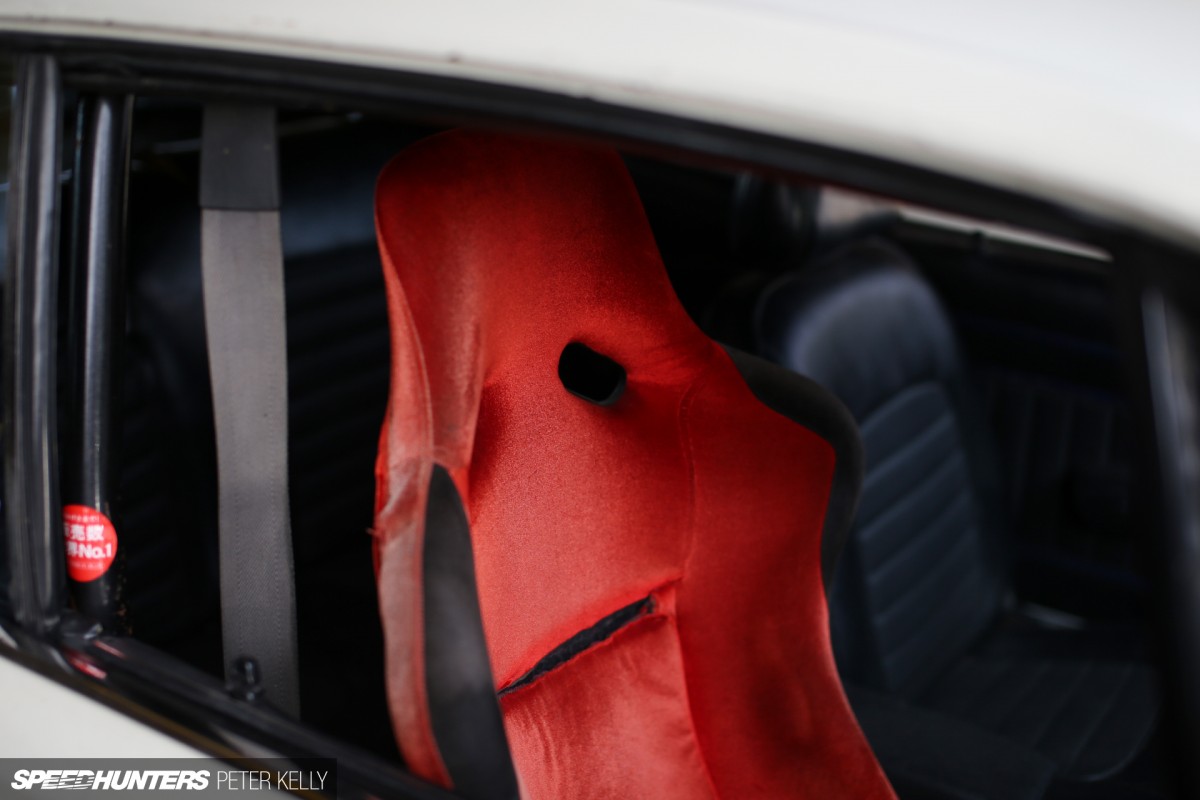 This time I'd be going along with with Toujou-san in the white two-door, and I was curious to know how this car might handle differently. Unlike Yufune-san's Skyline, Toujou-san's had a bolt-in half cage, but it didn't have a strut brace and the same chassis reinforcements. It also didn't have a bucket seat for the passenger; instead there was just a factory vinyl seat with a factory sketchy seatbelt. Gulp. Toujou-san's red velvet-covered driver's seat did make me laugh though; very fitting for his wild style and personality.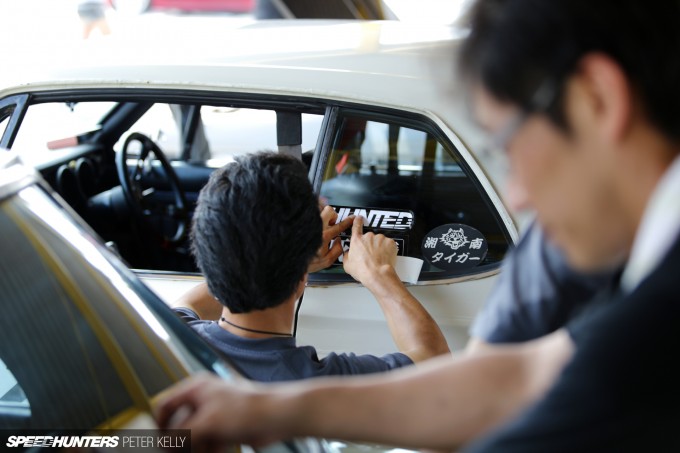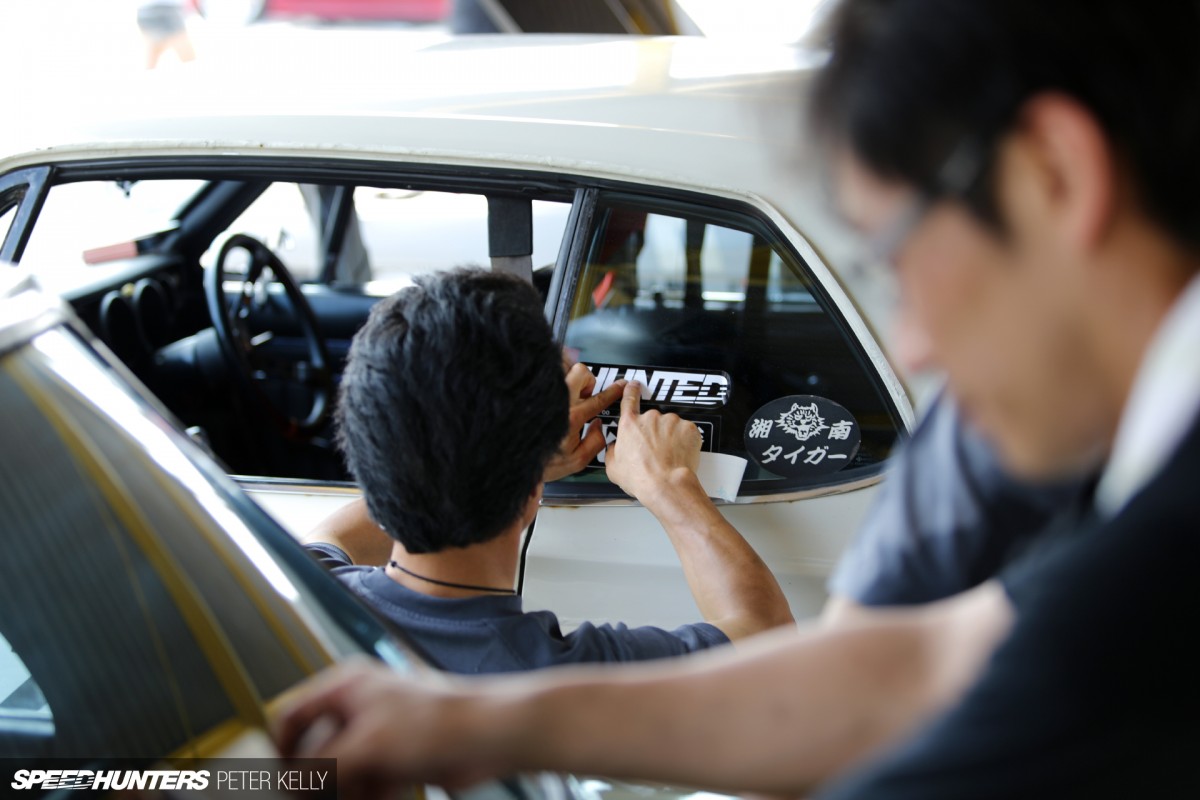 We put some Hunted stickers on the cars and were ready to go, but just before we went out on track, Mr. Toujou gestured to the roof handle and said, "Please, hold on!"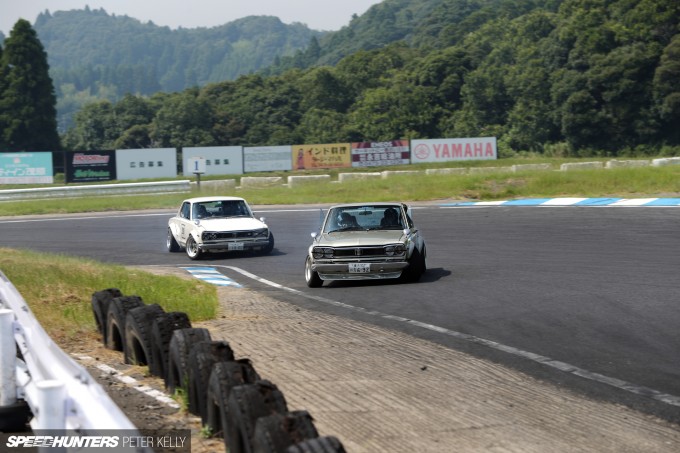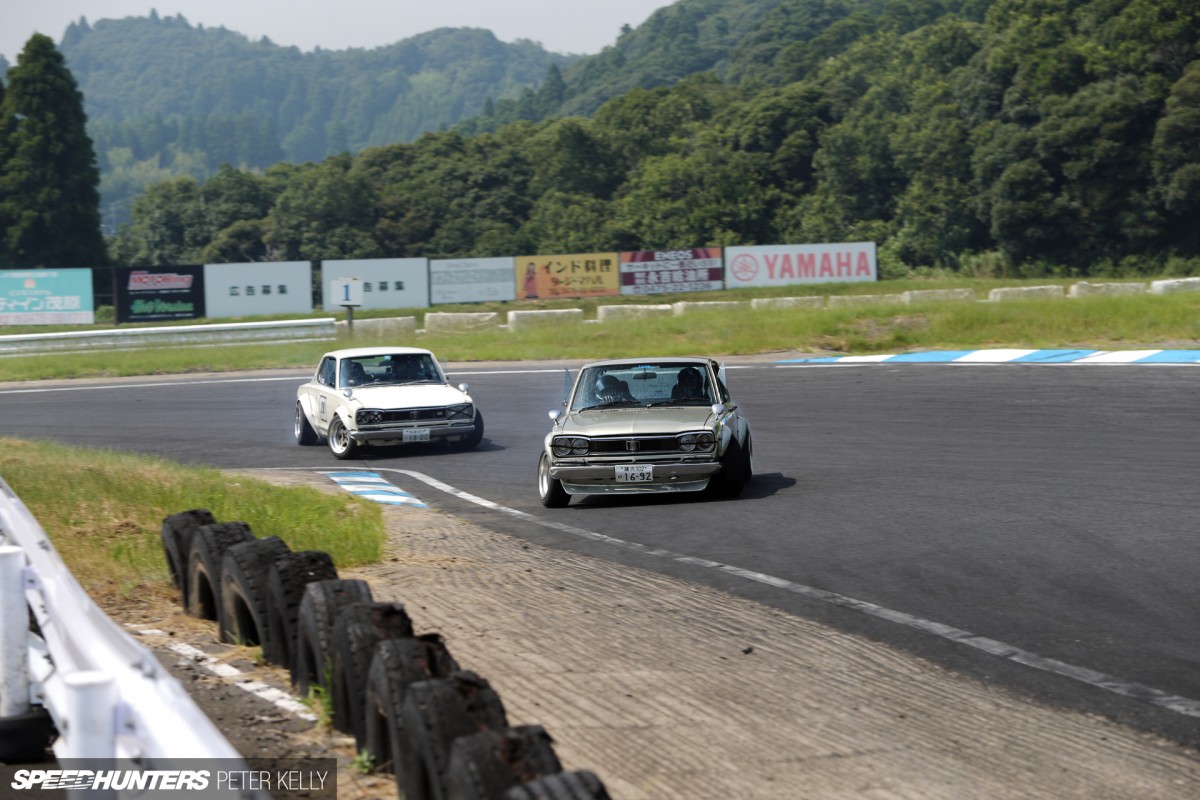 I laughed and agreed, but before I could actually grab hold of it successfully, the car flung sideways and in an instant I found myself over on the driver's side of the car and almost in his lap! We laughed off the awkwardness and I took him more seriously from that point onwards, bracing myself with the roof handle and using my other hand to hold onto the edge of the seat. But even this wasn't enough, as the factory seat and belt were basically doing nothing to hold me in place, and Toujou-san was only picking up speed, along with a wild grin on his face. This was about to get interesting.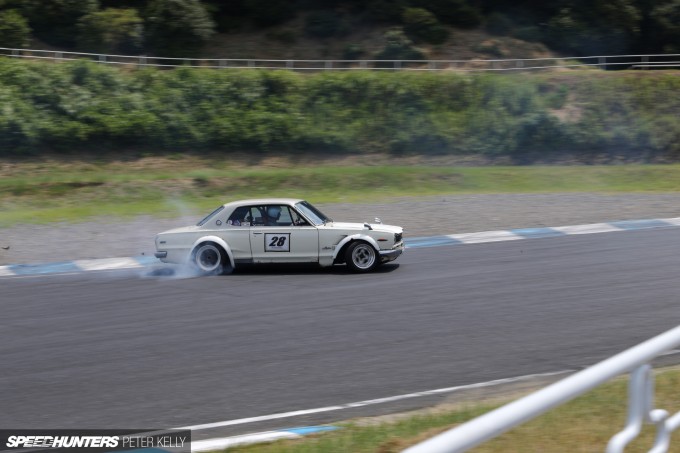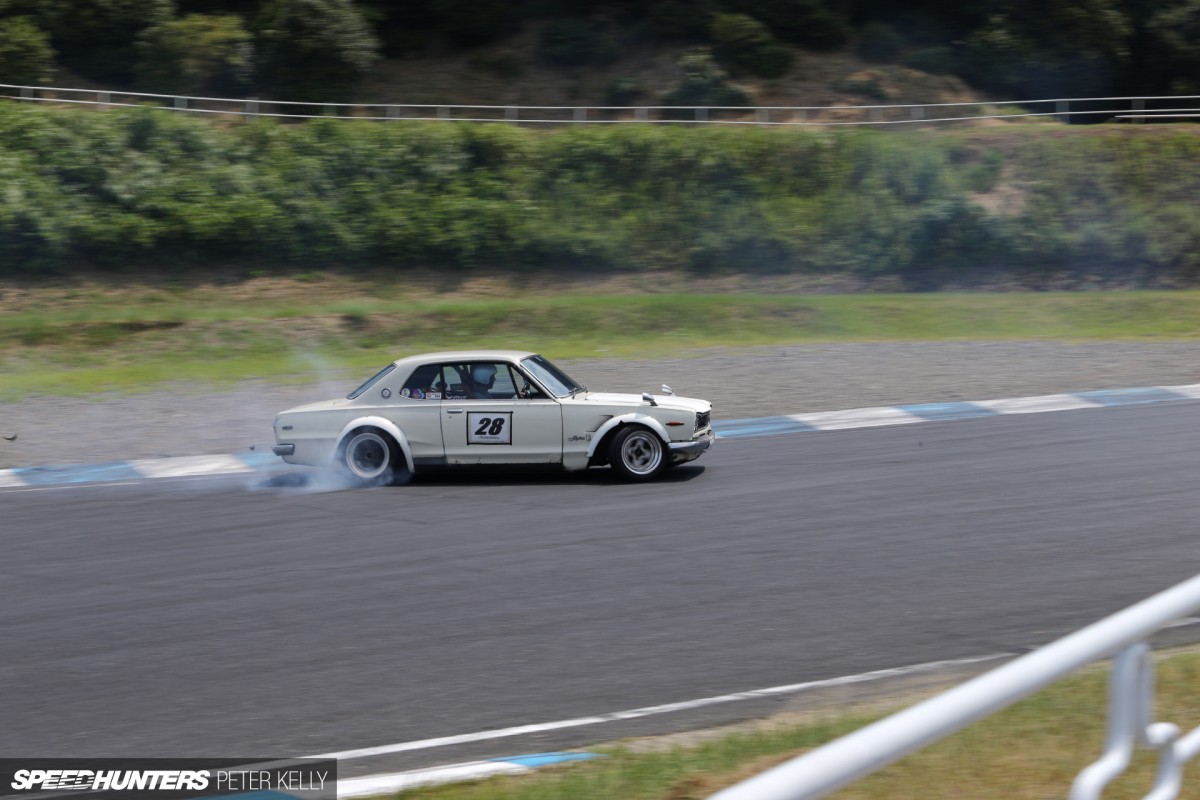 Not having the same level of chassis reinforcement was instantly obvious; the car had a lot of flex and in all honesty, it did feel a tad unsafe. However, I'm not sure I felt that way because of the car itself or because of Mr. Toujou's crazy driving. Even though he's had his Hakosuka for less than two years now, he was still very familiar with the track layout and he certainly wasn't a bad driver, but I think it might've had something to do with it being the end of the day, and the drift train we had going with Yufune's Hakosuka and Morishita's 510 that got him a bit overexcited. You can actually see chunks of the tyres flying off in this photo!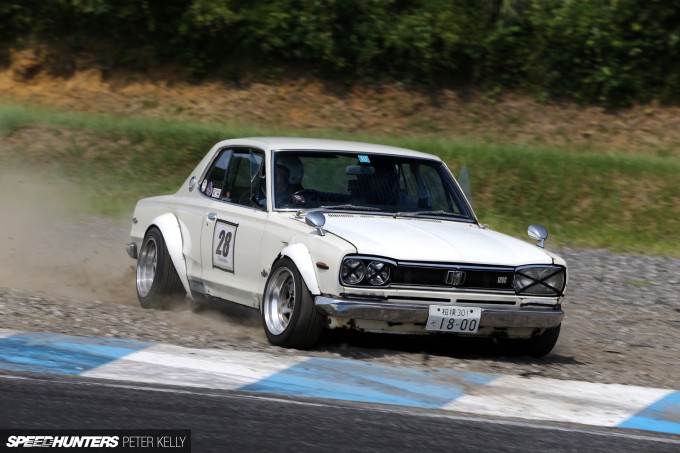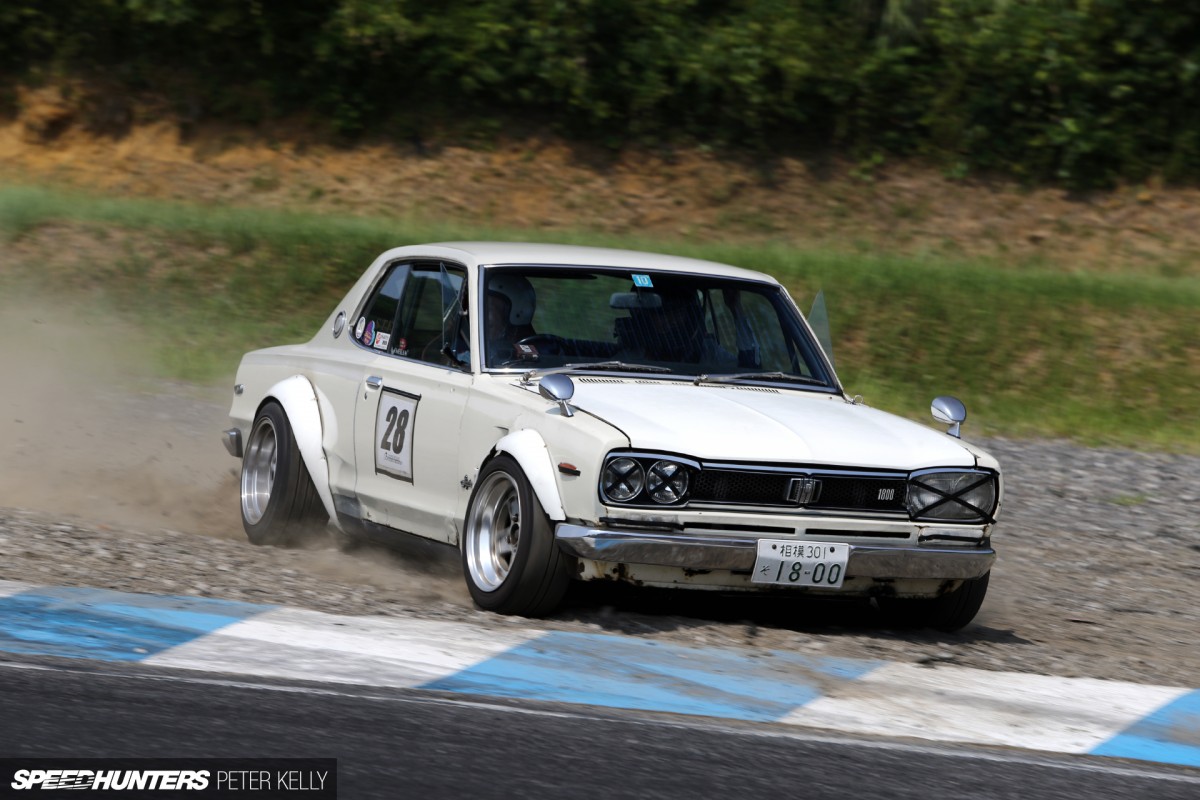 At the end of the main straight we went off a couple of times, all while Toujou-san was absolutely laughing his head off shouting, "Uh oh!" By this stage I'd basically accepted that if something went horribly wrong, perhaps this wouldn't really be such a bad way for me to 'go out' after all – sideways in a screaming Hakosuka in the beautiful Japanese countryside. That would be pretty badass, right?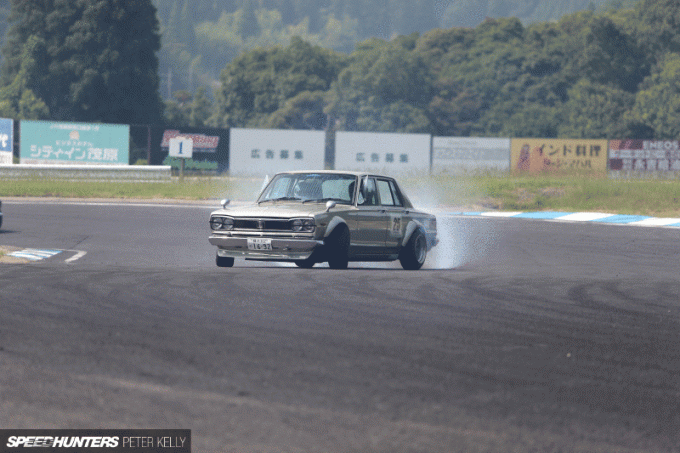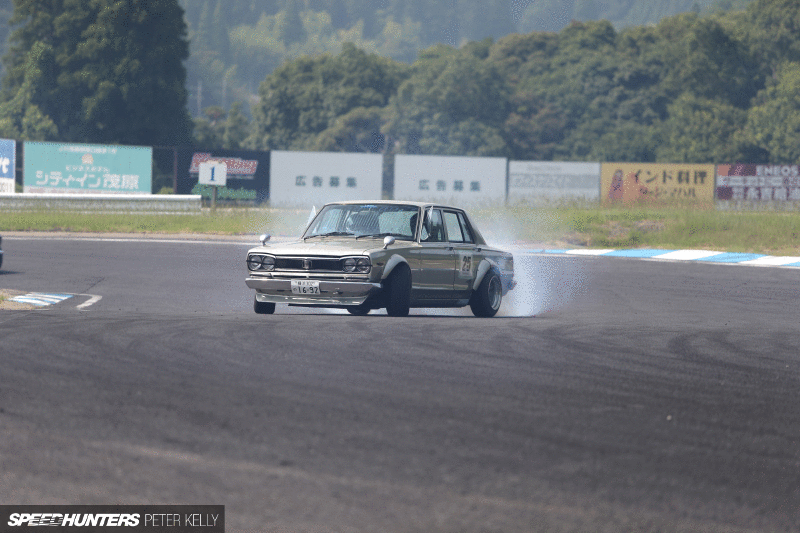 It was rough, it was stupidly loud and my arm was just about to fall off from holding on so tight. The centre console wasn't actually attached to anything either, so that was flying around the cabin too. Looking back now, it was hilarious amounts of fun, but at the time I was definitely a little bit concerned, as evident in my body language in the GoPro footage below.
So I guess the question is, why run these cars when you could just drift a Silvia or a JZX or something, right? Well, Mr. Yufune and Mr. Toujou grew up around these cars, and before Yufune-san bought his Skyline home a decade and a half ago, he owned a Nissan 310 Sunny too. He explained, "I've always been attracted to the response of Solex carbs on a naturally aspirated engine. My father owned an S30 when I was a child, and I always wanted one after this. But since I have my own family now, I bought a four-door Hakosuka instead! But that's okay, because the Hakosuka is cool."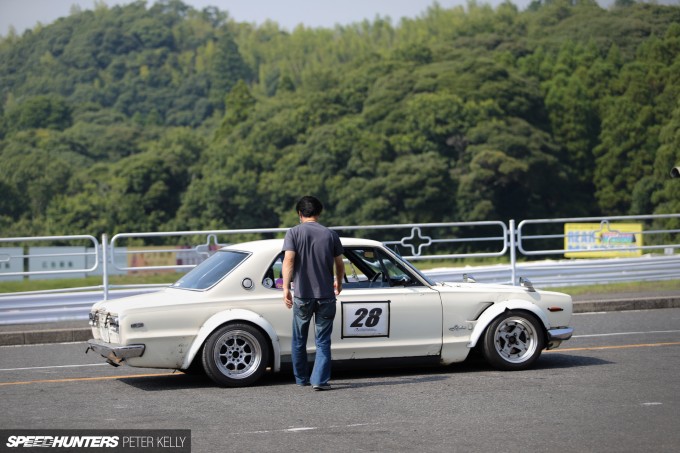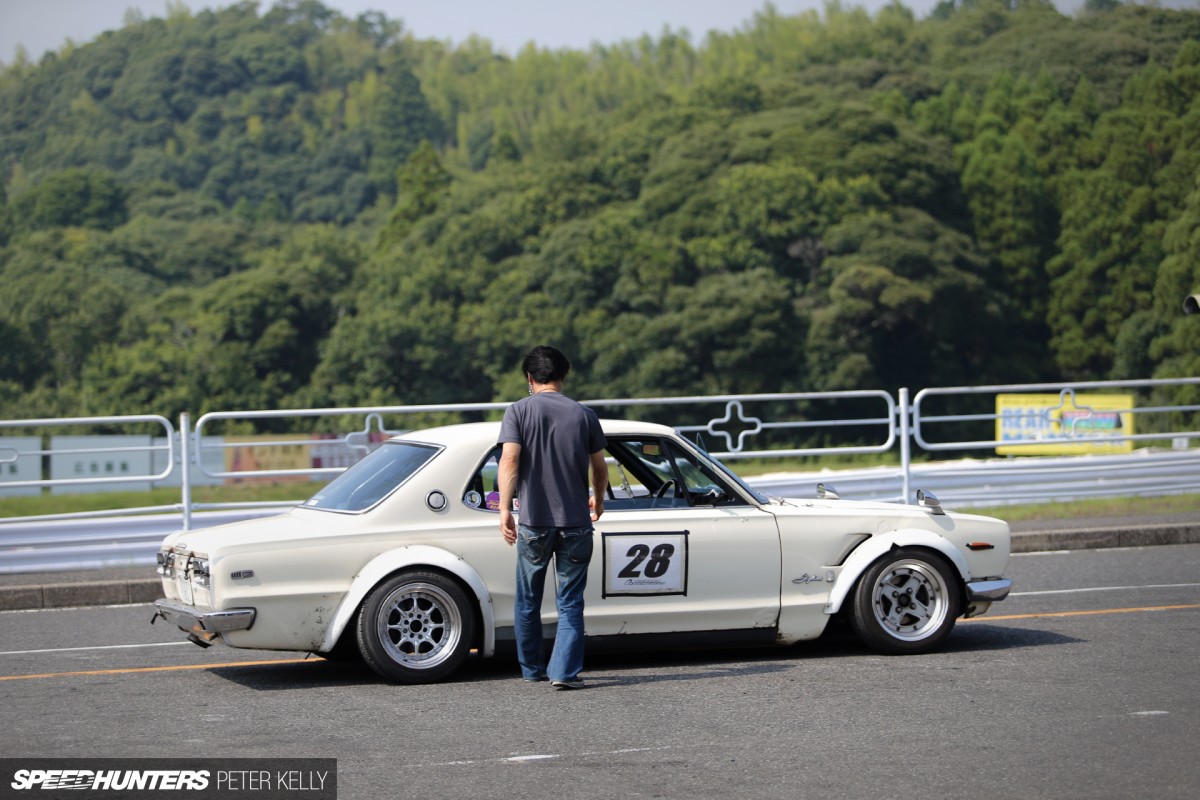 Perhaps the most interesting part about all of this however, is that Yufune-san and his circle of friends have always been into drag racing, and he used to travel up north to Sendai Hi-Land quite often. But sadly, the drag strip there had to close down after it was damaged in the Tōhoku earthquake back in 2011.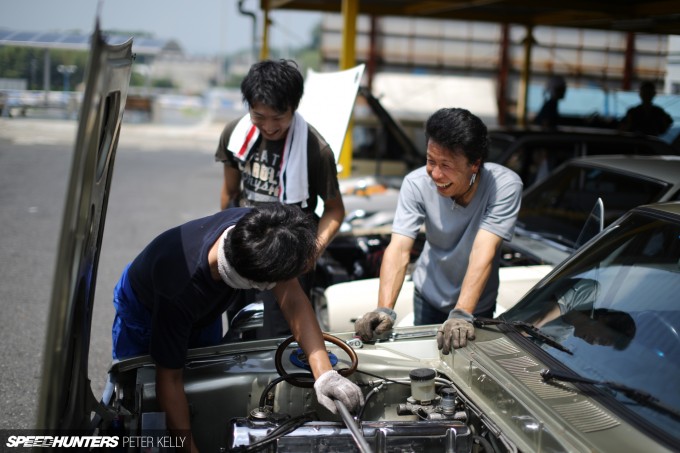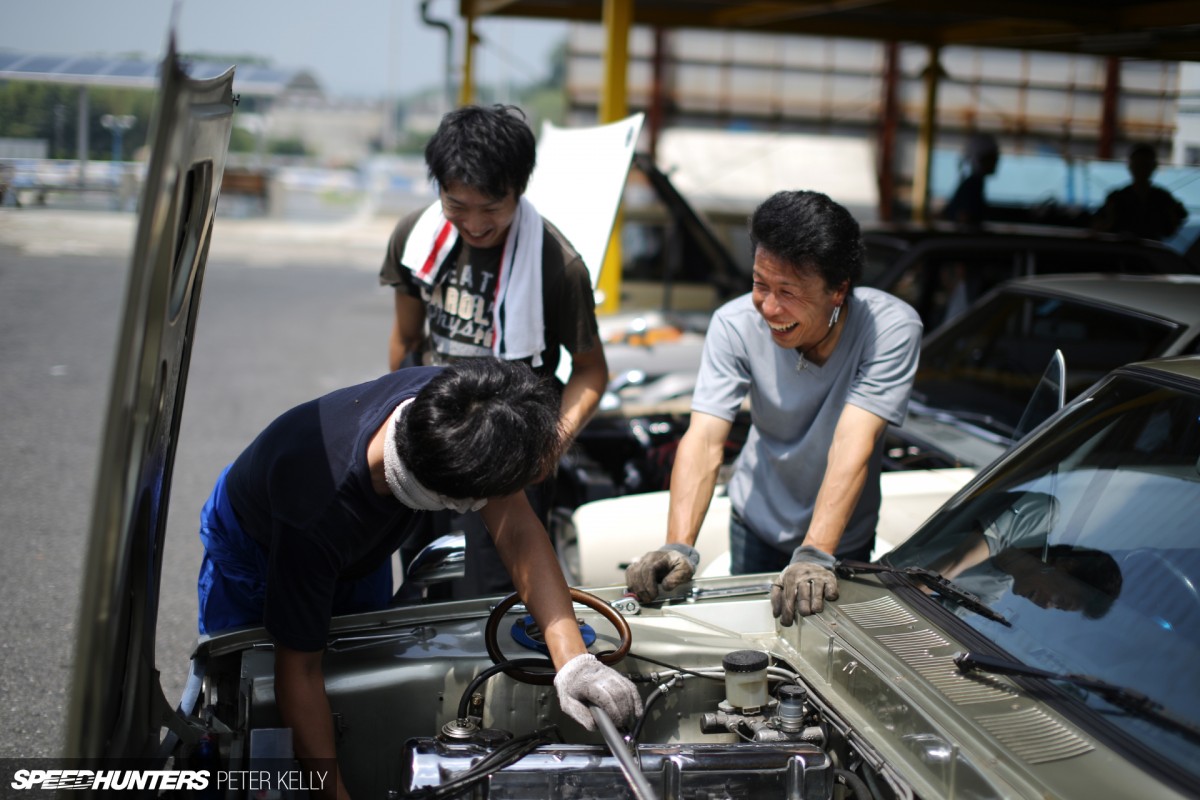 The following year, Yufune-san decided that if he couldn't drive fast in a straight line, he'd just have to modify his Hakosuka to drive fast sideways instead. He says, "I understand that not many people would do this to a Hakosuka. I understand it is valuable. But drifting is great fun, and I want to enjoy my car in any way possible." How cool is that?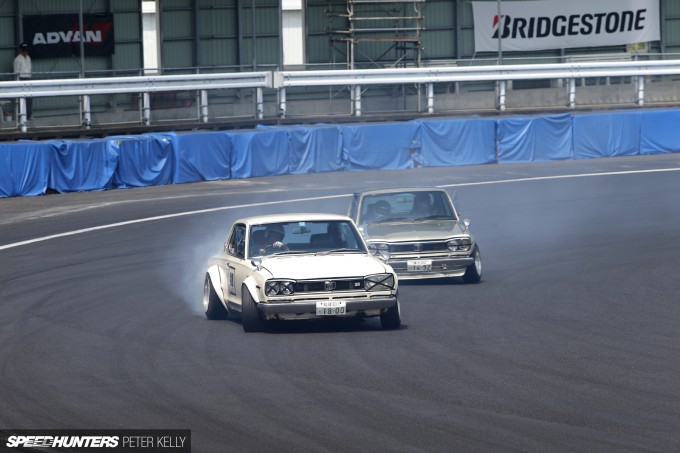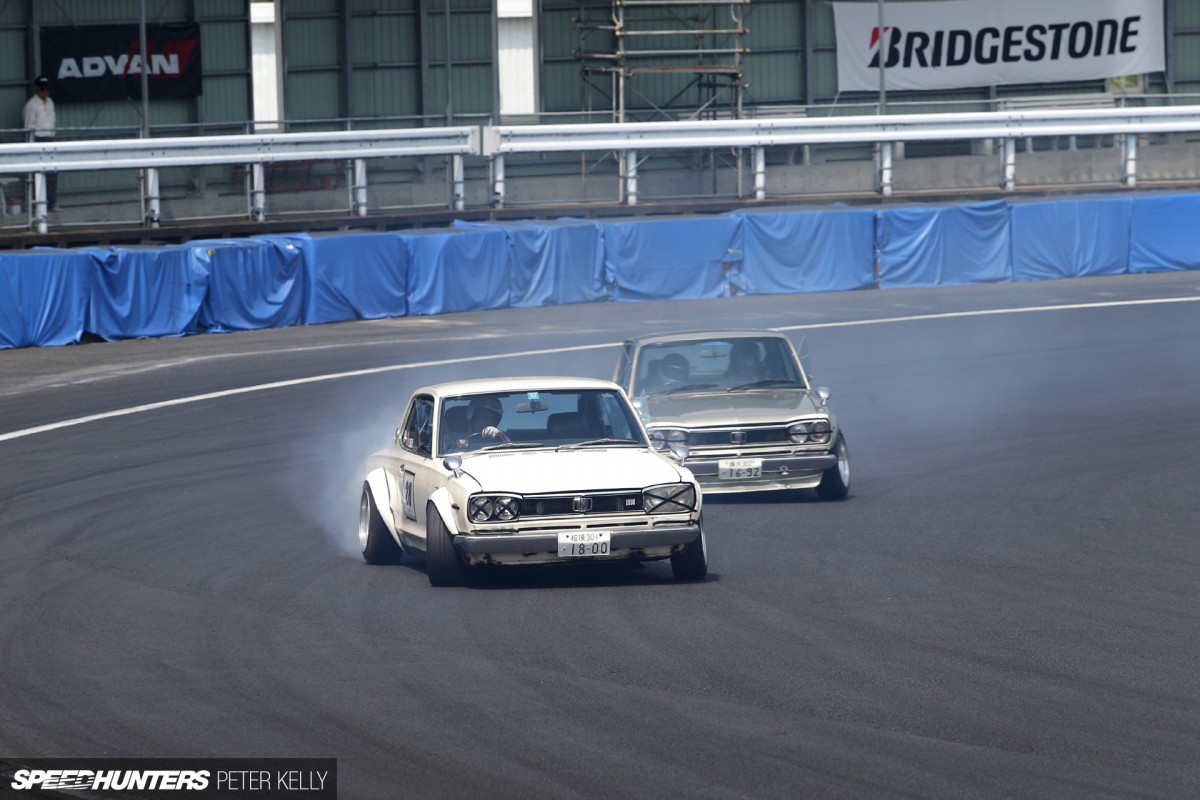 As far as they're aware, these are the only 'drift' Hakosukas like this in the world. But who knows, perhaps more Japanese classic car owners will be inspired and start to follow suit? And for those who quiver at the words 'cut' and 'Hakosuka' in the same sentence, what would you prefer? That these cars remain hiding in the shadows of garages or museums simply gathering dust, or seeing them battling out on track in a wicked display of skill, smoke and sound? Before experiencing this track day, I actually might've gone with the first option. But thanks to Yufune-san, my mind has definitely been changed.
どうも ありがとう ございました!
Words by Taryn Croucher
Instagram: taryncroucher
taryn@speedhunters.com
Additional Photos by Peter Kelly
Instagram: speedhunters_pedey
pedey@speedhunters.com
Cutting Room Floor