Stock, Custom, Slammed… It's All Here
The Classic Motor Show is an event I look forward to every year. It's low key in that it's not rammed full of big companies trying to sell you stuff: it's about the raw joy of owning older cars and what you can do with them. And as evidenced by the CMS, what you can do with them is anything and everything. It's a sensory overload, hitting you with a combination of visual history lessons of entire marques and style freedom that is beyond refreshing in an ever more genre-obsessed world.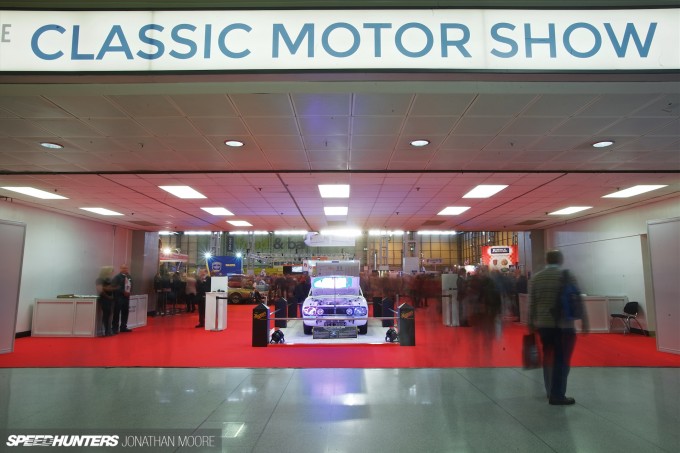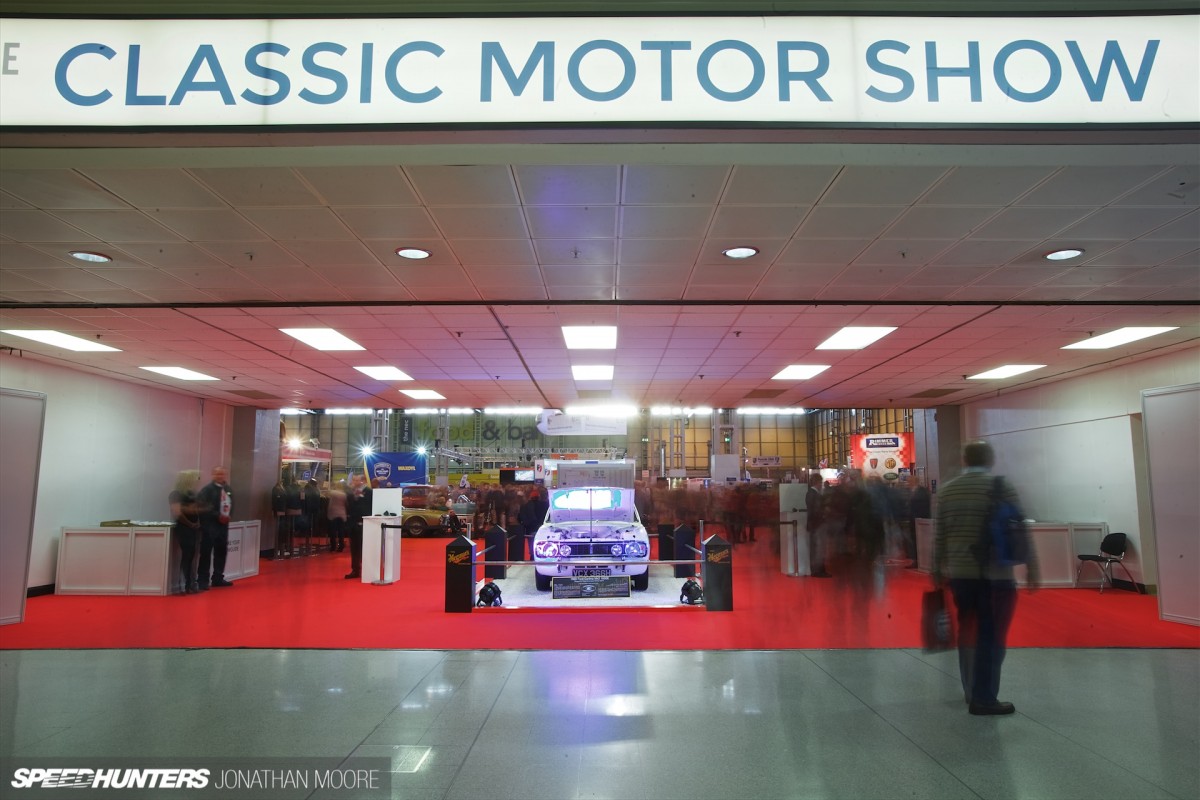 There is a narrative beat that runs though the avalanche of metal of the National Exhibition Centre in Birmingham, UK, a place awash with cars from every possible corner of the world. The main tenet is that whatever people might think this show is, it almost certainly isn't.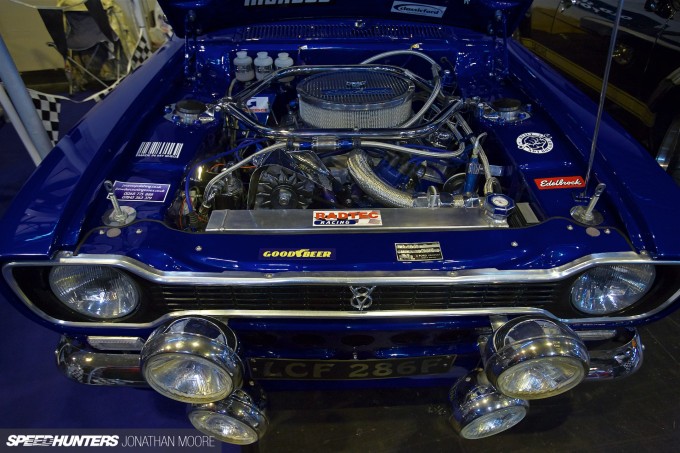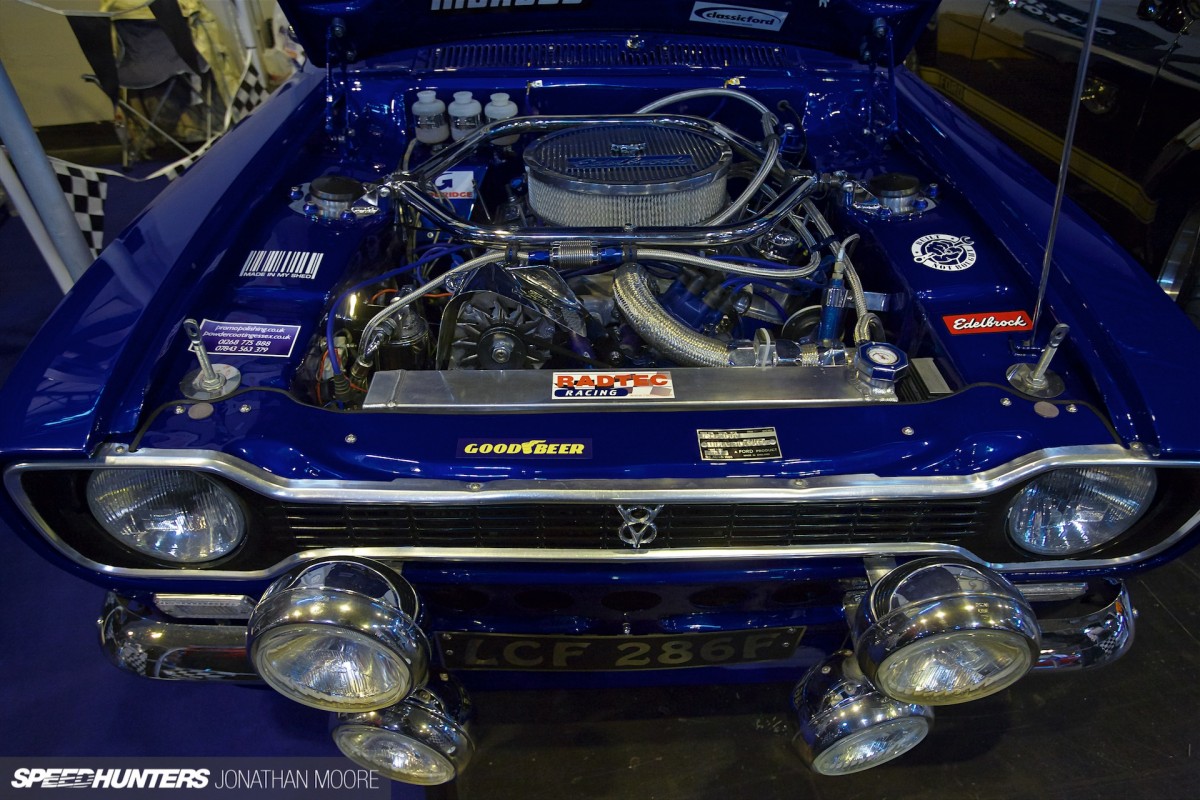 Yes, there are club areas for traditional British marques of yesteryear, maintained to the highest standard and ticking every authenticity box there is. But in the midst of them will always be something completely left field. A thumping V8 plumbed in; air suspension; hot rods based on obscure 1940s British saloons… They'll be slap-bang next to the stock machinery and surrounded by people who you'd think might be marque purists but seem just as excited over the custom builds as the originals. It's just really pleasant experience.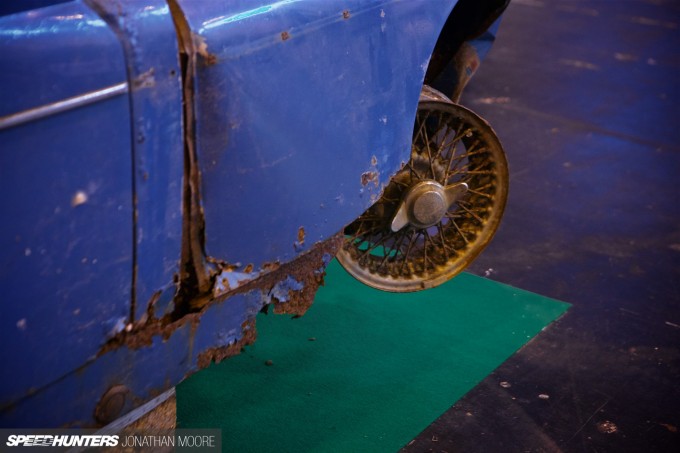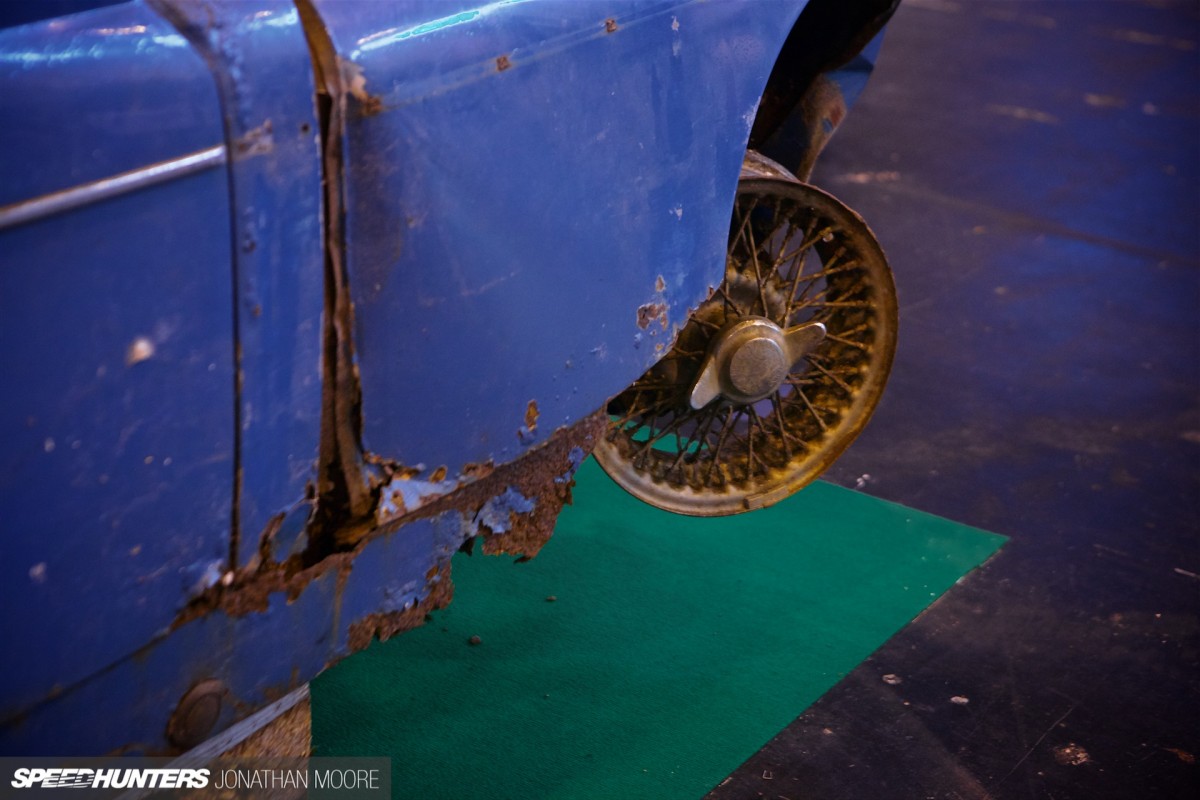 Mostly, it's about a communal love of getting cars back on the road, no matter how basket-case the donor. And believe me, you could buy just that if you wanted.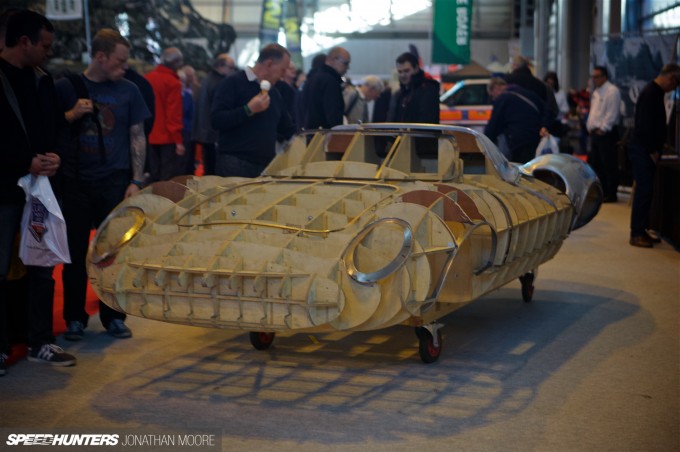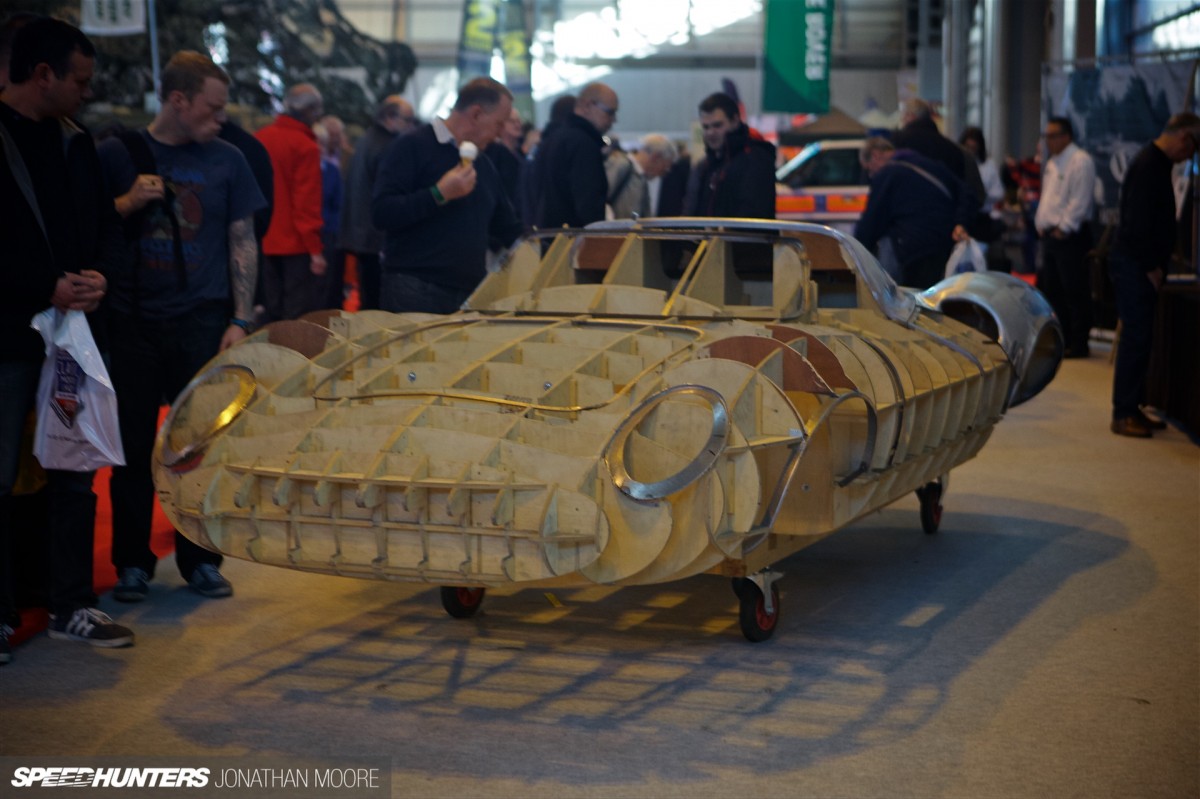 The starting point could be original or lovingly recreated to be the likeness of an original. Wood, steel – even carbon. Material is immaterial.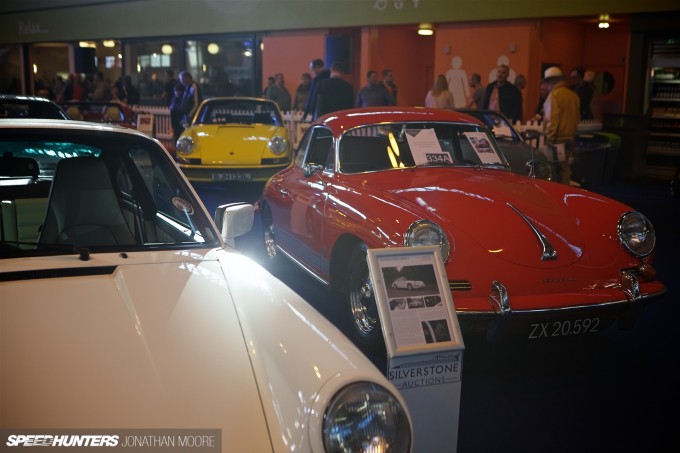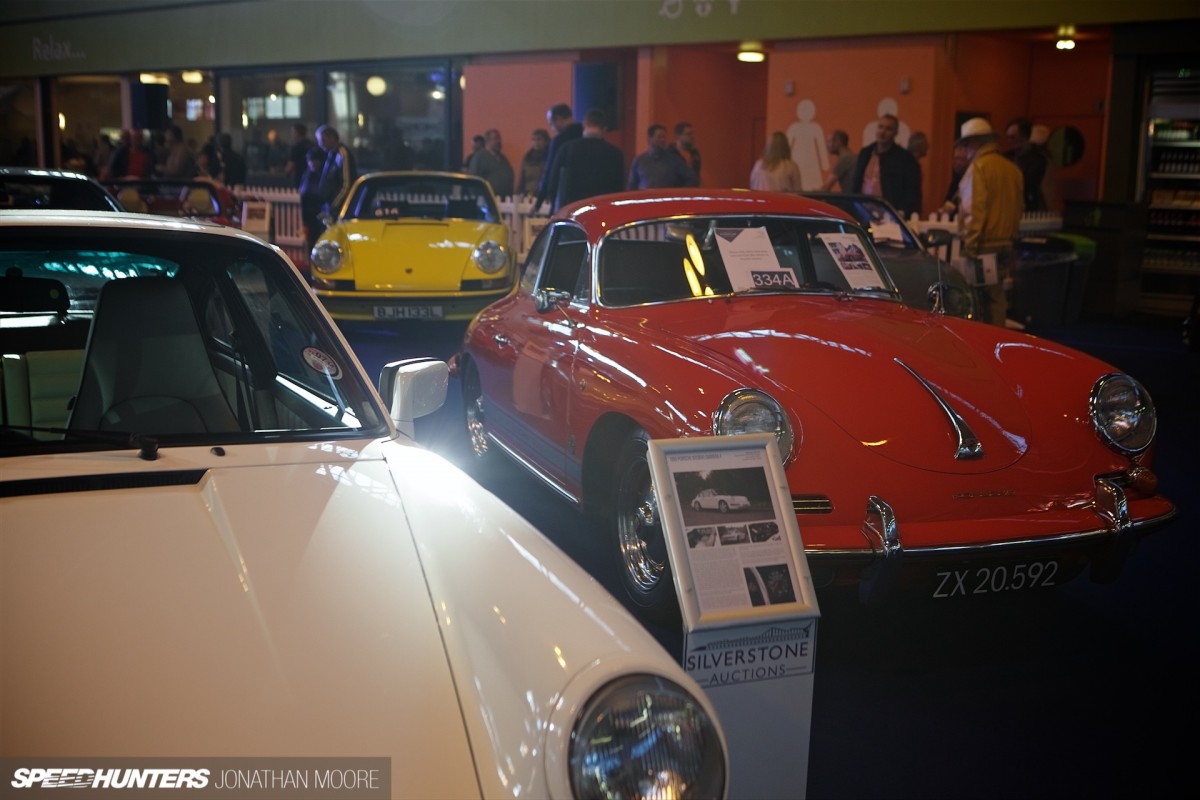 You could also start at the other end with a gleaming prized possession, as much a public display of what you can achieve as hammer-time for the well-endowed of wallet.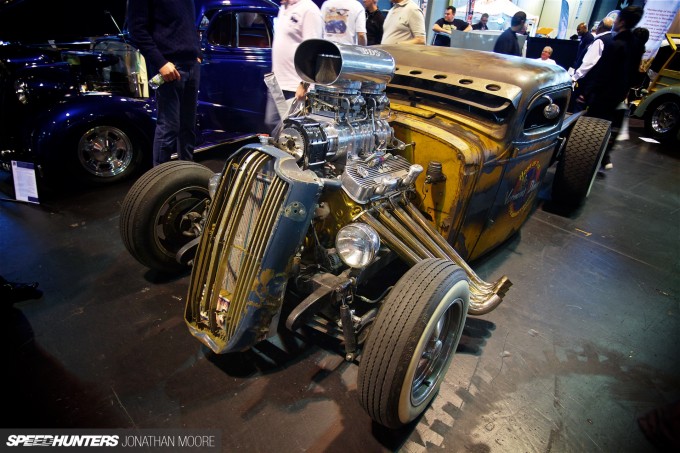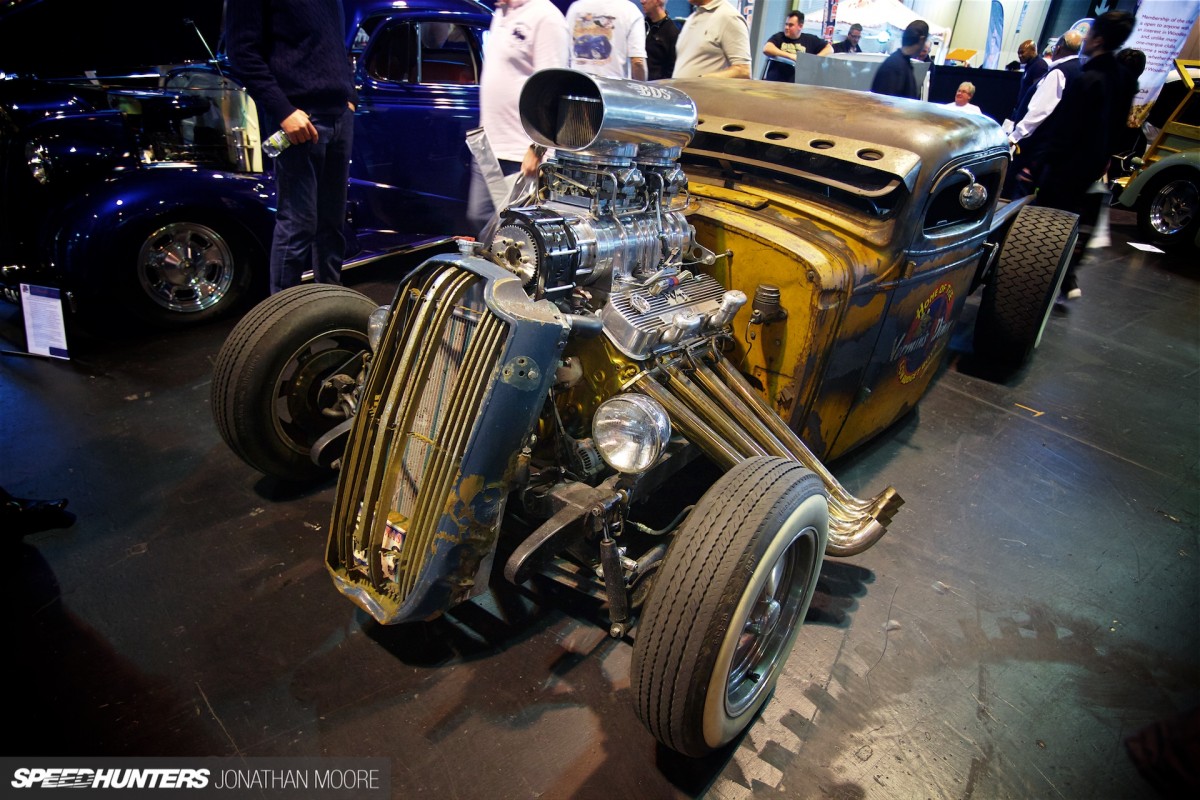 No one is excluded. Everything is welcomed with open arms, and the enormous crowd (I'd never before had such trouble moving around the halls freely on the opening day) lapped it all up equally.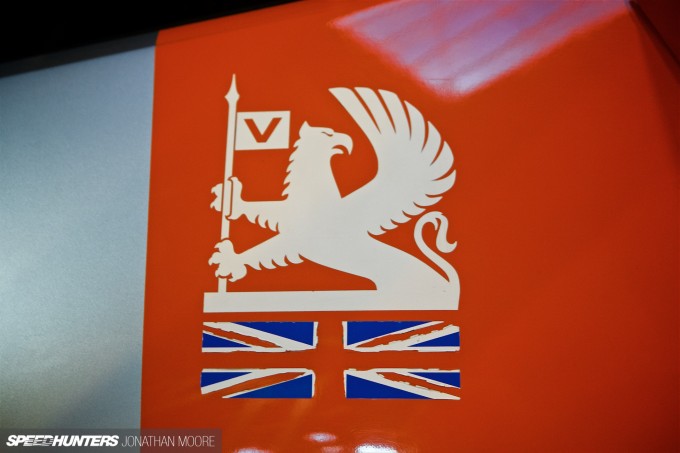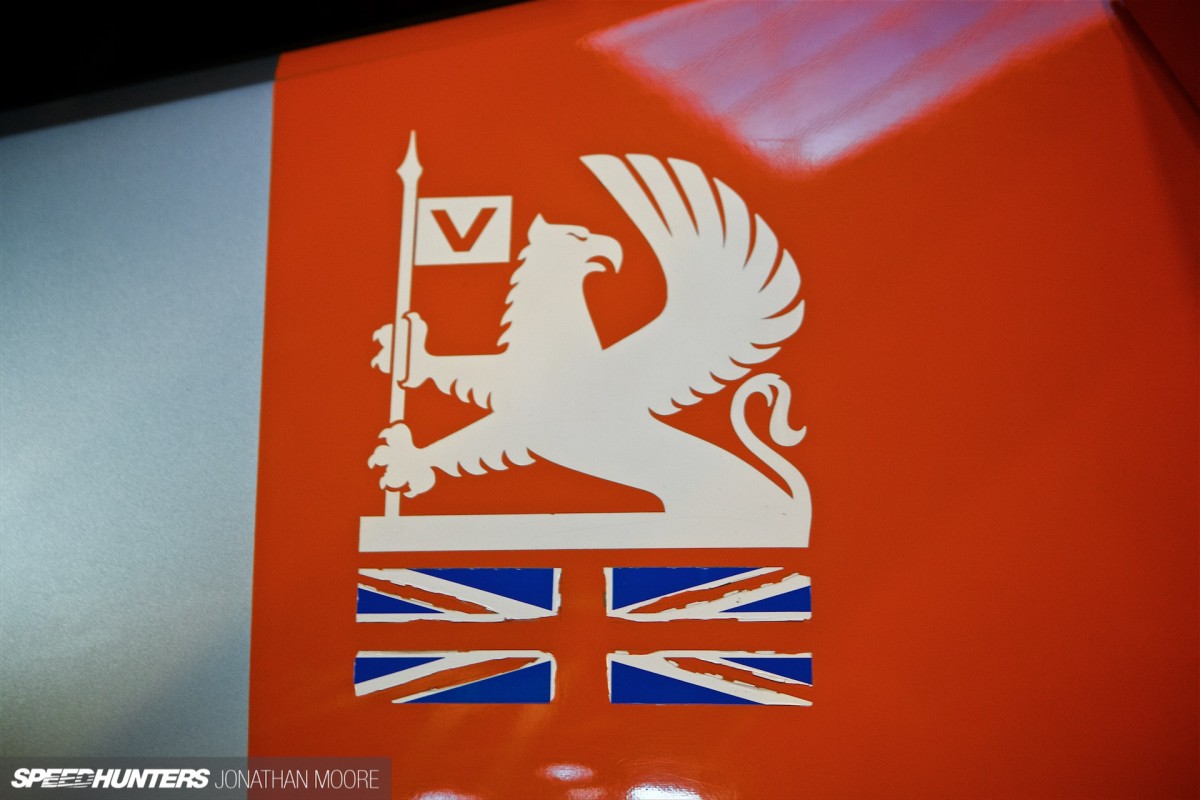 By mixing everything in together, you don't get any style or genre pushed to the fore. Everything gets a fair chance, so from whichever end of the spectrum you come from you'll find something to like. More importantly, you're likely to have several preconceptions shattered in the process.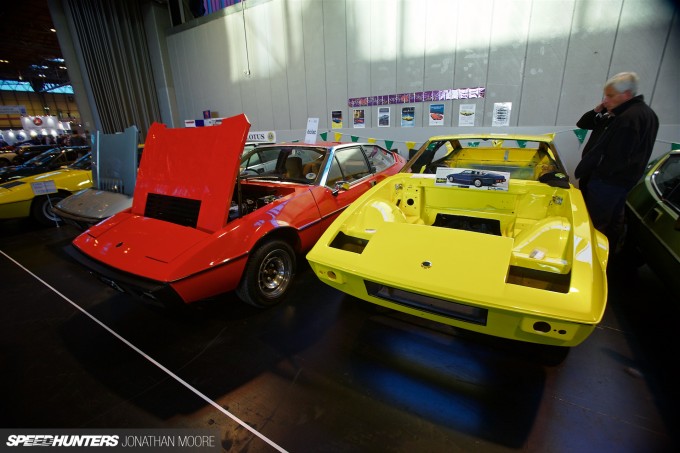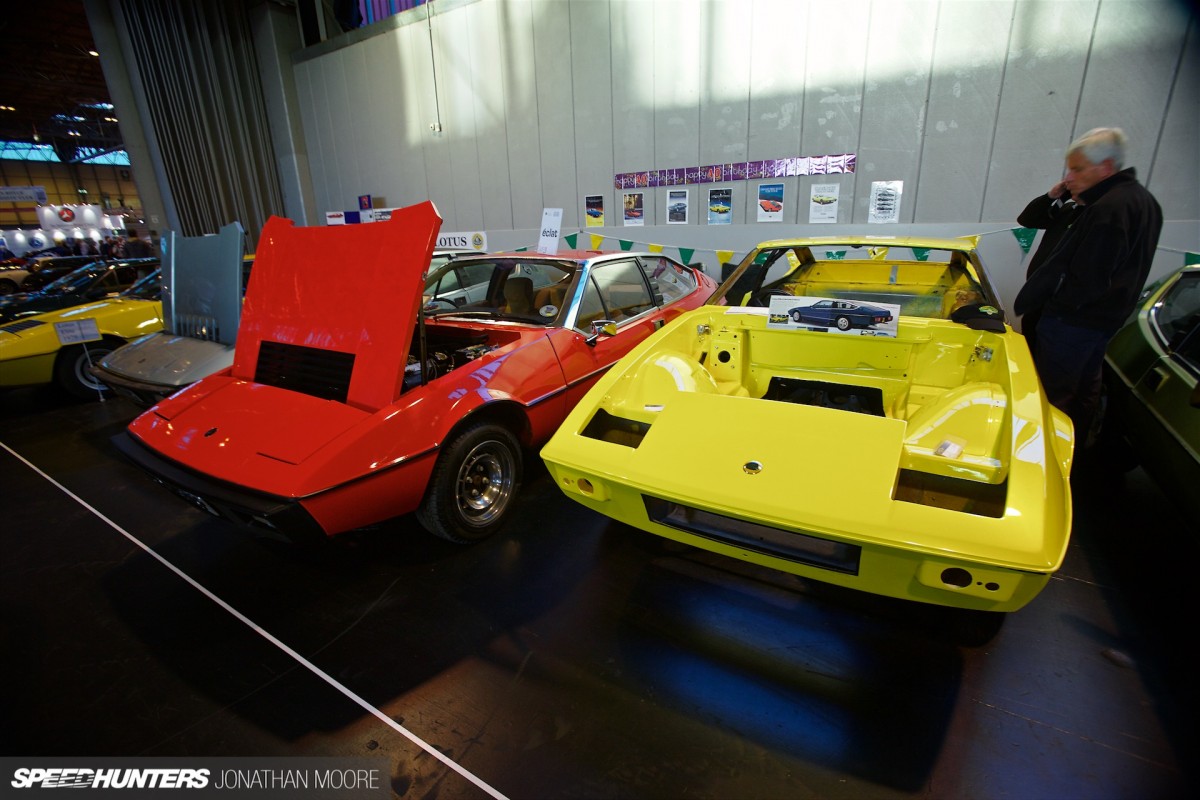 Over the years, there seems to have been quite a shift in what people are displaying on stands – at the CMS specifically but also shows in general. It used to be lines of pristine classics, perhaps taken out of garages once a year. The show is far less prescriptive now, and it's typical to find builds in various stages of progress, with owners surrounded by people both interested in the work so far and sharing advice on possible future directions. You can learn a lot just from keeping your eyes and ears open.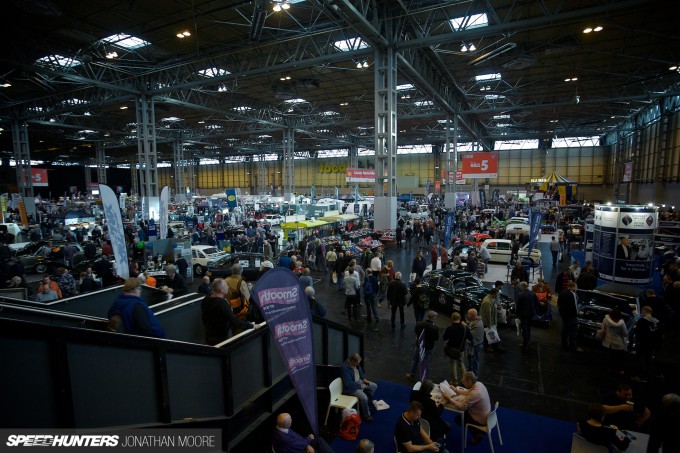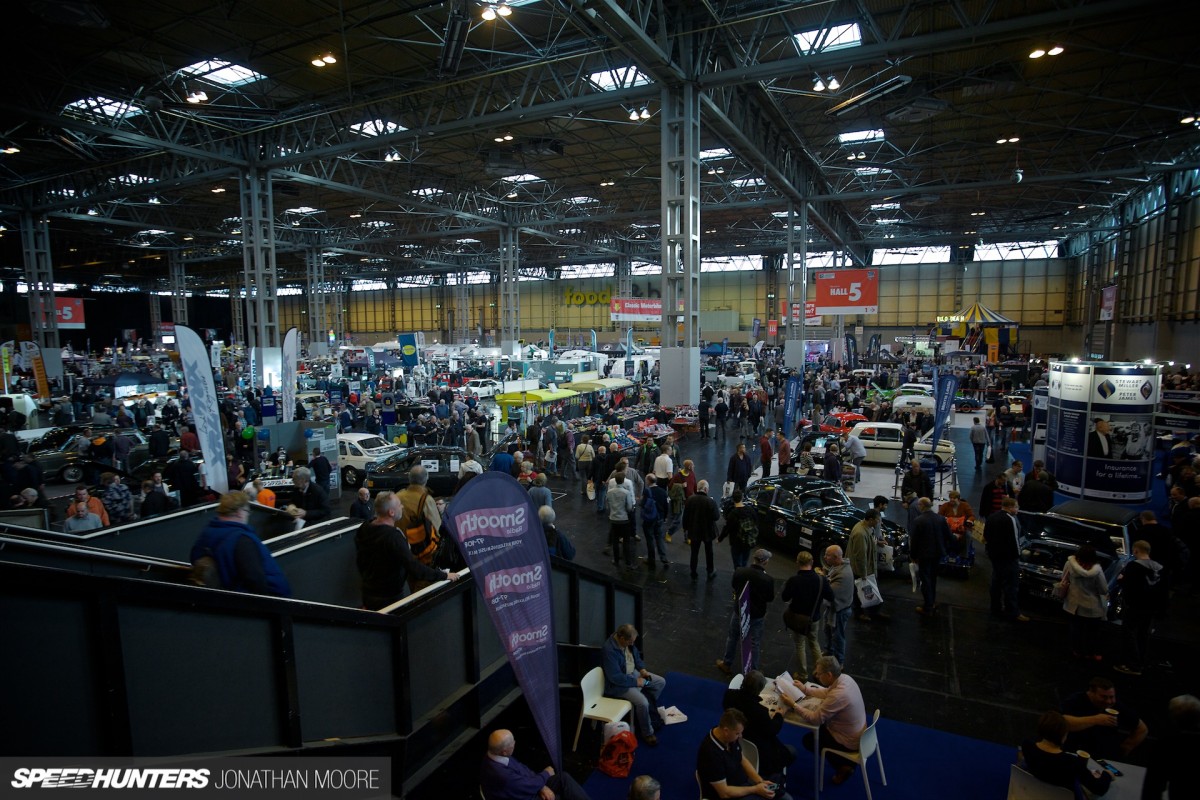 But this is what I love about the Classic Motor Show. Every year I go to the same old stands, but they never feature the same old cars. Last year it was the Scimitars, Jensens and Triumphs that caught my eye, with that typical combination of CMS as-it-was fare alongside as-it-can-be extremities. This year I was stuck on Fords and – stick with me on this – Vauxhalls.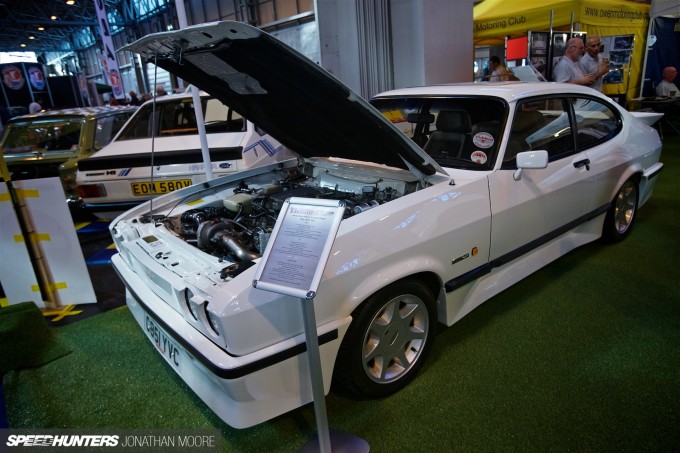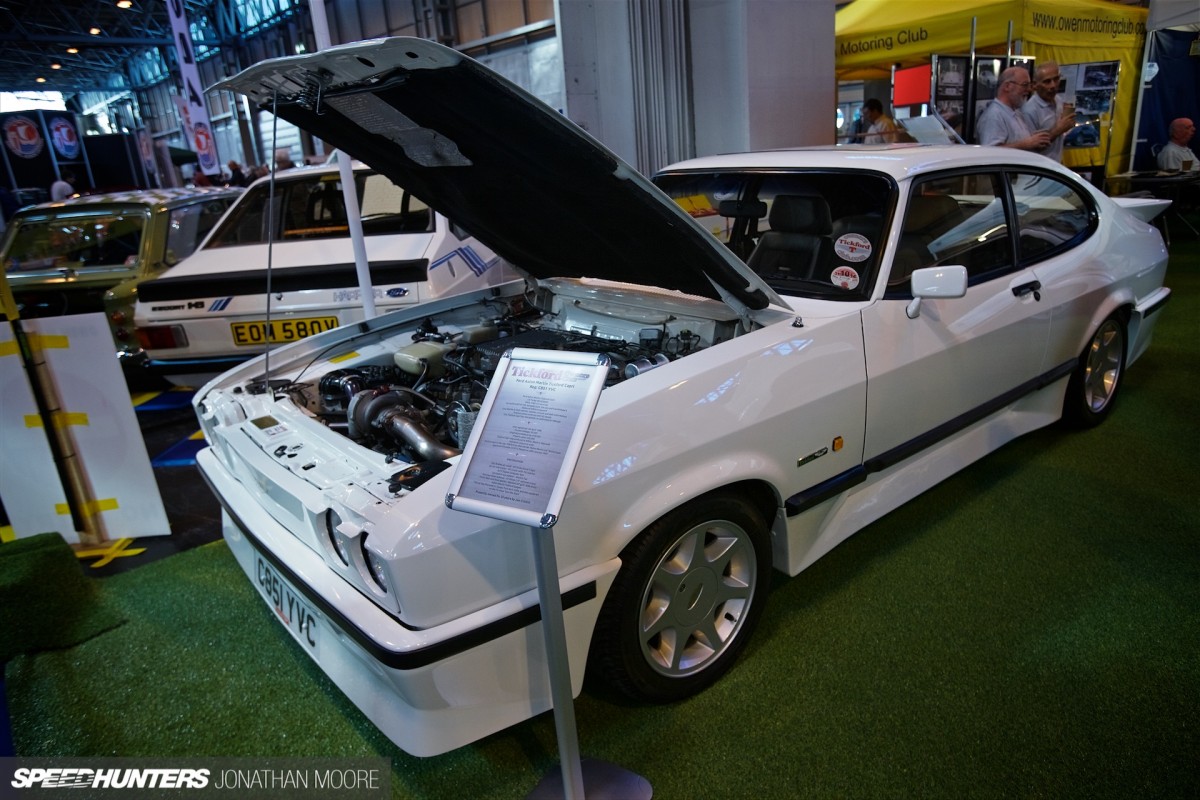 Fords feature strongly at UK shows for obvious reasons: Escorts and Cortinas are of course legends across all their iterations, rightly feted for brute-force stage attack and tail-happy drifting respectively. Me, I've always been as much a Capri man, courtesy of being hunkered down in the back of one across numerous European jaunts as a kid.
This particular Capri is the rarely seen zenith of the tuned pack that were spawned from the base model over the years. The winged logo that adorns the nose would admittedly be the second thing that hits you, as the snow-white paint does nothing but accentuate the straight up and down body-kit extensions, like the car has melted downwards into the road. The wings say Aston Martin; the T in the centre takes you slightly off piste though. This was one of the epic Tickford Capris, one of just a hundred build in the mid '80s.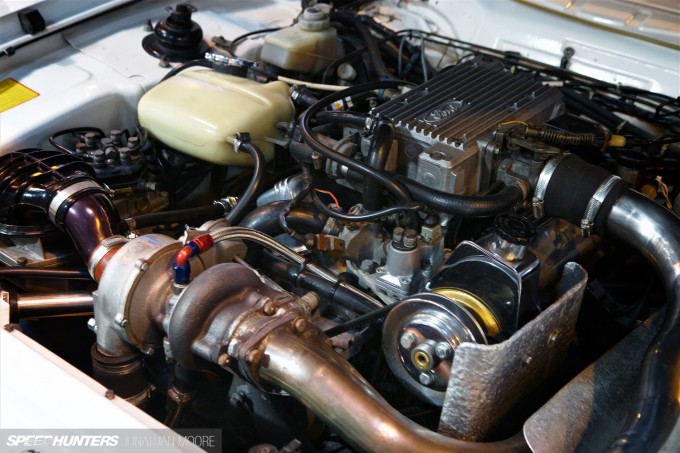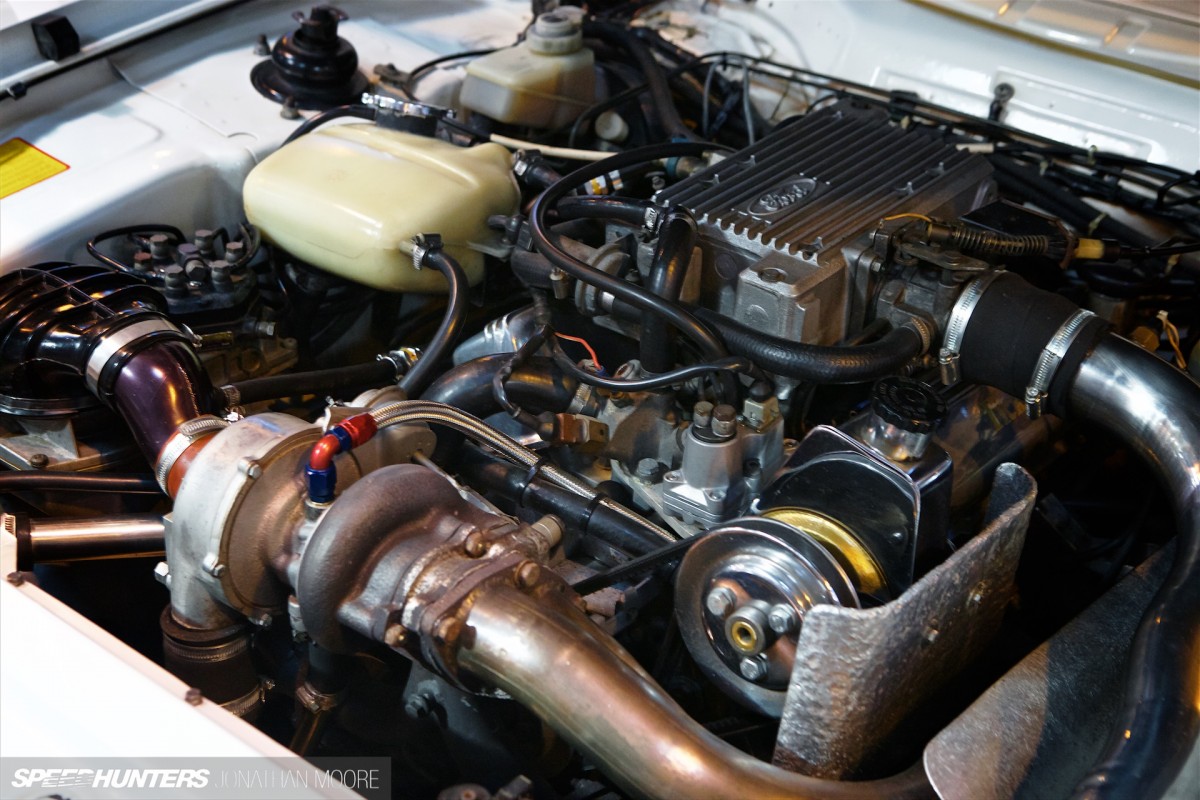 Originally the coach building arm of David Brown's Aston Martin, Tickford are one of those under-the-radar teams who crop up in all sorts of places. They were involved with the flame-throwing Sierra RS500 and Group B RS200 programmes, and this Capri was one of the initial results of Aston Martin spinning off its Tickford division in the '80s, allowing to to return to its specialist tuning roots.
An IHI turbo with Garrett intercooler provide the punch here: and it's a hell of a punch. The long nose just about contained the 2.8-litre V6 turbo, and although the generated 205hp might not sound much, it's enough to power the Tickford Capri to a 6.4 second 0-60mph sprint. This was a true giant killer.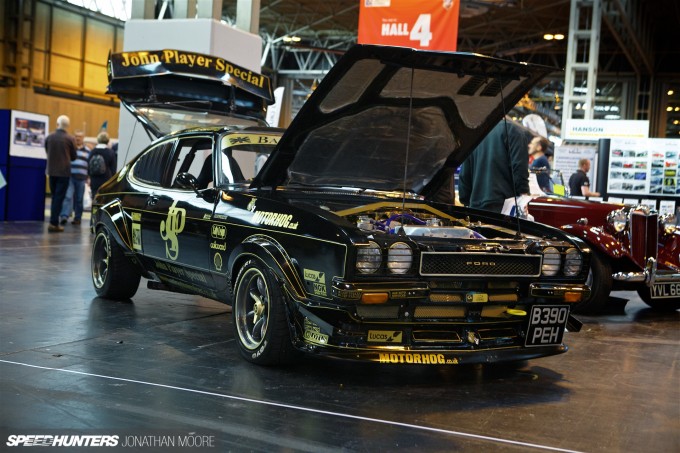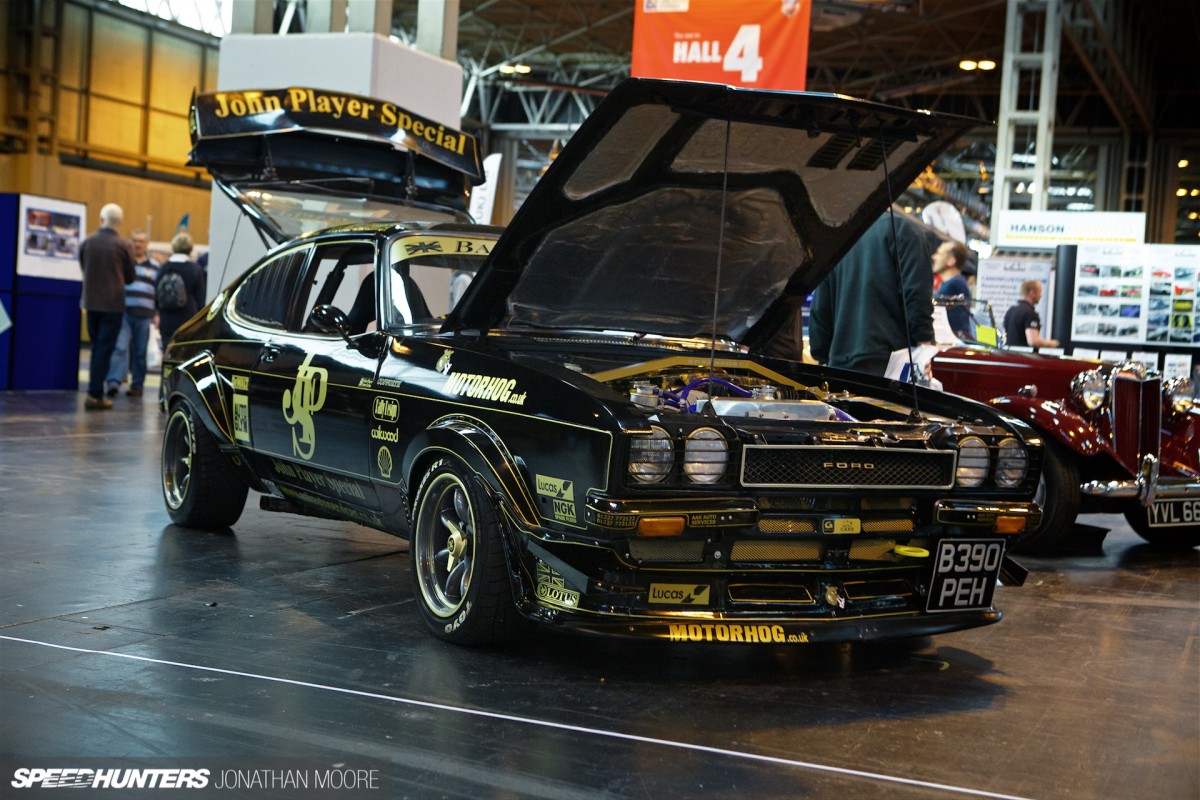 Further round the show, this JPS-liveried, Cosworth-powered Capri MkIII looked like it had been seriously upgunned since I last saw it a the BHP show at Lydden Hill a couple of years back. Riding high on the outside and with an unapologetically bluff front in true period fashion, it was awash with details: the headlight slats, three-quarter window grills, knock-off style centres on the rims, a massive rear wing and diffuser.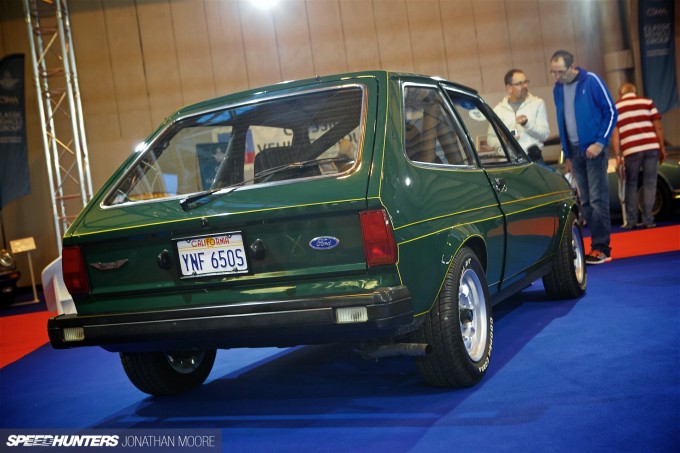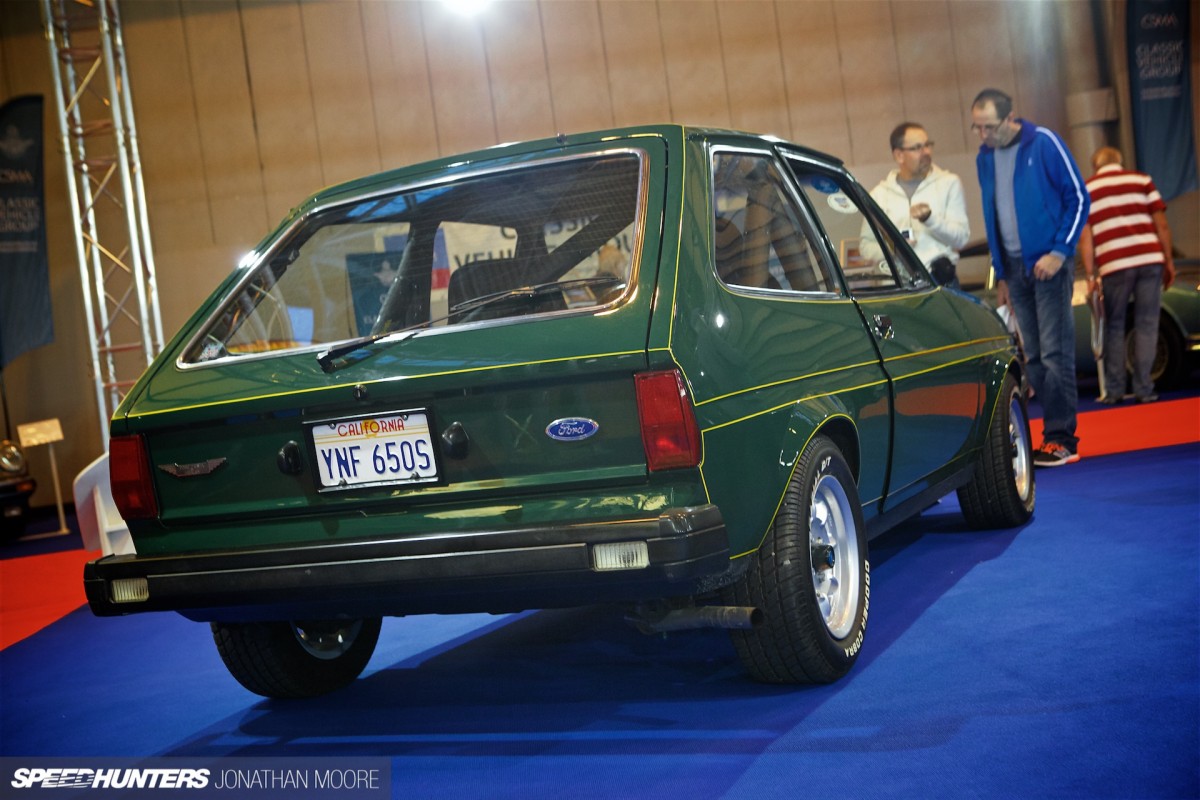 The Tickford Capri wasn't the only fast Ford sporting an unusual badge – there was also this outwardly innocuous Fiesta. Slightly lower than normal with slightly more flared arches, it was the Californian plate and supporting emblem that surprised me the most. This was a Ford Healey Fiesta from '78. It's a melding of two brands that I previously had no concept of… Not only was it a hot Fiesta – mounting a 1,600cc crossflow engine to back up the flared body-kit and bank of spotlights on the nose – but it was also the last car to be produced by stalwart of the British sportscar scene Donald Healey.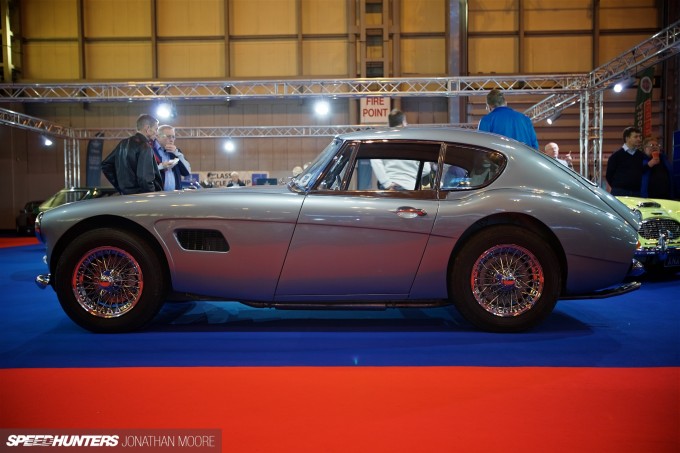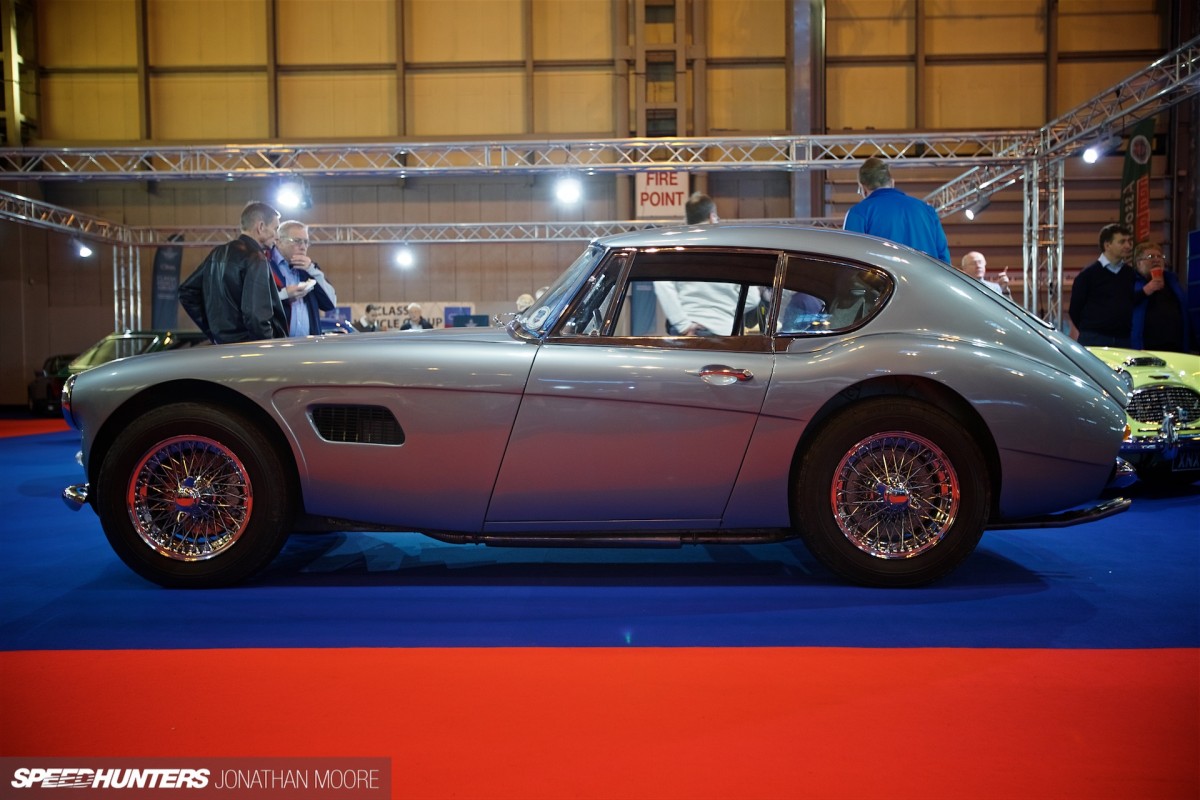 Healey is of course better known for its own cars, particularly the 3000. The gentleman thug roadster is the common version, but this unique 3000 S coupé sat opposite the Fiesta, greeting people to the Healey stand. The lithe coupé was built on a spare competition car from the 1964 Sebring race, and intended as a prototype ahead of a production run. Jensen was involved in the build, but politics and that bane of the British car industry, lack of funds, meant the project was canned, leaving just the X312 concept.
Brits Pop On The Alternative Scene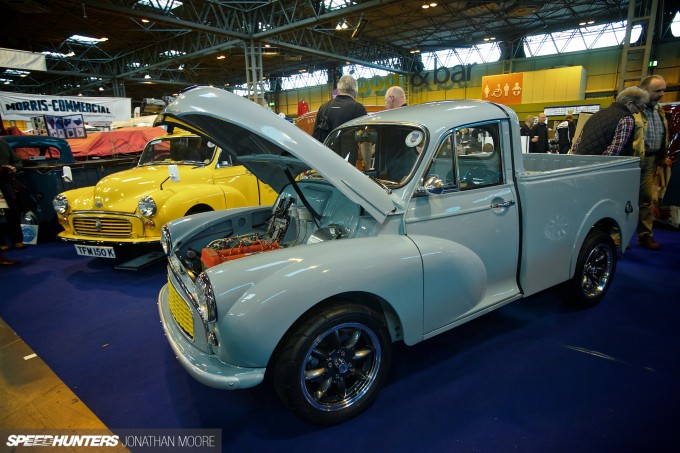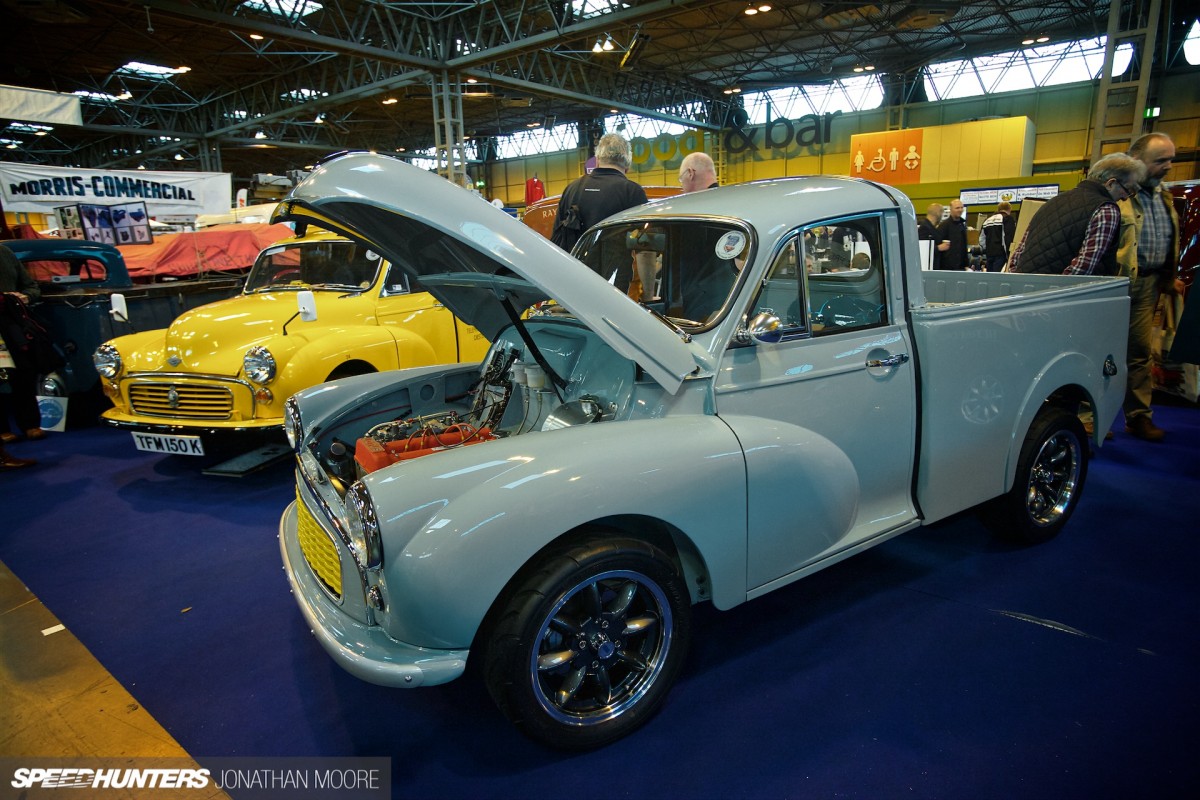 Racking up the kilometres walking around the labyrinth of the NEC, around every corner I'd come face-to-face with yet another cavernous space awaiting me, packed with yet more cars. The organisers reckon on over 2,500 cars and bikes, from over 650 clubs and exhibitors, spread over five halls. My feet can attest to those figures. Some stands had old friends on, continuing a weave of old, new-old and downright knocked-out-of-the-field, like the Morris stand with the Lotus-powered pick-up we've already featured.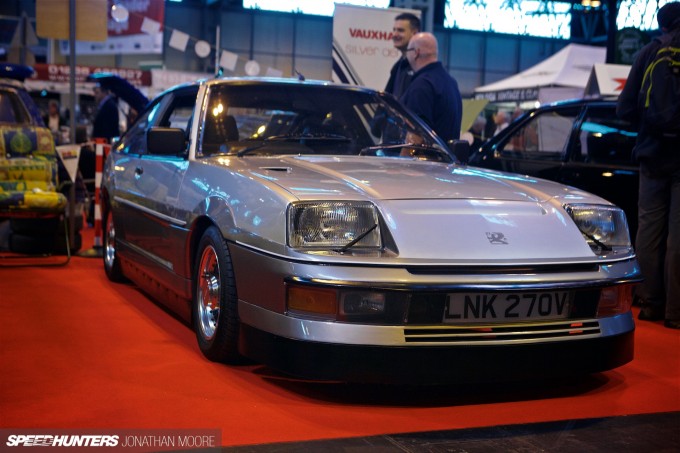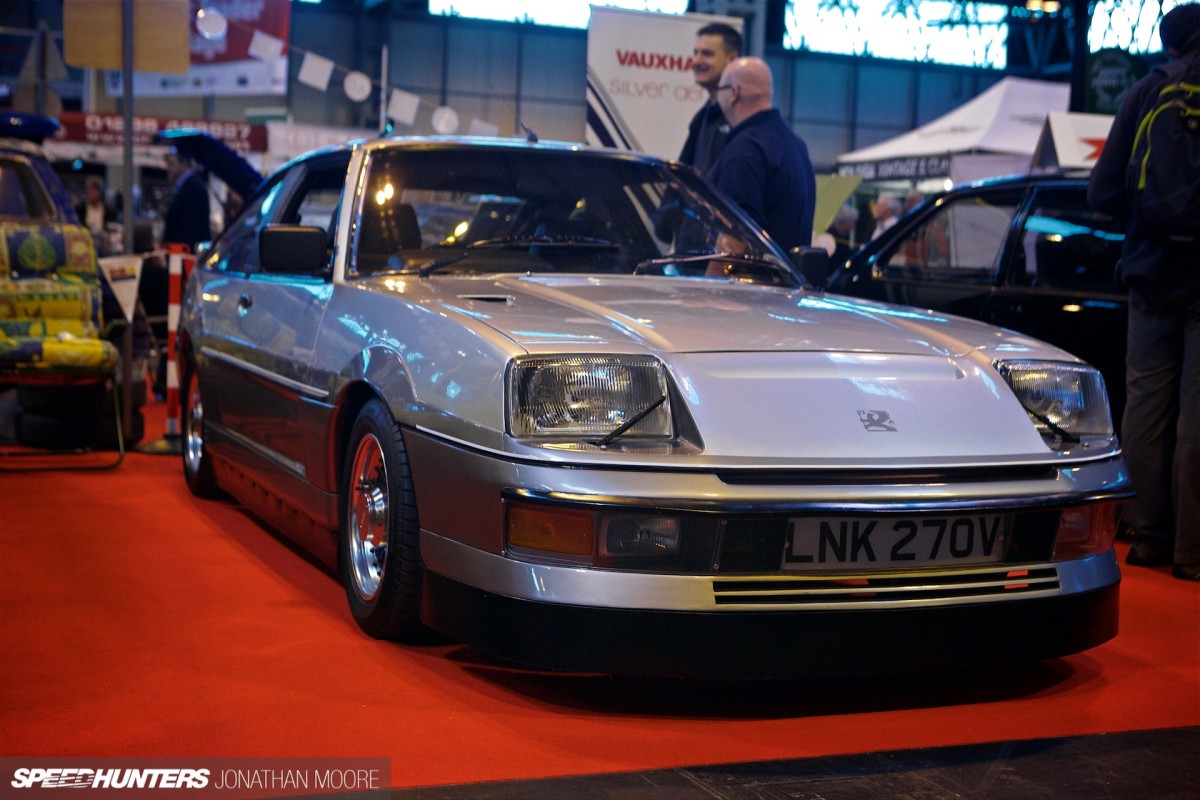 So Vauxhall then. Looking through my shot list, I actually took more images of Vauxhalls than any other marque, which has to be a first. But there was some truly awesome kit. I'll be showing off the angular track-slayer that is Baby Bertha in an upcoming spotlight, but here I wanted to show you a high-speed one-off and styling prototype that sat amongst many really interesting Vauxhalls. Next to bubble-arch, slant-nose Chevettes was this motorway-destroyer, the Silver Aero.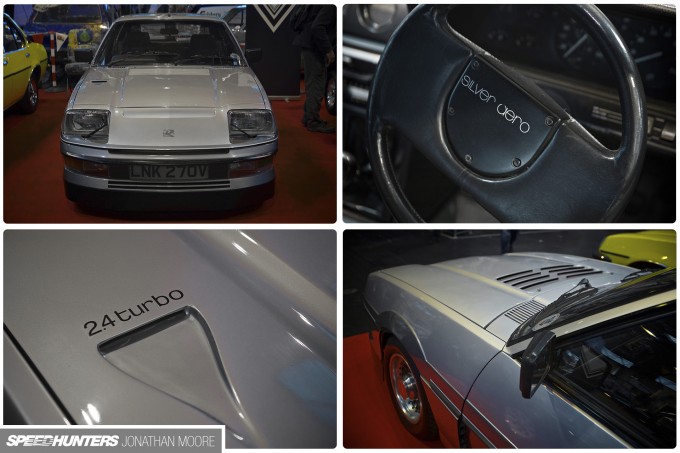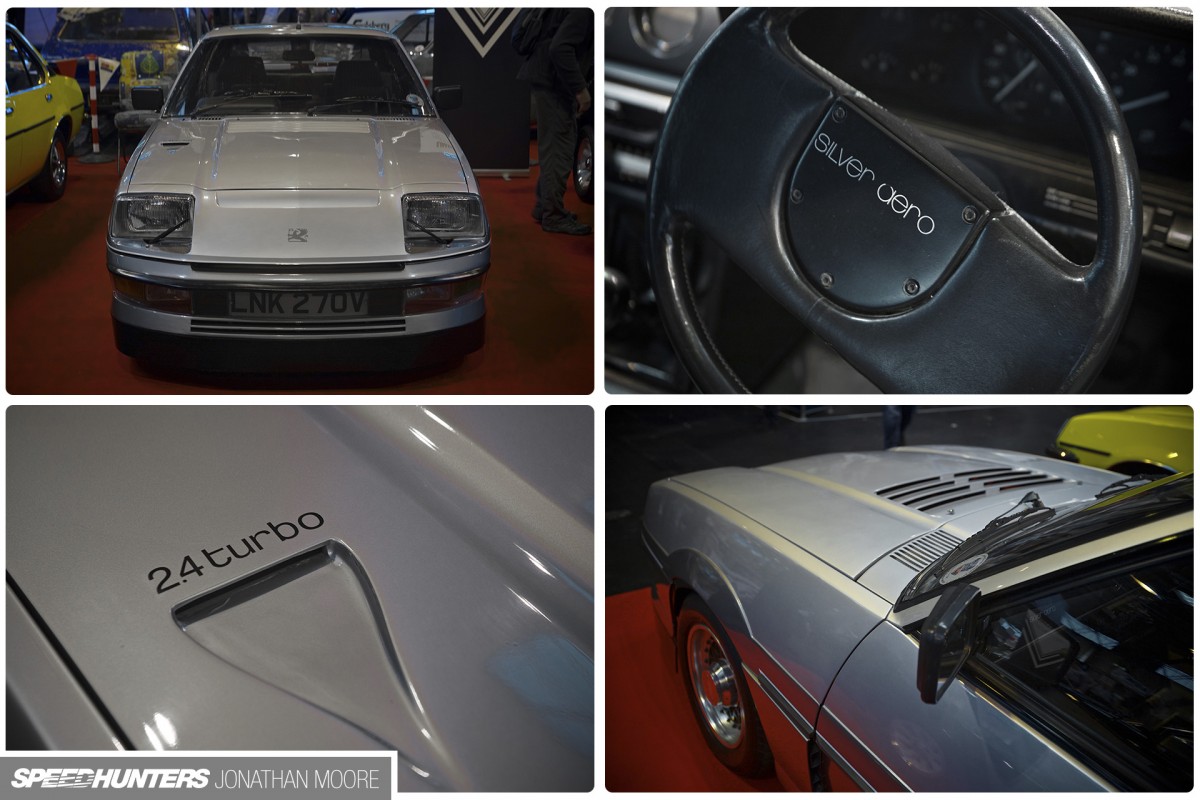 The Silver Aero was build on a Mk1 Cavalier Sports Hatch base, and was coincidentally originally unveiled in an adjacent hall of the NEC back in 1980. This unique concept was a hit at the time and hundreds of orders put in, but the kit it was showcasing never made it into production – for all the usual reasons… In 1984, the prototype was officially scrapped, but as with Toyota Cologne's sly messing with the books, the car wasn't destroyed but sold off in a closed auction, hence we get to appreciate it now.
The Silver Aero was designed to be the ultimate version of the Cav', and serious effort in the wind tunnel refined the lines to make this effective high-speed cruiser with spectacular figures, using underbody aero to further increase downforce. Bill Blydenstein tuned the engine, a stroked 2.4-litre with a big valve cylinder head upgrade and Rajay turbocharger. The aim was for it to be available as a three-stage upgrade kit to existing owners; interior, body and engine. Compomotive split-rims looked great but actually negated a lot of the aero gains made in the tunnel; the final upgrade was to include full-cover disc trims.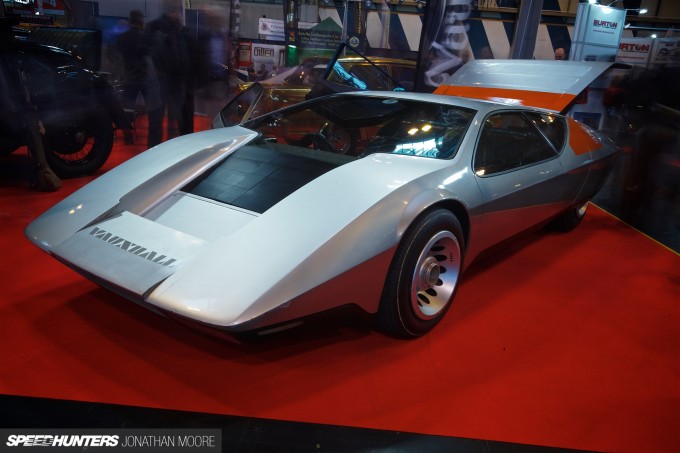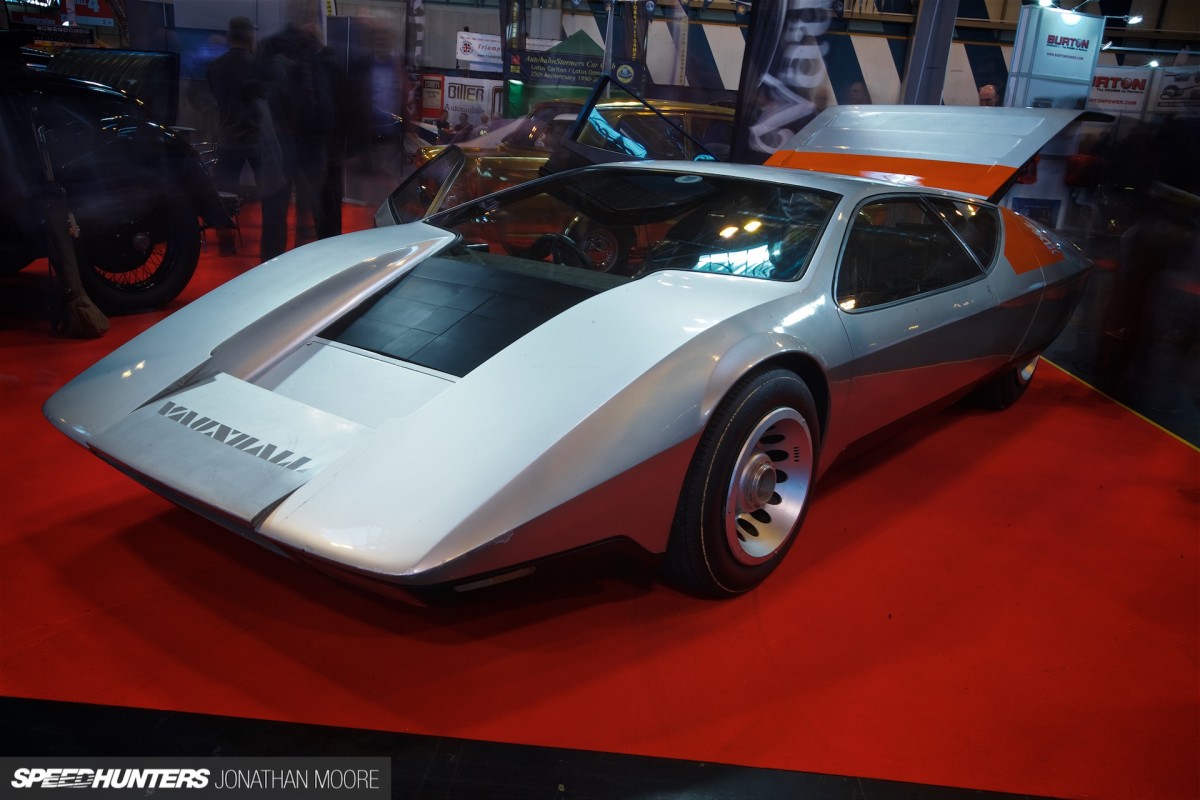 I last saw the Styling Research Vehicle at Goodwood back in 2013, but its impact hasn't lessened. It's from the ultimate period of adherence to the wedge, featuring dynamic aero via the alterable pitch of the nose aerofoil, active suspension and an automatic fuel distribution system to maintain optimum balance.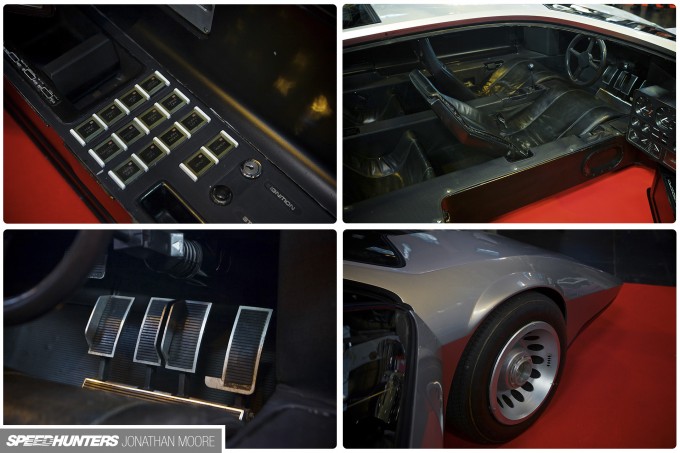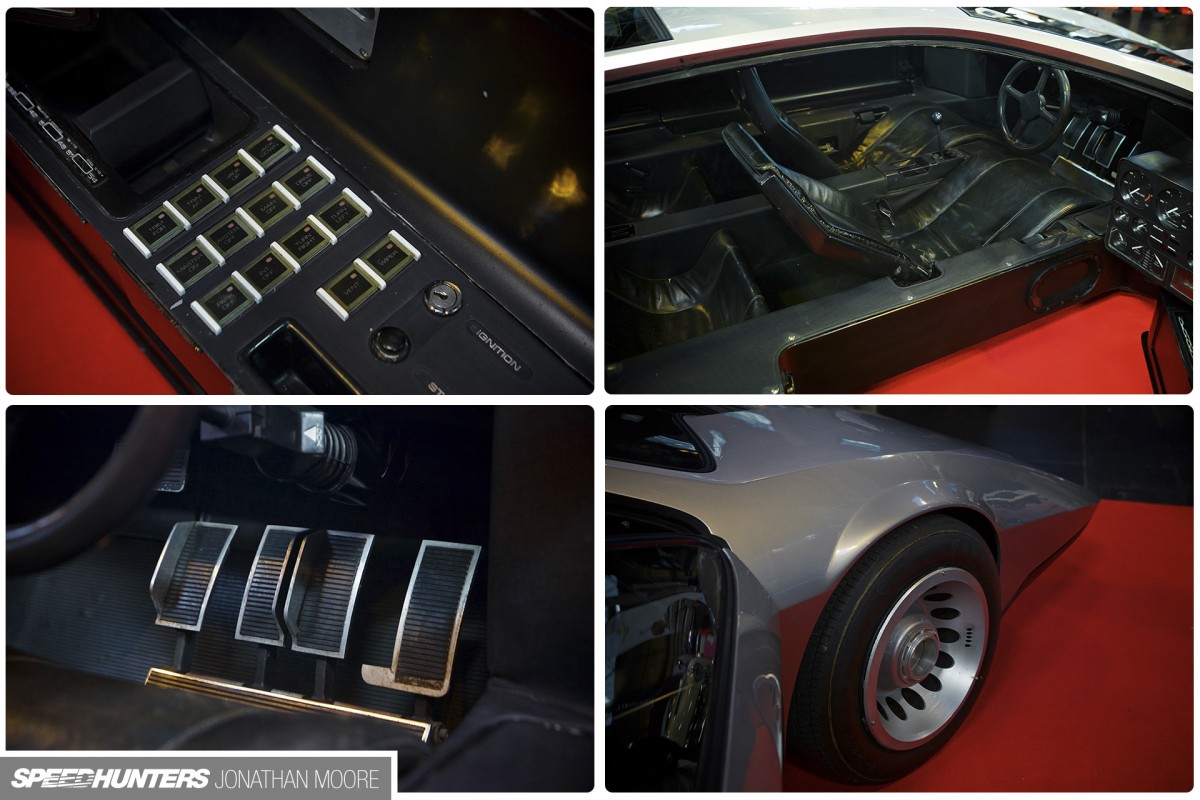 Designed by Wayne Cherry, who also oversaw the Silver Aero, everything about it is futuristic, from the plethora of dials and buttons to the swing out dash mounted on the door. And those doors… The rears hinged backwards, opening out a massive space along the side of the car. The seats are like ski-jumps, with extreme contours – mostly to allow the rear passengers to sit in, but you wouldn't want to be in there on a long journey, that's for sure.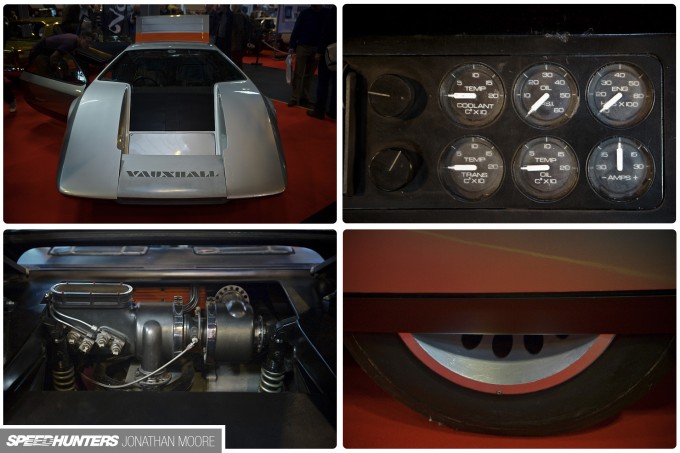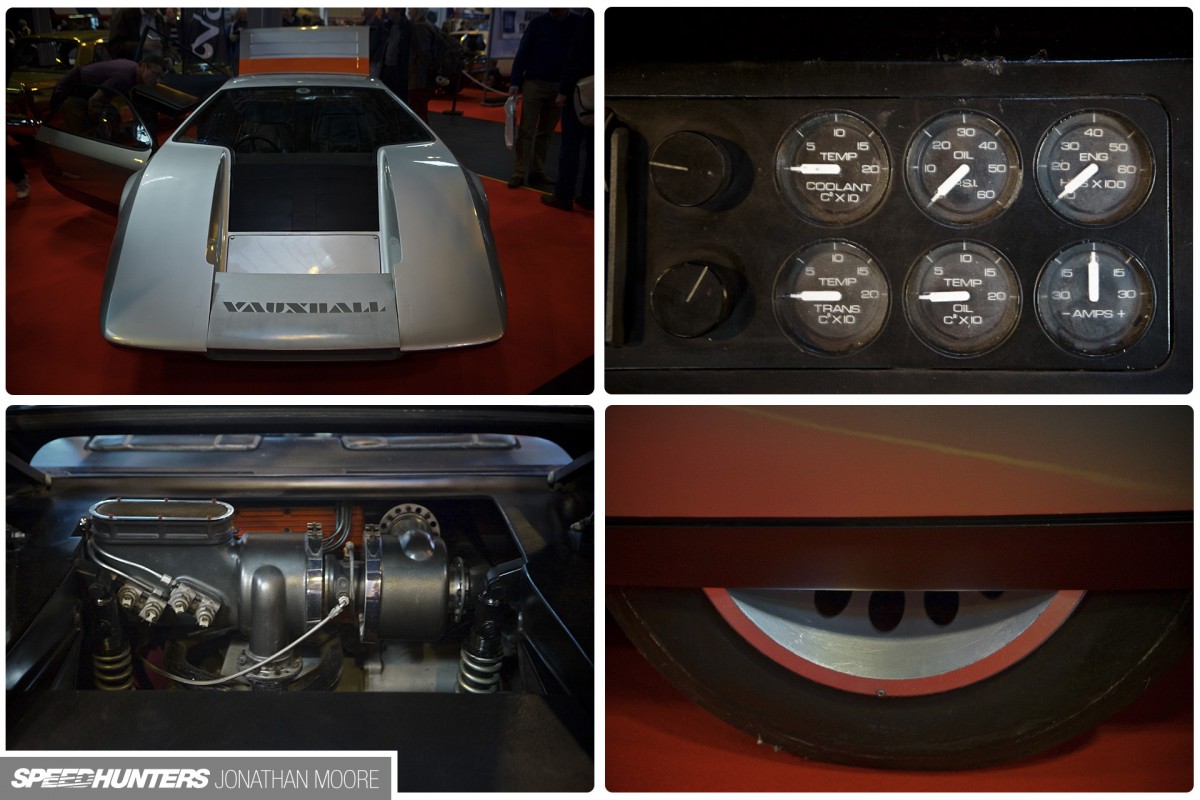 The engine was to be a 2.3-litre slant four with twin turbochargers and fuel injection, but it was never actually made, partly because it would have required a completely bespoke transverse transmission. Even the mock-up looks like it should be out of Back To The Future. In fact, this versus the DeLorean? Why didn't that happen in the film?!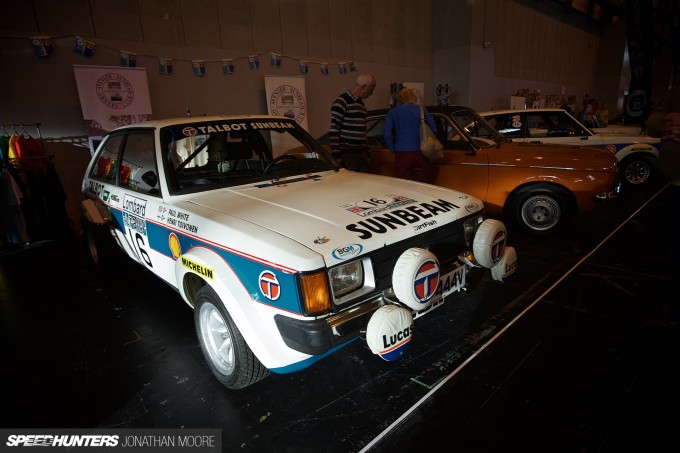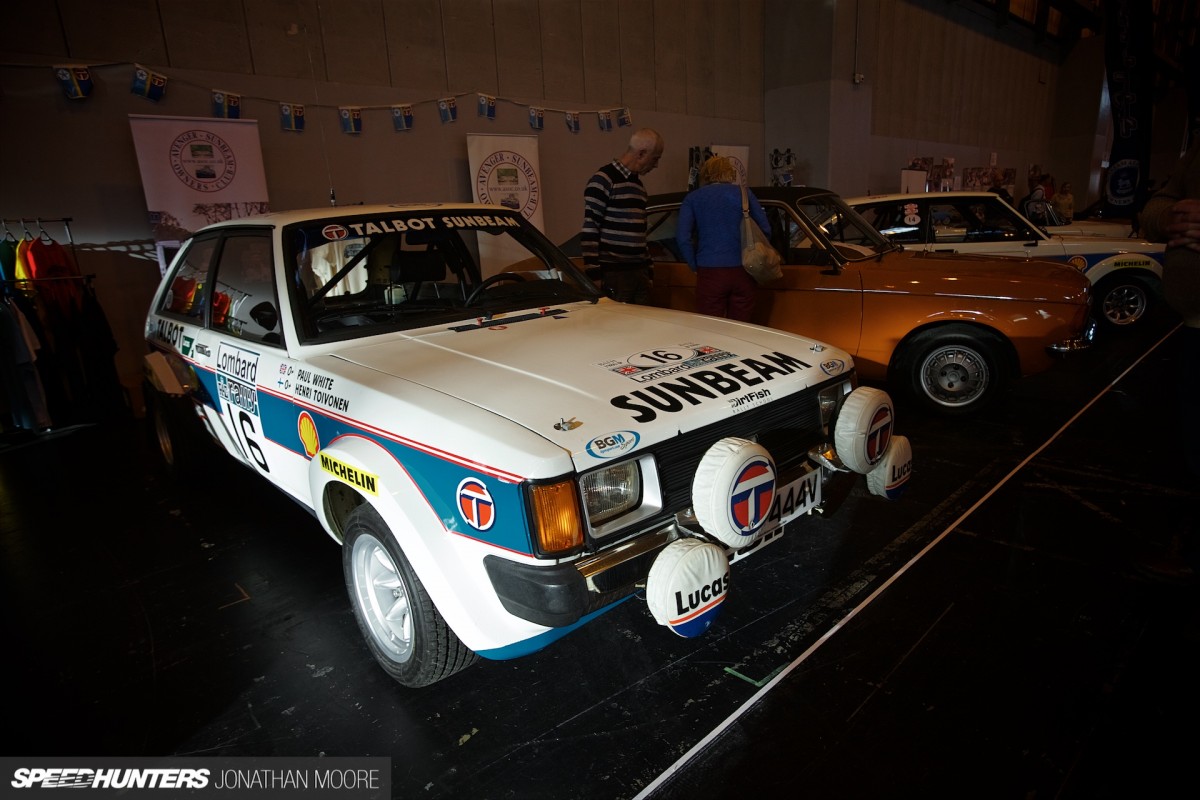 The show has grown so big that it's actually had to change location amongst the NEC's sprawling complex, taking up even bigger halls than before. One welcome advantage was the odd ray of sunlight that pierced the otherwise vampiric gloom, especially when it's a classic Sunbeam being picked out.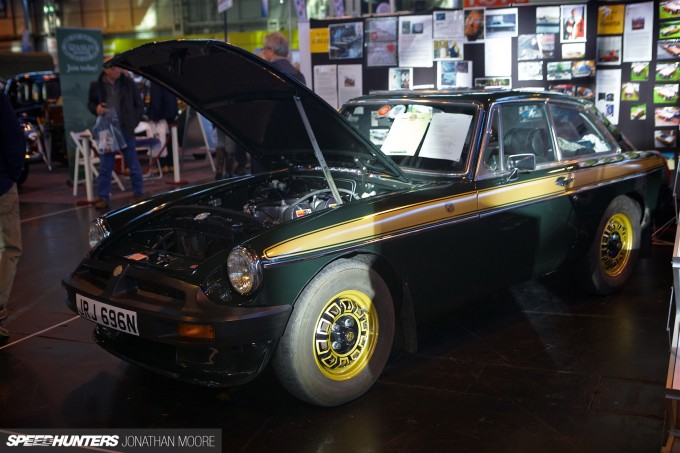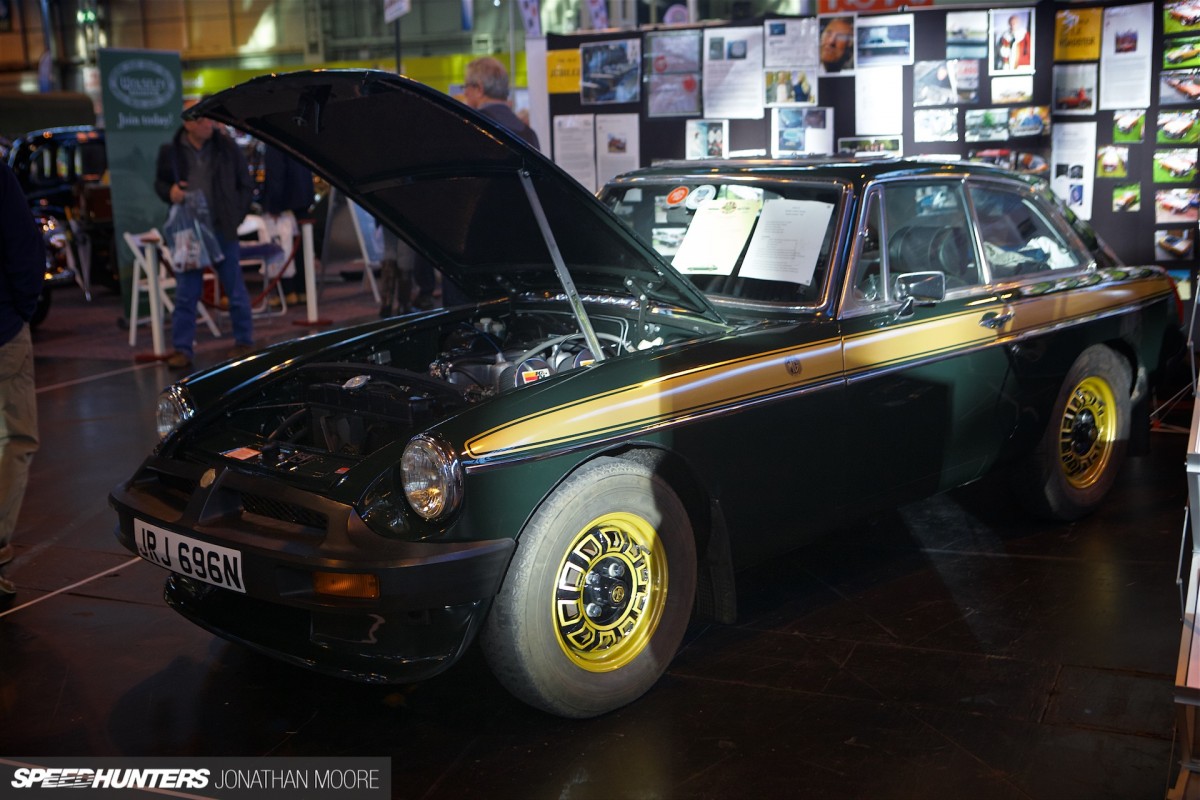 Manufacturers have always created limited edition runs of cars, sometimes to celebrate particular victories or anniversaries, but it has to be said that typically with Brit companies of the '70s and '80s it was because they ended up with a car they couldn't sell or a warehouse full of unused parts. The answer? Slap them on a car and sell it as a collector's edition!
But whatever the reasoning, the resulting cars from that situation are usually the most interesting and unexpected – like this MGB GT Golden Jubilee, built in '75. Just 750 examples were built, and this car features twin SU carbs and a K&N filter upgrade to its 1,950cc Ultimate Tune engine.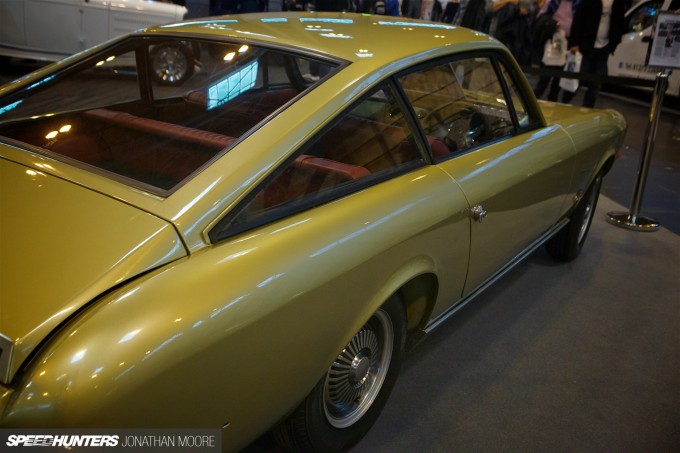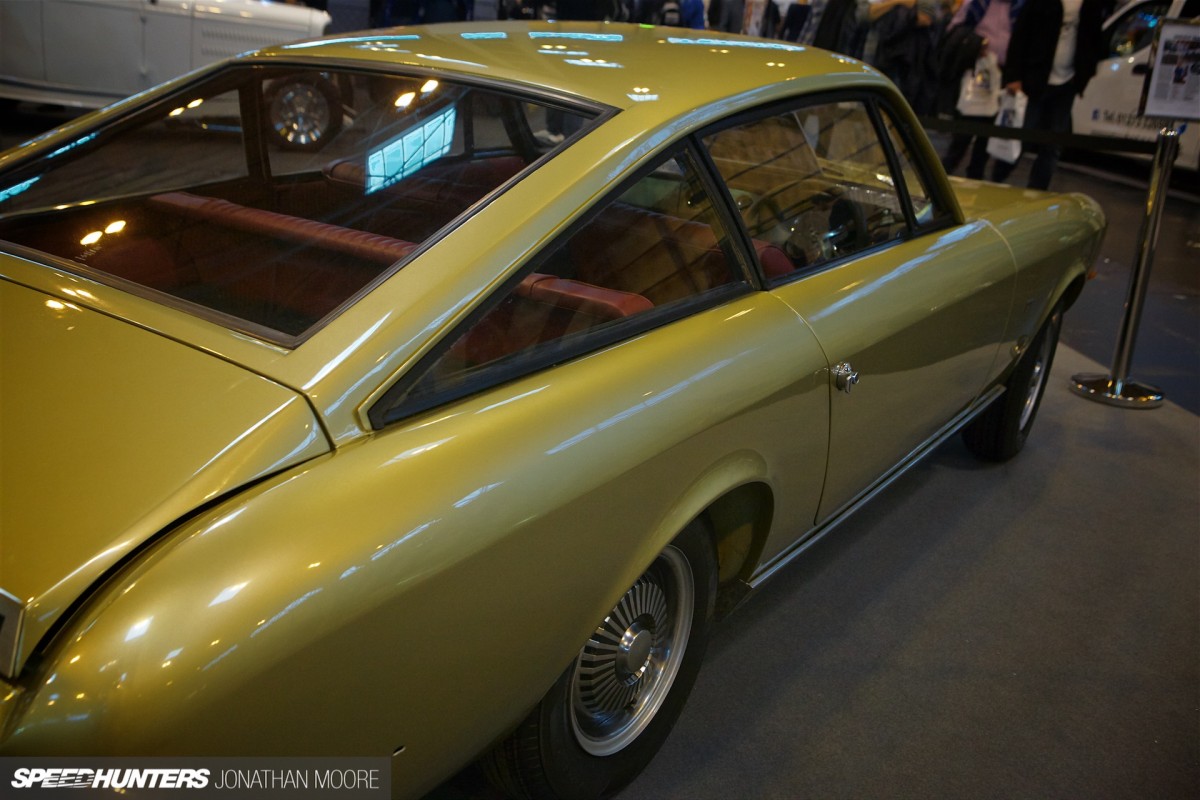 One game I always like playing is guess-the-model when you see a car you don't recognise – and believe me, at a show like CMS that's a game you get to play a lot. So this one. What do you reckon? Well, I guessed wrong: it's a TVR Tina – Blackpool via Turin. I was thinking Italian from the shape, and that's from the Carrozzeria Fissore-fabricated body: steel for this prototype, though it would have reverted to traditional fibreglass had the car gone into production. As is so often the case, it never did…
The Tina was based on Imp Sport underpinnings, and this car has been completely rebuilt from the surviving concept shell. The story goes that it was not only owned by legendary British racing driver Gerry Marshall, but also named after his daughter. Both Imps and Gerry Marshall will feature in a couple of upcoming spotlight cars I've pulled from the show.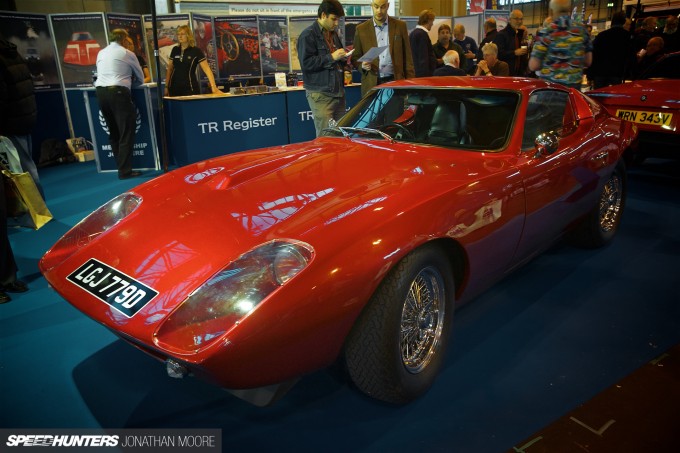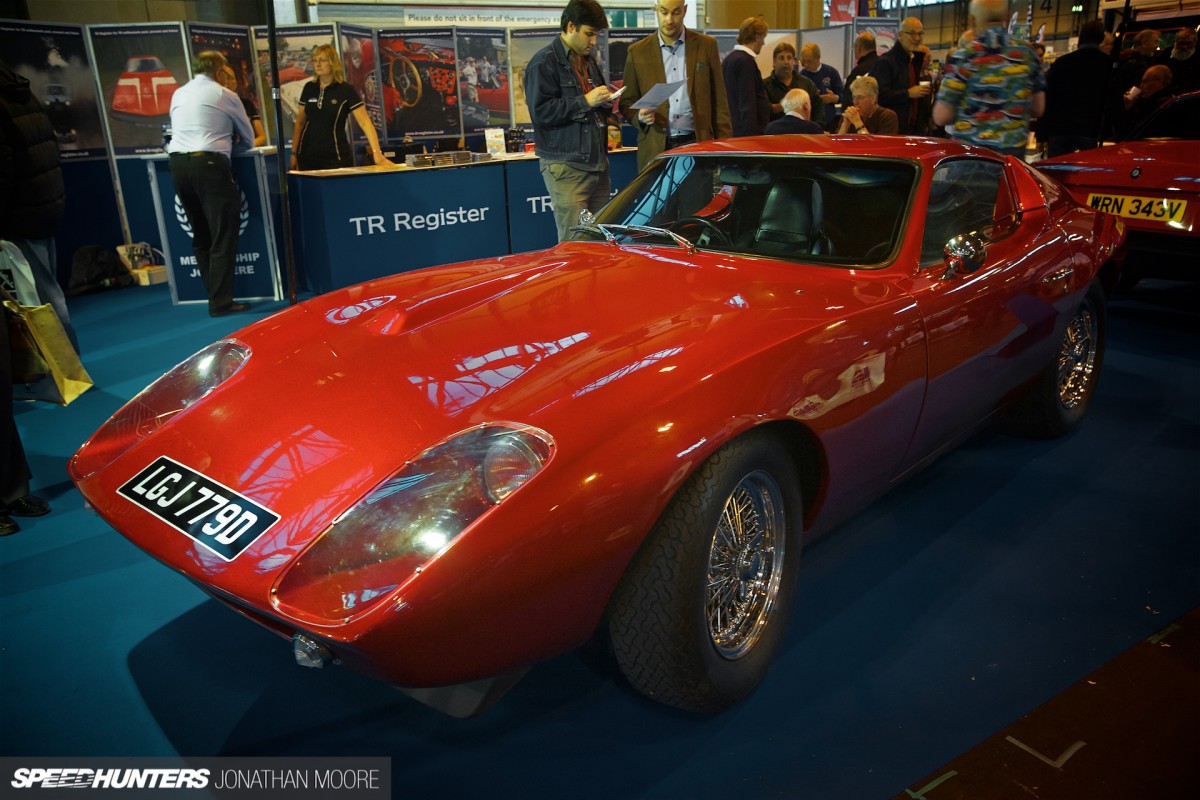 Next to guess: this shovel nose, muscular machine. Okay, the panel in the background gives it away – at least what it's based on. Easily the best named car of the show – the Fiberfab Jamaican – this Triumph TR4-based kit-car was designed and assembled in Santa Clarita, California, from 1968. The body could also be fitted to MG, Healey or even VW chassis. It's a bit Ferrari at the rear, a bit 240Z, a bit old AC, but I think it has a contemporary look. I really thought it was a modern take riffing on old school design.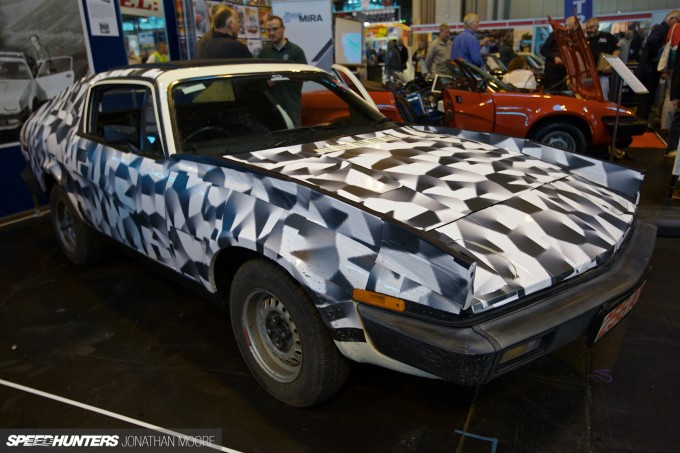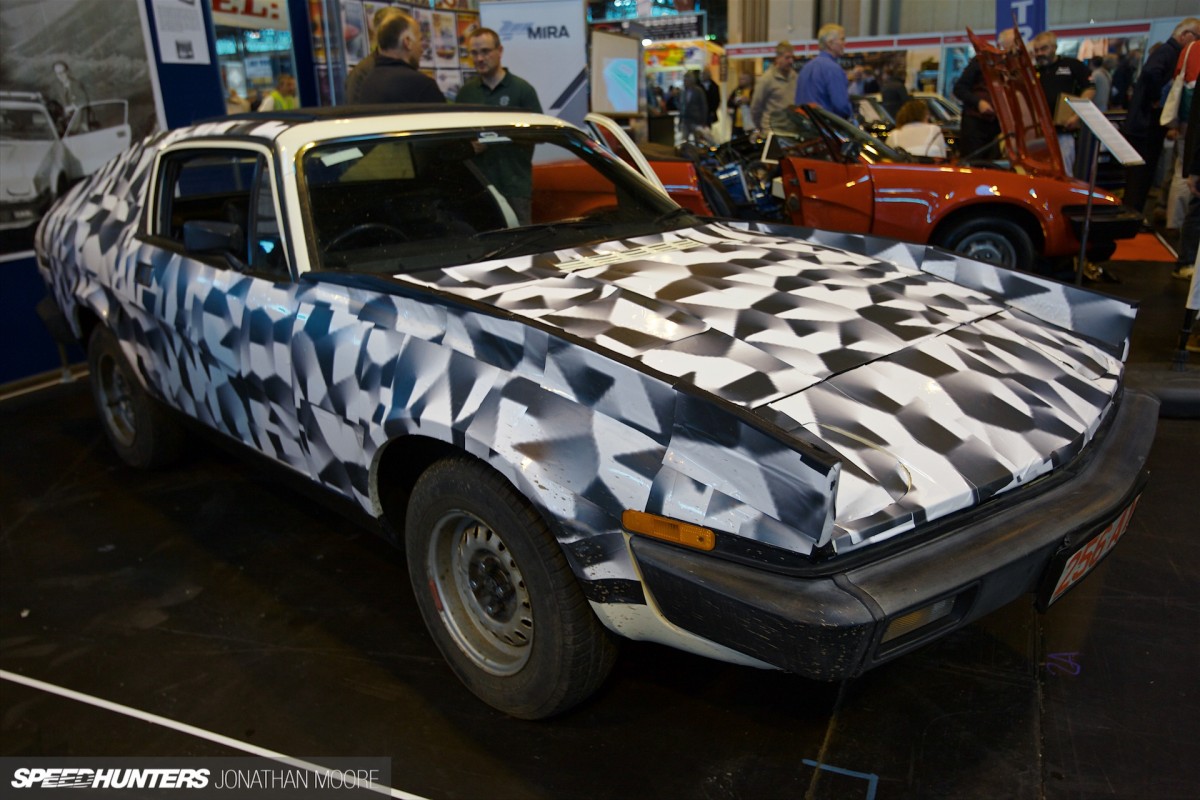 Prototypes just kept appearing. The lines of this camouflaged car didn't help identification: it was actually one of the concepts for the wedge-shaped Triumph TR7. The nose is the most recognisable part, despite the aero slats, but the rear is completely different, lacking the cut-out look of the final design. Interestingly, the rears of various other BL cars were glued onto the back of early mules: fastback tails, ones that looked a bit like Porsche 914s and even the entire rear of a Rover SD1 – the latter not the most attractive…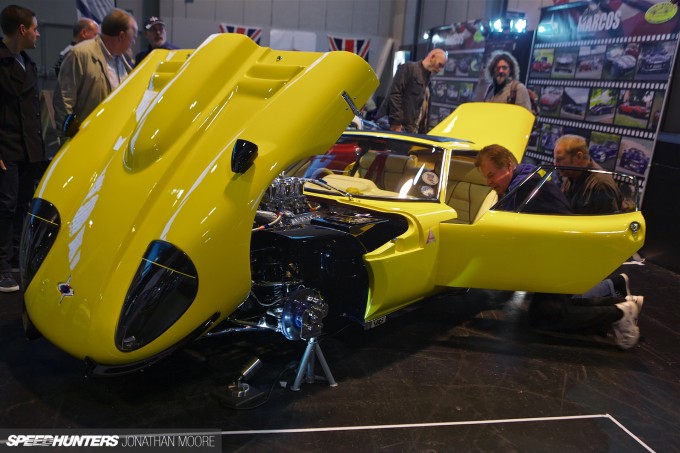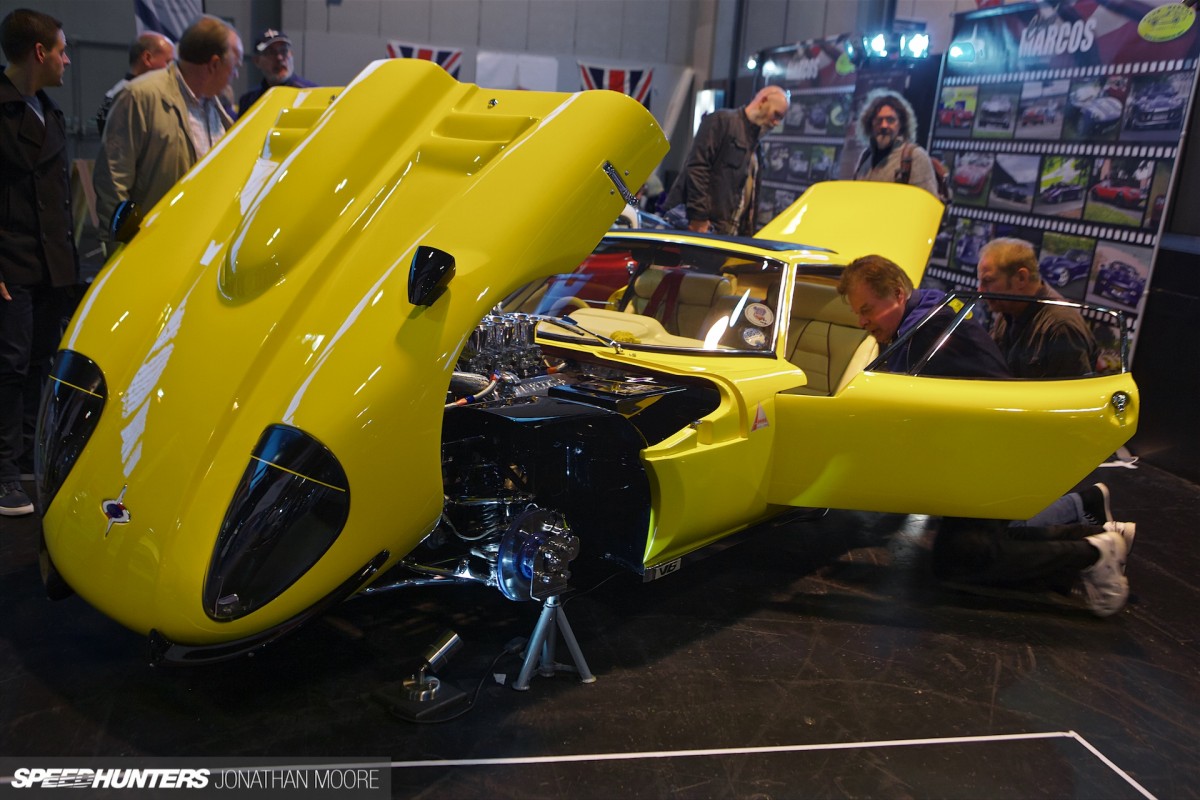 Marcos owners have been stepping up significantly. Standard cars now seem the exception, and this beast from 1971 showed how far you can take these impossibly low coupés. A sparkling Stage 3 tuned 3-litre V6 lump with gleaming trumpets defined the shape of the bulging nose. Weighing half of nothing the car is supercar-quick, packing a complementary full upgrade to the suspension of coils and new wishbones plus limited slip diff.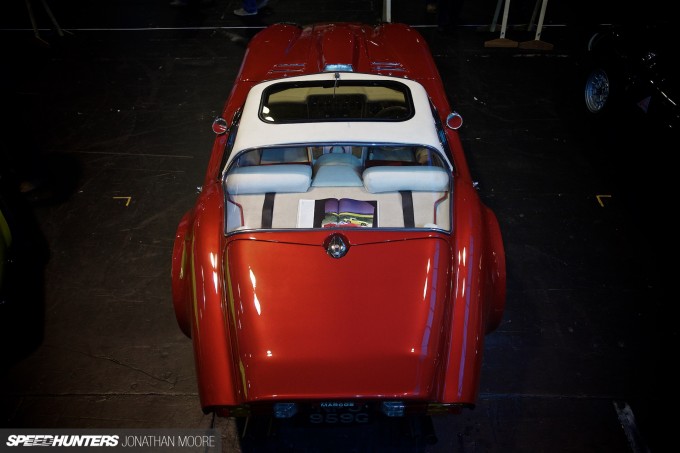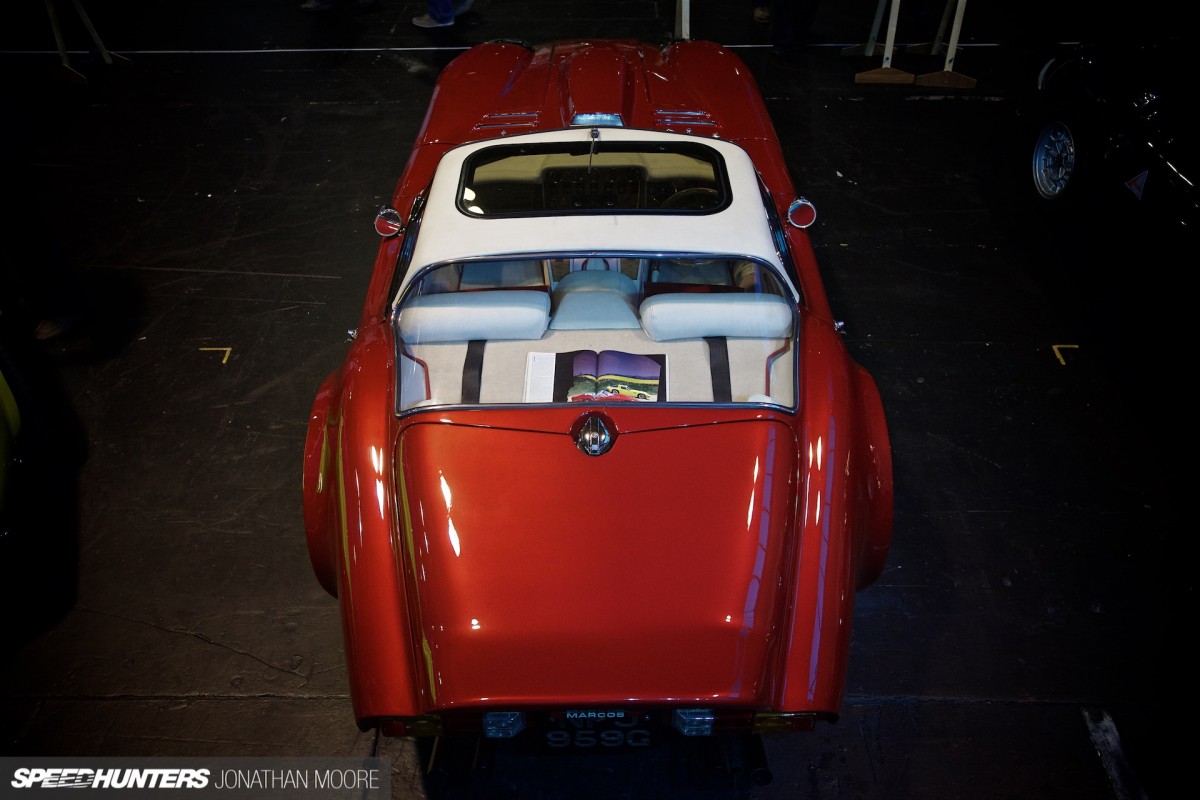 It's all within the Marcos ethos though. I love what people are doing with these cars, they can be luxuriously kitted-out or stripped-out racers and yet neither detract from the core spirit. The shape is utterly unique and pure: so long that the end of the bonnet is in a different post code, with a driving position that's almost Formula 1.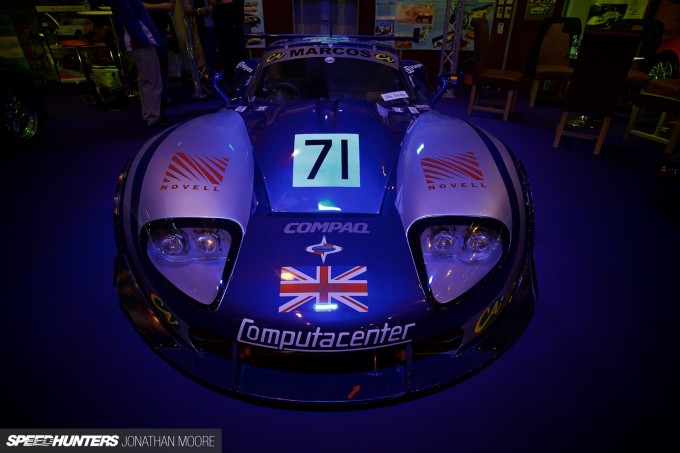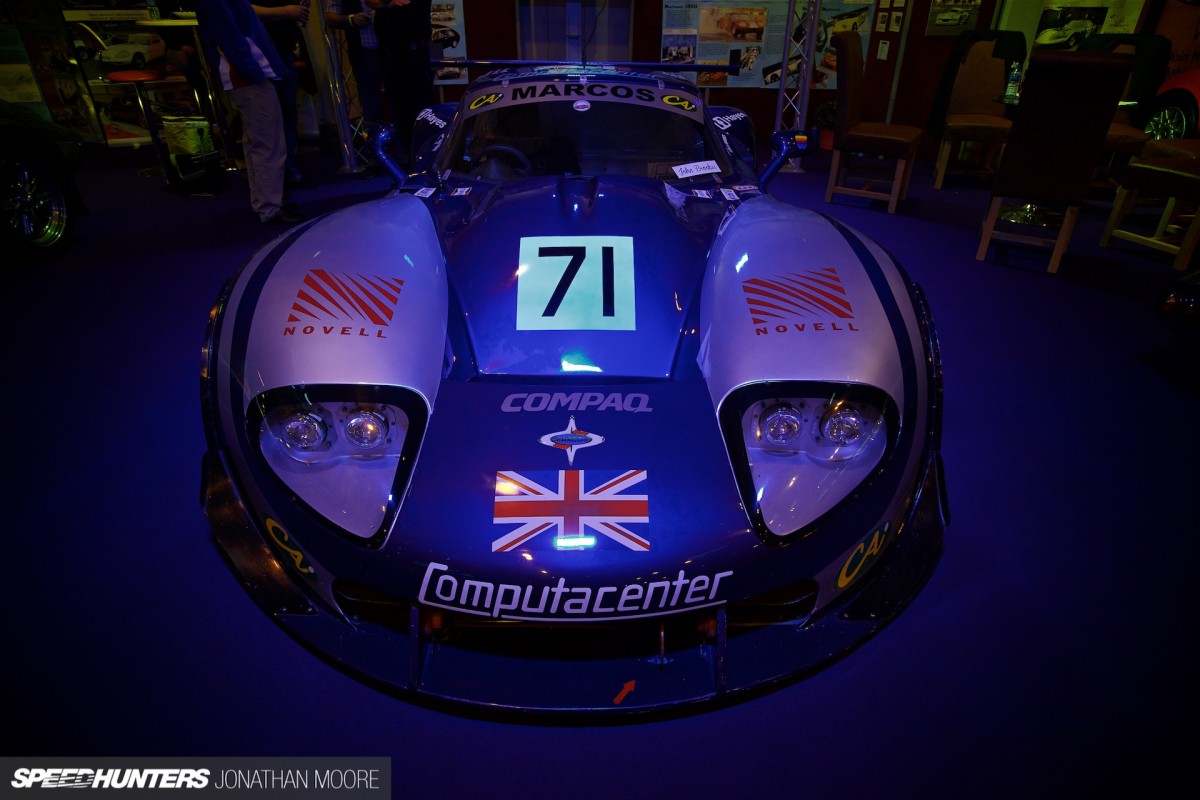 Marcos race cars are without exception sledgehammers of machines. This is the LM600 from the 1995 edition of the Le Mans 24 Hours, one of a pair of cars raced that year. Underdog entries, they were unsuccessful on track but hugely popular with the fans. And what a year to race, alongside Skylines, Honda NSXs, Jag XJ220s, Supras, Callaways, Lister Storms and more.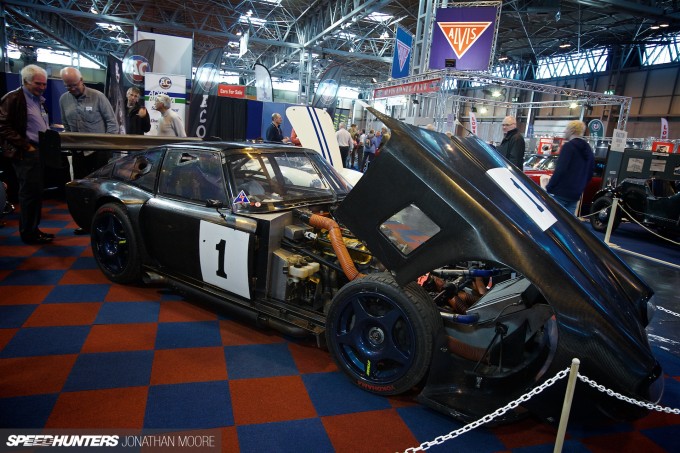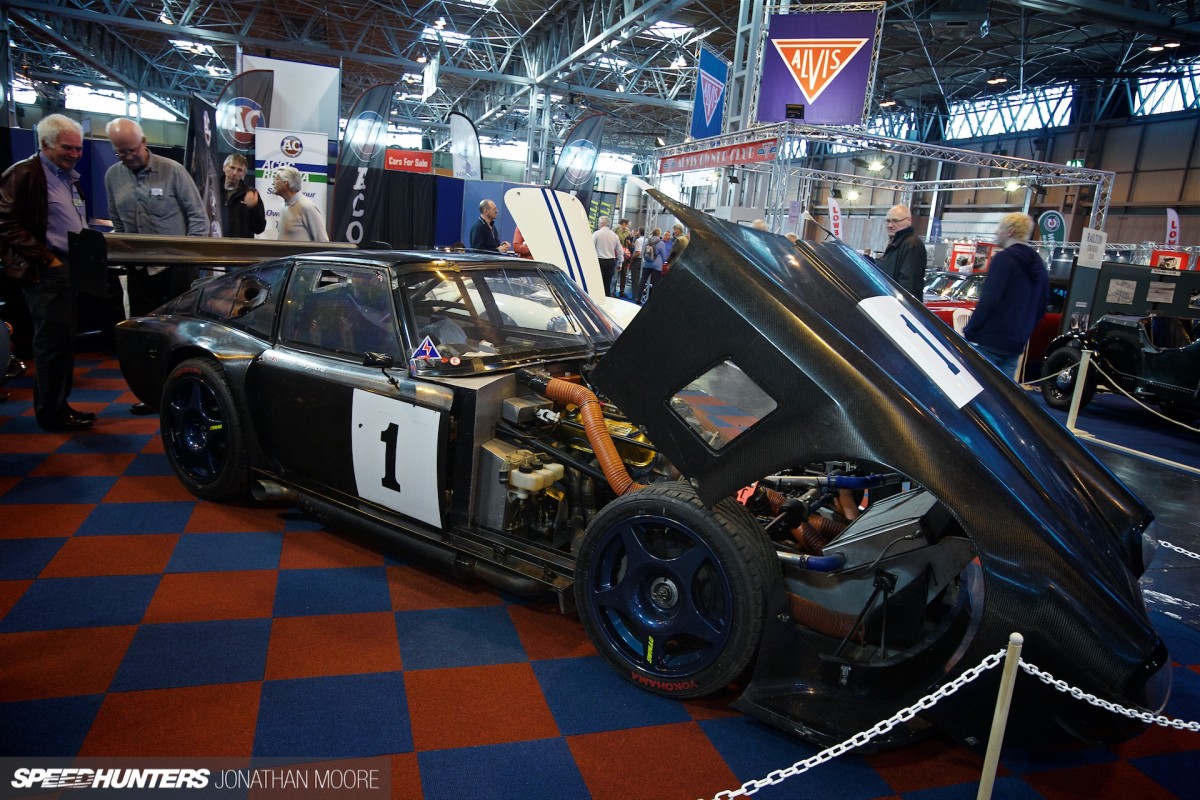 CMS isn't heavy on competition weaponry per se, but many stands exhibited some fearsome machinery. This screamed Aston from a distance, but the shape was another red herring. Meet Boris: an AC 428 Frua. Or at least, in some ancient past it was that, until twisted into this brutal, carbon-swathed form. It was built in 2002 to run in the AMOC Inter-marque series ("At the front", they pertinently say), and all that remains of the original is the steel chassis, roof and bulkheads.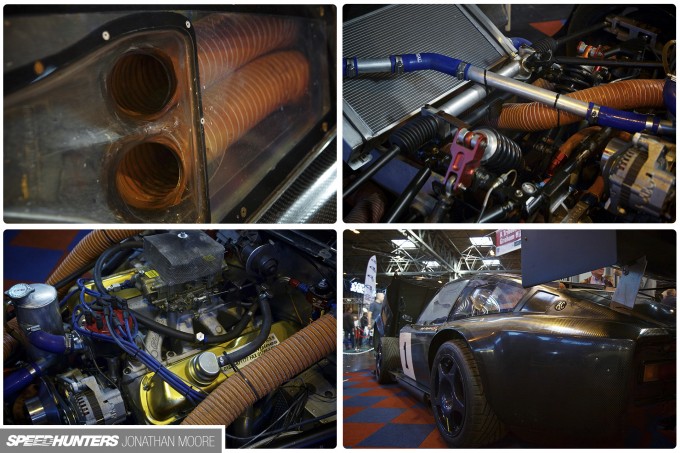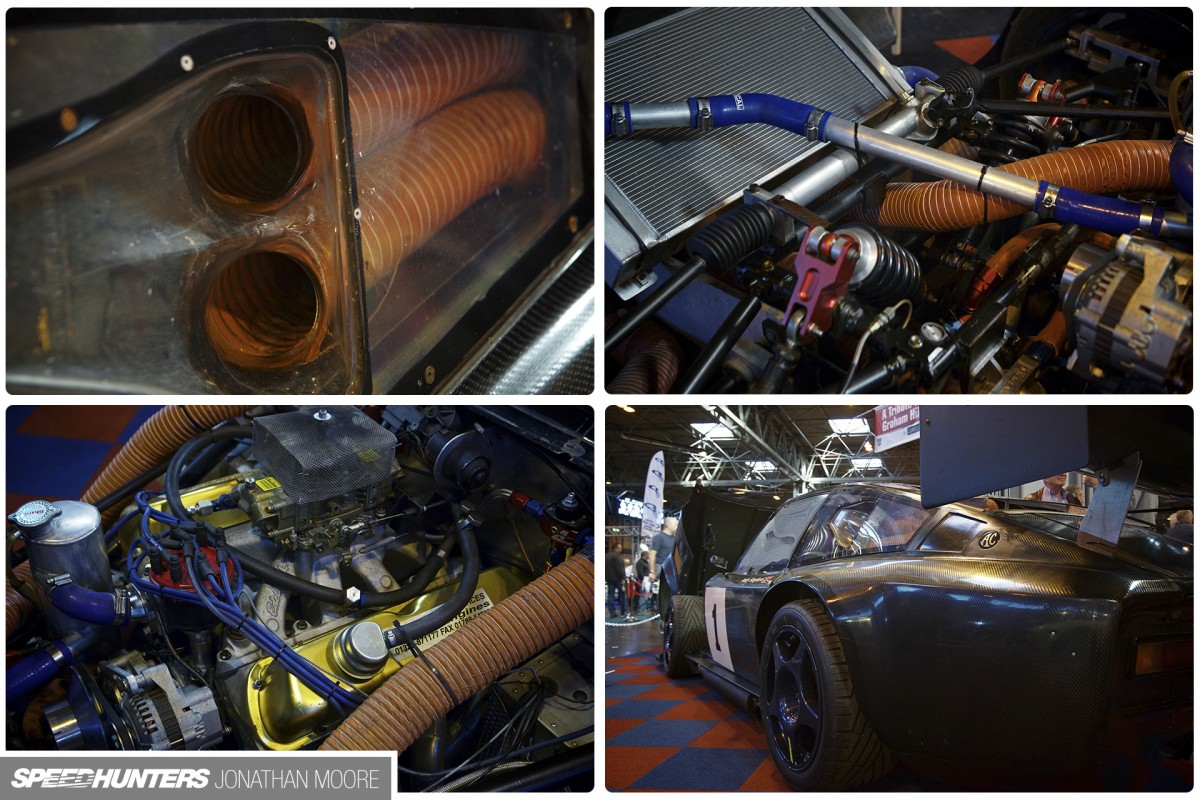 The suspension has been brought in-board (with uprights imported from a Harrier GT), AP Racing carbon disks added and Dymag Porsche GT3 wheels bolted on. The weapons system up front is based on a dry-sumped Ford 351, bored and stroked to 428ci. It sits down low and as far back as possible, pushing out 651hp and 550lb-ft of torque at 7,000rpm – that in a car weighing a metric ton and packing Audi TT DTM derived aero. Read a ton of weight for a ton of downforce at 100mph. Perhaps not surprisingly the rules were changed almost as soon as the car was finished, outlawing bespoke lightning-fast creations like this!
Bring The Hammer Down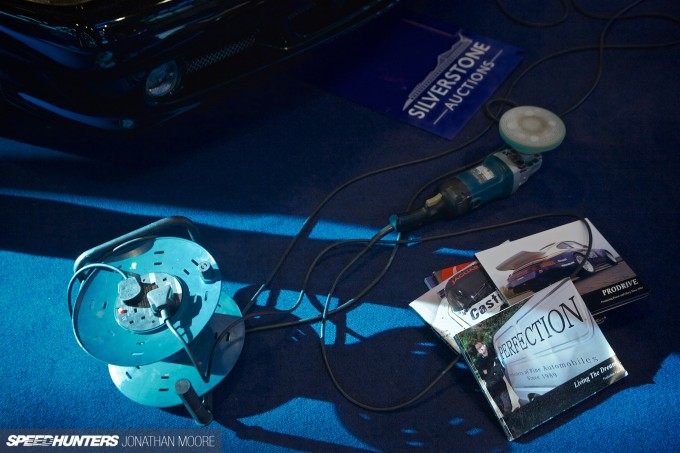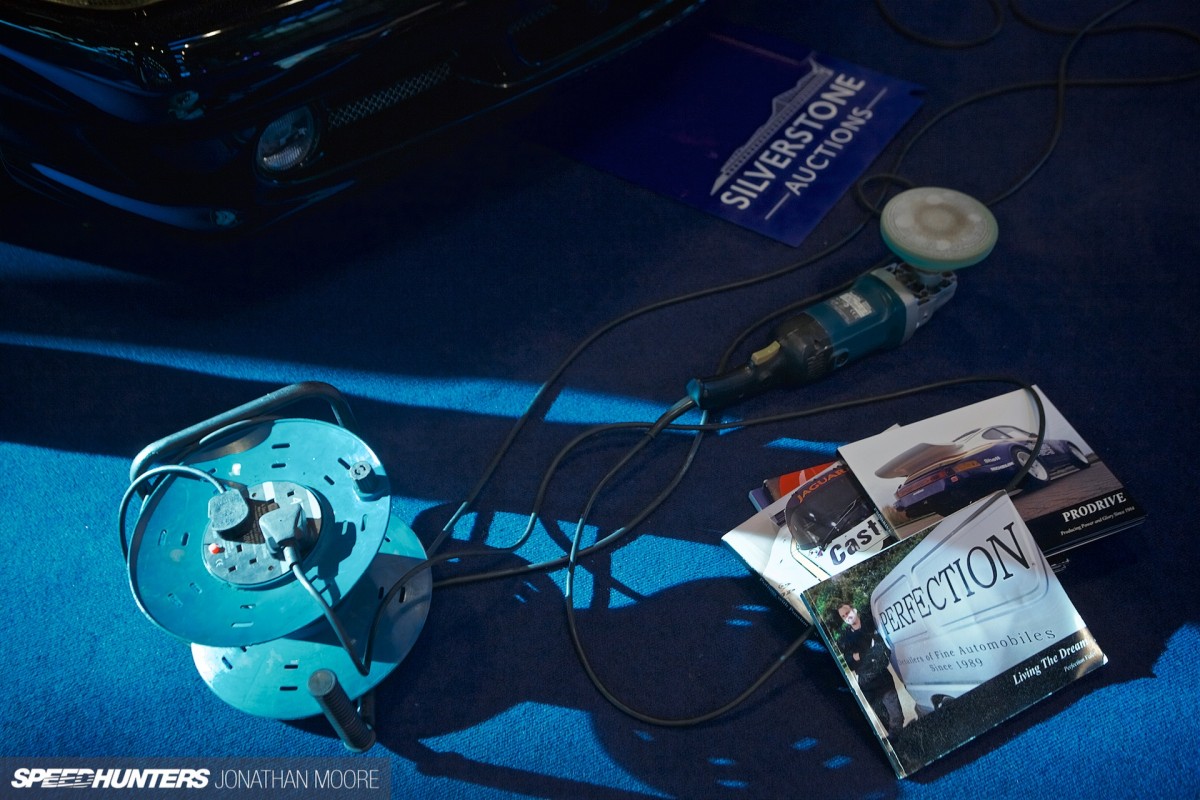 Auctions are common at these kind of big shows, and typically you'd think that they're full of stuff that you've no chance of ever owning. As the whir of rotary polishers on Rolls-Royces coincided with the rustling of paper as catalogues were thumbed, you could feel out of place… But the Silverstone Auctions corral was actually full of a surprising amount of stuff that you or I could like raise our bidding arm for.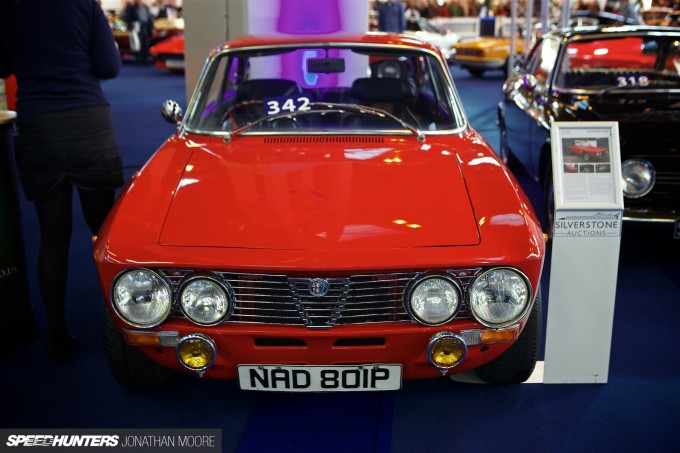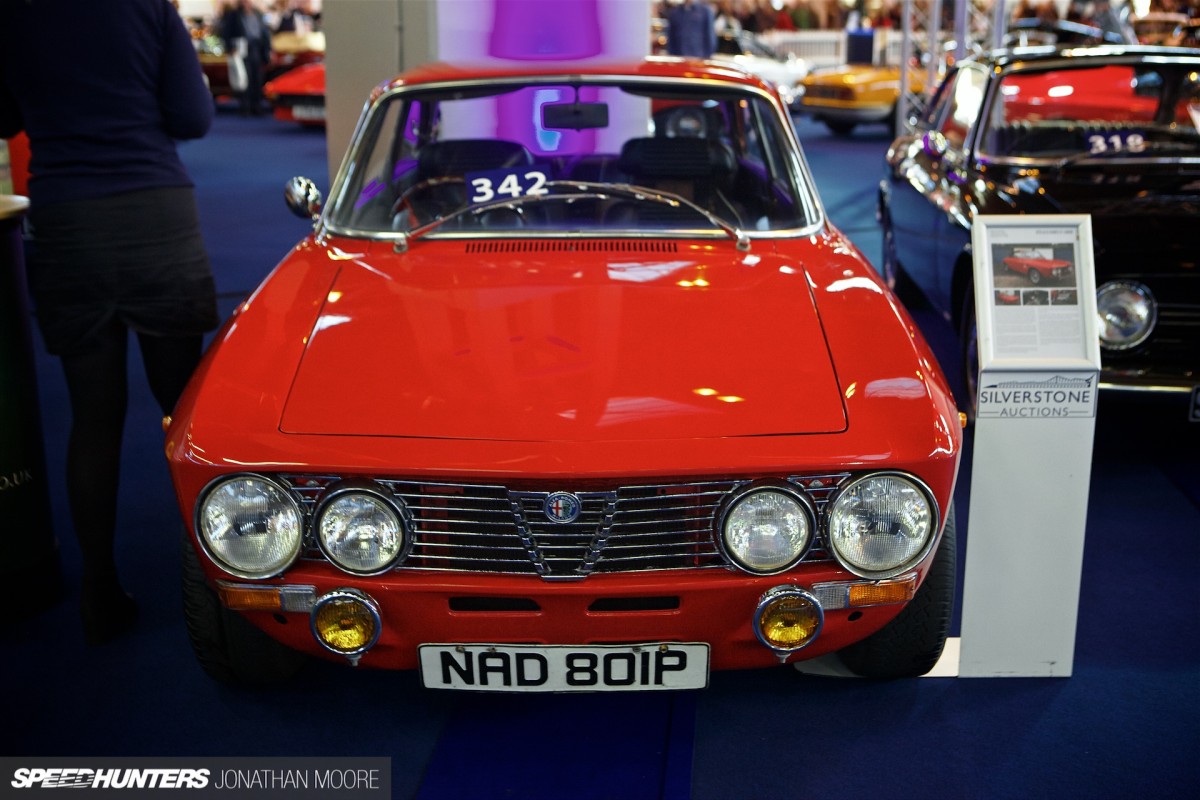 For me, as ever, that means the interminable dream of owning a GT or GTA Alfa. Amongst the higher end Porsches and Ferraris were plenty of jewels like this beautiful '76 GT Junior. It sold for an annoyingly reasonable price…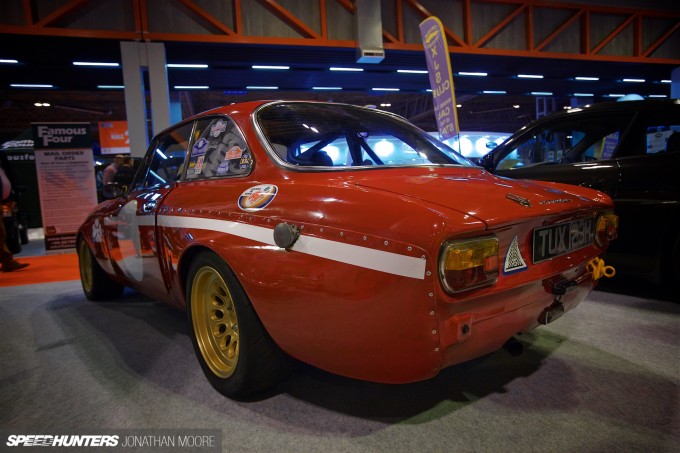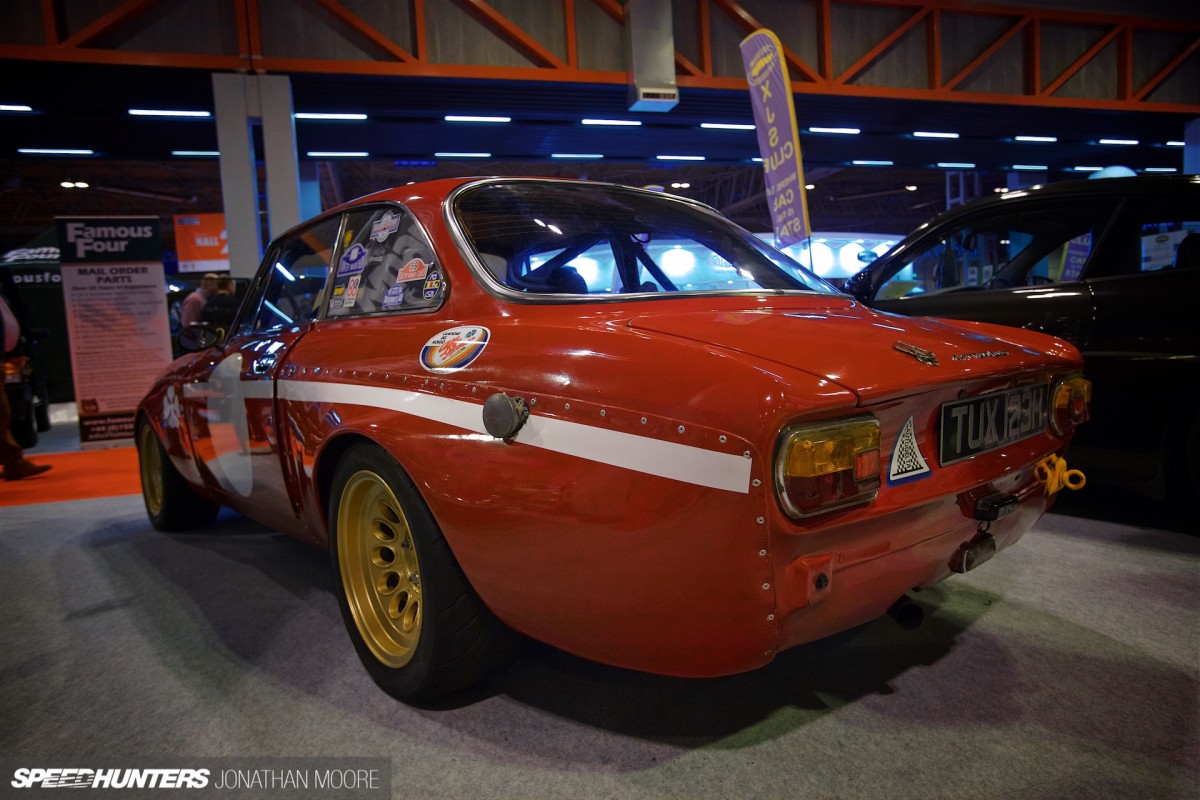 In the large sales hall, where the classic dealers laid out their wares, was this GTA racer from 1970: slammed down, wide-arched, complete with adjustable shocks, race engine and glorious twin 40 Dellortos. The thought of the sound from it made my heart sing… However, my head still says get something that needs work to start, rather than a pristine beauty like this.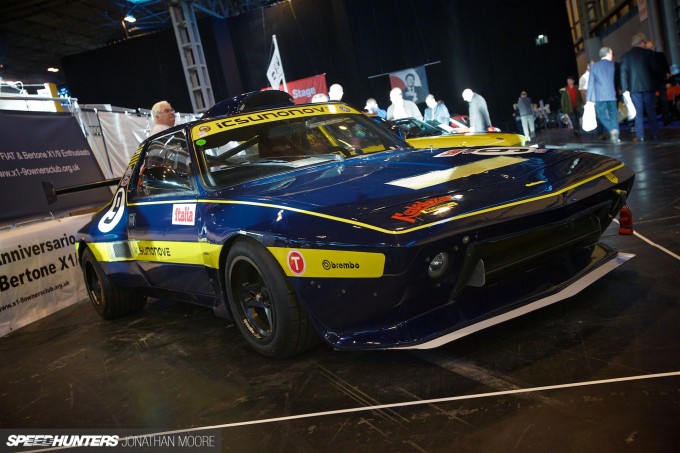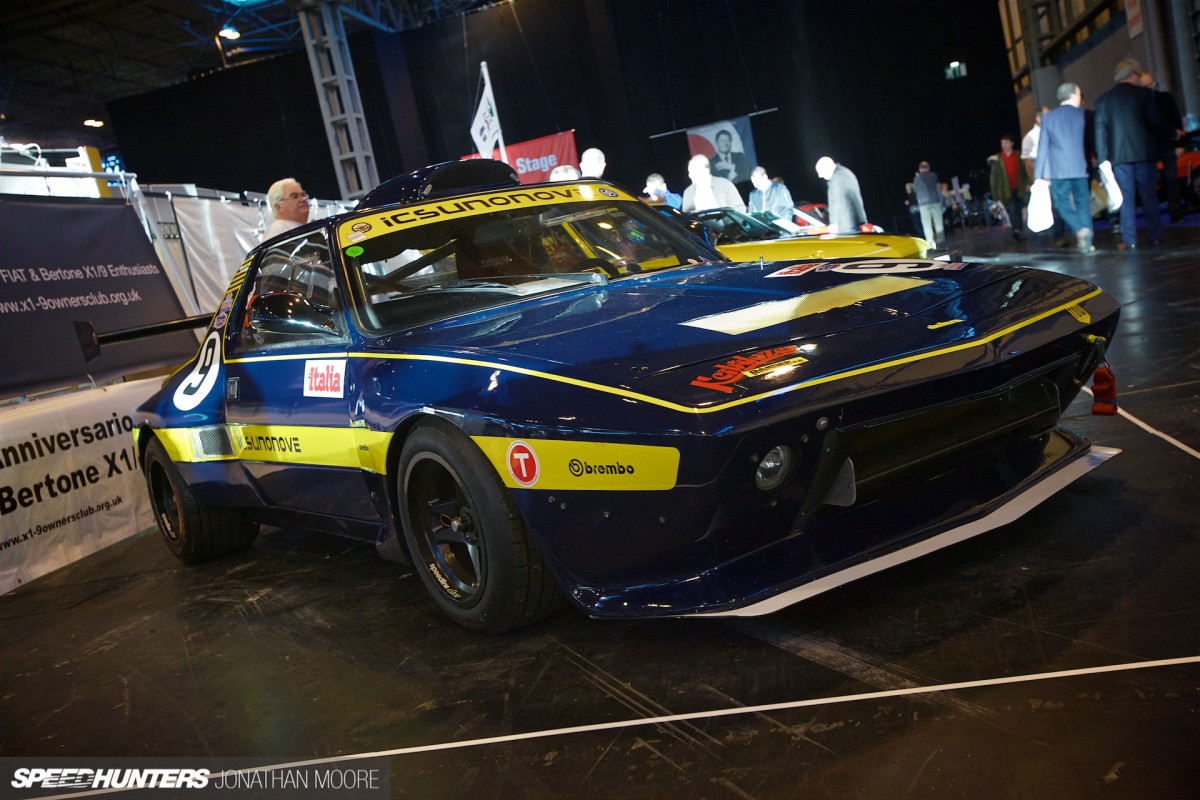 Ah, Italian cars… Why can't I just shut up about them? Well, I supposed I've driven them for long enough now to have heard all the insults – and yet they still make up the majority of the most attractive cars ever made. I even have a soft spot for the Fiat X1/9, especially in wide-body race trim. This is a replica of the Dallara-designed Icsunonove (X-1-9 in Italian) Group 5 SP racer.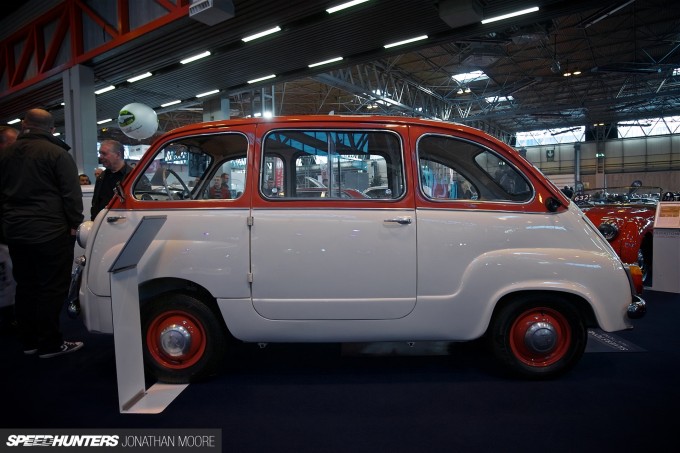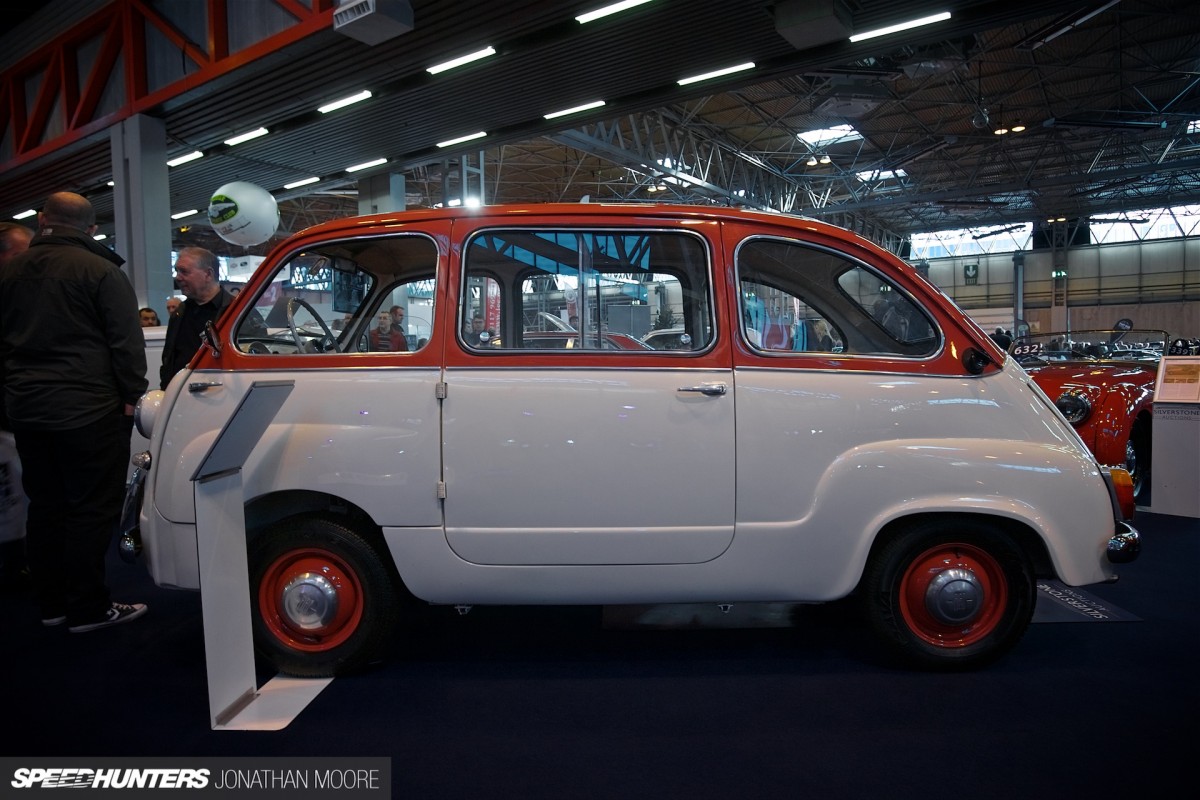 But it's not always about sportscars. How about a dose of the cutest MPV ever built?! This 600 Multipla was Fiat's first ever rear-engined car, and pre-empts the MPV explosion by a good 30 years. With a wheelbase of just 80 inches it's a munchkin of a car (and was going under the hammer for twice the price of the GT Junior!).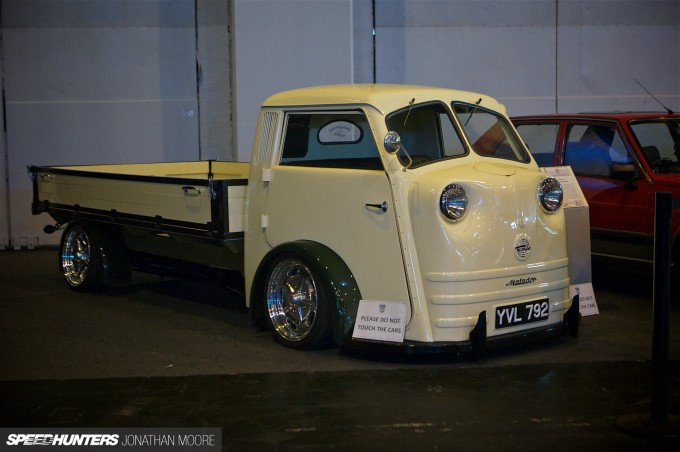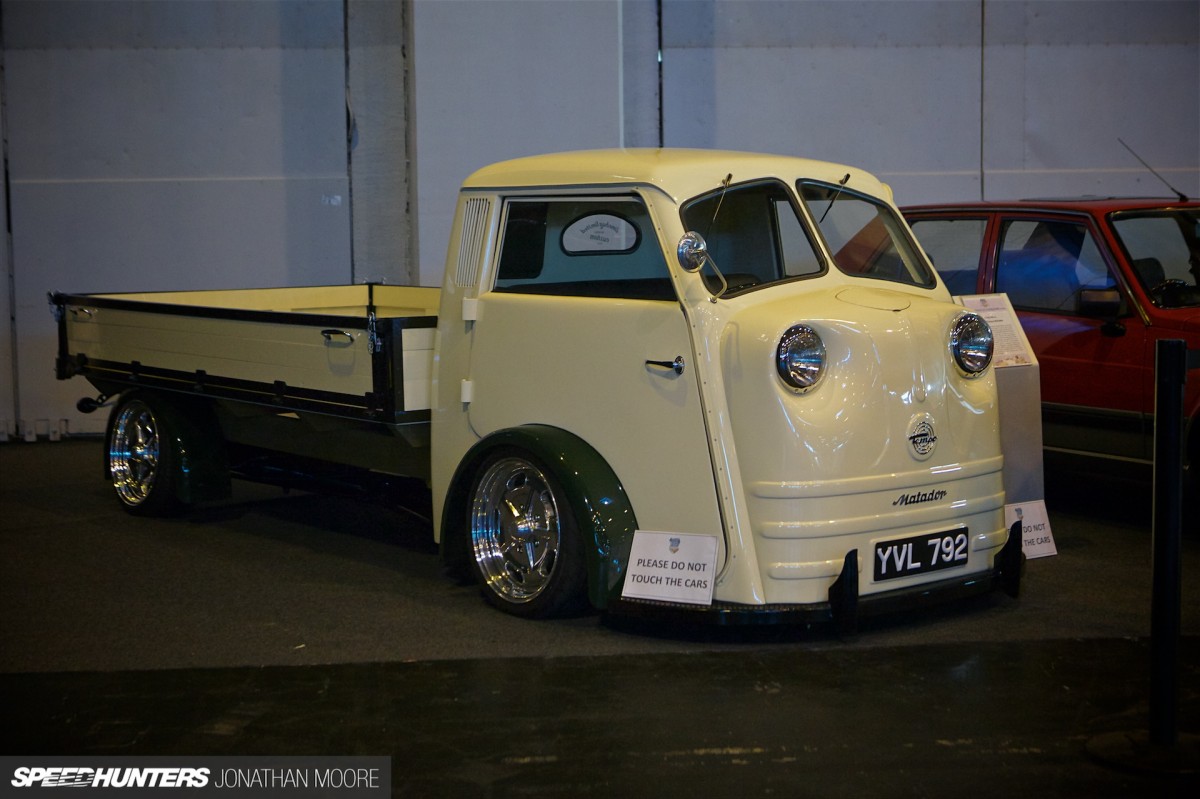 In a similar vein was this, a Tempo Matador from 1951. Surely this fits in perfectly with the Japanese minivan scene, especially when this rare machine (which is actually German) has been fitted with air suspension, flared arches and new wheels. The subject of a nut and bolt rebuild by its owner, it's a multiple award winner for obvious reasons.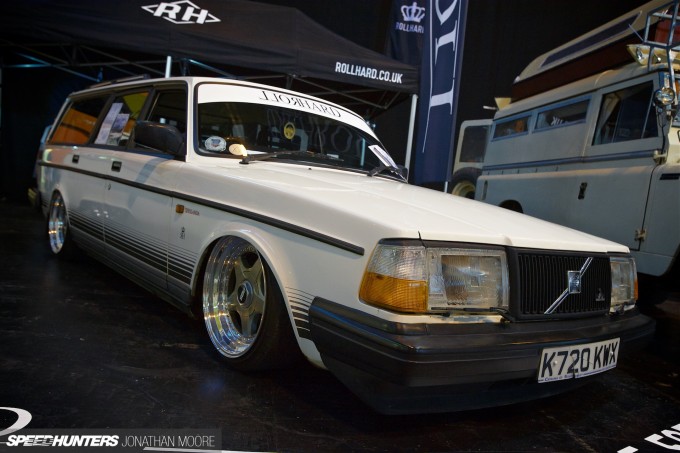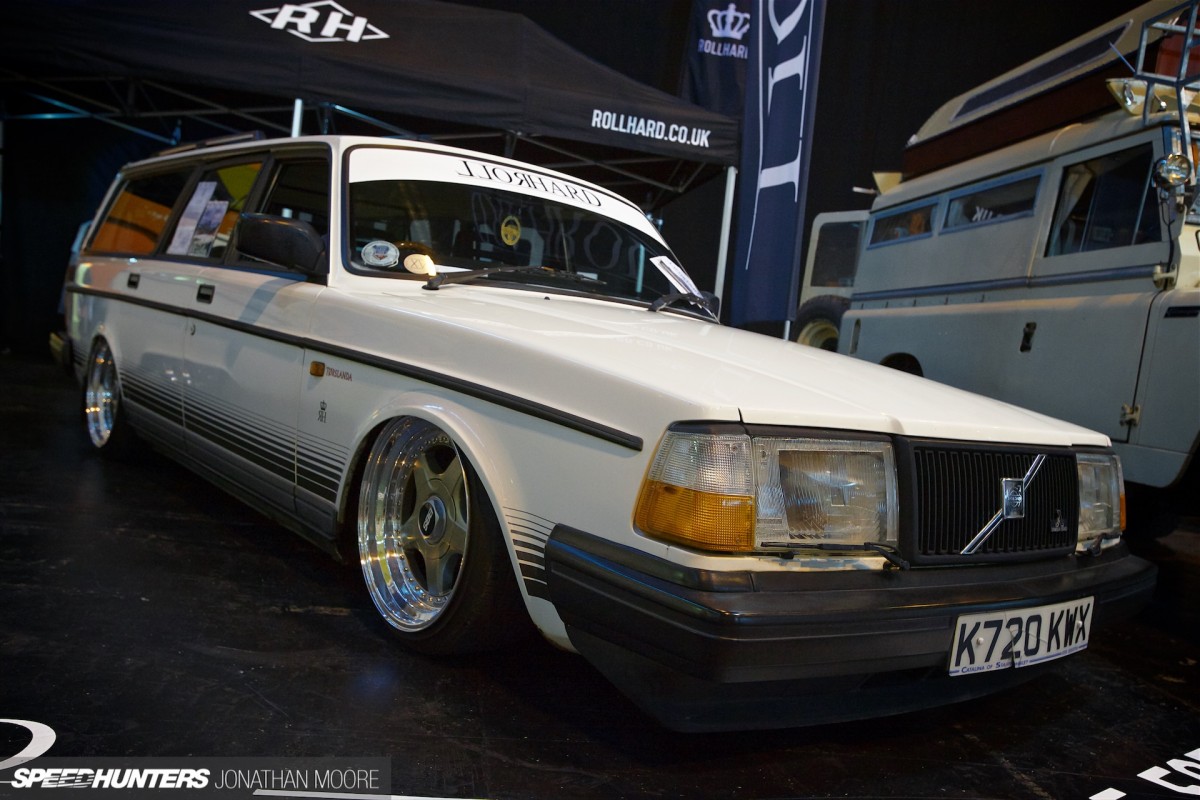 Air is not the first thing you'd necessarily expect at a motor show based on classics, but as already mentioned, that's CMS for you. Stuffy it's not, which is why banged-down cars were everywhere. This '92 Volvo 240 Torslanda is now a Wörthersee veteran, and it even made the long journey from its Watford base as a first ever proper drive – a righteous pilgrimage. BBS RF rims aren't just for show: it's got a full custom suspension setup to go with the air system, with race-spec anti-roll bars and arms. The plan is to hit it with a serious power hike over the winter, so I can't wait to see its next evolution.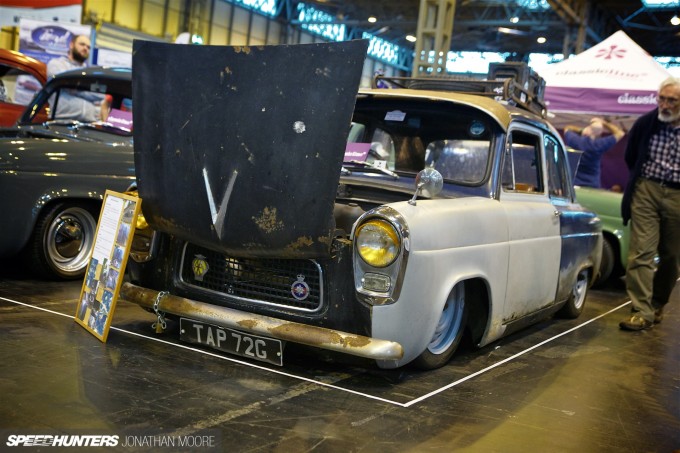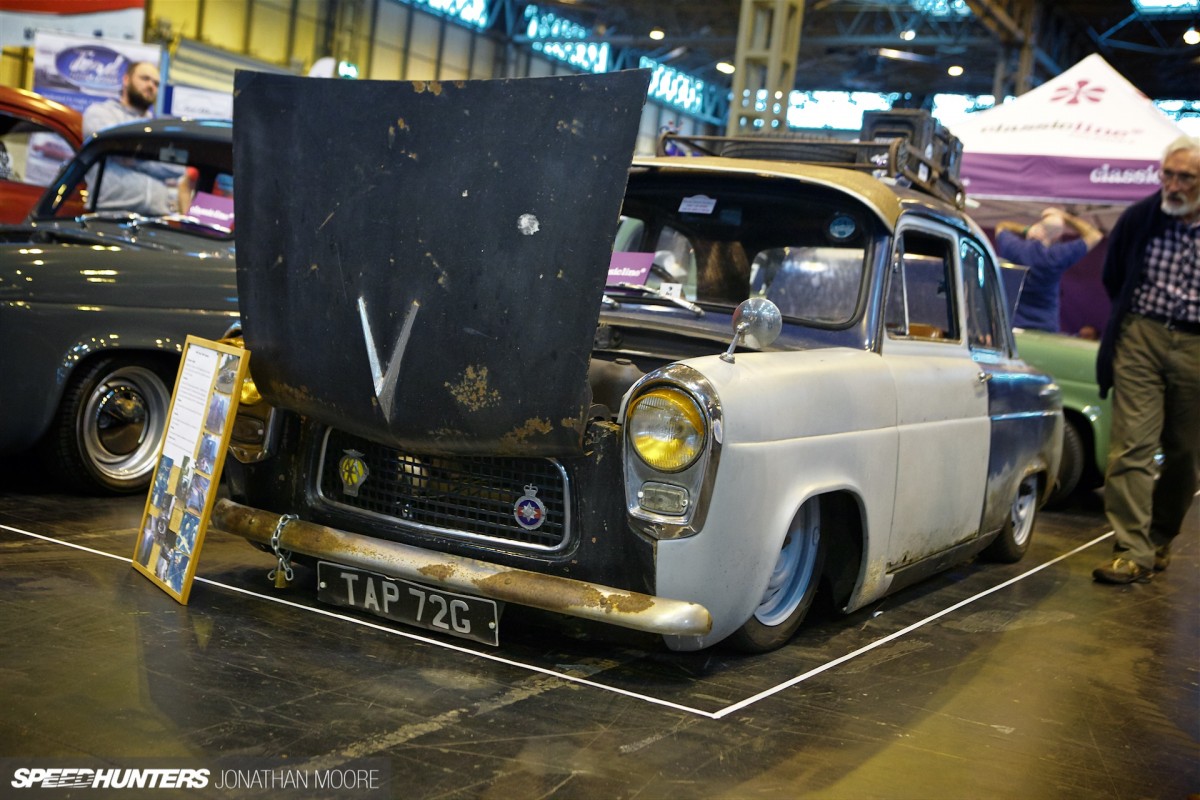 CMS shows that if you do it right, you really can take on any classic. In fact, I'd say the less well known the better. Now, a Ford 100E Popular isn't exactly rare, but it's certainly not a common sight on the road. But they are ideal platforms, viz the Huxley wide-body car shown last year, and then something like this, based on a '61 Pop. The shell is 100E, but it's been joined in unholy matrimony with the shortened chassis of a '69 Beetle. Narrowed front suspension with torsion leaf adjusters and two-inch drop spindles are matched with the only outwardly obvious VW element, an air-cooled flat-four that sits out back.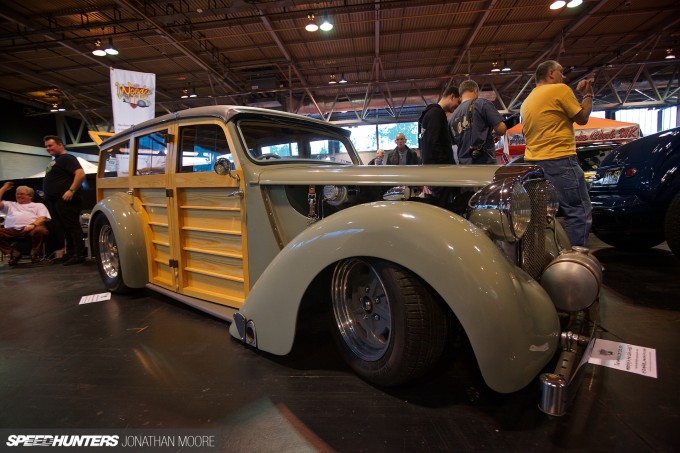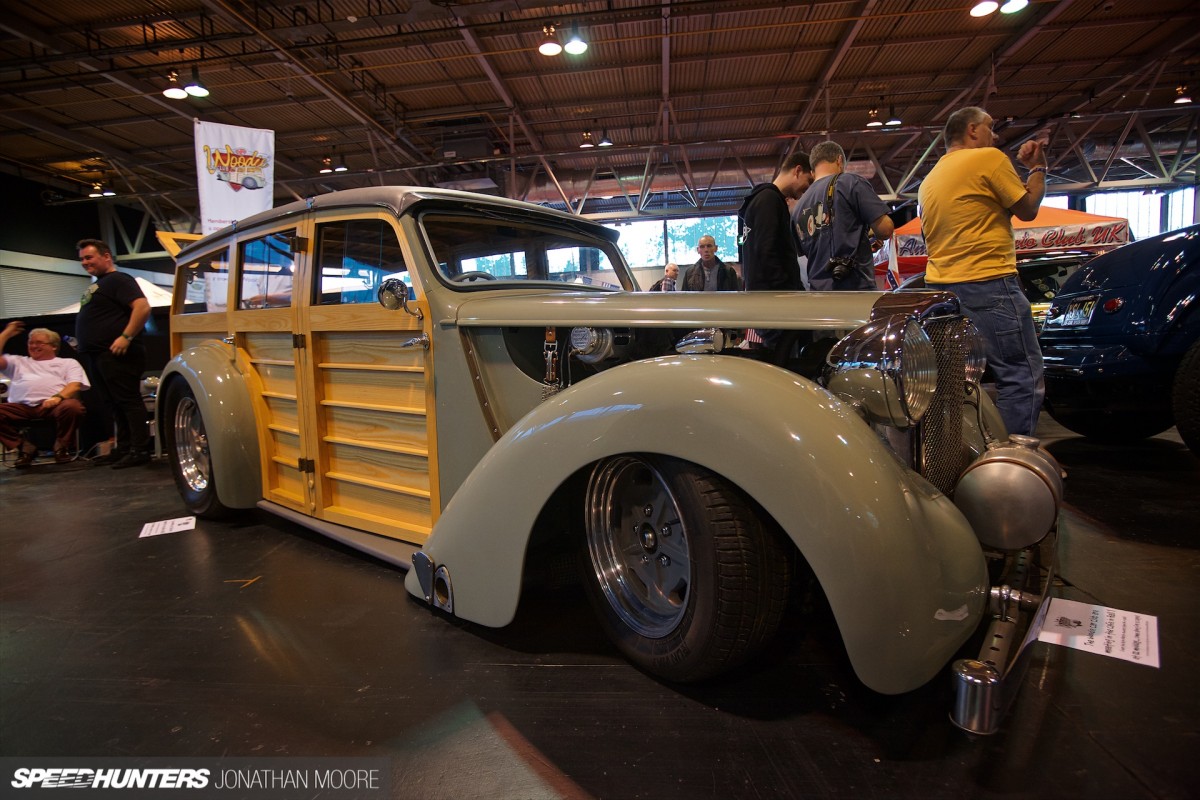 The hall that was predominantly dedicated to the Stars And Stripes still featured a couple of interlopers, and this car stood out for me. Wood as a material is no stranger in American cars of course, but the style didn't look right… This was a 1940s Alvin TA14 Woodie – a peculiarly British hot rod, with its air cylinder mounted out front like a supercharger and the cap from a Positive Pulsator milking machine mounted on the engine! The woodwork was absolutely stunning – just a great build.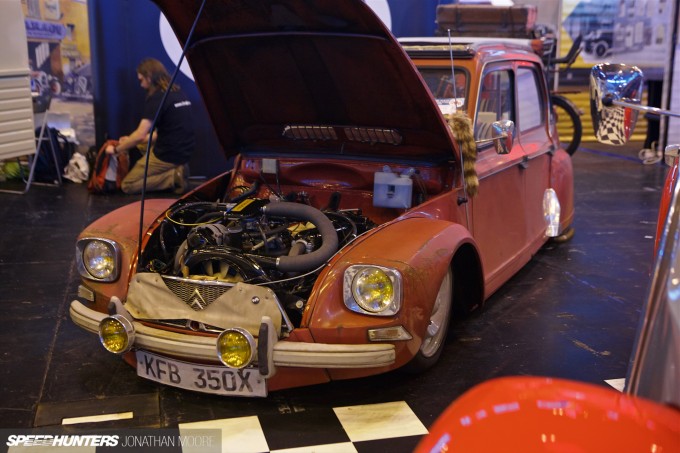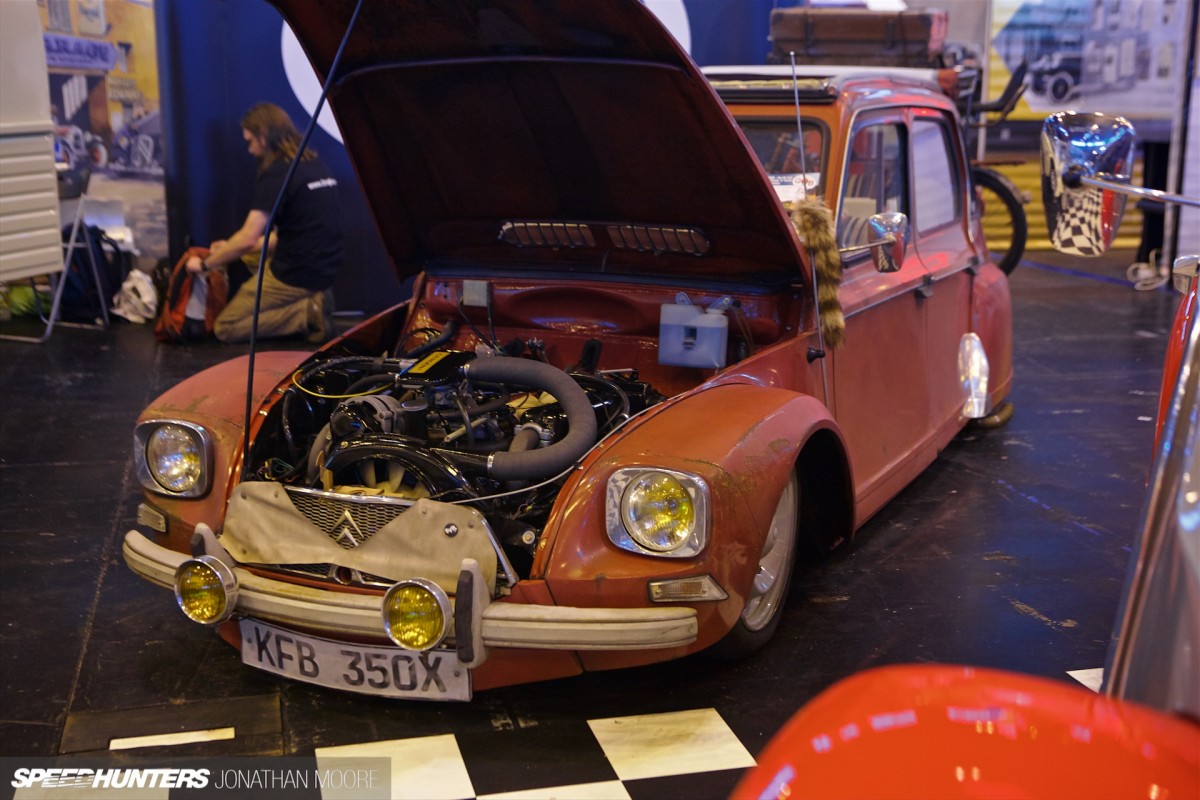 Everywhere you looked something was sitting down low… Maybe there was something wrong with the gravity at the NEC? Air-ride cars were all around, on every stand.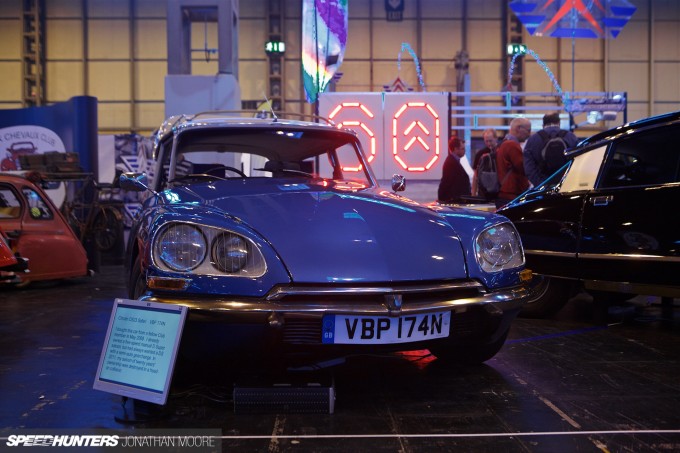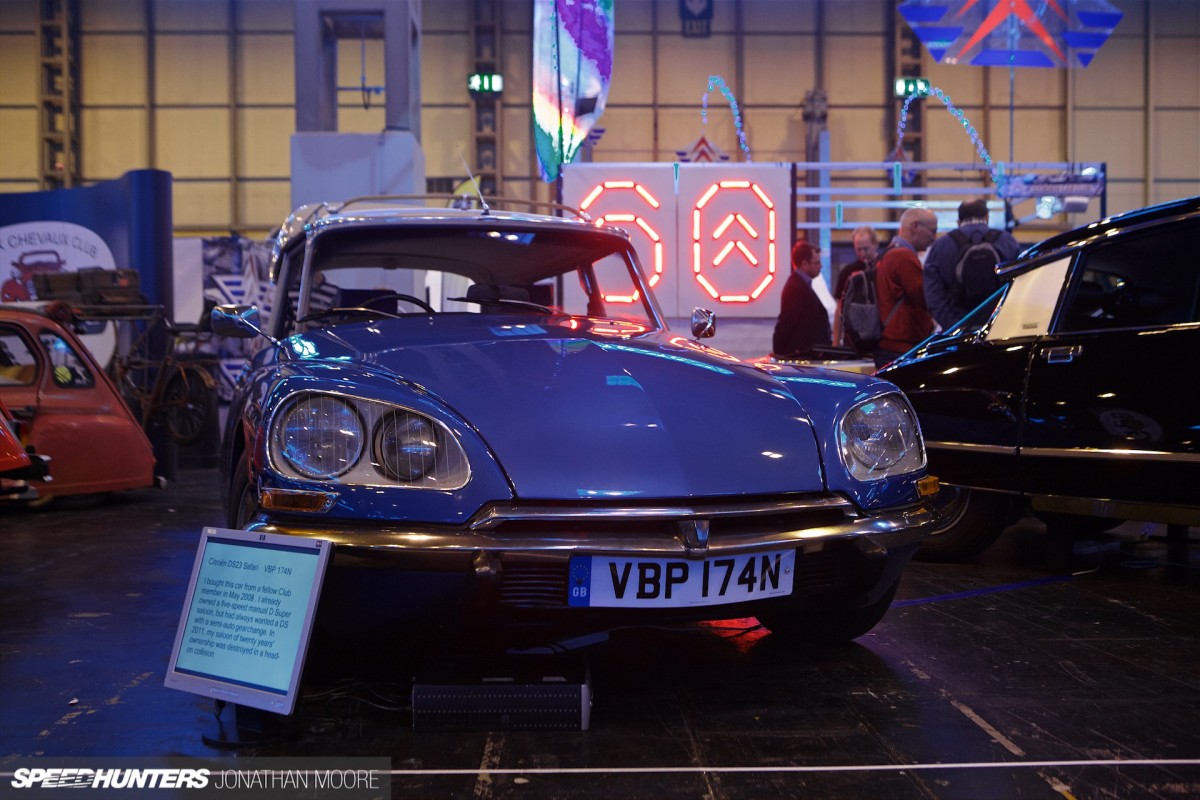 But then, if there's one brand that has a history with alterable suspension it's Citroën – celebrating 60 years of the iconic and hydropneumatic-suspended DS this year.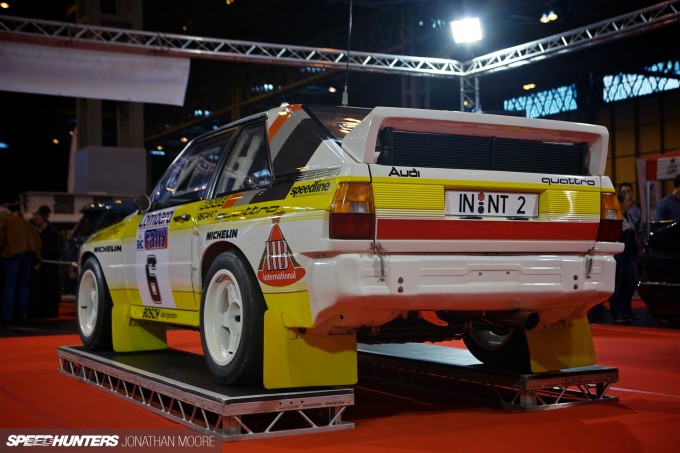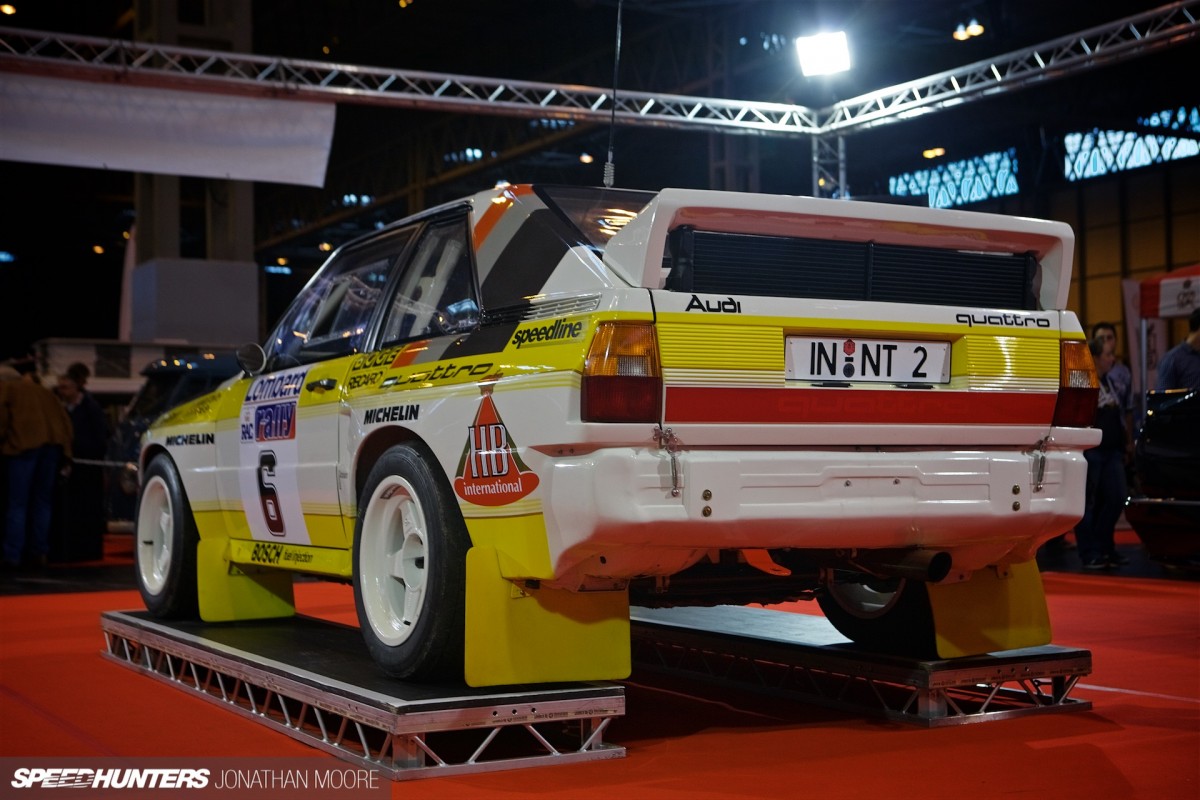 From low to high, there was a bit of everything on show, and it didn't get much higher (or shorter) than this genuine Group B Sport Quattro, driven in period by Michèle Mouton.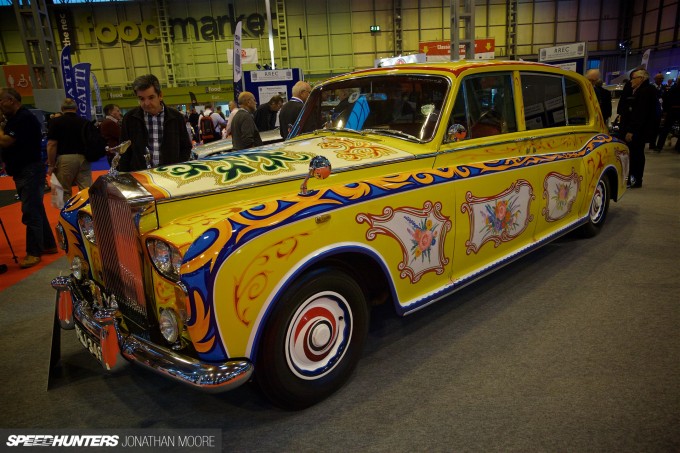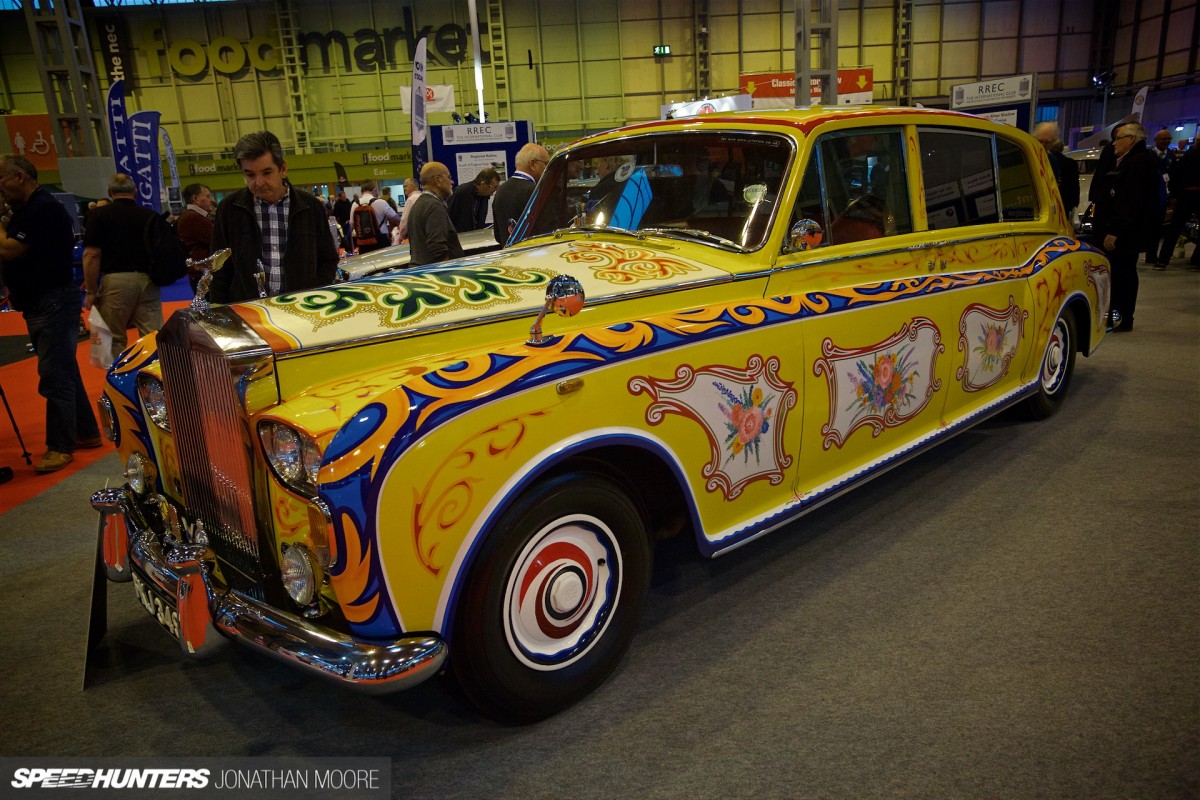 This explosion of colour was impossible to miss, but it again had more to it than met the eye. This is a recreation of John Lennon's famous Rolls-Royce Phantom that he used to cruise around the streets of New York in during the late '60s, put together by the same company that made the original. Perhaps no wonder he turned to something rather less extravagant in later years…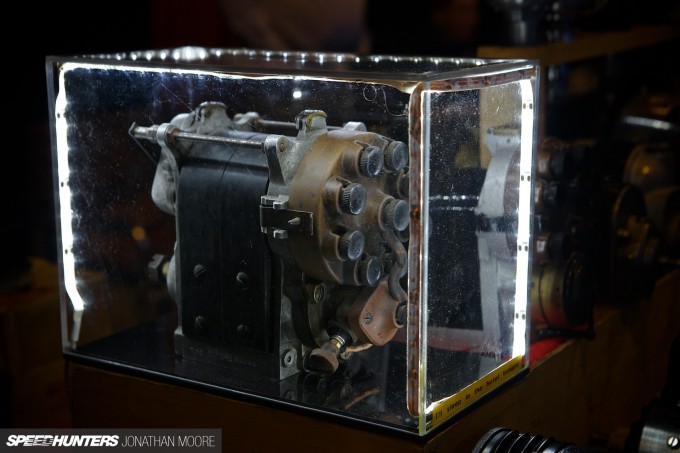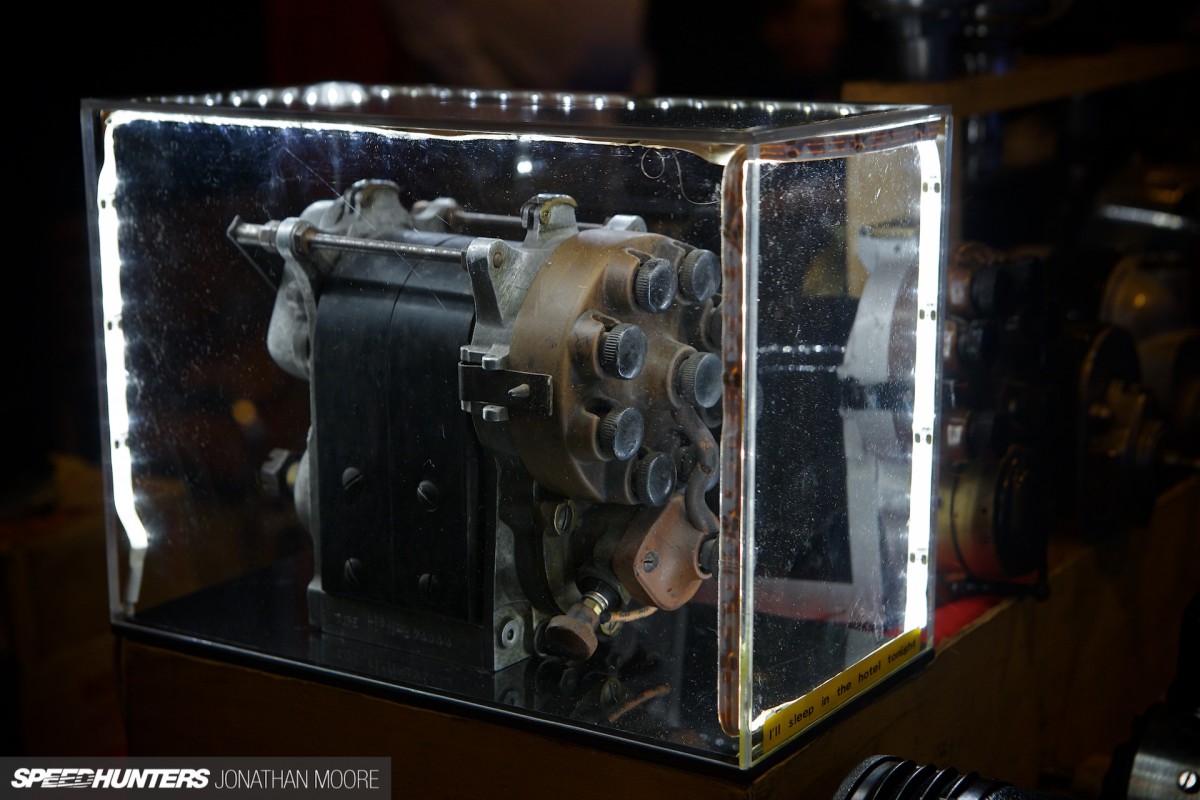 A major part of the show was about sourcing the bits that will bring your classic back to life; finding the magic missing part that you'd been searching for. At CMS, no matter how obscure the car, you got the feeling that somewhere out there was the person with exactly the part you needed.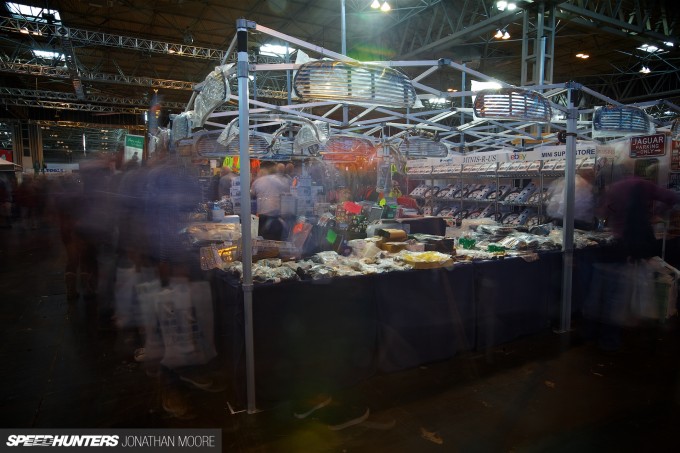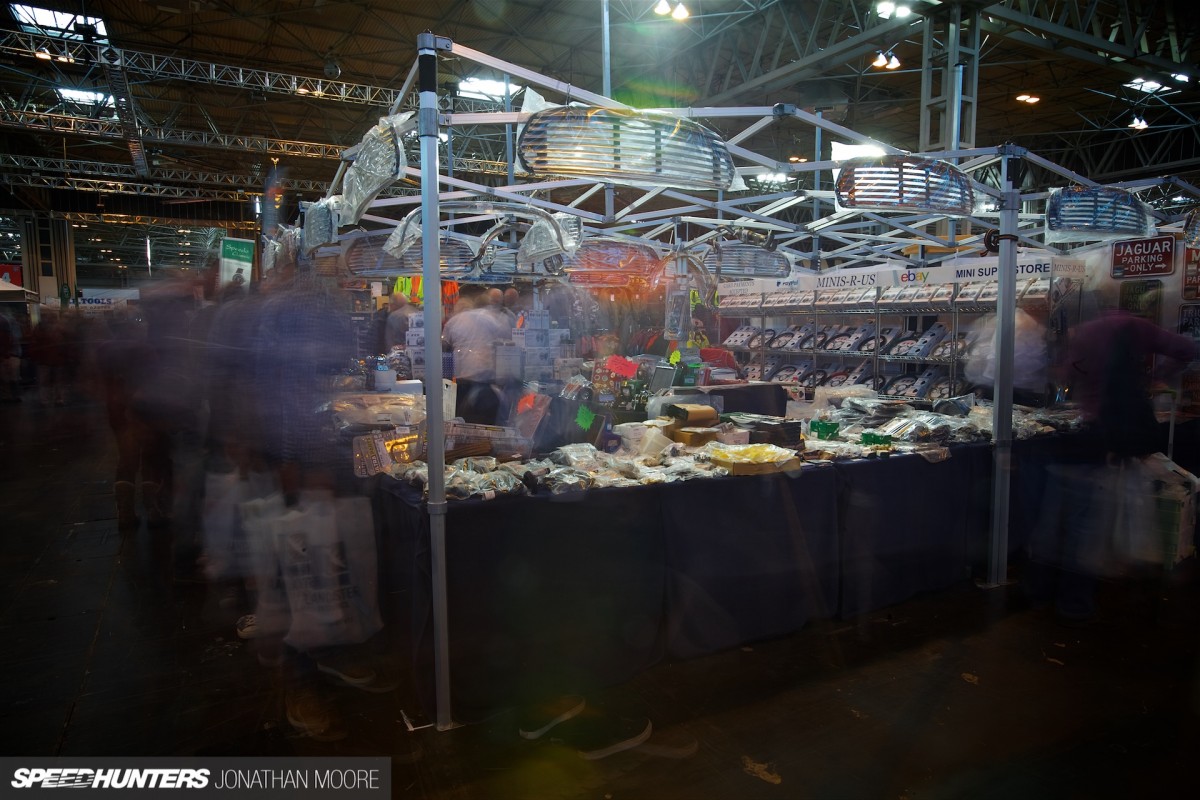 The Auto Jumble was vast, an Aladdin's Cave of opportunity that you'd need the entire weekend to truly explore properly, packed with companies from around Europe.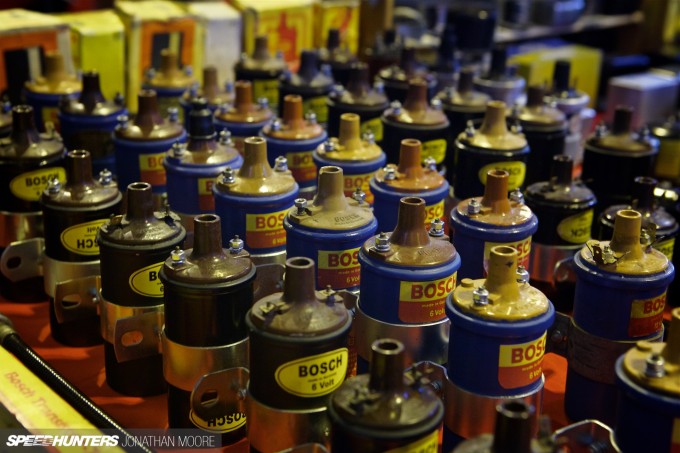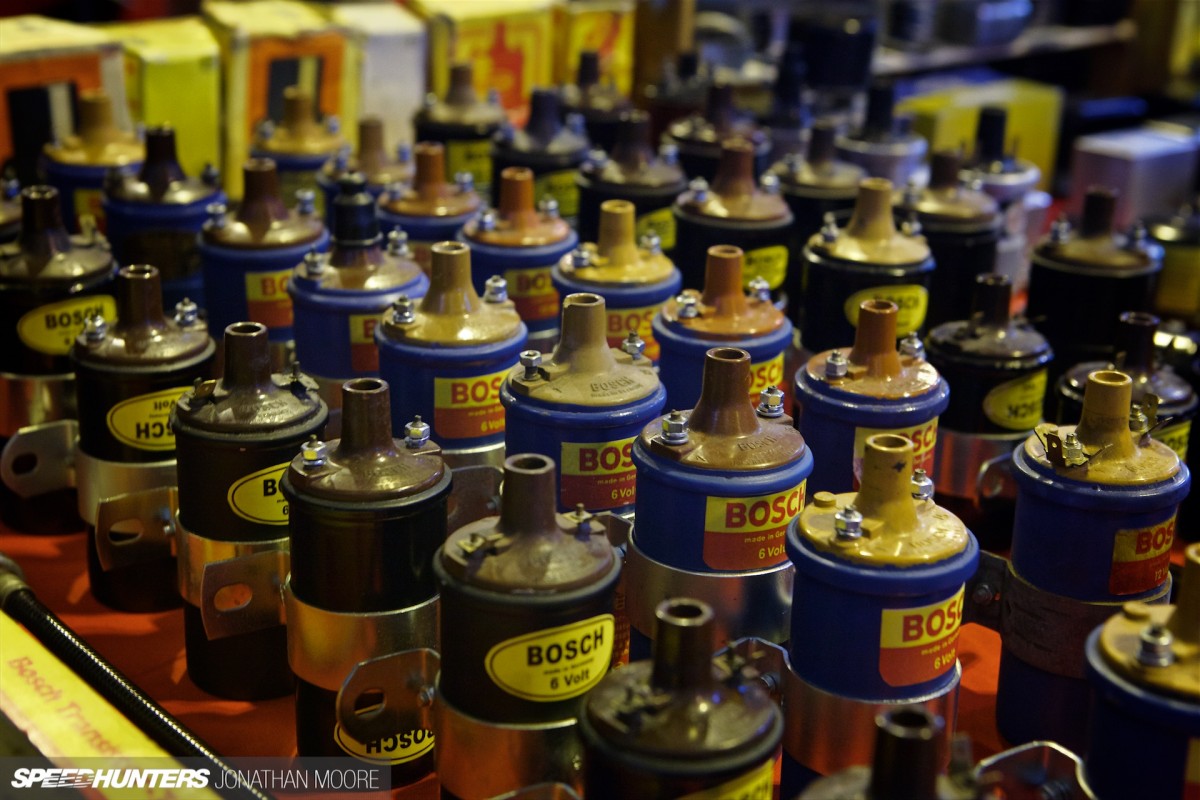 There's something about old kit that's always so attractive: the primary colours, the solidity of design. It also helps when you have entire tables full of beautiful old components.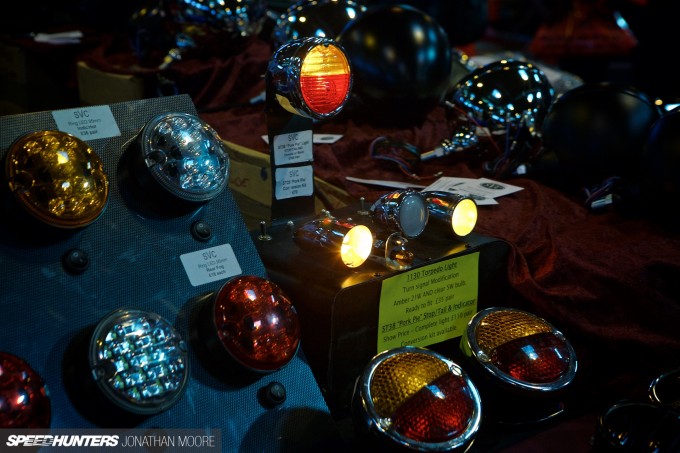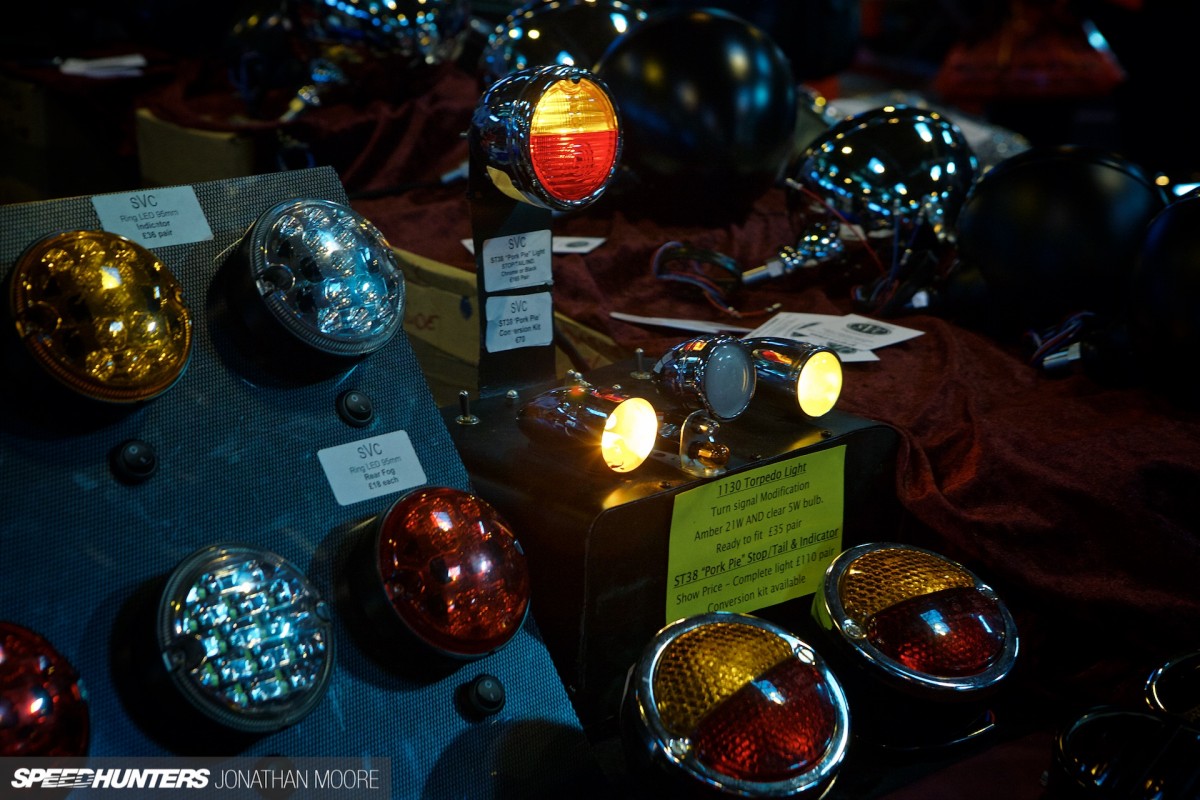 The mix of new and old is just good sense if you really want to drive your classic, and plenty of stalls were selling old school style packed with modern tech, whether it be speedos or lighting systems.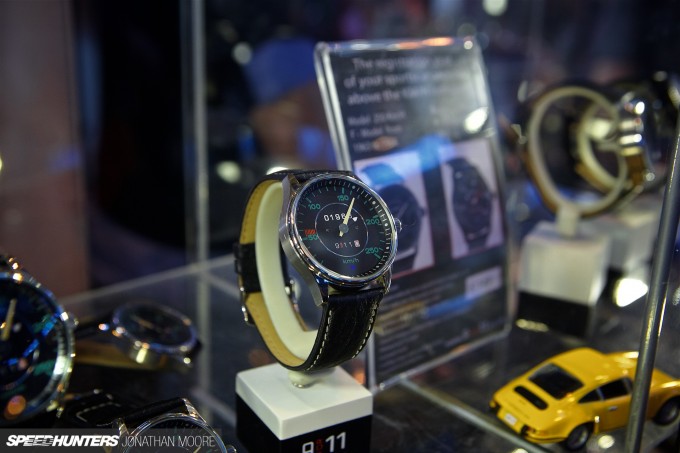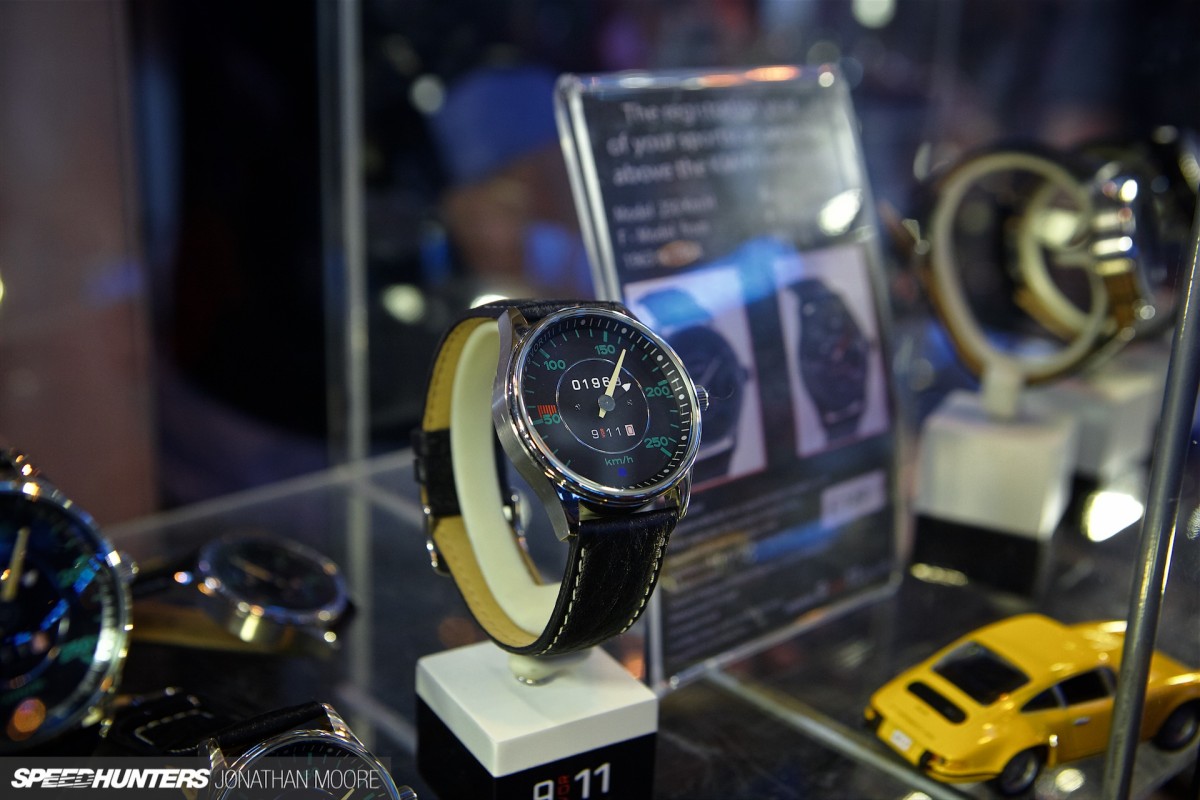 Even if you didn't need a part, sometimes you'd just want it anyway – like a watch designed in the style of classic car speedometers? Simple and stylish, frivolous but classic. The perfect accompaniment for your car – and not just 911 owners, as there were plenty of other brands too.
Ideas… It's always about planting the seeds, some of which are good, others expensive. But still probably good. It's the effect of a show like this, and that's only positive.
Jonathan Moore
Instagram: speedhunters_jonathan
jonathan@speedhunters.com
Cutting Room Floor