BJ Ballistic Baldwin
I love being able to get an inside look into what our friends in the automotive world are up to, and as far as social circles go, Speedhunters hangs with a pretty great crowd, filled with some of the most influential names in car culture. Whether it be Vaughn Gittin. Jr.'s backyard, or Mad Mike Whiddett's new rotary build, we always love to get the scoop.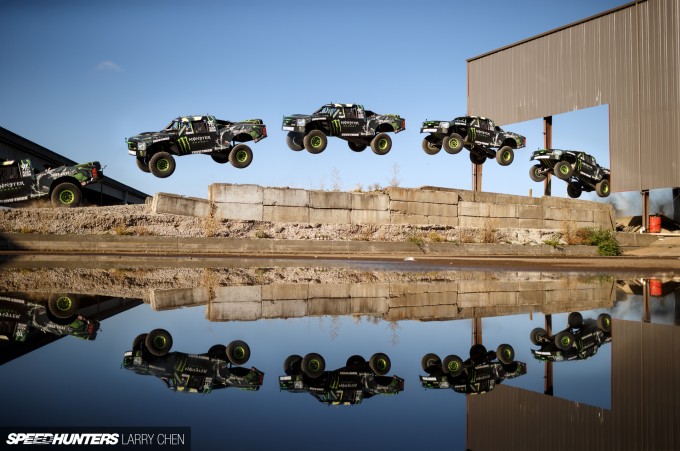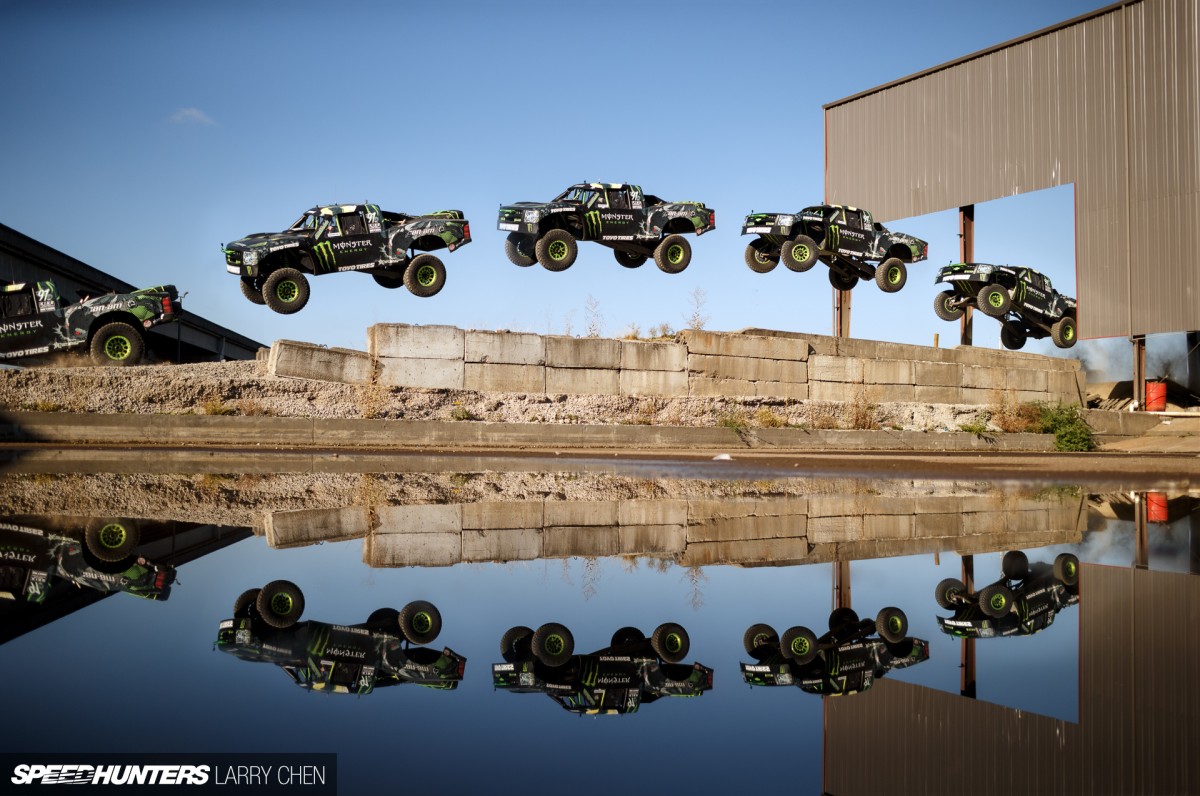 I feel especially lucky when I get to show you guys how it all went down behind the scenes on a viral video shoot.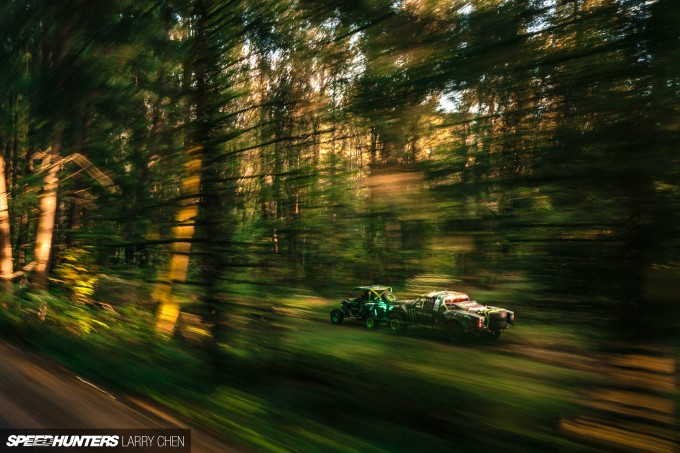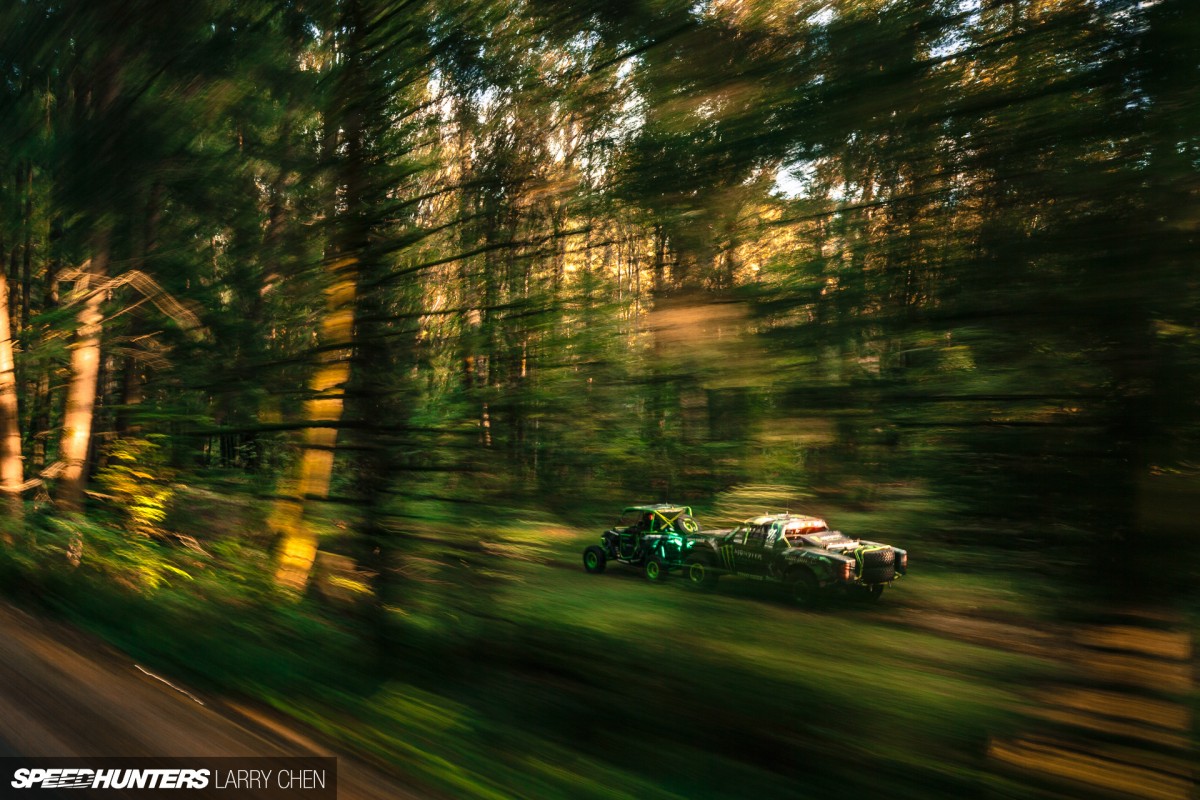 Because if you like the clip in question, then chances are you'll want just a little bit more content to enjoy the video to its full potential.
Which brings me to BJ Baldwin's third Recoil series video, just released this morning. If you haven't seen it already, press play above to check it out.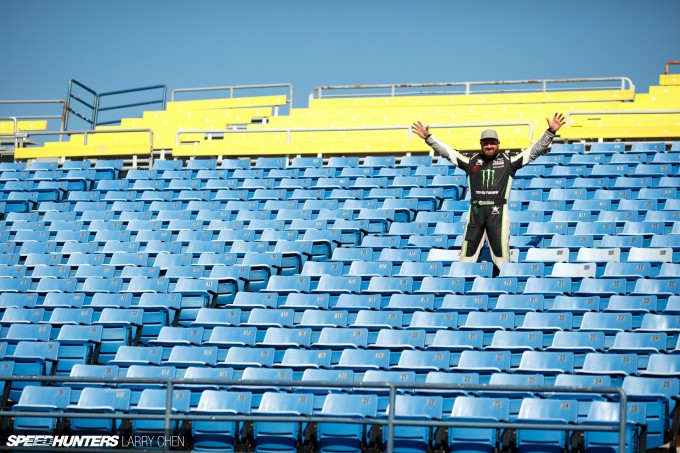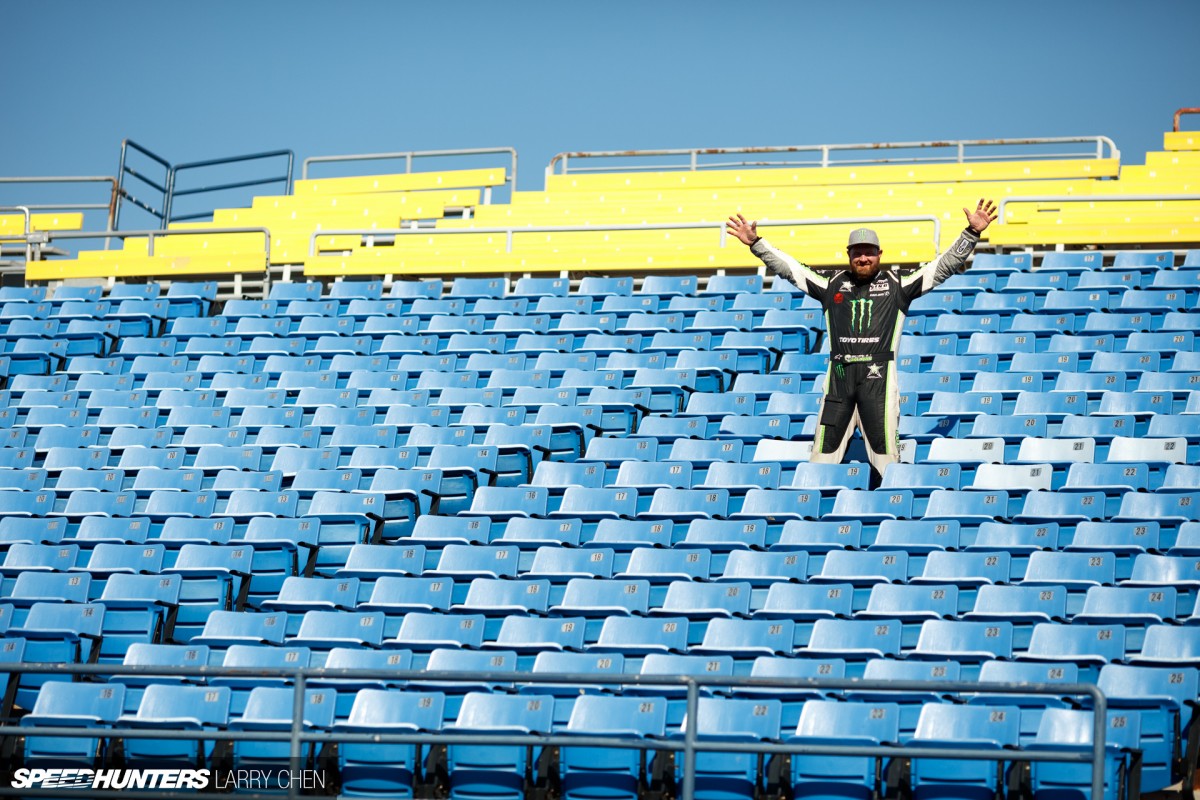 Last year I had the pleasure of working with BJ on Recoil 2. It was so fun to be on set in Mexico, and it was an eye-opening experience to witness first-hand his skills behind the wheel of such a large race car on the streets of Ensenada.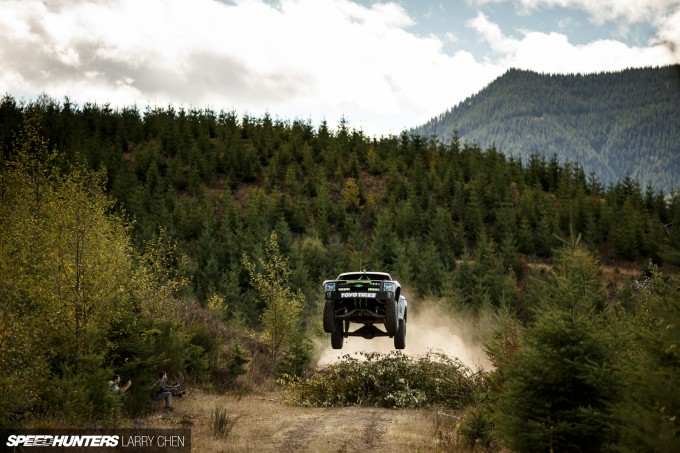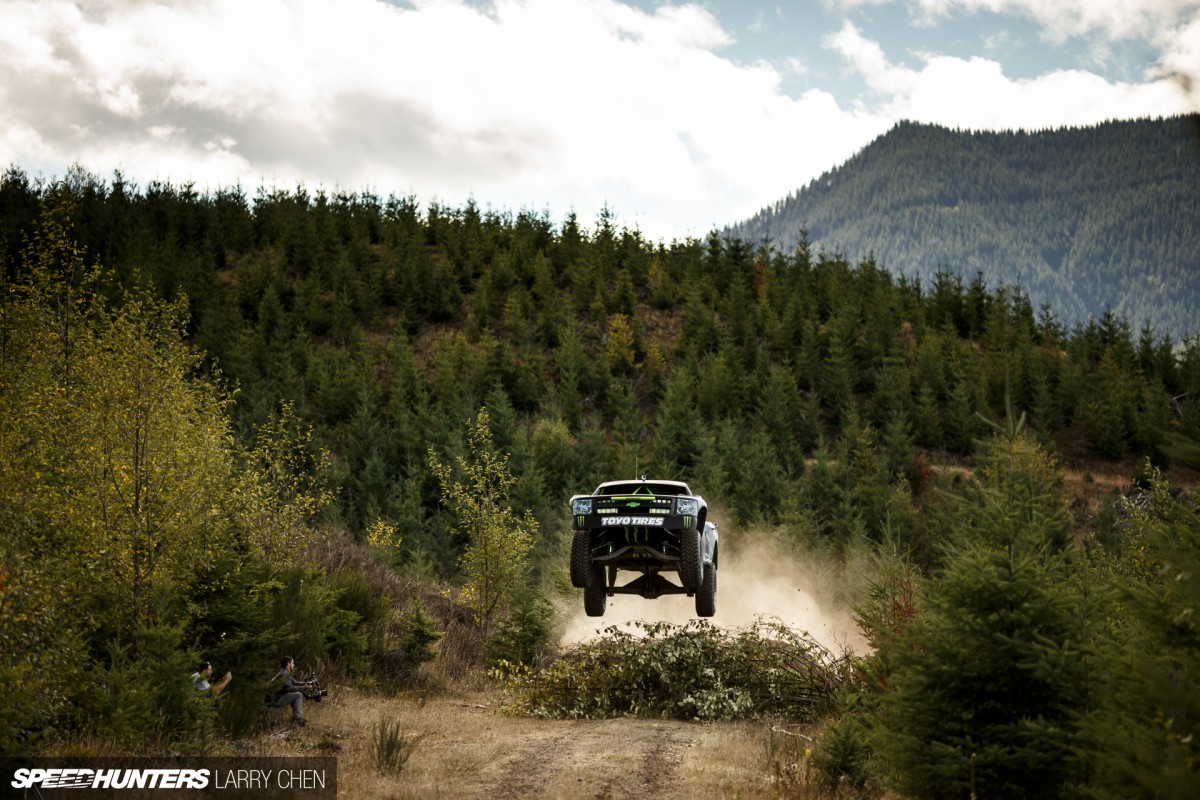 This year, BJ and the Recoil producers figured it would be a good idea to move out of the desert and into a wooded forest type area.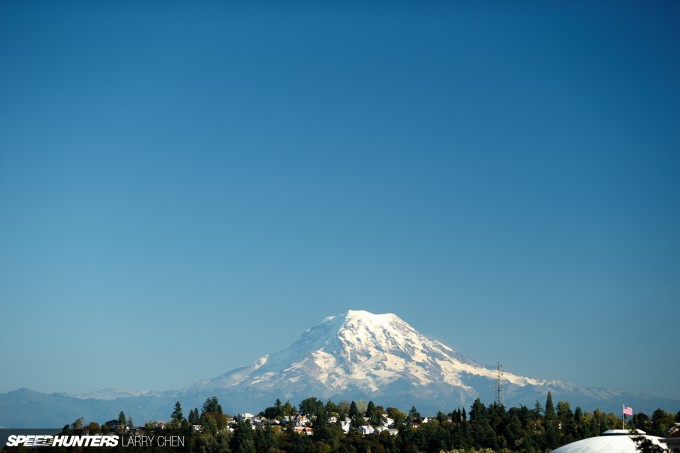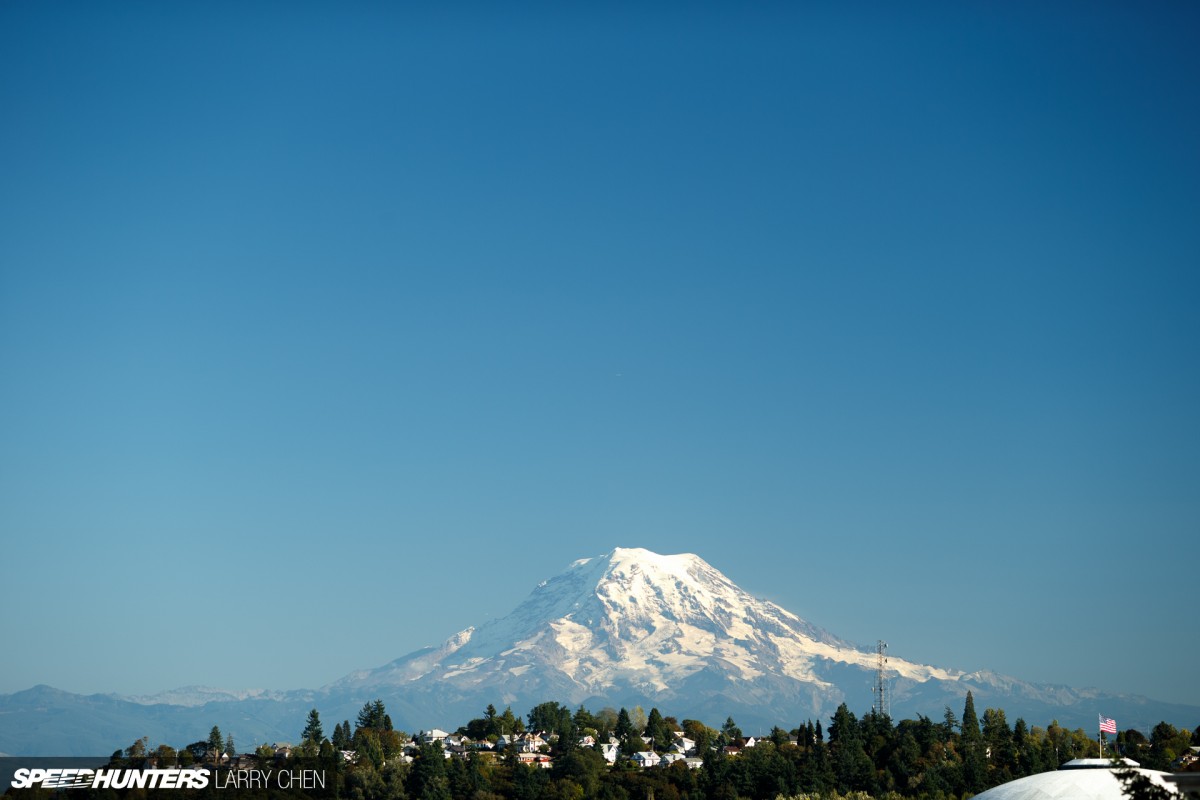 The location would be the Pacific Northwest, more specifically, Tacoma, Washington, and its surrounding areas.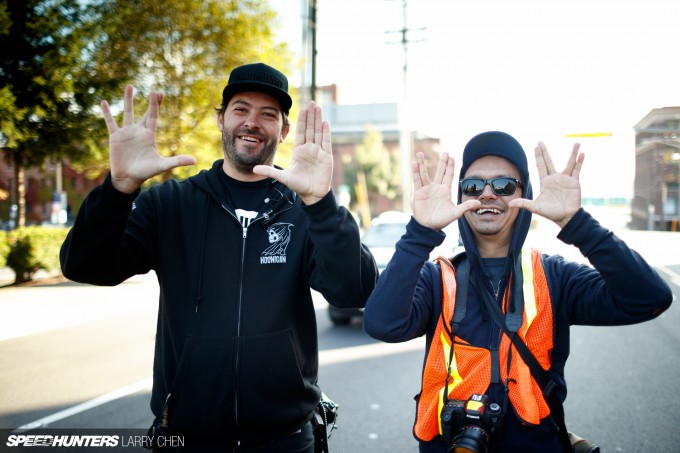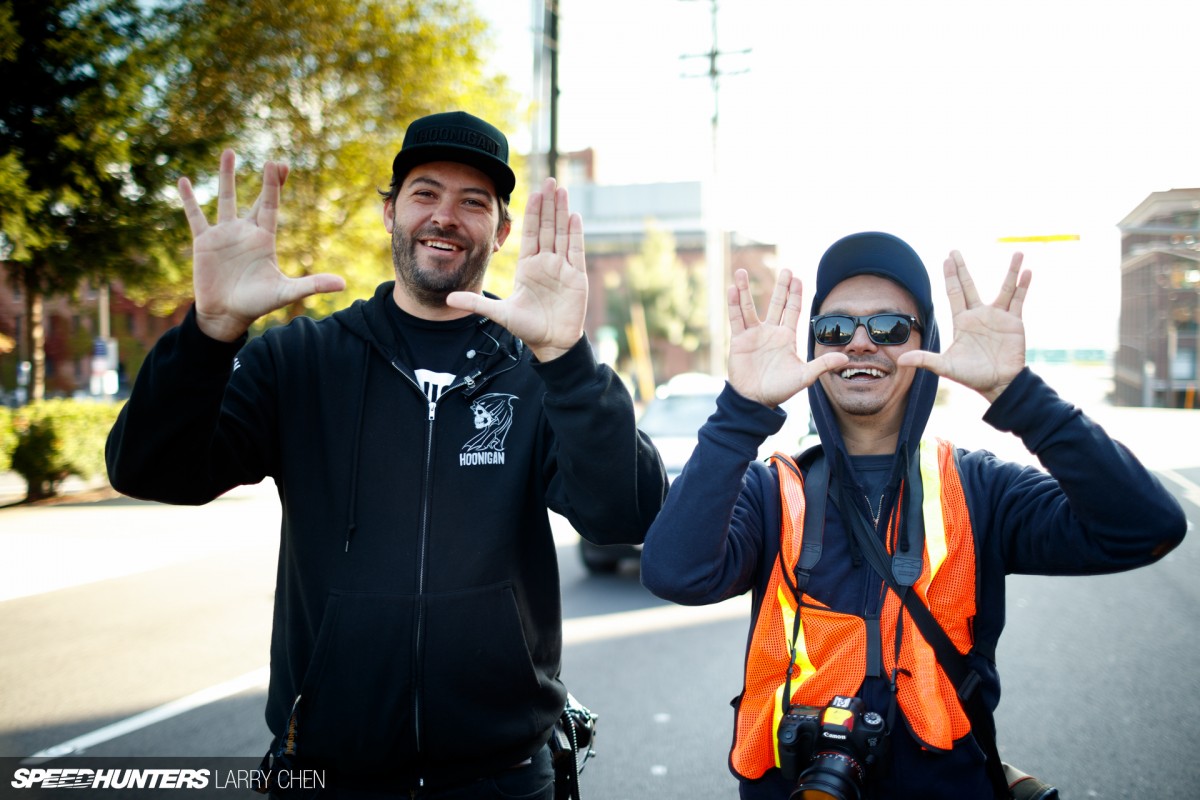 Once again, the viral video dream team of Hoonigan brand director Brian Scotto and film director Ben Conrad were on board to make this a killer short film.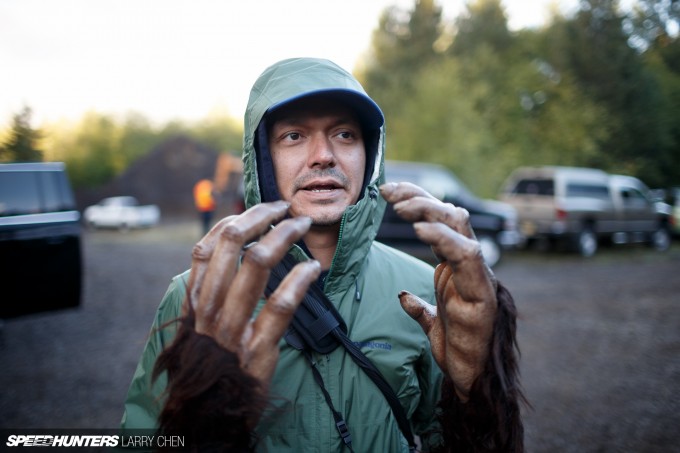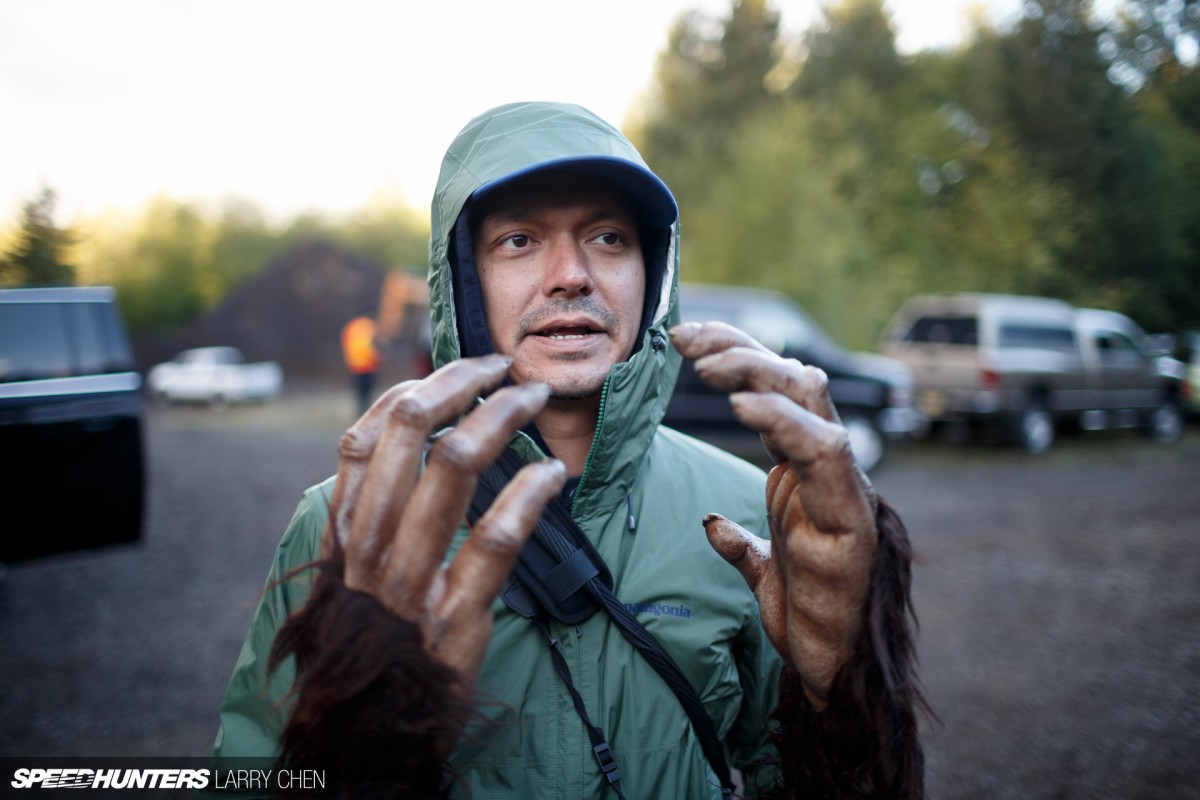 I worked with Ben last year for Ken Block's Gymkhana 7 on the streets of Los Angeles, and his vision never disappoints. It's one thing to be able to get pretty shots, but it's another to be able to tell a cohesive story and make it fun at the same time.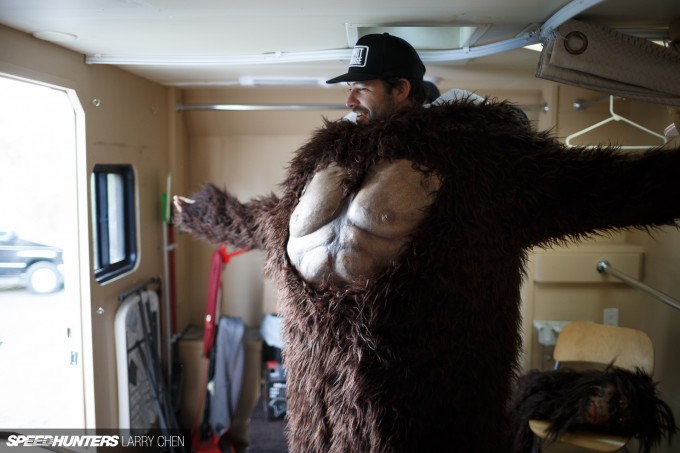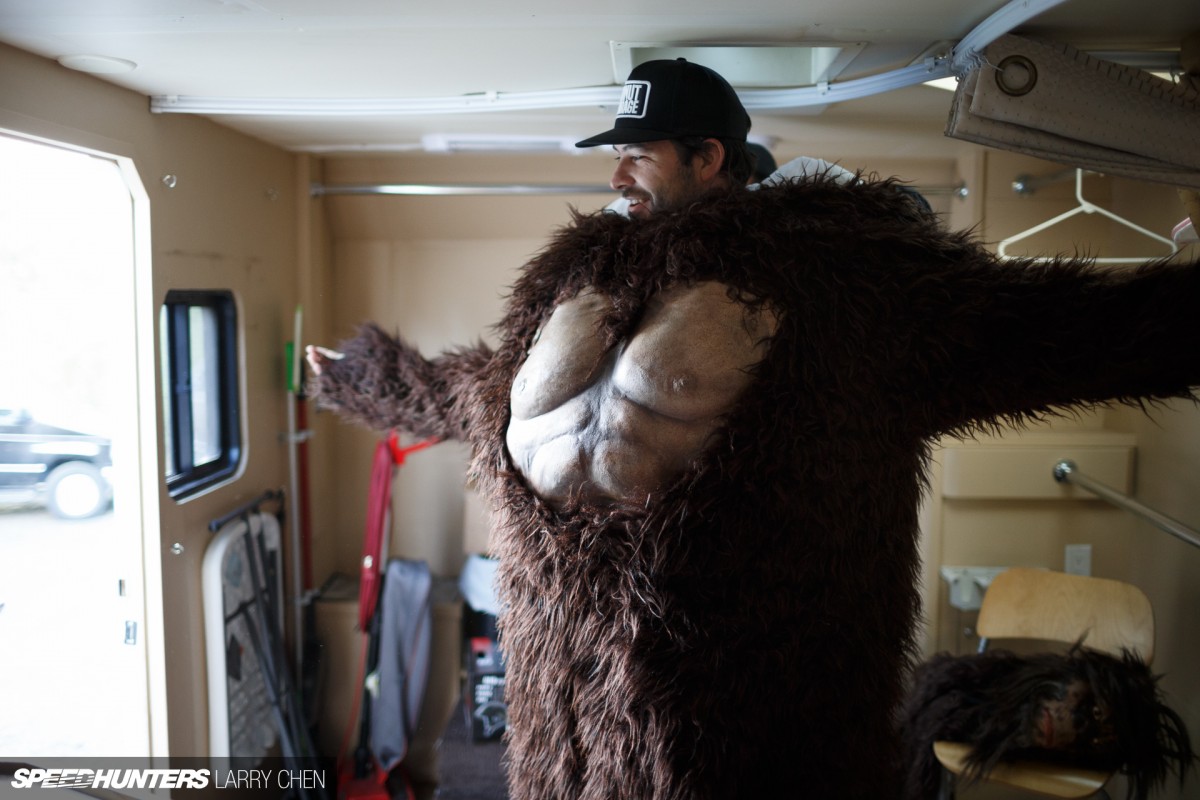 As Brian explained the Recoil 3 concept to me, he was saying how cool it would be to see a full-on trophy truck normally used for desert racing ripping through the woods like a rally car, but also taking massive jumps.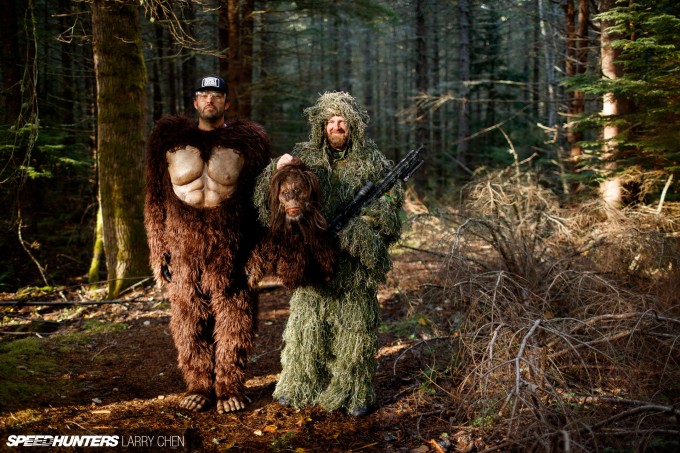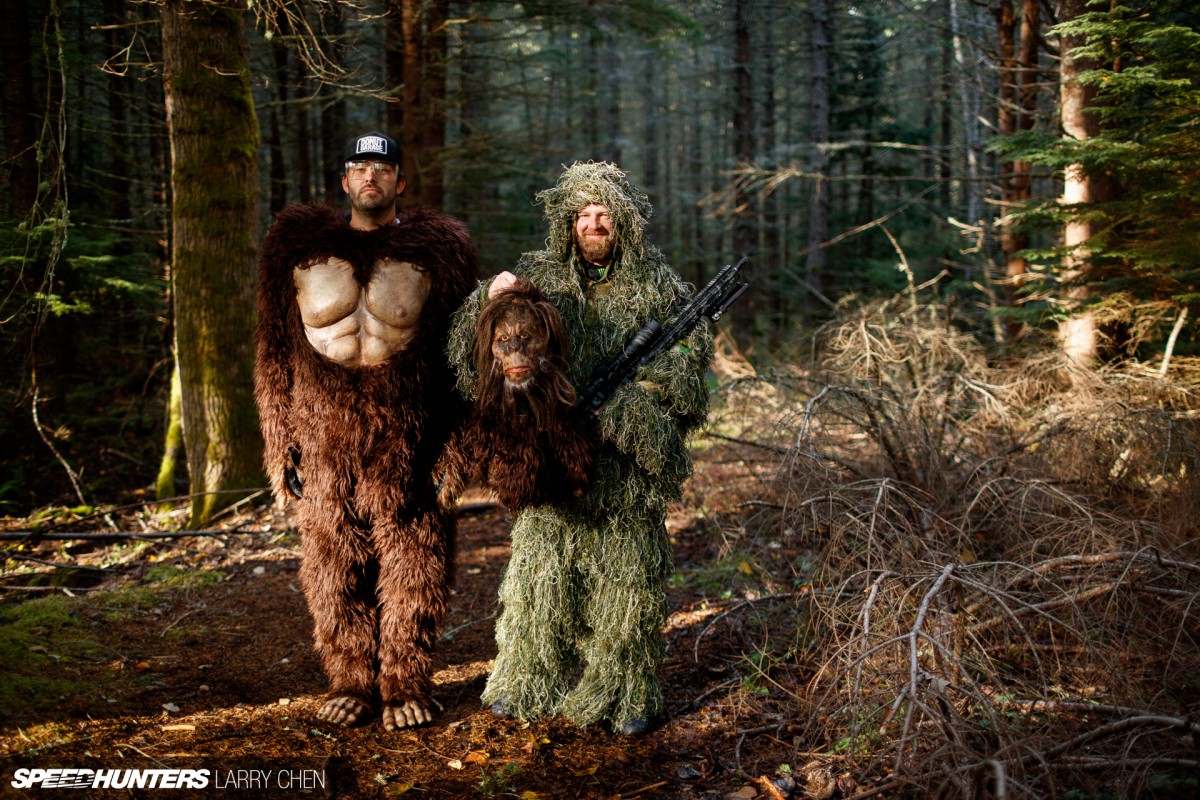 And when you think of the Pacific Northwest, and you think of the heavily dense forest, you think of Sasquatch. So, while Brian was not the only one who volunteered for Bigfoot suit duty, he was in facf the one in most of the shots you see in the final edit.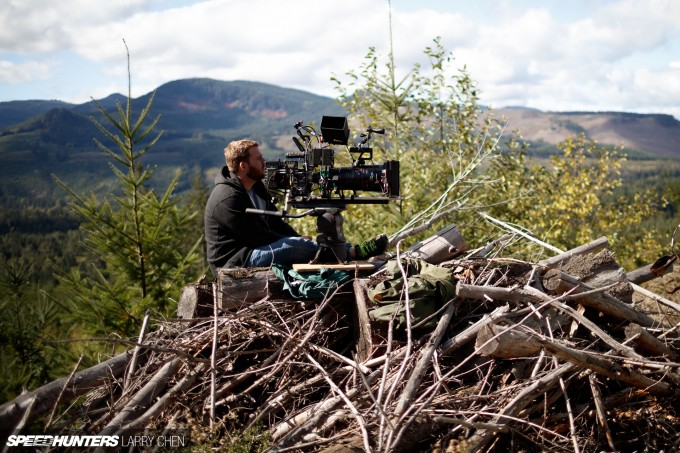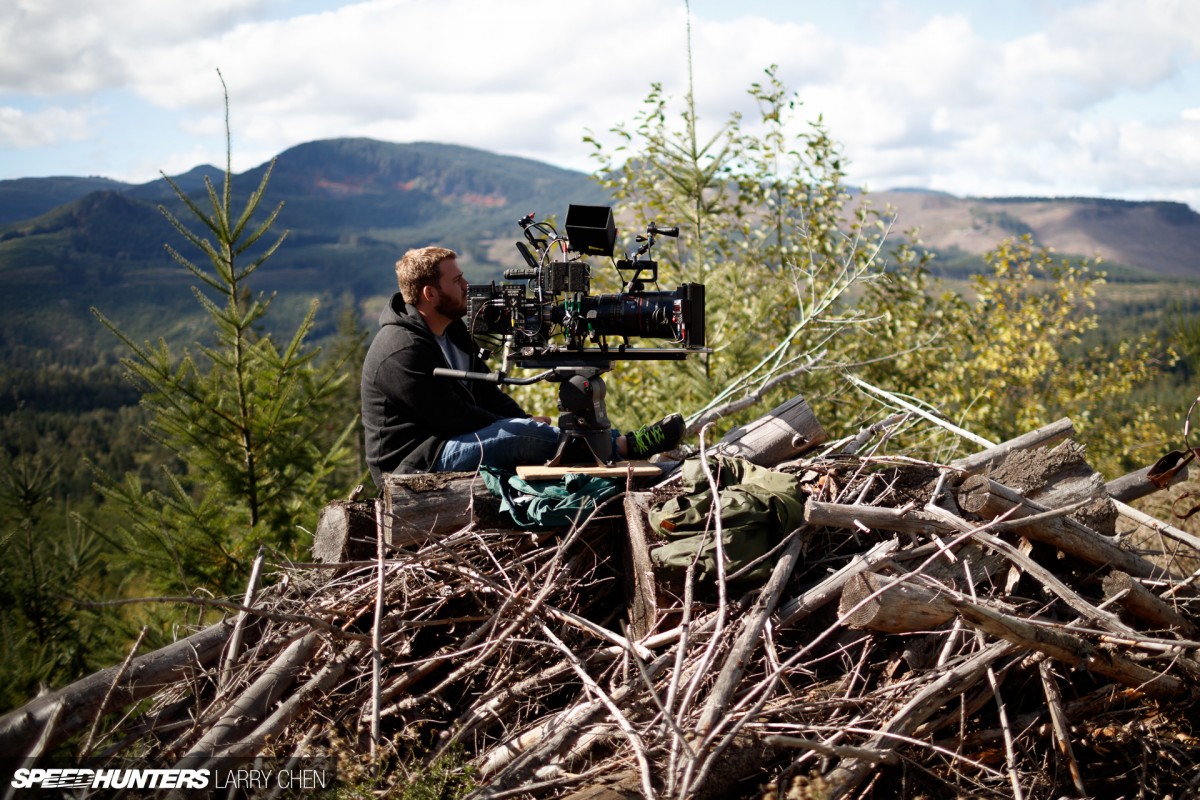 In terms of the production crew, Brian and Ben always work with the best, so once again the Tempt Media guys came out in full force.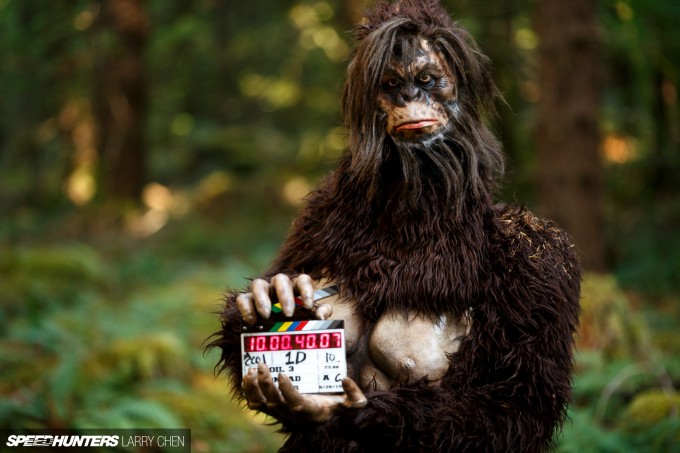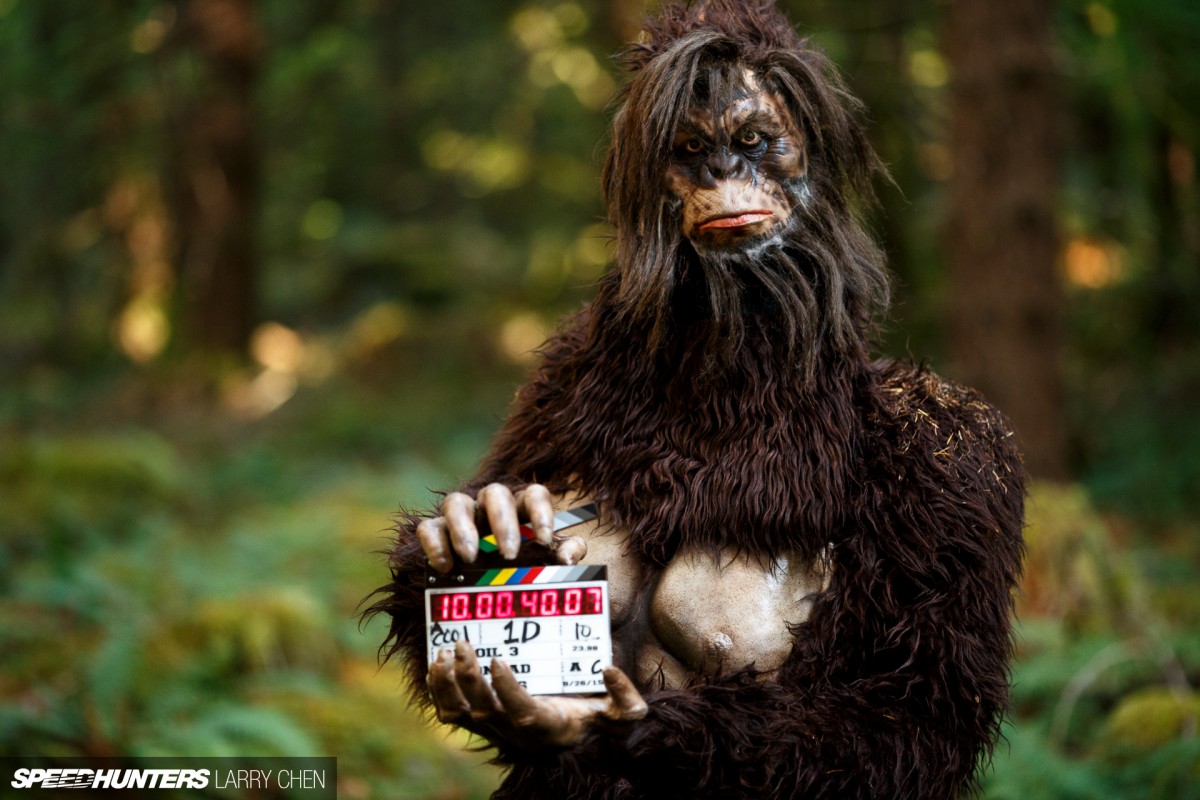 Speedhunters contributor Louis Yio had a chance to hang out with them and their awesome camera truck not too long ago.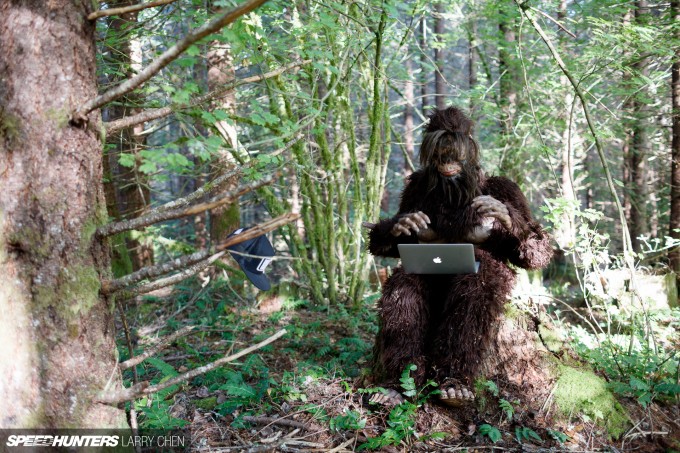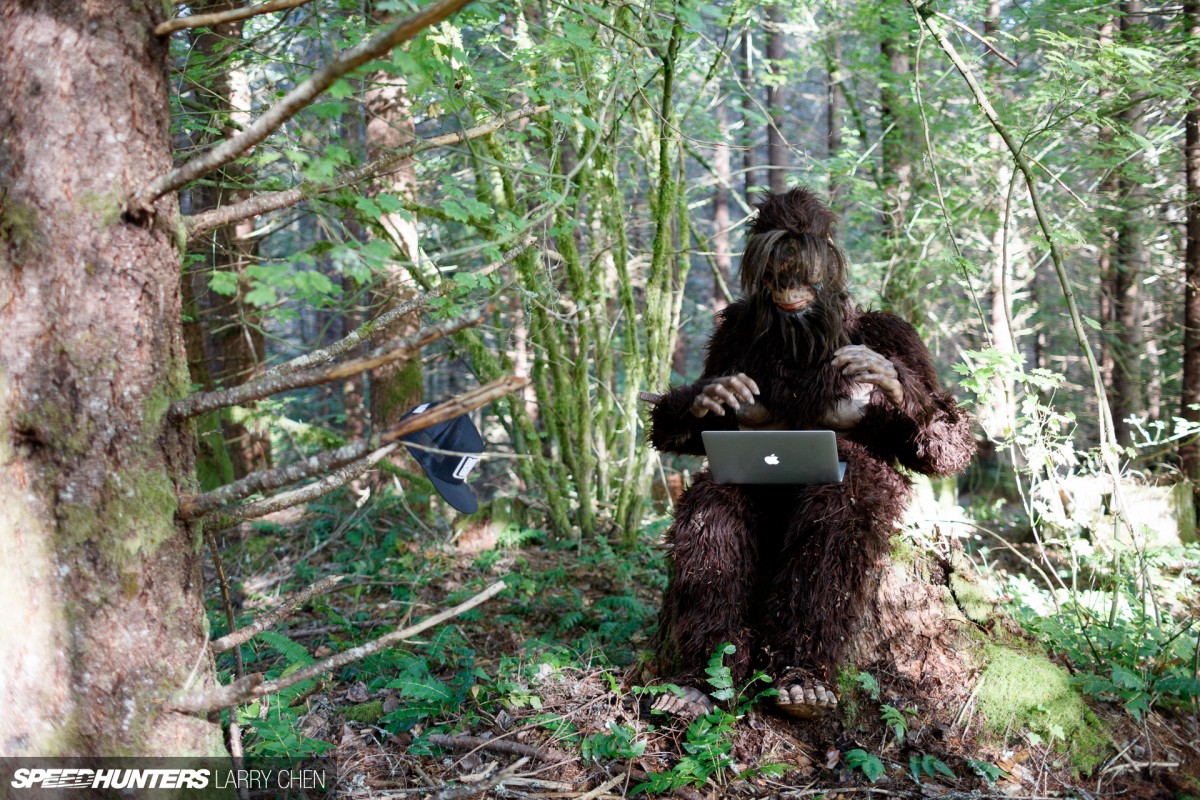 We all had a good laugh shooting these scenes. Here's Sasquatch watching Recoil 2.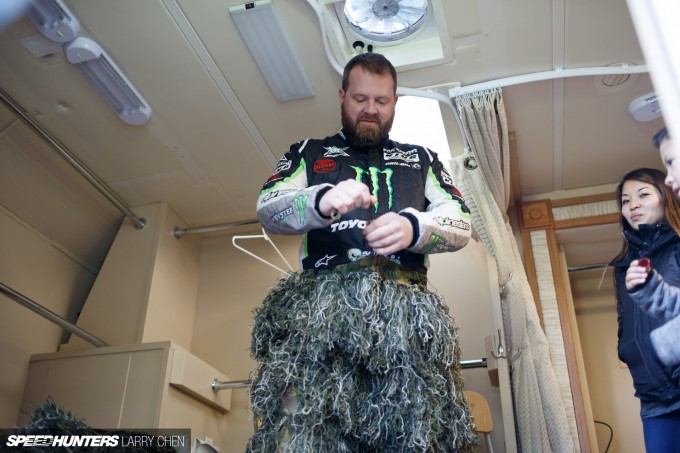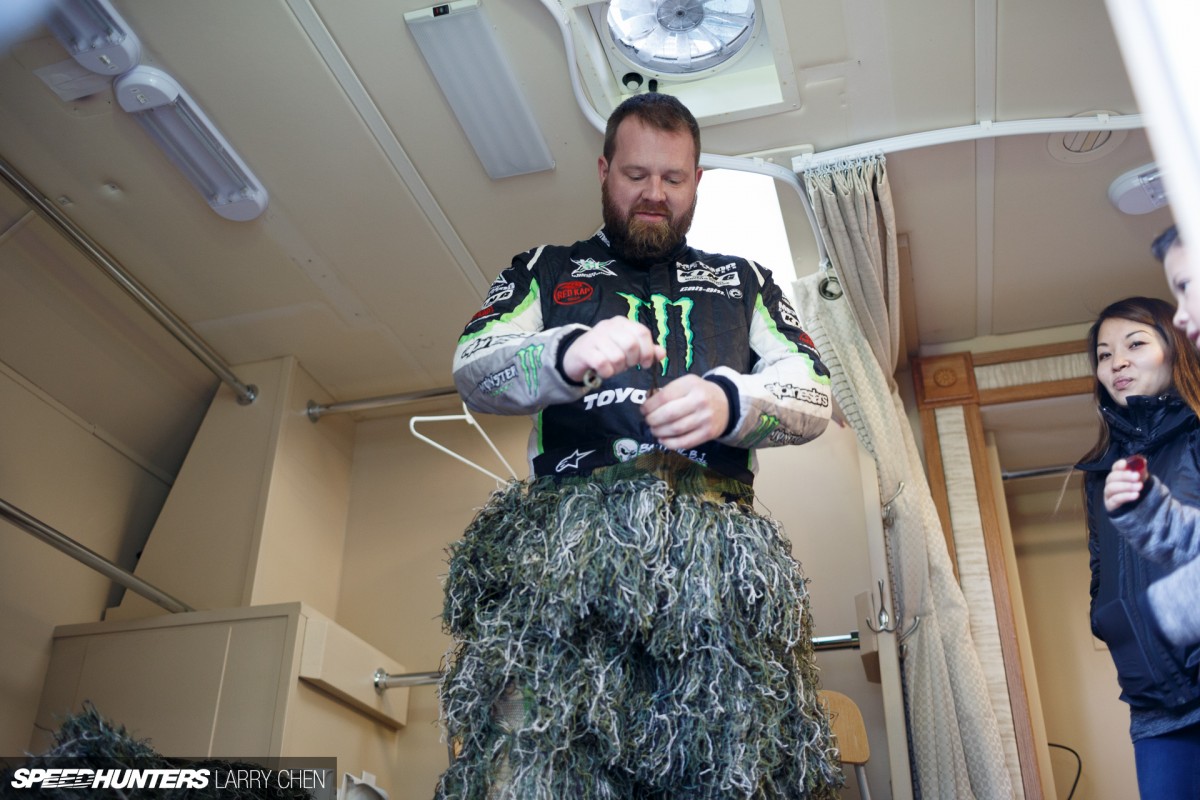 'Does this hula dress look okay on me?' BJ figured it would be best to don a ghillie suit in order to play the part of a hunter.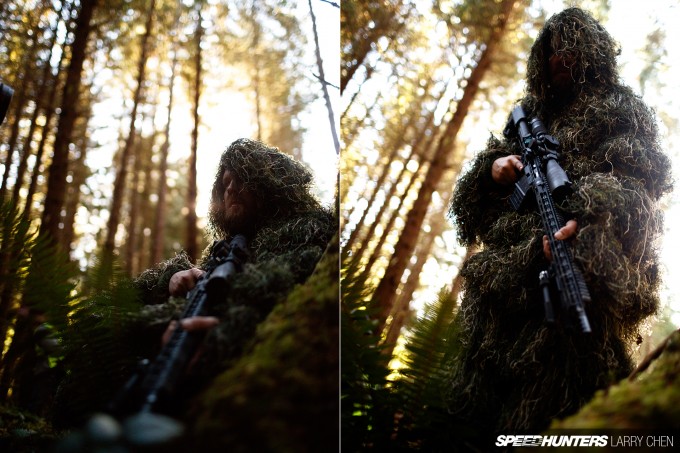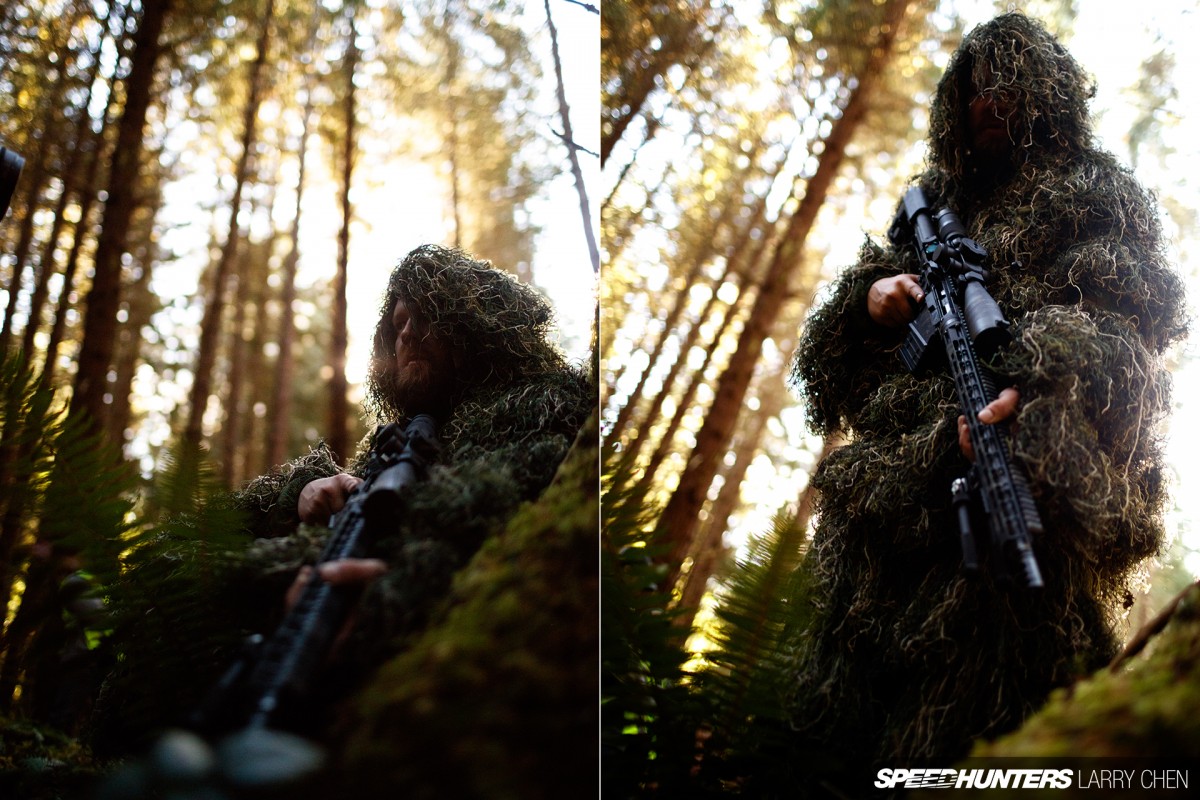 He brought a real weapon as a prop – unloaded, of course. Well, most of the time anyway… Whether he's on or off set, BJ has a thing with always wanting to shoot guns.
Day One: The Forest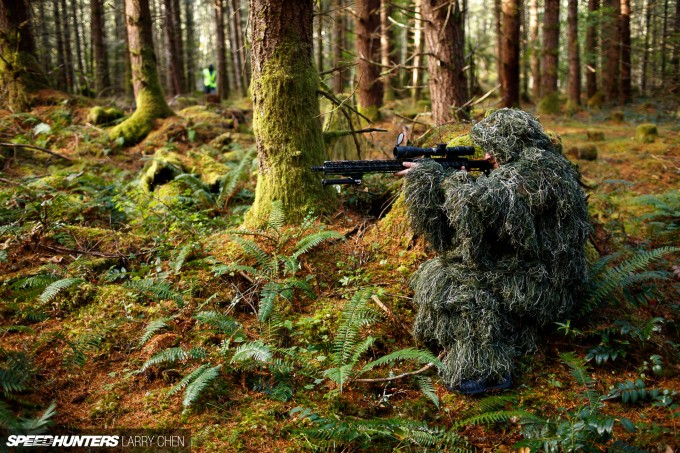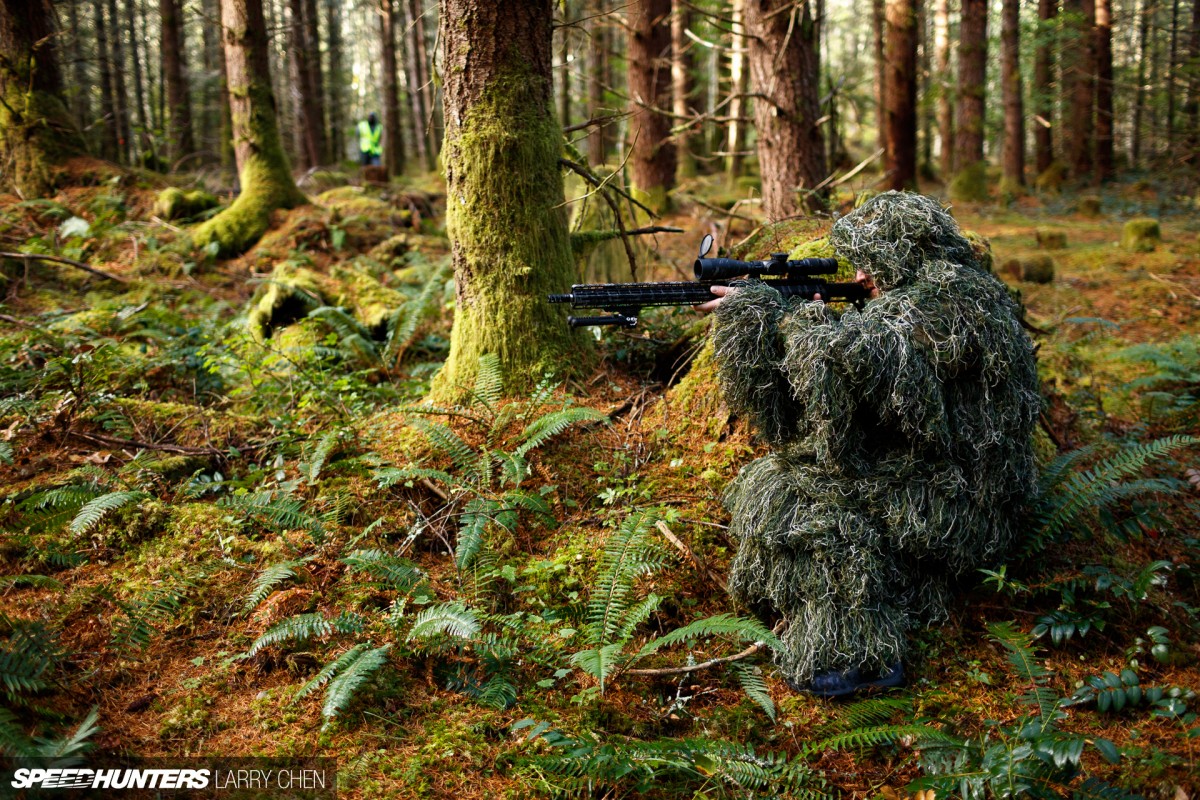 For this first scene we got up super-early and went deep into the woods. The producers wanted a very authentic look.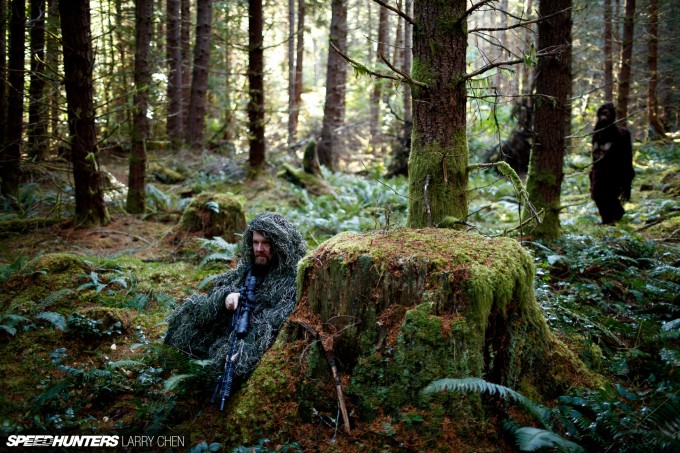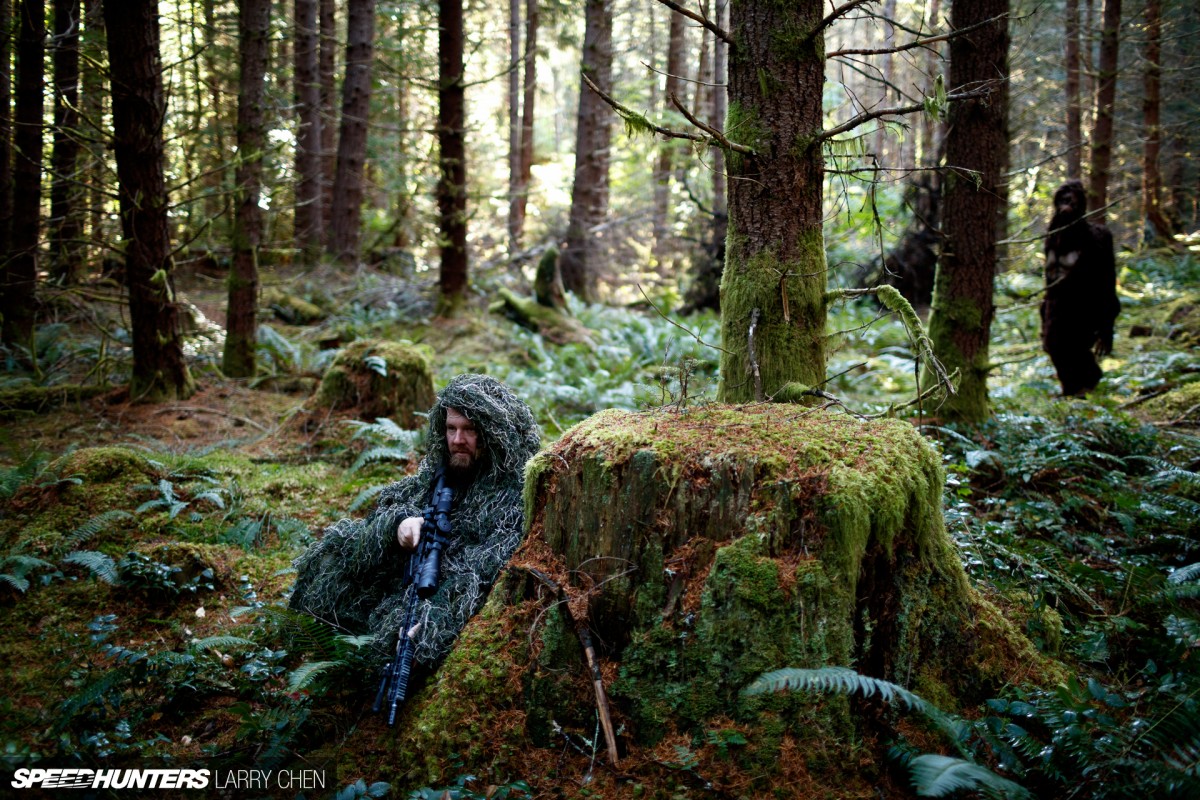 Not a soul was around, and the crew joked that if a hiker was to stroll through the set, they would definitely be in for a surprise. It totally reminded me of the Forest Moon of Endor.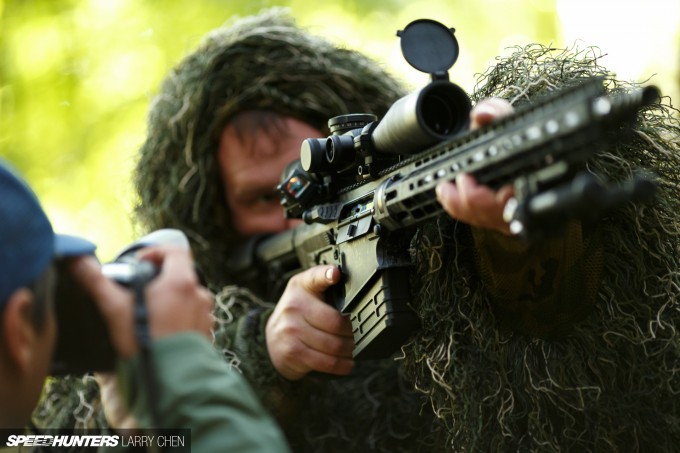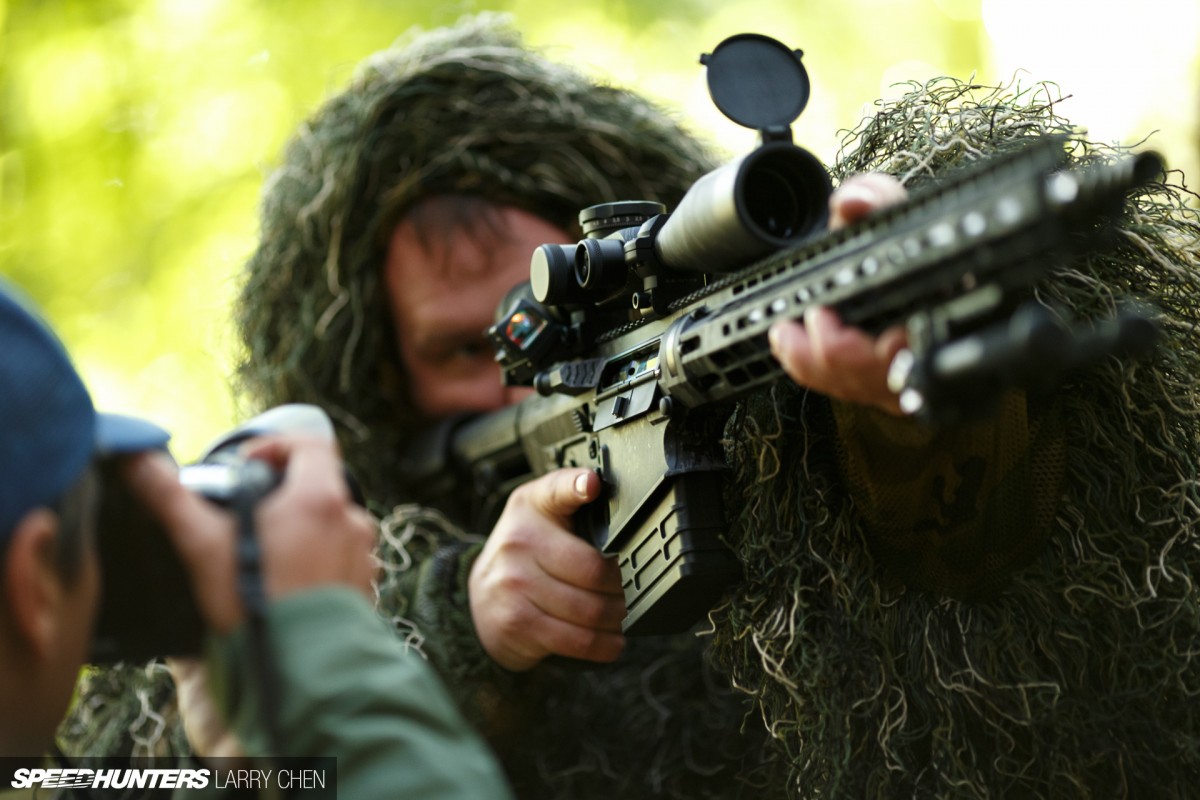 As with most of these productions, it's a matter of getting shots while you can, because at this point the trophy truck was being rigged for the first forest sequences.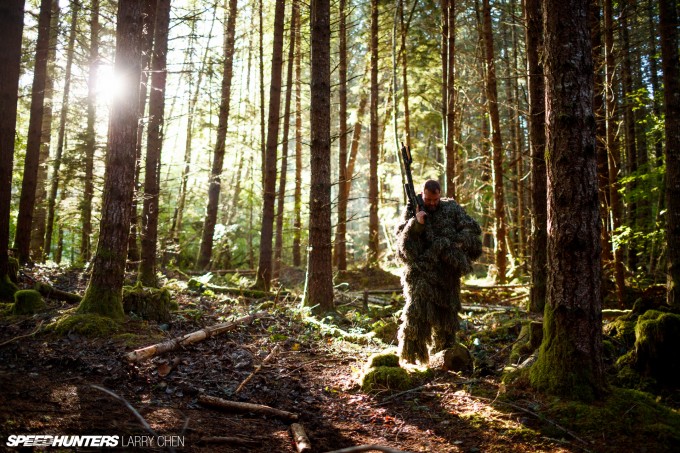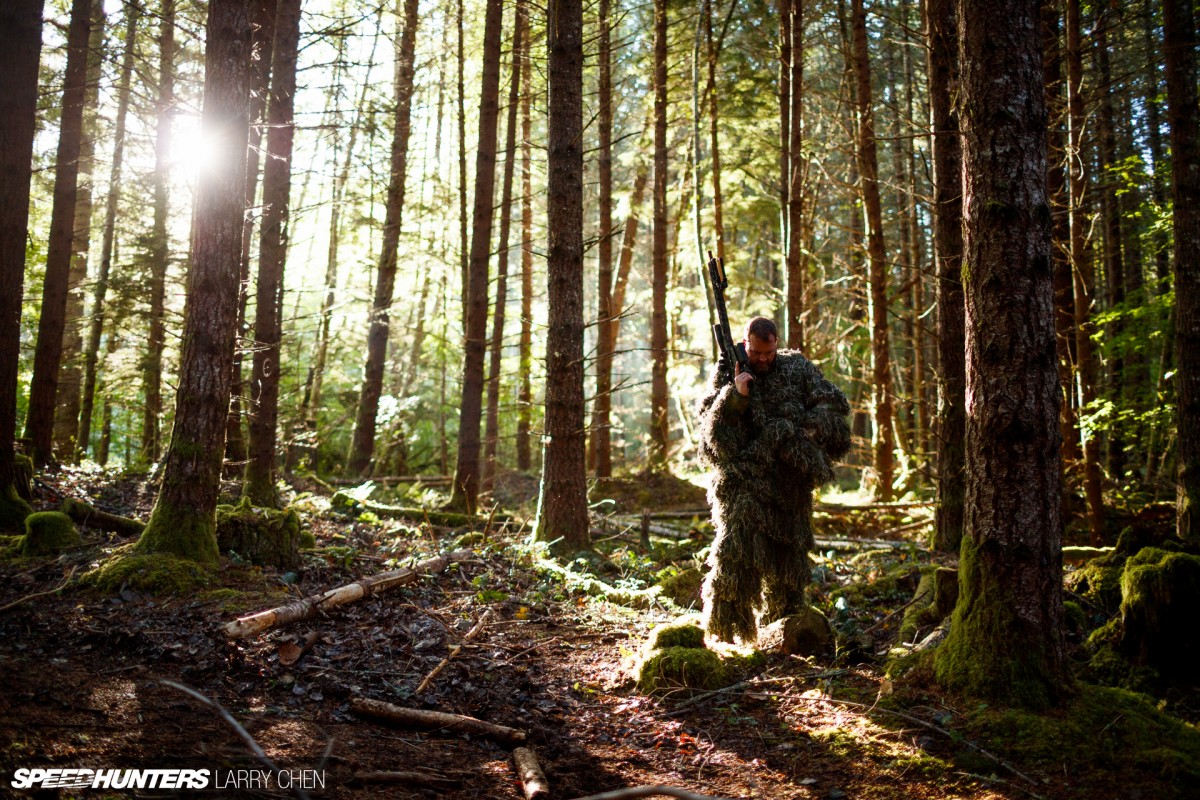 At times it looked more like a commando or Navy Seal flick than it did a scene out of a BJ Baldwin video.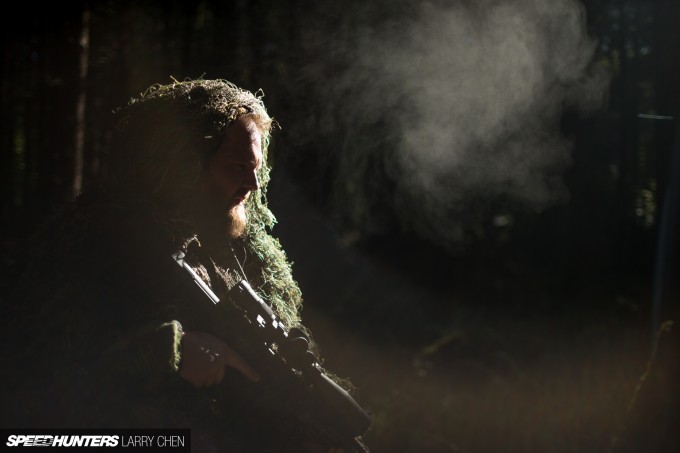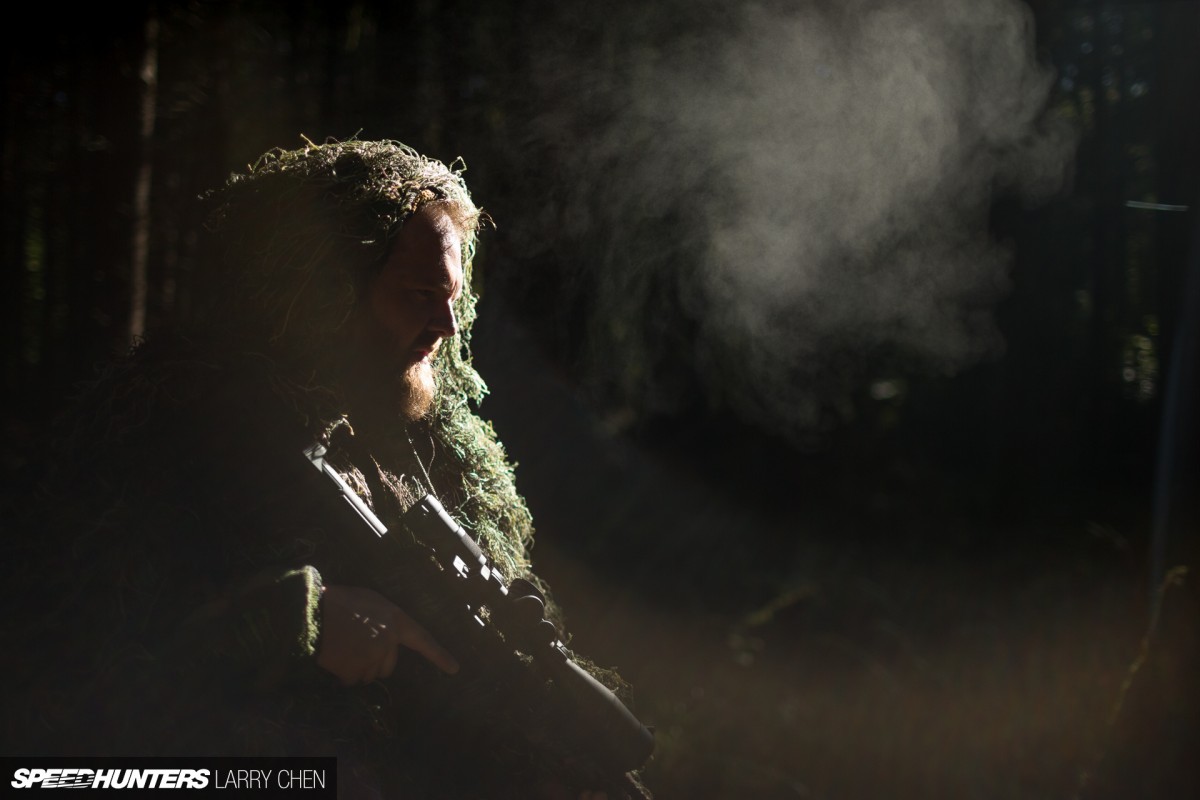 Fully kitted out, BJ played the role of the worst hunter in the world.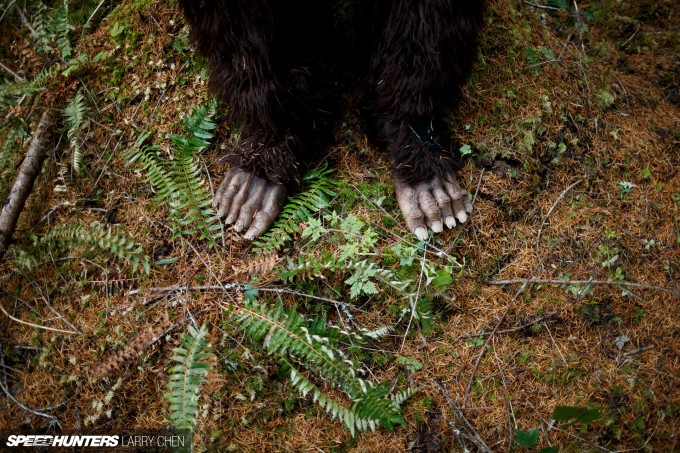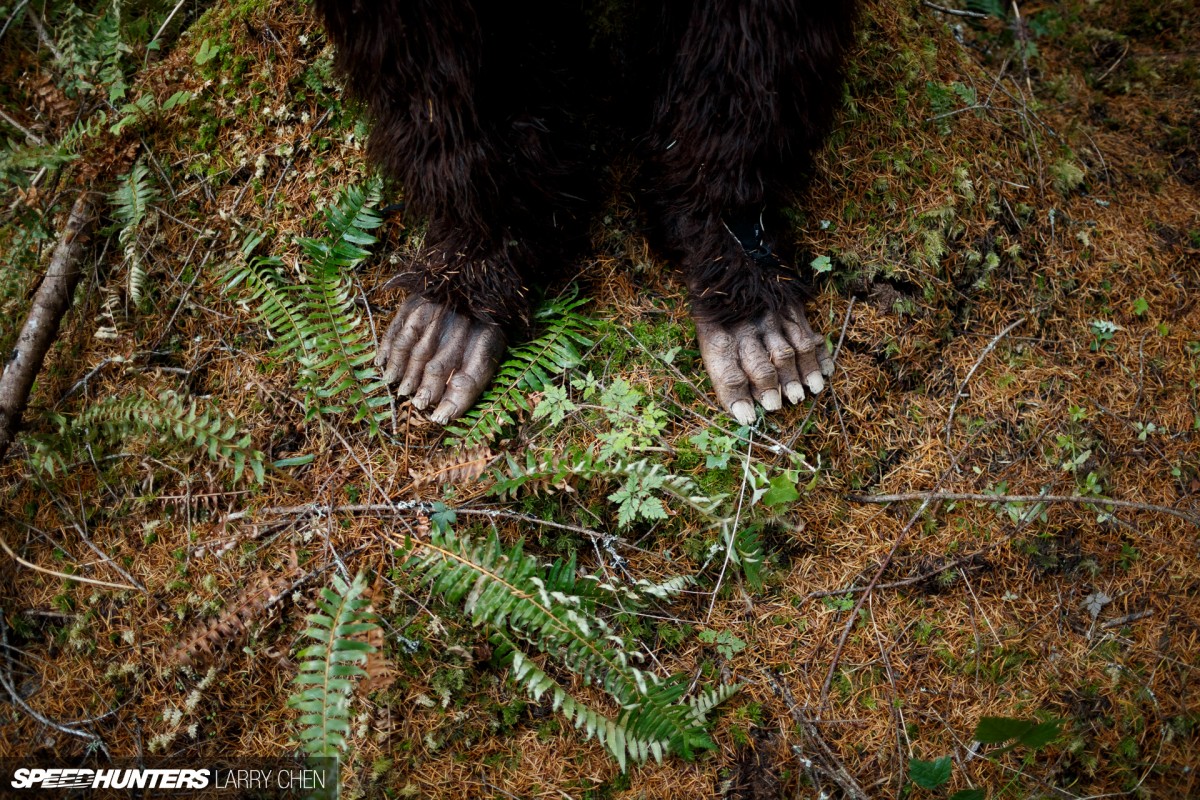 I think Bruce the Sasquatch is due for a pedicure, what do you guys think?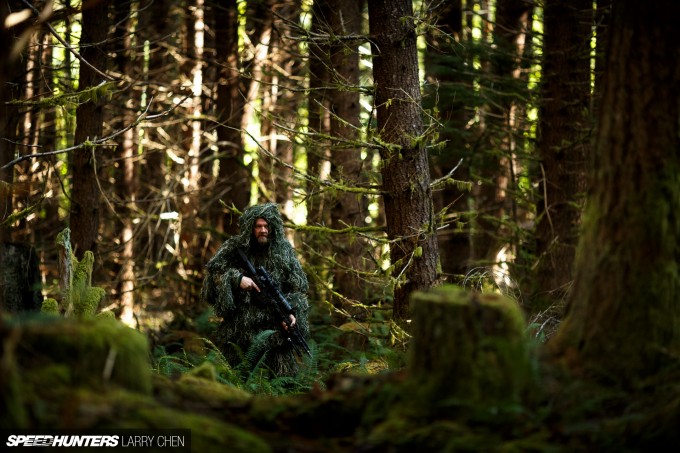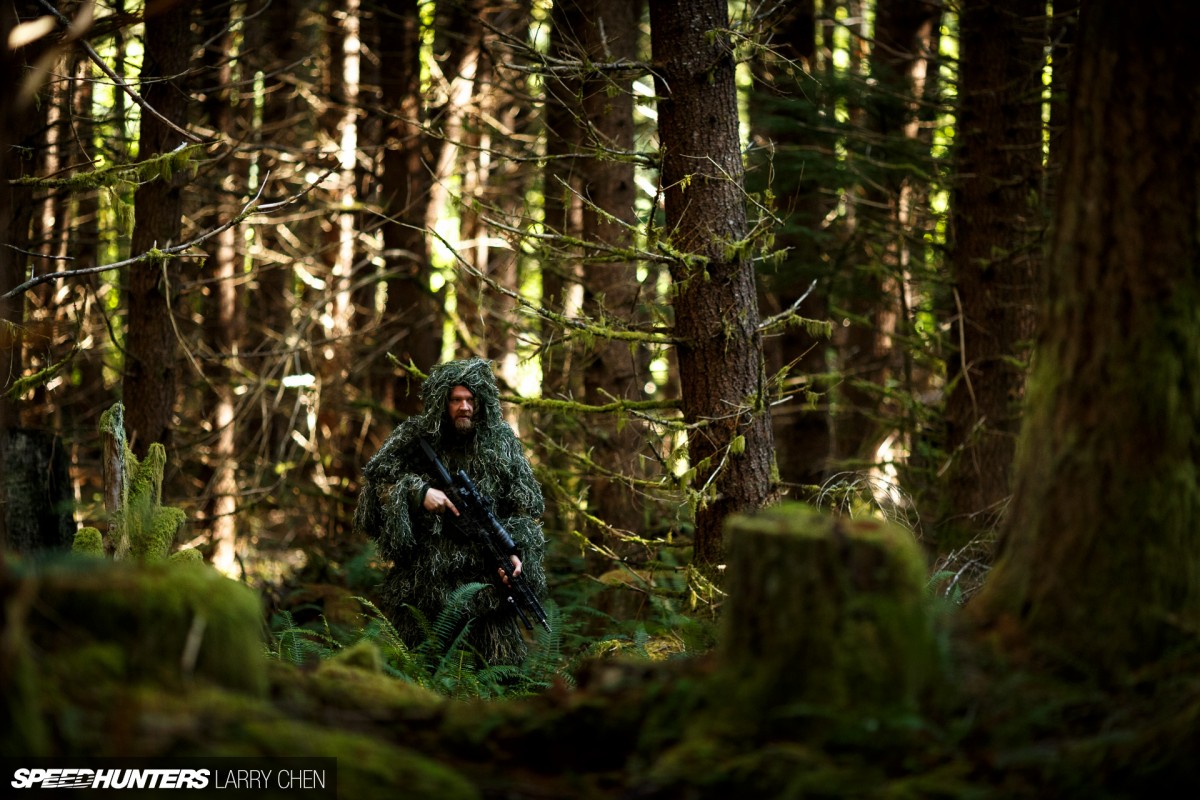 One man with a heavy foot, hunting for the one and only Bigfoot.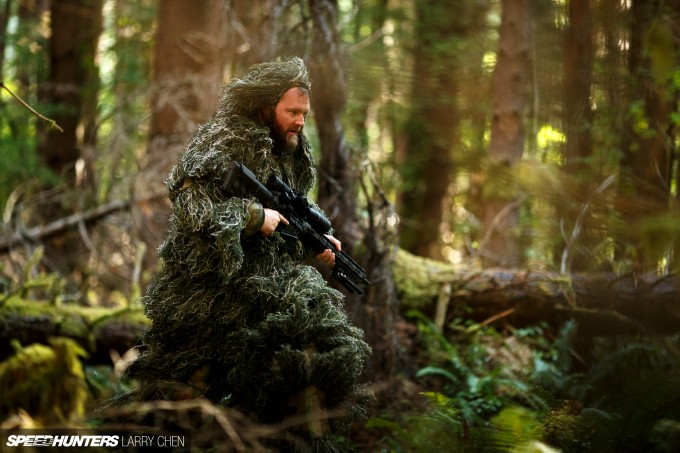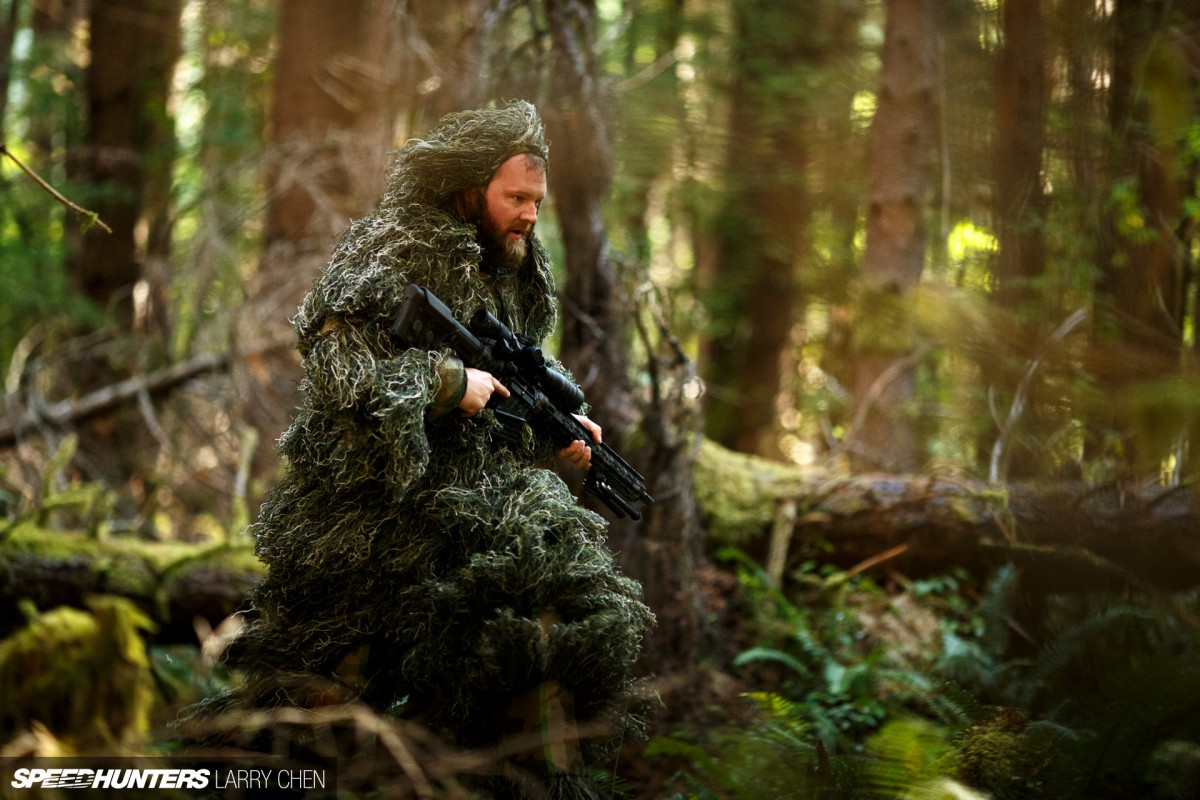 Normally I would be so bored shooting storytelling elements, but I had a blast being on set for this portion of the shoot.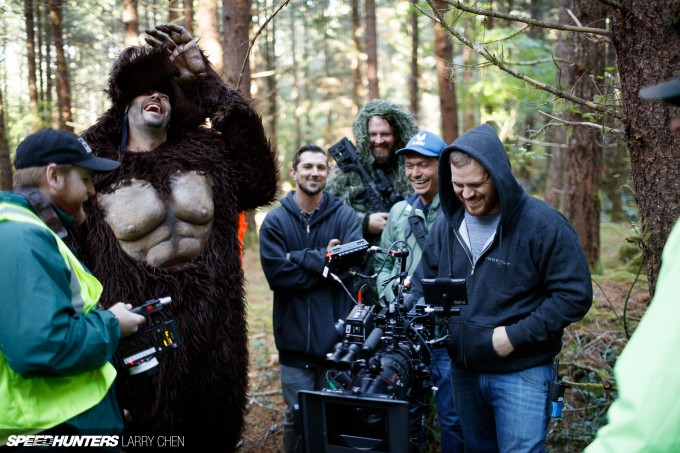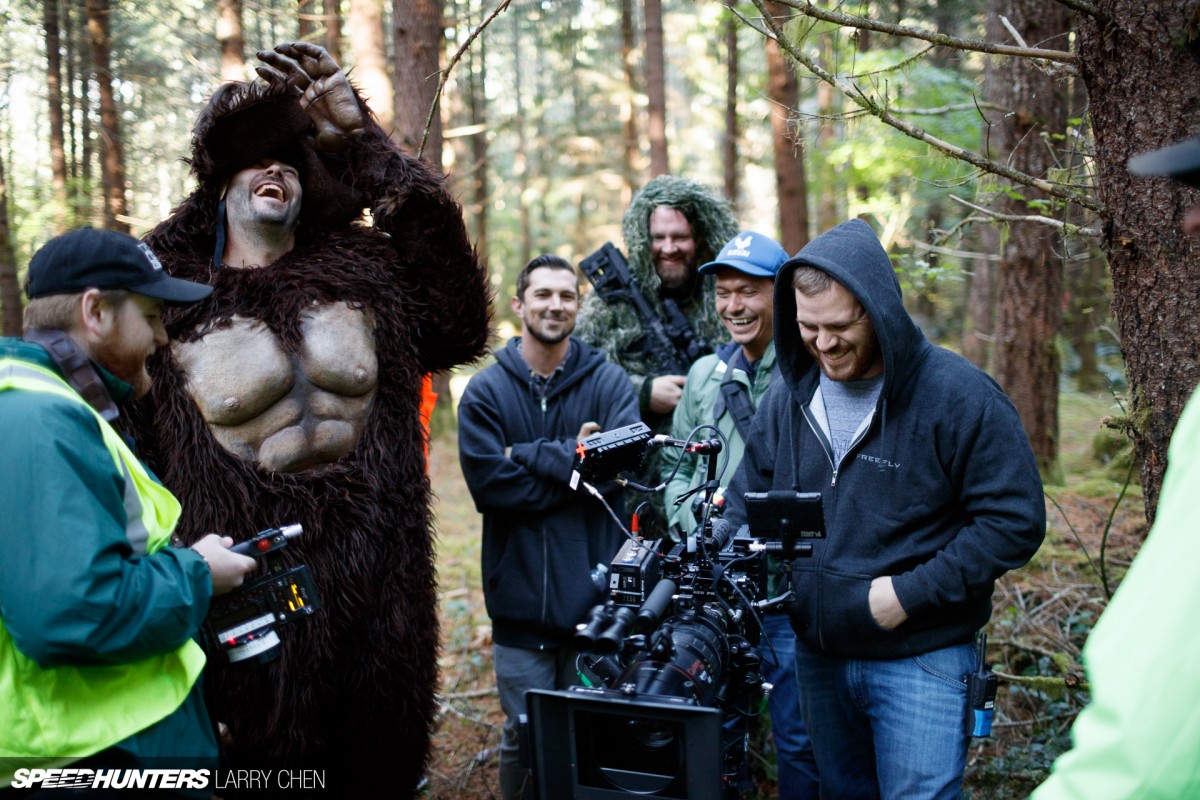 And besides, after every scene that was shot it was a blast to review the footage. It was very hard not to crack a smile every time.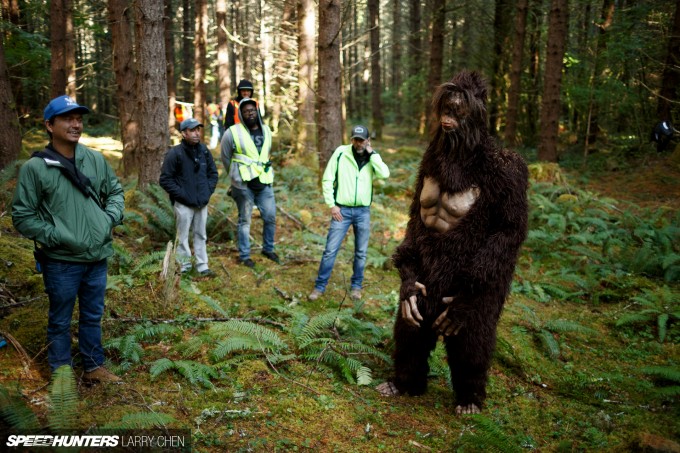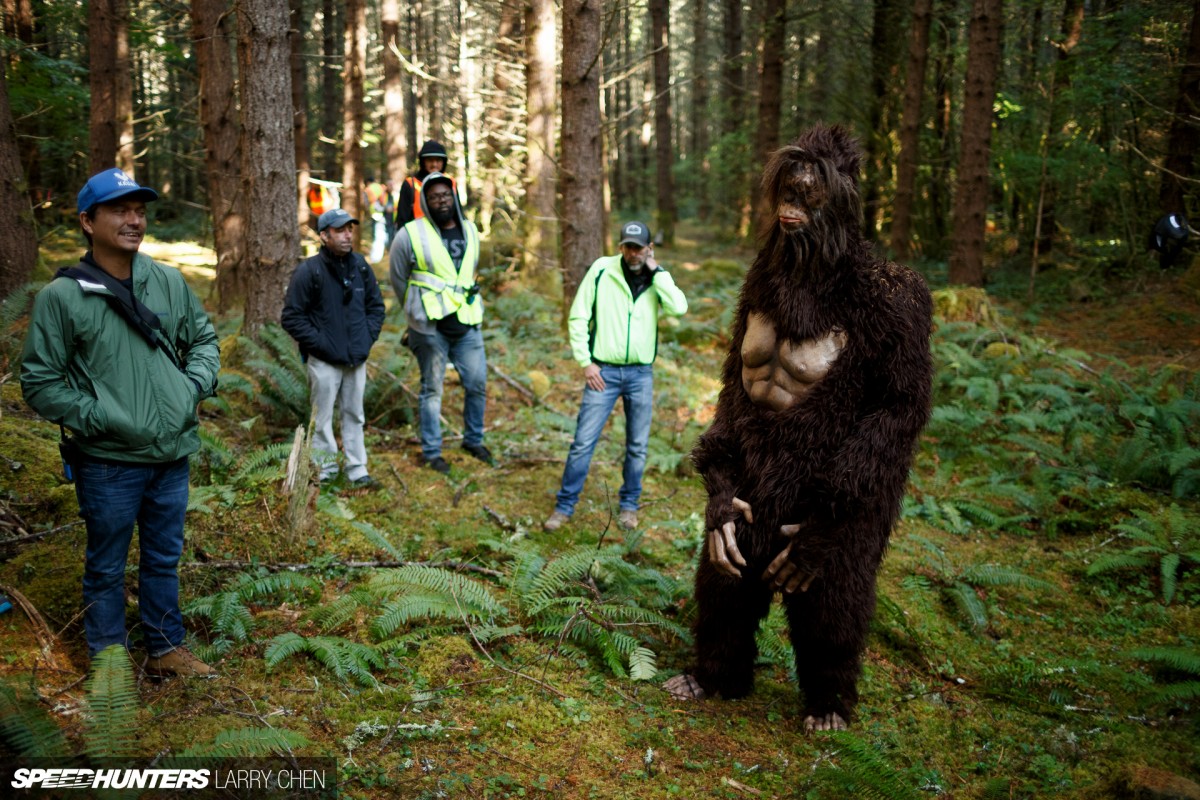 Just another day in the office, right? No matter how hard we tried, we couldn't take Bruce the Sasquatch seriously.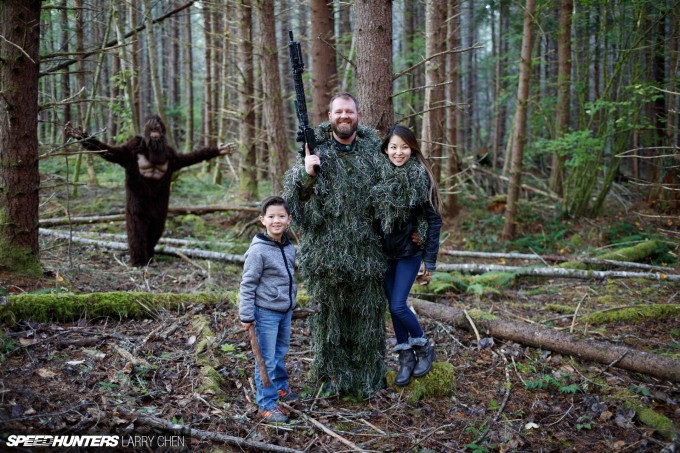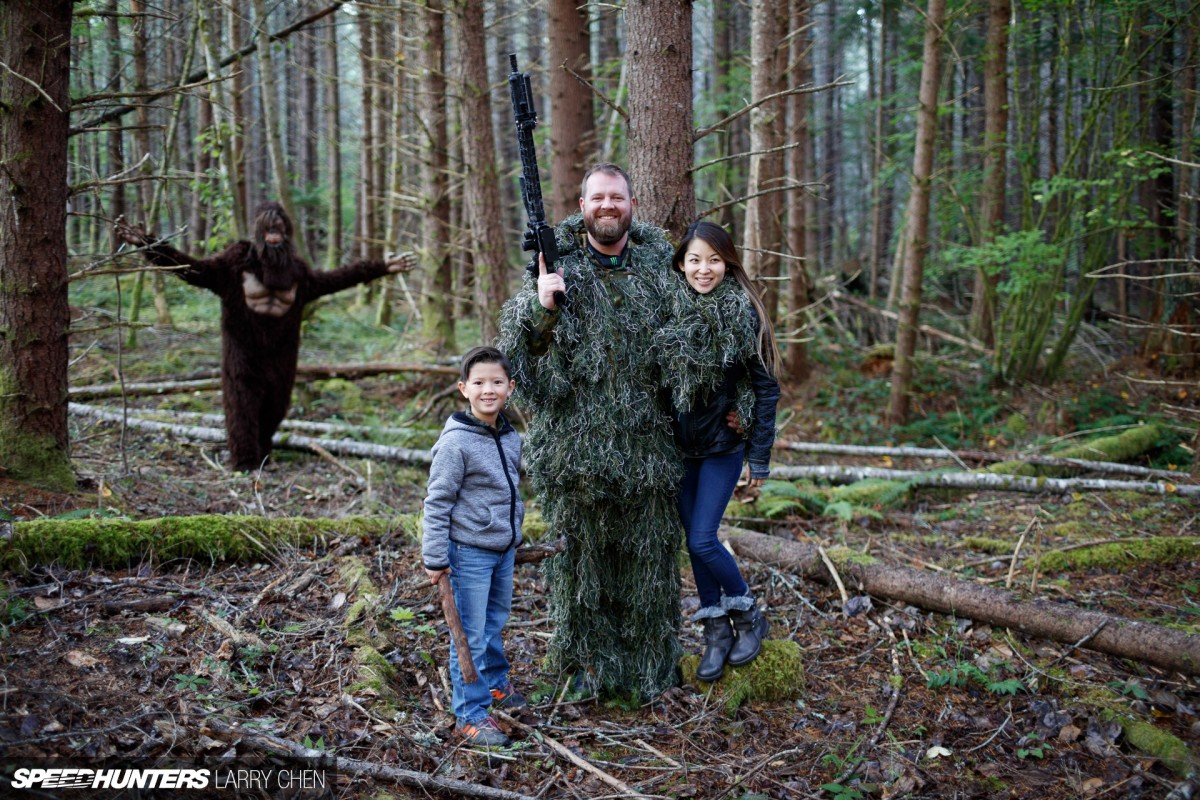 This is either the best family portrait ever, or the most awkward.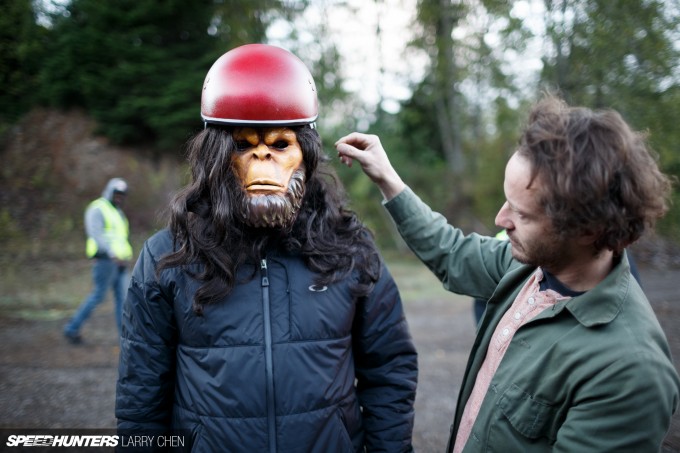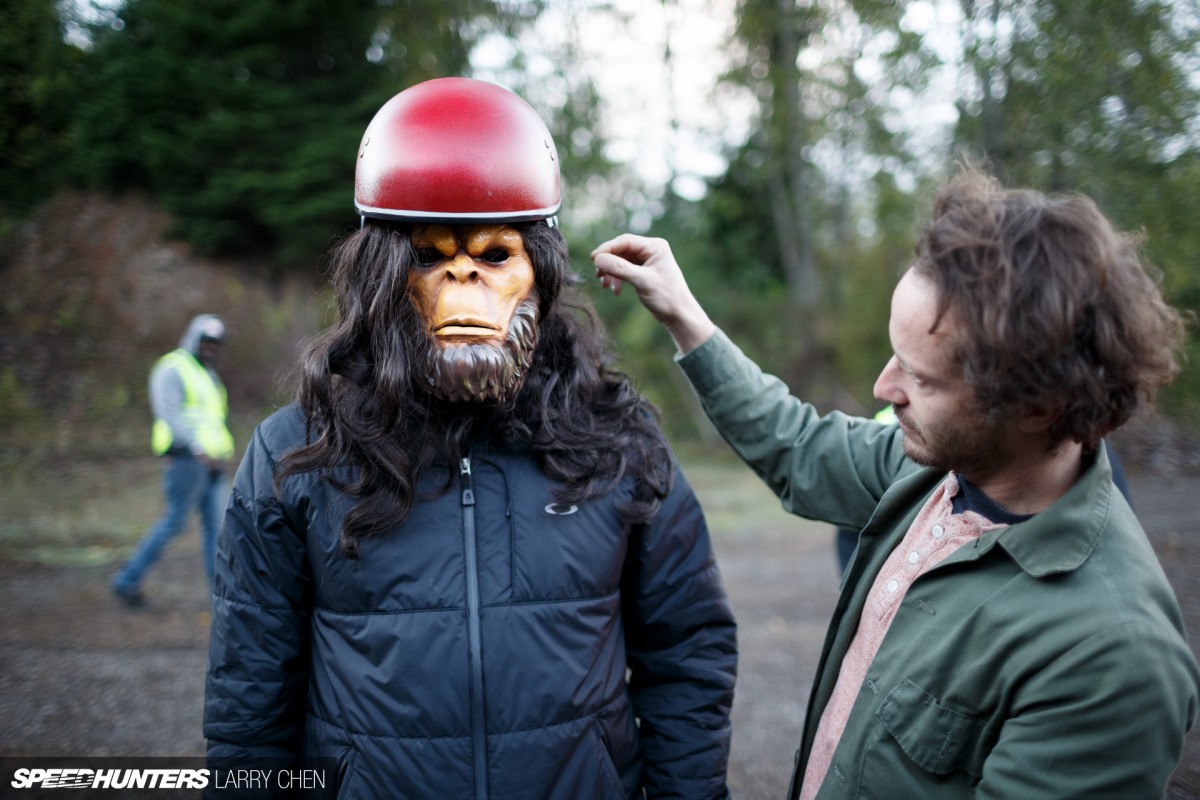 While BJ was driving the trophy truck, UTV expert JD Marsh was behind the wheel of the Can-Am UTV.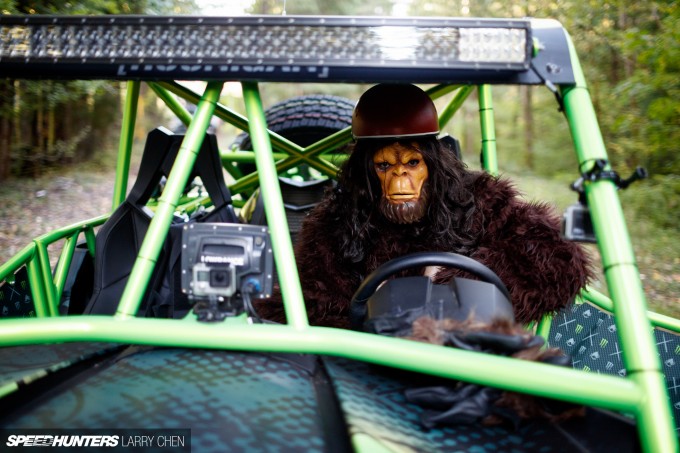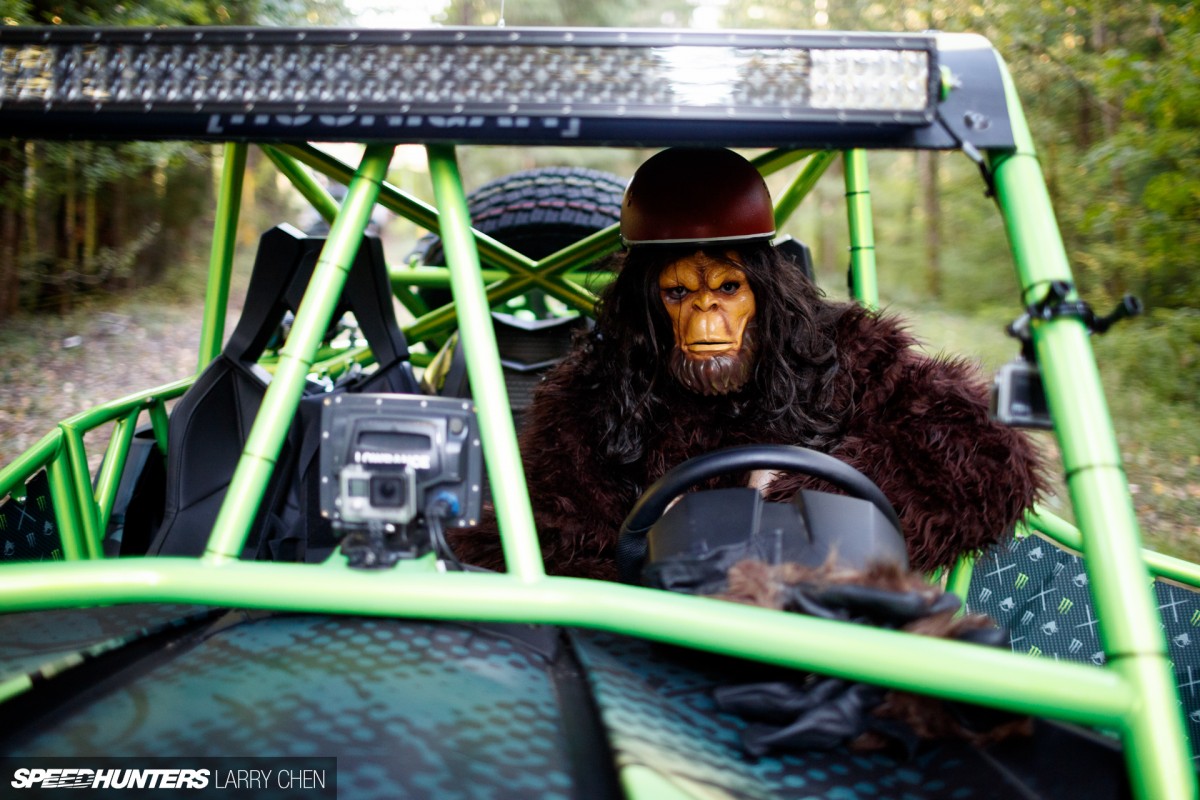 He was appropriately decked-out with all the necessary safety equipment, as well as a Sasquatch suit of his own.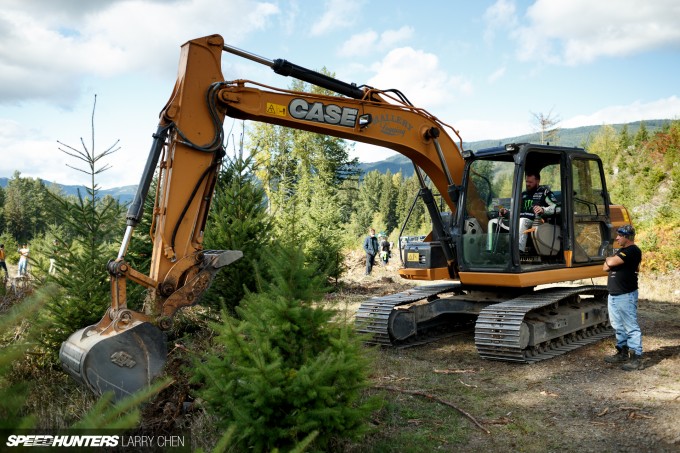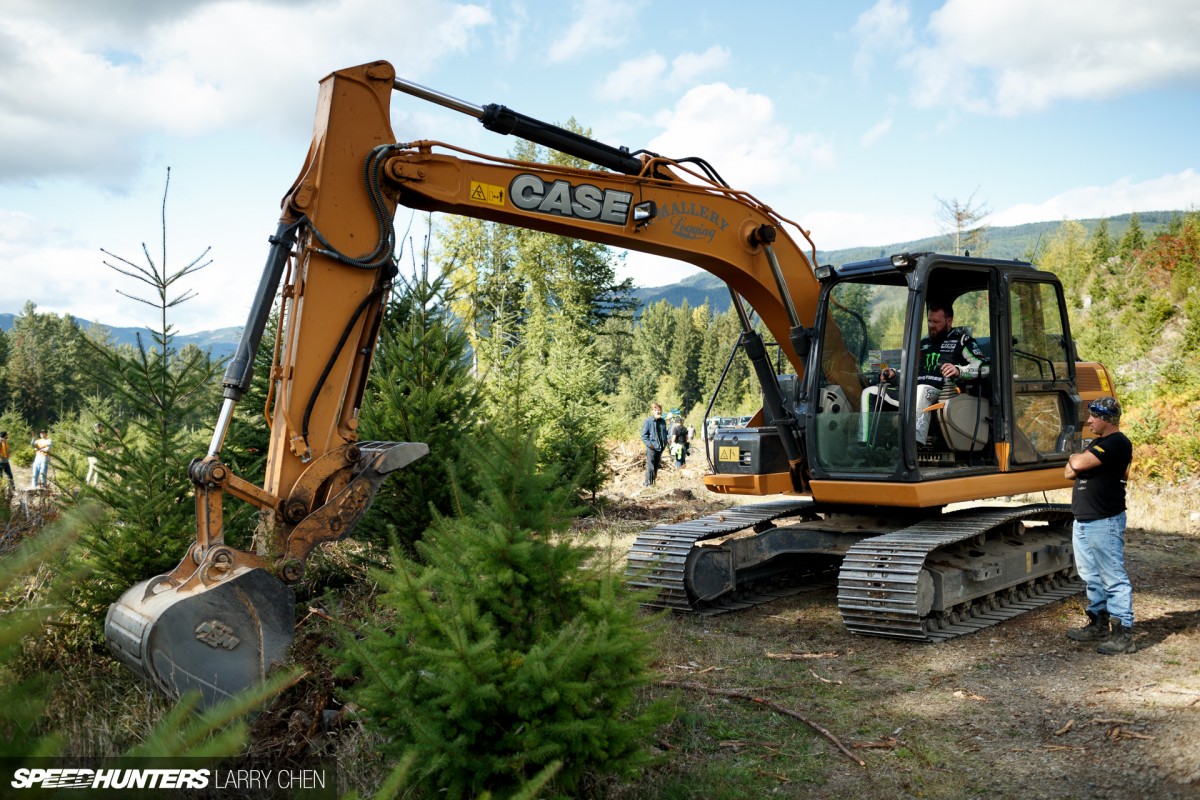 It was time to start shooting the action sequences, but not before BJ cleared out some trees in his flight path.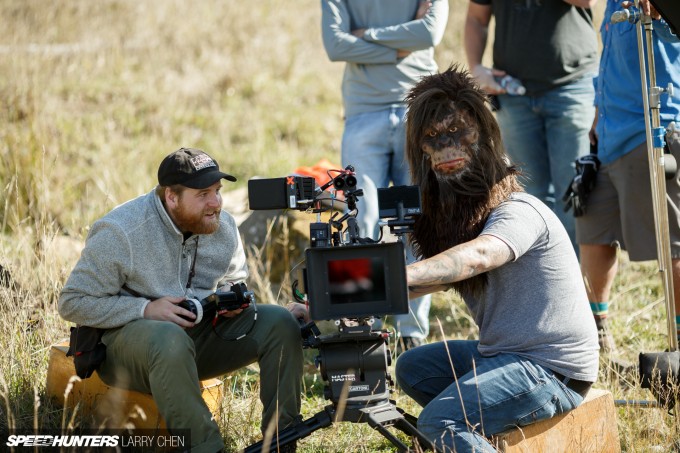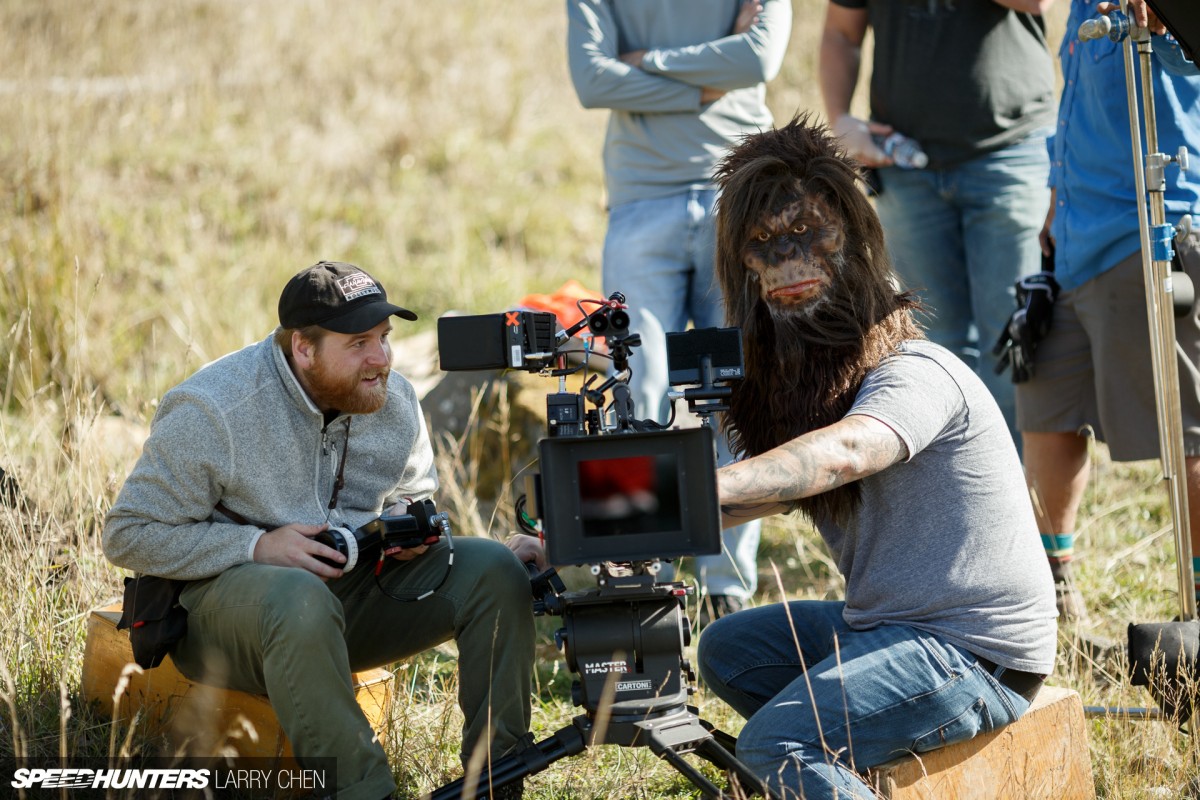 The cameras were rolling, it was time for lift off.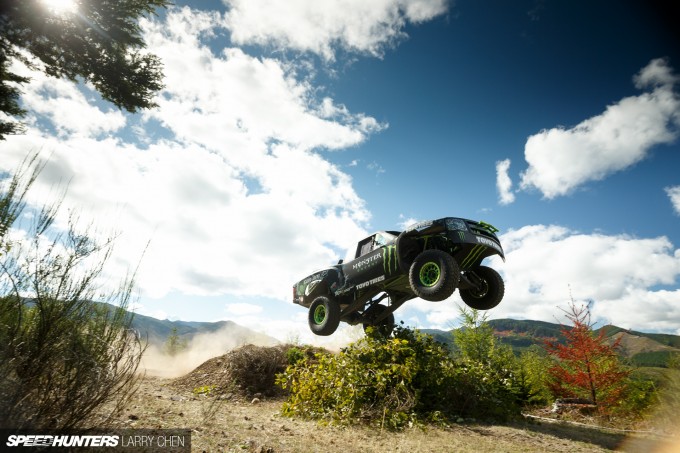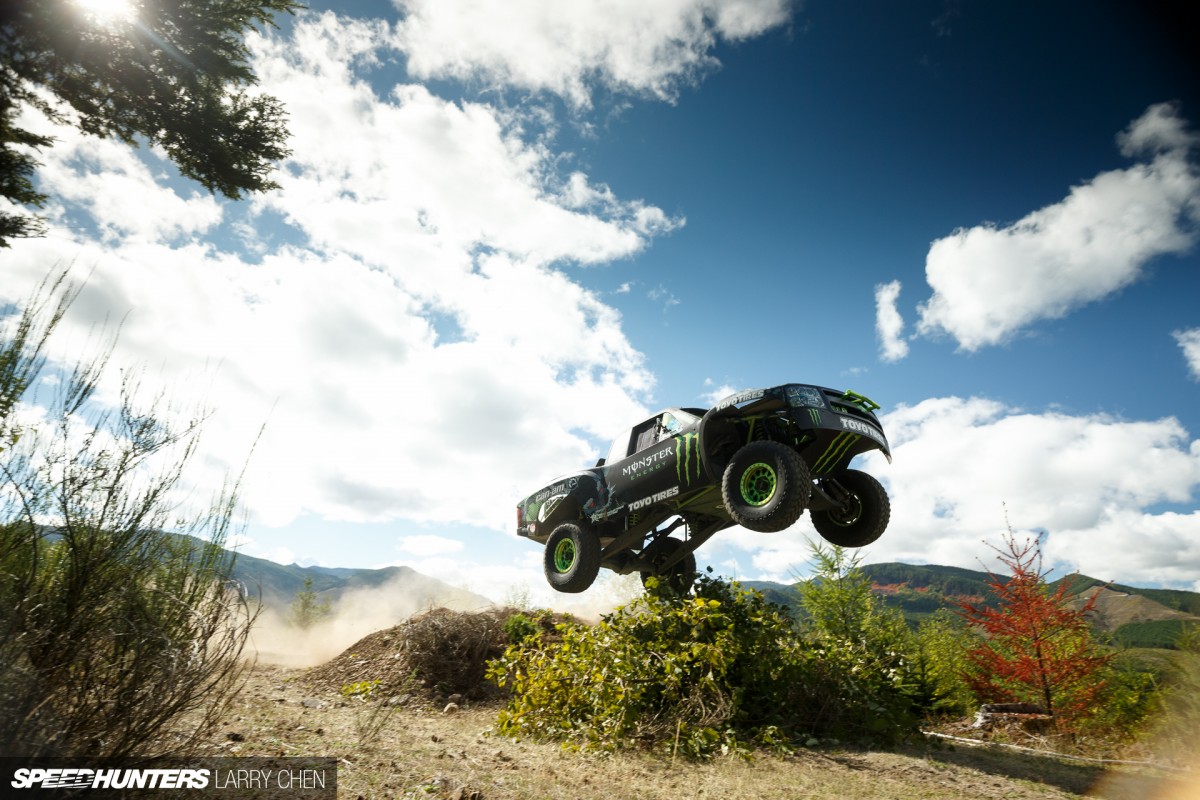 Every single jump was painstakingly choreographed to be awesome-looking and also safe for BJ and the crew.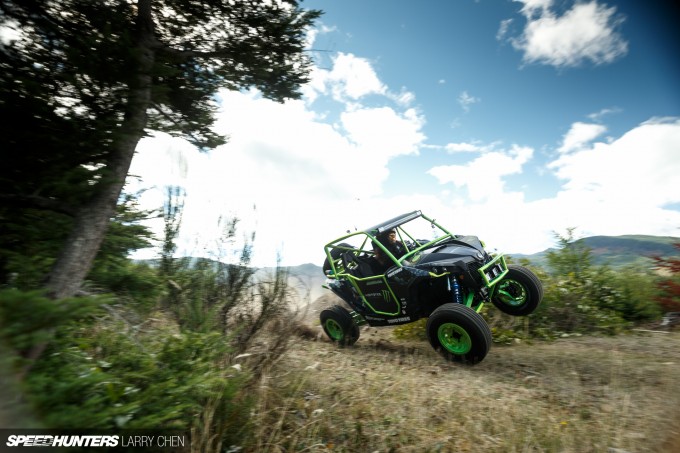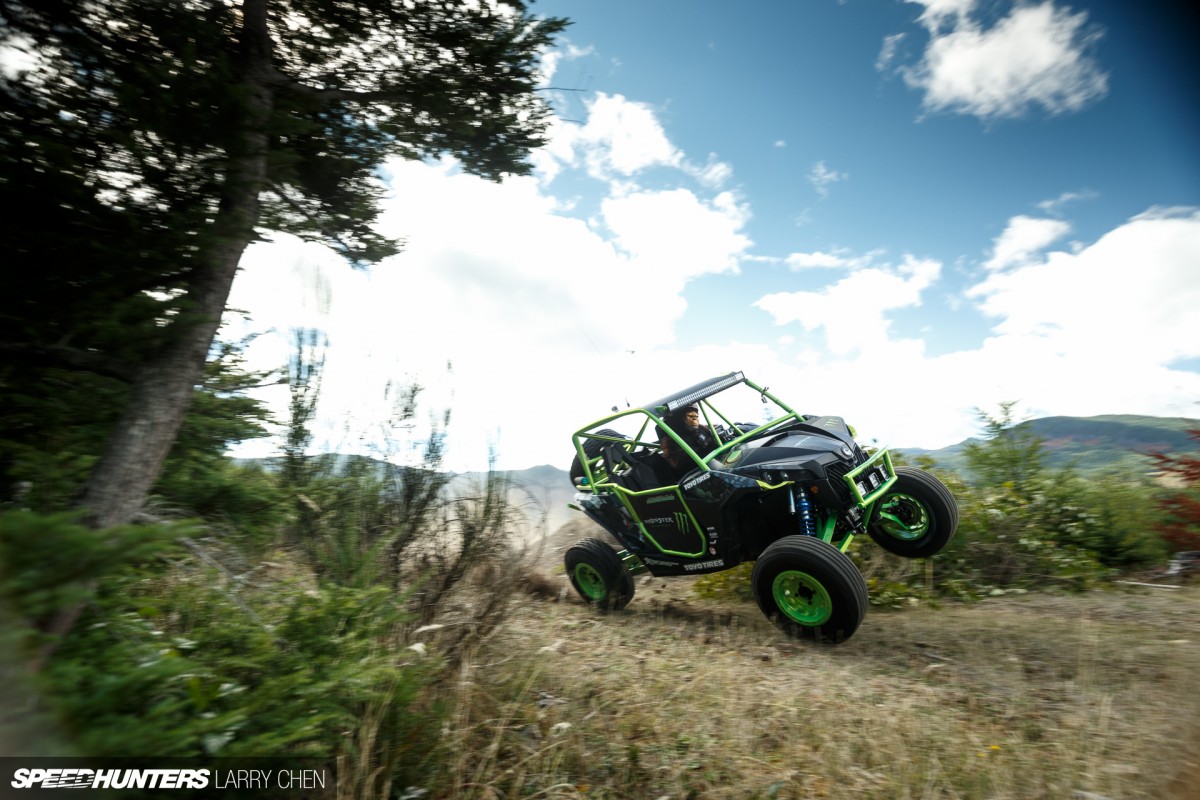 Three long days of shooting began with a bang.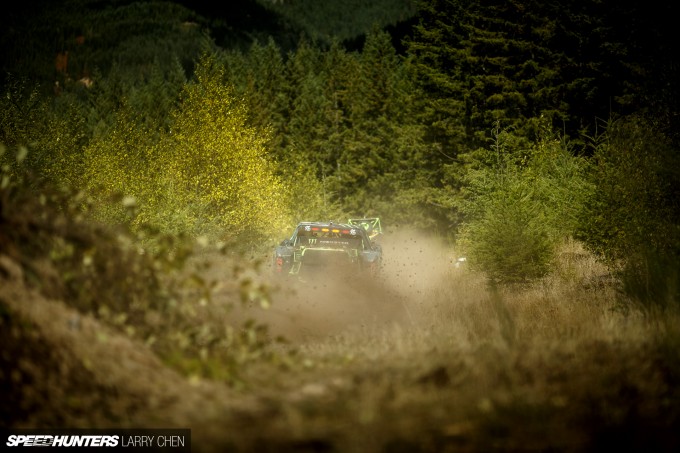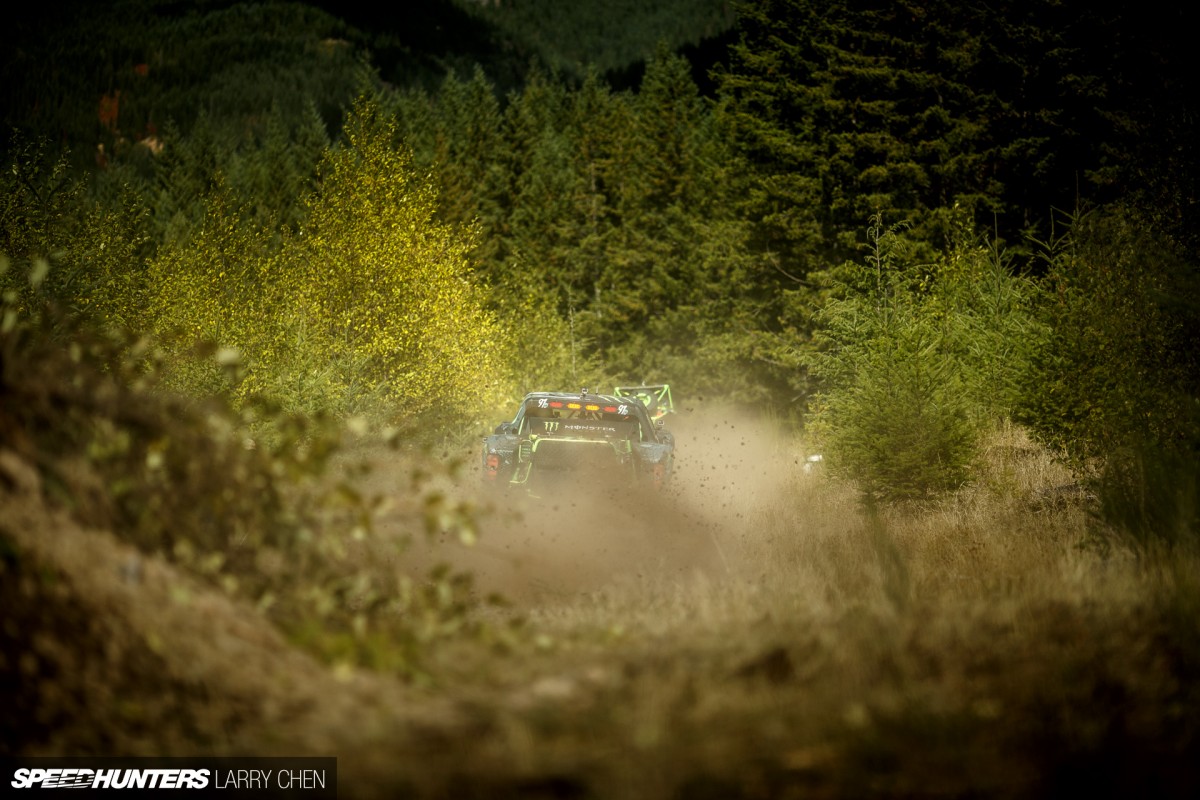 Brian was right about one thing: it was absolutely awesome to see a full-on trophy truck ripping through the woods at top speed.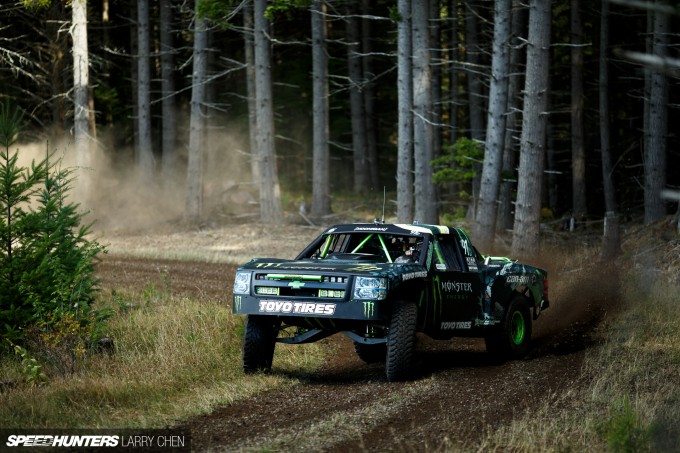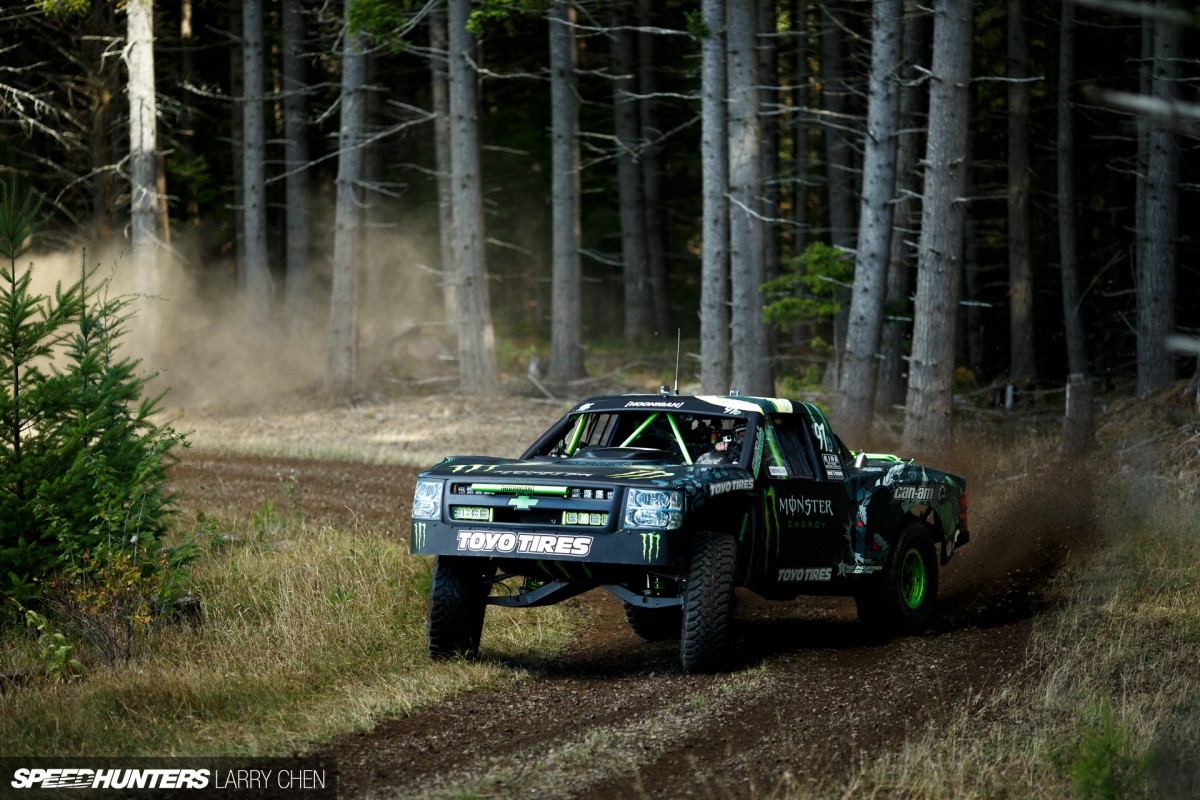 BJ pitched it as sideways as possible around every corner, which flung rocks and debris every which way.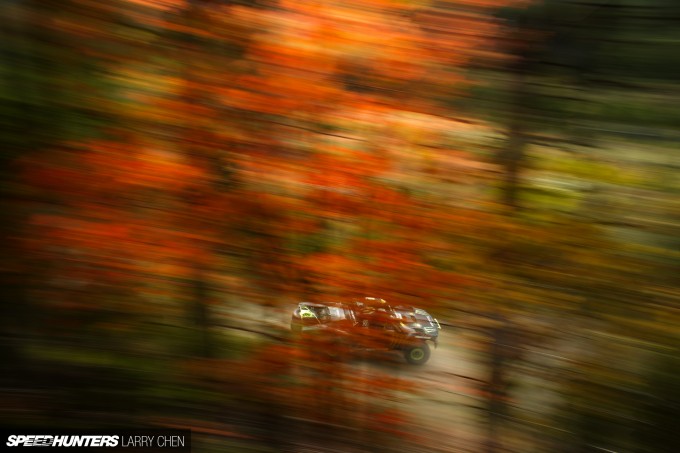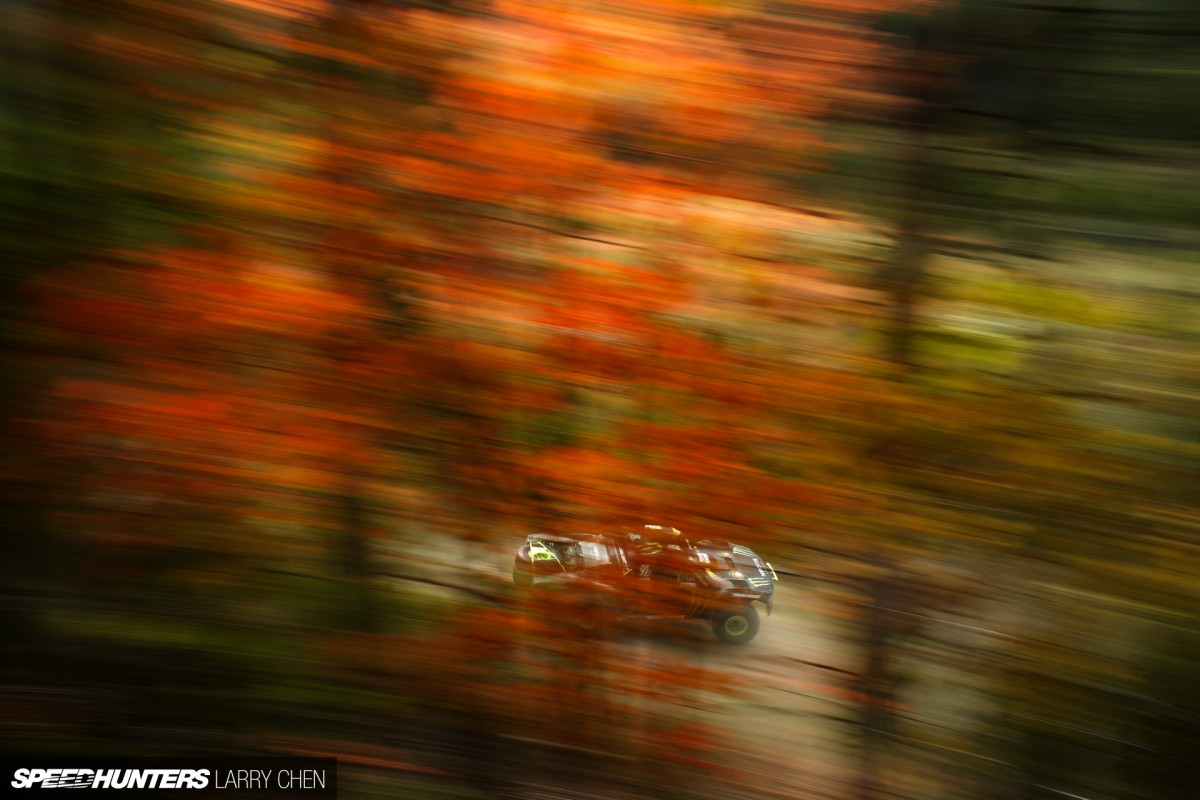 I climbed up a hill in the densely-packed woods for one of my favorite shots of BJ ripping through the forest. Most of the trees were still green, but the colors of fall were beginning to creep in.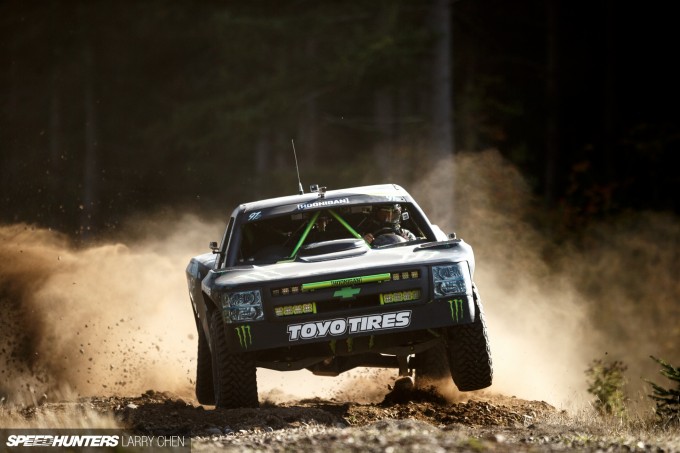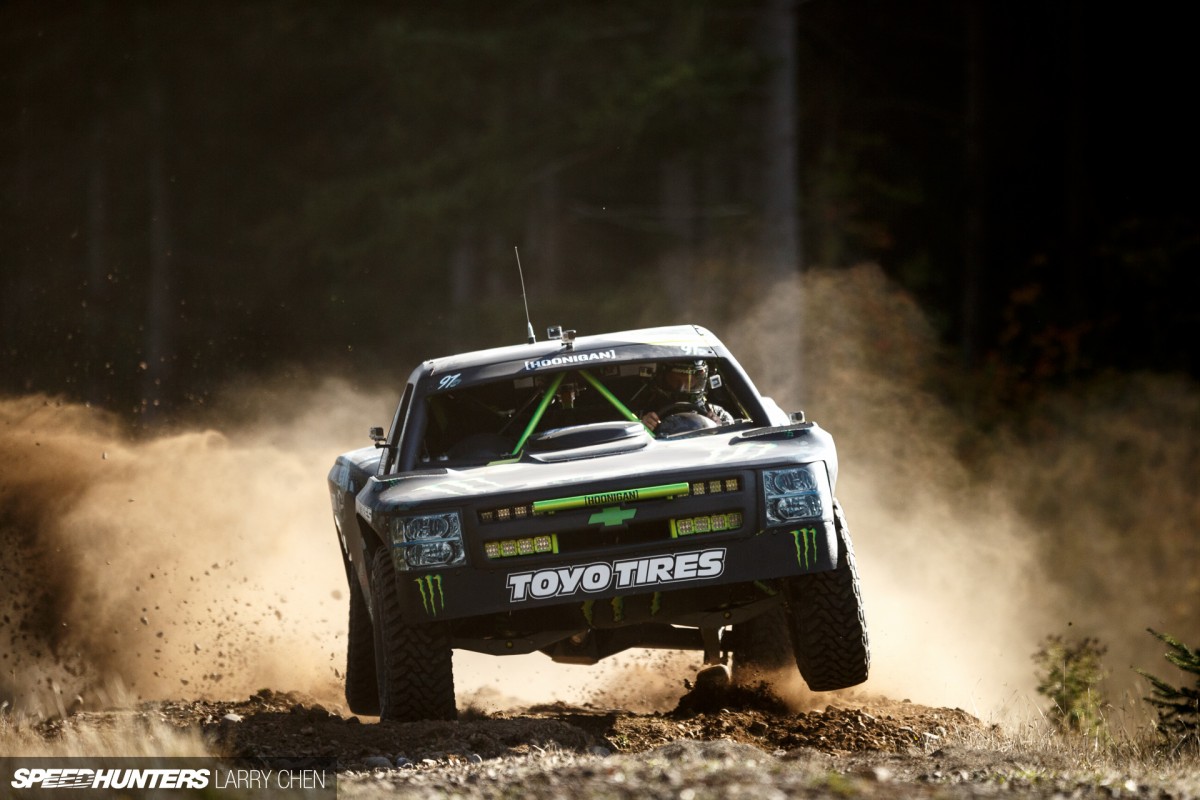 This high speed obstacle really showed off how violent it was in the truck for BJ.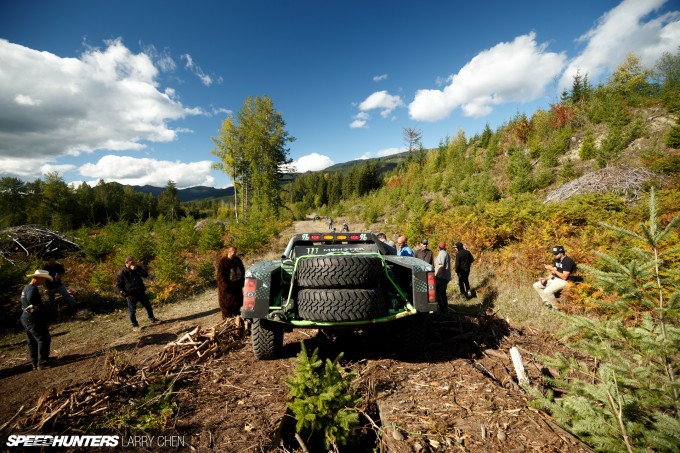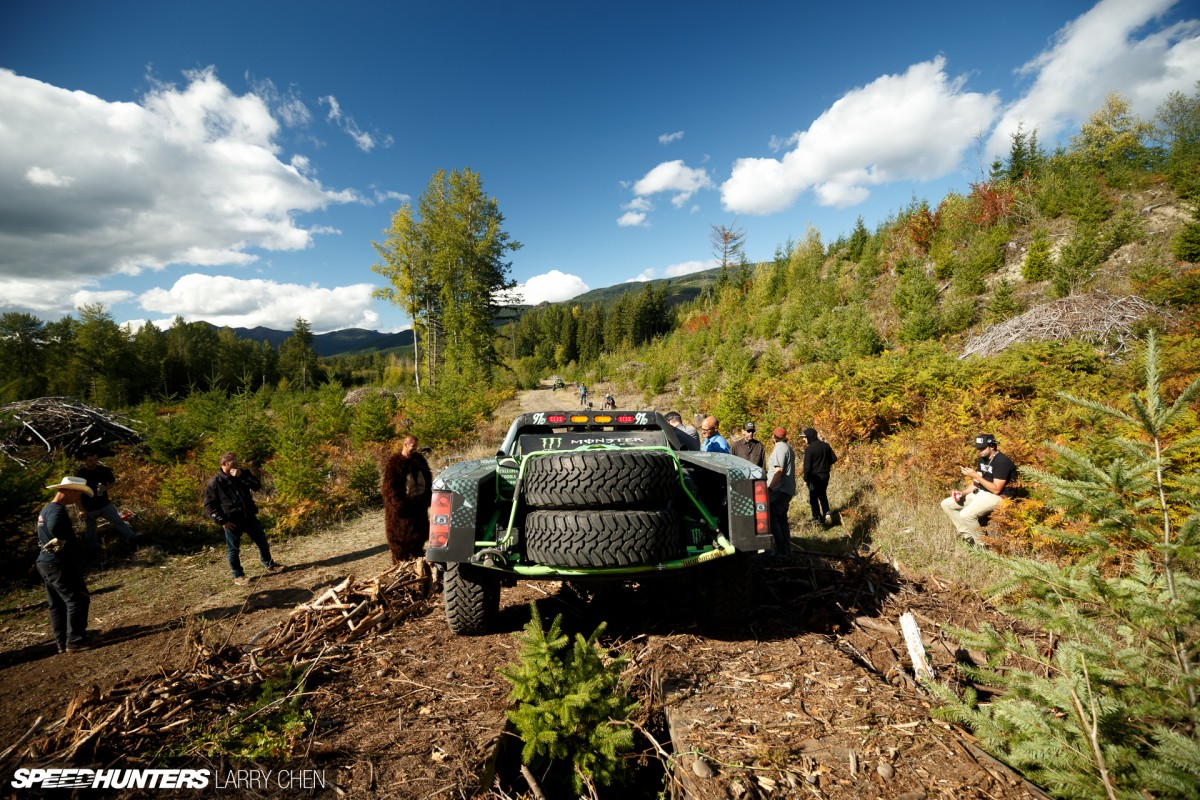 While these ramps look like they are just a bunch of dirt and trees jumbled together, they were actually very well built.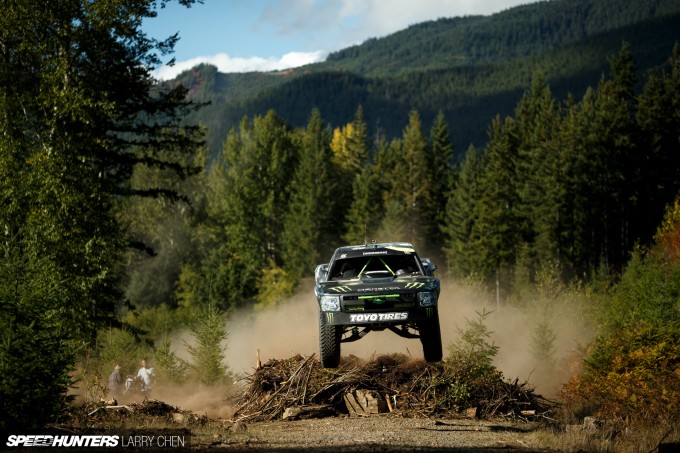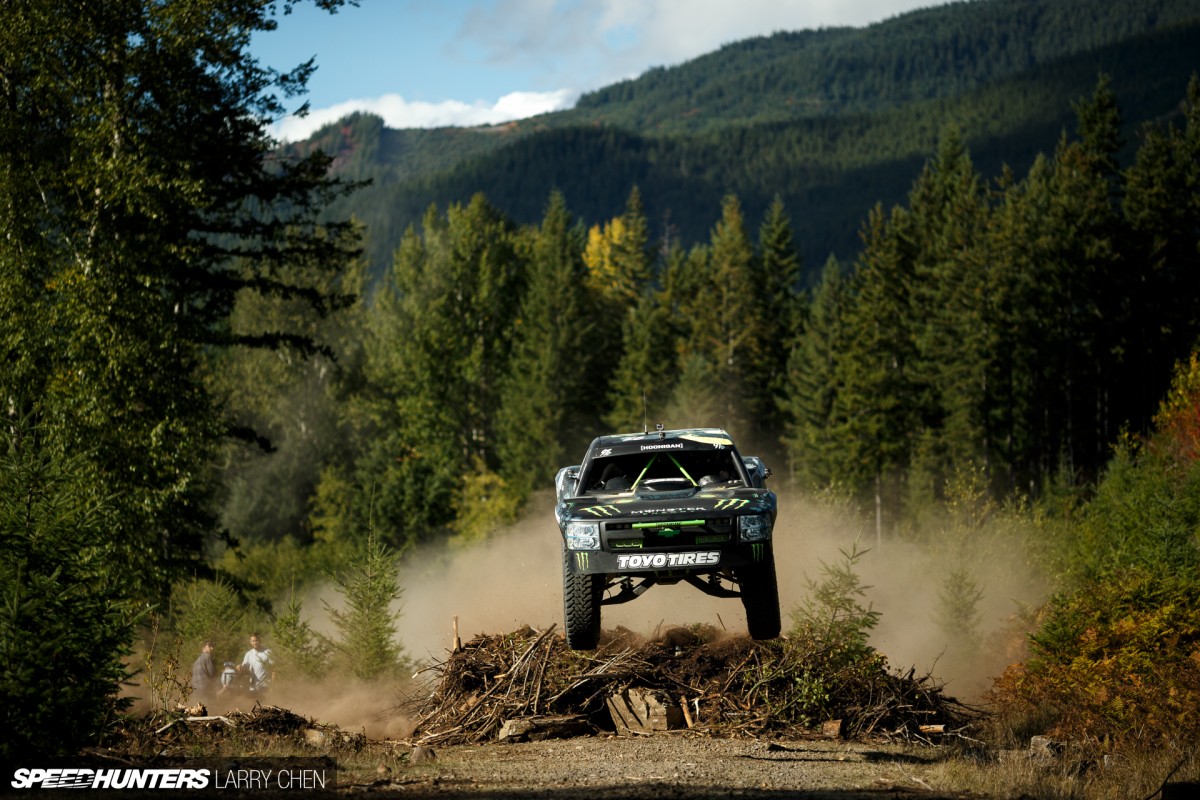 A real Hollywood stunt company was hired to construct the jumps and other obstacles.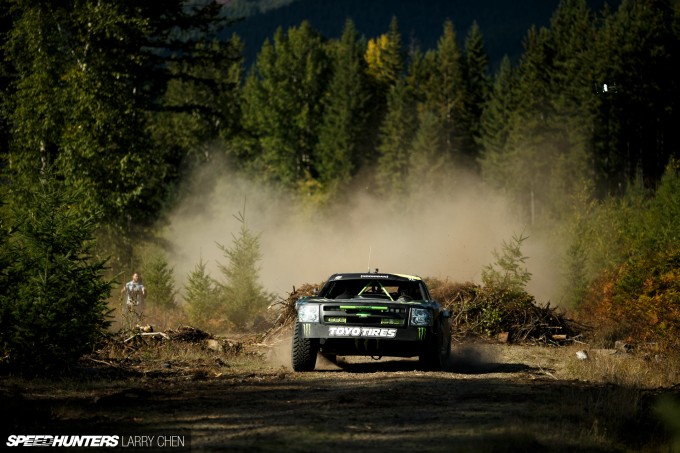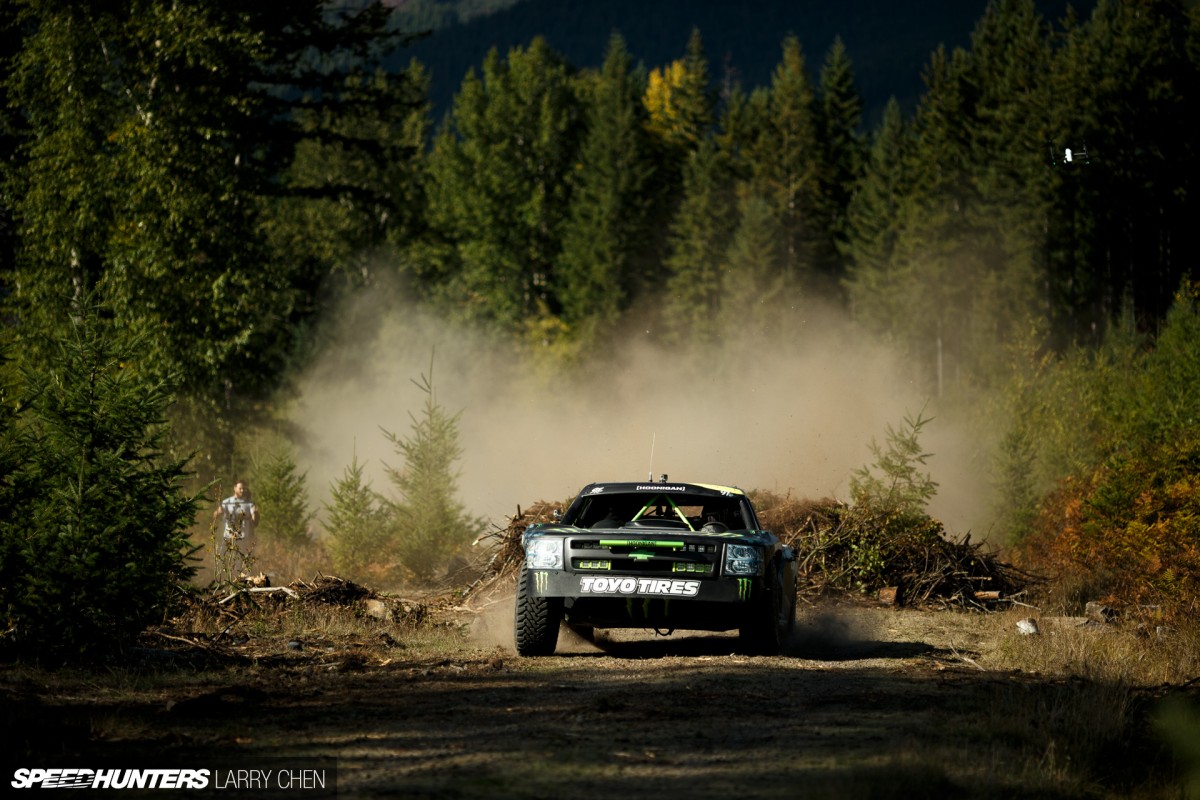 While it's always cool to see BJ's truck with its suspension completely unloaded, I love the frames that show the suspension fully compressed and bottomed out.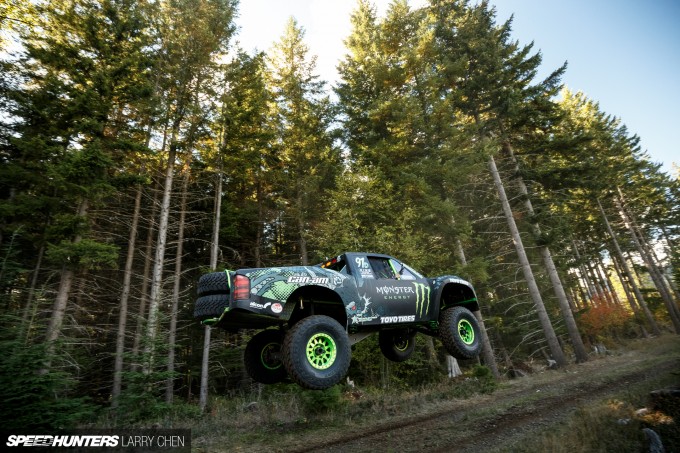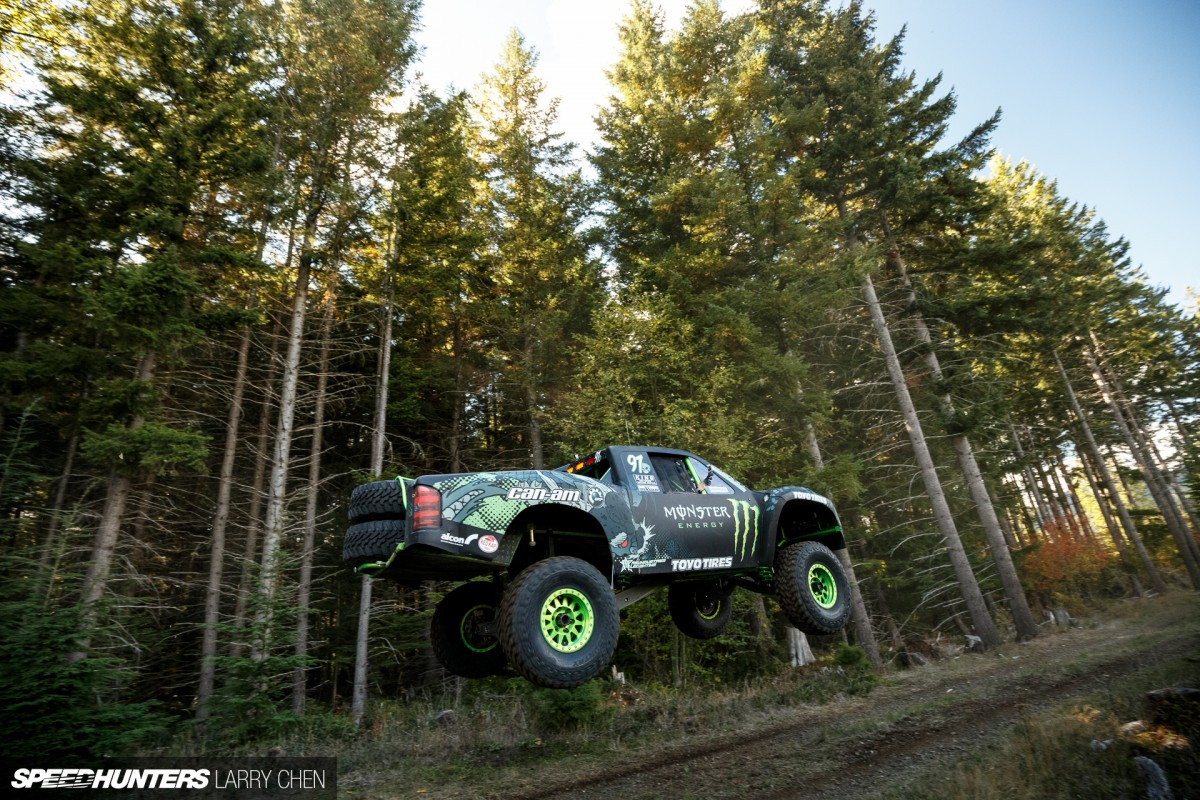 I recently had the chance to drive a short course truck at the Vegas Off Road Experience, but seeing as that was my first time, I'm a total rookie when it comes to jumping these things. I can only imagine how much fun BJ was having hitting them one after another for the shoot.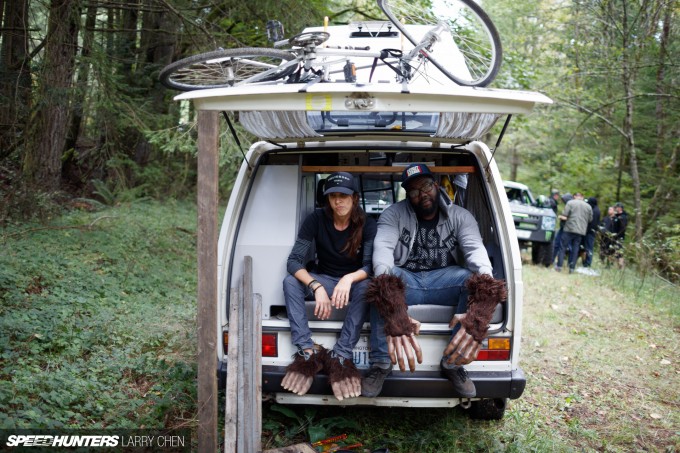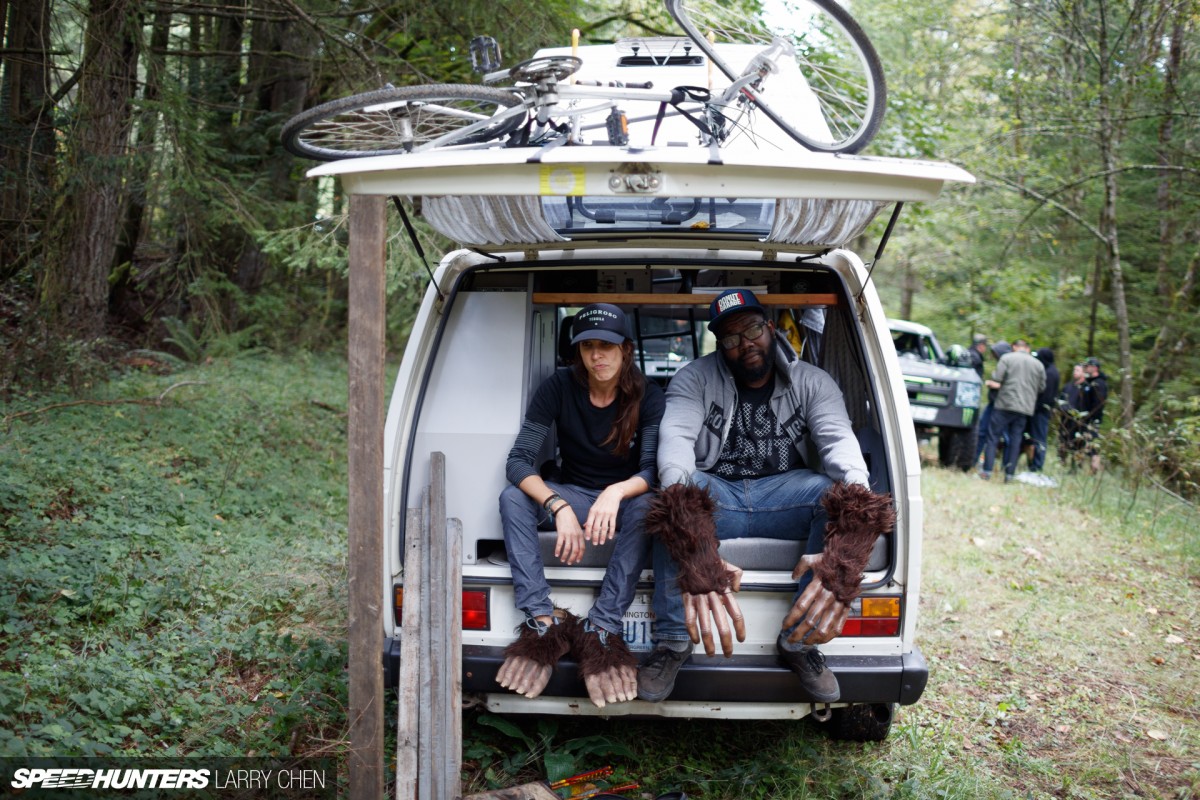 Our first day of shooting was coming to an end, but there were still a few storytelling elements that we needed to capture before the sun went down completely, so we moved to another part of the woods.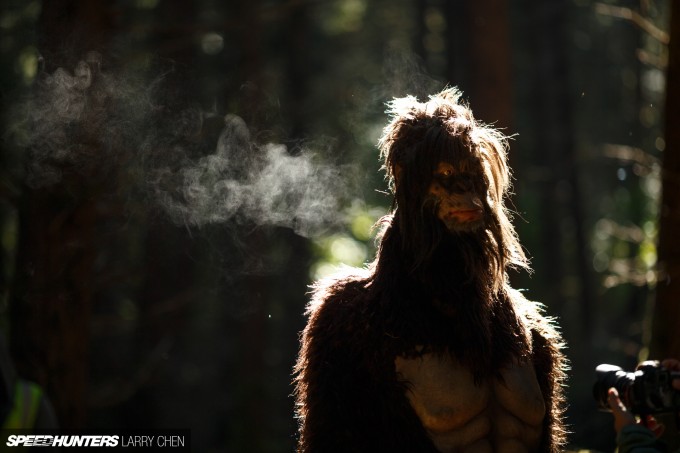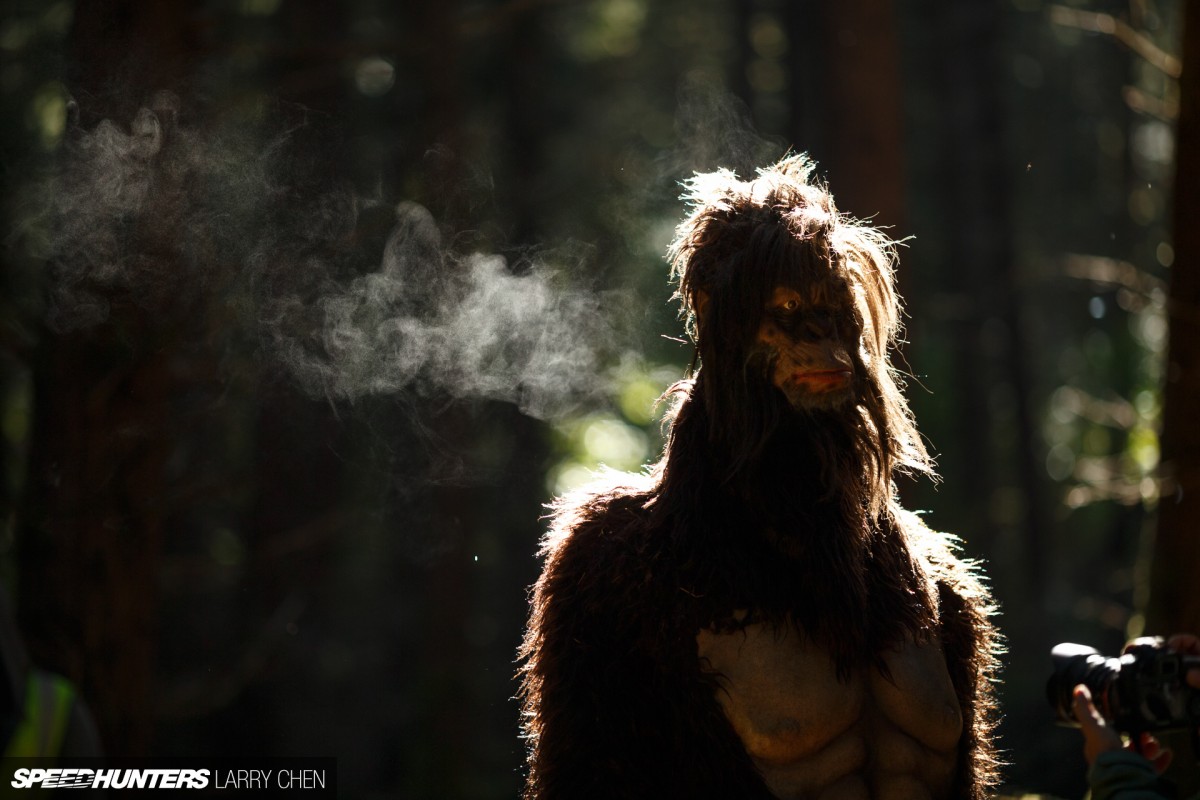 Basically, we needed to shoot Bruce the Sasquatch coming out of the woods and actually stealing BJ's UTV.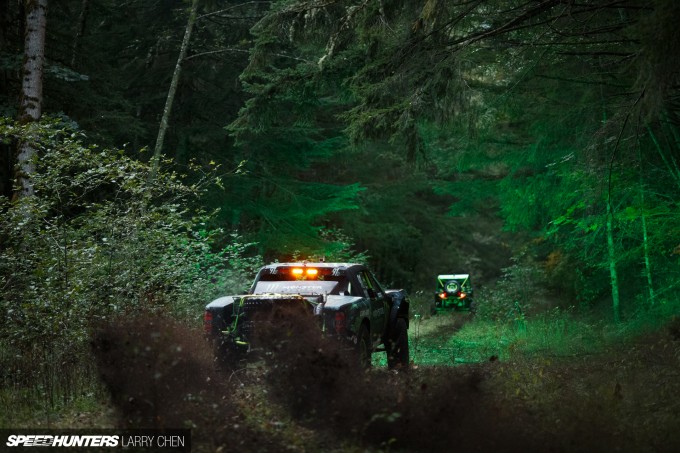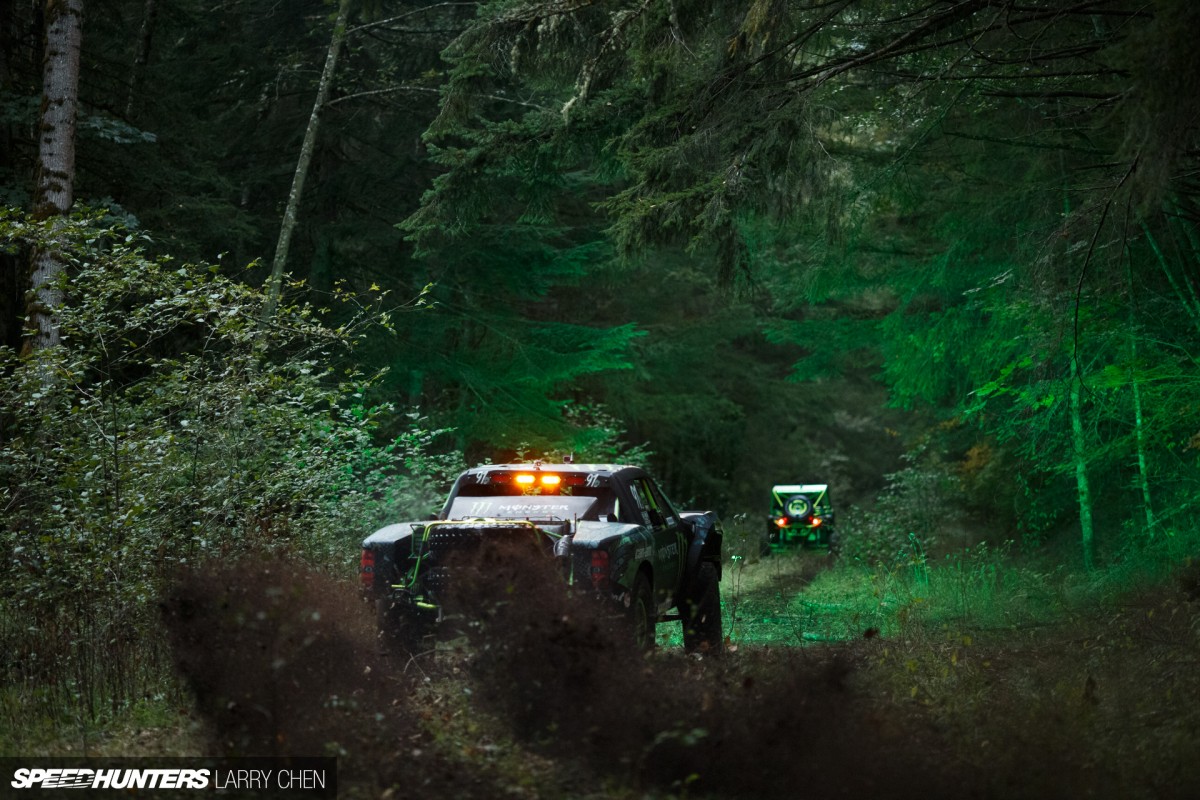 And then the chase was on! BJ dropped the hammer and we all took cover as he shot out an epic roost.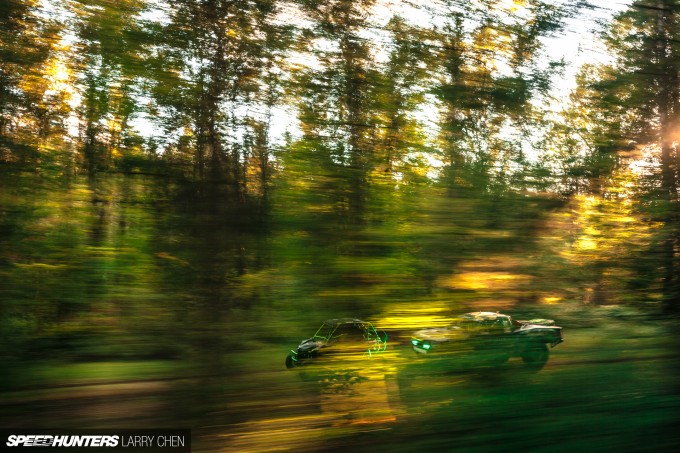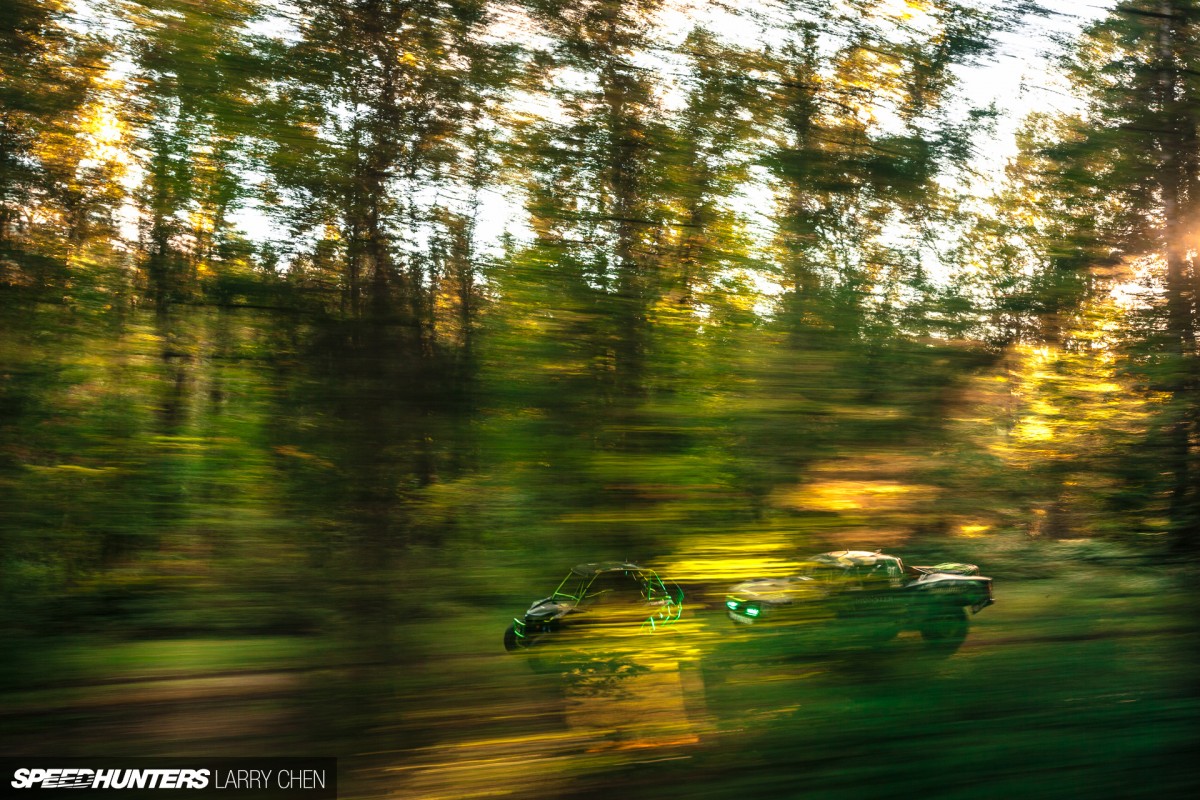 I am all for Star Wars references on my Speedhunters posts, but this is just another level. The sun was setting, and while BJ was chasing down in the Can-Am, the production crew and I were following along on a highway. It looked like the speeder scene on Endor.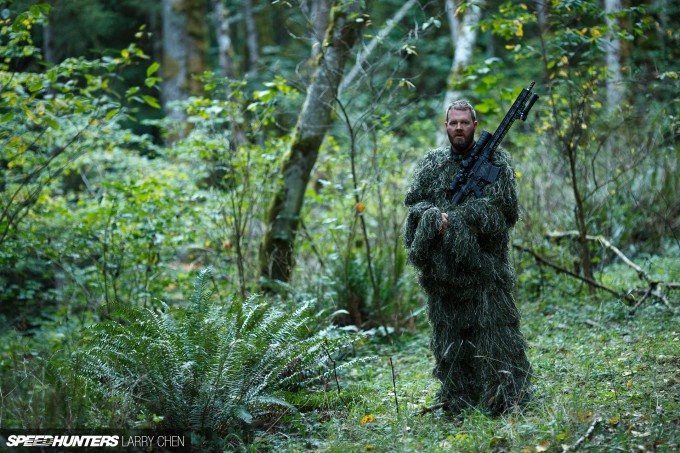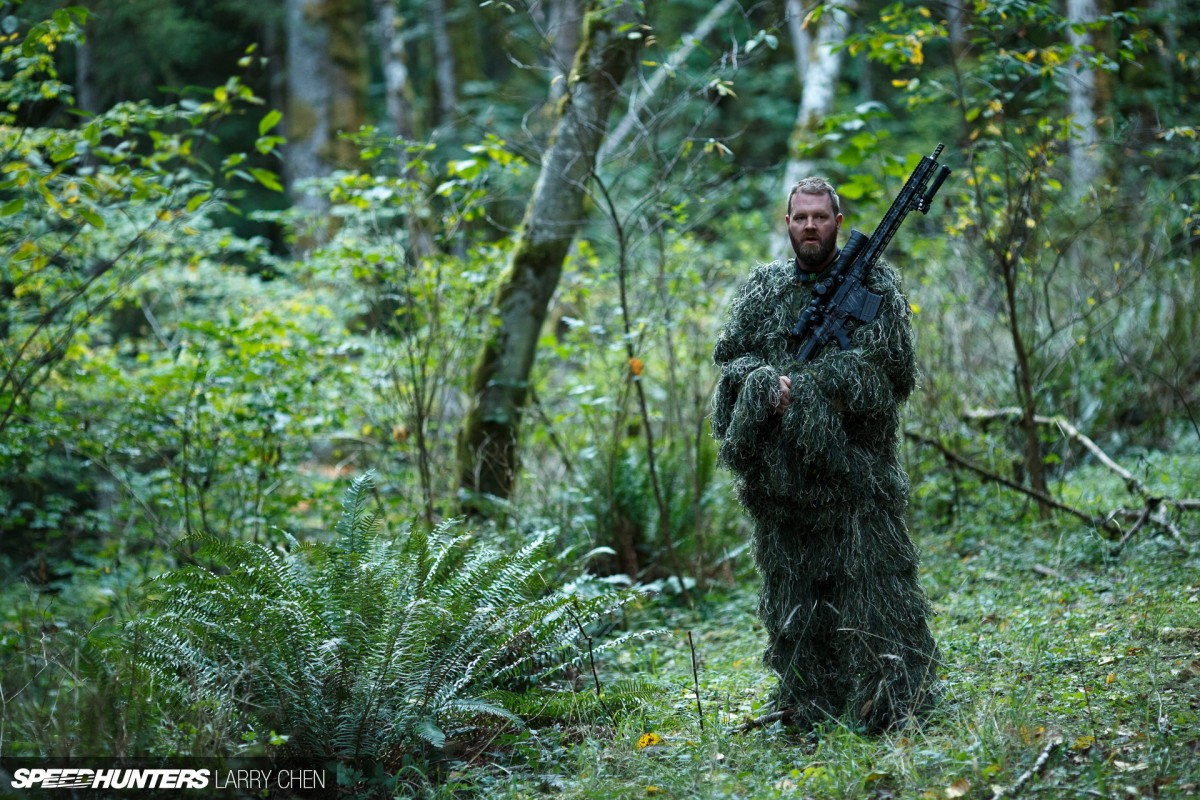 The first day of filming was action packed to say the least, which made me wonder how it could be topped. I was about to find out…
Day Two: Tacoma, Washington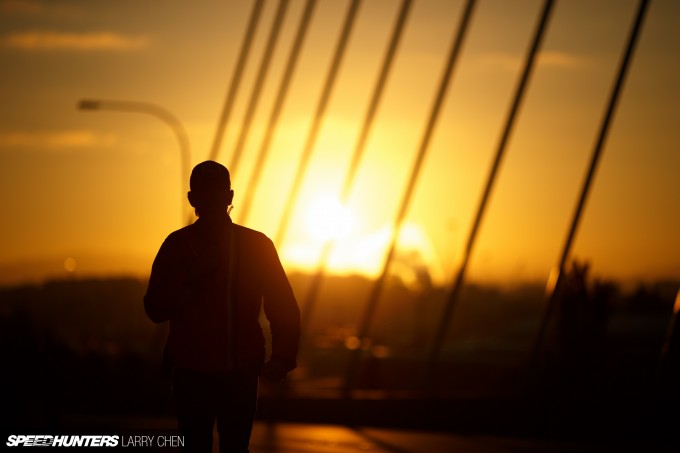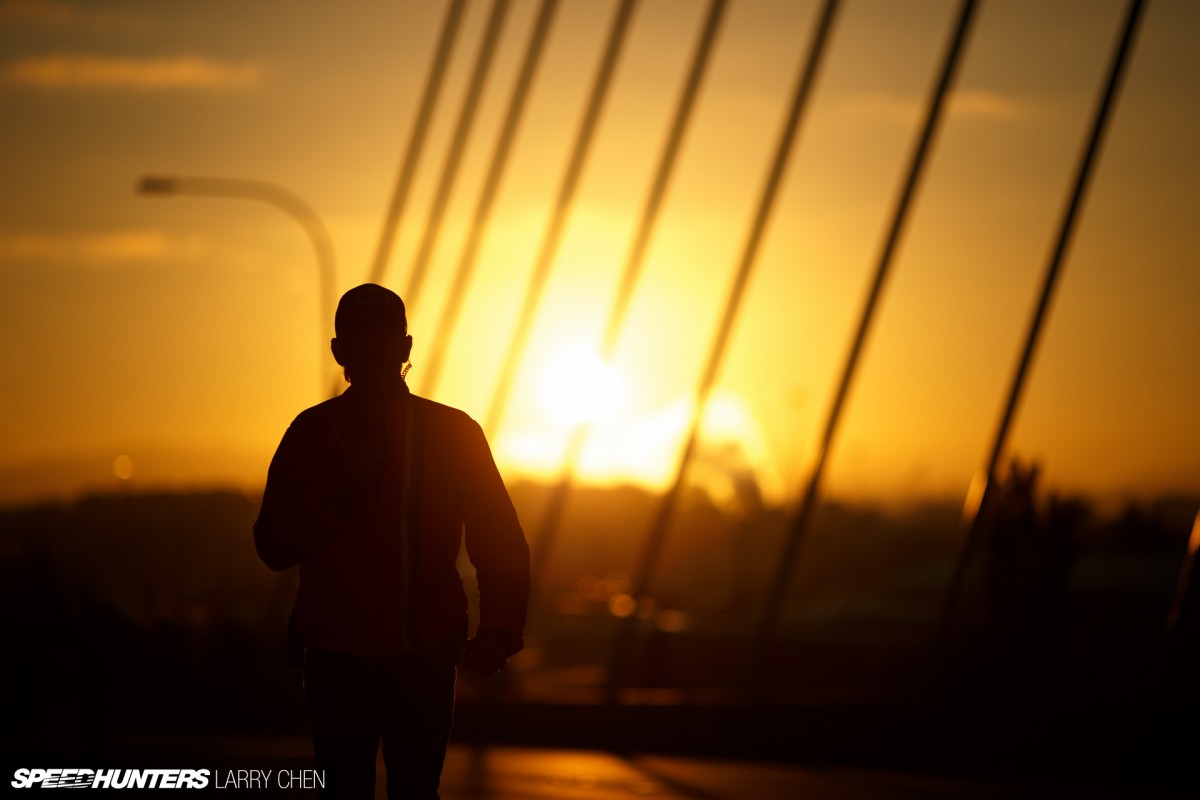 From the outside looking in, it's pretty hard to grasp what the crew has to go through on a production like Recoil 3. We got about four to five hours a sleep per night, which I'm sure is normal to many of you, but that was after a 19-hour day of running around from shot to shot with barely any breaks. It always takes me quite a while to recover after one of these.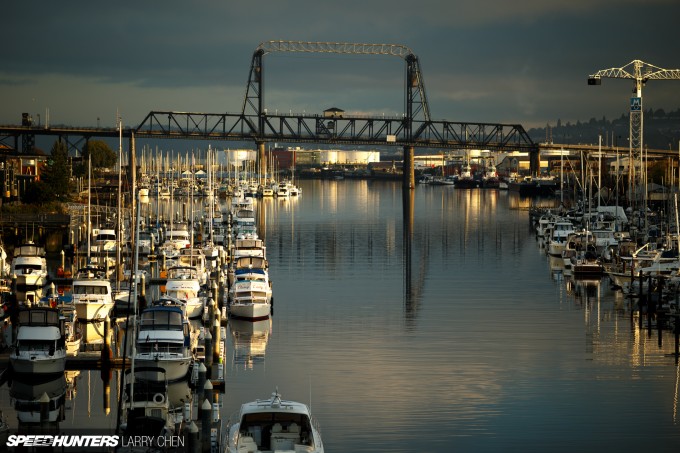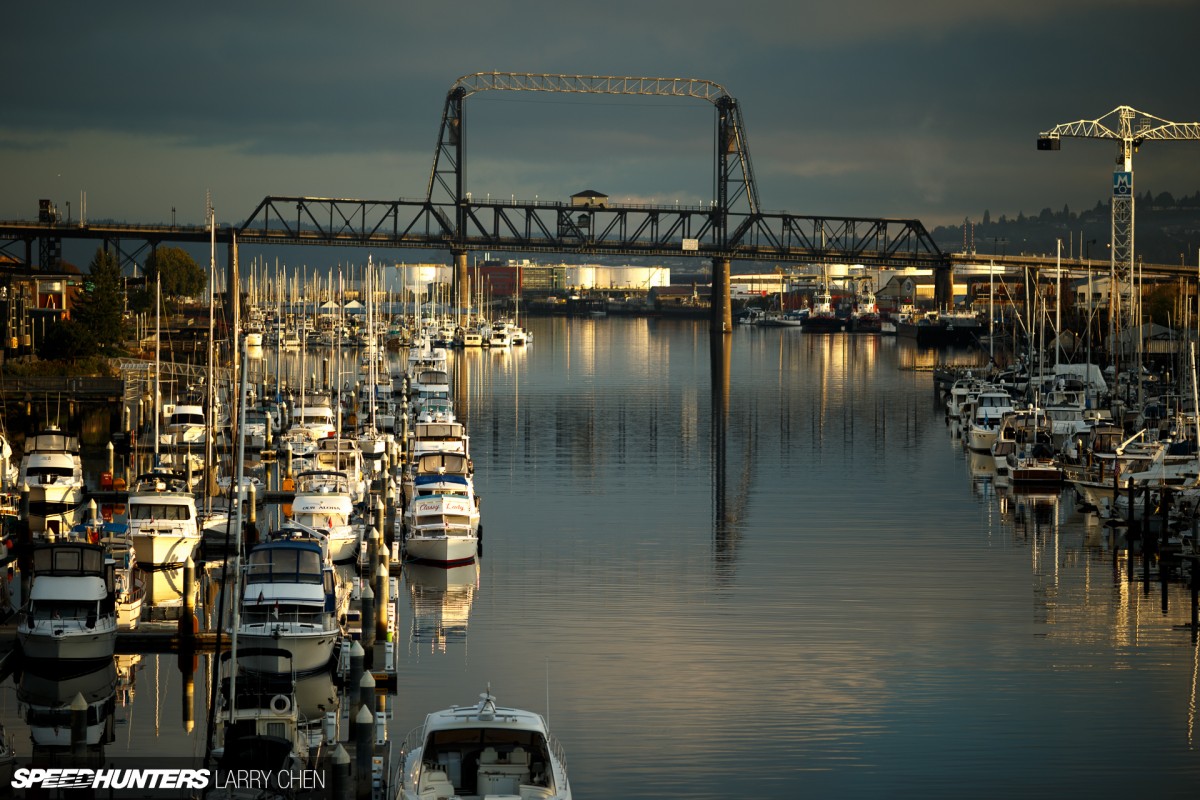 Day two started with an early morning wake-up call in the form of an uncorked V8 being unleashed through the city center of Tacoma, Washington.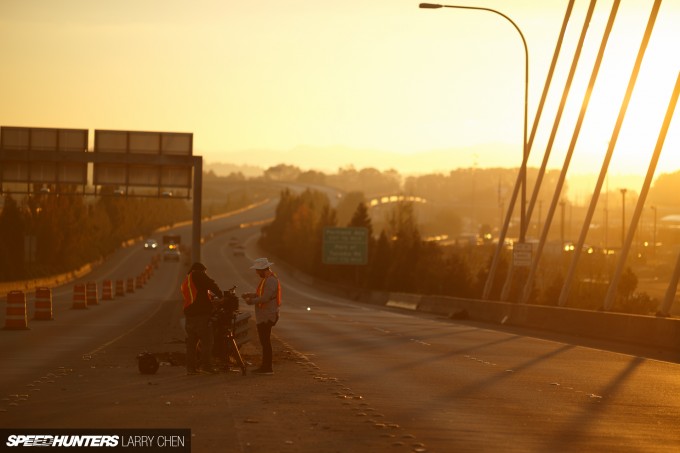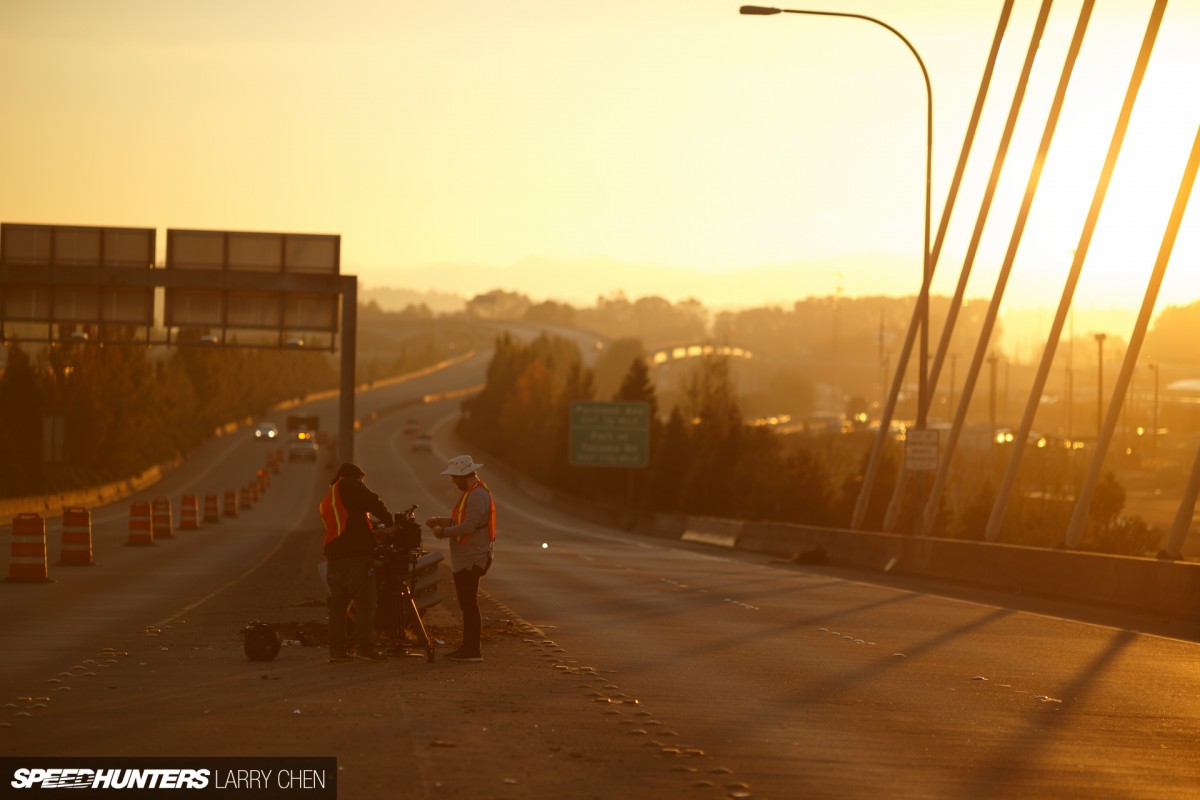 The first shot was on the 21st bridge. With the sun just rising, I couldn't wait for the day to start.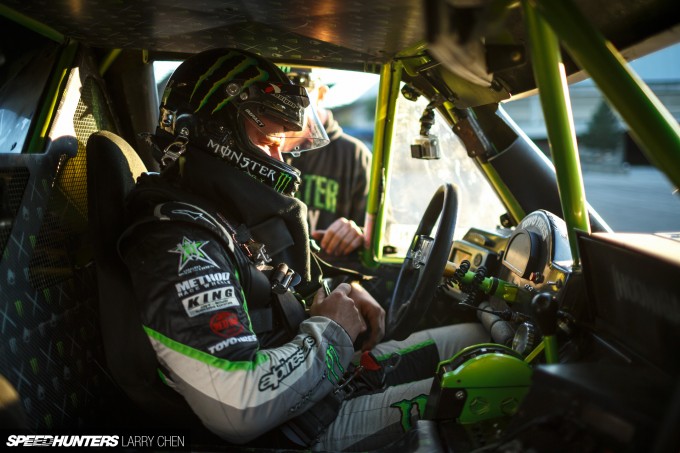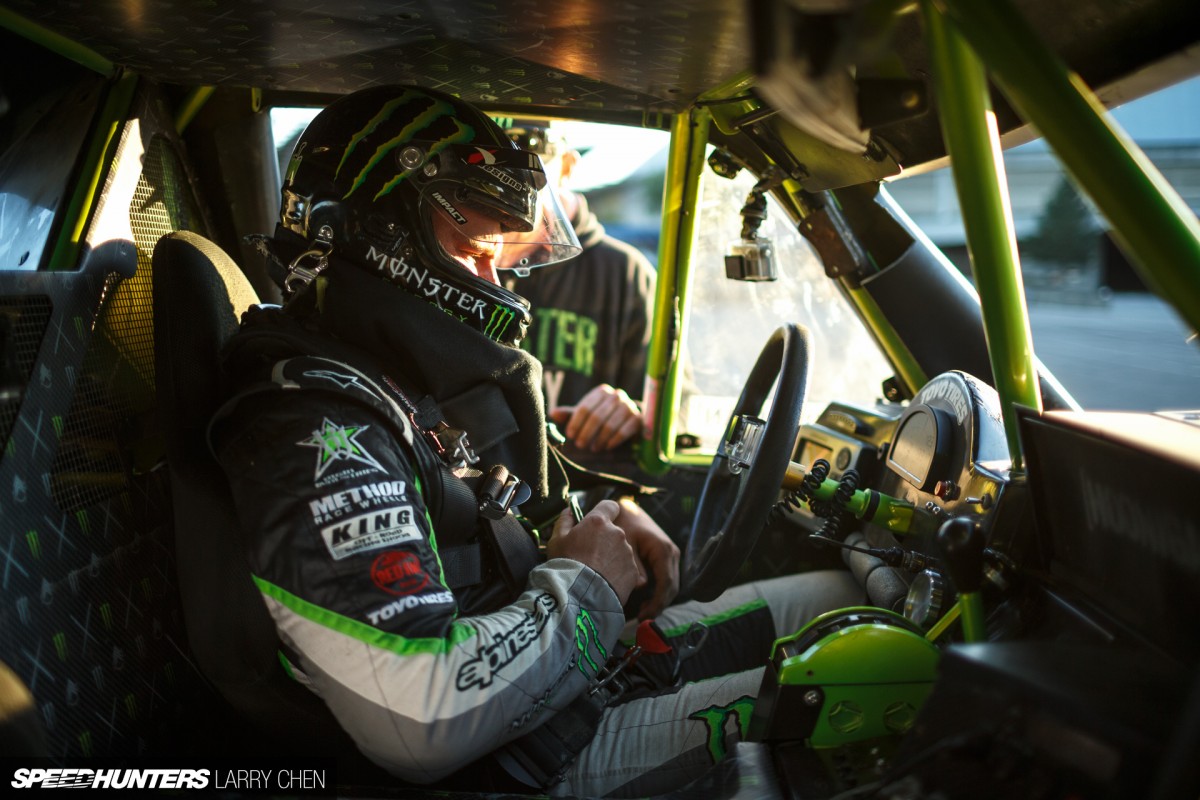 BJ was just down the street getting suited up and ready. It's has to be really tough for him sometimes; there are so many breaks in between shots, but when it's time to perform, he has to drive at 100 per cent. After each shot it takes time to set up the next, which then means up to a few hours of downtime.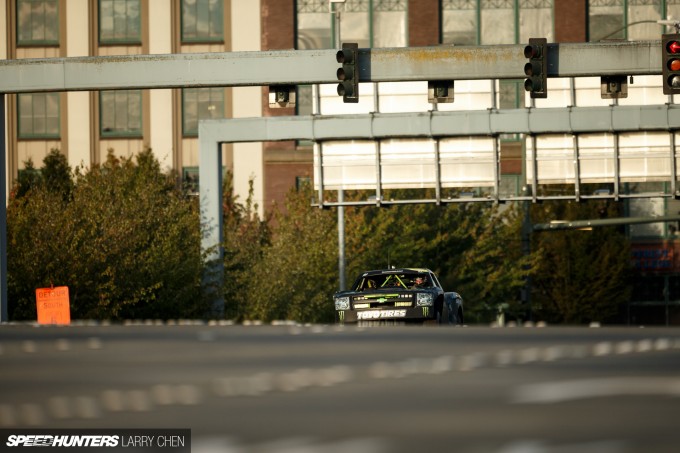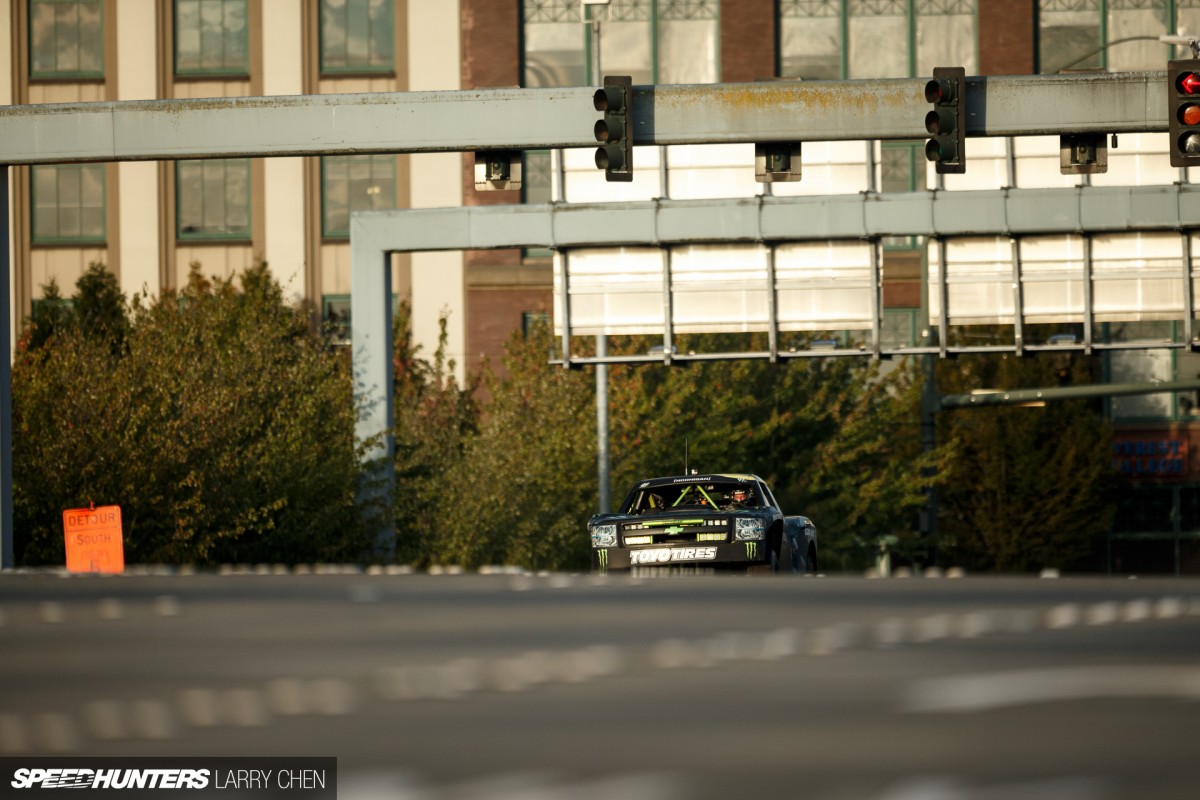 It was so awesome to hear the echo of a trophy truck off in the distance, and then see BJ appear going full-tilt on a bridge that's usually reserved for everyday commuting.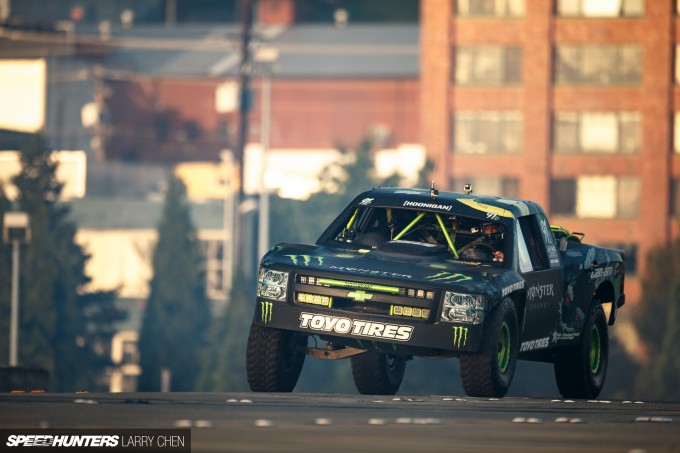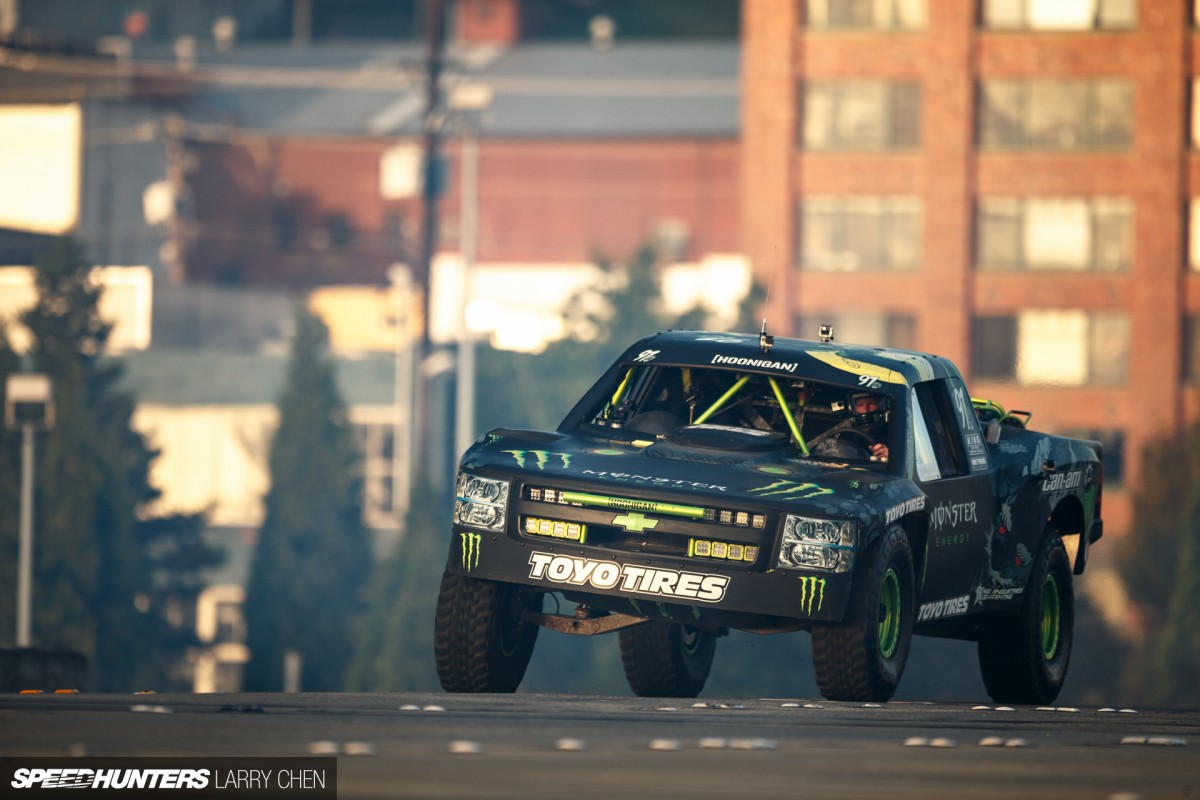 With a quick flick he upset the truck and pitched it sideways. It's amazing how fast this thing moves when it's on paved roads.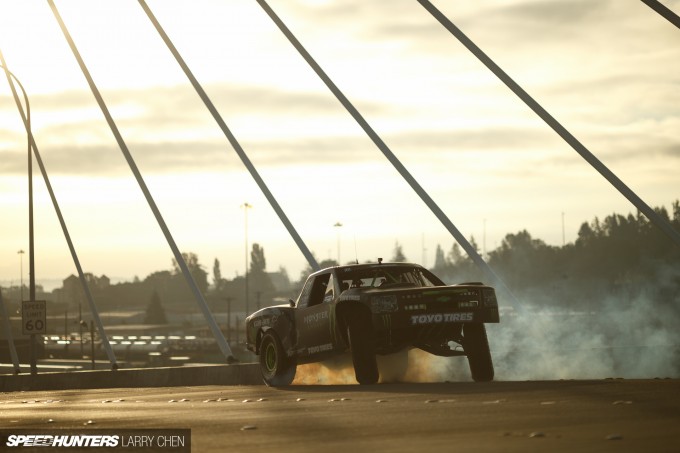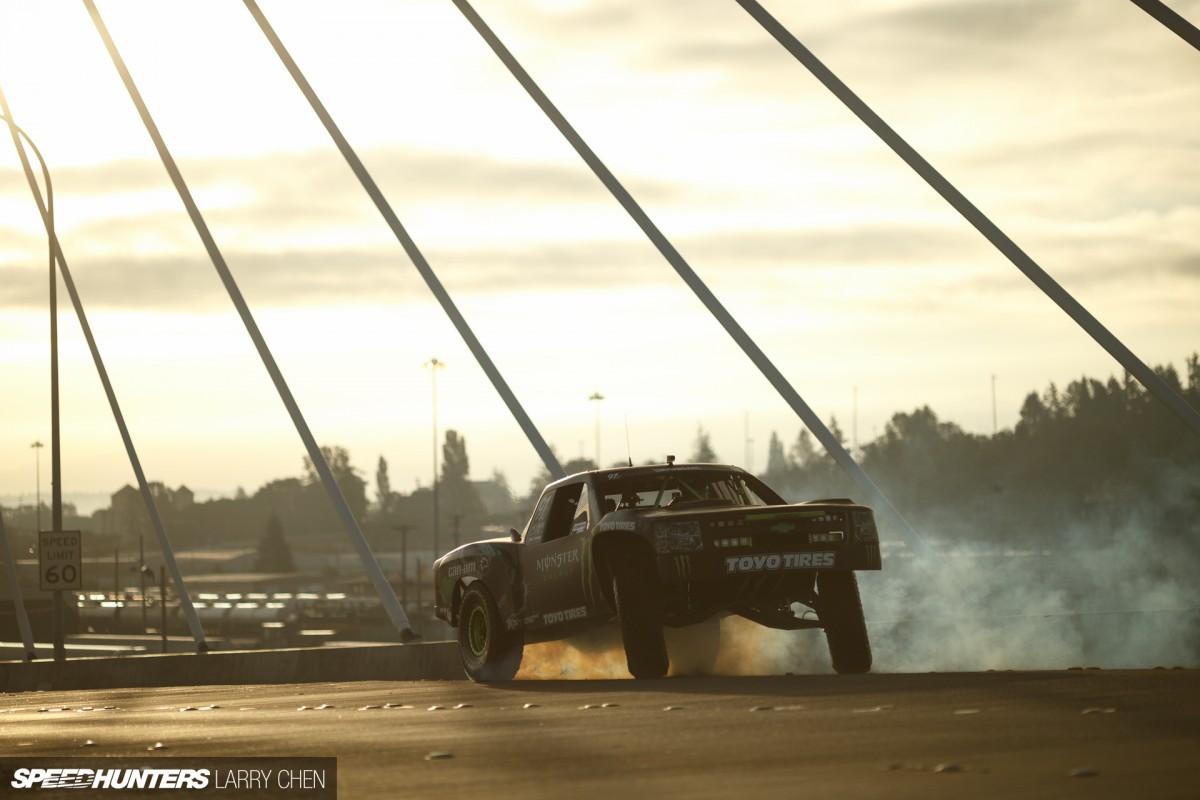 By now, anyone living in the immediate vicinity of the bridge would have been woken up. There's no way someone could have slept through the sound of tires squealing and BJ bouncing the engine off its rev limiter.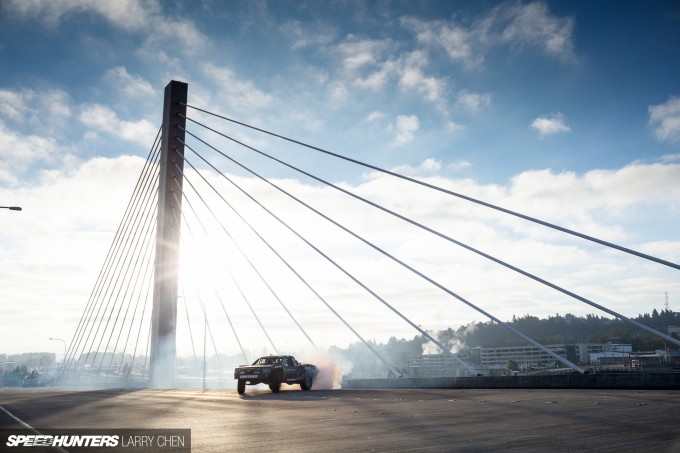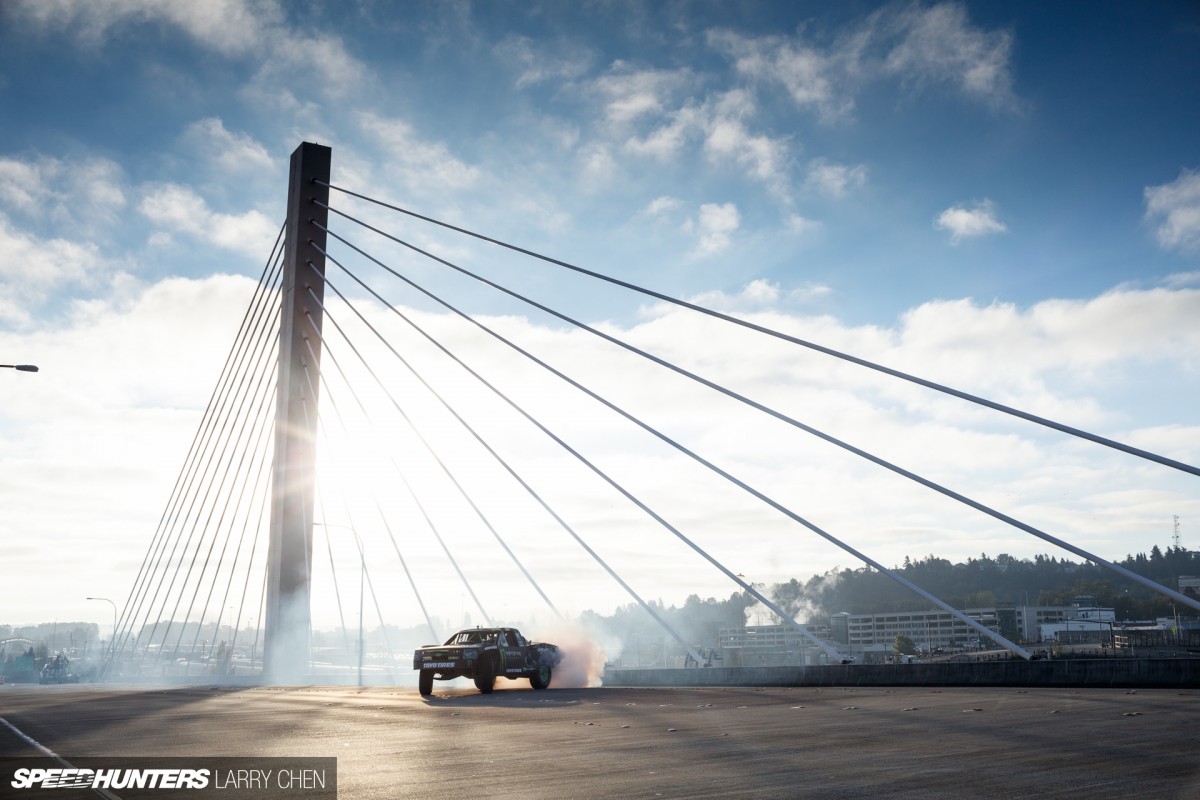 This may as well be a postcard for the city of Tacoma. 'Come see the sights and sounds of the Pacific Northwest!'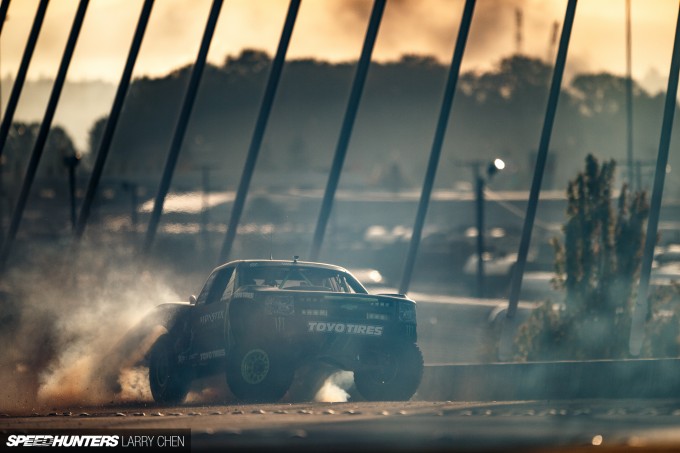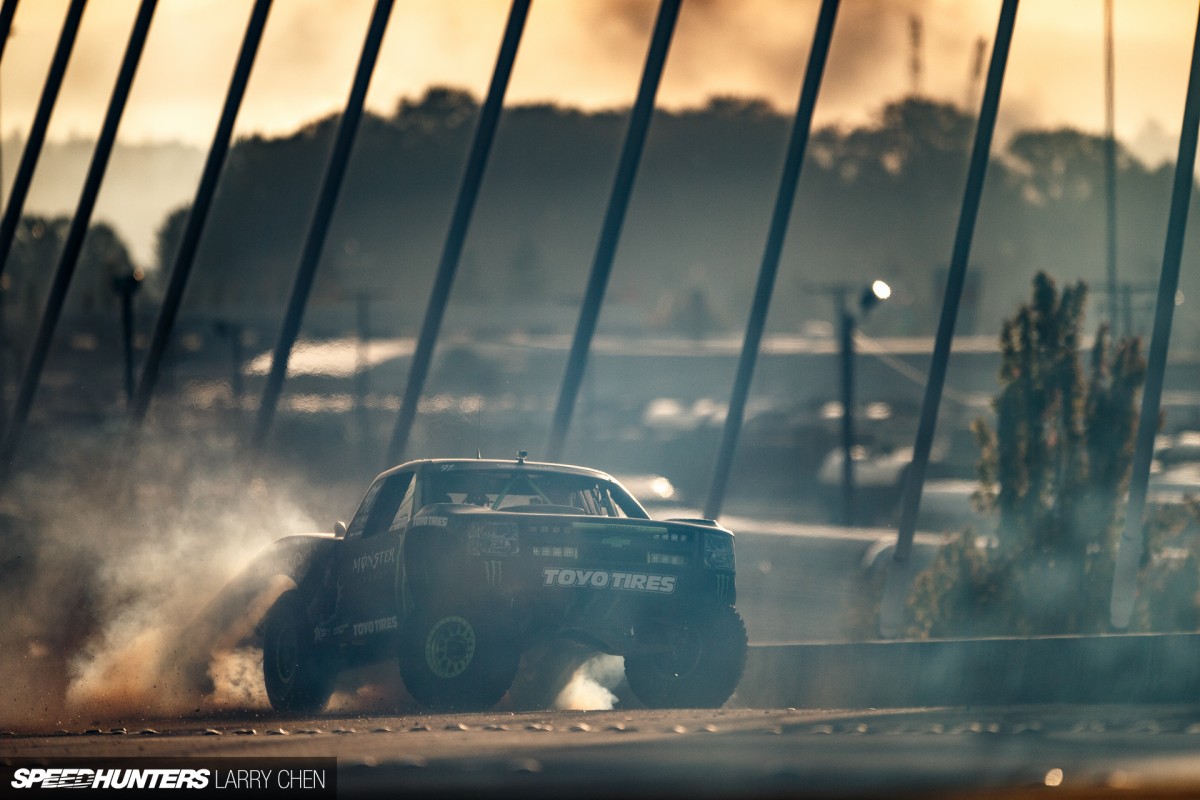 There is nothing like epic morning light cutting through tire smoke and road debris.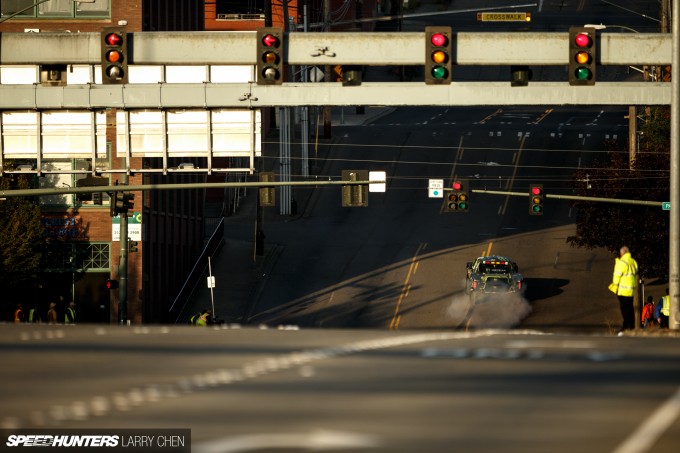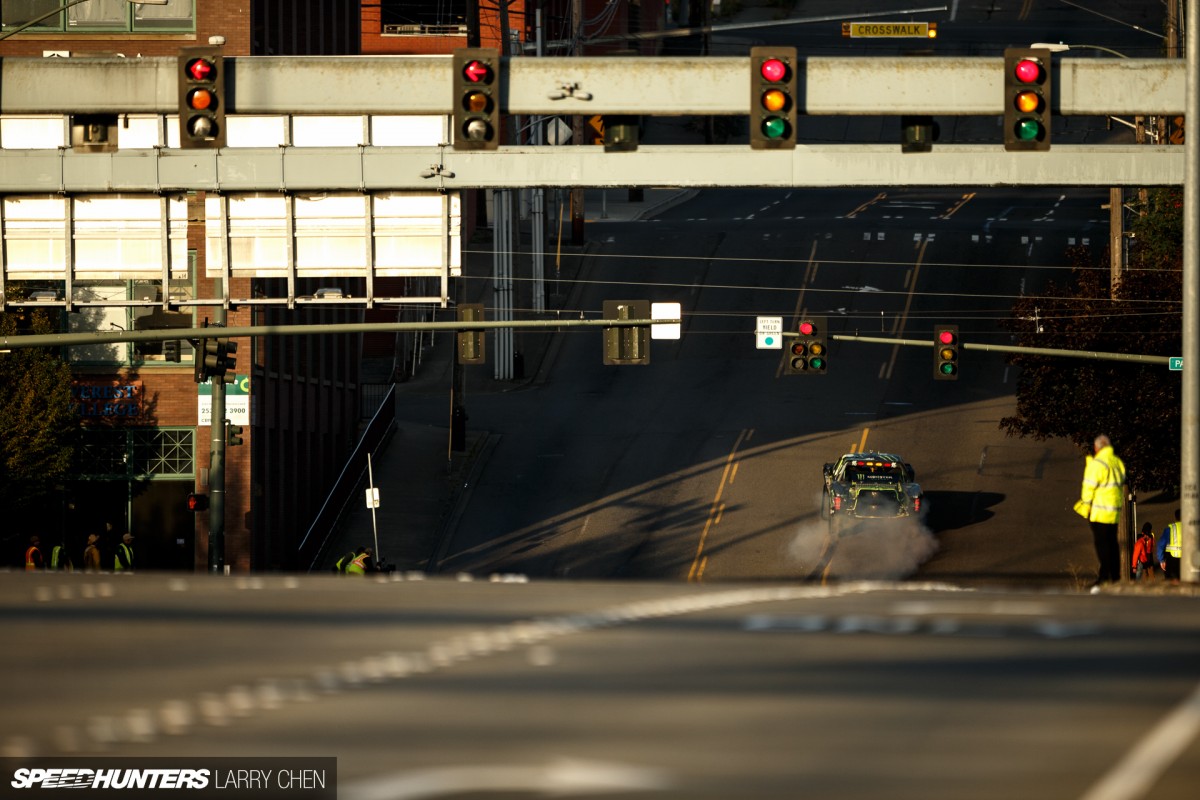 And just like that, BJ drifted all the way back up the street he came from, pitching it sideways from end to end.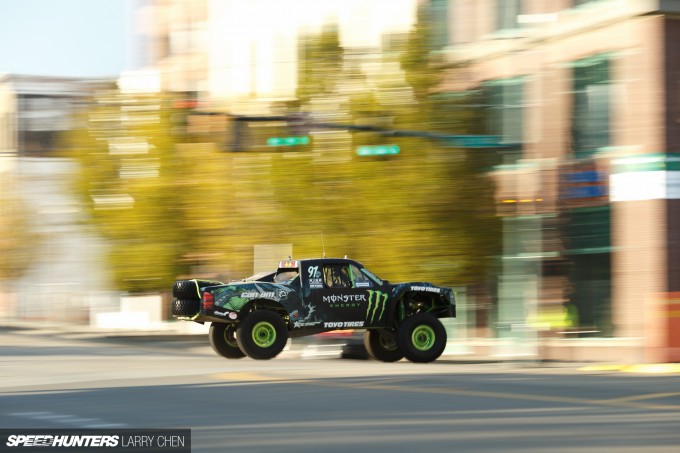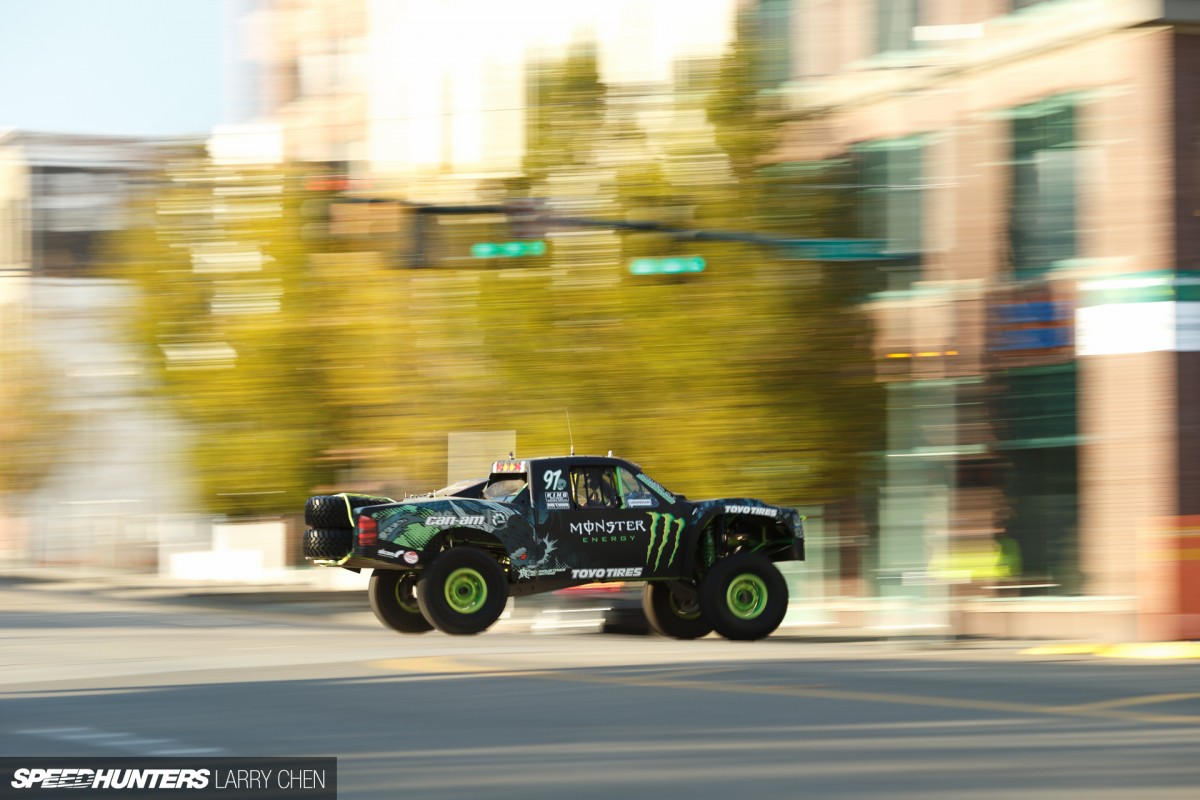 It's hard to tell, but the way he crossed the street coming off the bridge was so cool. The tires barely touched the ground, and I am sure he was going triple-digit speeds. He nearly cleared the entire intersection!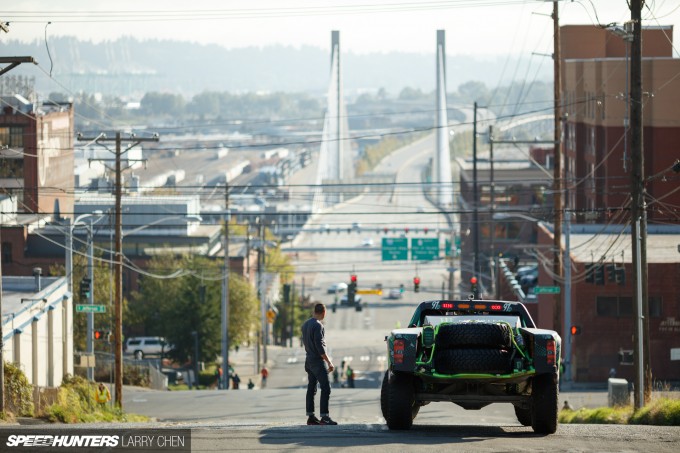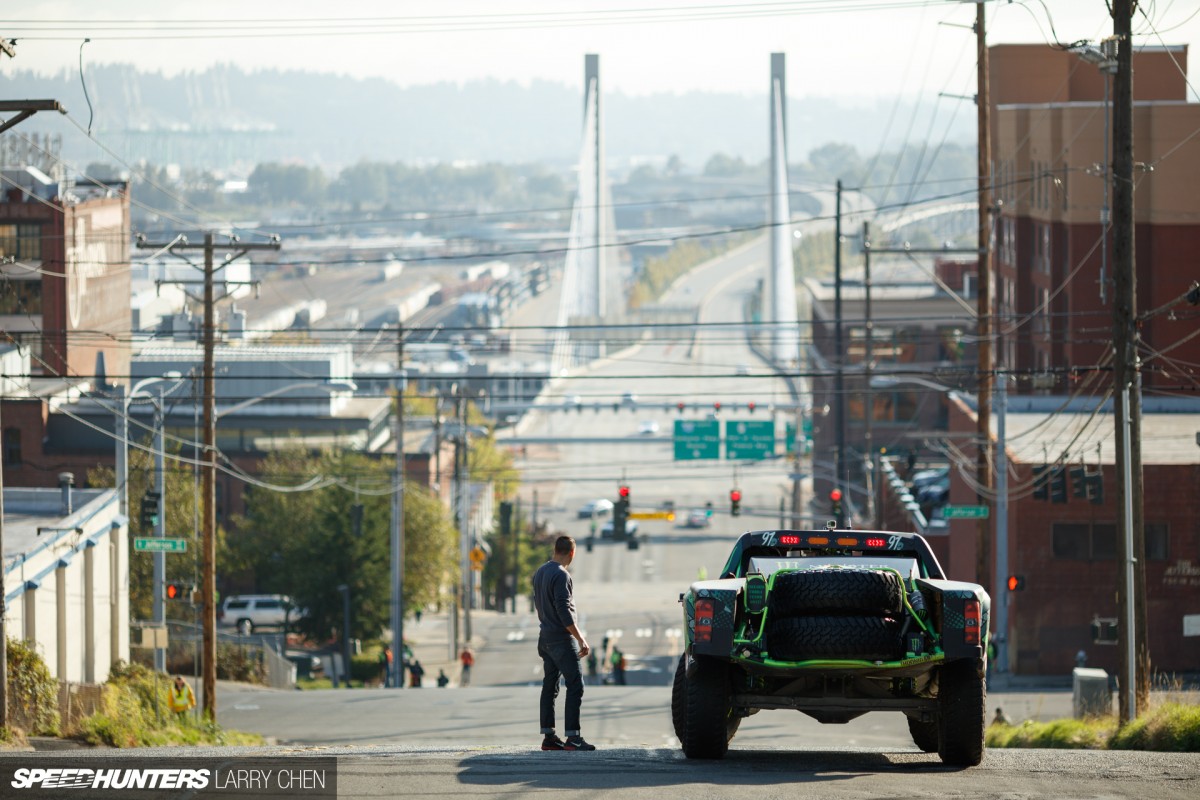 As the day went on, we progressed higher and higher up the hill. This location actually reminded me of the hills of San Francisco.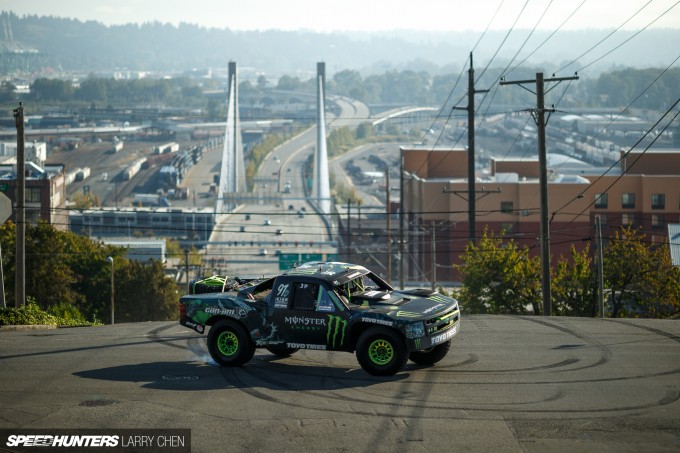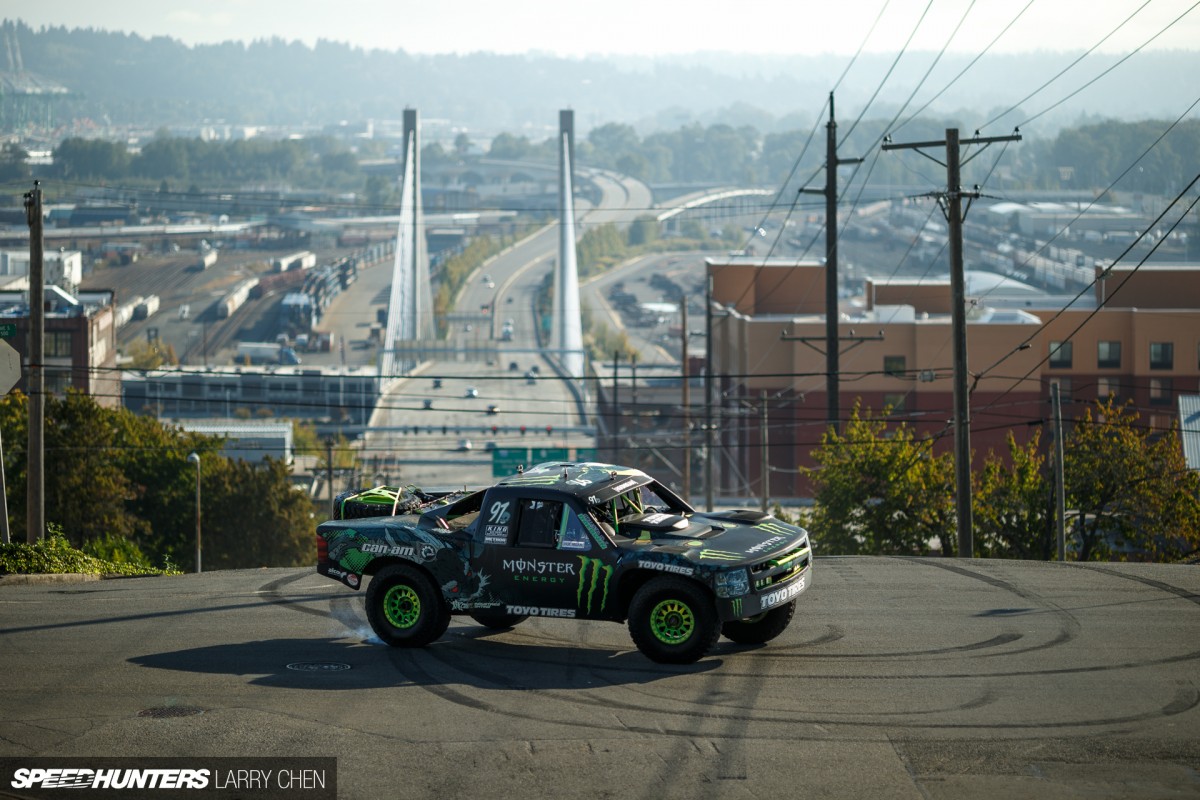 There were a series of these natural drop offs, which meant a potential for big air as long as enough speed was involved.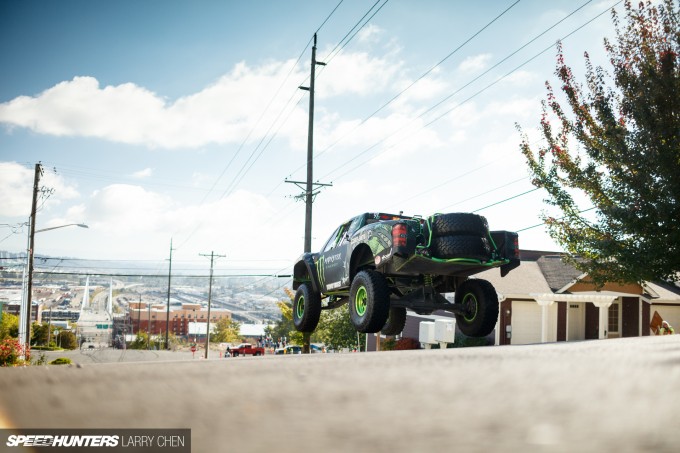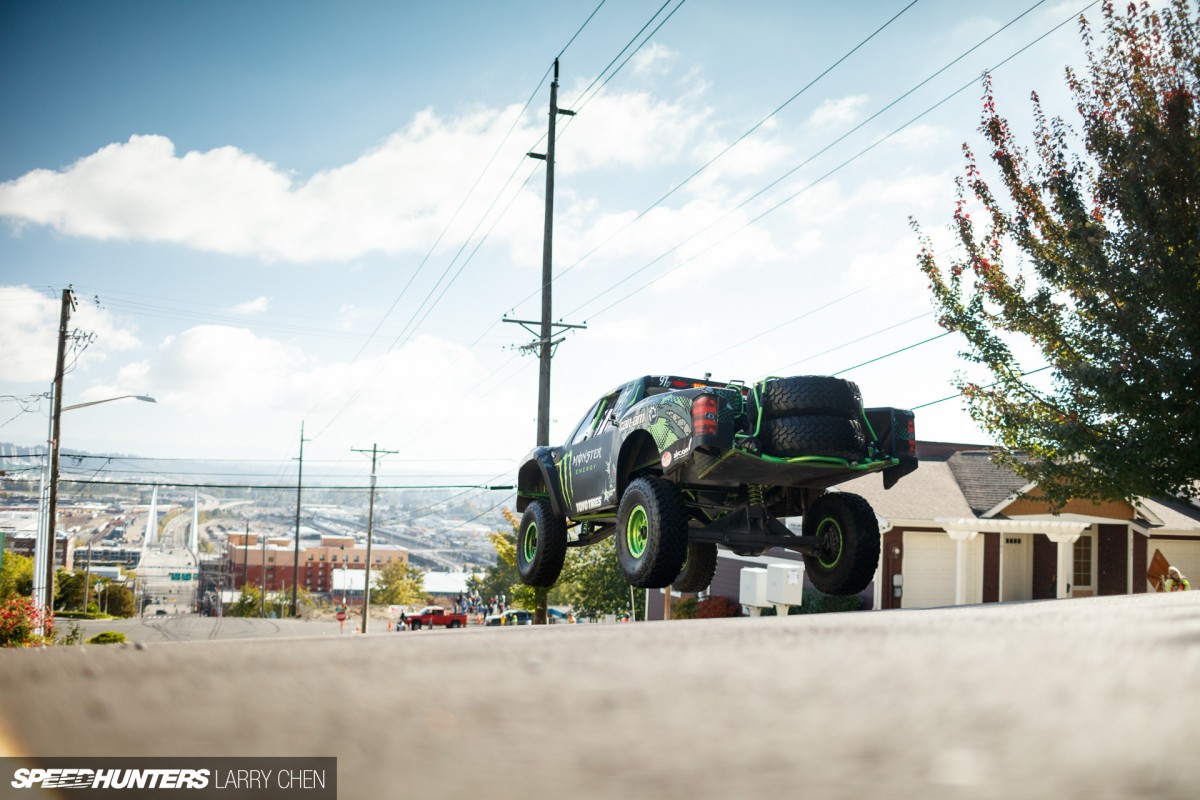 I could not imagine what the people living on the street were thinking. 'Why is this crazy dude flying down our street, and where is he going in such a hurry?'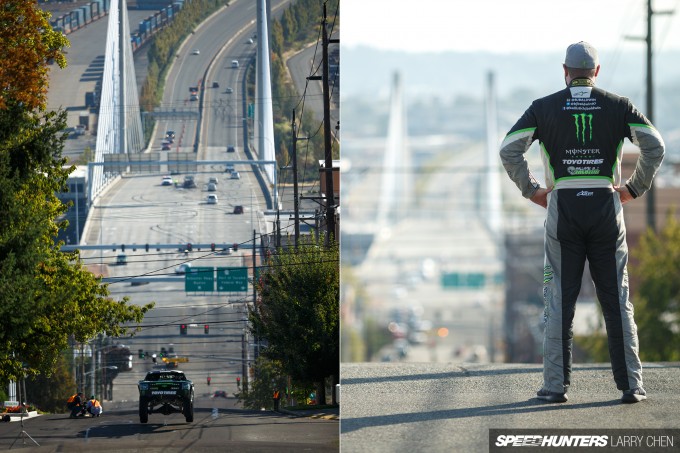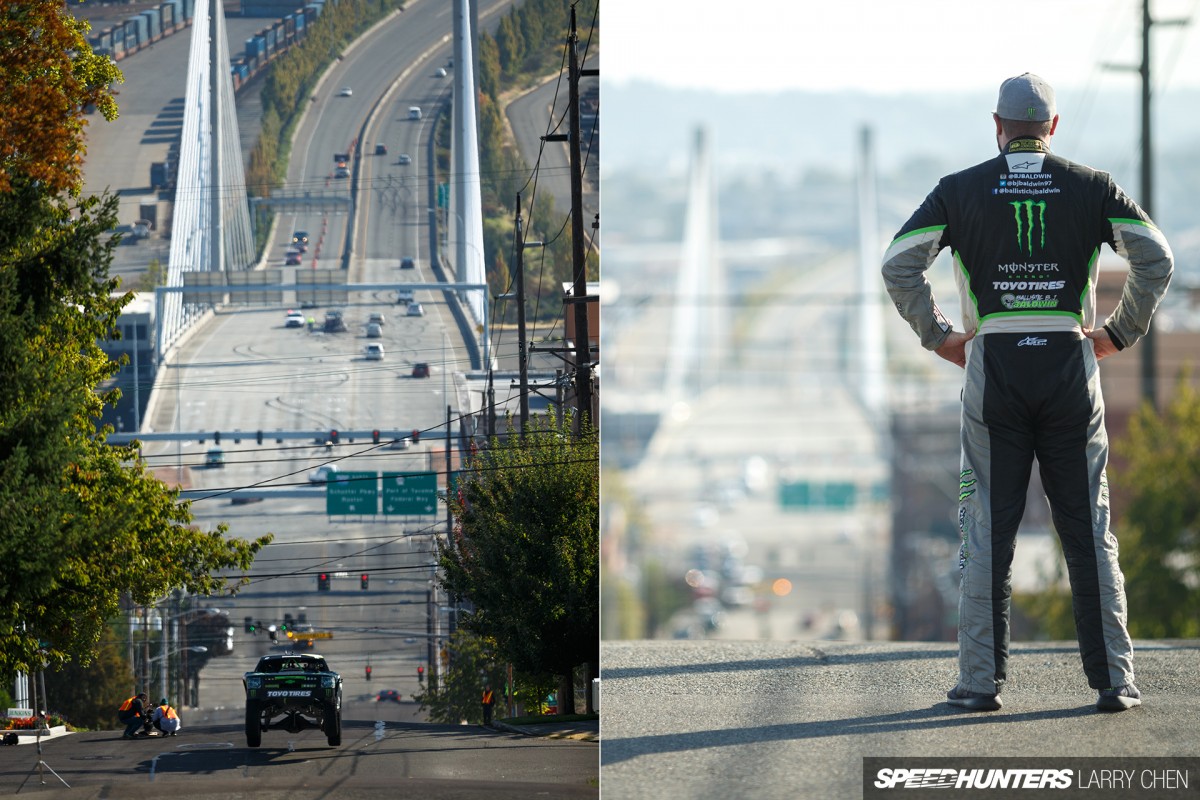 Standing on top of the hill provided the best view as we could see the carnage that BJ had left on the bridge.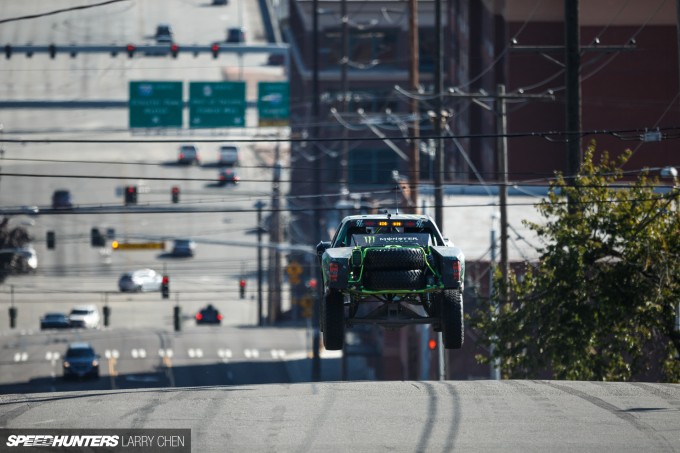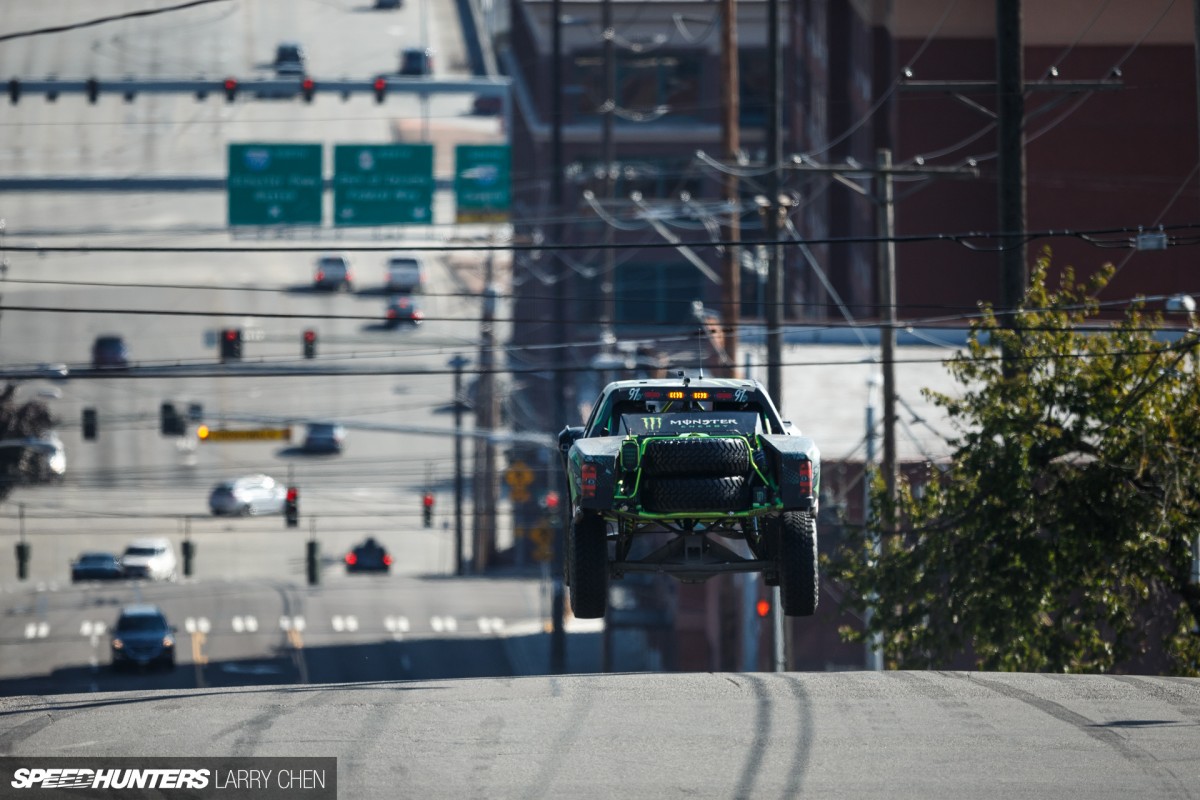 It's just insane how much air he caught barreling down the hill at top speed. In terms of sketchy locations, this was definitely up there. I'm just so glad the city let us do all these stunts.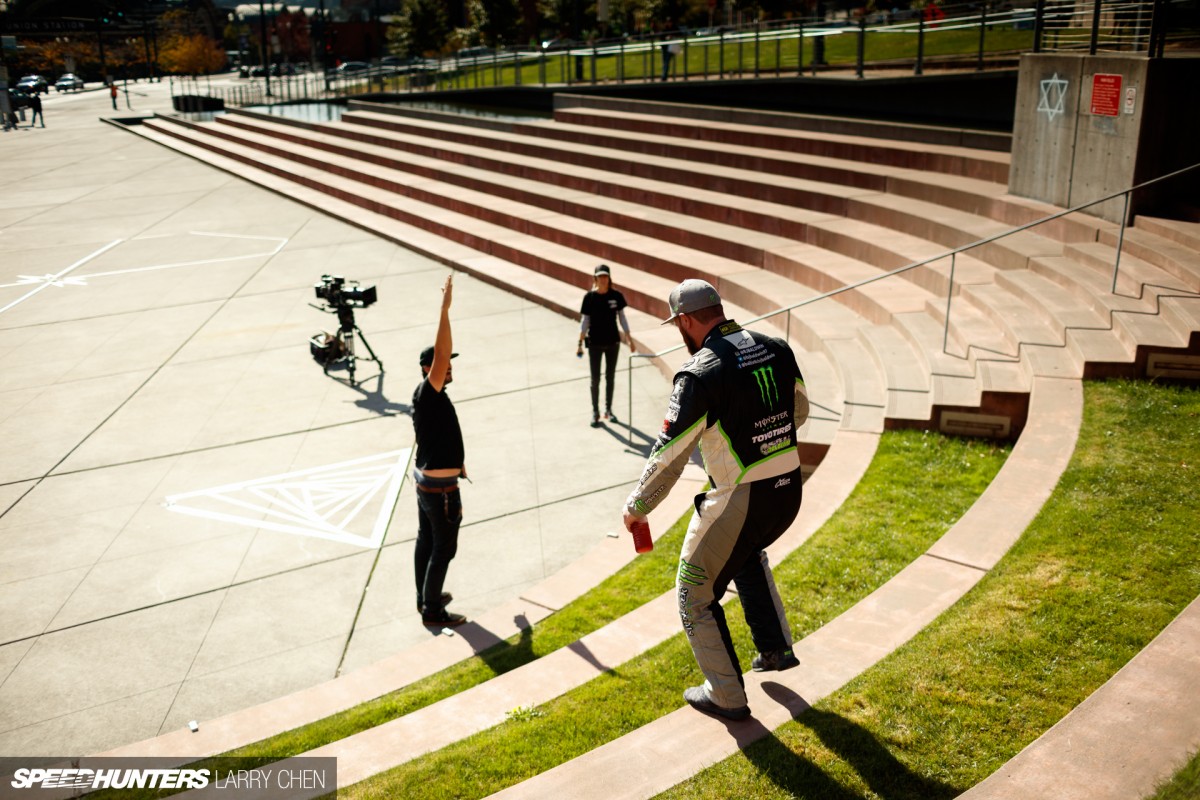 Next up was a bit of a nod to the final trick in Recoil 2: jumping off a set of stairs. Except this time the landing was not in soft sand, and the drop-off was even higher with less of a run up.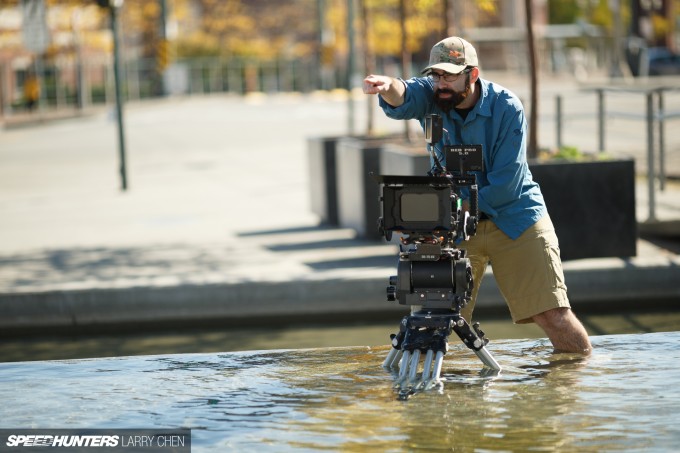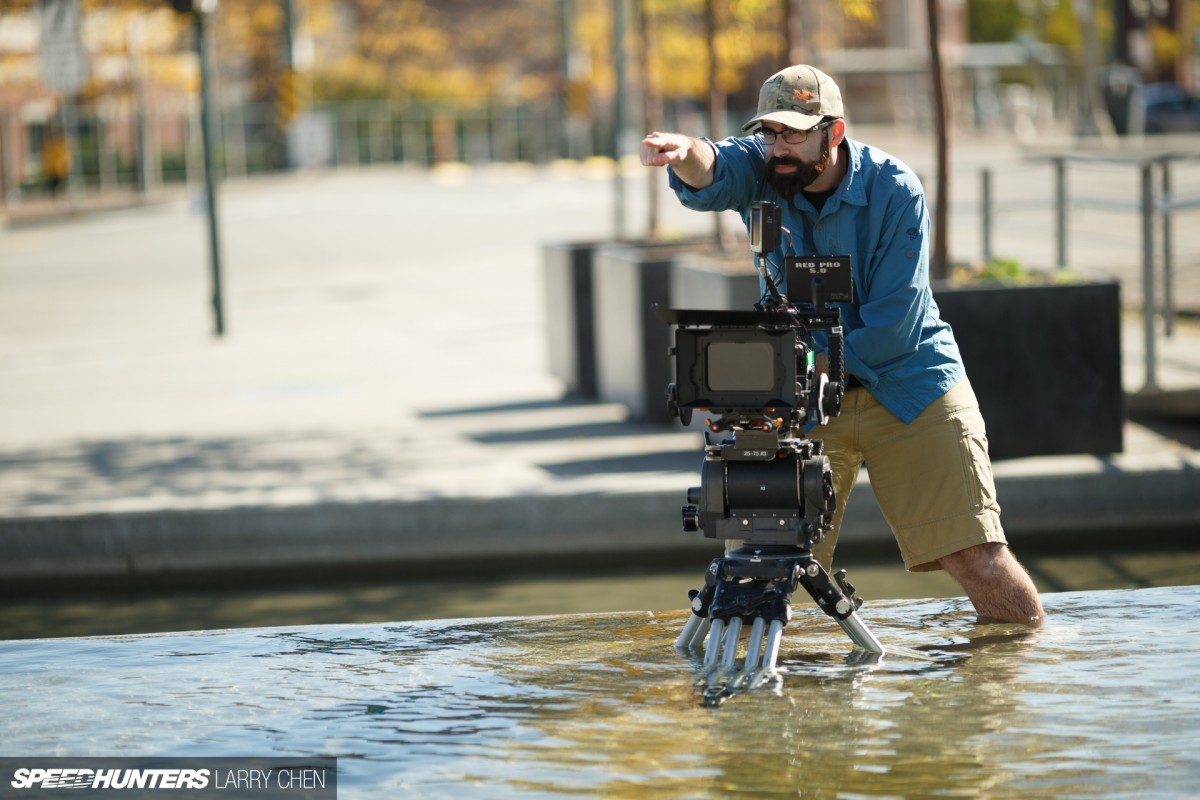 Anything to get the shot, right? It was fairly chilly, but these camera dudes did not care.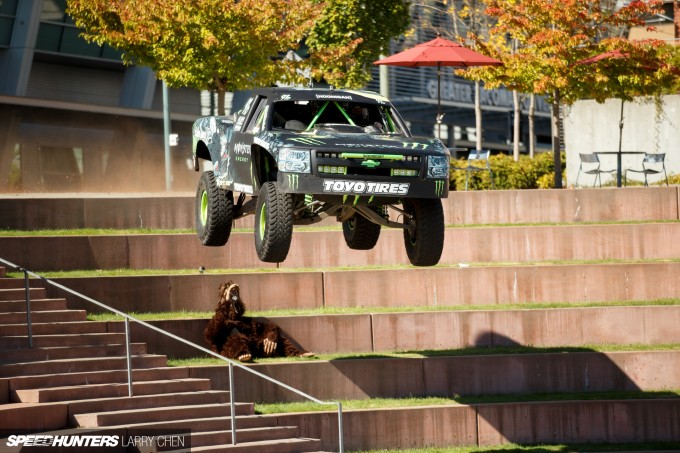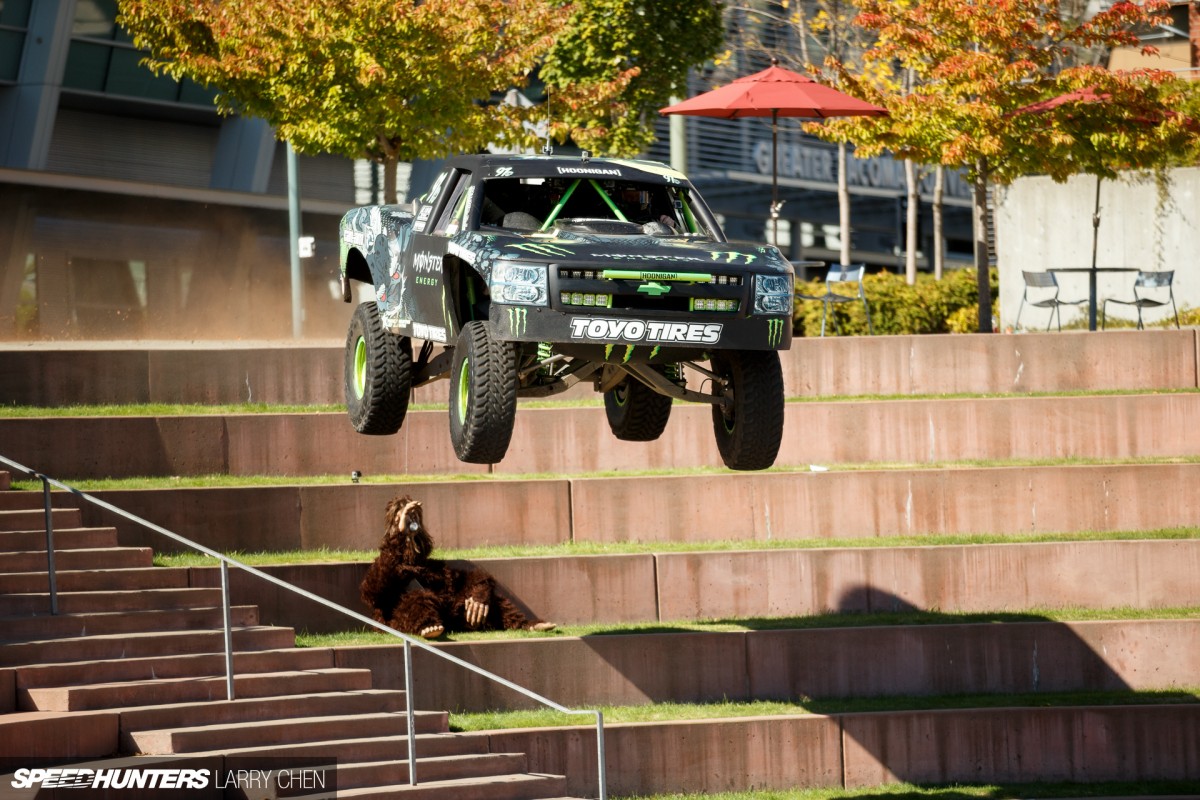 Just your everyday scene – Bruce the Sasquatch drinking Monster Energy, while BJ flies overhead.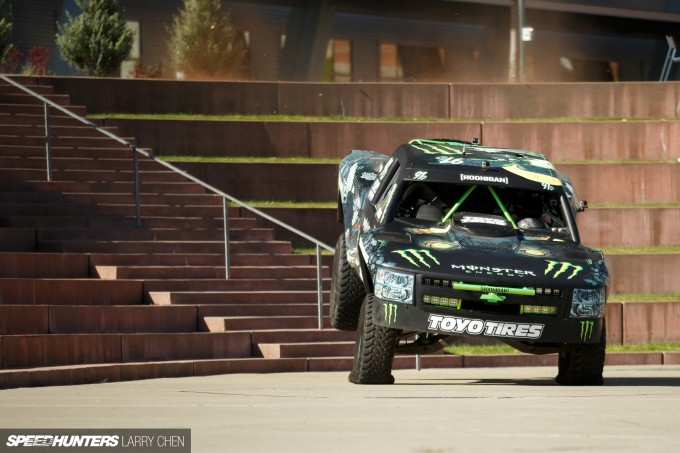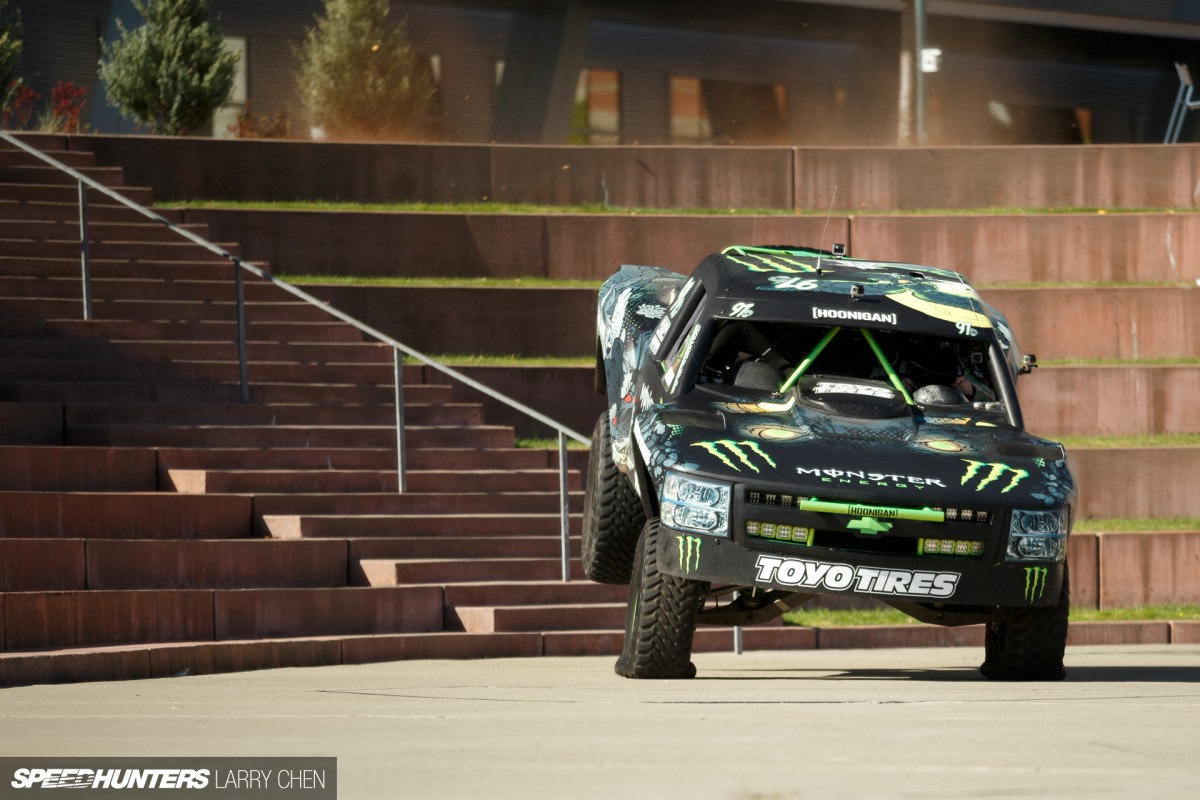 I love this shot so much because you can really see how much the tires deform on contact with the ground. It's almost like the truck was dipping a tire to test the waters.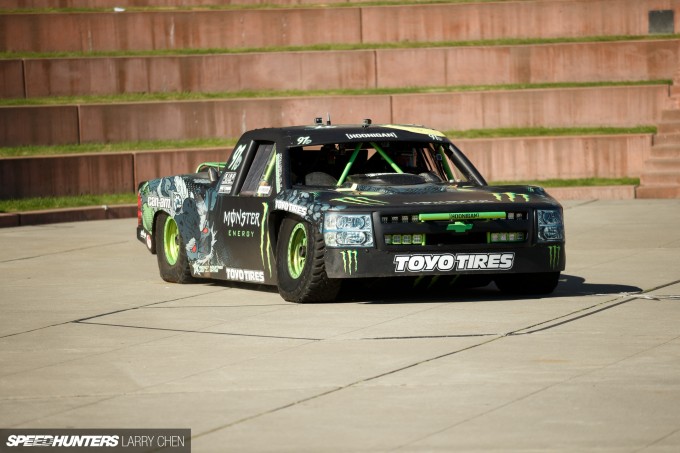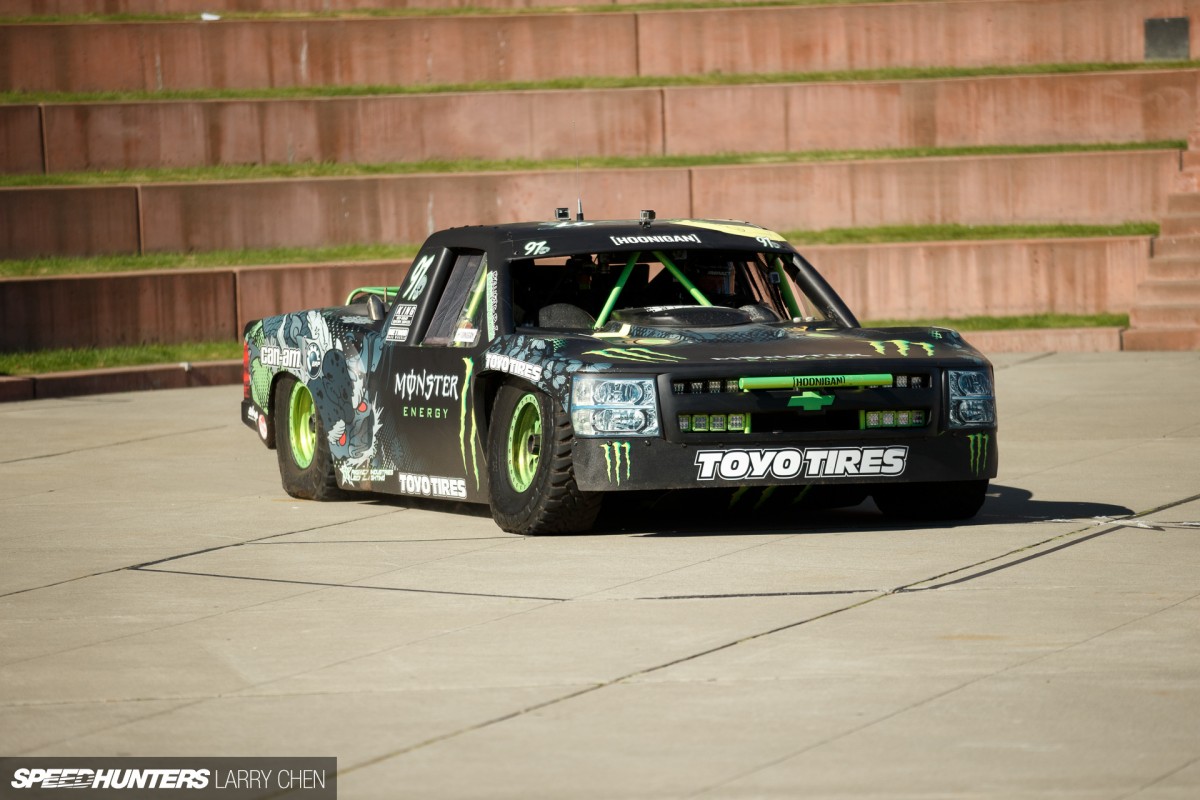 Slammed and ready to go cruising. Can you imagine BJ's truck driving around this low to the ground? It's insane to see how far the suspension can compress.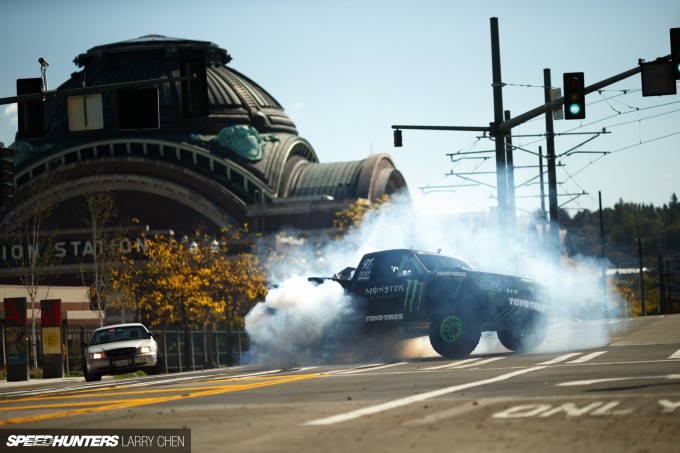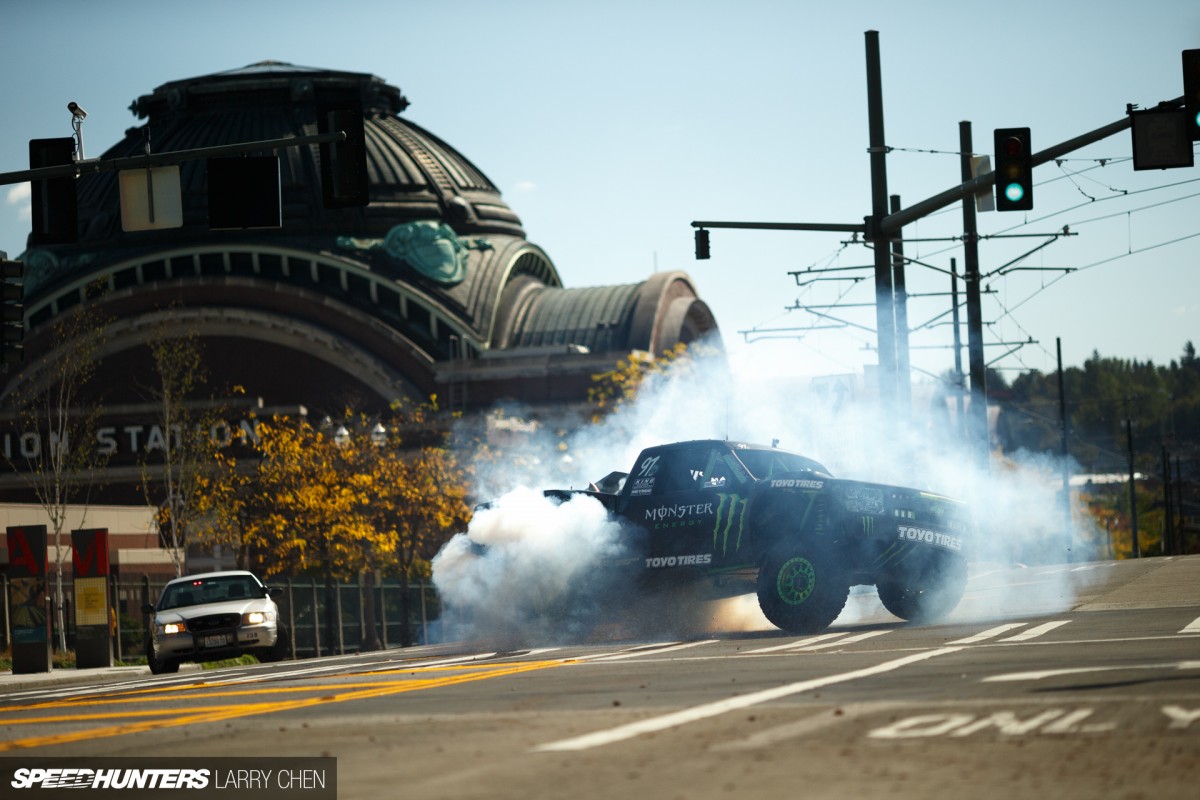 A successful jump calls for some celebratory donuts.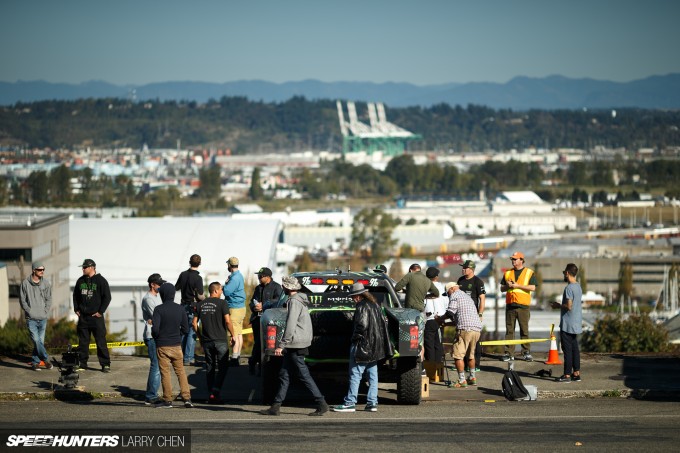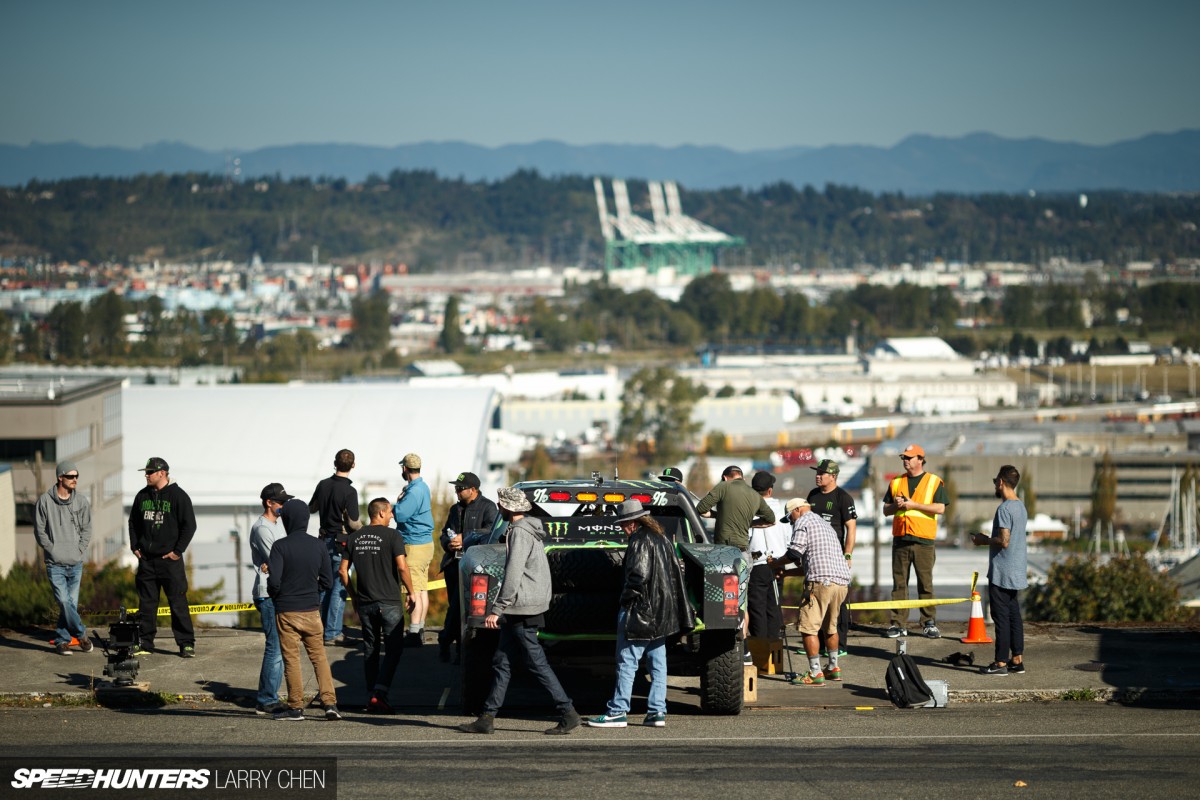 What you guys don't often see is how many people it takes to get a production like this moving. Everyone has a job and everyone works very hard all day to make sure the shoot is running to schedule and that no important shots are missed.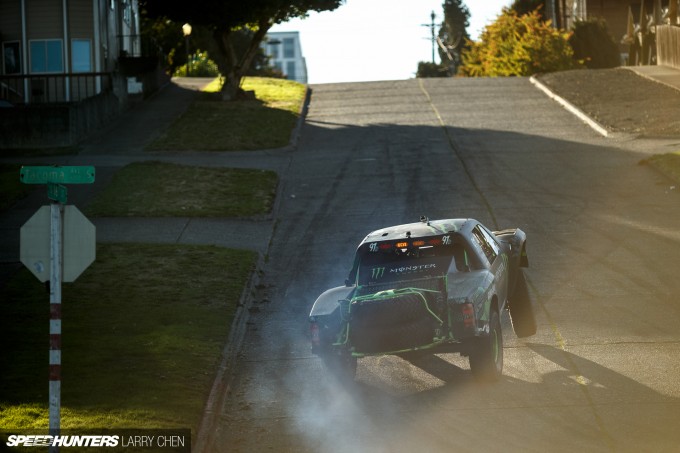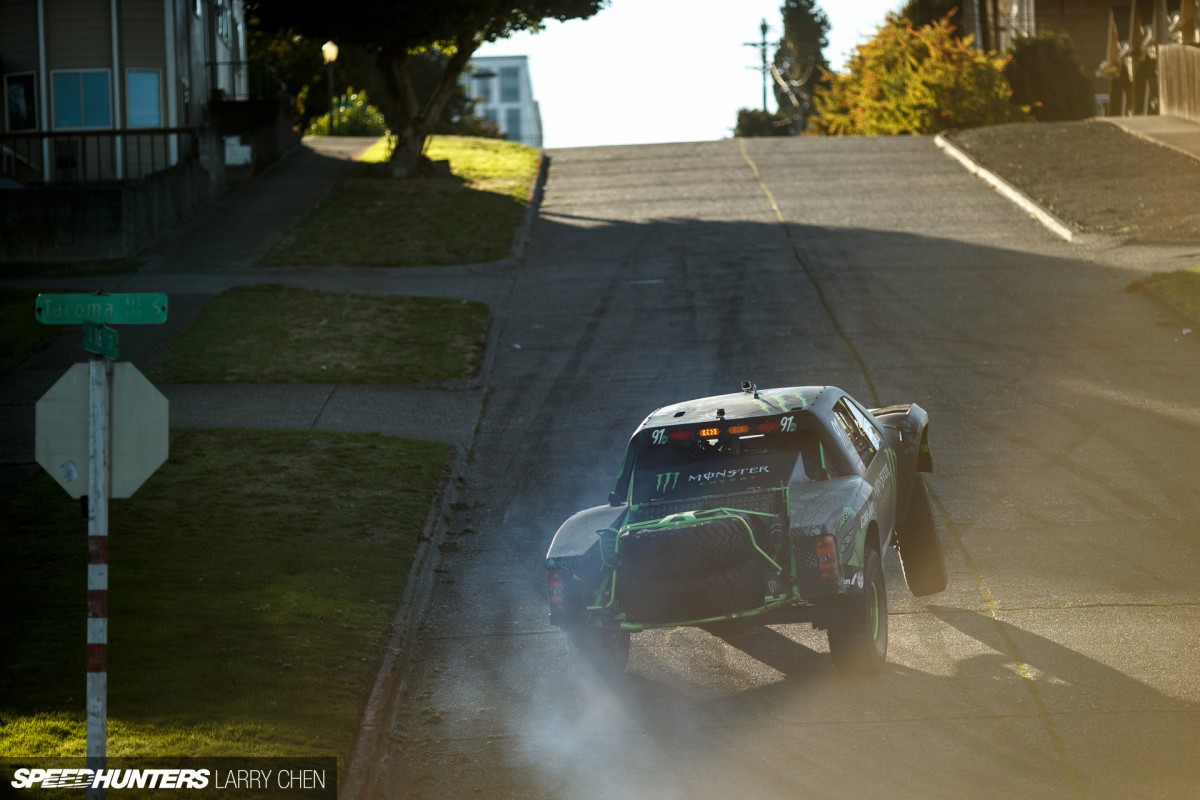 For the next scene, we moved over to Sasquatch's neighbourhood. BJ drifted up and down a few random streets, lifting his inner front tire every corner.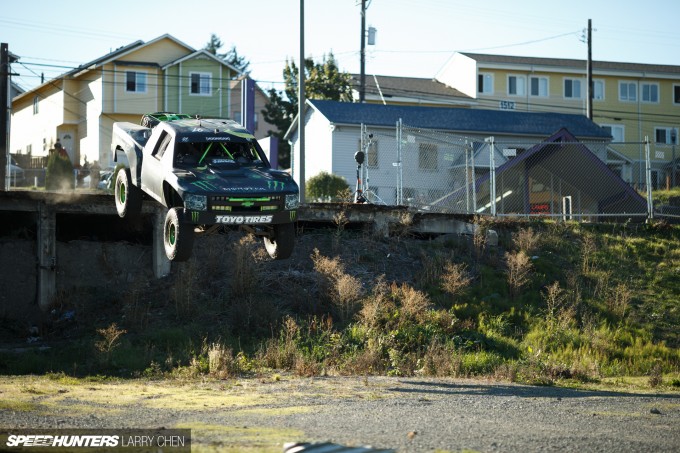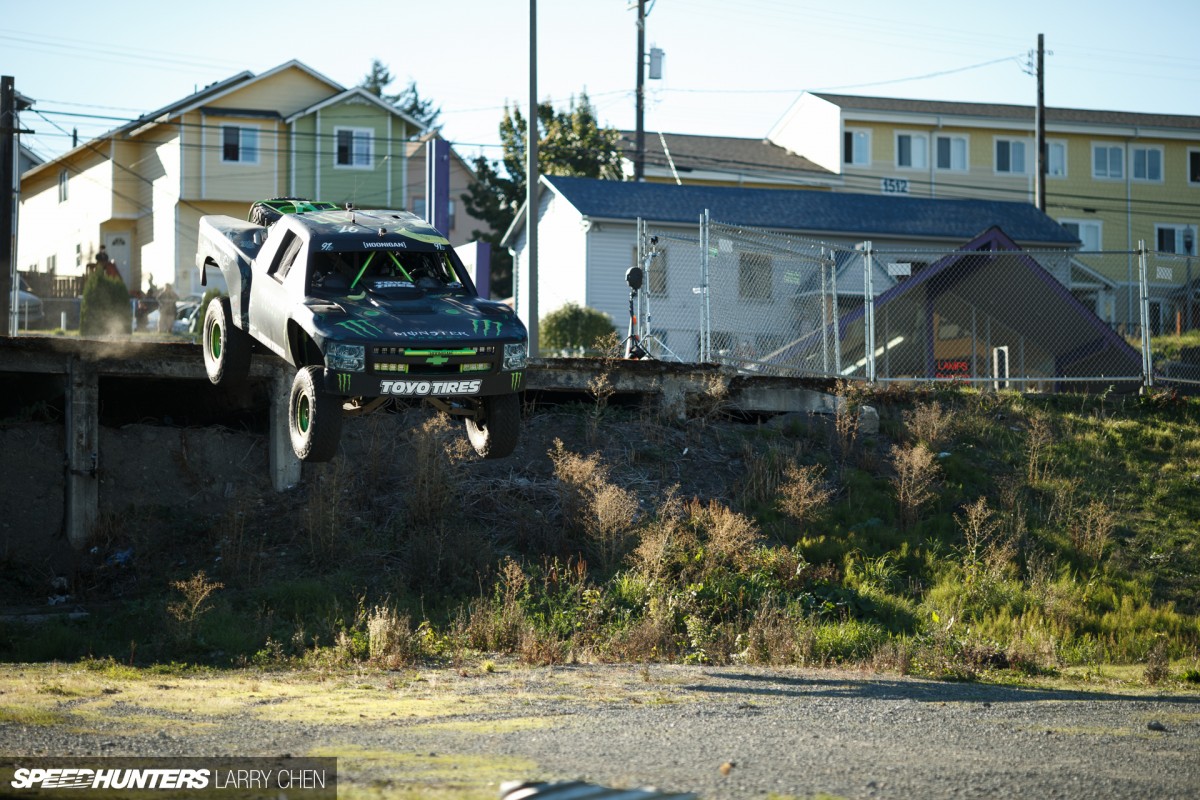 While this drop-off looks kind of tame compared to some of the other stuff BJ was driving off, it definitely wasn't the case.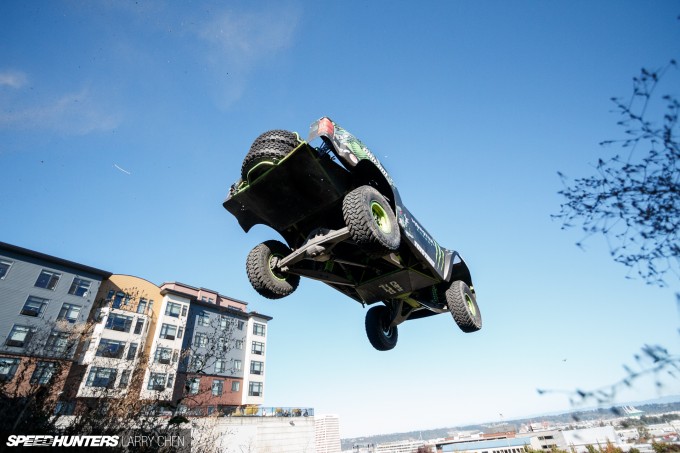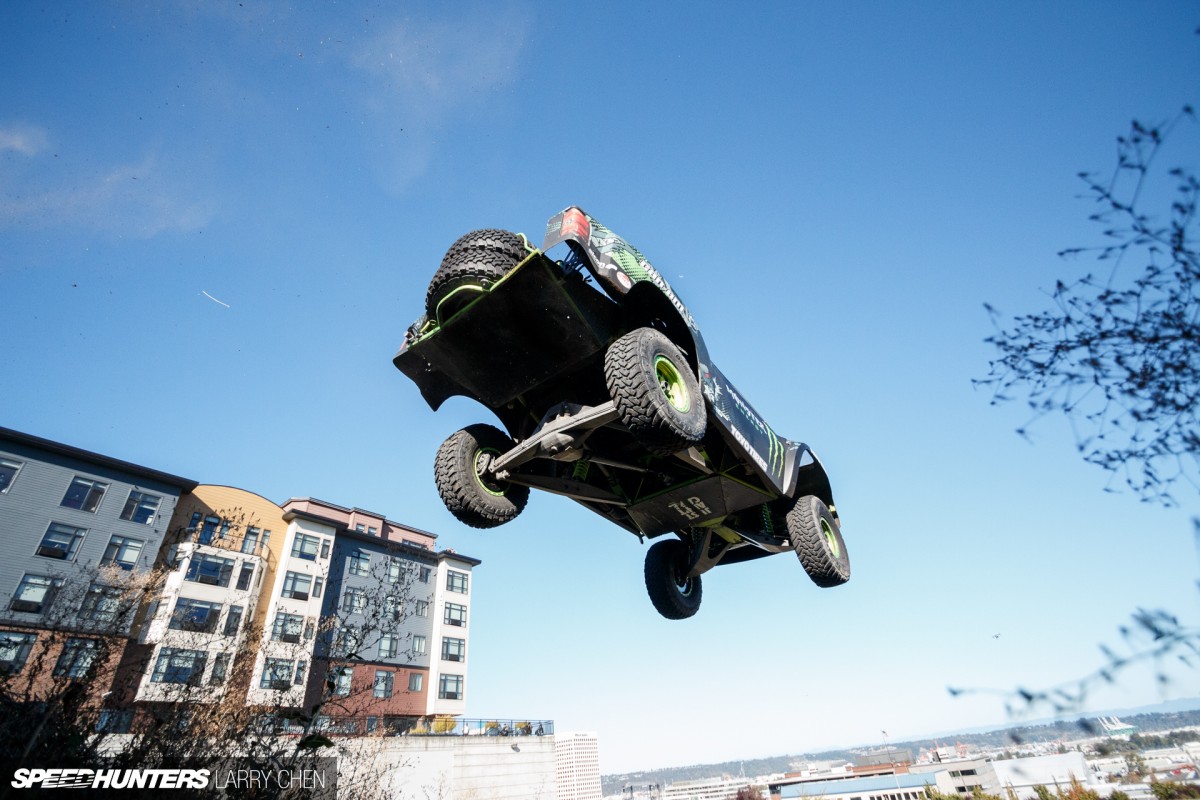 In fact, this was probably one of the biggest, and I'm sure he would have felt the repercussions the next morning. It was rough enough that BJ only did this drop-off one time.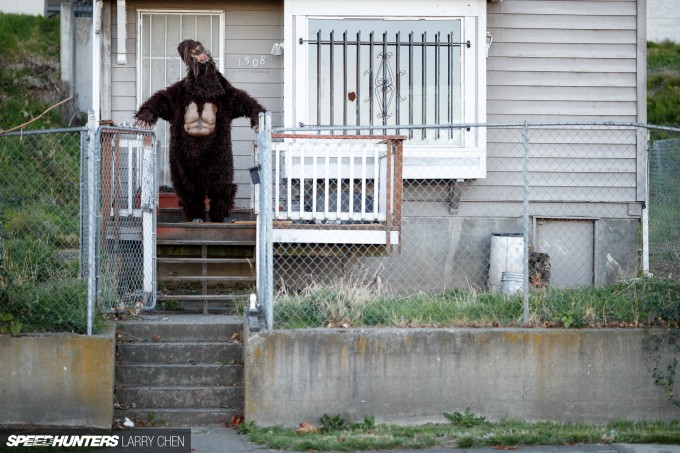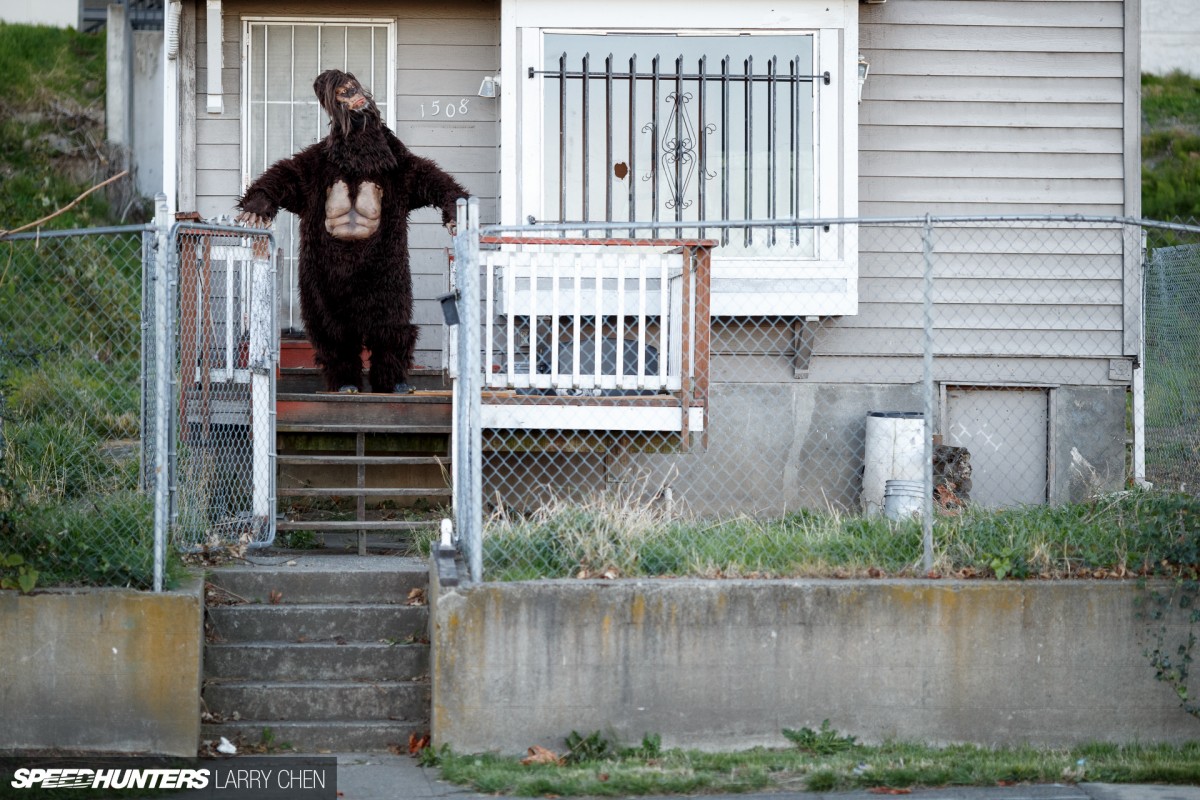 For Bruce's abode, the location scouts found an abandoned house. It was perfect as there were plenty of natural obstacles around it.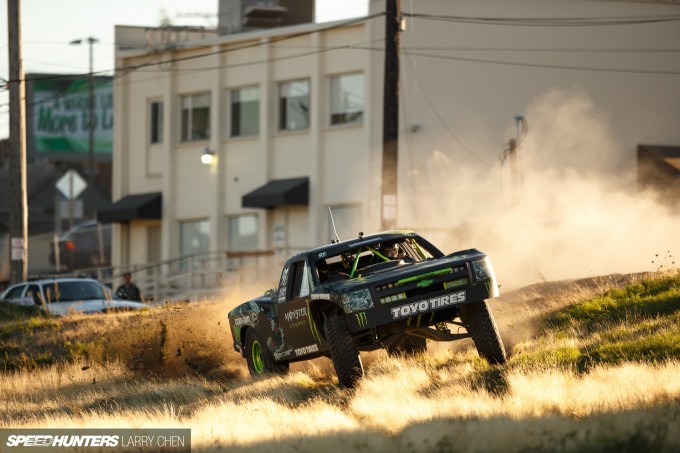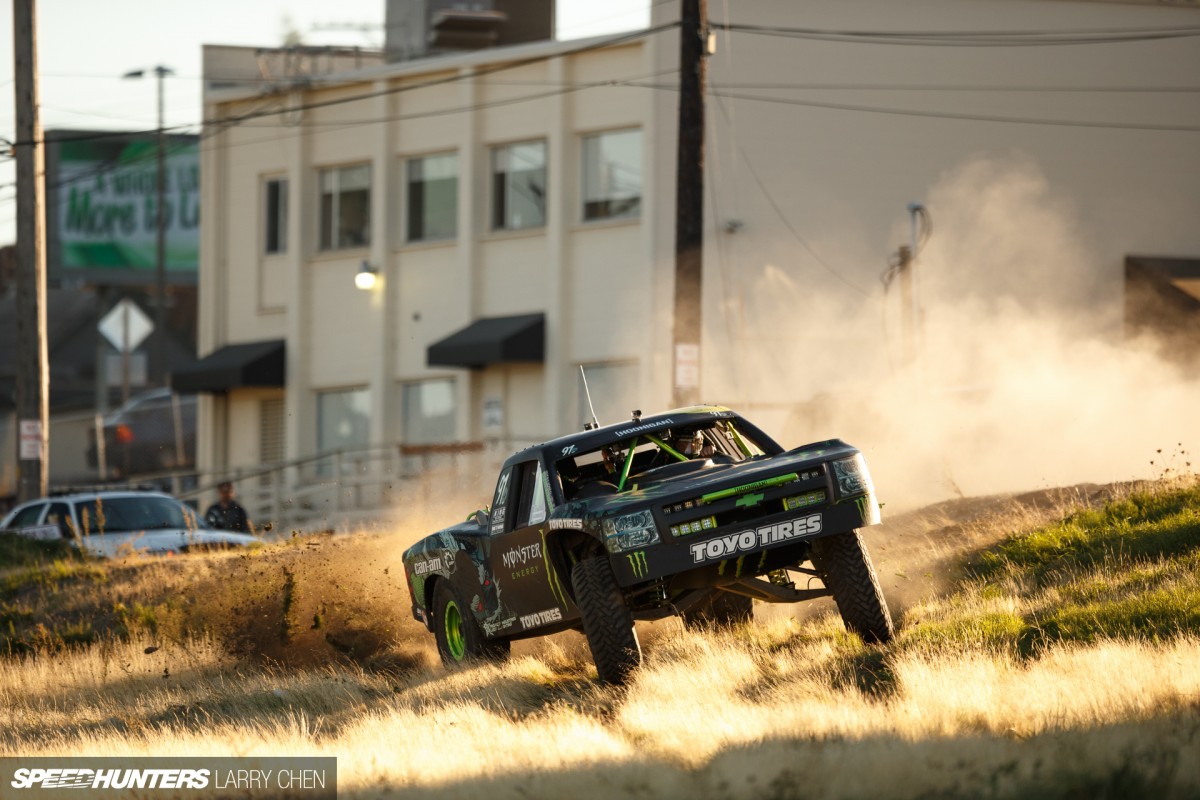 With the sun setting, it was almost time to wrap things up. We were pumped on another full-on day of action-packed shooting.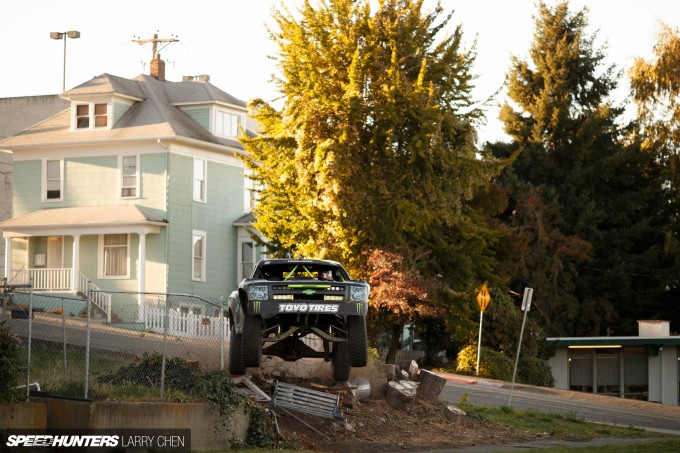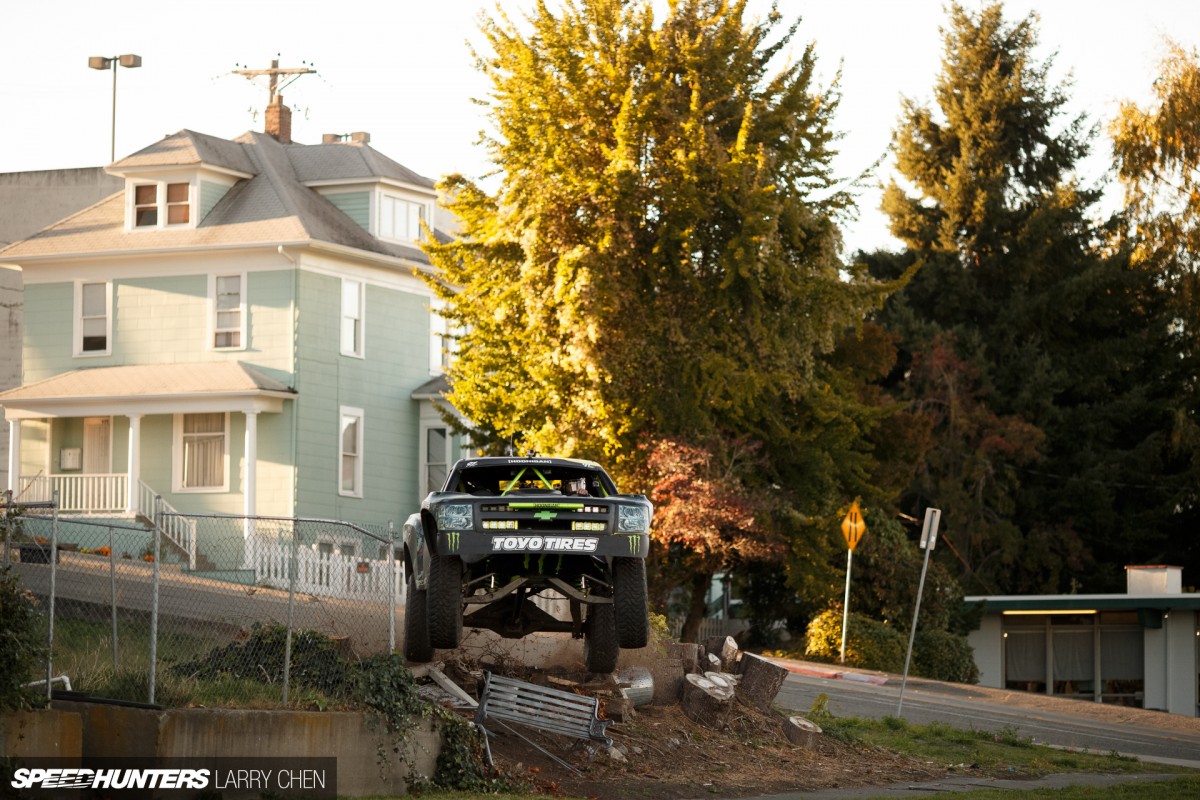 This is one way to take a shortcut.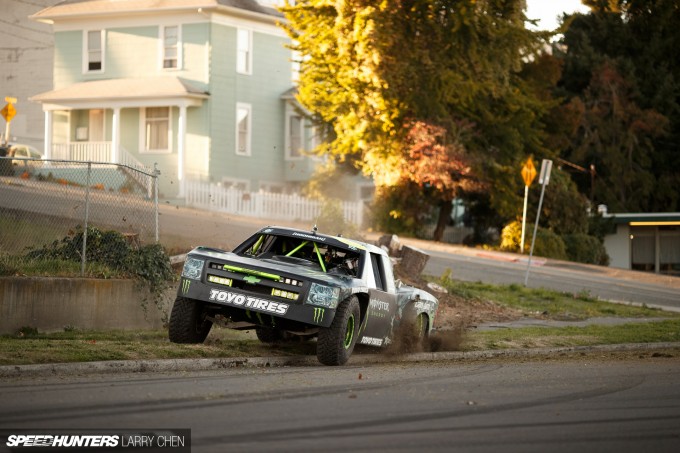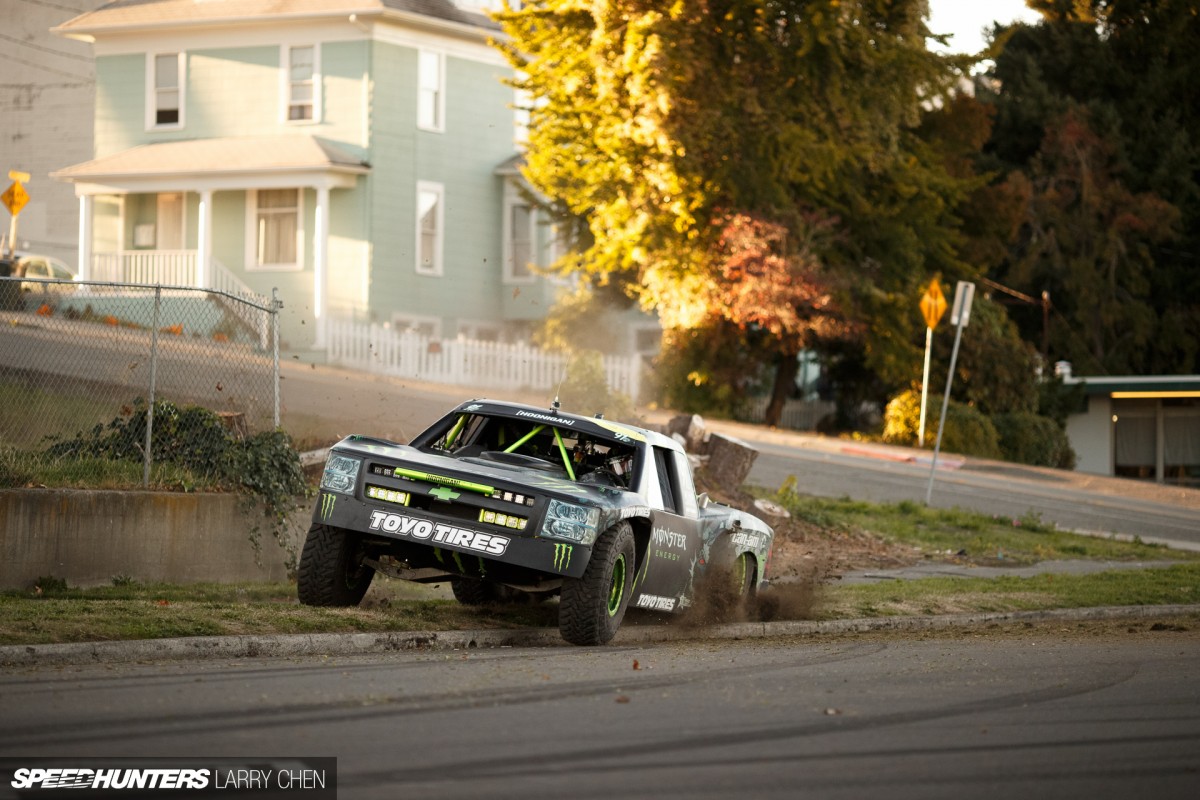 Curbs and pedestrian walkways were no match for the Hoonigan.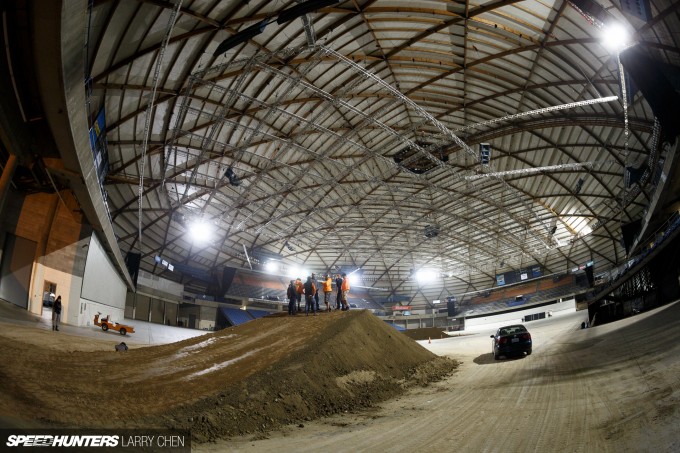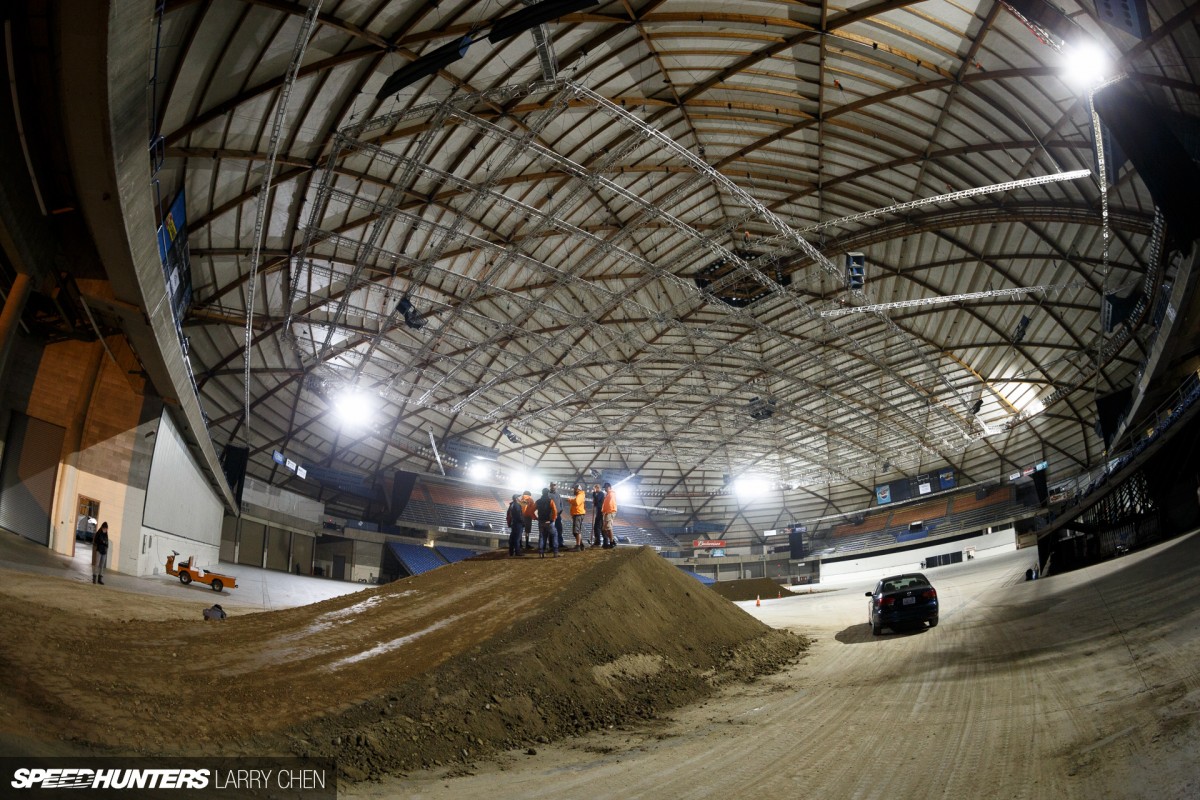 There was just one last thing to do. We headed over to the Tacoma Dome indoor stadium where the stunt guys had built an epic 180-foot jump. When I saw it, I couldn't believe how large the gap was.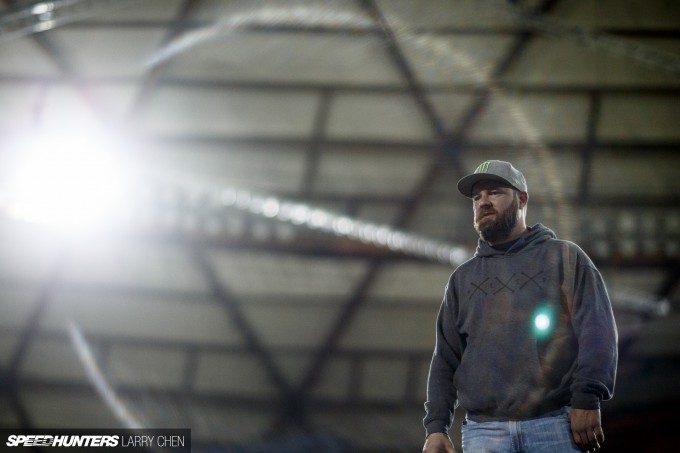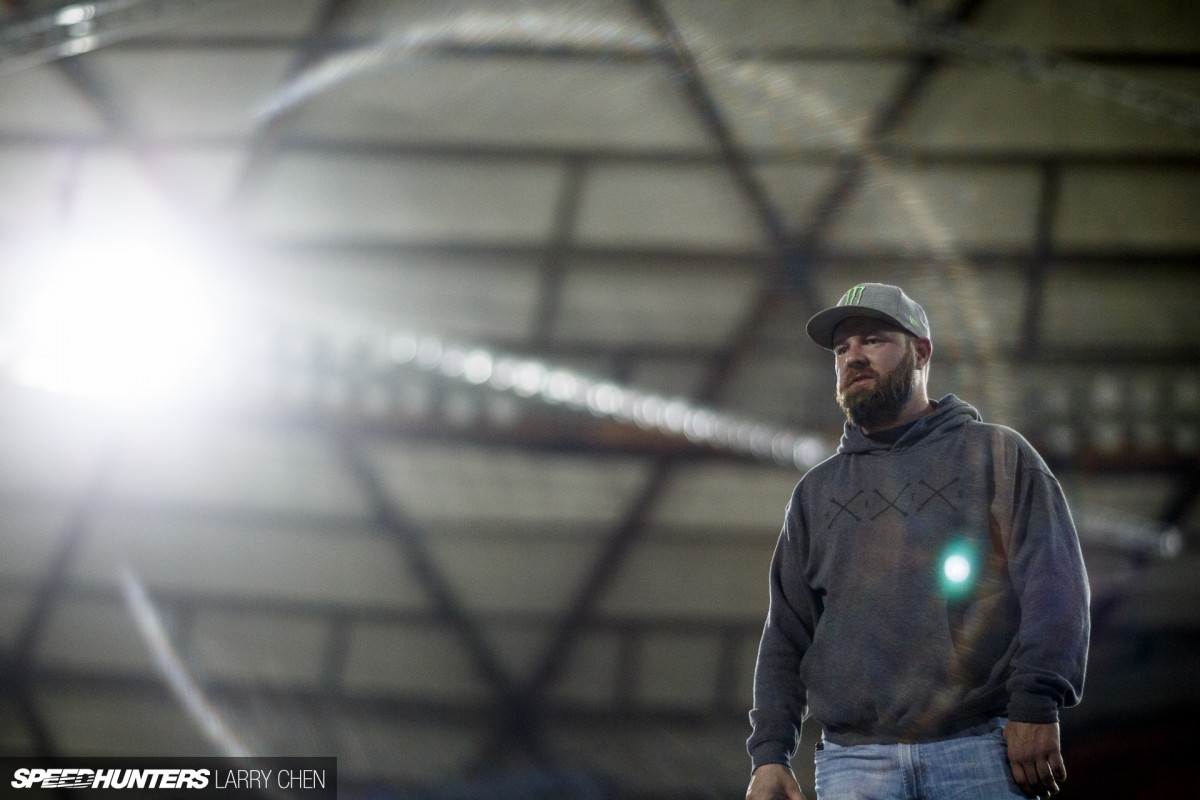 But of course, I was not going to be the one to jump it. BJ lost all color in his face and said, "This is too big." All of a sudden he was not the same guy.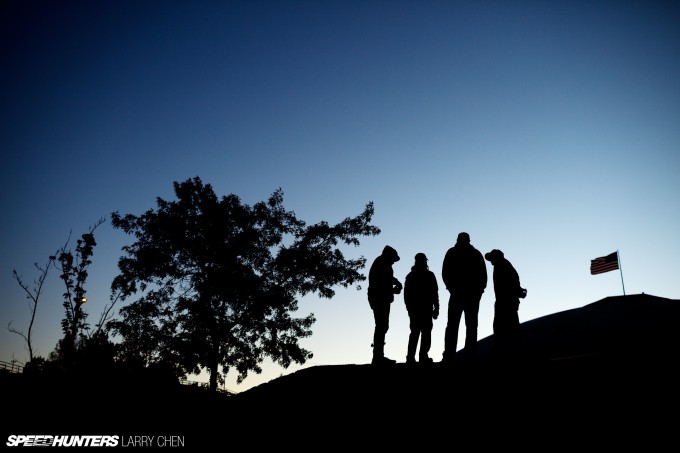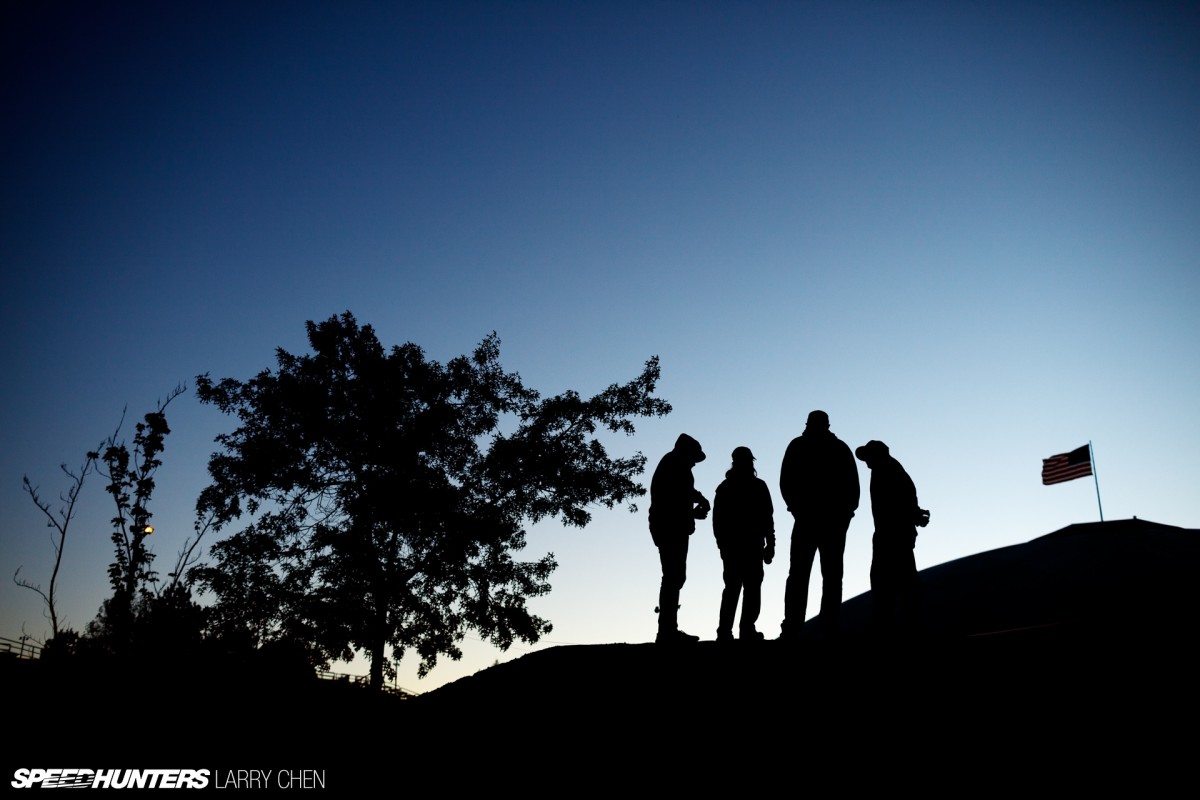 From then on, BJ was quiet; I think he was playing in his mind all the different scenarios that could happen. With one more full day of shooting ahead of us, including the big jump, we turned in for the night.
Day 3: The Big Jump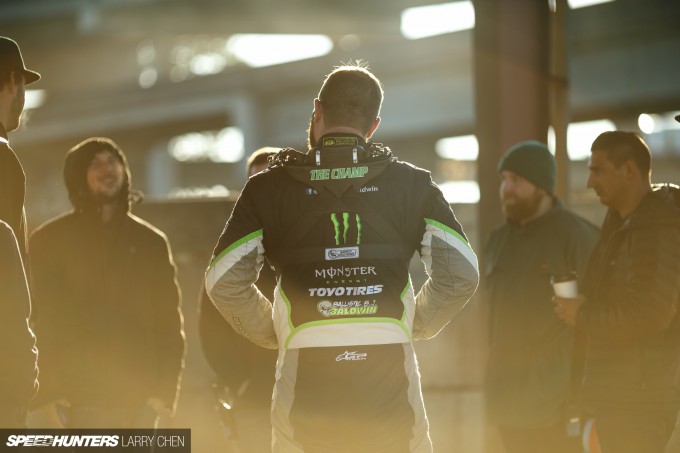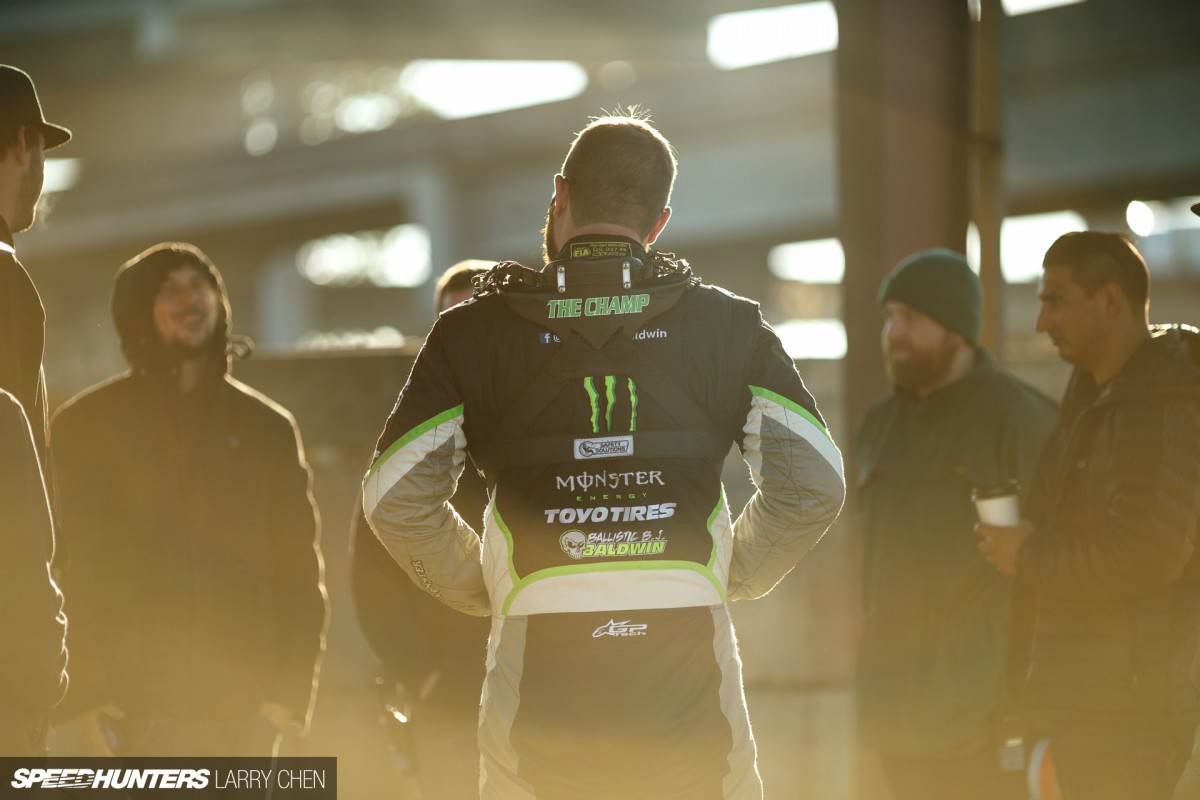 Day three started off with a bang. BJ didn't really eat much, and all that was on his mind was the jump.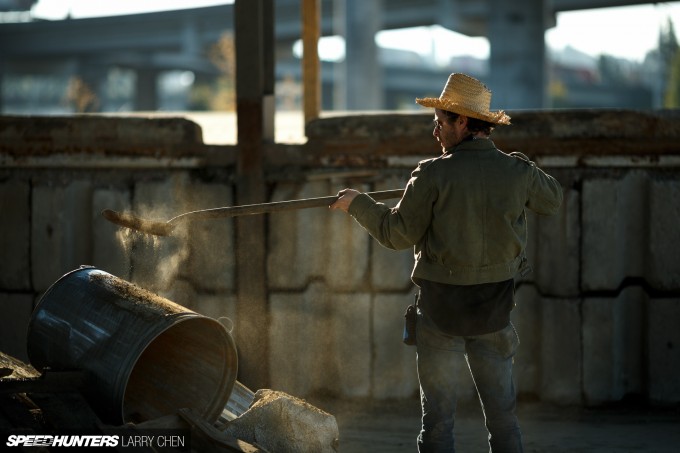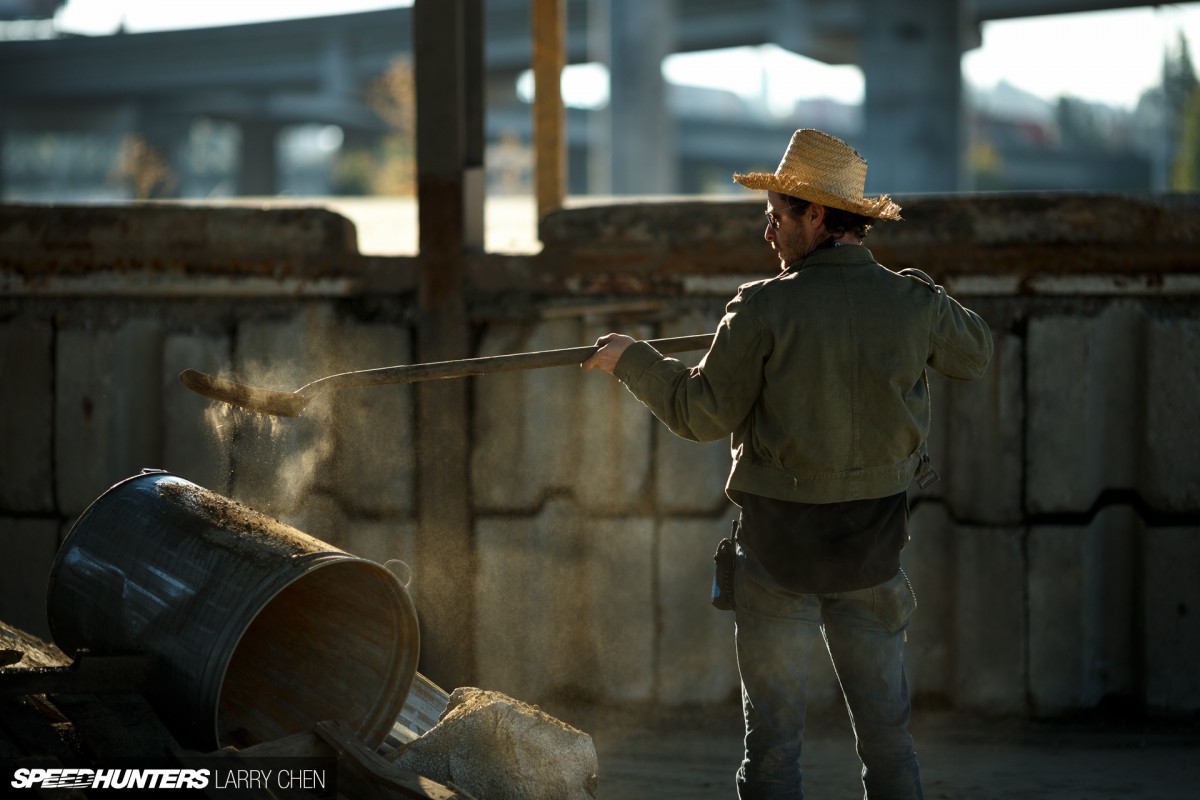 When I arrived, the art department was still dressing up the set.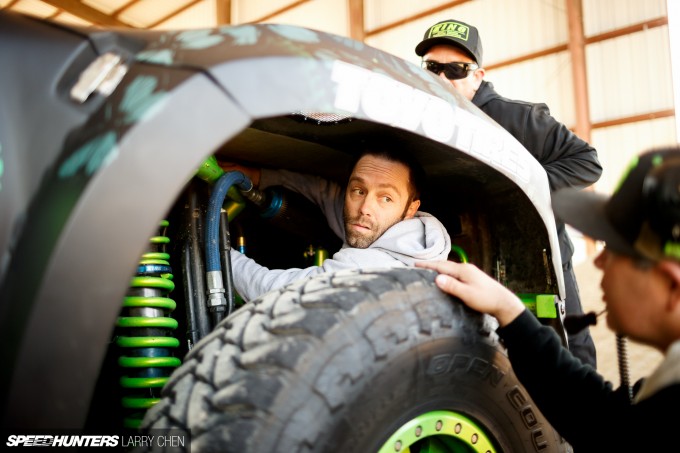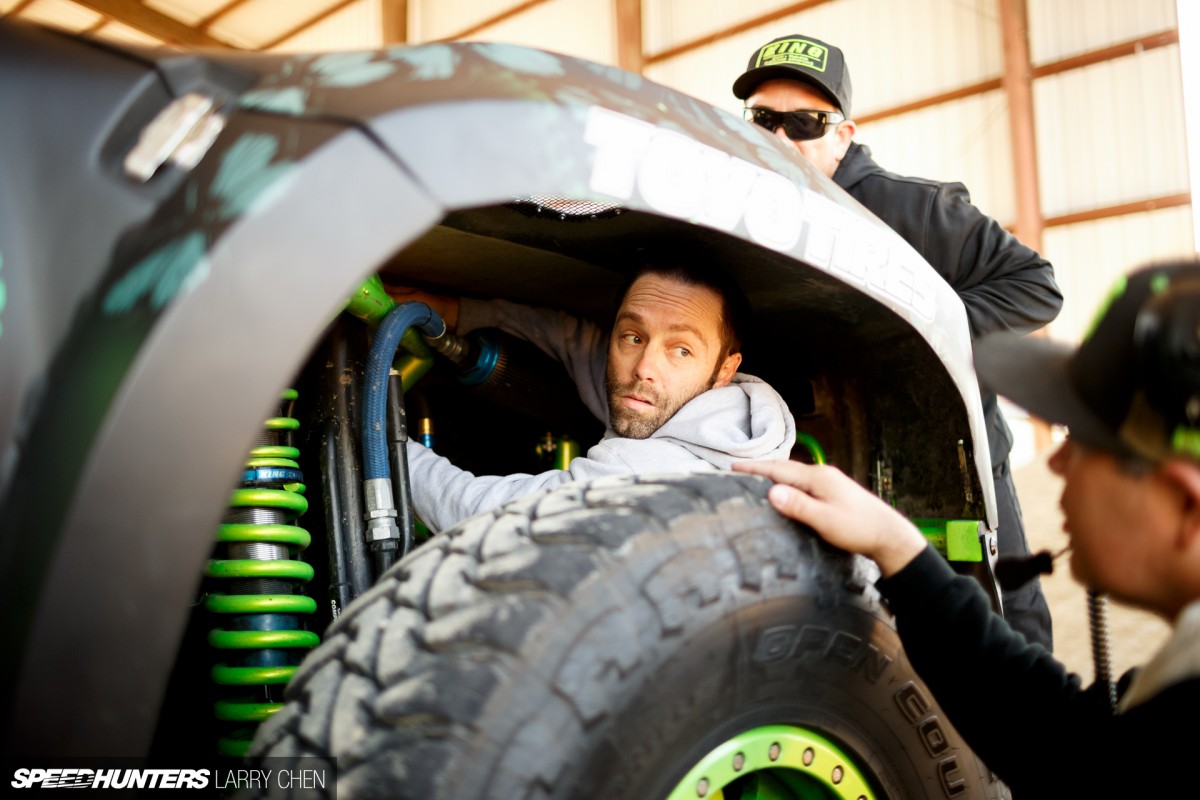 And the camera team was still rigging up the truck with GoPros.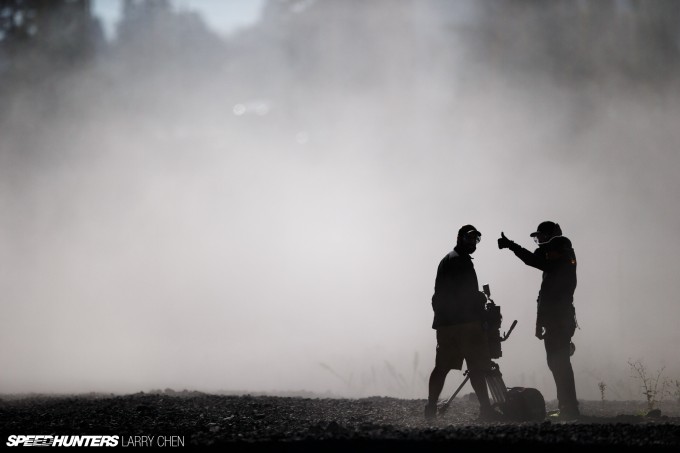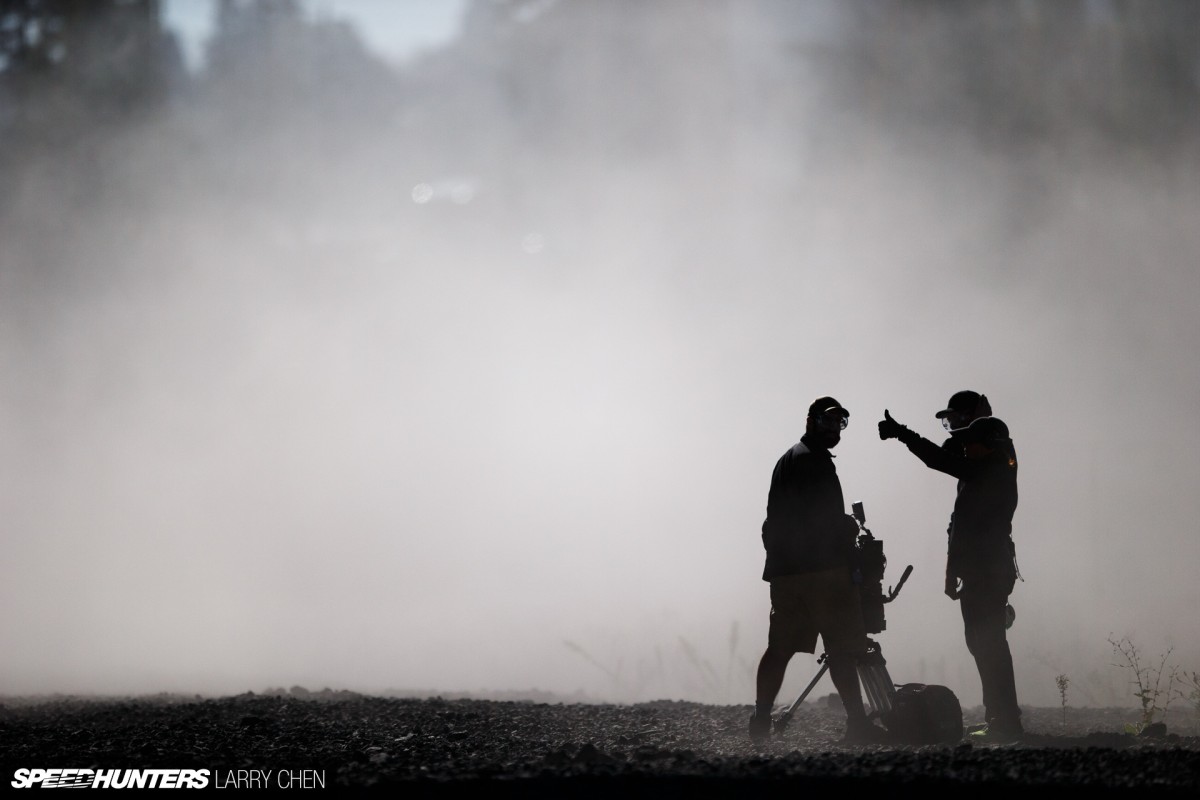 Before we knew it, the final day of filming had begun.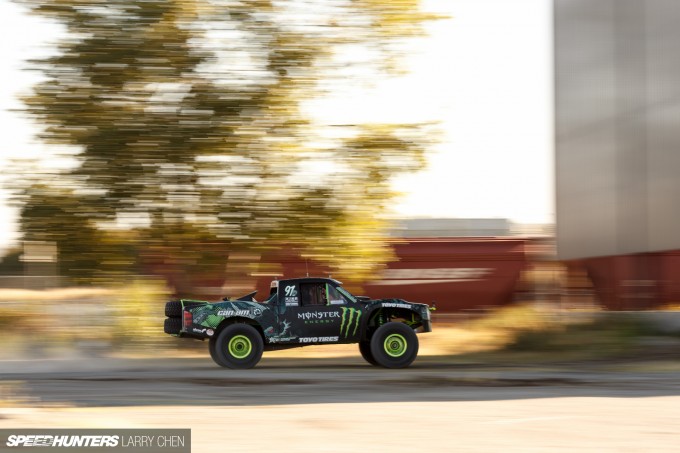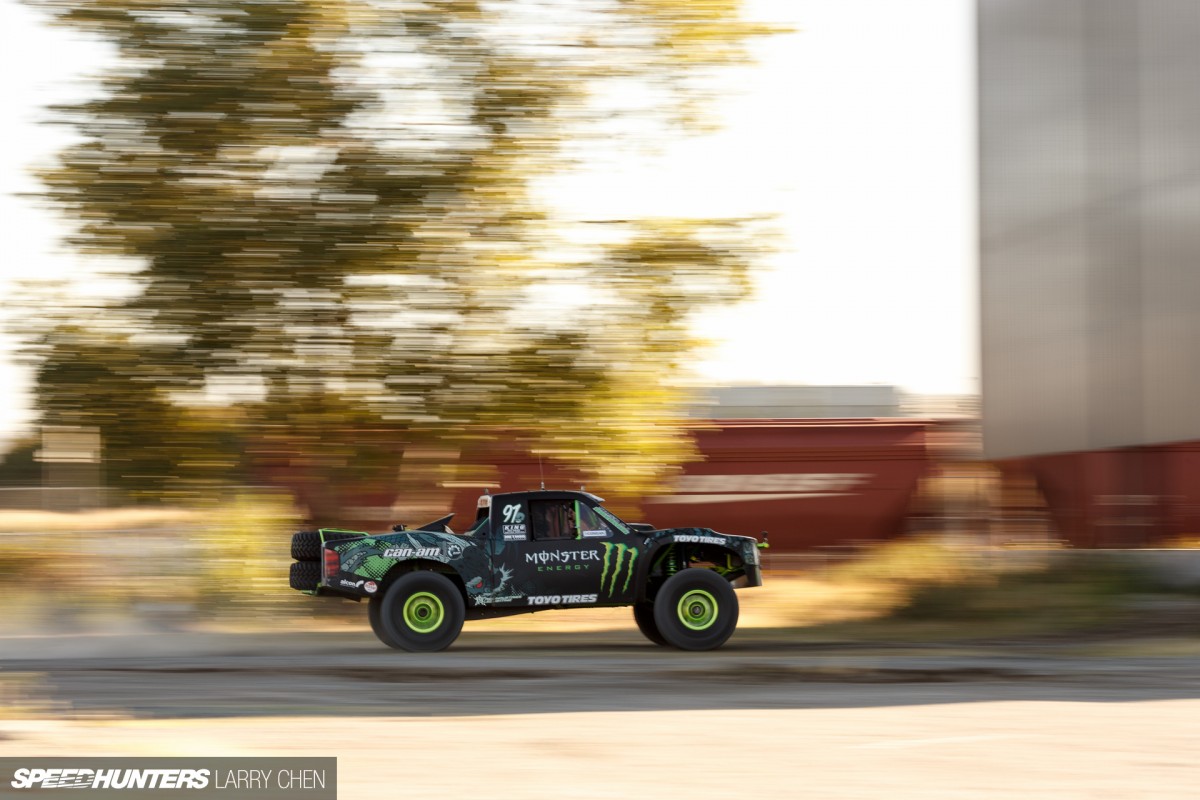 While it was not a huge trick, the first jump was one of the best looking ones.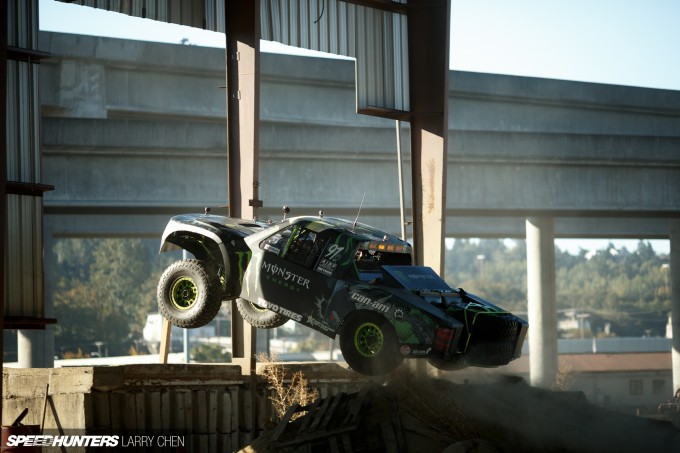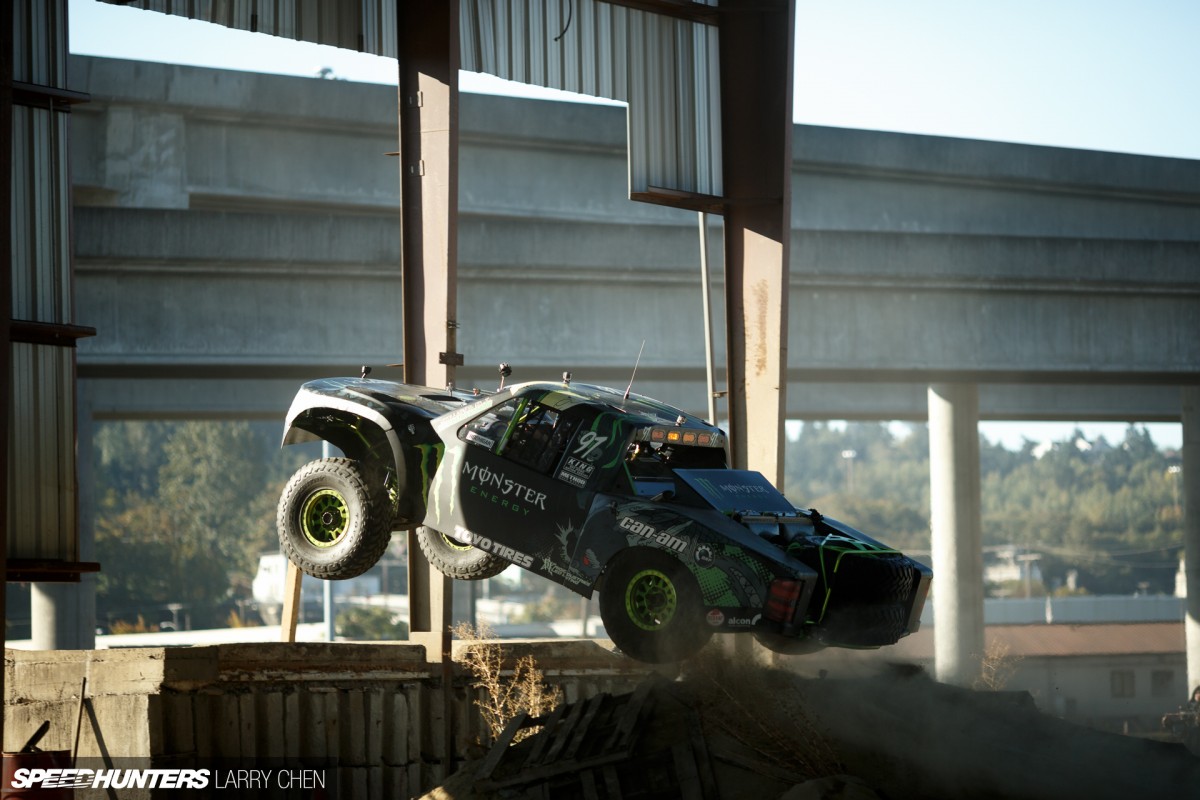 BJ would have to clear this open space and jump from inside of a building out.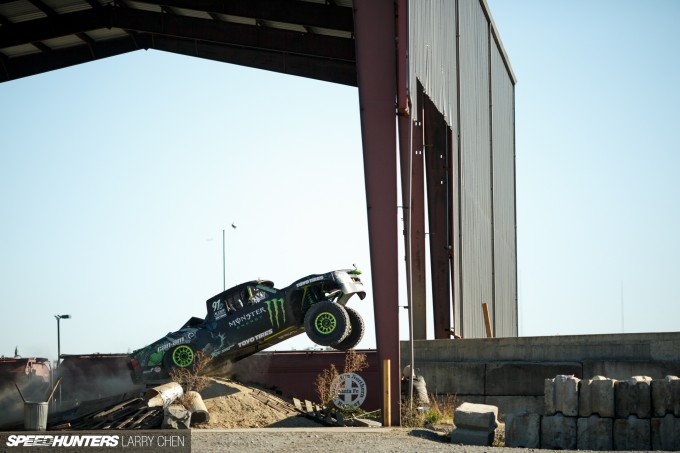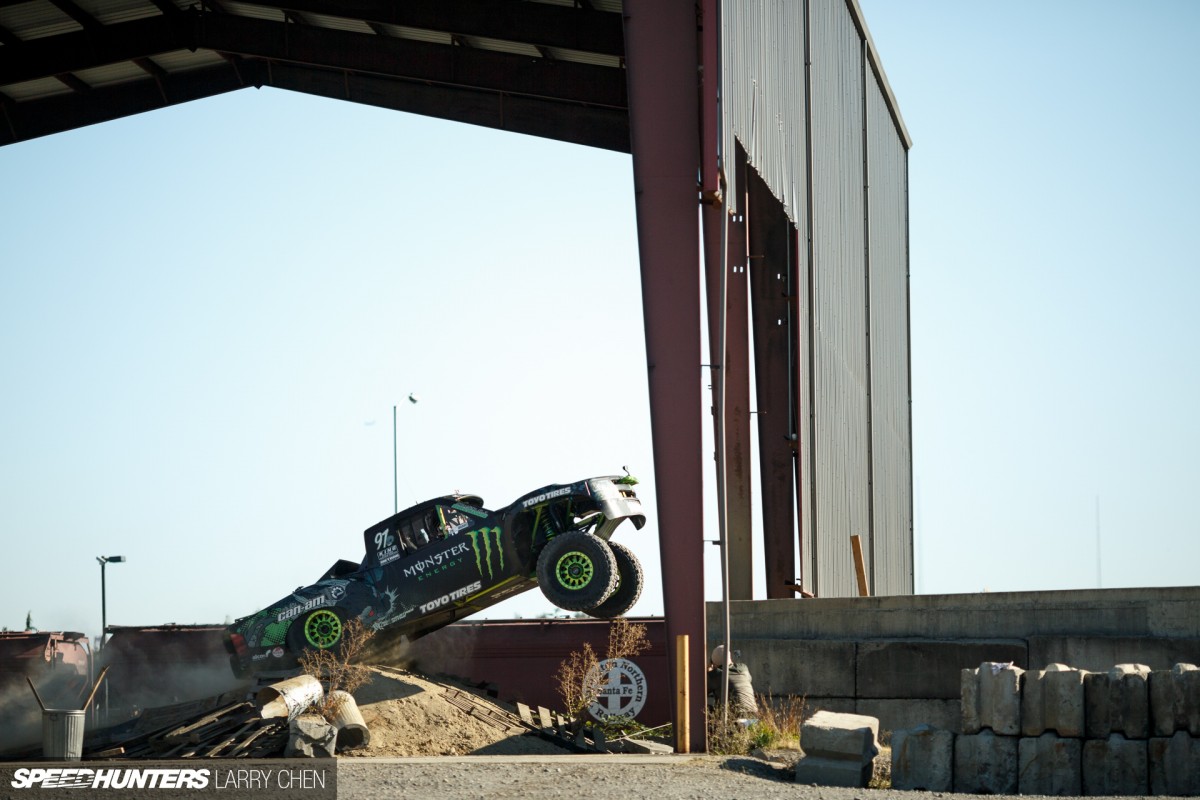 At the beginning of this post you would have seen the composite image I put together to show the path of flight. While the water looked clean, it was actually a manure pit, or at least that's what it smelled like. My shoes have never been the same since.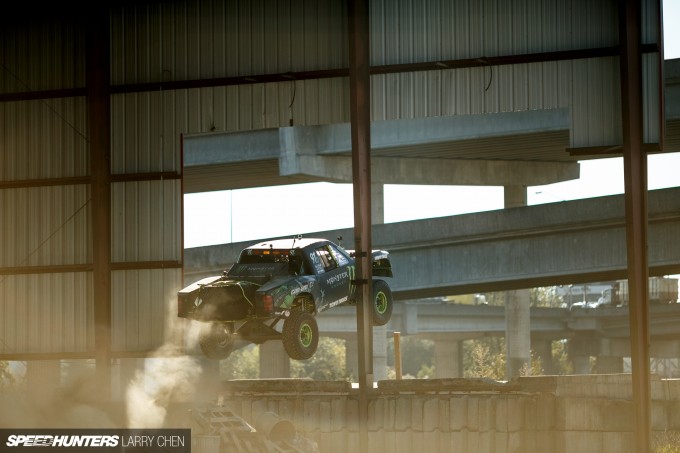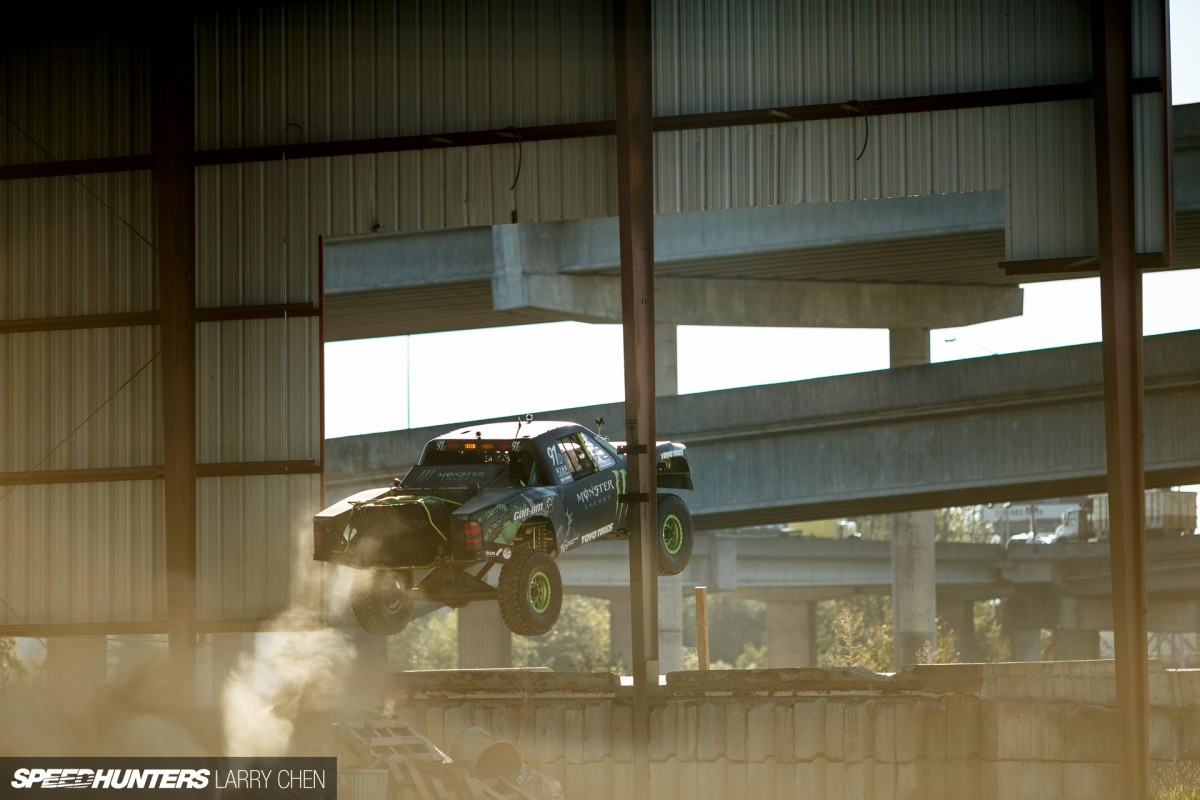 I love the trail of dust BJ left behind him as he took off from the ramp. What an epic scene. People on their morning commute had quite the free show.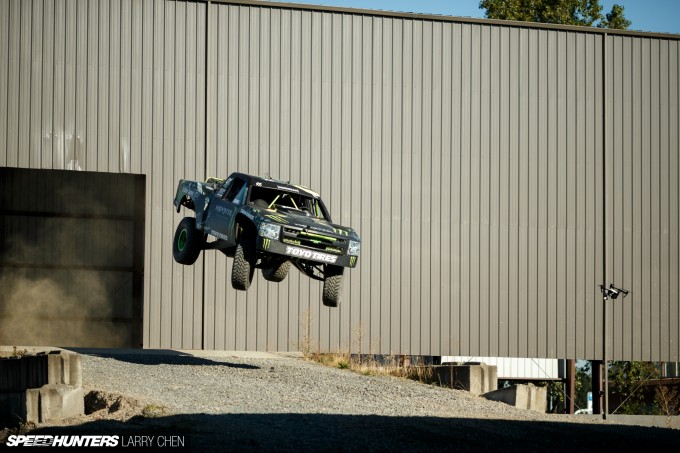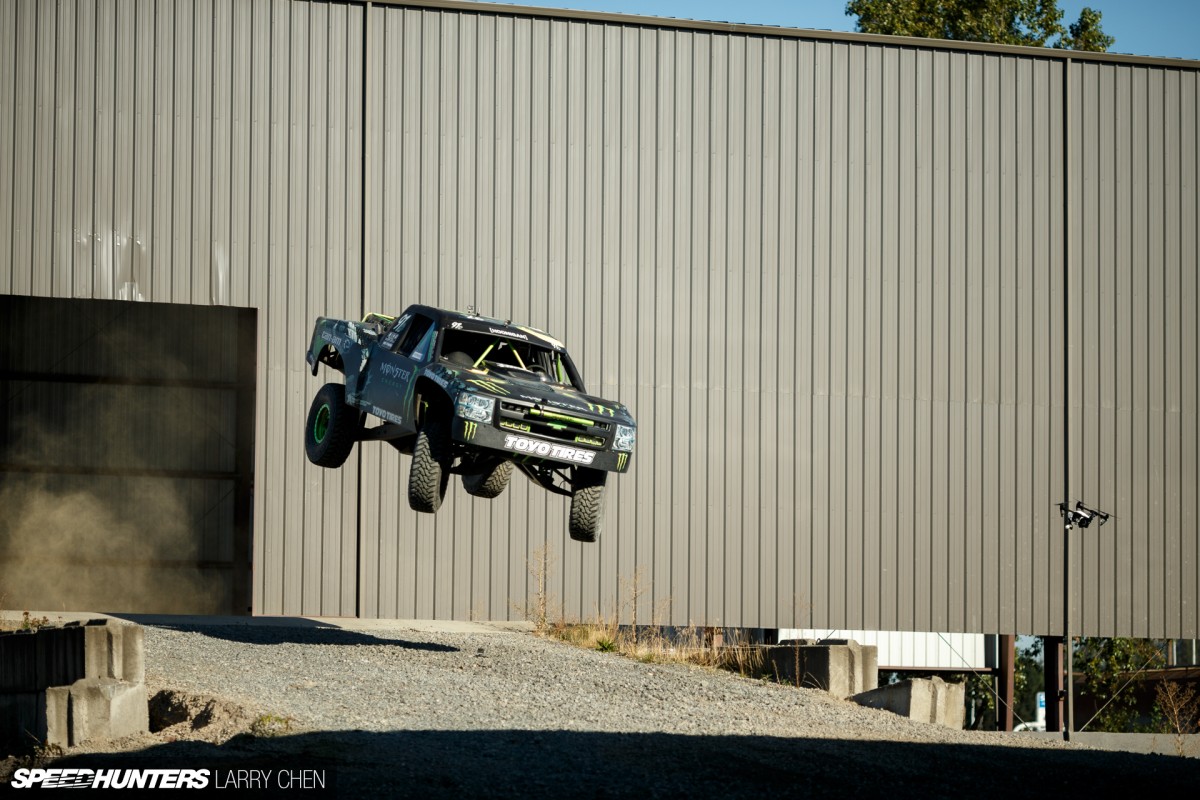 Talk about hang time! Too bad BJ can't collect air miles for all that time he spends flying his race truck.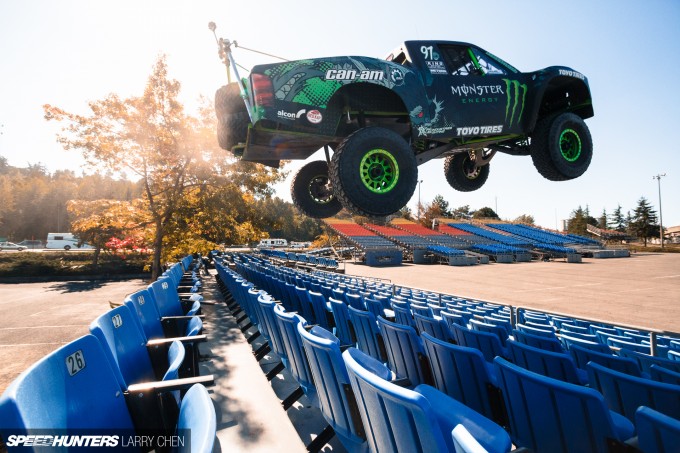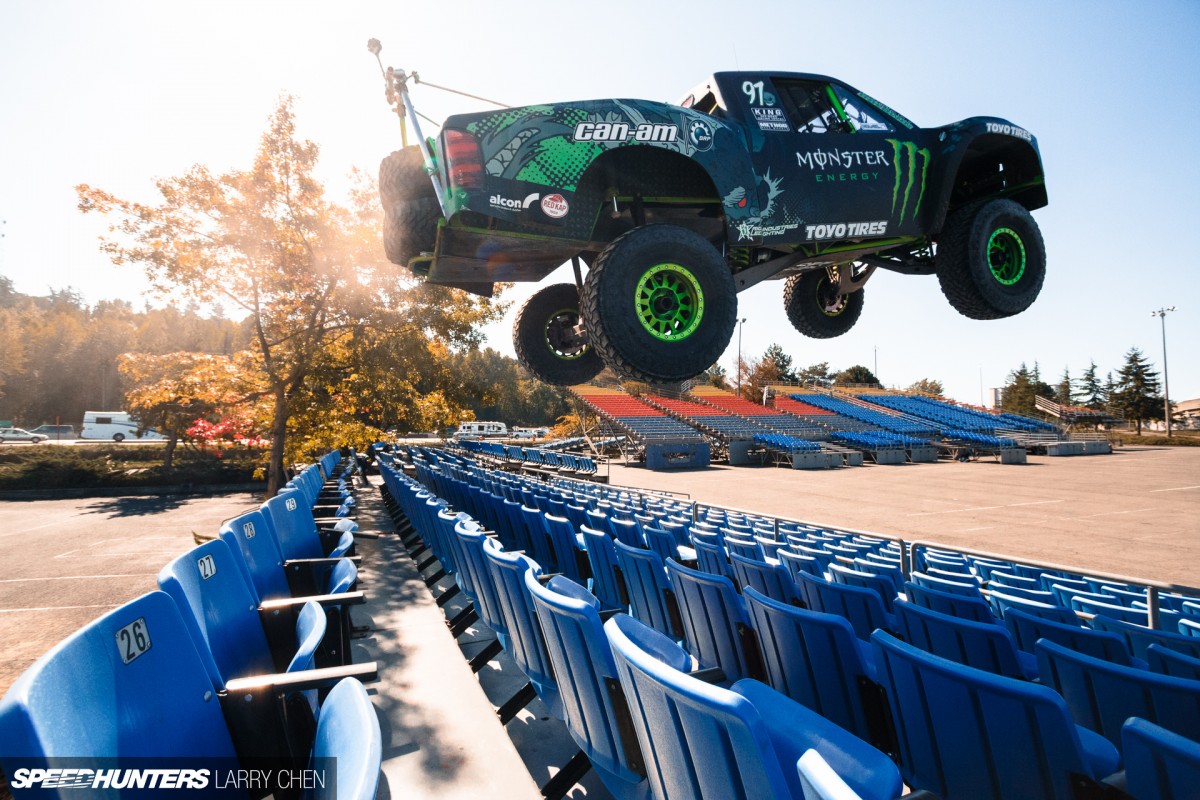 The next trick was also a big one, and I selected my best shot for the lead image. BJ had to jump a set of bleachers that are normally used for the Tacoma Dome whenever extra seating is required.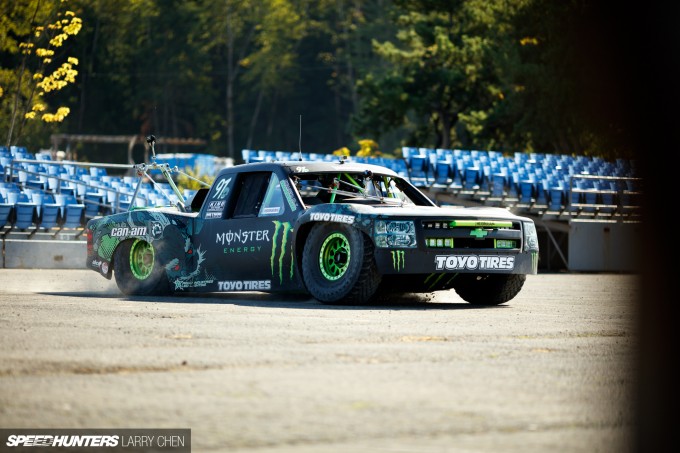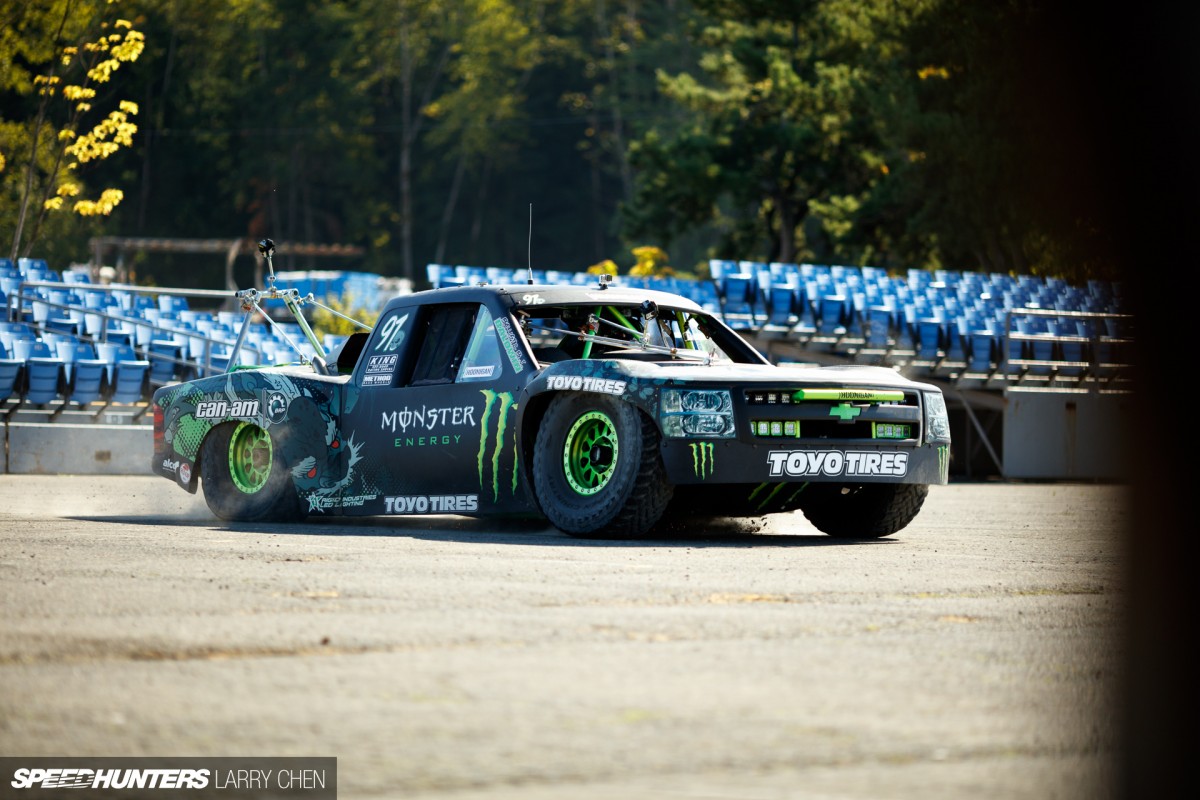 It's always tough when there is no landing, because the suspension has to absorb all the impact. As you can see from this photo too, it was quite a hard hit. On top of that, BJ was not sure if he could clear the bleachers with the way the ramp was set up, so he did one test jump without the bleachers. He did this jump one time.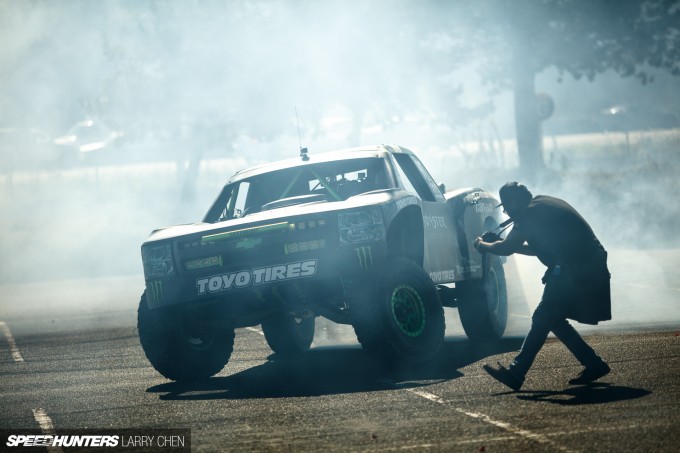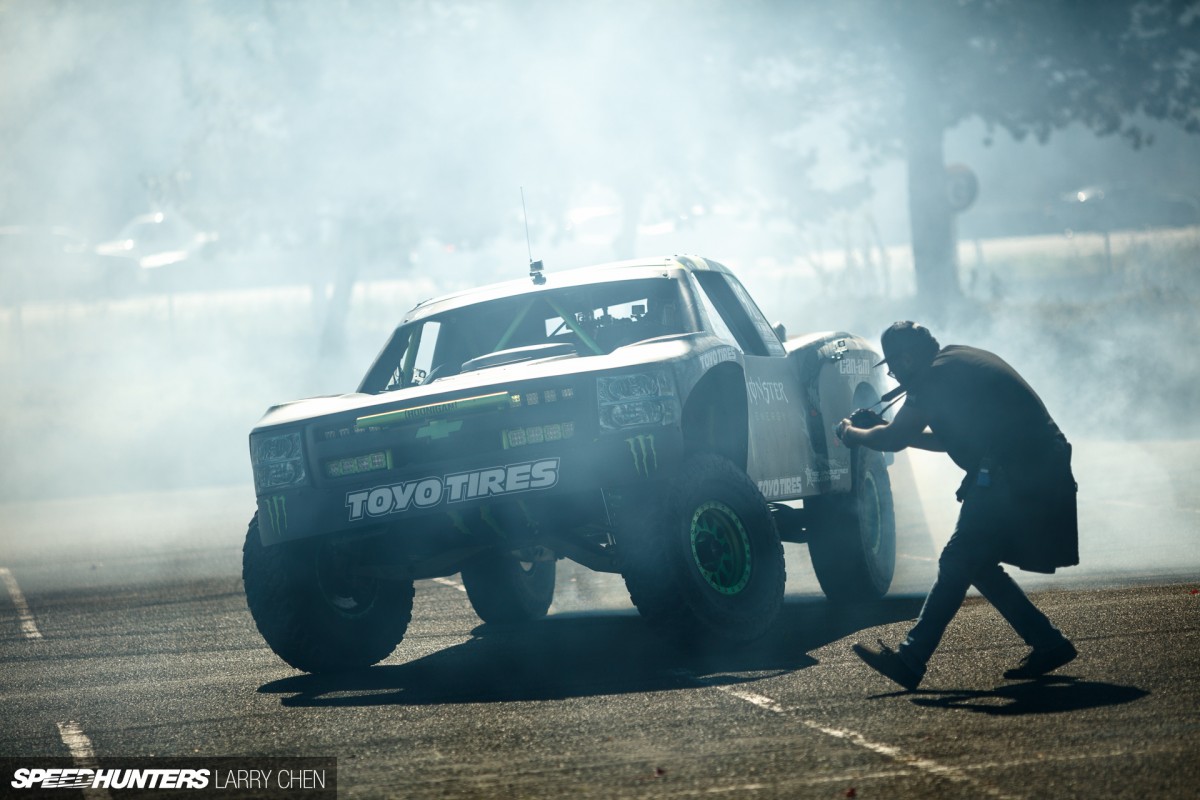 With a few hours to kill until the big jump inside the Tacoma Dome, it was the perfect time for some parking lot drifts.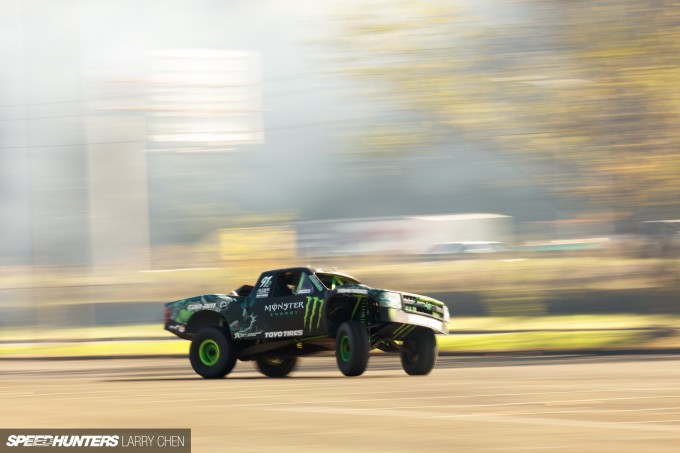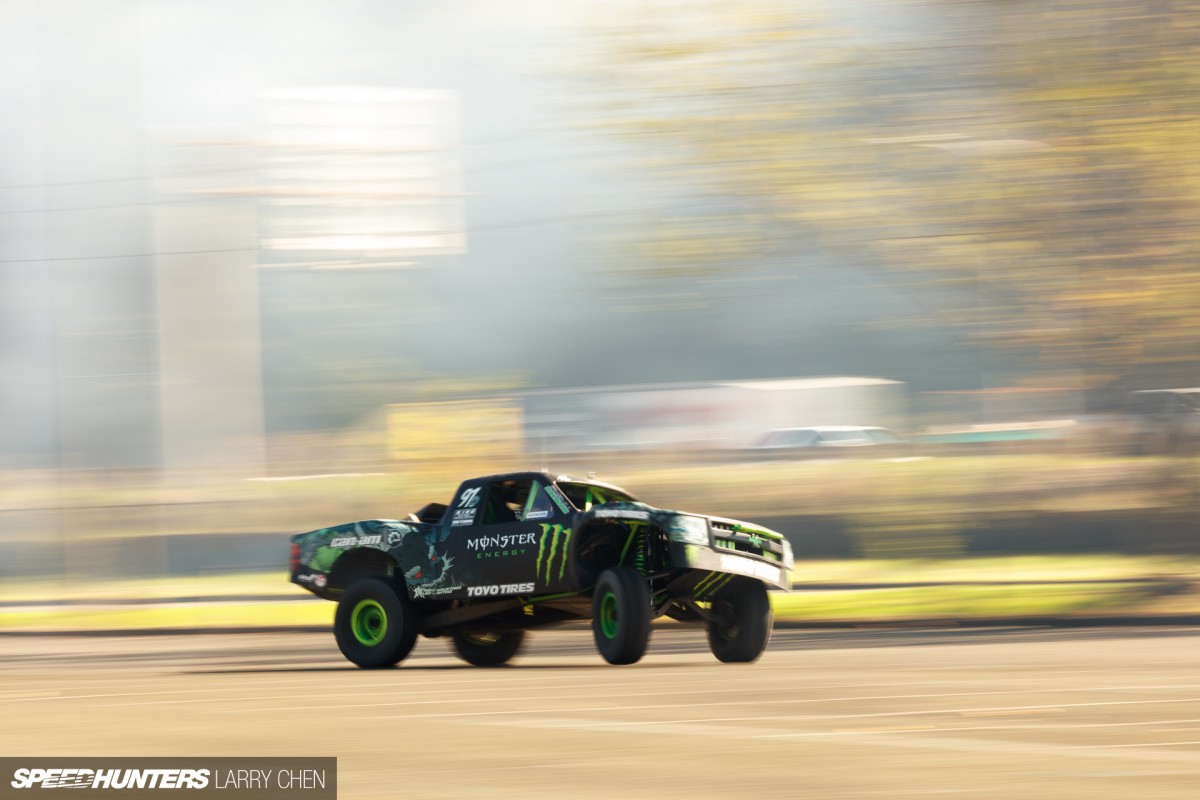 What amazed me was how soft the tire compound is, and how much grip the truck has on pavement.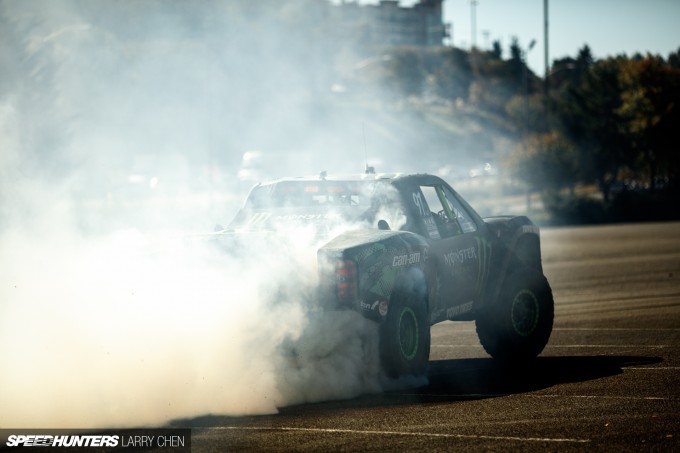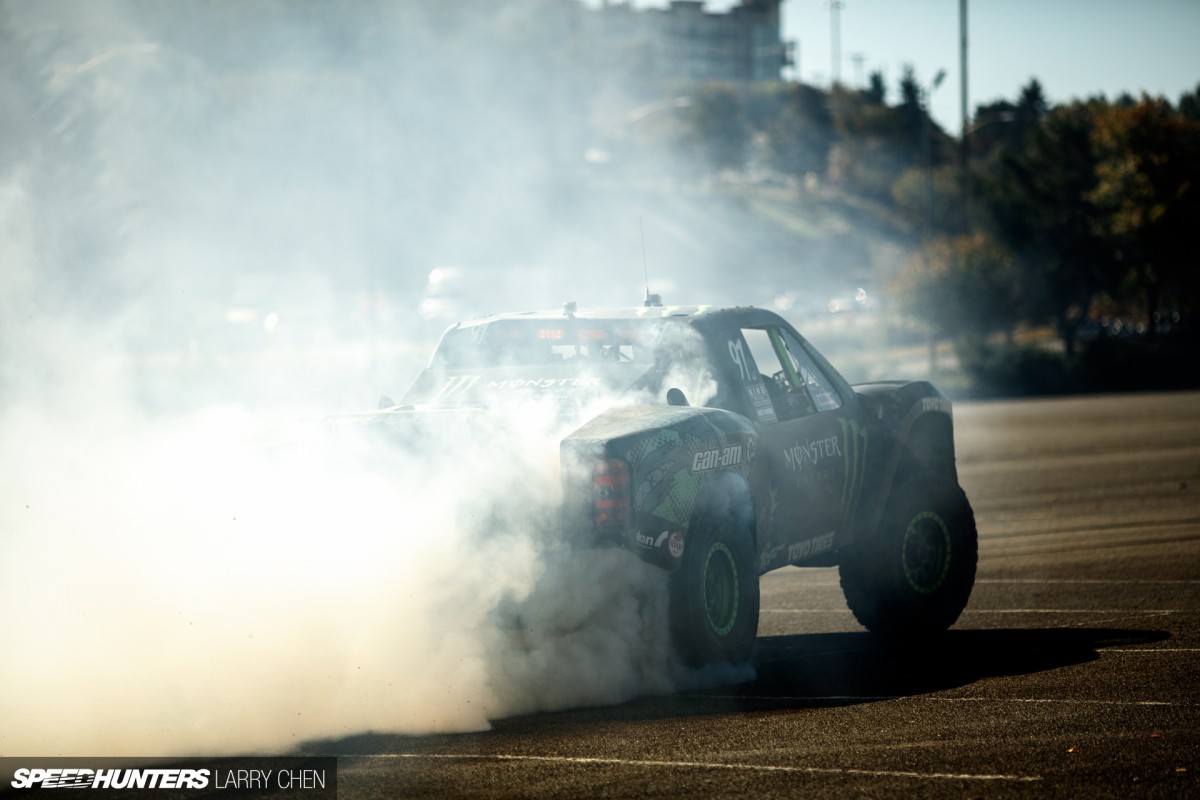 Some of the off-road tires roasted up quite nicely every time BJ got on the throttle. It made for some nice puffy clouds.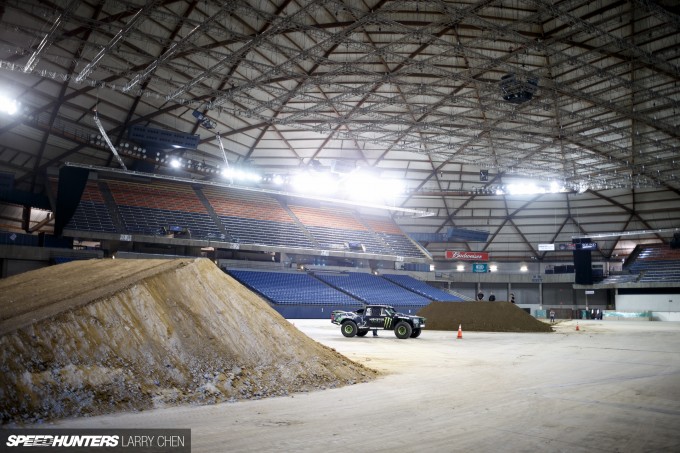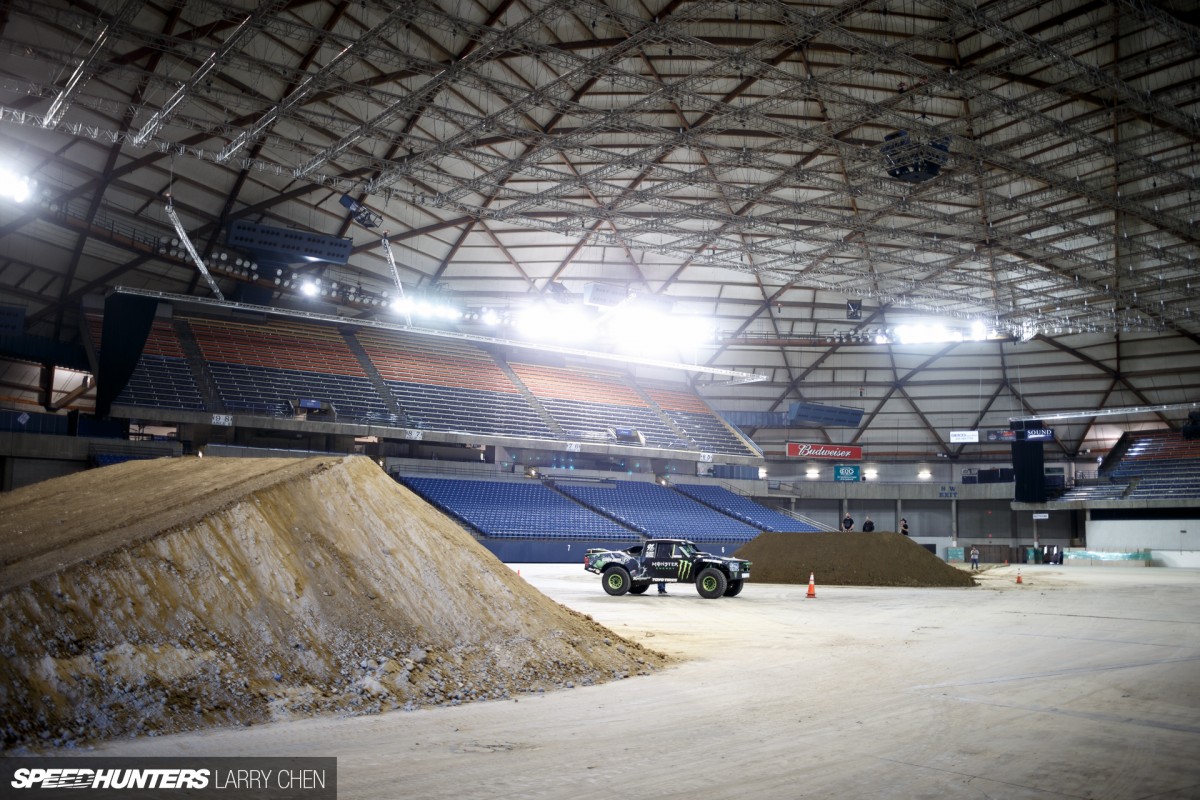 It was time for the big one. Just look at how small the truck is compared to the jump!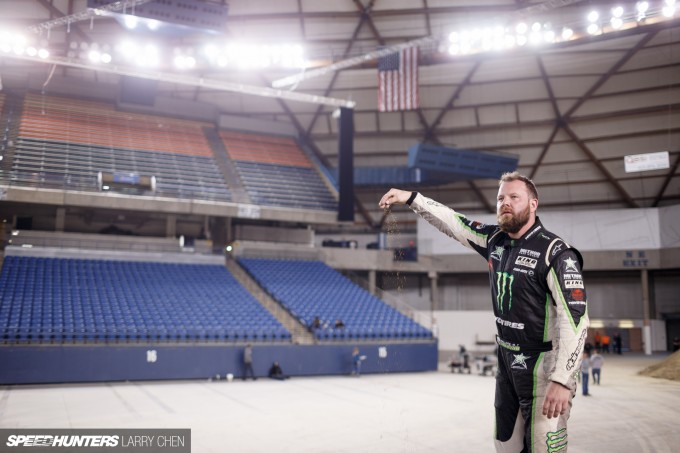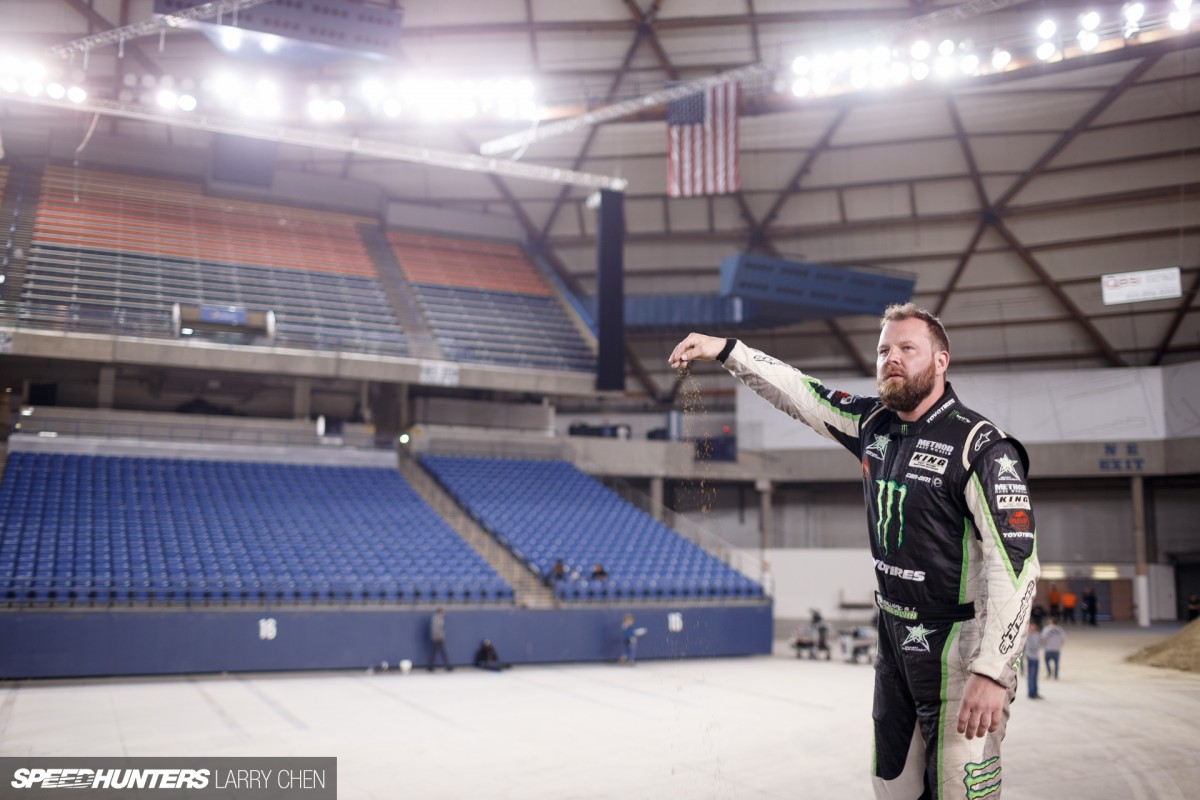 BJ was not having it. This was going to be the most dangerous thing he had done in quite a while. He is a racing driver, not a stuntman, but to top his previous tricks in his other videos, he would have to take flight.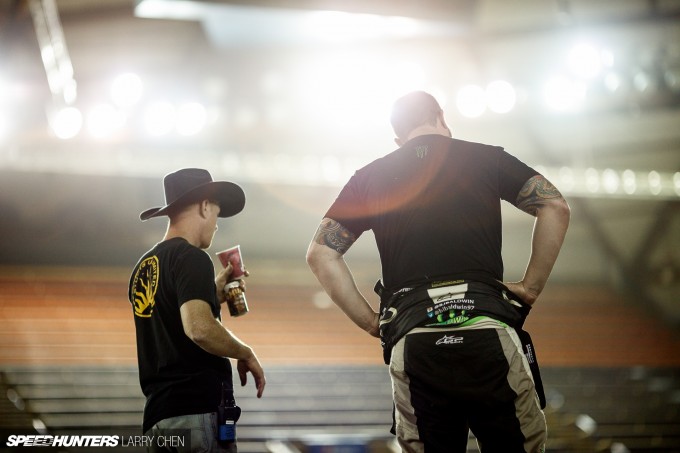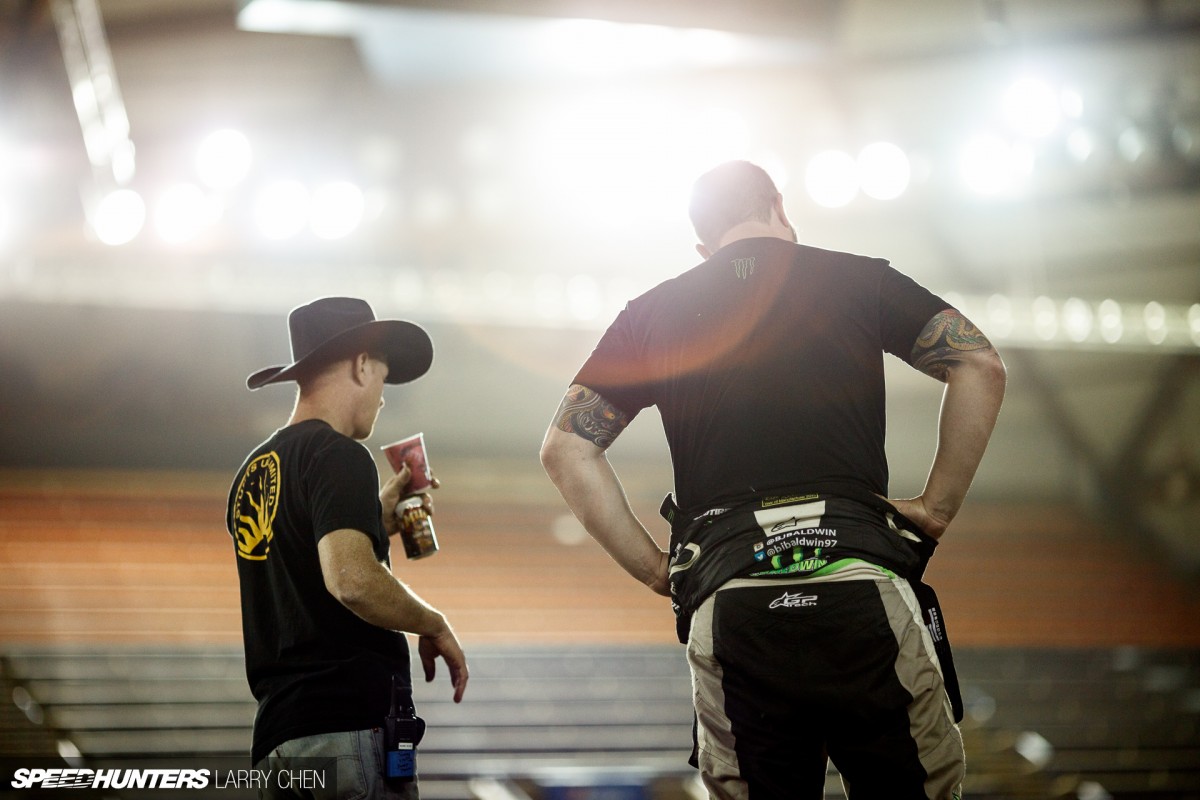 "The math does not lie," as the guys who built the jump said. They did the calculations over and over, and if BJ kept to exactly 65mph after leaving the launch pad, he would land perfectly with room to spare.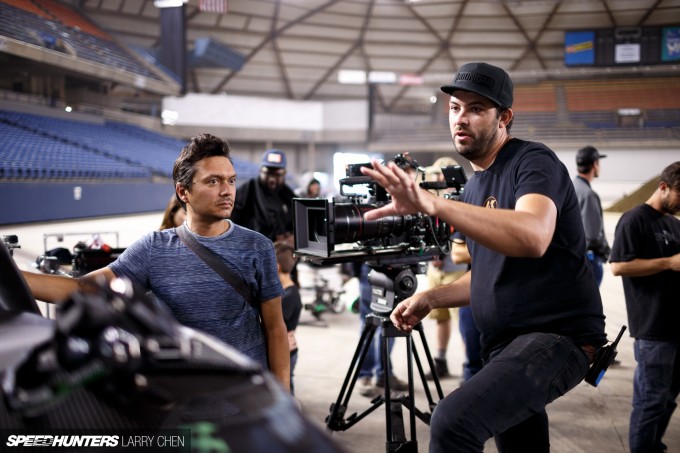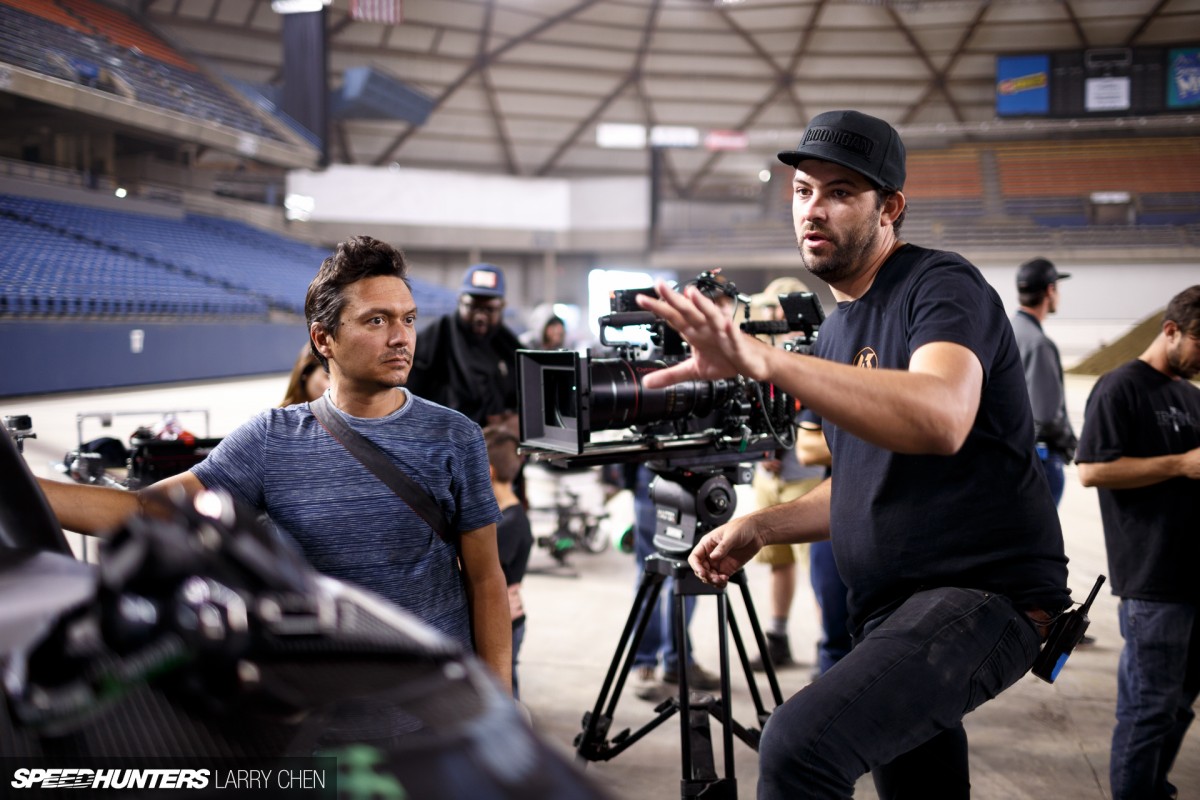 This is when things got a bit tense. Brian and Ben along with the rest of the crew were very worried for BJ's safety. If things went wrong, they'd go wrong very fast.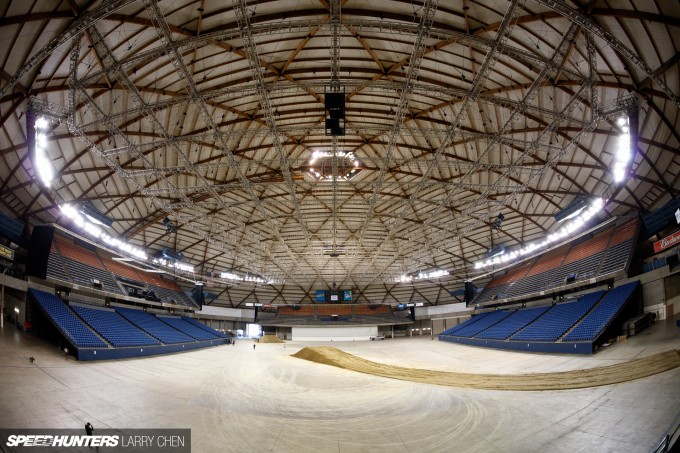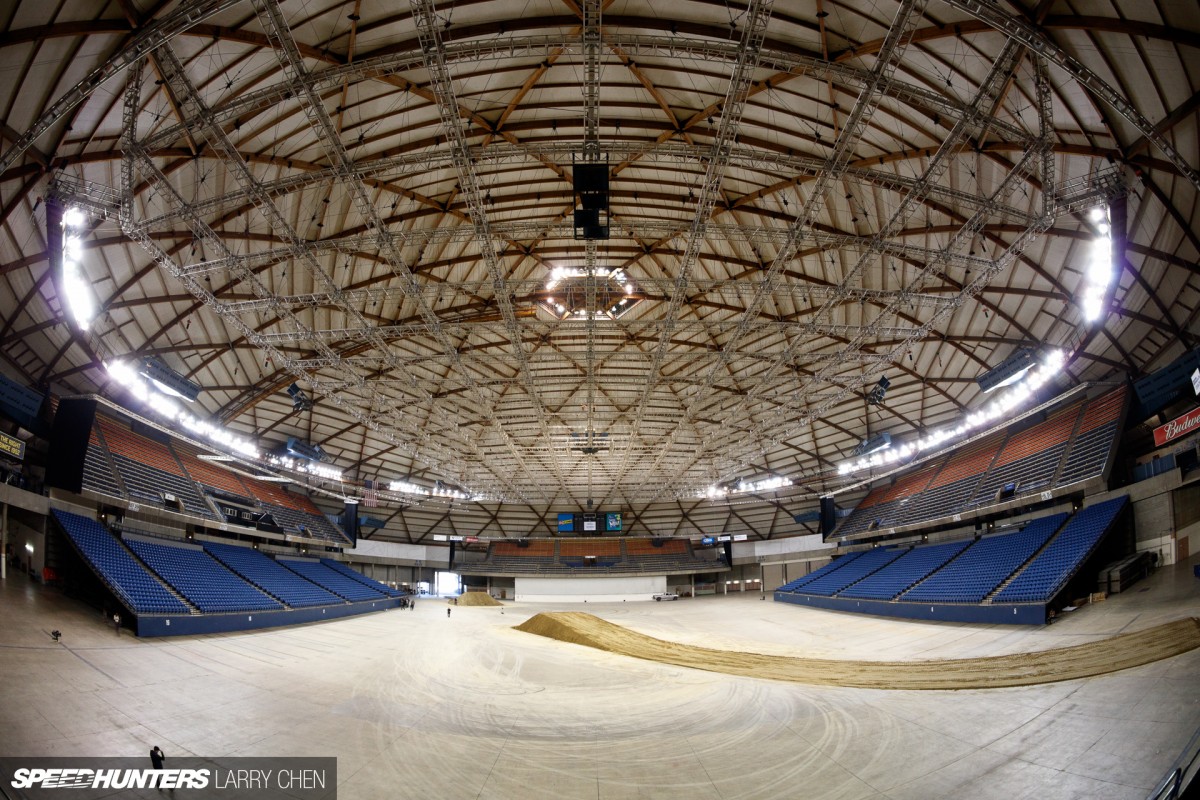 The jump was only half the concern too. On landing, there was only a certain amount of dirt run-off before BJ would run into the wall of the Tacoma Dome, so the crew set up hundreds of cardboard boxes to soften the impact if it all went bad.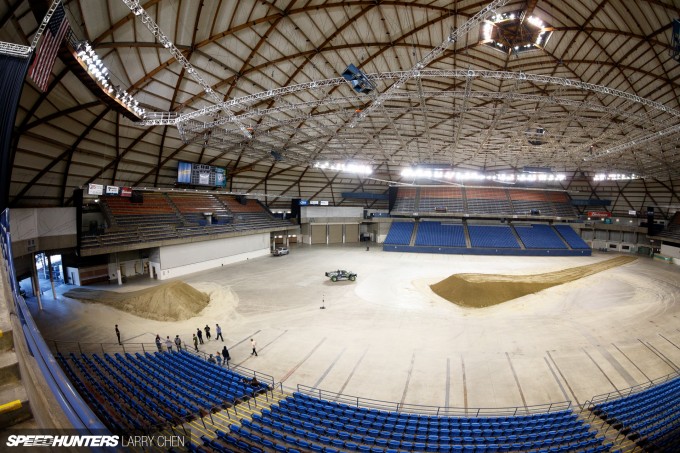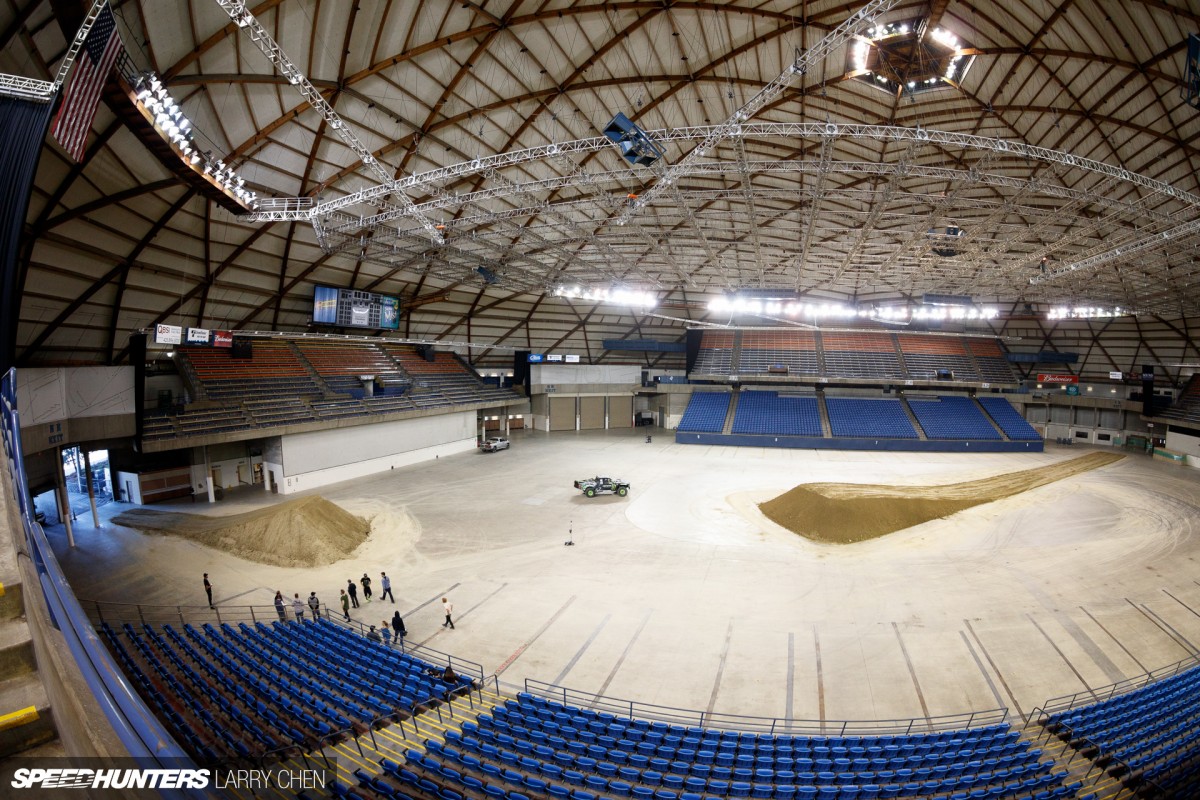 Just look at that gap! BJ would have two seconds of air time if everything went to plan. Count that in your head, it's just insane.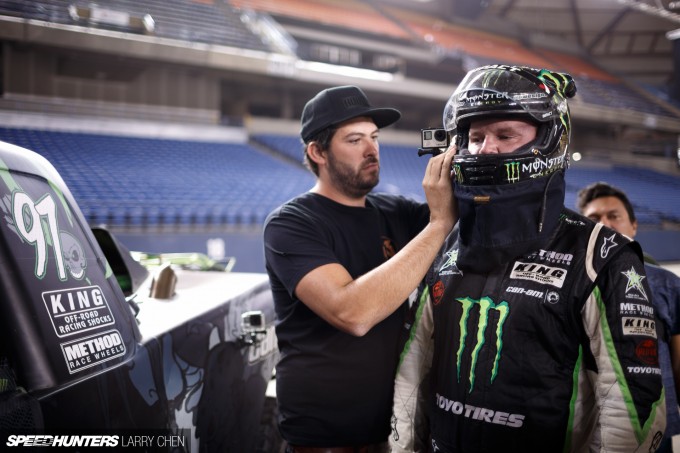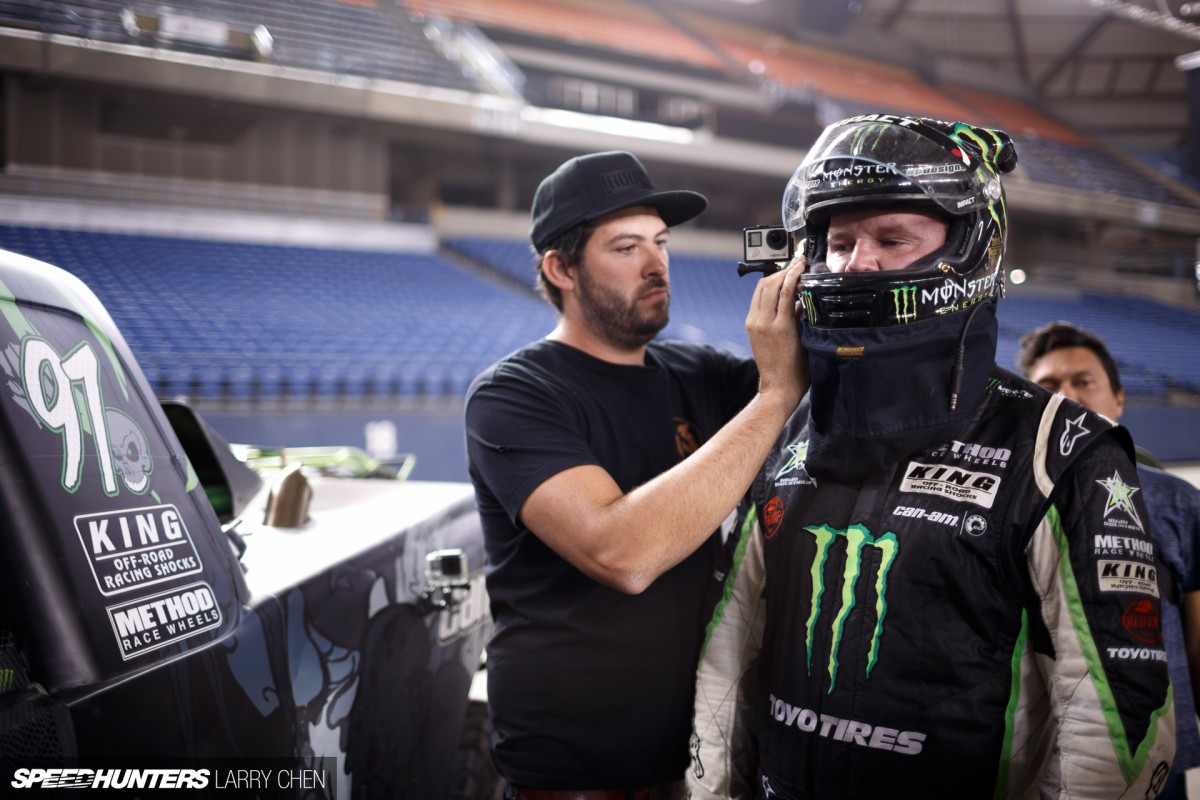 Brian had a talk with the medical crew on site, and went over the emergency procedures in case BJ broke his back from landing too short or flipping end over end.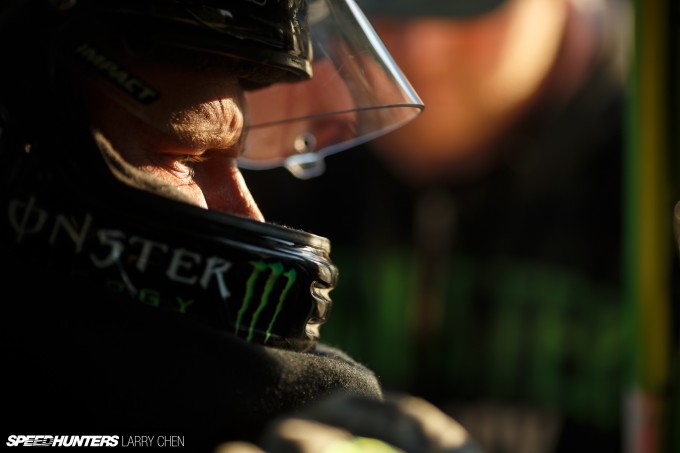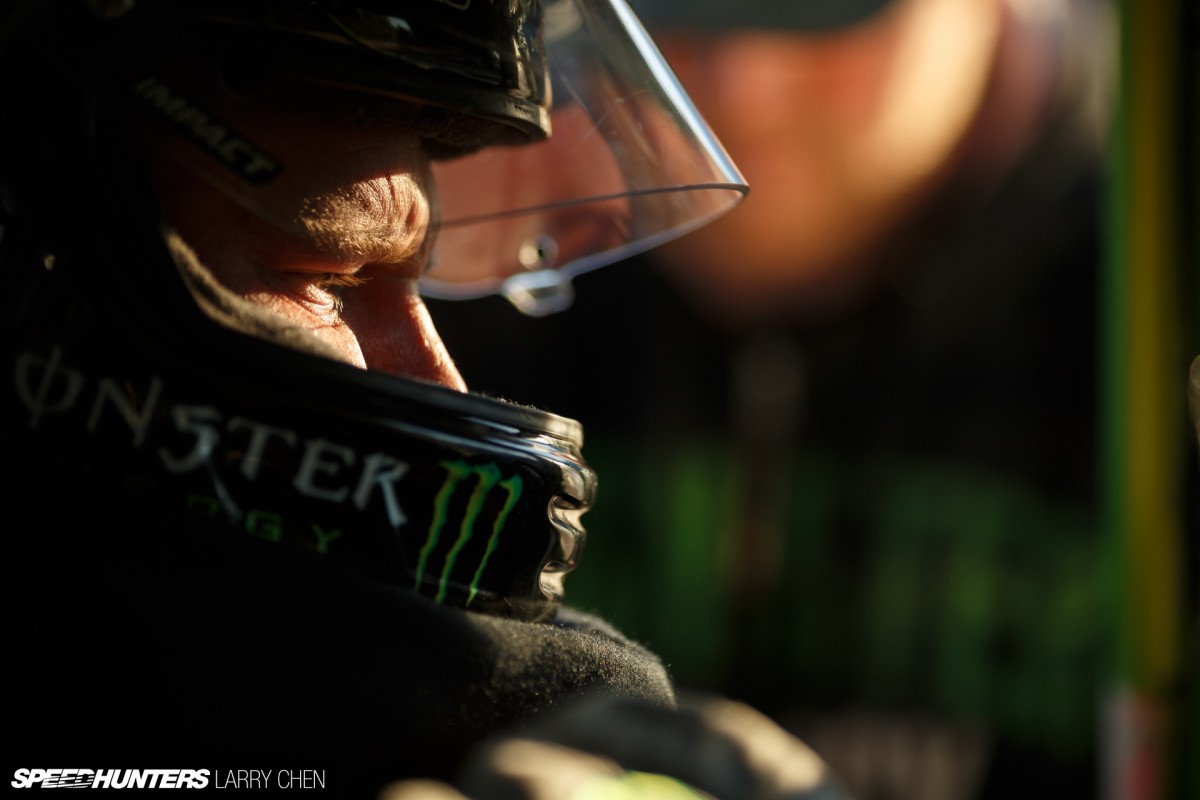 They agreed that they would have to cut him out of the rollcage and bring him to the hospital still strapped in his race seat to prevent further damage to his spinal cord. This was some serious stuff.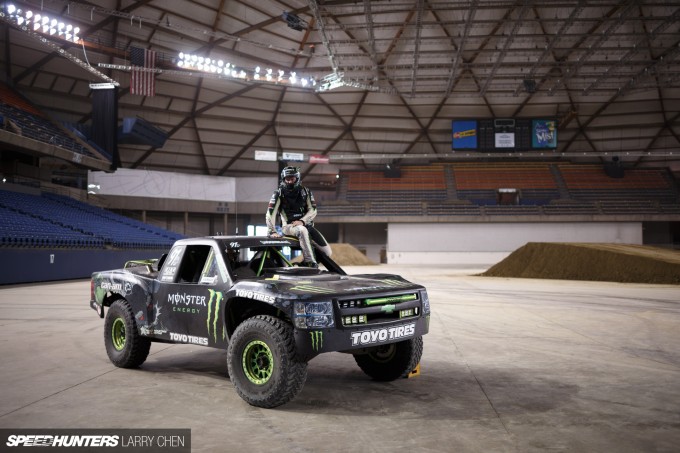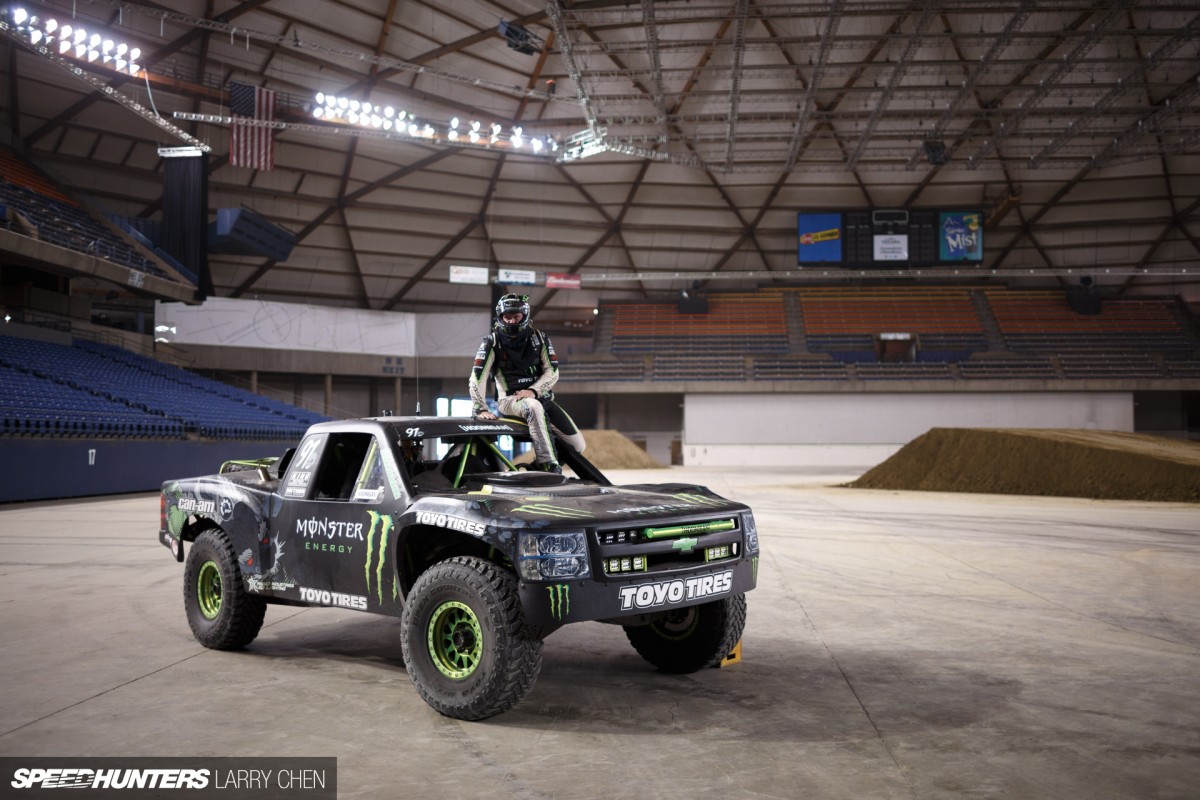 Without hesitation, BJ jumped into his truck and went for a few practice runs, making sure he could hit 65mph exactly before taking flight.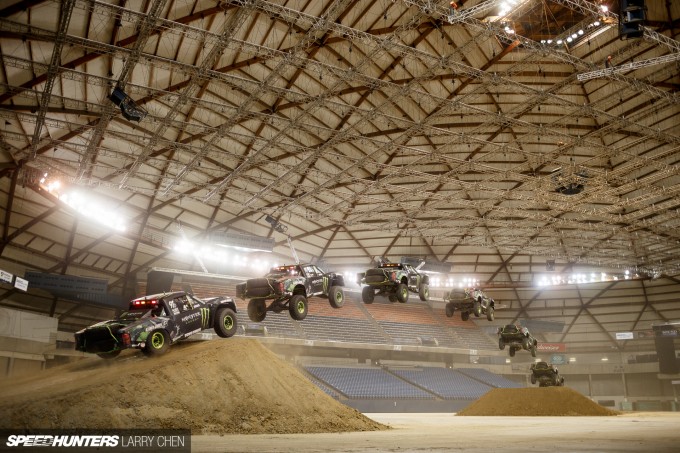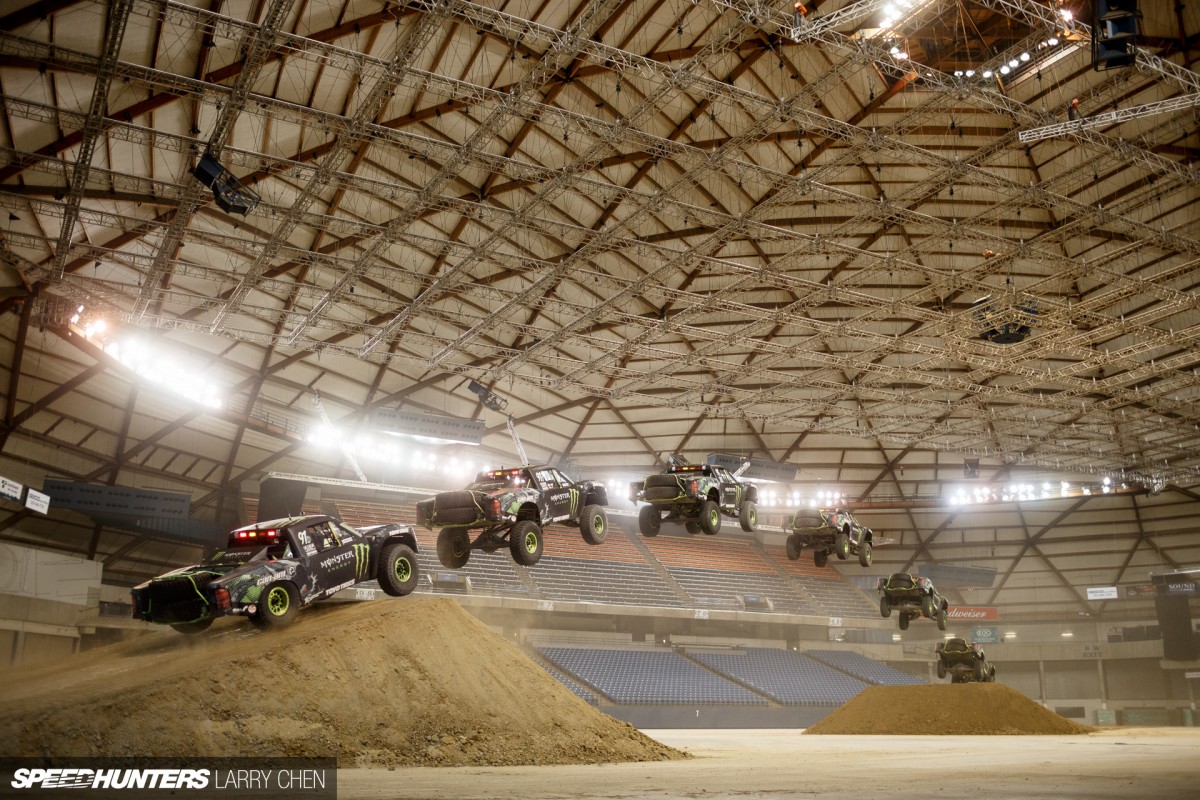 And just like that he launched off. The calculations were perfect; the trophy truck sailed in the air straight and for exactly two seconds. My camera fires at 12 frames per second and I ended up with exactly 24 frames to compile this sequence shot.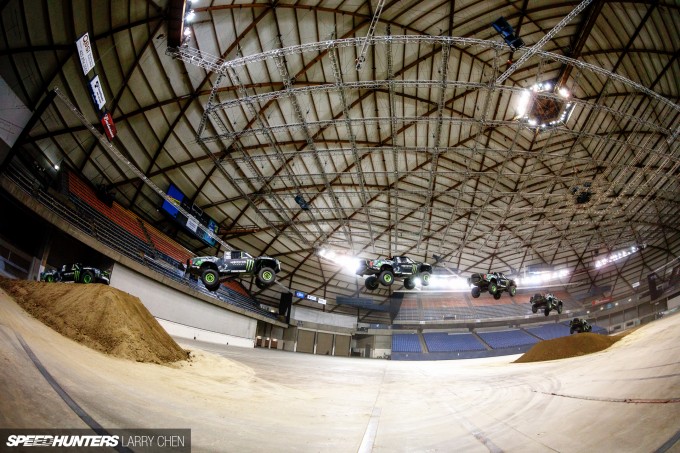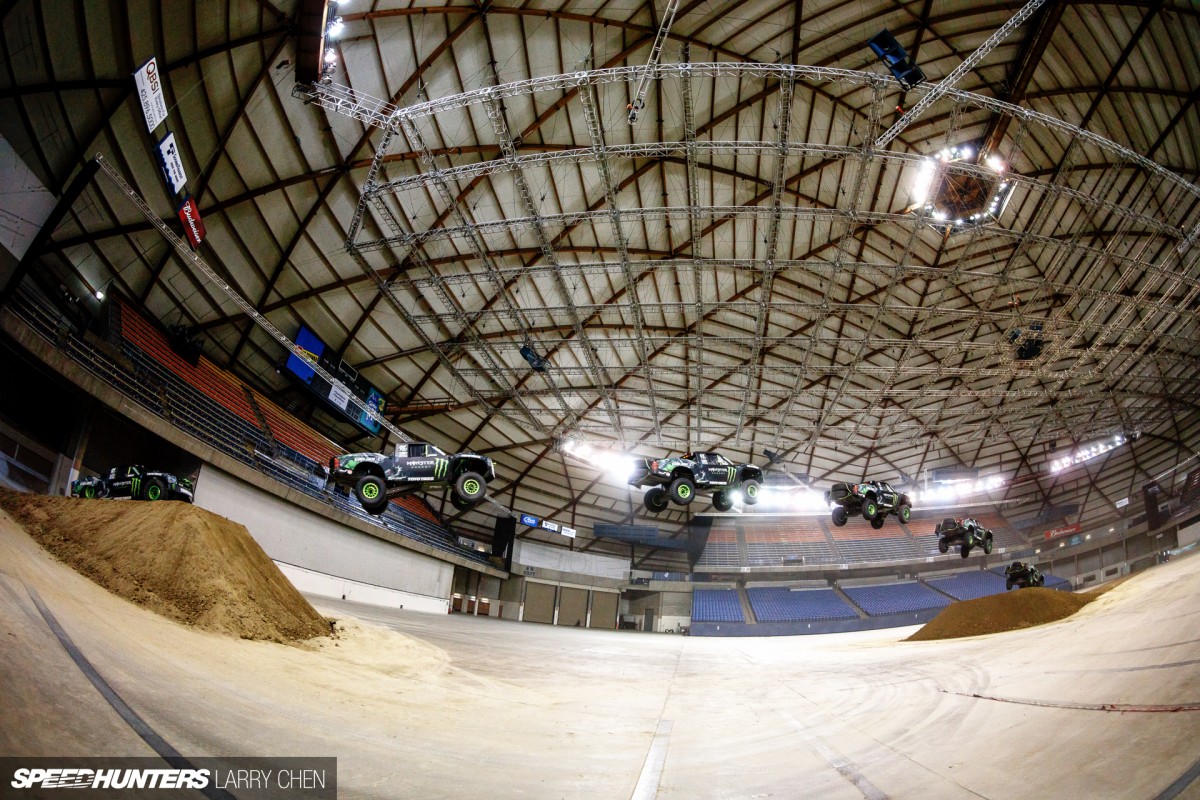 Here's another angle from my remote camera. BJ's landing was so soft and easy, and as he put it, it was just like driving down 21st Street to the bridge in downtown Tacoma.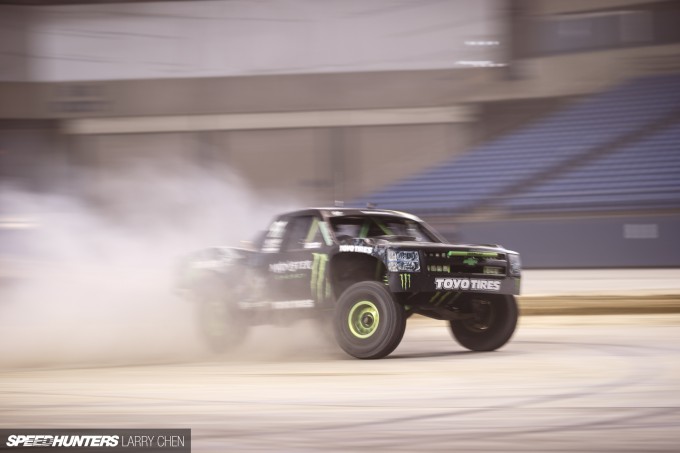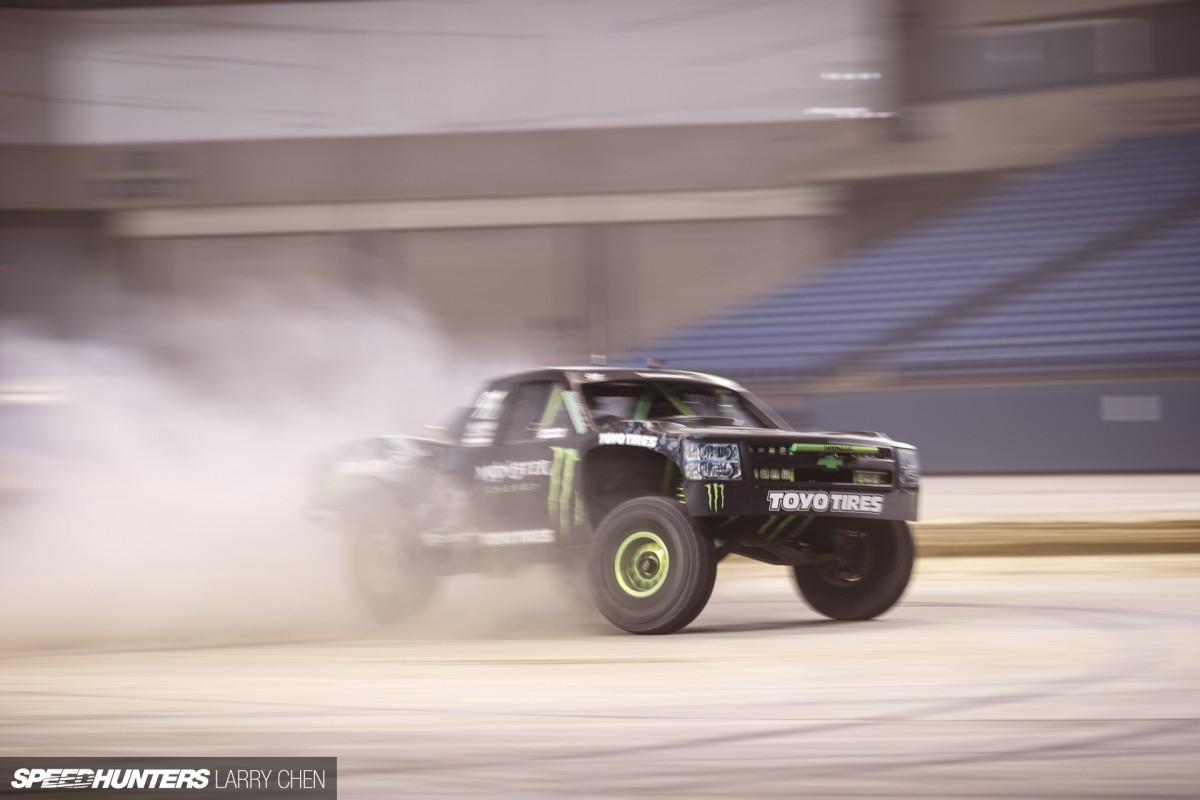 As soon as BJ landed he pitched the truck sideways into a massive power slide.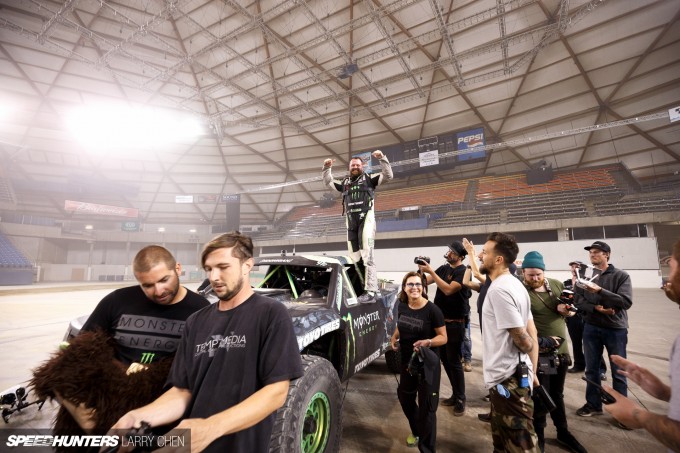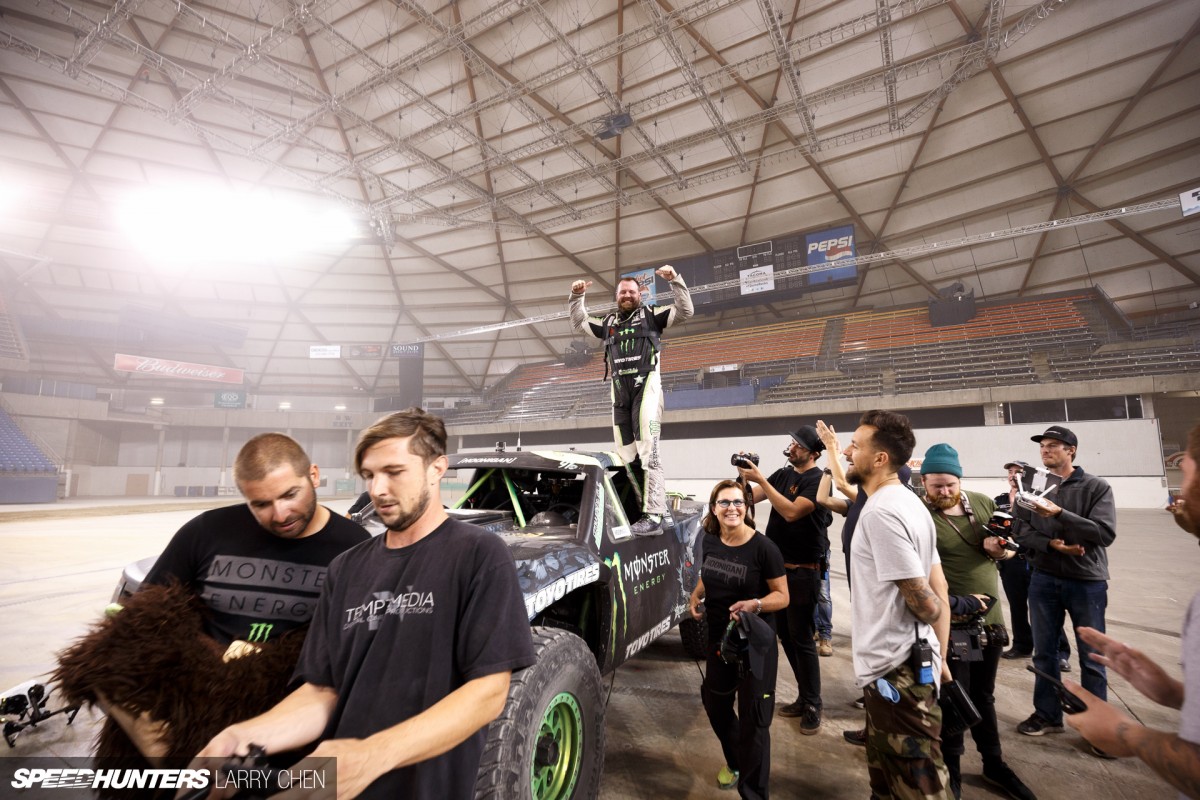 Everyone was so relieved that it all went according to plan. Never have I felt such tension on the set of a shoot. BJ, of course, was ecstatic.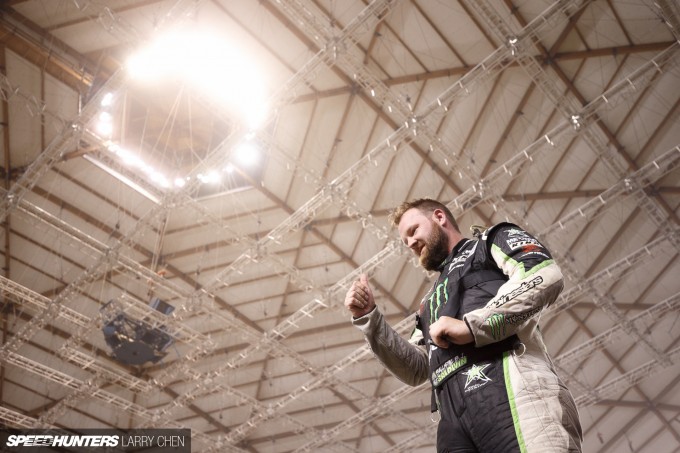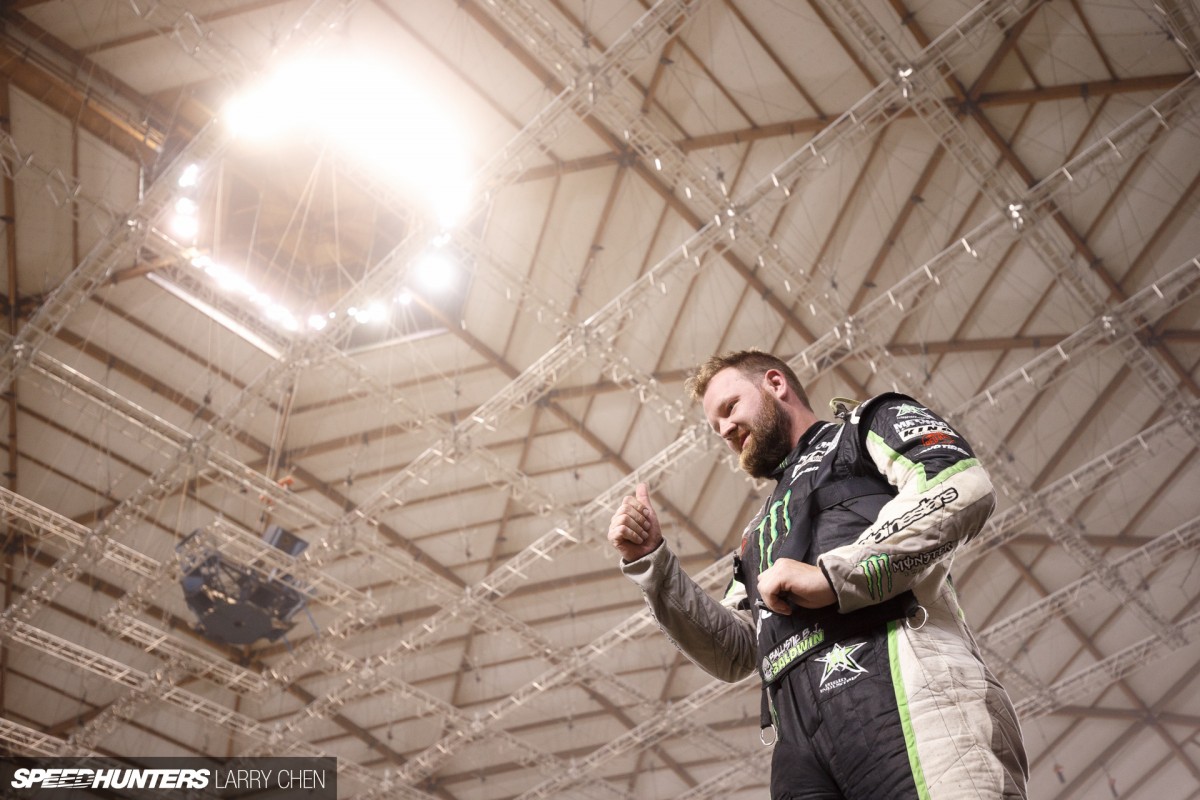 He said that as soon as he left the ramp and was sailing through the air, he thought he was going too fast and that he would flip end over end when he landed. He thought that the calculations were wrong. It's crazy that during the time he was in the air he could process all those thoughts.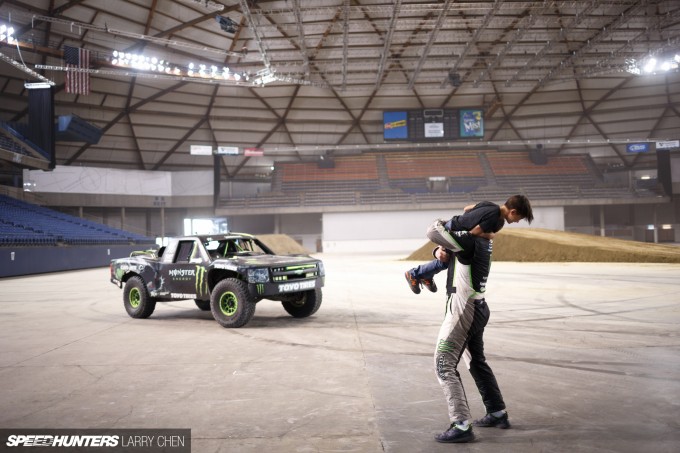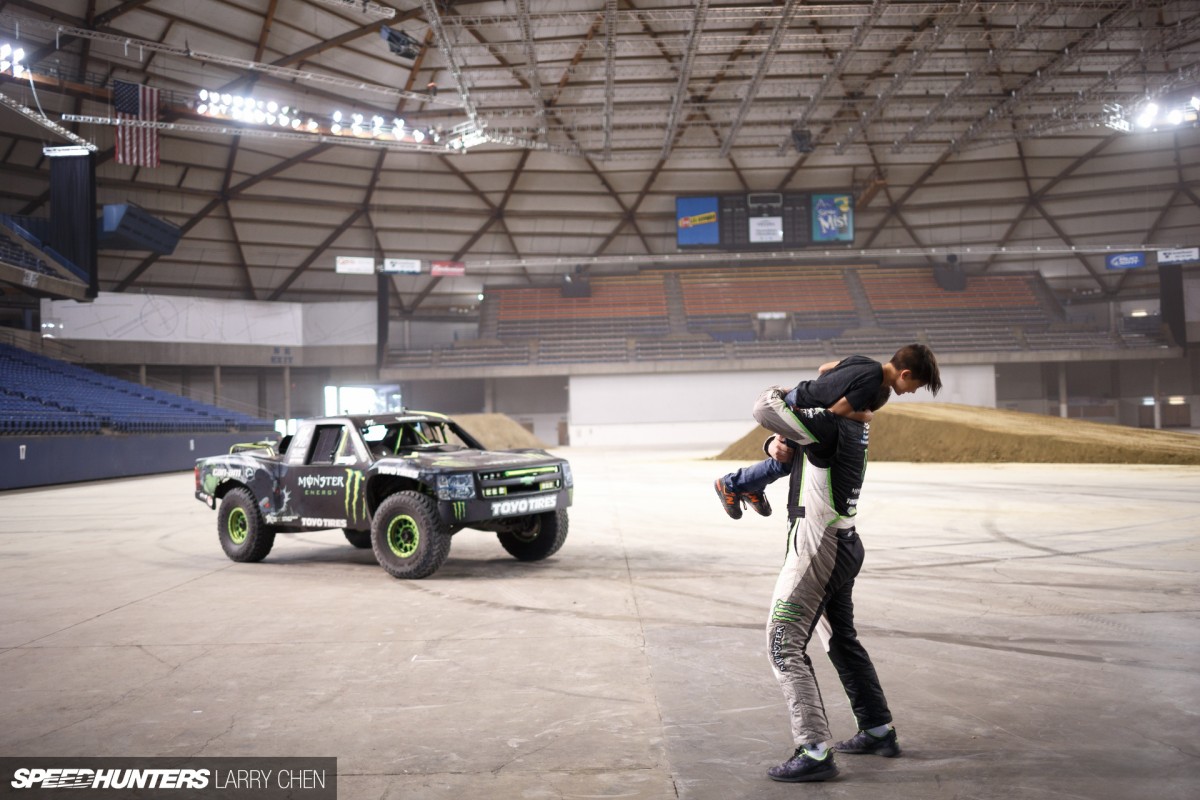 But as soon as he could see the landing, he knew that it was going to be okay, and as soon as he touched down, he was hard on the brakes. The truck stopped with plenty of room to go. BJ picked up his son with joy – he had just jumped a 180-foot gap without a hitch.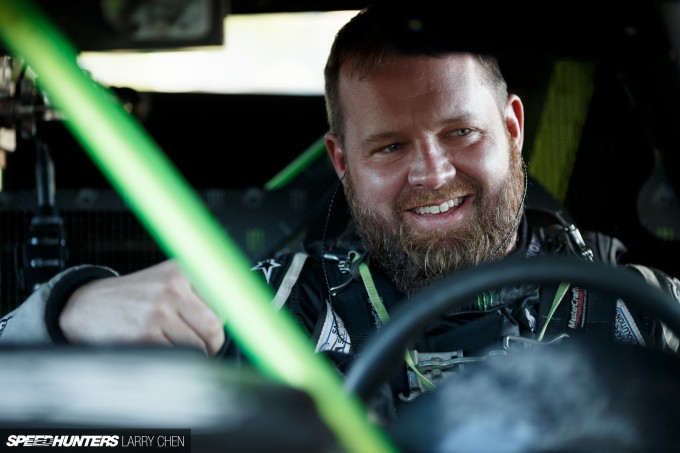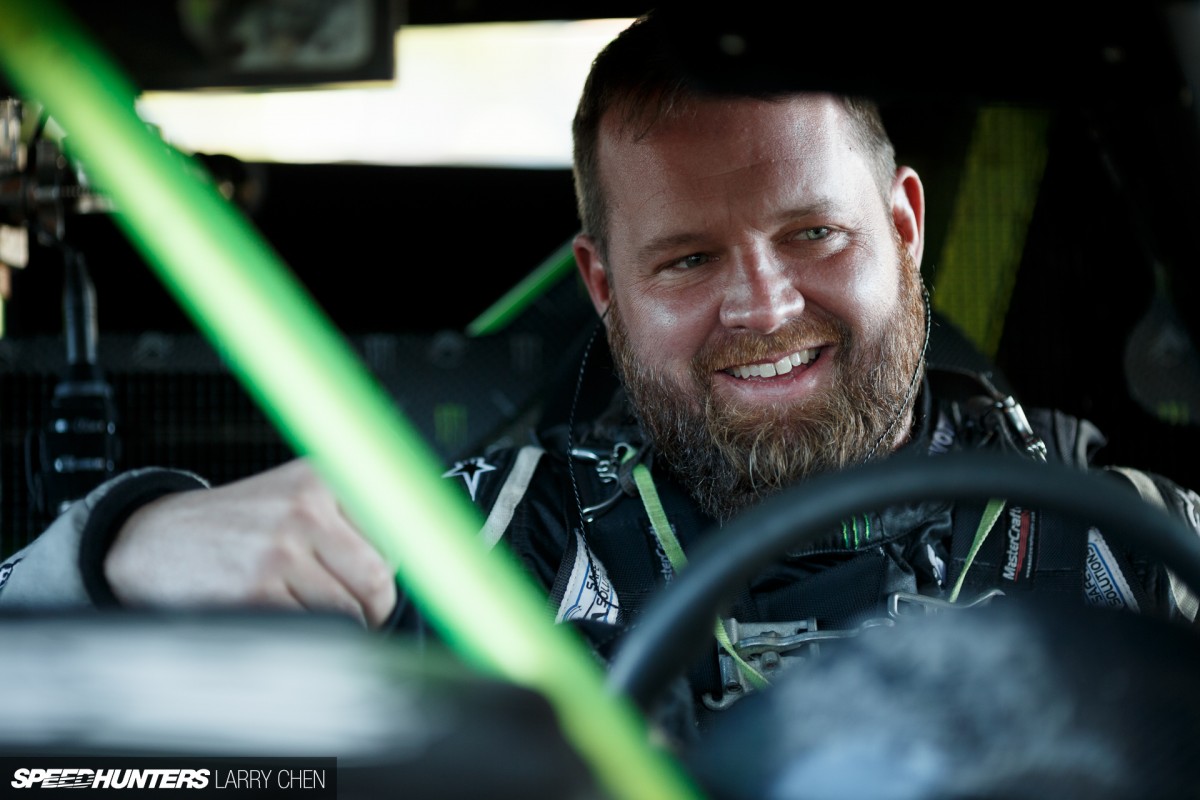 BJ's demeanor changed and he was happy again. Before the jump you could barely get a few words out of him, but after the jump he was back to his normal self. What's crazy is that if he had only jumped 25 or so more feet, he would have broken the world record for longest indoor jump. If there was time and budget for it, I have no doubt he would have attempted it.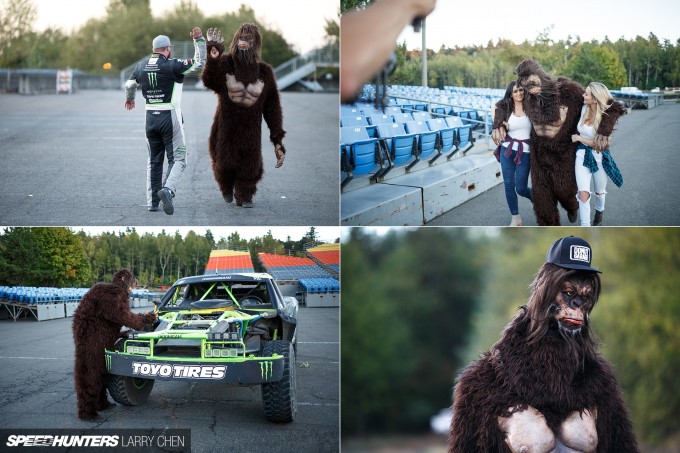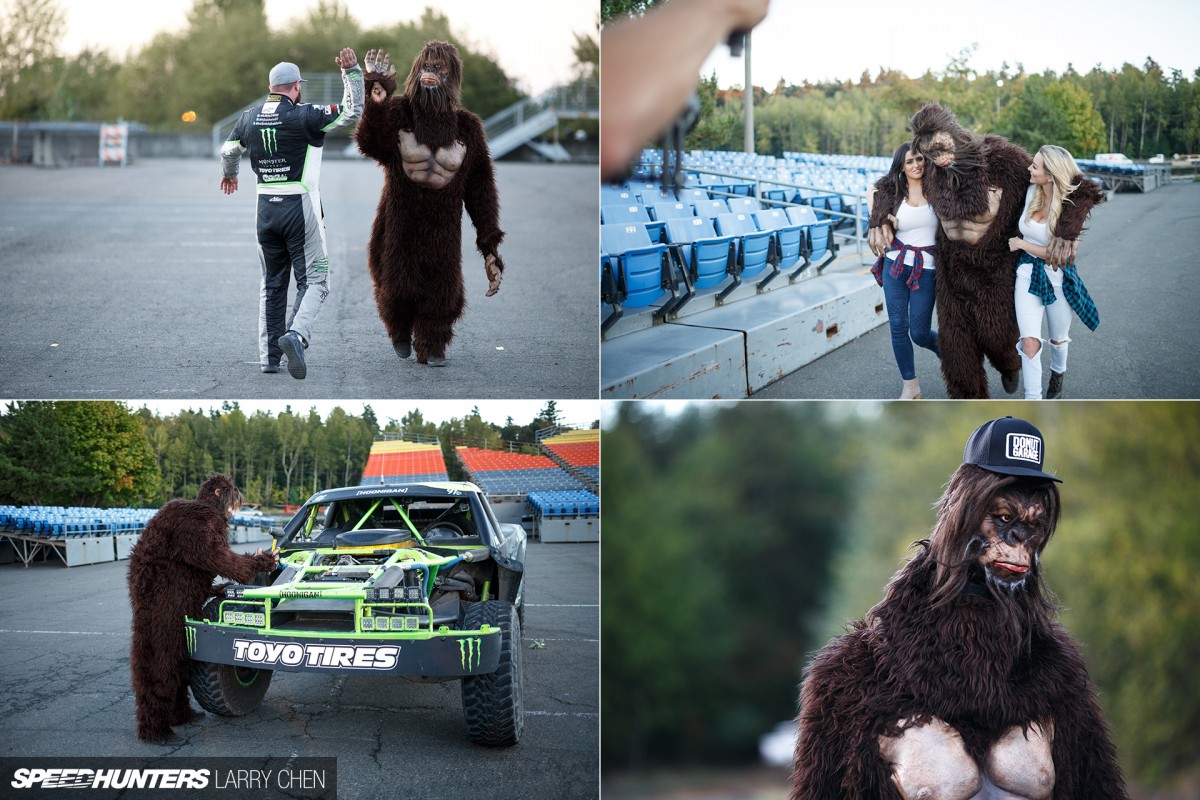 It's insane to me what lengths these racing drivers and athletes will go to, to entertain us. I am just so grateful that these sort of films have become a thing now, because even though I don't actually help with the video production, I feel like I am part of the crew. Someone has to show and tell what goes on behind the scenes.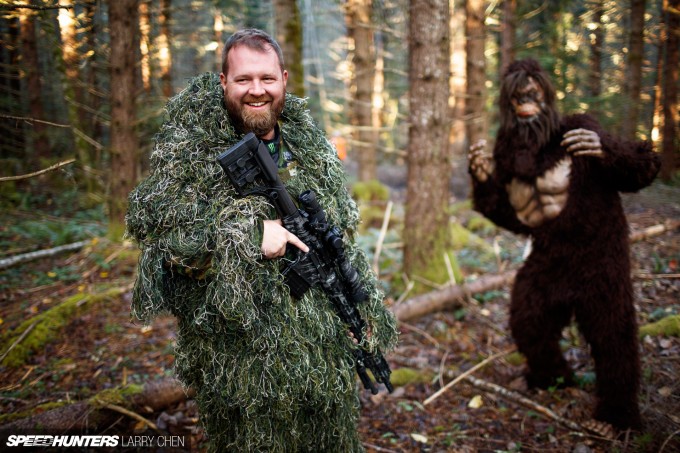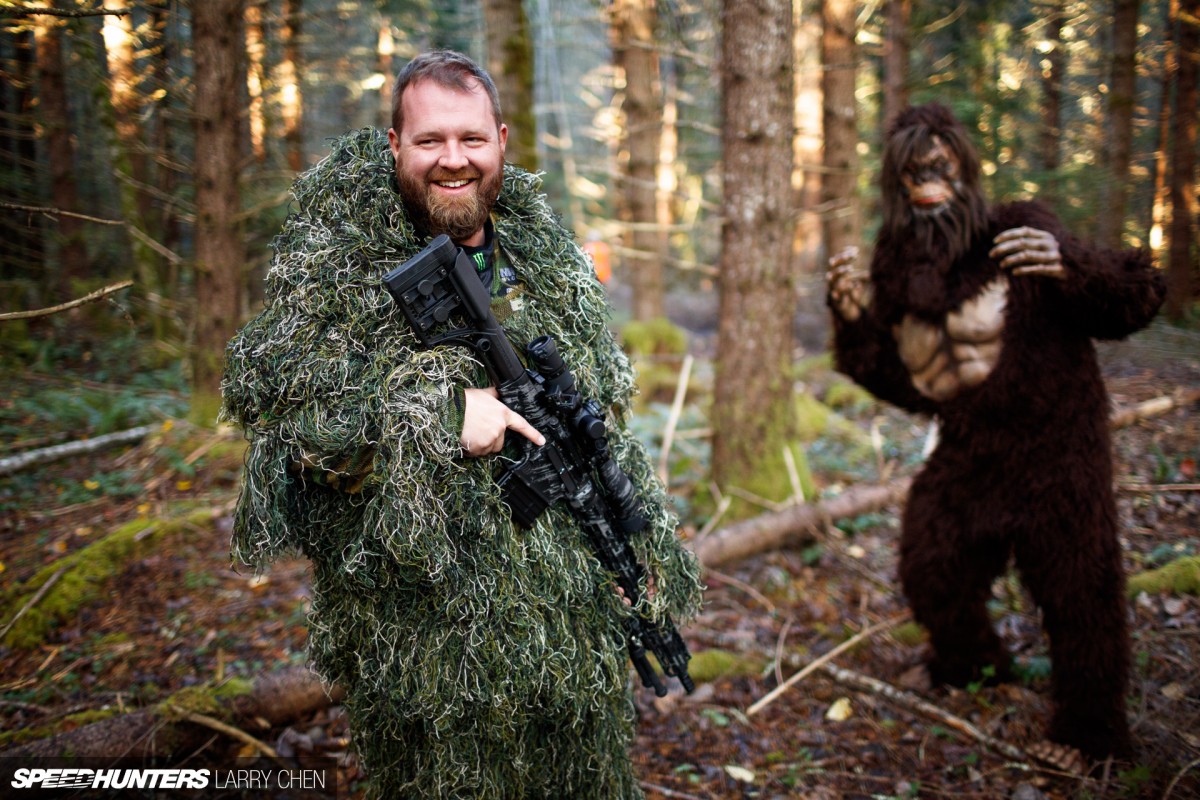 As for BJ and Bruce, they are best of friends now. Which makes me wonder, what is BJ going to do next? How about jumping over the White House? Or better yet, the Kremlin. All I know is, the more air time, the better.
Larry Chen
Instagram: larry_chen_foto
larry@speedhunters.com
Cutting Room Floor