An Early Start
It's tough being a car lover. All around the world, we're pretty much considered the outcasts of society. Think I'm being melodramatic? Look at how difficult it has become to organise something as simple as a friendly meet in a lot of places. Business owners don't want a group of cars descending upon them, despite the opportunity to earn. Look at the countless Cars & Coffee type meets that have been shut down or are under increasing pressure to find a new location.
Simply put, we're bad for business. They say that it's the few bad apples that give the rest of us a bad name, but it often feels like the rest of the world is just waiting for one of us to make a mistake so they can jump on it and put us down. What do we do?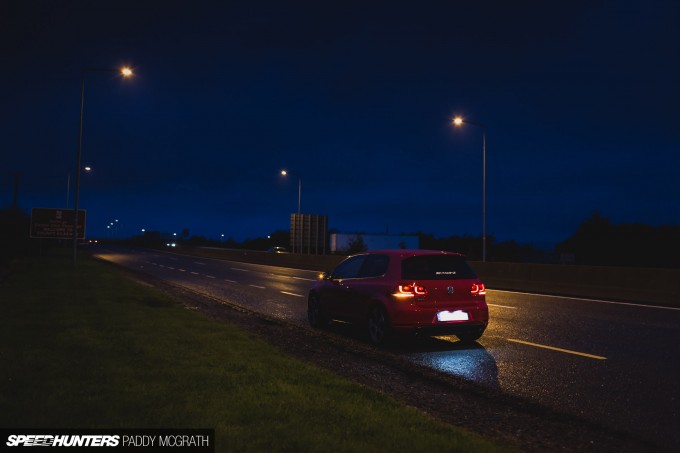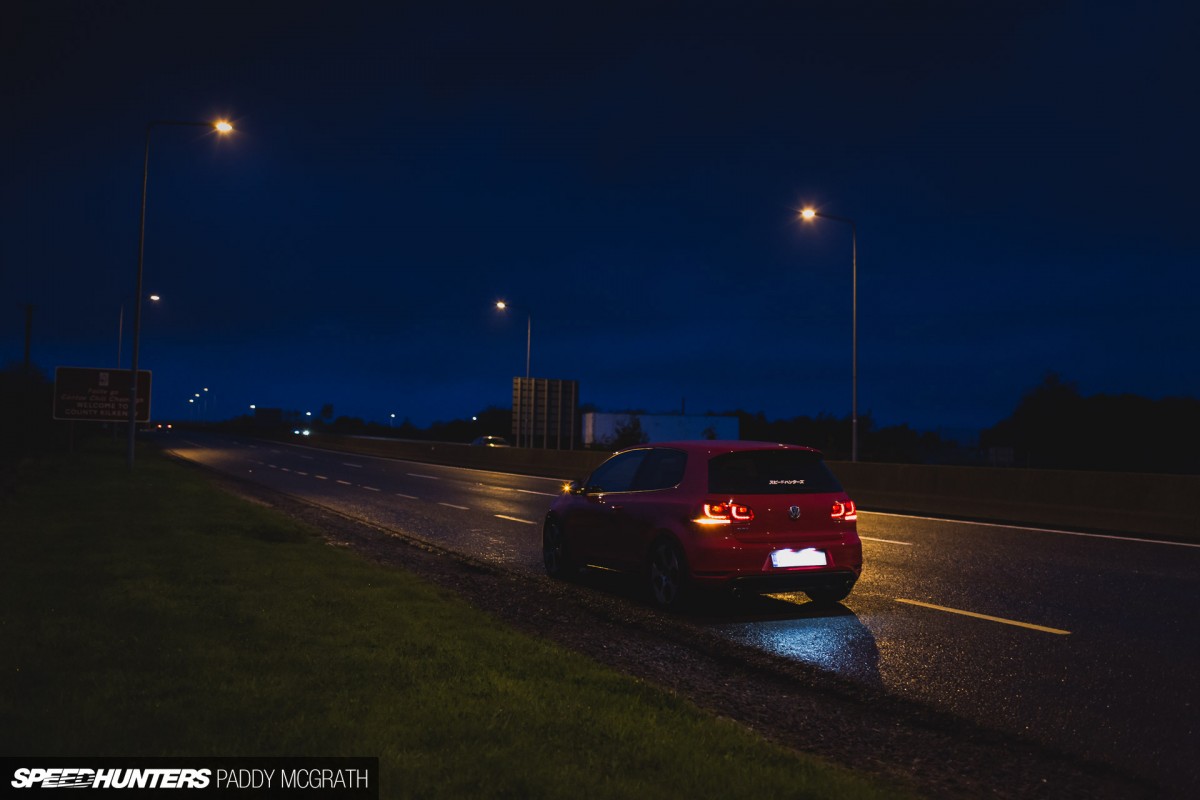 I sat waiting for a group of friends last Saturday morning on the side of the road. We had organised beforehand to drive together to Mondello Park for what would be the first Auto Heroes event. We had heard and read about the premise, but ultimately one would have to experience it first-hand to see if it made sense, or if it was even feasible in the first place.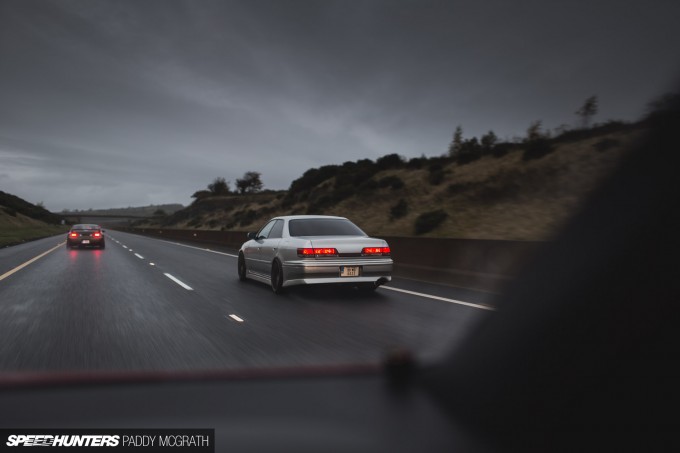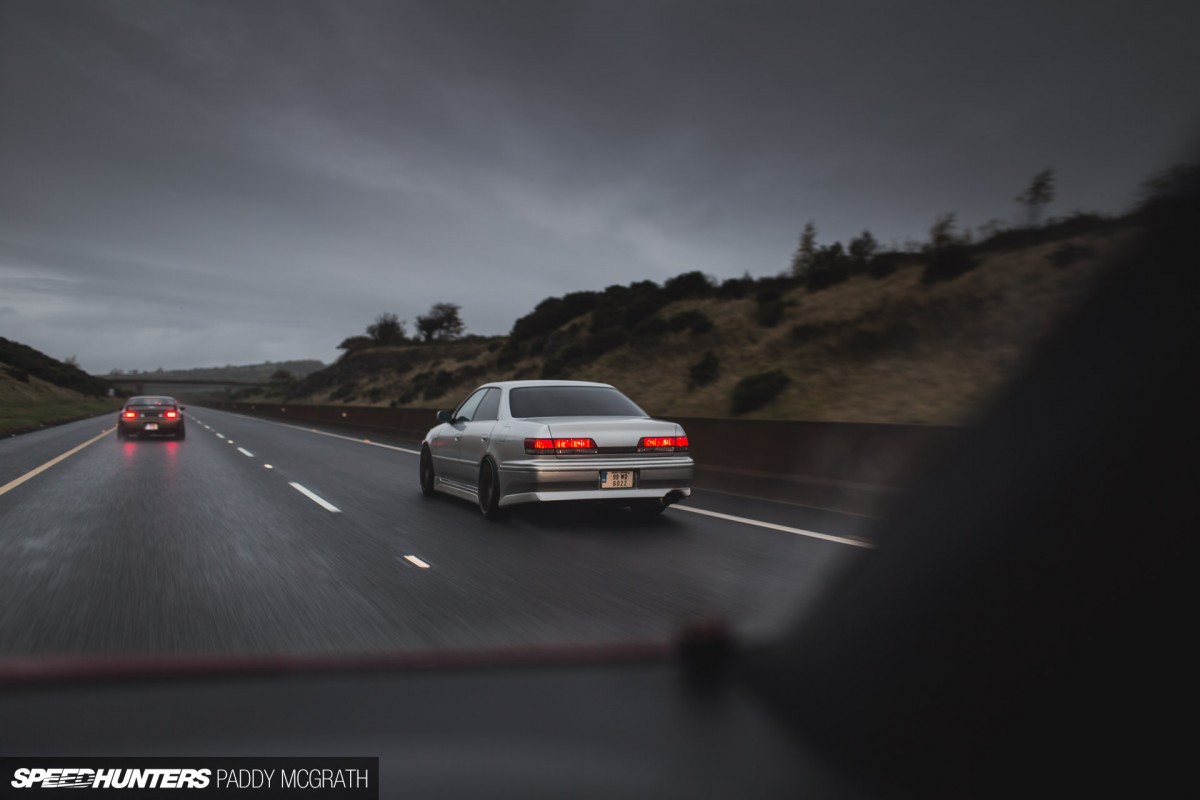 With night turning to day, our six-car convoy headed north on a mostly deserted motorway. Having the sole German car (Project GTI) in the convoy would typically be strange, but not within our group. Nor would it make a difference for where we were going.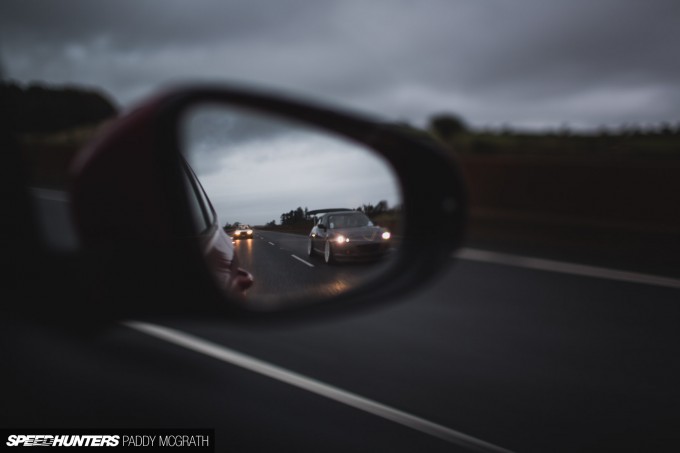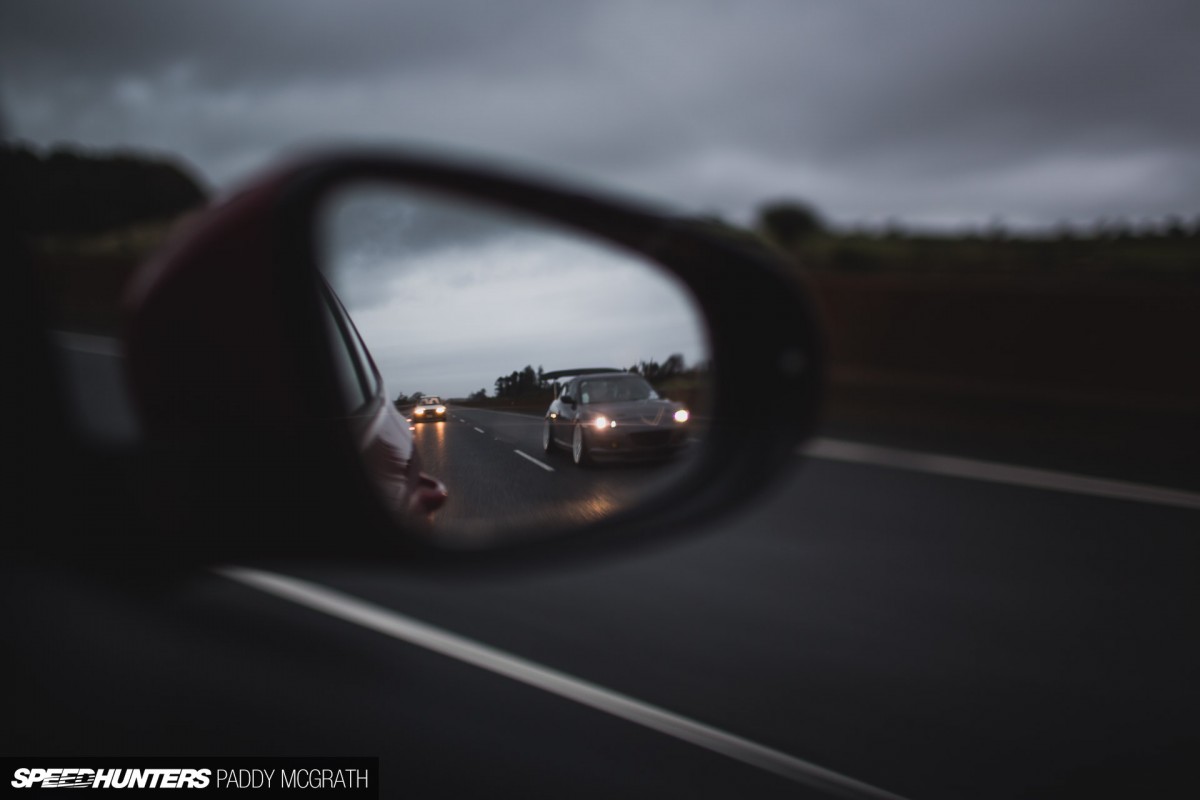 I'd love to add some dramatics about the high speed run up through the country together in convoy, but the reality is it was more Driving Miss Daisy than Fast & Furious. It's becoming more and more difficult to find the thrill of driving here – something I'm sure a lot of you might be able to relate to. Not only due to heavy and often stealthy enforcement of the road traffic laws, but also showing respect to fellow motorists and not putting anyone in danger. Even trying to get anywhere close to the limit in a modern performance car is typically a huge risk on the road and is something a lot of people – quite rightly – aren't willing to do anymore.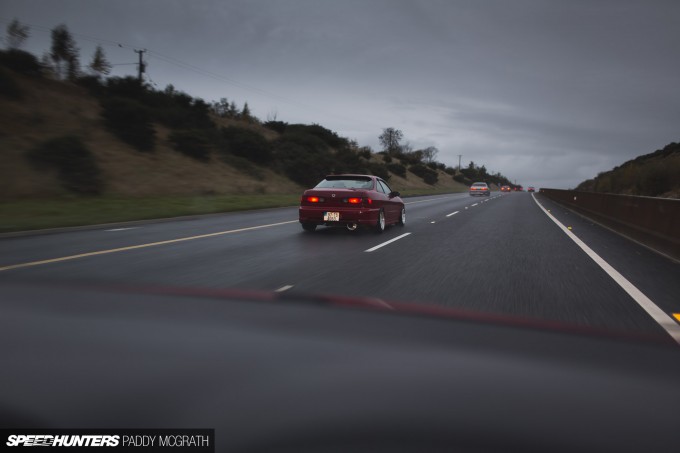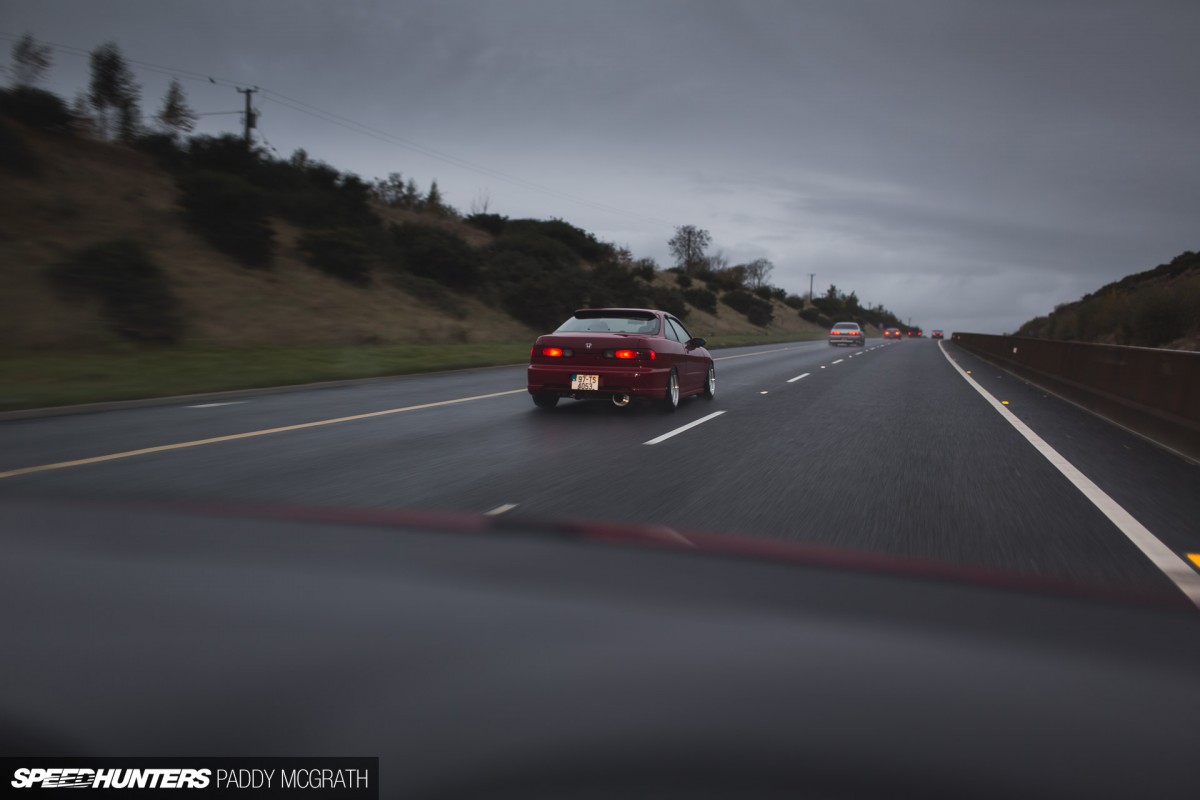 With all this in the back of my mind, we continued to our destination, even picking up another car or two as we drew closer. We didn't know it at the time, but we were in for quite an eye-opener of a day…
Don't Call It A Car Show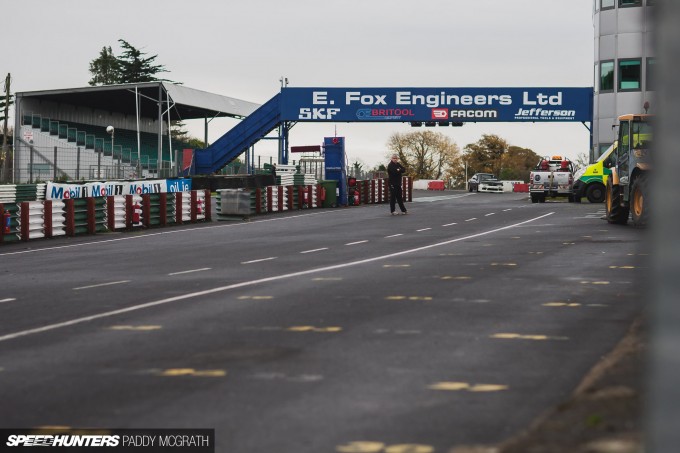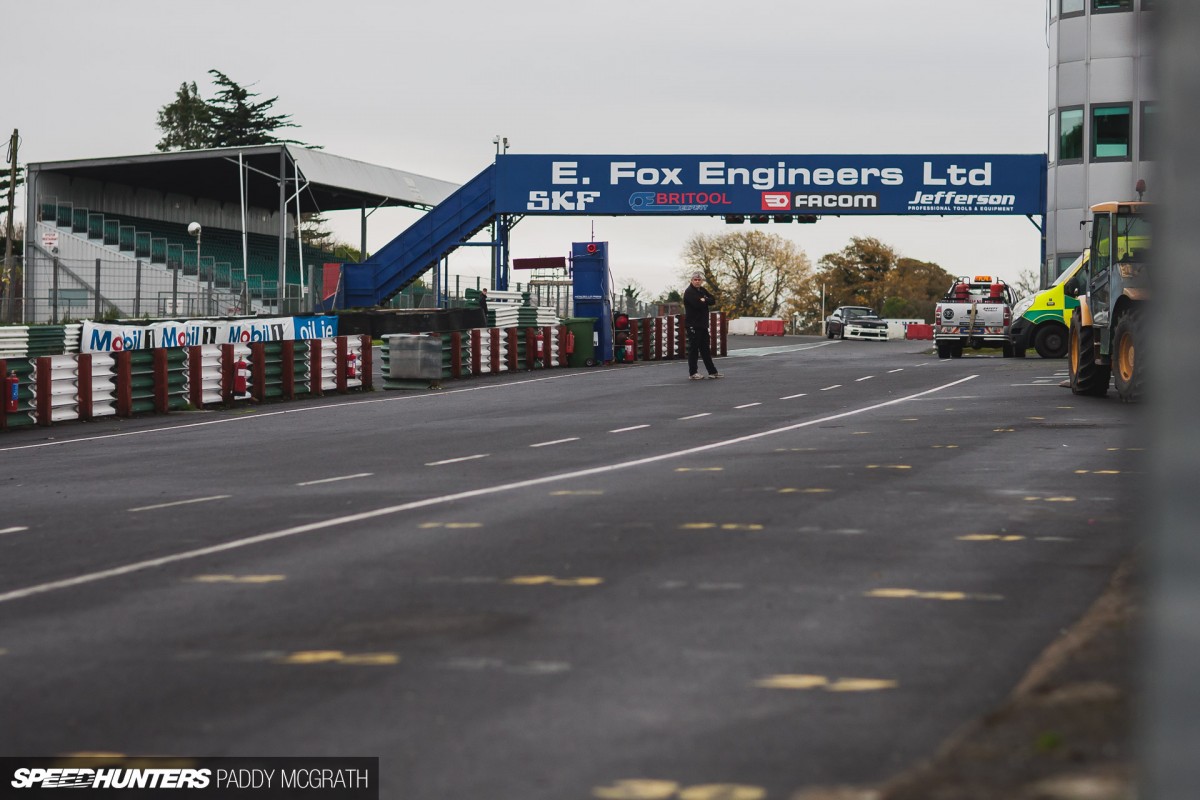 I dread to think what Irish car culture would look like without Mondello Park. It's our only international race circuit and host to several key events throughout the annual Irish automotive calendar. We're very fortunate that Mondello's management is also open to new ideas and so welcoming to the car enthusiasts on this island.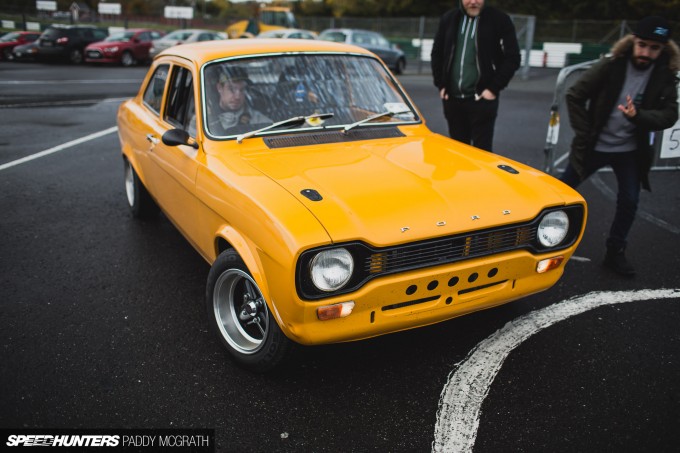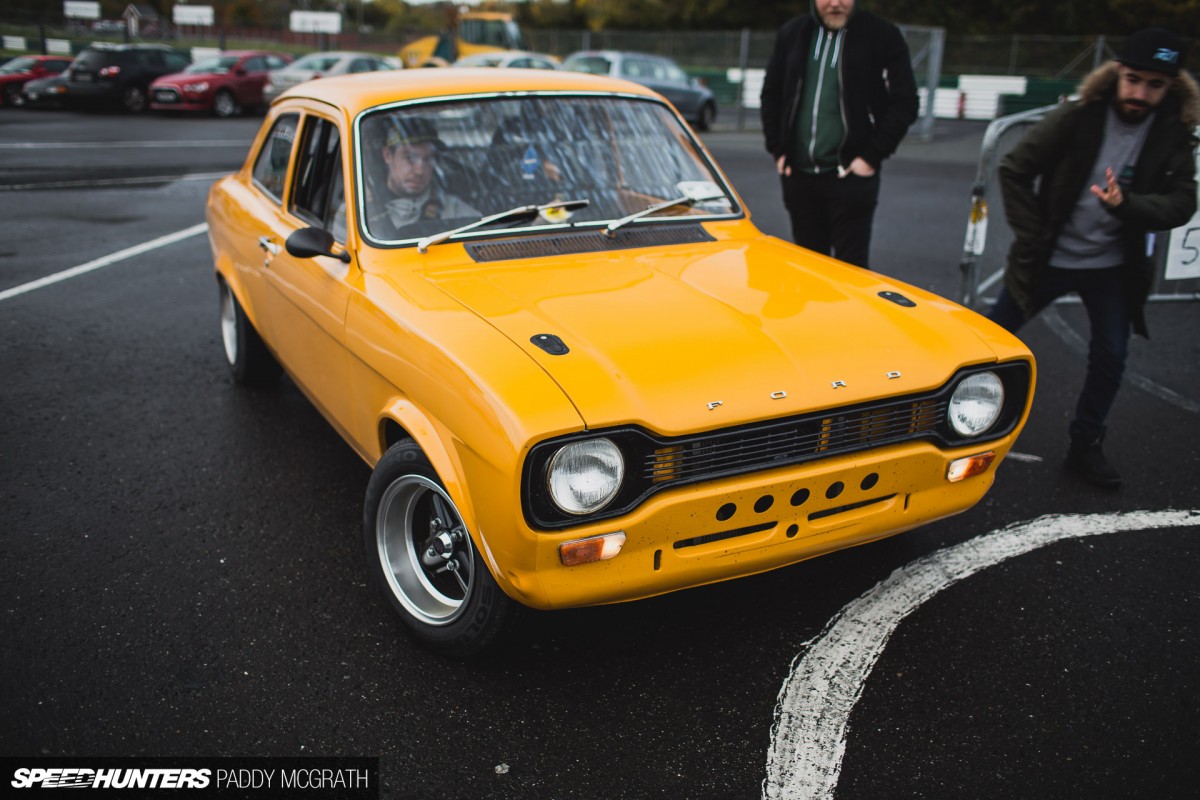 No surprises then that they were quick to jump on board with Irish Drift Championship organiser David Egan to put together a car meet with a difference. Think car culture without barriers and you wouldn't be too far off the mark.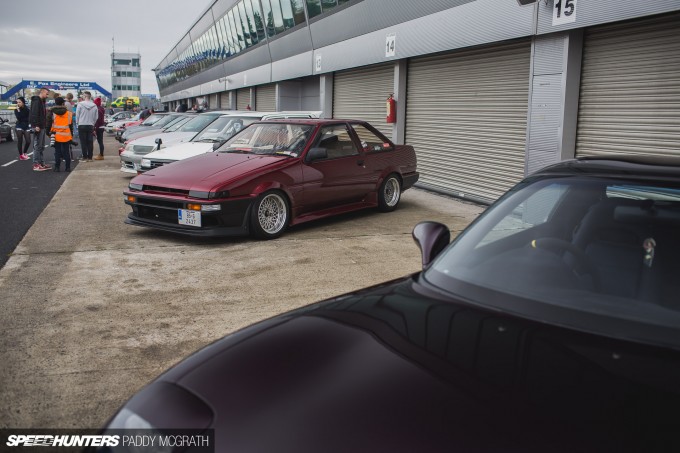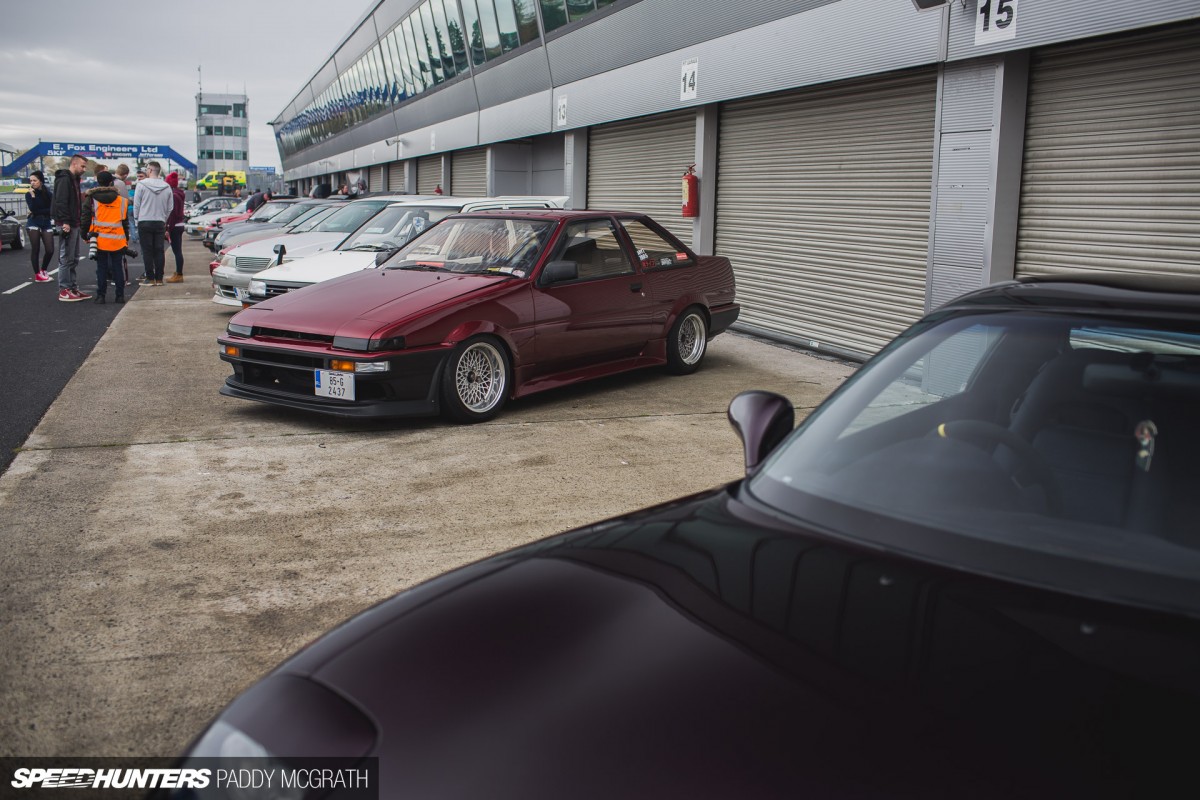 So, what exactly is the idea behind Auto Heroes? Simply put, it's an event where everyone is welcome and is provided with the opportunity to enjoy their car however they would like. Want to park up and talk with friends? No problem.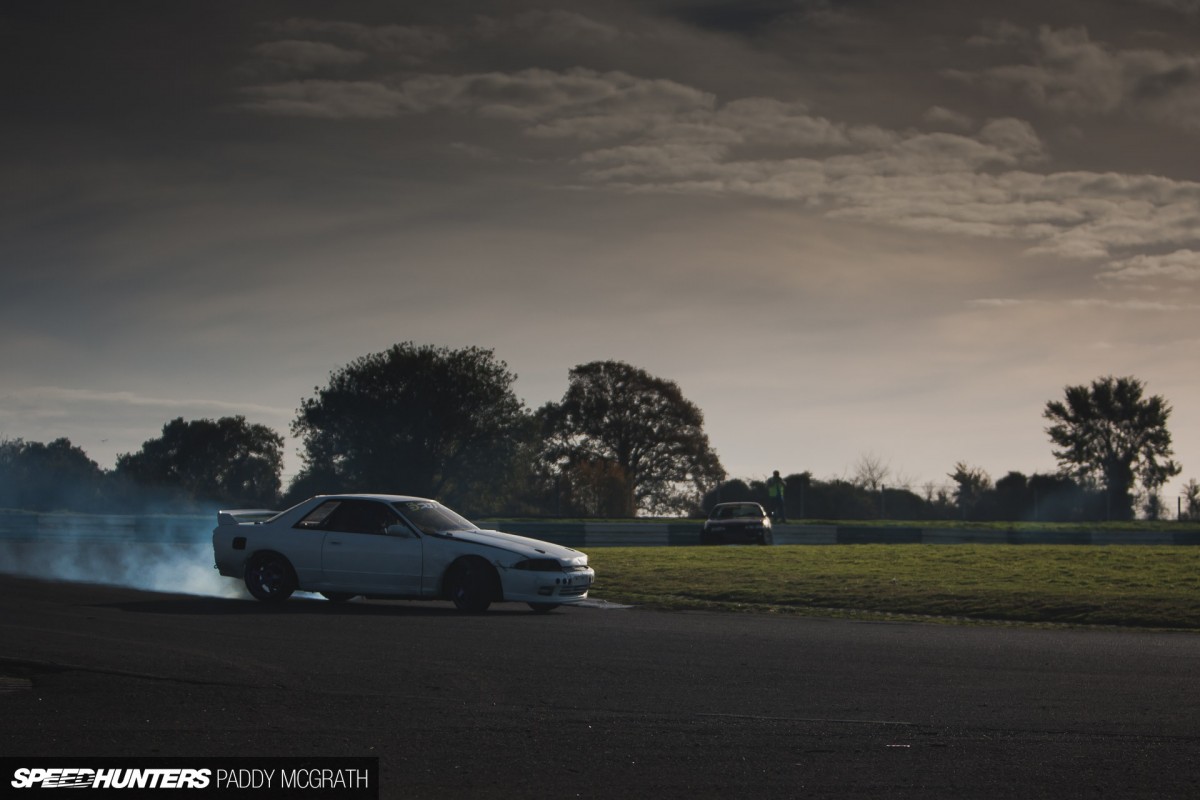 Want to take your road or track car out for a few laps? Again, no problem. You can either choose between participating in the drift sessions or the dedicated grip sessions, both of which run throughout the day. There's also the option of tackling a gymkhana course which was set up in the paddock or even just the freestyle area where you can burn rubber to your heart's content.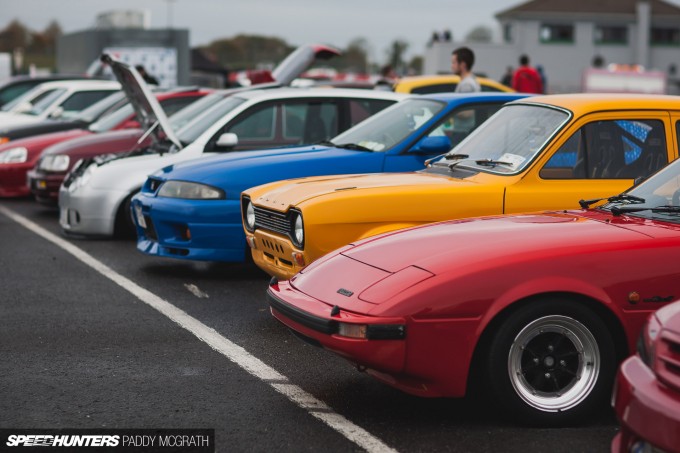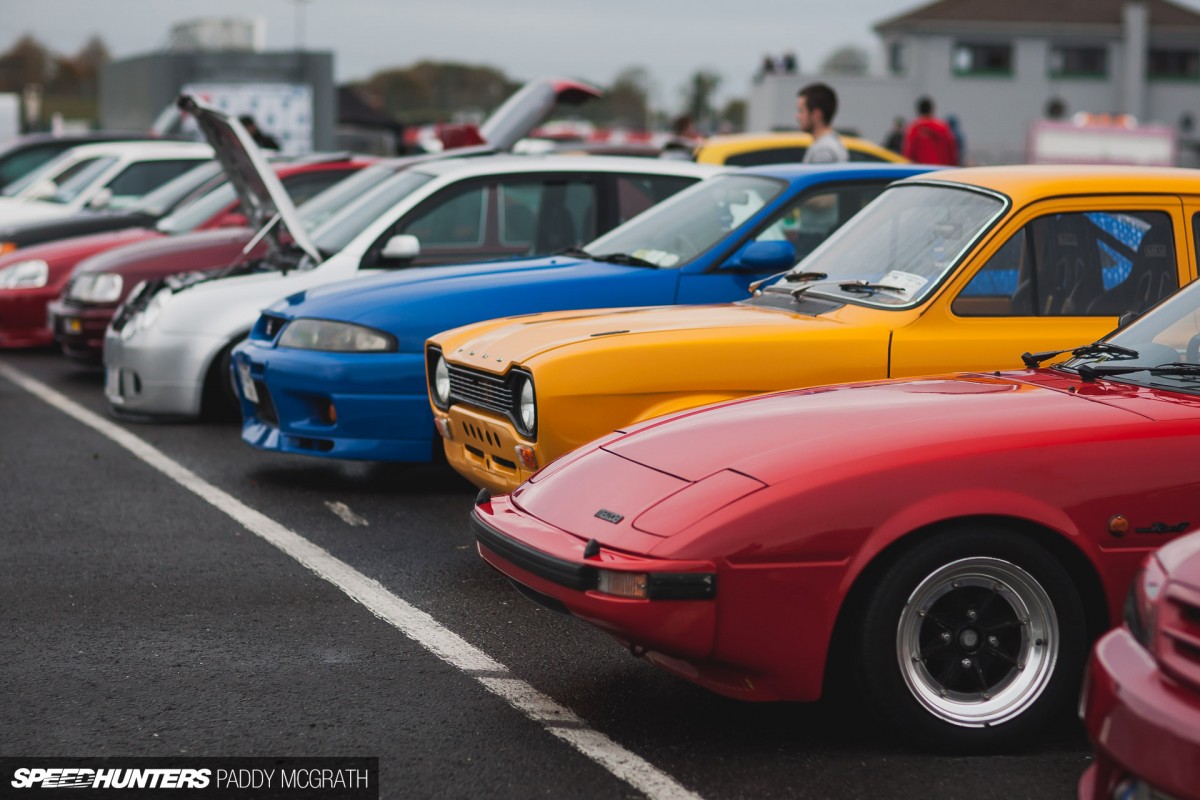 It doesn't matter what you drive either. There aren't many times you'll see a Sierra Cosworth parked beside a bagged Lupo which itself was parked beside an R33 GT-R. Being the first event, I felt a lot of people were sitting this one out to see how it would unfold, but I honestly (and personally hope) that even more marques make it to the next one.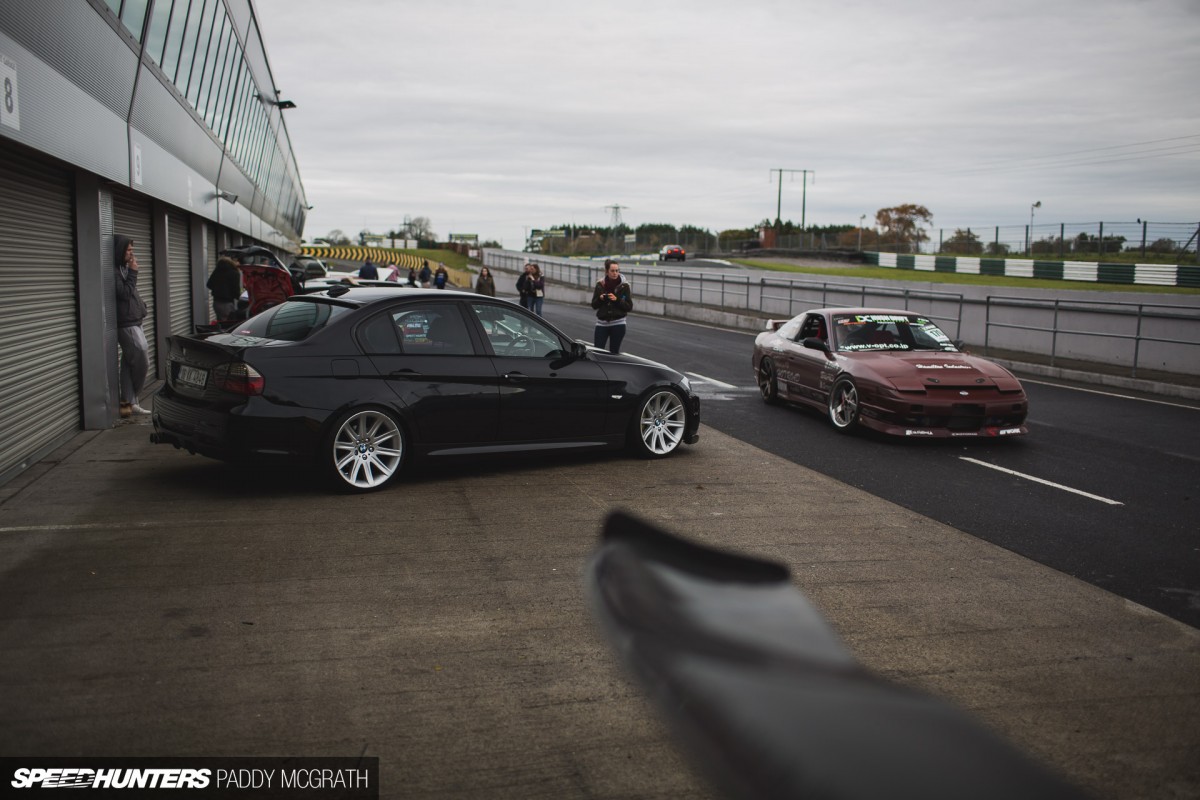 The pit-lane was reserved for a handful of clubs who had arranged to bring a few cars each beforehand. Yes, that's my old BMW and yes, I did cry a little. Thankfully, it's in great hands and I'm looking forward to seeing how it progresses with its new owner.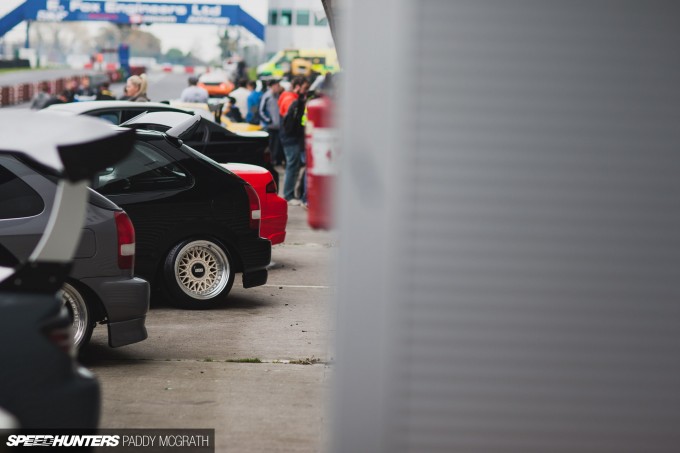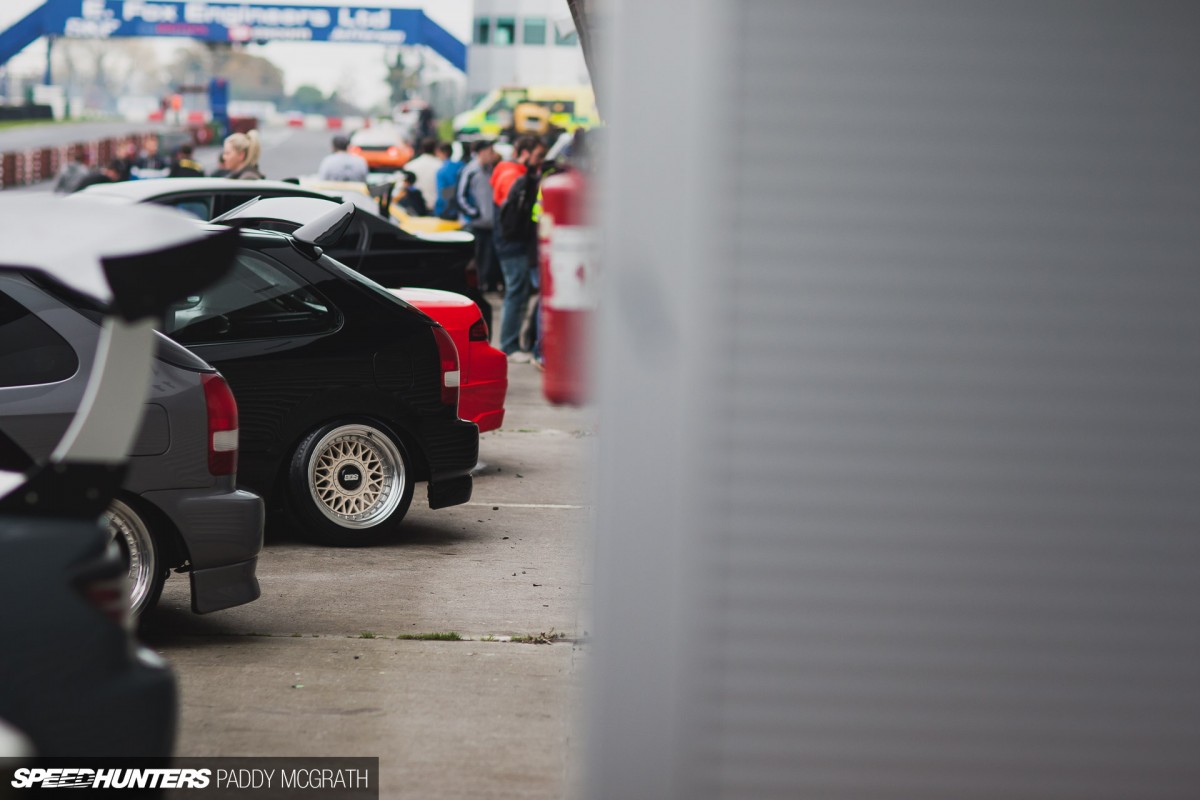 It's obviously a national bias, but I'm always fascinated with how Irish car culture is progressing and how it fares against other countries.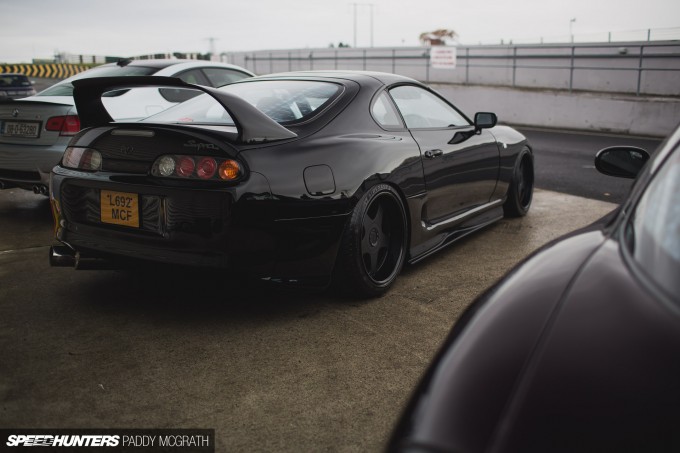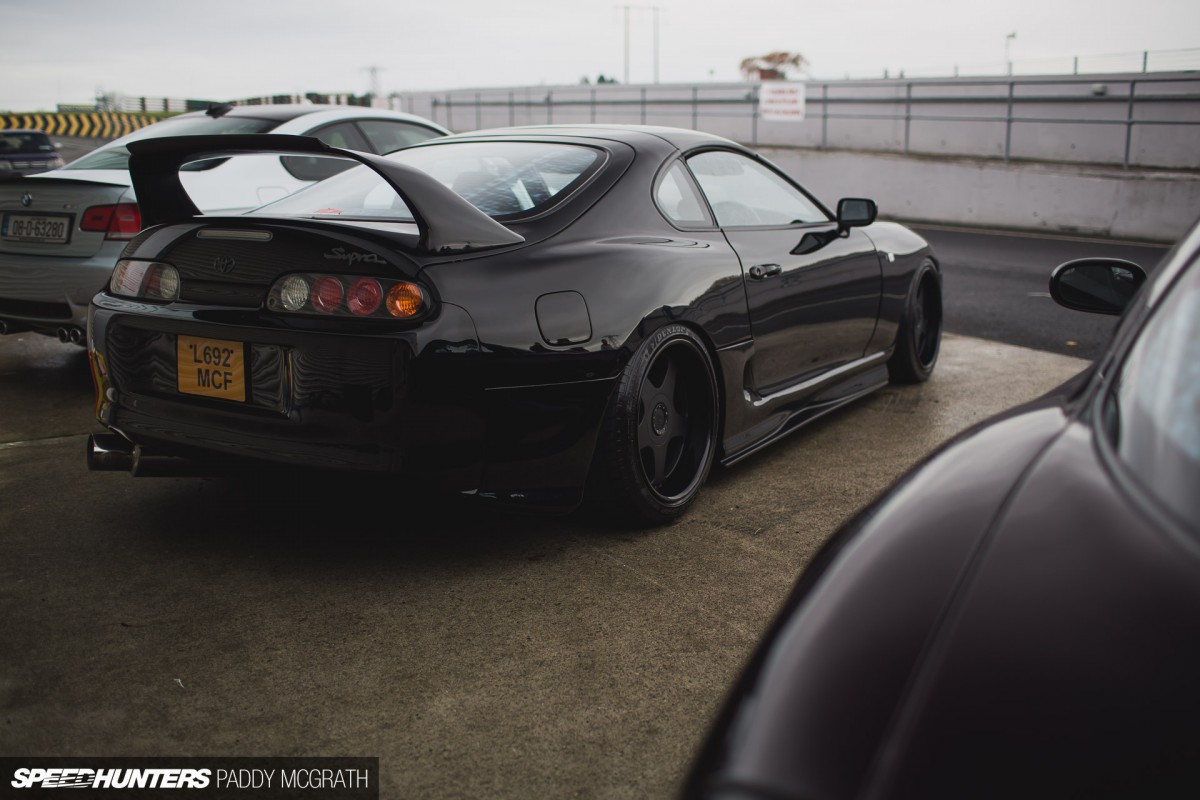 There's always been a strong Japanese flavour to the aftermarket scene here and it's something I don't see changing any time soon either. This black-on-black Supra was a welcome sight and a rare enough one too. I'm not usually a fan of the murdered-out look, but it looked super sleek here.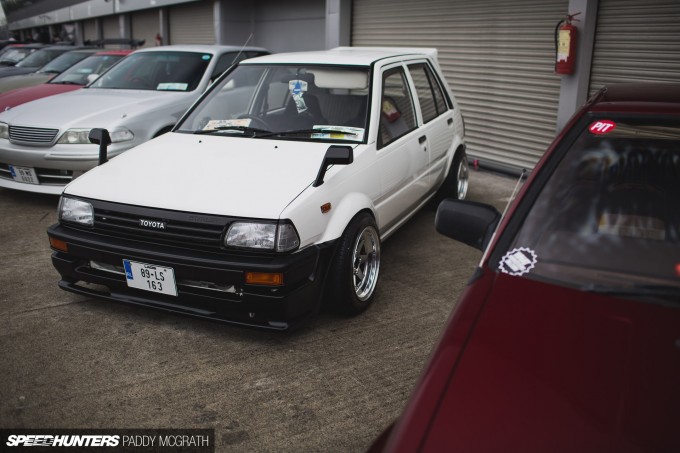 This Starlet EP70 is a local car to me and is a really impressive build. In fact, I had just shot it for a full feature two nights before but still couldn't resist taking another shot or two of it.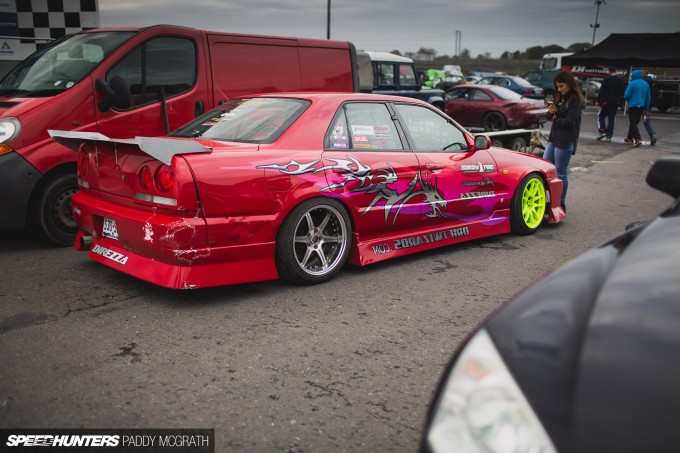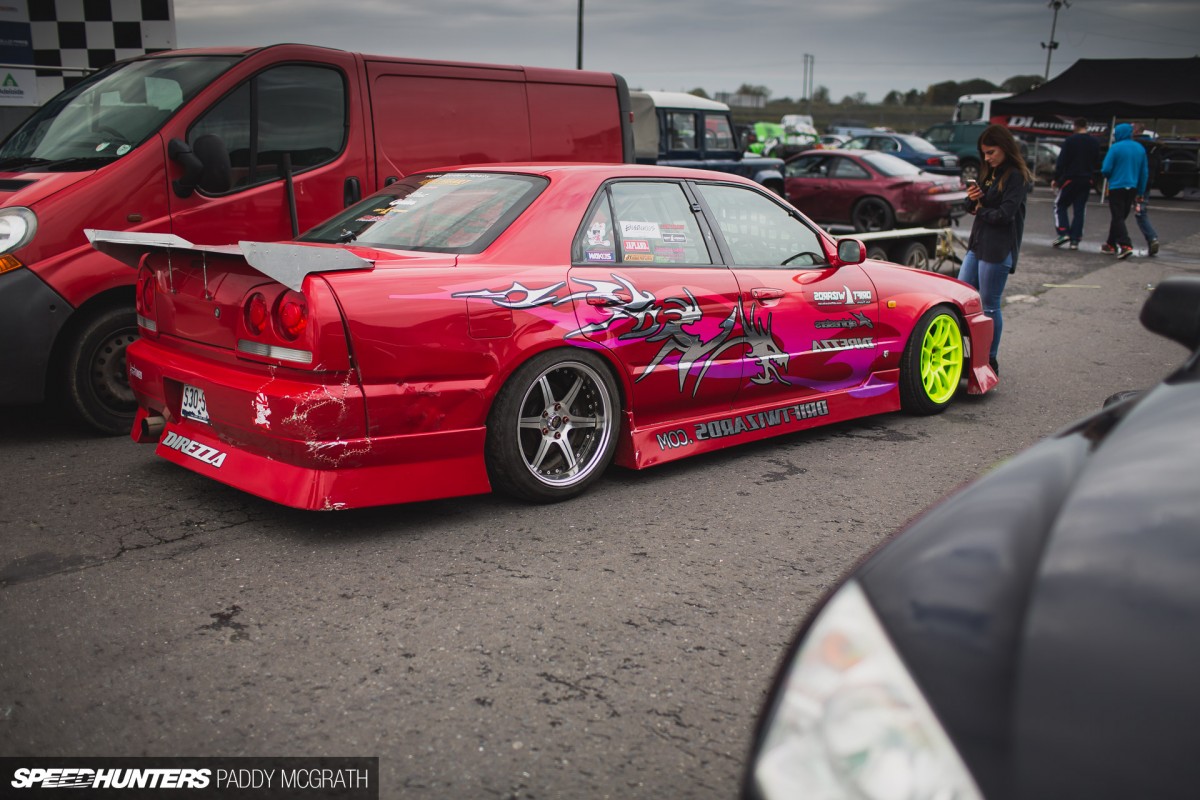 A welcome surprise was this really cool ER34 Skyline which has seemingly popped up out of nowhere. If I didn't know better, it looked like a car that had been teleported from Nikko to Mondello. There's something so authentic about it; I'll try keep an eye out for it and its owner again in the future.
A Big Entrance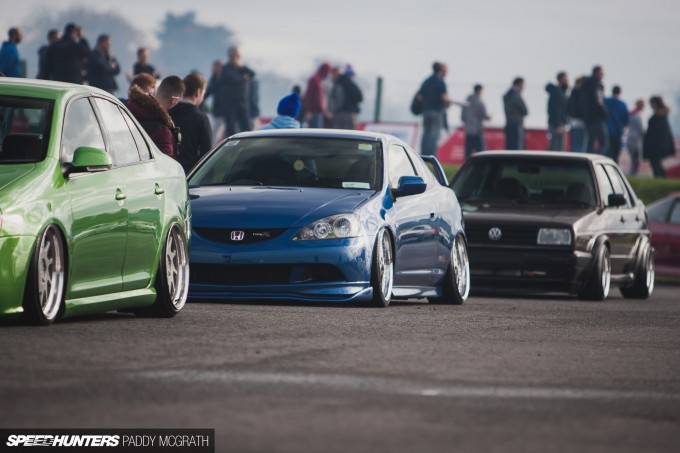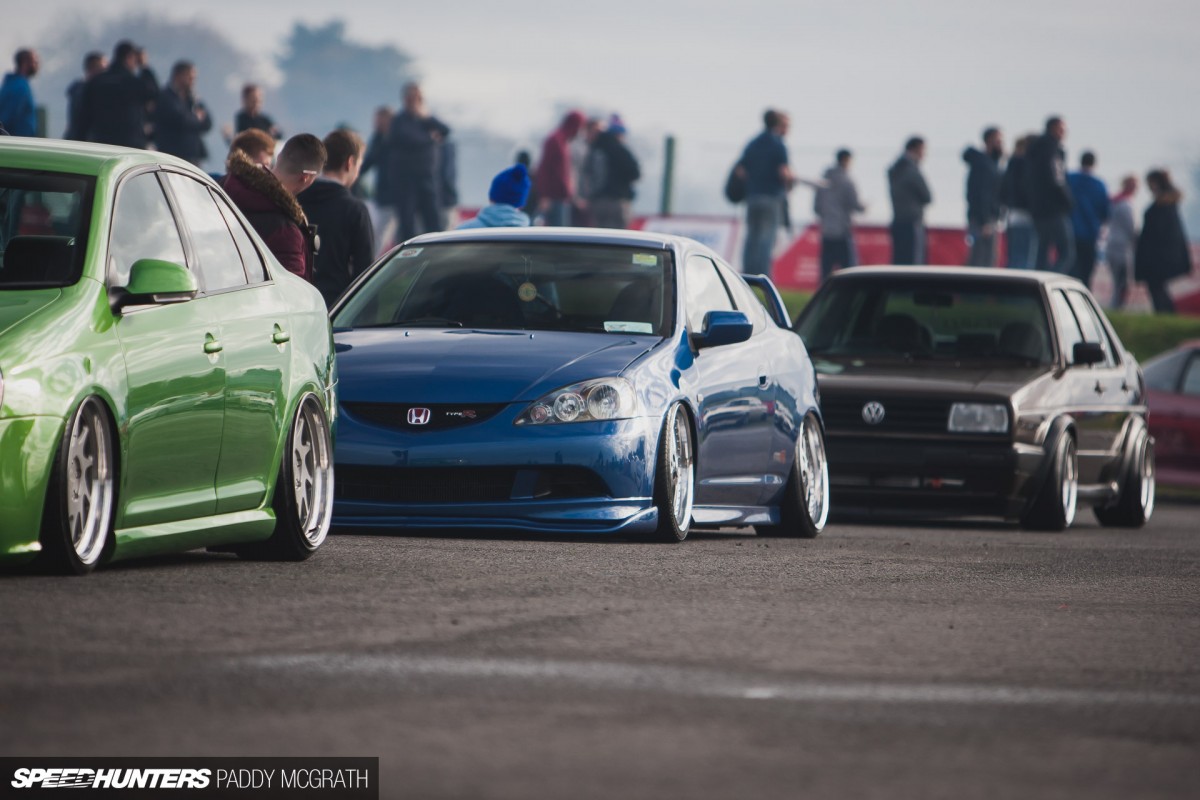 Making my way to the first 'big entry' contest in front of the grandstand, I continued to find interesting cars dotted all around the venue.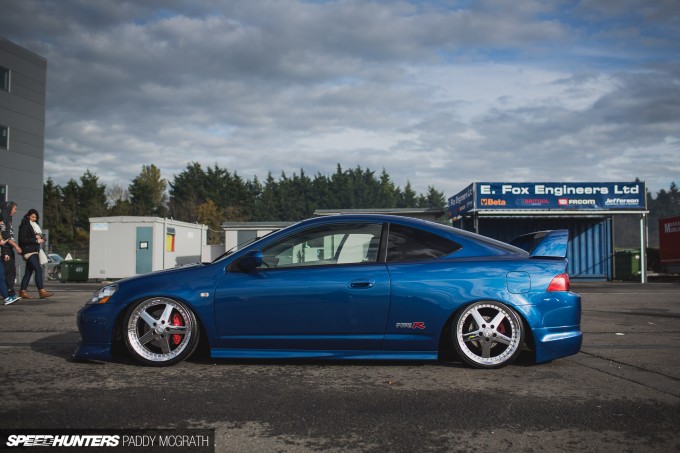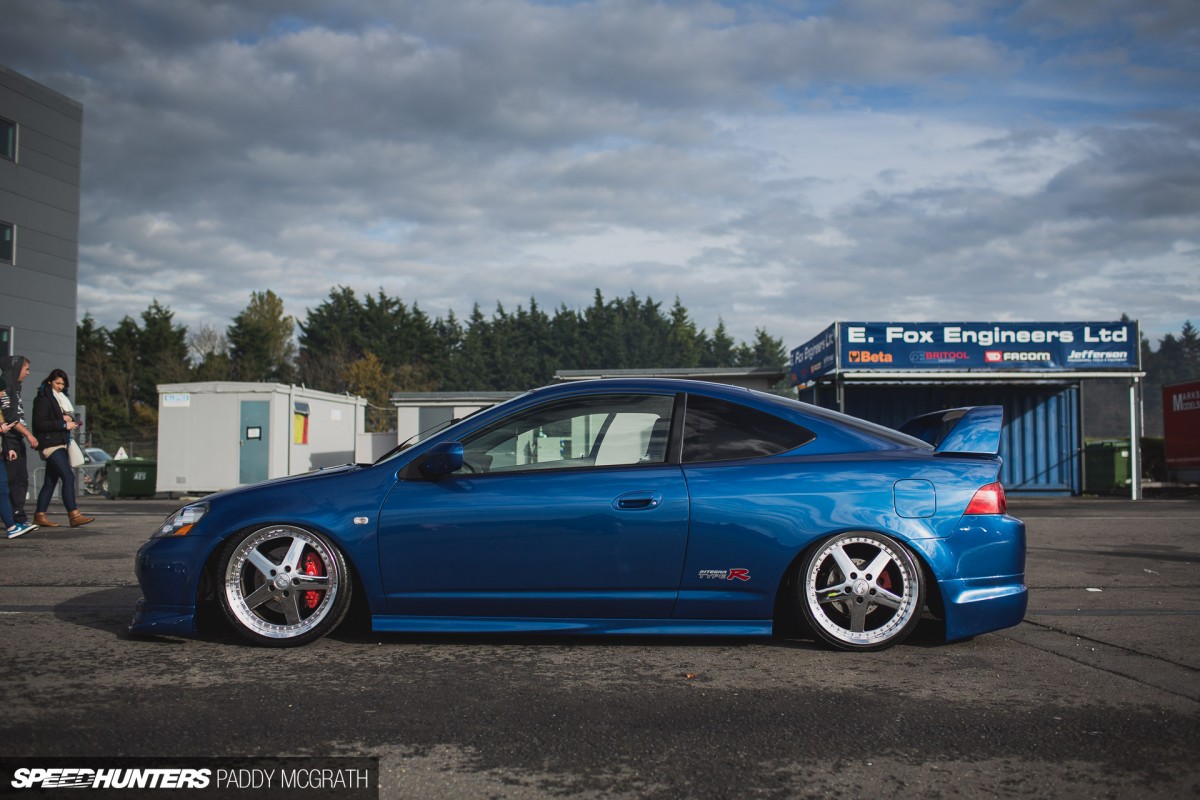 This bagged and Work Equip wearing DC5 Integra Type R will likely divide opinions.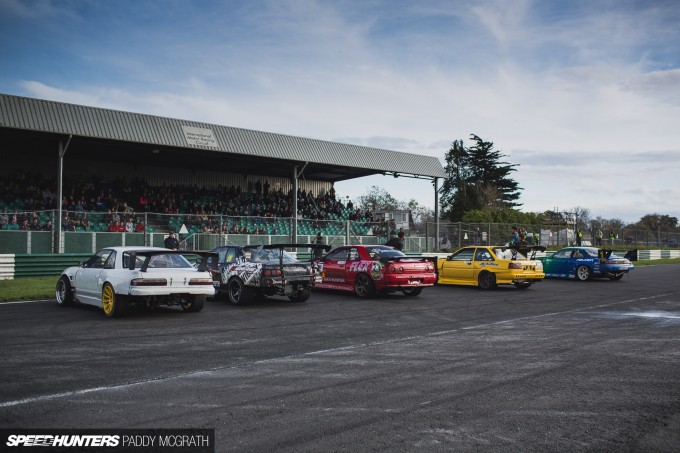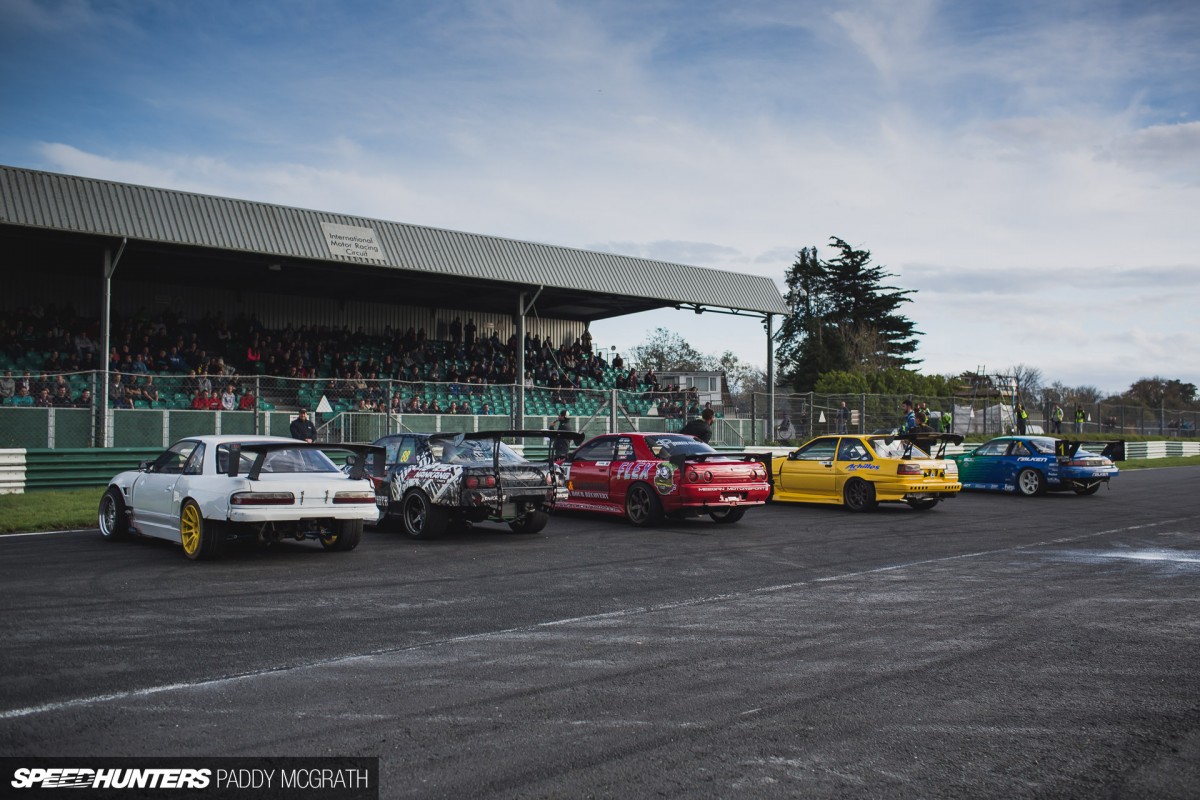 A handful of pro-class drivers would attempt to set an official record for the fastest drift entry speed at Mondello Park during the lunchtime break.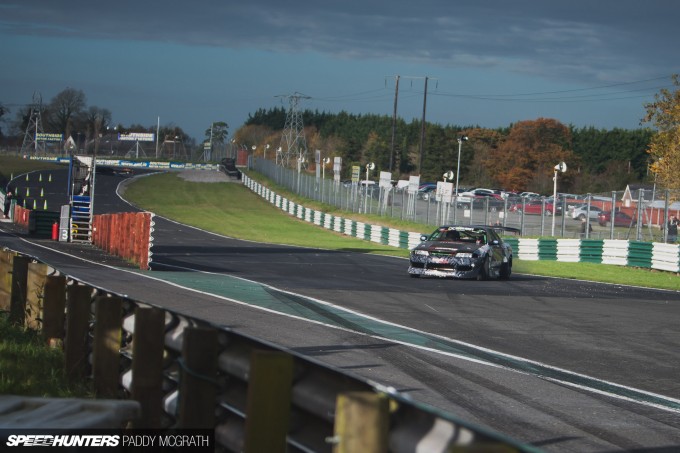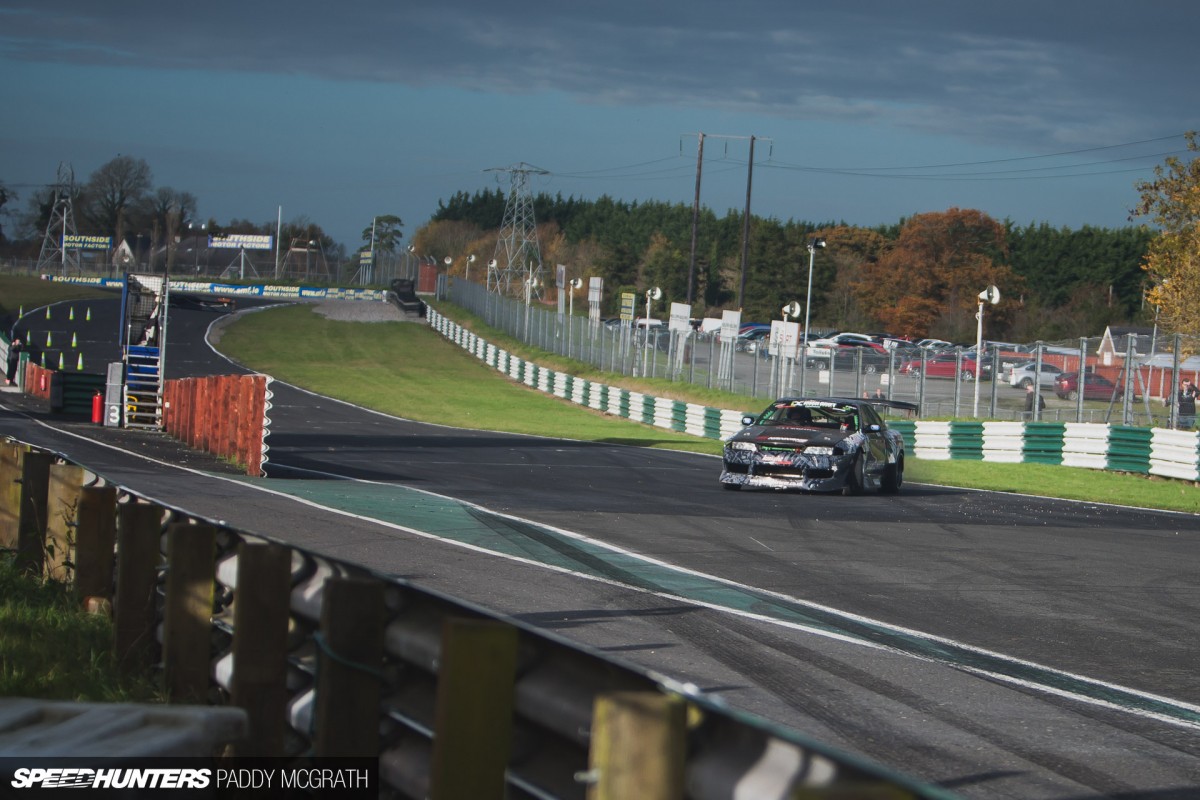 The run up to turn one is considerably long, especially when you start before the last corner to ensure you seek out every single last unit of speed. For reference, Brian Egan in the Dealt Width 2JZ R32 Skyline is initiating across the start/finish line here, which is roughly halfway up the straightaway. He comfortably had enough speed to carry him all the way to turn one.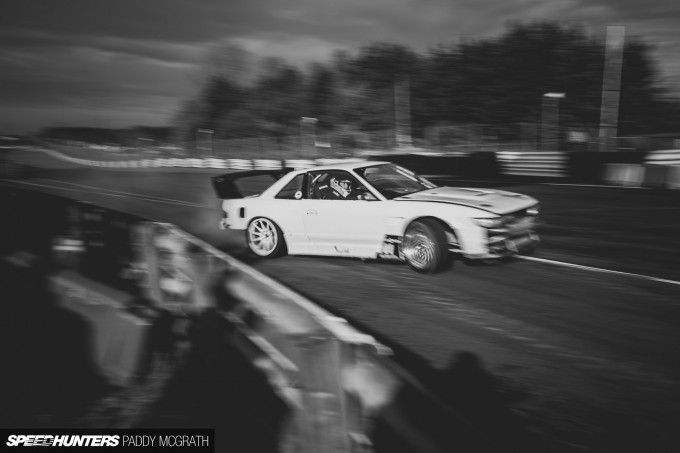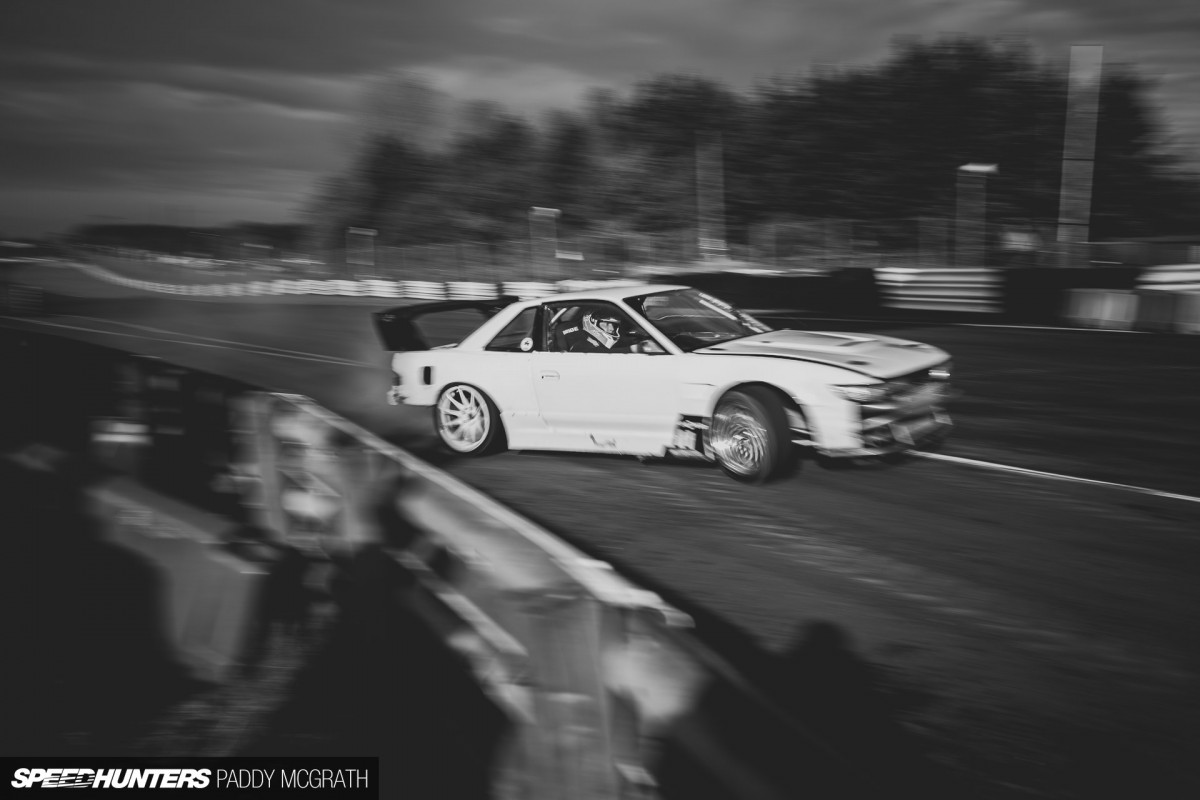 Ultimately, IDC competitor Christy Carpenter would set the new official record in his livery-stripped PS13 Silvia.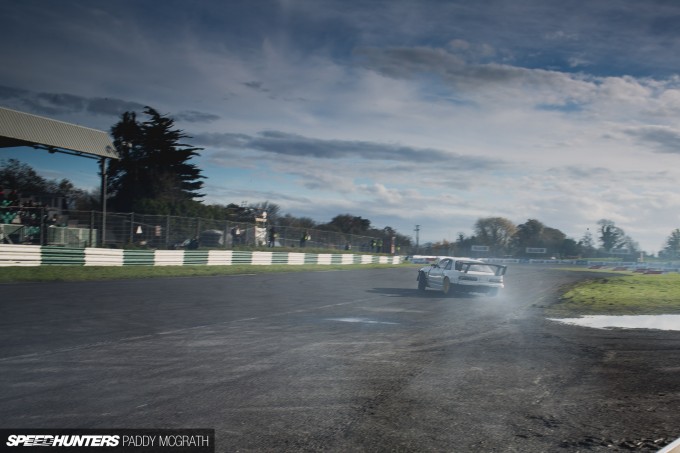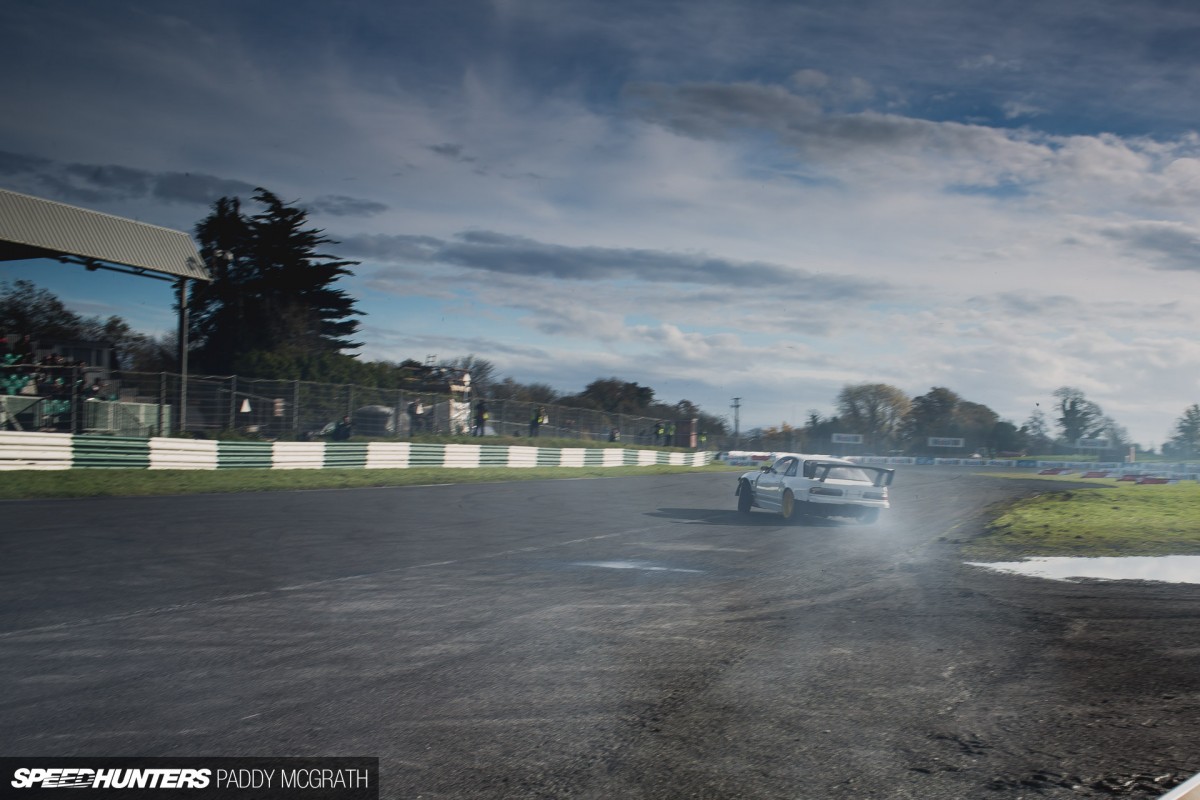 His speed? 106mph (170.6km/h) as he initiated under the bridge. Just in case anyone thought it was a fluke, he matched it with an identical speed on his second run.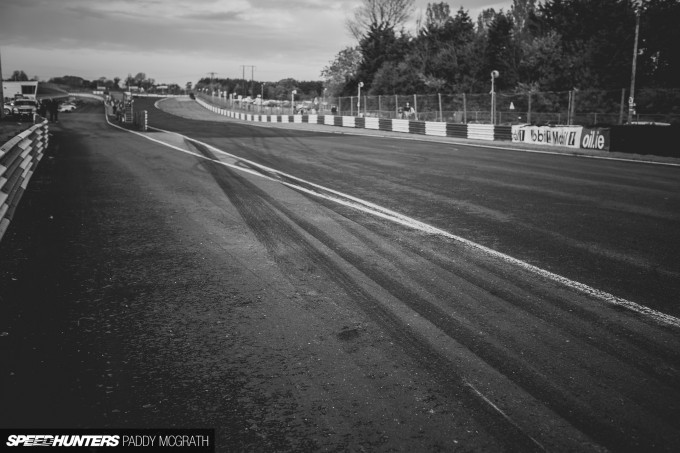 Those who know, know.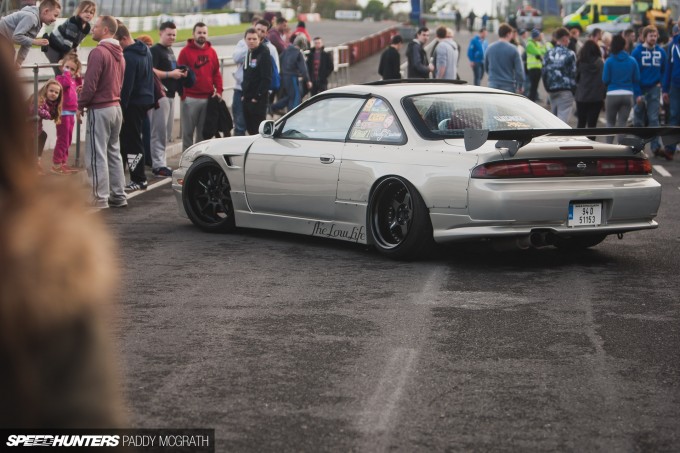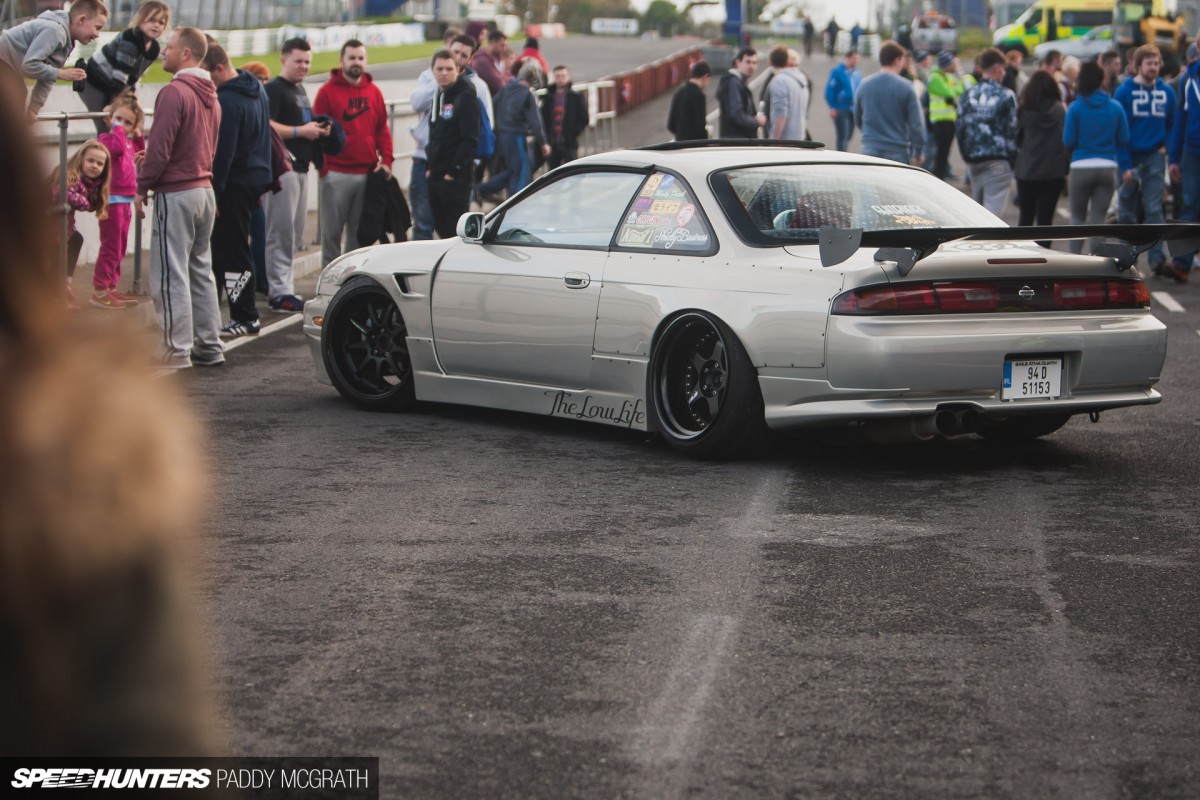 With another half hour or so left in the lunch break, it gave people more time to relax and explore what else was on offer.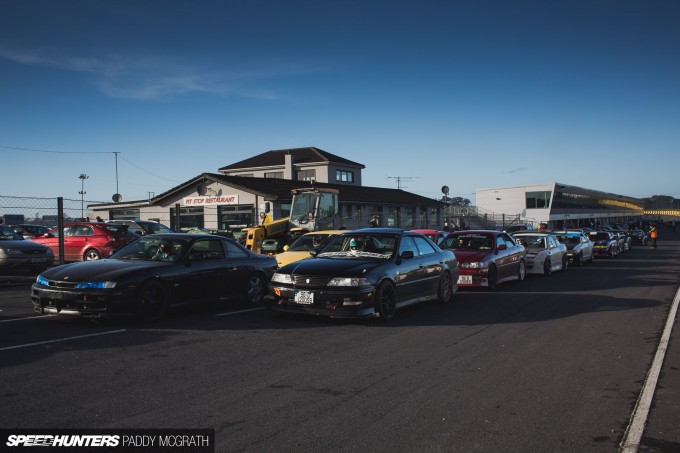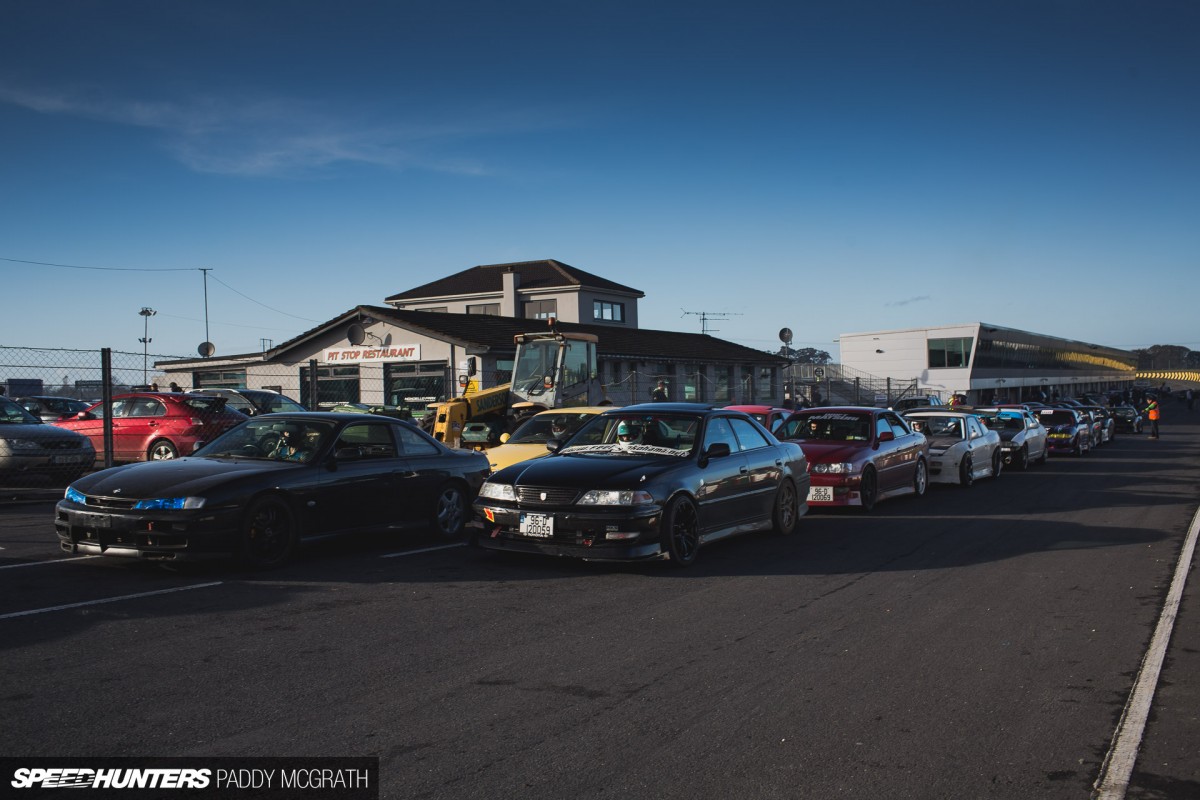 I took the opportunity to cross the track and head out to the International loop of the Mondello circuit, where the grip sessions were taking place.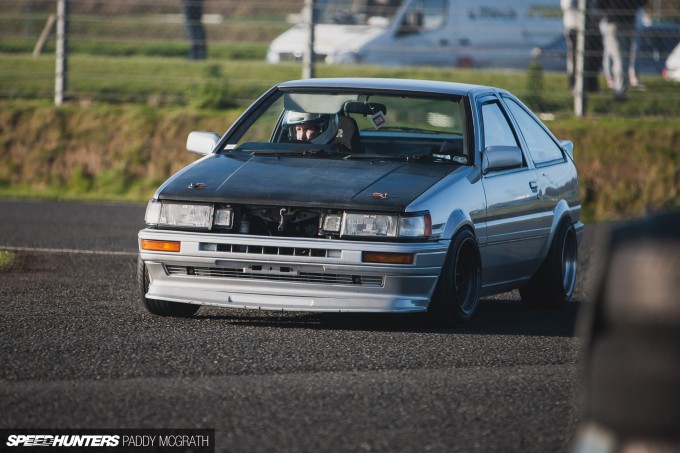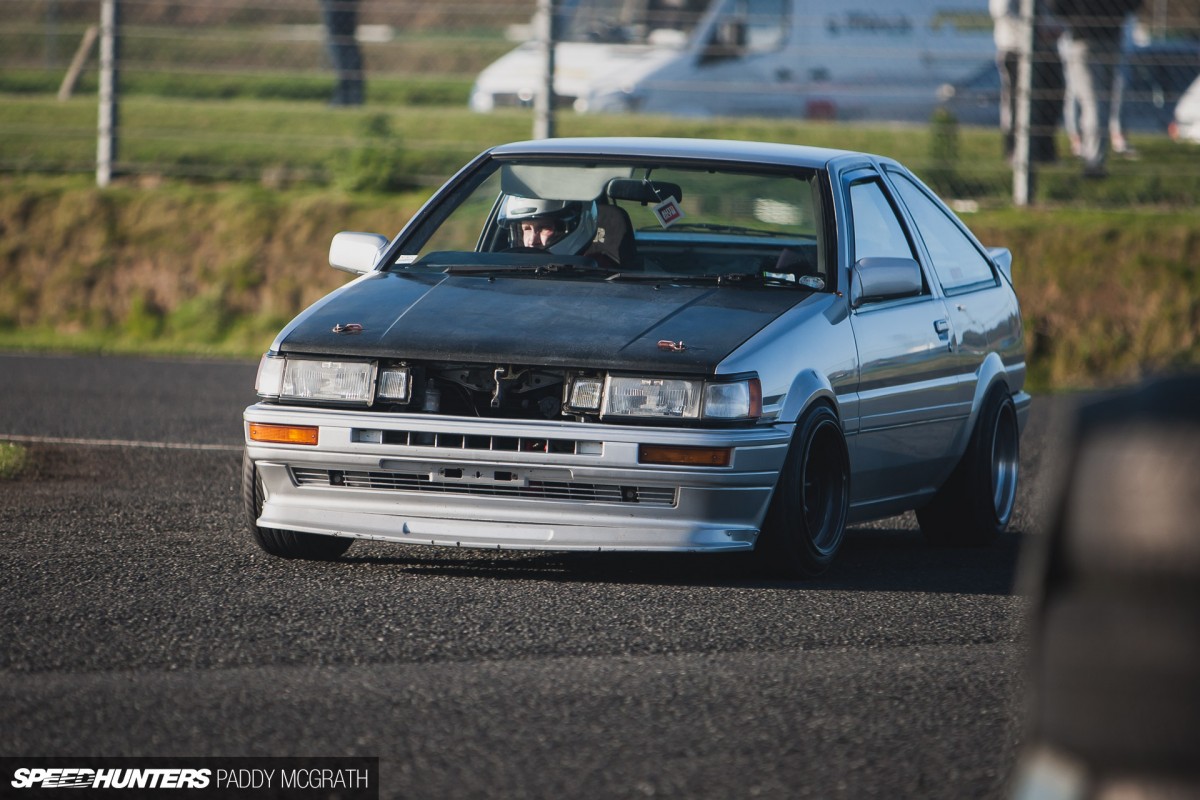 It was an unusual but welcome sight to see an AE86 gripping the short loop as the first car lapping.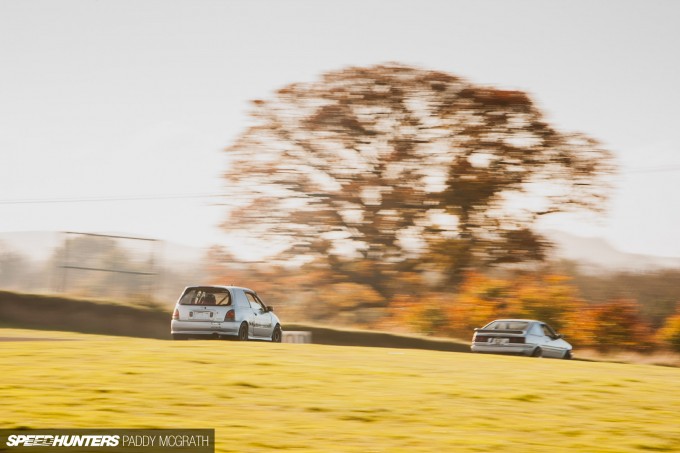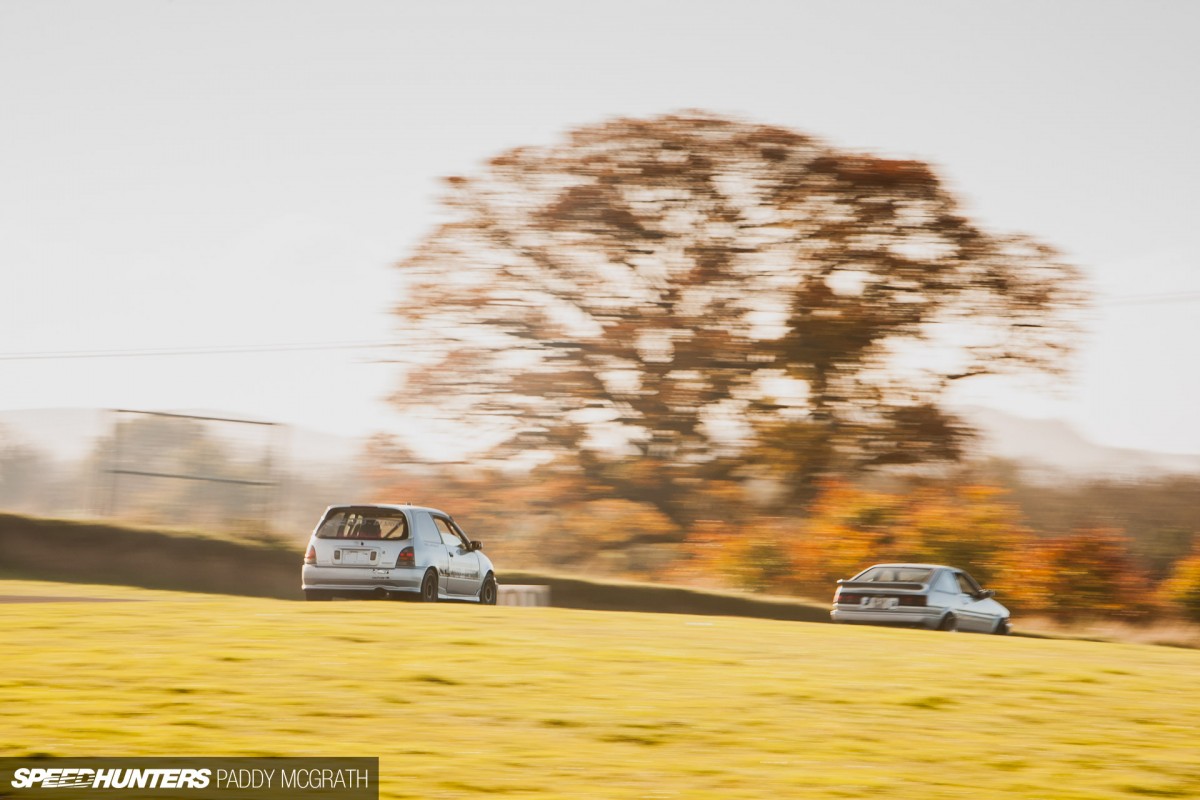 Quickly followed by what I can only describe as a ballistic Toyota Starlet Glanza V which seemed intent on trying to lap everyone.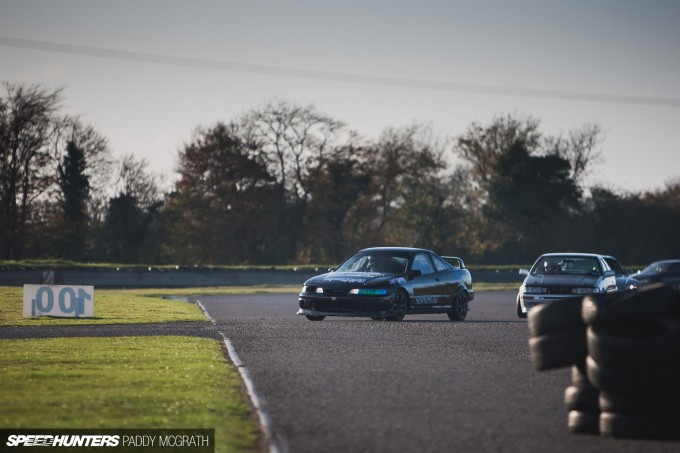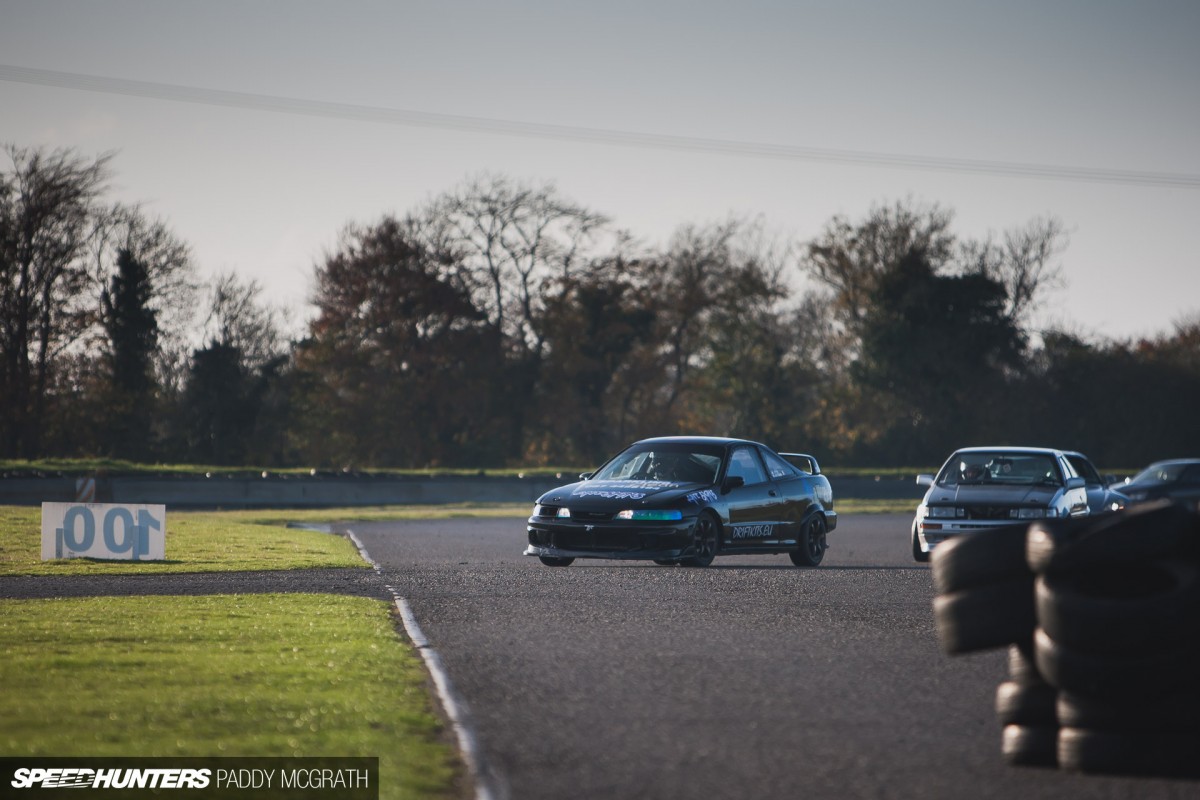 The difference in atmosphere between the drift paddock and grip section of the venue was quite interesting. The smells were different too, from smoking tyres to smoking brakes…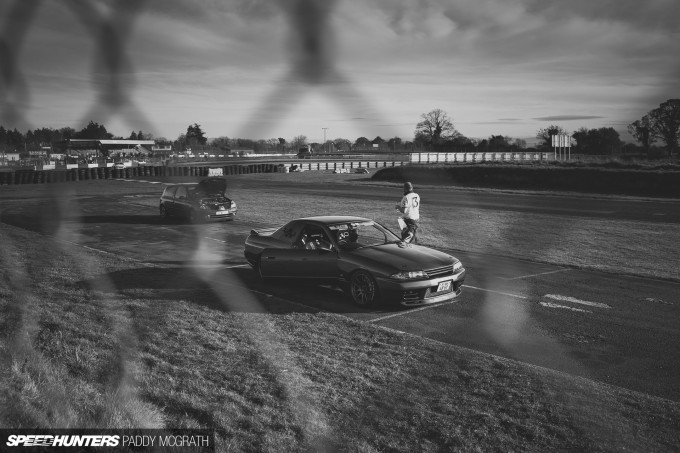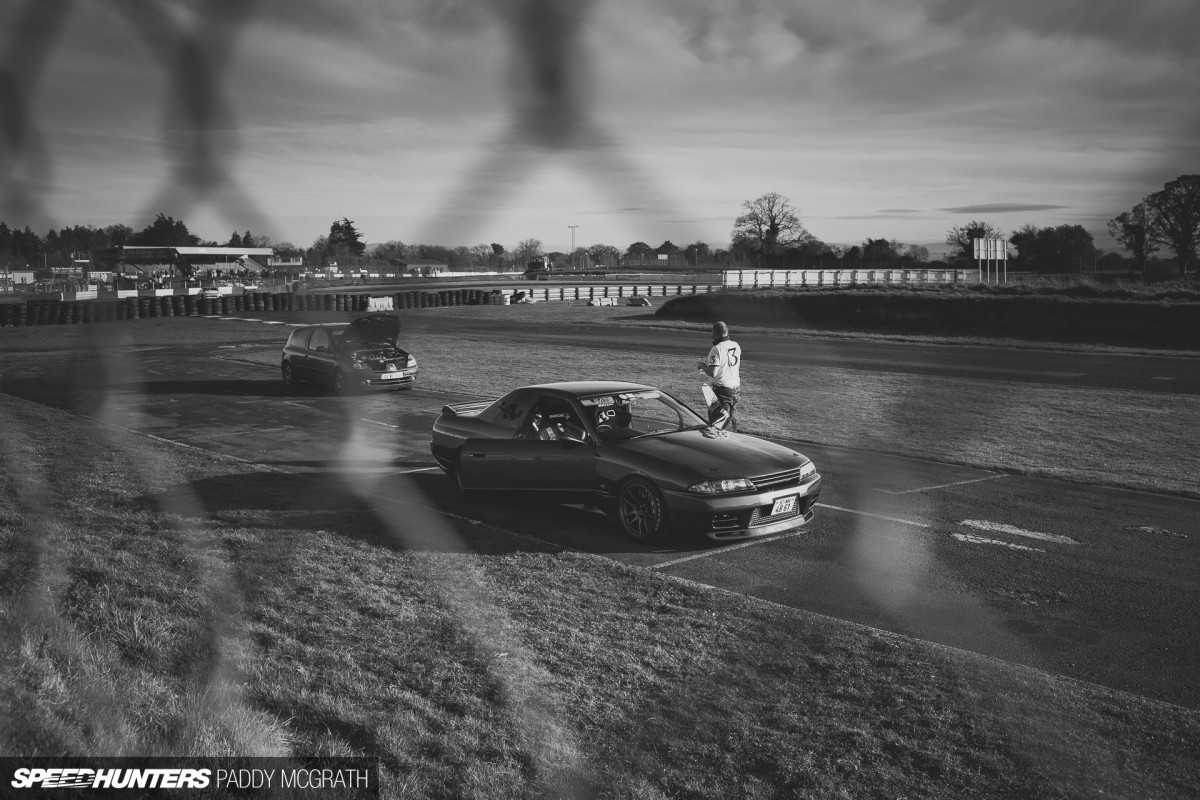 Despite being the first event of its kind, Auto Heroes was well attended and has hopefully laid the foundations for it to be a regular occurrence. The organisers are aiming to run the event once a month, but ultimately its success will be dependant on people showing up and bringing as much variety to the table as possible. It's very much an instance where the organisers have put everything you would ever need in place, it's just up to the people to come.
For Irish enthusiasts, this should be welcomed as a huge opportunity and not something to take for granted. I'm looking forward to the next Auto Heroes, but I think I'll leave the camera at home and bring a helmet instead…
Paddy McGrath
Instagram: pmcgphotos
Twitter: pmcgphotos
paddy@speedhunters.com
Cutting Room Floor