It's probably going to surprise you, but my final spotlight from the recent R's Meeting at Fuji Speedway isn't even a GT-R. As crazy as that may sound, when I stumble upon cars like this Suzuki Alto Works in a parking lot, I owe it to you guys to share it. Because this is as Japanese as a tuned car can possibly get!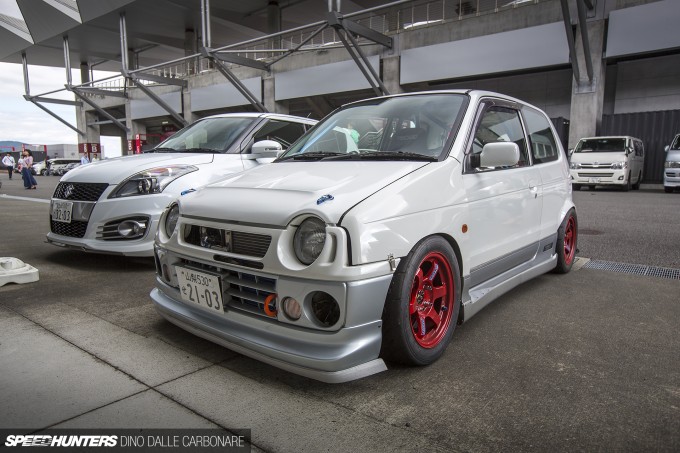 Everything about this tiny little car just seemed so right; from its purposeful stance to the red 14-inch RAYS Volk Racing TE37s that were barely contained by the gently-widened arches. Actually, the rears were more than gently massaged to accommodate the aggressive offset, more like properly modified with welded-on flares.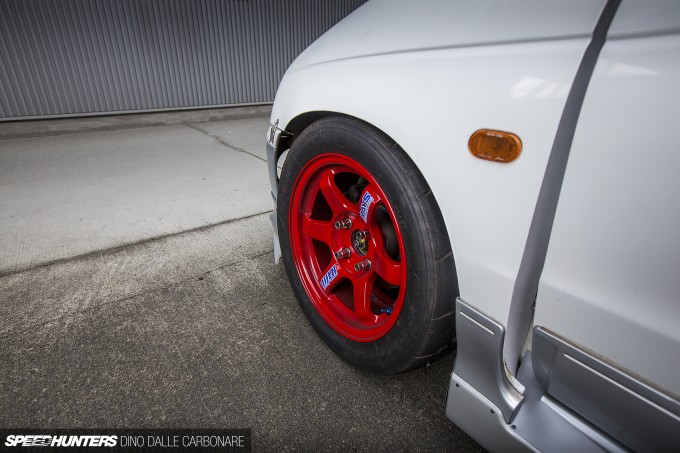 Each corner was shod with Yokohama Advan A050 semi-slicks in a tiny 185/55R14 size. And as you can see from the panel gap by the door, the fenders were pushed out on spacers to give the front end a widened look that perfectly contains the wheels.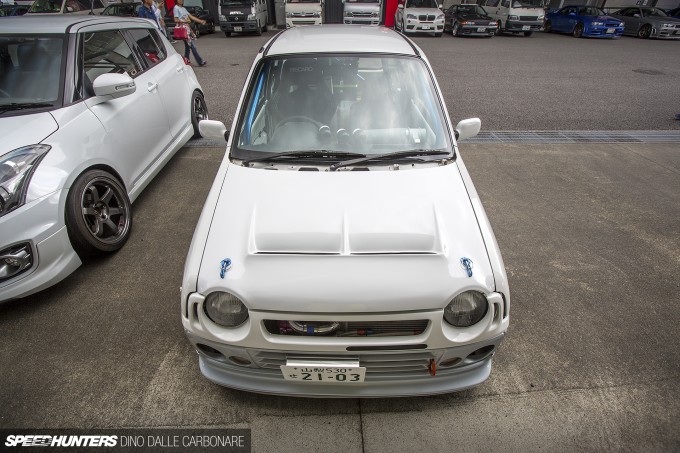 The front end boasted some sort of aftermarket lip and splitter section, and a vented FRP bonnet.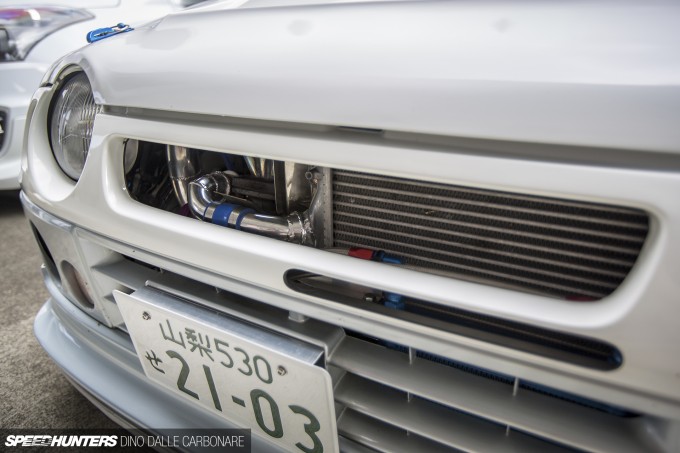 It certainly looked like there was some serious stuff happening in the engine room too – just check out that intercooler and the custom piping. Keen-eyed readers may have noticed the most obvious thing about this car – that it's no longer running yellow number plates, hinting at the fact that the little Suzuki F6A turbo 3-cylinder engine may have grown in size from its stock 657cc capacity, and therefore the Alto is now not entitled to be registered/taxed under Kei 'light' car regulations.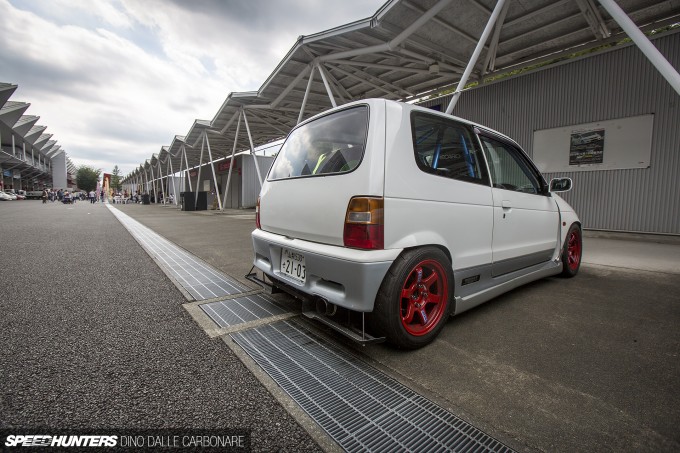 The owner has even built a custom diffuser for the rear.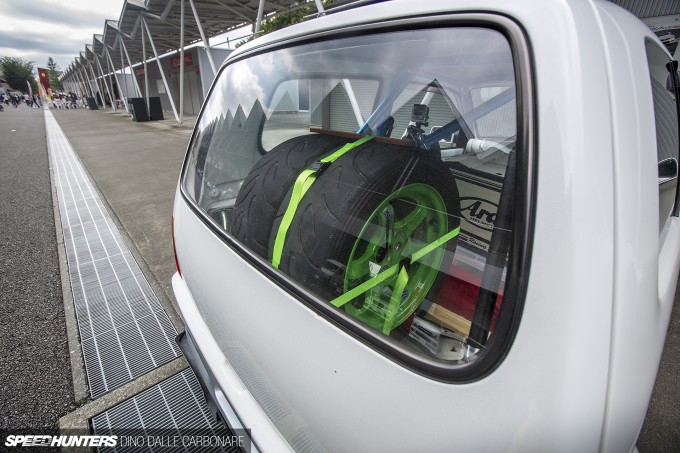 A quick glance through the rear window revealed the rear seat had been ditched for some miscellaneous items, including a tool box, a helmet and a pair of spare wheels safely latched onto the rollcage.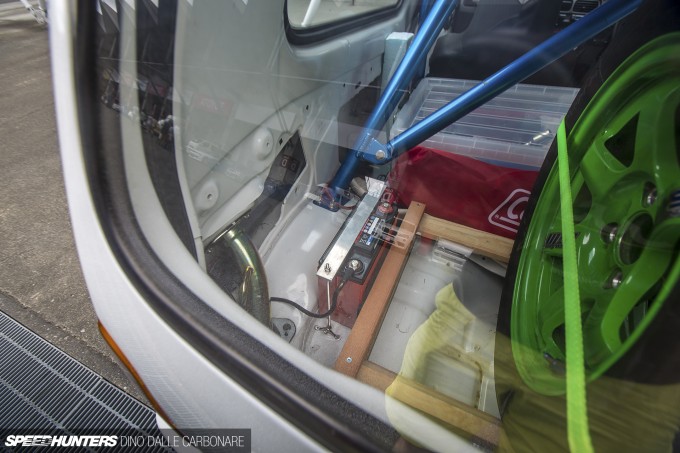 I even spotted a lightweight Odyssey battery in the back! The reason for the relocation could be for weight distribution over space, as I'm pretty sure an enthusiast (read: otaku) that would do this sort of stuff to a little Alto Works may be the same type of person who would corner-weight their car to get the handling spot on.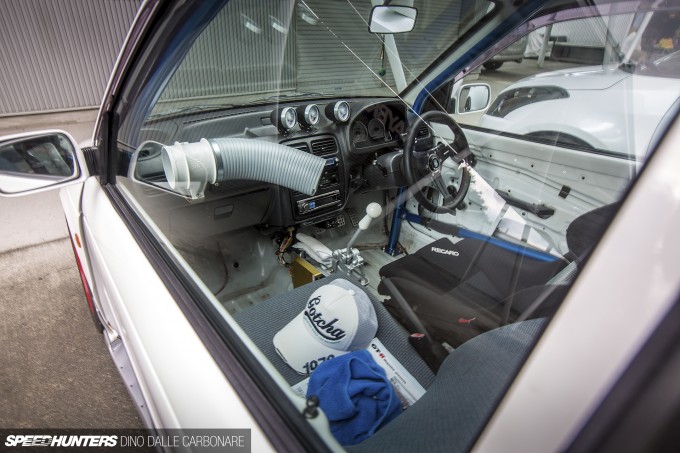 Yep, it's pretty serious in the office too, topped off with an HKS F-CON V Pro engine management system, auxiliary gauges, a short shifter and an electric fan as the A/C has probably been ditched.
It might have been the R's Meeting, but I'm sure you'll agree this is one little car that deserved a big spotlight!
Dino Dalle Carbonare
Instagram: speedhunters_dino
dino@speedhunters.com