Shades Of Grey
Before last weekend, I had never been to Poland. I also couldn't pronounce the name of the airport I was flying to and I had never heard hell of the town I was going to spend a few days in. There was a reason for this, but rather than being an event, it was all for one person…
James Deane should be no stranger to any drift fan. The 24-year-old from rural Ireland has been a phenom within European drifting for almost a decade. He won his first championship at 15 years old. A year later he was Prodrift Ireland and Prodrift European champion and his success has continued pretty much unabated since. He recently snatched the 2015 Irish Drift Championship from right under the noses of two 16 year olds, who were battling each other with 1,500hp.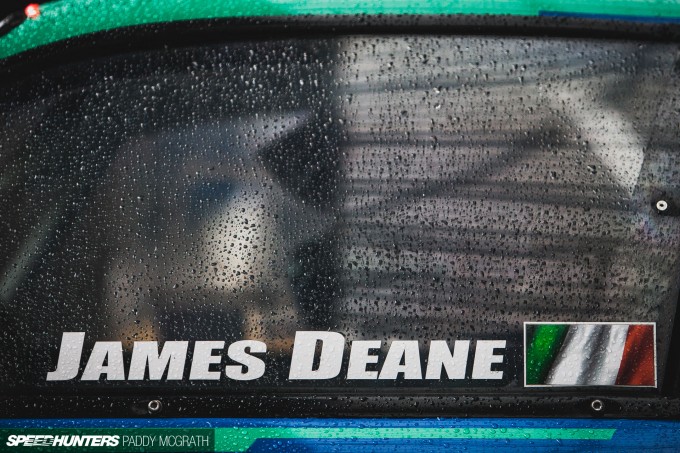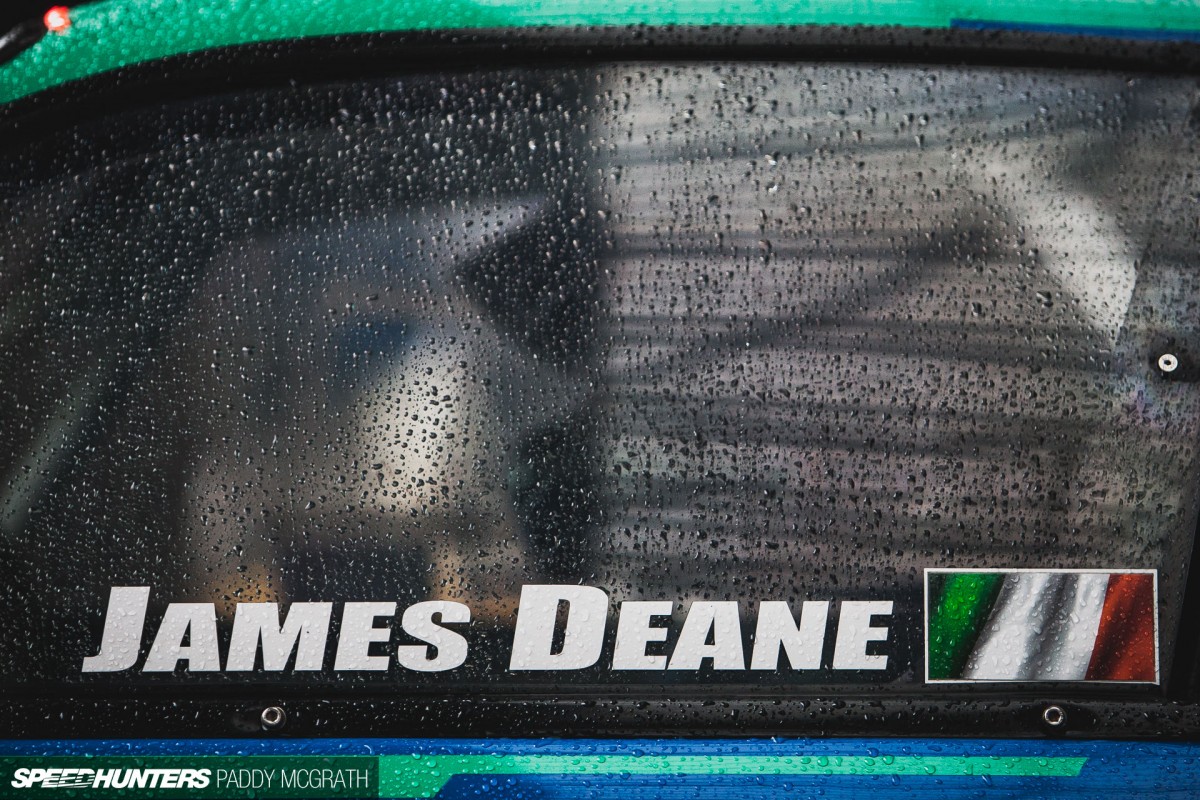 I feel quite lucky to have been present for many of the highlights of James' career, and my hope was to be present for another in Poland.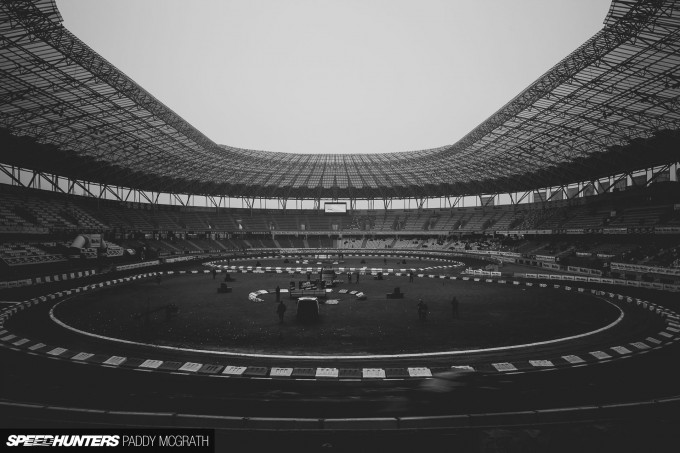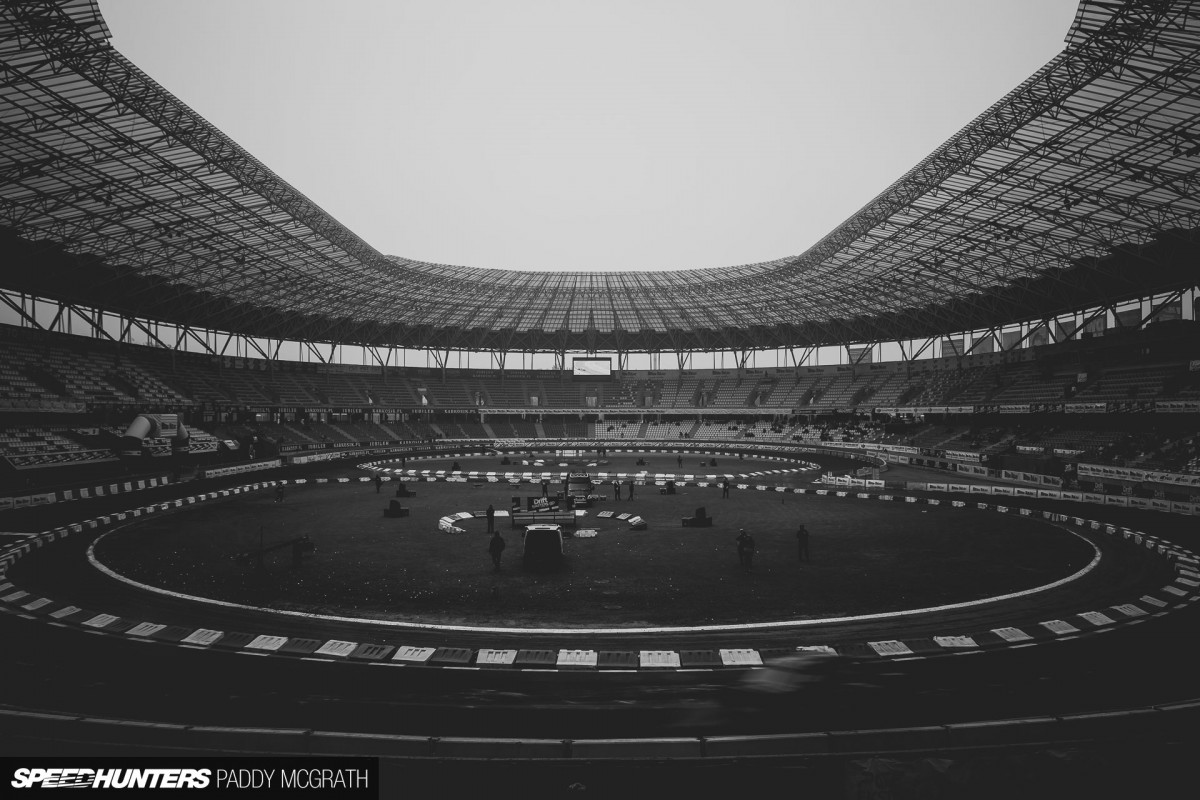 On this grey and particularly damp weekend, James would compete for potentially his third Drift Allstars European title at the MotoArena in Torun, a historical city in northern Poland. The stadium is a familiar venue within Poland's incredibly popular Speedway series, but for this weekend a custom tarmac track was laid out.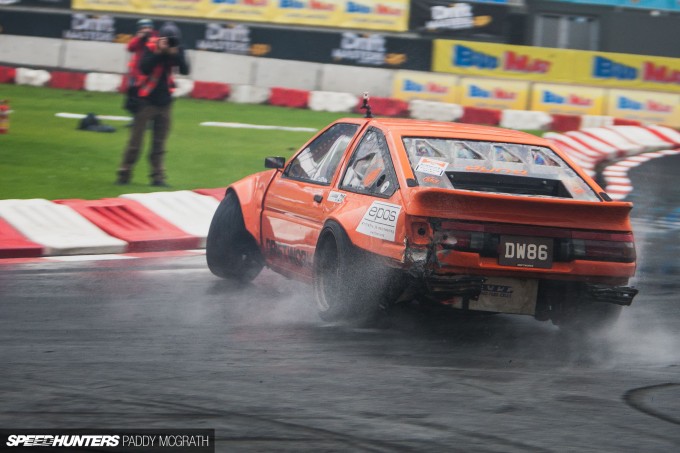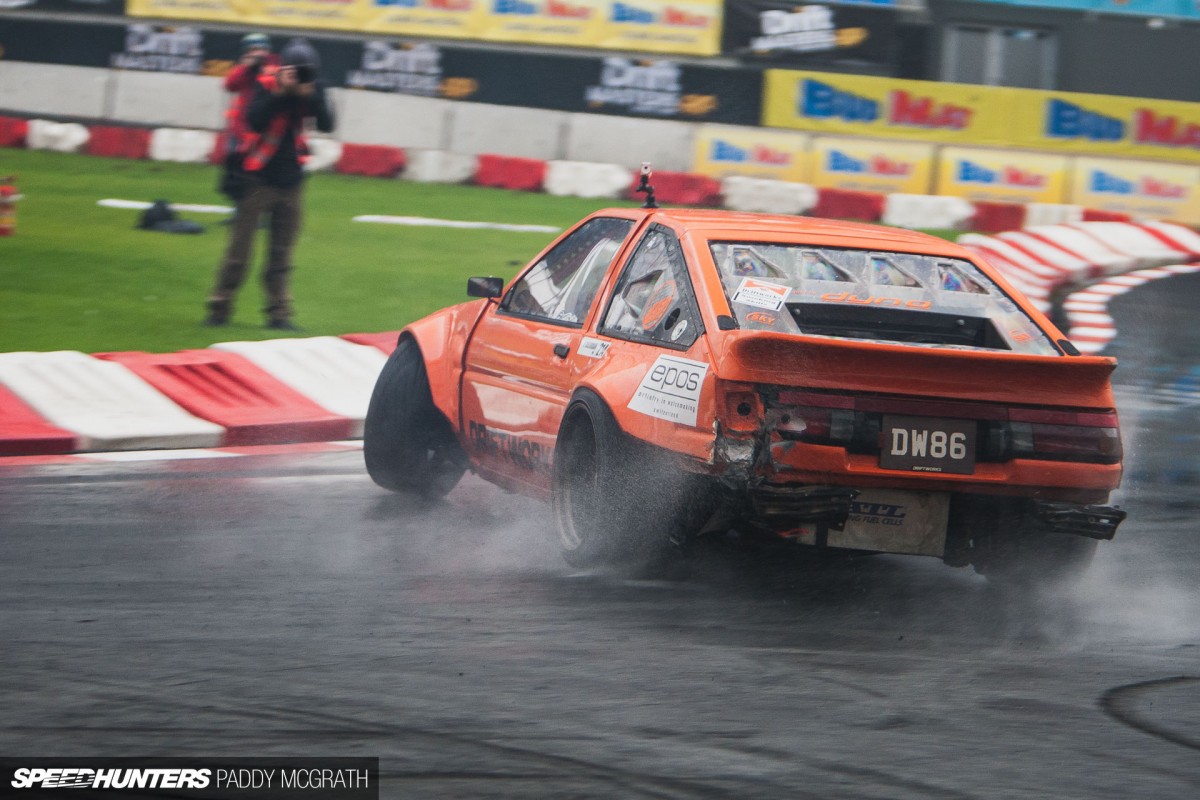 With the large outside corners remaining relatively dry and the centre section staying wet for most of the event, the driving conditions were tricky. Drivers had to transition from dry to wet and back to dry again in as smooth a motion as possible.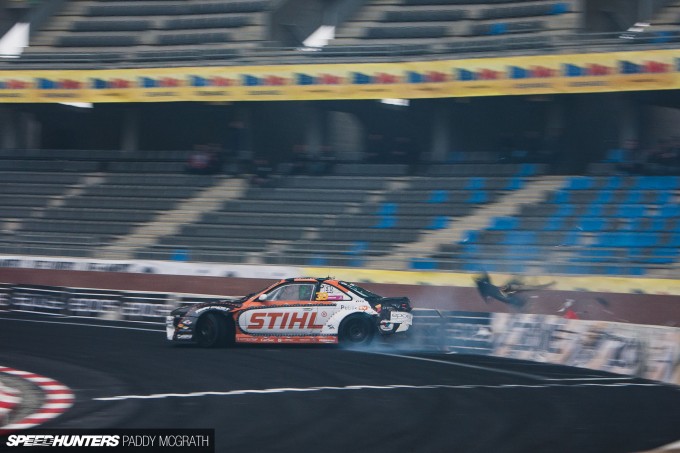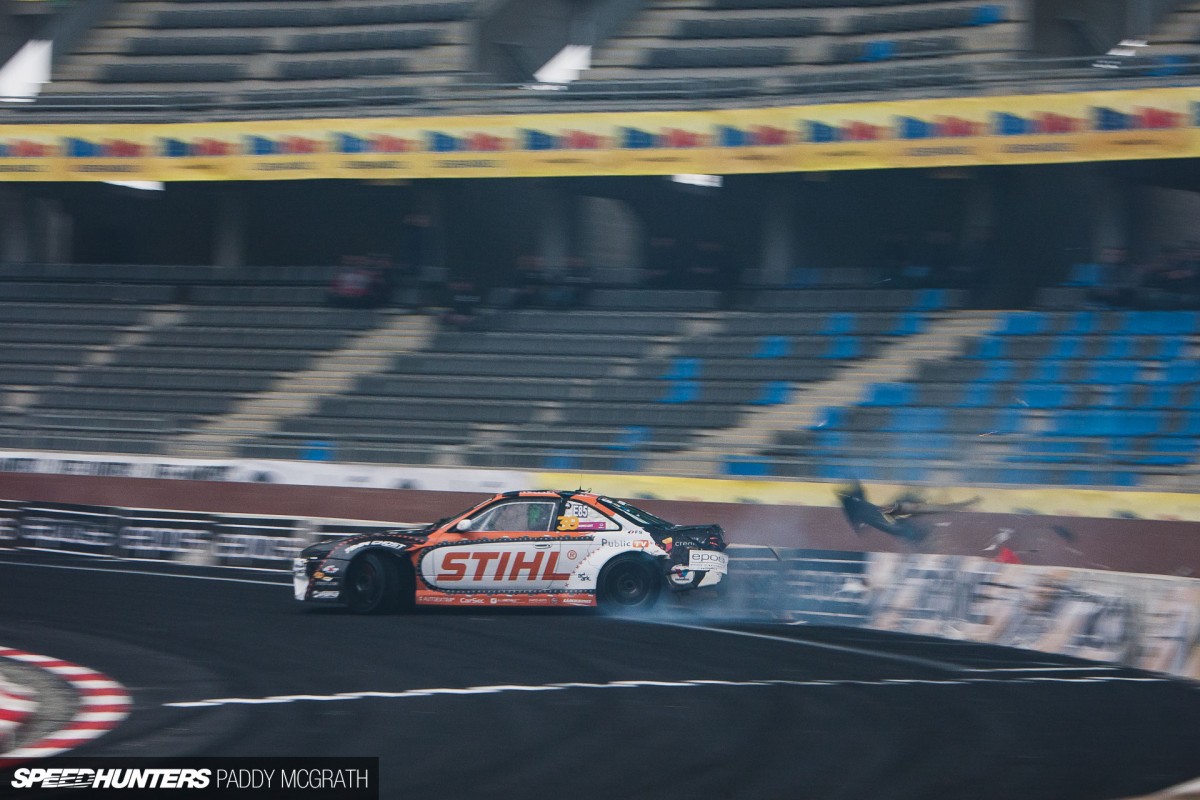 With large outside clipping zones on the two big corners, which both featured an uninterrupted series of concrete barriers along their edge, there was little room for error. Add to this a judging criteria which stated that if a driver lost any car parts from running the wall – be it a bumper, light or wing – they would be scored a big fat zero. They would also score a zero if they moved any of the empty water barriers which lined the inside of the track. This would be far from a routine event…
Judgement Day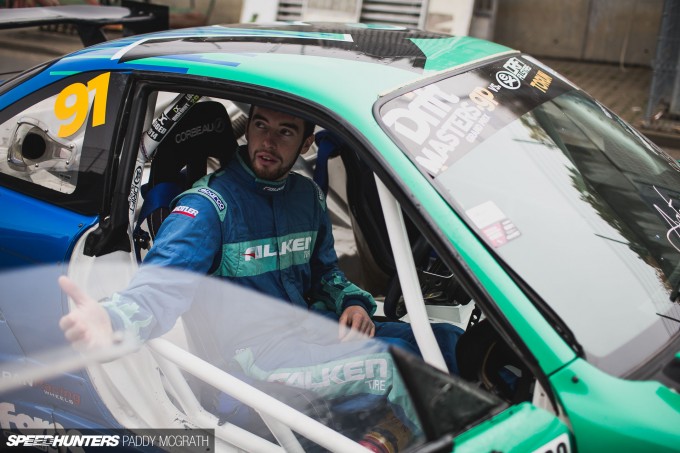 There are some things that you should know about James Deane. Firstly, he's as tall as he has been successful. That is to say, very. He's also one of the most genuine and humble drivers in the paddock. He never takes anything for granted nor does he have any arrogance about him. His success has been earned the hard way.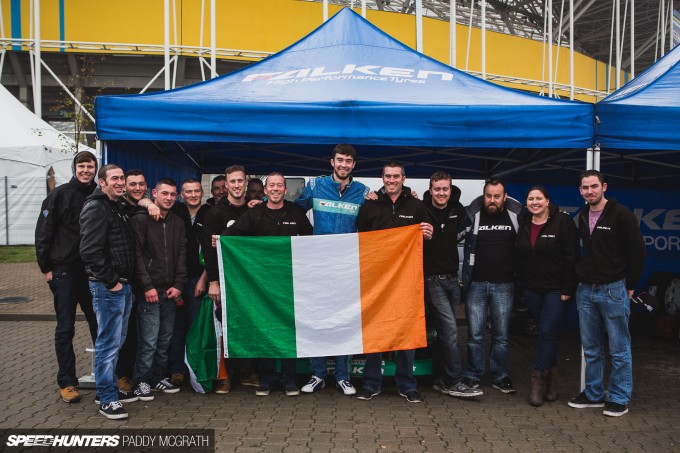 With the help of his family, James has built his own car which has enjoyed considerable success over the last two seasons. Compared to some other teams in the Drift Allstars paddock, his setup is incredibly modest too. Trailering his car from Ireland across Europe is never going to be an enjoyable experience, but he's always supported by a contingent of friends and family who come to support him at each and every event. His appreciation is clear too, as he usually saves an extra couple of donuts or burnouts during parades for the Irish section of the audience.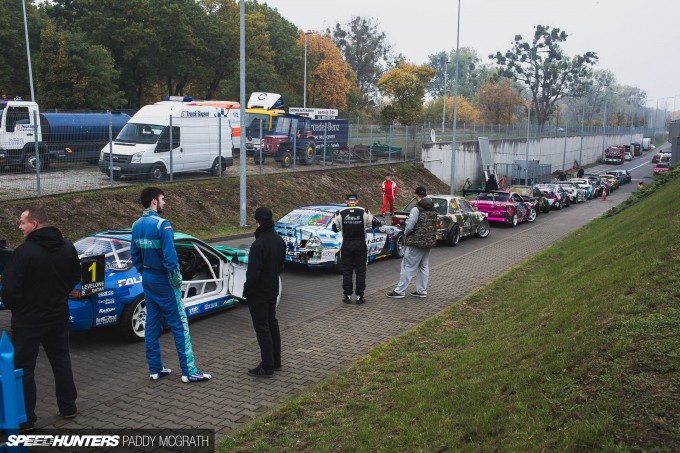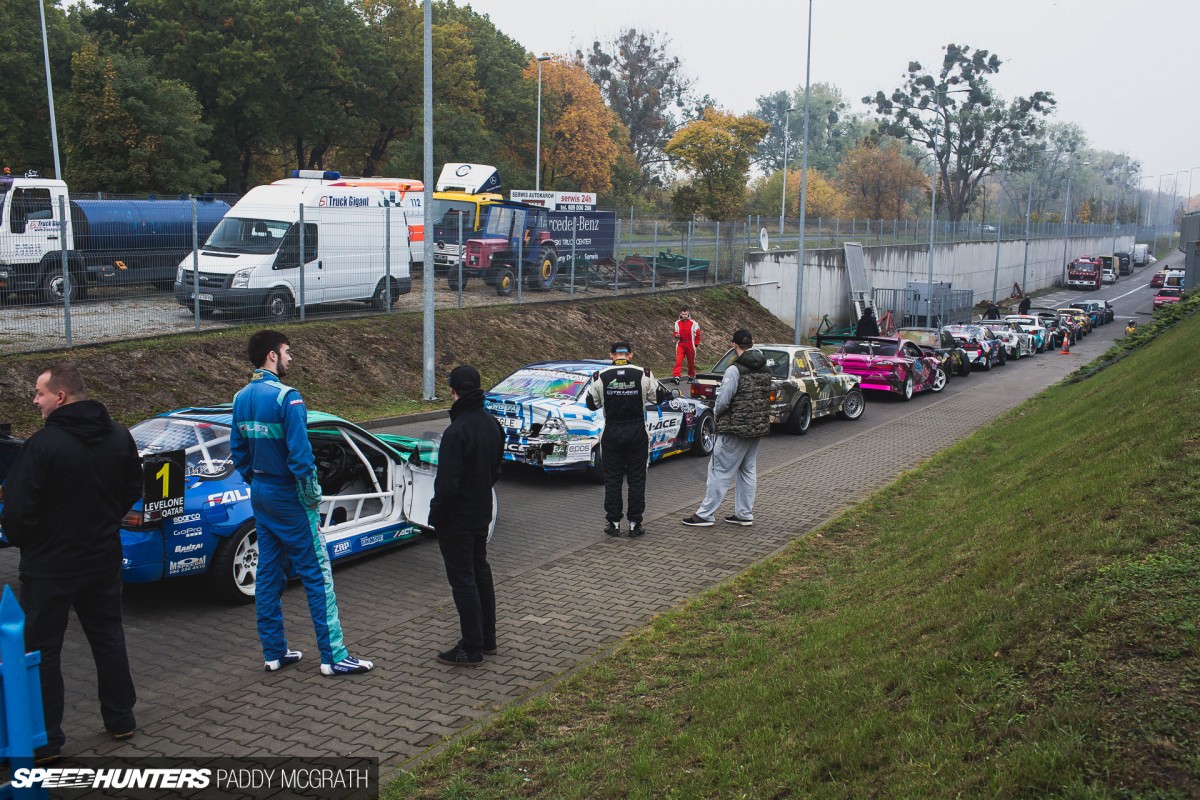 For James, his entire Drift Allstars season would come down to one day against 48 drivers battling for 16 places. The strict judging criteria and a random running order for qualifying made it very difficult to gauge just how well any one particular driver was doing.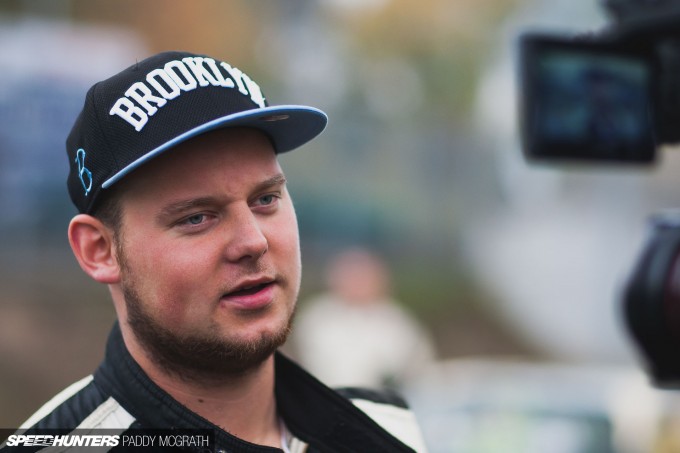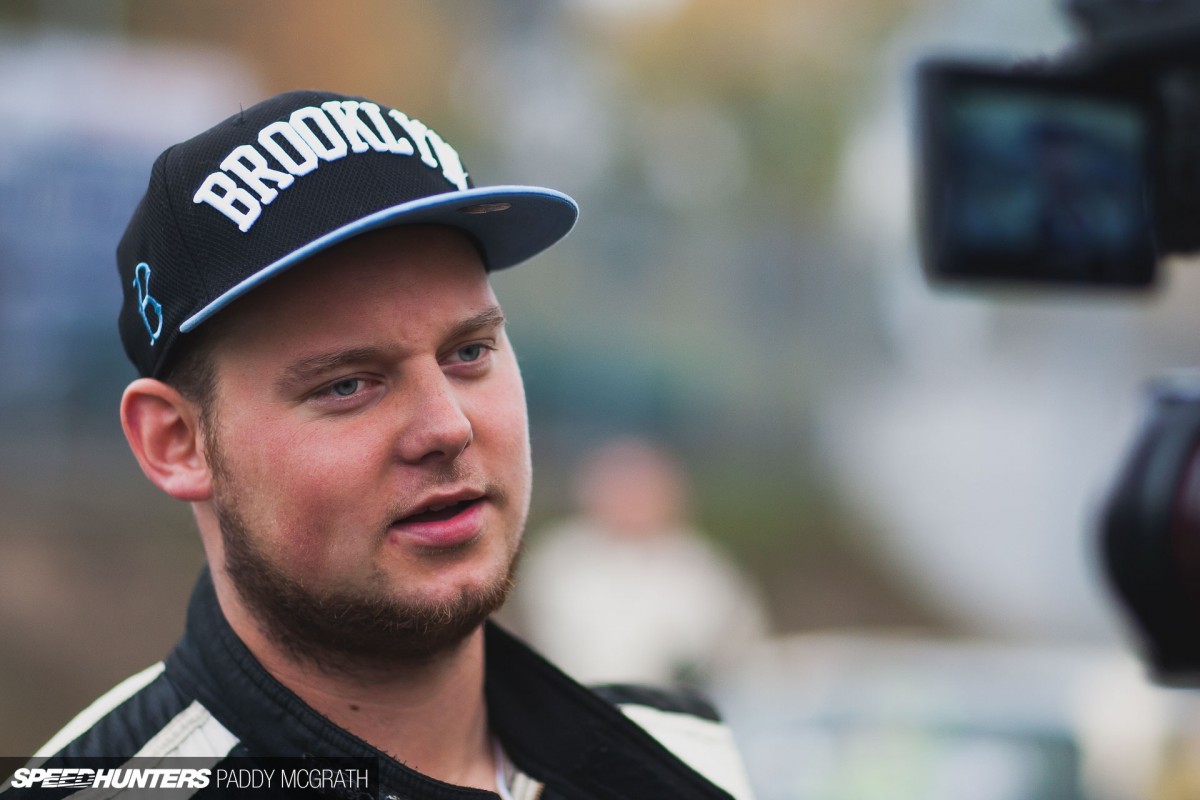 He wouldn't be alone either.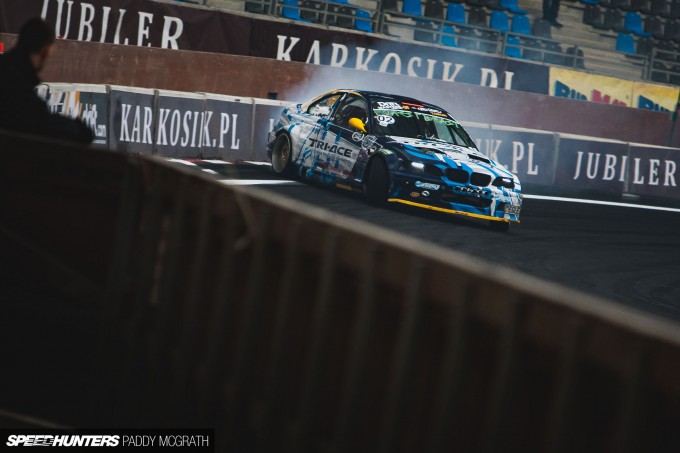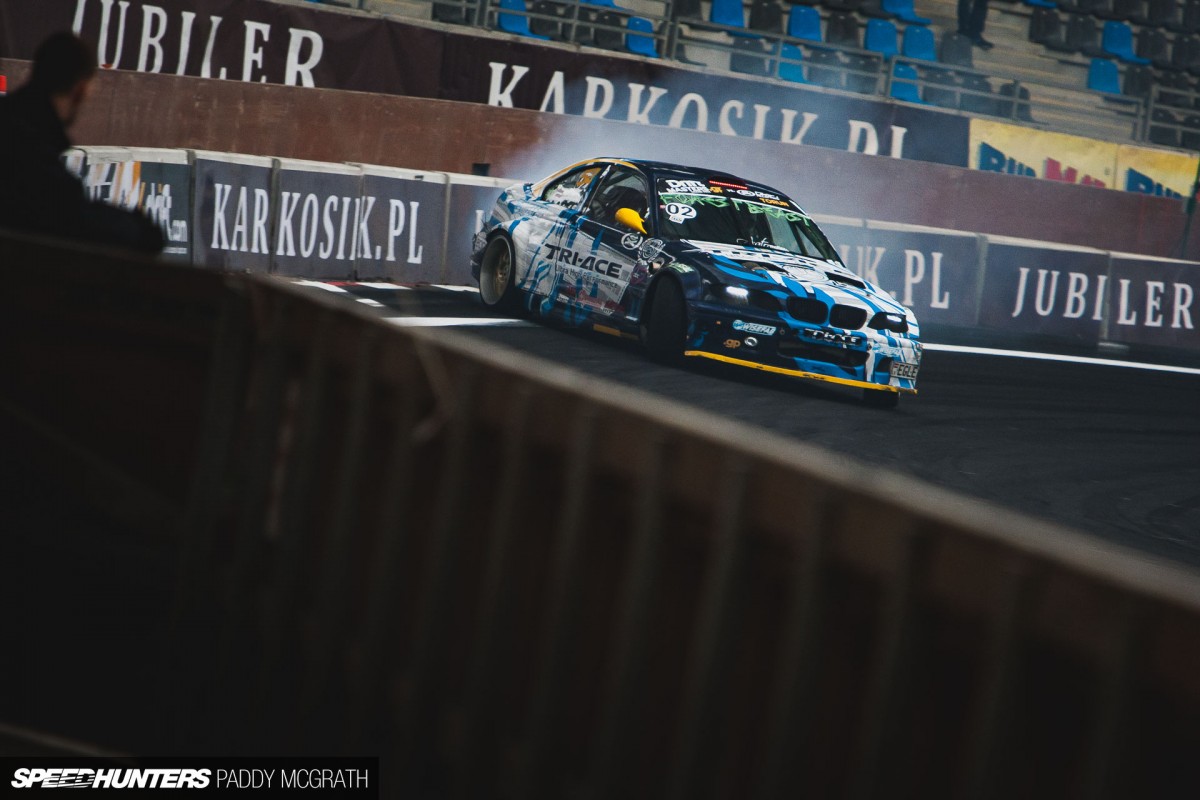 Separated by a negligible amount of points, Latvian driver Janis Eglite has been matching James blow for blow all season. Make no mistake, he's an incredibly capable driver.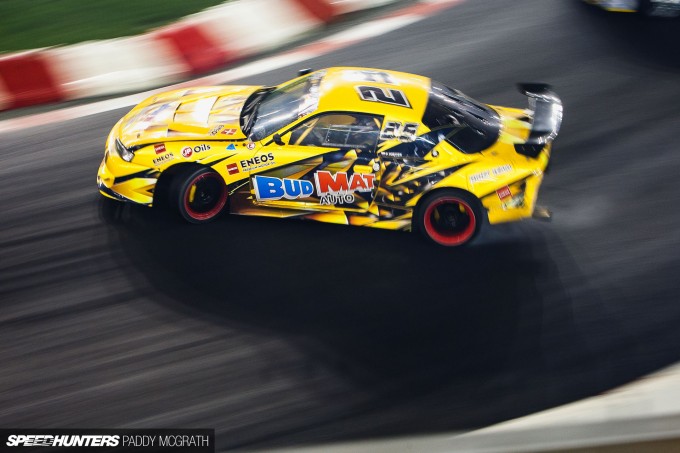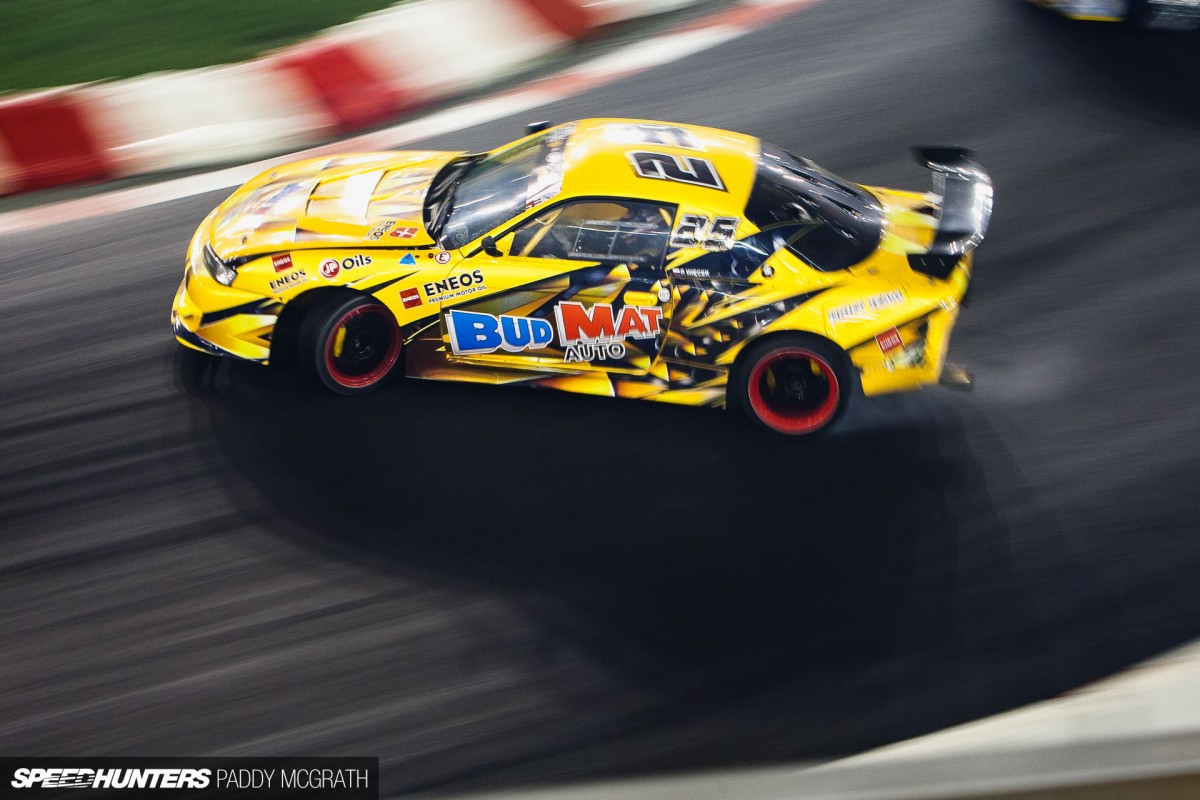 Whilst the title could only go to either James or Janis, there were plenty of potential stumbling blocks in the mix as well for both drivers. Polish champion Piotr Więcek was one of many drivers who could easily win the event. It would be wrong to assume that just because these names aren't well known outside of Europe, that they are in any way sub-par.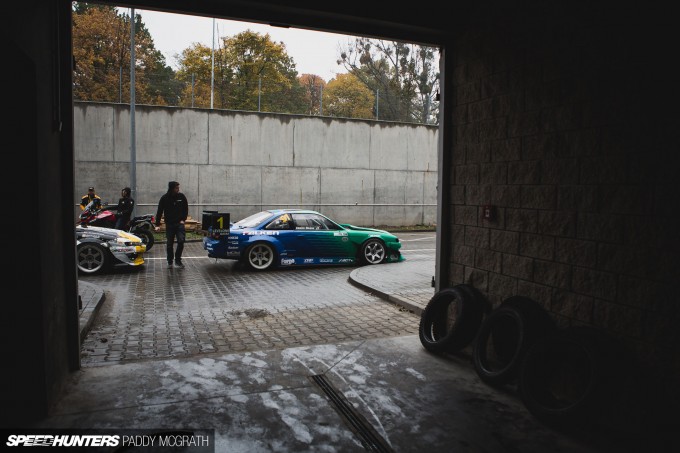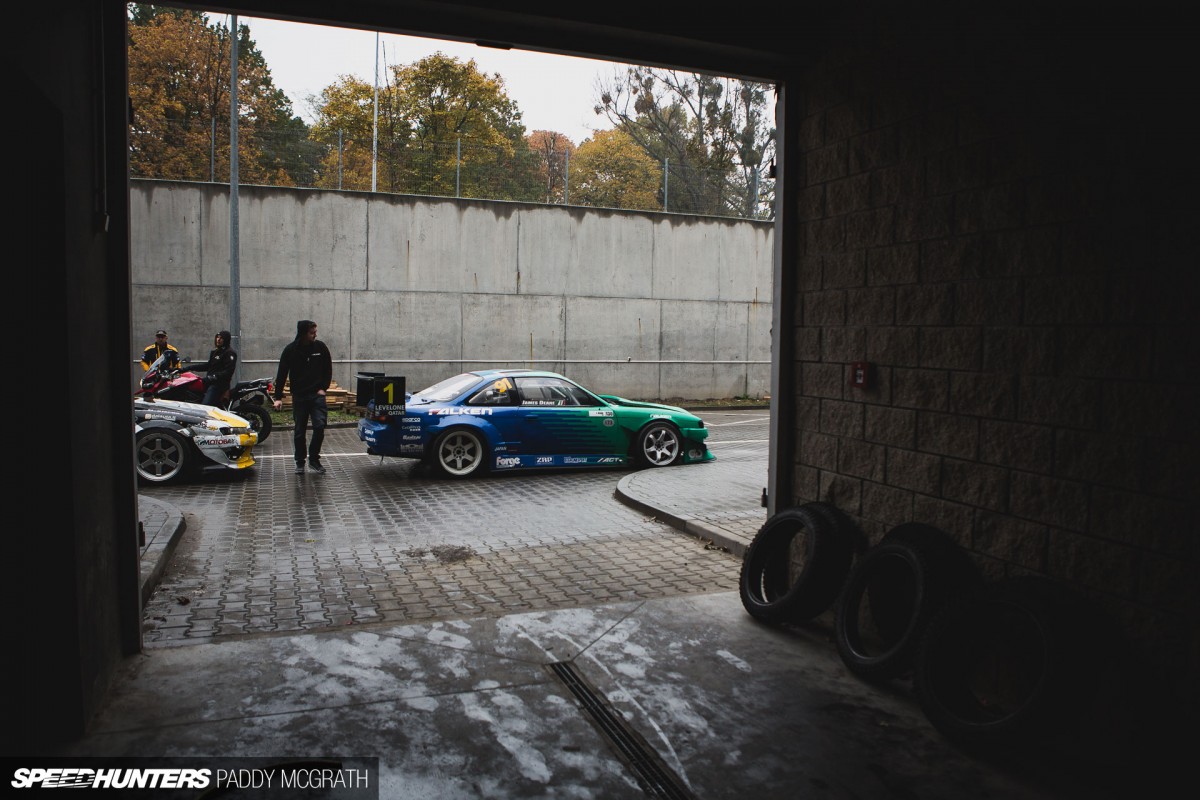 With three qualifying runs per driver (the best two runs are combined to give a driver's score) qualifying was quite a long affair.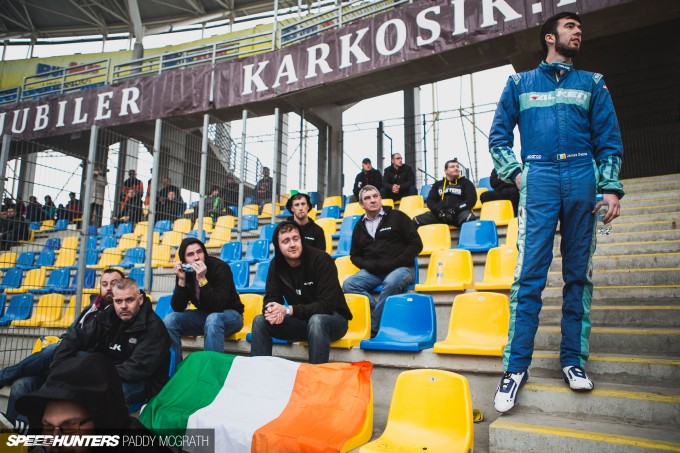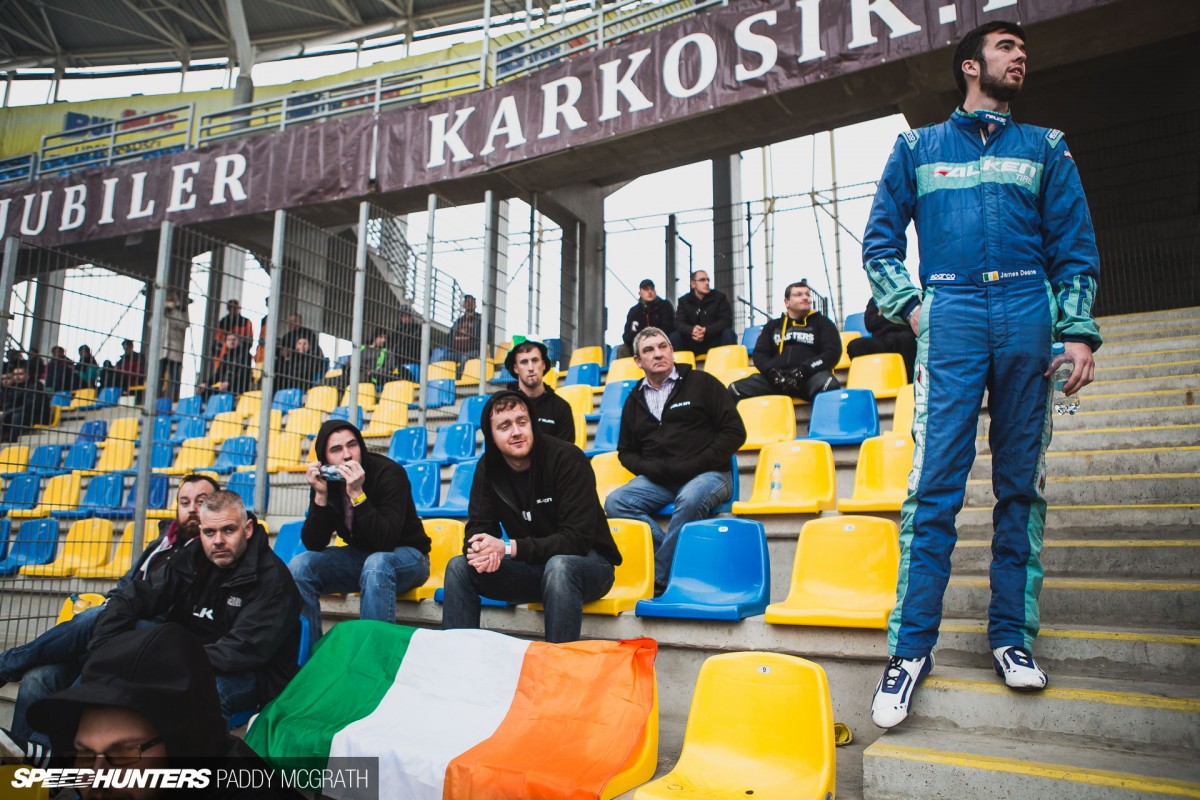 After removing his bumper on his second run, thus incurring a zero, it was probably tighter than James would have liked going into his third and final qualifier. It was a serious challenge for all involved.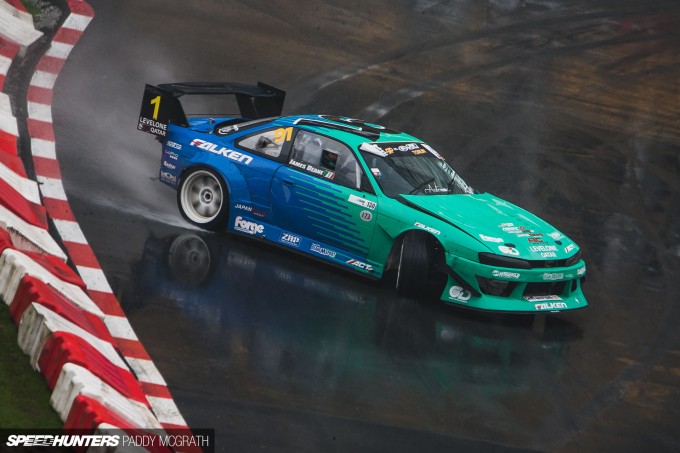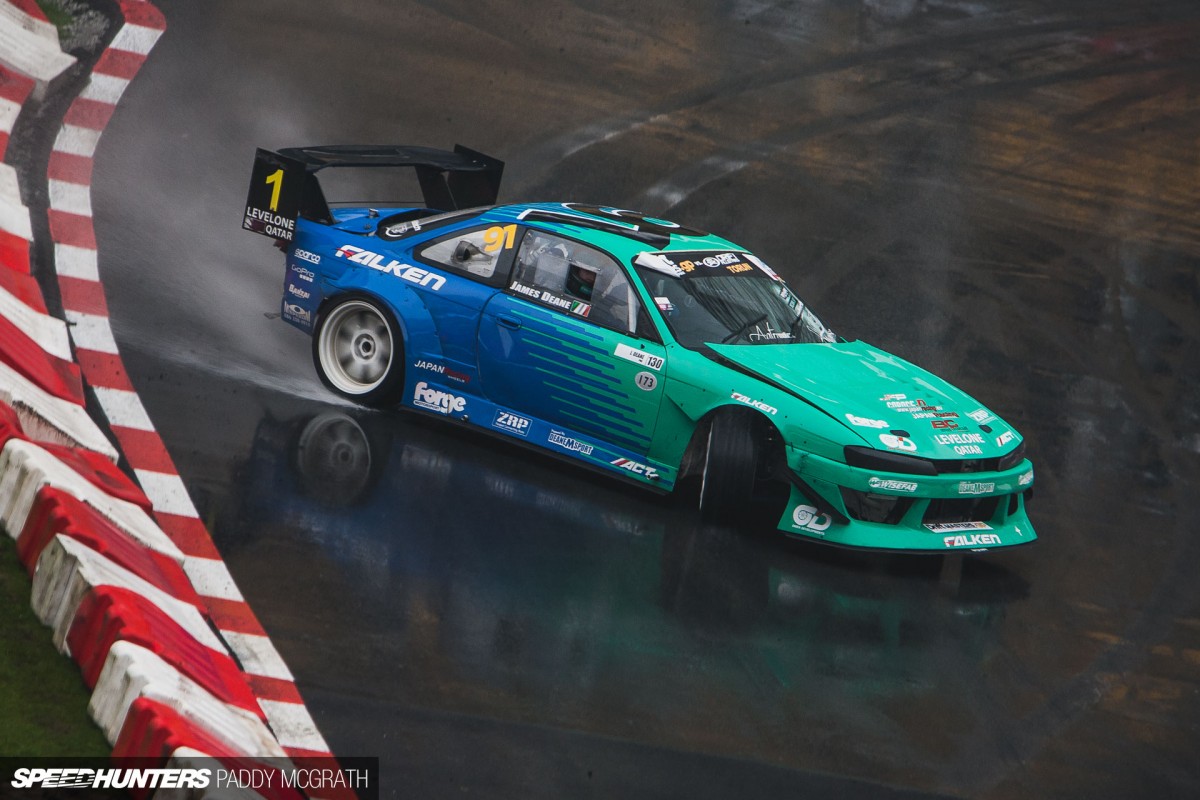 When it comes down to it though, there are few like James who can deliver exactly what's required of them at any given time. For me, it's his coolness under pressure that separates him from so many other good drivers.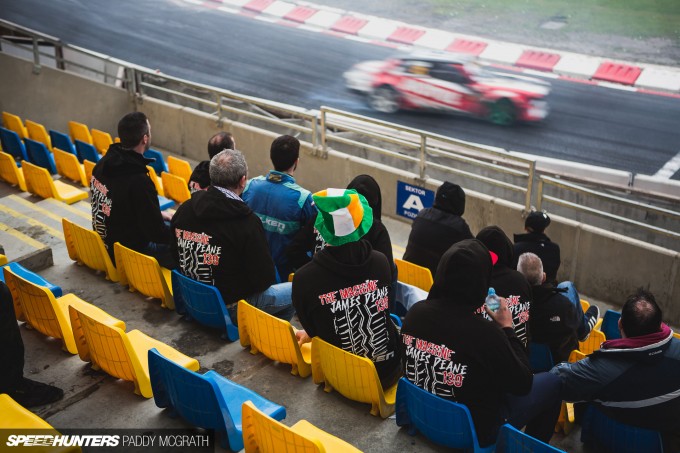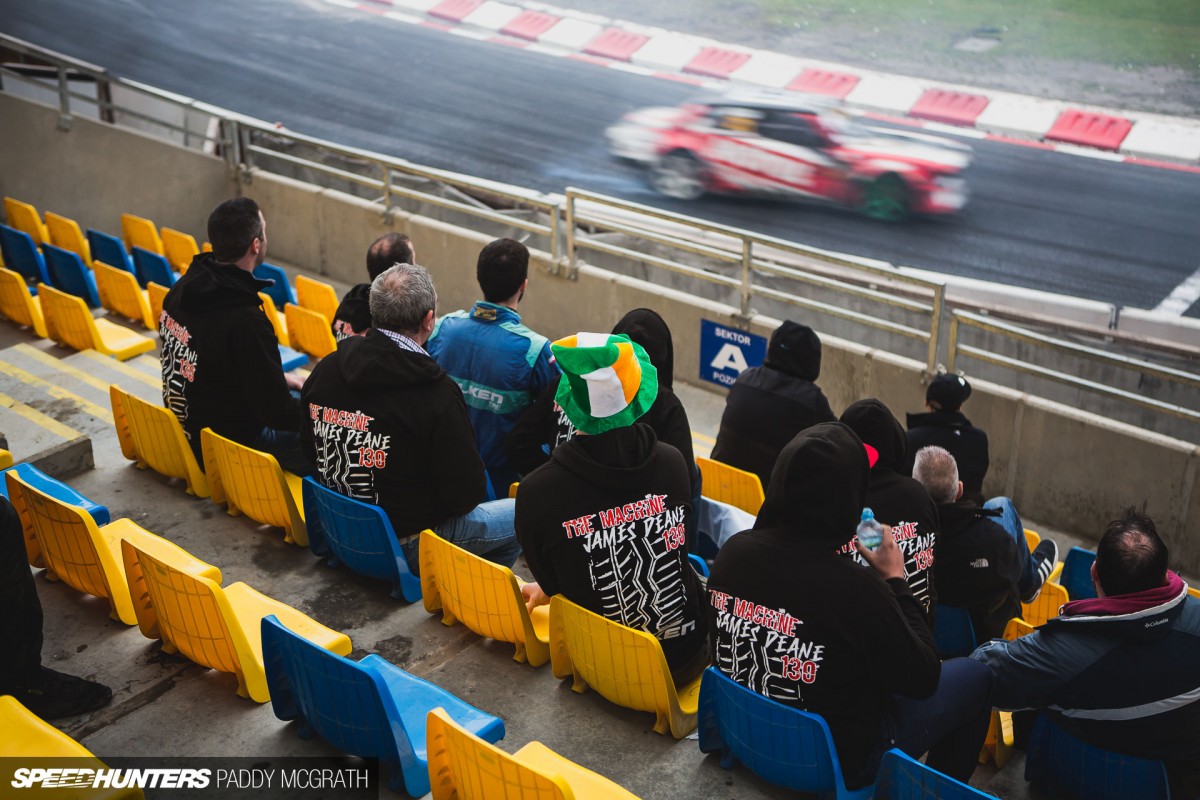 With his own laps completed, it was a matter of waiting it out and surveying the opposition in the mean time. Watching from afar, I always thought it was interesting that he pays the exact same amount of attention to each competitor, leaving nothing for granted. Even during practice, if he's paired with a slow car he will still be as aggressive, where some allow more room for the slower driver in case of an error.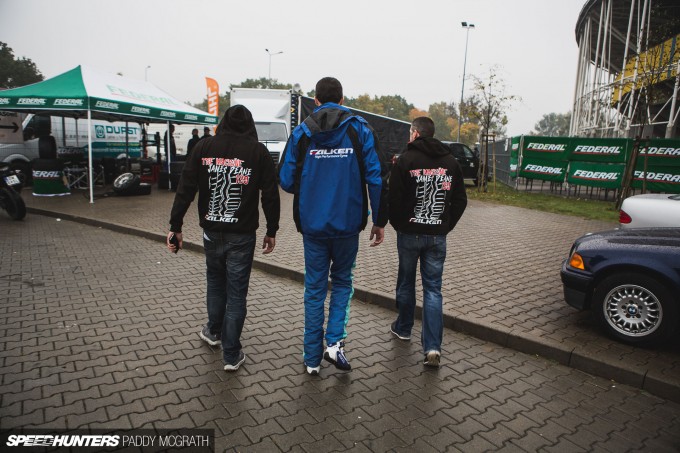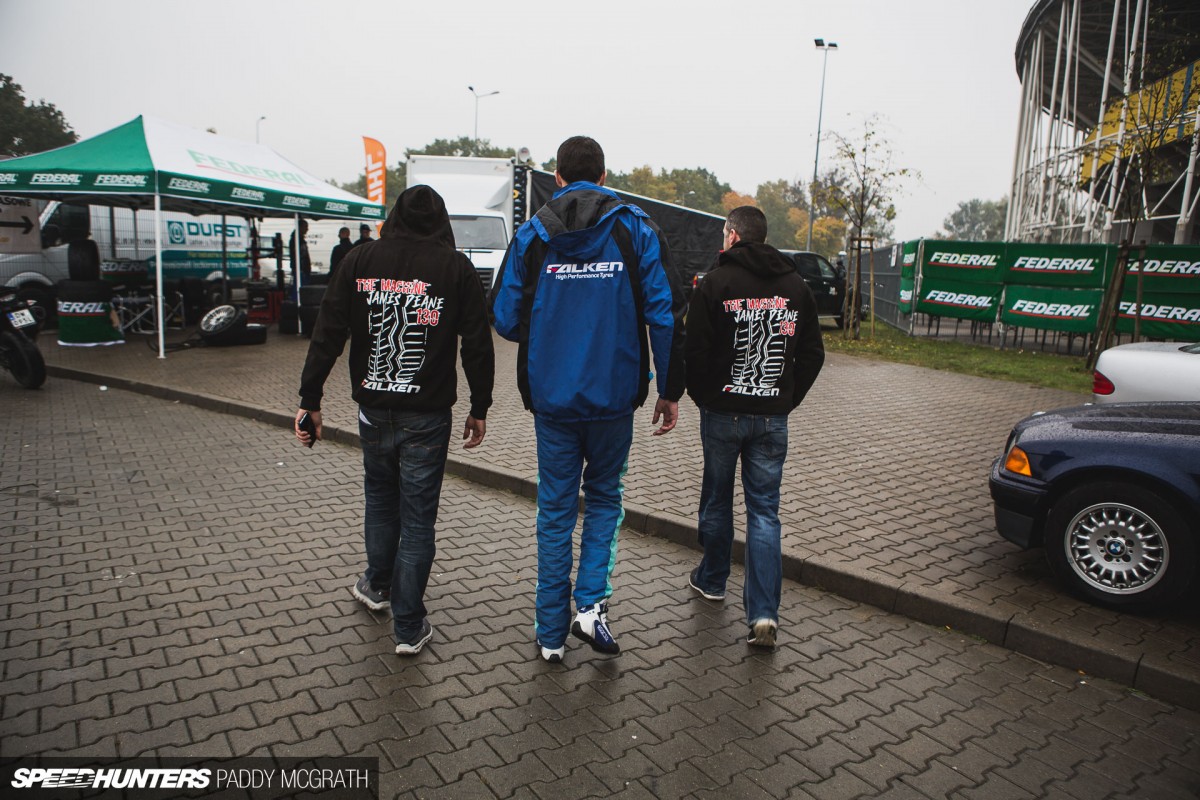 Accompanied by his crew chief and long-time friend, Michael Sheehan, and one of his brothers, Ken, I'm sure the walk to the qualifying results felt a lot further than usual for James.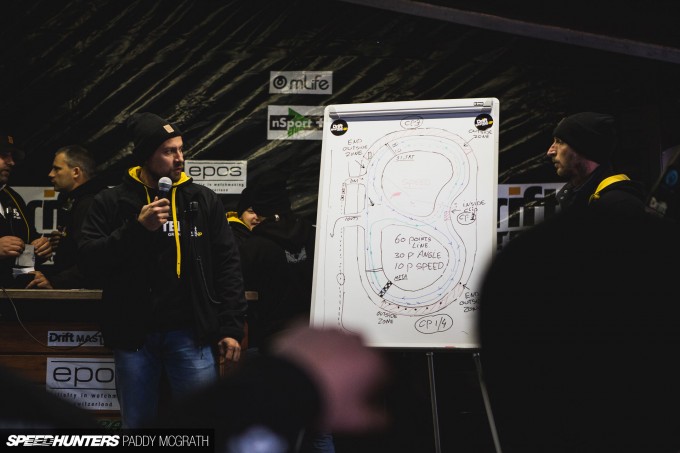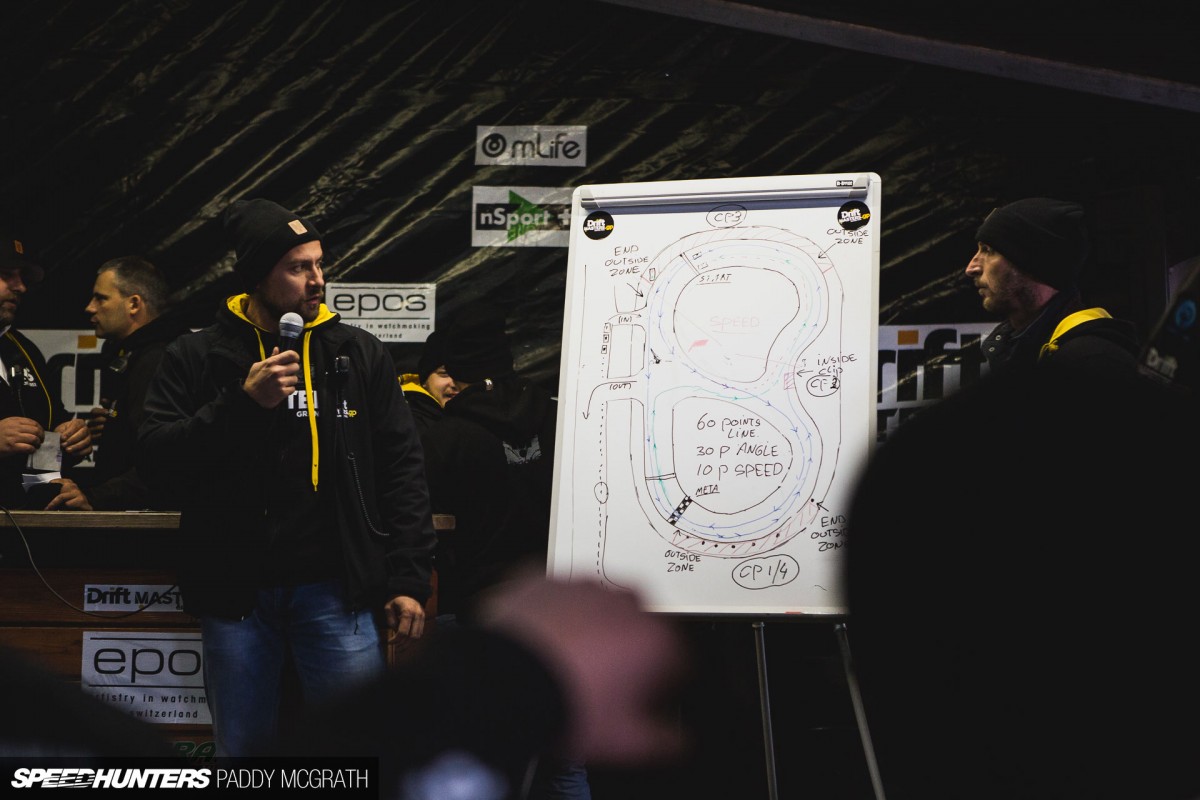 With a briefing before the official results were announced, the wait was prolonged even further. Add to the fact that the briefing was being presented in both Polish and English and the tension was growing by the minute. As the qualifying order was eventually revealed, starting with 16th place, that non-point-scoring qualifying run must have been running through James' head. With tough competition from 47 other drivers, had he done enough or had he played it too safe? Before we knew it, the results were finished.
James Deane? First place qualifier.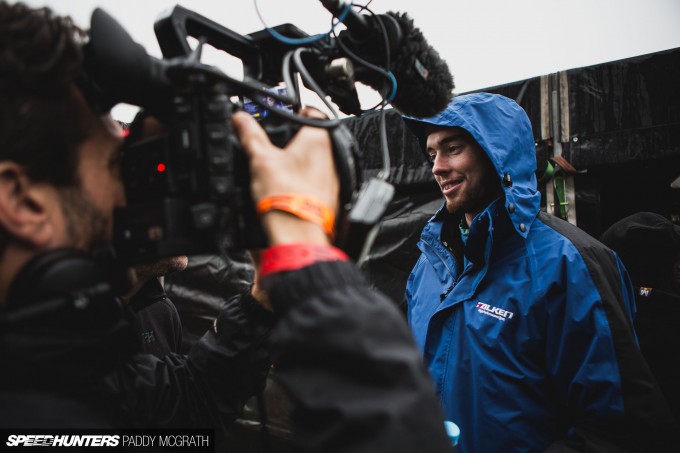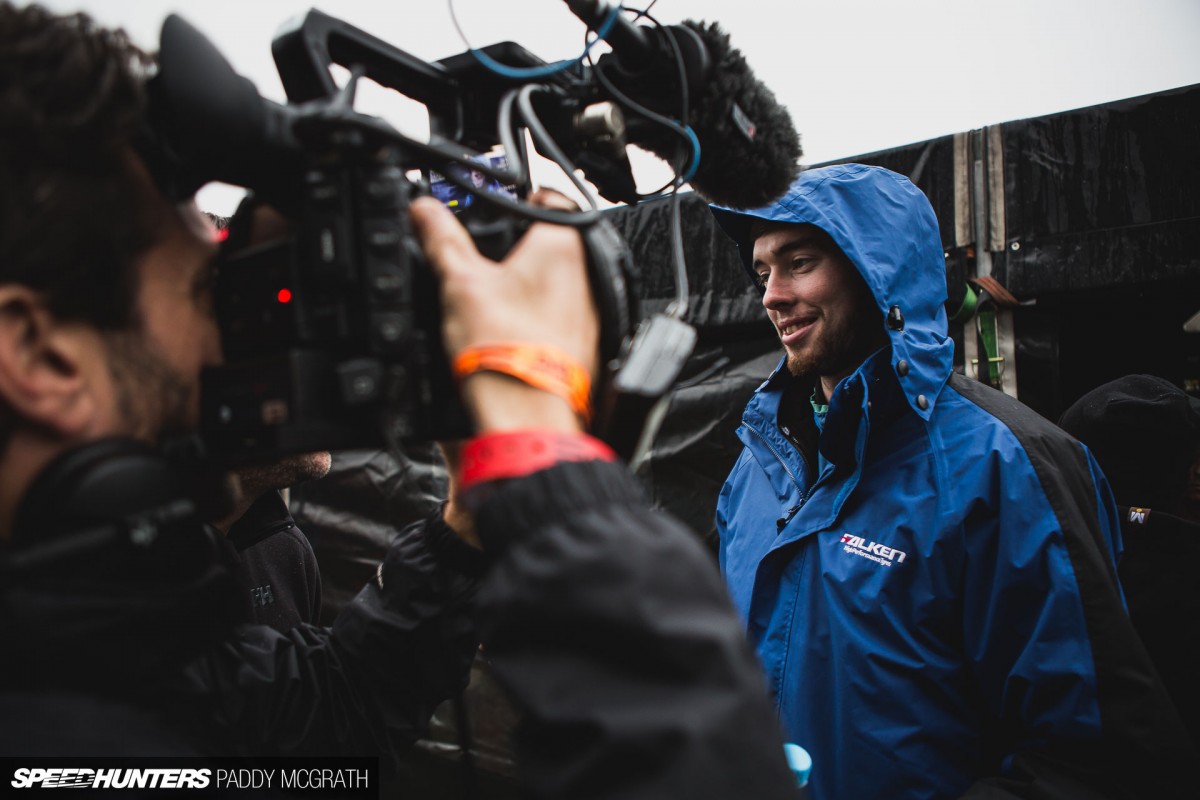 As James gave his interview to the TV cameras, his crew were quickly figuring out the varying combinations and permutations of what James would need to do to beat Janis, who had qualified sixth. It was calculated that a top four finish would be enough, regardless if Janis won the event or not.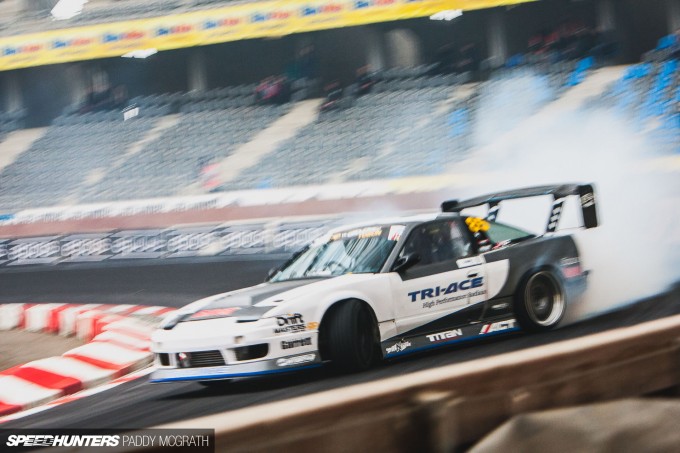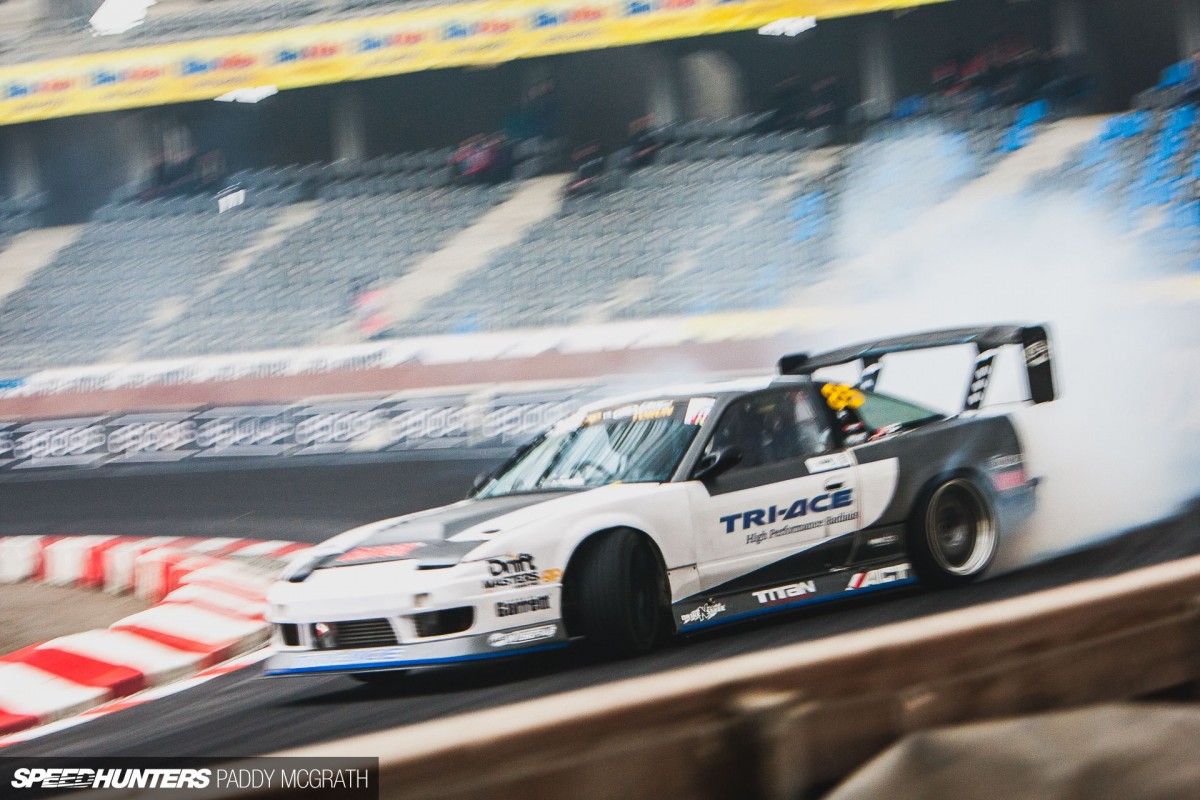 There was to be another player to enter the fray though. James' friend and fellow countryman Nigel Colfer would face Janis in the Top 16, and if he beat him, James would be immediately crowned champion. If there was ever a time to call in a favour from a friend, this was it.
What Will Be, Will Be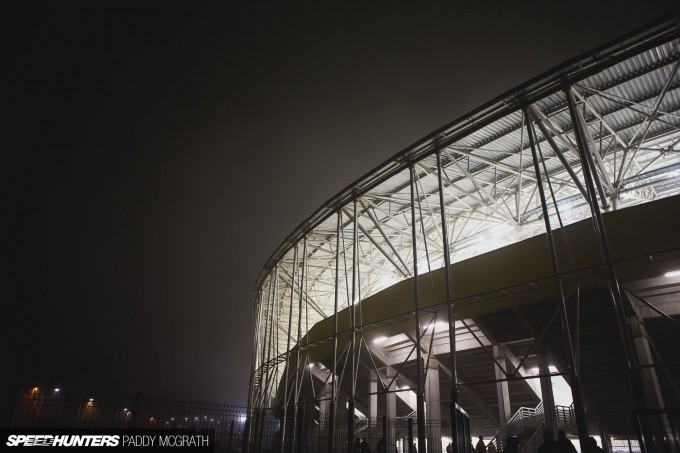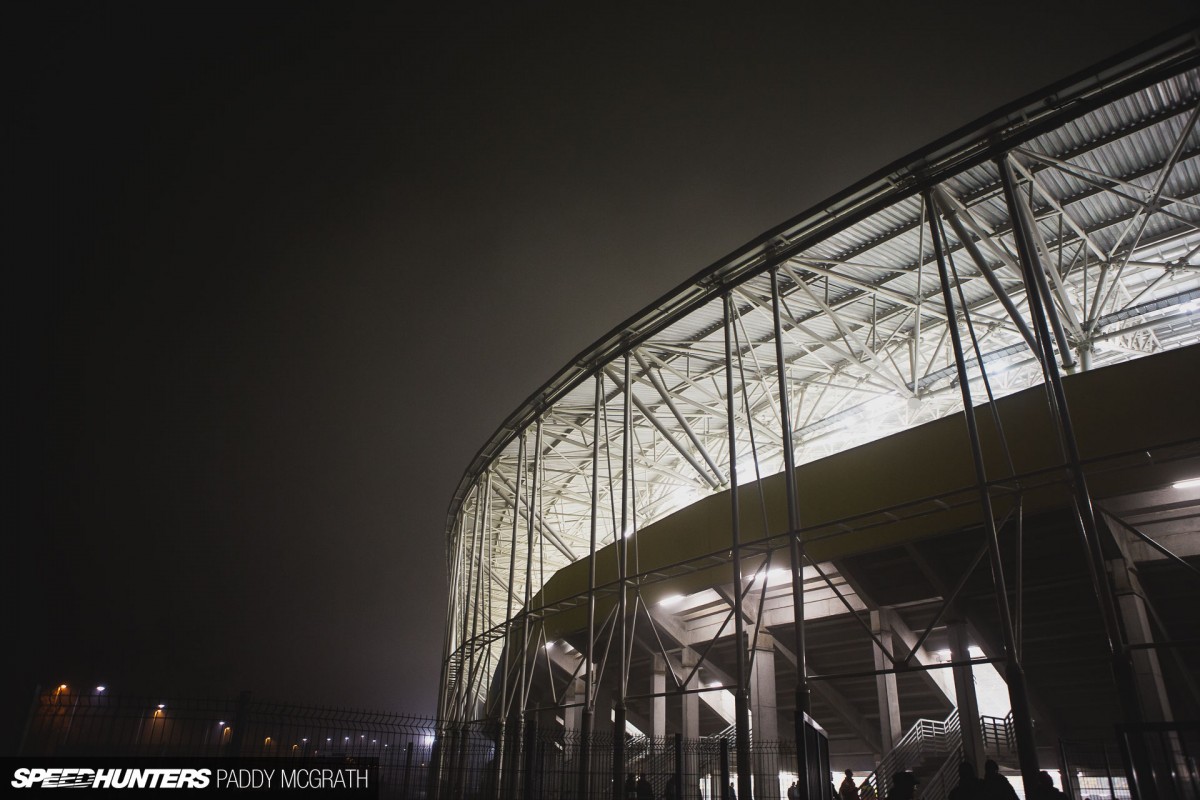 With night having fallen and a fine mist still hanging in the air, the time for talk was over. The full season would come to a climax over the course of the next two hours.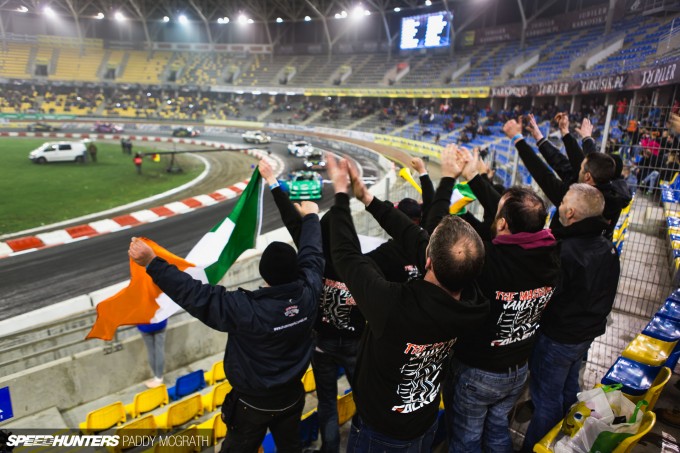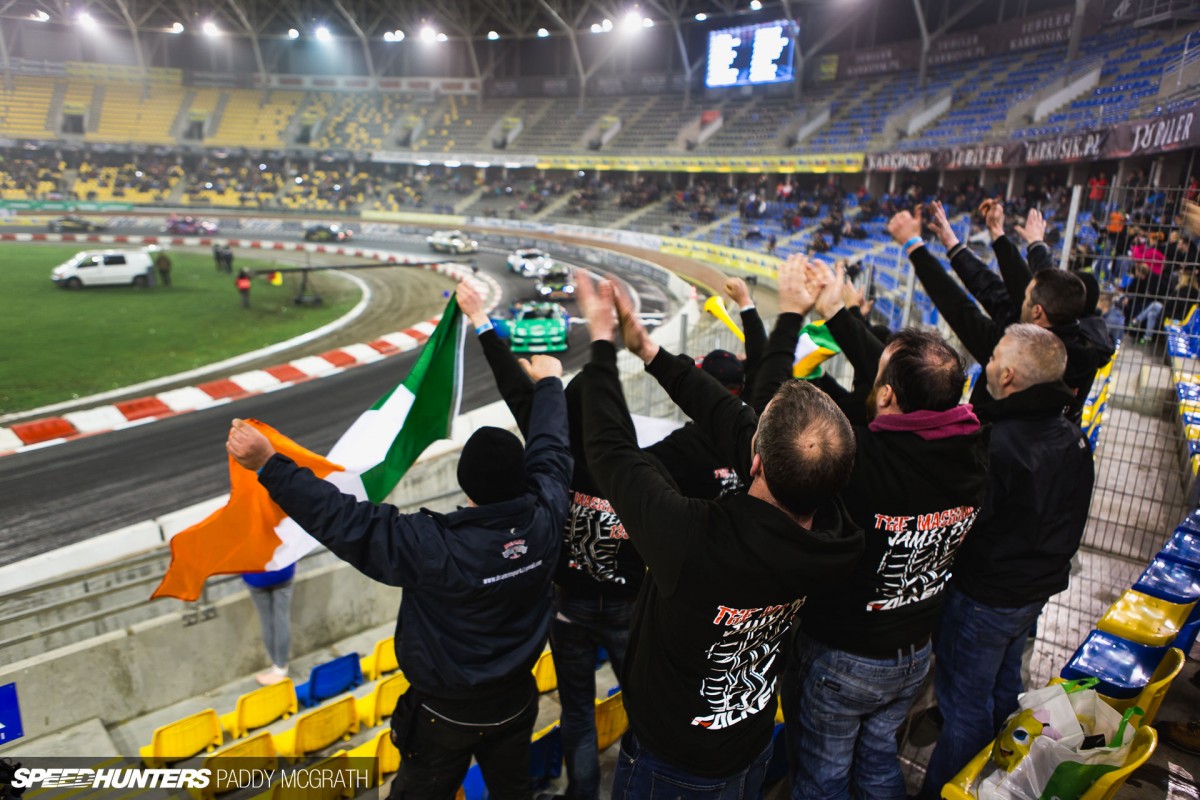 The battle order would see James face Adam Zalewski in the first battle, with Nigel facing Janis in the last battle of the Top 16.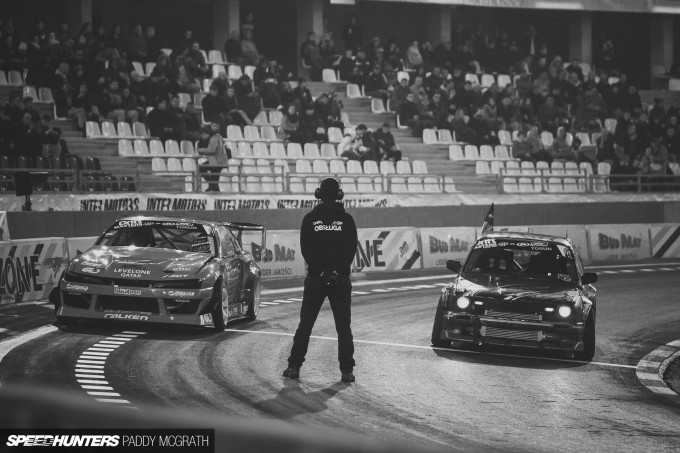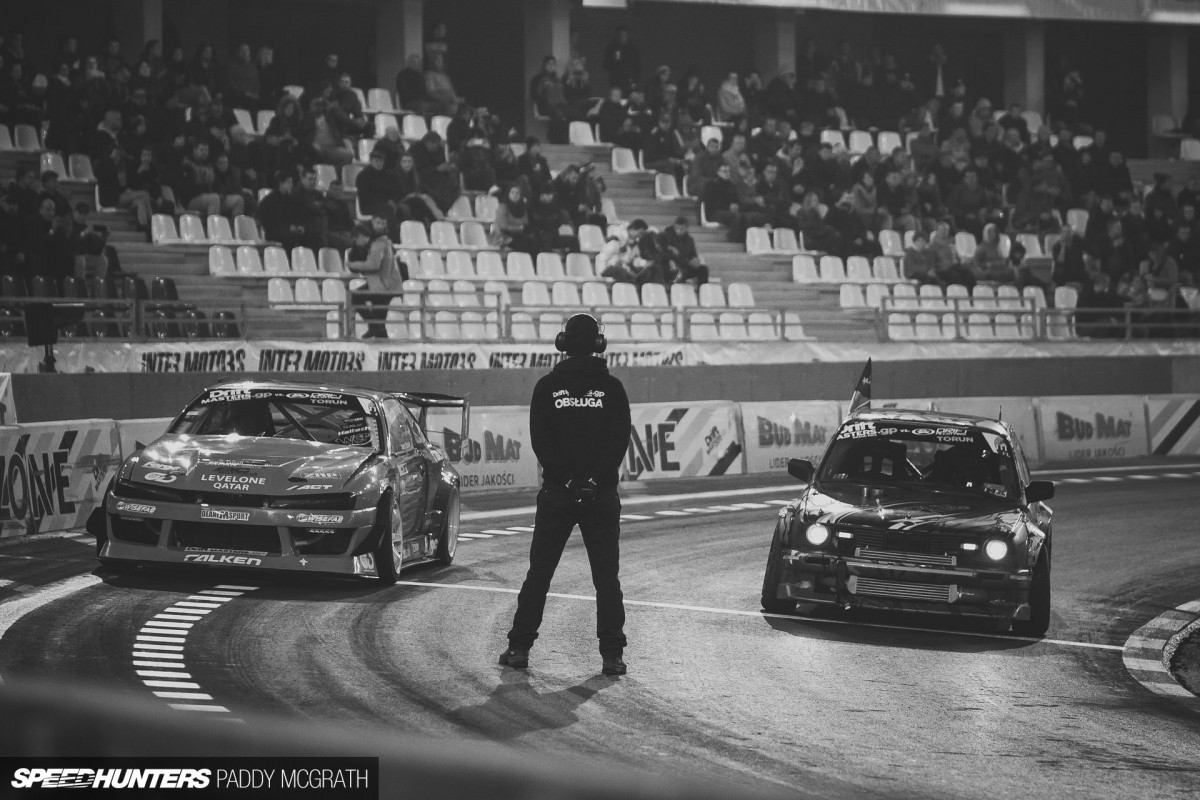 With the event being televised live on Polish television, it was a tense start to the battles for James. Zalewski had been extremely consistent all throughout practice and qualifying. Despite a valiant effort, a wall tag put Zalewski on the back foot and James progressed through to the Top 8 and one step closer to the title.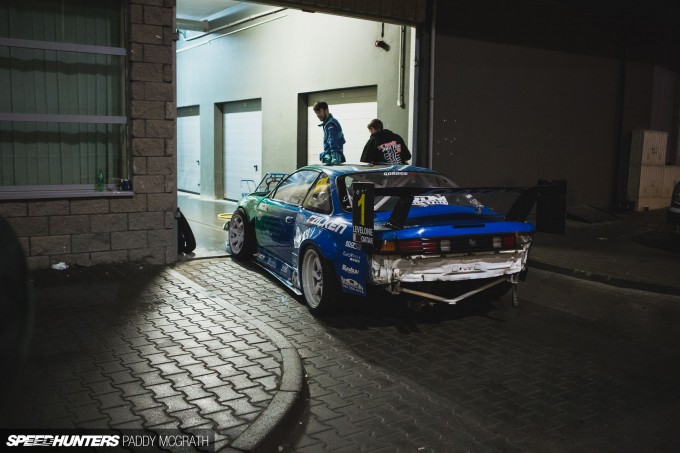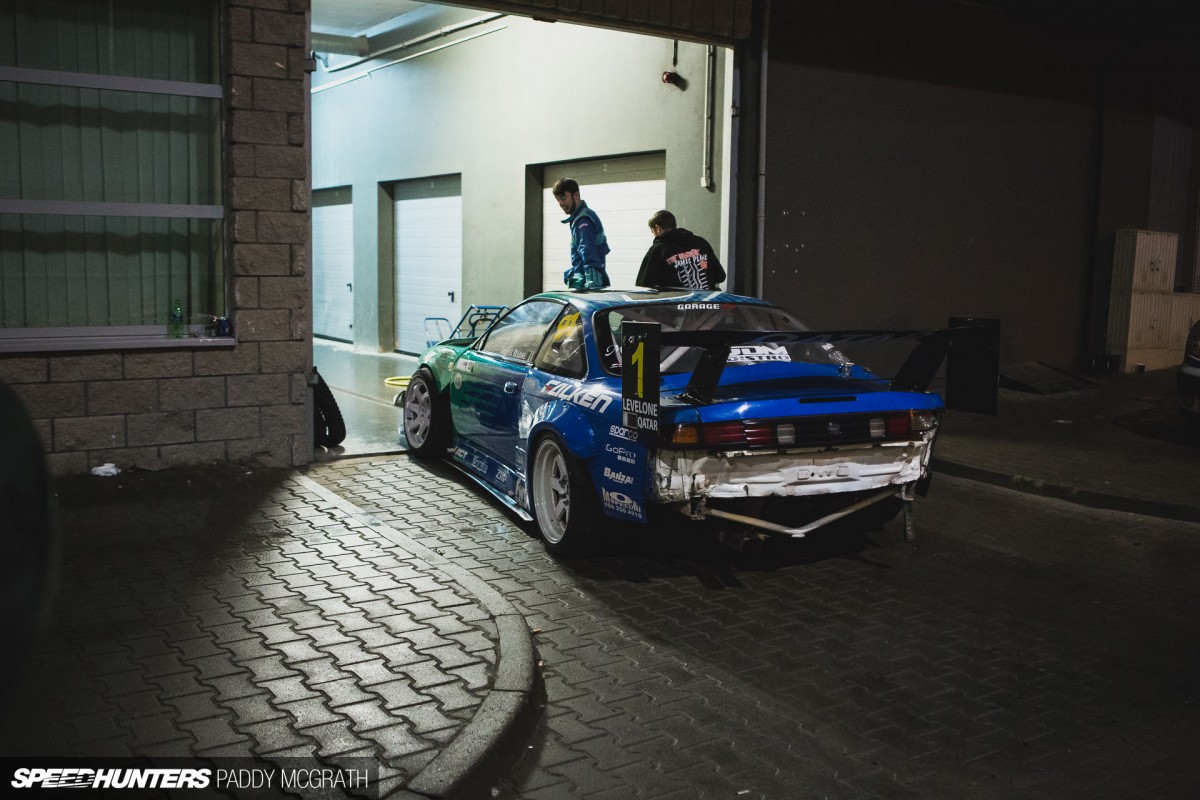 With his 2JZ-powered S14 being its usual reliable self, James took to the grandstands to watch the rest of the battles unfold.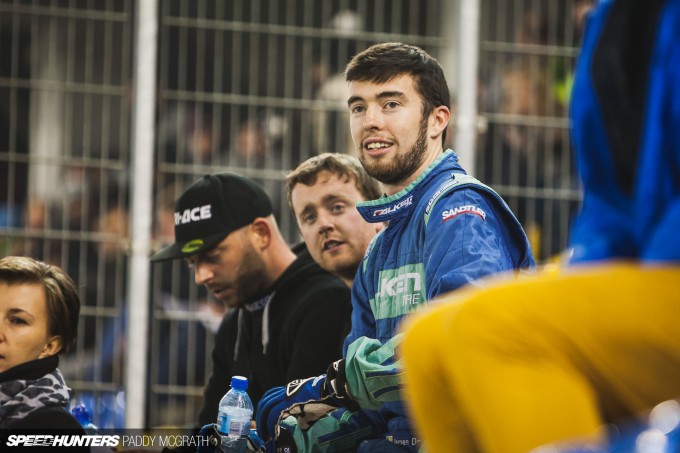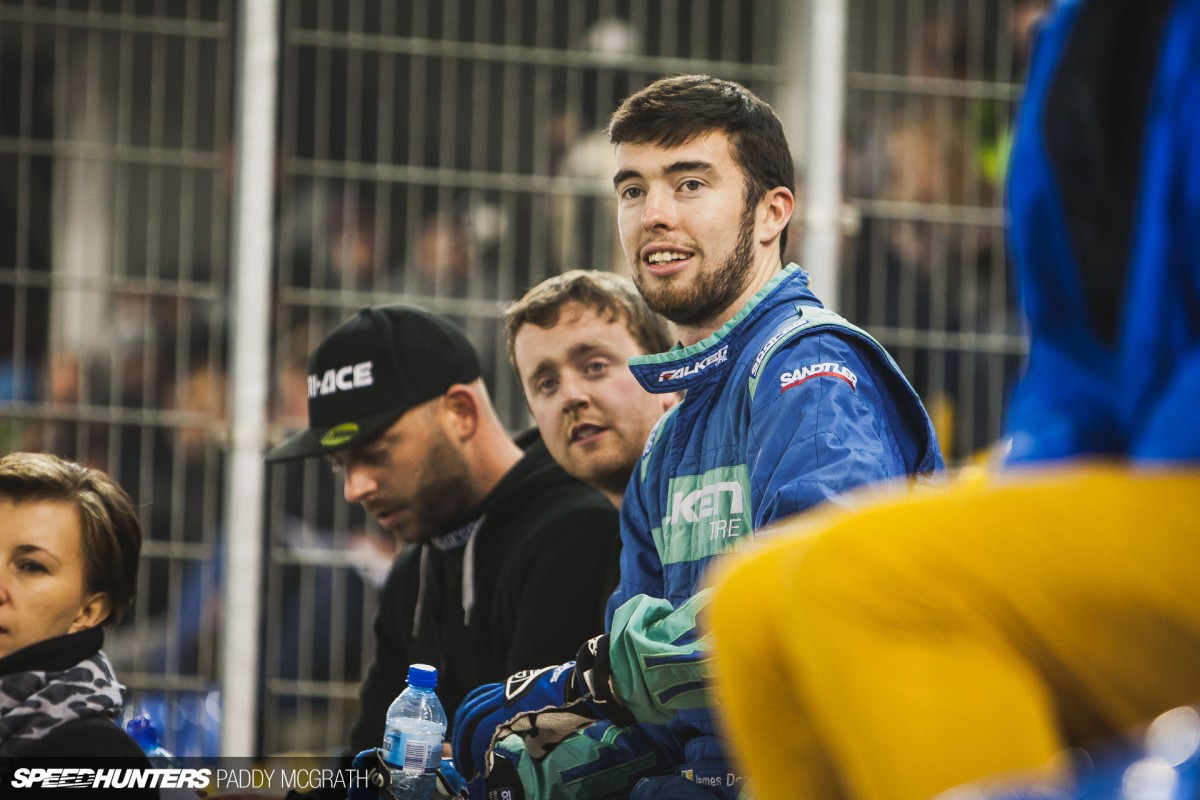 There were no easy battles so to speak, with each driver having to put up a proper fight to advance. The proximity between cars was impressive, but this also meant that the competition would only get tougher as it advanced to the next set of battles.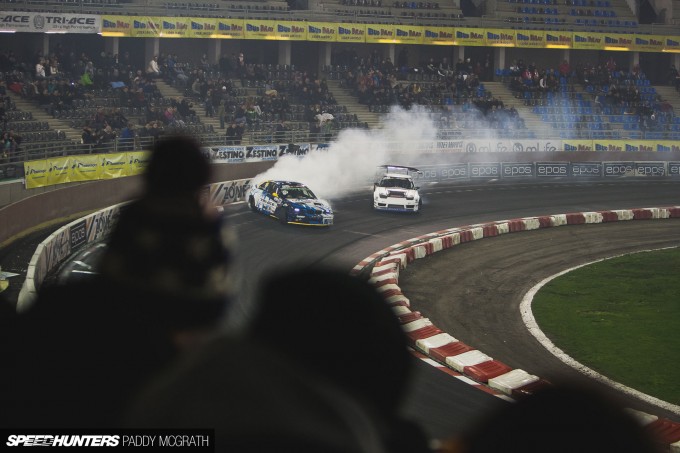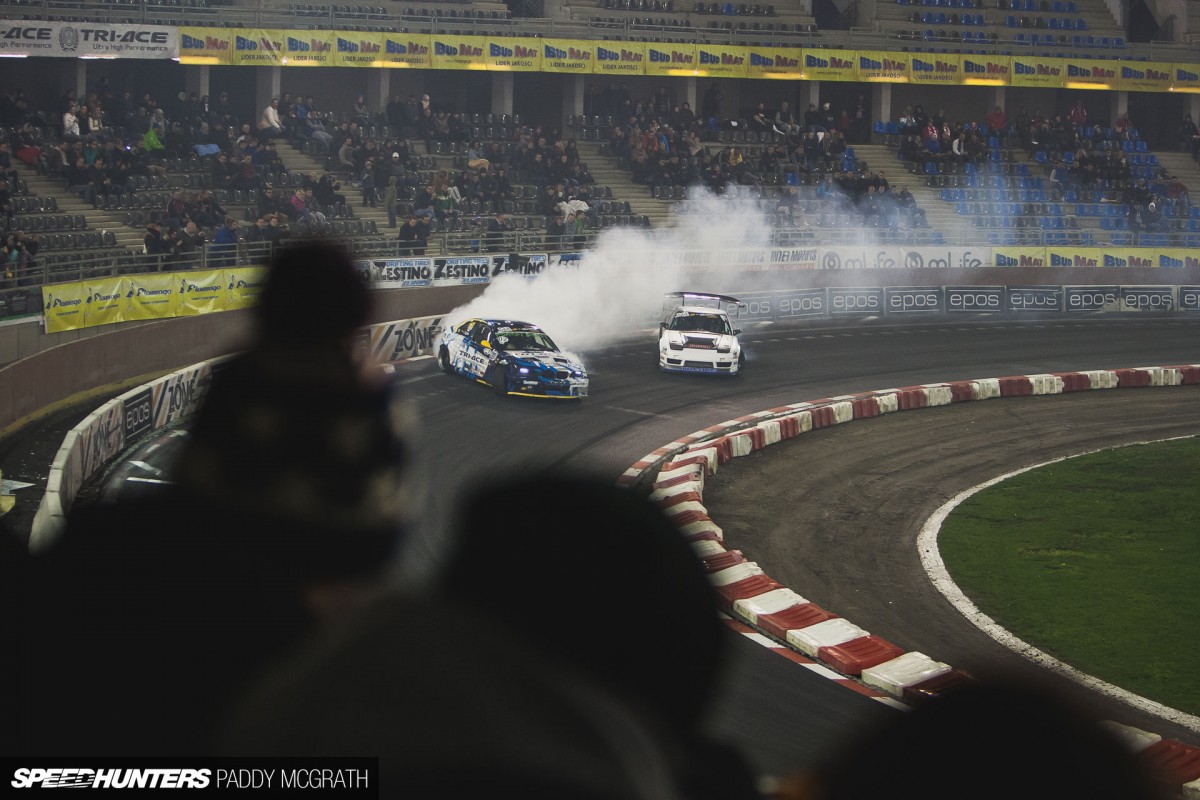 Before long it was time for Janis Eglite to face Nigel Colfer. Janis would have been the slight favourite to advance beforehand, but Nigel has been fantastically consistent all year and was looking to secure third place in the championship, so would be no pushover.
With Janis leading the first run, he started strong as he powered into turn one and towards the first transition. However, coming away from the inside clip, Janis' car over-rotated and despite being able to save it, the judges correctly deemed it to be a huge error and gave Nigel full advantage for his lead run. Nigel was never going to mess it up, was he?
Before the Top 8 had even begun, James Deane was champion once again.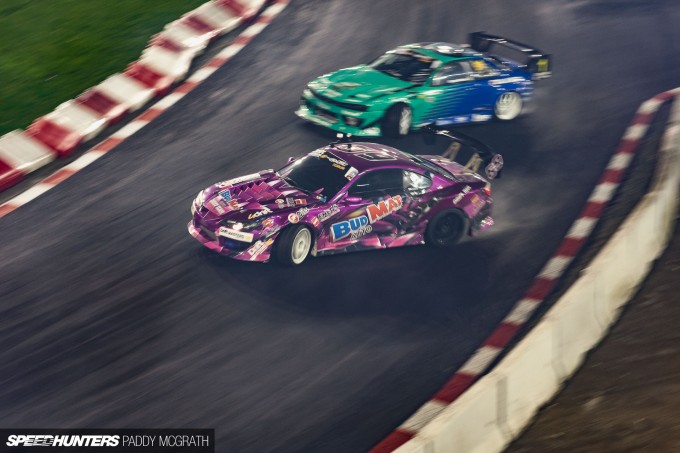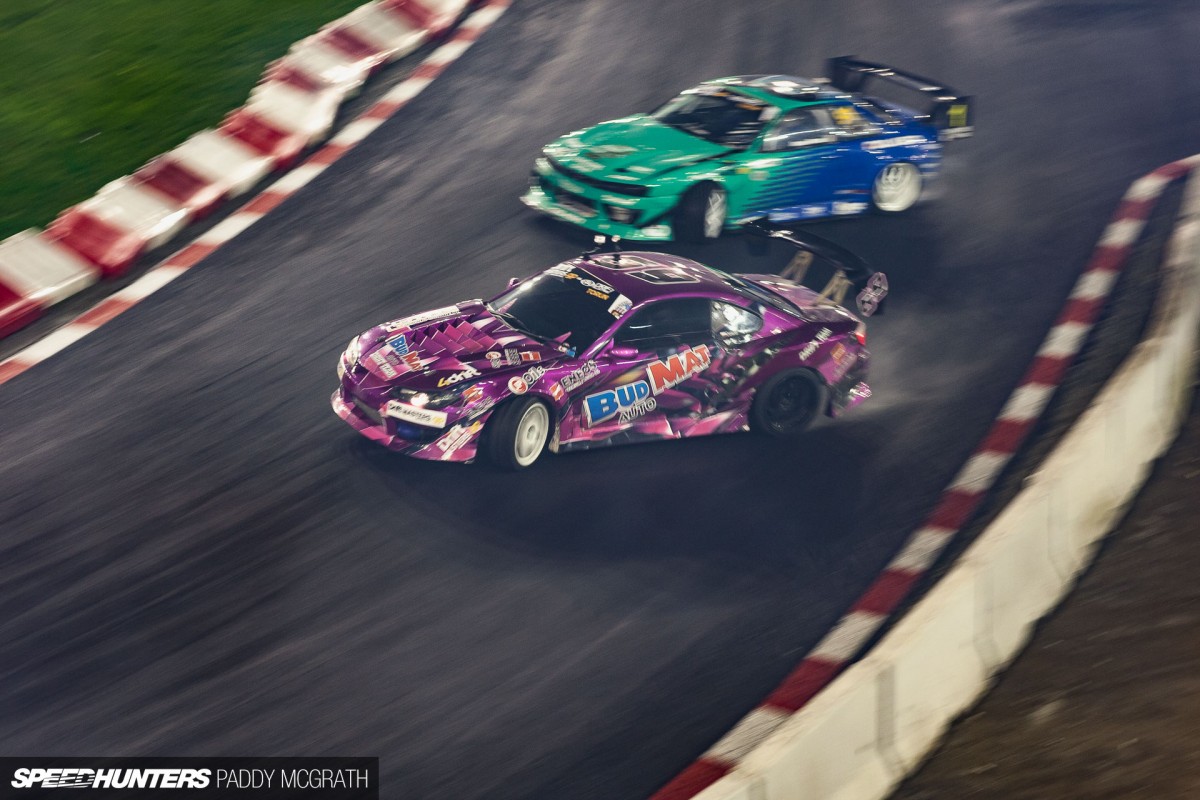 His night would not end at the Top 8 either.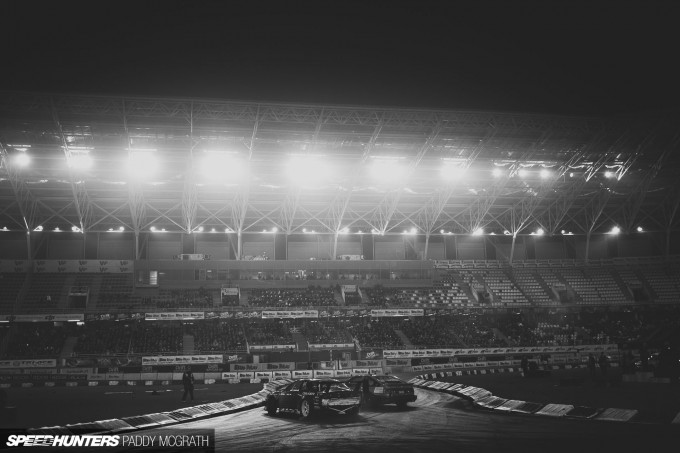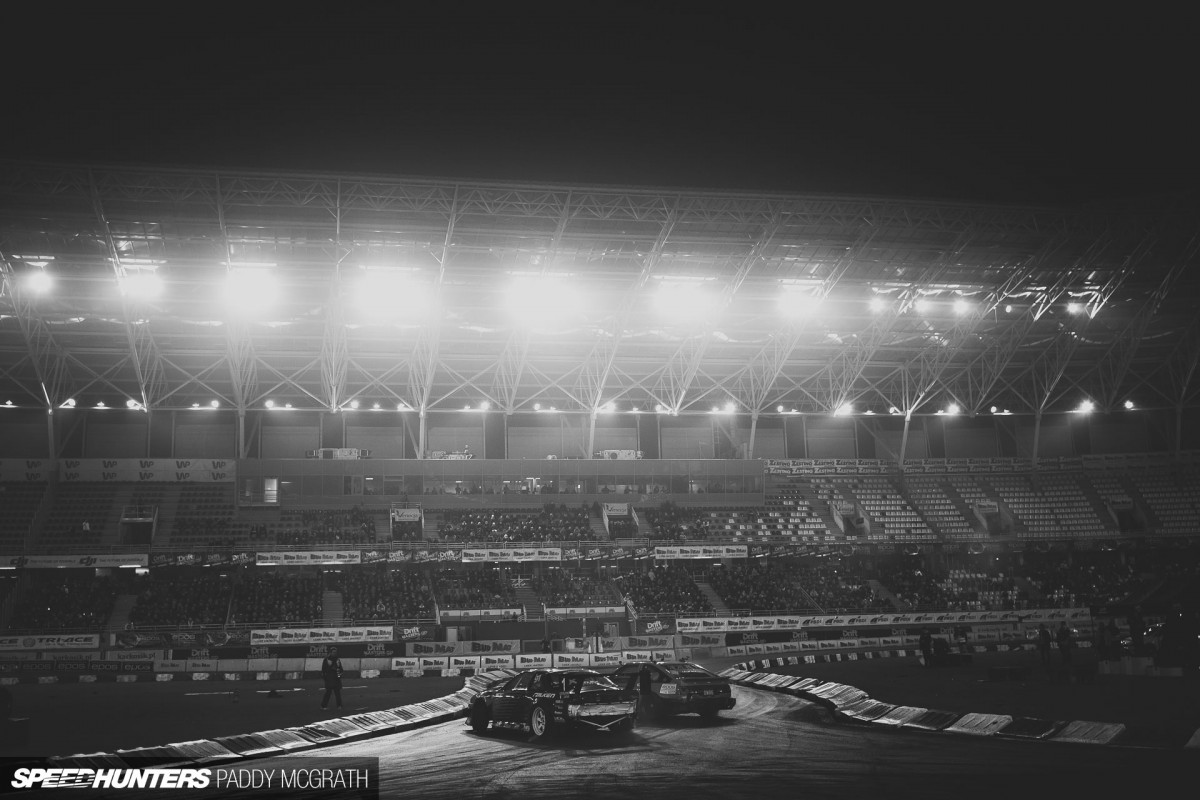 Or the Top 4, where he beat UK driver Phil Morrison in a close duel.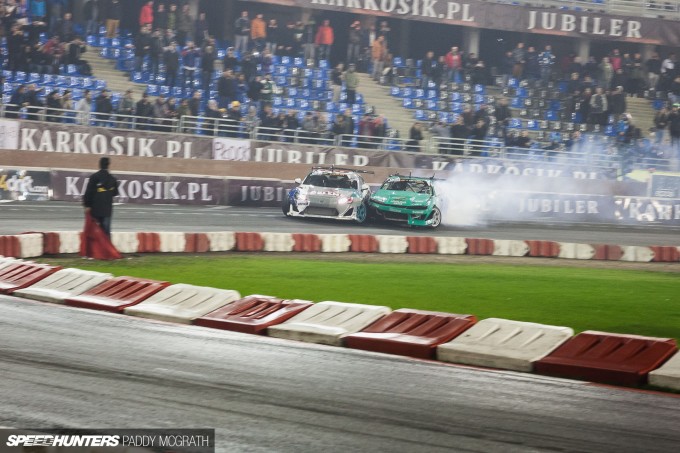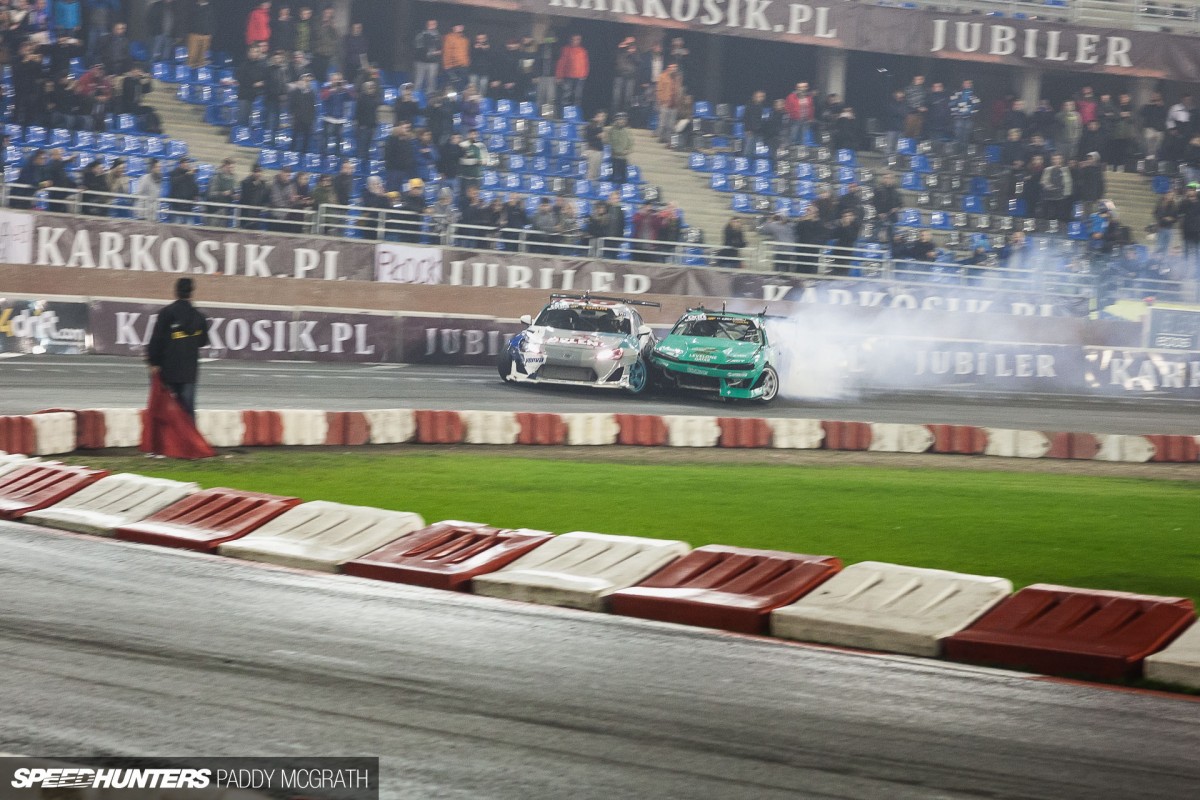 James would take it all the way to the final, where he would meet Kuba Przygonski and his mighty 1,000hp GT86. A small error on James' lead run saw him move a water barrier which handed a full 30-0 advantage to Kuba heading into the second run. With the championship already wrapped up and with nothing to lose, James threw caution to the wind and proceeded to put on the single most incredible chase run that I have ever seen.
From the first corner, James was leaving tyre marks on Kuba's door, and when they transitioned the other way he decided that the other door needed a coat of rubber too. He was never really hitting the Polish driver, just constantly nudging and provoking him the whole way around. The crowd was on their feet in appreciation of both drivers. It was one of those moments where I can feel the hairs standing up on the back of my neck just thinking about it.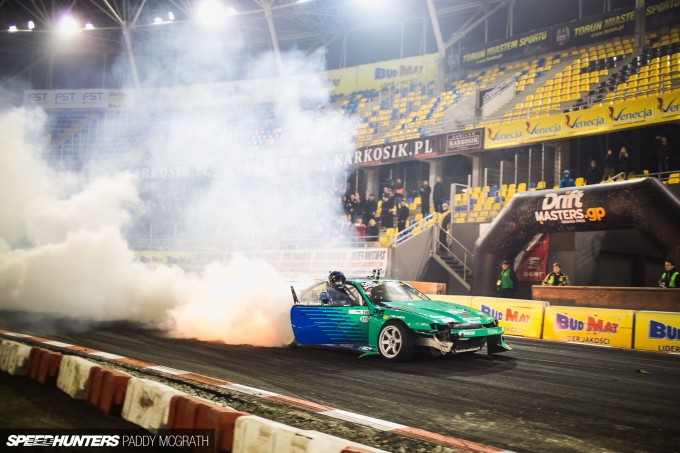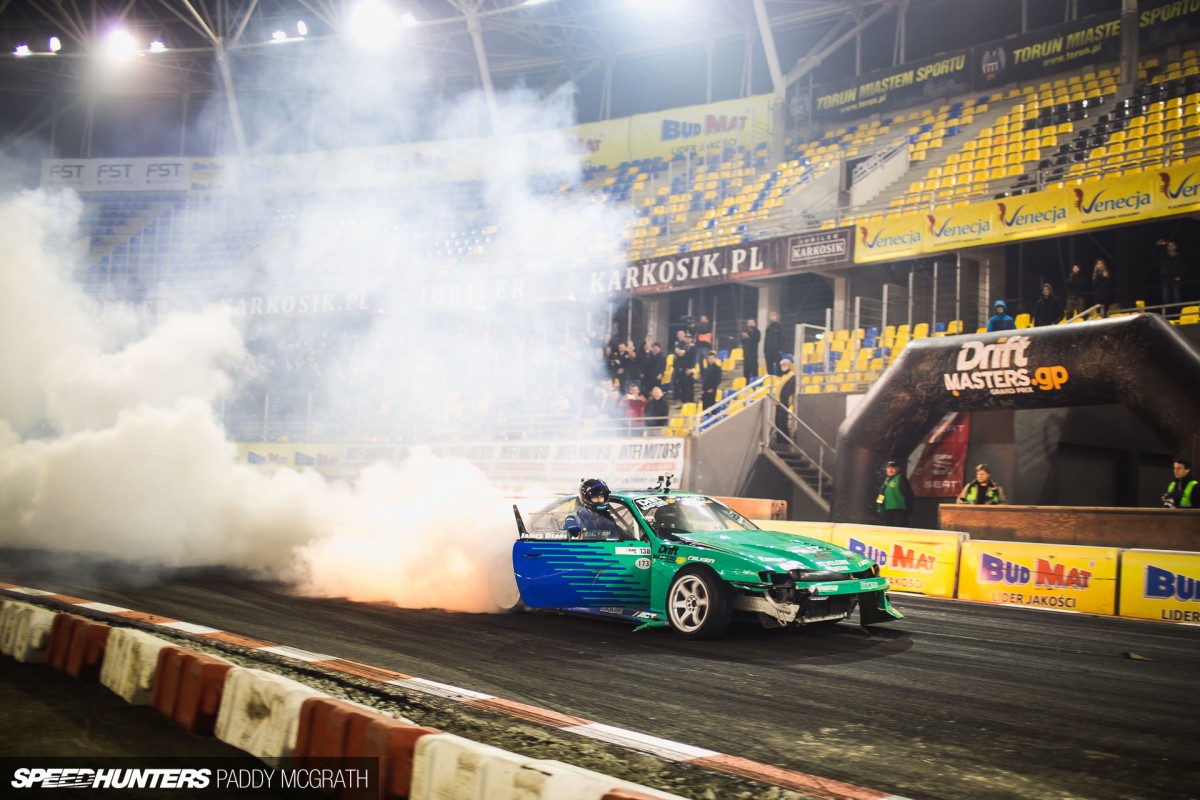 Knowing that Kuba had won the battle, James showed his appreciation to the Polish fans by destroying his Falken tyres for the last time this season. Despite always being the outsider on foreign soil all, the level of support for James throughout Europe is testament to both his driving style and his demeanour and personality.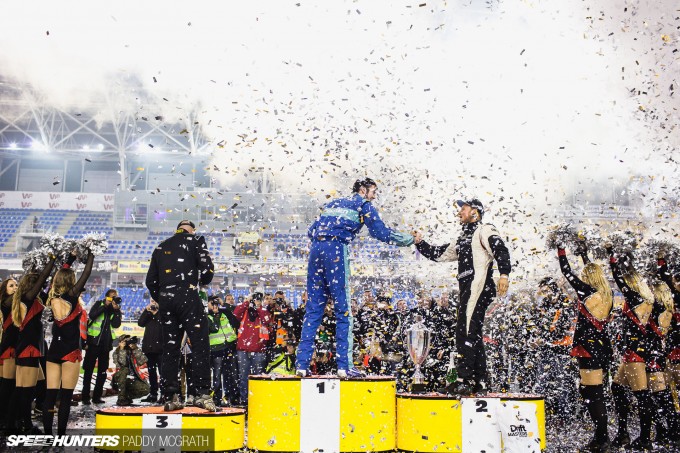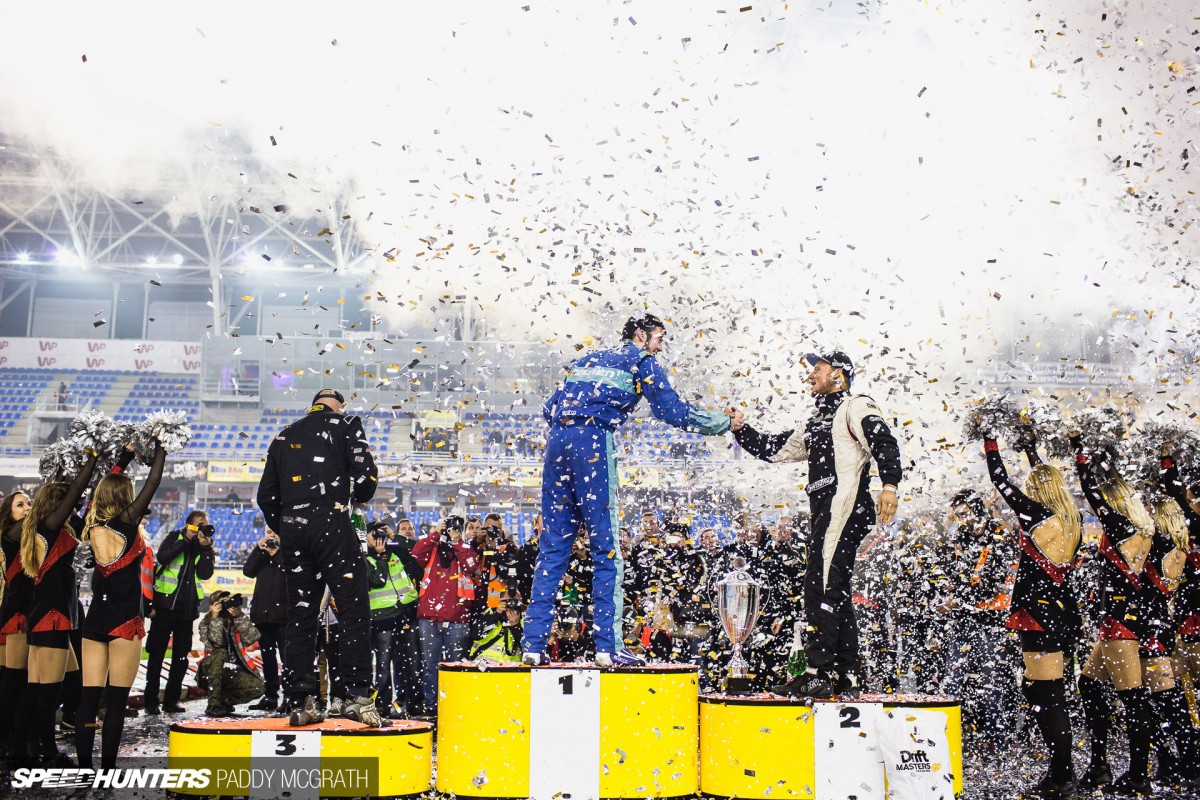 As he took to the top step of the championship podium yet again, he was immediately congratulated by Janis in a heartfelt gesture of respect between two fierce competitors.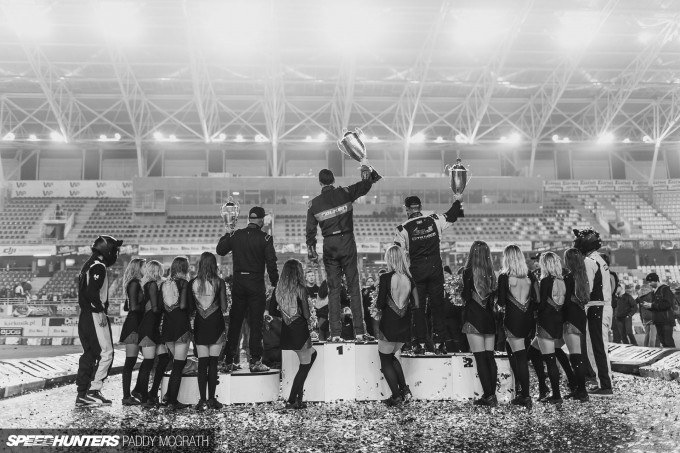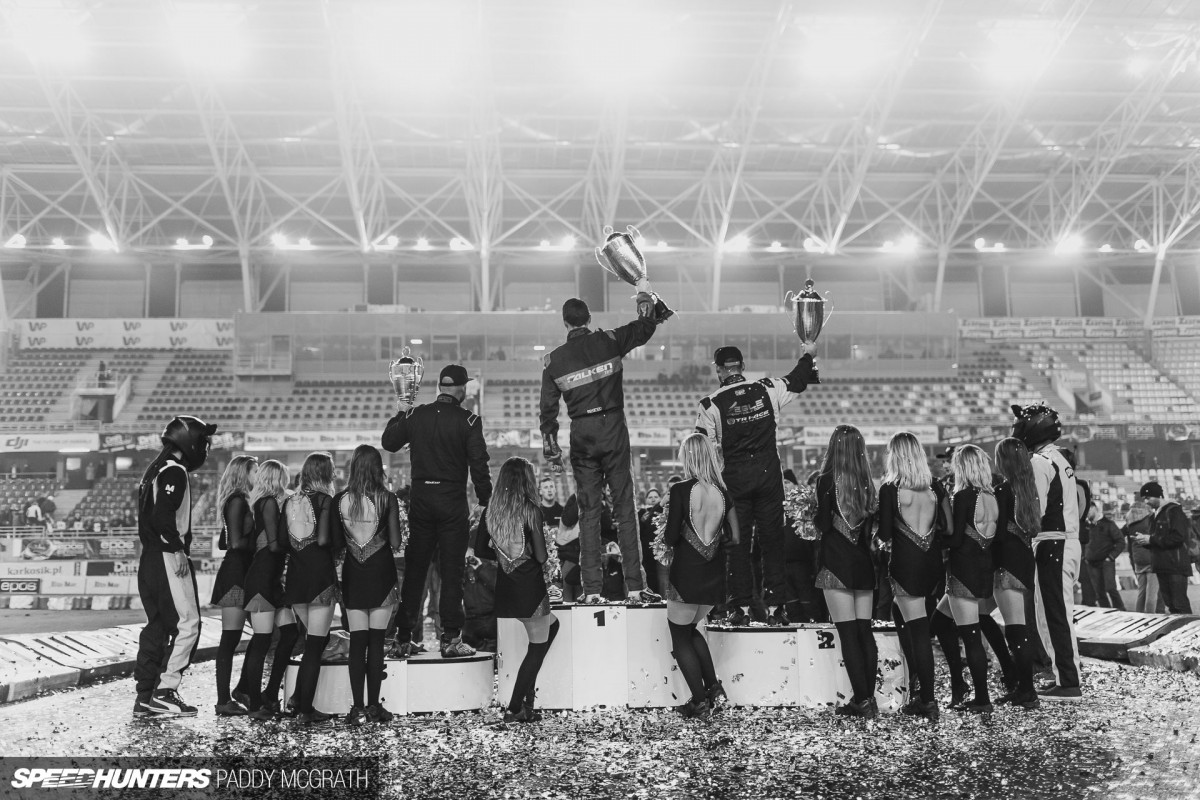 Despite only being 24 years of age, James' dominance in Europe has been quite simply remarkable. He's never had an 'easy' win, instead he's had to fight hard against great opposition every time. With just two wins in 2015 in Drift Allstars, but featuring on the podium at every round, his consistency ultimately gave him the edge over his competitors.
With multiple national and continental titles, he has a resumé that most can only dream of. In fact, I can't think of any other drifter that can match his haul of professional successes. What makes it all the better is that all of this has been achieved by a down to earth guy with the backing of his fantastic family and friends.
They say that good things happen to good people. Well, I expect a hell of a lot more good to come to the Deane family.
Paddy McGrath
Instagram: pmcgphotos
Twitter: pmcgphotos
paddy@speedhunters.com
Cutting Room Floor