Whilst the battle was raging on track for the 2015 Irish Drift Championship, the Mondello Park paddock was overflowing with cars for the annual Japfest show. For years previous, the show was slim pickings. The economic realities on this island meant that building cool cars would remain a distant dream for most and a fond memory for others. With the upturn in financial fortunes for some, this was the first event post-recession and the standard of cars that seemingly popped up out of nowhere was pretty damn incredible. It's like someone flicked a switch and all of a sudden the Irish remembered what good looked like.
Unfortunately, I am but one man, so my time in the paddock amongst the show cars was limited. That said, I was able to speak to a couple of owners about their cars and have arranged to speak to others in more depth in the coming weeks. I have a few spotlights forthcoming, but I want to start with a car that's anything but a new build.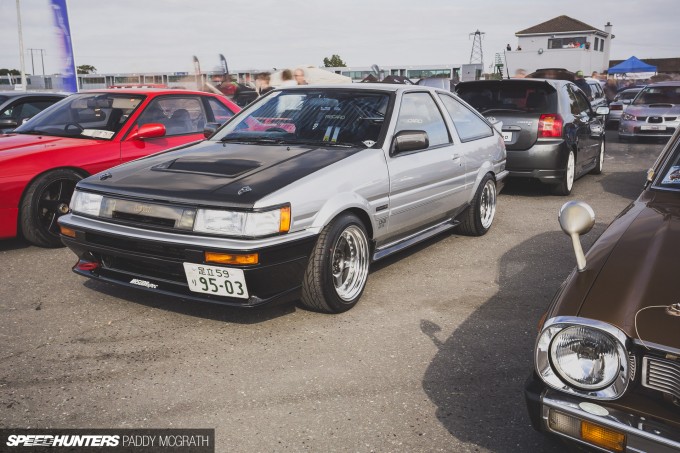 If I'm not mistaken, this isn't the first time that Chris Gray's Levin has appeared on Speedhunters, nor is it the first time that I've ever seen the car. Like all great cars, this one has been a long-term project and has slowly evolved into what I consider to be the perfect AE86 Levin. It's also a lesson in patience and restraint. That age old mantra that 'less is more' couldn't be more appropriate.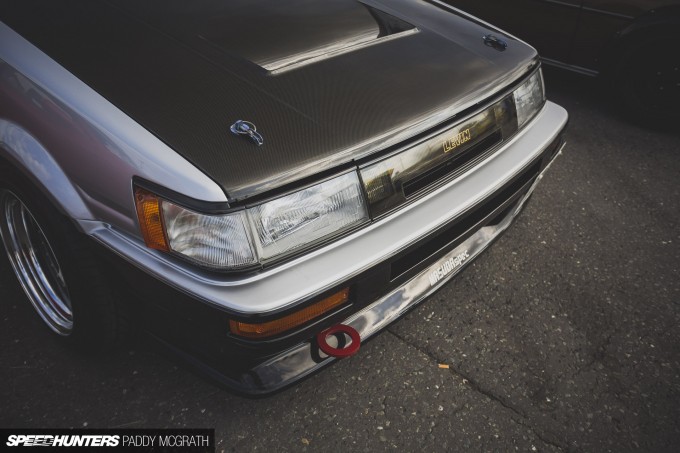 I've known Chris for many years and consider him an authority of sorts on AE86s in Ireland. It's no surprise then that he chose a 1985 Levin GTV imported from Japan as his base car all those years ago, as opposed to the more readily available UK-spec Corolla GT Coupé. As far as I can remember, it's always remained its original colour too: Toyota 147 Silver Metallic.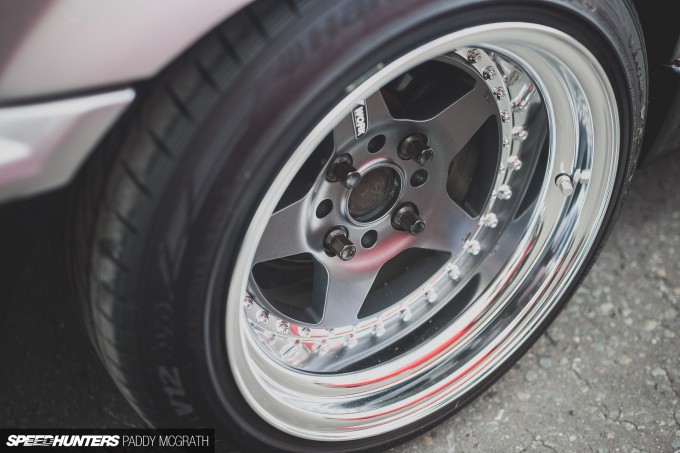 The bodywork is subtle but well attended to. The steel rear arches have been flared with the fronts being tucked and rolled. This allows the Work CR01s – measuring in at 15×8.5-inch ET13 – to sit comfortably on the car, beneath TRD coil-overs with Cusco top mounts at the front and TRD shocks and springs out back.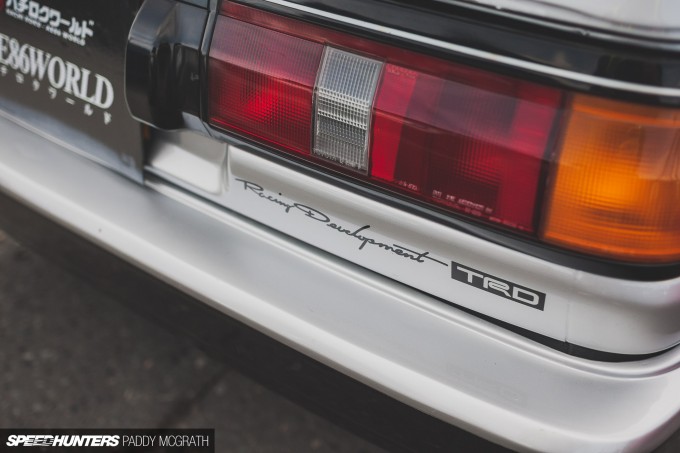 TRD is pretty much the order of the day here, with Toyota's own racing division having provided the N2-spec rear spoiler, anti-roll bars, engine and gearbox mounts, close-ratio gear set and 2-way LSD amongst other components.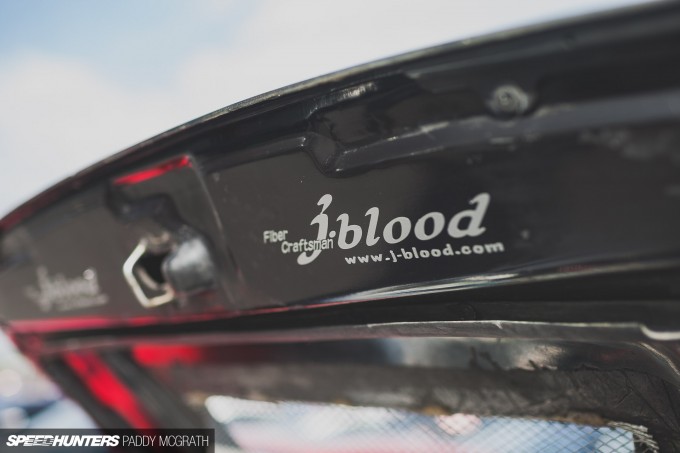 Breaking up the metallic paint finish is an original J-Blood vented carbon fibre bonnet, which ties nicely into the car's silver-over-black theme.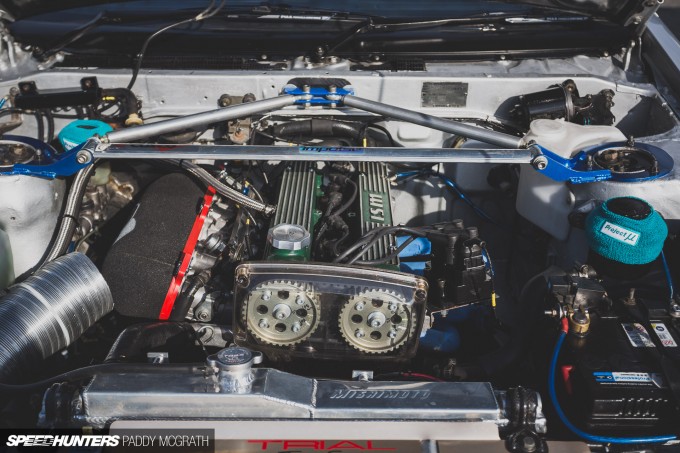 As with all good AE86s, the real magic is what's under that J-Blood bonnet. The 4A-GE remains, but its standard state is only a distant memory as the 1.6-litre DOHC 16-valve four-cylinder was fully rebuilt earlier this year.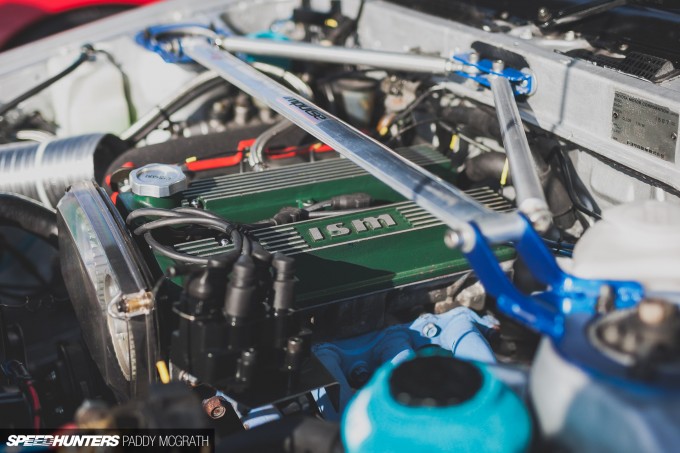 The extremely rare RS Yasu ISM cam covers are a clue that Chris' relentless pursuit of attending to the details. On the intake side, quad throttle bodies from a AE101 20V 4A-GE are fed air through a set of SQ Engineering 50mm stacks, themselves protected with an ITG air filter box. Inside, the cylinder head has been ported and polished and fitted out with Toda Racing cams, pulleys and valves; the bottom end fully balanced and featuring Toda 82mm pistons.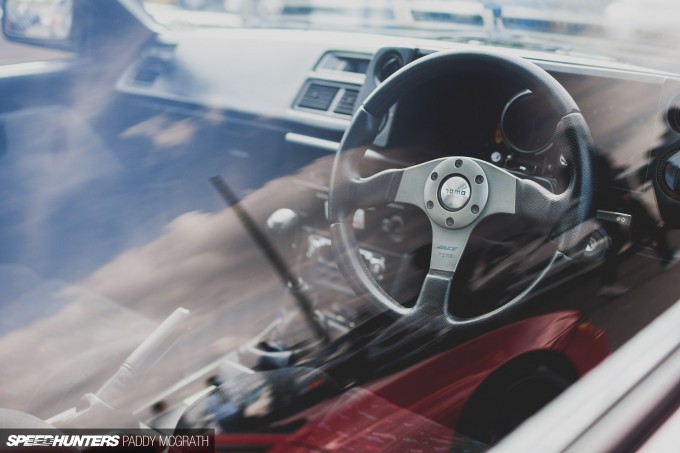 Inside, the almost standard GTV-spec interior remains. The rear seat has been removed and a padded half cage installed in its place. The original front seats are gone too, now replaced with a pair of matching Recaro recliners. Other details include a Momo wheel and a TRD short-shifter.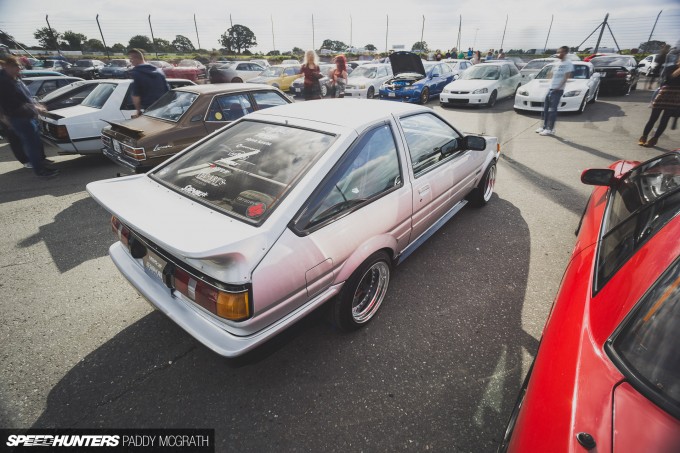 This is a car where the details make the build. But as is often the case, it's these details that can take the most amount of time to address. The result is worth it however and I'm quite looking forward to catching up with Chris again to see how the car evolves in the future.
Paddy McGrath
Instagram: pmcgphotos
Twitter: pmcgphotos
paddy@speedhunters.com