A Dream Achieved
I find that there's little in common between United States and Irish car culture. USA is the home of monstrous capacity V8s, while Ireland is, well… not. We do have something in common though, neither country was offered the Nissan Skyline R34 GT-R from new. This has created an even stronger sense of lust between our two countries, than say to those who were lucky enough to be able to walk into a dealership and drive one off the showroom floor.
In a rare occurrence of Ireland actually having a car culture related benefit over the USA, we are – and have always been – able to import the GT-R from Japan. I remember the impact when a good friend of mine brought one over from the UK. It was a monster. In fact, think I still have a photo of it parked outside my house somewhere. Whilst the likes of the R32 and R33 GT-Rs bottomed out at around €10,000, the R34 always held strong residuals. As such, they remain a rare sight on our roads.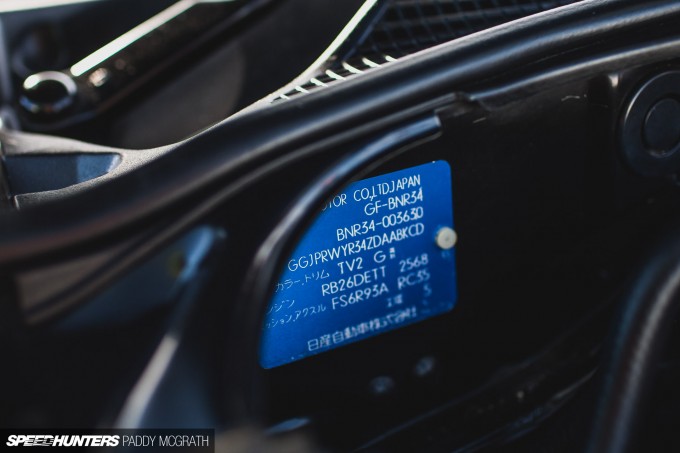 So imagine my surprise when not one, not two, but three examples rolled into Mondello Park the Sunday morning before last for Japfest. Nothing quite signals the end of a recession like a trio of R34 GT-Rs showing up in one place at the same time does…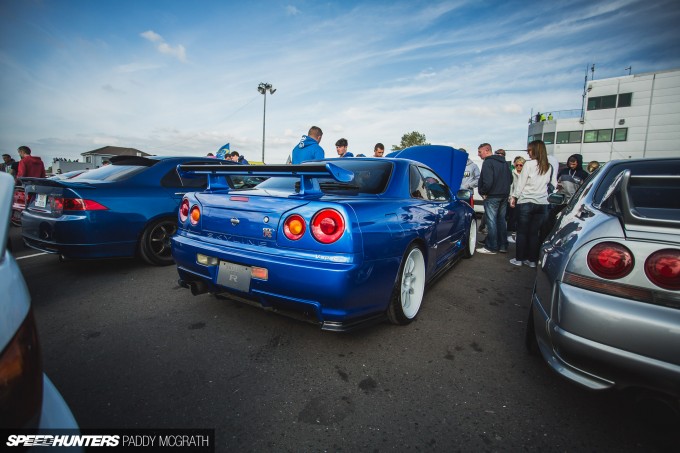 Luckily for me, the owner was standing right beside this particular example, a 1999 V-spec, and was able to talk me through his time with the car, which he has owned for over a year now. Like most, the R34 GT-R was Domnic's absolute dream car. When he bought the Nissan in June 2014, it had been in Ireland for approximately six years already. The Skyline was in great condition, but the styling wasn't to Domnic's taste, which he described as being a bit 'Fast and Furious'.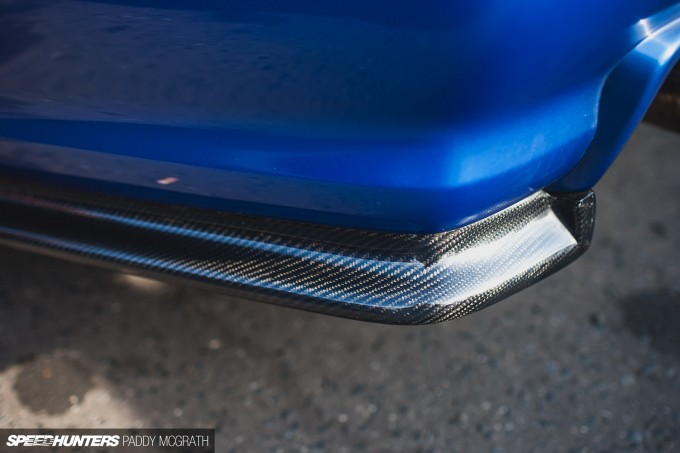 Subtlety would be key for this transformation. Well, as subtle as a Bayside Blue R34 GT-R can be on Irish roads. Dressing the bottom of the car, are carbon Nismo-style under-skirts and rear spats, while the front is wearing a Top Secret bumper with accompanying Top Secret carbon front splitter and undertray (which can be seen in the Bonus Images chapter below).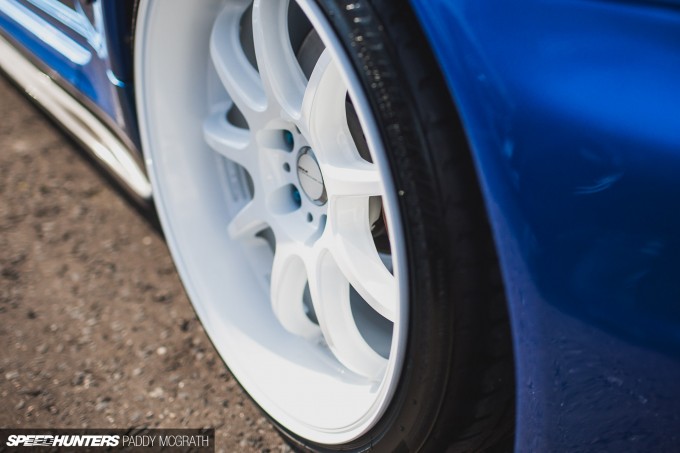 The most striking visual cue are the white Work DR9 wheels, measuring in at 19×10.5-inch at all four corners and wearing 275/30R19 Bridgestone S001 Potenzas.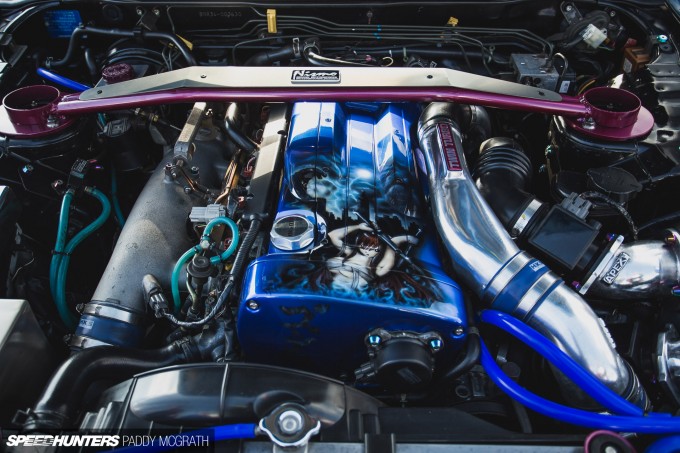 It's not all aesthetics either, the RB26 has been mildly tuned to bring the power and torque levels up to 440hp and 364lb-ft when run on standard 95 octane Irish fuel. This was achieved with Kakimoto downpipes and a Regu 06 exhaust system with a Sard high-flow cat on the exhaust side and Trust intercooler and A'PEXi air filter with HKS hard pipes on the intake side.
It's a sensible set of modifications, without chasing outright horsepower figures. Suspension is adjustable Nismo S Tune whilst the stock Brembo brakes have been treated to Endless CCX pads at the front and Ferodo DS2500s at the rear.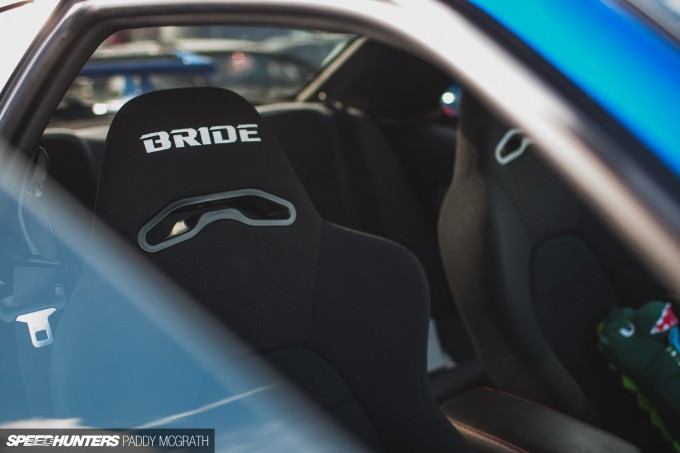 The interior has been kept relatively untouched, asides from the matching pair of Bride seats, some Nismo details and an FC Commander for the A'PEXi Power FC engine management system.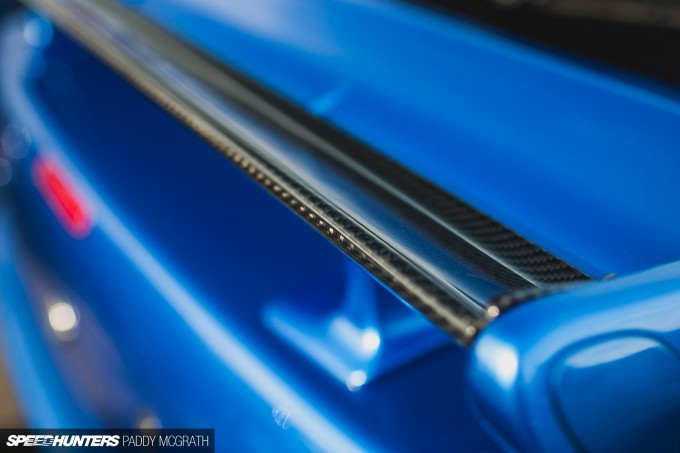 It's a tastefully modified GT-R and one that rewards a closer look.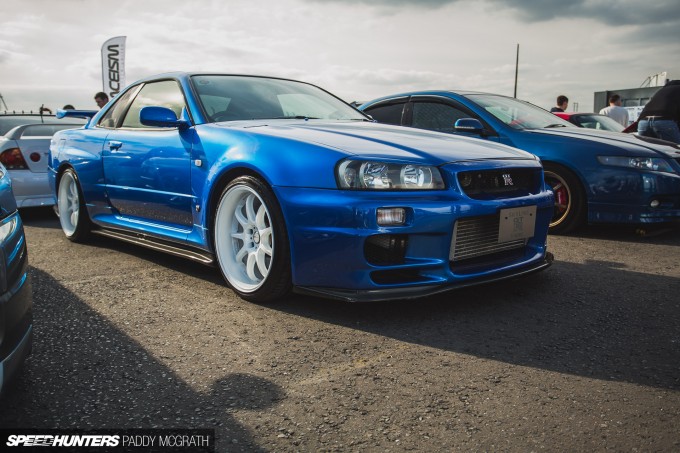 When you consider that this car accounts for approximately 10 to 15 per cent of the entire R34 GT-R population in Ireland, I think it's awesome that its being used and modified in a proper manner. Now, I think I'll have to go find the others…
Paddy McGrath
Instagram: pmcgphotos
Twitter: pmcgphotos
paddy@speedhunters.com
Cutting Room Floor