Research. Development. Racing
It's easy to see the appeal of time attack. Besides drag racing, there aren't too many motorsport categories where winning can be measured in more ways than one, but in chasing the clock on top of gunning for class honours, time attack does just that. It's also a motorsport where modifications are largely only limited by imagination, but at the same time it remains totally accessible even for those on modest budgets.
With the 2015 edition of the Yokohama World Time Attack Challenge kicking off on Friday local time at Sydney Motorsport Park in Australia, we thought it was the perfect opportunity to take a look at a machine that competed at the very first WTAC event five years ago – the Turbosmart Open Class FC3S Mazda RX-7.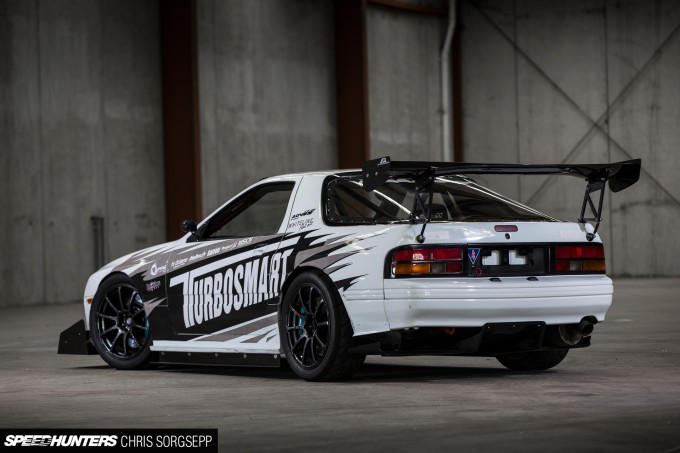 Unlike many high-profile time attack builds that have been engineered from the ground up for the purpose, this particular car was originally built for a different motorsport genre, namely tarmac rallying. It was successful in the hands of its owner, Turbosmart's CEO Nic Cooper, too, notably placing first outright in the hard-fought Modern Classic Turbo division of the 2010 Clipsal 500 Adelaide Rally.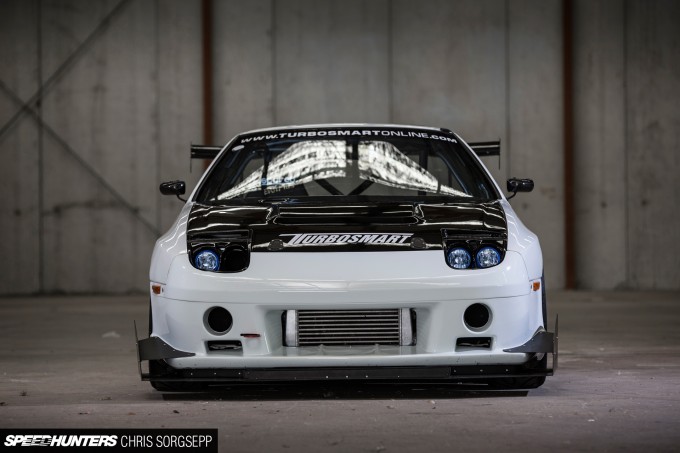 Later that year the RX-7 was entered in the WTAC – an event which became the catalyst for a complete time attack focussed makeover for 2011.
All of the preparation work except the engine build and tuning was carried out in-house, and when the time came to put it all on the line at Eastern Creek International Raceway (now known as Sydney Motorsport Park), Turbosmart's General Manager Stewart Mahony turned in a 1:38.5720 lap, which you can watch above. Given it was a fresh build there were some technical challenges along the way, but it was still a quick enough time for the team to rank 12th out of the 57 competitors in the Open Class.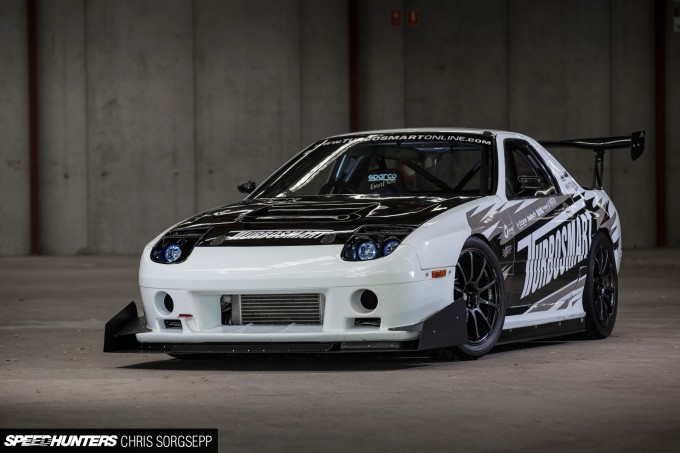 While all this was going on, the FC3S was serving another, more important purpose for Turbosmart – that of a research and development testbed. More specifically, the RX-7 was (and still is) used to evaluate new and existing products in a real-world race car scenario; its hard-tuned 13B providing an extreme environment for theories to be proved and new technologies to be assessed. Think wastegate diaphragm materials, spring alloys and valve coatings…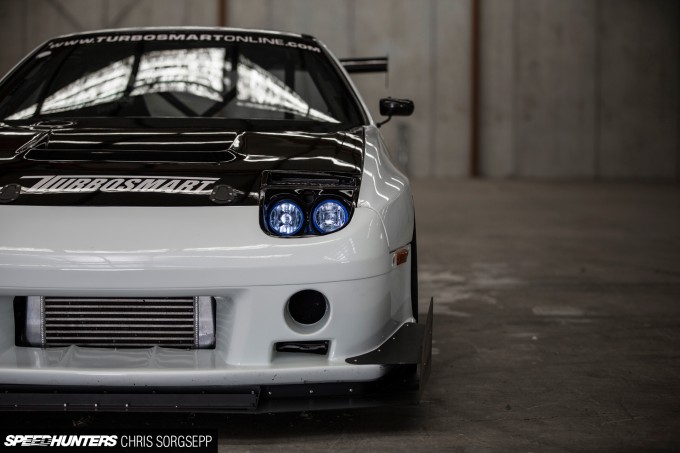 At face value though, this is a good looking car. As the world's quickest time attack machines push to shave hundredths of seconds off their best lap times, the wilder they're getting. I'm all for crazy aero and love the science behind it even if I can't really understand it, but I think there's still a lot to be said for a simple, almost street tuner like approach. I can easily picture Turbosmart's FC3S parked up at Daikoku Futo PA on 7's Day.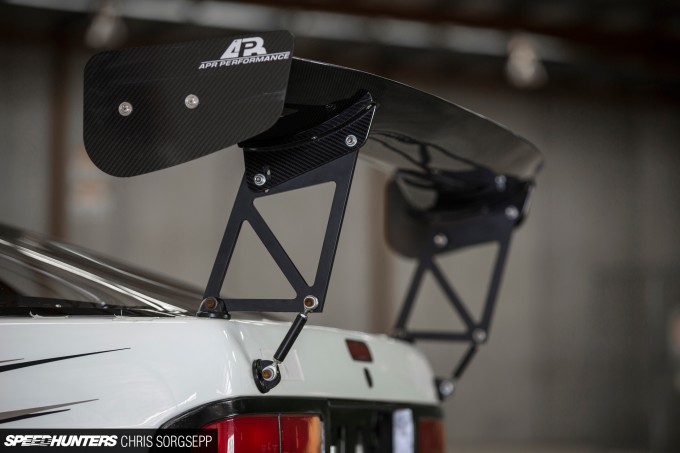 The body features a Shine Auto Project front bumper with canards integrated into a one-off splitter, Shine side skirts with custom extensions, and a Shine diffuser fitted beneath the RX-7's factory rear bumper. You'll also find a vented carbon fibre bonnet, a headlight conversion and to finish things off, a large APR rear wing out back. And it needs all the downforce it can get too, because thanks to an angry engine, the FC is capable of crazy speed.
Powered by Pac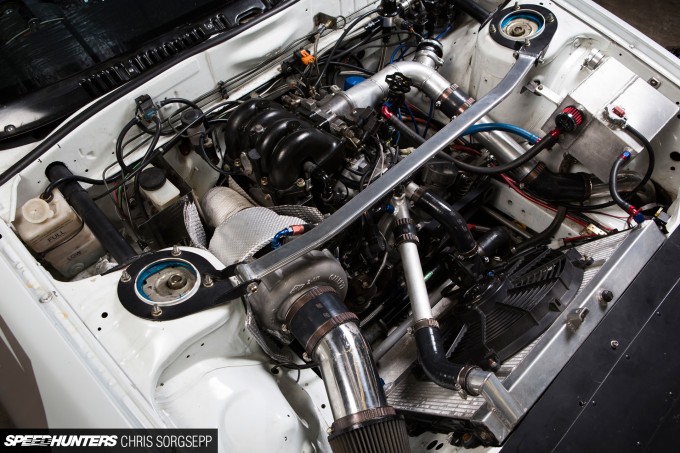 Turbosmart didn't have to look far to find a workshop capable of piecing together a powerful and reliable motor package either. Sydney-based Pac Performance is not only a globally-known name in rotary engine building, tuning and racing, it's a staunch supporter of Turbosmart products, which are used all the way up to its Mazda6 SP drag car, which runs a methanol-fuelled 20B and turns in 6-second quarters at 200mph+. Nothing quite that extreme was required for Turbosmart's time attacker, but its PAC-built 13B turbo that's been bridge-ported for flow and dowelled for strength is a serious piece of power-making hardware in its own right.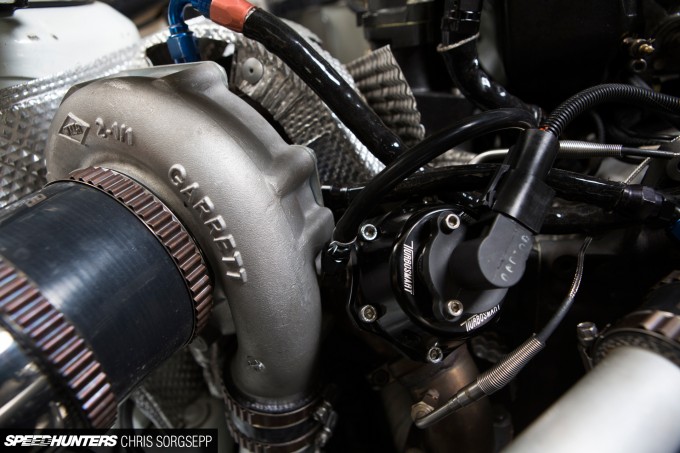 One of the more recent upgrades made under the hood is the Garrett GTX4088R turbocharger – a unit that can support up to 850hp. In this instance there isn't much wasted potential either. For boost control, a 50mm Turbosmart Pro-Gate 50 wastegate is employed, complete with a Turbosmart Wastegate Sensor Cap. Through the use of an internal valve sensor, that accessory provides data on the operation of the wastegate relayed via the Racepak/Haltech IQ3 unit in the cabin.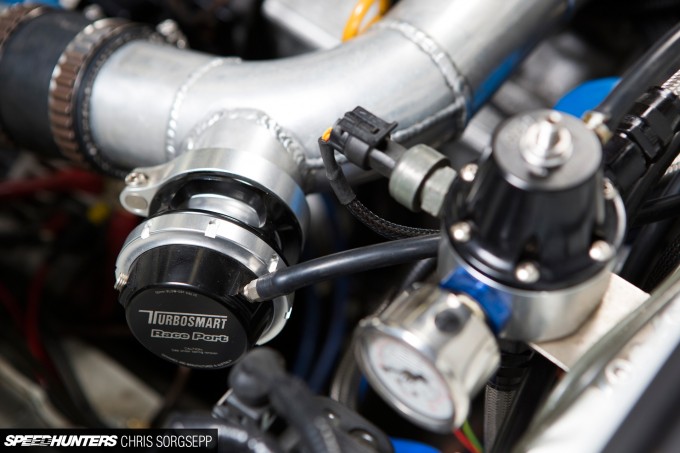 Pac also pieced together a front-mount intercooler with custom pipework that's plumbed up using Turbosmart silicone hoses and Murray clamps. To relieve excess pressure in the intake tract when the throttle shuts, a Turbosmart Race Port blow-off valve is employed.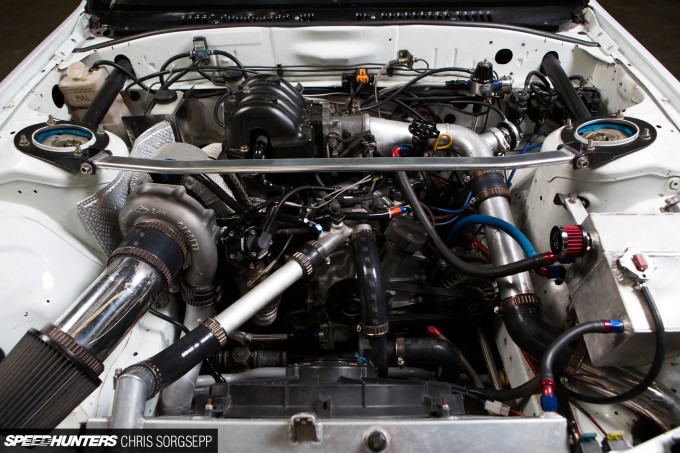 In preparing the RX-7 for time attack duties, the 13B was repositioned lower and slightly further back in the engine bay on stiffened mounts to improve weight distribution and better the handling and balance, something that makes the tiny twin-rotor block assembly even harder to make out beneath all of the ancillary items. For a small engine it packs a hefty punch, and fueling that fire is E85 bioethanol.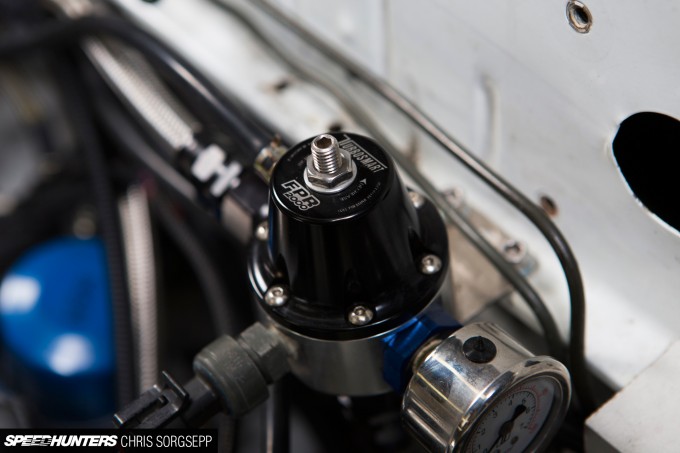 The setup features two Bosch 044 pumps and a custom surge tank in the rear, feeding Teflon-coated fuel lines connected up with Speedflow 200 Series fittings. In the engine bay you'll find a Turbosmart FPR2000 adjustable fuel pressure regulator and Injector Dynamics ID2000 injectors. Bosch ignition coils provide the spark energy.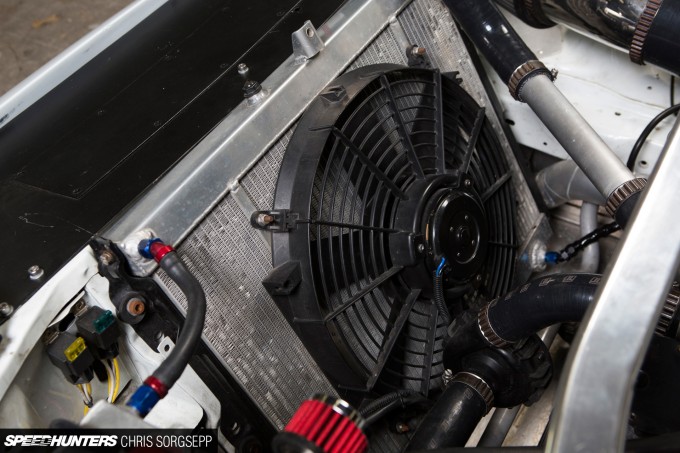 As is the case with any rotary engine, tuned up or otherwise, heat is real issue. Keeping temperatures in check is a PWR aluminium race radiator and a Davis Craig EWP130 electric water pump that's controlled by the ECU, plus a pair of Setrab 25-row oil coolers.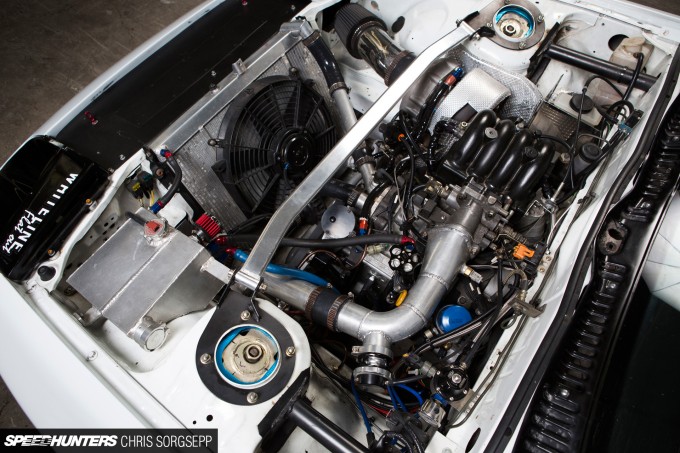 There are other details too, like a custom aluminium catch can, DCI heat sheilding and the application of Hi Octane performance coating on the intake plenum.
But I'm sure what you're really wanting to know by now is just how much power the whole setup is producing…
Well, it's hard to say exactly, because as you'll see by watching the video above, the FC3S had trouble sitting properly on the dyno and maintaining traction when Rocky Rehayem of Pac Performance tuned the Haltech Platinum Sport 2000 engine management system. But according to Turbosmart, it's around 700whp, via a Toyota Supra gearbox running out to a Cusco 1.5-way LSD equipped rear end.
Form Meets Function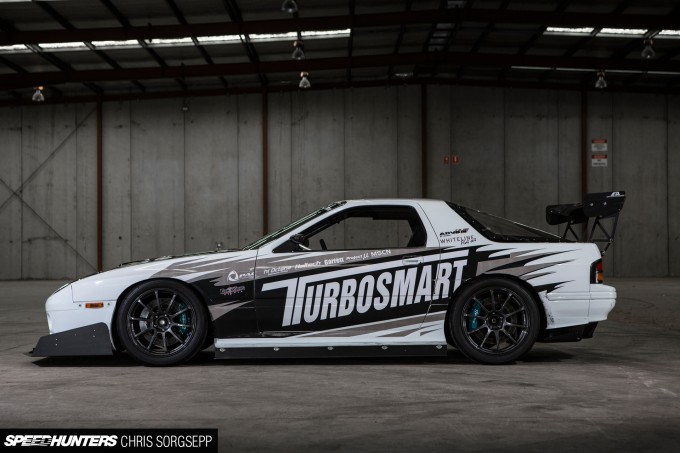 From a purely visual standpoint the RX-7 sits perfectly, but beneath the bodywork it's every bit as modified as you'd expect for a dedicated track car. Custom-valved Bilstein coil-over dampers with Eibach springs (10kg front, 11kg rear) feature at all four corners, with Whiteline blade adjustable sway bars front and rear, Super Now lateral control arms and a full course of Whiteline Chassis Control bushings.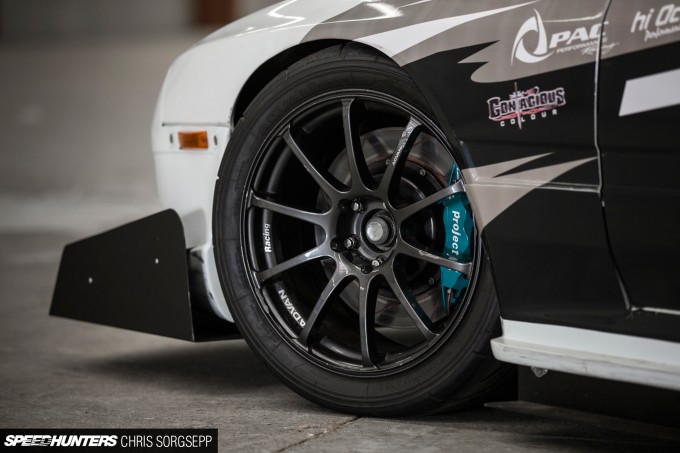 The braking system is equally impressive with Project Mu 6-piston and 4-piston forged callipers featuring at the front and rear over 355mm slotted 2-piece rotors from the same maker. Turbosmart machined the rotor hats and fabricated up some custom calliper mounts in-house, before piecing the whole package together with stainless steel braided brake hoses and Project Mu Club Racer RC09 pads. I'm sure you'll agree that the lightweight Advan Racing RS wheels in a 18×8.5-inch +38 fitment are a good look too.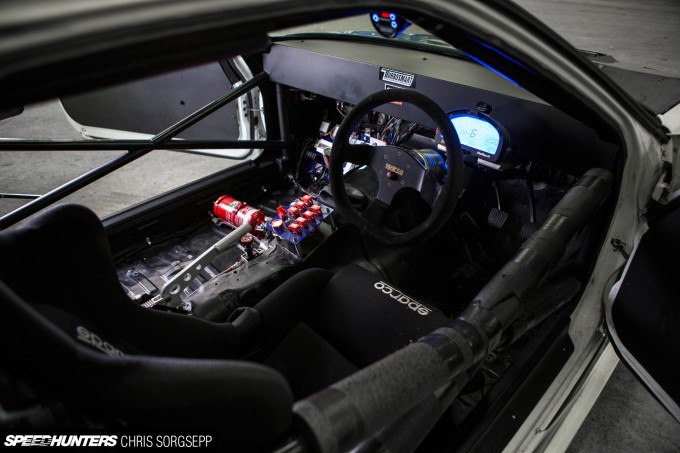 Although the FC3S is a light car by modern standards, pulling as much weight out of the chassis was treated with the same importance as every other aspect of the time attack rebuild. And as you'd expect, the interior is all business, beginning with a Pac Performance built rollcage and an aluminium dash panel. The seat, harness belts and suede-wrapped steering wheel are all by Sparco.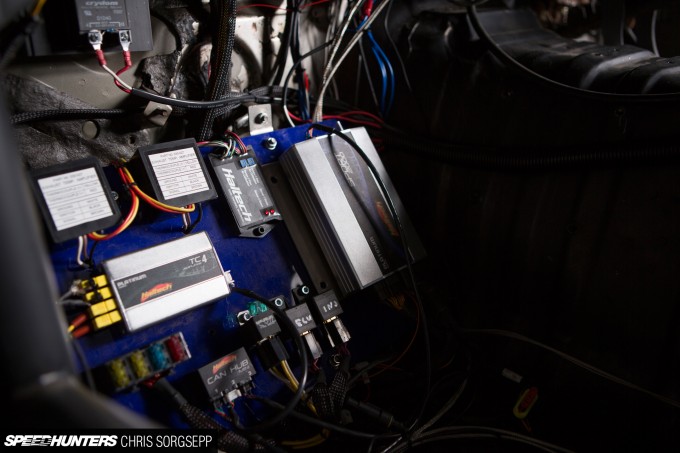 Along with the aforementioned ECU, project partner Haltech (another Australian company) also supplied the TC4 thermocouple amplifier, CAN hub and dual channel wide-band modules, and they're all neatly laid out alongside the required electrical relays and fuses in the passenger side footwell.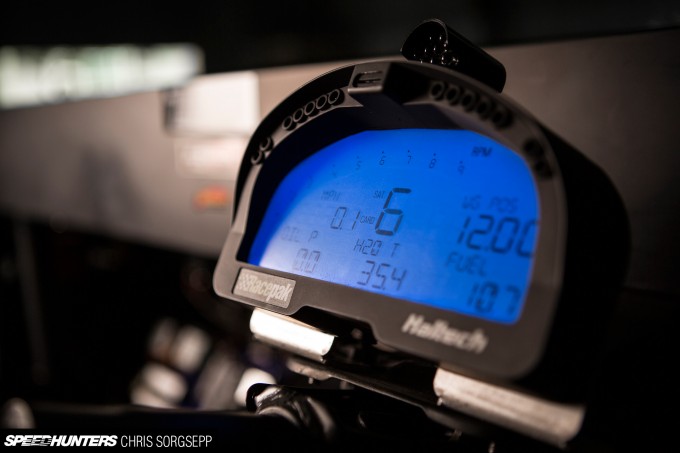 Haltech's IQ3 by Racepak unit displays all the vital engine information via its digital screen, and backs it up with full data-logging for post-run analysis.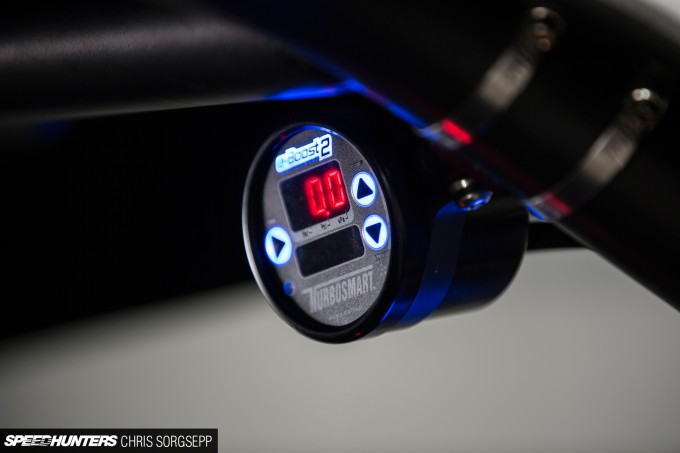 The only other performance and monitoring tool present in the cockpit, and in clear view from the driver's seat, is the Turbosmart e-Boost2 electronic boost controller/gauge.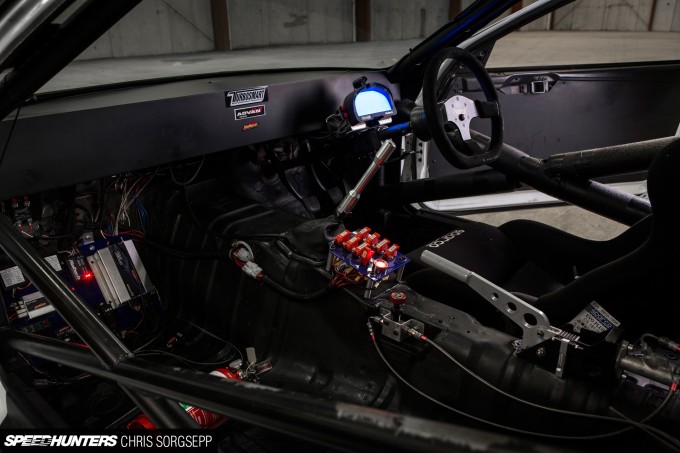 Final touches include a custom panel for toggle switches and the starter button, an adjustable brake bias and a hydraulic handbrake. Call it pure function.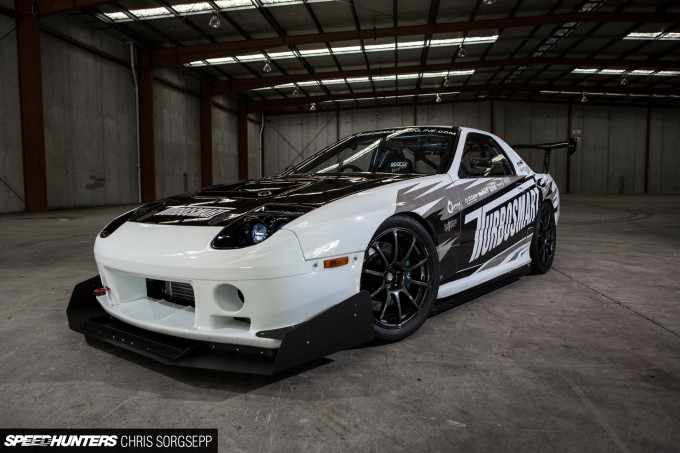 Despite its credentials, it's unlikely that the Turbosmart's FC3S with see WTAC competition again. But that's okay, because from a time attack perspective it achieved everything it set out to do in 2011, and it's not like it doesn't see track time on a regular basis through its ongoing product R&D endeavours and other opportunities that present themselves.
As a side note, the location for this shoot was Turbosmart's huge new Sydney design studio and state-of-the-art production factory, which now is fully operational and cranking out more product than ever before. Look out for a behind-the-scenes tour of the facility in the near future.
Brad Lord
brad@speedhunters.com
Photos by Chris Sorgsepp
Cutting Room Floor