Evolution Is Good… For The Most Part
Are you one of those people that feel offended that BMW has moved onto turbocharging with its M Series engines? If you are, I get you. It's a real pity that naturally aspirated performance is slowly being phased out by so many manufacturers, but given the way in which BMW does turbocharging, I really don't think we got much to be sad about. The power is there along with a broad spread of torque. Throttle response? Yep, it's got that covered too.
Quite simply, there's no point crying about all of this. If you're into M3s you might remember how purists weren't happy when BMW ditched the four-cylinder for an inline-six in going from the E30 to the E36.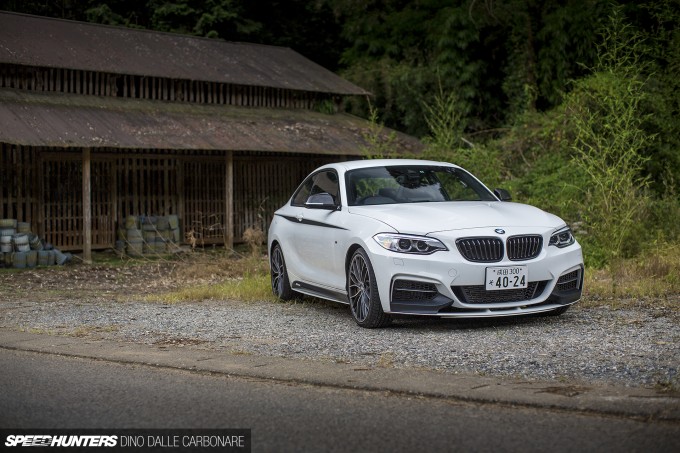 And it's not by pure chance that I came up with the original E30 M3 as an example. You see, while the guys in BMW's M Division are busy putting the finishing touches to the soon-to-be-revealed M2, there's one car out there at the moment that truly lives up to what the M badge represents. I am, of course, talking about the M235i – a car that I have been itching to drive for a while now. So many people have been raving about it, and seeing that it utilises the same turbocharged 3.0L straight-six engine that powers Project Drop Top, yet has a lighter and more compact chassis, I knew it had to be good.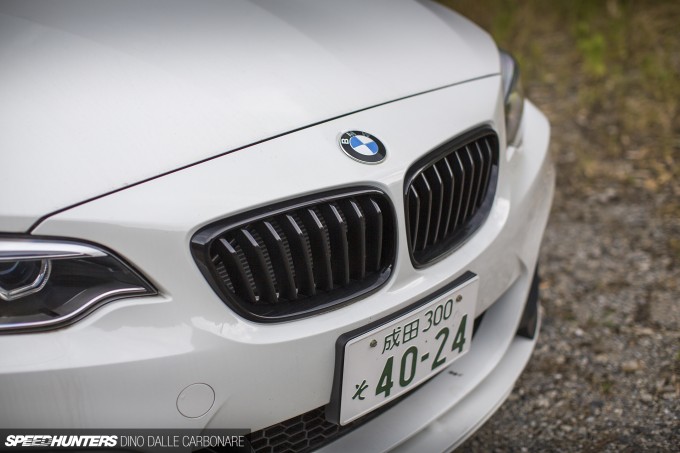 When the chance came up to drive one however, BMW Japan handed over the keys to a slightly fettled example with a host of M Performance goodies to spice up the looks and performance.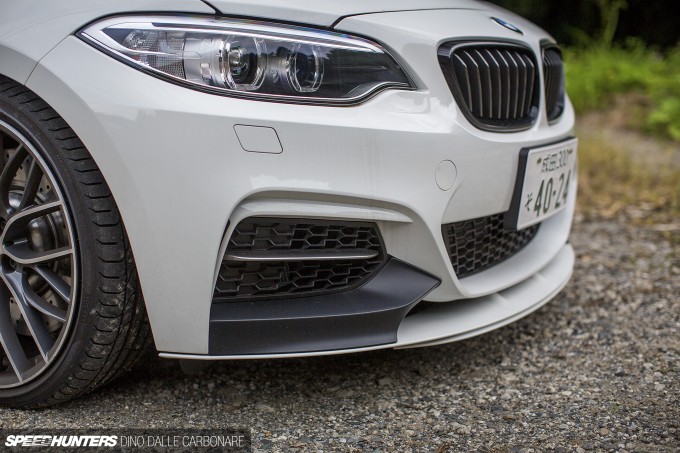 So, the base M235i was looking more aggressive and angry thanks to the M Performance bumper, complete with integrated lip.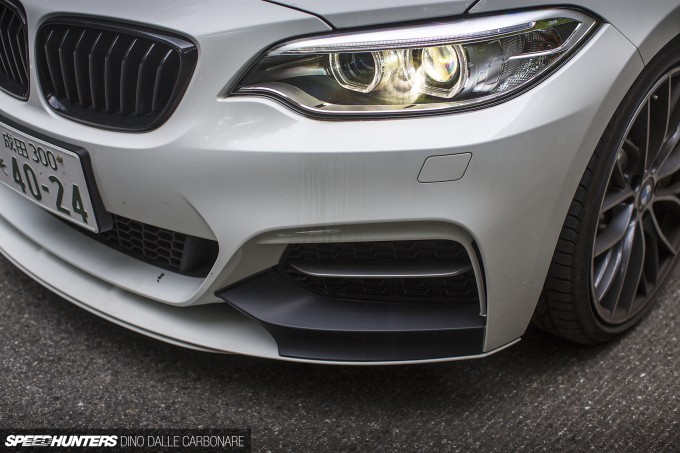 There are black inserts for the lower side intakes, and M Sport blacked-out grills are an awesome touch to further boost the menacing demeanour the little 2 obviously has.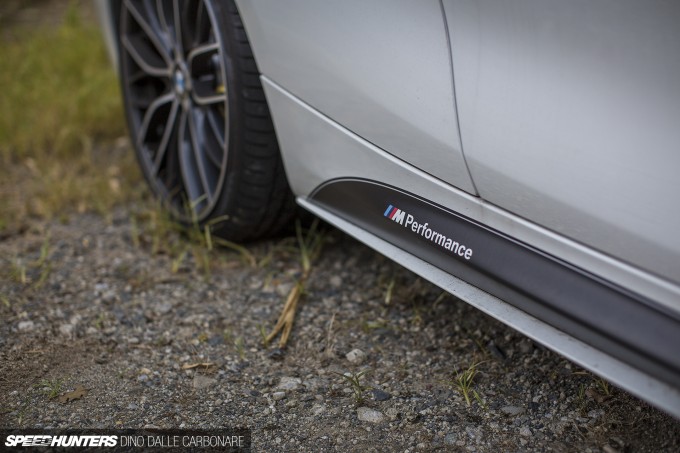 The aesthetic additions go all the way around the car, moving on to a set of side skirts that do a great job of enhancing the profile and making the car seem even lower than it is.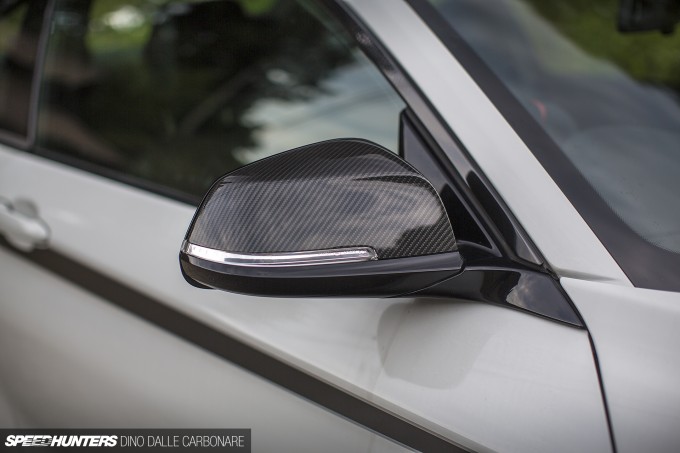 M Performance also offers a few bits and pieces of carbon that don't really seem overpriced. For example, the mirror covers are a quick and easy way to give instant street cred to your car, and they're available for many other models in the BMW line-up. Must resist blowing more cash on Project Drop Top!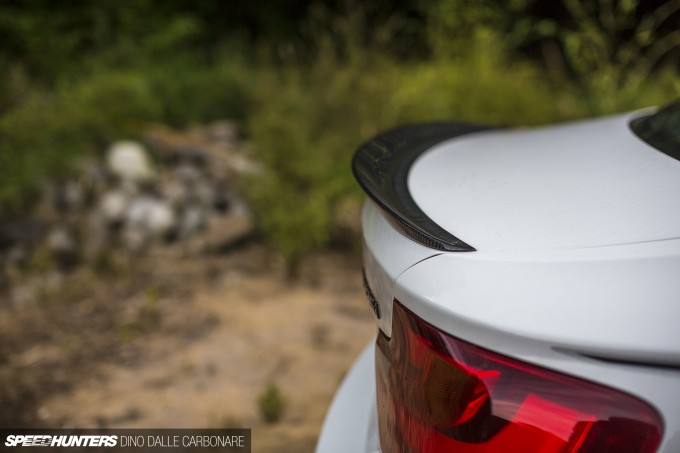 In my opinion, the best touch of them all is the carbon trunk spoiler. It's beautifully constructed and has just the right rake to give a little twist of sportiness to an otherwise flat rear end.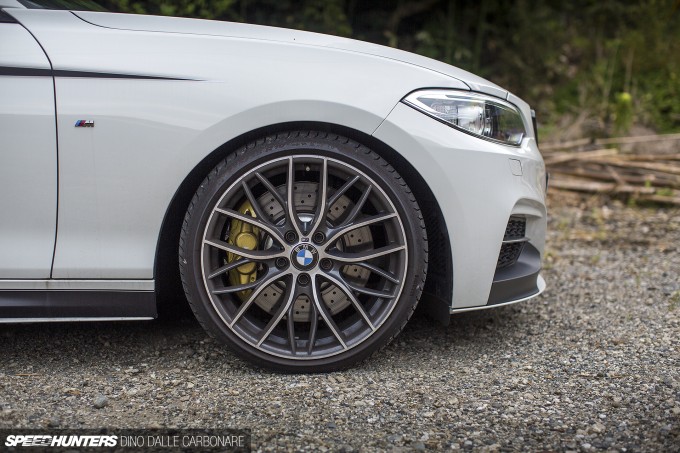 The biggest visual change, and at the same time performance bump, comes from what you see right here. The M Performance 19-inch wheels have a somewhat BBS-like multi-spoke pattern and in this instance were shod in Pirelli P-Zero rubber that provided ample grip with plenty of progression when the rear end eventually broke away. And as you can imagine, that's something I had to do quite often as the M235i is a fun little drift machine.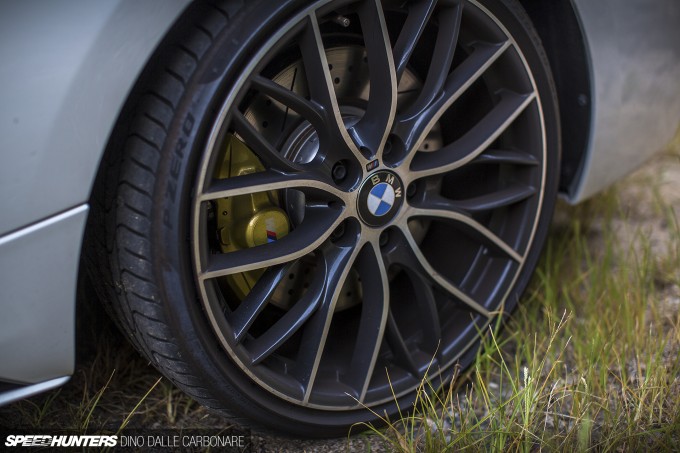 M Sport brakes were also ticked in the options list, but via the M Performance package that allows you to go for a different colored caliper other than the usual blue and throws in drilled and slotted discs for good measure. Performance-wise, they were very good, exactly the sort of setup that would suit Project Drop Top, but on the flip-side they were terribly noisy. It wasn't so much due to pad squeal but actual tolerances as it felt the pad was in continuous contact with the rotor. I put it down to the car being brand spanking new and just off a boat.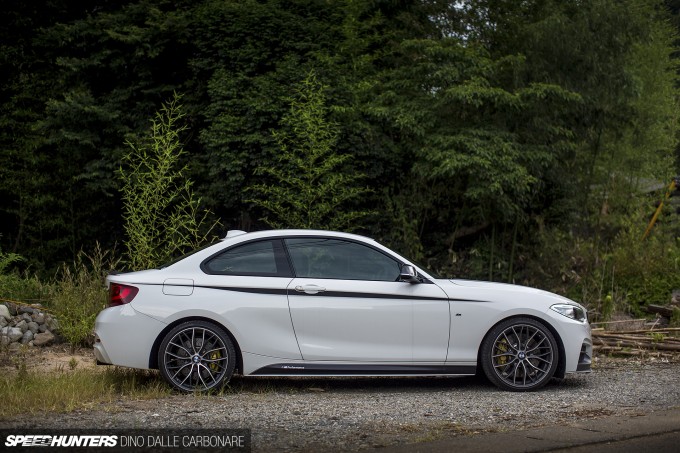 Look at the profile and the 2 has a far more direct link to the E30 we talked about before, both in dimension and weight-wise. Way more than any 4 Series could ever be.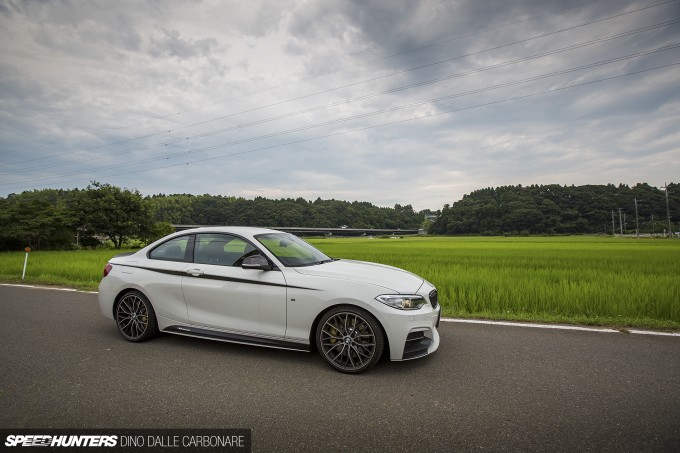 The M Performance vinyl strips on the flanks are honestly something I would have not ticked on the build sheet, but after I was done with this car it was going to be rotated around BMW dealerships and events to promote the upgrade parts that the automaker now offers in Japan.
Forced Induction For Instant Fun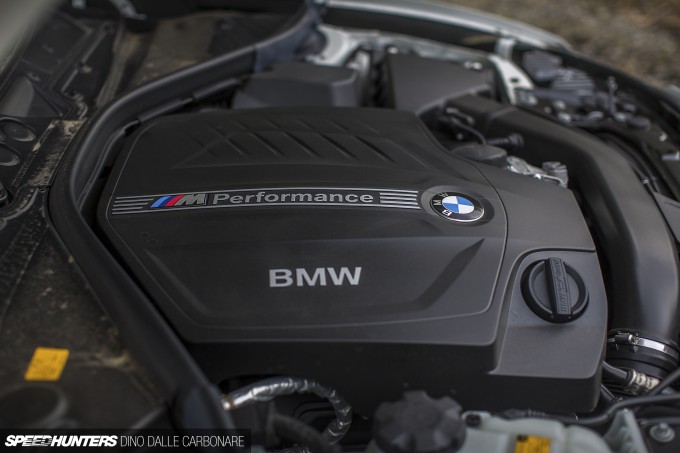 I was a bit sad the engine was still stock though. We all know that tuners are able to achieve decent gains in both power and torque with a simple ECU re-flash, but the 3.0L in the 235i is already a little more potent compared to the 435i I'm used to driving.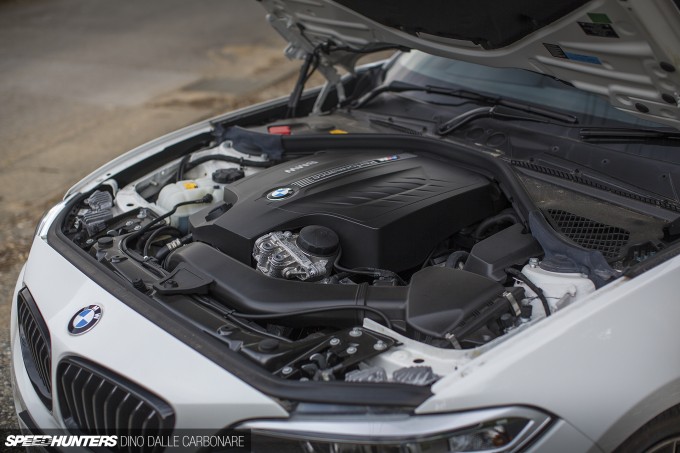 Those 320hp are far more apparent than the figure suggests; the 8-speed ZF transmission responding blisteringly fast when put into Sports mode and giving instant and strong acceleration any time you lean on the car. I would have loved to hear what an M Performance exhaust sounds like, but this car wasn't fitted with one.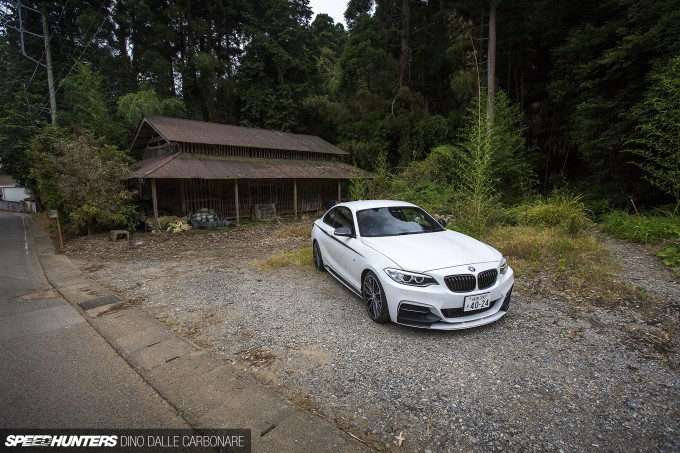 It didn't take me long to fall for the M235i. I expected a slightly tighter, more athletic version of the 435i, but what it actually felt like was a focused sports car that likes to be grabbed by the scruff of the neck and abused. Every chance I had, I killed the traction and stability control and let the car move around under me, and it felt so precise and so forgiving when pushed hard. It didn't take me long to realise this was a proper driver's machine, honest and to the point.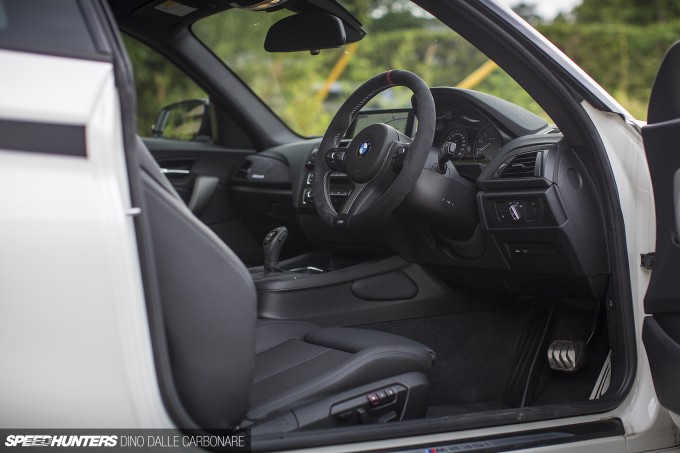 The driving position was spot on too. You sit nice and snug in the highly-bolstered seats with a typically driver-focused BMW cabin to interact with.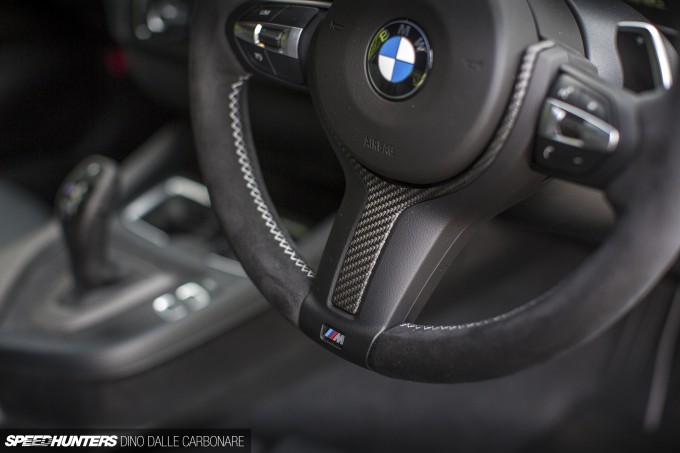 I really liked the thick-rimmed M Performance steering wheel the car was fitted with. It felt great to the hands and even had carbon inserts to differentiate it from the usual stock BMW stuff.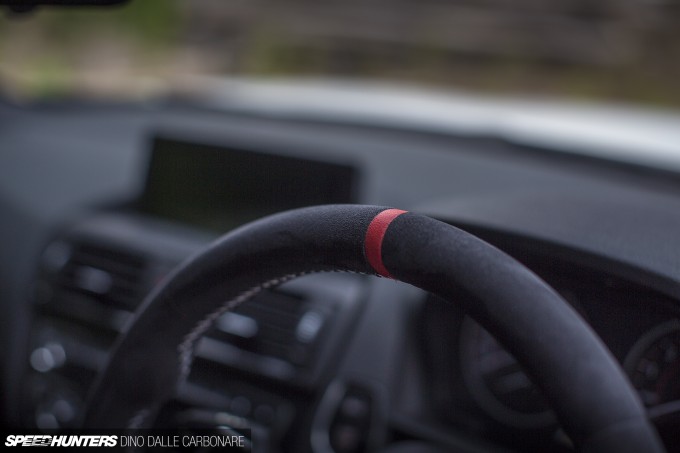 The red center marker should tell you all you need to know about this car. Like I said, it's a drift machine and it likes to be played around with. I have to say, the red strip did come in handy a few times.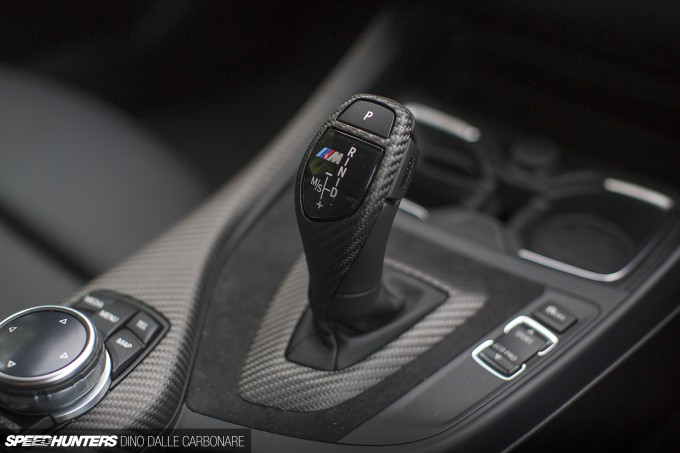 The rest of the cabin was decked out with more M Performance trim, including a carbon insert for the shifter and its surround, along with another piece for the transmission tunnel.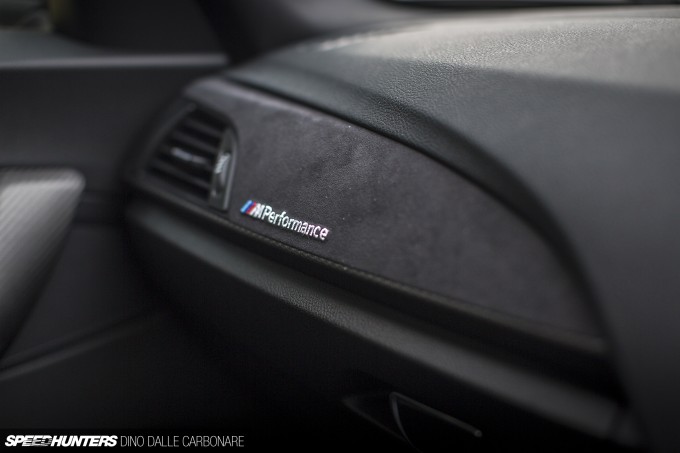 That was matched to soft Alcantara highlights, a section on the passenger side of the dash even sporting an embroidered M Performance logo.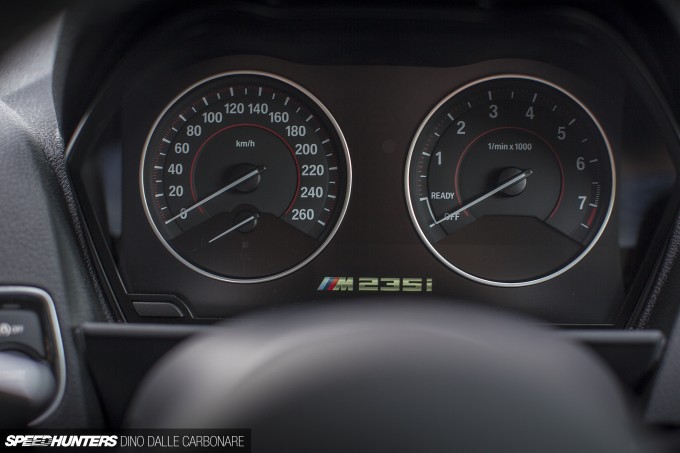 The cabin could have certainly have done with a bit more color, but that's what you expect someone who drives around in a car with a blood red interior to say, right? The instrumentation is unchanged from the regular M235i, and is simple and easy to read with an intuitive LCD display to flick through when the engine is running.
Driving At Ten-Tenths All The Time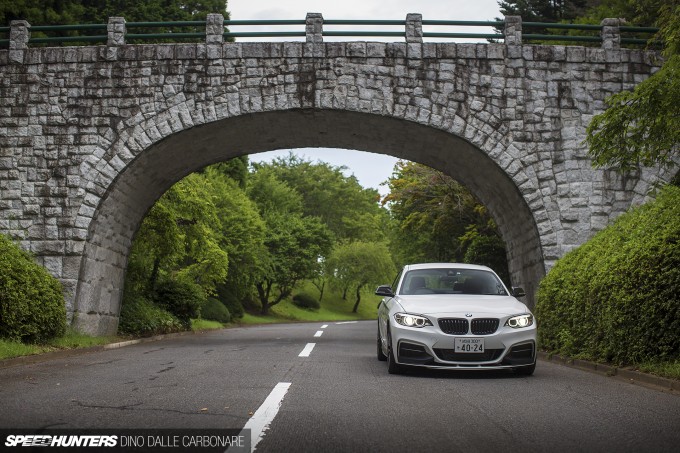 The whole big engine in small car thing has worked wonders for BMW. Fitted with the boosted 3.0L straight-six, the 2 Series has become a favourite among enthusiasts and I can't wait to see what the German automaker will come up with for the M2.
Like the Cayman and 911, the M2 could so easily eat into the M4's territory and I'm sure we'll be seeing some obvious self-restraint being taken by the folks in the M Division. Hit play above and take a quick walk around the car with me.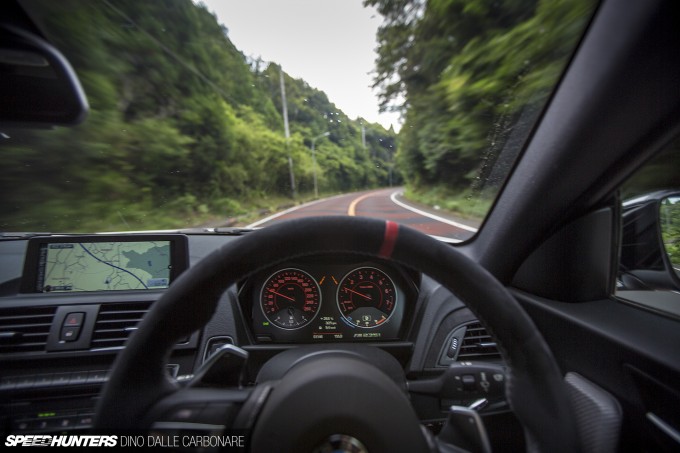 I did shoot a driving video, but after viewing that I'd rather not implicate myself in any way, so this still image will have to suffice. The M235i pushes so hard out of corners; it's got the torque nature I love in Project Drop Top but it's emphasised with slightly more power and considerably less weight. That makes it very easy to drive fast as you are never really in the wrong gear, but once you hit the hairpin bends, get ready for some sideways action.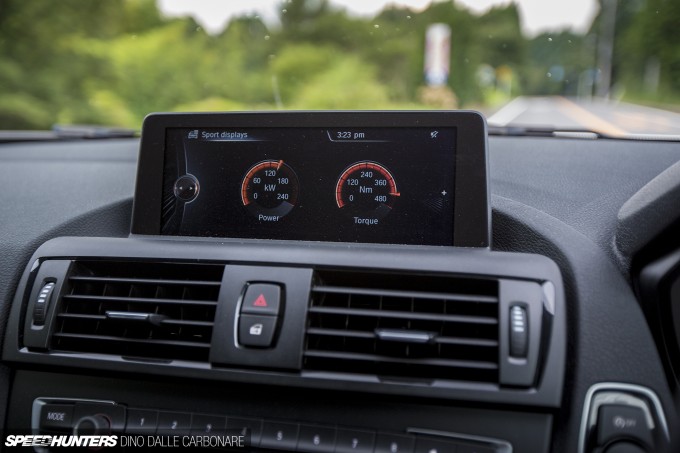 The Performance Meter that's awkwardly hidden away in the iDrive's menu, gives a great graphical representation of just how punchy this little car is. Mash the accelerator to the floor and pretty much anywhere above 1,500rpm you have peak torque available for your pleasure.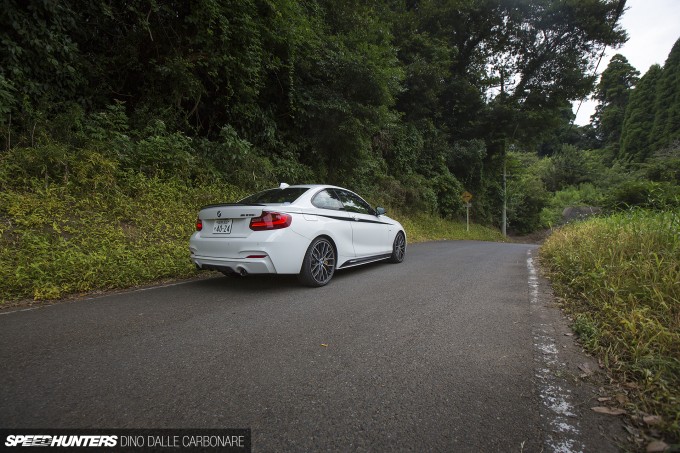 I love the new M3 and M4, but they're a bit of a handful on tighter roads like those I took this car through, and therefore require far more respect and self restraint. The M235i with all the M Performance goodies reminded me just how fun 'normal' cars can be. I have to once again say that power isn't everything. I'd honestly rather drive a slower car at 100 per cent than sweat bricks while trying to tame something with a ton of power.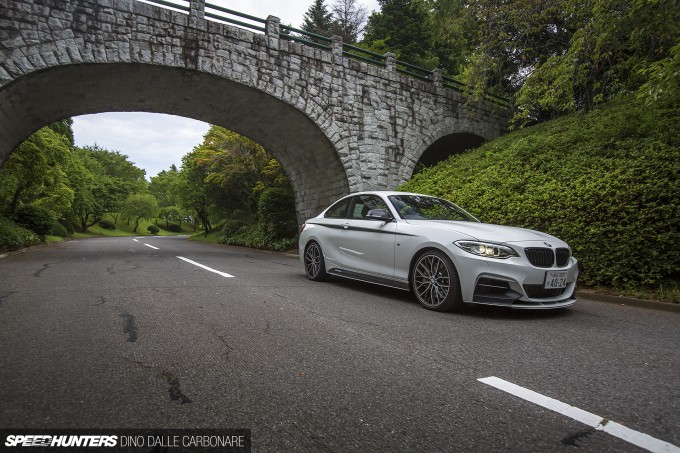 And I'm obviously not the only one that thinks like this, as in Tokyo alone I come across a lot of M235is.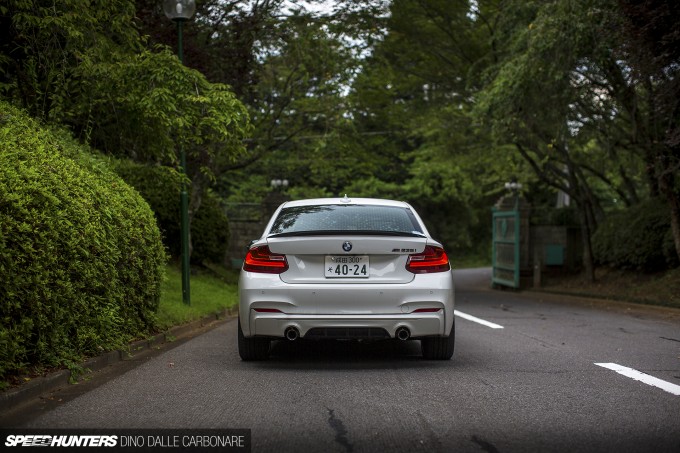 Yep, BMW is onto a winner with this hot and spicy version of the 2 Series, and I'm pretty sure that even once the M2 arrives, the M235i won't have anything to worry about.
Dino Dalle Carbonare
Instagram: speedhunters_dino
dino@speedhunters.com