After our hugely successful call-out for your automotive artwork earlier this month, we found ourselves with a mountain of incredible feature-worthy imagery – more than we could possibly fit into one, let alone two stories! So we decided to split them into a five-part art series, featuring some of the coolest car-related art from all over the world, in no particular order…
John Narciso – Houston, Texas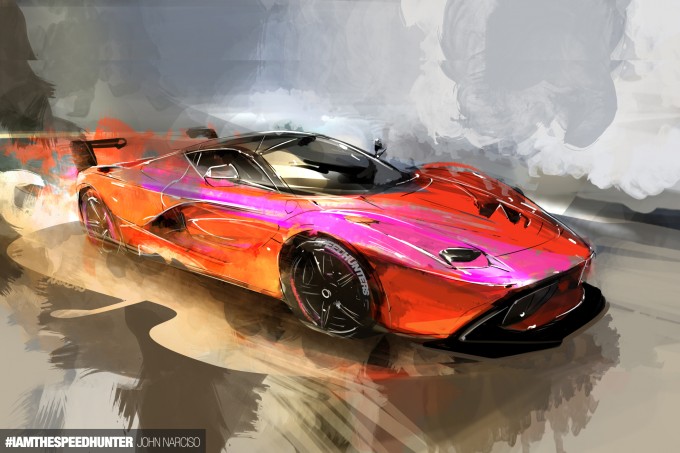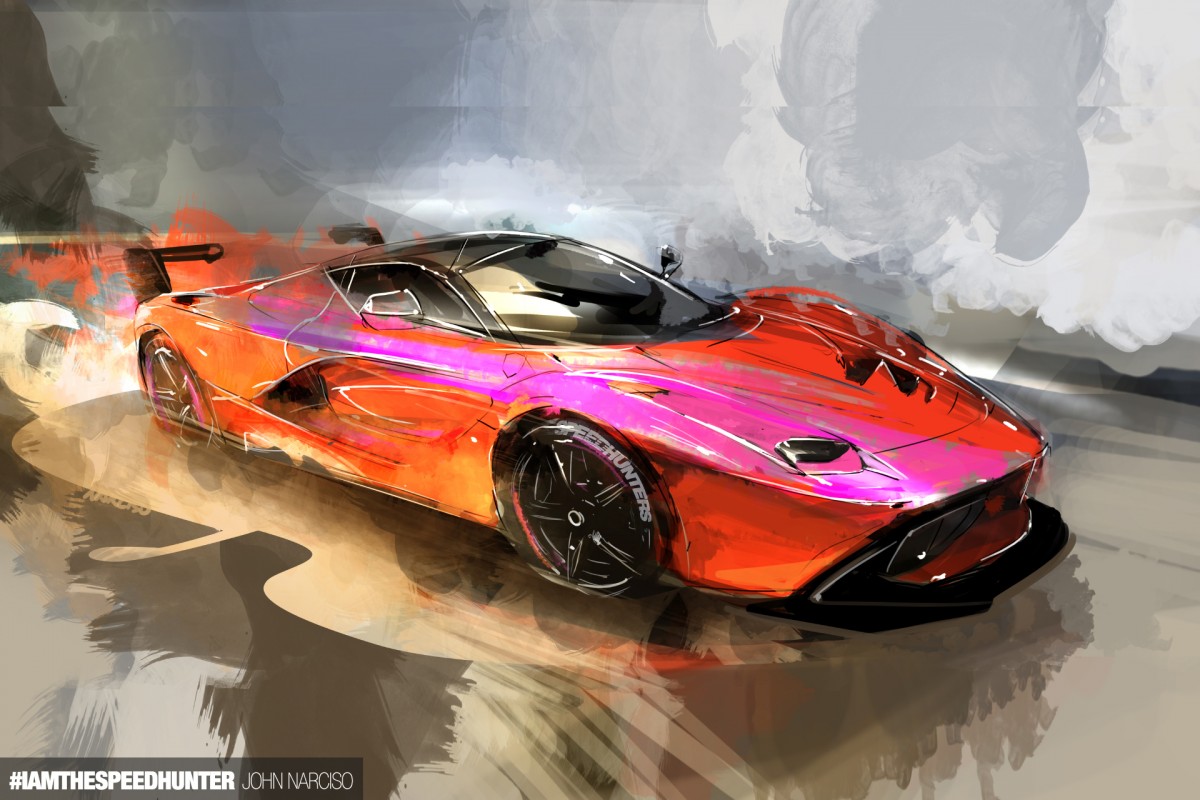 Who says you have to colour in between the lines? This beautiful digital illustration was sent in to us by John Narciso from Texas, which he's fittingly named, 'the MAXIMUM ATTACK LaFerrari'. We're loving John's creative use of colour and the particular technique he's used to give the effect of broad brush strokes, almost like an oil painting would have. The best part has to be the Speedhunters tyre bomb stencils!
Jim Tramontano – New Jersey USA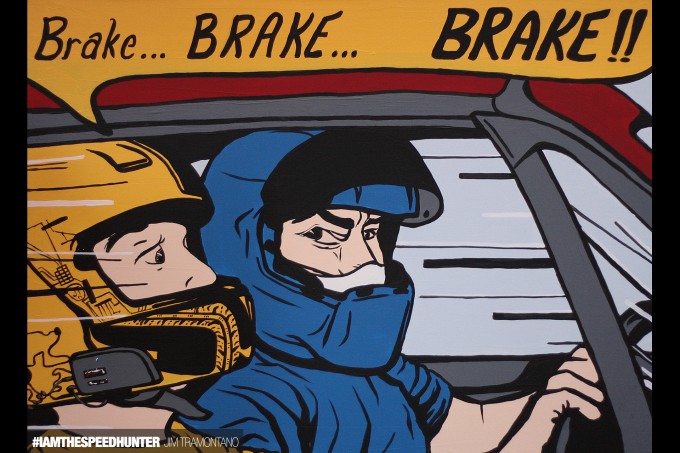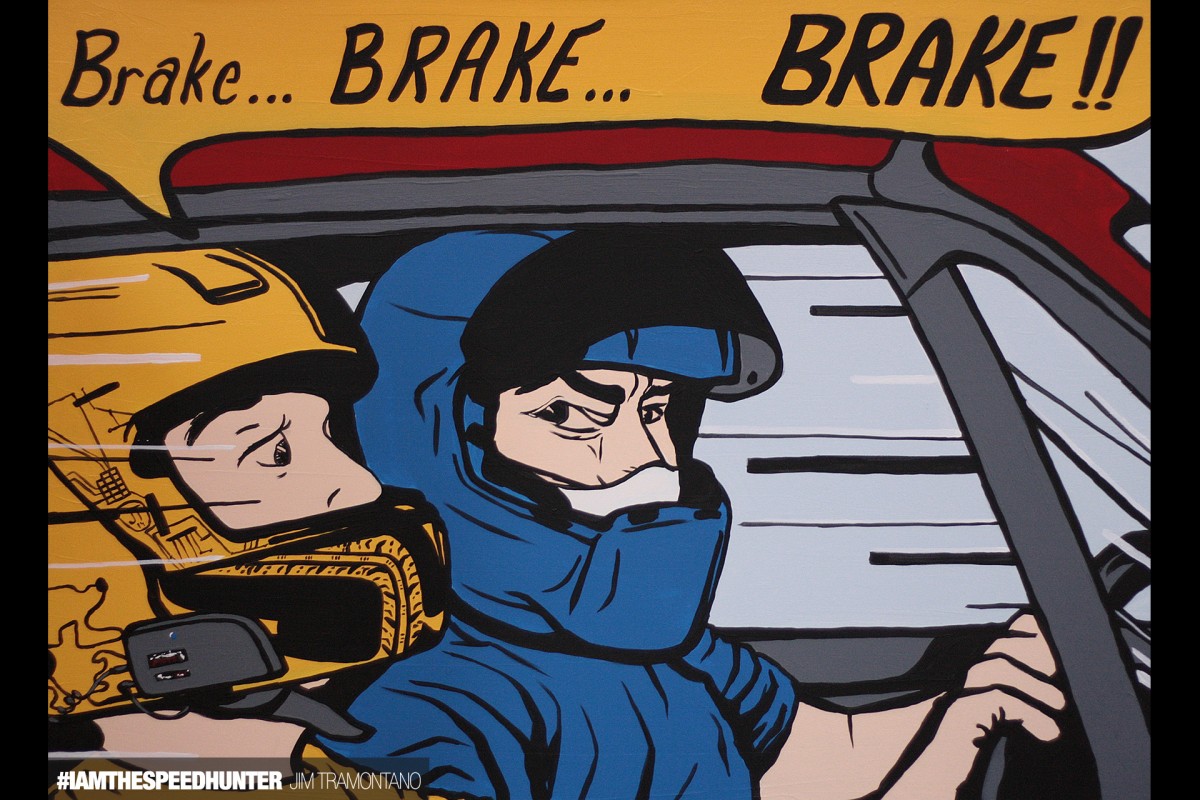 Painted on a 30×40-inch canvas and inspired by one his favourites artists, Roy Lichtenstein, this hilarious artwork by Jim Tramontano is one of our personal favourites, as it's inspired by his own personal experiences as a High Performance Driver Education instructor! You can check out more of his work over at his website here.
San Mamiya – Japan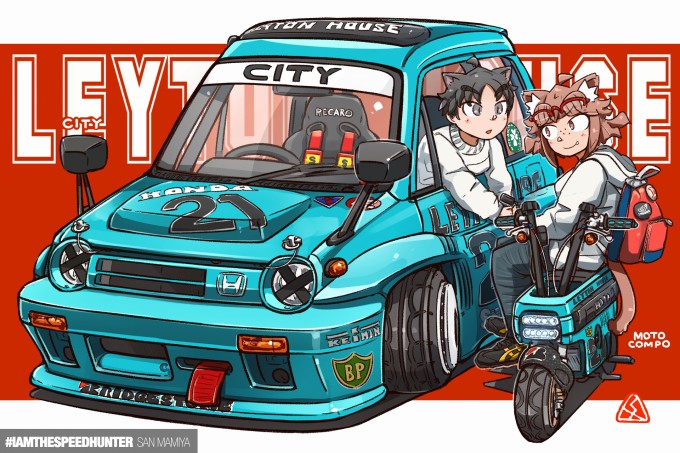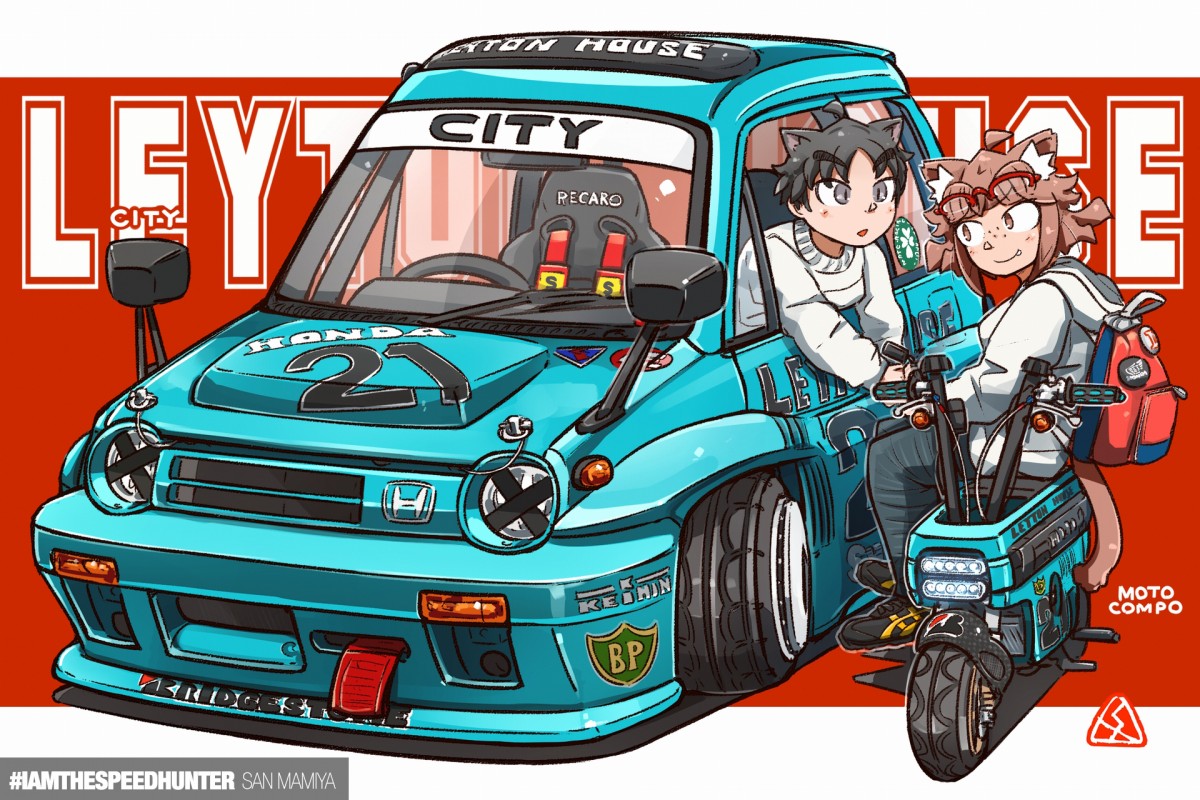 We've always been big fans of Japanese artist San Mamiya's cool car and motorcycle-related cartoons with their retro style and cute cat-like characters. This drawing features a race-inspired Honda City with a matching Honda Motocompo minibike, and San Mamiya created it just for our theme – how cool is that? San Mamiya creates most of his working using his PC, mechanical pencils and paper and the Japanese software program PaintTool SAI. You can see more of his work on his Instagram page here.
Marc Falk – United Kingdom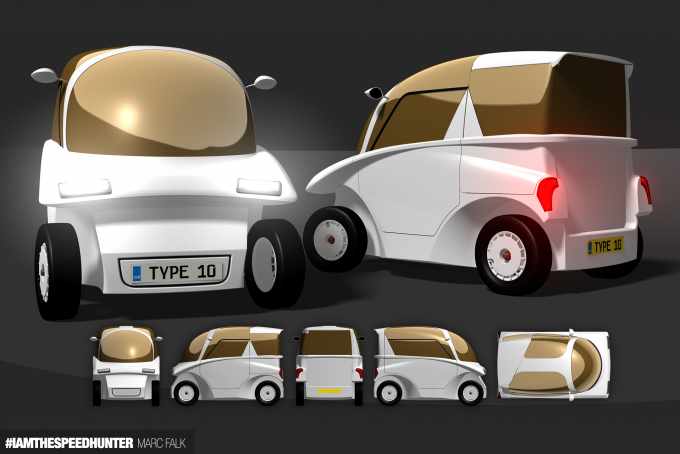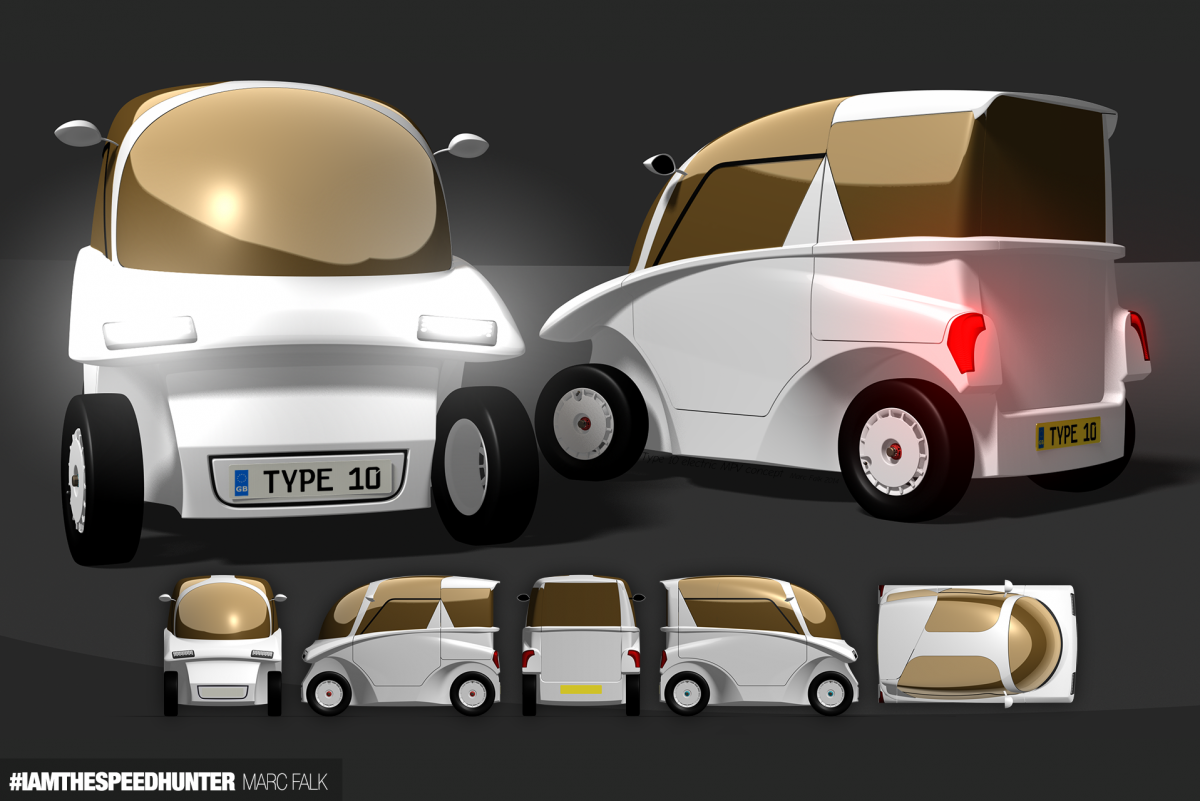 Here's something a bit different – an electric-powered mini-MPV concept created by Marc Falk; a project which he completed for the Engineering Design & Visualisation module of his CAD BSc course at London South Bank University. The final vehicle concept takes up the footprint of a Smart car, but has space for a driver and two adult passengers, or alternately a driver, two children, a pushchair, and a week's worth of shopping. The tailgate is asymmetric to allow loading from the kerbside. It might not be designed to go fast, but it's an amazing concept and we have to say that it looks pretty cool too!
Robb Ferguson – Costa Mesa, California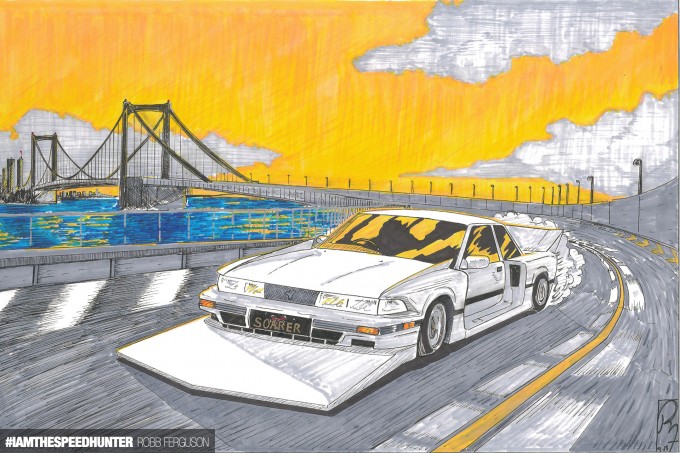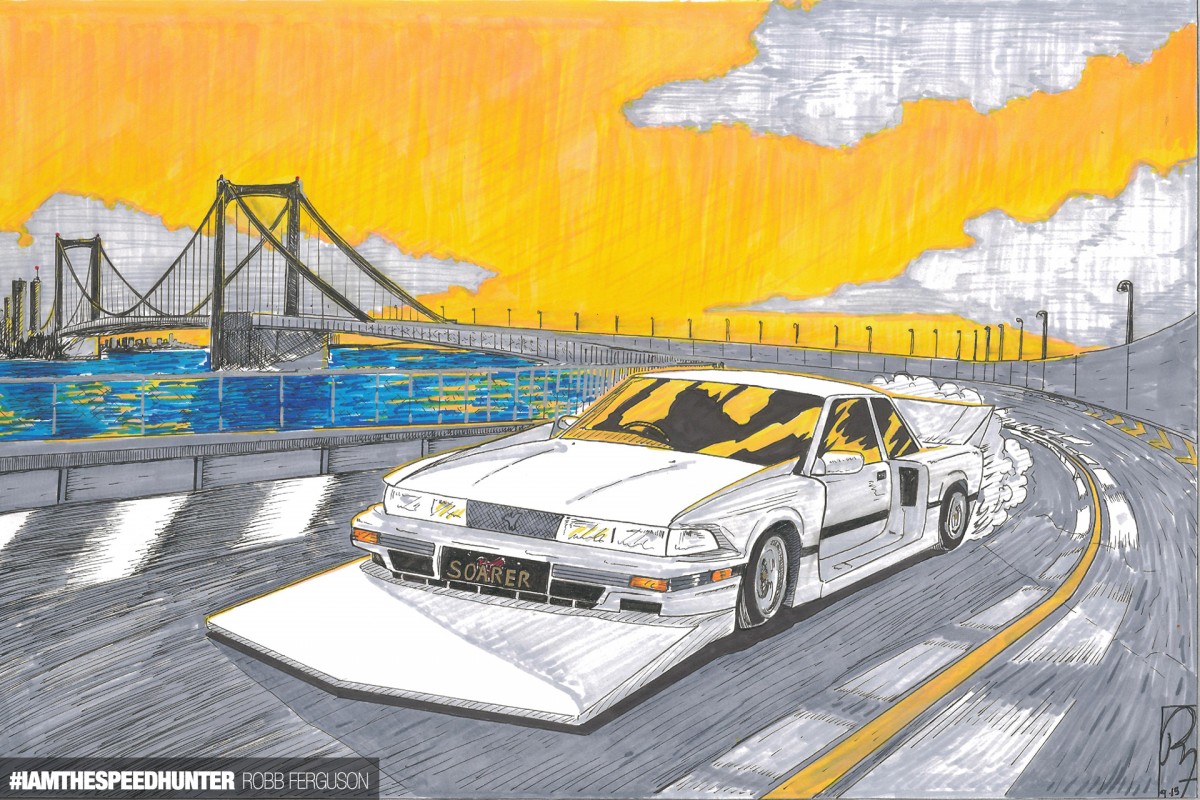 Costa Mesa local Robb Ferguson has spent most of his life doodling and sketching cars, and in recent years he's started taking it more seriously, putting his name out there and getting commission work for flyers and t-shirt designs. This print was a recent commission piece, featuring a radical Kaido Racer style Soarer blasting down the Bayshore Route with the Yokohama Bay Bridge in the background. Robb draws all of his art freehand and without the use of a computer, citing comic book and manga art as his biggest influences – something he was partially introduced to via our own Speedhunters contributor Mike Garrett's Auto Otaku blog. You can view more of Robb's work here.
Raymond Loumeau – Durban, South Africa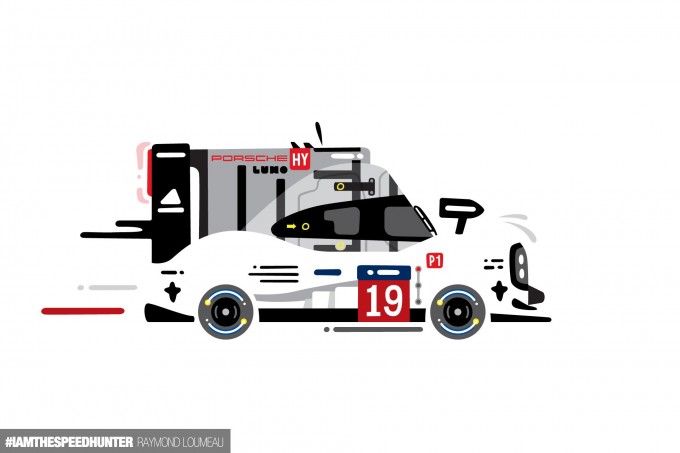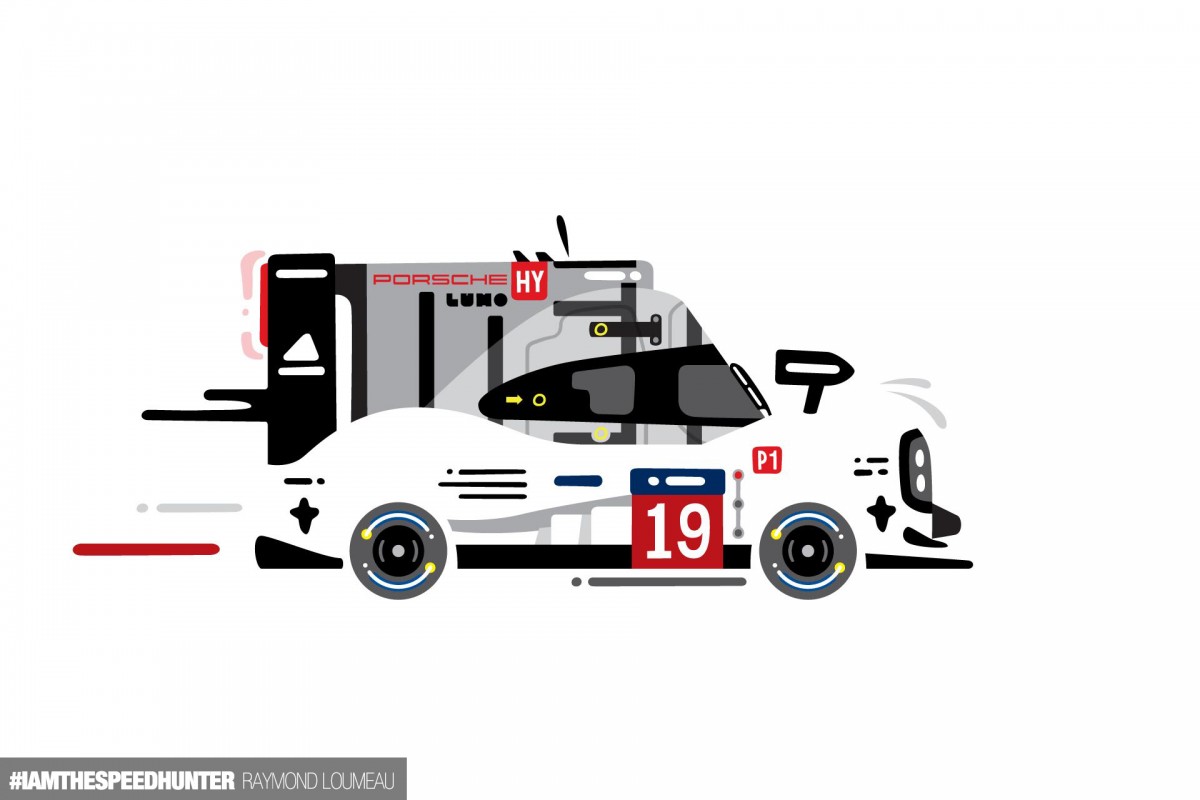 Illustrator, racer and big-time race fan Raymond Loumeau shared with us these awesome illustrations he created in the lead-up to the 2015 24 Hours of Le Mans. As well as the winning #19 Porsche 919 Hybrid pictured, Raymond also included an amazing GIF of the red #17 car in motion, with a view of the driver inside.
Cyro Miguel – Paraná, Brazil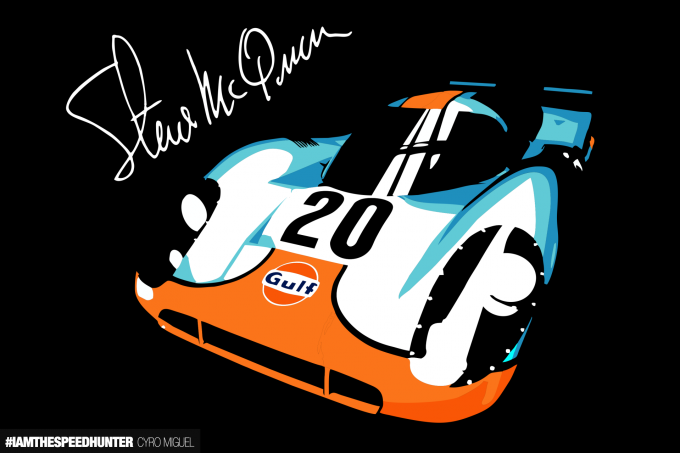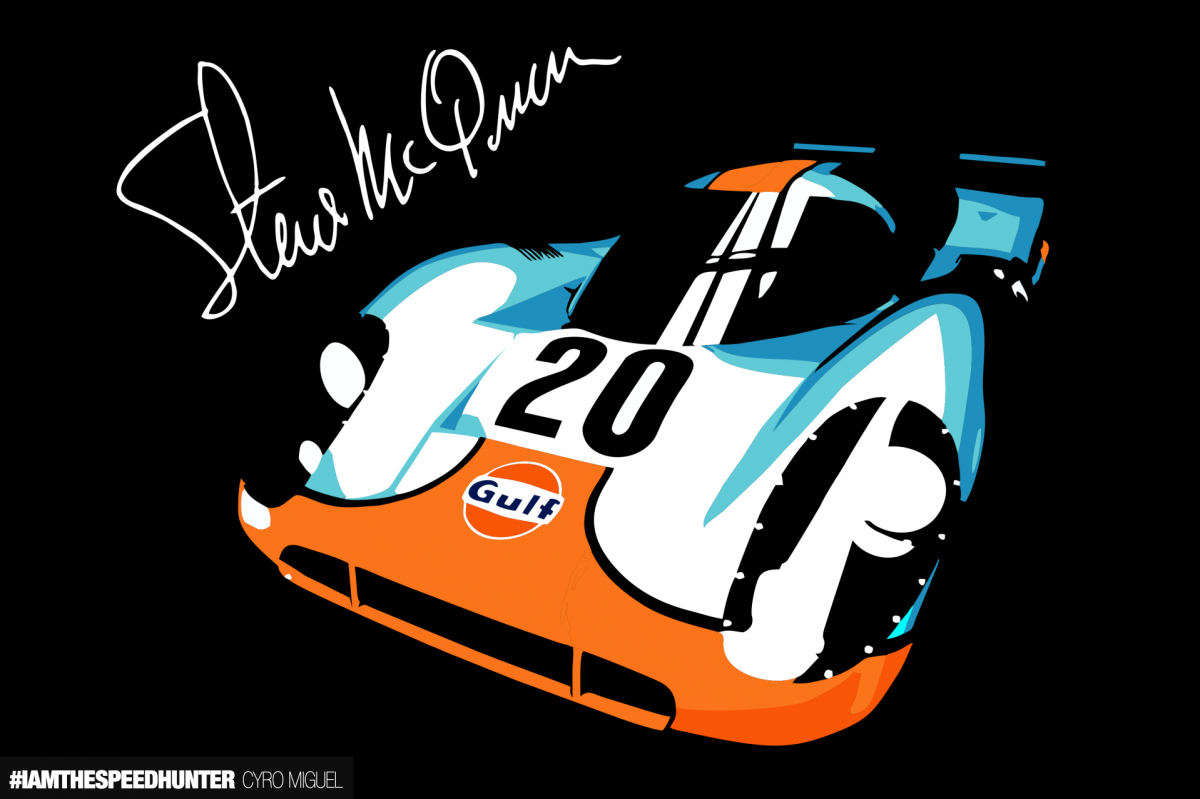 Speaking of Le Mans, Cyro from Brazil actually specialises in 3D rendering, using computer software such as SketchUp, Kerkythea and V-Ray, but it was this abstract art piece he shared with us that really caught our eye. Inspired by the 1971 Le Mans film and as a tribute to Steve McQueen, Cyro has put his own spin on the #20 Porsche 917K with its iconic Gulf livery.
Doug Breuninger – Los Angeles, California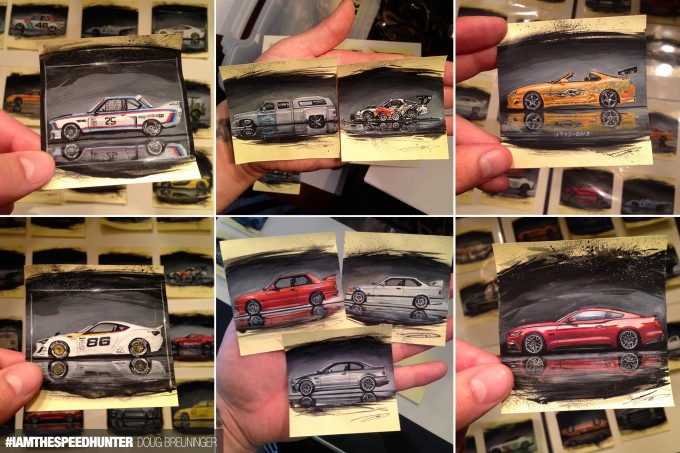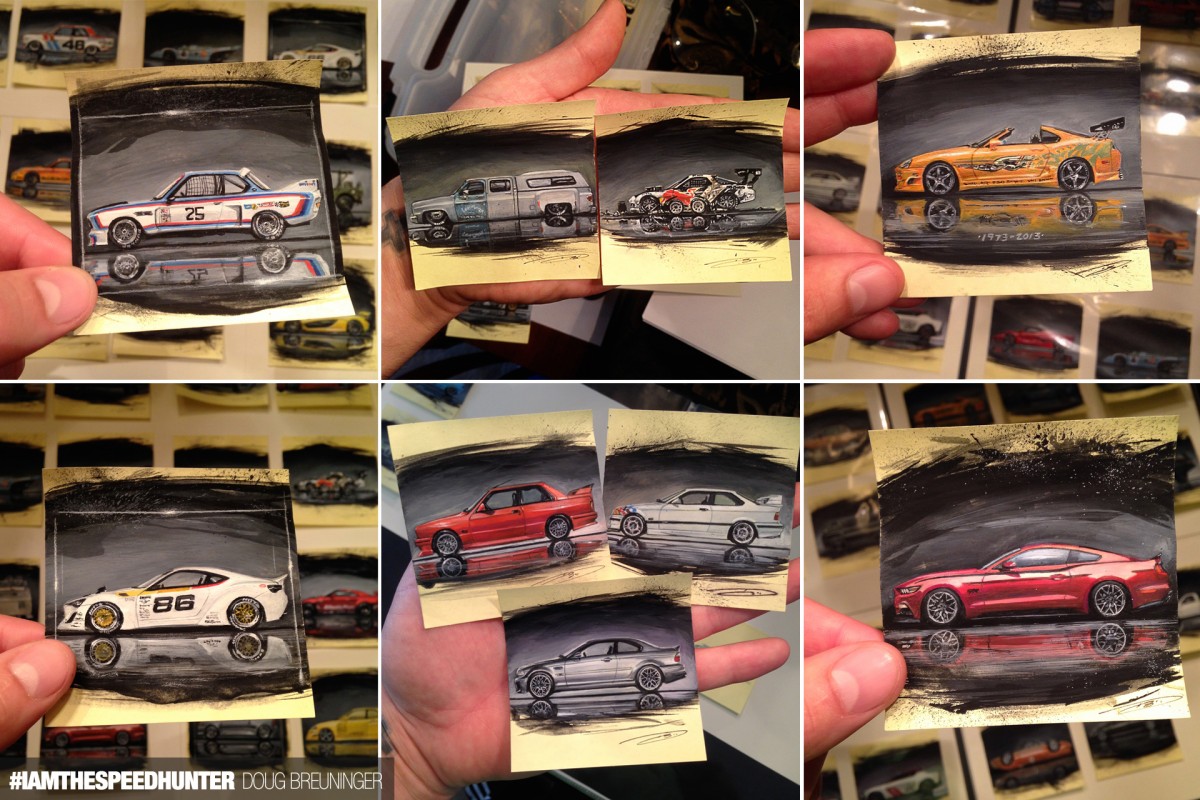 An automotive designer for Galpin Auto Sports by day and a freelance artist/designer in his spare time, Doug Breuninger has already built up an impressive following for himself, partially thanks to a personal art named 'Notable Rides'.  For these highly detailed, hand-drawn paintings, Doug uses quite an unusual canvas – Post-it notes! Having always enjoyed experimenting with different mediums, he writes, "I love the challenge of not only working on a small scale, but I also enjoy the challenge of composing, balancing and getting the most detail into a small square format that almost everyone has used." Each one takes an average of five hours to complete, and so far Doug has created 150 Post-it paintings of his favourite cars and designs. We're especially fans of his recreation of our Scion Tuner Challenge-winning Scion FR-S – thanks Doug!
Abimelec Martinez - Hermosillo Sonora, Mexico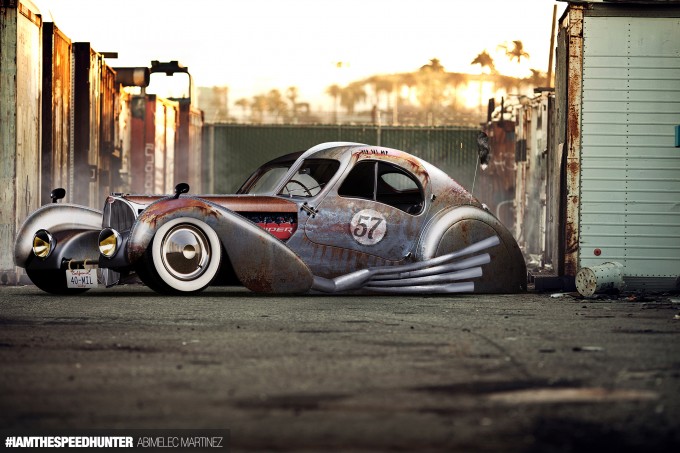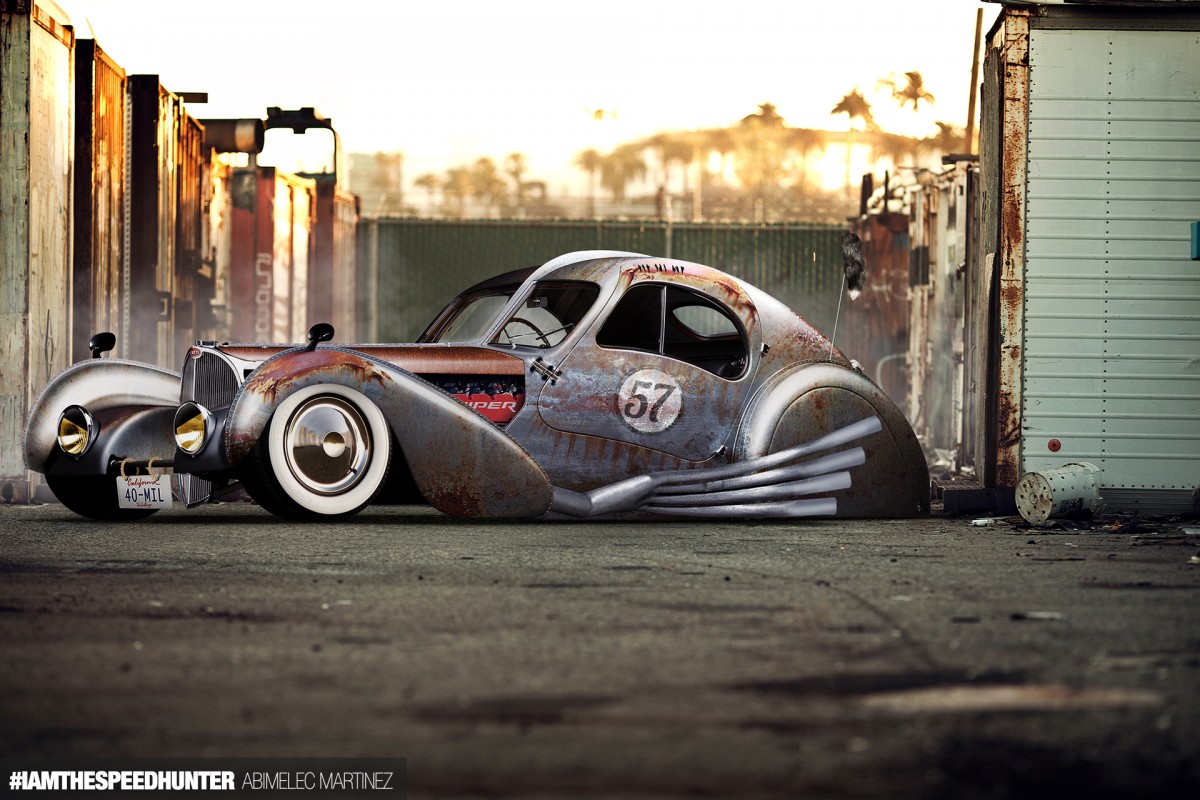 Abimelec tells us that he's always had a passion for cars, and ever since he first discovered Photoshop on his computer at home he's been hooked to what's become known as virtual tuning. For this particular design, he's gone all-out to create something controversial and crazy: a $40 million Bugatti Type 57SC rat rod! Pretty impressive for a 16-year-old student, huh? You can check out more of Abimelec's work on his Facebook page here.
Jon Krebs & Tony Pislaan – USA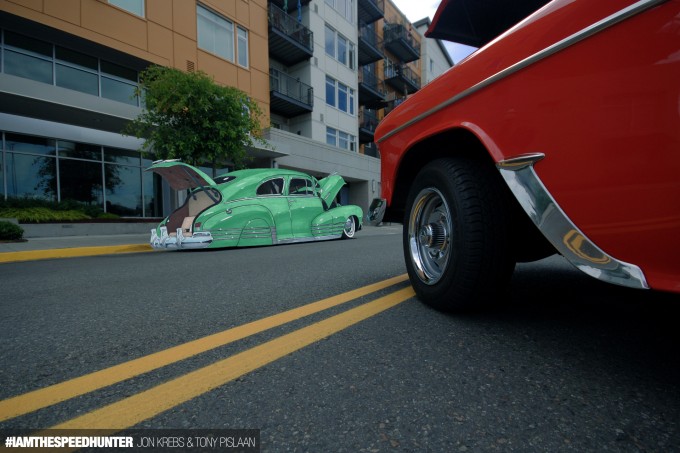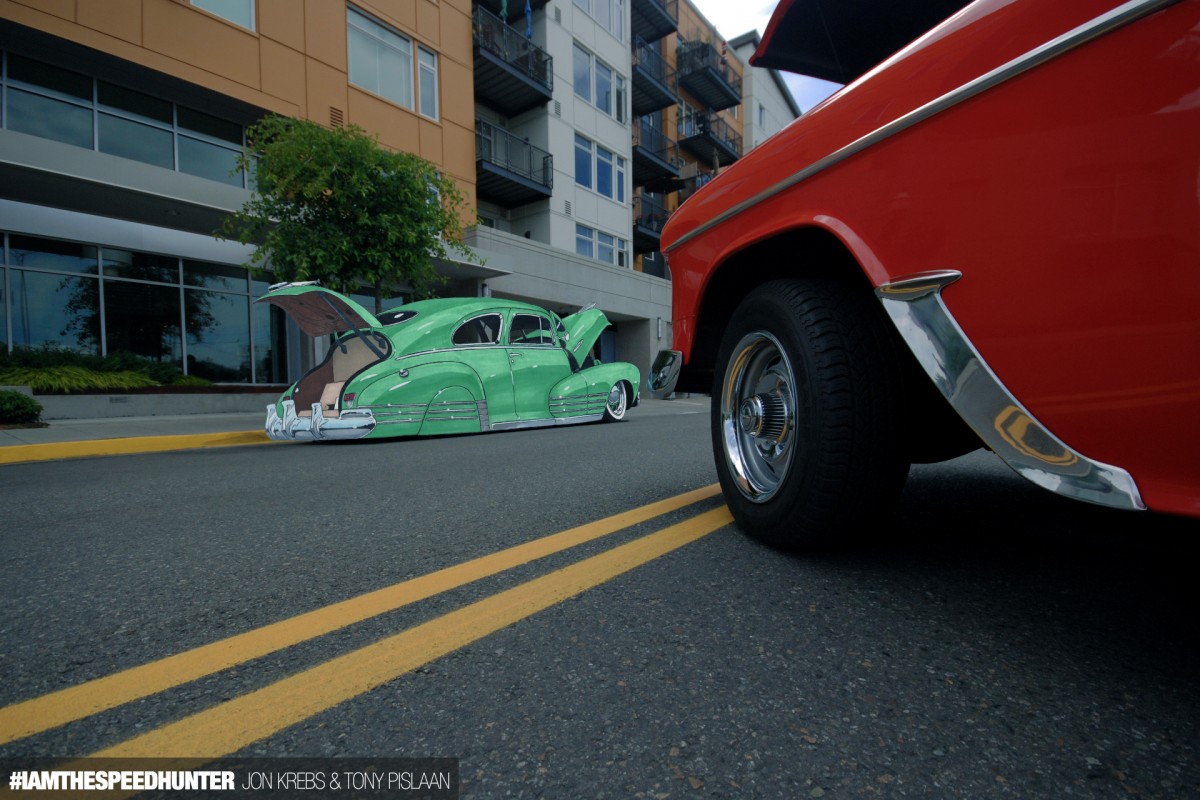 Jon Krebs and Tony Pislaan submitted this awesome photo from their latest mixed media collaboration combining Jon's photography and Tony's automotive sketches. With this particular image, Jon has taken a photo featuring a '55 Chevy in the foreground, and has then placed Tony's drawing of a mint-green '47 Fleetline lowrider back into the image. The overall idea is simple, yet the effect is striking. Awesome work guys!
Tony Pislaan on Instagram
Jon Krebs on Instagram
Anders Magnusson – Gothenburg, Sweden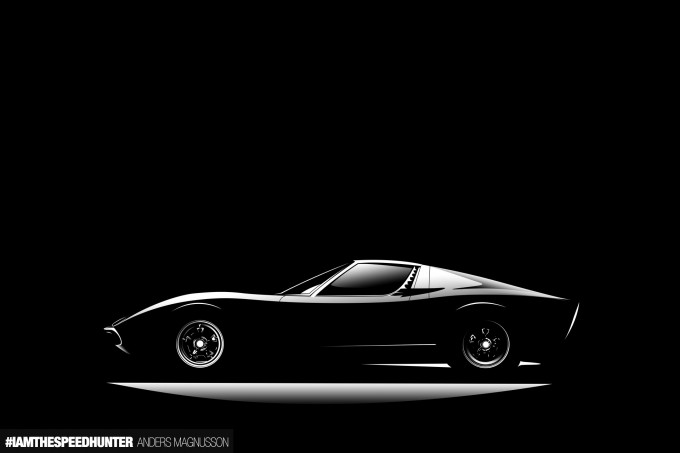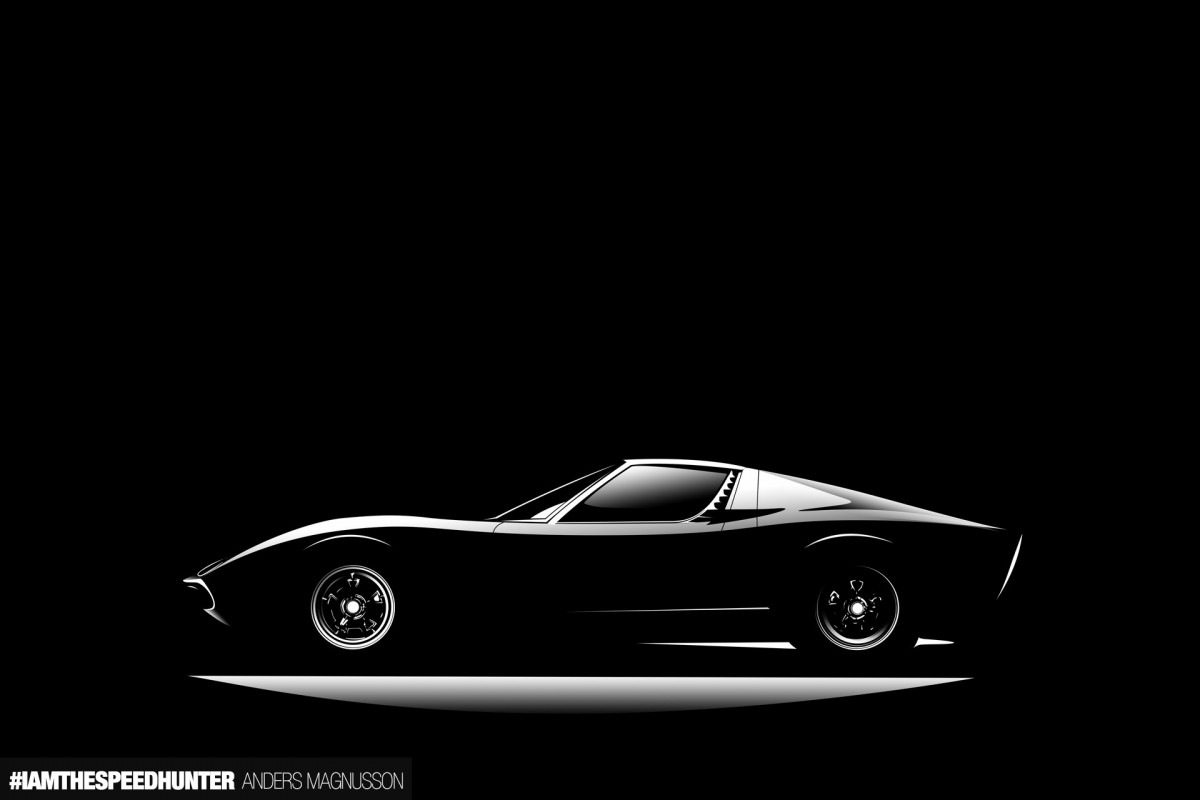 Anders from Sweden shared with us this digital drawing of the iconic Lamborghini Miura, which he's created using only black and white and a few simple lines to highlight the sleek silhouette of one of the world's most beautiful cars. We had to laugh when Anders wrote in his email caption, "It's like side boob, but better!" We can't really argue with that!
Timothy Pronk – St. George Ontario, Canada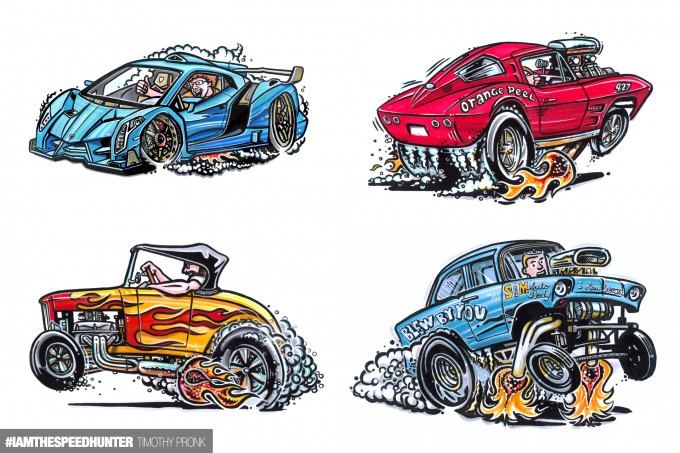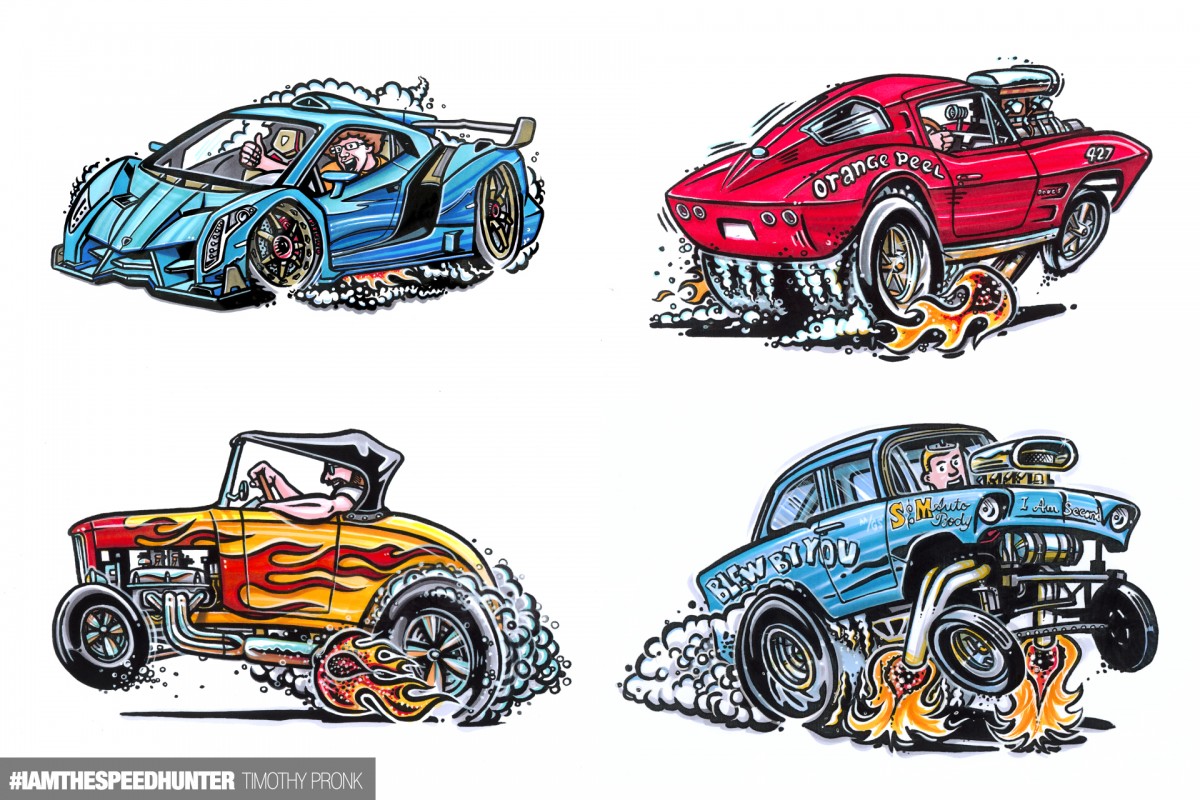 We're loving Ontario-based artist Timothy Pronk's style when it comes to his automotive cartoons: burnouts with lots of smoke and fire! Timothy explains his drawing process, "First I create a pencil sketch of the vehicle, aiming to add motion, crisp details, a nice flow and usually a driver of some sort – possibly with a thumbs-up! After that, I ink the drawing with brush pen markers, scan the line work, print it out and colour over the printout with Tria and Copic markers. I do digital art as well and traditional painting, but I like cartooning vehicles the best as it's a nice mix of research, subject matter, fun, commitment and techniques." Check out more on his Instagram here.
James Gibson – United Kingdom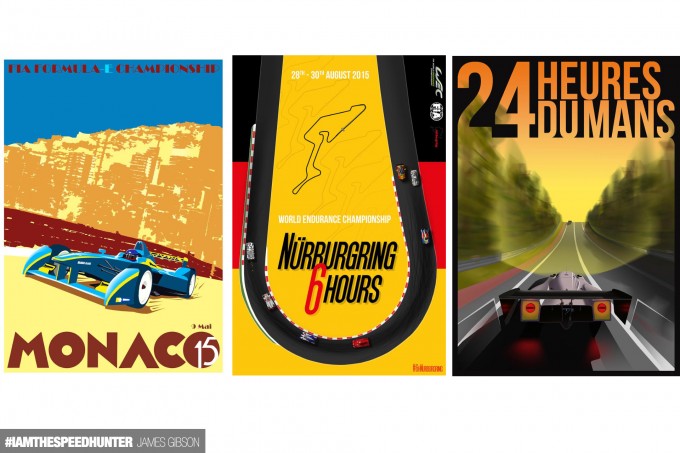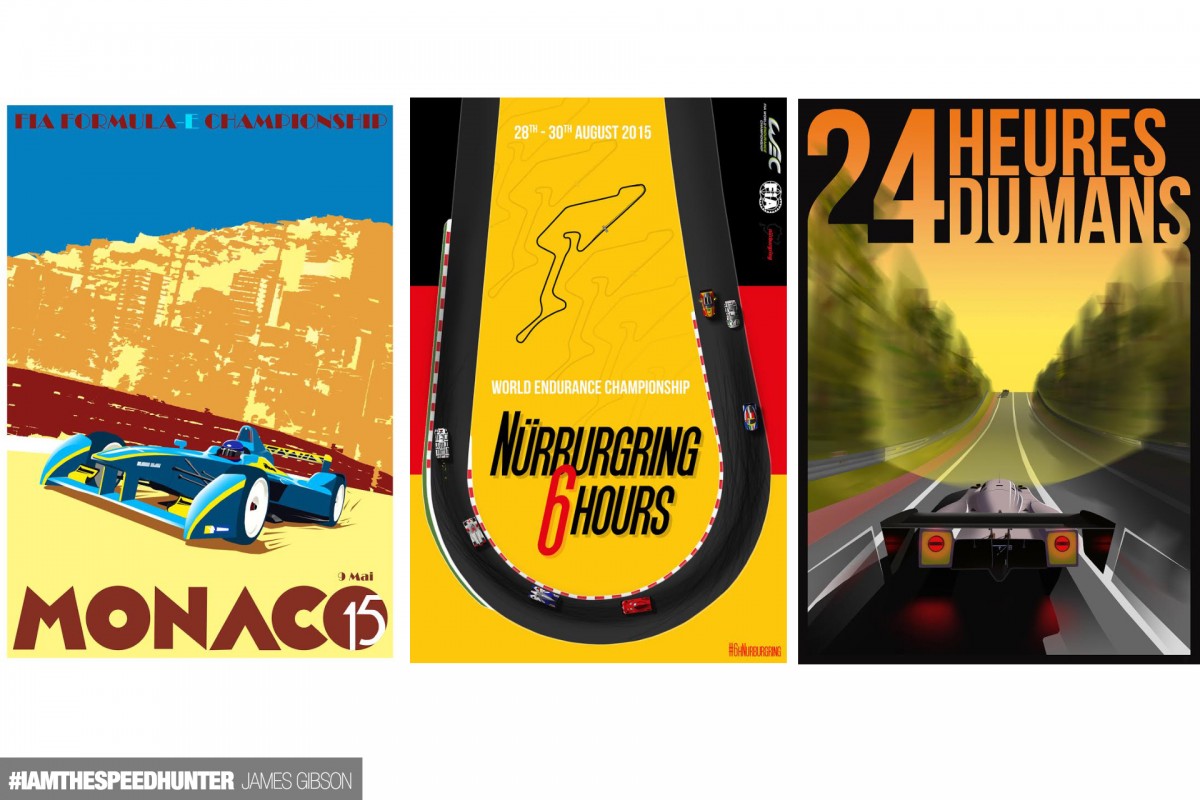 We're loving these race poster designs sent into us by James Gibson. They all feature different styles yet somehow still able to all tie in together, and we're especially enjoying the simplistic vintage feel of the Art Deco style Monaco poster. We'll let James explain:
Monaco Formula E Race Poster: "A friend of mine wrote an article for a web magazine about Monaco's role in motorsport over the years. The conclusion of the article looked forward to the first all-electric race around the streets of the principality. I instantly thought of the classic Monaco race posters from the 1930s and thought it would be good to apply the same look to the most modern of motorsports; Formula E."
Nürburgring 6 Hours Race Poster: 'Racing poster art nowadays is (in my humble opinion) pretty dull, mainly due to the fact that the designer has to satisfy all the sponsors of the event and make sure they all have their spot of real estate. So, I decided to have a go at producing an alternative race poster for the World Endurance Championship 6 Hour race. People have told me it looks like a movie poster; this isn't what I planned but I love how it came out."
 24 Hours du Mans Poster: "This was one of the first proper 'artworks' I created in Photoshop. It was created whilst trying to teach myself how to use the program. I adore Le Mans and I'd had the idea for the layout for a while, I then bumped into a Sauber C11 at the Autosport International Show. I shot the car on my camera and used the shot as a template for the car illustration. The scenery and the rest of the poster was then built around it.'
Christer Stormark – Norway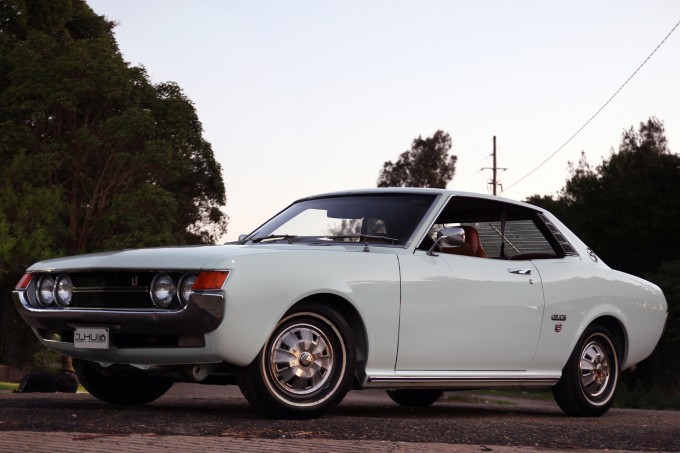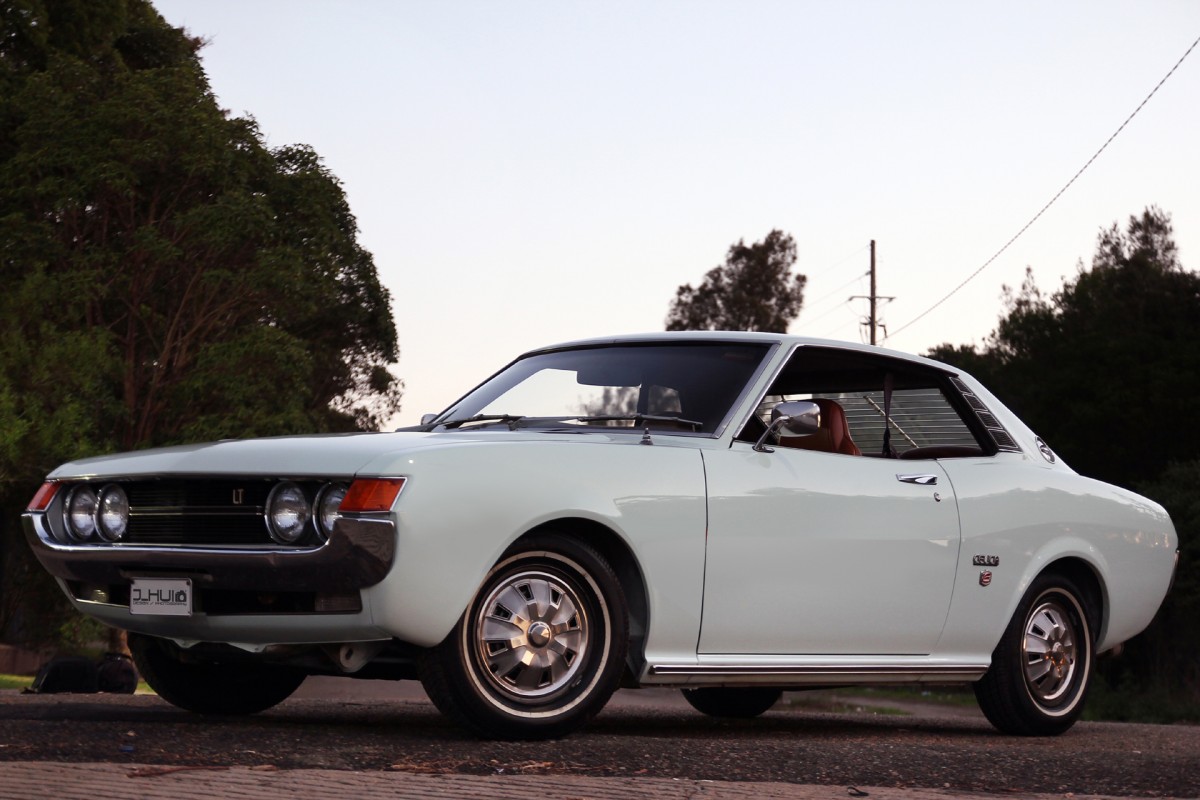 Norway-based designer Christer Stormark started messing around with rendering images of modified cars back in 1999, which eventually progressed from a hobby into a career, seeing him land a job as a vehicle artist for a game company. You might be thinking the above image isn't anything particularly special, but that's because this is the photo that Christer started out with as inspiration for this particularly cool-looking vision…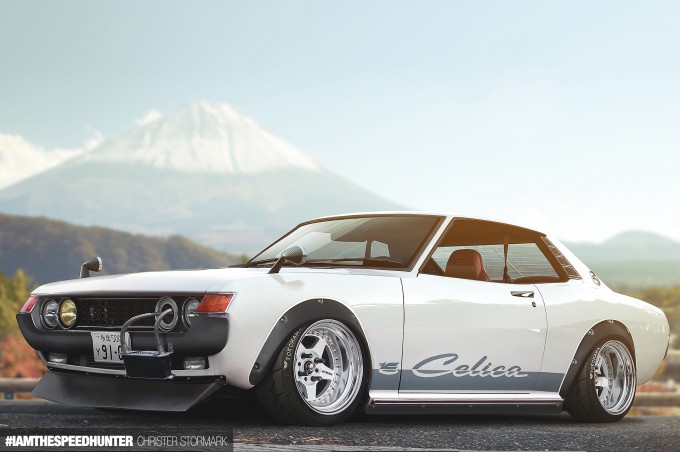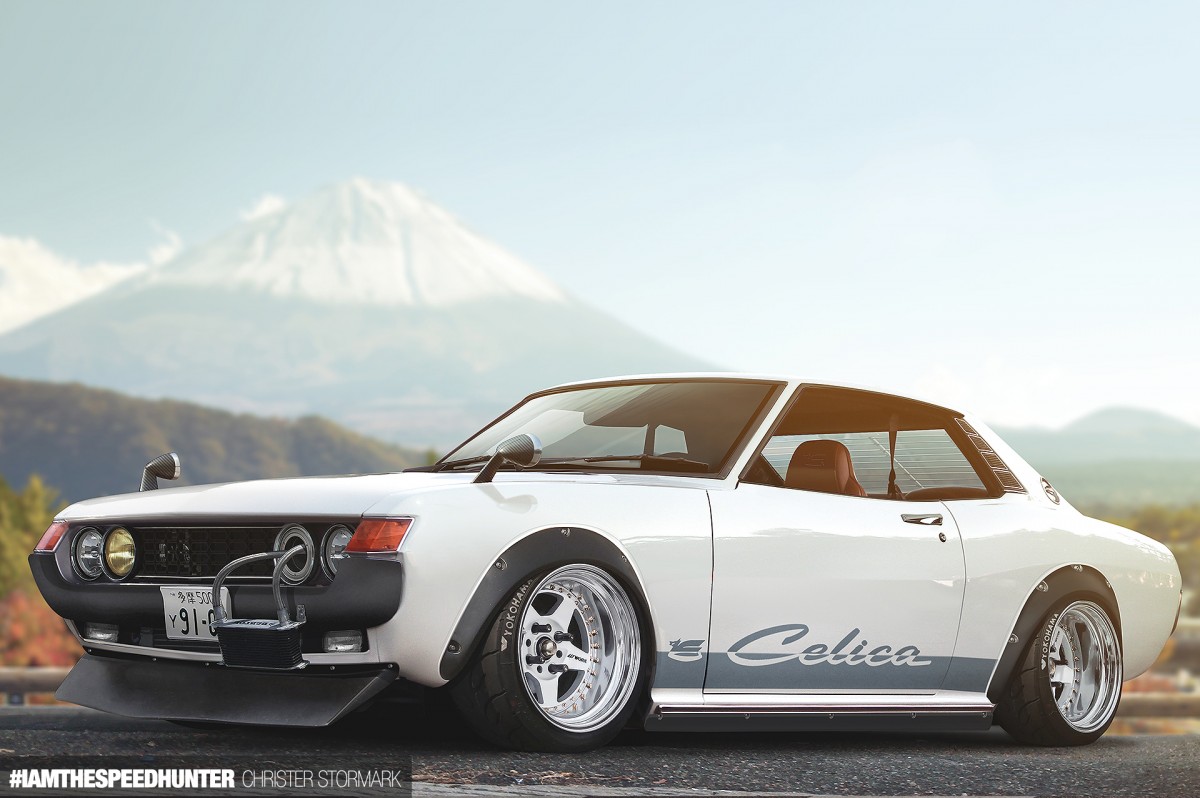 Christer explains that he's always wanted to own a nostalgic Toyota Celica, so he decided to put his own twist on this design. The obvious changes are the drastic drop in ride height and the addition of a front splitter, flares, swapped mirrors, as well as an aggressive set of Work Meister CR01 wheels to complete the look. The white-on-white colour scheme with the chrome detailing is on point, while the vintage leather interior and side decals work perfectly. Christer, we definitely think that you should make this project a reality! While we're waiting for that to happen, you can check out more of Christer's design work here.
Ginanjar Setia Mulyana – Indonesia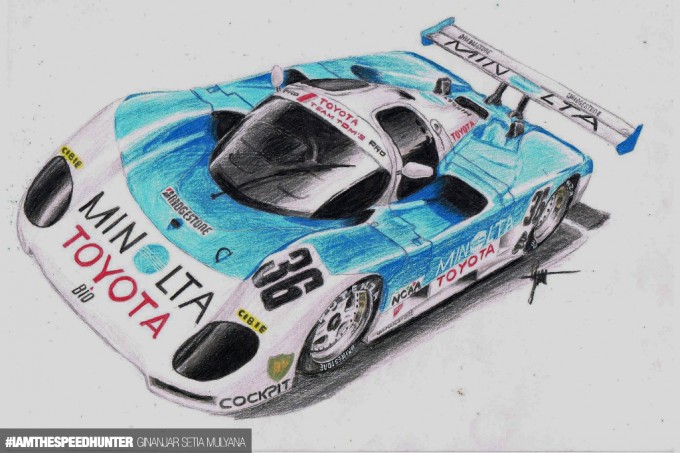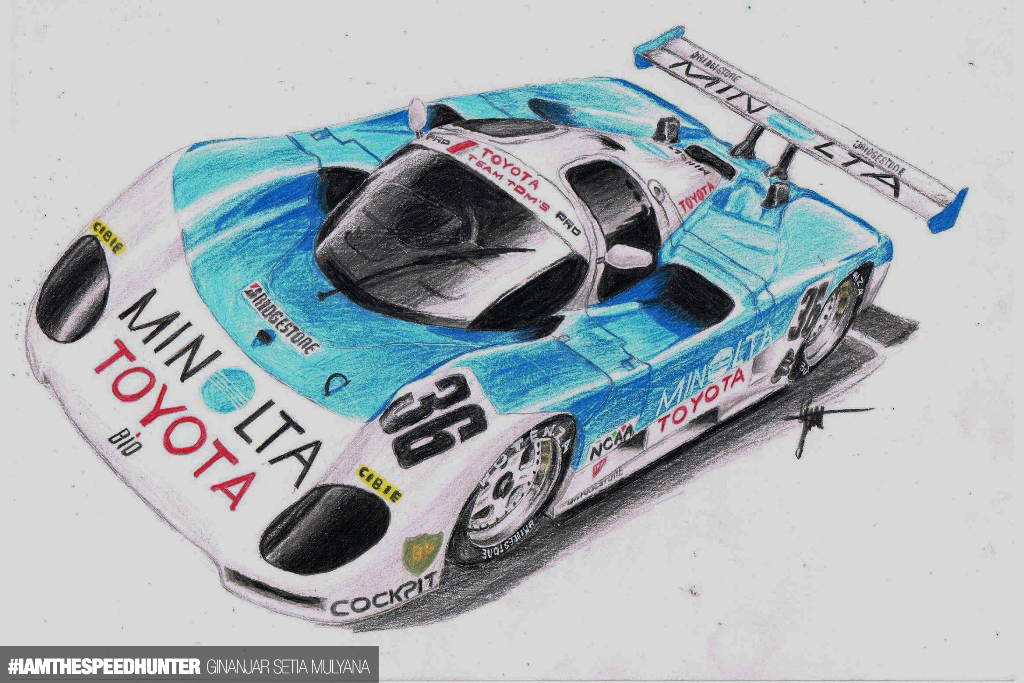 Last but not least, vintage racing fan Ginanjar has shared with us this cool sketch of a monstrous Group C weapon from the '80s – the Minolta Toyota 88C-V. Ginanjar writes, "Ever since I saw an 88C-V in a video game, I fell in love with it. This is my version – in colored pencil."
A big thank-you to everyone who submitted for this feature. Just a quick note that we're not accepting any new art submissions for this theme, but if you did manage to submit something but haven't seen it feature yet, stay watching for Part 3 of our Automotive Art showcase in another two weeks time!
Story curated by Taryn Croucher
Instagram: taryncroucher
Twitter: @taryncroucher
taryn@speedhunters.com
More Automotive Art theme stories on Speedhunters
More IAMTHESPEEDHUNTER stories on Speedhunters
About #IAMTHESPEEDHUNTER
We created #IAMTHESPEEDHUNTER to allow you the opportunity to share your skills and car culture experiences from around the globe with the rest of the Speedhunters audience. How do you get involved? It's simple…
Speedhunters.com – Watch out for our monthly announcements on how you can take part and submit your content to feature in one of our monthly themes!
Instagram – Follow us on Instagram at @TheSpeedhunters and tag your own car culture images with #IAMTHESPEEDHUNTER
Twitter – Follow us on Twitter at @SPEEDHUNTERS and share your tweets with the #IAMTHESPEEDHUNTER hashtag
E-Mail – If you've been to a cool event and captured some amazing images, be sure to e-mail them to us on iamthespeedhunter@speedhunters.com and tell us a little bit about the event