Built to Cruise
It's early evening in the industrial district of Nagoya, Japan, and I'm riding shotgun in a machine that's quite special. The driver, Mr. Shunsaku Mizuno, stares out over the hood of his automobile, telling me about the cars he'd like to own next.  "A C2 Corvette is my dream car," he says.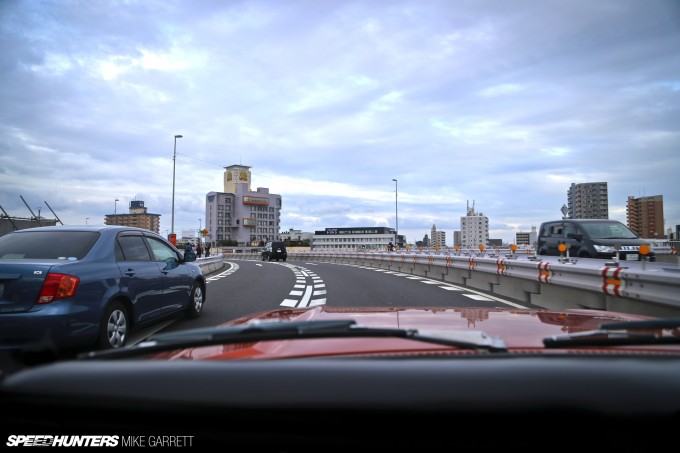 Meanwhile, the car he's driving at the moment isn't too shabby. He lays into the throttle a little, the power pushes me into the seat and the unmistakable note of a V8 engine fills the air.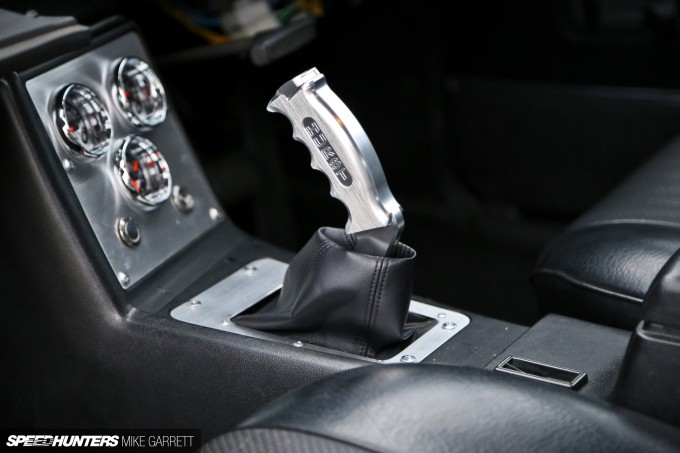 He grabs the Hurst shifter and puts it into 4th gear and I take in the loveable aroma of the 40-something-year-old interior. What are we driving? A Camaro? A Dodge Challenger? Not even close…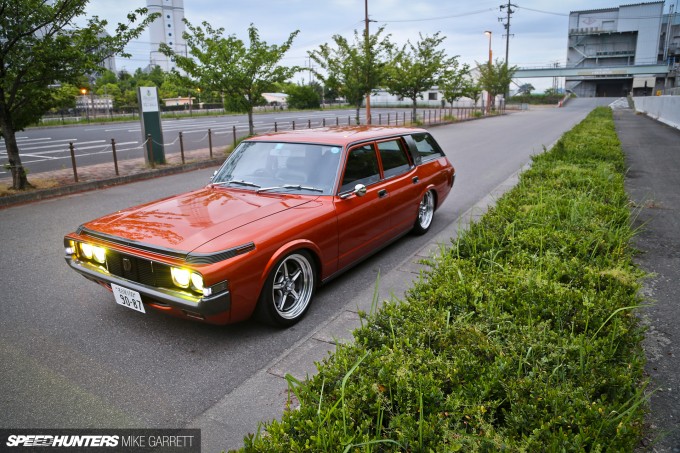 We're actually cruising around in an early 1970s Toyota Crown station wagon – a model that gets a lot of respect here in Toyota's hometown. And the V8 that powers it is equally Japanese.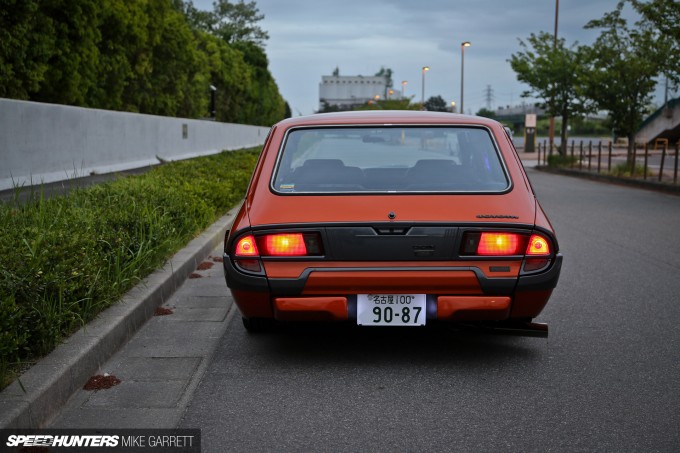 Mizuno-san is a guy that simply digs old cars – especially those of the American variety. He's owned many over the years, becoming especially fond of them after traveling abroad as a youngster.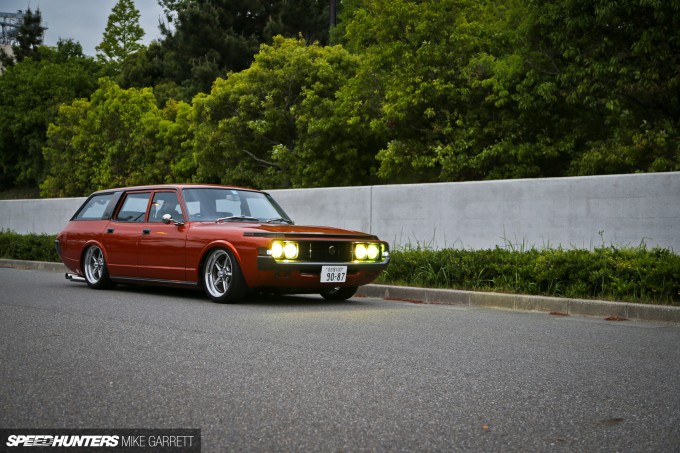 But when it came time to build this project, he wanted to go in a slightly different direction. Mizuno-san would use a domestic Japanese vehicle as his base, but build it to emulate the style of a V8-powered American cruiser.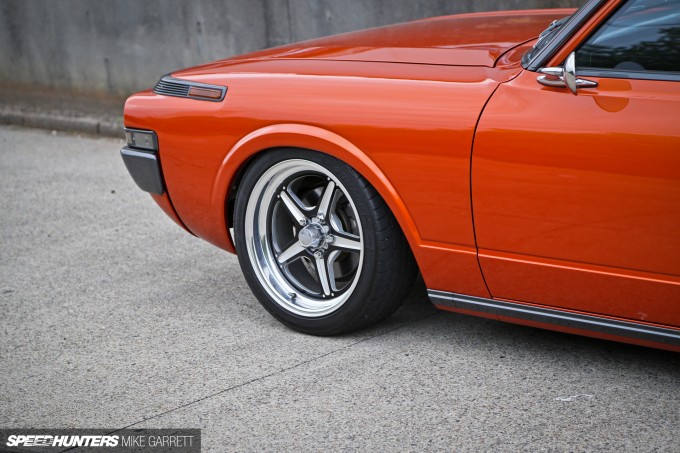 For him, the S60 Kujira model Toyota Crown was an easy choice. It's a car with a shape not unlike the American cars of the era, while also having styling elements that set it apart from the crowd, including those cool wrap-around lights up front.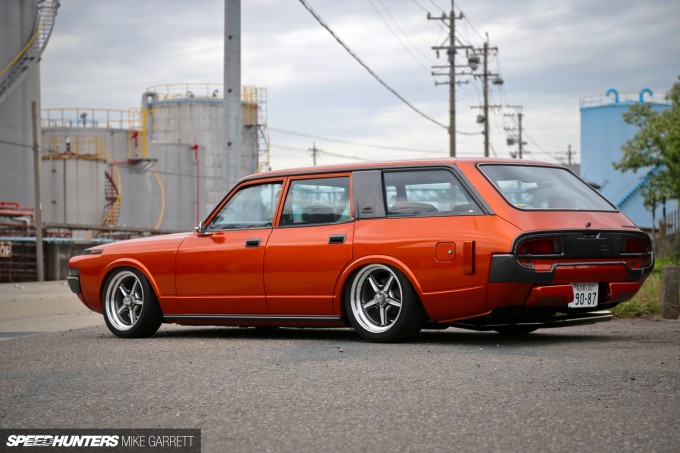 Once he had decided on the base vehicle, Mizuno-san needed to figure out how he could go about transforming the old Toyota into one of Japan's coolest cruisers. For what he had in mind, he was going to need some help…
V8 Dreams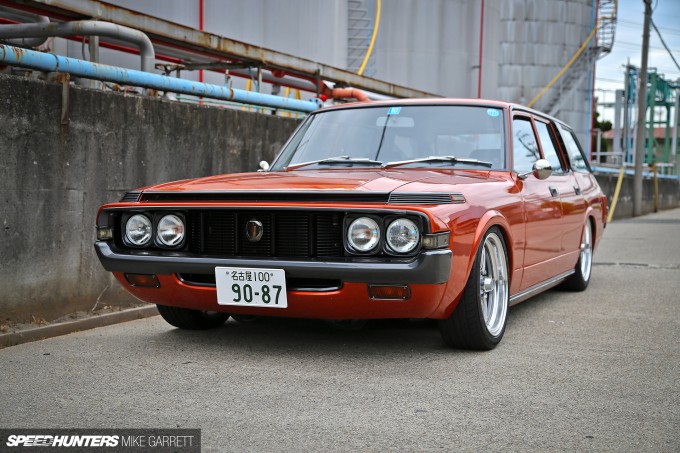 This is where Nagoya's Daddy Motorworks comes into the picture. As we saw with its 2JZ-powered S30 that was featured last year, this is a shop that knows a thing or two about swapping cool motors into old cars.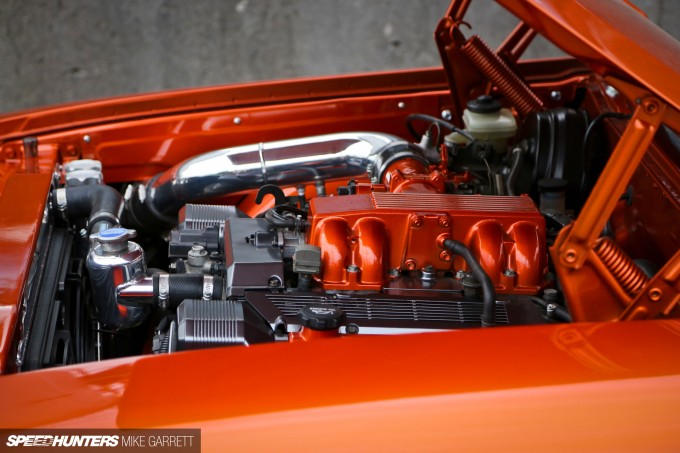 Because Mizuno-san wanted to go with a distinctively American theme, you might think a GM or Ford V8 would be his engine of choice. It was certainly considered, and Oto-san from Daddy Motorworks tells me an LS swap would have been much easier than what they ended up doing.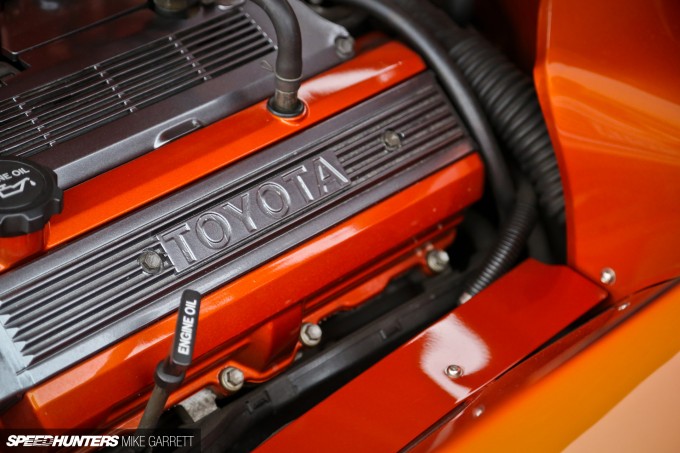 In the end though, they wanted to stick with Toyota power, and that meant the 1UZ-FE quad cam V8 which came in a number of domestic market luxury sedans. While there's no shortage of second-hand 1UZs in Japan, that doesn't mean it'd be an easy fit though. The engine bay of an early Crown just wasn't designed with a big wide OHC V8 in mind.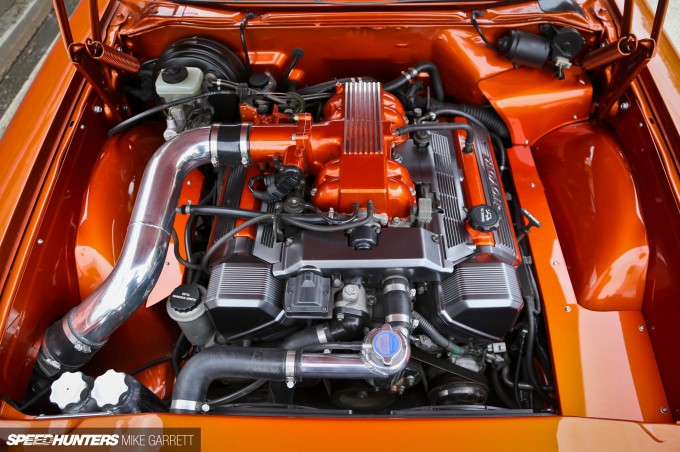 But if there was any workshop that could pull the swap off, it would be Daddy Motorworks. Over the years, Oto-san has performed some of Japan's wildest engine swaps, and he'd certainly have his work cut out for him with this one.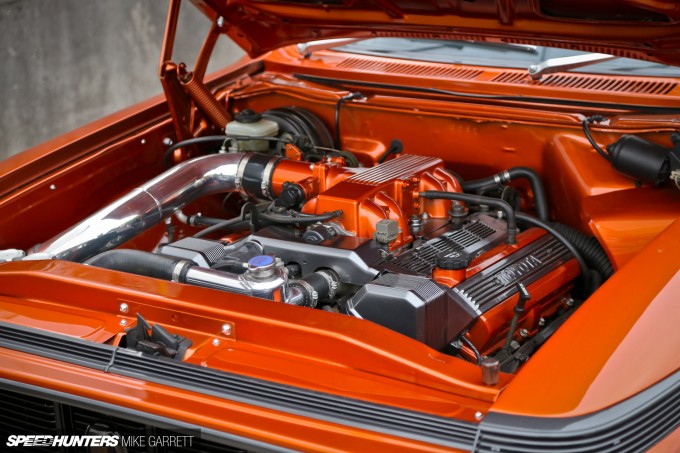 The swap was one of the most difficult that Oto-san has attempted, but you couldn't tell by looking at it. The 1UZ sits beautifully in the Crown's engine bay, set off by things like a one-off intake system, a one-off radiator and custom-fabricated reservoir tanks. Certain parts have also been color-matched to the Crown's body.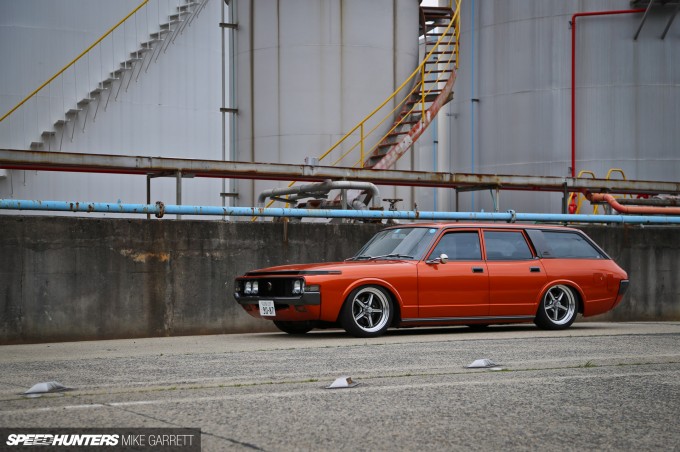 And while the engine swap wasn't easy, it was just the beginning. Rather than a typical automatic transmission, in Mizuno-san's Crown you'll find an R154 5-speed manual gearbox feeding power to a Toyota Altezza differential with a 3.7 final drive.
Japanese Americana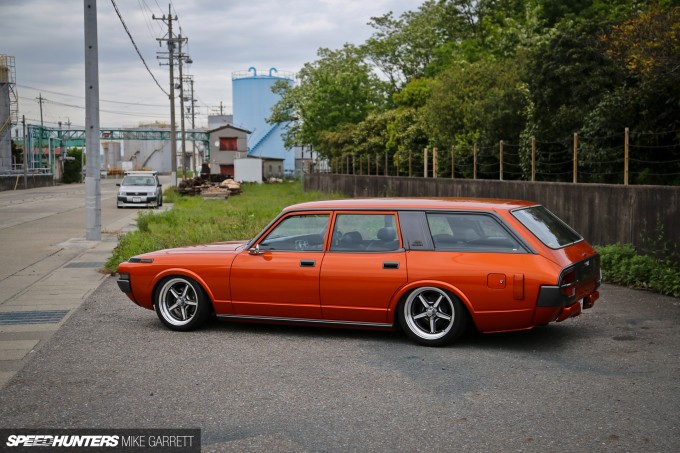 When people in Japan fix up their vintage Crowns it's quite common to retrofit parts from newer models, and this one is no different. Up front both the suspension arms and brakes have been sourced from a UZ131 Crown.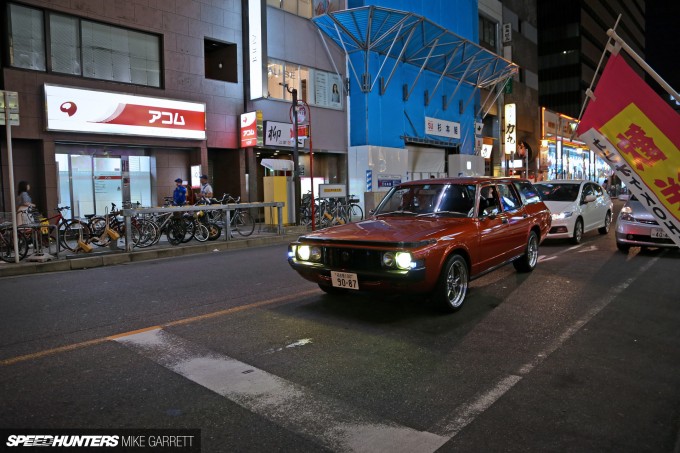 Because Mizuno-san would be daily driving the Crown as well as taking it to car shows, they needed a suspension system that could be used for both.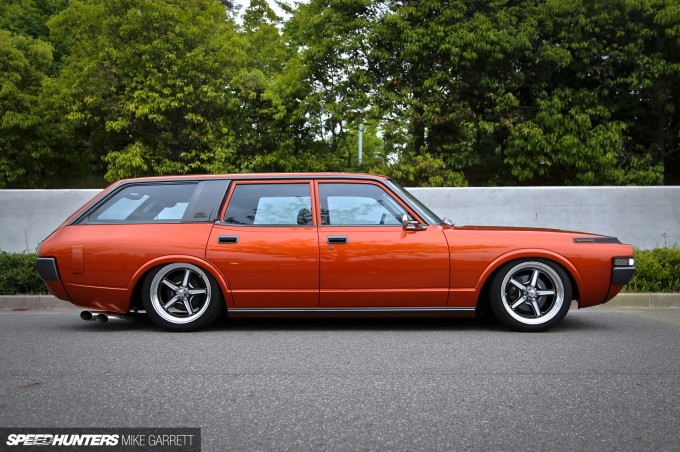 The shocks themselves are from Öhlins and the ride height is controlled by a custom-fitted Universal Air kit which can provide a low and aggressive look with the flick of a switch.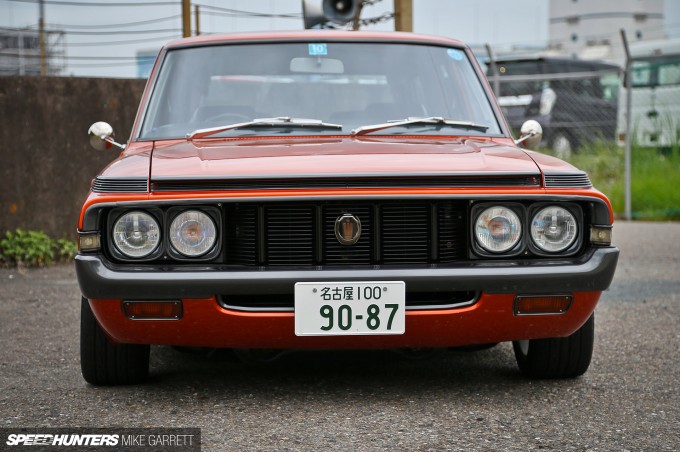 Mizuno-san loved the look of the Kujira wagon, so it's not surprising that exterior changes have been kept subtle. Along with the custom orange metallic paint job, the chrome on the body has been grayed out and the lenses have been smoked.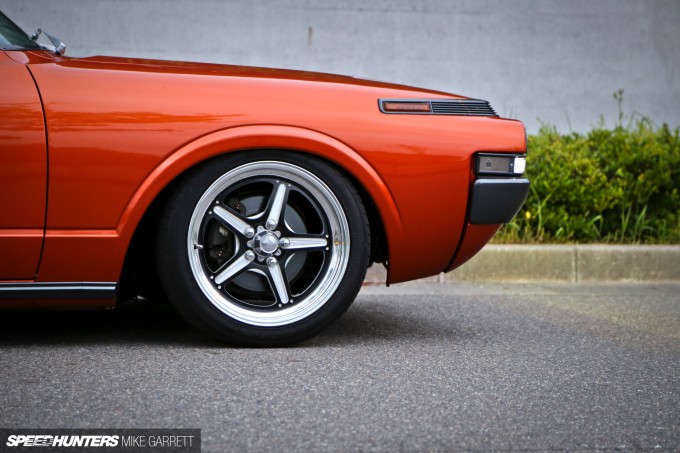 As for wheels, Mizuno-san wanted to go with a street rod/pro touring inspired look, so he settled on a set of 17-inch Billet Specialties Street Lights which look quite nice tucked into the Crown's fenders.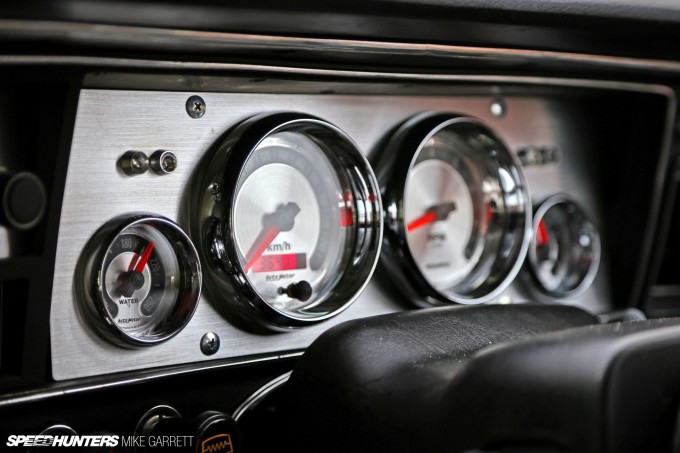 The cabin of the Crown has been treated with the same combination of vintage style and modern convenience. It's largely original, but there are key changes including a custom instrument setup using a full suite of Auto Meter gauges.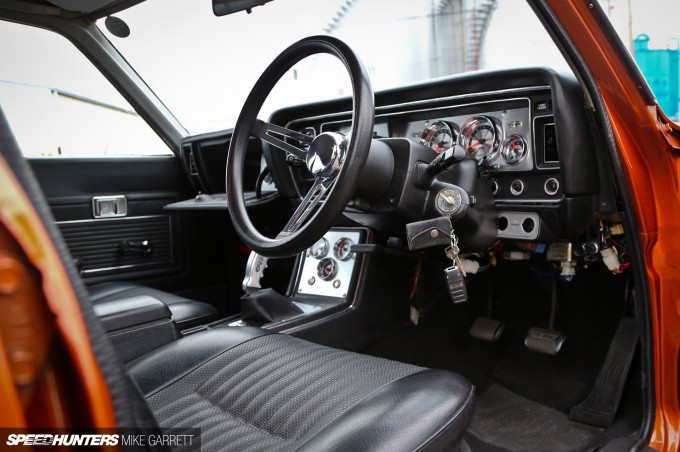 The entire steering column has been lifted from a Toyota Century and fitted with a Grant steering wheel. And let's not forget about the Retro Sound audio system or the aforementioned Hurst shifter.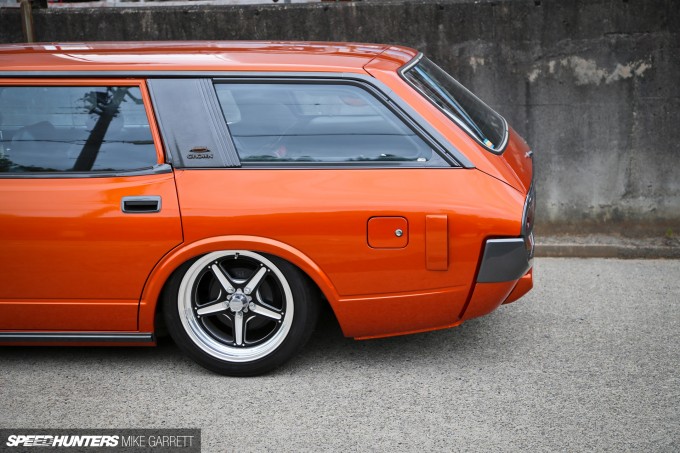 With this build, Mizuno-san's unique vision and the mechanical skills of the Daddy Motorworks crew have come together to make one of the coolest vintage Crown builds on the face of the earth.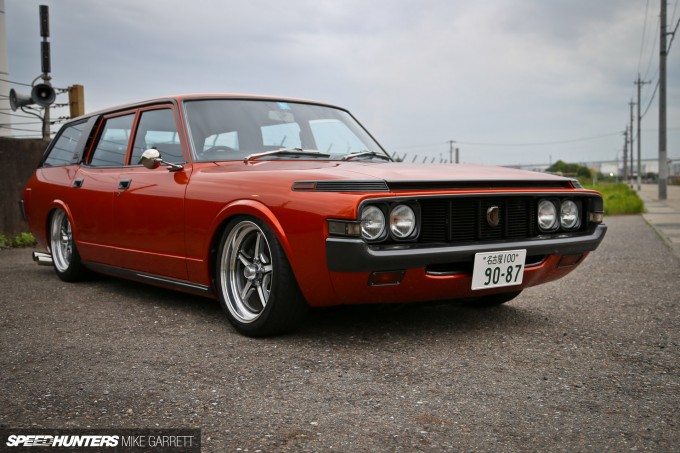 Mizuno-san might still have that yearning for a 1960s 'Vette, but for now he's perfectly content to live out his V8 dreams in a Toyota station wagon like no other.
Mike Garrett
Instagram: japanifornia_media
mike@speedhunters.com
Cutting Room Floor