Mike Anderson's '68 Datsun Fairlady is built to drive, and drive hard.
With a '63 Comet and '65 Volkwagen Bus already in the bag, a few years ago Mike started looking for something more fun, and fell in love with the nimble SPL311 roadster.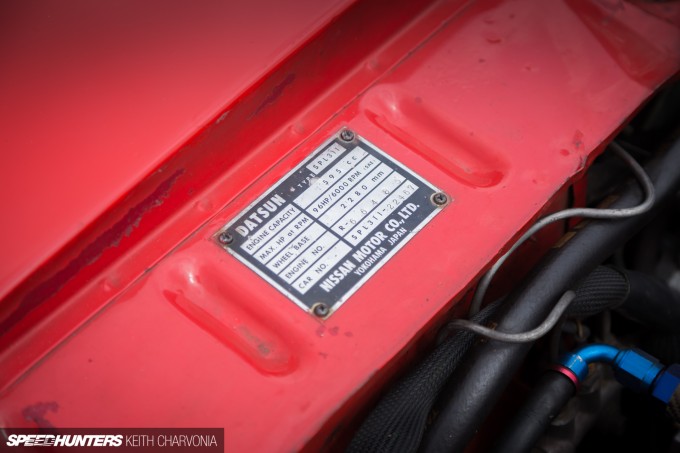 Being a car guy he couldn't leave it stock for long though. First came an SR20DE swap by Kevin Desirello of Kevin's Roadster Designs, on which Mike logged 60,000 miles in just two years.
But the sound wasn't quite right and Mike wanted more power. So he and Kevin hatched a plan to build a 9000rpm screamer that was "just as happy to pull 1500 up a hill in traffic," according to Mike. There was a laundry list of requirements too: it had to be naturally aspirated, reliable and run on pump gas.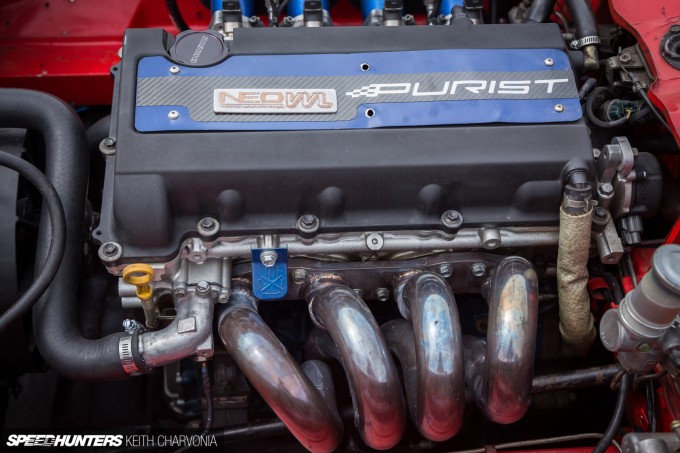 With the parameters decided, the duo took an SR20VE head and mated it to an SR20DET block. The crank was balanced and refitted along with Manley rods and CP 12.5:1 pistons, while up top two-piece valve springs with titanium retainers and N1 cams with G-Spec adjustable gears were added to the mix.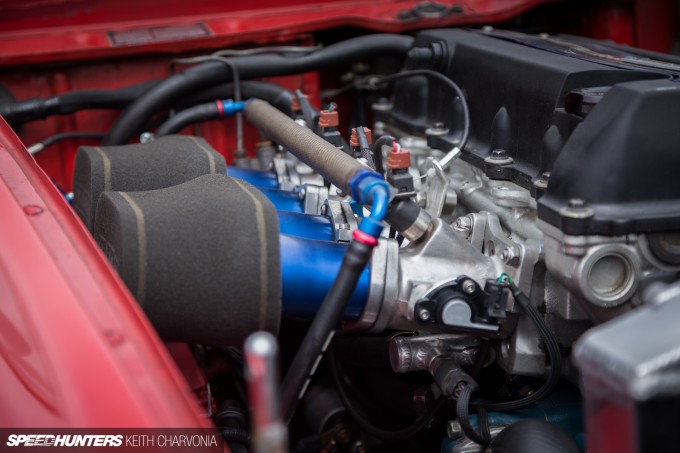 To cap it all off Mike sourced a set of individual throttle bodies from EFI Hardware. The result is 198whp at 8000rpm and 155ft-lb torque at 6000rpm.
As the video above shows, the best part is the sound. The ITBs take on a vintage car sound down low, but love to scream up top too.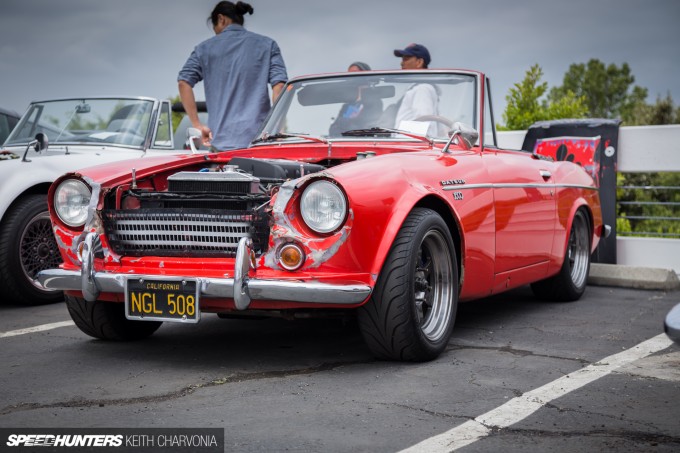 You may have noticed the road rash on the front end in the opening shot. Some photographers might have shied away because of that fact, but it only intrigued me more. It told me that this guy just wants to drive, and looking around the car I could see that it was hardly a shoddy build.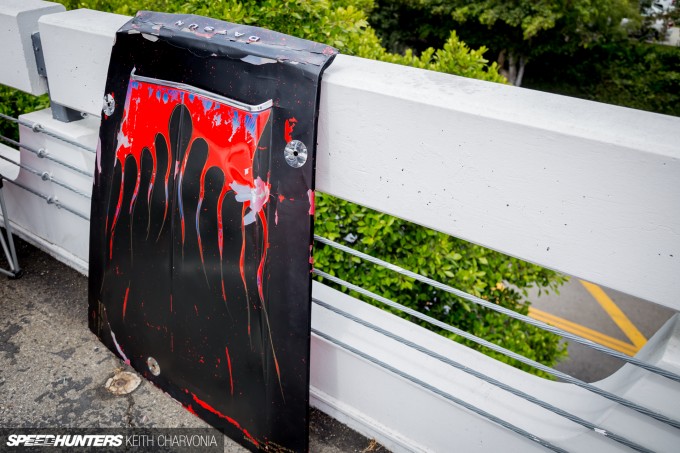 Leaned up behind the Datsun I found a crunched-up hood. Mike tells me the front end damage was the result of LA freeway traffic, and that the car is already in the queue for repairs.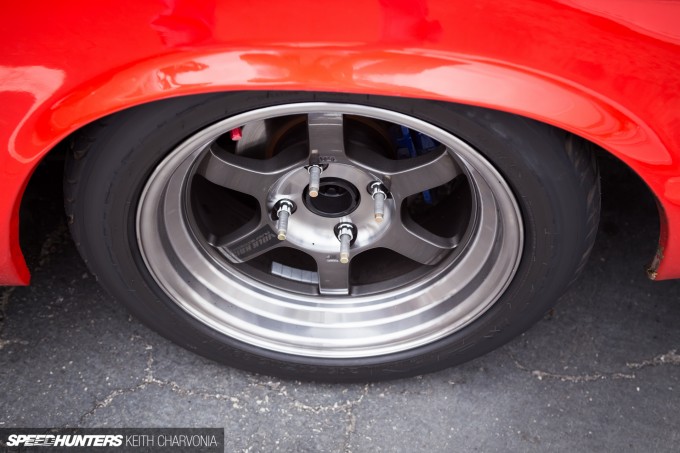 The rear axle was swapped for that of an RX-7, which came with disc brakes, while the front brakes are from a Z32 300ZX and utilize Hawk performance pads, as seen behind the perfectly-matched, lightweight limited edition RAYS Volk Racing TE37V SL wheels in a 15×7.5-inch fitment.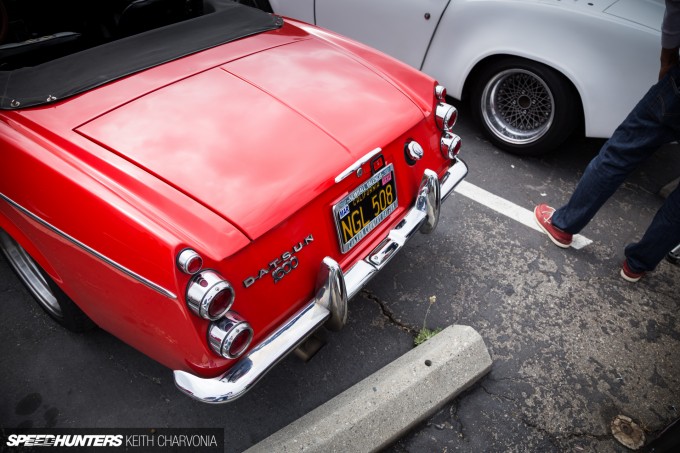 Since the second engine swap, Mike has already racked up another 25,000 miles. He says he can't wait to fix the bodywork and just keep flogging the little roadster.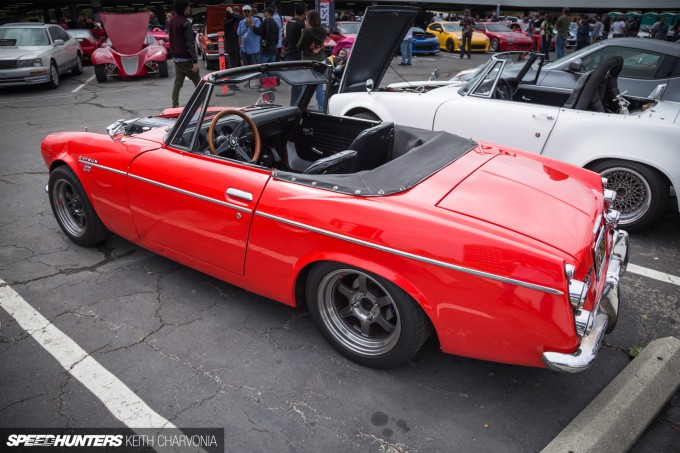 I could tell his car was driven, but I never could have guessed that the guy loved his car so much that he drives it nearly non-stop and year 'round. Mike says he takes it everywhere, rain or shine, and besides driving it on the road it also sees plenty of track and drift days.
I think we're looking at the perfect recipe for fun. Now who wants one?
Keith Charvonia
Instagram: SpeedhuntersKeith
keith@speedhunters.com