Each time you head to a Cars & Coffee event in Southern California, you're bound to come across a few unusual machines that you won't see anywhere else. And during last weekend's visit to the new C&C event at the Orange County Fairgrounds in Costa Mesa, I found two especially interesting vehicles that I thought you guys might enjoy seeing in their own individual spotlights.
The first is a 1989 Mazda B-Series pickup truck that was originally built by famed rotary tuner Racing Beat as a special project for Mazda USA back in the late '80s.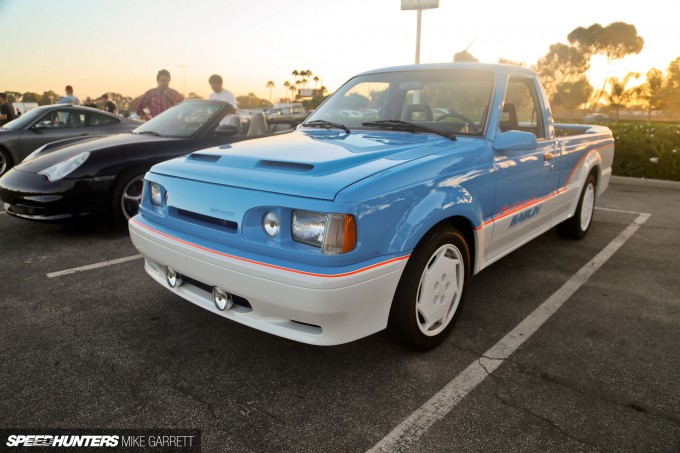 Dubbed California Haulin', the custom pickup was created to reignite interest in Mazda's minitruck line, and it features a number of changes to both the styling and the powertrain.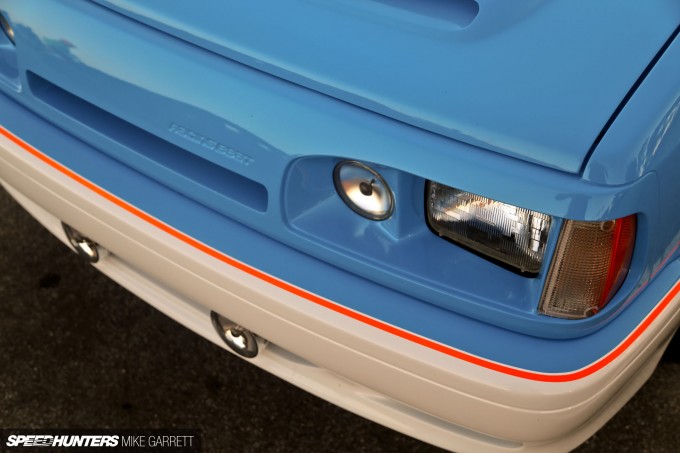 The body is laden in custom fiberglass work, including a unique front fascia with fog lights up front. And then there's the radical '80s paint and graphics, including the classy script on the flanks.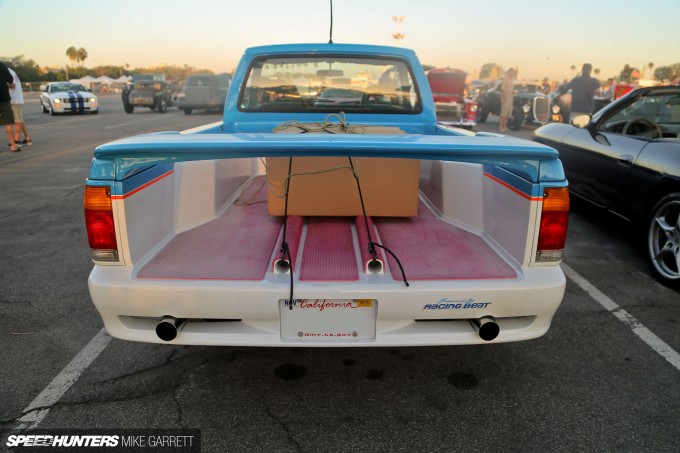 The bed has also been heavily customized, and not just for looks either. In fact, the whole thing was designed to have a matching Kawasaki Jet Ski sitting cleanly and securely in the cargo area.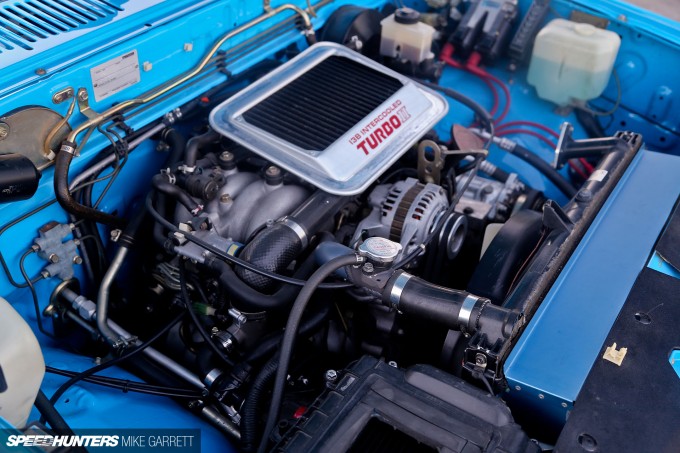 But things get really interesting when you look under the hood, because that's where you'll find a turbocharged 13B rotary engine borrowed directly from an FC3S RX-7 Turbo II, mated to a heavy-duty automatic transmission.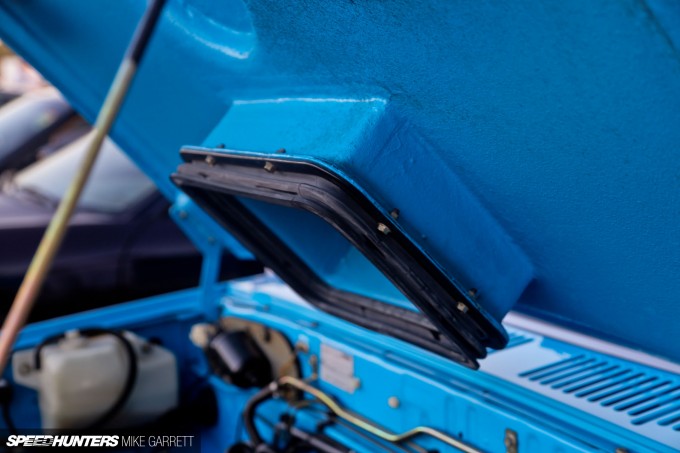 There's also a fully-functional hood scoop which feeds cold air directly to the engine's top-mounted intercooler.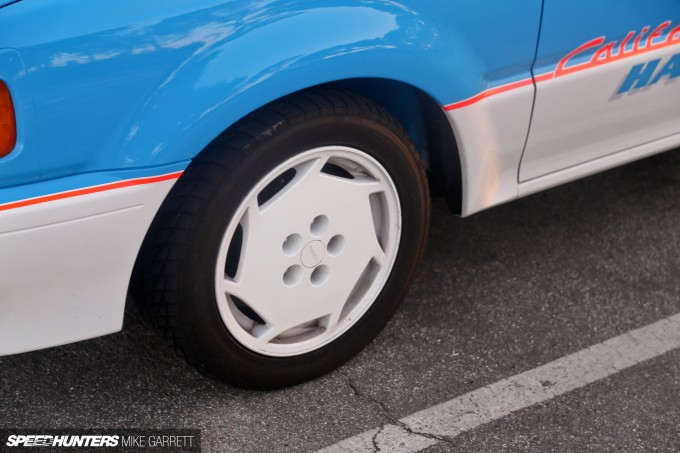 The RX-7 engine is complimented by a set of 16-inch color-matched factory wheels, also from an FC3S Turbo II.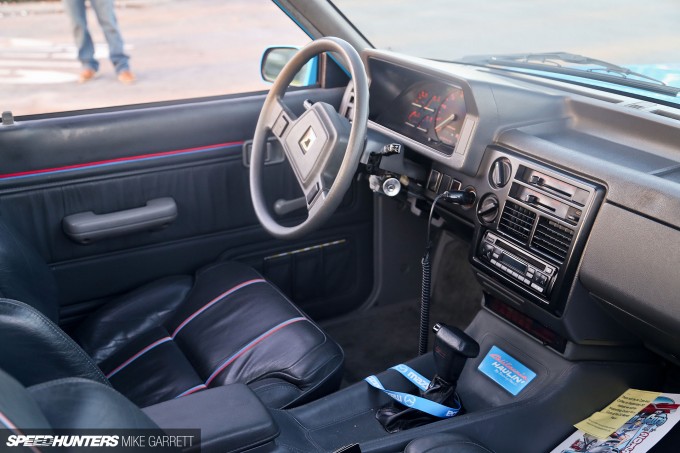 The cab of the truck features custom leather upholstery, audio equipment that was state-of-the-art in the late '80s, and of course unique Racing Beat branding.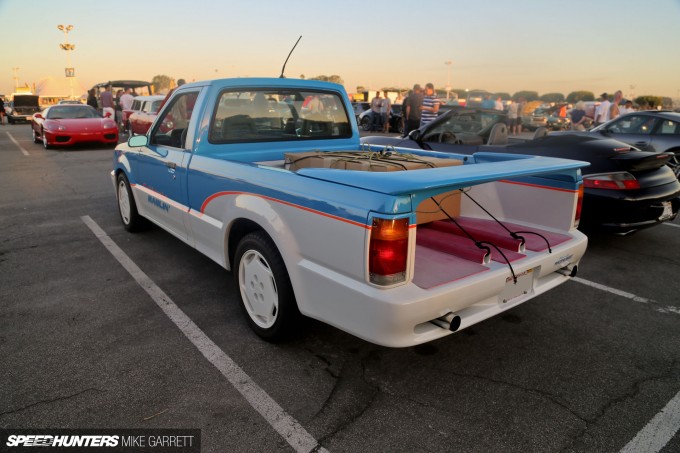 It's part pickup truck, part rotary sportscar and in my mind a perfect throwback to a bygone era of custom vehicle building. What's not to like?
Stay tuned for my next spotlight from Cars & Coffee Orange County!
Mike Garrett
Instagram: japanifornia_media
mike@speedhunters.com