Earlier this year, we spent a few quick days exploring Finland, hooking up with local enthusiasts and checking out some of the amazing cars on offer. One of those machines was Roni Collin's awesome Honda K20A-powered BMW 1502, which I shot at Roni's lake house under that late-night Finnish sun.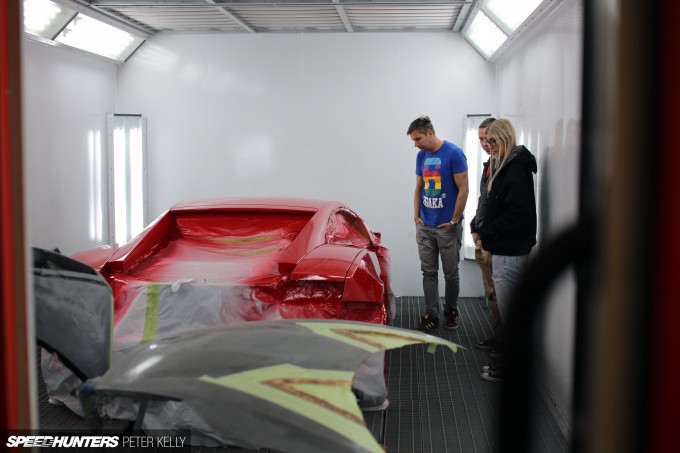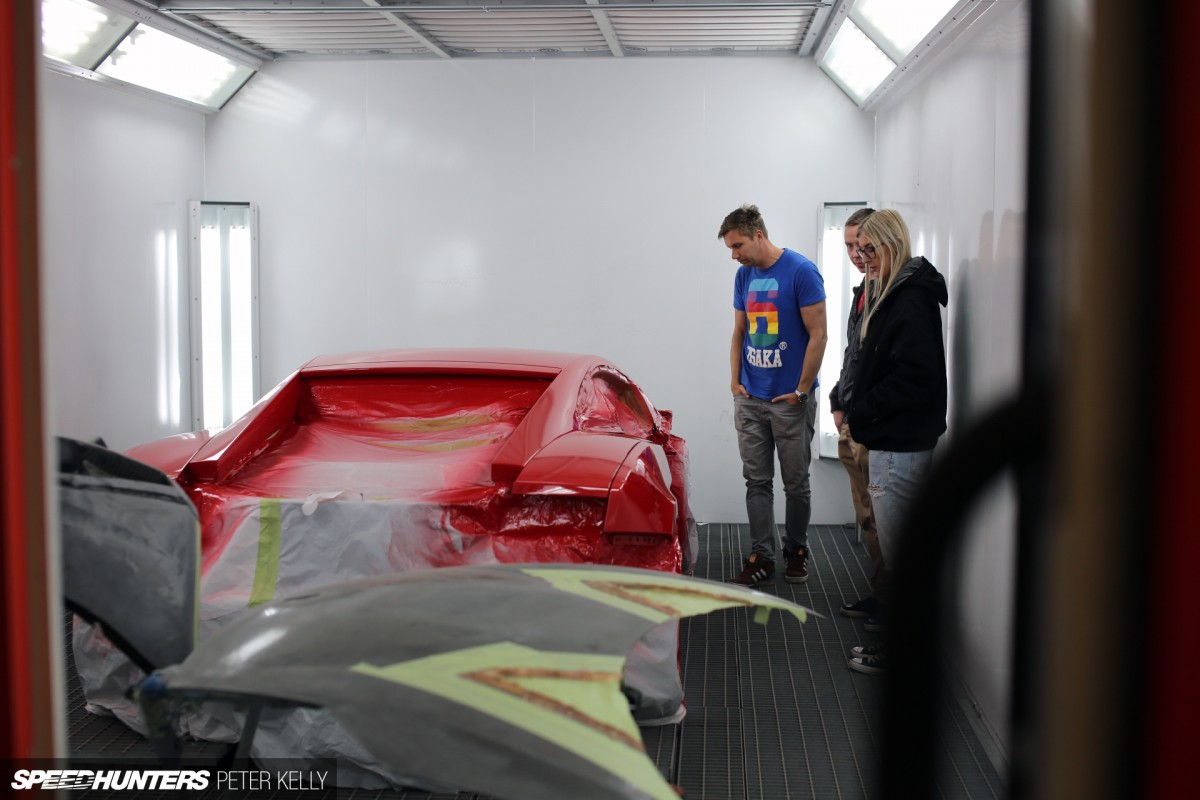 After the shoot, Roni was kind enough to show us the rest of his collection too, and in amongst a plethora of angry Porsches and the odd Audi project, we also spotted this bright-red 2009 Lamborghini Gallardo LP560-4 sitting in the paint booth at his friend's workshop, Björnwerks. Where I'm from, it's not too often that you'd see a fairly new Lambo receiving a full respray; it's almost the opposite of the term 'polishing a turd' – more like 'polishing a diamond'. I was intrigued and promised to keep an eye on the car's progress.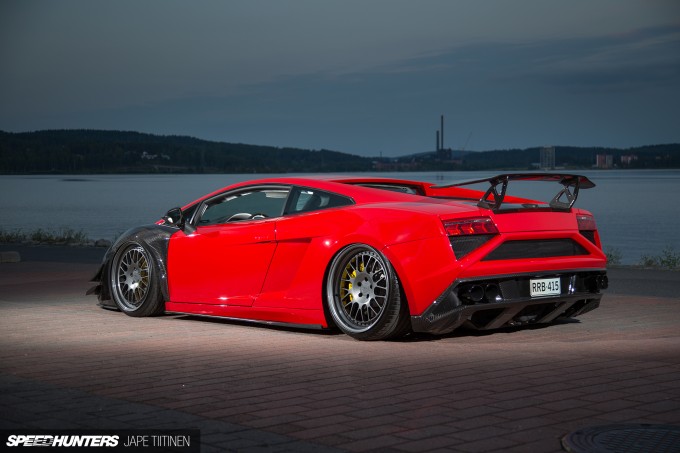 Fast forward to last week, when I received a message from friend of Speedhunters and top-notch Finnish photographer Jape Titinen, who had not only helped host us during our visit to his country, but had also just managed to nail down Roni's recently-finished Gallardo for a quick late-night photoshoot. Well, that saves me a trip!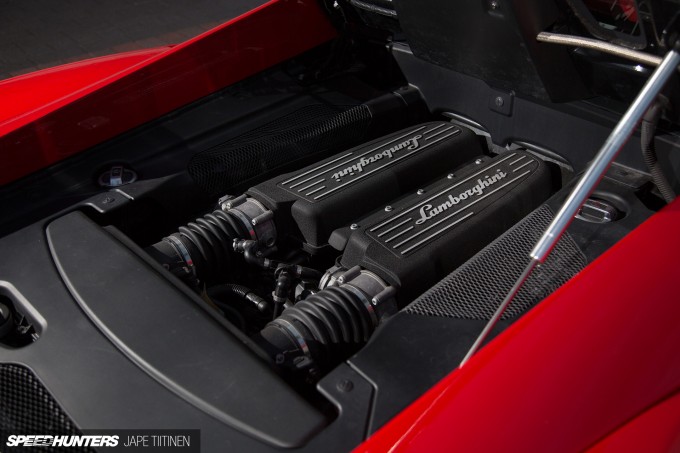 Roni has always loved Lambos. Like so many of us, as a kid he had a Countach poster on his bedroom wall, but unlike most of us, some smart business decisions as an adult have allowed Roni to make good on his childhood dream of Lamborghini ownership, buying the originally Nero Noctis (black) Gallardo not so long ago. Right from the start, he had no intentions of leaving it stock like the vast majority of Italian supercars. Roni explains, "For some reason it is not so normal to redefine a Lamborghini, but I have always seen the potential in modifying these cars, especially the Gallardo, so I did just that and it's now exactly how I want it."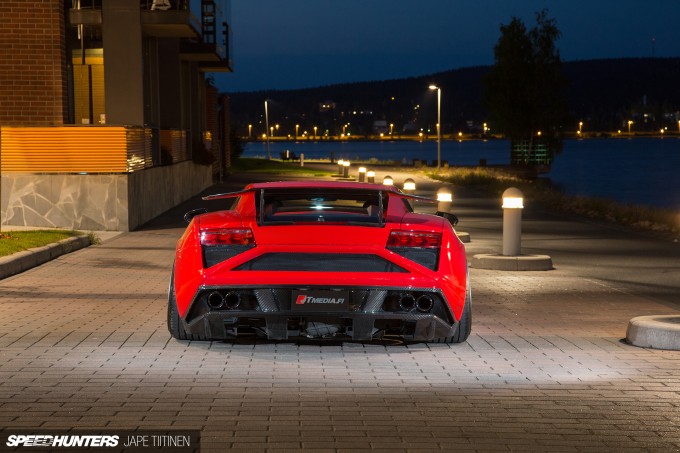 The all-wheel drive V10-powered coupé has been resprayed in Lambo's own Rosso Mars hue, and although I must admit to never really being all that fussed by red cars, I have to say it's the perfect colour for this Gallardo.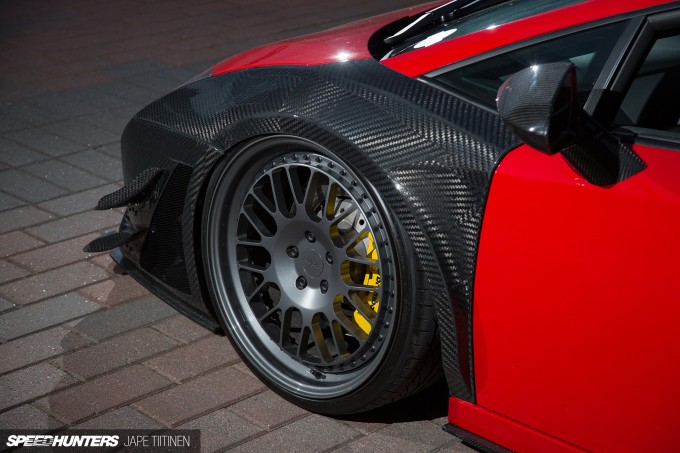 It wasn't just a colour change and some wheels though; Roni wanted to push the carbon fibre theme as far as he could, sourcing carbon bumpers and fenders originally destined for the Super Trofeo race series cars, direct from Lamborghini's race department.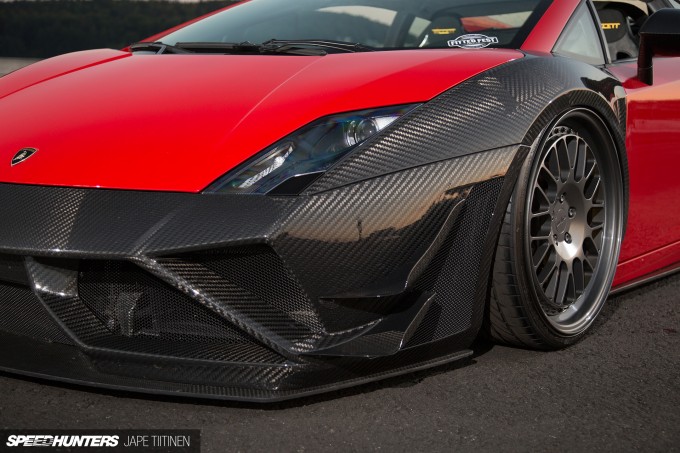 These parts come in raw carbon and are intended to be painted over, but Roni wanted to get that beautiful weave out on display, so the panels were painstakingly sanded back and then cleared a total of 12 times to achieve a stunning lustrous finish. There's also a carbon bonnet in progress, but as you can imagine, these things take time and it wasn't ready for the shoot.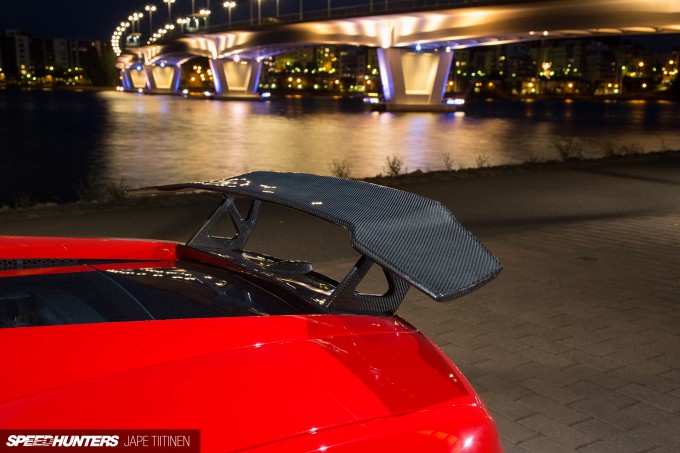 Out back, you'll find a beautiful Super Trofeo Stradale wing.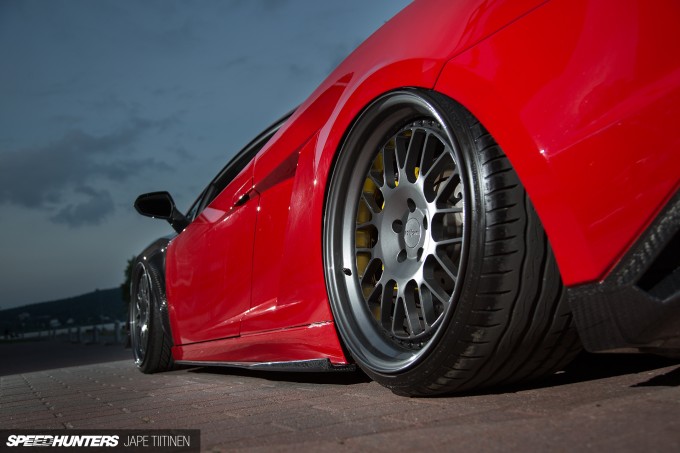 Meanwhile, the side profile is enhanced by side blades and carbon wing mirrors from the Superleggera.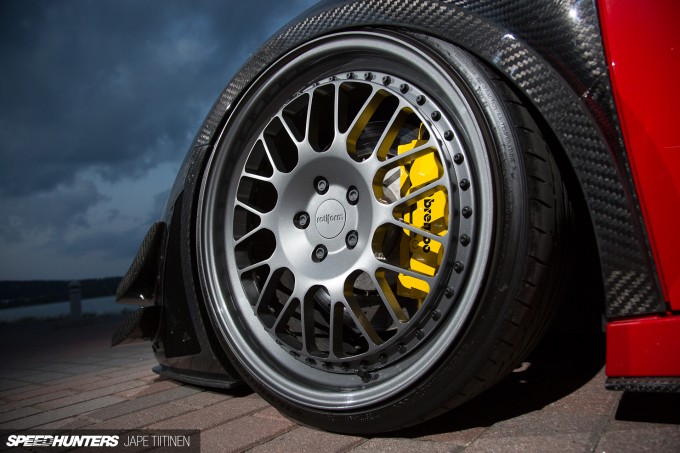 Roni has used Rotiform wheels on quite a few of his cars, so it's no surprise that he's gone with a set of 20×12-inch forged three-piece LVSs here. In my opinion, the mesh-style LVS is the perfect wheel for this build.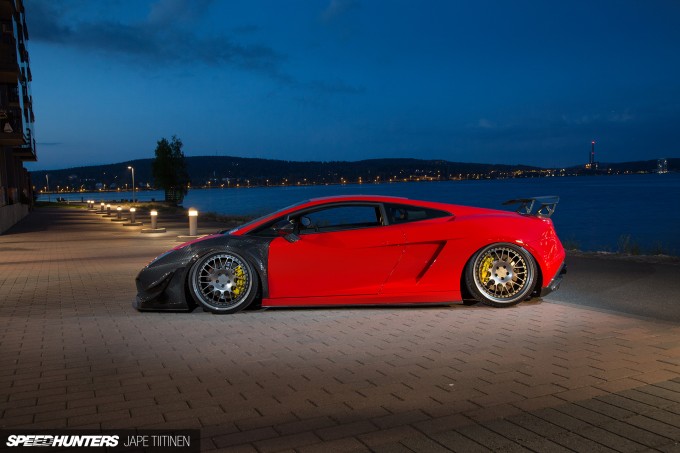 You've probably noticed that the Gallardo is sitting very low over the Rotiforms, and this is thanks to a custom air setup controlled by an AccuAir e-Level. I had to ask Roni if he thought the air suspension had taken anything away from the Lambo and its sporting prowess, to which he replied, "It's very nice to drive, it looks a lot nicer than stock, and it means I can be low and still get over the bridges on the way to my house. So no, I don't think it's ruined anything at all."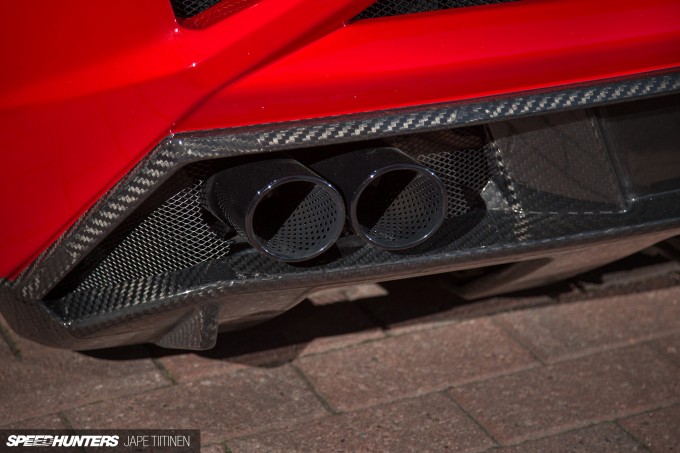 In terms of raw power, Roni decided he didn't really need to add much to the 550hp already on tap, opting for a simple swap to a Capristo Valvetronic exhaust, which allows the V10 to really howl at the flick of a switch.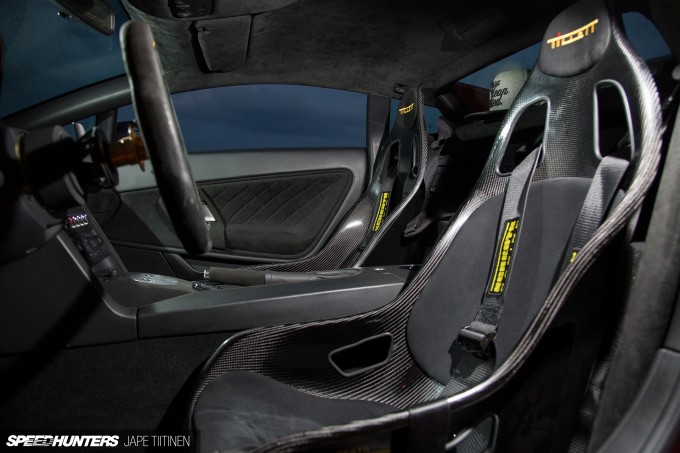 With only the interior left, Roni couldn't resist adding a drool-inducing pair of Tillett carbon seats and a quick-release OMP steering wheel to accentuate the already gorgeous living space of the Gallardo.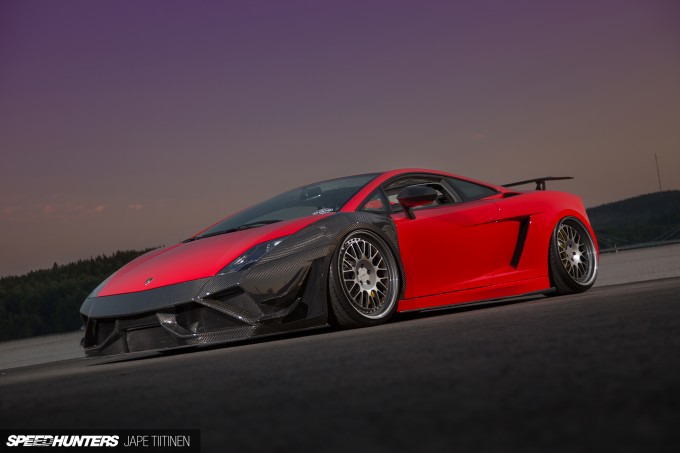 With this simple build, Roni has created his version of the best-looking Gallardo imaginable, and after poring over these images, I think he's completely nailed it. There's no denying that the Gallardo is a good-looking, and great-driving car in stock form, but Roni has perfected his example by cherry-picking the best bits and pieces from Lamborghini and the aftermarket. What he's ended up with is an Italian supercar that's exactly as he wants it – what I call a truly successful build.
Peter Kelly
Editor-in-Chief
Instagram: speedhunters_pedey
pedey@speedhunters.com
Photos by Jape Tiitinen
JTMedia.fi
Instagram: jap3
Facebook: JTMedia
Cutting Room Floor