Not Another V8
How do you view cars? Do you look at them in isolation or do you consider them as an extension of their owner or creator? Do you take into account their intended purpose?
On the surface, this might look like 'just another' V8-powered S-chassis, with its Japanese heart having been ripped out and replaced with an American one instead. True, it's not a new idea and it won't be the last one which graces these webpages either. People tend to come down into two camps of thought – those that vehemently oppose the idea and those who will point out the potential performance advantage at a relatively low cost.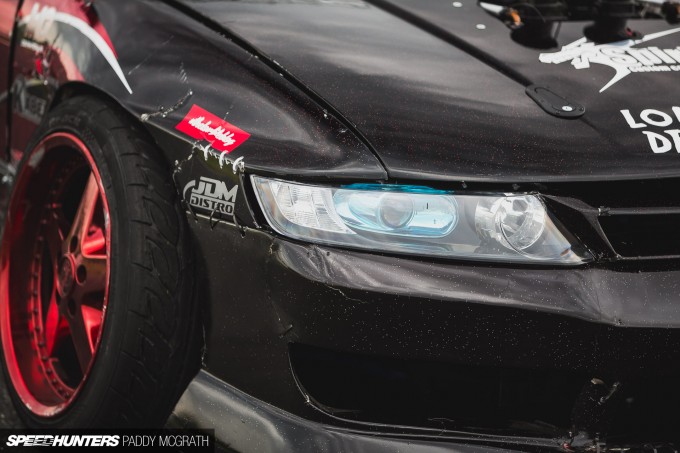 As is the way with these things, the truth lies somewhere in the middle. In this specific case, I can't think of a better engine/chassis combination to reflect this car's personality. And this is a car with character in abundance.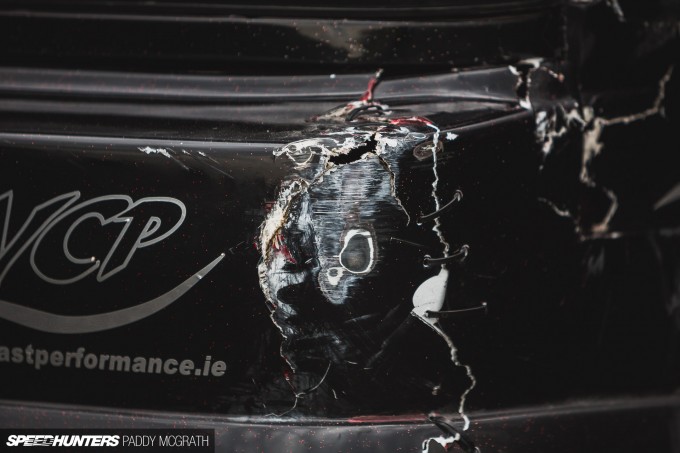 Built brand new and from the ground up for the 2015 season, it already looks like a car with a thousand war stories. On its debut at the Irish Drifting Championship this year, a rear trailing arm bolt sheared and sent the Nissan straight into the Armco barriers at over 80mph. Its driver, Luke Fink, a passenger as the car picked up speed across the damp grass and went in head-first in a chassis-twisting collision.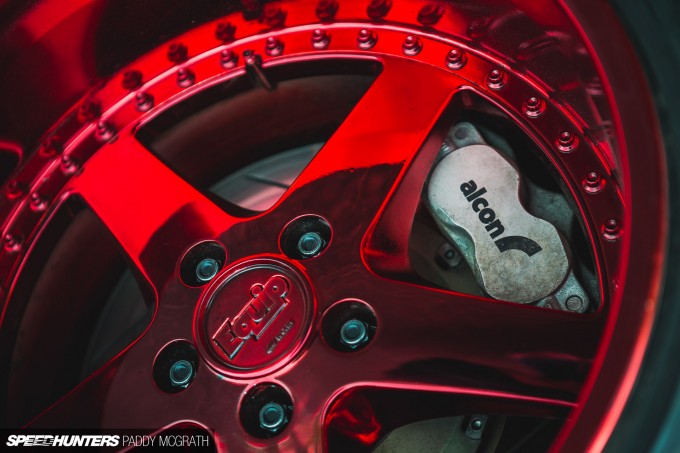 Most would call it a weekend at this point, but neither the Low Brain team nor the Irish drift community were going to allow the PS13 to head home on a trailer, broken. After an all-night session on the MG Crash Repairs team's chassis jig, and with the help and input of far too many people to mention, the car rolled back into the Mondello Park paddock the next morning, looking slightly worse for wear, but ready for battle.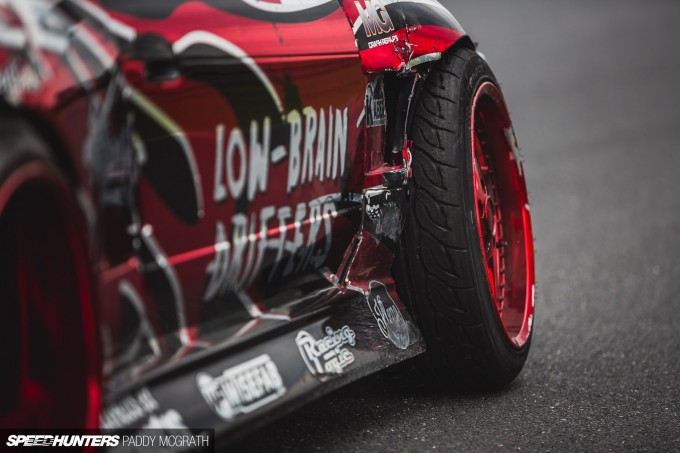 On Friday, the car was a write-off according to some 'experts' in the paddock. By Sunday, the car was going to door-to-door with rivals as if nothing had ever happened. Taking into account that this was its first event, it could be called nothing but a success only for a questionable judging decision to take Fink and the PS13 out at the Top 4 stage.
Its second visit to Ireland in 2015 was for Global Warfare, where a host of international drivers would challenge the Irish's 10-year unbeaten streak on home soil. There would be no luck of the Irish for Fink however, as it would turn out to be a case of lightning striking twice…
The Rebuild Part Deux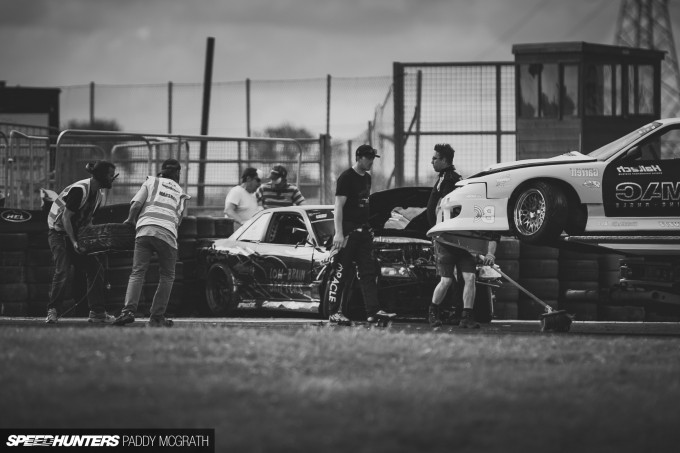 I do feel somewhat responsible for this, as ridiculous as it may sound. You see, I was supposed to shoot this very car on the evening of the first IDC event. I had jokingly told Julian Barnes, the Low Brain Drifters team owner, to make sure Fink didn't crash it during its first run out, and we now know how that turned out. With a second shoot arranged for the evening after Friday practice at Global Warfare, I didn't really feel like tempting fate a second time so I kept my mouth shut.
I was walking back to the track from my car when I heard the bang. I didn't see what happened with my own eyes, but have seen enough video and spoken to enough people to be able to tell you how the incident occured. The cars were pairing off to practice battles and find their orientation through the lead car's smoke. Fink would chase Robbie Nishida on this particular run, the Formula D competitor driving the hired left-hand drive 1JZ 240SX of former FD competitor, Darren McNamara. At this point I should probably point out that Fink was definitely one of the fastest on track that day and was almost certainly initiating harder and later than anyone else. In Fink's own words, "I had initiated, but when I looked up I saw that Robbie was still accelerating. I knew straight away that we were in for a bad time."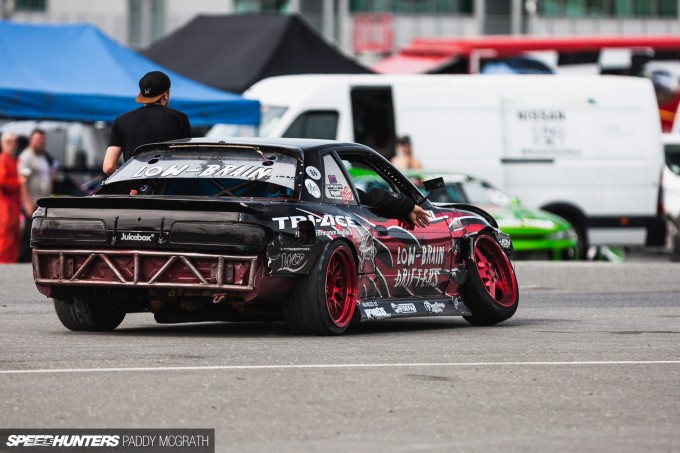 Nishida hit the wall hard, writing off the DMac 240SX in the process. Fink, with nowhere to go, had no choice but to follow Nishida into the aftermath, seemingly totalling the PS13 for the second IDC event in a row. It has to be said, that neither incident was his fault nor could he do much about it. With the 240SX being loaded onto the transporter, I could scarcely believe my eyes as Fink attempted – and succeeded – in starting the Low-Brain car, before gingerly driving off track and back towards the pits.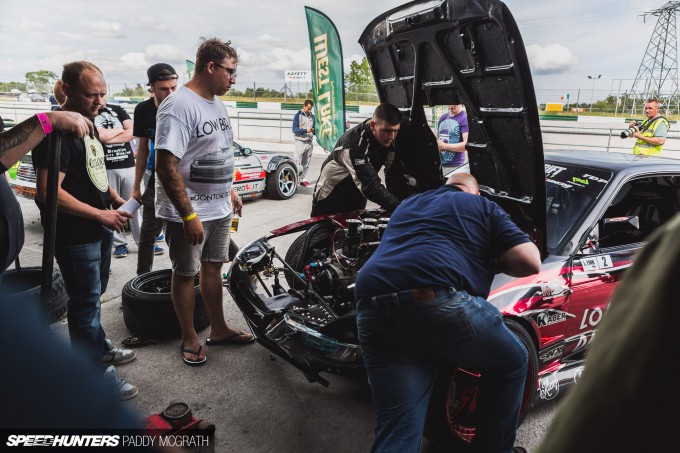 There was no question that whilst Nishida's car was toast, there was still a chance that the Low Brain Nissan could make another dramatic resurrection for the second event in a row.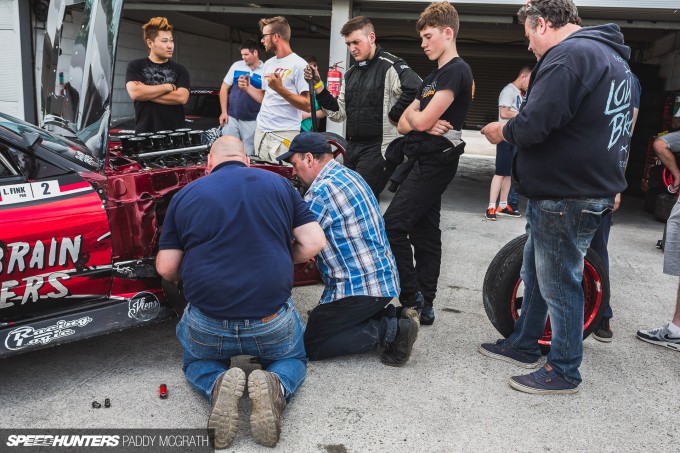 Cue another incredible instance of assistance from competitors and even their families to make sure Fink could fairly challenge the unbeaten streak. I guess there was some luck involved, as the only damage – asides from cosmetic – was a bent coil-over and a passenger-side chassis leg that required recovery to its original position.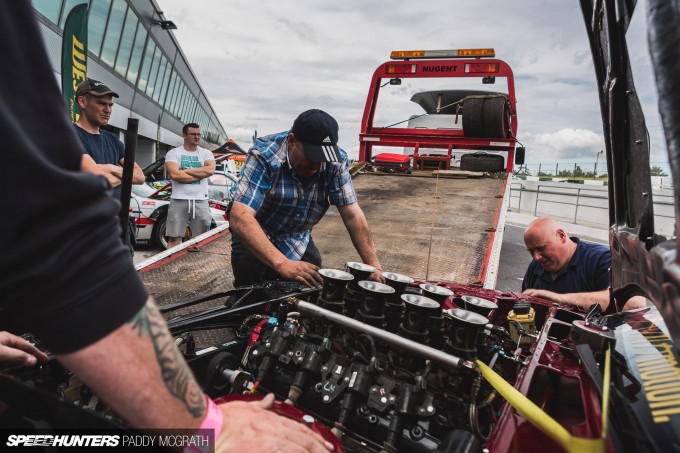 A coil-over was loaned from the Shanahans and the McKeever family deployed the winch and bed of their transporter to assist in pulling the leg back. I don't think the Low Brain team even had a chance to either object or assist, because the flurry of activity commenced immediately and was finished before we even knew it.
The PS13 would live to fight again.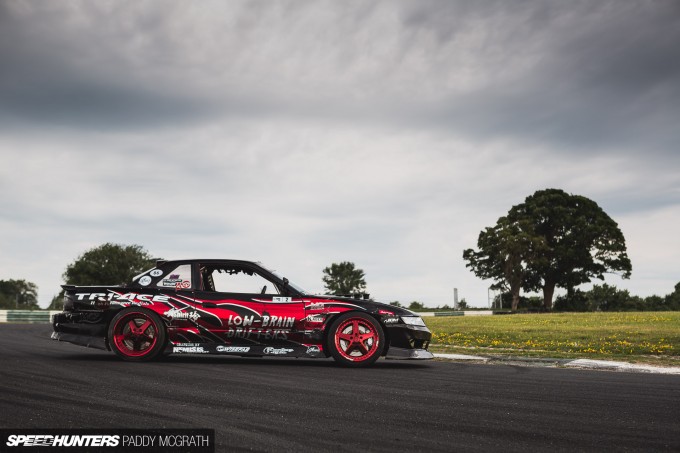 And fight it did.
But before the competitive aspect of the weekend kicked off, I decided that I should probably take the opportunity to photograph and document the car whilst it remained in one piece. Better safe than sorry and all that. So here it is, the all-new and only slightly used 2015 Low Brain Drifters PS13.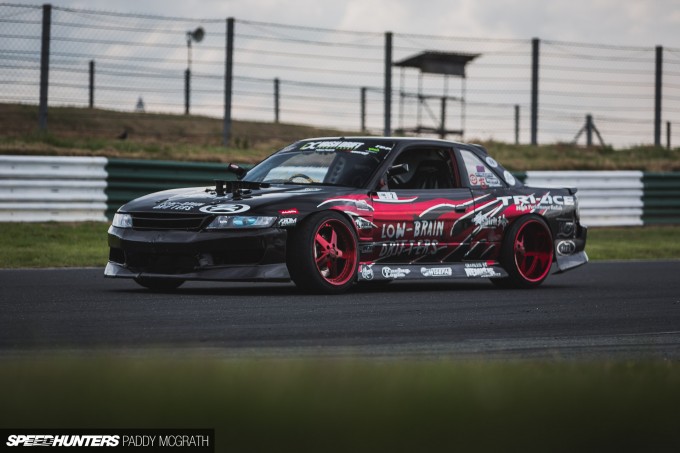 Whilst the car might be similar to its previous iteration, the old shell was dumped at the end of the 2014 season and a new shell was prepared for competition. It was also the perfect opportunity to overhaul any weak points in the setup. From the ground up, the car was rebuilt with consideration to not only its intended use, but also for its intended driver.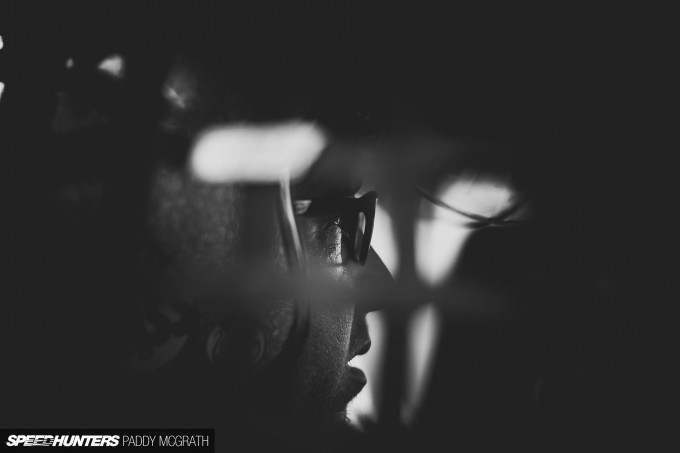 The Low Brain cars over the years have always been a sort of mercenary drift fleet. It started with Kawabata, then Fink, Deane, Chapman, Ffrench and back behind the wheel again for 2015 is everyone's favourite Aussie.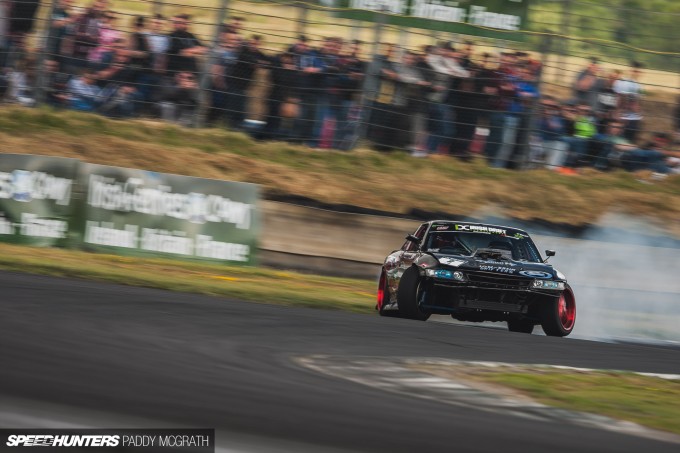 You'll read a lot of sh*t about Luke Fink online, but the simple fact of the matter is that he believes what he says and can back it up on the track. His belief is that drifting should simply be badass. Big speed, big angle and banging other people's doors. He's all about maintaining the spectacle of a sport that is slowly being sterilised. He certainly ruffles a few feathers, although often in jest, but his ultra-aggressive driving style suits the battle scarred S-chassis to a tee.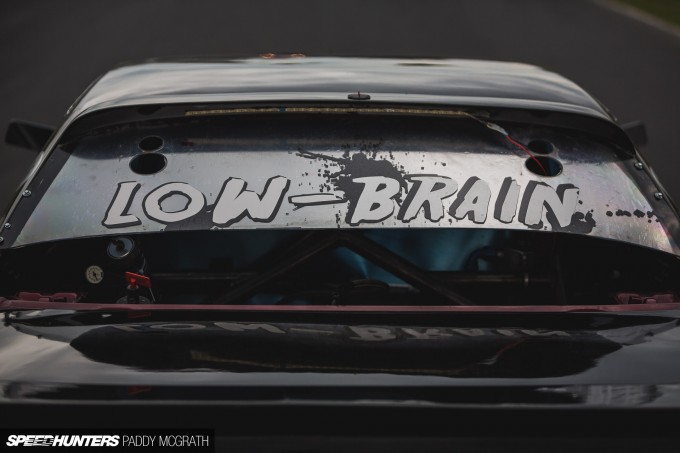 I guess at this point we should probably start talking about the car then…
Slightly Used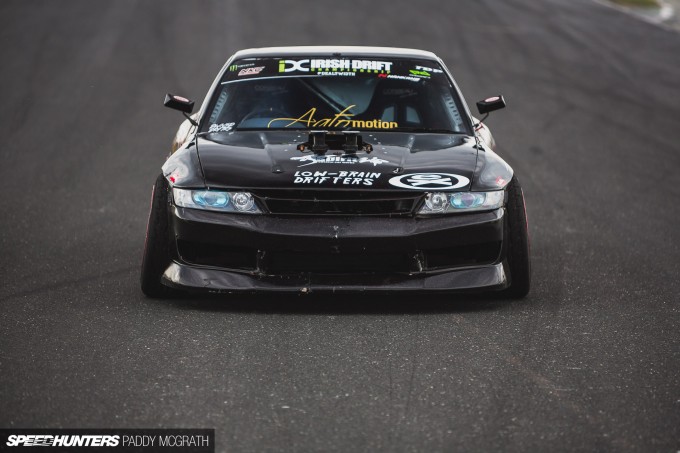 In a world full of wide-bodies, I can't think of a better look that so subtly improves the PS13. The Spirit Rei 'Odyvia' conversion perfectly compliments the lines of the two-door Nissan, but it's rare to see it applied to anything other than a show/street car, let alone one purposely and repeatedly trying to rub a wall or go door-to-door at 80mph with another car, sideways.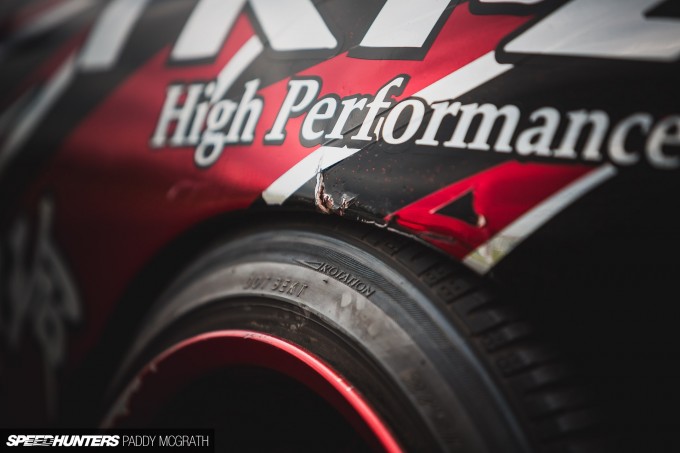 As far back as the first Low Brain drift car, solid looks have always been a hallmark of the team's builds. Wide wheels, low-slung stance and a feeling of aggression have been common features over the years. This is no different. With 18×9-inch and 18×12.5-inch Work Equips finished in a custom candy red, the Nissan could easily pass as a show car. The bodywork shows the results of running such an aggressive setup, but it's worth it.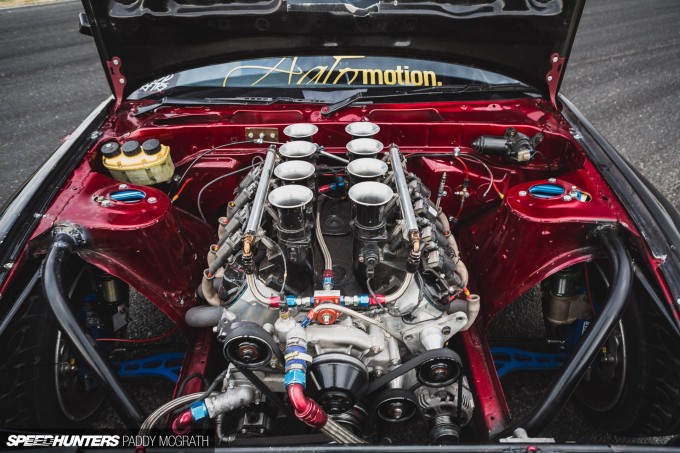 Providing around 600hp, this is a V8 with a difference. The big cammed motor provides a narrower but peaky power-band, playing a huge role in how the car needs to be driven. That is, as flat-out as possible with any hint of hesitation or slight lift being punished.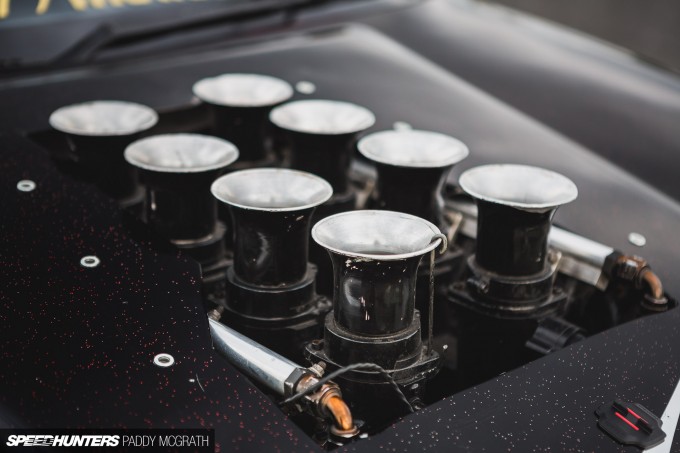 The engine has an interesting history too. Rather than being a run-of-the-mill V8 sourced from a street car, this particular engine was originally built for the purpose of endurance racing and once resided in Perrier Racing's Mosler MT900R. I somehow doubt that they ran exposed upright velocity stacks though.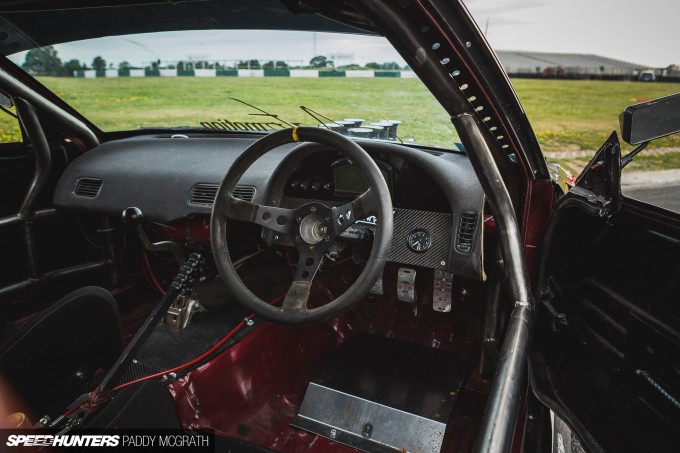 The interior is only as complicated as it needs to be. The shifter is connected to a Jerico 4-speed dog box, which itself transfers power to the rear wheels via a custom propshaft and an R33 GT-R rear end.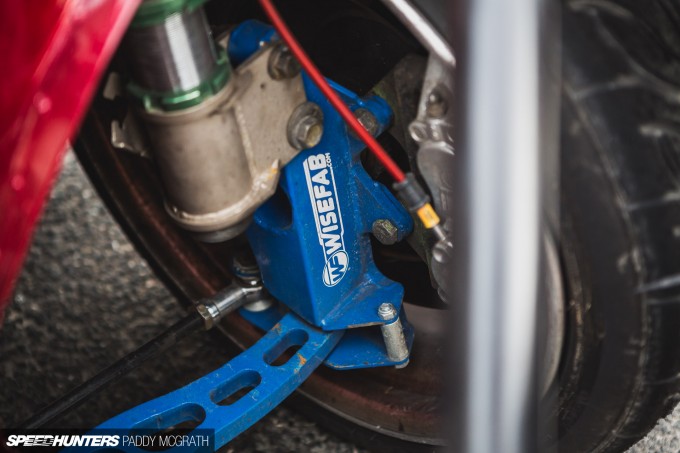 This just might be the first car I've ever featured that hosts two different front coil-overs, the reason why I explained earlier. Of course, Wisefab suspension components allow Fink to carry all of the angle, all of the time. He definitely extracts the most from this setup.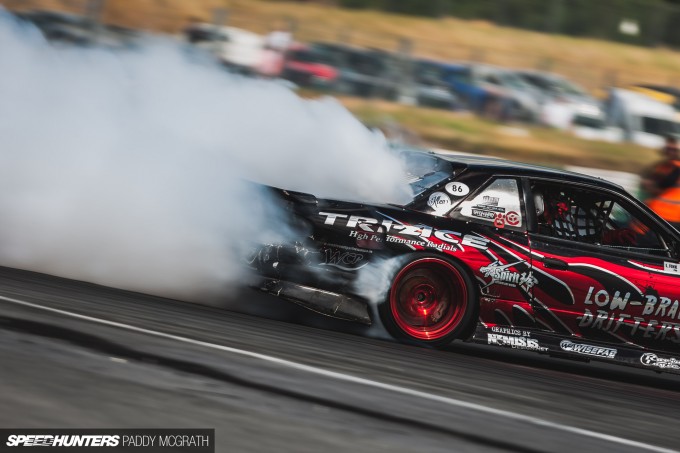 It's a simple and proven recipe and whilst there might not be a lot to get excited about, it's all about how the car is used that makes it so impressive. So many people try and talk the talk in the drifting world, but only a very select few can walk the walk.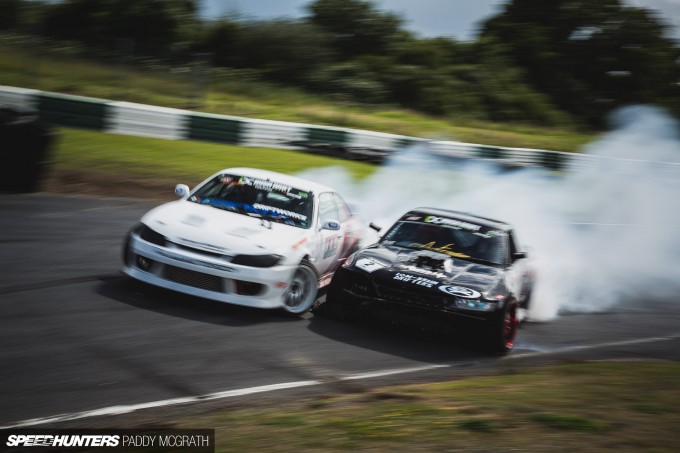 It wasn't long before Fink and the PS13 were back in action that weekend. As the tandem battles escalated, more and more body parts seemed to go missing. It would be a mistake to consider this rough or wild, instead think of it as positive reinforcement. If you lift in front of Fink, you're going to receive a polite touch to remind you that he's there. Not that you would need it with that V8 roaring just outside your door.
When you play with the limit, you will eventually find yourself on the wrong side of it. In one of the best battles I've ever seen, Fink ended up catching the wall with the rear crash bars whilst chasing Jack Shanahan during a OMT. The hit pulled the PS13 into the wall, hard. Of course, this car doesn't know the meaning of giving up. Just as the five-minute rule was about to expire – and Jack was about to use his own five-minute rule to extend Fink's and give him more time – the LBD car once again fired into life.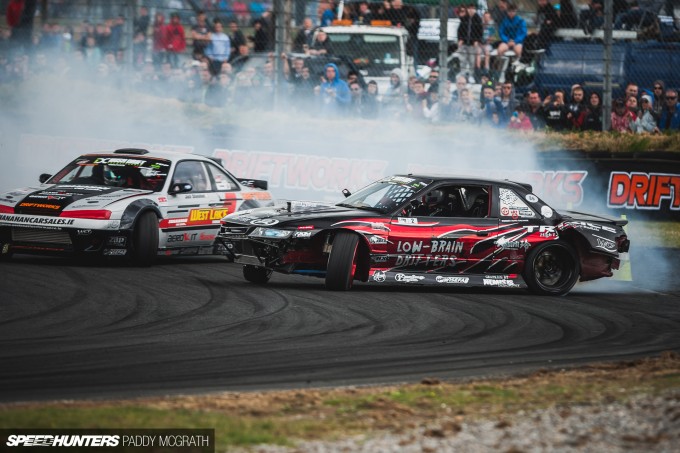 Limping to the line, with no battery or power steering, Fink gave it everything to try and advance to the Top 4. He might be only 16 (he was 15 at the time of this battle), but Shanahan knew he just had to go 80 per cent behind Fink to advance. Of course, Fink was going to leave everything on track and when he threw on the most ridiculous angle, it looked for a moment that he might catch Shanahan out. But it wasn't to be. Like a wounded warrior that just doesn't know when to give up, there was one last farewell burnout before the car retired to the pits and out of the event.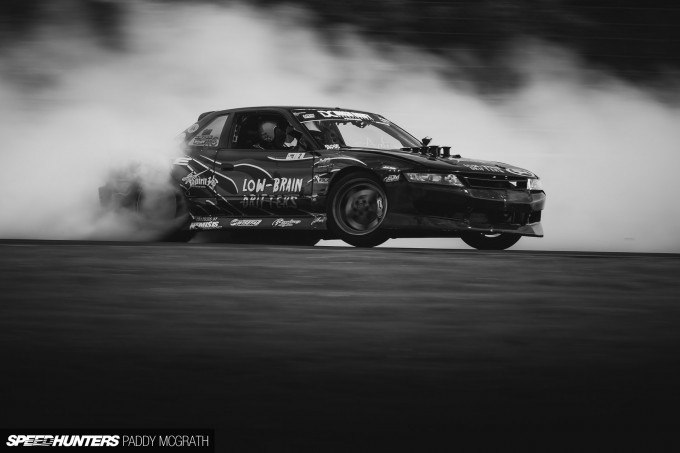 I honestly can't think of any other team – in Europe at least – that puts on quite a show at each and every event. Whilst they might not always follow the instructions laid down by the judges, instead favouring for going bigger, badder and faster than anyone else, they always evoke a reaction from the crowd.
Love them or hate them, you simply must respect their commitment to keeping drifting low brain.
Paddy McGrath
Instagram: pmcgphotos
Twitter: pmcgphotos
paddy@speedhunters.com
Low Brain Drifters' Mosler V8 Nissan PS13
Numbers
Max Power: 600hp
Engine
Chevrolet LS sourced from Mosler MT900R, Dailey Engineering dry sump system, Callie's billet steel crank, Oliver conrods, JE pistons, PRC Racing heads with oversized valves, chromoly pushrods, 670 lift cam, Kinsler throttle bodies, 1.8 roller rockers, solid roller lifters, 700 Patriot gold springs, 1000cc injectors, oversized headers, E85 fuel
Driveline
Jerico 4-speed dog box, Tilton triple-plate clutch, R33 GT-R differential & driveshafts, custom propshaft
Suspension/Brakes
Racing Logic coil-overs, Alcon 6-piston callipers (front) 4-piston callipers (rear), Wisefab components front & rear
Wheels/Tyres
Front: Work Equip 18×9-inch +8-offset with Triace 235/40R18, Rear: Work Equip 18×12.5-inch 0-offset with Triace 265/35R18
Exterior

Spirit Rei Odyvia conversion, House of Kolor black with Candy Red on top
Interior

Corbeau harnesses, Luke harnesses, Race Technology Dash 2
Drift related stories on Speedhunters
Bonus Video & Images