Art At Art Of Speed
One of the great things about heading to Malaysia for the Art of Speed show every year is the chance to meet inspirational people in the global custom car scene. In 2015 it was some of the most famous customisers in Japan, like Pumpkin Sally and the Mooneyes crew, to guests from South East Asia and as far afield as the US.
With this much talent on board this year, the Art of Speed organisers decided to run a pinstriping class the morning after the big show had ended.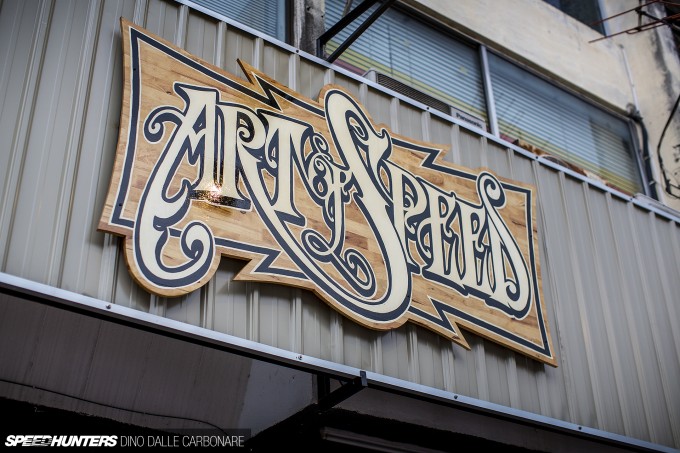 I was asked if I'd be interested in attending, and having seen famous artists like Mooneyes' own Hiro 'Wildman' Ishii in action at the Hot Rod & Custom Show every year, I was keen to learn a bit more about this unique art form. The venue was the freshly-opened Art of Speed shop, which also doubles as a rather cool chill-out spot for bikers and general fans of the rodding movement.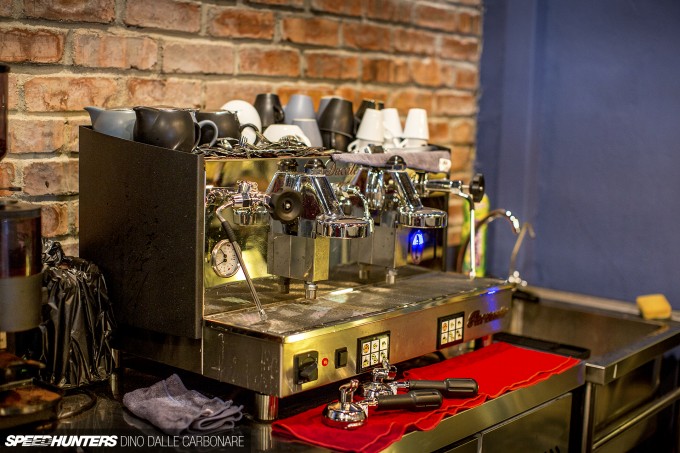 Once I spotted a proper espresso machine behind the bar counter in the cafe area of the shop, I knew I was in good hands!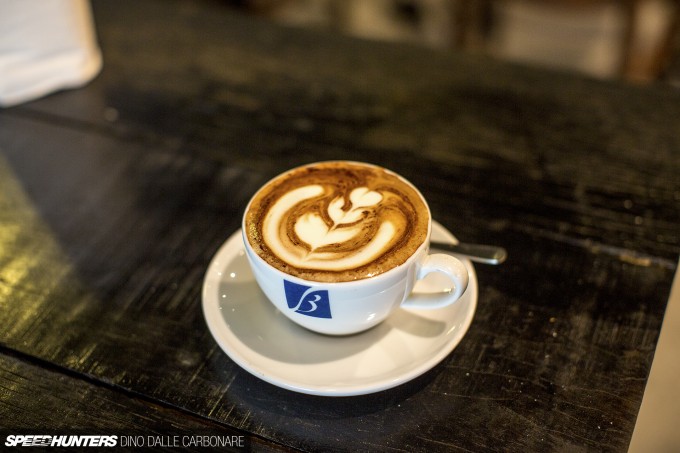 First things first, a nice steaming-hot cappuccino to get me into gear before what promised to be a pretty full-on day of shooting.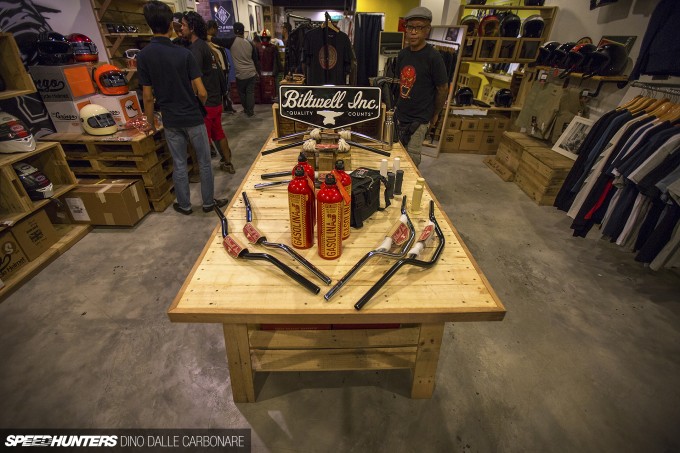 If you're remotely interested in custom car and bike culture and live in Malaysia, you'll definitely love this shop.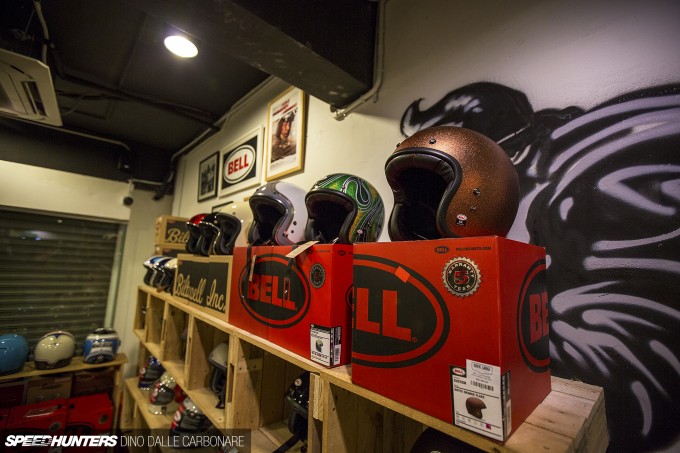 It's stocked up to the brim with all the clothing and accessories one needs to live the custom life, including this ace selection of vintage Bell helmets.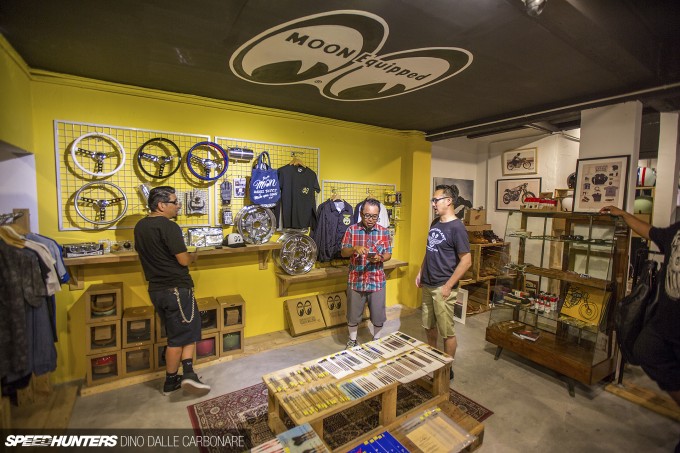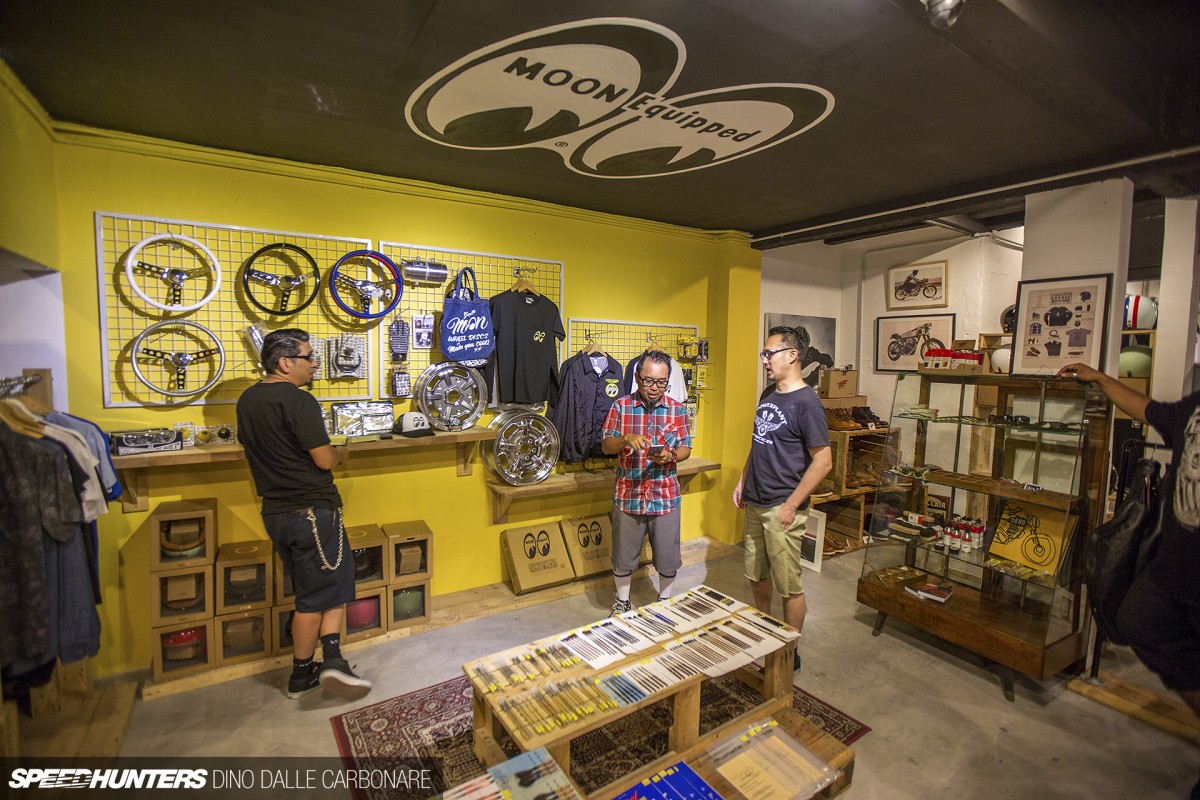 Art of Speed is also an official dealer for Mooneyes parts and merchandise, and it was cool seeing a corner of the shop set up and dedicated to the iconic brand.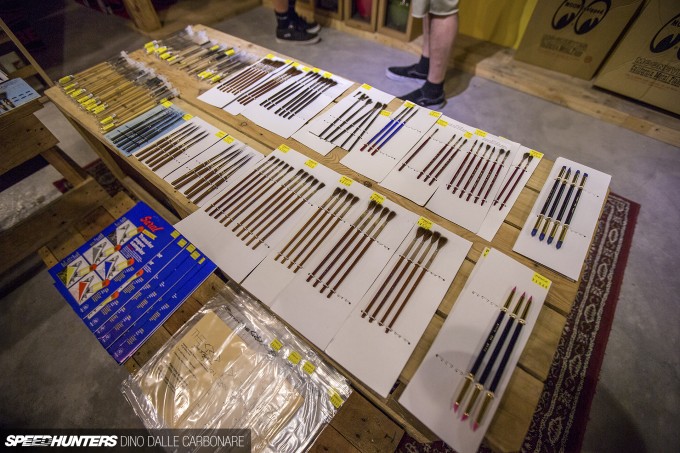 One thing that's really picking up in the Malaysian custom scene is pinstriping and all of the other artistic and challenging ways to paint and finish a project car or bike.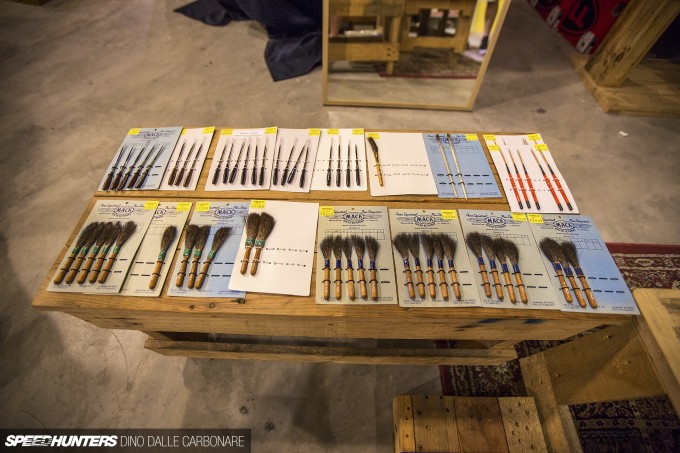 Since I knew nothing about this curious form of art, while the teachers were setting up for the class I had a little nose around at some of the things you need to get started. First up, the brushes. They come in a variety of shapes and sizes depending on what you want to do.
The Class Begins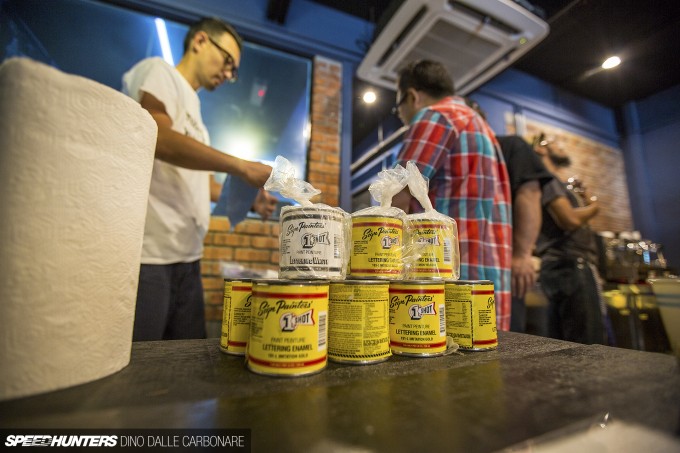 There were quite a few students enrolled in the class and that called for many tubs of lettering paint.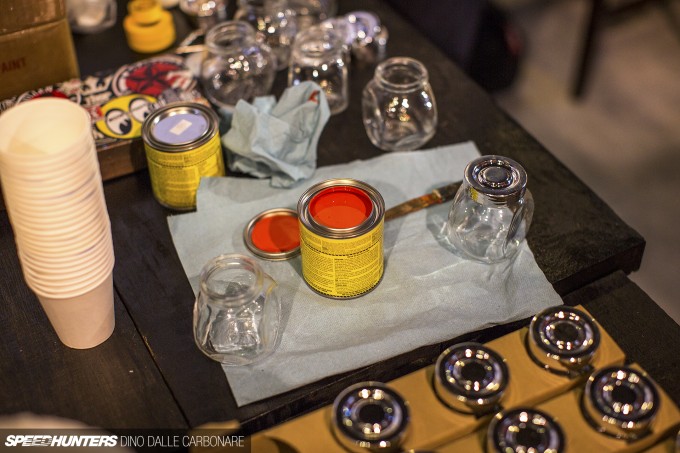 The color of choice was a very bright fire engine red, which was distributed into paper cups where brushes could be dipped. The glass jars were used for rinsing the brushes afterwards.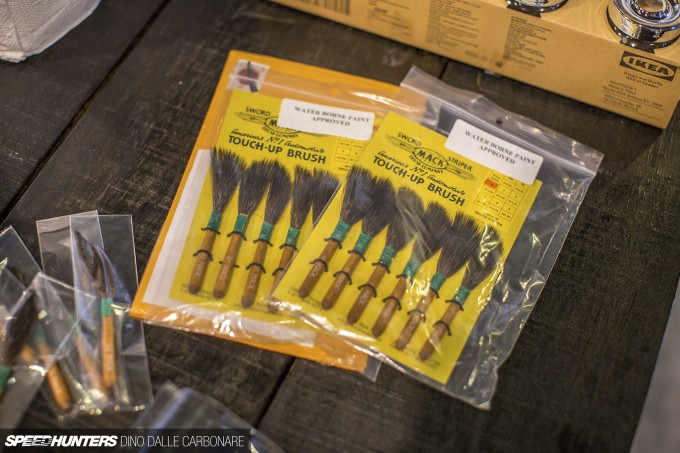 Two types of brushes were also provided.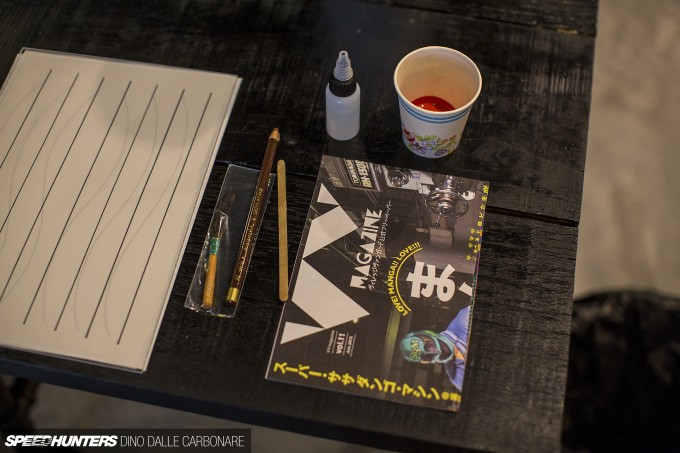 This is what the students found on their tables – a coloured pencil to lay down a design, the paint, a brush, and some paper to mix the paint on and load and shape the brush before moving onto a canvas.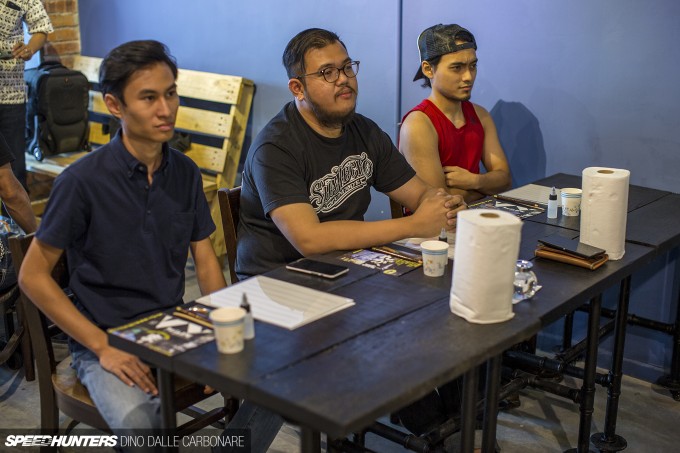 The students arrived and got comfortable.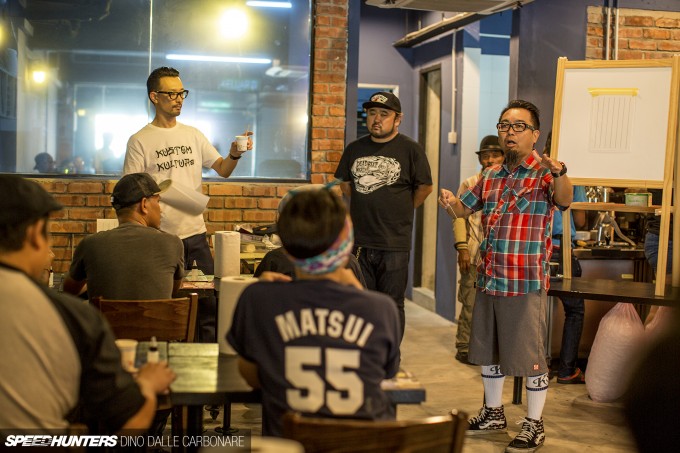 Doing the teaching were famed Japanese artists Jetwrench and Boo, with The Nash (right) taking care of translation. Both artists had spent the previous two days pinstriping all manner of things that people brought to them at the show, from phone covers to helmets and model cars.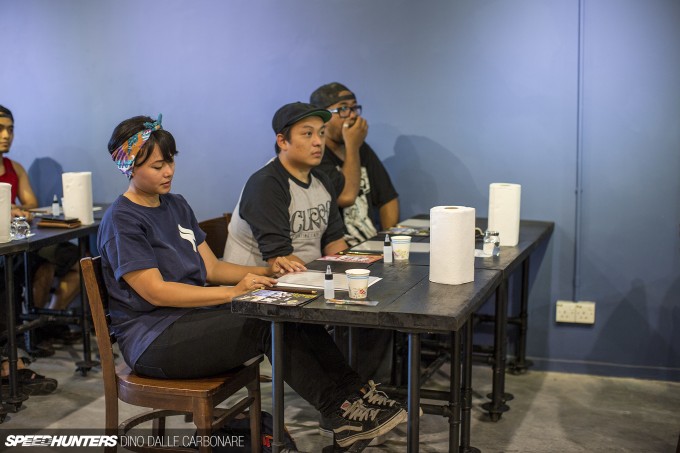 Everyone was eager to learn, but before they got into it a general rundown of how the class would progress was given.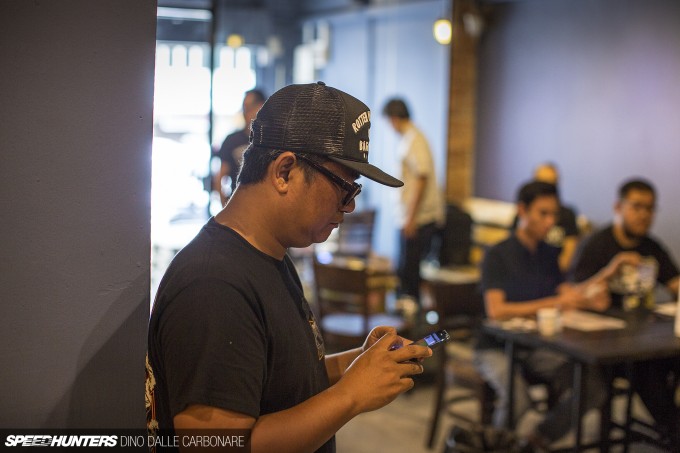 It was all under the watchful eye of Asep, the man behind Art of Speed, who was busy updating his Instagram feed with live pictures form the class.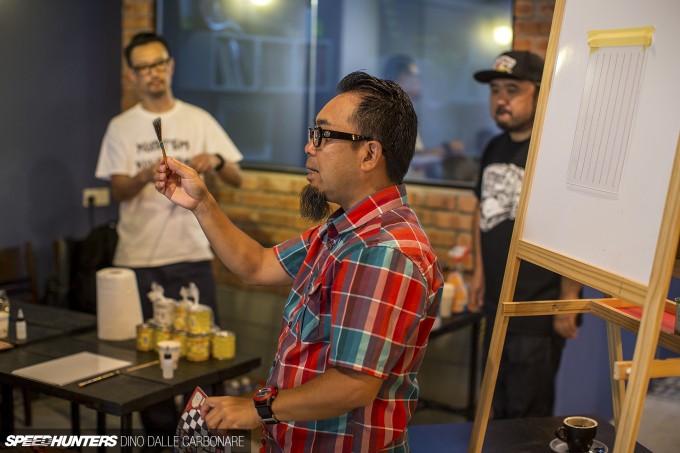 The first thing that students had to do was familiarise themselves with the brush and find a comfortable way in which to hold it. A firm yet relaxed grasp is needed to lay down a smooth stripe.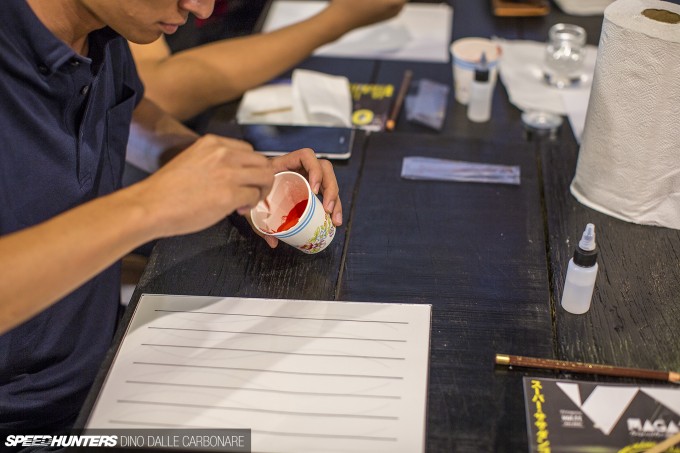 After a quick mix of the paint it was in with the first dip.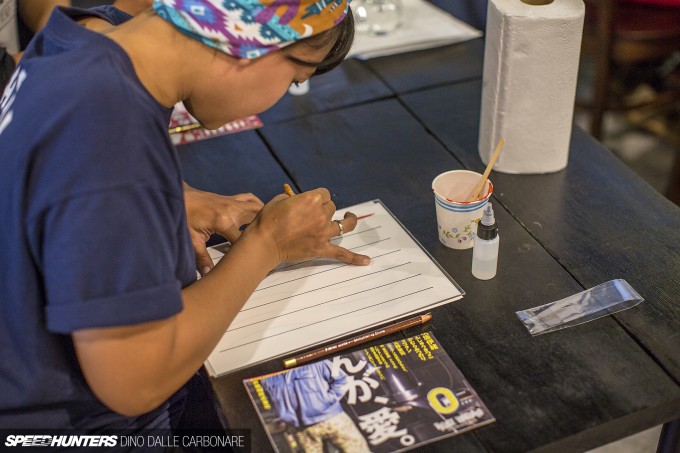 The teachers asked the students to lay down their straightest and most width-consistent line on the transparent sheet of plastic they had in front of them. A template beneath acted as a guide.
Brush, Paint, Stroke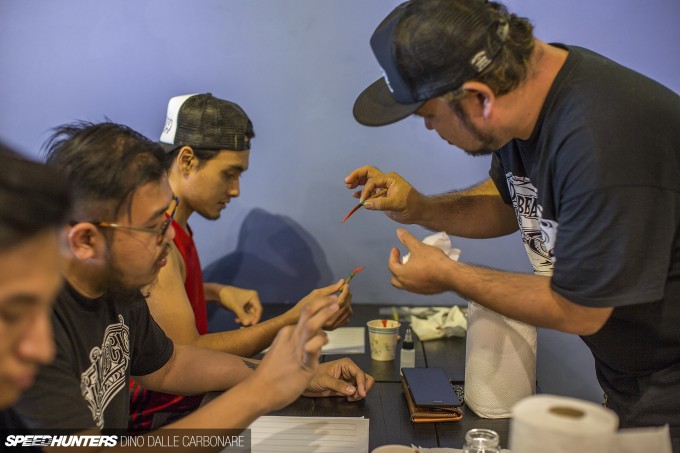 The teachers stopped by each student to give tips and pointers and answer any questions.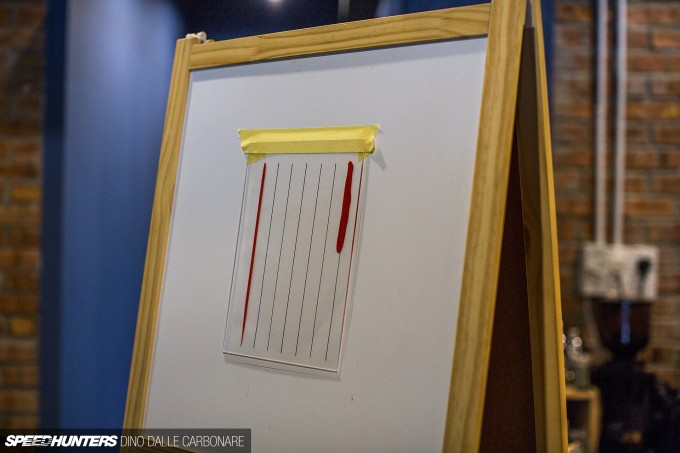 This was the idea. If you aren't smooth or careful it's so easy to lay down a thick and horribly inconsistent line. Being very gentle with the pressure and using the entire length of the brush is key, as is correctly loading up the brush with with paint and shaping it in the correct way before starting.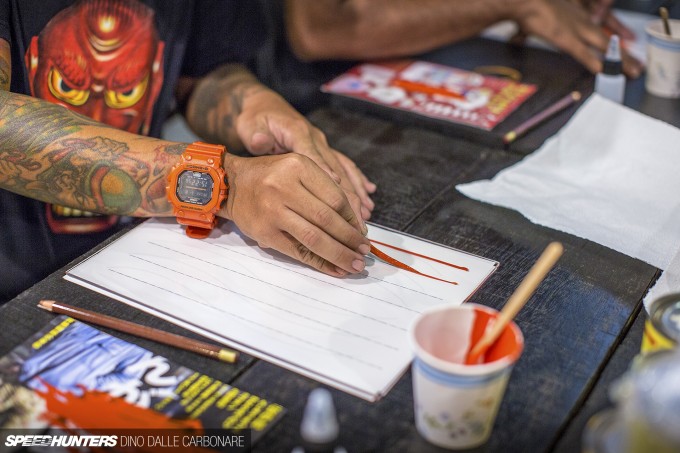 Most of these guys weren't total beginners so there were some nice lines being drawn right from the get-go.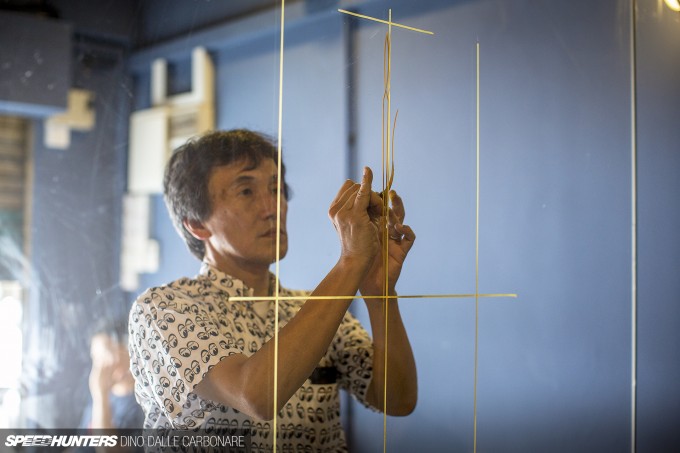 While the class was going on, one of the shop windows was being pinstriped by Wildman himself.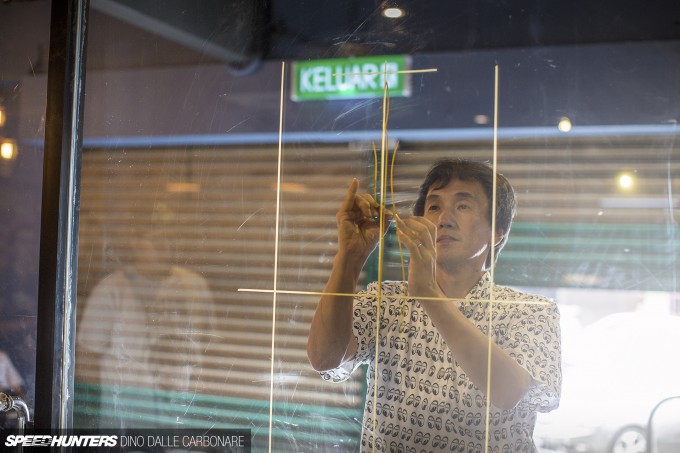 It was pretty incredible watching him work too. I always thought I had steady hands, but the guys that do this sort of thing professionally are on another level. Not only that, but the concentration and skill when its comes to symmetry surprised everyone who watched on.
I made a short video to illustrate some of the points that made above, staring off with how Jetwrench prepares a paint brush before use, and how different students hold their brushes. Hit play and check it out.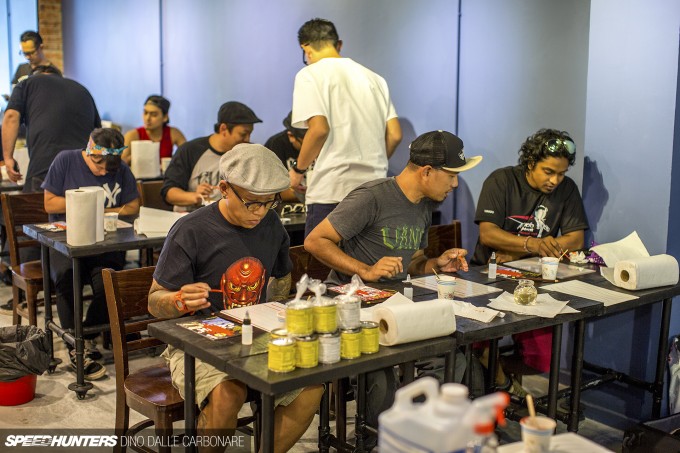 The more I watched these guys go at it, the more obvious it became that it's way harder to do than the pros make it seem.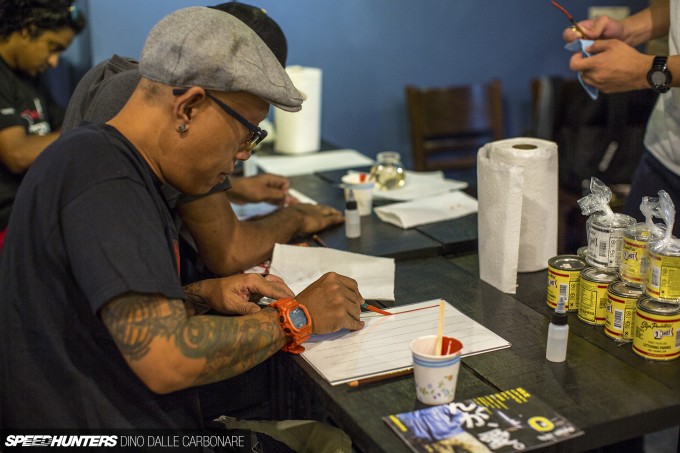 Everyone has their own way to hold the brush, but it makes sense to use a finger for support so that you can maintain the same pressure throughout your line.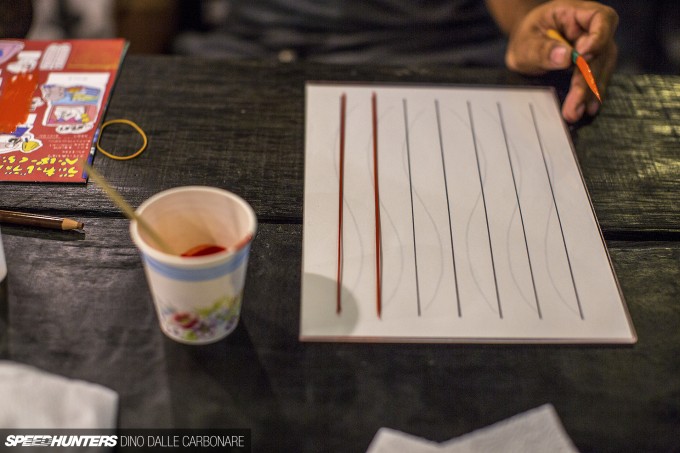 The students were doing seriously well. See the thickness of the line? Okay, now look at the brush itself. It's necessary to keep the bristles loaded with paint to create that thin leading edge and a smooth straight line.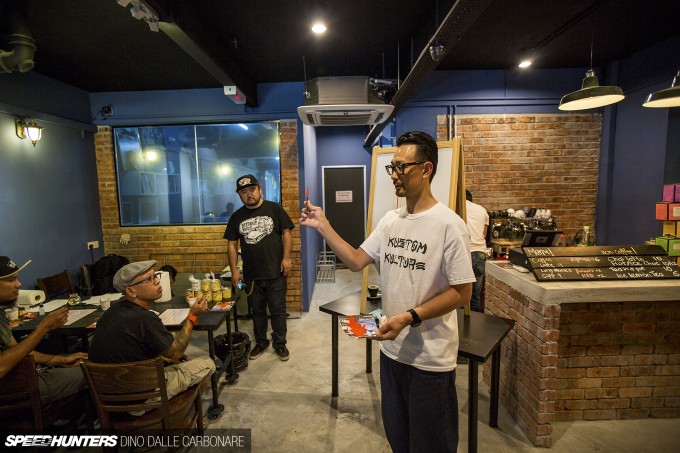 With more practice, everyone was getting the hang of it. It may have only been an introductory class, but it was incredibly interesting to watch and unlike anything else I have ever covered before for Speedhunters.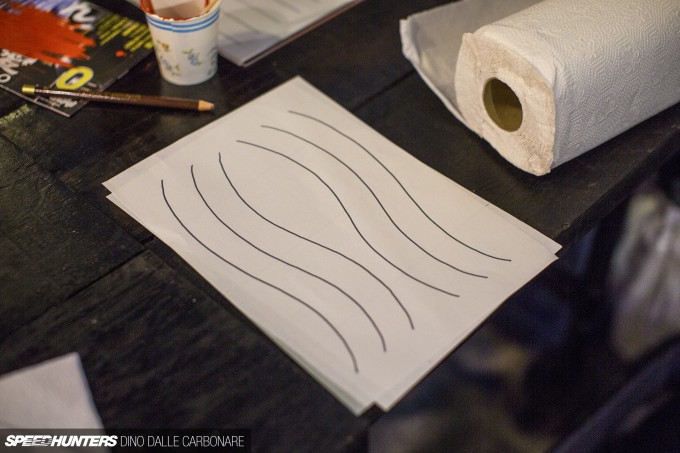 Then it was on to slightly more complicated things, like laying down curved lines and practising symmetry.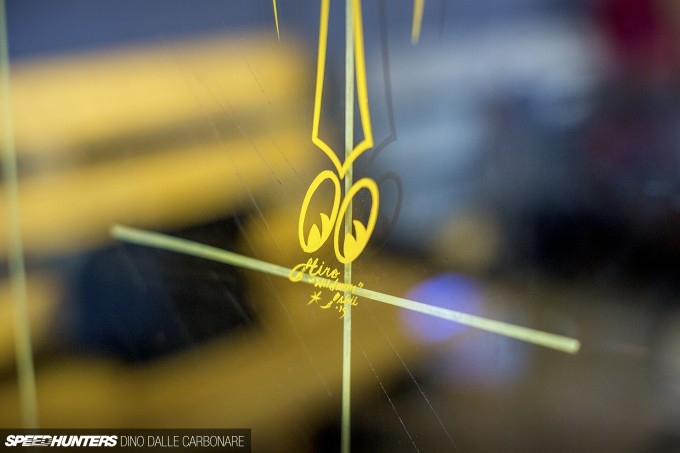 It wasn't long before Wildman had finished his design and signed it using the exact same brush. Just look at how tiny those letters are!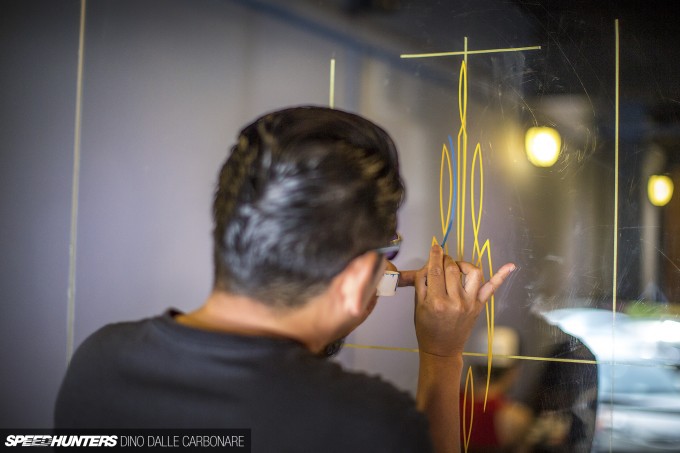 Another pioneer of Japanese pinstriping then took over, Makoto of M&K Custom Signs adding his own lines on top of Wildman's.
As I had to head out and shoot some other shops and cars that day I left the guys to do their thing. It was a really interesting morning, and from what I witnessed I now have lot more appreciation for this often overlooked side of custom car and bike culture.
Dino Dalle Carbonare
Instagram: speedhunters_dino
dino@speedhunters.com