Yeah, It Goes Okay.
As selecting just a couple of cars to spotlight at the recent Chrome Expression Session proved, this Speedhunting lark isn't always straightforward. It was one of those days where things appeared levelled-up from the usual day-to-day of New Zealand car culture. Photogenic spotlight opportunities scattered every inch of available tarmac, and early on it was a case of considering a spotlight for almost anything on four wheels that fell within my viewfinder.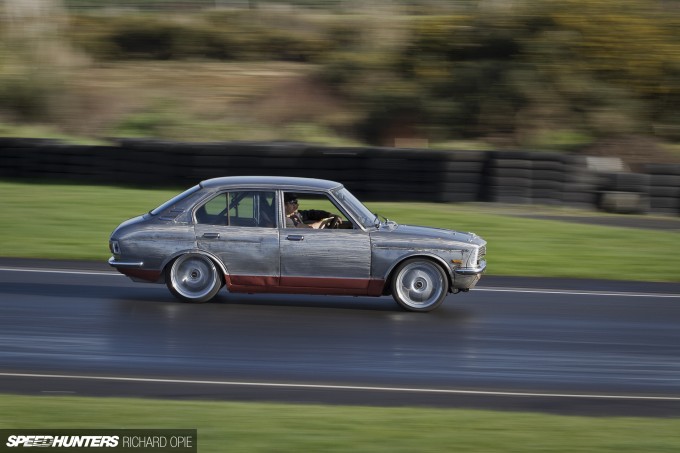 It wasn't looks that drew me to this little KE20 Toyota Corolla, though. Incidentally, I hadn't even laid eyes on it when I decided the car needed a closer look. Standing ankle-deep in the grass just past the apex of turn three at Hampton Downs Motorsport Park, my ears pricked up as I heard the unmistakably high-pitched language spoken by a large turbo spooling.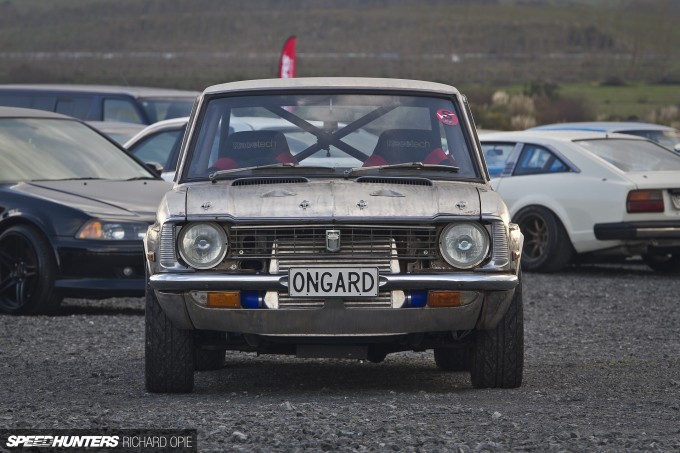 And it took a while to sink in. Amongst retro Japanese hardware powered predominantly by Mazda rotary powerplants, the Corolla clearly had something of the piston persuasion humming beneath its 40-year-old bonnet. But even though I think my ear for engine recognition is reasonably well tuned, I just couldn't quite nail what it could be. A trip to the pits for a chat with its owner Dan Bassett soon put me on the right track.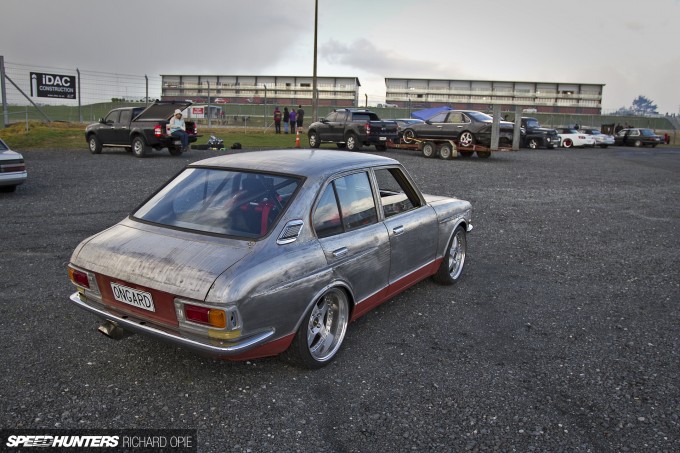 Before we get into the techy stuff, I reckon it's worth telling the story (albeit abridged) of Dan and his 1974 KE20, which began 15 years ago with the exchange of NZ$350 (US$220). For that sum total, Dan's first car afforded him the freedom to go anywhere – as briskly as the factory 3K engine and 2-speed Toyoglide auto would allow anyway.  But for the price paid (try finding one for those dollars now!) Dan wasn't about to complain about the relaxed performance.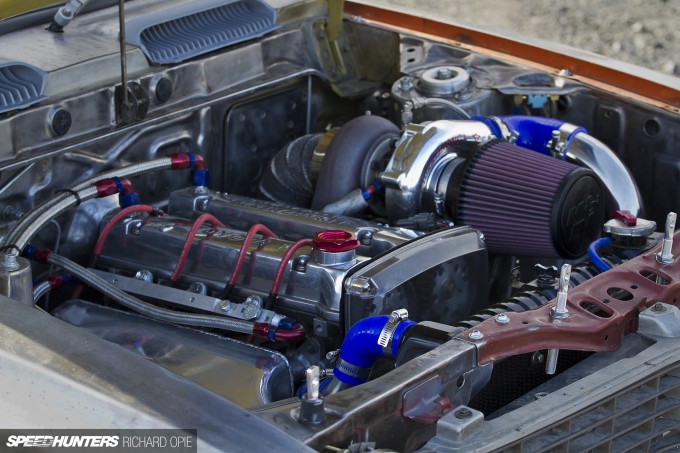 Initially he planned to do a manual gearbox swap and a few other minor modifications and use the KE20 as a daily work hack, but that all changed when Dan took a passenger ride in a friend's 4A-GZE-powered Mk2 Ford Escort. With a supercharger pulley upgrade forcing extra boost down the 1.6-litre four-pot's ports, Dan was immediately hooked on the power-to-weight ratio offered by the Escort, and soon enough had unearthed a Toyota 4A-GZE of his own.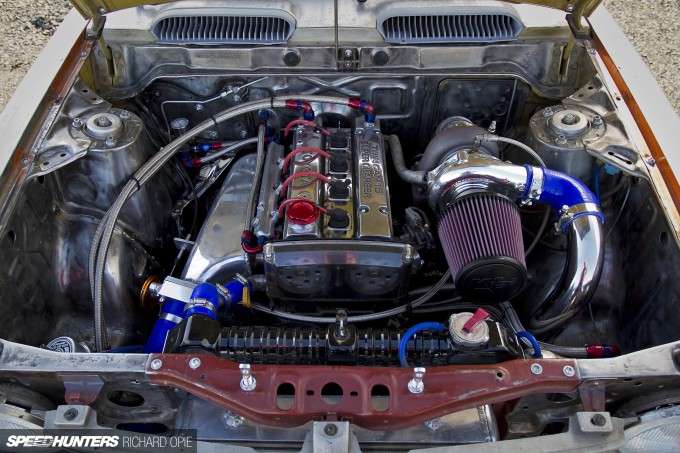 Originally found in a transverse orientation between the struts of an AE101 Levin/Trueno GTZ, much like Dan's deviation from his original plan the 4A-GZE has veered far from Toyota's original blueprint. Although retaining a 1600cc capacity, positive inlet pressure is now provided by a polished Turbonetics T3/T4 turbo sitting proud atop a Sinco high-rise manifold. Forged H-beam rods secured with ARP fasteners ensure the bottom end holds together, while breathing is enhanced by a comprehensive port and polish, 1mm oversized valves controlled by TRD double valve springs, 274-degree cams and a custom inlet plenum fronted with a 65mm throttle body.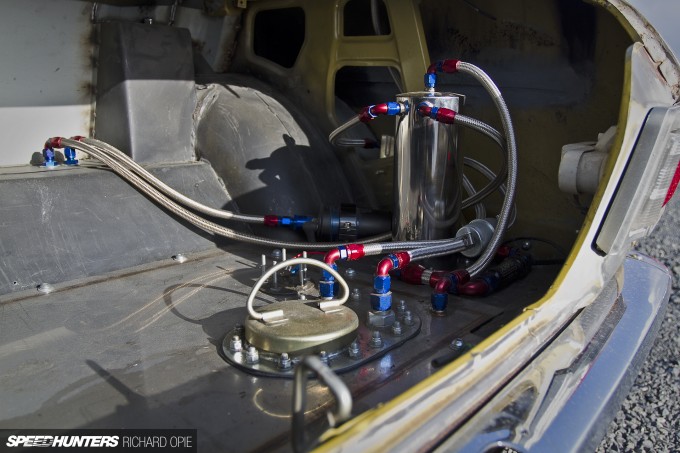 From the boot, a Carter lift pump feeding an AMS 380lph high pressure pump delivers pump fuel to four ID1000 injectors with a Link G4 ECU providing the fire orders. The result is a stout 315kW (420hp) at the rear tyres on 23psi of boost, although Dan reports the car hadn't stopped making power on the dyno, but a lack of MAP sensor resolution curtailed any further gains.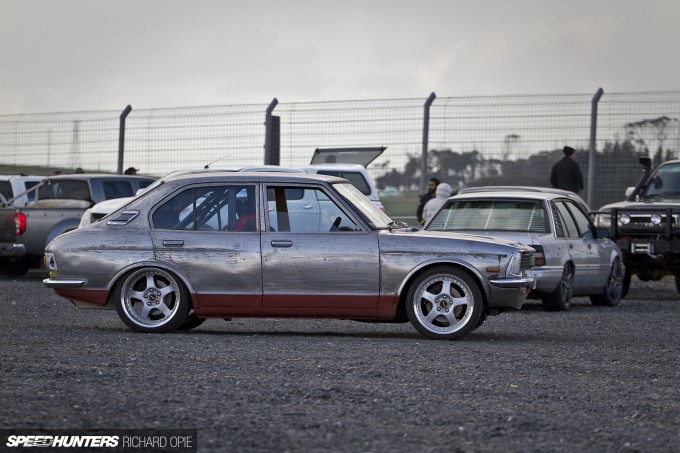 Beneath the skin and keeping the rubber on road, the Corolla employs coil-over suspension at all four corners – the front consisting of Koni shocks in custom strut housings, and KYB units in place of standard leaf springs at the back. Hiding under the rear floor is a shortened Toyota Hilux diff located by a 5-link arrangement, while discs all around with big 4-pot front and 2-pot rear calipers ensure than when Dan feels like scrubbing off the kind of speed 420hp induces, he's more than able.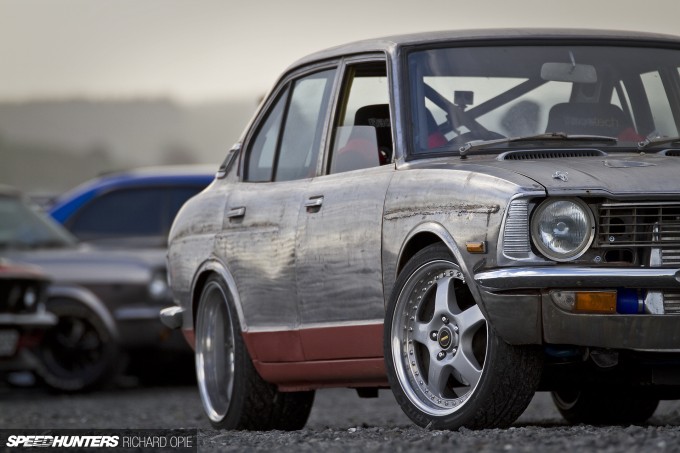 Even though Dan freely admits the bare-metal finish of the Corolla is a by-product of the car being a work in progress, he simply hasn't chosen a final colour. It's still just so cool in that rat-rod kind of way though. Showing the world just how solid and honest the KE shell is (trust me, their reputation for frugality is exceeded only by their susceptibility to rust), the bare metal also showcases the steel wide arches added to contain the sizeable Simmons FR 17-inch wheels, staggered in a 6.5-inch wide front and 10.5-inch wide 'big and little' style formation. Factory chrome and embellishments retain the '70s flavour of the exterior.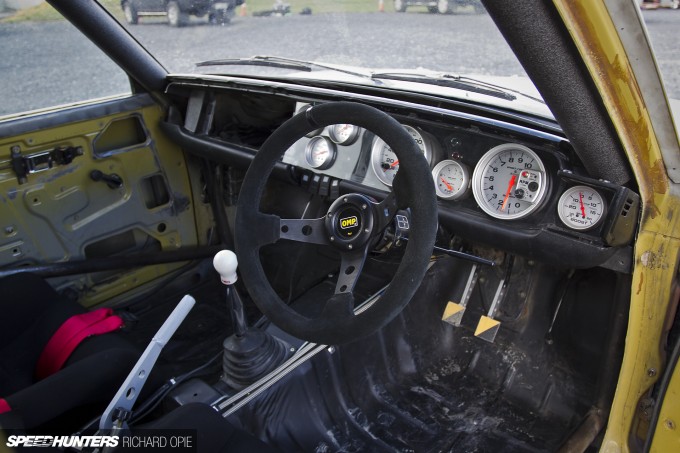 Inside the car is nothing but business. Mindful of the potential to get into trouble with the levels of power on offer, safety has become a priority inside the stripped-out cabin space. Dominating the interior is a comprehensive rollcage with bars tying in the front strut towers for added rigidity. Quality Racetech fixed-back seats and harnesses secure Dan and anyone brave enough to ride shotgun, while driver essentials are limited to a selection of Auto Meter instruments, a suede-wrapped steering wheel and a reverse-swing pedal box.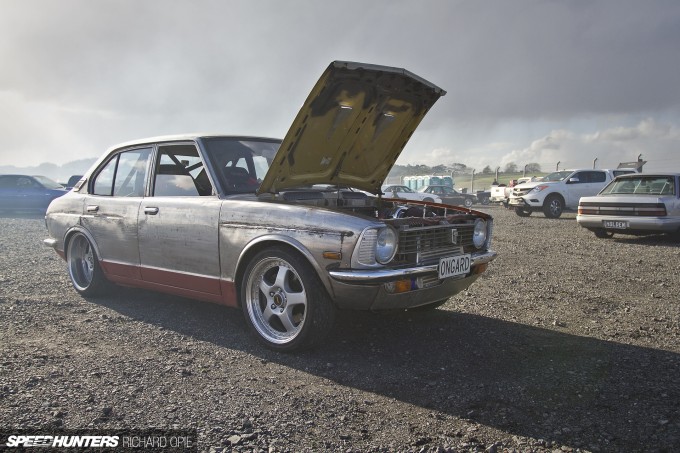 A decade and a half in the making and who knows how many left, this diminutive Japanese classic is going to be one to watch out for in the future. Only when he's totally satisfied with the build will Dan have the car put through New Zealand's low volume certification process for modified vehicles. That's right – it's a street car. I'm already looking forward to seeing how this tough little scrapper of a Corolla develops, hopefully losing none of its 'built how I want to build it' attitude.
Richard Opie
richy@speedhunters.com
Instagram: snoozinrichy
More stories from New Zealand on Speedhunters
Cutting Room Floor