Each time I attend the Rolex Monterey Motorsports Reunion at Laguna Seca, there are few things I look forward to more than seeing historic Trans-Am cars take to the track.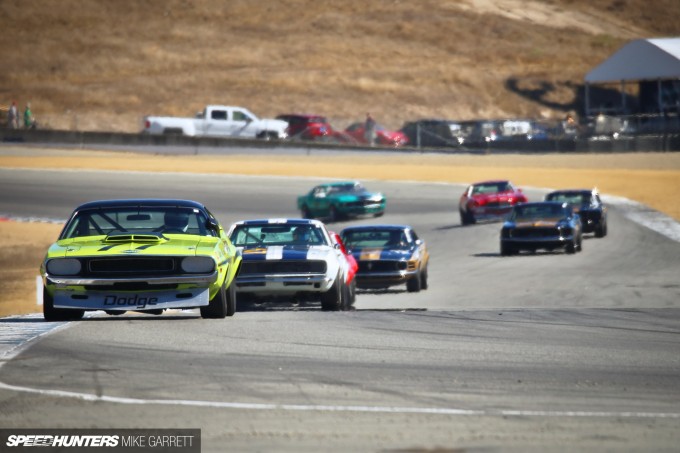 Watching dozens of these V8-powered pony car racers running laps at the same time is simply magical. It overwhelms the senses and I simply can't get enough of it. The cars are awesome looking, their sounds are amazing and the racing itself gets quite competitive.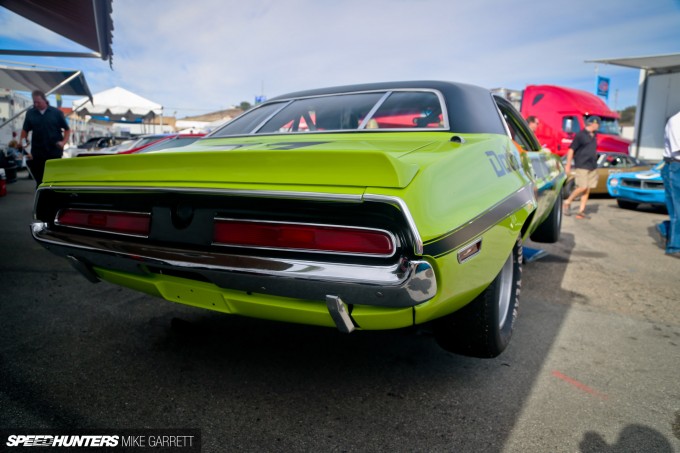 While the majority of the cars running in the Trans-Am group are Ford Mustangs and Chevrolet Camaros, there's also the distinct red, white and blue AMC Javelins. Then there's this Sublime Green 1970 Dodge Challenger.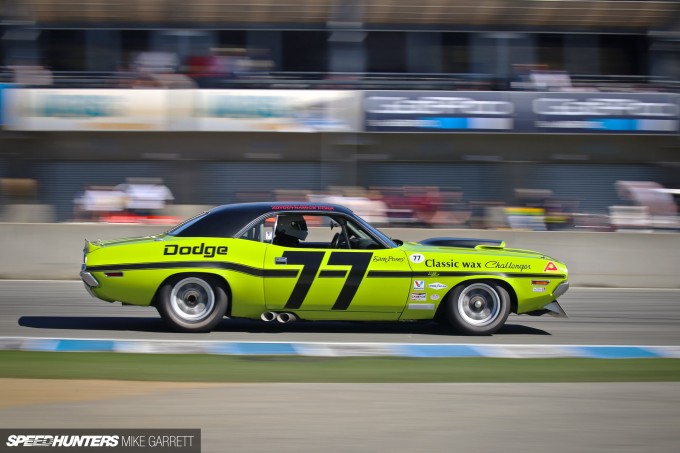 It's the famous Sam Posey Classic Wax car – easily one of my favorite entries from the huge vintage Trans-Am group. This year I decided to take a closer look at this legendary Mopar.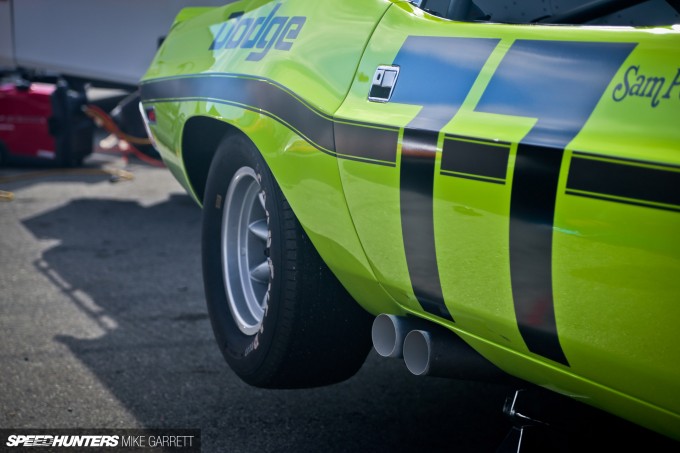 Compared to other factory-backed teams, Chrysler's participation in Trans-Am was undertaken on a much smaller scale. This car was built at Dan Gurney's AAR shop and finished at Autodynamics just in time for the start of the 1970 season.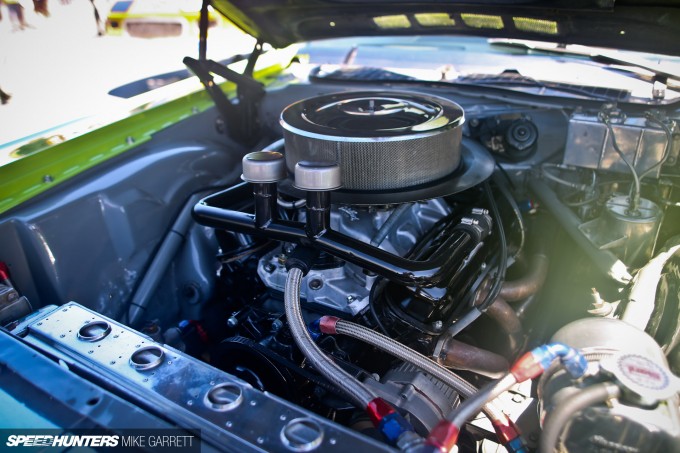 Under the hood sits a variant of the Chrysler small block V8 displacing 303 cubic inches. The street version was larger at 340 cubes, but Trans-Am rules required the use of a smaller, de-stroked motor. Even so, output is an impressive 460 horsepower.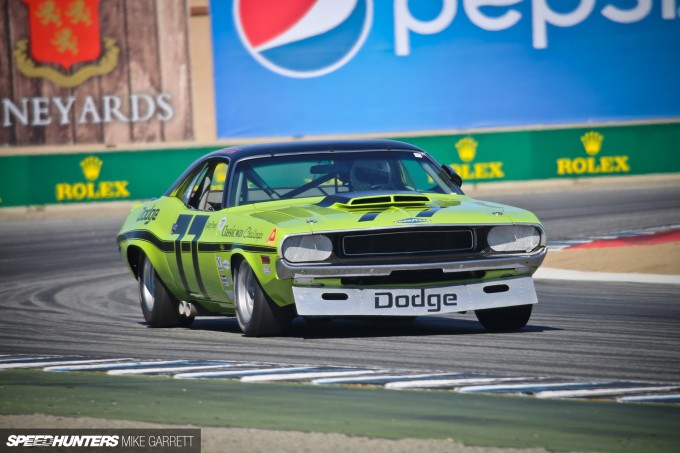 The body doesn't look much different from the production Challenger, but like a lot of Trans-Am cars there were many tricks used to make the thing as light as possible.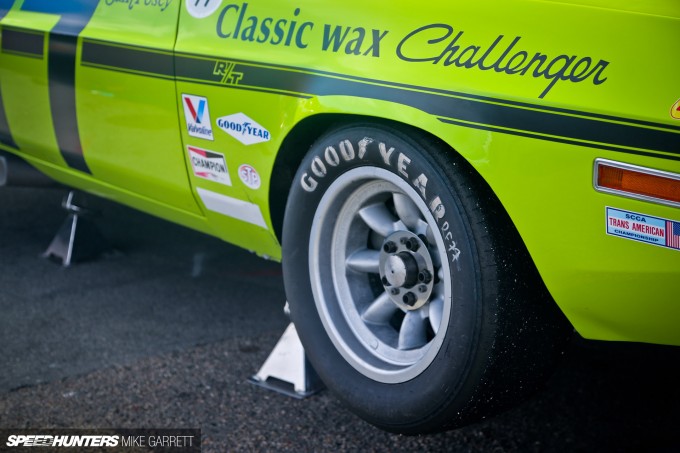 In fact, at the 1970 season opener at Laguna Seca the car failed tech inspection after an official accidentally dimpled the roof with his elbow. The body had been excessively acid dipped in the name of weight savings, and the officials would not allow the car to race unless the roof was changed.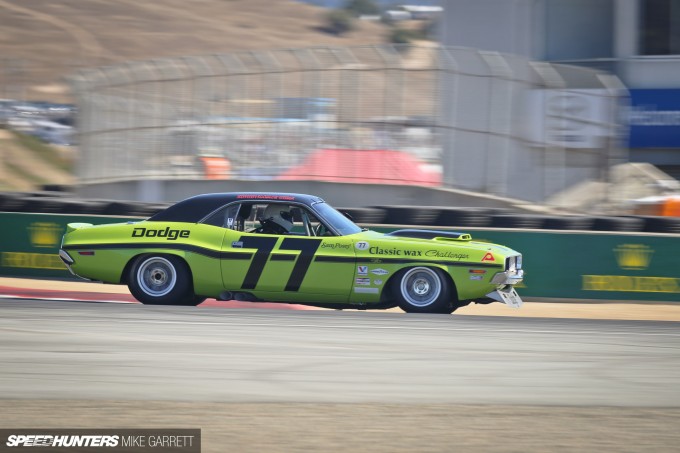 A call to Dodge HQ was made and shortly afterwards Sam Posey was out on track using the roof panel sawed off a Challenger from a Monterey Dodge showroom.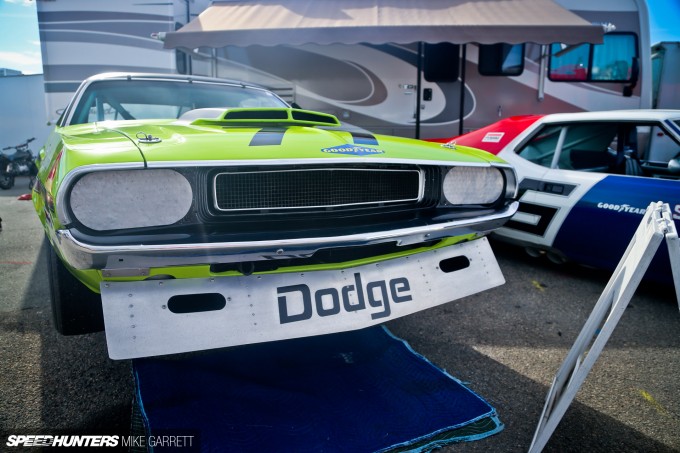 Although the car couldn't quite top the big dogs of the Trans-Am series, it still turned in three third places and finished fourth overall in points behind Ford and AMC. Not bad at all for a small-scale effort!
It's just one more of those cool stories from auto racing in the 1970s.
Mike Garrett
Instagram: japanifornia_media
mike@speedhunters.com