From Ukraine To Jordan
Just in case you hadn't already noticed, here at Speedhunters we love cars and photography – a lot. We know that many of you share these passions with us, so last month we put out an announcement asking for you to send us your favourite Speedhunting Moments for us to share. As a result, we don't think we've ever received so many emails in our IAMTHESPEEDHUNTER inbox! As always, it was difficult to select which photos to feature, and in the end we managed to narrow it down to 30 action-packed images from all corners of the world.
So sit back and enjoy these beautiful, exciting and crazy moments that some of our readers have captured through their lenses, and don't forget to enable Presentation Mode for maximum effect!
Max Lazoryshynets, Ukraine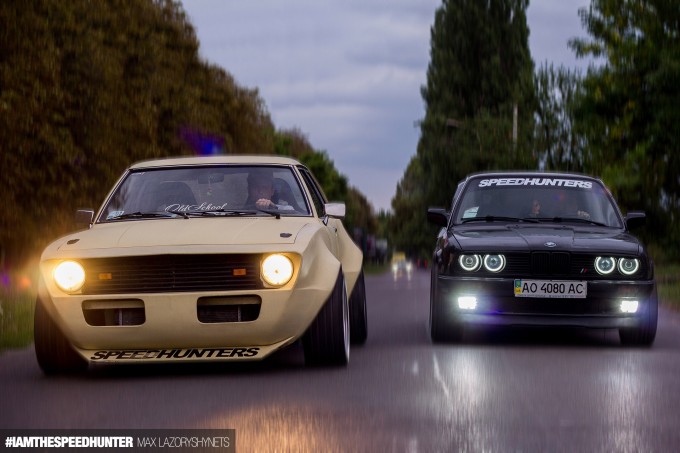 Max from Ukraine sent us this awesome shot of his BMW V8 powered '79 Ford alongside a friend's BMW E30 316. Max writes, "After almost 4 years in the build, my Ford Taunus was finally ready to start some tire-killing on the road. To remember this important moment in history, my friends and I decided to do a photoshoot, which turned into a friendly impromptu race. There was a straight stretch of road not far from our place and we decided to make several quarter-mile races. This photo really captured the fun atmosphere as it was an exciting moment for me."
Robert McCarter, North Carolina, USA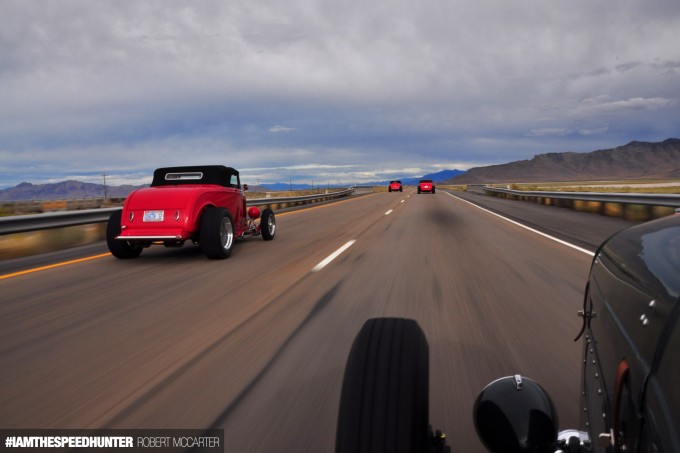 Robert McCarter managed to capture an awesome moment from the viewpoint of one of six '32 Ford Roadsters, somewhere between Bonneville and Salt Lake City. It was taken on a cross-country trip from Charlotte, North Carolina, to California and back; an epic journey that covered 6,200 miles through 16 states. Robert writes, "Other than on a bike there is no better way to experience the open road on a long cross-country trip than in a Roadster. The only drawback to such a trip is the difficulty of taking great shots and driving at the same time!"
Tom Fried, Czech Republic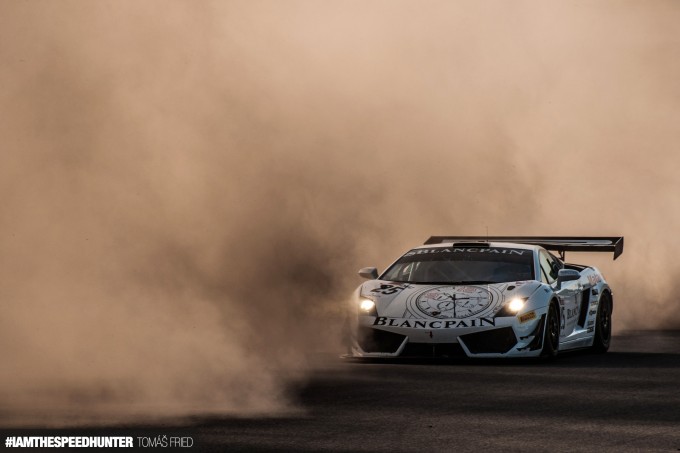 Tom Fried captured this atmospheric image of a Lamborghini Gallardo competing in one of the FIA GT races in Slovakia. Tom writes, "It's usually quite hot and dry at the Slovakia Ring, and when the cars go even the slightest off track they kick up an insane amount of dust. I found this kept happening so I tried to use it to my advantage in my photos. I liked this shot in particular as it almost looks like the car is racing to escape an approaching dust storm." The red hue of dust and the way it frames the car is definitely something special – nice one, Tom!
Mandeep Chase, California USA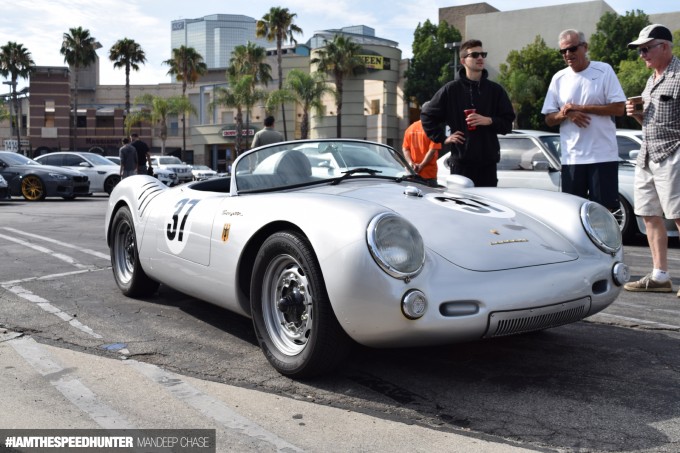 Mandeep Chase heads down to the local Supercar Sunday car meet in Woodland Hills every weekend, and on one occasion he spotted this beautiful Porsche 550 Spyder. Although the car itself is pretty cool, Mandeep pointed out that one of the reasons he enjoys this local meet so much is seeing the different types of people that get together and talk cars – especially people of all different age groups. "This is what car culture should be about, and that's why I love this picture," he says. We couldn't agree more.
Peter Karas, Adelaide, Australia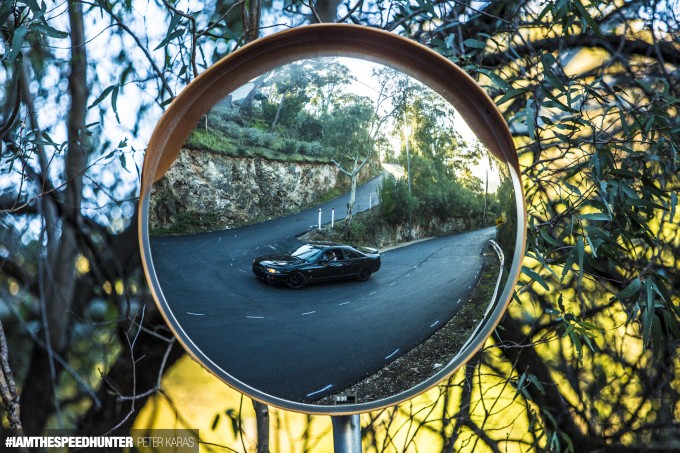 Aussie resident Peter writes, "I was coming back from photographing a downhill mountain bike race in the Adelaide hills, and instead of taking the main highway home I decided to take a bit of a detour. There's a visibility mirror on a tight hairpin on this route, and whenever I drive past it, I always think that I should take a photo one day. As I was coming up to the corner, I realised that I had my camera – no better time than the present! I really like the shot because it combines my car, photography and the Australian scenery." Now that's what we call a selfie!
Peter Hackney, Tapitallee, Australia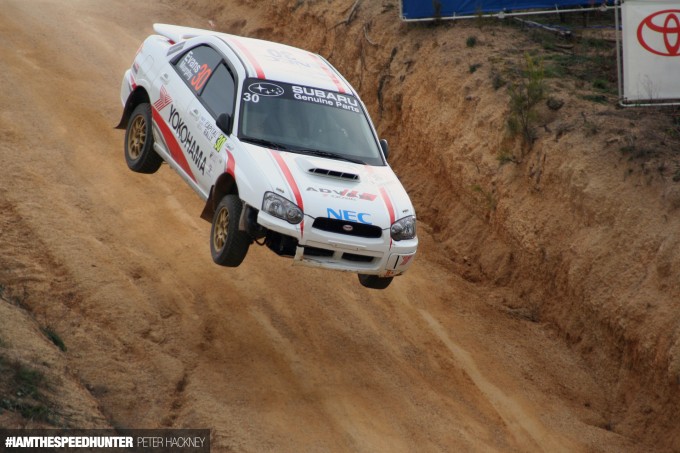 Peter Hackney captured this perfect mid-flight moment at the famous Mineshaft jump at the Rally of Canberra back in 2007. Peter explains the moment as it unfolded: "Dean Evans put on a spectacular show as he carried way too much speed over the crest, flying for what seemed like minutes, then landing at the bottom of the steep drop. It was an incredible jump, and the crowd went mad! The fact that he was able to continue on was credit to the strength of the car, as it was a hard landing. This is a great example of how this stage has been so popular for decades."
Derek James, Indiana USA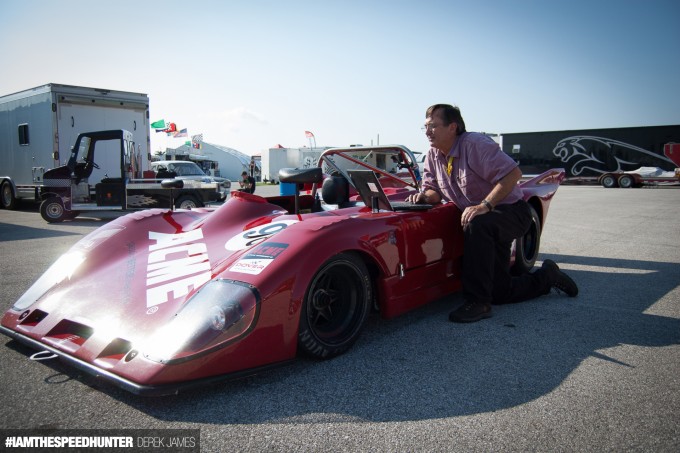 Derek headed along to the SVRA Vintage Races at Indianapolis Motor Speedway back in June, a place where he had visited many times before, but never to watch vintage racing. Not knowing what to expect, Alex was blown away by how many incredible cars and friendly faces showed up. One of which was Bob Lima, pictured above with his '78 Lola. Derek writes, "I like this photo the most because Bob is checking his onboard telemetry on his 1978 Lola T298. He had just finished his last race of the weekend with the car, and stayed out to have a chat with us. The most striking thing about this photo to me is, there isn't a giant crew of people surrounding the car, checking its vitals, and obsessing over every minute detail. It's just one man, and his trusty steed."
Alex Gut, Germany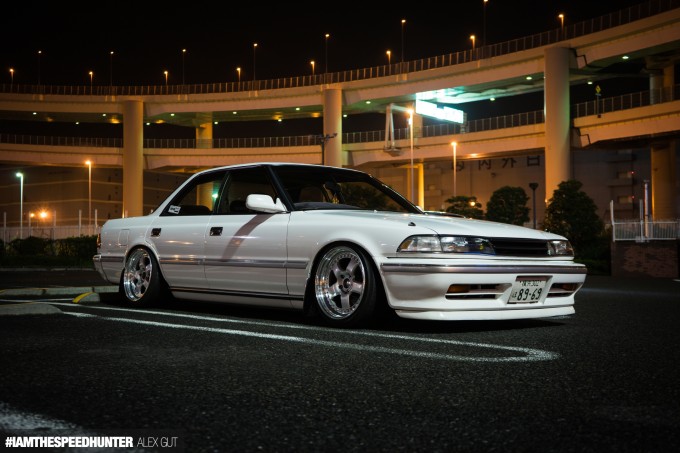 The famous Daikoku-futo Parking Area has to be one of the best car-spotting locations in the world, and Japanese car enthusiast Alex was lucky enough to visit there on a recent holiday to Japan. "It was around 1:00am when this fella parked his JZX81 Mark II in the perfect spot for the PA's light to shine on the snow white body, making this my favourite shot of our trip!" Derek explains.
Dan Morris, Warwick, UK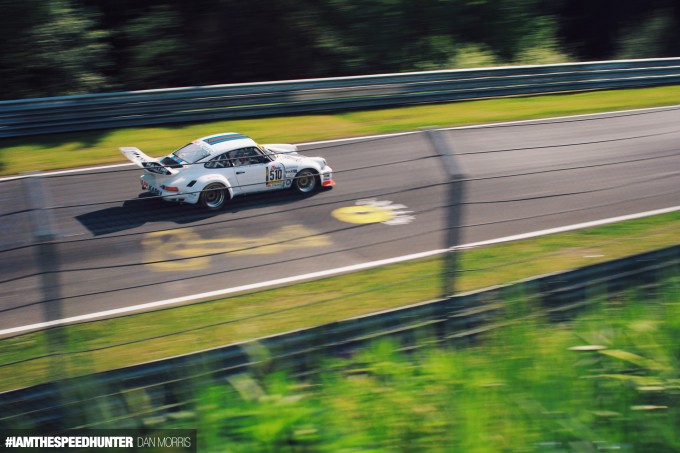 Dan Morris recently visited the infamous Nürburgring for the first time, where he snapped this fantastic panning shot of the Martini-liveried H&R Racing Porsche 935 K1. Dan writes, "As the support race for the N24, the N24 Classic featured many period race cars flexing their perfectly restored muscles. As my friends and I sat on the banking by the exit of Hatzenbach, I had a Bitburger beer precariously lodged between my feet, and the sunlight for this shot was just right." That sounds like a perfect Speedhunting moment to us!
Isaac De Coster, Belgium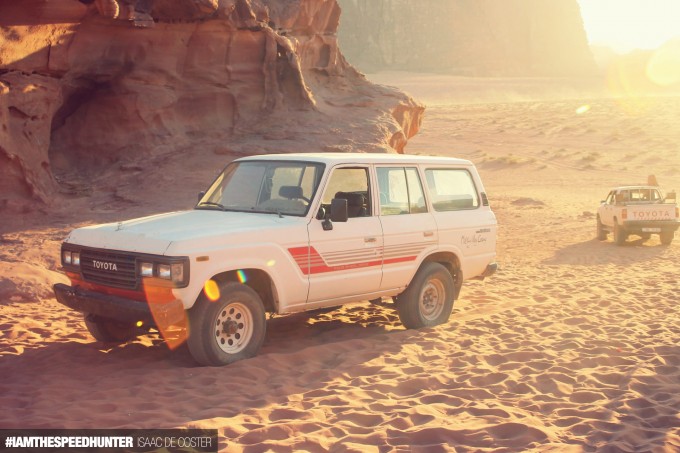 21-year-old Belgian automotive enthusiast Isaac might not have a car of his own just yet, but that hasn't stopped him from getting out and hunting speed, even while on holiday in Jordan. Isaac writes, "We made a trip in the Wadi Rum desert and one of the stops was to watch the sun going down. While everyone went off to find a good spot to capture the landscape, I took a closer look at this J60 Land Cruiser with its awesome factory stickers. I think it's a great example of how a car doesn't need to be fast or expensive to be cool."
From Austria To Tennessee
Tadej Pišek, Slovenia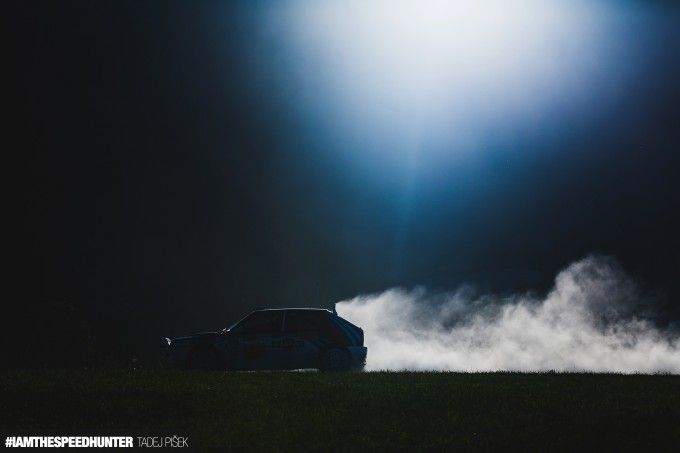 Tadej shared with us this wicked moment from an event he recently covered in Austria – Gruppe-B Rallylegenden. He explains, "I managed to get this shot of a Lancia Delta on the gravel part of the last stage of the first day, when the sun was setting behind the trees on a hill, so I could just capture the bluish flare and the backlit gravel dust behind the car at the same time." Just wow!
Kristóf Németh, Hungary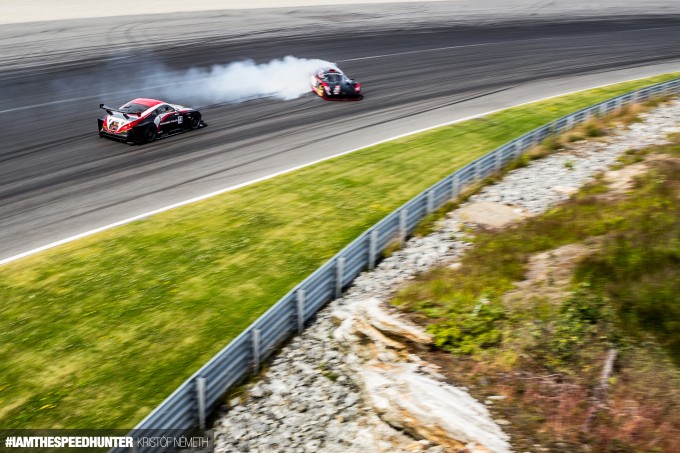 Kristóf Németh was standing on a high vantage point above one of the back curves of the Rudskogen track during Gatebil when he managed to capture an interesting altercation on camera. Kristóf explains, "The Nismo 350Z [a genuine ex Super GT machine] pictured was attempting a tricky passing manoeuvre, which did not work out very well for the Stealth-B7 it was overtaking. The 350Z was going hard on the inside curve, chasing the Stealth, and eventually hitting it from the back. The Stealth span, but after a few pirouettes, the driver managed to recover and continue the race."
Joel Marques, Switzerland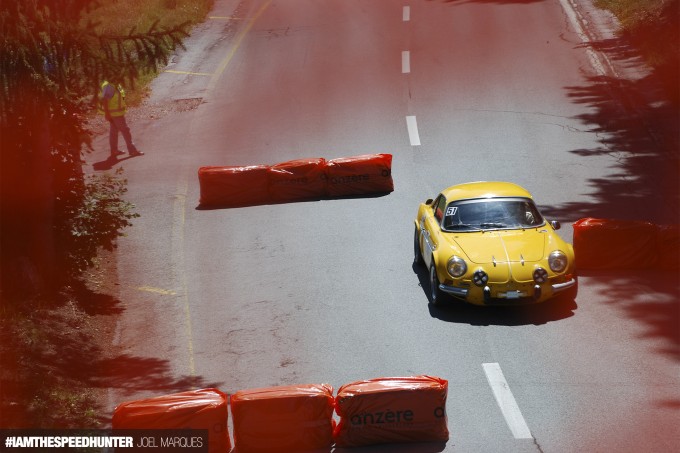 Sometimes the best moments are the ones you don't expect. After moving to Switzerland from Portugal, Joel Marques recently spectated his first Swiss hill climb event at Ayent-Anzere. Joel writes, "At the time, I was crossing some stairs over the top of the road where the event took place, so the cars would drive underneath. But as it was protected by orange netting, I only had the time to frame this Renault Alpine A110 through the net as it passed by. I was pleasantly surprised at how this image turned out."
Zilvinas Kuprenas, Lithuania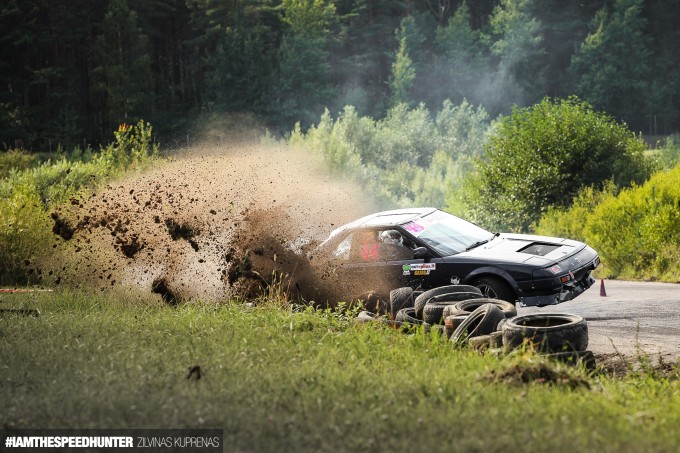 Zilvinas writes, "We managed to convince my dad to go out for a few passenger laps at a special drifting stage during the FastLap event in Lithuania, and I was out with my camera hunting for the moment I'd see dad looking through the window from the passenger seat. Suddenly, the MR2 that he was riding in was up in the air with mud flying all around! I was very glad that I managed to capture the exact moment it happened, and that everyone was okay. My dad was a little bit shocked, but now he goes to events with us way more often, so I guess he quite enjoyed himself after all!"
Raphael May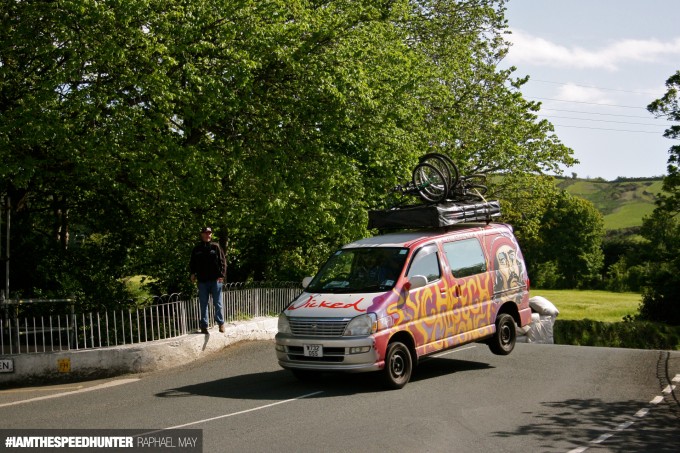 I think we can all admit to doing our fair share of questionable manoeuvres in rental cars, and Raphael and his friends are no exception. He writes, "This year myself and a couple of mates went to the Isle of Man TT. Being at one of the most dangerous tracks in the world, of course we had to have a crack at a 'hot lap' in our camper van! Long story short, we managed to jump the famous Ballaugh Bridge. I'm sure you've seen footage of the bikes flying over this; well, now we can say we've jumped it in a used Toyota that was our house!"
Nguyen Ta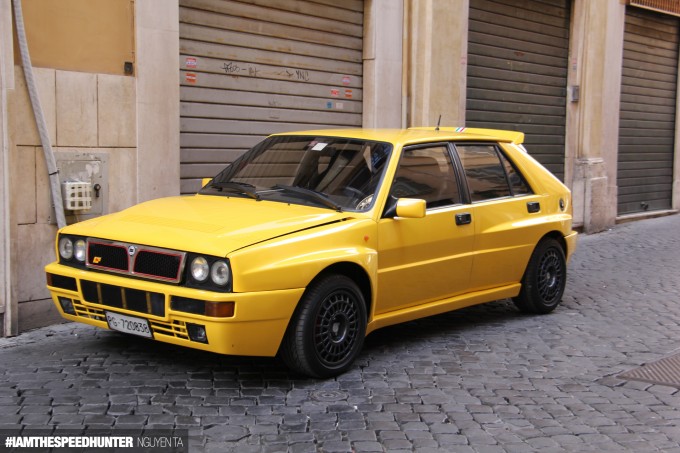 When Nguyen was nearing the end of his vacation in Italy he was feeling a tad disappointed about not getting the chance to visit Ferrari. Little did he know, however, that a classic Italian beauty of a different kind was lurking in one of the small empty side streets of Rome. Naturally, he couldn't resist capturing a quick snap of this pristine Lancia Delta Integrale in its home habitat.
Elijah Lane, Kentucky, USA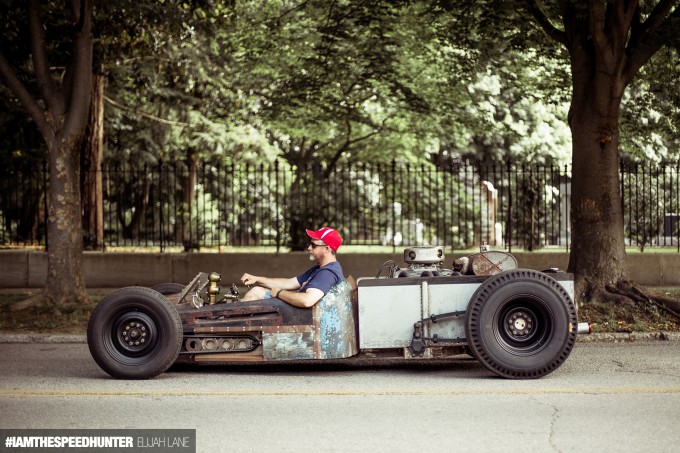 We're loving this cool moment of man and machine captured by Elijah Lane from Kentucky. Elijah writes, "Every year a great event called Beatersville is held at the Phoenix Hill tavern in Louisville. The streets are overrun with rat rods, kustoms and early model motorcycles from all over the United States. I spotted this very unique mid-engined rod in the early morning as the sun had just started to rise above the buildings, casting beautiful light onto the greenery behind a wide spectrum of insane vehicles."
Steve White, Croydon, UK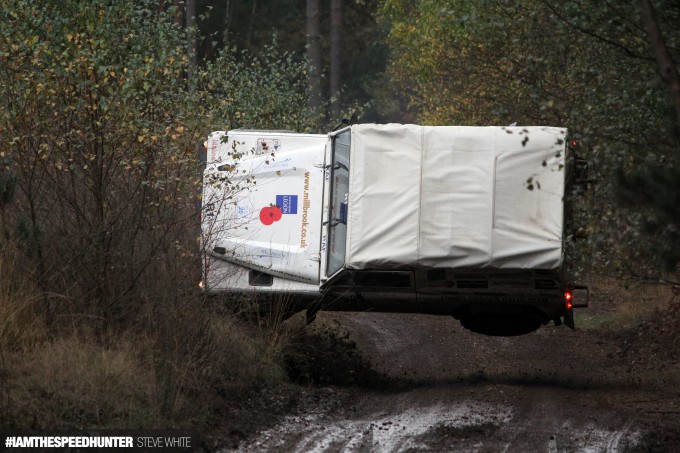 Steve White was attending the 2014 Tempest Rally, held in Aldershot, England, when he happened to capture this action-filled moment. Steve had ventured deep into the woods of Warren for the sixth stage of the rally, as he'd had been tipped off by a friendly photographer that this was a particularly exciting spot. Sure enough, action followed! Steve writes, "As the Land Rover passed through the section prior to the standing water, it began to slide. Although Marc, the driver, managed to catch the slide, the Land Rover had already veered off the track; the front wheel caught the bank and over it went. As soon as the Land Rover landed, my mate and I dropped our bags and ran up to help the crew. Thankfully there were no injuries and marshalls were on hand moments later to help recover the car. The Land Rover was subsequently repaired and went on to compete in Wales Rally GB – less than a week after its roll!"
Fabian Zimmermann, Bielefeld, Germany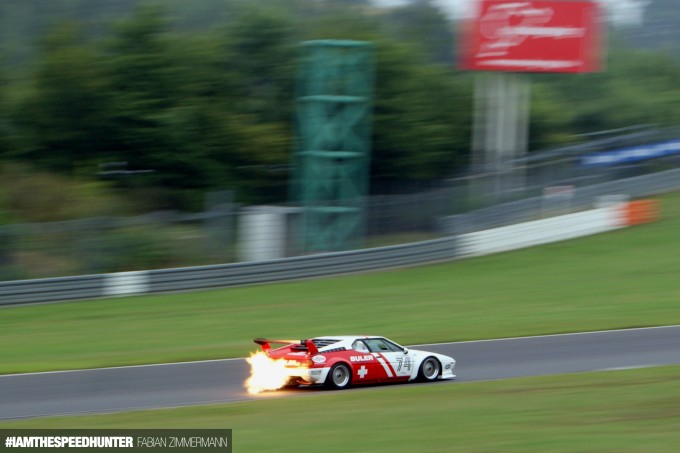 Fabian Zimmermann captured an impressive fireball shooting out the back of a BMW M1 Procar at the AvD Oldtimer GP at the Nürburgring. Fabian writes, "I was looking forward to watching the DRM-Revival, as this holds the most spectacular cars in my opinion. Car after car and lap after lap, I was hoping to get this one shot, which I eventually got."
Kenneth Midgett, Nashville, Tennessee USA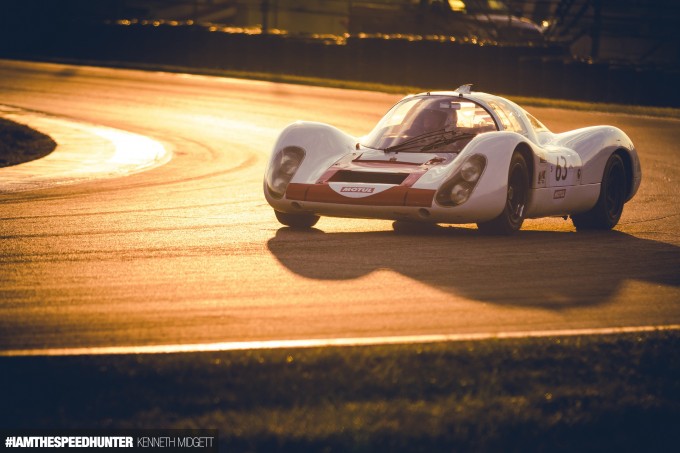 Nashville-based photographer Kenneth Midgett shared with us this beautiful moment of a Porsche 907LH basking in golden sunlight at Daytona. He writes, "I was covering the inaugural HSR Classic 24 Hour last year, and it was my first time shooting – or even being – at the world-famous Daytona International Speedway. Every photographer has that 'money shot' that they dream of getting, and after waiting for the morning sun to crest Daytona's legendary banking, that moment presented itself. This is easily one of my favorite shots and one I'm sure I'll always be proud of!" A gorgeous shot – nice one, Kenneth!
From Poland To Mount Fuji
Bartosz Grzonka, Gdańsk, Poland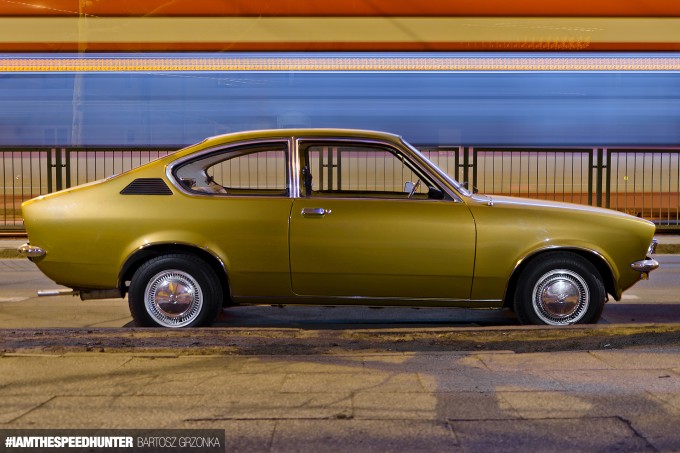 We've all had a moment when we've felt like kicking ourselves for not having our camera handy. Bartosz recently had one of those when he came across this cool '77 Opel Kadett. He explains, "I was riding home on the same road as always when I saw it. I raced home as fast as I could, hoping that if I came back with my camera it wouldn't have driven away. This evening I got lucky and it was still there! I shot this on a long exposure with only one flash and then stitched it in post processing, and the tram passing by in the background made for a cool effect. Sadly, I've never seen this car again."
Enrico Bogetto, Italy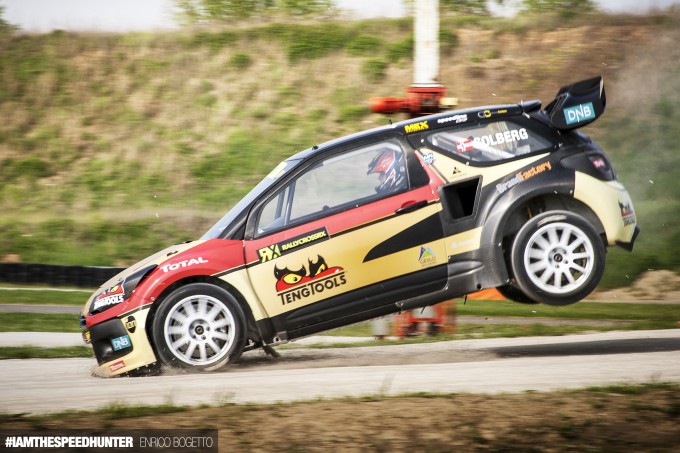 Enrico was shooting at the RX Media Day at Franciacorta Circuit, where he captured Norwegian driver Petter Solberg getting a crazy amount of air over the first crest of the course. This really gives you an idea of the extreme punishment these cars have to endure!
Patrick Turner, Portland, Oregon USA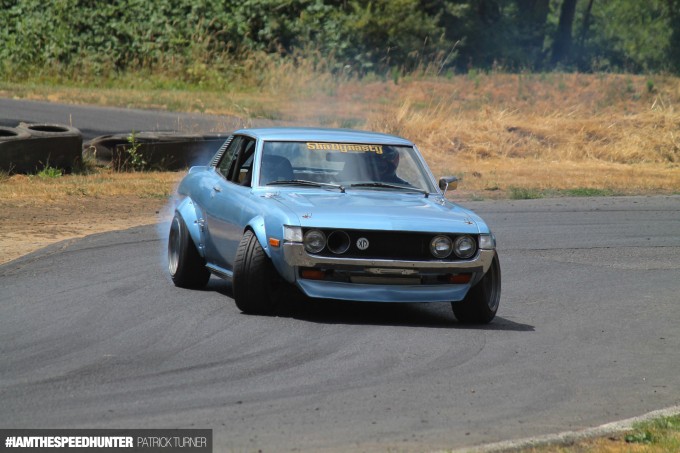 We love this shot taken by Patrick Turner at Pat's Acres Racing Complex in his home state of Oregon. He writes, "This event took place right after Formula D Seattle; a few of the Pro drivers came down to thrash their machines alongside some locals around this little Go-Kart track. This particular photo is of local favorite Matt Panic in his '73 Celica which runs a Beams 3S-GE engine. The atmosphere was very relaxed and it was all about having fun. No judges, no timers – just people pushing each other to get better."
Marco Pusch, Stuttgart, Germany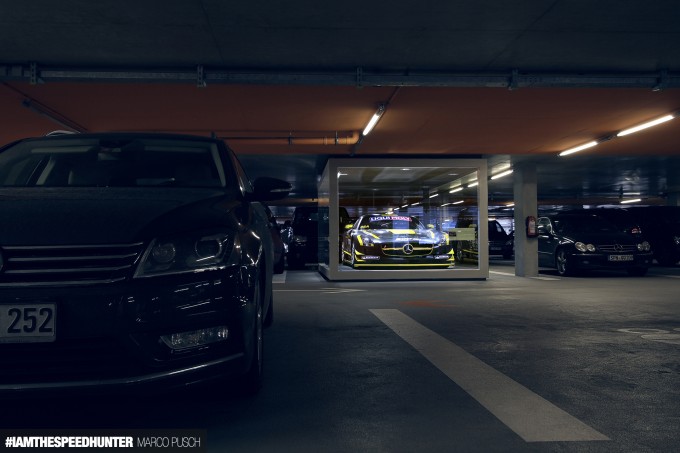 In February last year, Stuttgart local Marco visited the Mercedes-Benz Museum and took along his camera, not realising that his favourite photo of the day was going to be taken on his way back through the parking garage. Marco writes, "As I was leaving, I caught a glimpse of this SLS AMG GT3 sitting between the other visitor cars. It's the victorious car of the 2013 Bathurst 12 Hour race prepared by the Australian Erebus Motorsport team. I really like the contrast between all the dull and dark ordinary cars and this motorsports hero."
Matt Lindsay, Victoria, Australia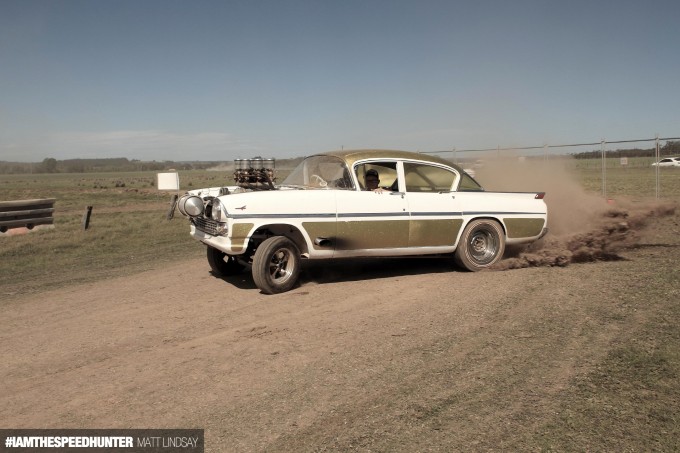 ​Sometimes it's the moments that catch us off guard that we remember most. Matt Lindsay had one of those moments two years ago at a local event called Chopped – a 'pre-65 cars only' weekend of dirt drags and no rules car fun. Matt explains, "I was standing at the last turn of the course, and the approaching Vauxhall gasser pictured showed no signs of putting on a show. Suddenly, it rumbled into the turn and before I knew it, the driver mashed the go-pedal. The rear slicks hooked sideways and a lovely spray of dust engulfed me and covered my lens just after I rattled off a couple of shots."
Dennis Podnebess, Riga, Latvia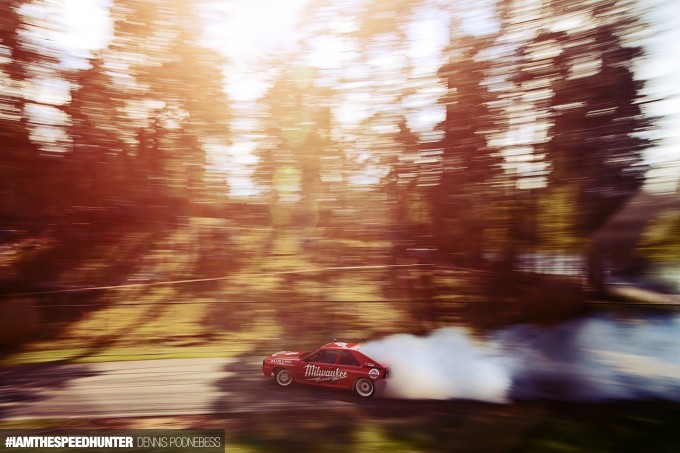 As a photographer, you're sometimes faced with limited vantage points to shoot from, but with the right mindset this can work to your advantage. Dennis Podnebess was shooting the first stage of the 2015 Latvian Drifting Championship when he found himself in a similar situation. He explains, "This event was hard for photographers because of fences surrounding track on full duration. But for me, it resulted in my best shot from that event. I managed to shoot through the fence and get a wide-angle pan of the crazy Estonian rear-wheel drive Audi driven by Henri Puhmas."
Andrew Hyland, Leicester, Massachusetts USA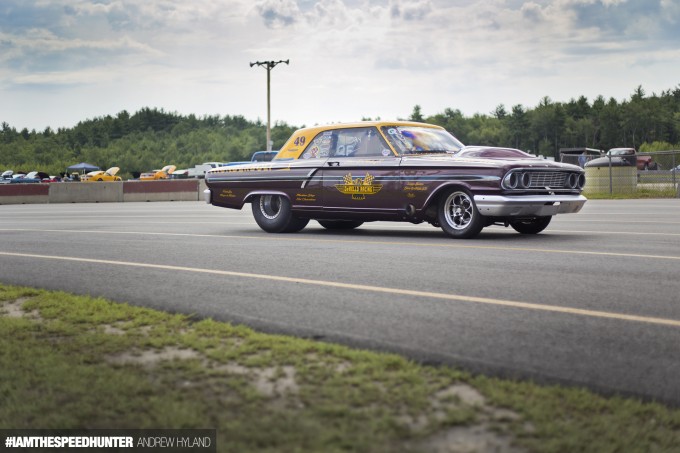 Shooting at New England Dragway in Epping NH, Andrew Hyland spotted this race-ready Ford Fairlane preparing to go maximum attack at the Tasca Performance Ford Fest. Andrew writes, "In what seemed to be a sea of Mustangs from all generations, this Fairlane Thunderbolt instantly grabbed my attention as it entered the staging lanes when they called the Quick Ford class. When you see a teardrop hood on a Fairlane, you know it means business! The massive slicks, parachute hanging off the back, and Lexan windows also let you know it was a serious car. After its qualifying passes it could be seen sporting a 10.55 dial in on its windows."
Nathan Leach-Proffer, Denver, Colorado USA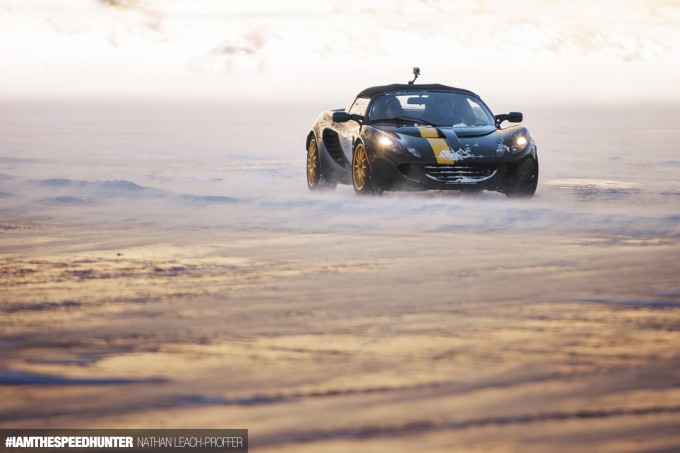 Nathan shares the story behind his image: "The Porsche club in Denver hosts a driving event each winter on a frozen lake, which is open to any car. This Lotus was one of the first cars to run, which meant the sun was just coming out over the mountains, lighting up the ice. The wind was also blowing the snow, giving a cool effect. I dream of owning a Lotus Elise/Exige and seeing this one on the ice made me want one even more!"
Alexander Ulanov, St. Petersburg, Russia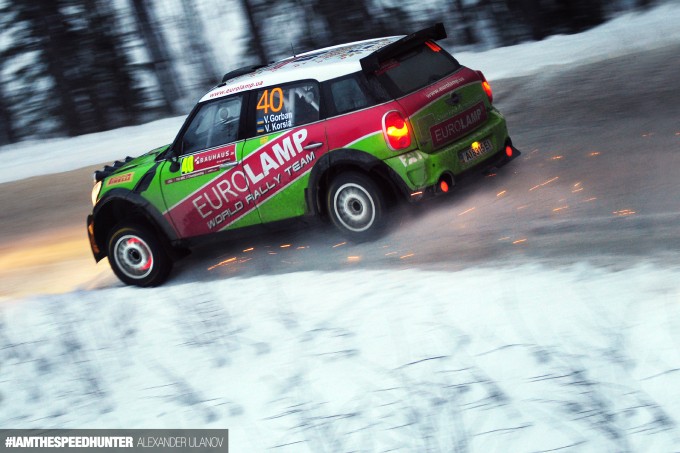 Next up, Alexander has shared with us an awesome photo he took during a WRC Sweden special stage last year. Alexander writes, "It was the final race of the day and it was getting dark. Wheels were starting to dig all the way into the icy ground and sparks were flying. In this moment I was able to capture red-hot brakes, a fire in the exhaust pipe and a pillar of sparks – amazing!"
Kuro Neko, Japan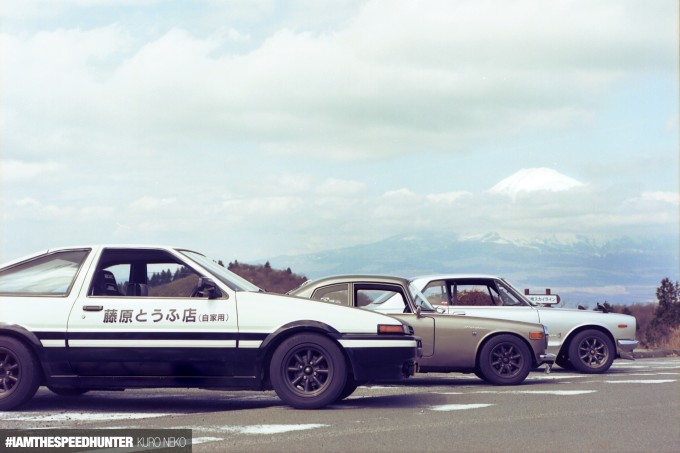 Last but not least, Kuro's moment includes an AE86 ​drift legend, a 10,000rpm-screaming twin-cam Honda, and a snarling Nissan in-line six in front Japan's most famous mountain. Taken on the popular Hakone Skyline road on a clear day with breathtaking views, this is one Speedhunting moment that we're sure will be cherished forever.
A huge thank-you to everyone who submitted their photos for this feature, and we hope you've enjoyed this exciting collection of imagery of different Speedhunting moments taken by you, our readers. Until next time, happy Speedhunting!
Story curated by Taryn Croucher
Instagram: taryncroucher
Twitter: @taryncroucher
taryn@speedhunters.com
About #IAMTHESPEEDHUNTER
We created #IAMTHESPEEDHUNTER to allow you the opportunity to share your skills and car culture experiences from around the globe with the rest of the Speedhunters audience. How do you get involved? It's simple…
Speedhunters.com – Watch out for our monthly announcements on how you can take part and submit your content to feature in one of our monthly themes!
Instagram – Follow us on Instagram at @TheSpeedhunters and tag your own car culture images with #IAMTHESPEEDHUNTER
Twitter – Follow us on Twitter at @SPEEDHUNTERS and share your tweets with the #IAMTHESPEEDHUNTER hashtag
E-Mail – If you've been to a cool event and captured some amazing images, be sure to e-mail them to us on iamthespeedhunter@speedhunters.com and tell us a little bit about the event