Fuelling The Passion
GT-R. Three simple letters, yet when combined in the right order they mean so much to a lot of enthusiasts.
Nissan's GT-R is nothing short of a legend, and every year we are reminded of this at one of the biggest visual spectacles in Japan's enthusiast car-scape. This is all possible thanks to the guys at GT-R Magazine, whose annual R's Meeting gathering at Fuji Speedway manages to attract owners of all generations of GT-Rs from every corner of the country. Throw in a tantalising line-up of tuners exhibiting their parts and demo cars along with constant action out on track, and you have a recipe for the perfect event. Let's indulge…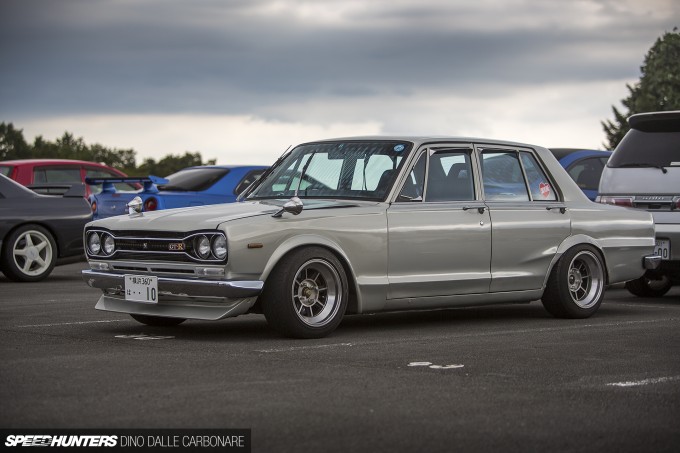 Ever since Nissan decided to take the Skyline racing it attracted enthusiasts who saw the same cars they owned transformed into widened and hot-rodded interpretations.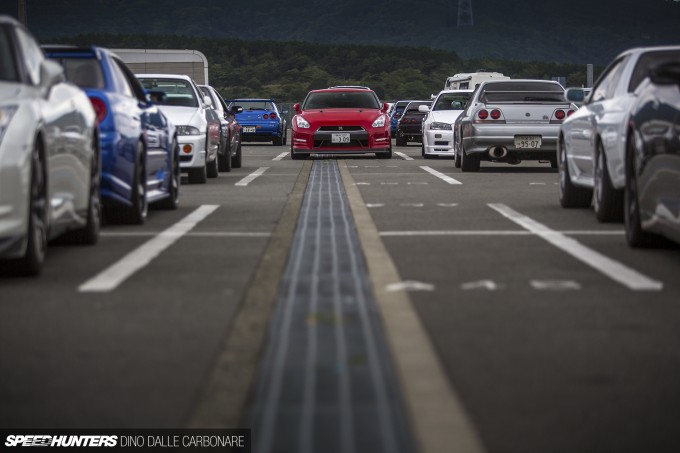 That legend has continued all the way through to the R35. The Skyline GT-R has tasted success both in domestic championships like Super GT and Super Taikyu, and internationally in the FIA GT and a variety of other classes and series.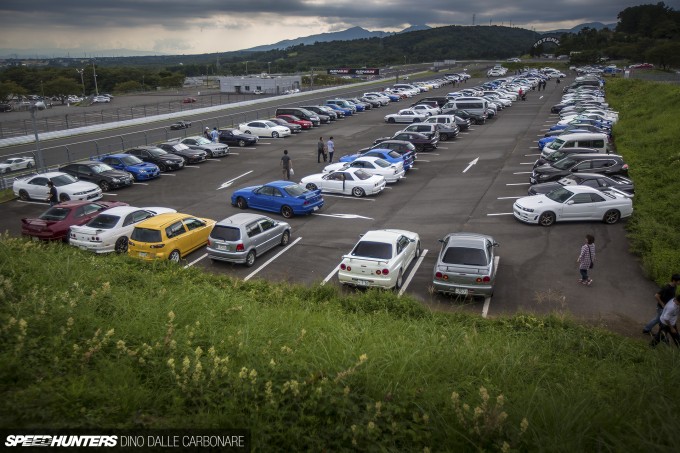 That link to motorsport successes over the decades and the car's tuneability have combined to make the Skyline GT-R what it is and what it stands for. Then the R35, sold globally, further strengthened this sentiment making the GT-R legend even more well known, perhaps albeit at the expense of the aura it once basked in.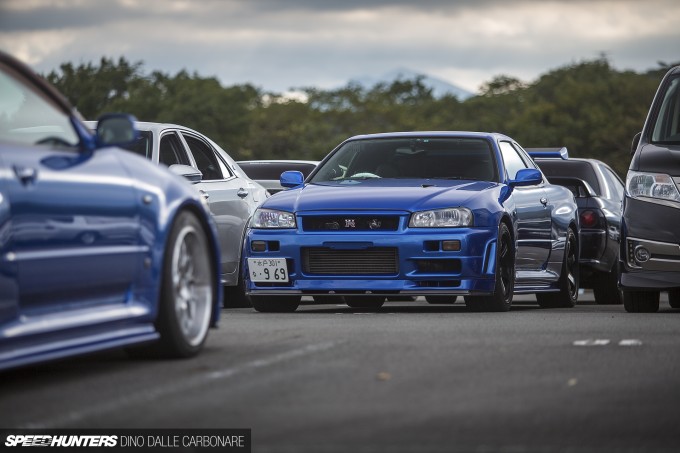 But R35 aside, the second and of course first generations of the GT-R remain as epic as ever. And seeing so many in one place really never gets old – even for a guy that is fortunate enough to have one parked in his driveway.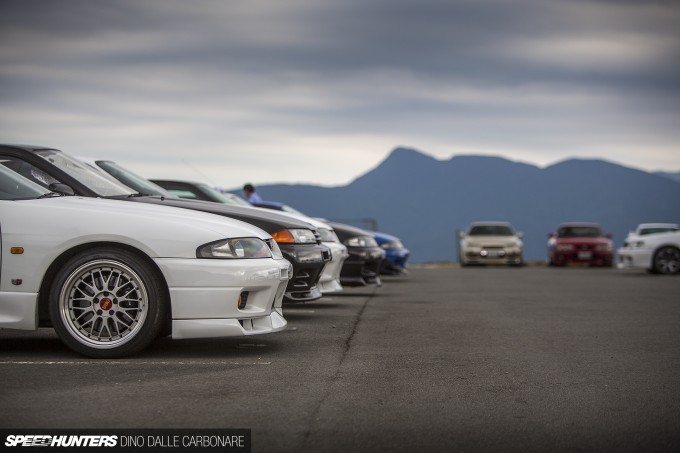 The paddock may be overrun by GT-Rs of all generations, color, spec and level of tune, but you don't actually get the full impact of it all until you walk around Fuji and check out the various parking areas. Each and every one of them is filled up with R's – often grouped by chassis. Friends meet, chat and take pictures before moving to the main event area to experience the unavoidable talk show and all the goodness that tuners are exhibiting.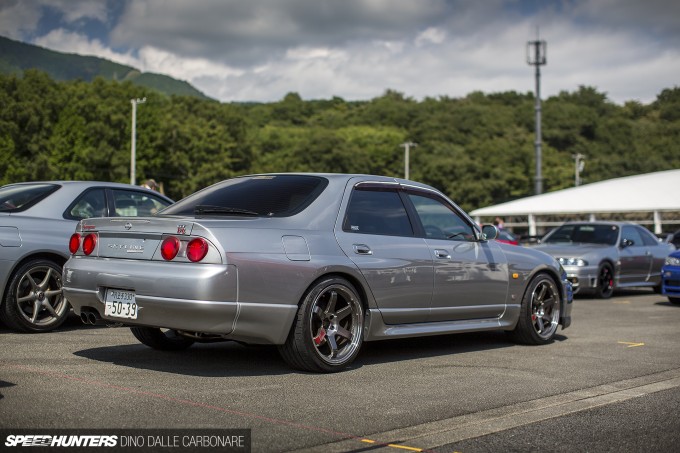 GT-R Magazine always produces a separate R's Meeting insert that's filled with photos of cars and their owners at the event, and behind the main event area hundreds were lined up waiting to be officially photographed.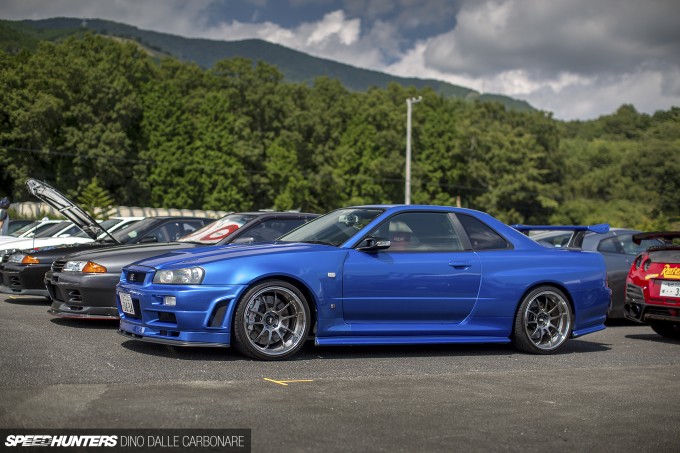 No matter how hard you try to keep your car clean and how much hard work you put into ensuring it's fitted with the best and coolest parts, someone out there always goes one step (or more!) further. It's somewhat depressing, but at the same time it allows you to plan for future upgrades.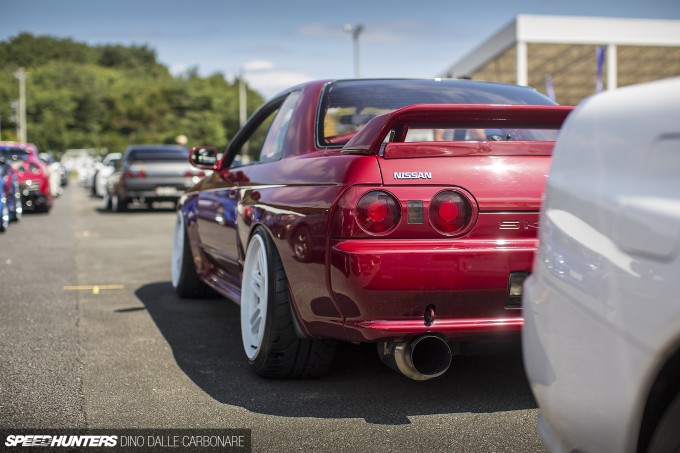 At the R's Meeting you pretty much get to see every GT-R tuning and styling part ever made fitted, including every wheel configuration you could imagine. If you've just picked up a GT-R and you can't decide which direction to go with it, this event allows you to check out every possible route right in front of your eyes.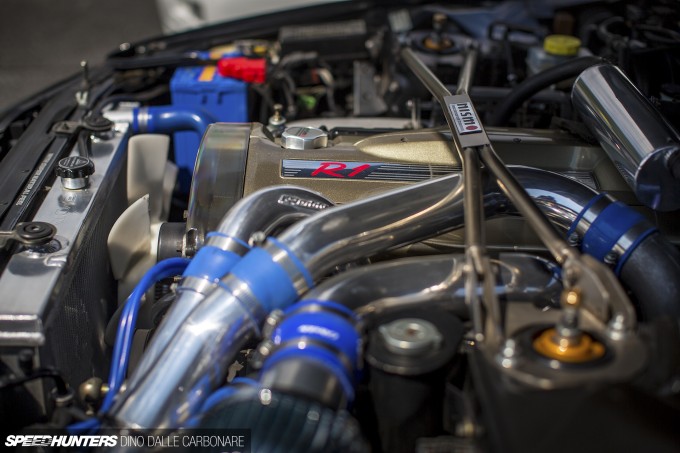 And that's even before we start talking about engines!
Walking Around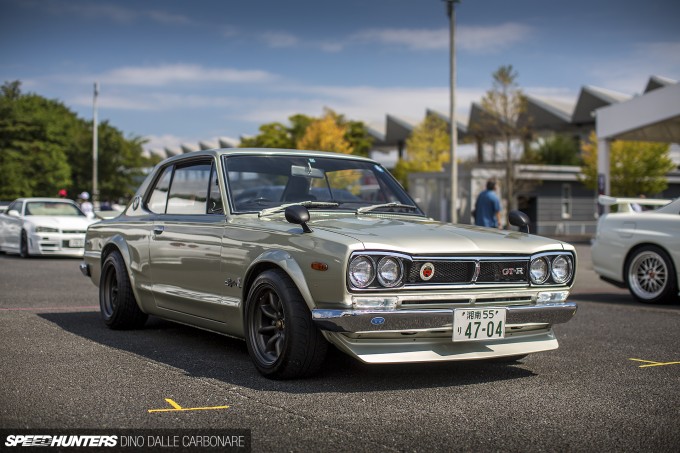 After the wash-out that was last year's R's Meeting event, the weather really turned it on this time around with summer temperatures and sunny skies from beginning to end. It helped make the turnout of cars bigger, but I have to say there were definitely less old-generation Skylines around compared to previous years.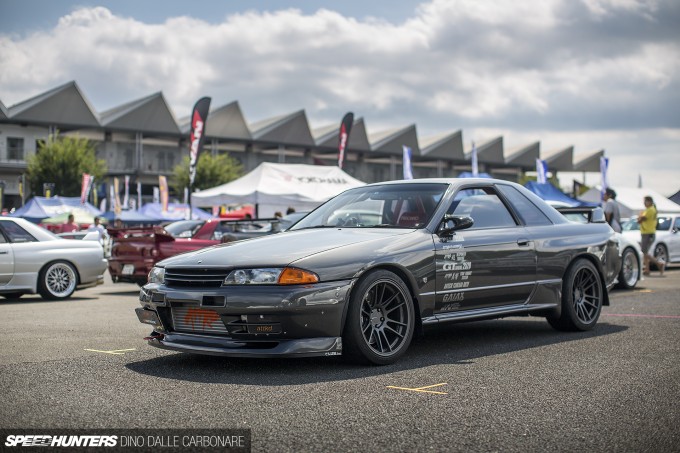 With the 25-year rule now allowing early production BNR32s to be imported into the US, these cars are now experiencing what the 911 has just gone through in the last five or so years. If you are after a decent san-ni you better get in there quick, as a lot of guys in the know are already saying it's probably too late.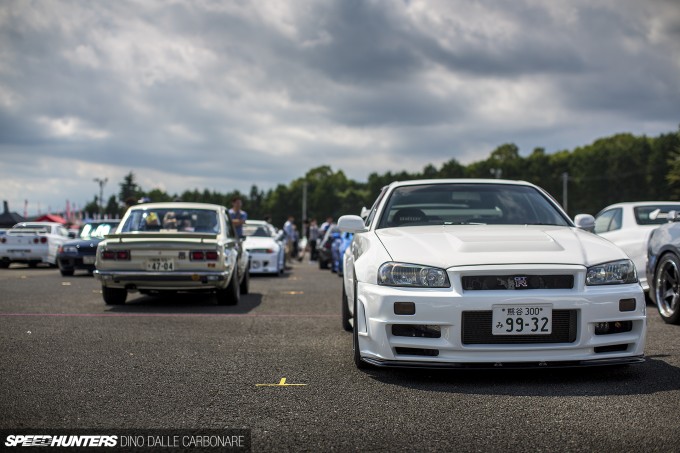 I can't help but wonder what this will do to R34 values in the future!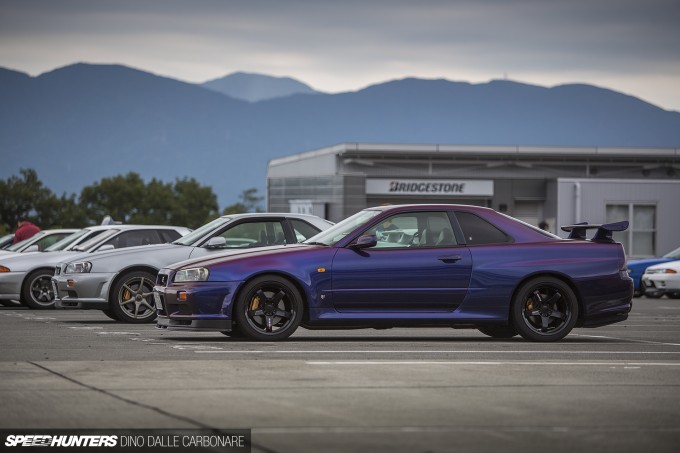 And talking of R34s, you might be seeing a lot of them in this post. Too bad – I can't help it. I love R32s and R33s, but you all know where my heart lies, so making the image selection for this post was tough. The car above is super-rare because of its color: Midnight Purple III. This is a hue that Nissan came out with once it realised that Midnight Purple I and II were far too dark and just looked like black or purple most of the time. The funny thing is, on the second hand market these sort of colors aren't really fetching a premium yet.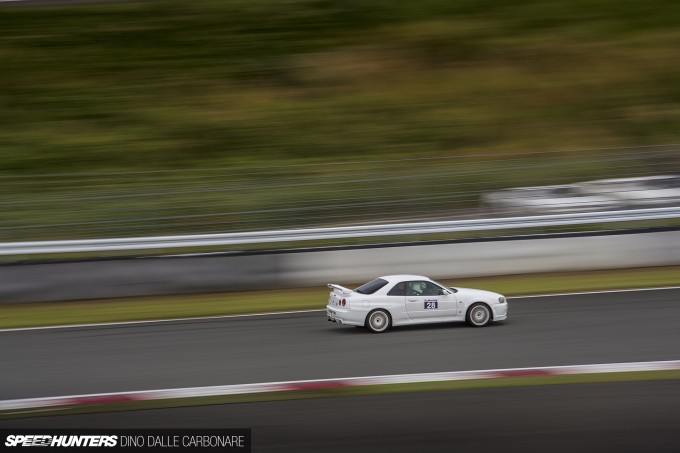 GT-R Magazine booked up a big slice of the NS4 open track day session at Fuji on the day, allowing participants an opportunity to get their cars out on the track. There were some proper beasts running quick laps too, including this white R34 built by Auto Gallery Yokohama. It had an insane appetite for speed down the main straight.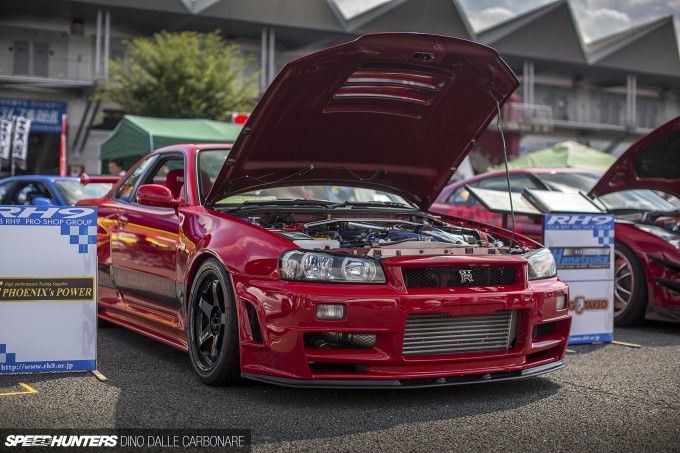 Art Tech Hanatsuka had its demo car on display, looking stunning as always finished in another rare factory color: Active Red. But it wasn't the exterior I was looking at…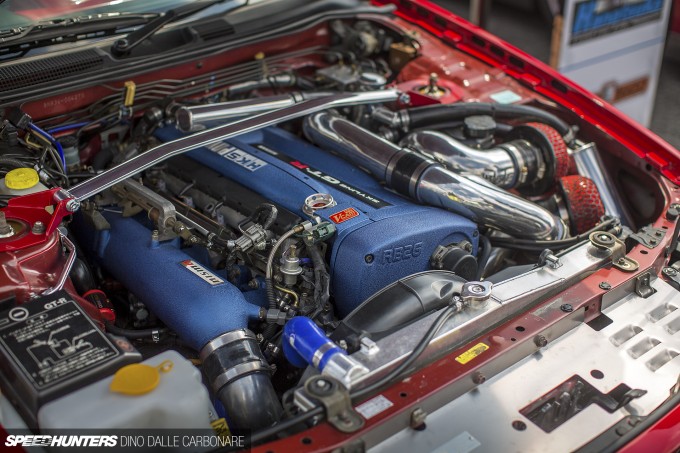 This time around the R's Meeting served as the perfect place to do some research. Seeing I will be getting Project GT-R's engine covers painted, I was curious to see what finishes and colors some of the demo cars were sporting. I have to say, I'm quite liking the crackle-finish look, but on a Bayside Blue car like mine, it would definitely have to be a different hue.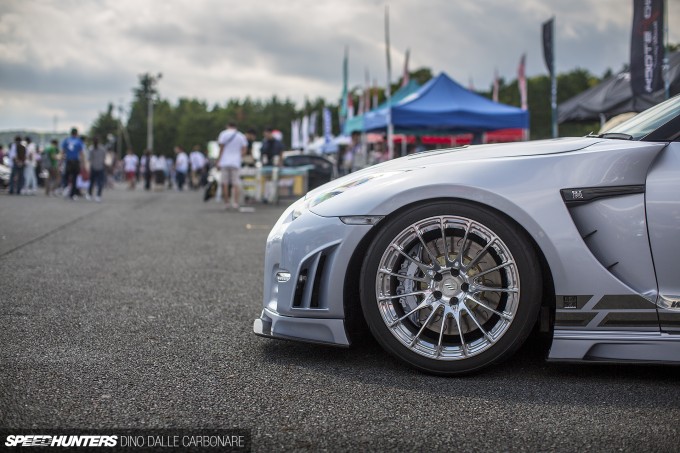 Do-Luck had a nice selection of demo cars on display, including its wide-body R35. Come the Nismo Festival this December, it'll have a couple of interesting parts for those with second-gen GT-Rs, but more on that later…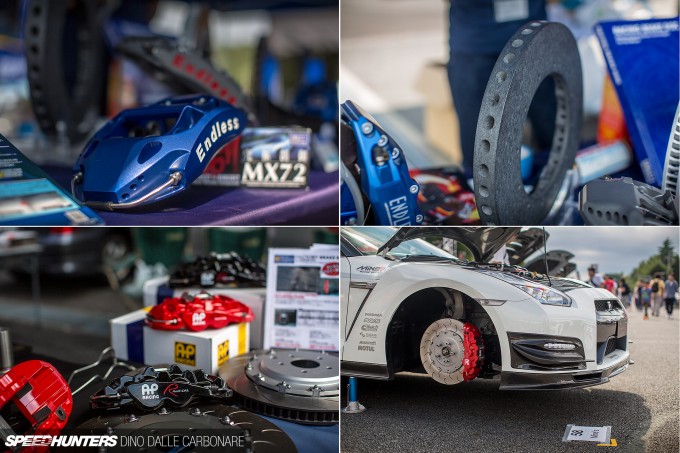 Brakes are a big part of any GT-R build and there are definitely some cool new solutions coming to market right now, like the AP Racing kit fitted to the Mine's demo car above. Endless had a painted version of its unbeliveably light monoblock 6-pots on show, along with carbon rotors for those that only want the best of the best.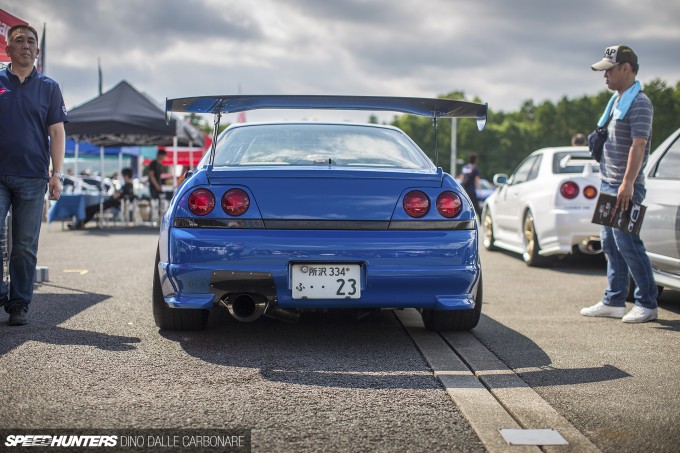 Am I the only one that thinks the R33 only looks right when it's highly tuned and finished off with a heavy time attack twist? I'm not quite sure what it is, but this Championship Blue BCNR33 looked pretty imposing as it burbled passed me through the main paddock.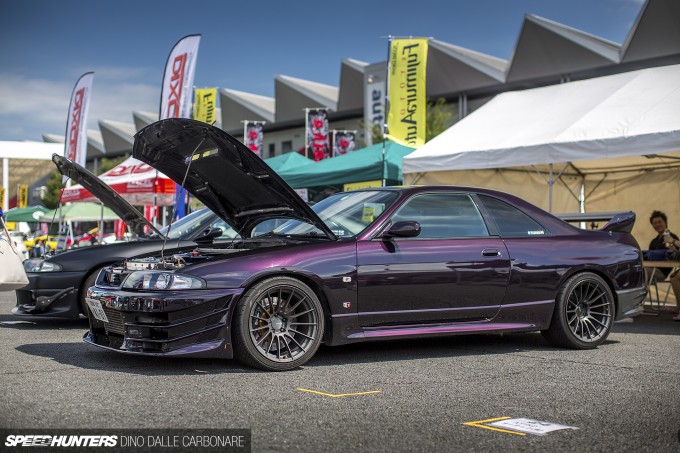 Once the sun is shining, Midnight Purple really showcases what its underlying color is all about. This san-san from Three H is car we've seen before on Speedhunters, and one I will have to feature once it's complete. I've italicised that word because when it comes to GT-Rs, no car is every really finished. I have yet to meet one owner who is completely satisfied with their modifications enough to stop modifying. More, more, more seems to be the usual sentiment, and I totally get it, as I'm sure most of you do too!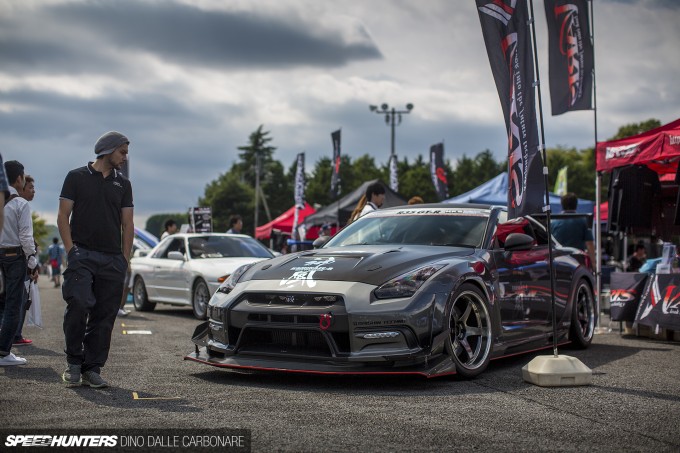 Varis has further refined its wide-body kit for the R35, making it look even more aggressive and in-your-face than it's ever been. I made sure to once again ask the guys when they will finally be making carbon parts for the R32, R33 and R34, and my question was met with a nervous answers. With the way things are going, it seems tuners are all jumping back into the old second-generation GT-Rs, and I can't even imagine the goodness that Varis would be able to create for these cars. I should start a petition or something!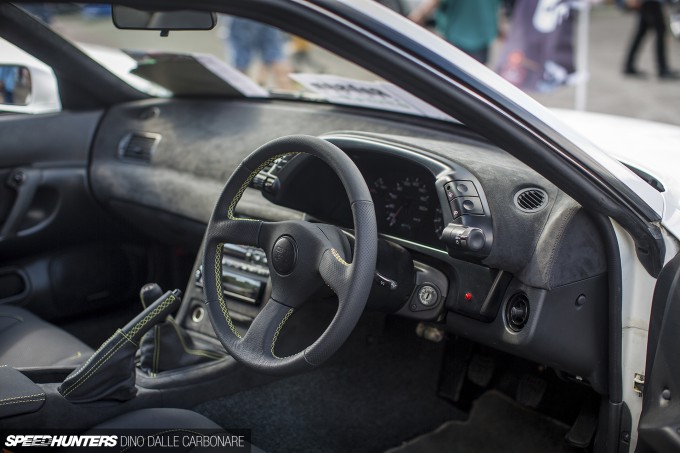 Lobbying seems to work too, because after years and years of asking the guys at Robson Leather when they'll be offering a full Alcantara/suede dashboard trim, they have finally managed to get it done. They have been working on this for a while and have found the right glues and tricks to get it to look good and stay presentable for a long time. The upgrade is actually not too pricey either, with most of the costs involved around removing the dashboard out of the car and putting it back in again afterwards. Great, just what I needed, another thing to add to my ever-increasing upgrades list!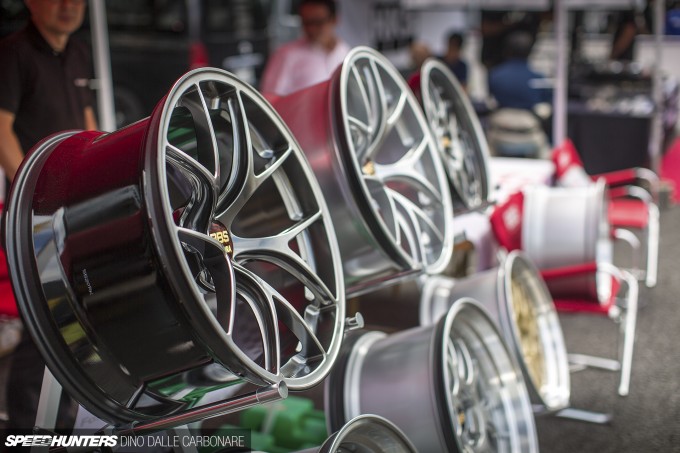 BBS had a big selection of RI-Ds on display, now even offering the wheel in 18-inch with proper GT-R fitment options.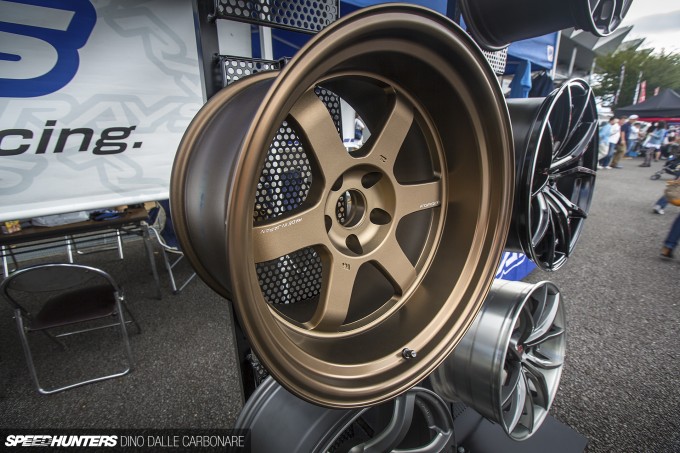 Do you have a TE37 fetish? Good, you aren't the only one, and as of now you can get 18-inch versions of the TE37Vs with a choice of widths and pretty aggressive offsets. Just look at that dish! We've seen the 'Vs fitted to a couple of BNR32s in the past, but now BCNR33 and BNR34 owners can achieve a similar look with their cars.
The Nismo Touch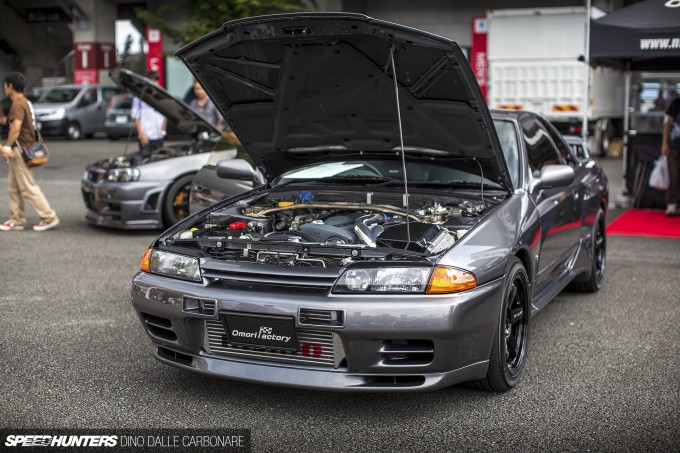 Nismo Omori Factory is currently working on an all-new demo car to join its R32 and R34. The car should be completed by this year's Nismo Festival and will be created in a similar fashion to those above, meaning a bare-chassis rebuild to showcase the services it offers. If you recall, this time last year I featured the Clubman Race Spec R34.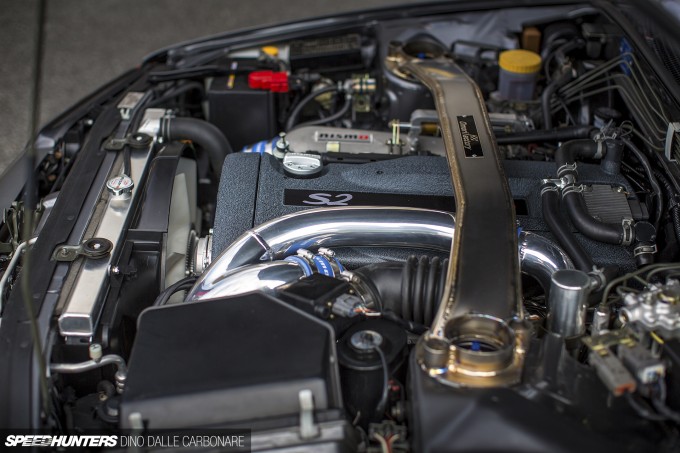 When emptying the contents of your bank account at Nismo you are also able to pick a variety of engine configurations to create a timeless, certified and unique GT-R.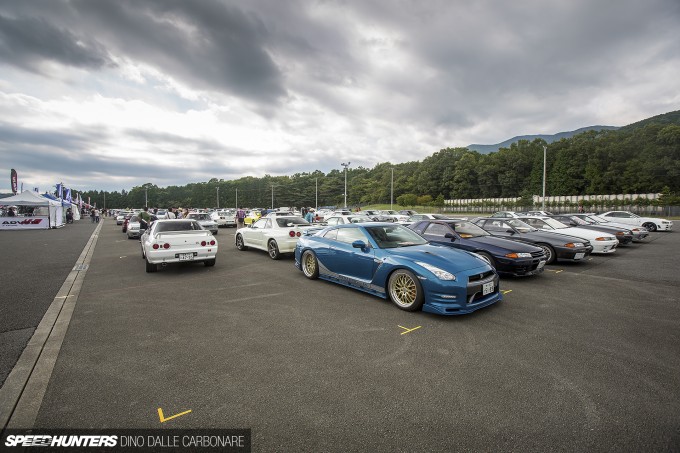 As I was getting lost in the details of each car that I came across, I almost forgot I had hundreds of other GT-Rs to get through!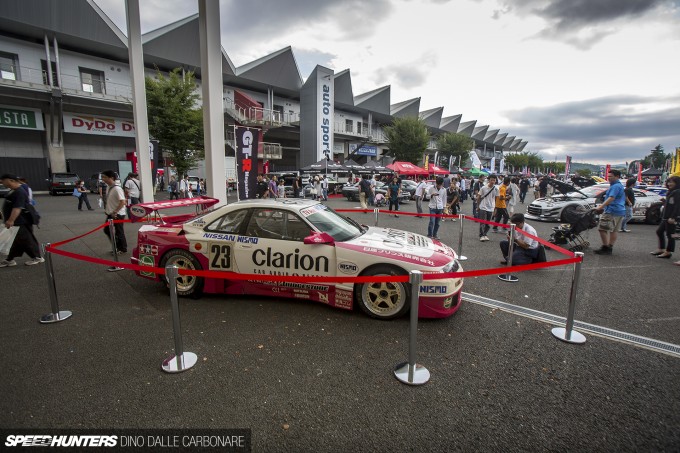 GT-R Magazine managed to borrow a car from the Nissan Heritage Collection, namely the GT-R LM that participated in Le Mans back in 1996.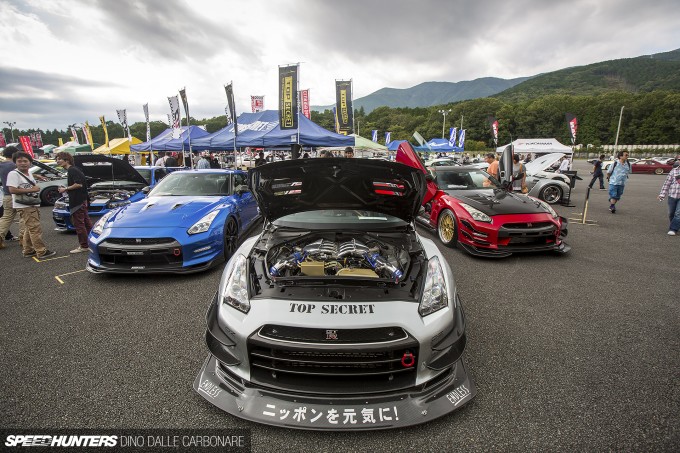 Smoky at Top Secret never misses one of these events, and while Ken's BNR34 I featured a couple of months back was there, it's obvious how the workshop is still focussing on the R35. Top Secret had three examples present, the silver one front and center built for time attack.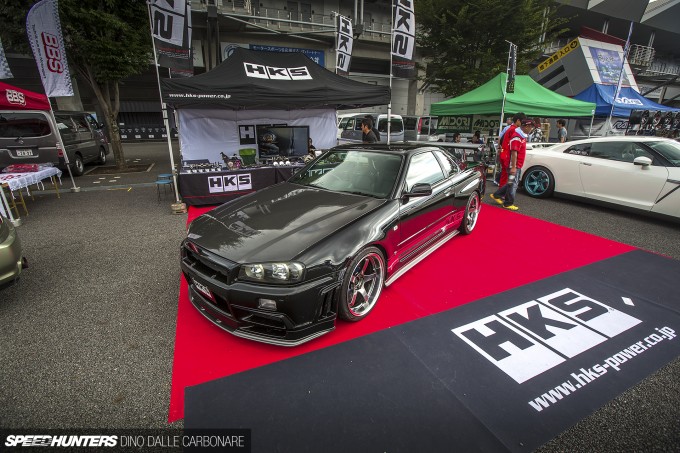 I wish I could tell you what HKS has planned for the RB26, but I can't. Trust me, these guys know what we want and are working overtime to get some cool new-generation parts completed soon. Have I teased you enough?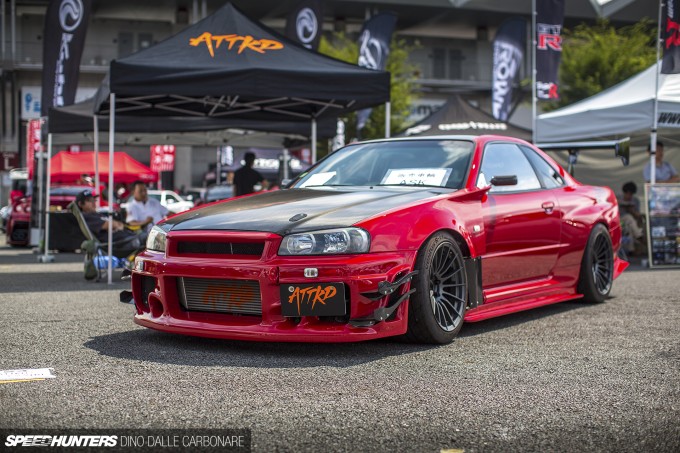 When it comes to fast time attack machines, there aren't many shops that can keep up with Autech Tsukada. These guys from Nagano know what is needed to make GT-Rs perform, and their R32 remains one of the fastest Skylines to have lapped Fuji Speedway. This R34, which was built for cutting quick laps too, is up for sale – all 700hp of it!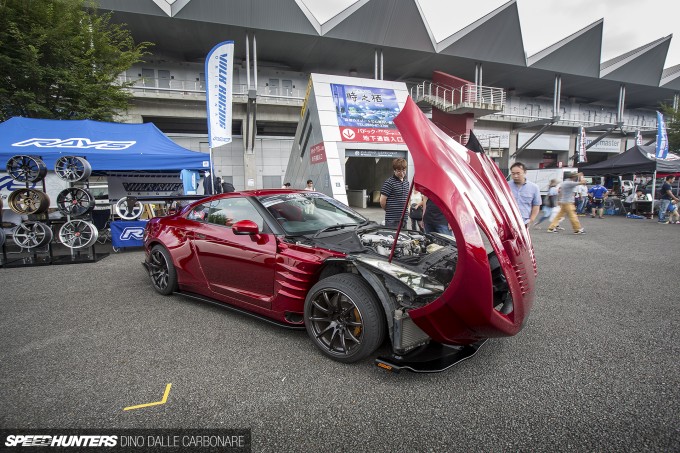 Nothing really grabs your attention like a BenSopra-converted R35 GT-R does, and this particular example is RYO's new street demo car. It's currently still running a stock engine, but that should change soon enough.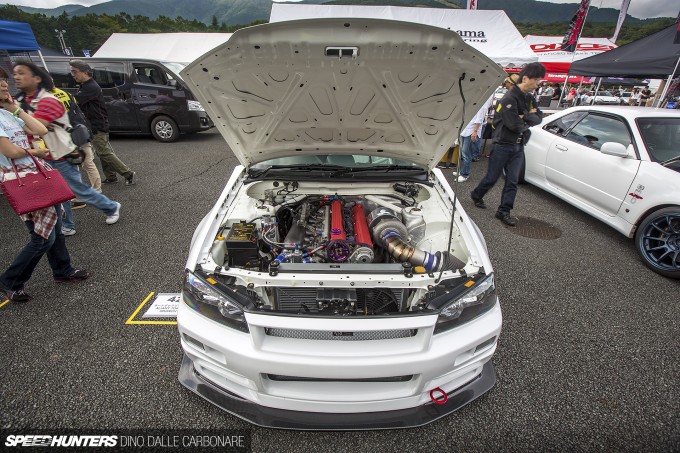 I may have shown you the Auto Gallery Yokohama BNR34 before but I just can't help share some more pictures of it.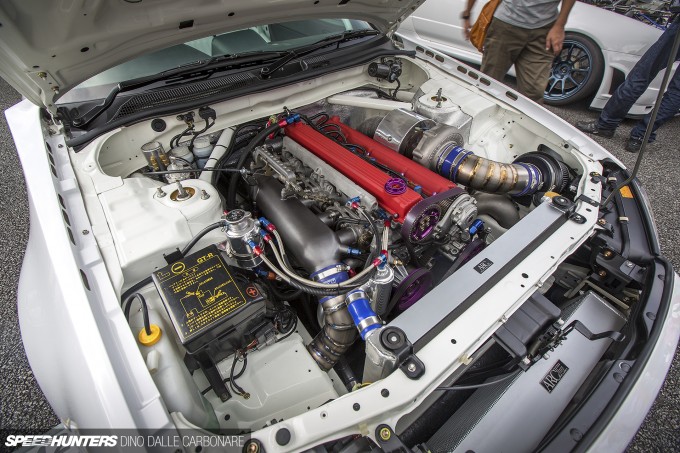 This, my friends, is tuning done right. This is the epitome of what a built RB26 should look like and I really commend the AGY guys for having developed a recognizable style for themselves. Changes for this year include the relocation of the injectors from the top of the Nismo intake plenum to the bottom for a better and more turbulence-free spray pattern into the cylinders. As always, the RB20 covers are a little touch of perfection.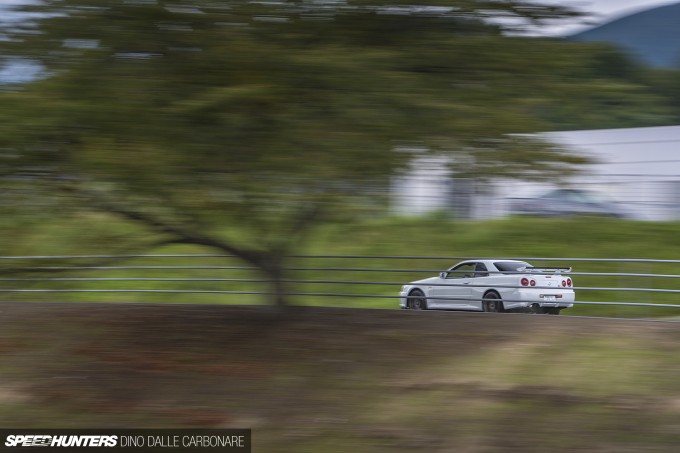 For most GT-R owners out there, the R's Meeting is far more than a gathering. It's a boost of energy and a source of inspiration to keep going with our own cars. You don't even specifically need to be a GT-R/Nissan guy to appreciate all of this – as long as you are into cars, you get it.
Stay tuned for a few spotlights from the event!
Dino Dalle Carbonare
Instagram: speedhunters_dino
dino@speedhunters.com