Why choose a big body sedan for your drift car? Well, as you can imagine there are a ton of reasons… A useable rear seat, big trunk, a longer wheelbase which makes drifting a tad easier, and higher weight thus giving you more momentum to juggle during the transitions. Finally, there's the obvious duality of the car, doubling up as a daily or family car for those times that you aren't on track smoking your way through countless sets of tyres.
It probably starts like this for most, as it makes sense. But as time goes by it's also pretty evident that priorities change for some.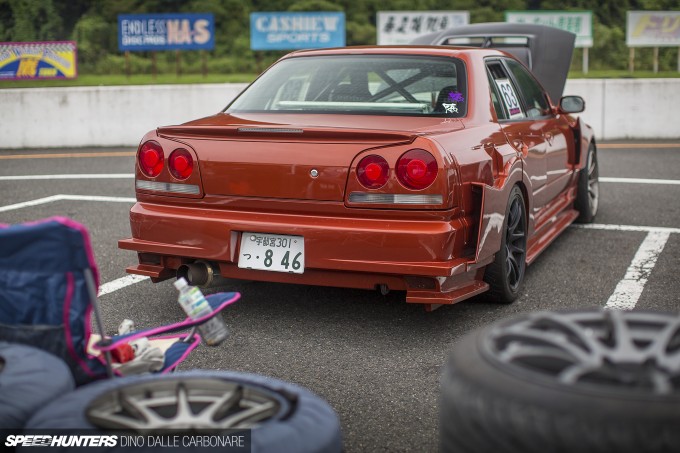 Take this URAS-kitted, metallic orange ER34 four-door Skyline I came across at Nikko Circuit during N-Style's recent Black Mark Day. Aesthetically speaking, it wasn't hard to see that the owner had decided to take the next step in modifying his Nissan. The bolt-on wide-body kit from Nomuken's own brand is as in your face as it gets.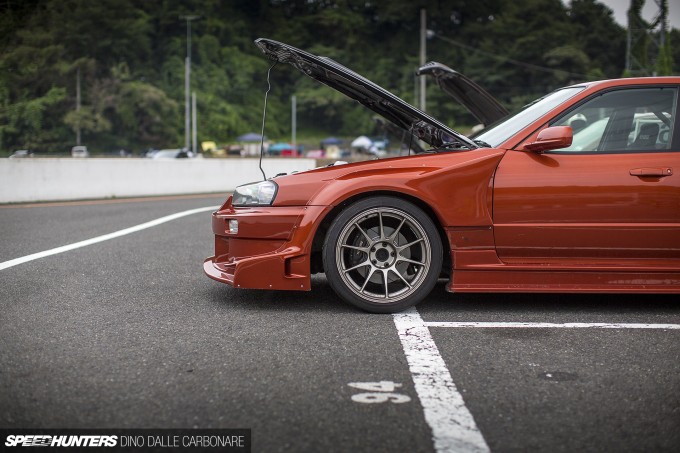 The fenders receive a pretty wild widening, which frees up some space to house wheels with more adequate size and offset, in this case WedsSport TC105Ns.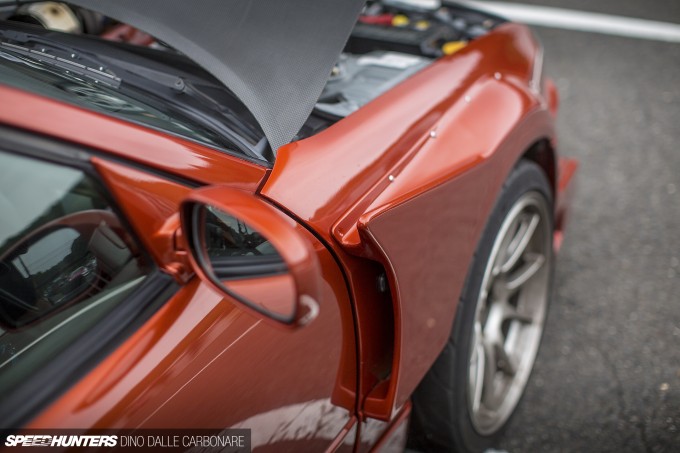 When it came to the design of the aero, Nomuken wasn't too concerned about being subtle. You either love it or hate it, but if you are out there to make a statement you might as well go the whole way, right?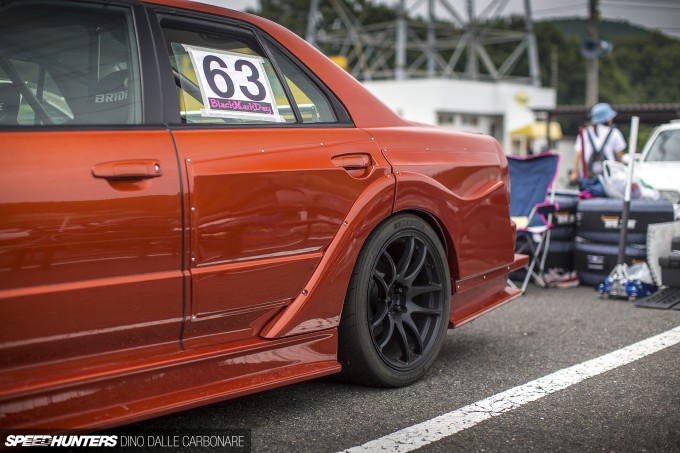 The entire rear door gets widened thanks to a screwed-on panel, which the first section of the fender flare is then attached to. It's all very Gundam if you ask me.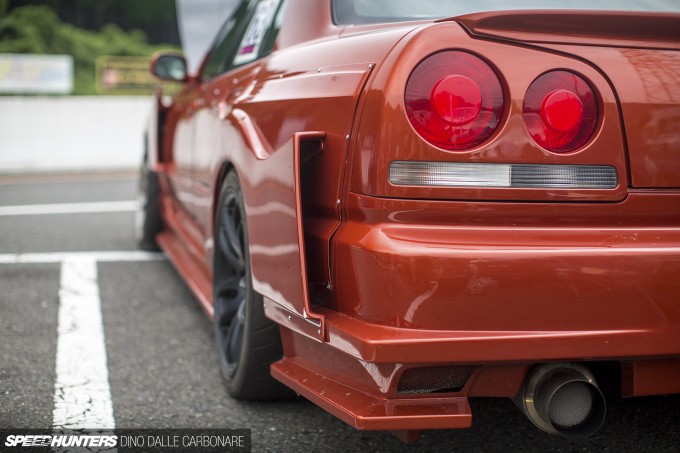 But it gets the job done.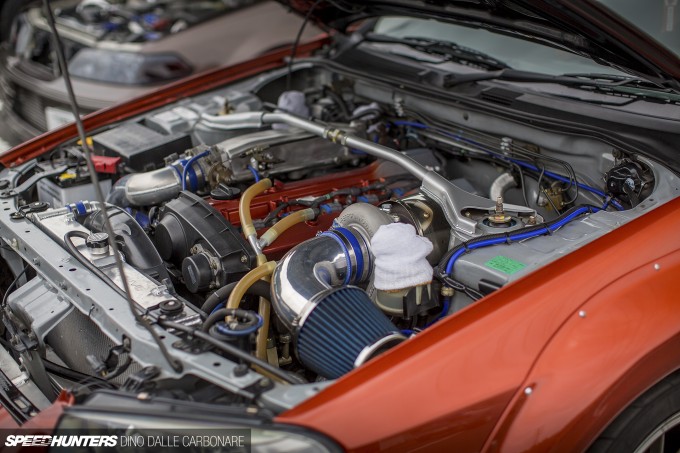 Never underestimate the potential of an RB25DET – this is an engine that can be massaged to deliver quite a punch. Looking in the Skyline's bay, it appeared as though most areas had been addressed.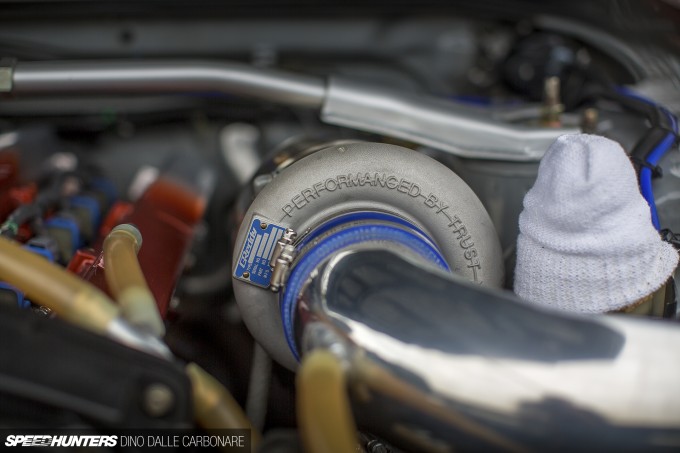 At the center of it all is a Trust TD06SH-25G, mounted high with all supporting modifications to boot.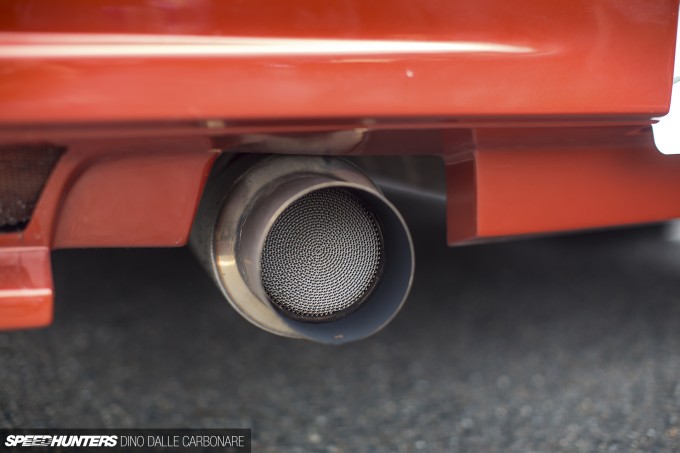 I found the catalyst in the rear silencer quite interesting, as you usually only see this sort of thing on rally and race cars that are forced to run one to meet regulations. Maybe the owner has entered this car in D1 Street Legal…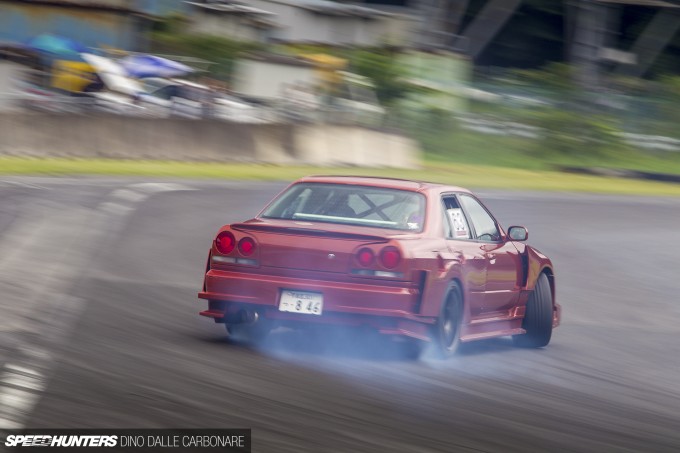 Performance-wise, the big Skyline looked sensational out through the Nikko midfield, its driver staying on the power until the very last corner before the back section, where most cars either run out of puff or revs.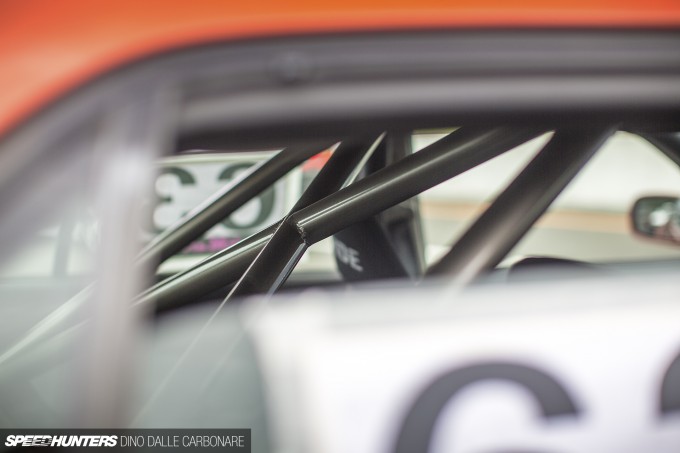 One peek through the rear window and it was obvious the ER34 no longer functions as a family sedan. The custom rollcage consumes the area where the rear bench used to be.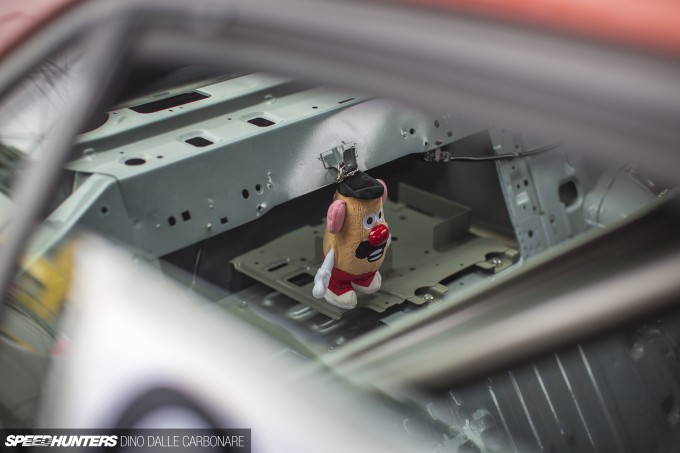 Mr. Potato Head is the only backseat passenger this Skyline is currently carrying!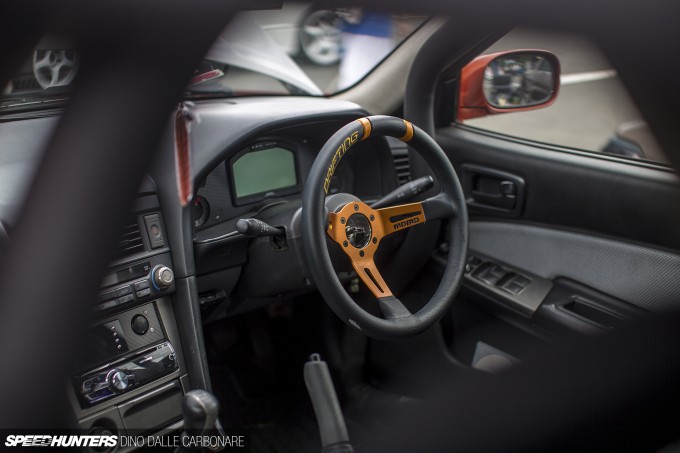 The cage extends to the front of the cabin to help keep the driver nice and safe, and as a welcome consequence boosts the car's rigidity. As you can see, the stock Nissan instrumentation has been ditched in favour of a digital dash unit – further proof that Japanese drifters are really upping their game as of late, even down at the grassroots level.
Dino Dalle Carbonare
Instagram: speedhunters_dino
dino@speedhunters.com