In Helsingborg
Despite the seemingly globetrotting nature of being a Speedhunters contributor, we rarely get to see much outside of airports, rental cars and race track venues. From the moment we step off a plane or boat, we tend to be focused on the job at hand.
In very rare instances you might have a couple of hours free the night before an event, but this time is normally used to catch up on e-mails or work on plans for future stories. Other times, we use it to experience a strange thing called sleep, but I'm not entirely sold on that concept just yet.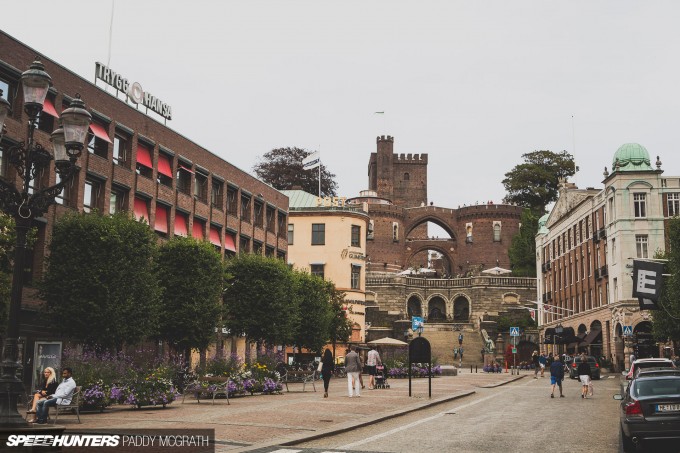 In the rarest of circumstances, we might get to venture out of our hotels and explore the immediate locality. Last month, I visited a small township in southern Sweden called Helsingborg where I stayed the night before the Vallåkraträffen.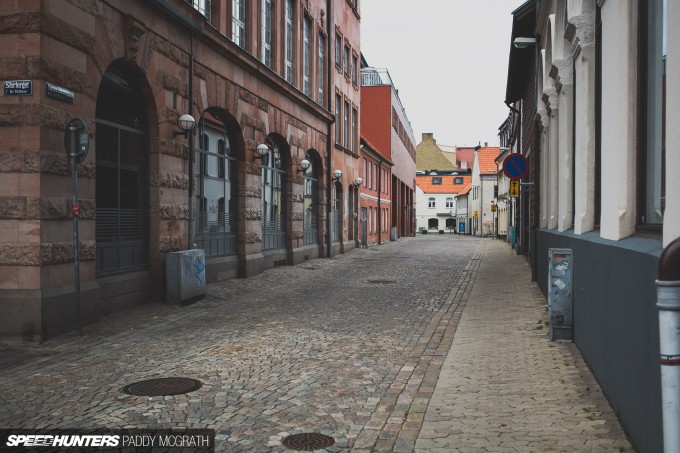 It's your typical sleepy Scandinavian population centre that somehow seamlessly combines traditional architecture with a clean and modern overall look. It's something that's hard to put into words, but it's quintessential Sweden. You'll know it when you see it.
And it isn't one bit like IKEA.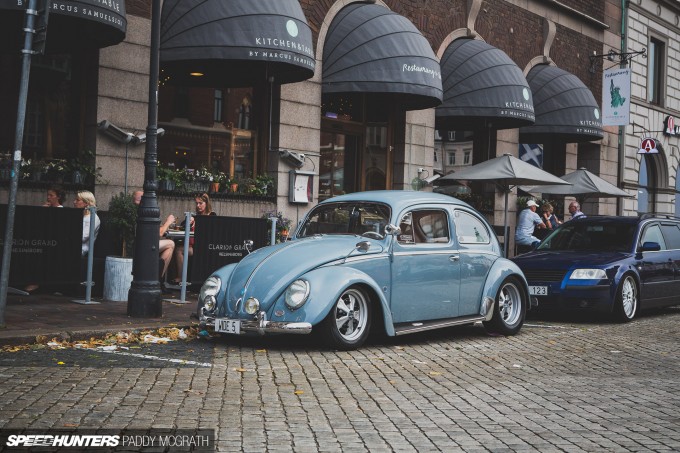 On this particular evening, my aim was to take some tourist-spec snaps, grab some food, maybe learn something about the area and pay the $85 parking fine I received nine minutes after arriving in town…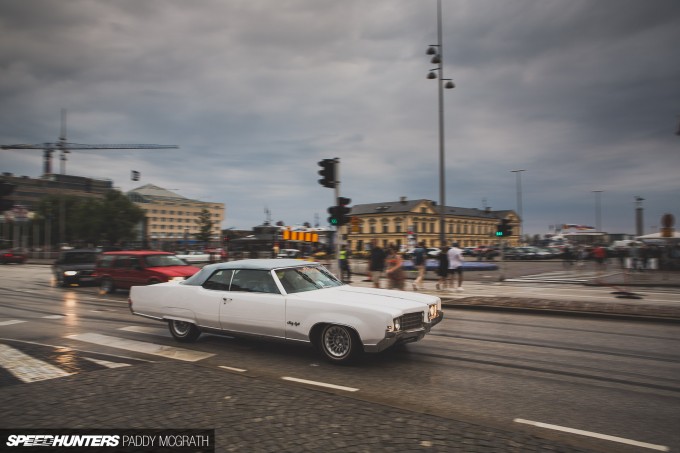 I wasn't far from my hotel when I noticed that there were still a lot of people around, typically more-so than you would expect after shopping hours on a Saturday night. Stranger again was that everyone was edging the main street near the waterfront. Classic American cars aren't the most unusual sight on Sweden's roads, but it didn't take long for me to realise something that would lead me down the proverbial rabbit hole.
That night, Helsingborg became the stuff of dreams for this particular guy, as an invasion of vintage American cars packed the streets and transformed 2015 Sweden into mid-20th century USA.
An American Invasion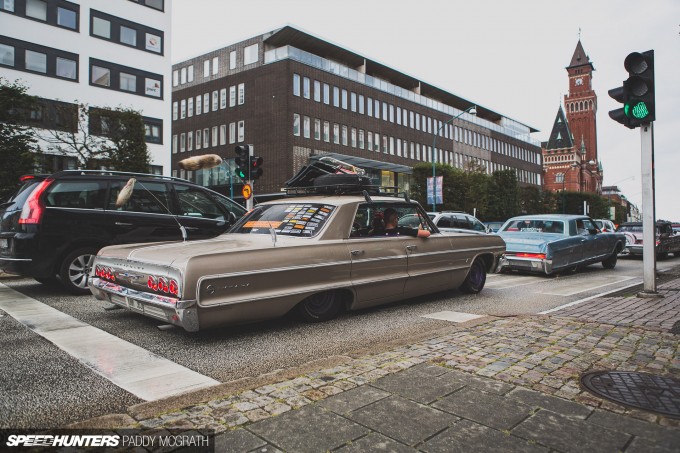 Being a non-US citizen, I have always had a strange attraction to this particular era of American history. It's an attraction that I see replicated all around Europe on a regular basis, and is why the likes of muscle cars, and even your typical '50s, '60s and '70s American cars, are sought after in Europe.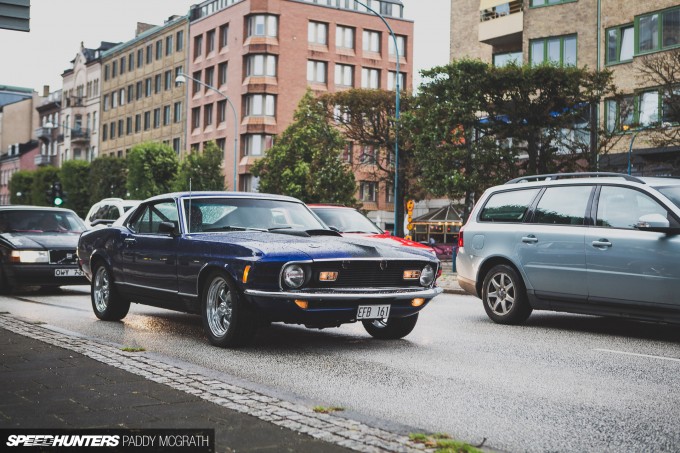 Growing up in Ireland, which is about as far away from a car-orientated country as you can get, big old American cars are massively appealing. In a country where 2.0-litre engined cars are considered big and 2.5 litre cars ludicrous, the idea of 5.0-litre V8s and above are the stuff of fantasy for a petrol-head. As an aside, I once considered buying an E46 M3. When I told a family member that the car was 3.2 litres, they honestly thought I was making it up that an engine that size even existed.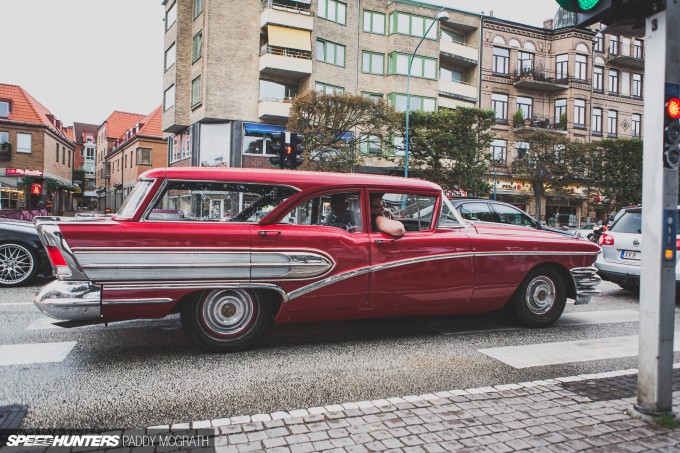 As such, we had very little exposure to this era of American car history. I think this is something that could be said about a lot of places in Europe and possibly explains the strong classic American car culture that exists here. As we all know, what you can't have is nearly always more desirable than what you can.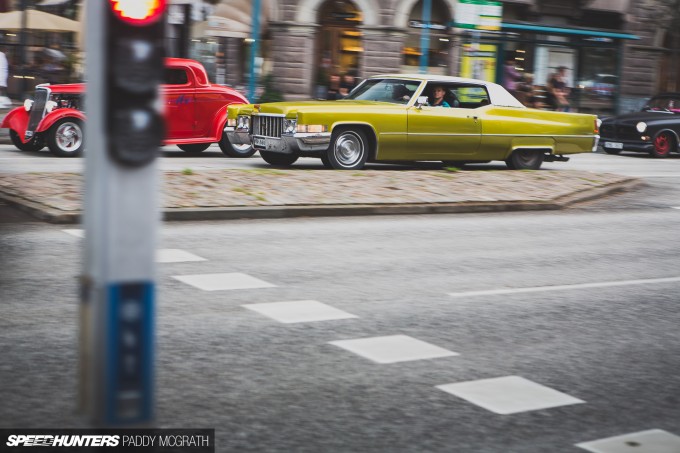 I've followed some of Larry's adventures with Hot Rod magazine, Keith's exploits with his Drag'n Kaiser, and Mike's awesome experiences with hot rods and gassers both in California and Japan with a serious amount of envy. You wouldn't believe the amount of time that I've spent day dreaming about visiting Bonneville or shooting the likes of the Hot Rod Homecoming.
But for every bit of me that lusts after these events and occasions, the rational side of me keeps saying I could never possibly cover events like these, simply because I just don't know enough about the cars.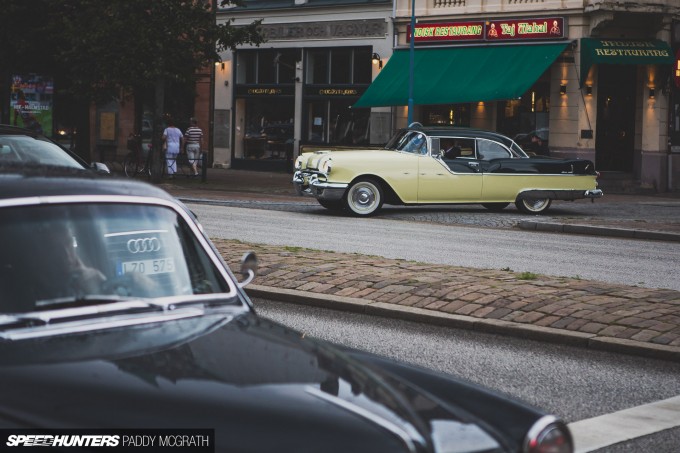 Whilst I grew up around Fords of the European variety, I was also exposed to other European cars, followed by a huge influx of Japanese imports during the mid to late 1990s. This gave me personal experience of lots of cars that I may not really have had much of an interest in, but these experiences at the very least gave me a little bit of knowledge about a broad range of cars from around the world.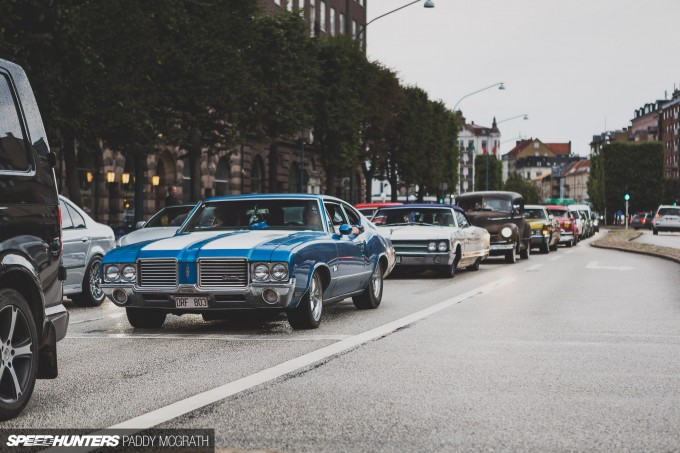 Aside from a trip to the Magic Kingdom as a child, I had zero interaction or experience with any American cars. When you struggle to tell your Plymouths from your Buicks or your Oldsmobiles from your Chevrolets, it puts up a huge barrier to entry when you want to involve yourself in a particular area of car culture.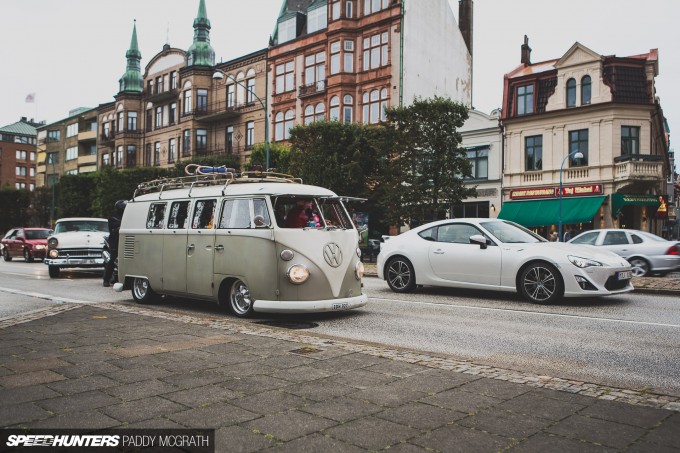 When it comes to Volkswagens or Toyotas, I can blabber on all day with owners because I know the right questions to ask.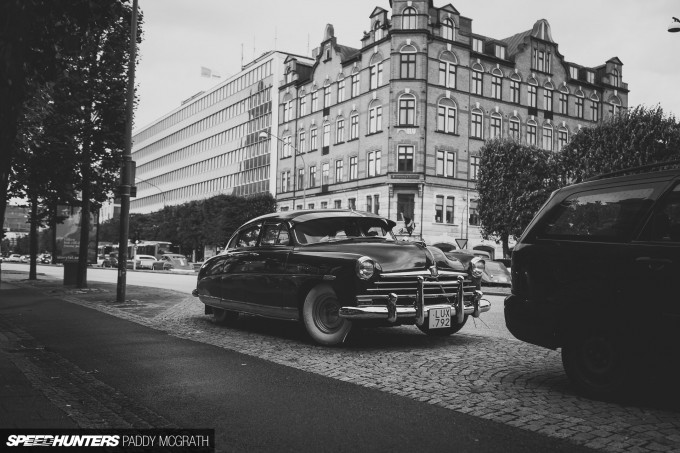 But when you have to ask an owner what the hell you're looking at in the first place, it generally tends to cut the conversation quite short. As a representative of Speedhunters, I feel there's even more pressure to know everything about everything. Obviously, this is impossible, but when you have to choose between quietly observing from a distance or making an ass of yourself, I tend to go with the former.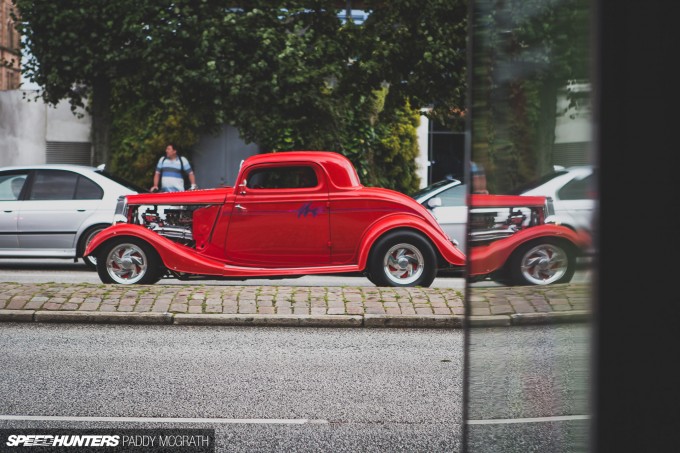 But do you know what? That's the safe choice. And to be quite frank, I'm sick of always choosing the safe route. It's boring and always results in the same predictable outcome.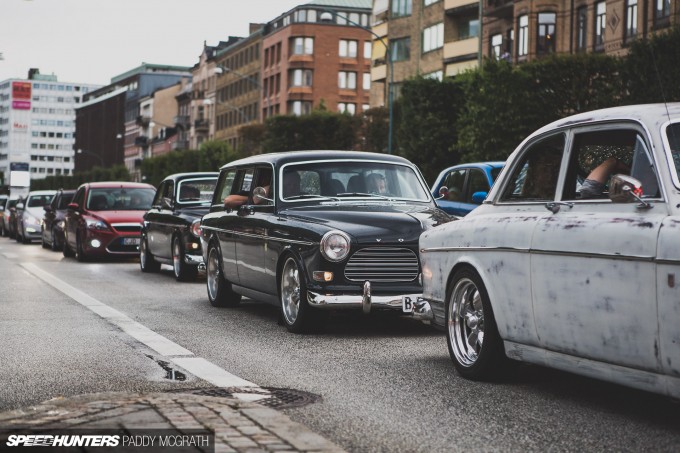 One of the people I look up to most in this industry is our very own Bryn Musselwhite. His attitude of just getting sh*t done and a never-ending appetite for adventure has allowed him to experience things and to become part of stories most of us could never even dream of. As I stood on the side of the road, I knew I had two choices. It was getting late, I still hadn't had anything to eat and I had a ridiculously early alarm call set for the next morning, so the logical choice would have been to get food, get sleep and be 100 per cent prepared for the event I was actually in town for. On the other hand, the greatest piece of life advice I've ever received was echoing in my ears. 'Never say no to an adventure.'
That settled it then.
The Source Of Madness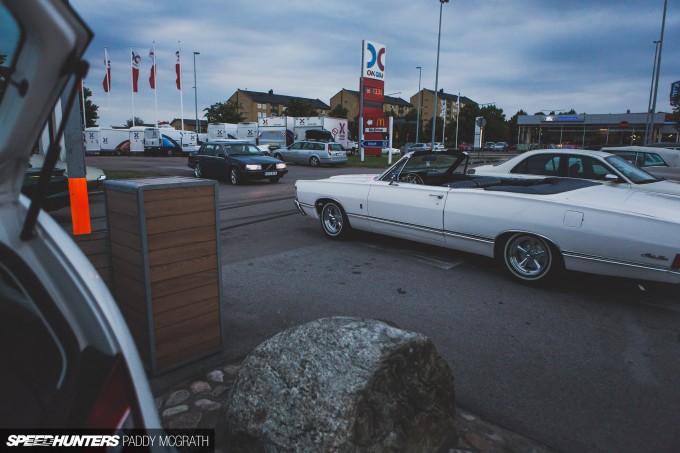 With a decision made, I retrieved my trusty rental car – a mighty Volkswagen Up! – and figured that I needed to try find out what exactly was going on. The main street was full of interesting cars going up and down, but they surely had to be coming from somewhere. There had to be an epicentre to this happening and instincts told me that the main street wasn't it.
Seeing as I still had to find a police station to pay my extortionate parking fine – thanks again, Sweden – and that the main one was just out of town, I figured it would be worth a drive to see if anything was happening on the outskirts. As luck would have it, it turned out that this was exactly the case.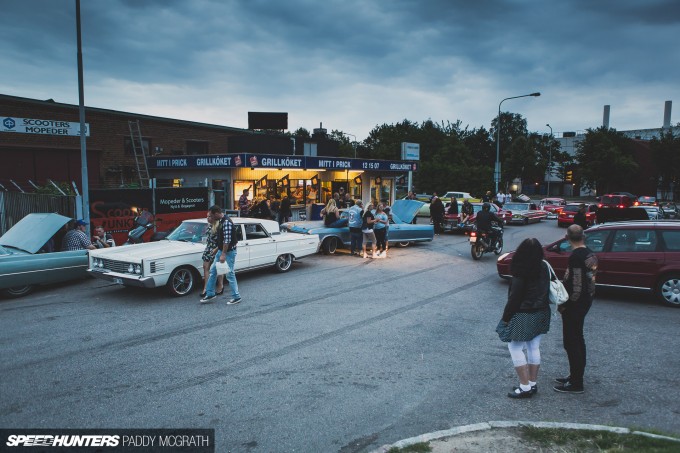 Whilst it may not have been the precise source of the invasion, this gathering of cars at least told me that I was looking in the right direction.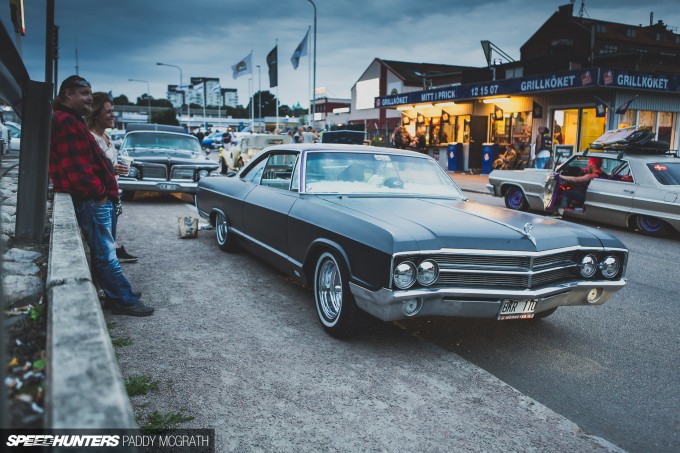 I can't begin to describe how surreal this was. Here I was standing on a sidewalk in Sweden, surrounded by a plethora of vintage American cars with music blaring and people dressed in rockabilly-style attire.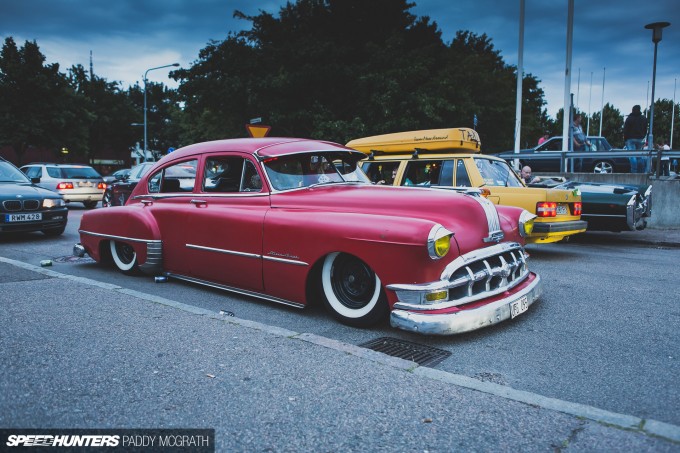 Because of the Vallåkraträffen the next day, there were a few Volvos in various states of tune floating about. Honestly though, if someone had drove past in Project GTI, I wouldn't even have noticed it behind the likes of this beautiful Pontiac Silver Streak.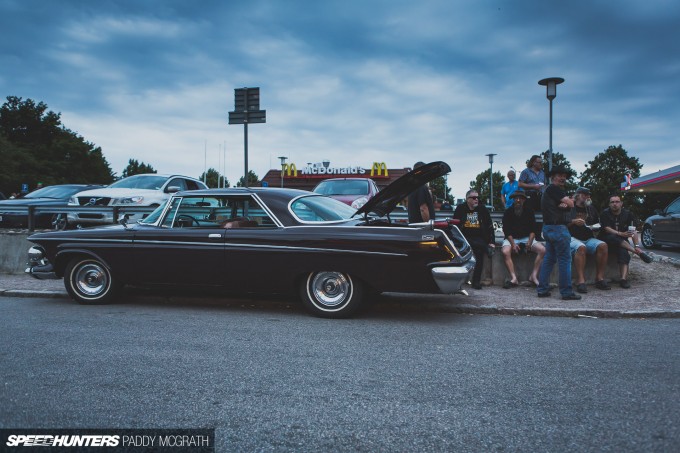 I've always found it peculiar that these cars belong to an era where rapid obsolescence was being perfected, yet they're still jaw-dropping today. These are cars that were designed to look so contemporary at the time of their release, that they'd be dated in a matter of years, forcing their owners to ditch them and buy the latest and far more modern-looking car. These cars were designed to go out of fashion, but they're infinitely better looking than most cars on the road today.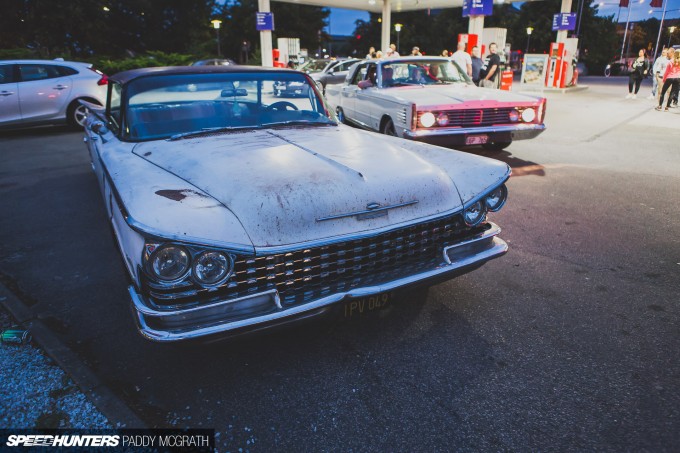 At the fuel station I bumped into a guy with his friends who owned this '59 Buick Electra. It had a couple of neat surprises and a cool back-story which shows the lengths that people in Europe will go through to own a classic American car. I've shot a brief spotlight which I'll sort out shortly, but in doing so I was finally able to ask someone what in the hell was going on.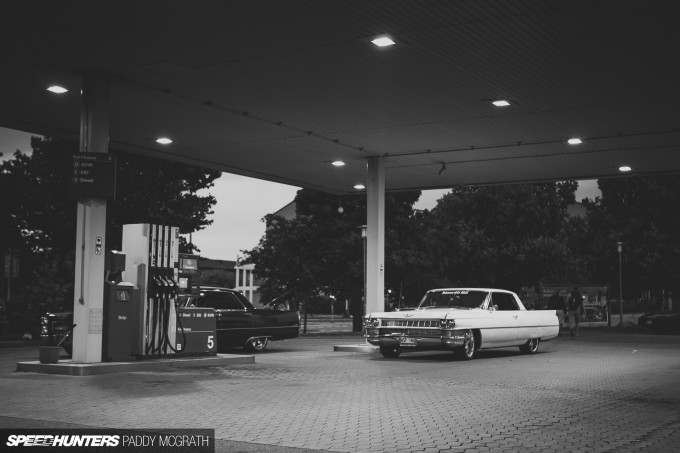 Up until this point, I wasn't 100 per cent on the event I was in Sweden to cover, so had assumed that maybe this was part of its roll-in. As I now know, it quite obviously wasn't. This was the aftermath of an annual meet which just happened to be the day before Vallåkraträffen. Essentially, its participants had descended on Helsingborg for an impromptu meet and late-night cruise.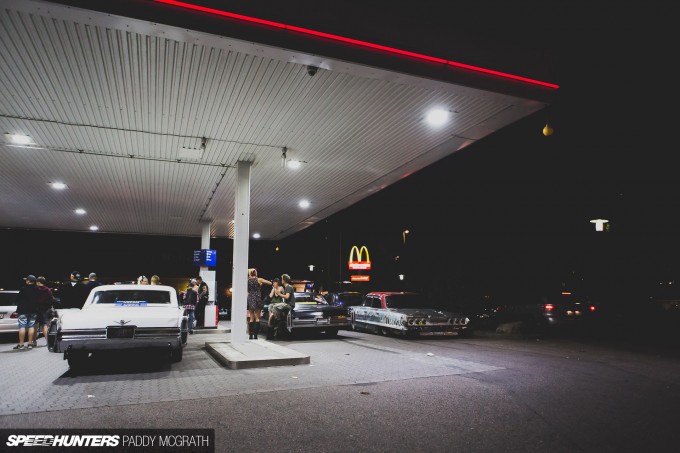 The event in question that set this whole crazy evening in motion was the Bjuvs Burnouten, an annual affair where lots of Swedish people get together and do burnouts. From looking online afterwards, it's not just American cars that take part at Bjuvs, but there's obviously some sort of plan to ditch the non-American stuff and do their own thing for the night.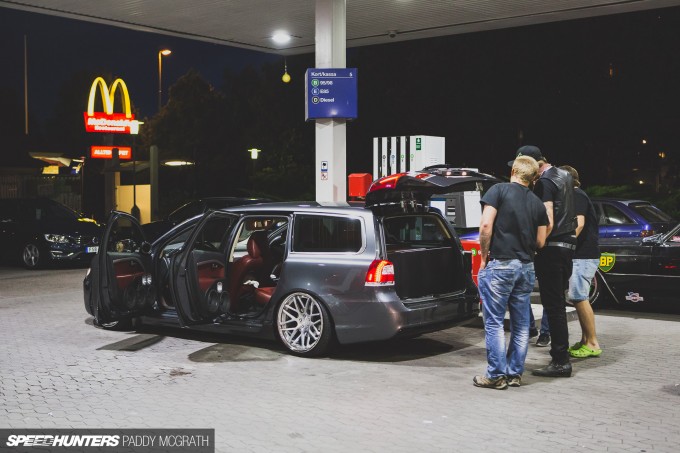 I think it was at this point that I realised my brain was unable to process the level of random around me. Stood on this forecourt, I could see (and hear) a Volvo wagon blasting out tunes of questionable quality, surrounded by old slammed American cars. Behind me, a Lamborghini Gallardo and Ferrari F430 were revving their engines.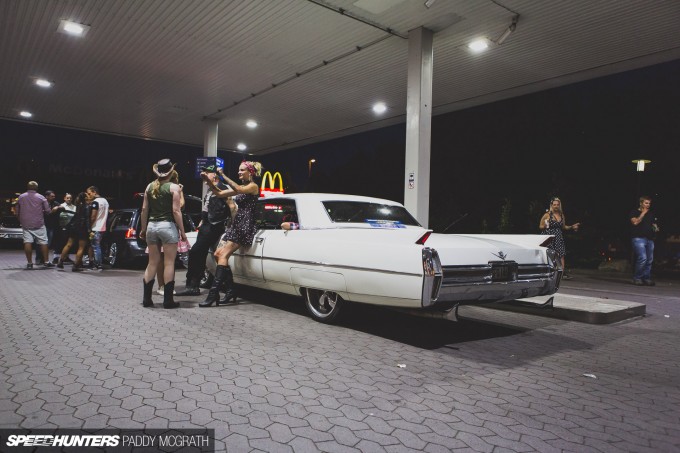 People were dancing, and as the bass dropped even more cars and people appeared.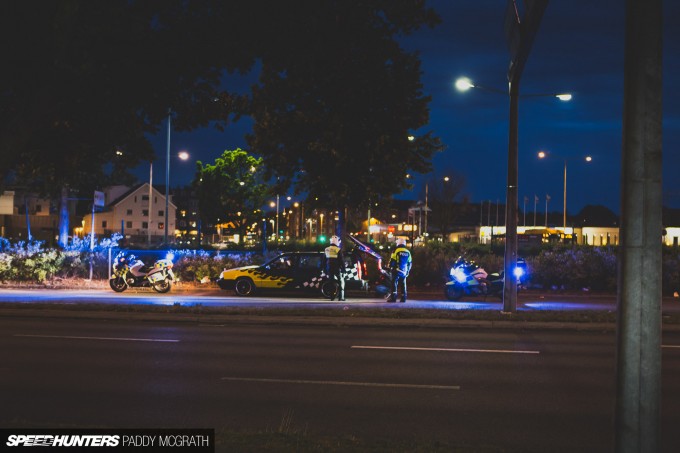 Whilst this was occurring, across the street the police had a Volvo pulled over – presumably for crimes against good taste. On finishing up they headed straight for the petrol station.
With both patrol bikes stopped in the middle of the forecourt, the officers looked around and realised that not one single person present had even noticed them, or if they did they didn't give a single sh*t that they were there. They looked at each other, shook their heads and left. Not even the police could comprehend what was happening.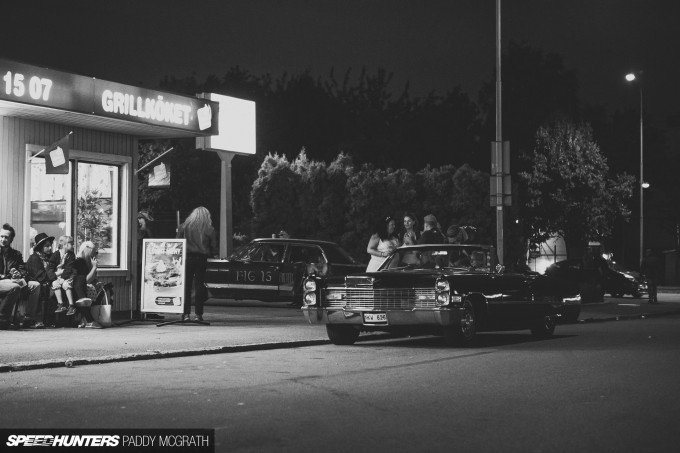 Seeing as I had at least figured out what was going on and had spent several hours being engrossed by a situation that I couldn't possibly have imagined happening just a few hours earlier, I was quite content to call it a night.
Writing this now, I can feel a headache coming on as I still struggle to process the events that occurred. Never in a thousand years did I think that I could end up at something like this, let alone on this side of the Atlantic. I went for a Volvo show and ended up having one of the most eye-opening Speedhunting nights of my life.
It might seem like a small thing, but this night was a big moment for me. I would have been oblivious to this entire happening if I had just decided to ring in some room service and watch a movie earlier in the evening. It's this particular thought that has made me hyper-aware of what I could potentially be missing out on at any one time. If we could all just…
Sh*t… I never paid that parking ticket.
Paddy McGrath
Instagram: pmcgphotos
Twitter: pmcgphotos
paddy@speedhunters.com
Cutting Room Floor