Buzzing Away
The Rotary & Roadster Meeting at Sendai Hi-Land was an event I truly enjoyed going to. Run by Pan Speed and a few other shops in the Japanese Mazda scene, it was a fine occasion to hunt both familiar cars and fresh machines that I otherwise wouldn't have had the chance to see at events like 7's Day. But then Sendai Hi-Land got closed down.
The 2011 earthquake set the wheels in motion for the circuit's demise, and spiralling costs to keep it running eventually saw its owners pull the pin. It's a real pity too, because it was a great track – one that I had the opportunity to drive a few times when Nissan held R35 GT-R events up there. But as the saying goes, all good things have to eventually come to an end, and this was very much one of them.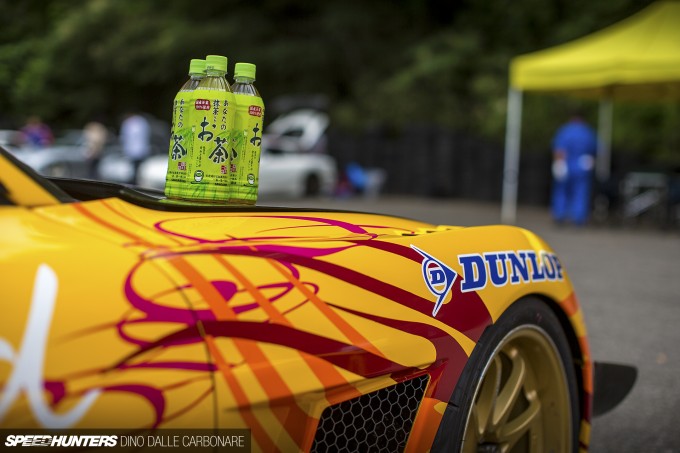 Ever since, Pan Speed has been on the lookout for a substitute venue. It needed to tick a couple of important boxes though: being within a reasonable traveling distance for all the usual attendees of the event, and of a club-type nature so as not to dilute the whole grassroots feel of the event. And this is something I really want to stress here. I've always liked Pan Speed for the way it's stayed true to its customers – it looks after them and provides for them. Pan Speed isn't bothered about what the next automotive fashion is, it operates solely to cater to the rotary world, and by doing that it's created a diehard community of enthusiasts in Japan.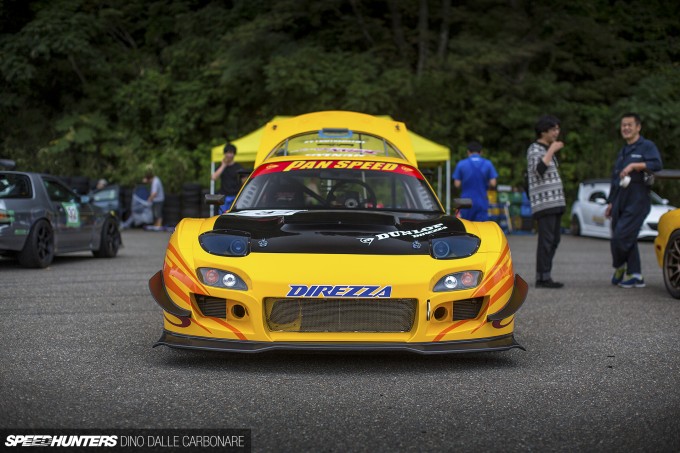 While some other rotary specialists out there might be expanding their scope to other makes and models in order to survive, Pan Speed is happy to wait until Mazda has something new with a rotary engine. In the meantime, there's plenty of work to do, as a lot of owners in Japan are now holding onto their cars for longer periods of time, and therefore end up investing more into them.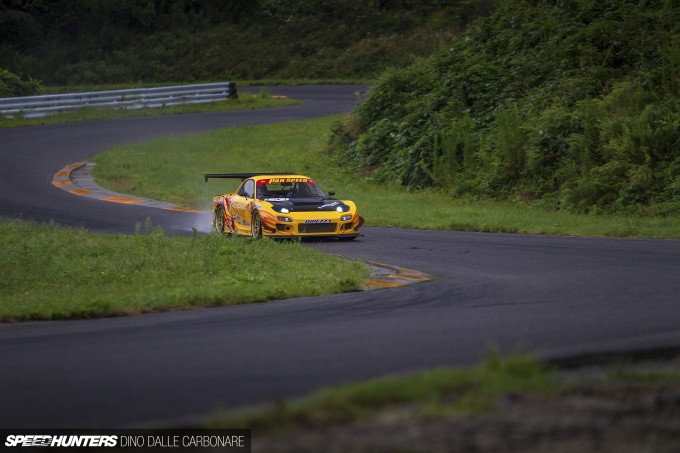 'Passion' is what the Rotary Meeting was all about at Maze Circuit this past weekend. Yes, the 'Roadster' name was dropped from the event title this time around, reflecting what is now a rotary-only affair. Excluding Mazda's most successful sportscar was a tough thing for Pan Speed to do, but it had to make the tough decision to keep the event focused.
Located right on the coast of the Sea of Japan in Niigata prefecture, Maze is one of the country's oldest race circuits. It's quite a hike from Tokyo, but this was one event I felt I had to cover. The previous weekend it was grassroots drifting, so grassroots grip racing with a rotary twist sounded like the perfect way to balance things out.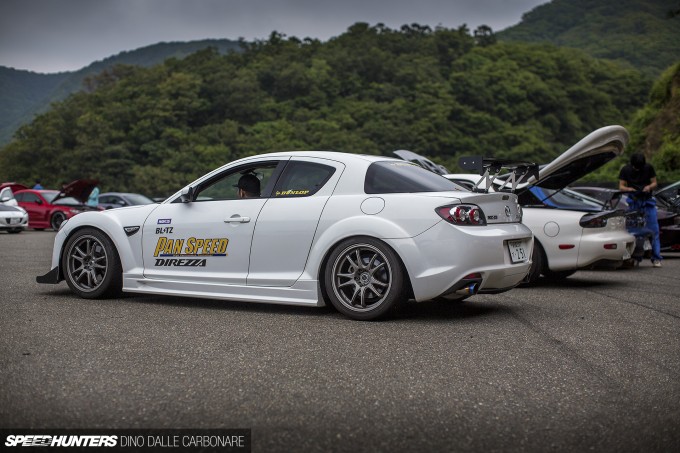 I headed up to Maze the day before the event, and after spending the night in a local hotel I arrived at the circuit at 7:30am to find things already abuzz – in more ways that one. Pan Speed had brought along three of its four demo cars, and this white RX-8 was one I had never seen before. It's tuned for fast street use, but because if its side-ported engine, free-flowing exhaust that likes to shoot plums of fire on the overrun, and Sachs suspension which probably cost twice what the Mazda itself did, it's handy on the track too.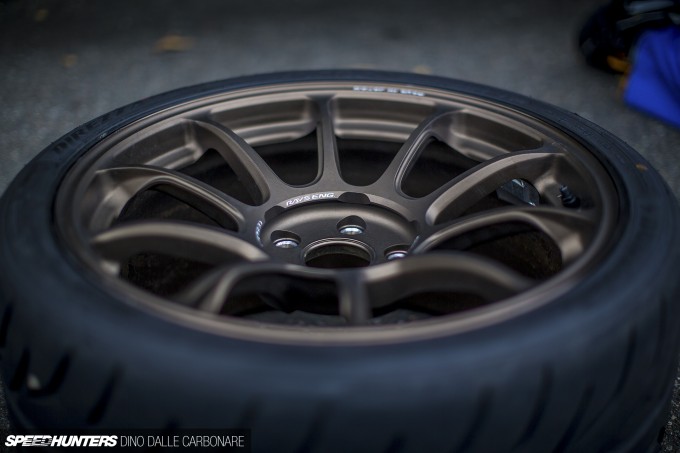 As soon as it arrived in the paddock however, it was quickly refitted with a fresh set of Dunlop Direzza rubber mounted on oh-so-sexy bronze RAYS Volk Racing ZE40s.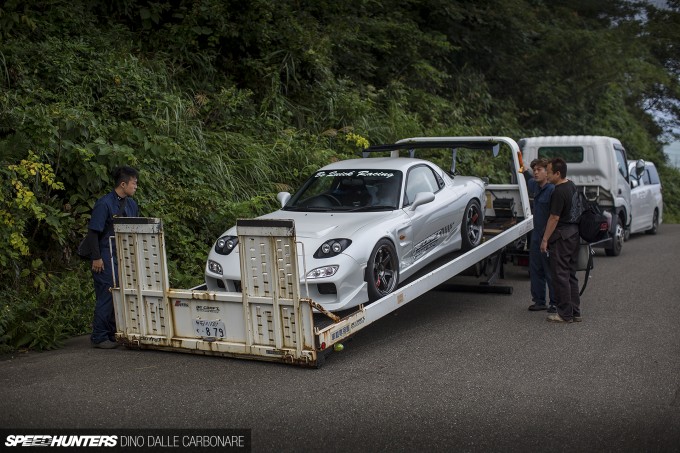 More local tuning shops from the Niigata and neighbouring Fukushima prefectures, like Be Quick Racing seen here, were also present at the small get-together.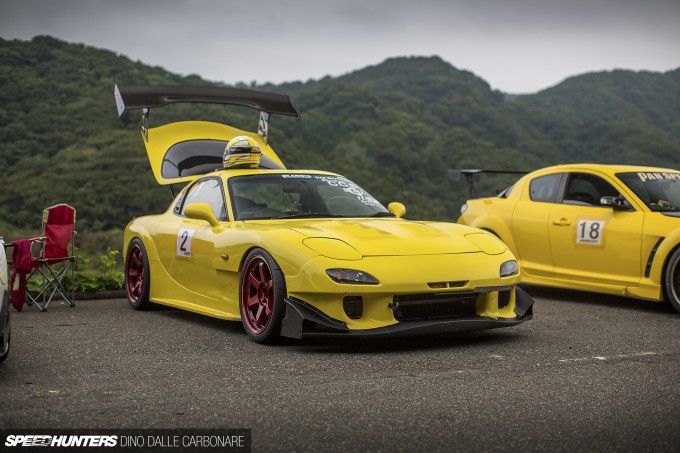 Be Craft Technical Factory, which up until this event was a tuner I'd never heard of before, had one of the biggest showings of Mazdas after Pan Speed. Its cars were seriously quick too, and I chose one to spotlight which you'll be able to read all about next week.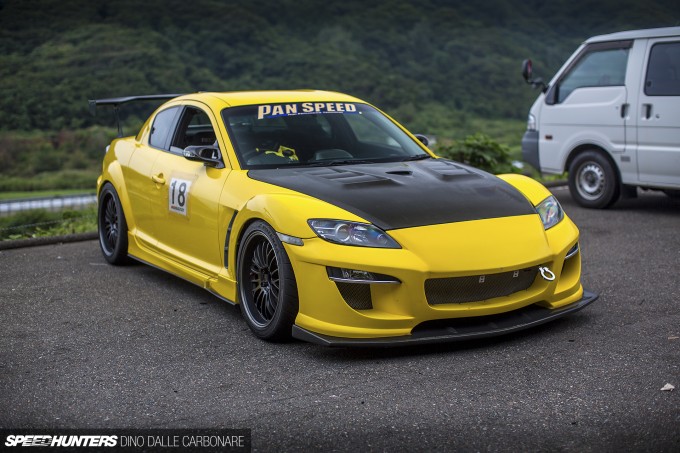 One machine in the Be Craft ensemble was this ex Pan Speed RX-8 – by far the loudest car at the entire event. It also proved that a well-driven SE3P can be blisteringly quick on a tight and technical course like Maze. Power here means very little.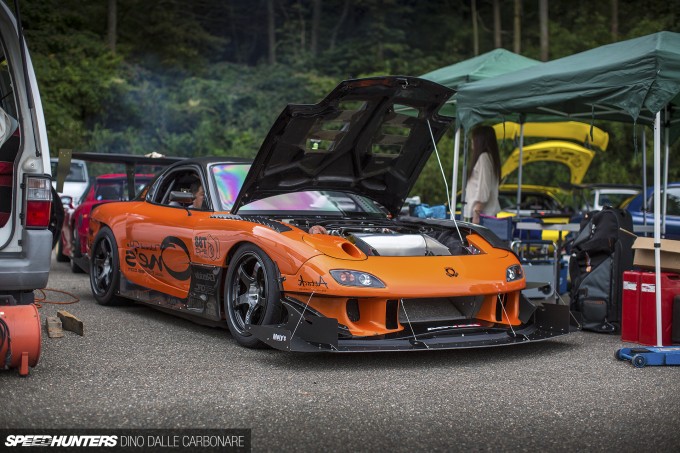 Nestled between a small marquee and a service van was a car you've probably seen before on Speedhunters. I usually run into the orange One's FD3S at the Battle Evome Tsukuba events held around January and February every year.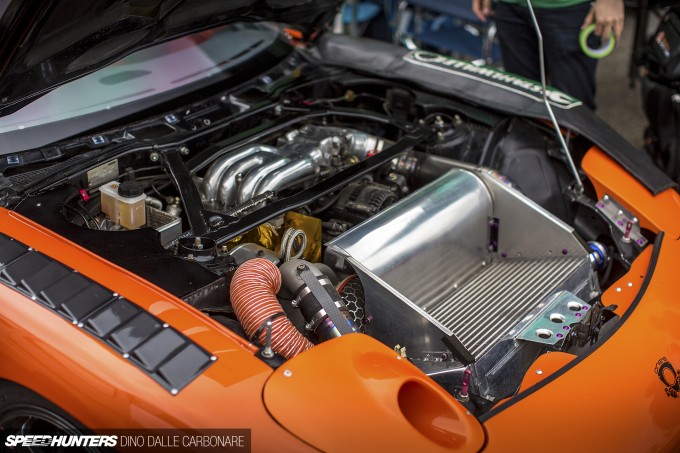 This is one of the fastest privateer FD RX-7s I've ever seen lap at Tsukuba, so it was very cool to see it being run at a different track for once. Aside from its ever-evolving and rather complex aero solutions, the Mazda's engine is putting out some serious power and torque figures, with most of the tuning geared towards ultimate response.
Keeping It In The Family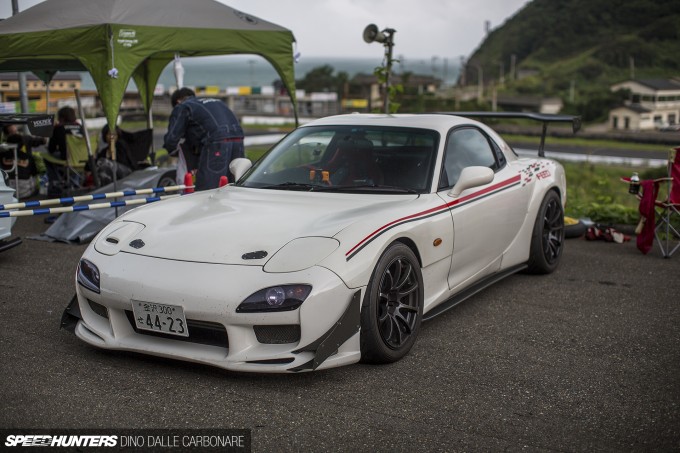 Not far away I came across this Fujita Engineering tuned FD, which may have been an old demo car as it looked quite familiar. Buying a tuning shop's former R&D car is a great way to get into a hard-tuned machine without losing too much time and money, as you get the full package right from the get-go.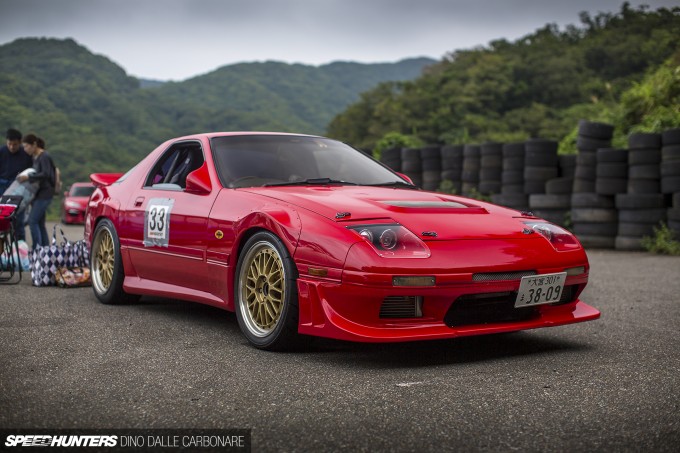 In Pan Speed's big customer group there were only a few FC3Ss present, which was a bit of a shame. Along with the RE Amemiya fixed headlight conversion, this car was running a full Pan Speed aero kit which included the vintage over-fenders.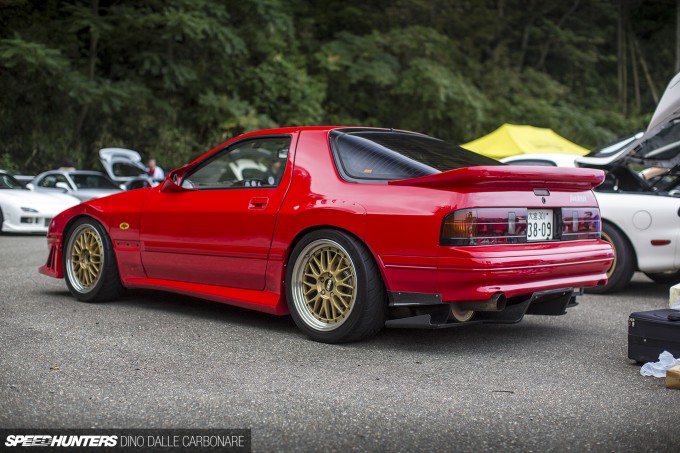 These are parts that were designed in the early '90s primarily for use on Pan Speed's high speed Yatabe time trial car. FCs truly rule, and there's nothing anyone can say about that!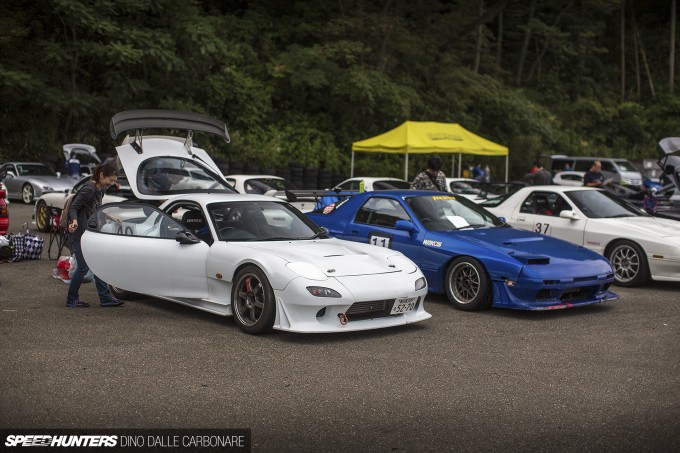 Behind the red example and alongside a cool lady-owned FD, I spotted another familiar FC3S.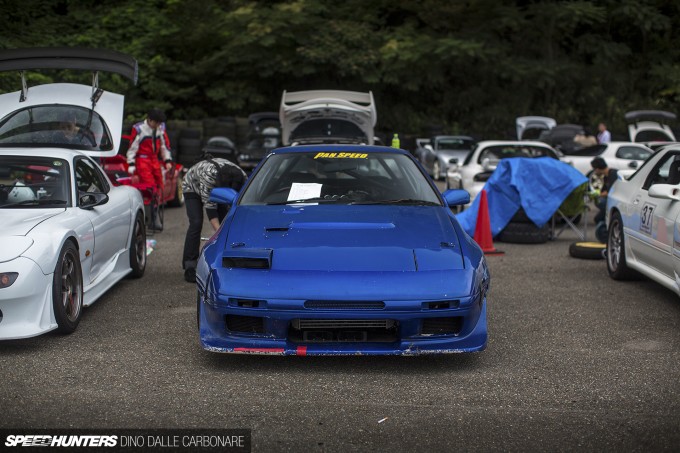 The blue Mazda was a regular at Pan Speed's Sendai Hi-Land events, so it was great to see it at Maze. It's still street registered, but it's pretty much used as a full-on track car and the abuse it's received over the years really shows.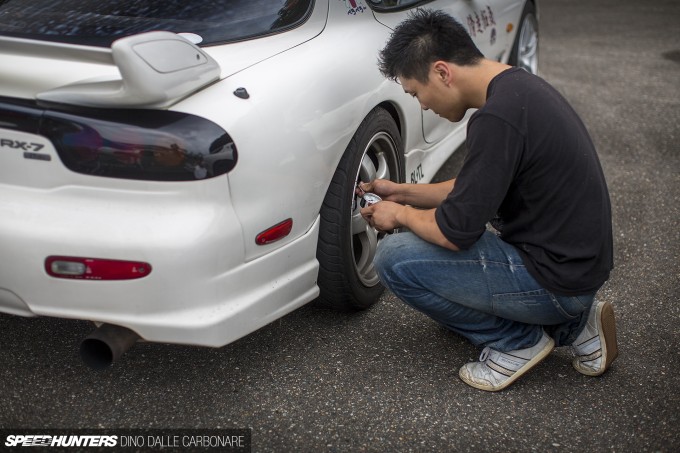 Before the track session opened at 8:00am, owners were kept busy with the usual soukoukai preparations, like emptying the car, removing the rear seats, swapping wheels and tyres and checking pressures.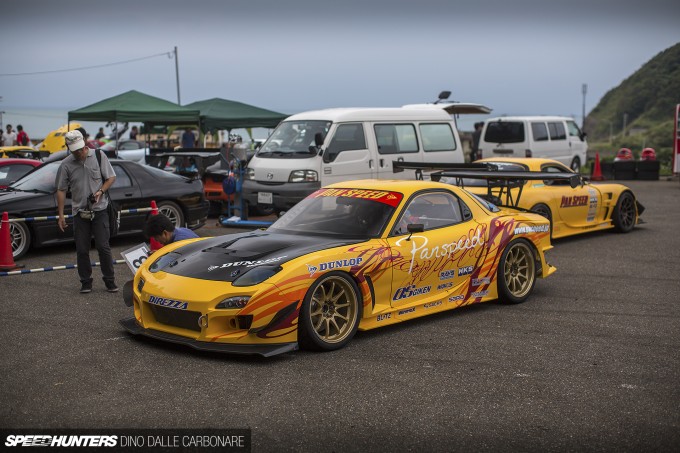 While most people had come along for the fun aspect of the event, two of Pan Speed's demo cars – the more of extreme of which has recently received a whole new aero kit – were being used to test out a new brake pad compound for the forthcoming time attack season.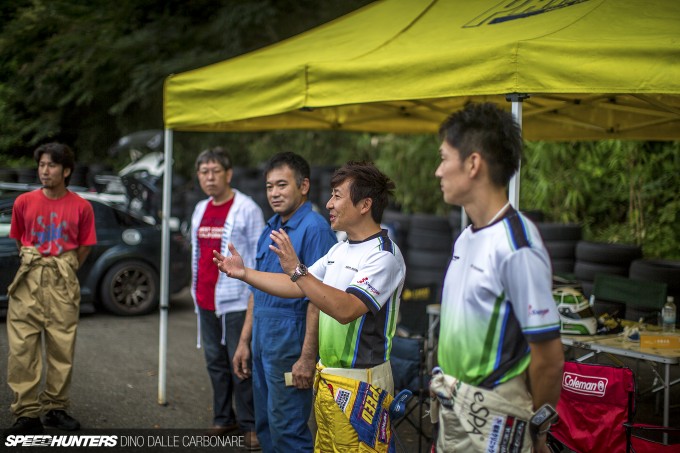 As always, Kota Sasaki was called out to drive the time attack beast around the track, and with him Tojiro Azuma would be piloting the street car demonstrator. Having pro drivers at an event like this is great – it allows people to ask questions and get pointers, and even have the guys drive their cars for the ultimate learning experience.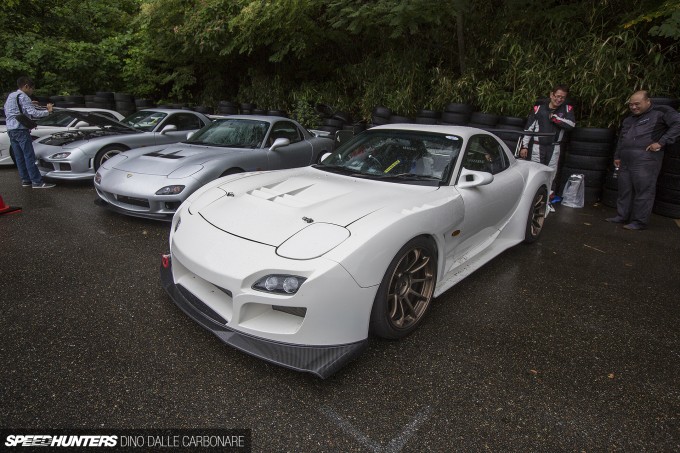 My plan was to shoot a full feature on this FD3S customer car at the end of the day, but as most well laid out plans at these sort of track days go, the weather had other ideas. We saw the rain clouds move slowly towards the track from the sea for the better part of the morning, and then all of a sudden heavy rain started falling.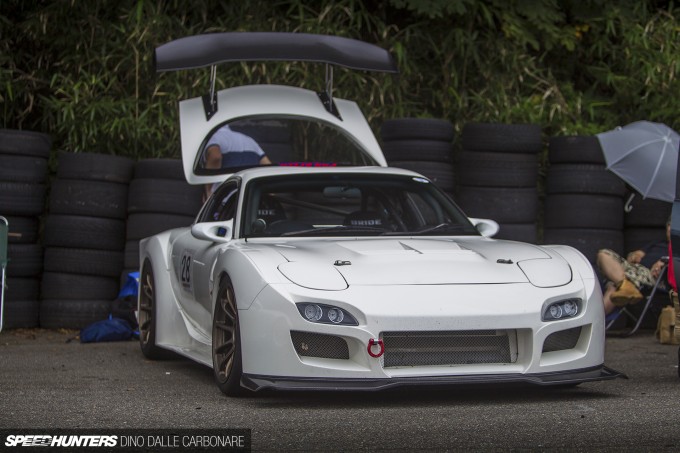 The owner brought along the RX-7 to test out its latest upgrade – namely a Quaife 6-speed sequential gearbox – and at least managed to get a few decent laps in before the skies opened.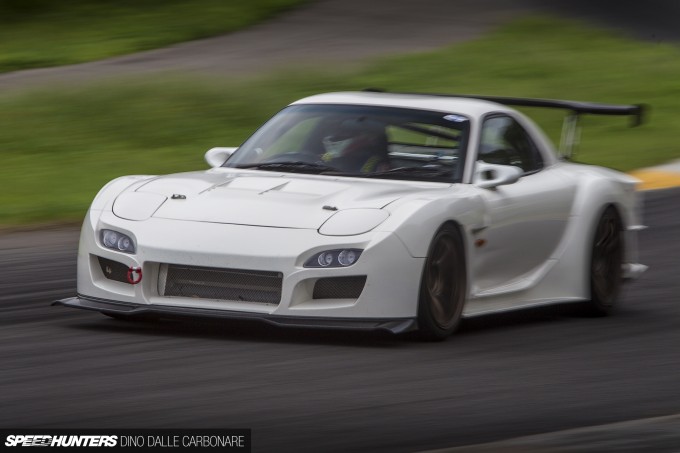 As its look might suggest, this is one of the most extreme customer cars that Pan Speed has ever built. On top of the new transmission there's a bridge-ported engine running a T04Z turbo, not to mention Pan Speed's own wide-body kit. Given the weather, the owner left early, but Sato-san (Pan Speed's chief mechanic) told me the car is usually at the workshop, so I'm able to drop by and treat it to the full in-depth feature it deserves.
Japan Grassroots At Its Best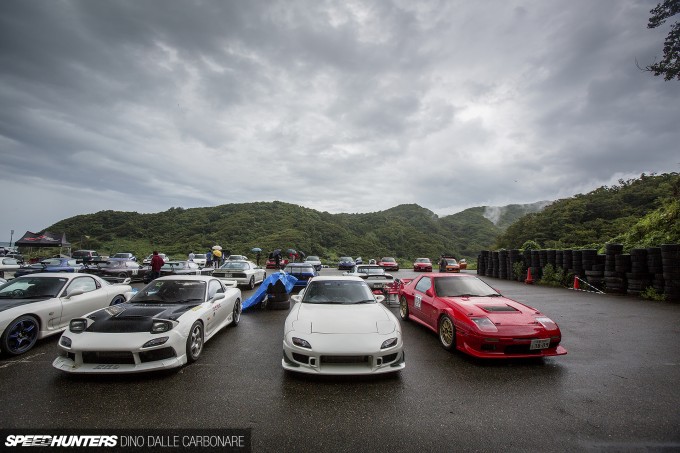 Eventually the rain subsided, but the track never fully dried out.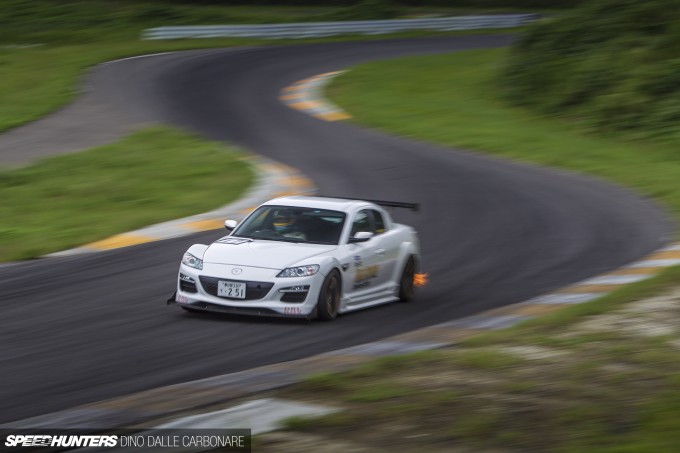 That didn't stop most from going hard though! Here's the Pan Speed RX-8 doing its thing through the s-curve before the main corner, which is a really nice and technical section. Keep your line tight through the bend and you'll have enough space to get back on the throttle for about a second, before going hard on the brakes again to set up for the last turn.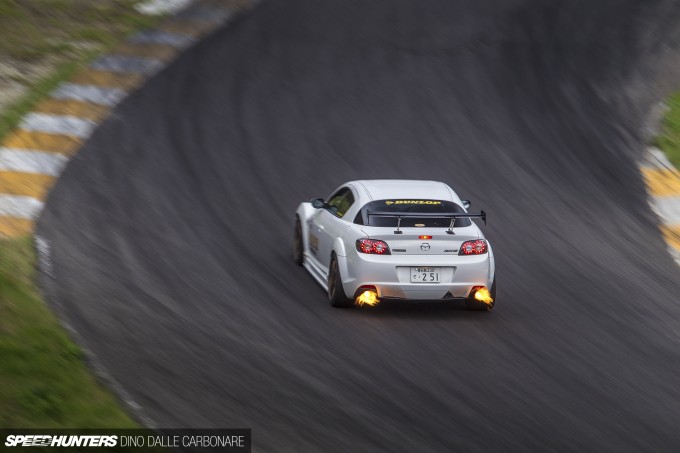 This is where response counts the most and where turbo lag kills your chances of running a fast lap. It also unsettles the car, which means that the way in which you step off the brakes dictates if you will swing the rear end out and loose trajectory, or if you can keep it tight and planted using all the grip the tyres can muster.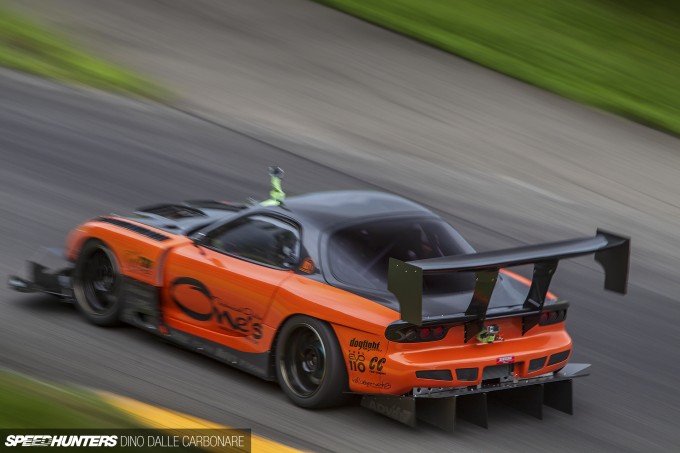 The more I looked at these guys out on track, the more I wanted to drive!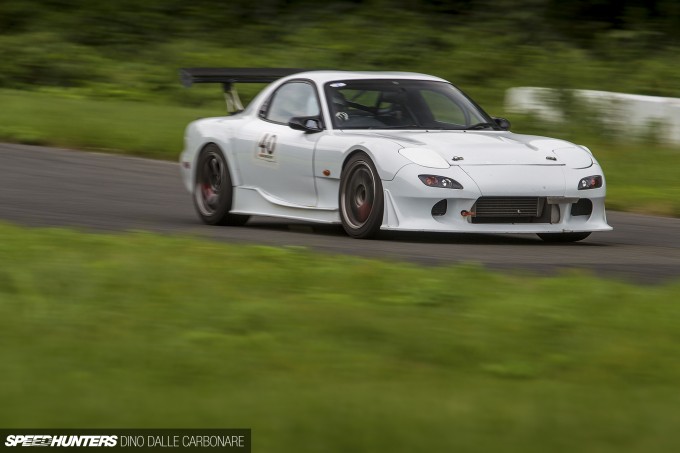 Maze is a great circuit, but it has one massive flaw. Aside from the last corner and the main straight, it's impossible to shoot from any other point on the track as it's nestled deep into a small valley.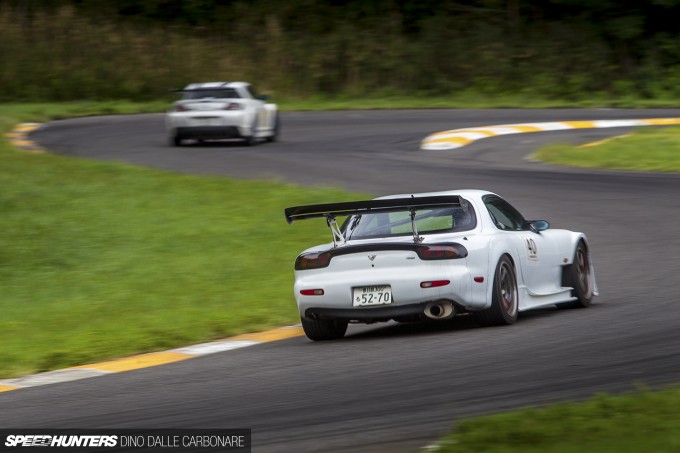 It really limits a photographer's chances of getting a varied selection of angles. Even after I thought I had found a nice place in the mid-field to shoot from (where the above two images were taken), I was told I had to move as it was too dangerous.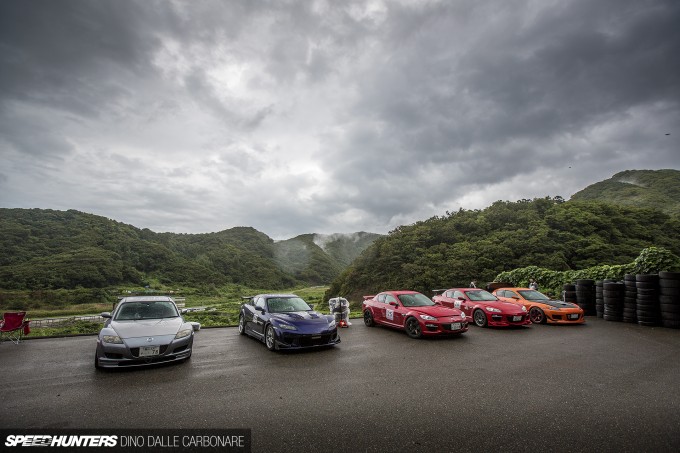 It's at times like this I can't help but think it would be great to have a drone to scope out some unique aerial shots. But that probably wouldn't be allowed either, as everything is pretty much illegal in Japan unless it's specifically been given the okay.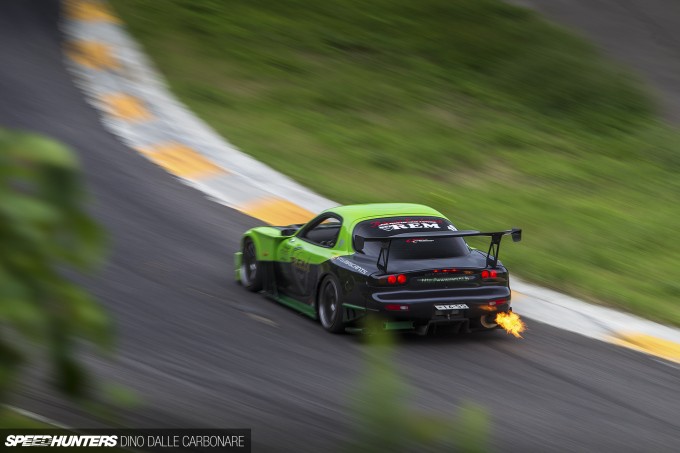 I spent the remainder of the semi-dry afternoon session looking at cars drive past through the s-bend from the elevated main paddock. It's here you get the biggest sensation of speed. I watched on as RX-7s grappled for lateral grip and highly tuned 13Bs spat out big, juicy over-fuelled flames as the drivers abruptly backed off their throttles.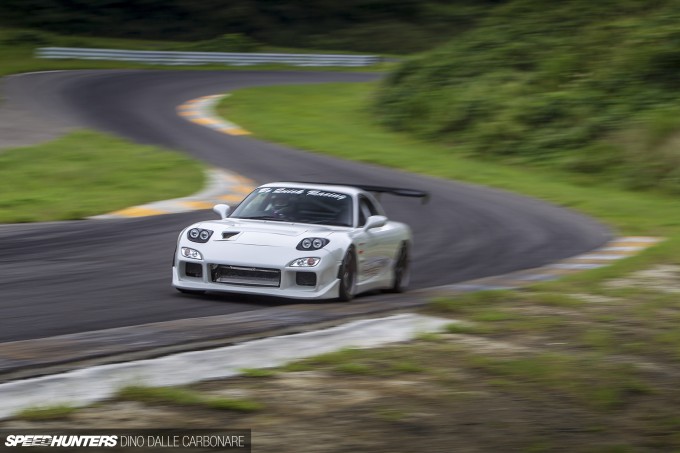 The track dried enough for some of the faster cars to really push hard, but eventually the rain returned again.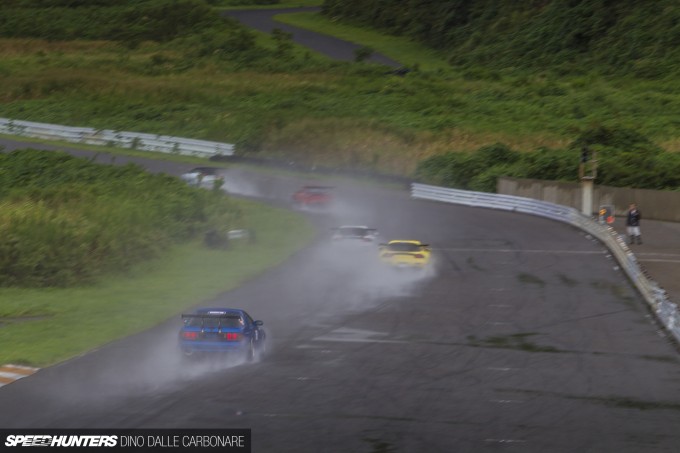 To mark the end of the event, the fastest cars of the day were grouped together for a race. I thought that most drivers would be taking it easy, but despite the torrential rain they gave it all they had, sliding around yet managing to race cleanly through to the end.
So there you have it – more grassroots action from Japan, and yet another way to enjoy cars, driving and passion for the culture with like-minded people.
Dino Dalle Carbonare
Instagram: speedhunters_dino
dino@speedhunters.com