Lately there's been a lot of talk about the new Ford Mustang being offered with a turbocharged four-cylinder engine, and with my own Project EcoBoost I've been able to experience this new kind of Mustang first-hand. But anyone with a passing knowledge of the Mustang knows this isn't the first time America's original pony car has been made available with turbo-boosted four-pot power from factory.
In the mid 1980s, Ford famously offered a version of the Mustang called the SVO, which featured a turbocharged 2.3-liter motor. Along with a host of other performance upgrades, the Mustang SVO had a unique personality when compared to its V8 counterparts.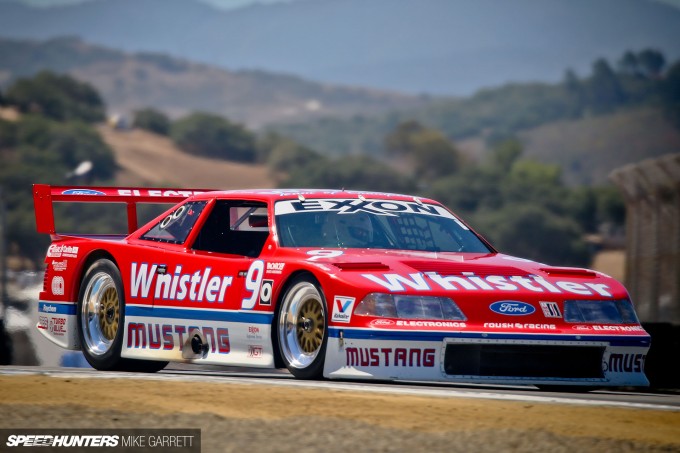 And the application of turbo four-cylinder engines in Mustangs would also expand to the race track. During our recent visit to the Rolex Motorsport Reunion at Laguna Seca I came across what's certainly one of the most unusual Mustang race cars ever built: the 1991 Roush Racing IMSA GTO.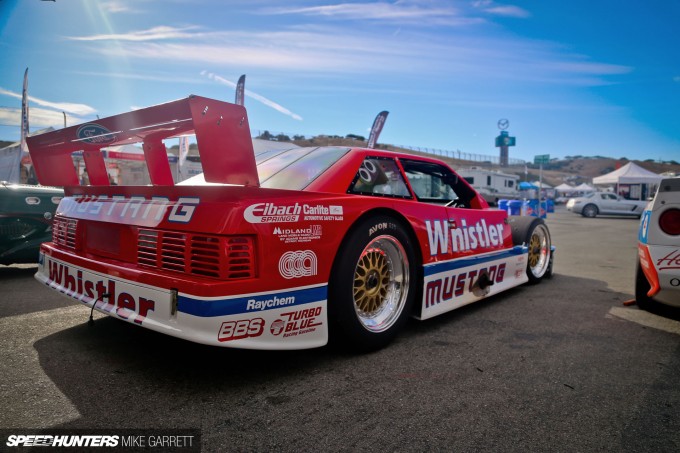 Like the cars it competed against in the GTO class, this Mustang doesn't bear a ton of resemblance to the production version – but that doesn't make it any less exciting. To me, this thing just exudes early-1990s race car attitude.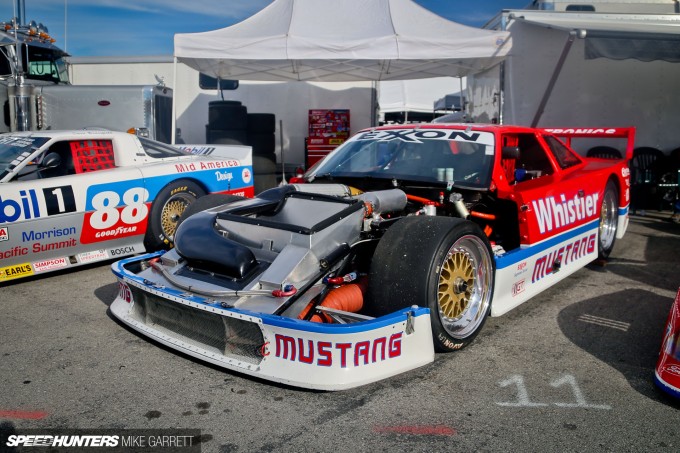 The bodywork is loosely based on the Fox Body Mustang of the era, but beneath the skin sits a CAD-designed tube-frame chassis built by Roush Racing with the help of Ford's Special Vehicle Operations outfit.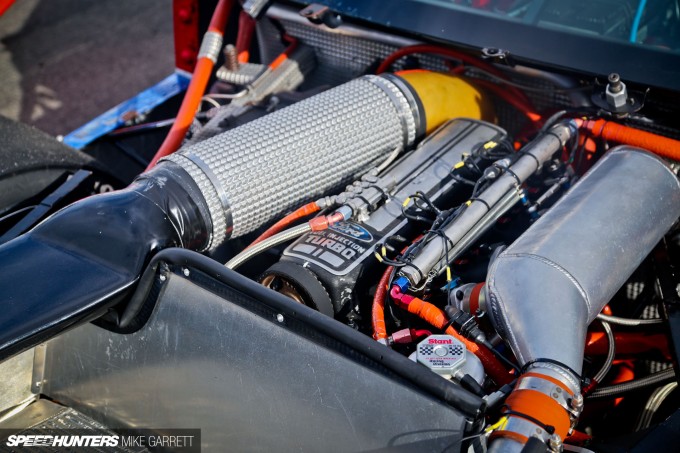 At first glance you'd expect the Mustang to be powered by a variant of Ford's small block V8, but that's not the case here. Powering the IMSA GTO Mustang is a 2.5-liter SOHC four-cylinder engine that shares its roots with the SVO Mustang and the Ford Pinto before it. This one's got a dry sump, a Roush/Kinsler fuel injection system and a Garrett TO4 turbocharger, and it's good for up to 950 horsepower and 750 pound feet of torque.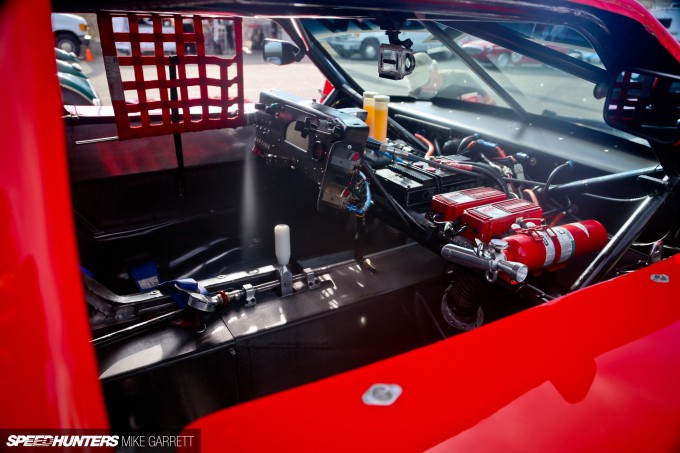 IMSA GTO cars sit somewhere in between traditional GT cars and full-on prototypes, and this becomes quite evident when you peek inside the Mustang's cockpit. There in the center you can see the shift lever for the the Hewland VGC 5-speed transaxle.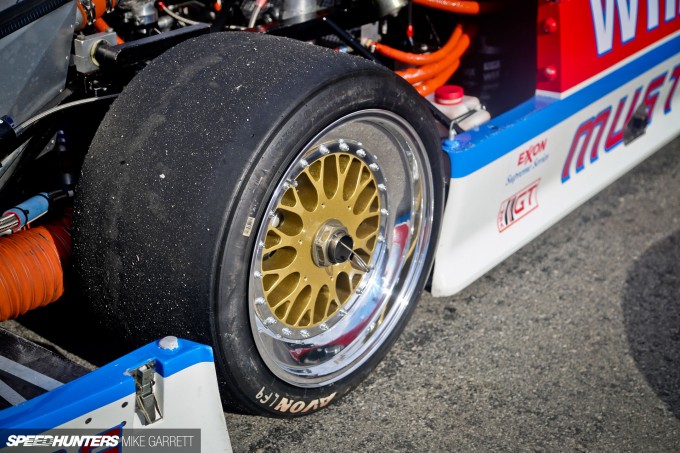 And let's not forget the center-locking mesh race wheels with massive Avon slicks at each corner.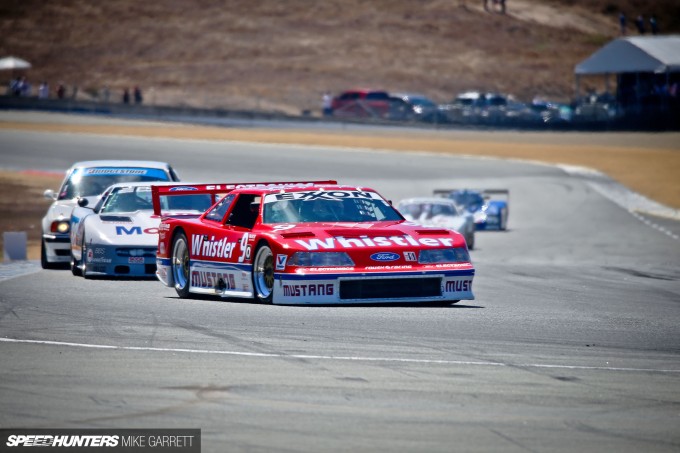 Piloting this machine in the IMSA GTO series was none other than NASCAR and off-road racing veteran Robby Gordon. In 1991 he drove the car to a second place in the Driver's Championship.
In this video clip you can see Robby along with the rest of his IMSA GTO competitors in the '91 season finale held on a makeshift course at the Del Mar Fairgrounds near San Diego. There's some great racing here.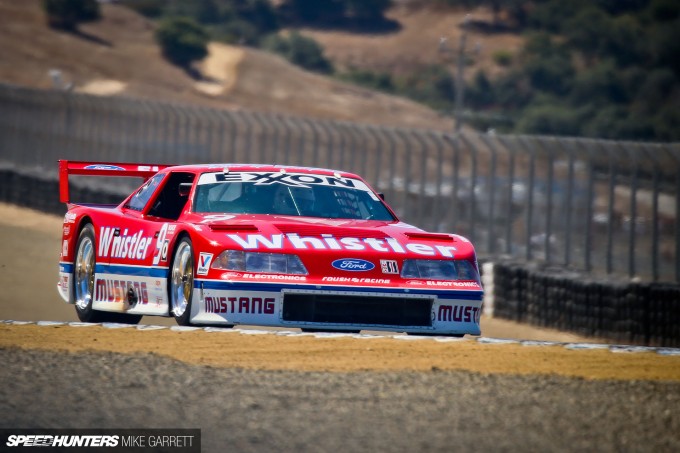 The early 1990s were an extremely interesting time for American sportscar racing, and vehicles like this Mustang are a big reason why.
Stay tuned for my next spotlight from Monterey in which we'll take a look at another IMSA GTO competitor from 1991 campaigned by a little Japanese manufacturer from Hiroshima…
Mike Garrett
Instagram: japanifornia_media
mike@speedhunters.com