Roadster Roots
Take a quick look at the car pictured above and your first reaction will probably be 'what the hell is that?' It's a Mazda Miata, but it looks unlike any other Miata out there. The front panels are completely removed and in their place sits a grille that's inspired by a '32 Ford. The body is finished in bare metal and nearly every part you see appears to be homemade.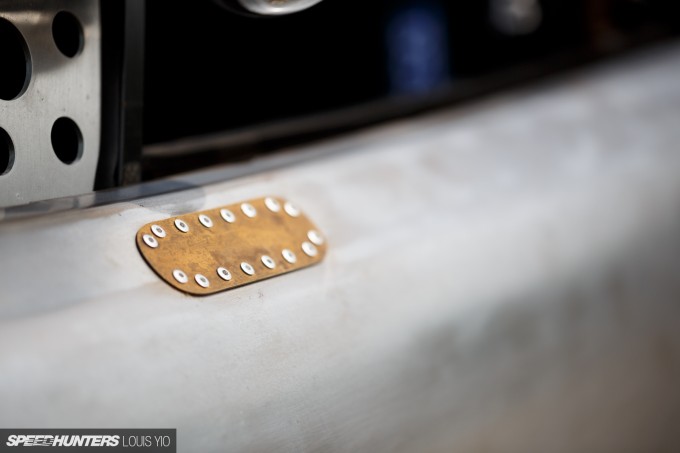 You'd be forgiven if you assumed this Mazda to be a bit of a joke – a gimmick on wheels built for Instagram likes and comment thread flame wars. We've all seen those guys who say they build a car only for themselves when all they really want to do upset as many people as possible. This isn't one of those cars.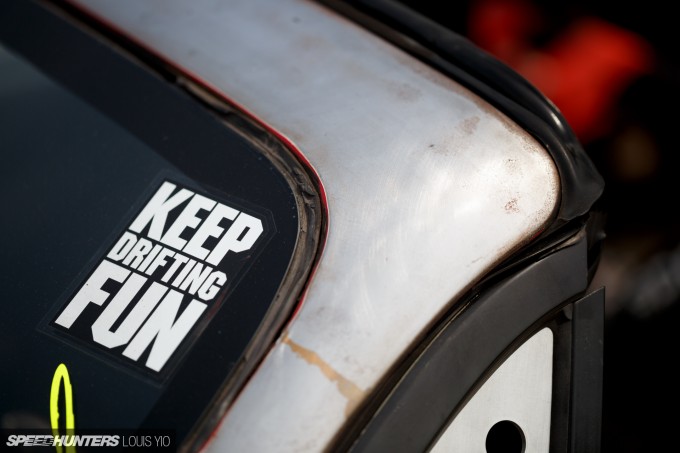 It might look like the kind of car built to turn internet forums upside down, but the truth is, everything on this Miata is there for a reason – much like the hot rods that inspired its look.
Like a lot of us, Tommy Reichelderfer grew up around cars and some of his first automotive memories are of his father's MGB and Triumph TR4. He loved the simplistic purity of those two-seat machines, and the influence of those cars helped shape Tommy's automotive tastes when he reached driving age. Not surprisingly, he found himself strongly attracted to the Mazda Miata – the modern equivalent of the roadsters from his childhood.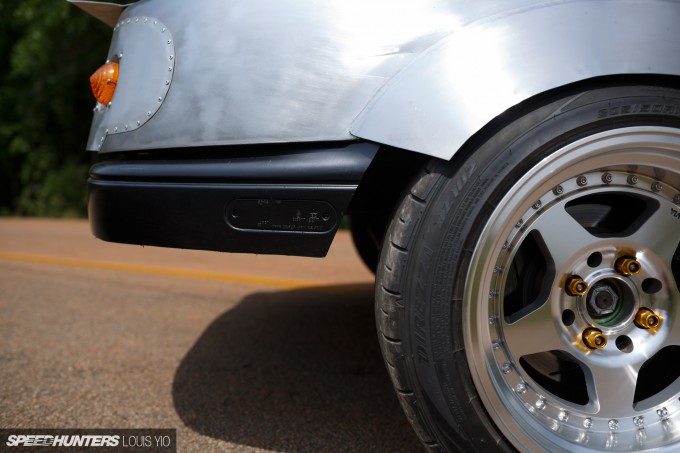 Tommy owned several different Miatas in various states of modification before acquiring the car you see here from a friend in 2010. Through his past Miata experiences he learned that he loved trimming weight from wherever possible, and for this project he wanted to take the weight shaving to a new level.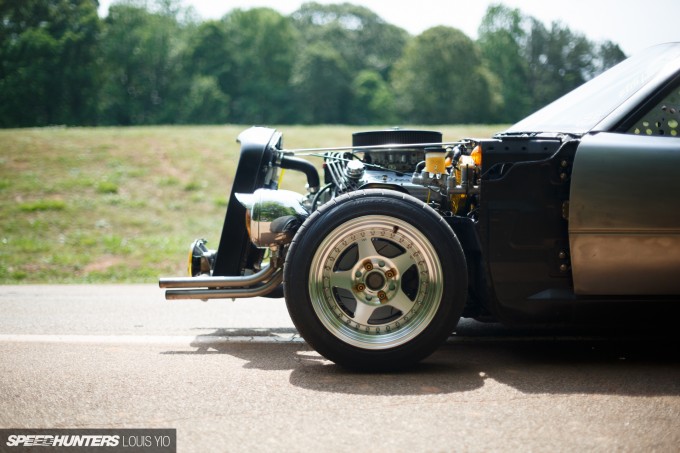 Tommy had also taken quite a liking to drifting thanks to a burgeoning local scene in the Atlanta area, and to make the little Roadster more adept at going sideways he started to entertain the idea of a V8 swap. He'd also taken a job as machinist/engine builder at a shop specializing in American V8s and that enticed him even more.
Stripped Down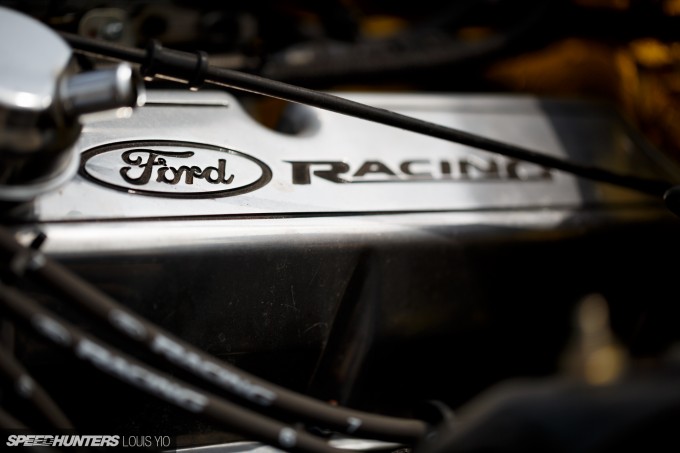 The engine Tommy settled on is a fully rebuilt 1985 Ford 302 small block with AFR aluminum heads, a Comp cam, an Edelbrock intake manifold with a Holley carb and other goodies proven to make small block Fords sing.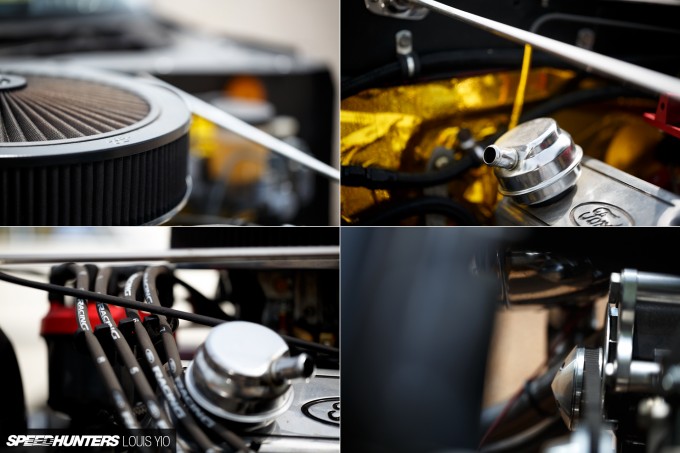 The engine setup is symbolic of the car itself – it's simple and gets the job done without fuss. It also makes for a quite pleasing power to weight ratio given the work done to shed pounds from the Miata – but we'll get to that in a moment.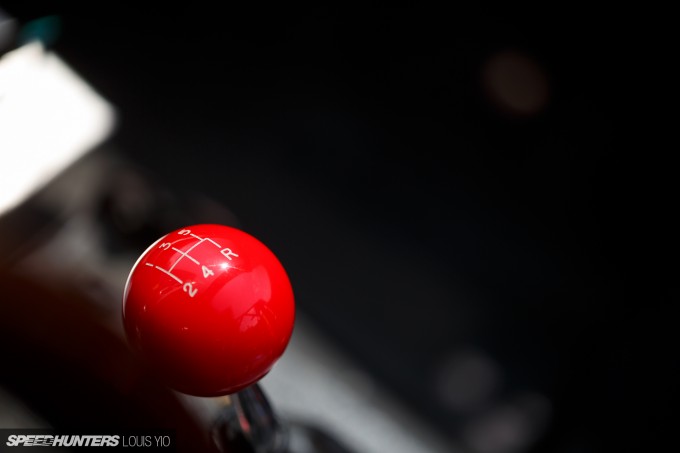 The V8 is matched to a BorgWarner World Class T5 5-speed, and because there was no way the stock rear end was going to handle the 5.0 power Tommy swapped in a 7.5-inch IRS LSD unit from a Ford Thunderbird.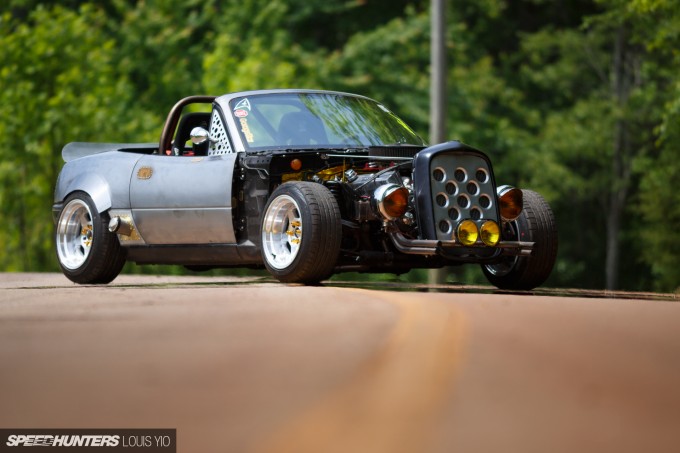 As mentioned a moment ago, weight trimming is a key part of the build. And what better way to shed pounds than by removing body panels entirely? Up front the fenders, hood and bumper have all been ditched in the name of weight reduction.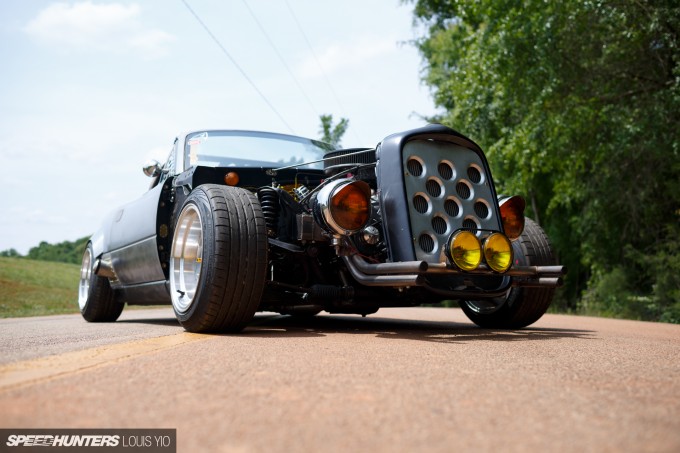 In their place is a custom front end that uses a chopped '32 Ford replica grille frame and United Pacific '30s Ford replica headlight buckets.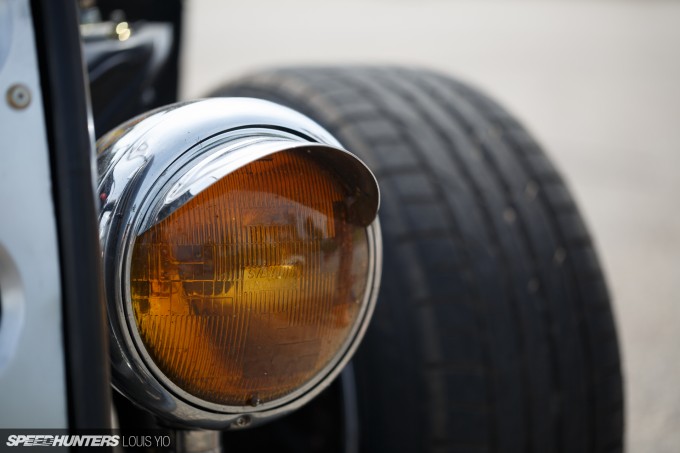 Tommy wasn't going for a specific theme when he started the build, but the old Ford parts were the perfect way of getting the necessary cooling and lighting components on the front end.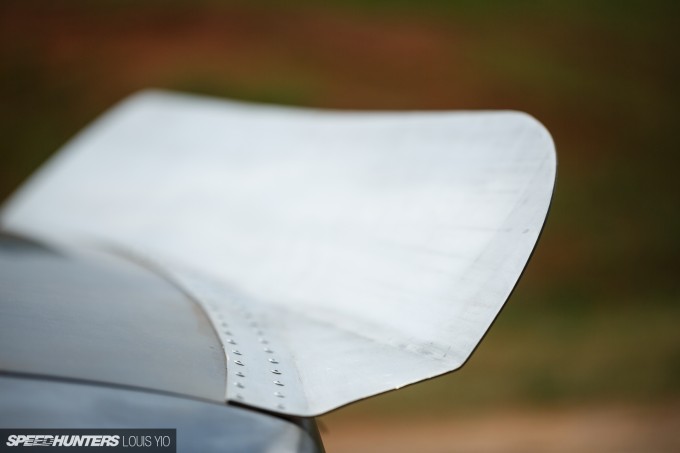 The makeshift front end actually led him to add other hot rod touches to the rest of the car, including the handmade rear fender flares, handmade steel duckbill spoiler and the custom retro-style tail lights.
Weight Down, Fun Up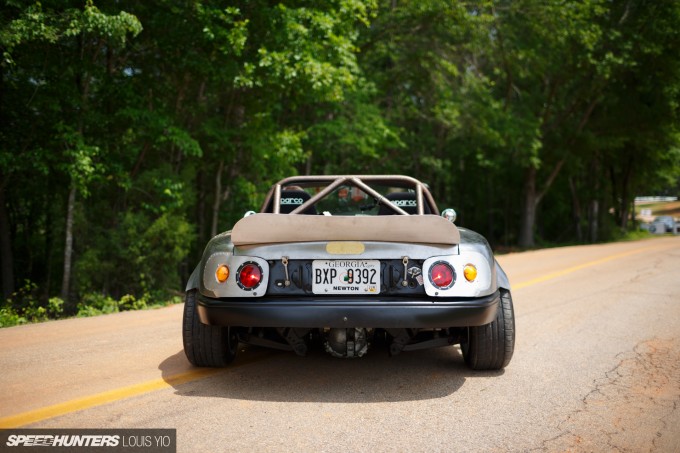 The clever modifications did a lot in trimming weight, and even with the big V8 on board the car weighs just 2,040 lbs – some 200lbs lighter than the stock '93 Miata that Tommy also owns.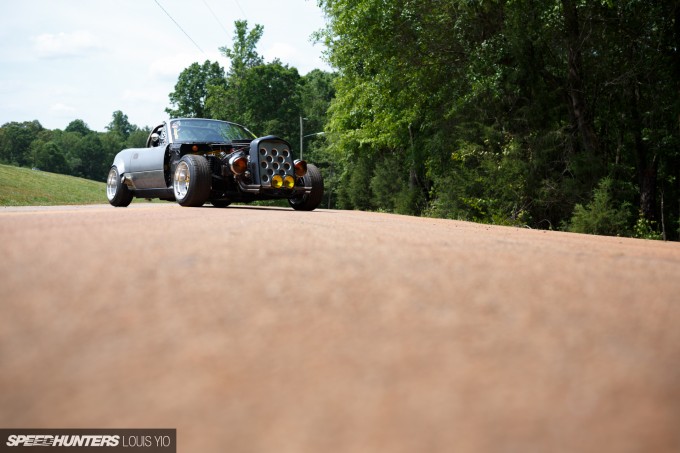 And better yet, all the big weight savings happened over the nose, keeping the balance that makes early Miatas so fun to drive in the first place.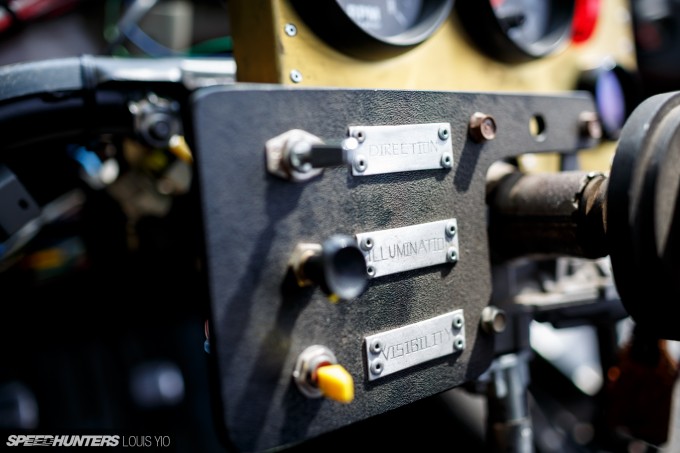 Unfortunately, by the time the car was ready for action in 2013, organized drifting in Atlanta had largely been shut down and Tommy's only had the chance to run a couple of drift events so far.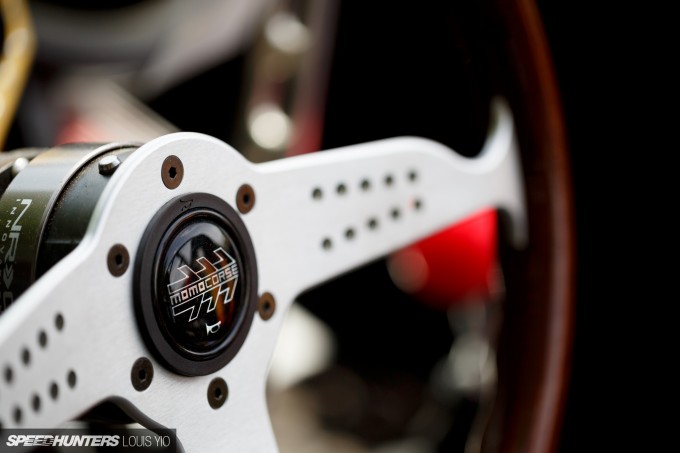 Even so, he couldn't be more happy with both the car and the experience he's gained while building it. The whole thing was built primarily in his garage and he's learned a ton during the process – including how to weld.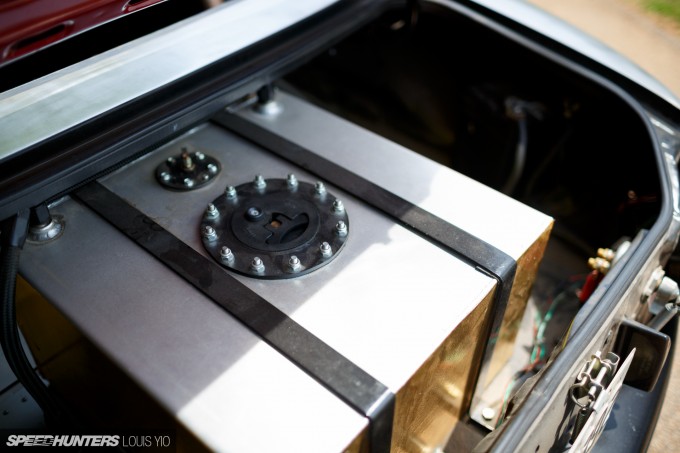 And when he hops in for a drive, he can't get enough of the raw, fast and fun feel which defines the car. Because Tommy knows the online world is filled with people who might not enjoy his car as much he does, he says he steers clear of internet forums and the negativity that comes with them.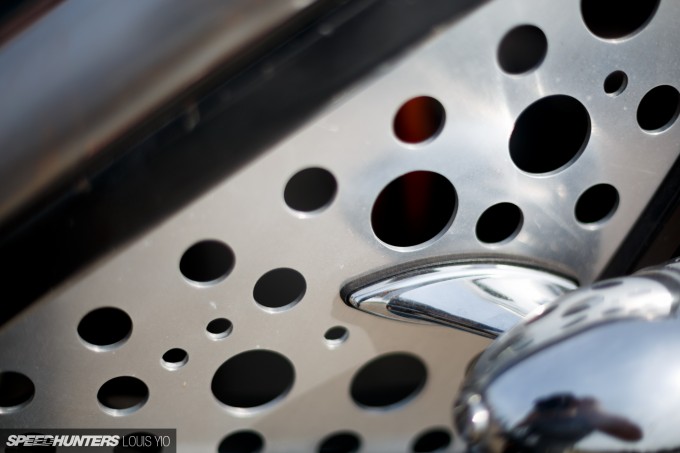 And like most hot rods, he says the project will never be finished. On Tommy's current plan list is a custom-built fastback roof and an aluminum cowl panel. There's still much for him to learn when it comes to this car.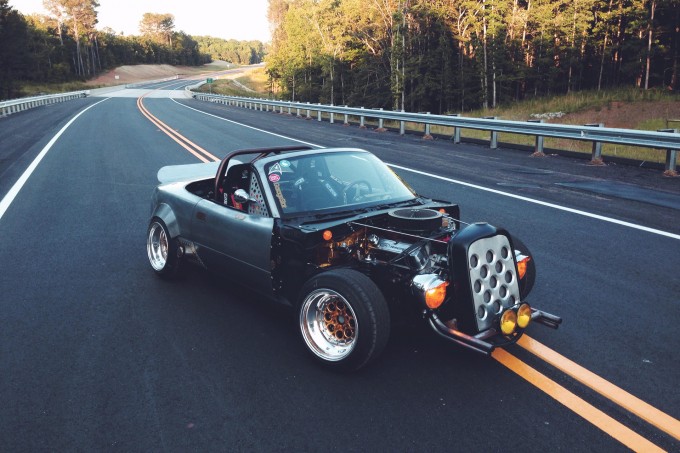 Despite the strong reactions this zombie Mazda is guaranteed to receive, Tommy never had a goal of building something so wild and unconventional that it sends purists running for the hills. Nope, like a lot of great homemade hot rods, that's just kind of how it worked out – and for that we absolutely love it.
Mike Garrett
Instagram: japanifornia_media
mike@speedhunters.com
Photos by Louis Yio

Cutting Room Floor