I Wanna Go Fast
Ricky Bobby likes to go fast.
I don't mean the movie character, but rather his namesake hot rod builder, the owner of Ricky Bobby's Rod Shop in Manchester, Tennessee.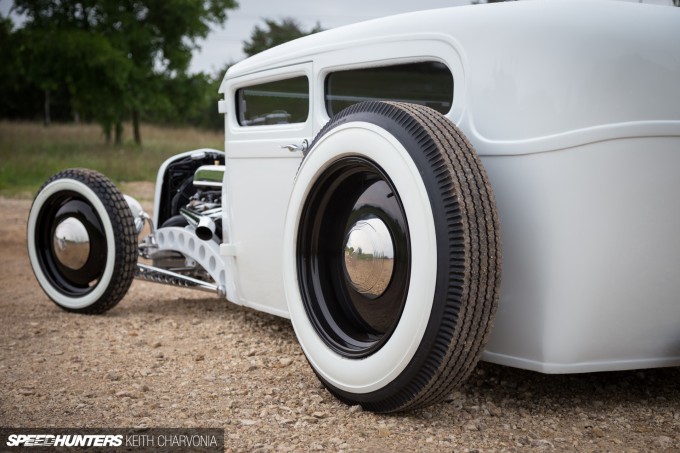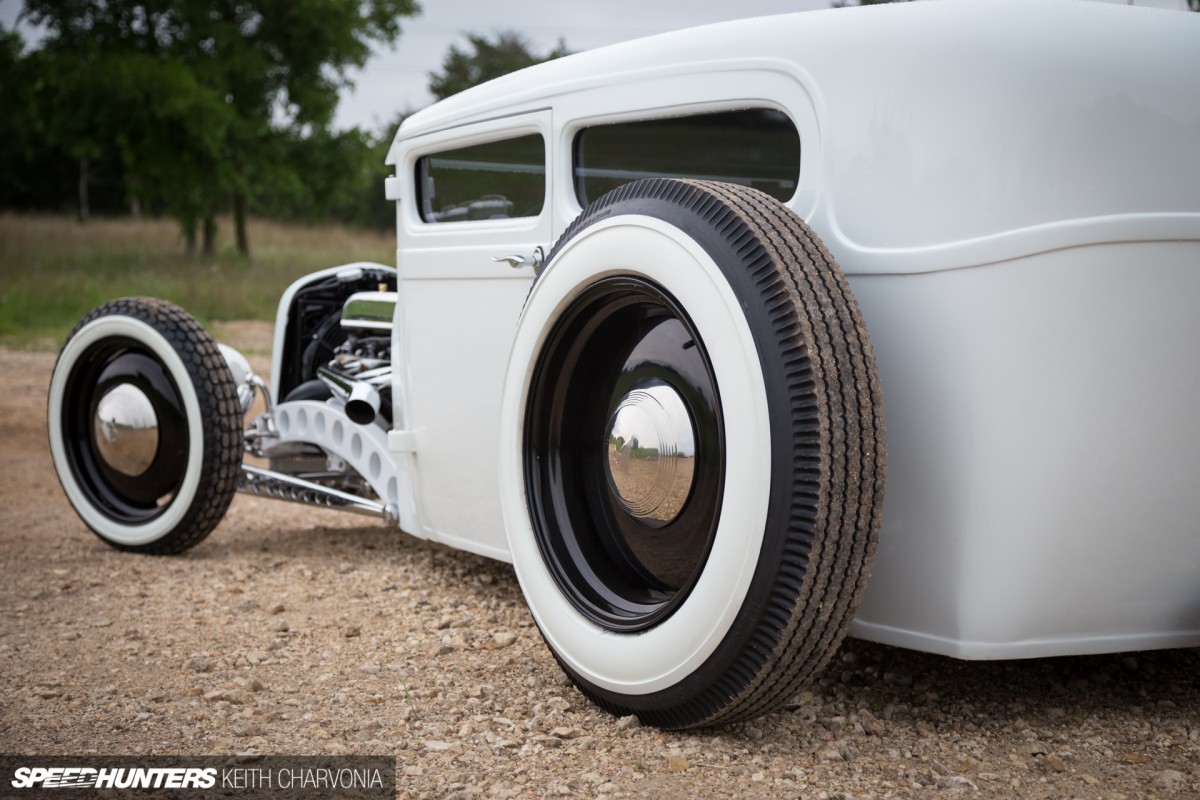 Oh, and I didn't mean he necessarily likes to drive fast either, although building hot rods kind of goes hand in hand with hauling ass anyways. What I really meant was that Ricky Bobby builds cars fast.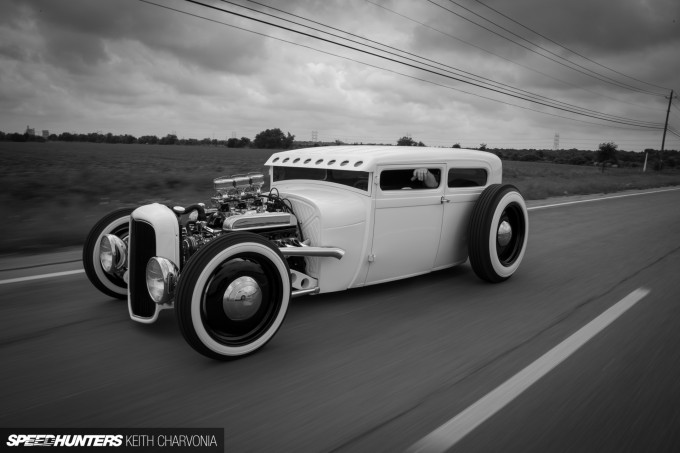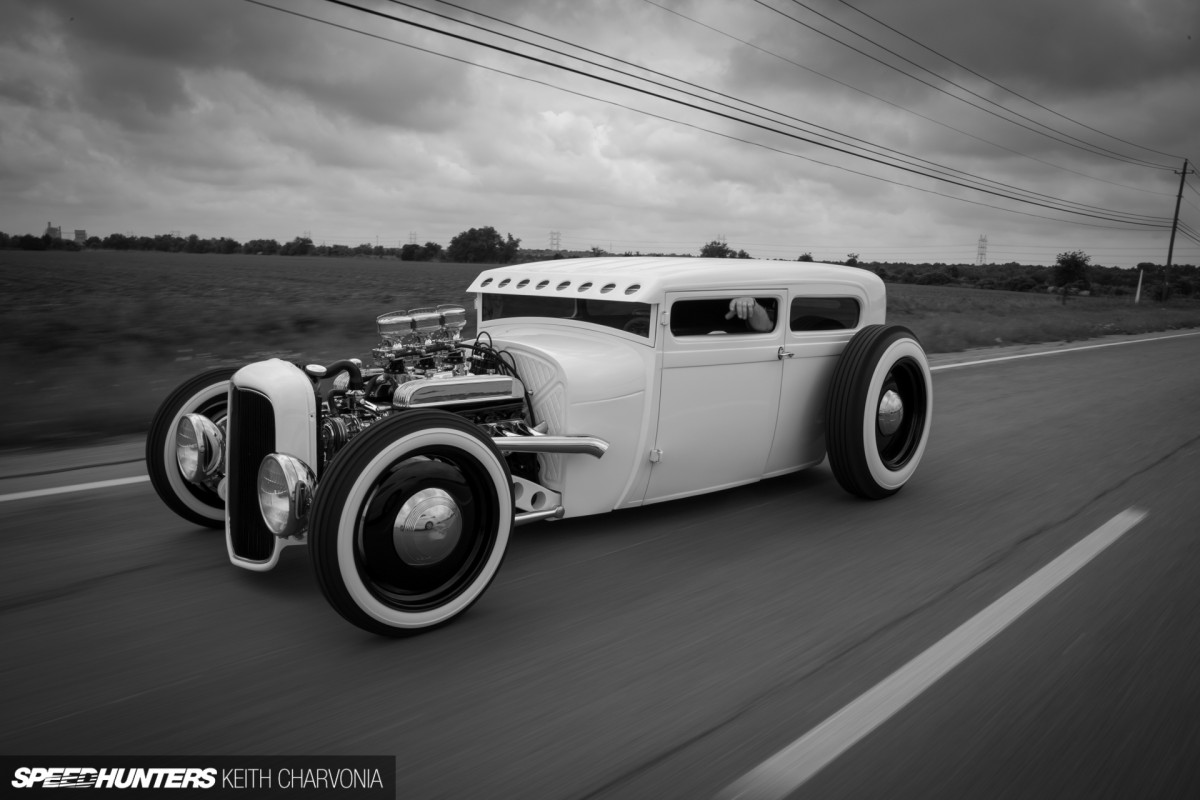 The '28 Ford you see here was built in just 100 days. That's right, it only took a few months for Ricky's small crew to build this eye-popping hot rod almost entirely from scratch.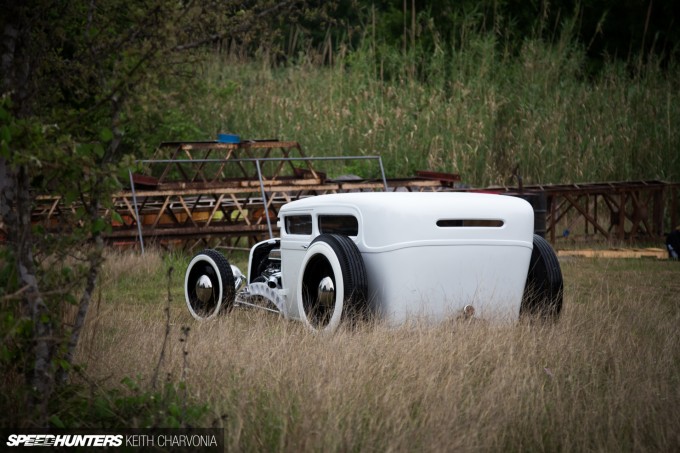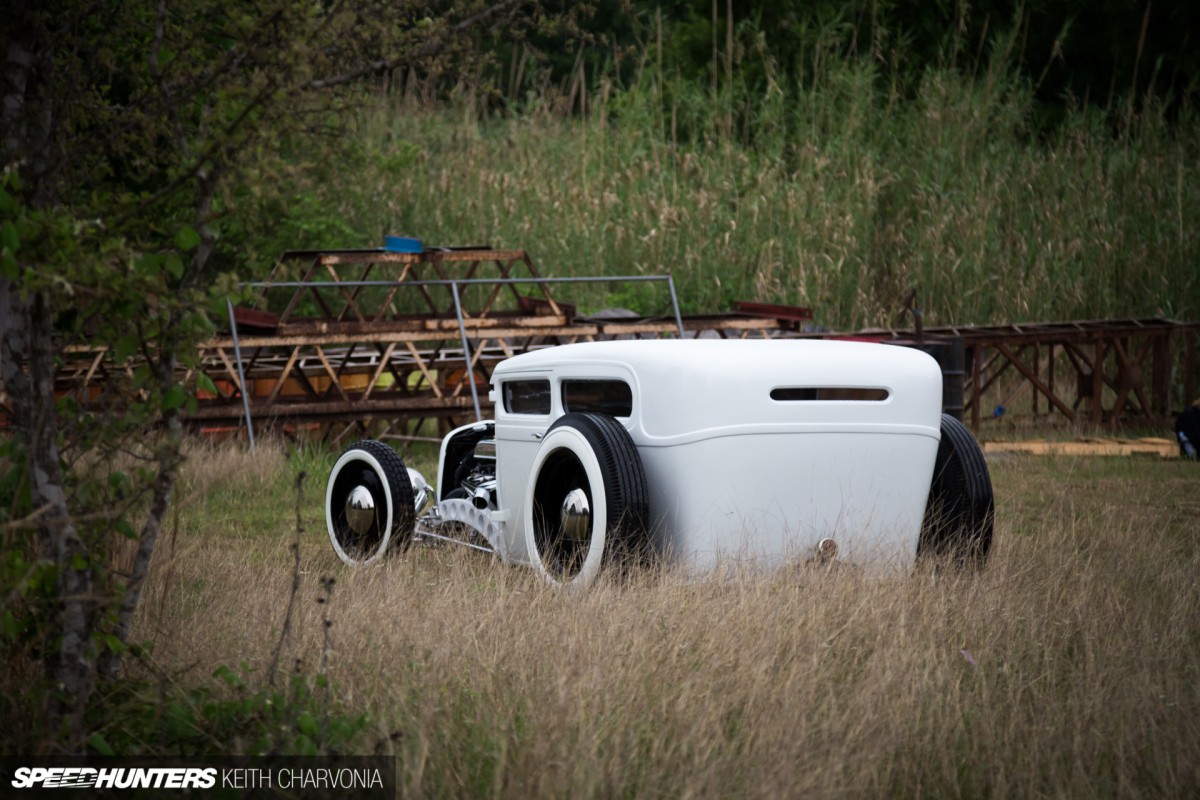 After a Discovery Channel special last year in which Ricky built a hot rod in just 28 days, his phone started ringing. One of those interested parties was Pro Mod driver Landon Jordan.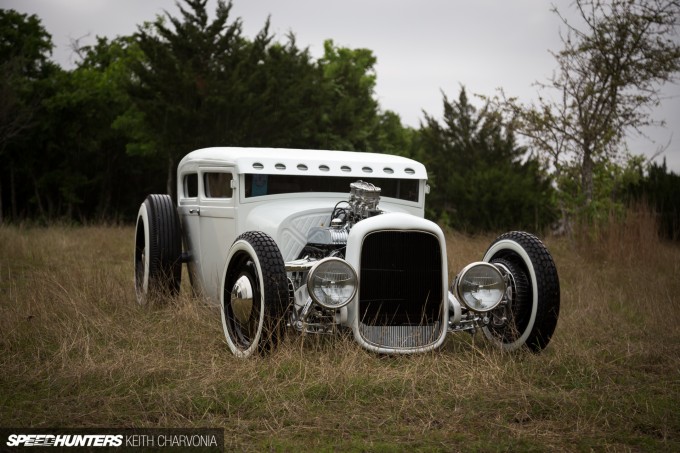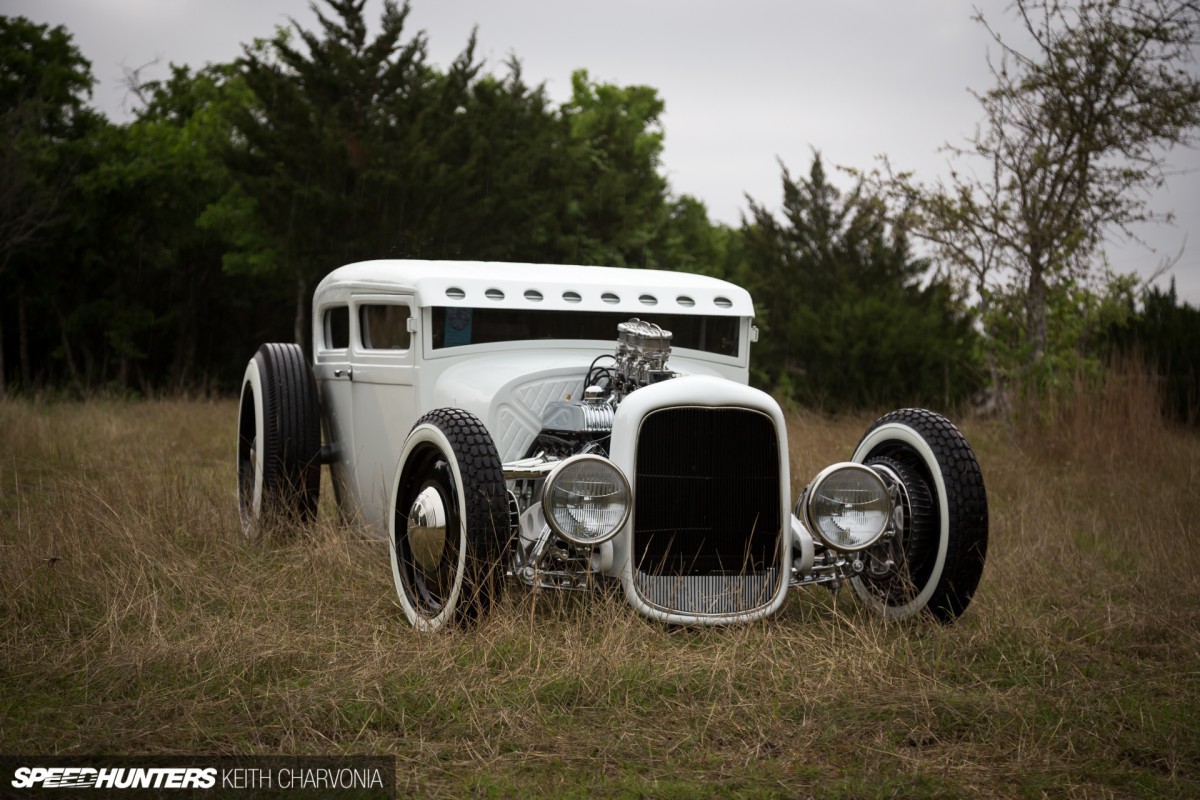 Once he had seen what Ricky Bobby could do, Landon knew better than to meddle in the direction of the build too much.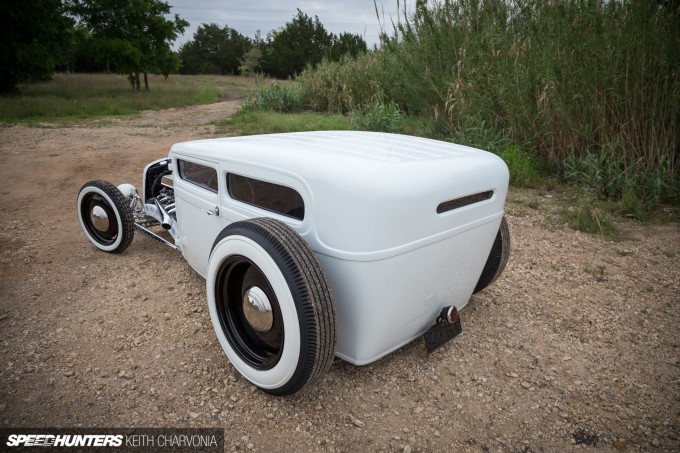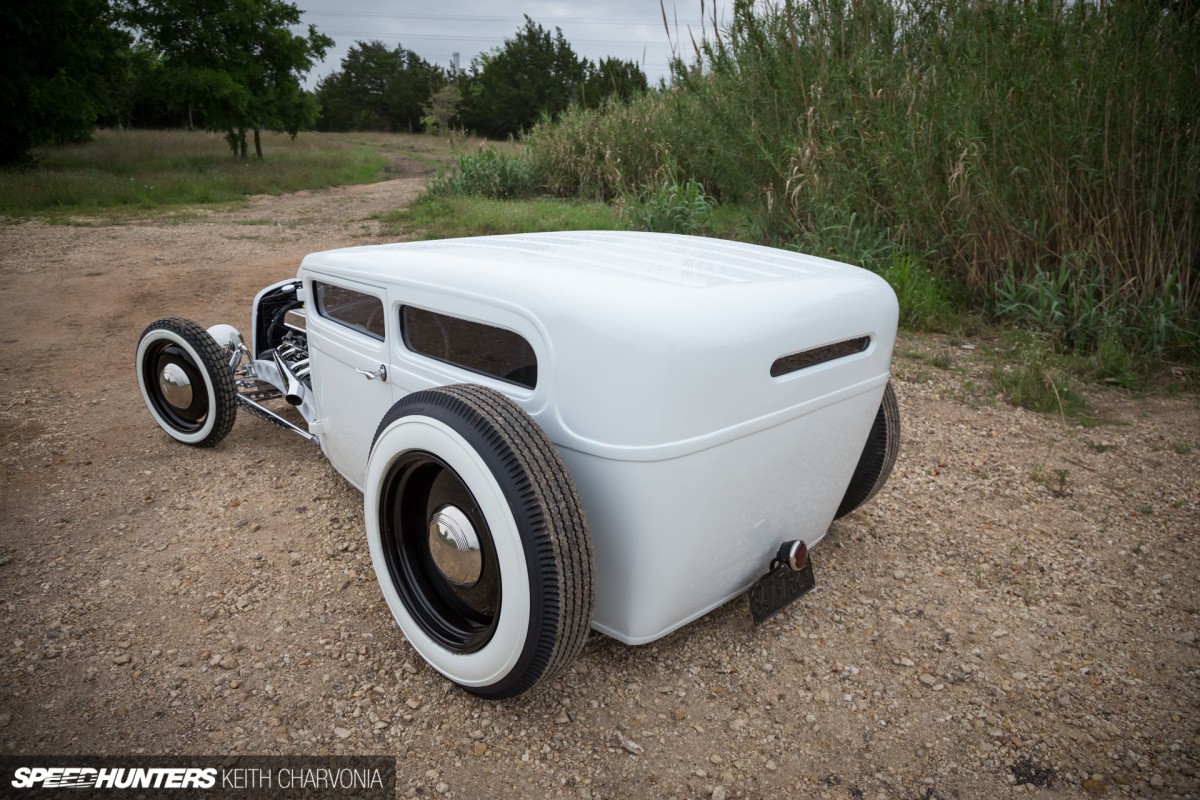 His directions were clear: "Build me a white car with white-walls and chopped all to hell. Oh, and with air conditioning. Call me when you're done."
A Style Of His Own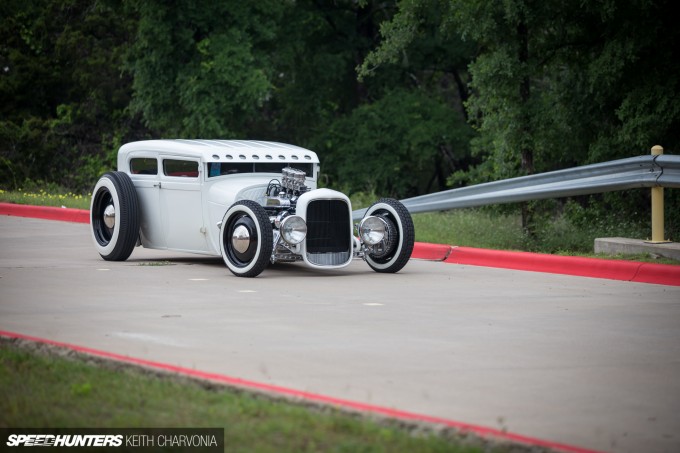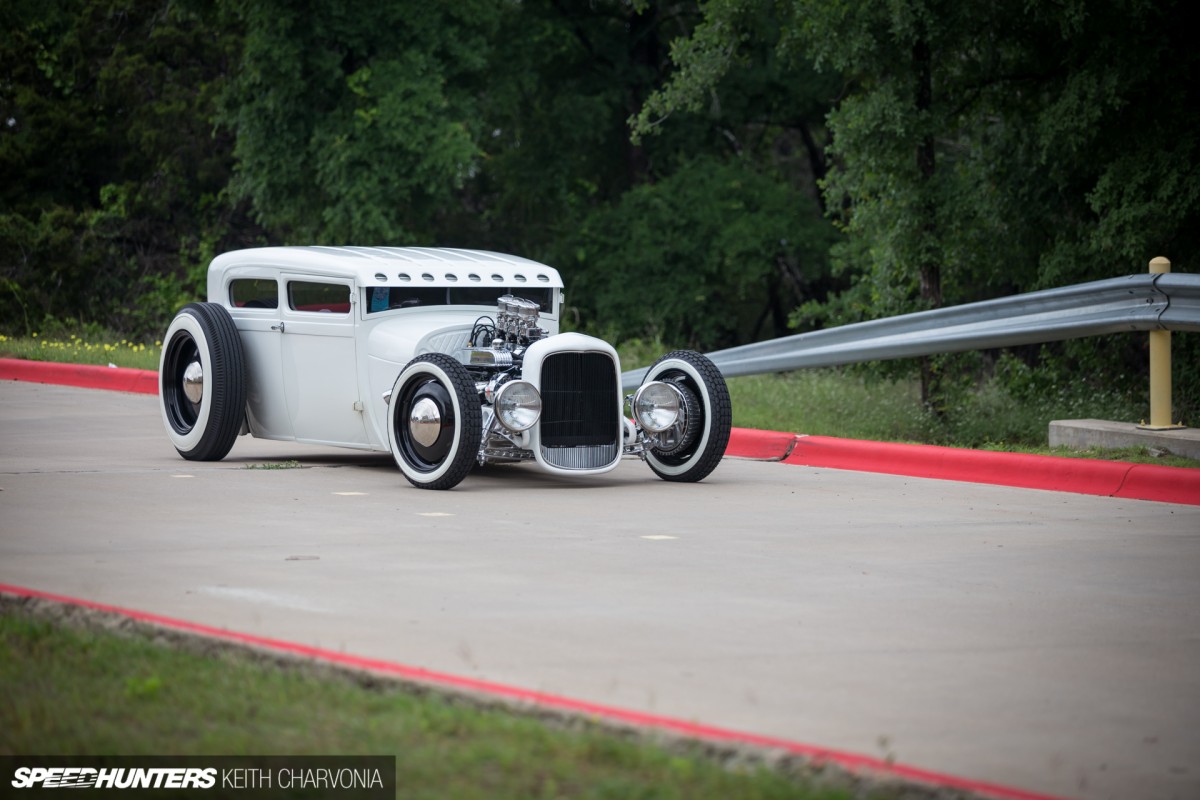 Ricky Bobby's signature style starts with a severely chopped top, a drastic nine inches in front and eight inches out of the back for this one.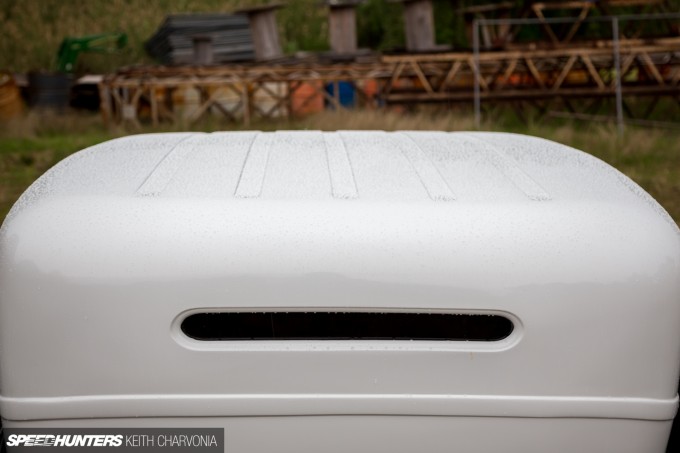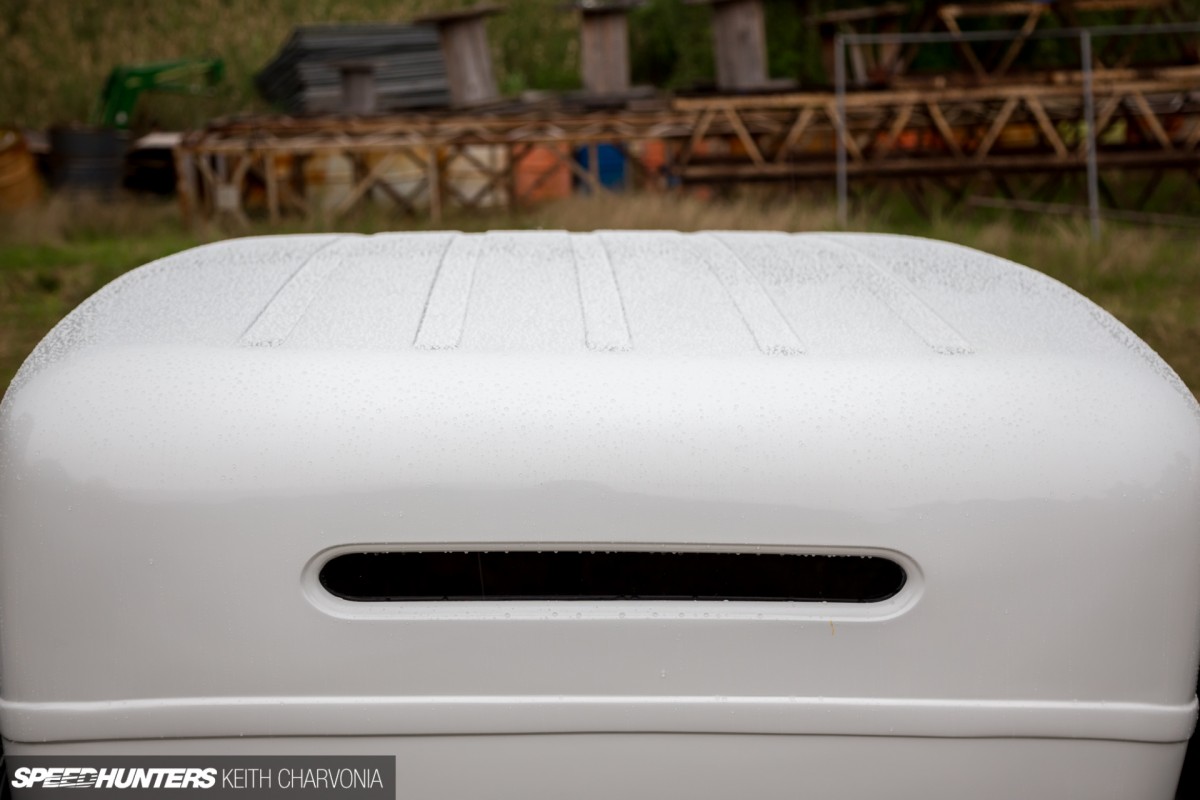 Ricky also filled the center of the roof with a skin from a late model SUV to get those ribs that run front to back.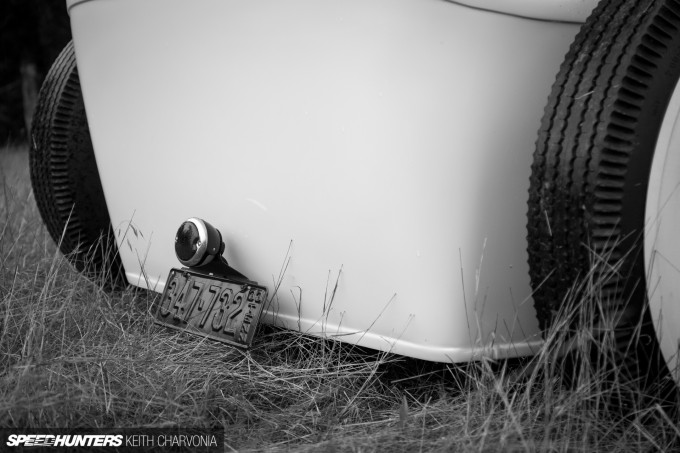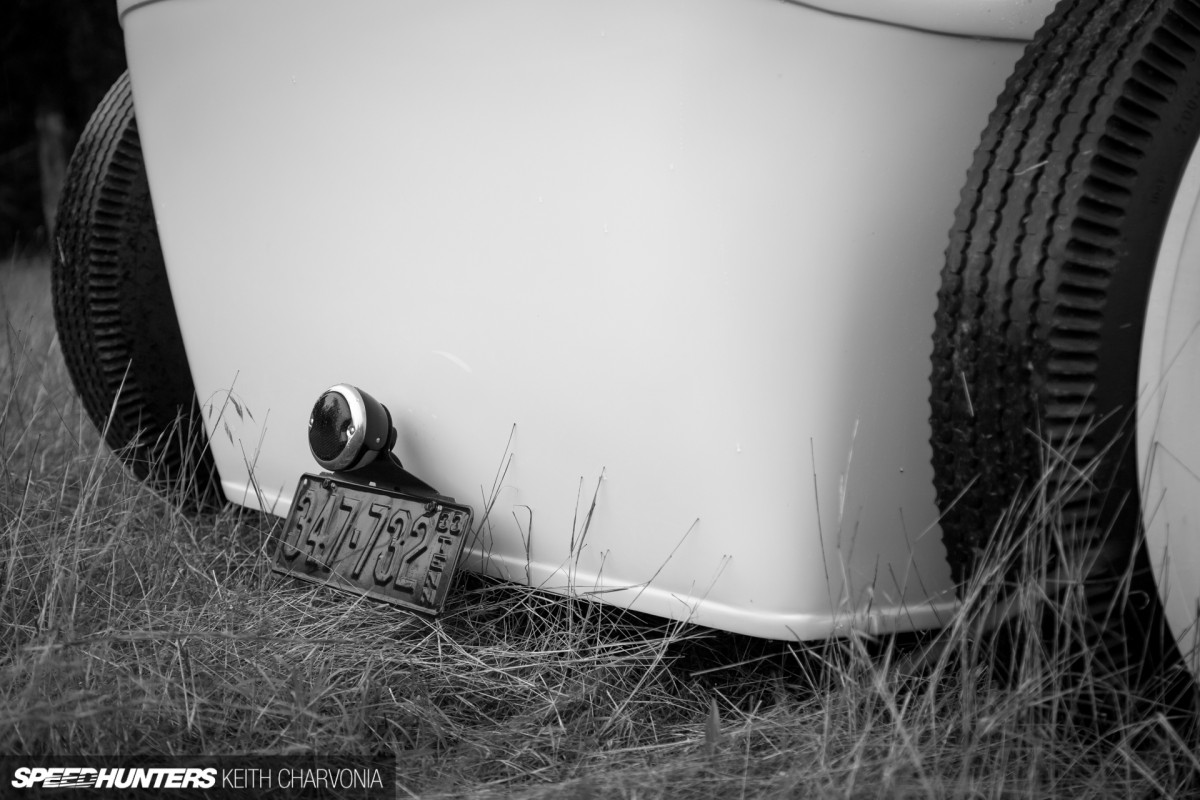 It's not just a chop though. The body was shortened three inches front to back, then set down over a completely scratch-built chassis so it sits as low as possible.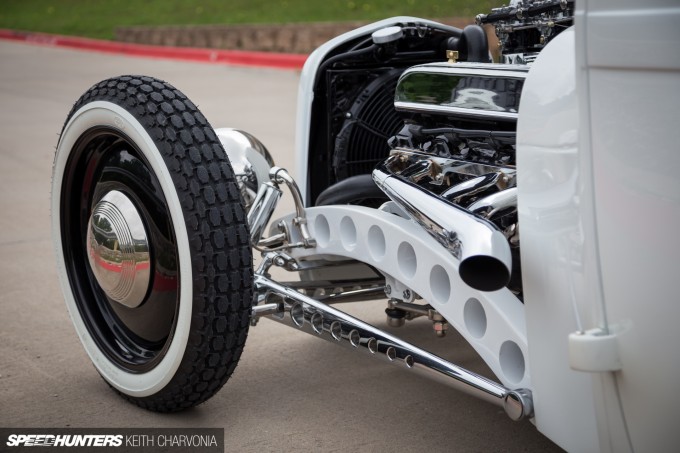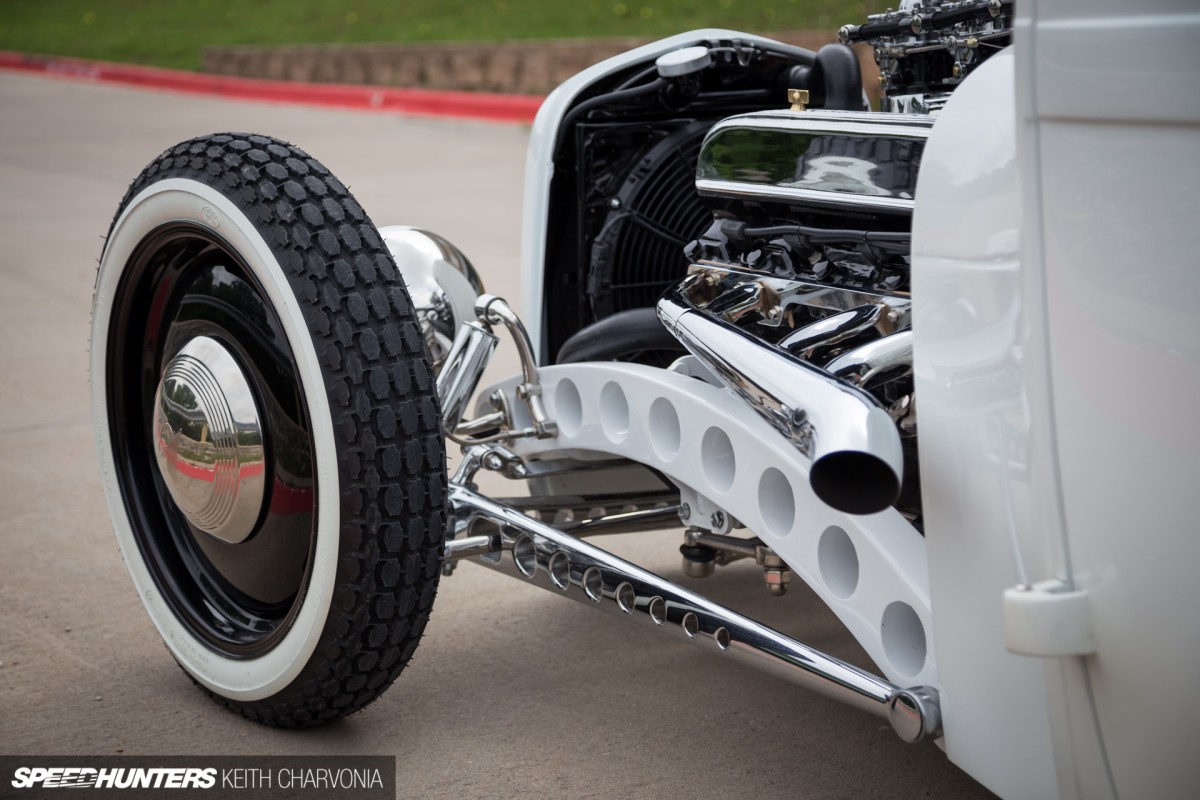 The frame rails kick up seven inches in the front and 20, yes, 20 inches in the rear.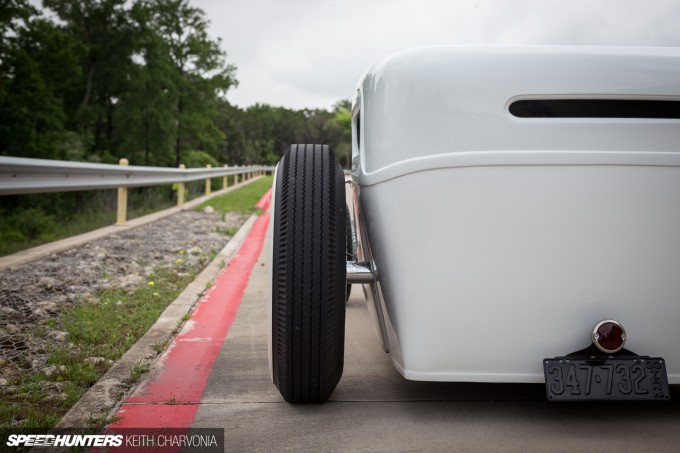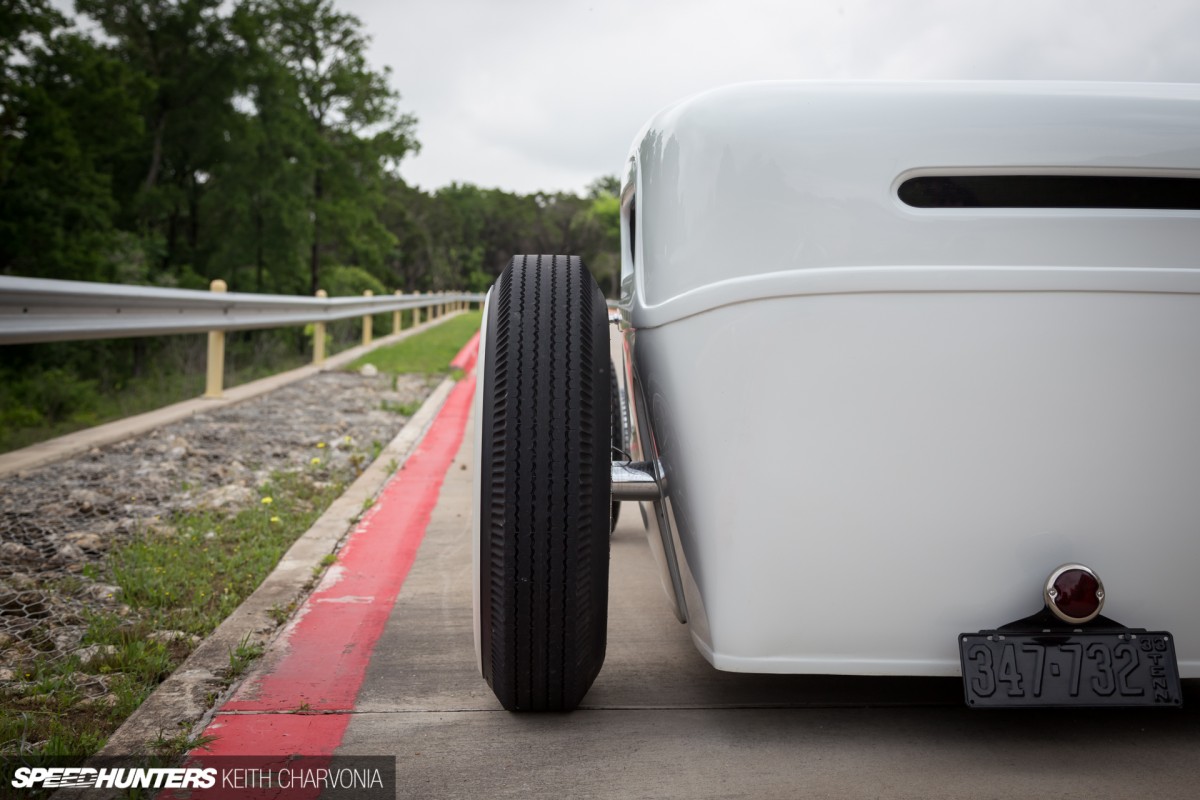 The rear axle is tunneled so high into the body that Ricky simply shaved the factory wheel well line and made the body smooth behind the wheel. Also notice the chromed axle tube protruding from the body.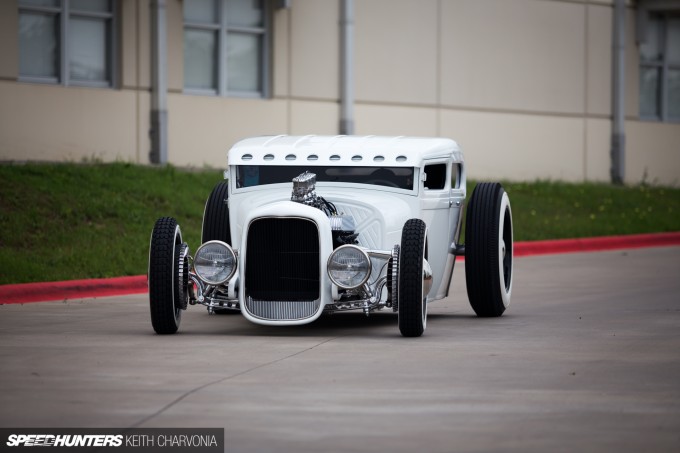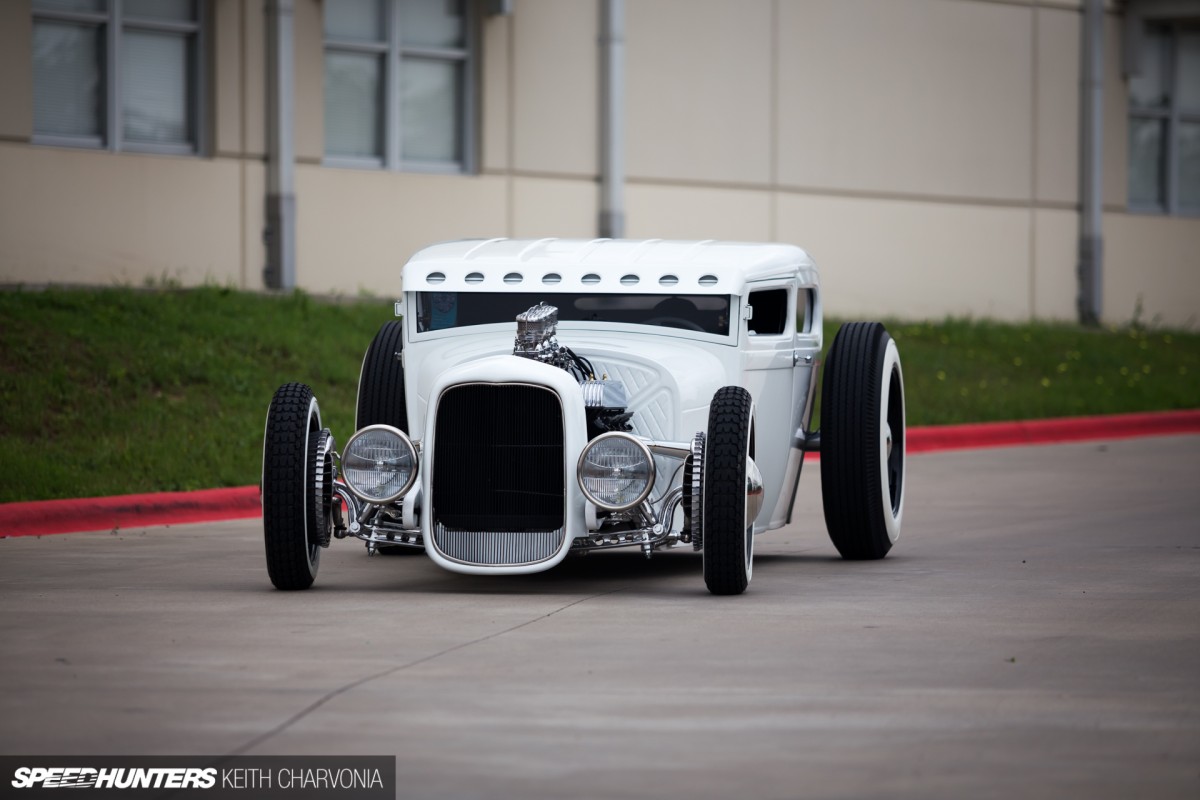 The severe top chop resulted in a windshield so small that the visor had to be shortened in order to have any visibility at all.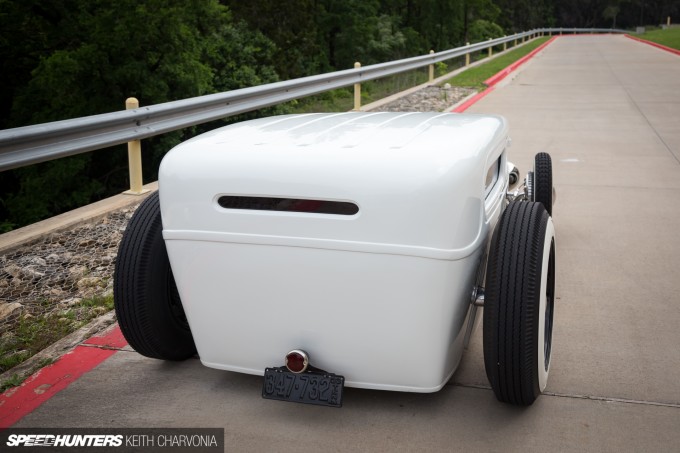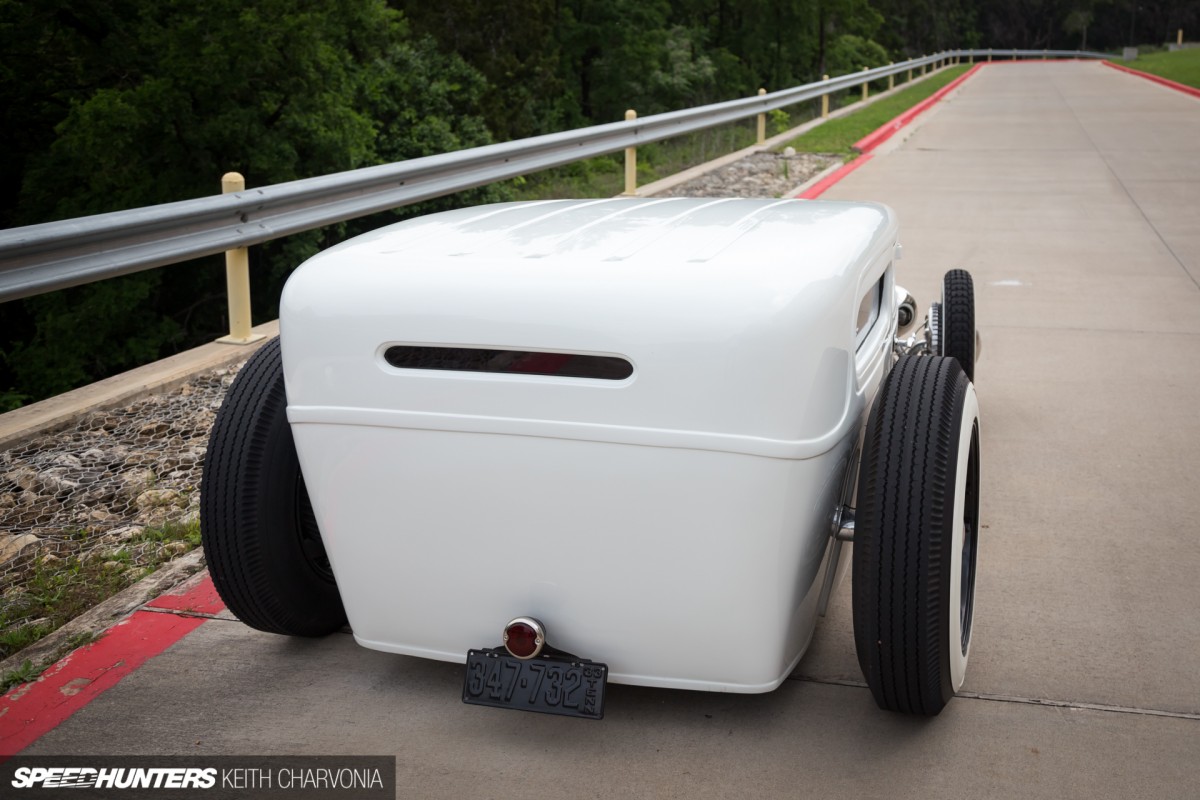 And just look at that mail slot of a back window!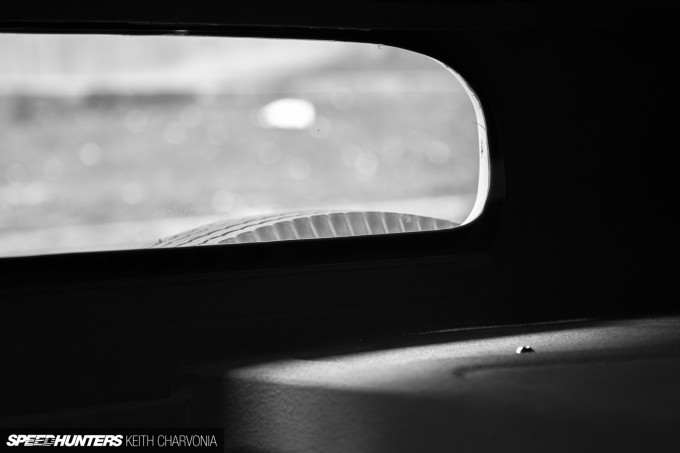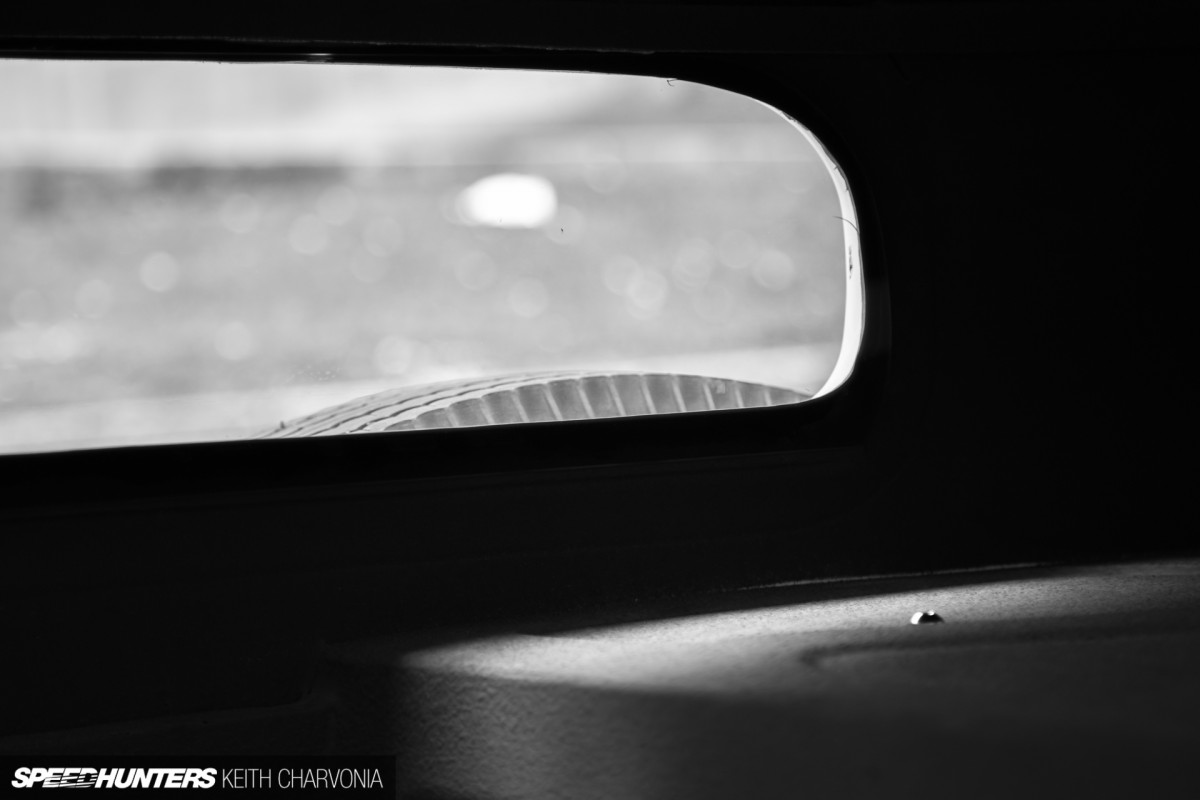 Clearly Ricky Bobby knows how to push and pull the proportions of an early Ford to get a look that's just his, and just right too. But there's still more to it than even the body and chassis. Check out the rear tires, so tall that they pass the belt line and sit higher than the bottom of the side glass.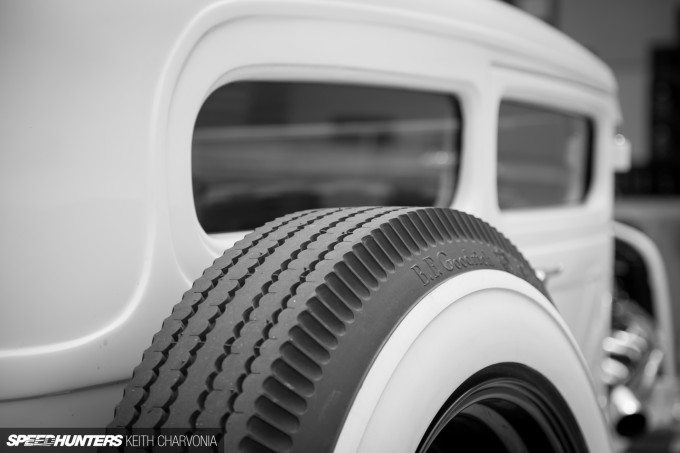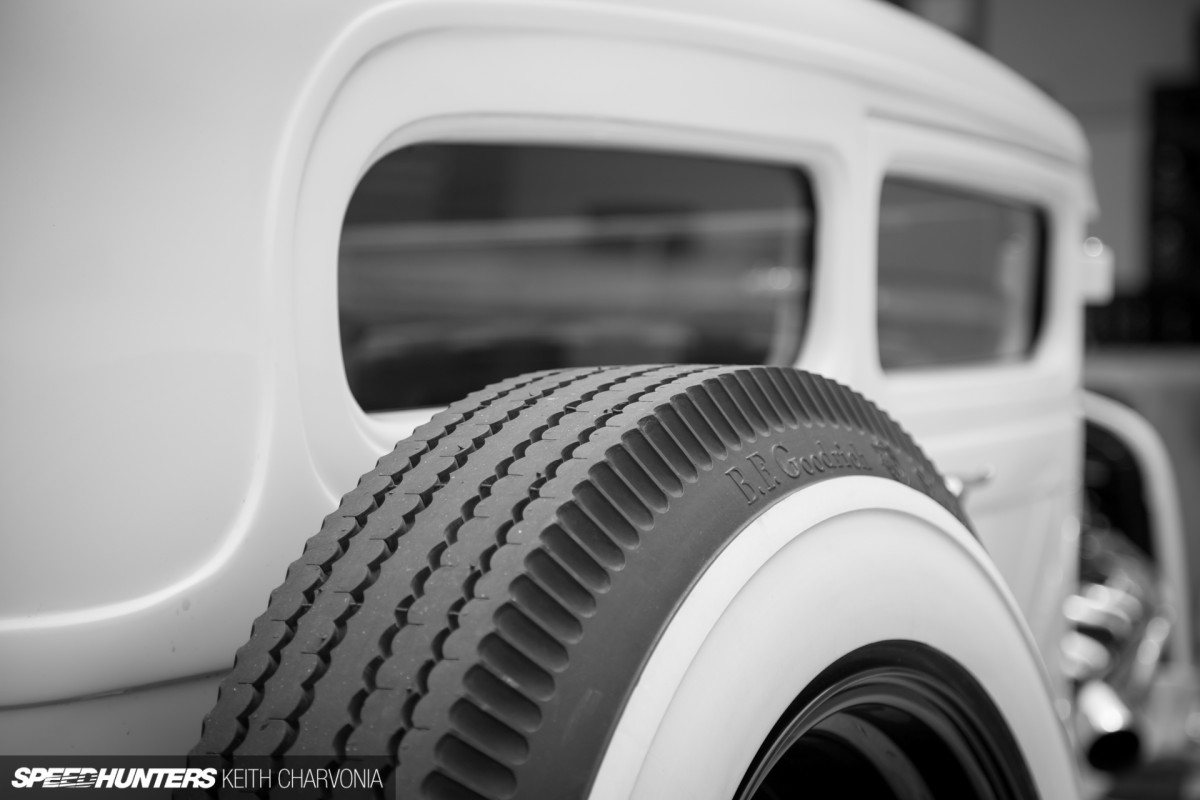 The rear wheels are machined aluminum 20s from Circle Racing, with a 700-20 BF Goodrich white-wall just as the owner requested.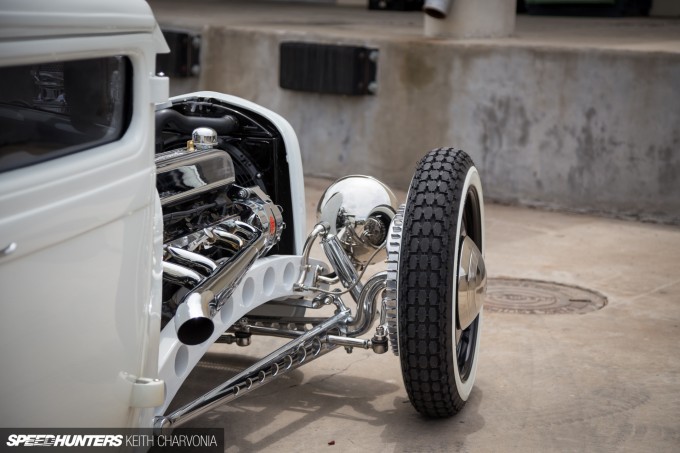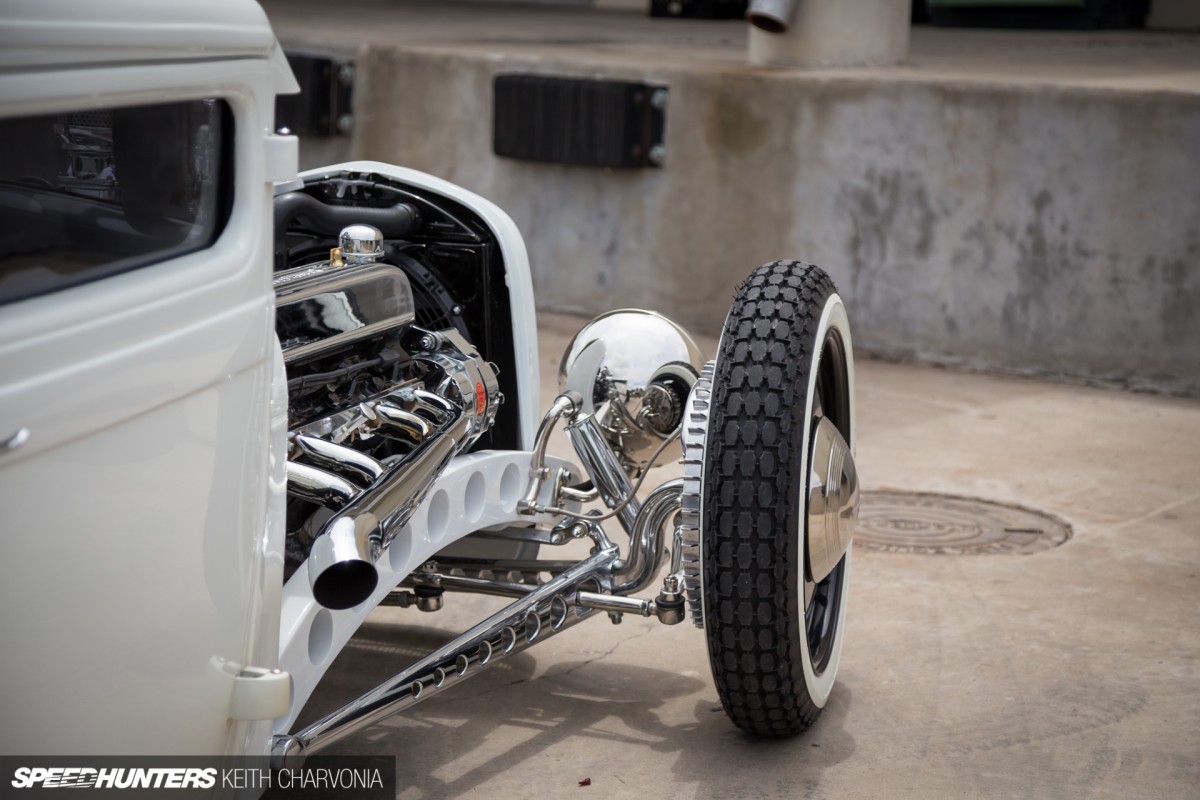 Up front we find a motorcycle tire-shaped 18-inch on a narrow 4-inch wheel.
Art That Works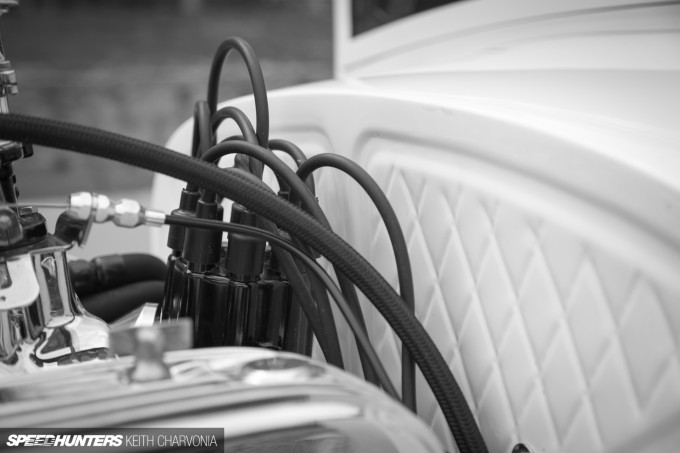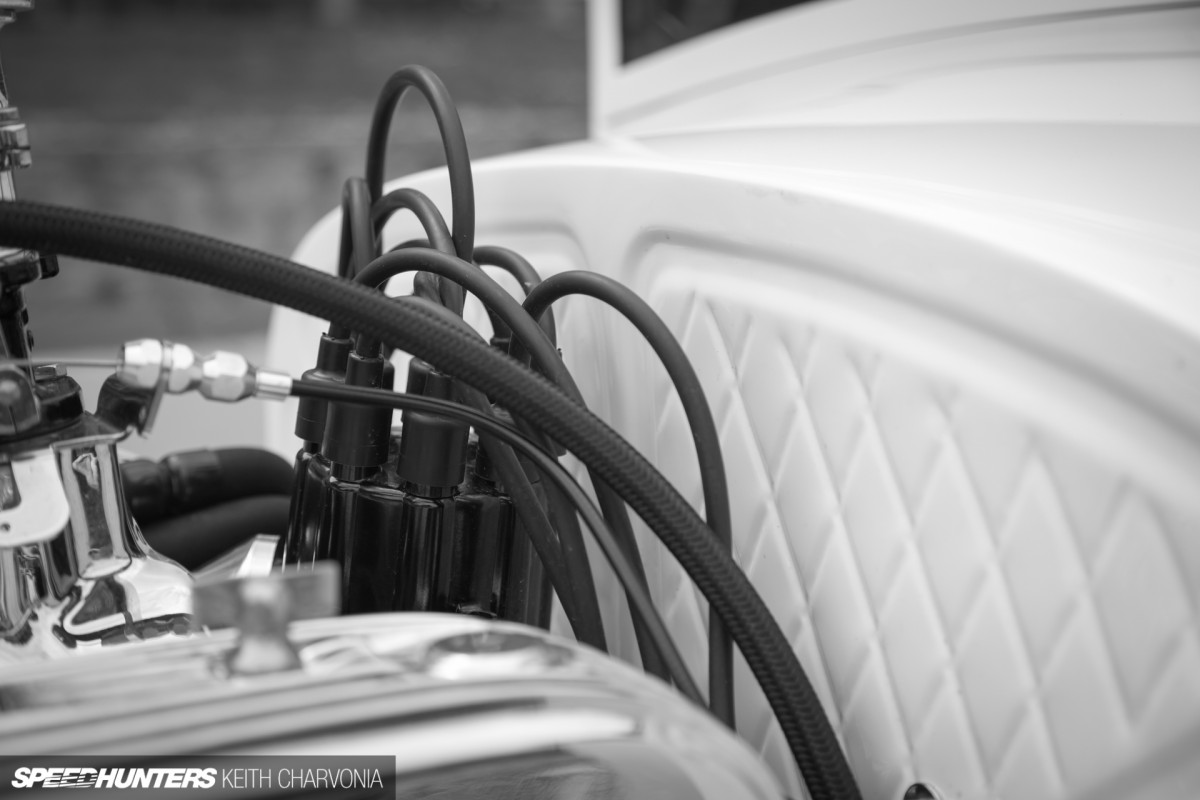 Now, it's one thing to cut up your car into a radical custom, but entirely another to make it function and scoot down the road. And scoot it does. Check out one of my favorite Instagram posts of the year to see it in action.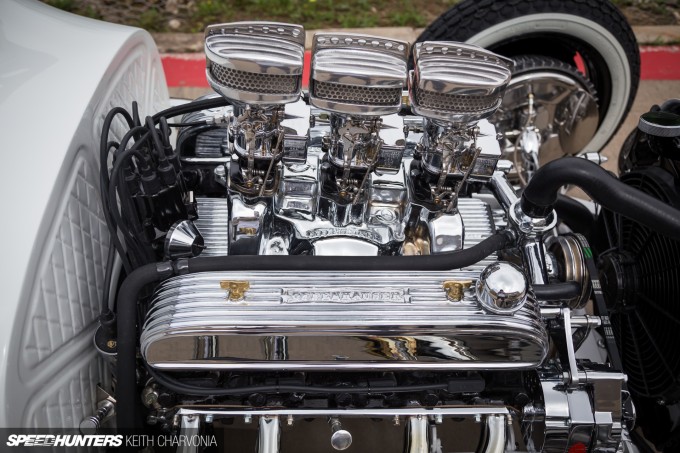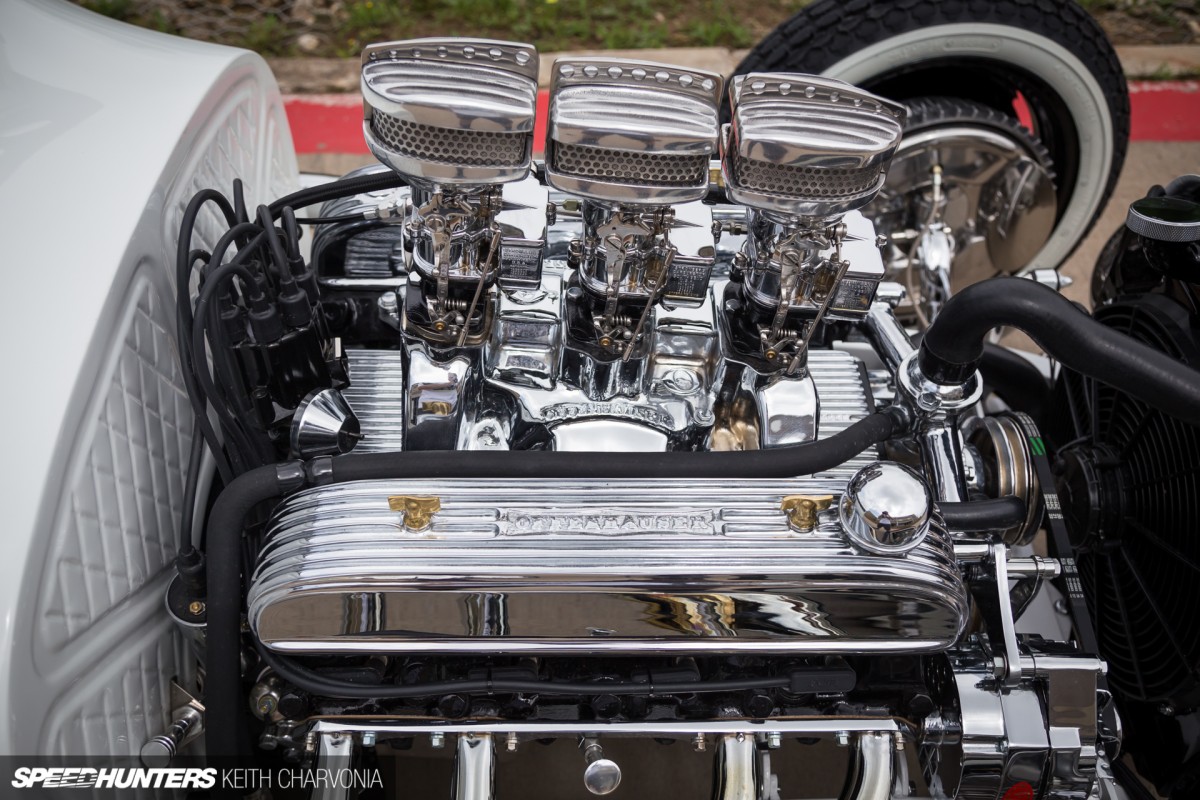 The Nailhead was swiped from a '65 Riviera, along with the switch-pitch TH400 transmission.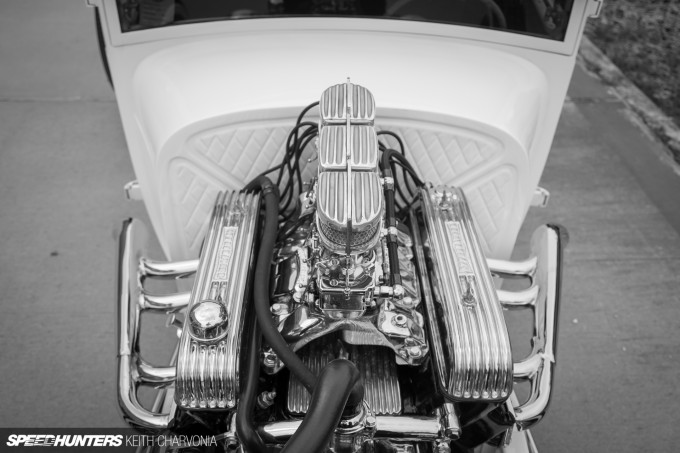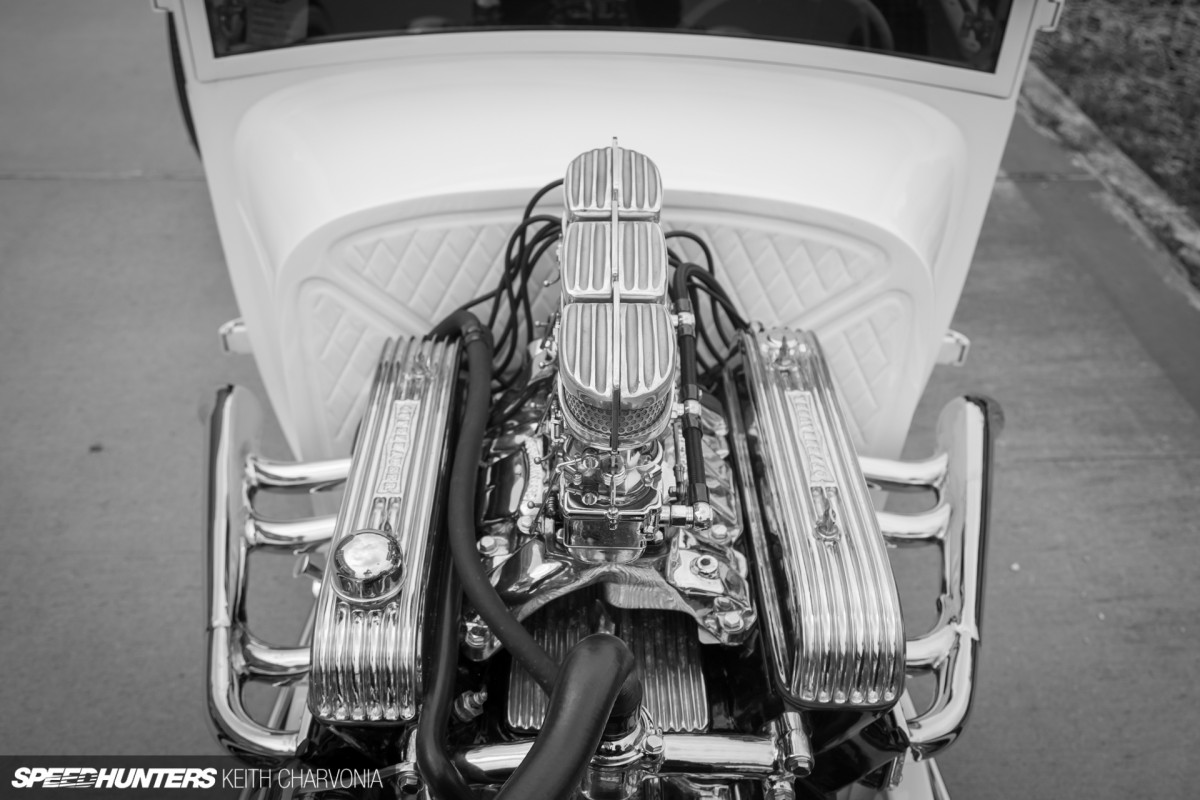 The Offenhauser valve covers perfectly coordinate with the trio of cast aluminum Crafty B air cleaners.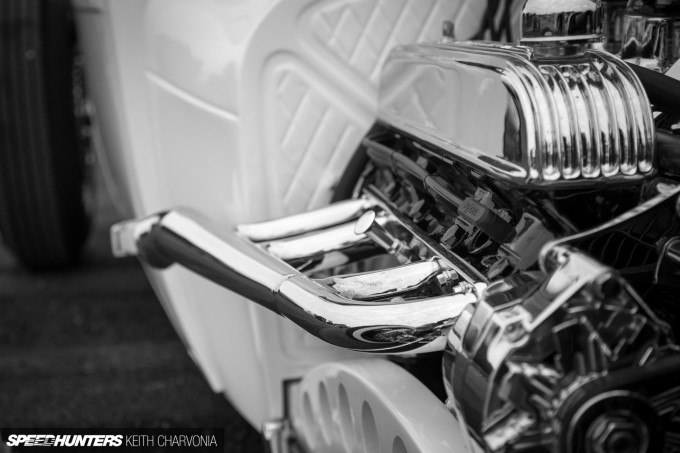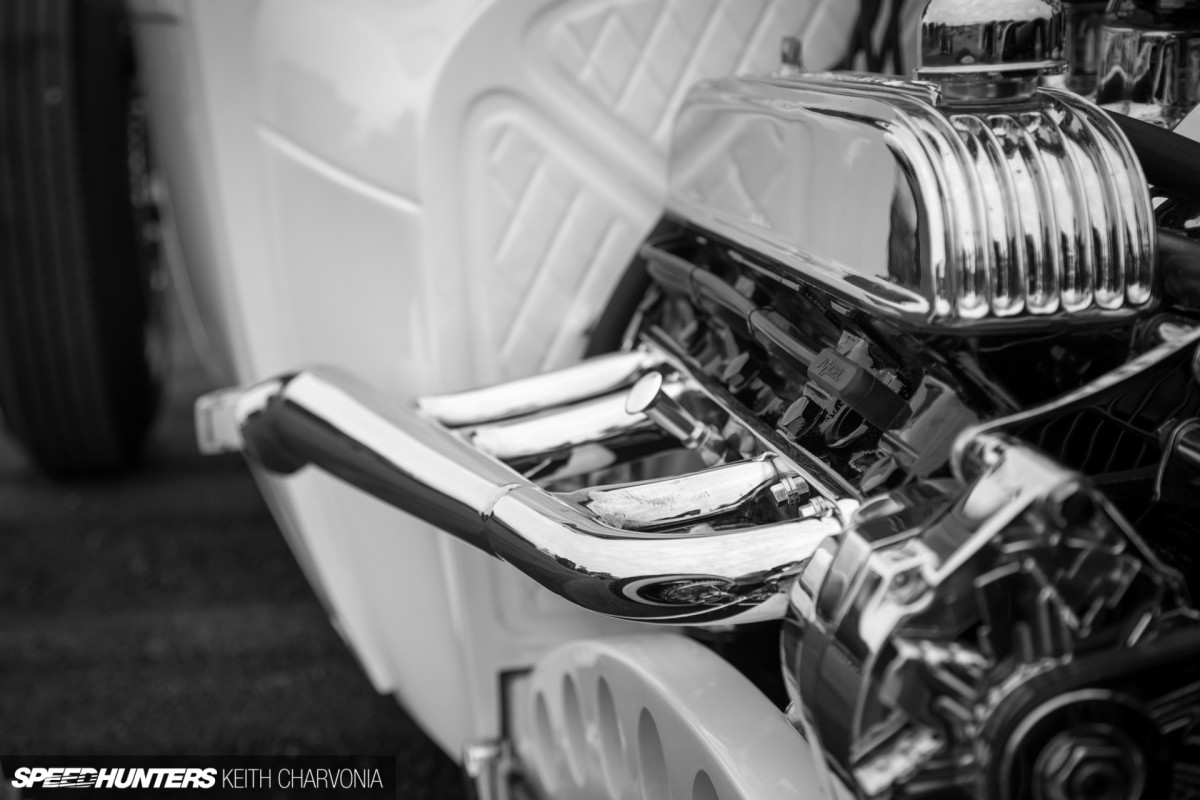 Of course, Ricky fabbed up the headers himself, and check out the 'quilted' firewall he made too.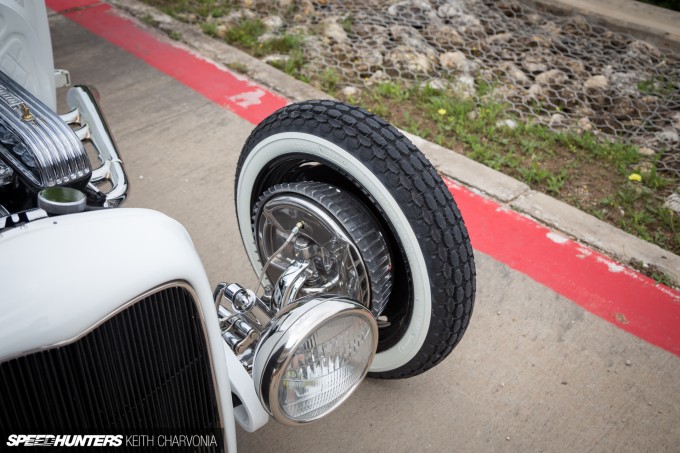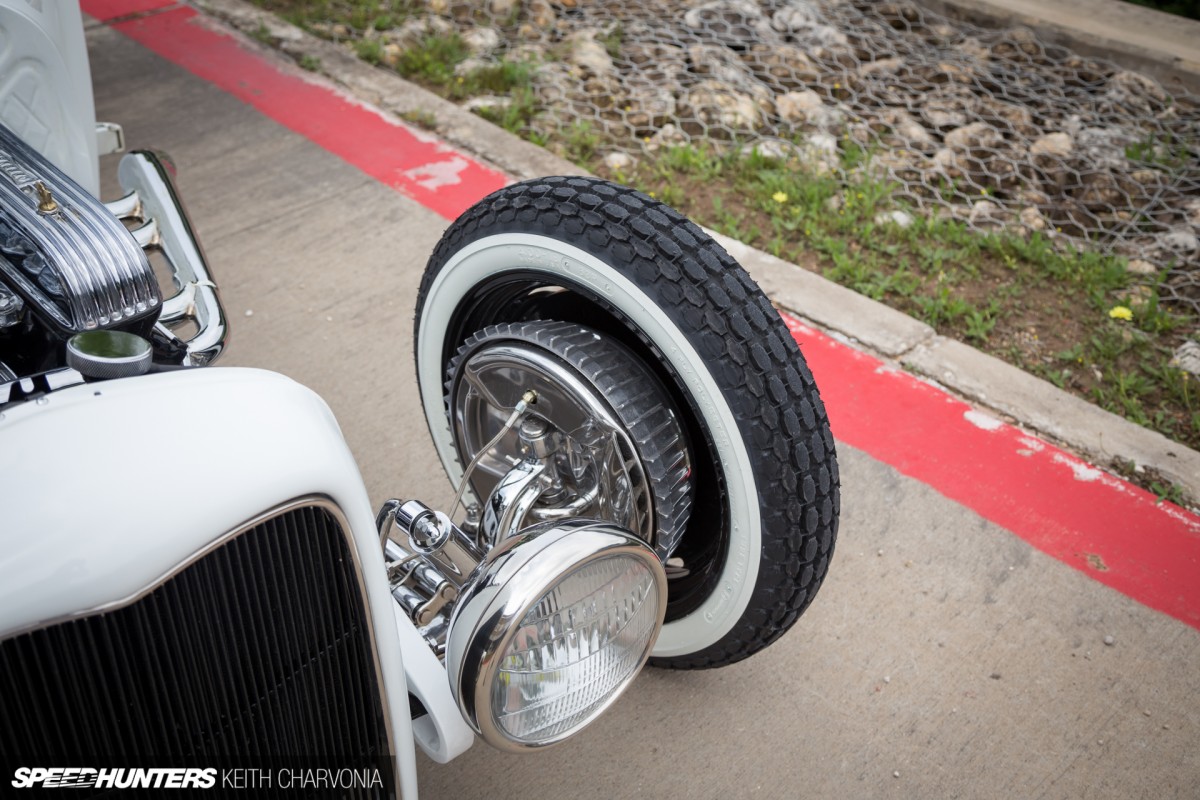 Being a lightweight hot rod with big V8 power, the Tudor needed a way to stop. There are actually disc brakes hiding inside the classic finned drums in order to maintain a traditional look without sacrificing stopping power.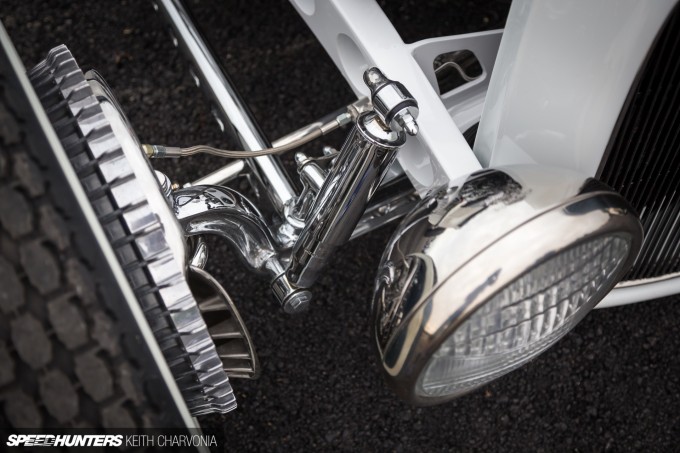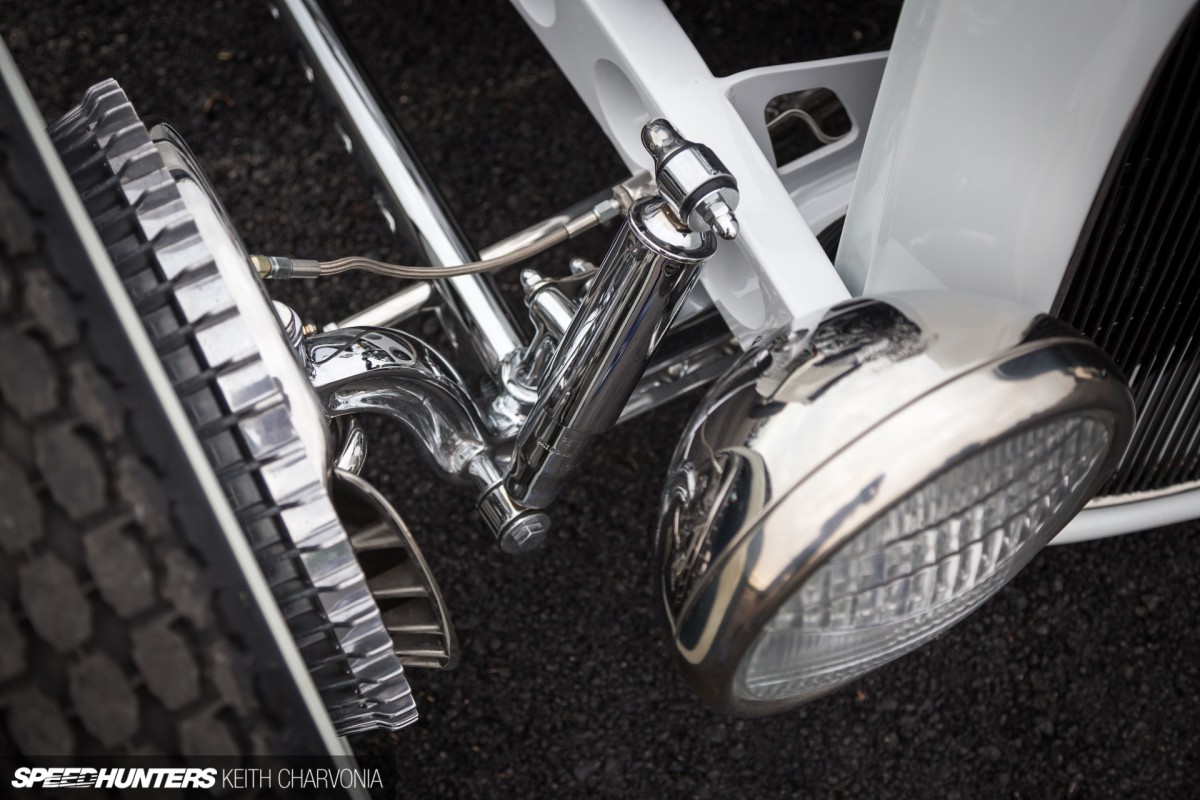 The faux drums are attached to a five-inch dropped axle, which is held in place by Johnson Hot Rod Shop's 6061 aluminum radius rods.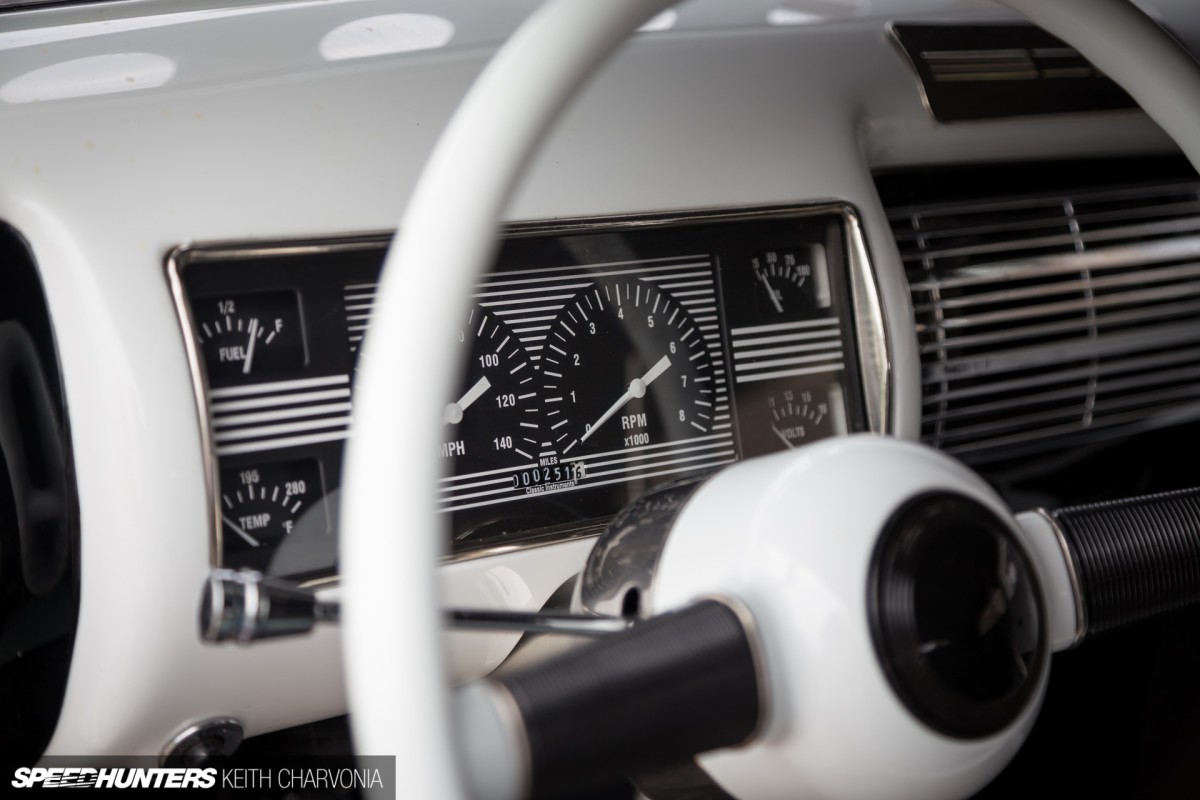 Inside it's all '40 Ford, with the dash, cluster and steering wheel all coming from the popular hot rod donor. The gauge panel is a modern unit from Classic Instruments, of course in matching black and white.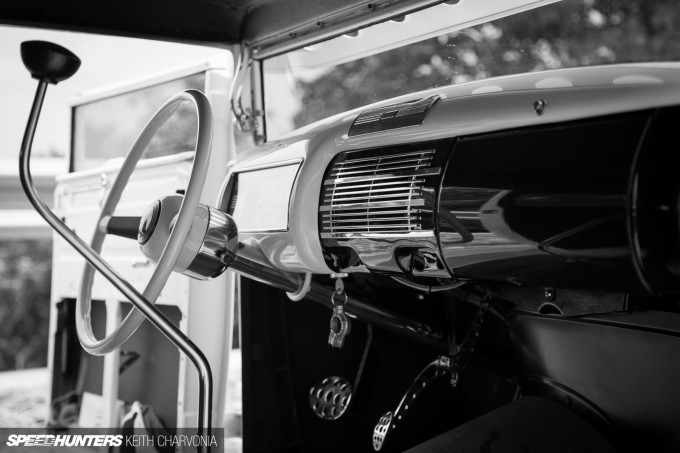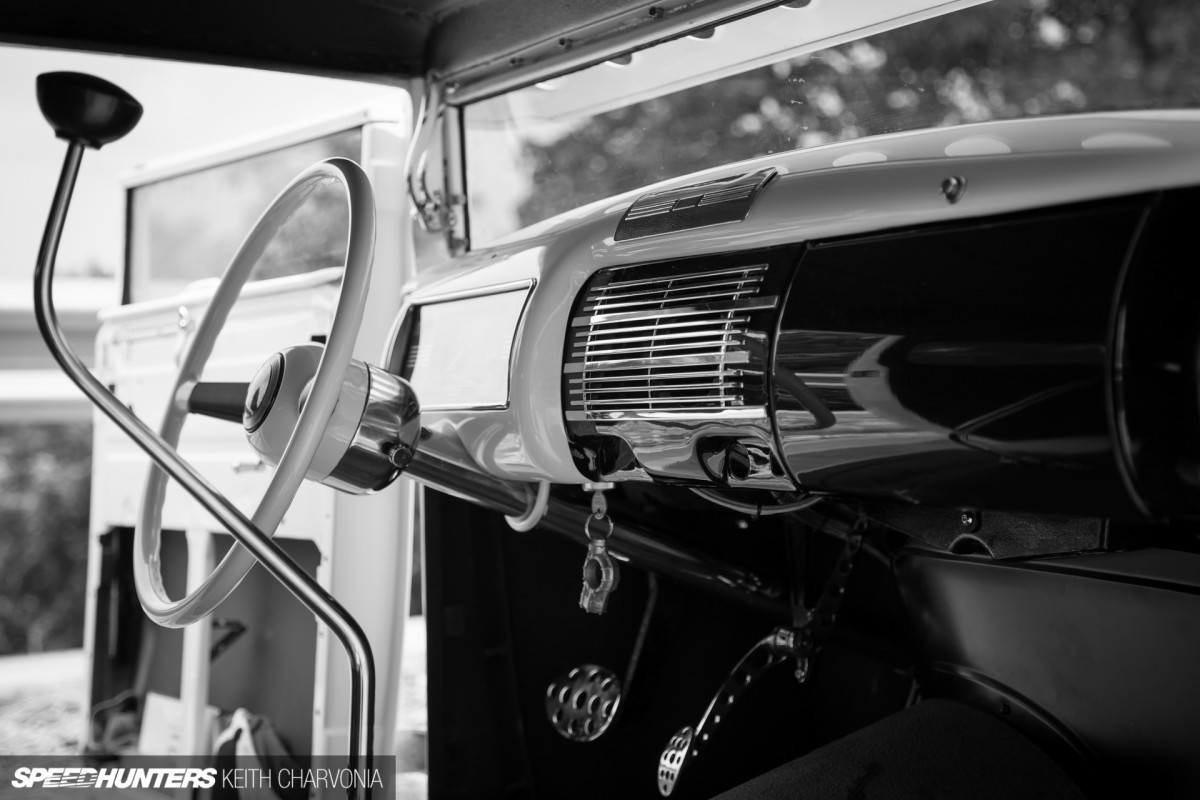 Lokar and Kugel pedals tie in nicely, and the '40 steering wheel is a shrunken 15-inch reproduction unit. I'm told the owner got his wish and there's a full Vintage Air setup tucked away as well.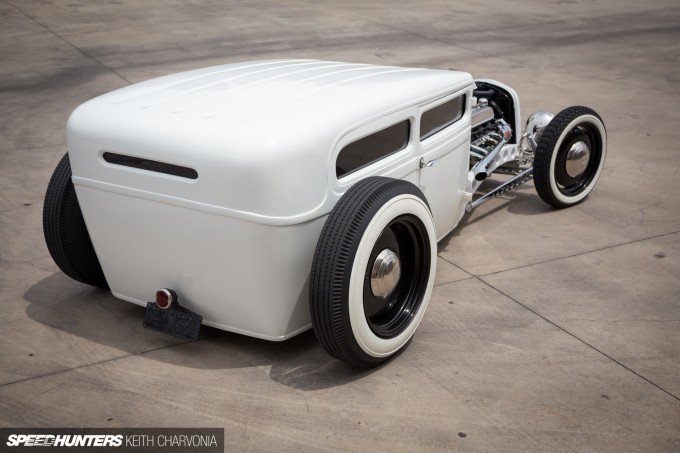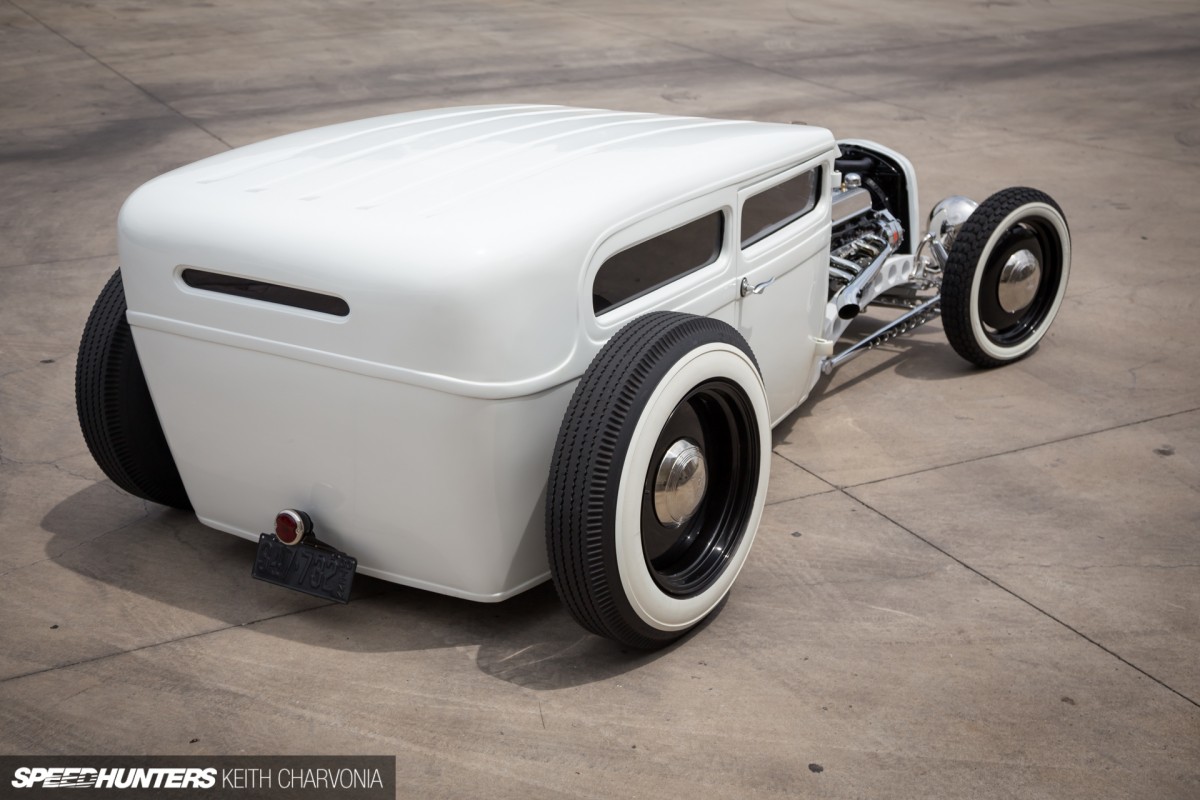 As I sorted and edited the photos of Landon's '28 I started thinking about what it was that made this simple, white hot rod stand out amongst the thousands of other cars at the Lonestar Round Up.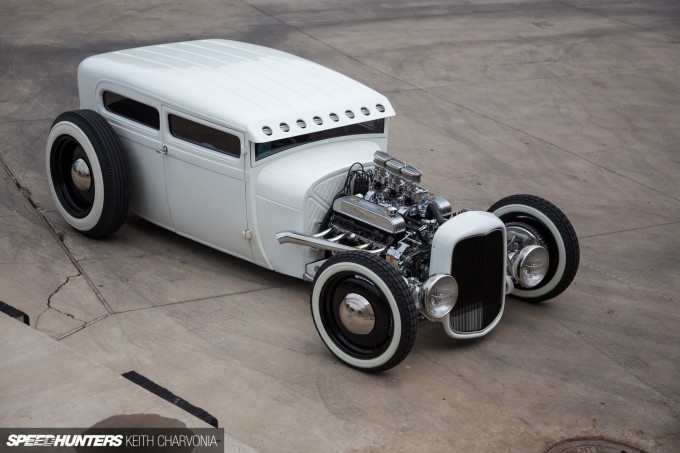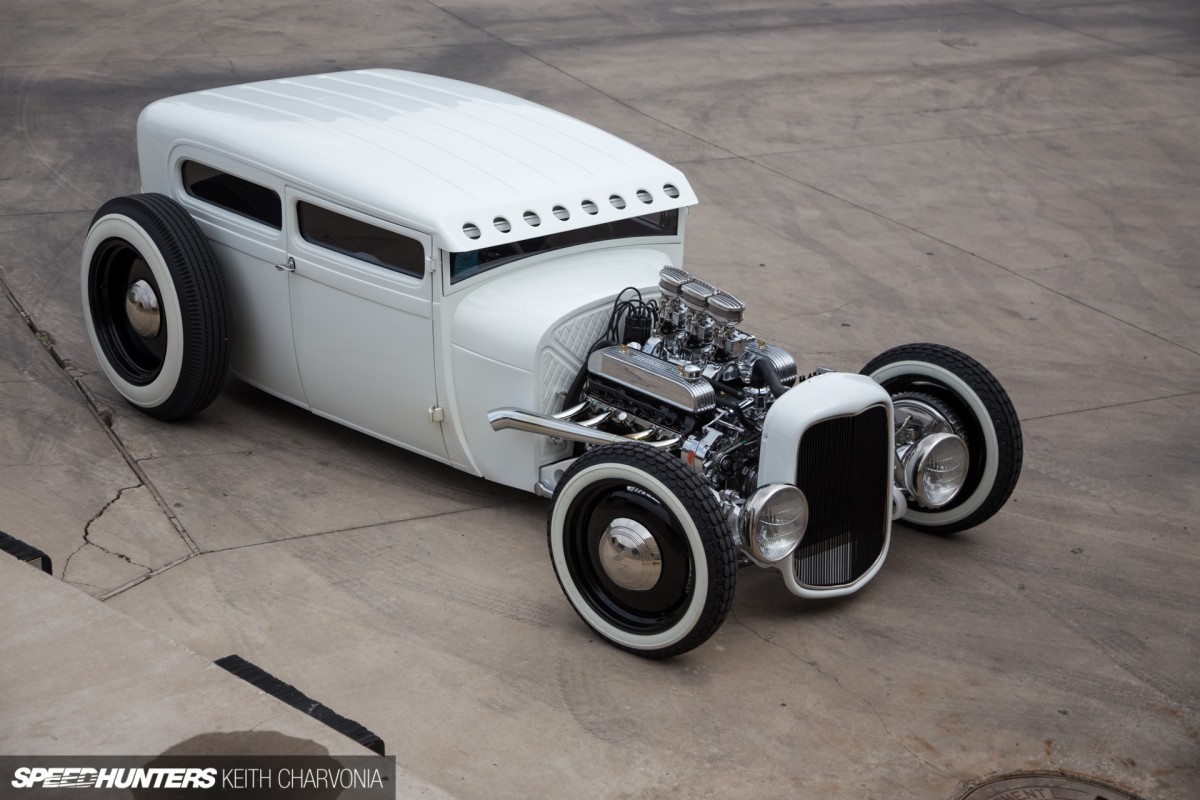 Sure, it's wildly chopped with reimagined proportions from the skilled hands of Ricky Bobby and crew, but what struck me was that typically a build that's so… extreme, would be finished as a rat rod.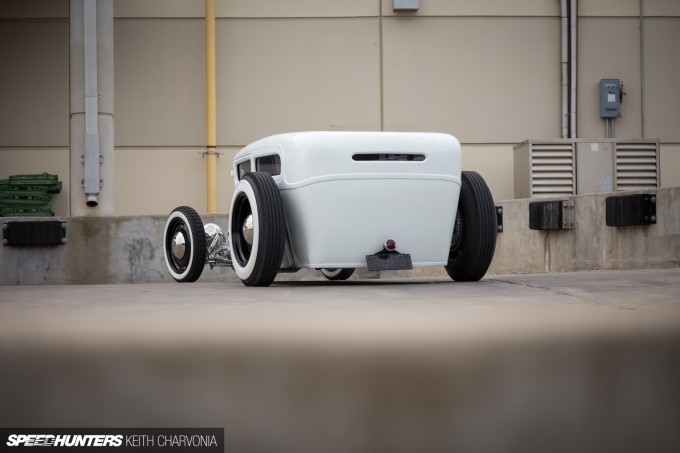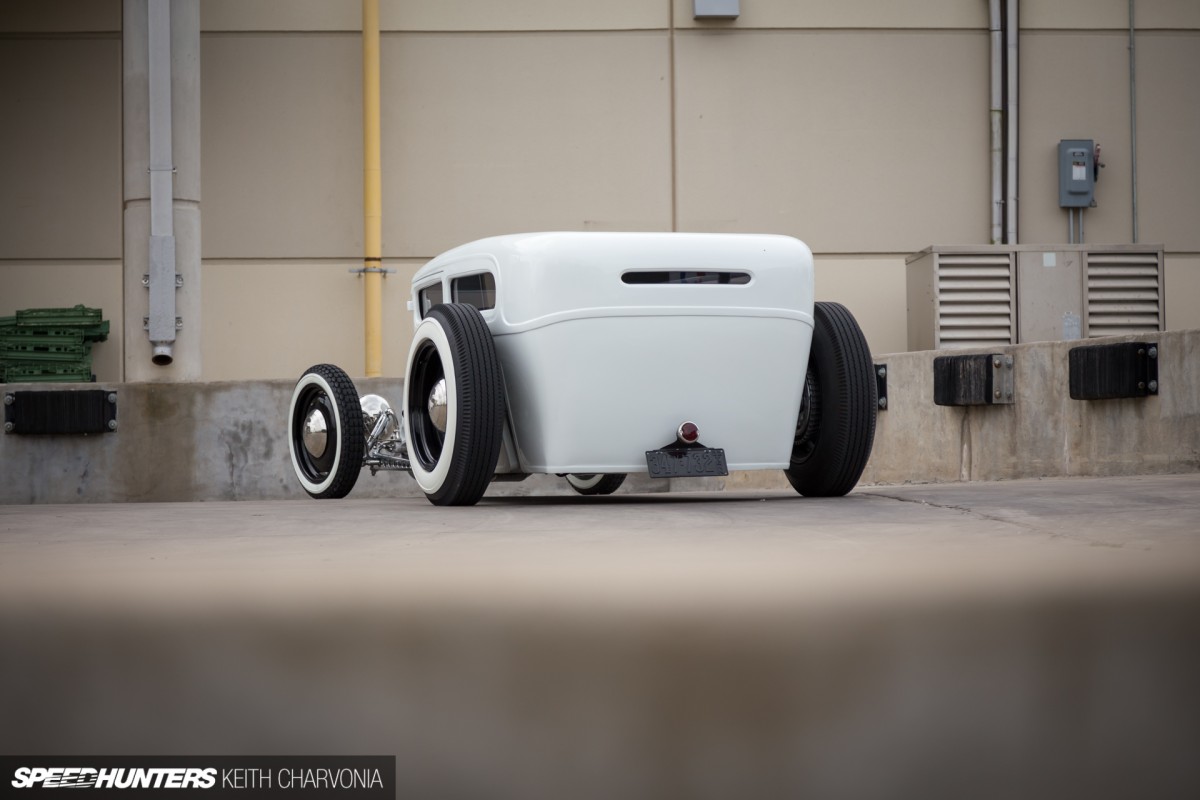 This is anything but a rat rod. It's beautifully executed and finished, easily holding its own with cars that took ten times longer to build.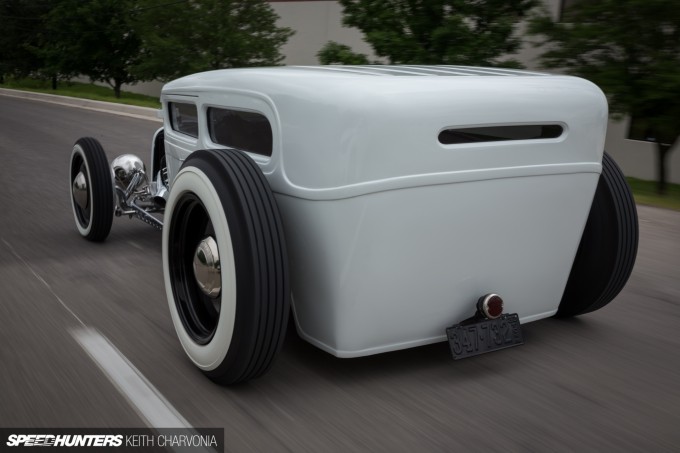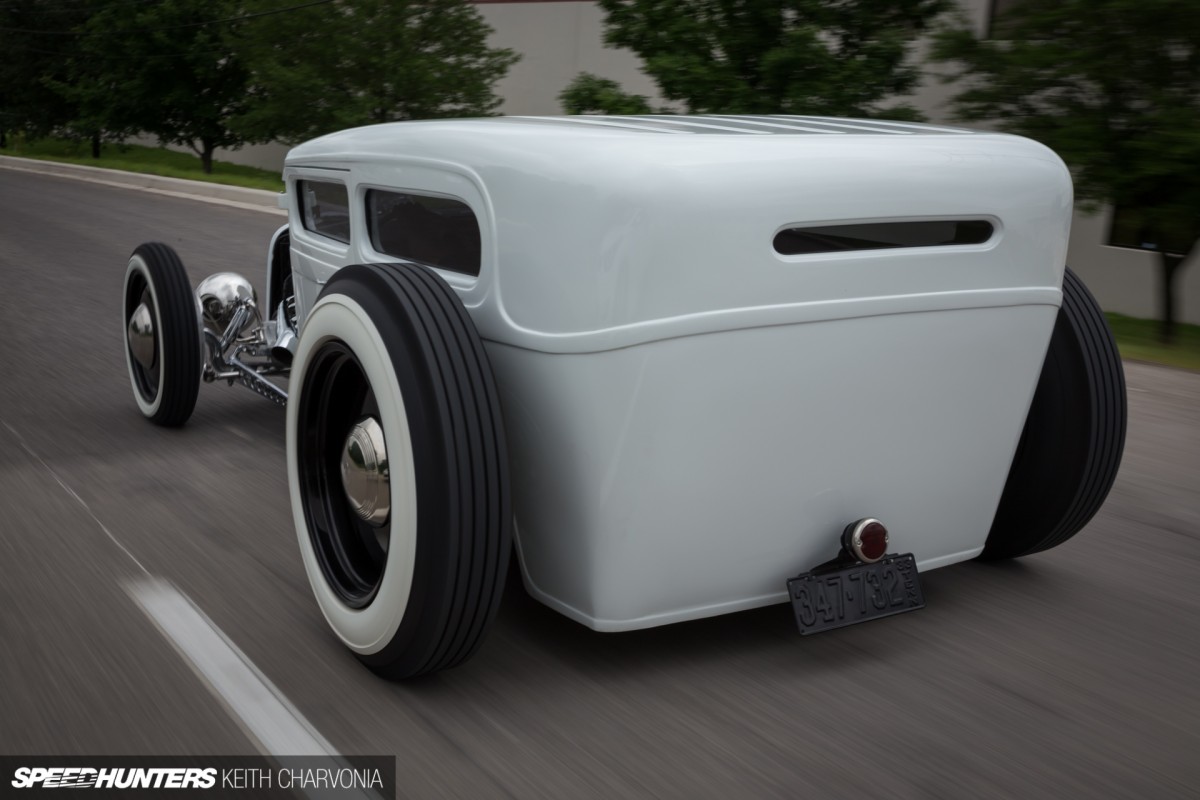 To me, that's what sets Ricky Bobby apart from any other builder out there. He's daring with his styling, but he doesn't let things slip into the shock-value world of rat rods. Instead, he finishes them like a proper hot rod should be, in shiny paint and chrome, and in record time no less.
Keith Charvonia
Instagram: SpeedhuntersKeith
keith@speedhunters.com
Landon Jordan's 1928 Ford Tudor Hot Rod
Engine 
425ci Buick Nailhead, Isky camshaft, bored .030, 3x Stromberg 97 carbs, Crafty B air cleaners, homemade lakester headers, chrome by Chrome Wizard, Walker radiator
Driveline
TH400 switch pitch trans, Ford 9-inch
Suspension/Brakes
5-inch dropped front axle, front radius rods by Johnson's Hot Rod Shop, SoCal front disc brakes with finned Buick drum brake covers, 4-bar rear suspension, Viking coil-overs
Chassis
Handmade chassis by Ricky Bobby, 20-inch rear kick up, 7-inch front kick up, made from 2×4-inch box tube and flat sheet, Flaming River steering box
Wheels/Tires
Circle Racing wheels, 18×4-inch with 400-18 tires (front), 20×7-inch with 700-20 tires (rear), '39 Deluxe hubcaps
Exterior
Chopped 9-inch in front, 8-inch in rear, shortened 3-inch, flush mounted doors and window frames, custom drip rails, ribbed roof panel from late model SUV, raised visor, deleted wheel well beads, added bead at rocker and firewall, quilted firewall, cowl section stretched, 4-inch chopped '32 grille, PPG white paint
Interior
'40 Ford dash and instrument cluster, Classic gauges, Ididit roadster column, 15-inch reproduction '40 Ford steering wheel, Lokar speedster gas pedal, Kugel Components brake pedal, Vintage Air air conditioning
More Hot Rod stories on Speedhunters
Cutting Room Floor