The Style
Car meets and car shows have been around since the term 'automotive enthusiast' was first coined. We can't get enough of them. What is there to hate about a gathering of people in a parking lot with tastefully modified cars? I've been to a few (or a lot), and I know you guys have too. From the late-night meets at Krispy Kreme, to the early-morning Cars & Coffee gatherings – we've been to them all.
The thing about many car meets though, is that most of the time they're restricted to a certain group of cars (the bigger ones at least). Cars & Coffee for example only really consists of cars that fit into the following categories: expensive, unique, and old. The chances of seeing a Nissan 370Z or a Hyundai Genesis at one of these events is close to nil – unless they're very uniquely modified. The chance of you seeing a Mustang GT350 at an import meet is also the same. What I'm trying to get at here, is that we don't have car meets that cater to all auto enthusiasts. Or at least we didn't until Nitto Tire stepped in and created the Auto Enthusiast Day – a gathering of all car enthusiasts. It's only been a few years since the inaugural event, but it now attracts a crowd size comparable to a large sporting event.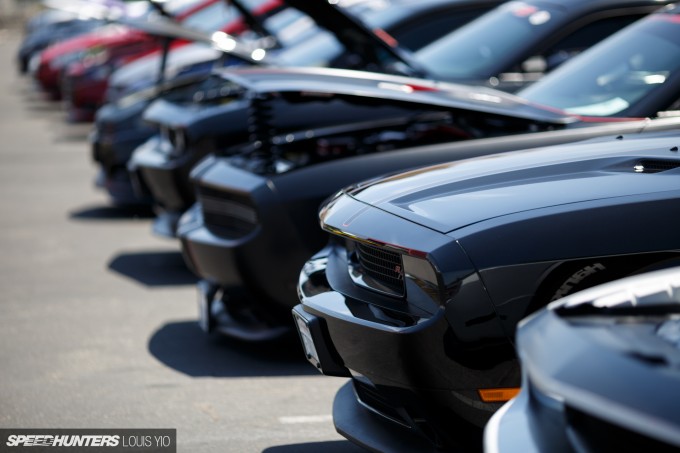 This year's Auto Enthusiast Day was held at Angels Stadium in Anaheim, California. With big-name athletes like Vaughn Gittin Jr., Loren Healy, Tanner Foust and more, it was always going to be a big event. I'll start with just a few of the cars that really stood out to me…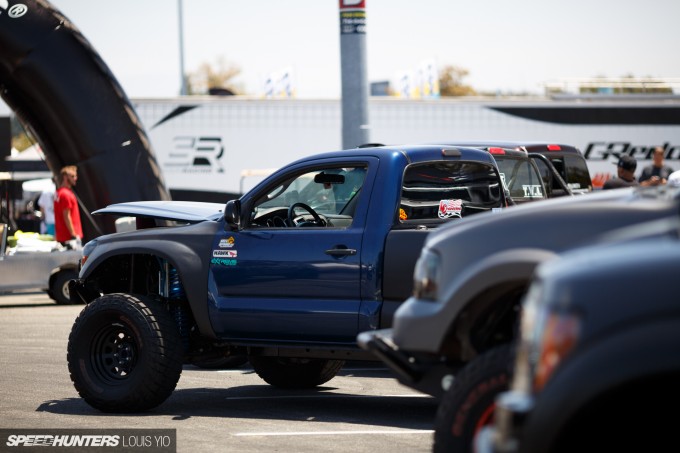 This past year I've been eying up prerunner pick-up trucks more than I should be. After seeing so many at the Mint 400, I feel like it'll only be a couple more months before I bite the bullet and buy a nice old Toyota truck on Craigslist. I seriously just want Marty McFly's black Toyota Hilux.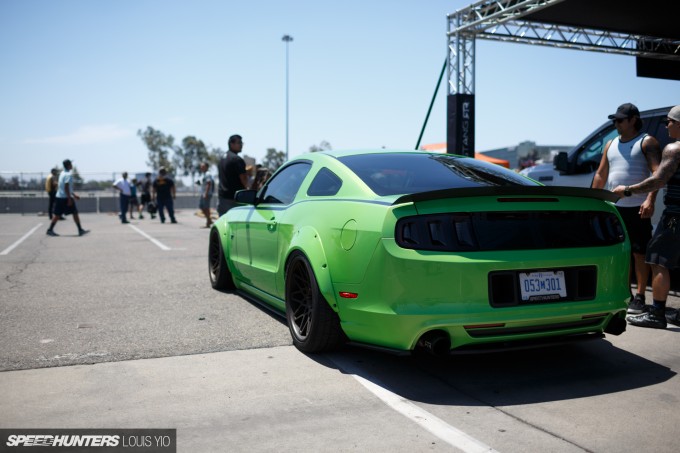 From any angle, Vaughn Gittin Jr.'s Double Down RTR is a beautiful car to rest your eyes on.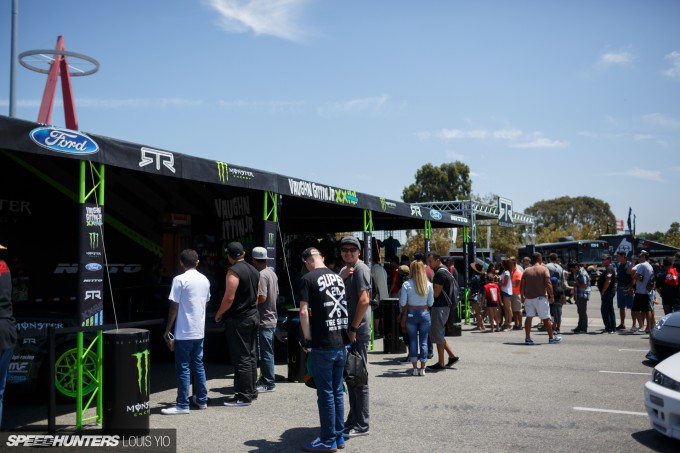 Speaking of Vaughn, he was out in full force with his crew and cars. People lined up around his pit the entire day, and if he wasn't on track drifting he was signing autographs for fans.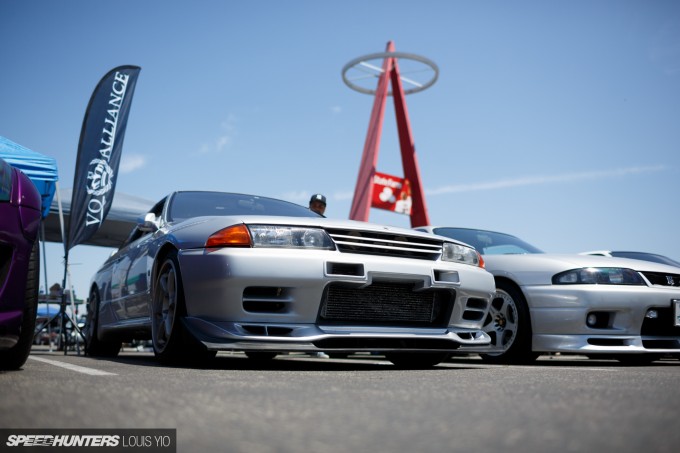 A Nissan R32 GT-R in California?! And its younger brother right next to it?! GT-Rs are an insanely rare sight on the streets of California (with the exception of the R35), so coming face to face with at least five of them at this meet was definitely a highlight.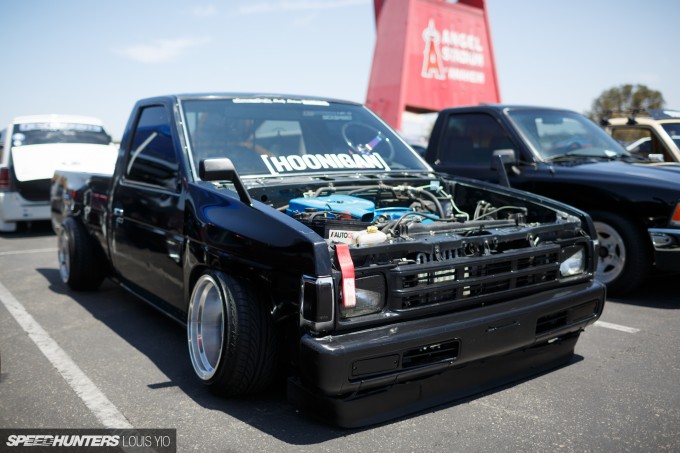 Hold up! A slammed Nissan that isn't a 240? What's going on here? Where am I?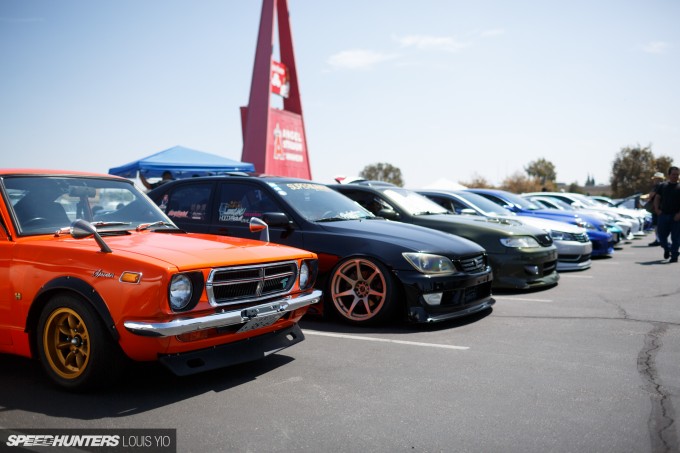 My heart skipped a beat when I saw this Corolla at the meet. It was parked right at the entrance and was surrounded by its grandchildren. This car is definitely feature-worthy. Hmmm…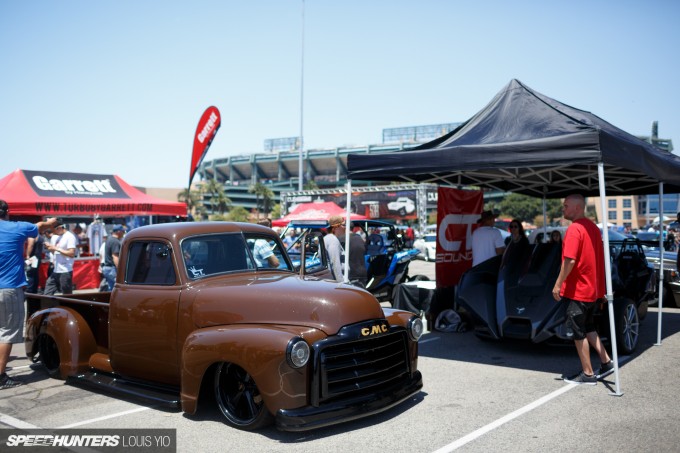 This GMC pick-up truck from the early '50s was absolutely immaculate. If I remember rightly, it might have been the oldest car at the event, and people just couldn't get enough of it.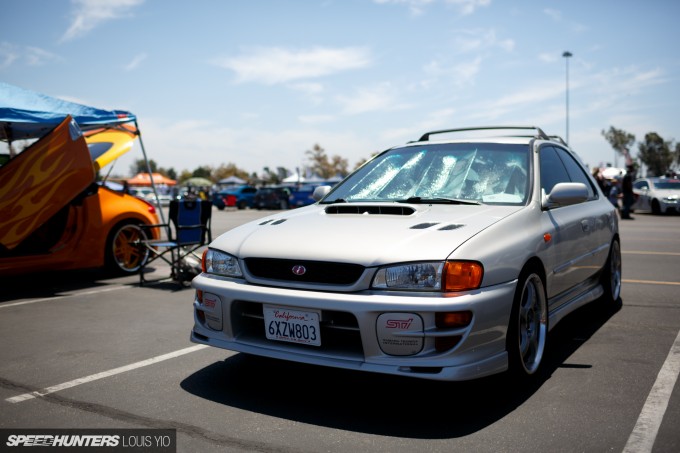 The United States never got the WRX version of the Impreza until the 'bug-eye' came out, so people did what they could with what they had. This 2.5RS really stood out because it was parked to the side of all the action. I find it insane how these late '90s 2.5RS Imprezas are holding their value. The average price has been between US$7,000-$9,000 these past few years, and it seems like it won't be dropping anytime soon. There are early model 350Zs going for that sort of money these days!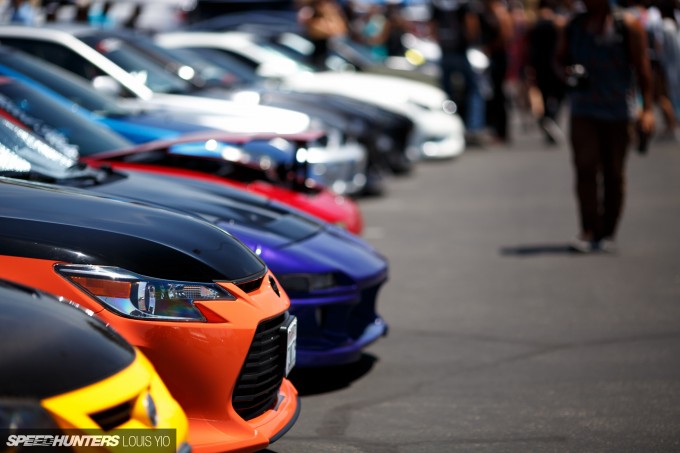 The more I look at the new Scion tC the more I want one. The headlights are really growing on me, and the fact that Fredric Aasbø is killing the competition in FD with one helps too!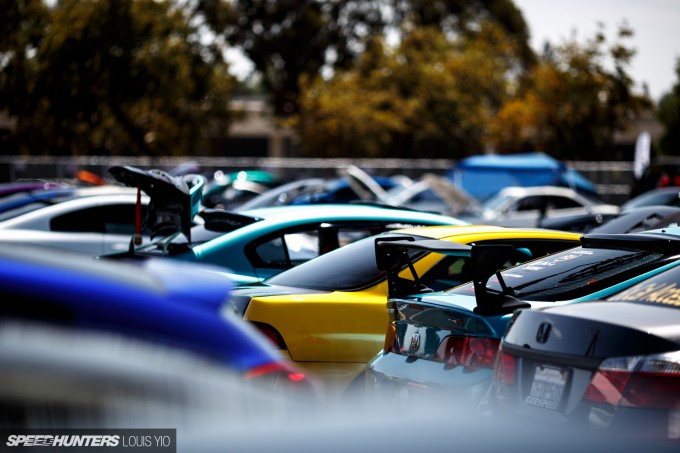 What is a car meet without a Honda? Or in this case, around 200 Hondas… It's a brand you can't hate. I'm pretty sure everyone has a Honda that they want. They won't admit it, but they want it.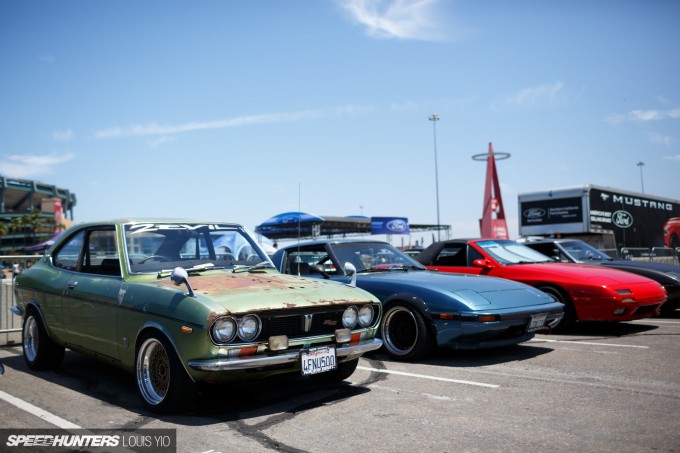 Rotary-powered Mazdas are a rare sight nowadays. They're almost like a dying breed. Mazda has said that it's not giving up on the rotary platform, so I really hope it stays true to its word. It might have been because of Mad Mike Whiddett's presence, but there seemed to be more Mazdas than usual at this year's event. It never hurts though. Brap!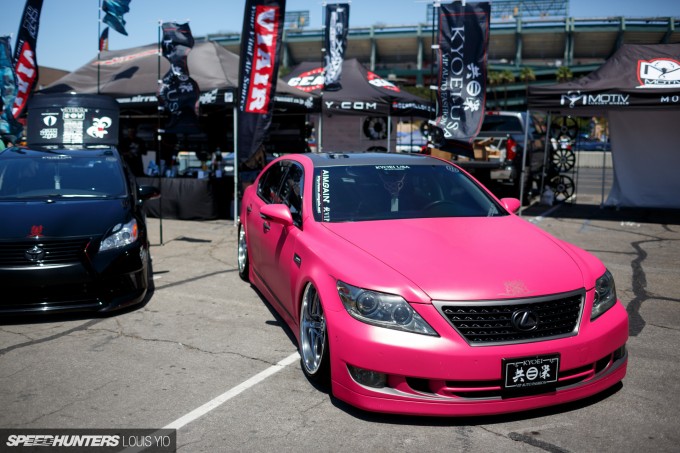 I was expecting to see a lot more slammed cars at the Auto Enthusiast Day than I actually did. For a second I thought this was Elle Woods' Lexus.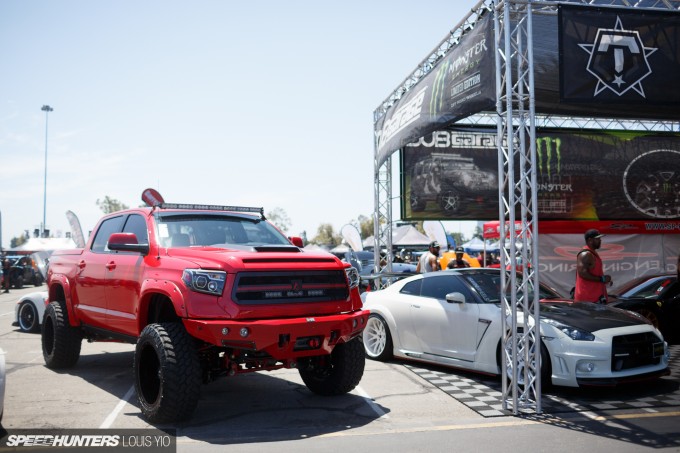 First you show me a slammed Lexus LS, and now you're showing me this?! Yes, yes I am. You might hate bro-trucks, but bro-trucks are what will help you survive a zombie apocalypse. Think about it.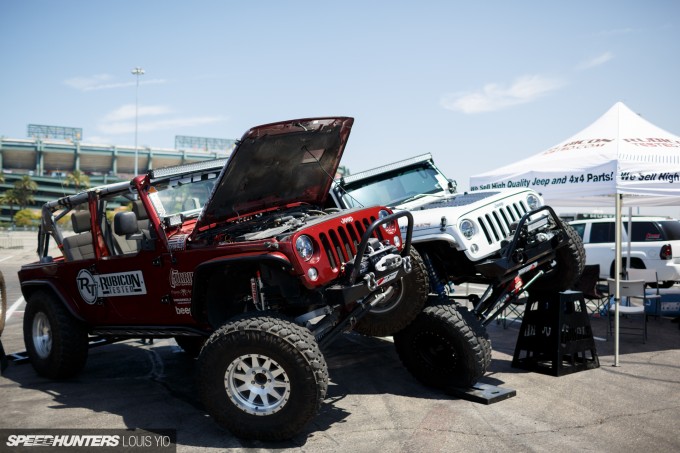 Aside from what I've seen at King of the Hammers and Ultra4, rock crawling is something I don't know too much about. I would really like to get into it though, but I fear that it wouldn't be too good for me financially. First, a prerunner, then a bro truck, then a rock-crawler – then I'll be broke and homeless.
The Crew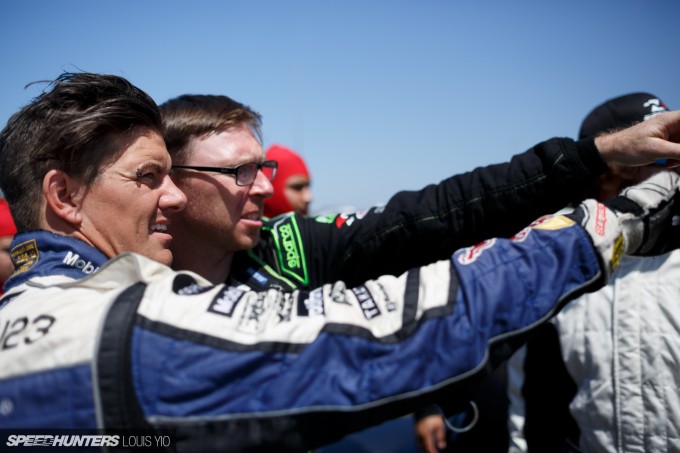 Plenty of Nitto drivers were present during the day. Here you can see Mad Mike and Odi Bakchis dancing. They were actually discussing the tandem run they were going to do and the line they would take.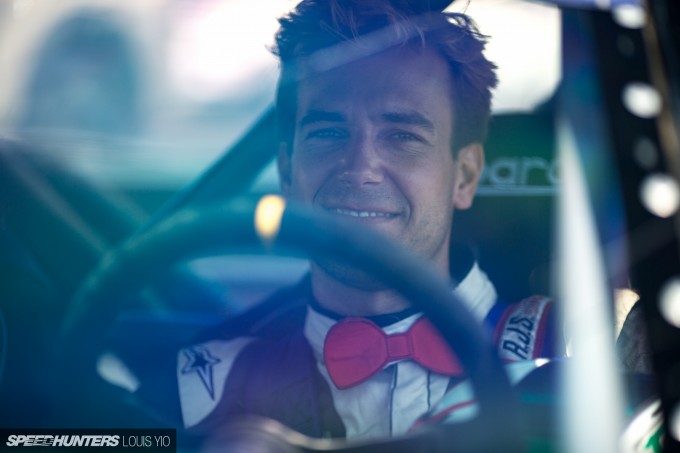 Someone who has been away from Formula Drift but keeps himself busy these days stunt driving is Matt Powers. He too made the time to come out and say hi to the fans.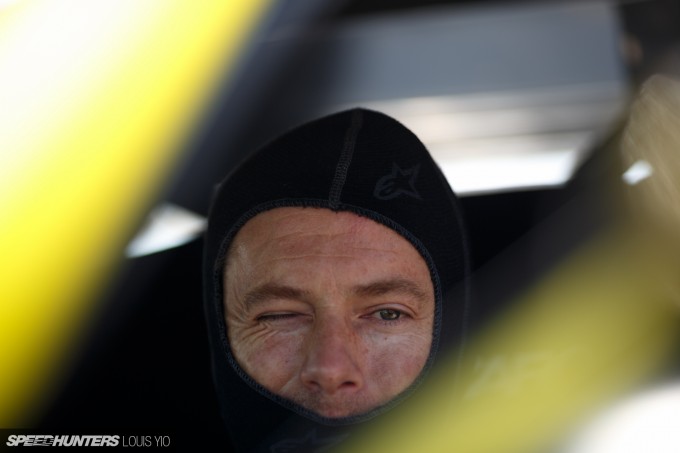 Fresh from a Global Rally Cross race in Detroit was Tanner Foust. Thanks for the wink. Everyone was hoping that he'd run the entire FD season this year, but we'll just have to wait until Irwindale before we see him compete again. Before this season, the last time he competed in a Formula Drift event – not including invitationals – was at the House of Drift back in 2010 and he won that event. Can he do it again? We'll see, I guess.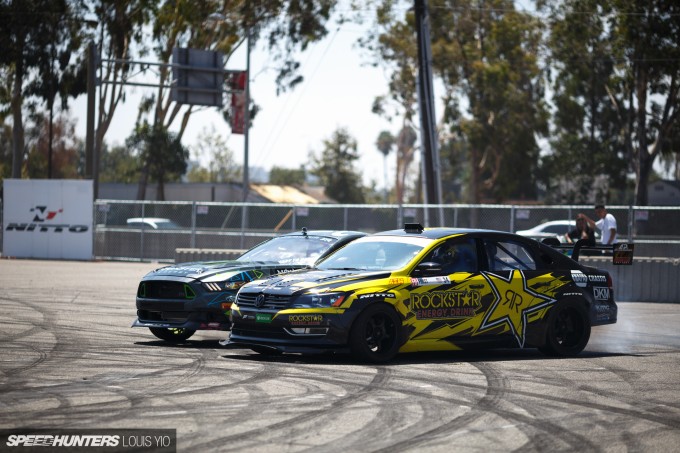 Also, I know I'm the millionth person to ask this, but where is season 6 of Top Gear USA? For those of you who don't watch it because you think the original version is the only Top Gear worth watching, please give the US franchise another try. The last two seasons were phenomenal.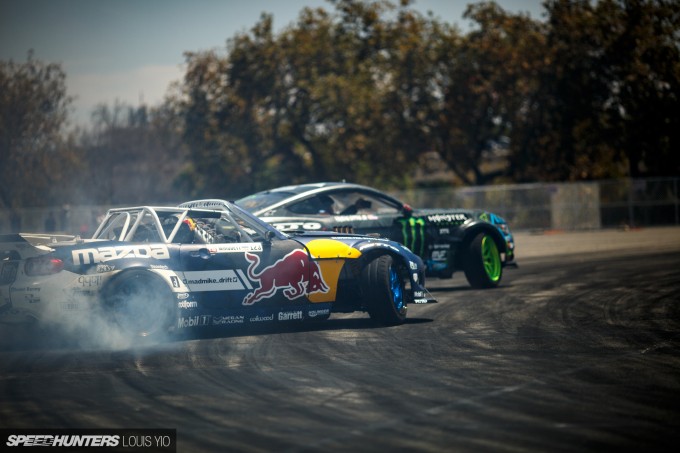 It was a full day event and the drivers pretty much had free reign to do whatever they wanted to on track. The track was about a quarter of an acre of open space.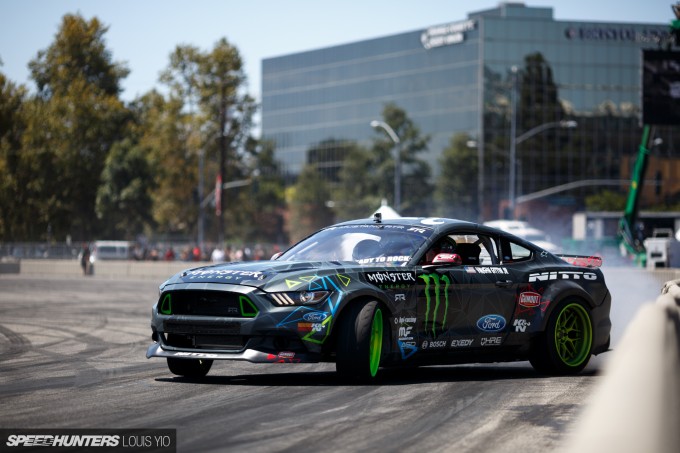 The drivers went out two to four at a time and essentially made a giant smoke show for the crowd. To say it was cool would be an understatement.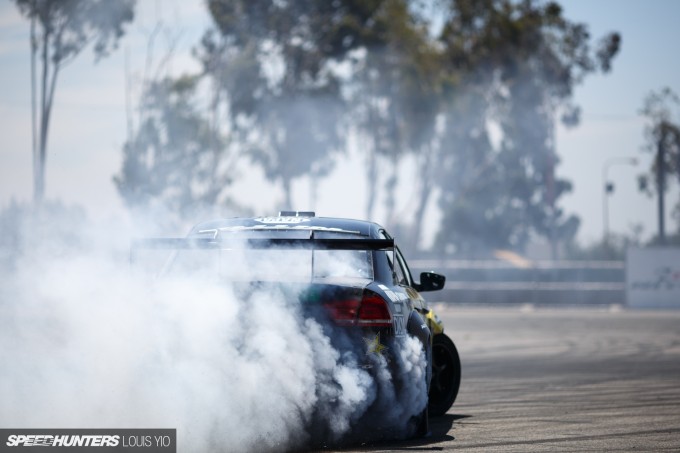 Seeing Tanner behind the wheel again also made all the fans cry in joy.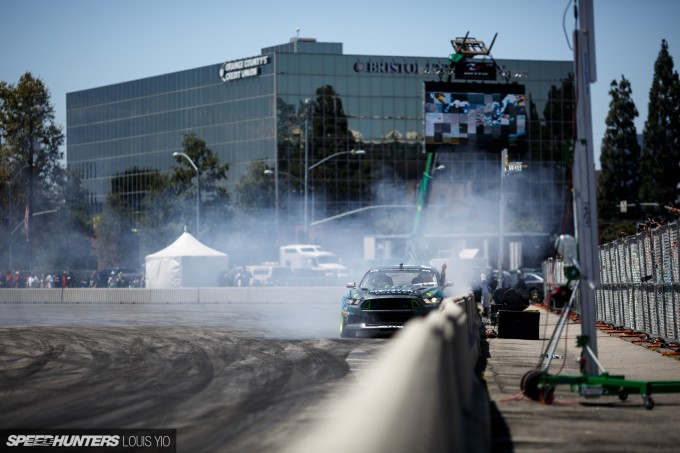 At one point Vaughn went right up to the fans (behind the fence) and smoked his tires for a solid 30 seconds. What? How? Wait. What? Awesome! Yes!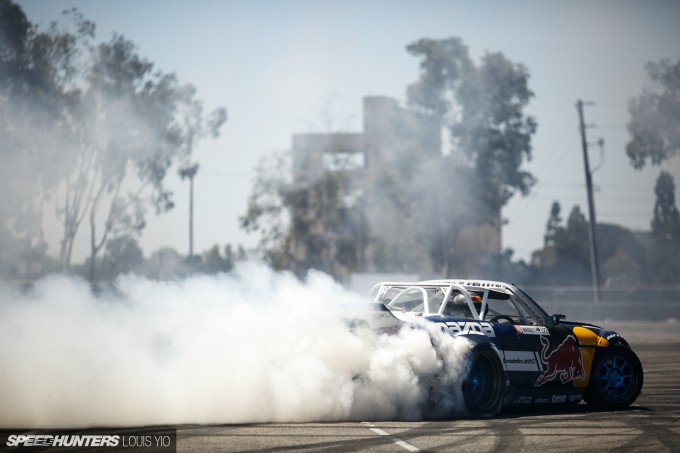 I wonder what Nitto Auto Enthusiast Day 2016 will be like? My suggestion: 8-car tandems. But, throw in Loren Healy and Shannon Campbell with the FD guys. While I'm at it, throw in fire. Concerts with fire are more awesome than concerts without. Auto Enthusiast Day with fire will be more awesome than Auto Enthusiast Day without fire. Again, it's just a suggestion…
Louis Yio
Instagram: lusicousy
Cutting Room Floor