Built Not Bought
Hi! My name is Brian Goude and this is my first Speedhunters guest feature. As a brief intro, I have a passion for pretty much anything automotive and awesome. I know that is a very vague description, but there are so many amazing types of custom vehicles out there, that it's hard for me to say I like only one certain genre. If I did have to pick one though, it would be custom trucks, or to be more specific – the ones that lay flat on the ground. I love creating videos of all things custom, which is in fact what I do for a living with my company, Grindertv.
That's enough about me – let's get straight to the point of this feature: an amazing 1965 Chevy C10 built by Eddie, better known as 'Eddie Money'.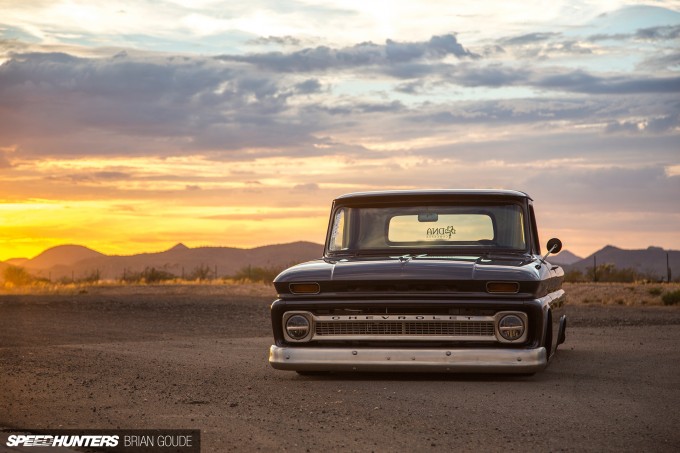 Eddie's passion for vehicles started at a very young age; he would ride his bike down to the local cruise spots on the weekends, and by 15 he had built his first cruiser so he could join in the fun. Eddie quickly found out that wanting to build cars came with a steep price, so he started a company and things started to take shape.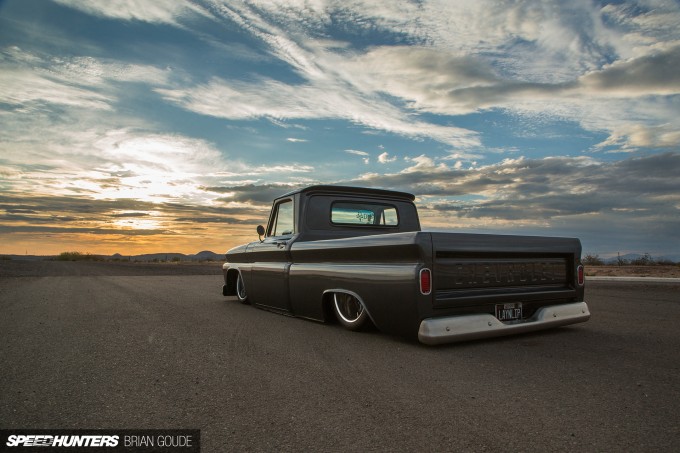 Unfortunately, he had to put car-building on hold as his business was booming and took priority. Life was moving quickly and before Eddie knew it he was married and had two young boys.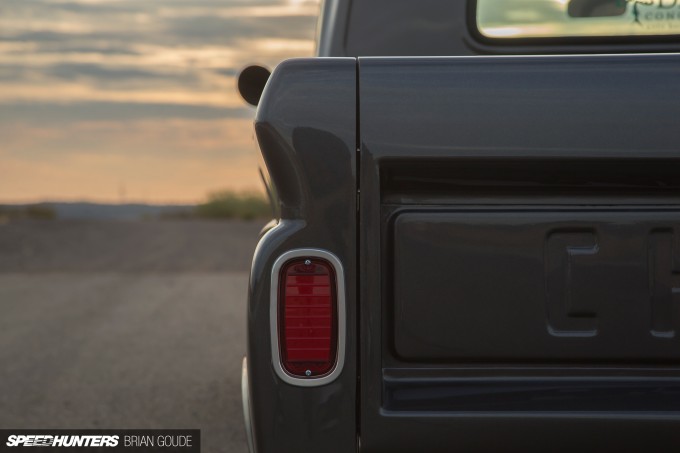 But at the age of 40, Eddie was diagnosed with stage three colon cancer. This was a real wake up call, and after surgery and chemotherapy, Eddie made the promise to himself that he would no longer chase what he previously wanted. Instead, he would enjoy the things he had, and the things he was passionate about.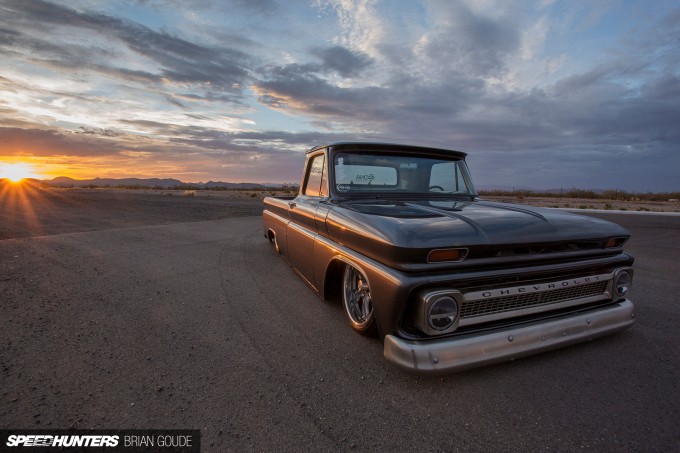 Immediately after recovering Eddie started building cars again. He has a goal to build one each year and hit as many shows as possible. At heart, Eddie is a 'Tri-Five' guy – that is, a '55, '56 and '57 Chevy fan – but after noticing a ton of '60s trucks being built, he decided to get in the mix with his own build.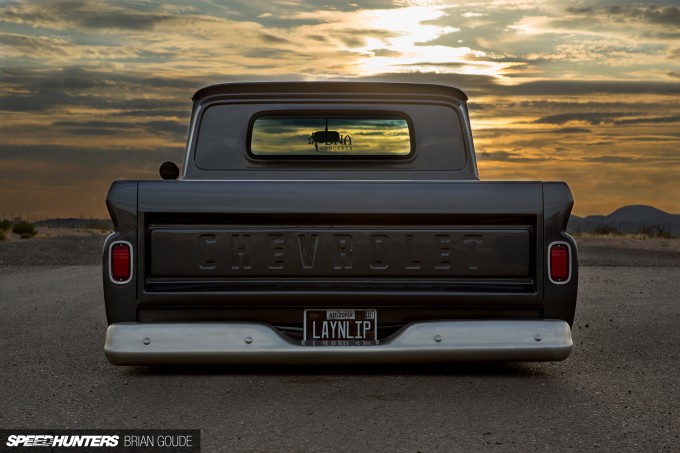 Eddie was down at his buddy Dino Battlana's shop looking at another project to buy when Dino talked him into the truck we have here. It was in rough shape, but that was no problem for Eddie. He took the truck home and got to work.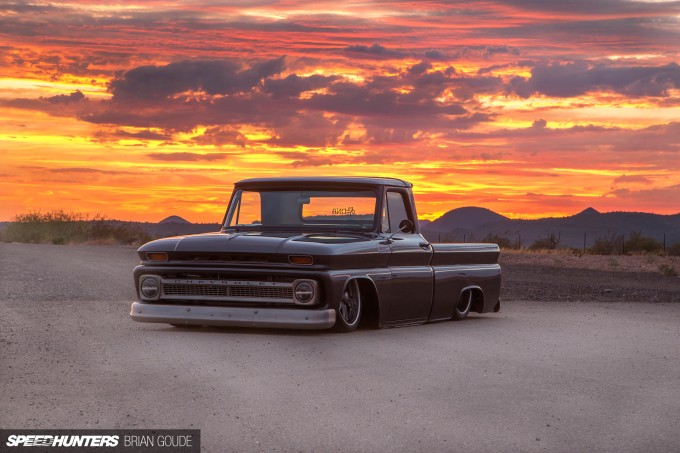 Like a lot of projects, this one was supposed to be simple 'bag job' to get it quickly back on the road. But after Eddie and one of his sons took a trip the Good Guys show in Scottsdale, they were inspired and decided to go all-out.
No Corners Cut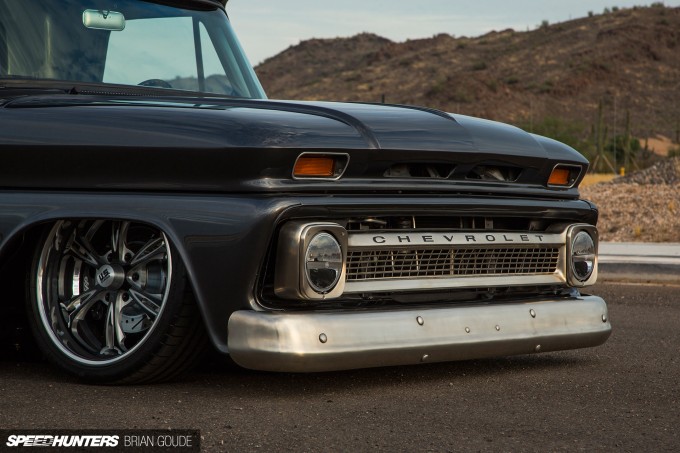 The first thing Eddie wanted to do was pick out a set of wheels and he let his son make the final decision on this. The staggered 20×9-inch and 20×14-inch US Mag Cartel 6s are a great choice too. Sitting behind them are CPP 14-inch drilled and slotted rotors with 6-piston calipers, meaning stopping is not an issue.
Next on the list was the power plant, and here Eddie went with a 350ci small block Chevy with a bunch of goodies thrown at it. Coming in at 330hp and 360ft-lb of torque, it isn't a monster, but it can drive anywhere and do it with reliability.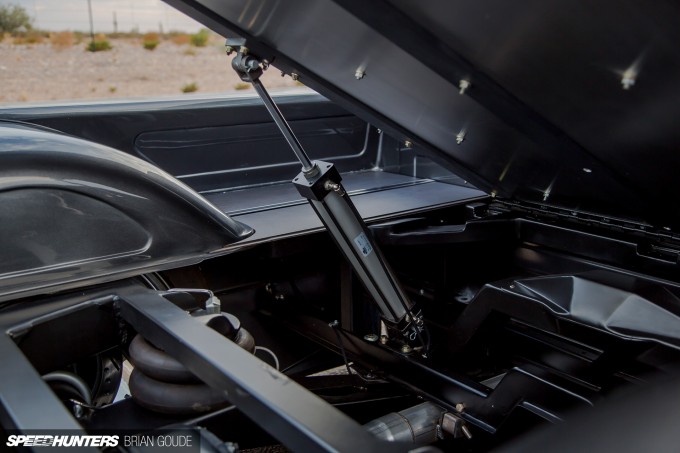 One of the great features of this truck is the pneumatically-actuated bed floor. So many times people either clutter their truck bed with air ride parts, or do a great job hiding them – but then if something happens you can't access them.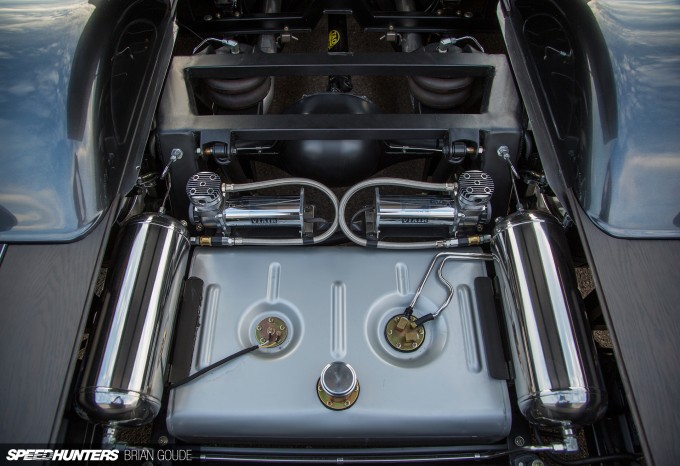 With the flip of a switch Eddie has access to all of his air system, which includes two Viair 480C compressors and a pair of five-gallon tanks.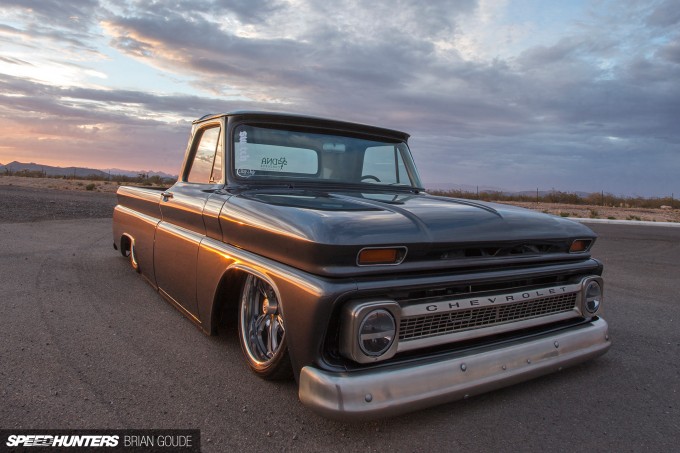 Another great mod that makes this truck standout is the brushed nickel front and rear bumpers, grill, and door handles. These components flow perfectly with the PPG Grey Metallic paint job, which was laid down by Eddie's buddies at DNA Concepts, out of Glendale, Arizona.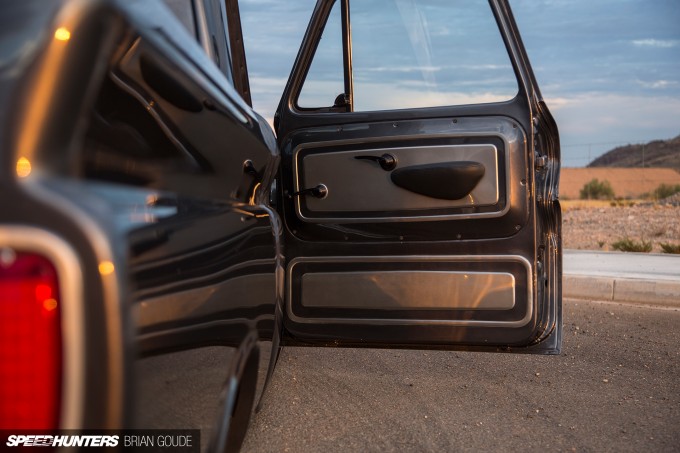 Last but never least is the interior. This is an area that should almost always be left for the end of a build, because if you change your mind on paint or graphics you don't want to have to redo anything that then won't match.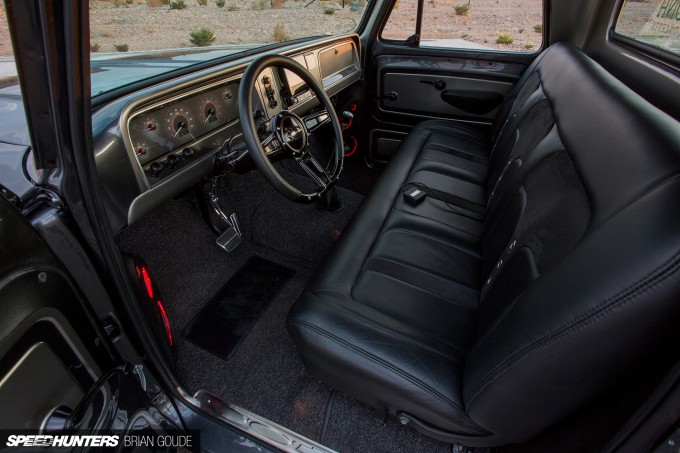 Leather and suede were Eddie's materials of choice, and the entire cab is lined in Dynamat so that when all of the JL Audio equipment is turned up there are no rattles.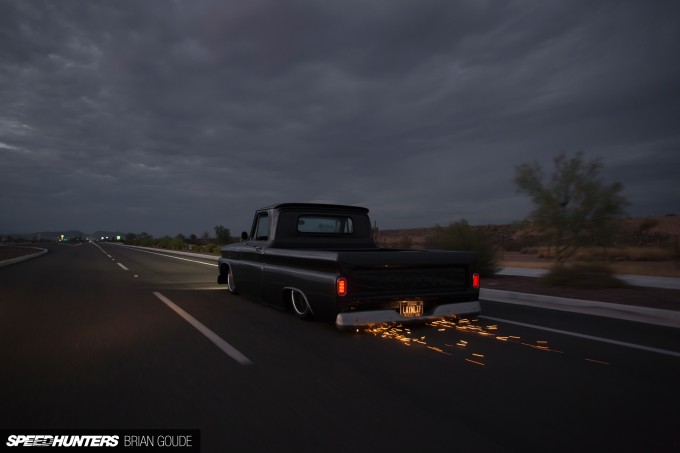 This truck is a true reflection of what Eddie wanted to do after he beat cancer. It brought enjoyment into his life as he built it with his friends and family in his garage, and it continues to bring enjoyment as he drives it and shows it off.
Brian Goude
Facebook