The Lure Of The Rotary
Am I the only one that categorises the rotary engine as an endangered species? Mazda is no longer producing any rotary-powered vehicles, and eventually the Japanese automaker will stop making replacement parts too. So as tired parts fail and get binned, what are we to do? Will Mazda step up sometime in the future and do something about this, or is history's most simple and unique-sounding combustion engine well and truly doomed?
The future may be uncertain, but to tell you the truth, the present isn't so bad. As we saw last month during 7's Day celebrations, the Wankel still has quite the following in Japan and around the world, with pretty exciting builds happening all the time – one of which I've been anticipating for a long time.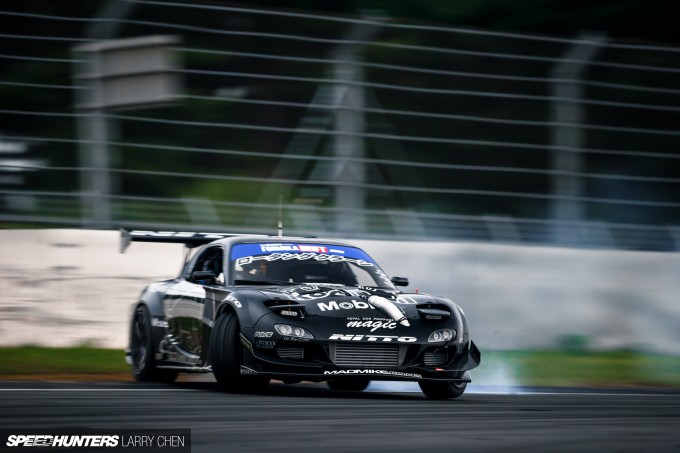 Talk about rotaries and sooner or later the name 'Mad Mike Whiddett' is going to be uttered. From the early days of his career in New Zealand to the international drift circuit, Mike has always waved the rotary flag high and proud. Now that he's nothing short of a household name to anyone with even a remote of interest in cars and drifting, well, his builds pretty much define what badass rotary machines are all about.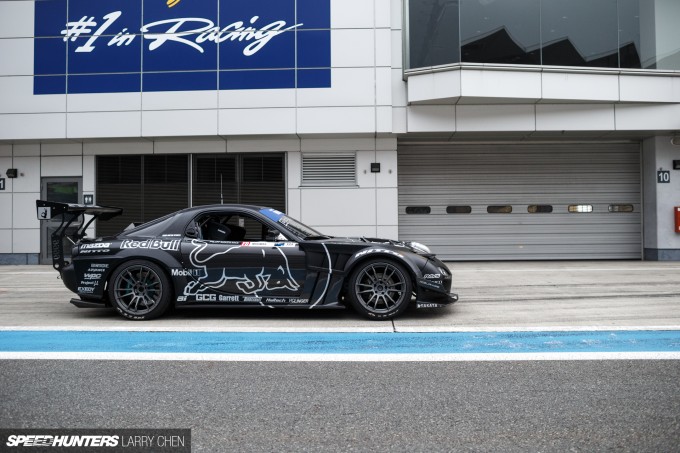 You name it, Mad Mike has done it: 2-rotor, 3-rotor, 4-rotor, naturally aspirated, turbocharged. We've all seen the crazy 1200hp RADBUL Miata/MX-5 that he and his crew put together for this year's Formula D season, but while that car was being pieced together in New Zealand, there was another project brewing in Japan…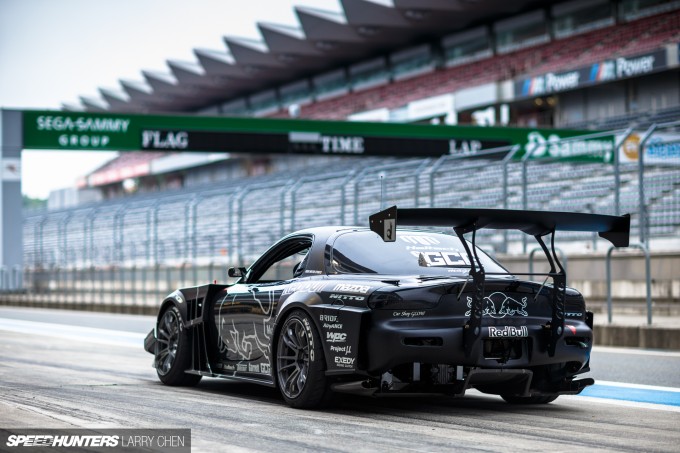 I've met many professional drifters over the years, but Mad Mike has always stood out for his sheer passion for the sport. It's this passion that's pushed him to seek out as many experiences as possible, and that's seen him enter and participate in countless series and exhibitions around the world. He's a truly seasoned competitor, but driving in drifting's spiritual motherland has always been at the top of his to-do list. His respect for the Japanese drivers has always attracted him to the D1 Grand Prix, and in the past he's entered as many of those events as he's been able to.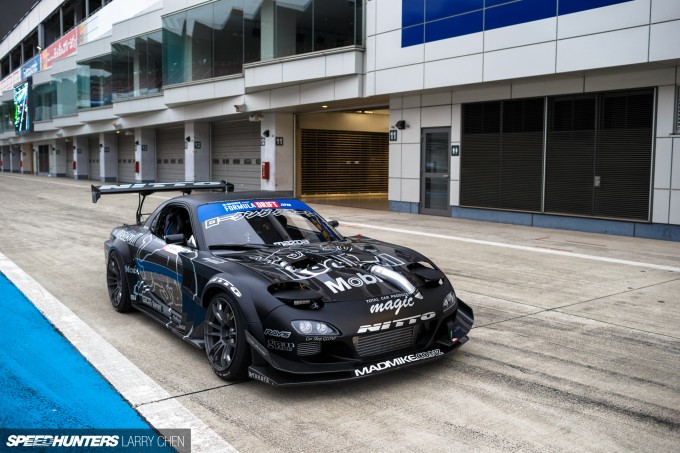 And right alongside him in Japan has always been one man: Taisuke Kawato of Total Car Produce Magic. The cars that Kawato-san and Mike have built together over the years to compete in D1 have always stood out as some of the most unique. In fact, if wasn't for these guys we would have never heard a naturally aspirated, 4-rotor FD3S RX-7 brap-brap-brap its way through door-to-door battles at tracks like Okayama, Fuji Speedway and the Odaiba carpark course. But with all focus now shifting towards Formula Drift Japan and the promise of a dedicated year-long championship from 2016, there was a need to create a car able to fend off the onslaught of 1000hp-plus 2JZ-powered machines.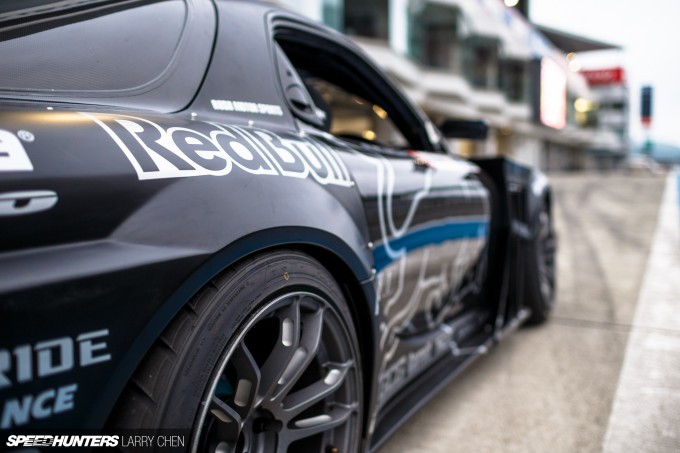 We first saw it in its almost completed state on the GCG stand at the Tokyo Auto Salon earlier this year, but now it's all finished and ready to rock.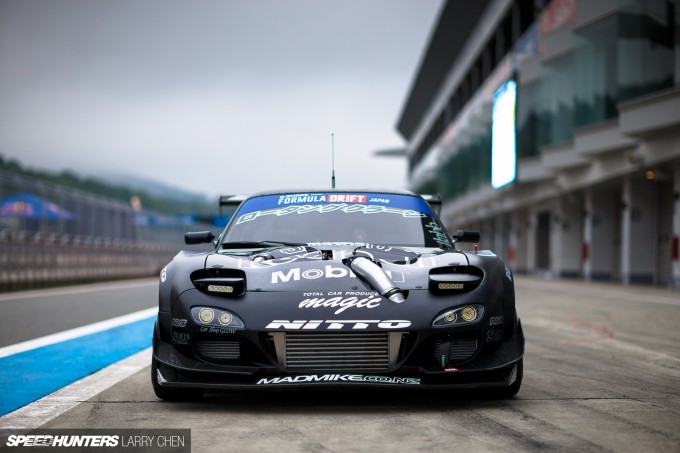 Enter HUMBUL – named as such by Mike in a nod of respect to Kawato-san's humble nature.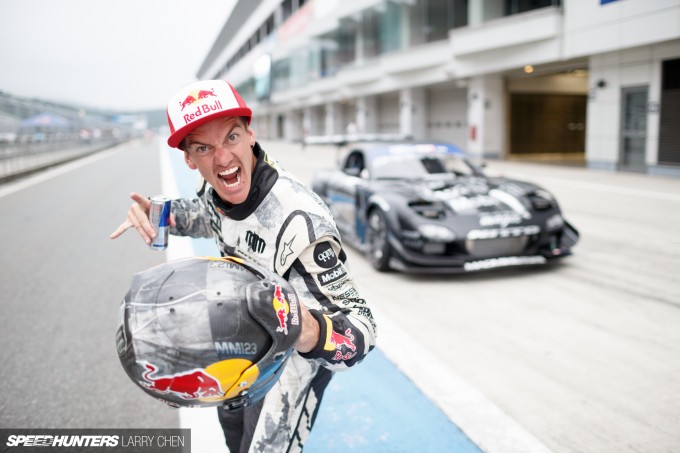 Fuji's Formula D round last month was the RX-7's official debut, and the Mazda was literally finished only days before being transported up to Fuji from TCP Magic's HQ in Hyogo. Mad Mike flew in to Japan a few days prior to help Kawato-san complete the car and get it all ready for its first round of competition.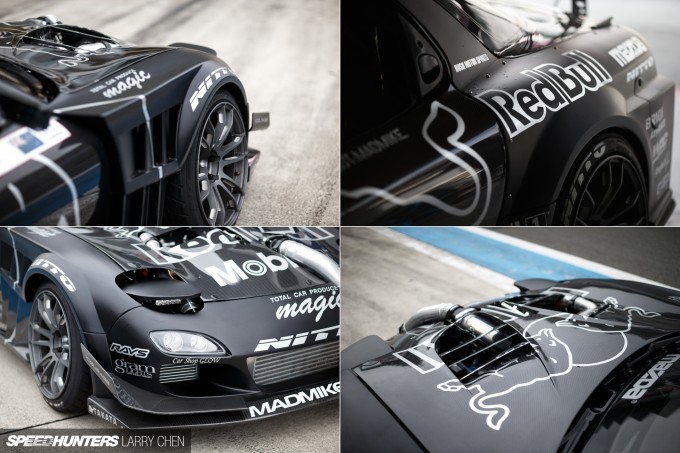 Let's start with the looks first…  It might not do such a great job of highlighting the TCP Magic G-Face full aero kit that lies beneath, but the flat-black treatment is menacing to say the least. When it comes to RX-7 kits, this has to be one of my favourite out there. It manages to look like nothing else that's ever been produced for the FD (and that says a lot!), and at the same time is brutally modern with crisp, edgy-lines and by far the sexiest front fenders ever made.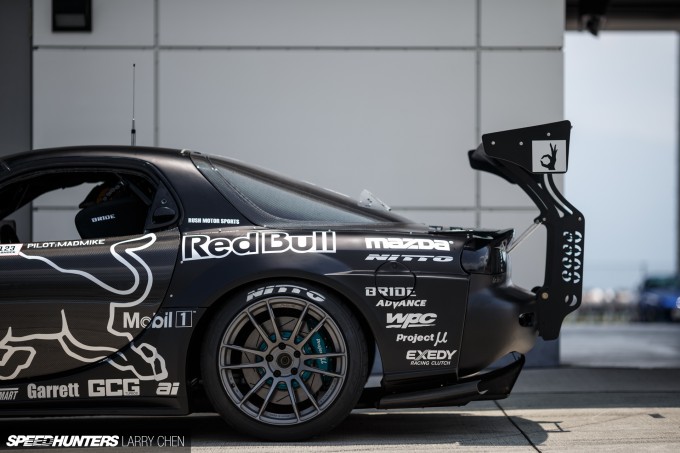 Add a ton of carbon fiber highlights in the front and rear and you have a car with some seriously mean presence. I really like how they've added a through-the-bumper-mounted Rocket Bunny spoiler to finish off the rear in a unique way.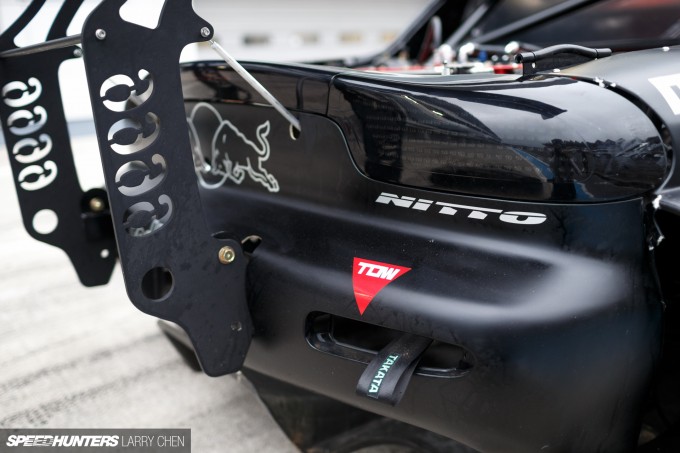 6666 Customs cut-out wing stays are stabilised through a pair of aluminium rods, and to top things off the murdered-out taillights house Car Shop Glow LED lights.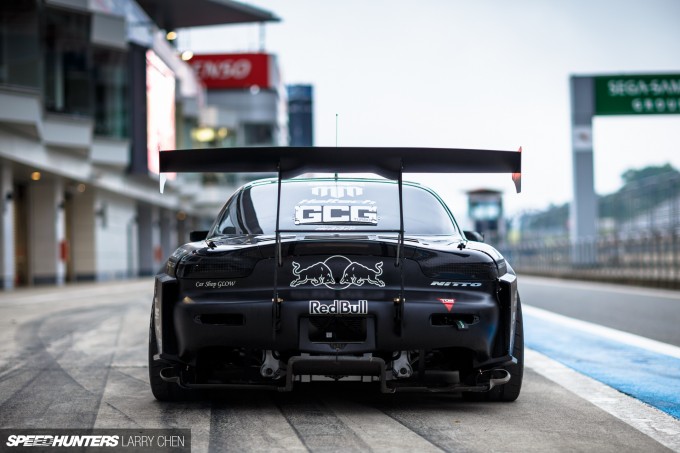 Like all of Mad Mike's cars, HUMBUL sits extra low, sporting just the right sort of stance. It's something he always makes sure his car accomplish, no matter what!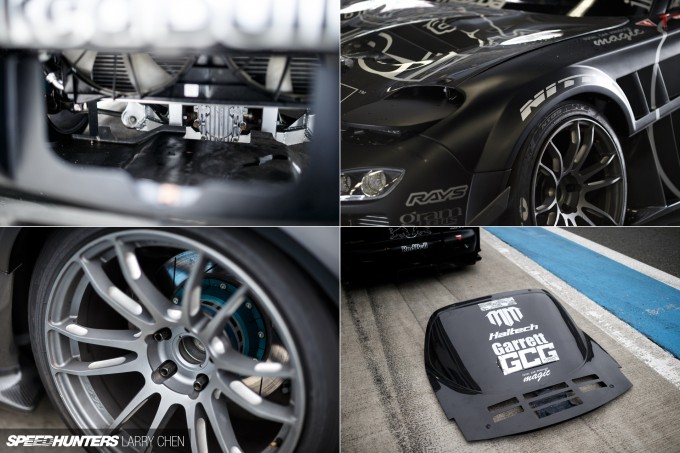 RAYS collaborated on the build, which is a great thing as the overall modern direction this car is going for with the TCP Magic kit is truly emphasised with Gram Lights 57 Xtreme wheels. The 18-inch wheels run 235/40 Nitto NT05 rubber on the 9.5-inch wide fronts, with chunkier 275/35s on the 10.5-inch wide rears.
Have a little peek through the central opening on the rear bumper – where a license plate would normally be found – and you begin to see that this car's beauty isn't just skin deep.
A Work Of Art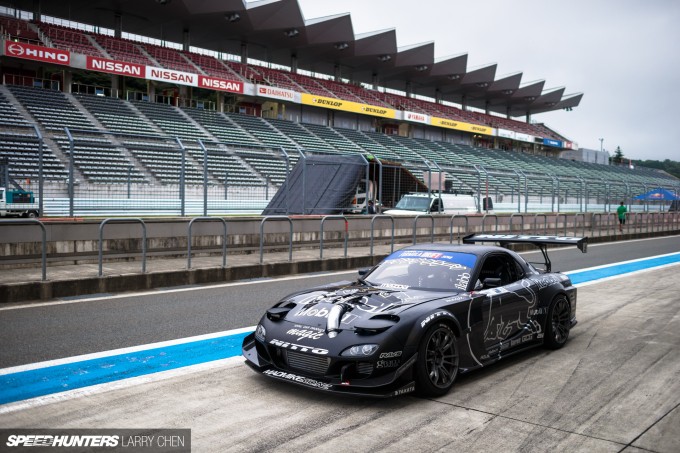 From the beginning, Mike and Kawato-san had the sole intention of making this a winner. No detail was left up to chance and everything had to be ready for the strain and abuse of battling the most powerful cars and strongest contenders in Formula D Japan.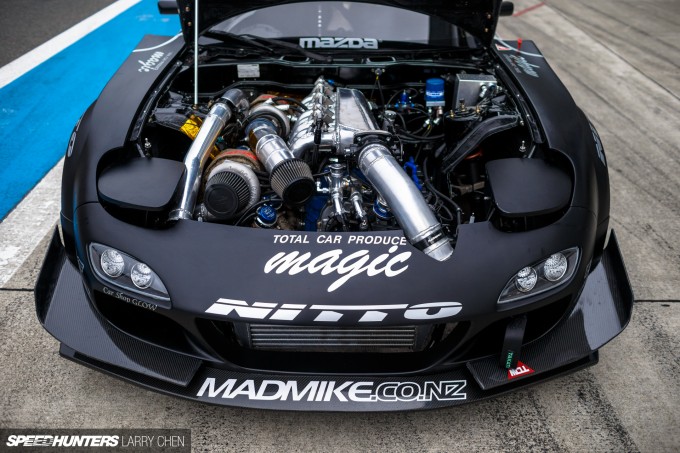 Lift the lightweight bonnet and you just can't help but grin. Has an engine ever looked so evil? Probably only the other quad-rotor, twin-turbo that powers RADBUL!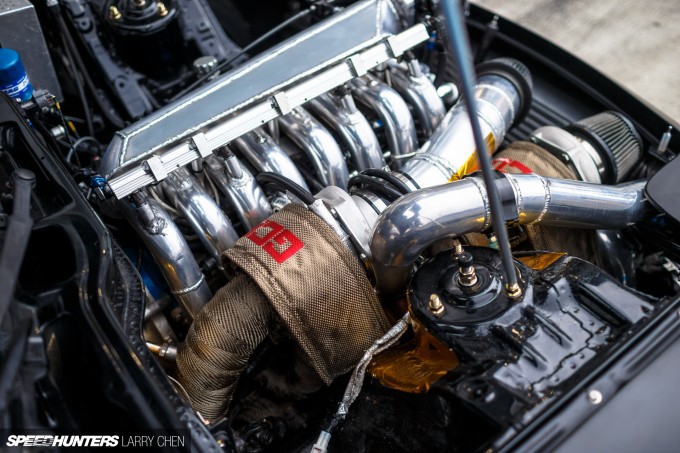 There is no question about it – this is a motor with serious balls. Four digits worth of raucous, buzzing, brapping, responsive, back-firing rotary glory.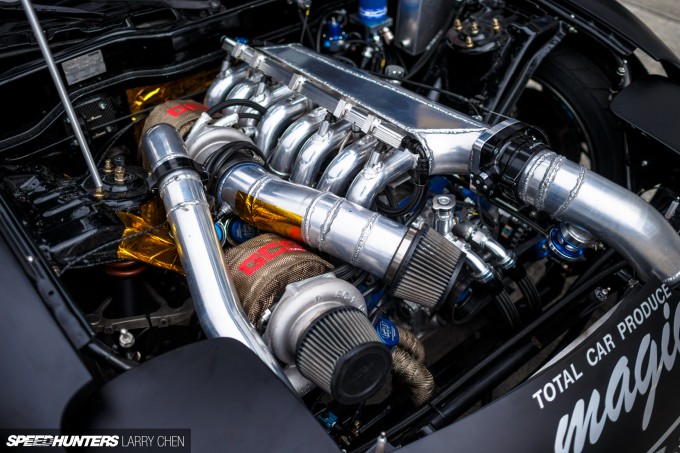 The more you stare at this custom creation, the more that initial visual complexity disappears. Your eyes begin to delve beneath the shiny polished piping and intake plenum. At the heart of it all is a custom-built and bridge-ported 26B engine that was hand-built by Kawato-san using four 13B housings and modified rotors topped off with TCP Magic 3-piecce apex seals, and a custom eccentric shaft. Sitting on custom headers are a pair of GCG GTX3582 turbos each dumping excess gasses via Turbosmart wastegates. It's a mind-blowing setup to see, as quad-rotors are rare enough of a sight, let alone with two big snails in the mix.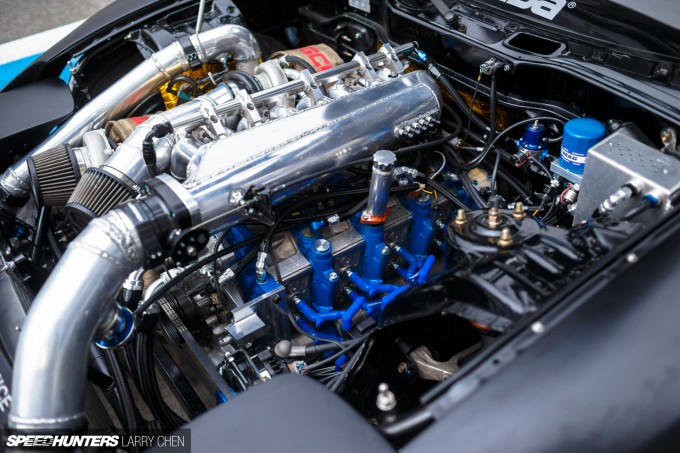 The engine runs on E85 fuel supplied by a primary set of 1000cc/min injectors and then a secondary set of 2000cc/min squirters, all handled by Haltech's latest Elite 2500 ECU.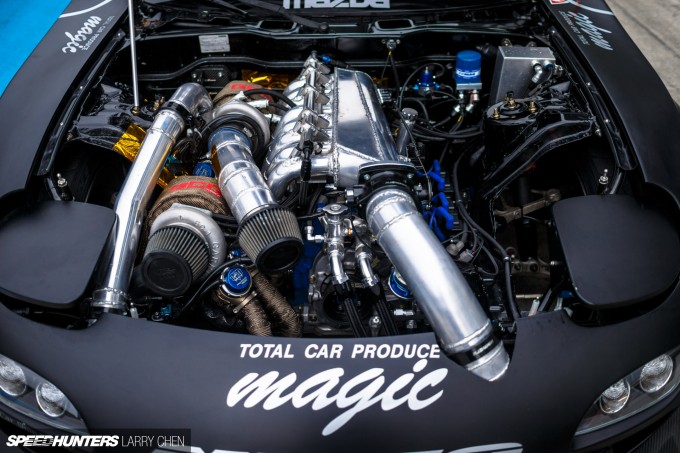 The result is a nice and even 1000hp, delivered in a totally rotary-like fury of response and violence. To cope with all of this might, the driveline has been built with top-of-the-line components that include a a Holinger 6-speed sequential gearbox, Exedy twin-plate carbon clutch, carbon prop-shaft, a Autosport Dynamics built Winters Performance Quick Change rear end and driveshafts from The Driveshaft Shop. Like I said, nothing has been left up to chance.
Since no words could possibly ever be sufficient in describing the sound and wall of noise that this engine throws at you, here is Kawato-san cranking the 4-rotor into life and driving the car onto the transporter at the end of the Fuji FD Japan round. You might want to turn your speakers up right about now!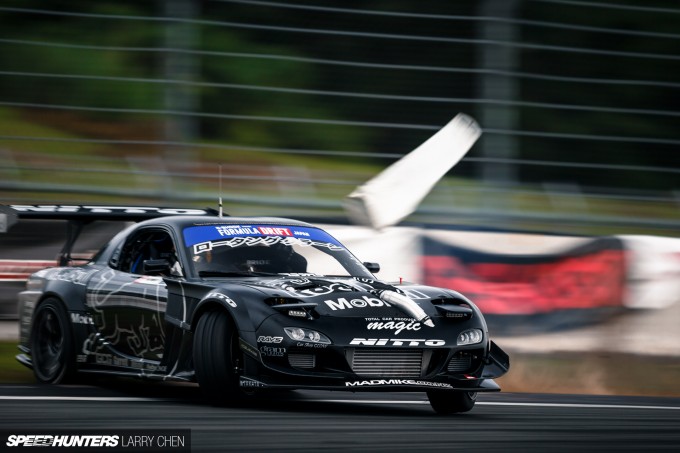 With HUMBUL completed just before the event, there was no time to give it a quick shakedown. The car's first competitive outing was to be its first test, and as with many things of this complexity, it didn't go according to plan. Mike had a few goes out on track before the car developed some issues and the team were forced to retire it. But that's okay, they'll be back for the next round at Suzuka Twin in September.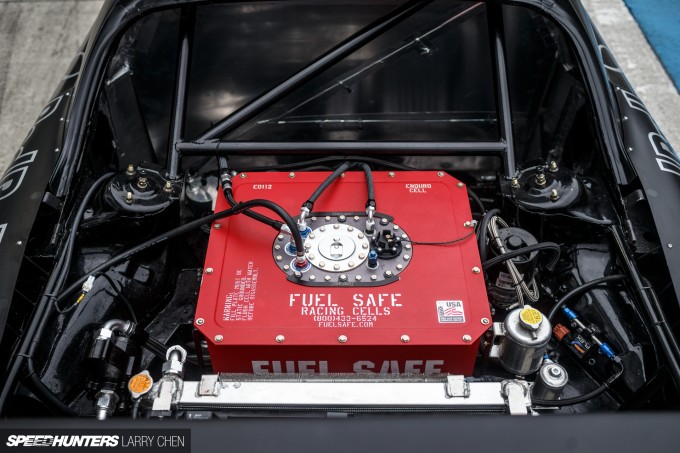 Lift off the rear gate and again your eyes begin to indulge in the excellence of execution that's gone into the chassis prep and overall layout of the components used.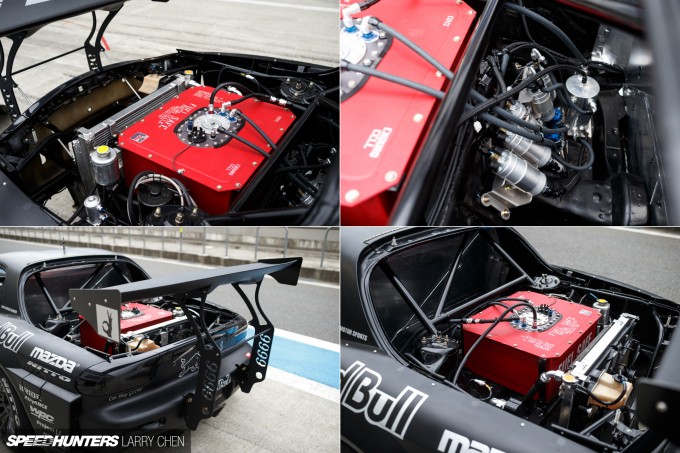 The majority of space is take up by the large fuel cell, but right in front of it are the required number of Bosch fuel pumps to supply the massive injectors that quench the quad-rotor's thirst for E85. Behind the cell, most of the chassis has been cut out and the resulting space provides the perfect home for the relocated radiator.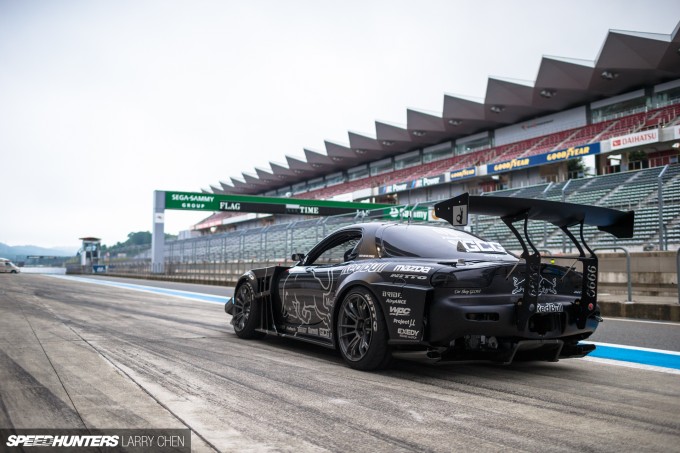 It all completes what is one of the most intricately pieced together FD3S ever to have been created in Japan.
Step Inside Mike's Office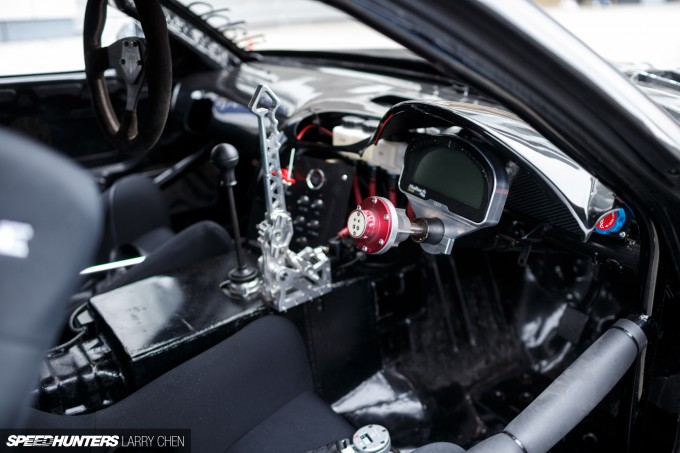 Take a step inside and for a second you can imagine what it must be like for Mike to fling HUMBUL sideways at ridiculous speeds.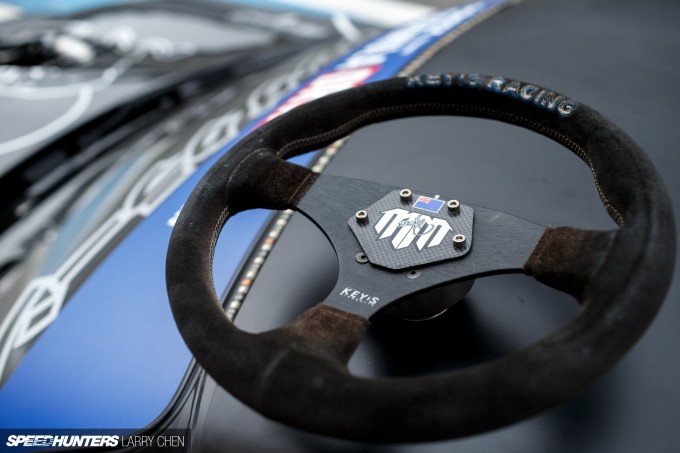 To do so safely and comfortably he relies on a few choice goodies, like the thick-rimmed Key's Racing steering wheel which is mounted on a quick-release boss.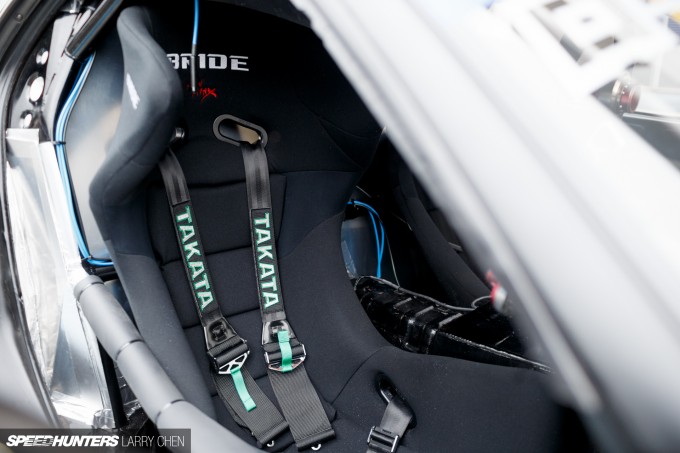 This is necessary to enter and exit the massively-supportive Bride bucket seat which is equipped with a Takata Drift harness to keep Mike safely strapped in.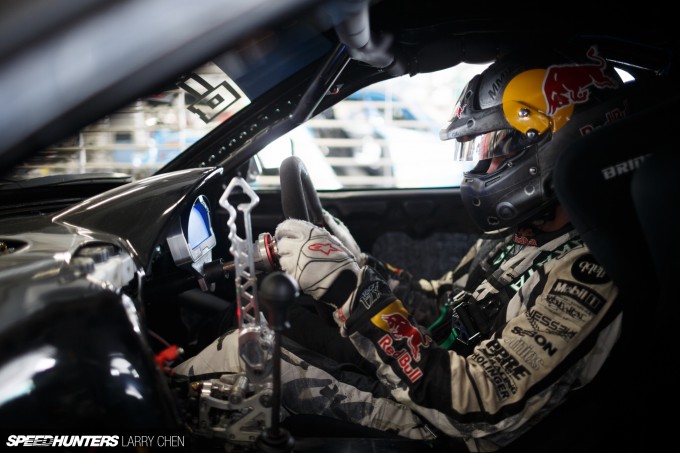 The cockpit is totally built around him, with every control at Mike's fingertips. That includes the Haltech IQ3 dash unit which relays every possible bit of information from the Elite 2500 ECU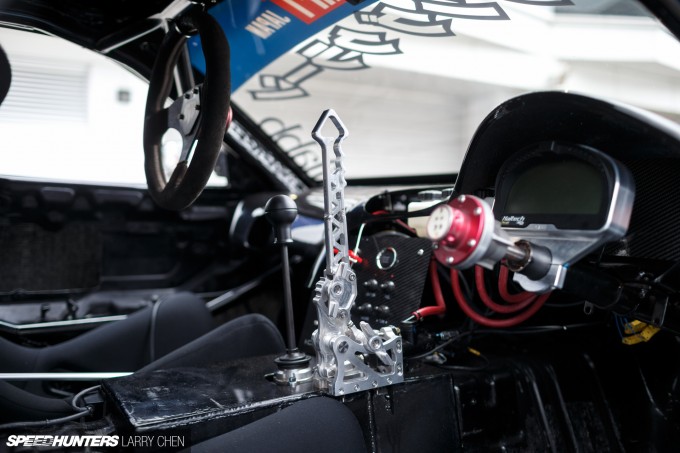 The tall black shifter is easily accessible, allowing Mike to machine-gun up the gears to pile speed on, before yanking on the billet hydraulic e-brake and initiating the drift.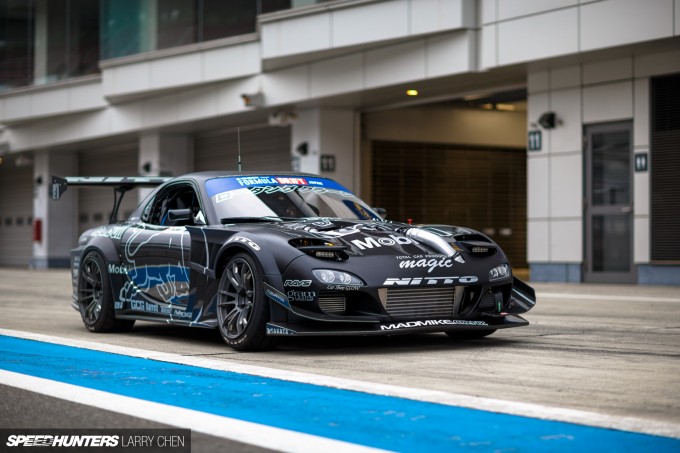 I love how the large-diameter intake pipe connecting the intercooler with the custom intake plenum has to be kept so big that it couldn't clear the bodywork. So they just cut the bumper and bonnet up to allow it to peak through.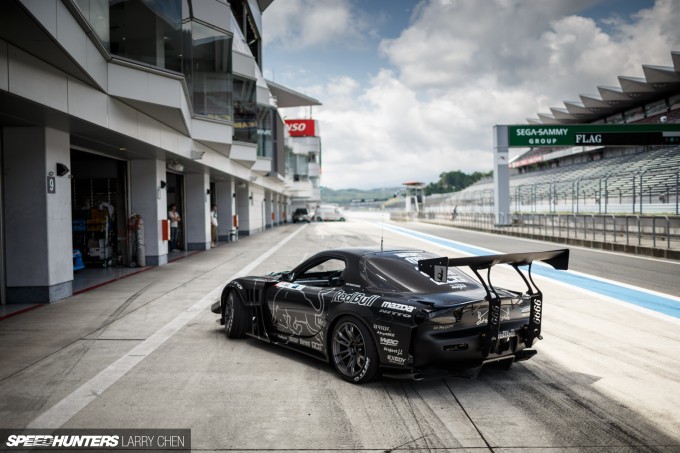 It's one in a long list of things that make this such a special car, built with only one job to do – and that's provide Mike with the best possible drift-specific platform he could ever wish to have in Japan.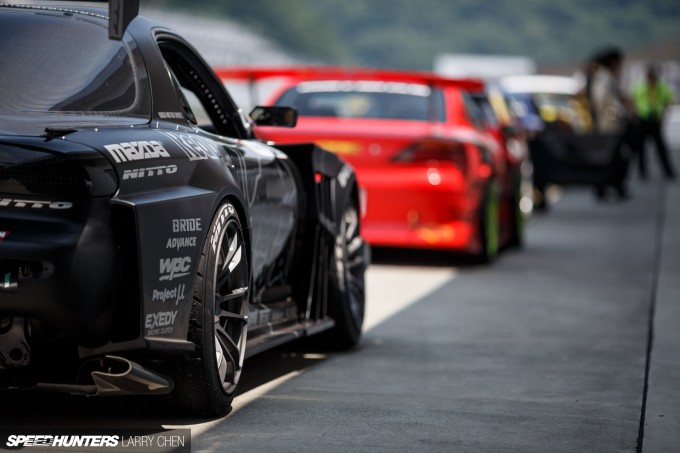 The car never actually made it onto the track on Sunday when I checked out the event, so I have yet to hear this beast at full chat, all four-rotors screaming as they are being force-fed 1.0-bar of intake charge. It might not have had the best of first outings, but when you build custom cars with custom engines things can, and most probably will, go wrong. I'm sure Kawato-san has already squared out the problems and has HUMBUL in tip-top condition for Mike to do his thing with!
Dino Dalle Carbonare
Instagram: speedhunters_dino
dino@speedhunters.com
Photos by Larry Chen
Instagram: larry_chen_foto
larry@speedhunters.com
Cutting Room Floor