The Return Of Honda
People, Honda is back! Or at least it's well on its way to being back. With the new Civic Type R hitting dealerships in Europe and Japan, and the much-awaited new-gen NSX expected to be shown in production-ready form at this year's Tokyo Motor Show, there's definitely some excitement being injected back into the brand.
But you know what? The NSX and Civic Type R aren't the first cars that come to mind when I think of the future of Honda. No, it's actually the tiny S660 that I recently spent a few days driving around Tokyo in…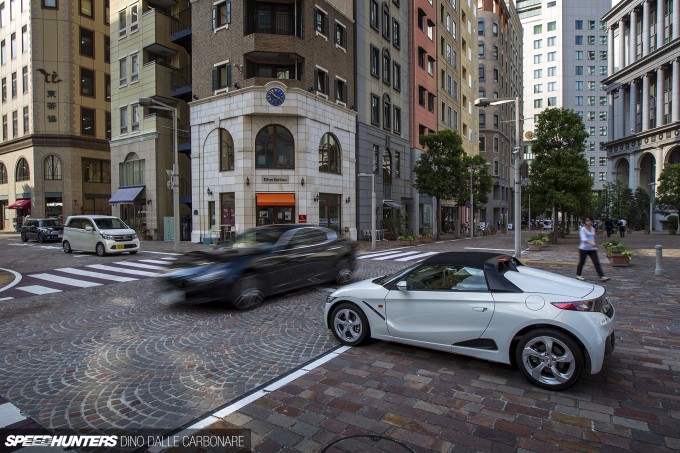 Granted, to compete in the current global supercar market Honda had no choice but to create the sort of technology-laden hypercar that the NSX has turned out to be, but at the same time it has sent out a pretty clear message to enthusiasts: we haven't forgotten how to make simple, light and extremely fun cars. Except for now, this message is only being broadcast in Honda's home market.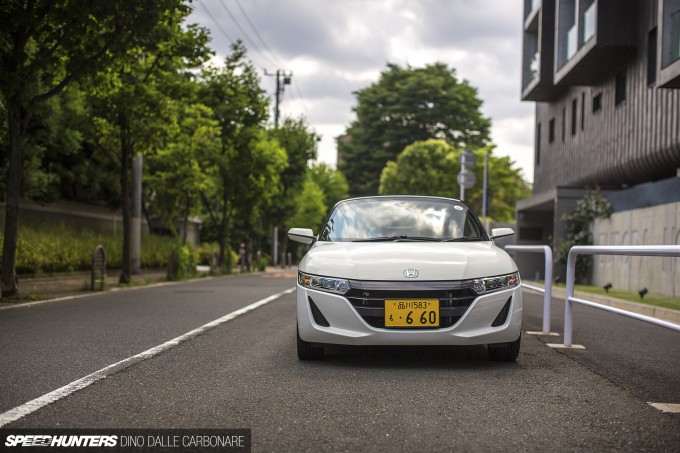 The S660 might eventually make it out of Japan, and if so probably with a slightly bigger engine than the current 660cc turbocharged 3-cylinder it has to run in Japan to meet Kei-car homologation – but that's besides the point. The point here is that Honda has gone right back to its roots – to the place where the S600, S800 and ultimately the Beat came from – and created something that fits into today's automotive landscape beautifully.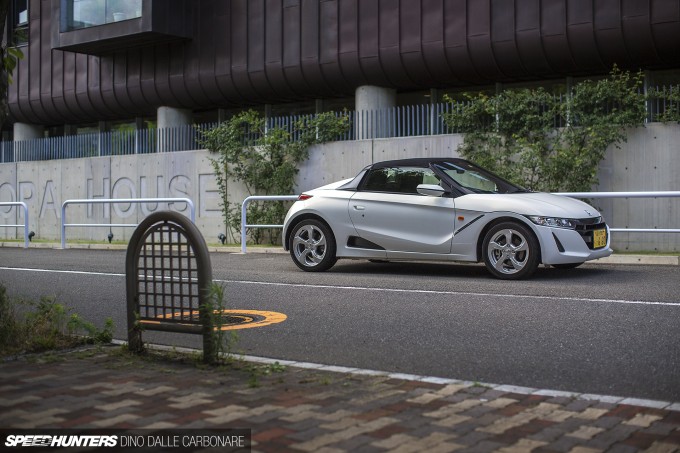 There's a big emphasis put on power these days, but the S660 is a superb example of numbers not being the be-all and end-all. The little Honda sportscar tickles the senses with a combination of obvious talents: it's light – hitting the scales at just 830kg; it's got really neutral and predictive handling; and considering the engine's diminutive size it's surprisingly big on torque.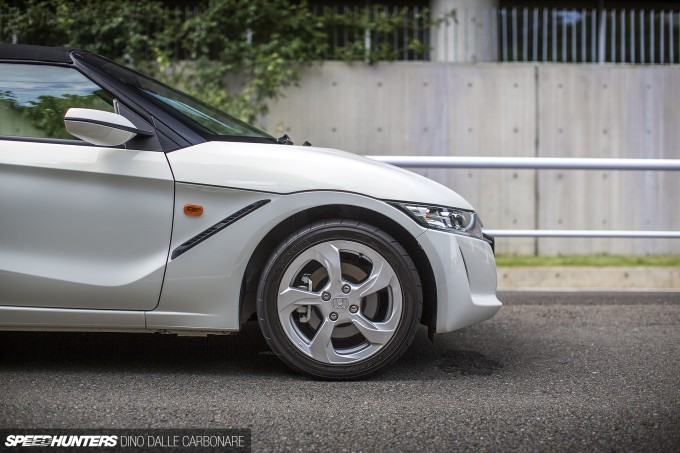 The chassis is extremely stiff, the suspension firm but forgiving, and roll is pretty contained. In the wheel department there's a staggered setup with 15-inch wheels at the front and 16-inch at the rear.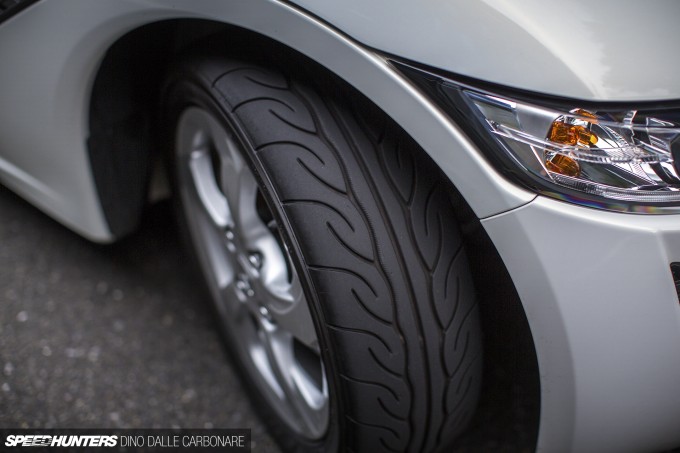 From factory the S660 rides on Yokohama Advan Neova AD08R tyres, which are pretty much just as grippy as semi-slicks, but extremely good for regular road use too. The Honda has more grip that it would ever need, and that's what really seals the deal for me. This car continuously asks to be thrown around corners. It makes the inner hooligan shine. But since you are never really going all that fast anyway, it's fun and safe.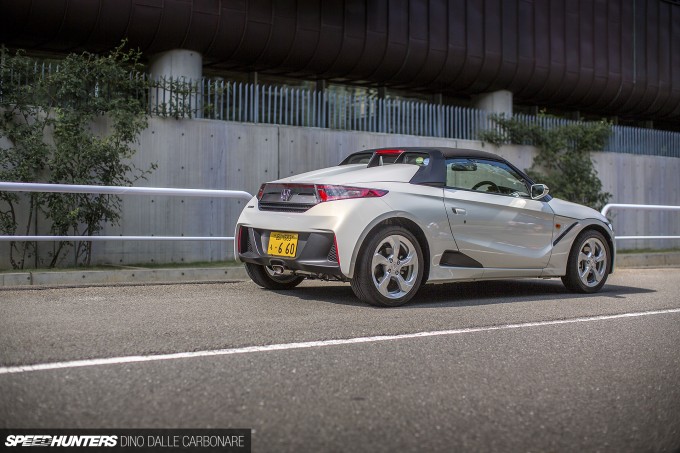 Aesthetically, Honda didn't change much from the concept car that was shown at the Tokyo Motor Show two years ago. The general shape with its twin cowls on the rear engine cover has remained, and overall the proportions are spot on.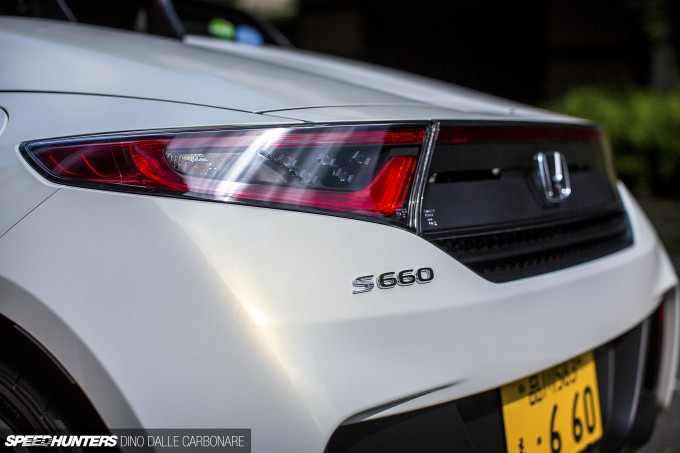 It might be small, but it sure makes itself seen out on the street.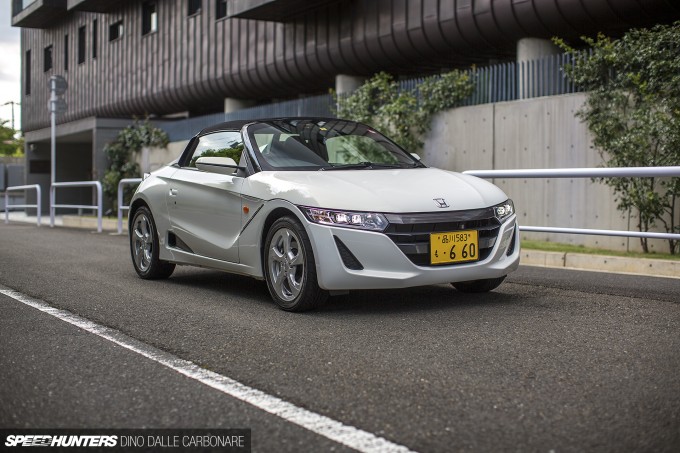 And of course, being a Honda build quality is second to none. Yes, the cabin is pretty spartan and there aren't that many things you actually get, but then again, you expect a car like this to be offered with a basic trim level. But for it to run LED headlights stock, well, it made me quite angry. This was one option I considered for Project Drop Top (of which a new update will be coming this week), but I was put off by the sheer cost. On this particular S660 – which costs under JP¥2,000,000 (US$16,215) – it's part of the deal!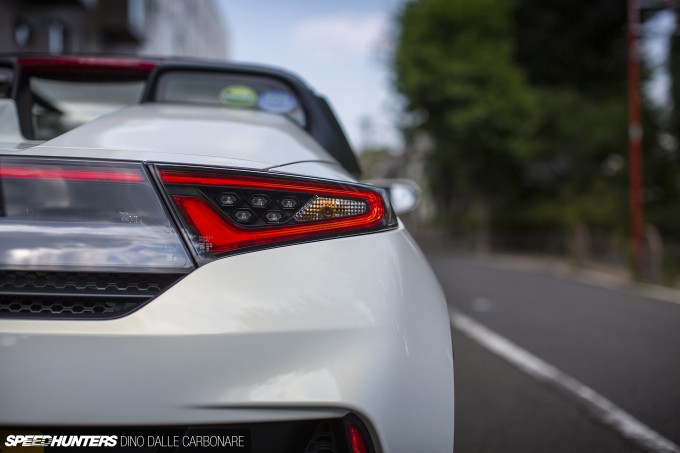 Of course, to match those super-futuristic and ultra-bright headlights up front, the taillights had to follow suit with an awesome modern design and LED innards. It makes the little S660 really look the part.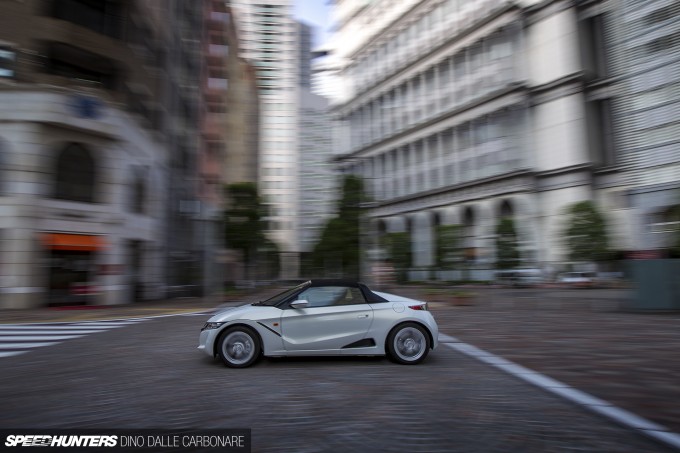 As for the way it drives, the S660's zippy nature makes it a perfect match for Tokyo streets. If you have ever visited this mega-metropolis you'll probably know just how tight some of the backstreets are, so you can imagine how well-suited the little Honda is for this sort of work. It's not only a pleasure to slalom through traffic, but it makes even the most mundane of journeys fun – and that's a big deal.
Turbocharged Fun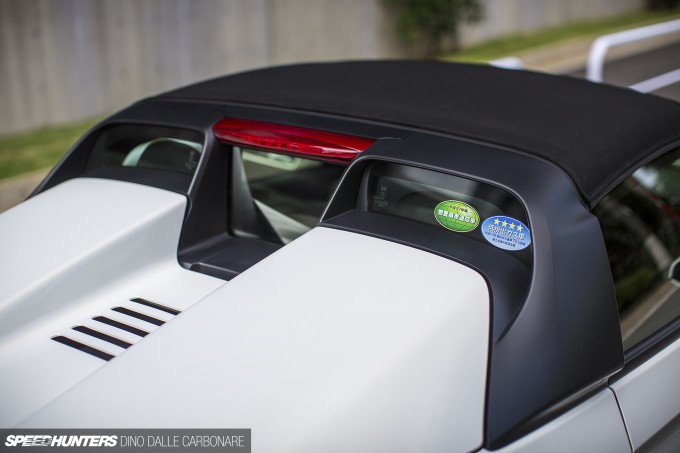 One of the coolest thing about the car is its supercar-like rear glass. At a touch of a button it winds down so you can get the full aural delight of the turbocharged 3-cylinder motor sitting behind your ears.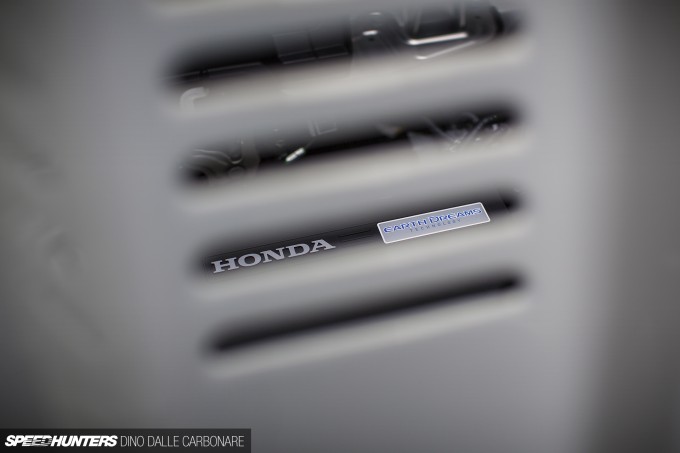 And to get a look at the little powerplant, there's some more supercar theatre in the way the engine cover opens rearwards.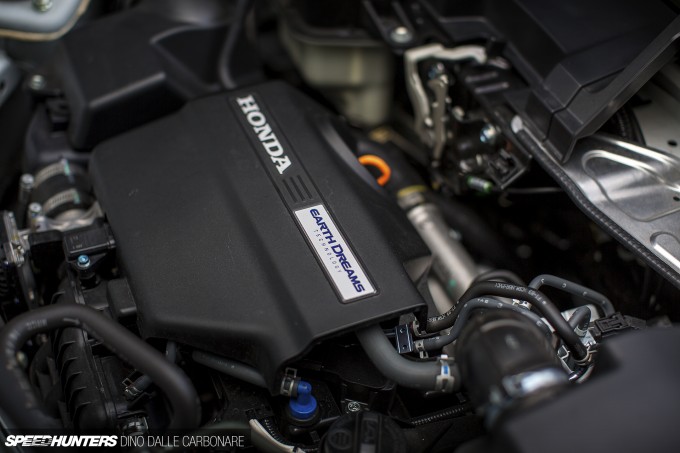 Except it's not a twin turbo V8 or a flame-spitting V12 that you're greeted with, rather a little engine that would probably look more at home slotted inside the frame of a Honda sportsbike.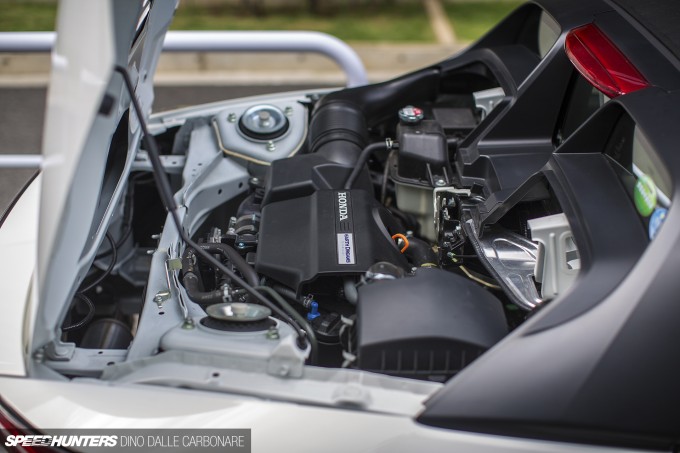 It's mounted in a mid-ship layout, which keeps that mass within the chassis and gives the S660 its neutral feel through the corners.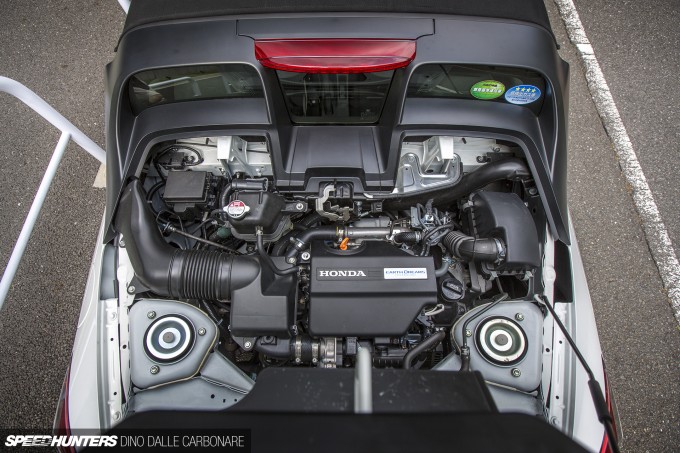 But to really appreciate it you have to look at it from the top. Positioning an engine in the center of a car introduces some problems with cooling – especially on a force-fed application. If you look to the right of the bay you can see how the airbox is fed by the driver's side scoop. The left-hand intake scoops up air and cools the horizontally-mounted intercooler, which is contained within that airbox-looking shroud. This helps the engine develop a quoted 64PS at 6,000rpm and 104Nm at 2,600rpm. Believe me though, these numbers are far from indicative of how peppy the engine feels.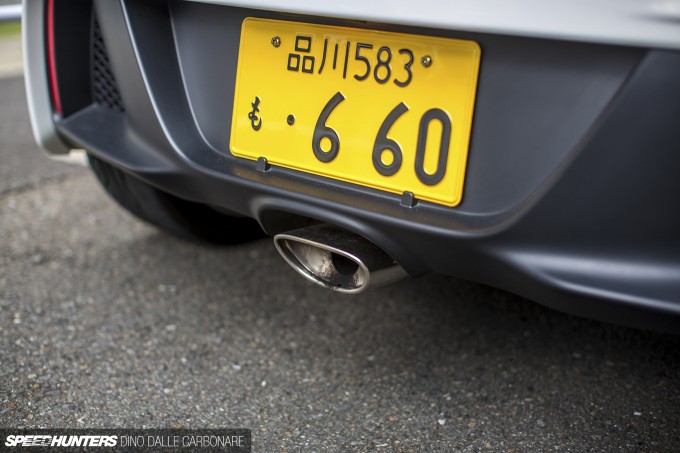 The center-exit exhaust completes the setup. If you're anything like me, you're probably already doing mental calculations and trying to figure out what a less restrictive exhaust, a bit more boost and an ECU re-map are likely to yield. Time will tell as tuners get hold of the cars…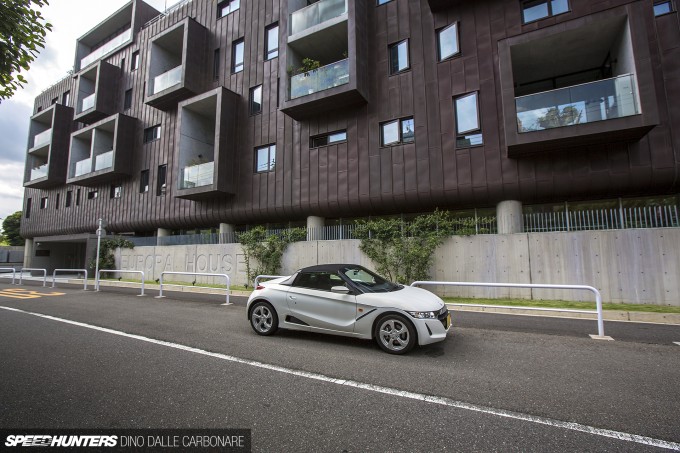 Only when you take a step back do you realise just how small this car really is. It's compact, yes, but in no way uncomfortable, even for a guy like me who is most times regarded as a giant in Japan.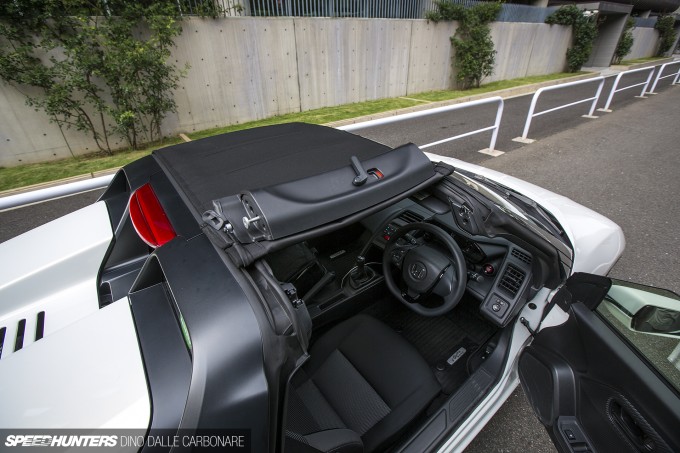 The fabric roof is very easily removed by undoing the inside hinges and rolling it up from one side.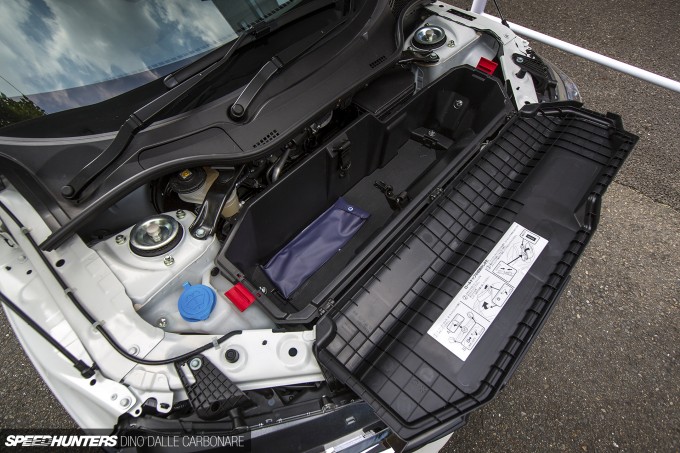 It then stores away in a special box up front. Just don't plan on bringing any luggage with you if you want to drive with the top down, as this black box is the only storage the car offers.
Honda, Please Don't Stop!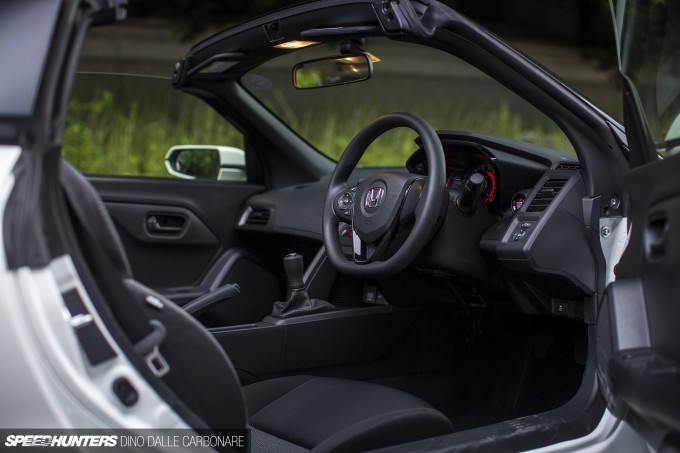 Getting in and out of the S660 is comparable to that of any low sportscar, and once inside you are cocooned in a tight but comfortable little cockpit that puts the driver at the center of it all.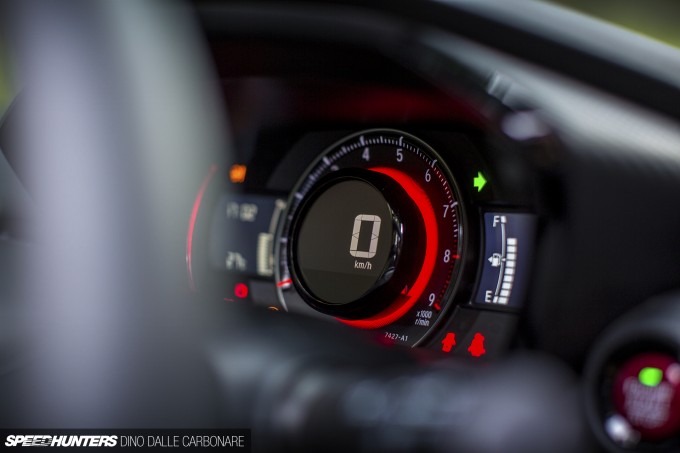 Like I mentioned earlier, there isn't much to look at and play with – just the basics. The instrumentation is very modern looking with an analogue tachometer wrapped around a digital speedometer. Flipping between Eco and Sports driving modes changes the back-light color, but apart from that I didn't notice any other effect.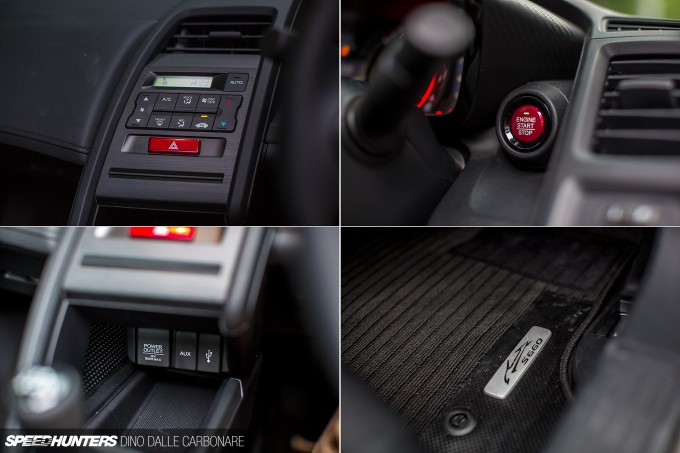 There is a small center console where the A/C controls are set, and below it, hidden away in a storage recess, the connections for power, aux and USB plugs. What else do you need? The 6-speed manual shifter that this test car was equipped with was sublime, extremely precise with a typically-Honda short stroke. And you get to use it a lot, as most of the time you are trying to keep the engine within its torque curve rather than revving it out. It makes for effortless progress in the city, and if you come across some corners just use more revs and the engine delivers a little more push. The motor felt a little rough and unrefined at the top – and the sound could definitely be improved – but it's a great base that a lot of Japanese buyers are sure to personalize and tune from.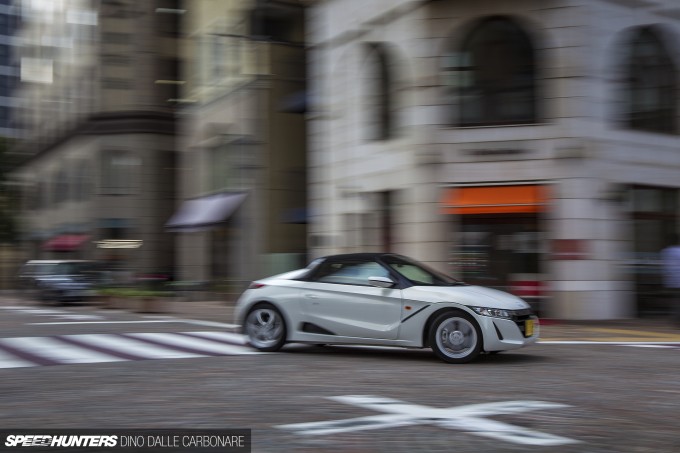 Mugen has already come up with its first batch of aero and dress-up parts, including a hardtop and a twin-exit exhaust system. Click here to see the full list.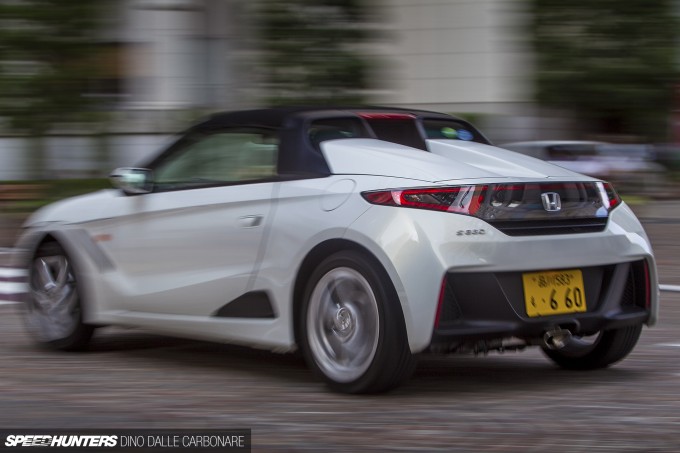 Is there anything I would actually criticise about the car? Strangely enough, no – which is pretty rare for me. Oh wait, there is one thing… If you feel like completely ruining your S660 purchase, Honda will gladly help you out with the CVT transmission option. That's the world we live in today I guess, so I'll stop here and just thank the folks at Honda for actually giving us a normal manual gearbox with this car.
Will the S660 ever be sold outside of Japan? I don't think so with the current engine it employs. If the US and Europe eventually do get this car, there are rumours floating around that a 1.0L turbo engine would most likely be used – making it a S1000. All we need after that would be a new S2000 and balance would have been restored in the Honda camp.
Dino Dalle Carbonare
Instagram: speedhunters_dino
dino@speedhunters.com