The Car I Had To Shoot
When HKS moved into its massive new factory site towards the end of the '80s, it didn't abandon the old buildings that up until that time had served as the company's main HQ. To this day the old site continues to be operational, offering space for the numerous top secret R&D projects that the tuning giant is continually involved in. While I can't discuss the other industries that HKS has interests in – and there are many – I can talk to you about the conglomeration of workshops and garages where all sorts of cool things happen. On the lower ground floor for instance, a whole section of a building is dedicated to the production of composite materials. This is the place where all those wonderful, shiny dry-carbon items that you see on HKS's demo cars are created. On the floor above in a tiny workshop, HKS's best engineers research, prototype and test the tuning products that you and I will probably be seeing in a year or two. Again, cameras and non-cleared HKS personnel are not allowed inside.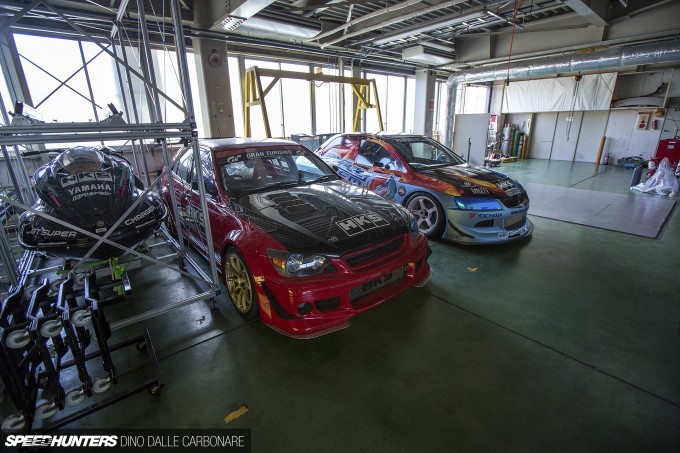 But if you ask nicely and give the guys enough of a heads up, you may be able to check out some of the 'off limits' sections of HKS's buildings. So, before I headed down to Fuji to shoot HKS's GT1000+ R35 GT-R, I asked Saito-san if I could have a look at a car that I had previously never had the opportunity to shoot. I promised that I would be a good boy and leave my phone in the car and camera bag shut until the time to shoot came, and after much pleading he gave me a 'maybe', which was good enough! So that's how I found myself on an unbelievably hot second floor of a storage area where HKS keeps some of its old cars, engines and miscellaneous items. You may be familiar with the two cars above: Nob Taniguchi's D1 Altezza, which I recall shooting for few magazines around 2006 or 2007, and behind it, the iconic CT230R time attack machine.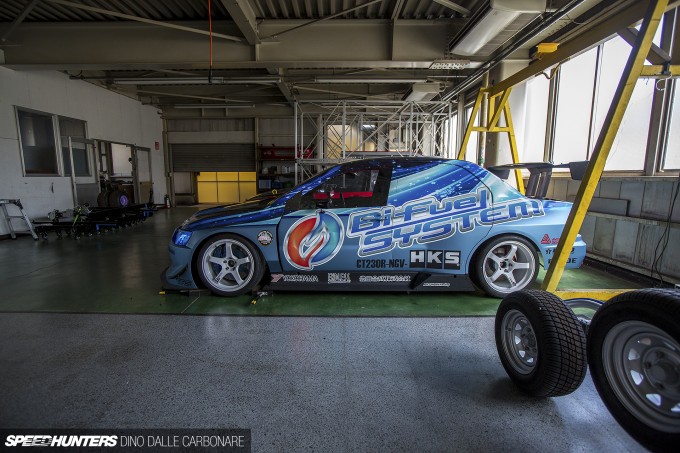 It's quite weird to see such legendary cars just sitting there, but to HKS they are nothing more than projects that were used until their goals were met. The CT230R, for example, set the Tsukuba lap time record back in the day and since then it's been brought out of storage and transformed into the CT230R-NGV, and now helps HKS see how best to refine its natural gas systems for high performance engines. As Saito-san told me, the engine has dropped a significant amount of power running on gas, but outright performance is no longer the purpose of this car. But for how interesting and somewhat eerie it was seeing these famous HKS cars, they weren't what I had requested to be shown. What I was there sweating bullets for was hiding behind that yellow shutter at the back of the room…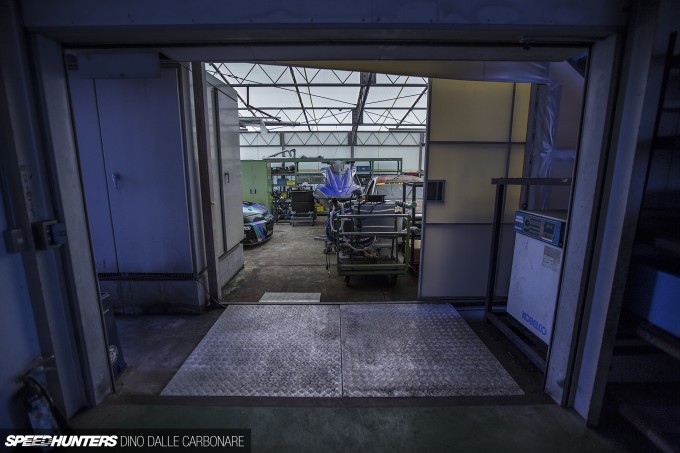 I have shot a ton of HKS cars over the years, but one that I always regretted not immortalising was its legendary 7-second BCNR33 GT-R.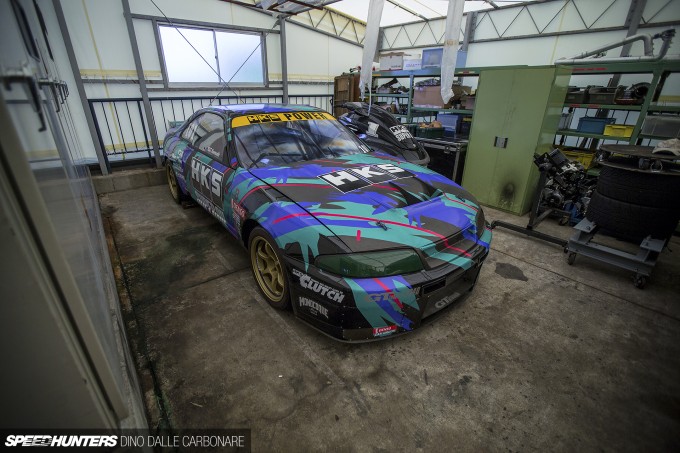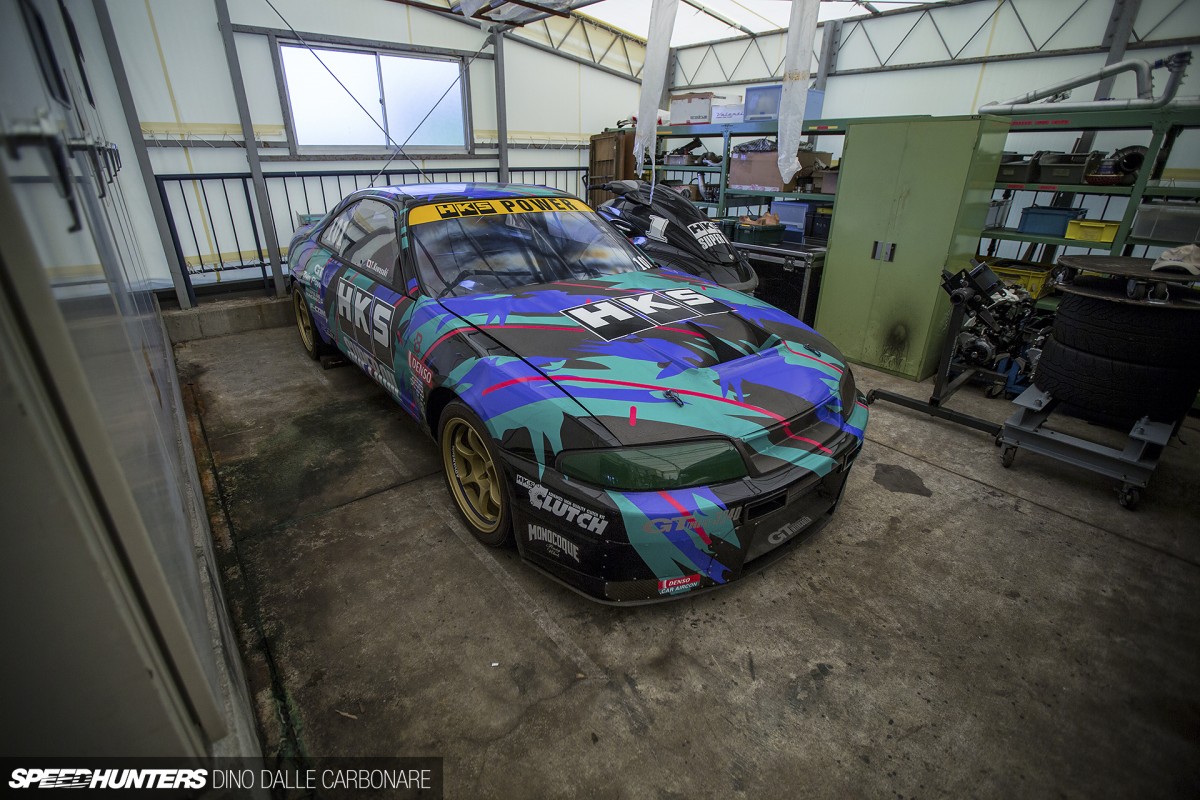 Drag racing is something that I've never personally been attracted to, but I have always held the engineering behind the motorsport in the highest of regards. For a good decade while Japan's tuning industry was zero-yon crazy, the GT-R was king in the street classes. Once the whole 0-300km/h speed trial era ended, Japan's tuners turned their attentions to being the quickest on the strip, and it was at this time that the RB26 was pushed to new performance heights. It's also the same time that HKS created this car.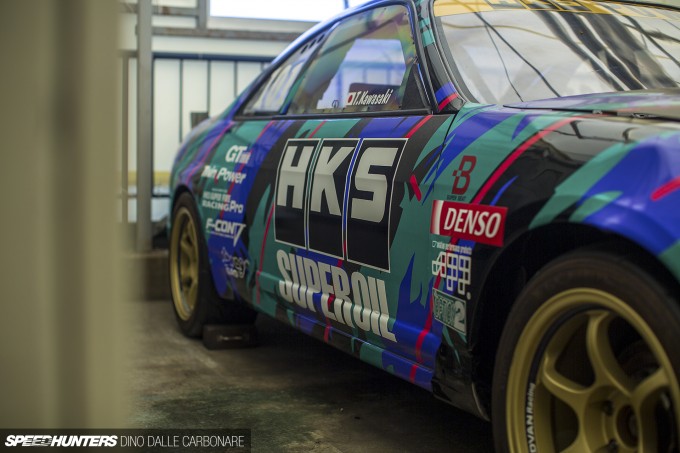 It was HKS R33 GT-R that every tuning shop in Japan strived to beat, and after a good seven years of service it was retired while it still held the title of the world's quickest all-wheel drive car. It's record: a 7.671-second pass at Sendai Hi-Land Raceway with Tetsuya Kawasaki behind the wheel. I remember there was quite a bit of controversy surrounding the ET; people around the world stating that since Hi-Land had a slight downward gradient at the end of the strip, the time wasn't accurate. Then there was the fact that the car was suspiciously retired in 2002, just days prior to a much-hyped match-up with the Heat Treatments BNR32 GT-R in New Zealand, which shortly after broke HKS's long-standing record. But I won't go into any of that as there are far too many opinions and interpretations surrounding it all. This purpose of this story is simply to show you a legendary car in detail, and at the same time ponder over a true golden era of Japanese tuning.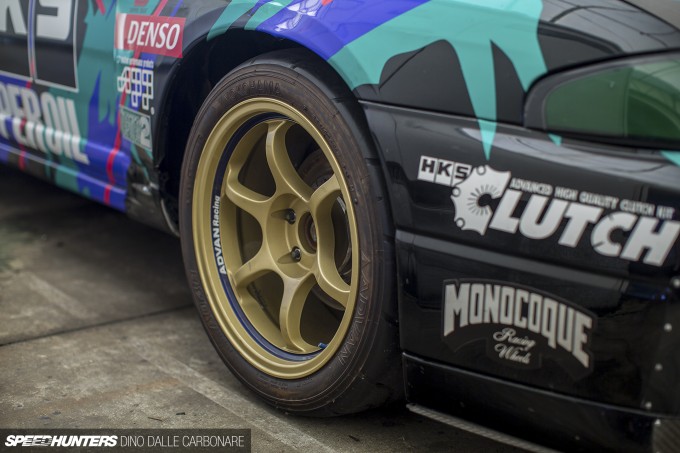 It's a pity that the R33 isn't still used for demo purposes, but at least HKS is keeping it in a covered place, protected from the elements. And judging by the state of the A048s those 17-inch Advan RG wheels are shod in, it hasn't been totally abandoned. Enough back-story though – it's time for the details…
1,300hp Of RB26 Perfection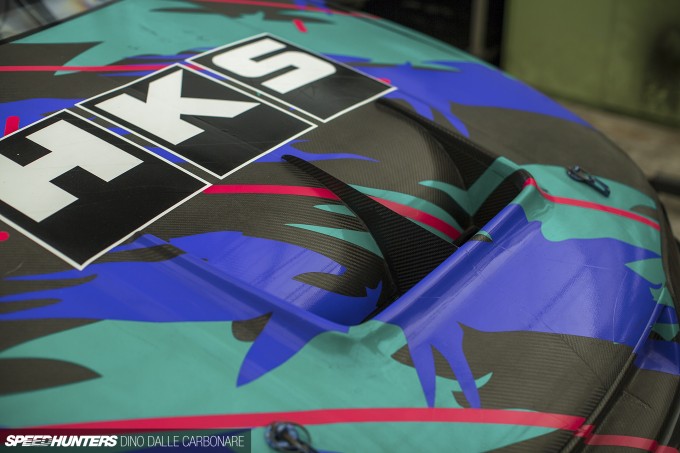 Despite the GT-R's outward appearance, there is very little left of the stock car it was originally built from. For starters, the entire body is skinned in extremely thin dry-carbon body parts that were made in the composites department I mentioned earlier.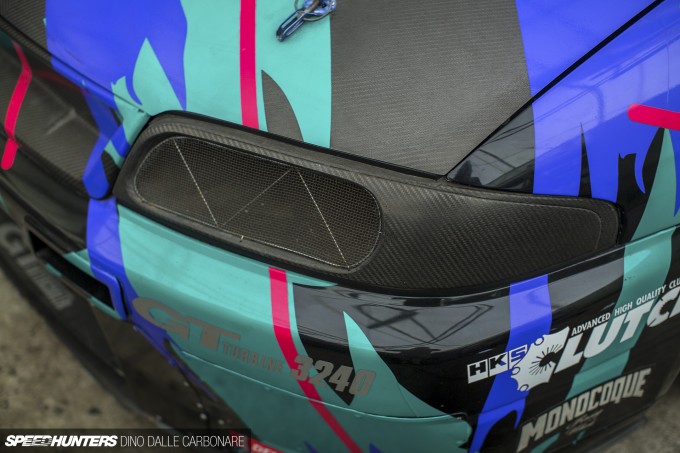 This was a no-compromise build where literally every single piece of the car was looked at, changed, improved, re-engineered or simply eliminated.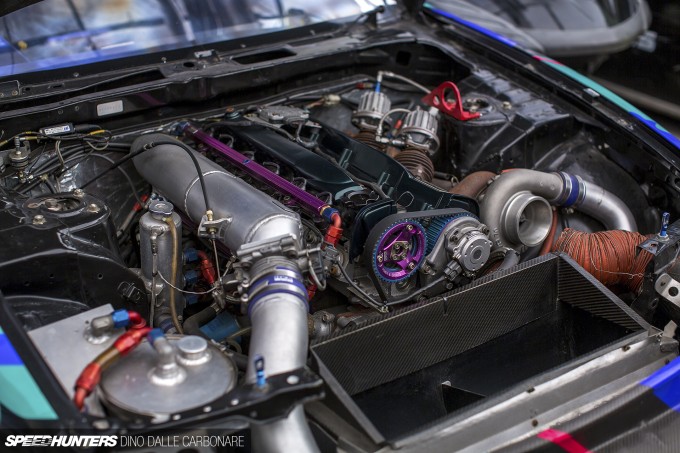 I remember back in the early 2000s that there was a lot of talk surrounding the engine. Seeing that everyone was trying to beat them, HKS always remained tight-lipped about the specification of the 'RB28′ that served as the car's heart. When nobody could get close to the 7.67-second pass, many assumed that the Skyline's engine was running nitrous – which it didn't. It was just well engineered through and through. It featured forged pistons, H-section connecting rods and a 77.7mm forged stroker crank that would later become the basis of the 2.8L kit that HKS sells to its customers.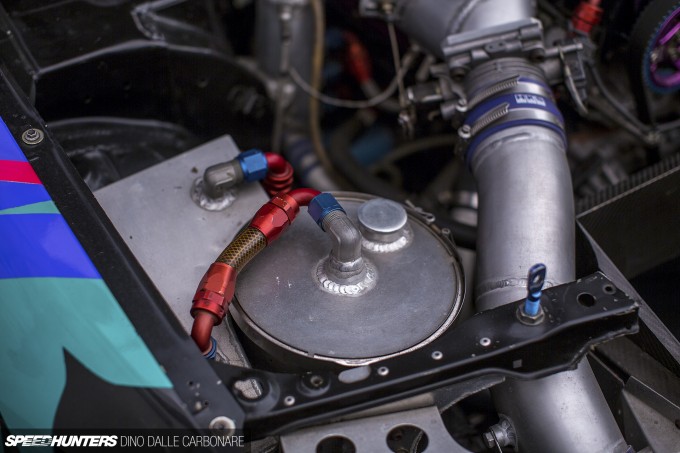 As the oil tank in the right-hand corner of the engine bay suggests, the RB ditched its big wet-sump lubrication for a dry-sump system that HKS created as a one-off for this car. It was a crucial element in keeping the motor reliable during high-G launches.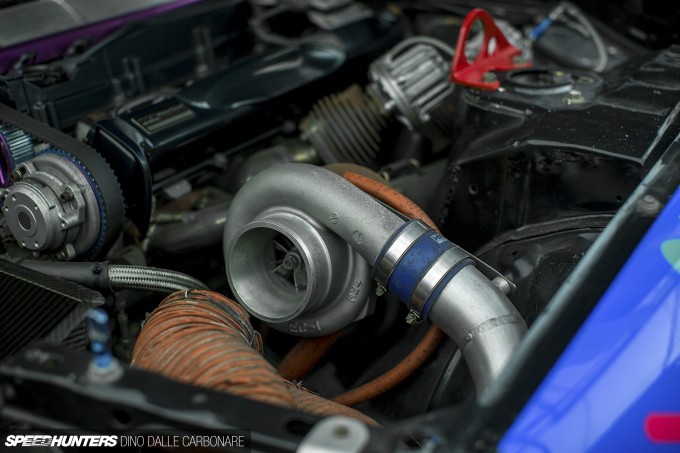 After spending many years in the 8-second bracket, it was the move to a pair of HKS GT3240 turbos that really started bringing results. Fed 2.4-bar (35psi) boost, the engine developed 1,300hp at 9,000rpm.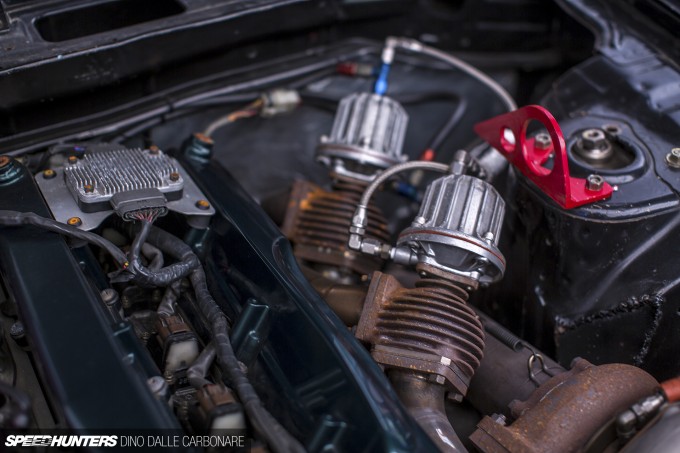 Along with an old generation of HKS's EVC boost controller, this pair of external wastegates was tasked with keeping boost pinned at the preset level.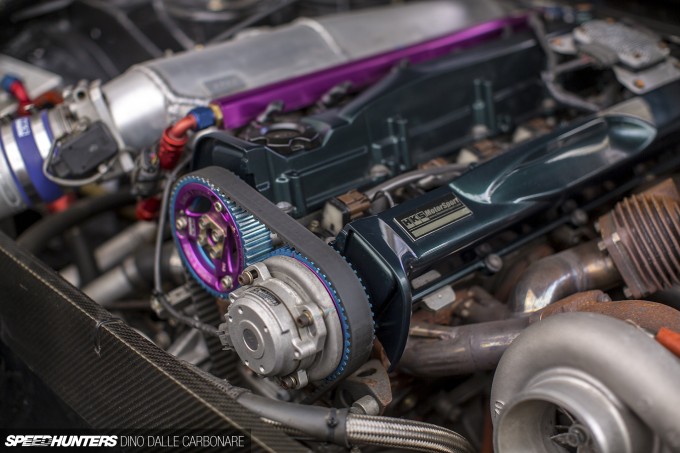 This was long before HKS's V CAM was even released – not that it would have been needed on a setup that spent most of its time at the very top of the RPM range. Even the maximum torque of 110kgf-m was produced at 6,500rpm, so cam choice was down to a high-lift series of bump-sticks with 290-degree duration on the intake and 280 on the exhaust side.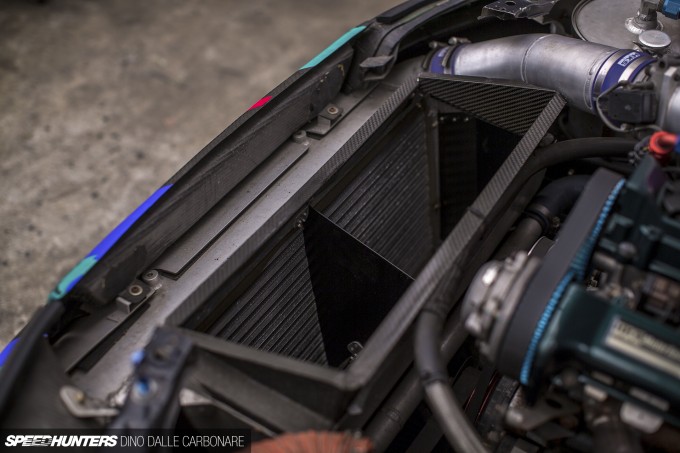 The entire section in front of the engine was cut away to free up as much space as possible; a small subframe section holding everything in place. The opened-up space served to house a custom intercooler and a big carbon shroud that would efficiently dump the air that had passed through the core up through the opening in the carbon bonnet.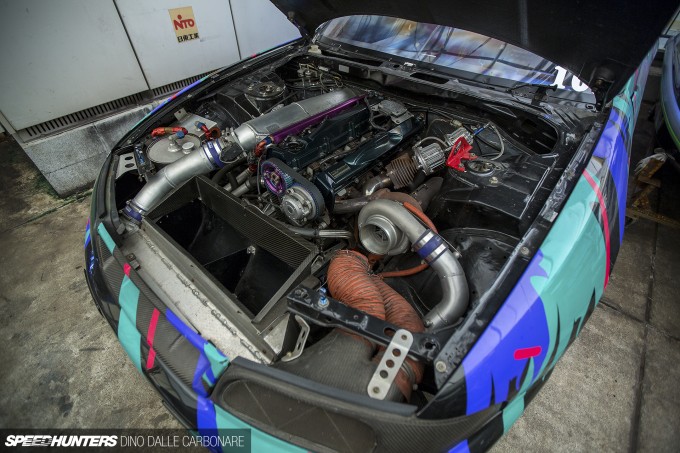 The passenger-side headlight was swapped out for a carbon intake that directed as much air as possible towards the GT3240s. Looking at it all today, that engine bay looks pretty uninspiring. But it wasn't built to look good – only to achieve results.
And results are what it got – every time it hit the strip. The video above shows a 7-second pass at Sendai Hi-Land.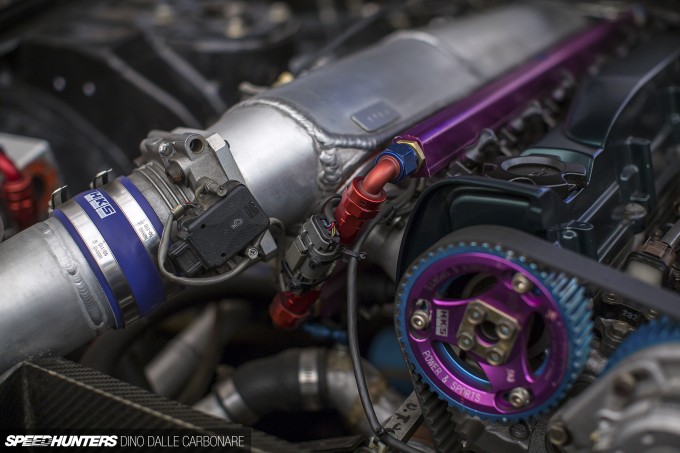 The HKS F-Con V PRO that manages fuelling and ignition on the RB28 has the job of handling two sets of 550cc/min fuel injectors. HKS's engineers deemed this a better alternative to running higher capacity injectors as they were far more accurate and faster reacting. Injector technology has certainly come a long way in the years since!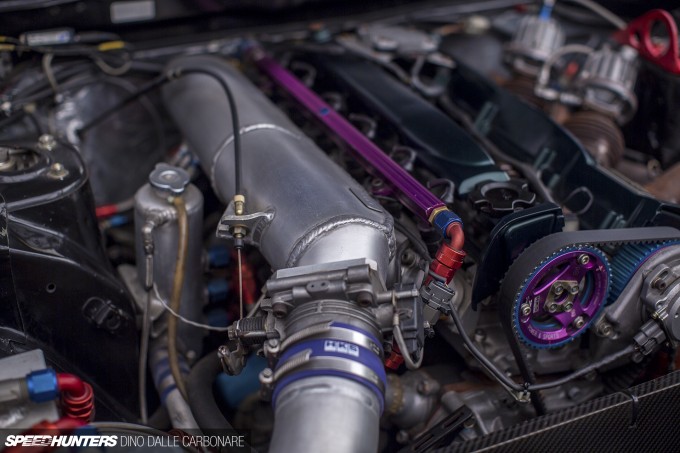 HKS ended up designing and building its own plenum in an attempt to see an equal distribution of intake charge to each of the six cylinders. Some of the welds you can see were actually repairs made in Australia in 2002, when the plenum cracked ahead of an event called Drag Combat.
Here's a video from that meeting. The HKS team traveled to Willowbank Raceway in Queensland to see if they could replicate their record-setting 7.67-sec pass which had been achieved the previous year in Japan. They didn't quite match it, but there were no shortage of 7-second passes.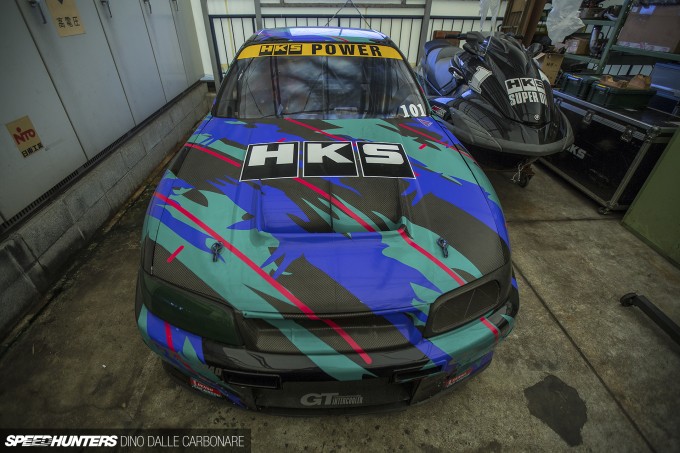 That was one of the last times the R33 ran in anger, and it was retired shortly after once HKS came to the conclusion that the chassis and setup had endured enough. The truth of the matter is, drag racing had become rather stale in Japan by this point, and people were looking at building more streetable cars with the more extreme builds being created for time attack. There was no need to prove anything more with this car.
Tetsuya Kawasaki's Office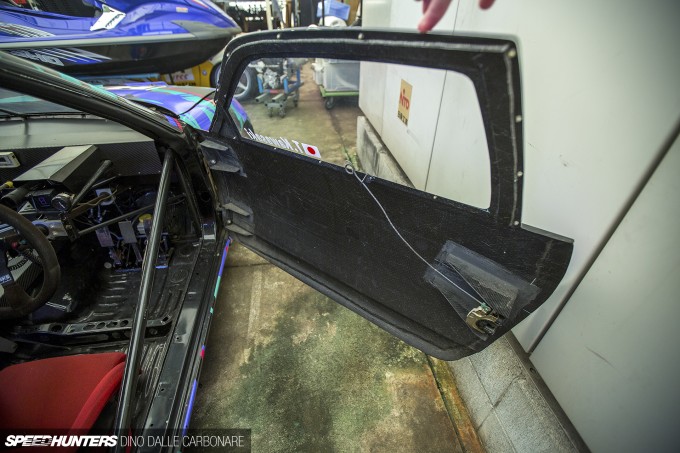 Open the door to Kawasaki's office and again you notice just how little there is left from the base car. The doors are nothing more than thin shells that probably weight less than 2kg per side.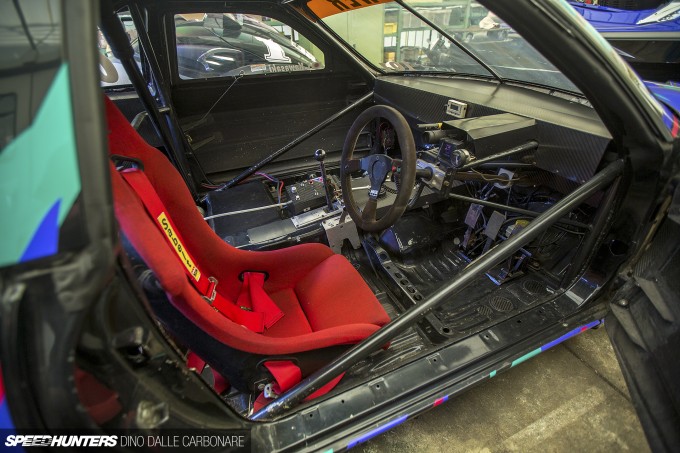 The chassis however, remains intact, and is stiffened only by a pretty basic looking rollcage. Initially it was of the bolted-in variety, but after it failed inspection at Drag Combat the HKS team welded this one in so the GT-R was up to ANDRA spec and could compete.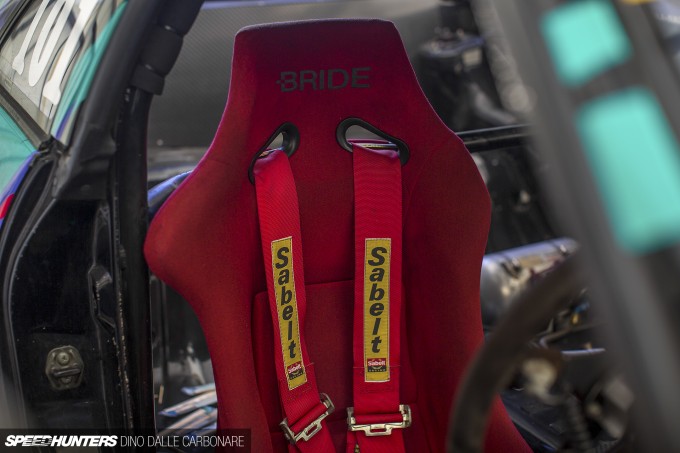 The driving position was moved back so that Kawasaki was sitting in line with the B-pillar in a pretty simple Bride seat.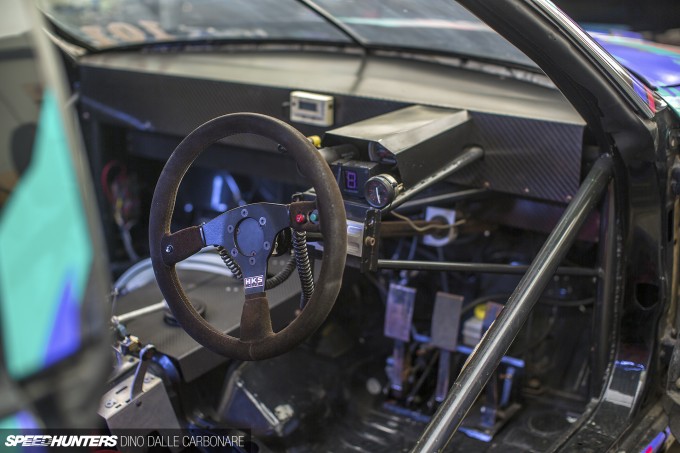 The R33 runs an extended steering column and what little instrumentation there is, is dotted around the carbon fiber dashboard.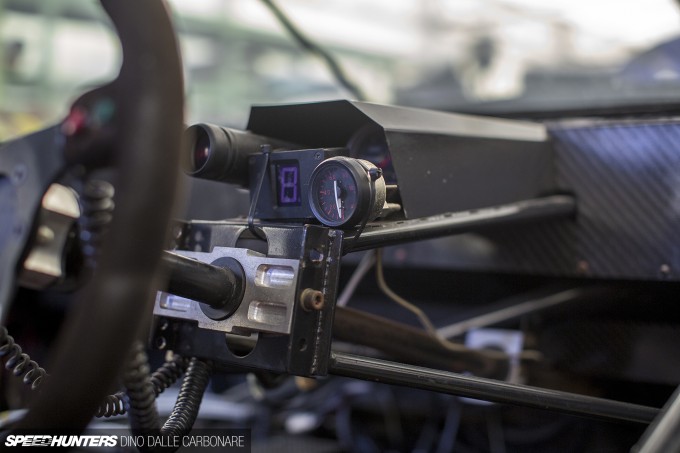 Everything happens so quickly in a quarter-mile pass that there's no time to look at numerous data devices. Three things were deemed necessary though: a shift light, the gear position indicator and an oil pressure gauge.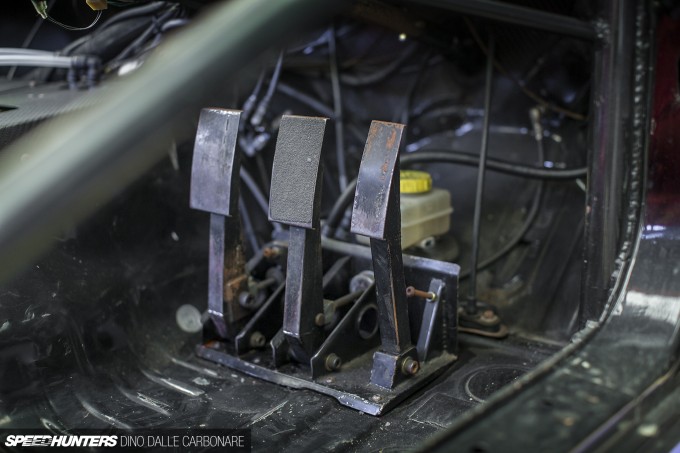 With Kawasaki seated, the pedal box was the only control that offered a small level of adjustability.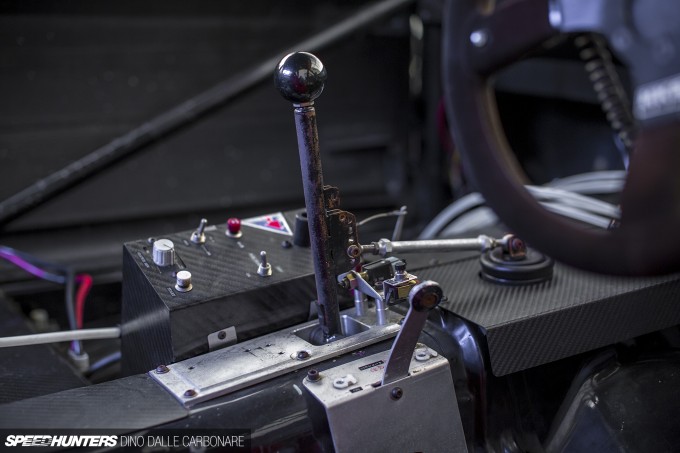 The power and torque developed by the engine was channeled to the wheels via an air-shifted 5-speed transmission that HKS custom built and developed. The gearbox was mated to a quad-plate clutch that HKS also created specifically for the application.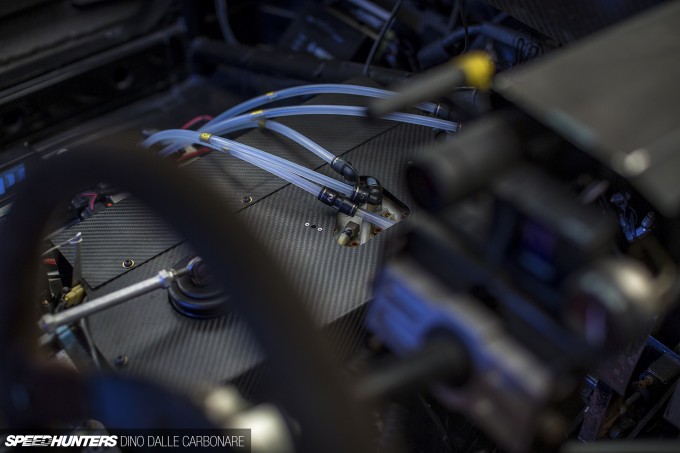 You can see some of the air lines from the shifter portion of the setup right here – a must-have for any serious drag car.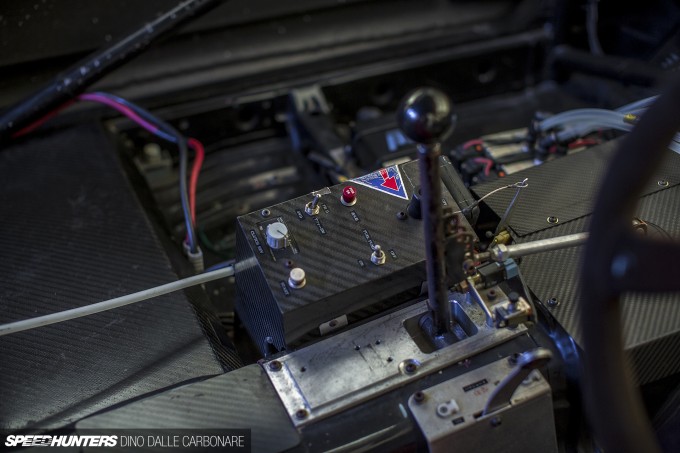 Aside from a simple switch panel and a few basic controls, there isn't much else going on. There are a couple of important switches on the steering wheel though – one for actuating the front brakes so the car can do burnouts in rear-wheel drive mode, and then a second to hold the rear brakes while getting ready to launch.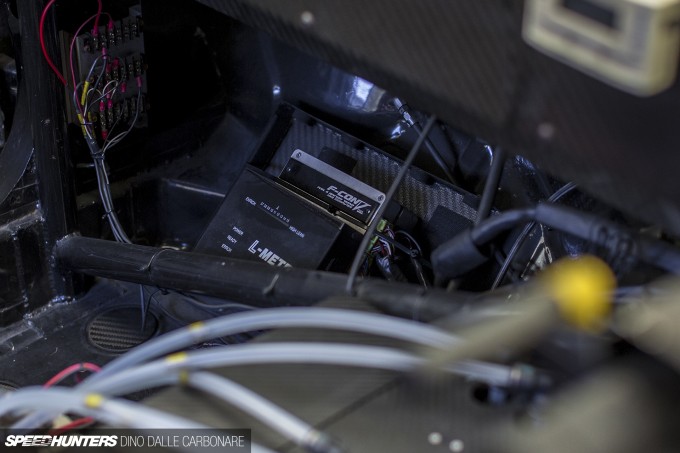 All of the electronics are positioned in the passenger footwell for easy access. Included is an older generation F-Con V PRO ECU – the brain that has controlled all of HKS's cars, and is still used in the majority of tuned cars in Japan.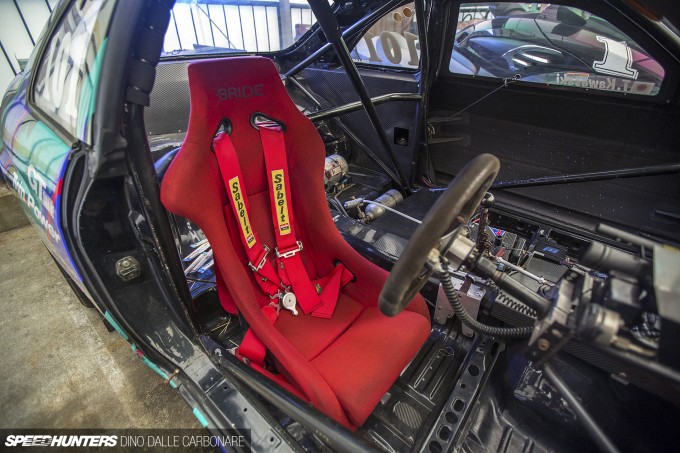 I'm sure I'm not the only one out there who would have loved to see HKS step its game up when it came to drag racing. A tube-framed BNR34 GT-R would have been pretty cool, but it was just not going to happen. The Japanese tuning industry was going in different directions – namely with time attack and drifting – and HKS couldn't afford to not follow suit. So we can only wonder what might have been…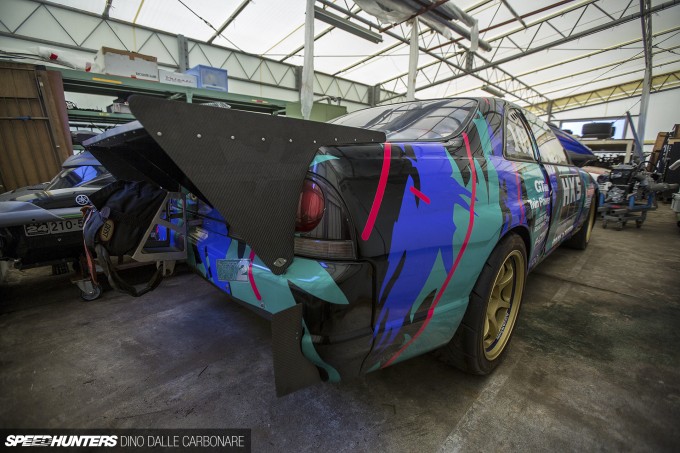 One of the things I like the most about the street car based drag cars that competed during this era is that they generally had pretty stock-looking bodywork. The HKS R33 was the same, except at the back where a pretty rudimentary drag spoiler tried to keep the rear end planted at speed. There was also a parachute back there to help slow the car down, but Kawasaki-san never used it, preferring to step on the AP Racing brakes to haul the car back down from the circa-300km/h speed it was able to reach by the end of the quarter mile.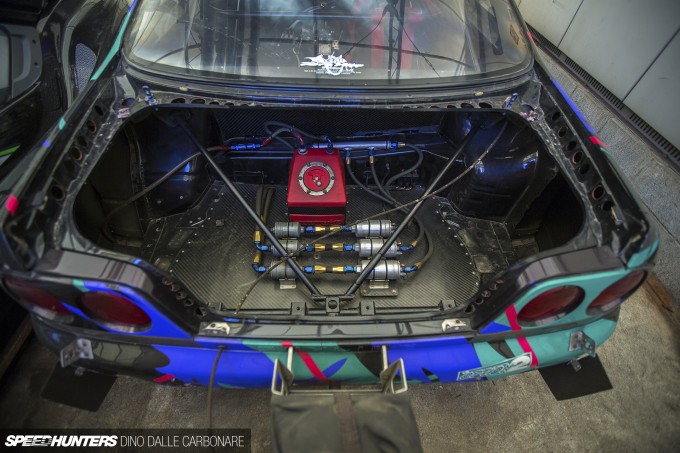 Under the lightweight trunk lid is where the car's fuel supply system is located. Seeing that the Skyline lived its life a quarter mile at a time (I don't care, I had to throw that in there!) there is only a tiny 15L fuel tank sitting in front of the Bosch fuel pumps. The trunk floor has been cut out and sealed off with a carbon fiber plate, but apart from that and a few other basic weight-saving measures, like the holes drilled on surrounding panels, it's pretty much a stock R33 chassis.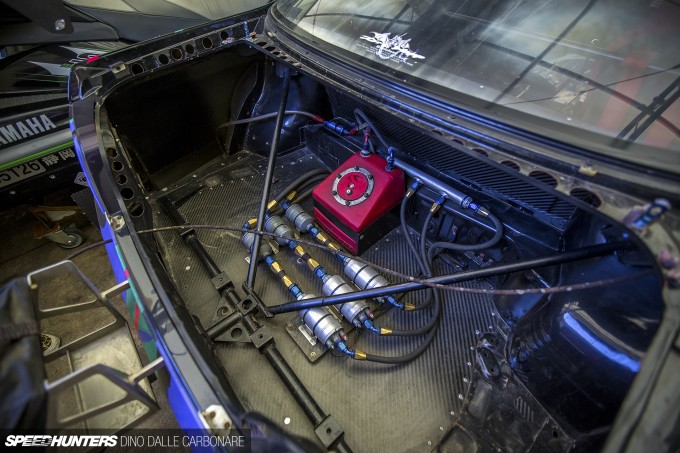 Shortly after HKS retired the car the Heat Treatments R32 GT-R in New Zealand managed to shave 0.1 seconds off the R33's time, and then continued to go faster and faster over the next few years, with a current PB of 7.455 at 193.27mph.
Could HKS have continued to push its car to better this time? Again nobody will know… I guess the most important thing – and the one thing that adds to the legendary status this car holds – is the fact that it was retired while it was still the quickest AWD car in the world. These days it takes over 2000hp to make an R35 GT-R cover the quarter mile in a smidgeon under 8 seconds, and that to me is the perfect example of why RB26-powered GT-Rs remain so special.
Dino Dalle Carbonare
Instagram: speedhunters_dino
dino@speedhunters.com