Christmas In Summer
One step at a time they say – that's always the best way to tackle the big jobs. Well, when it comes to Project Drop Top, getting the looks just right is something I've thought a lot about since I brought the BMW 435i home from the dealer in January. And what followed was a lot of research – the amount that after a while becomes detrimental to one's health.
What was I to do? Embrace the JDM way of doing things and stick a set of Japanese wheels on this Teutonic cruiser? Or stay true to its origin and go for something German?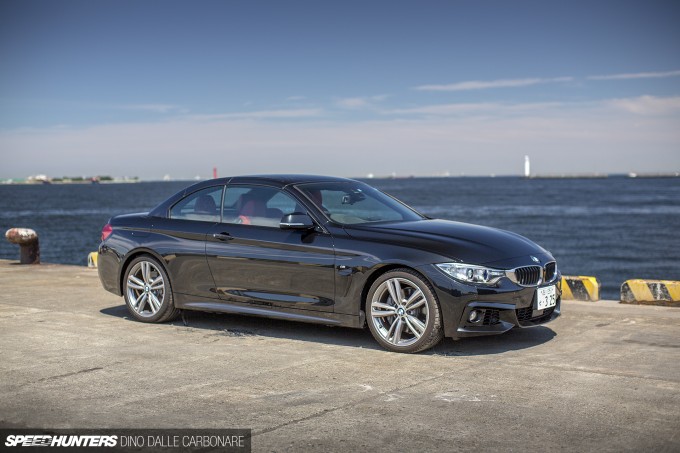 It was a debate that went on for months in my head, but in the end I just went with my gut feeling. German car – German wheels! Well, at least a German brand which is Japanese owned and does a lot of its production in Japan. Damn, that's like the best of both worlds!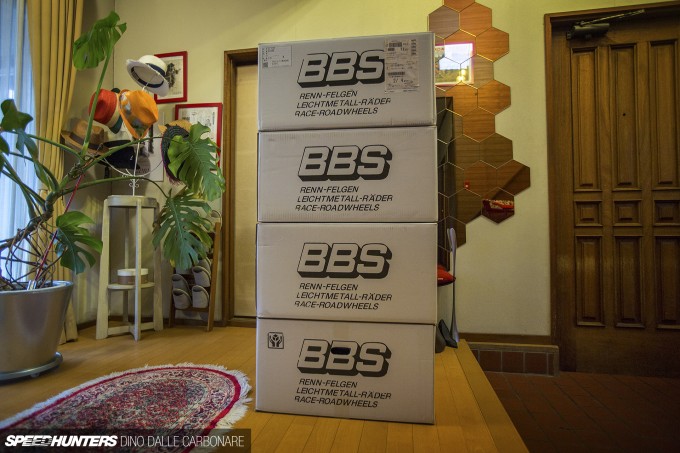 It wasn't long after that a special delivery arrived at the door: four massive white boxes sporting the oh-so-familiar BBS logo. Despite not having tyres to go on them yet, there was only one thing do to – nerd-out.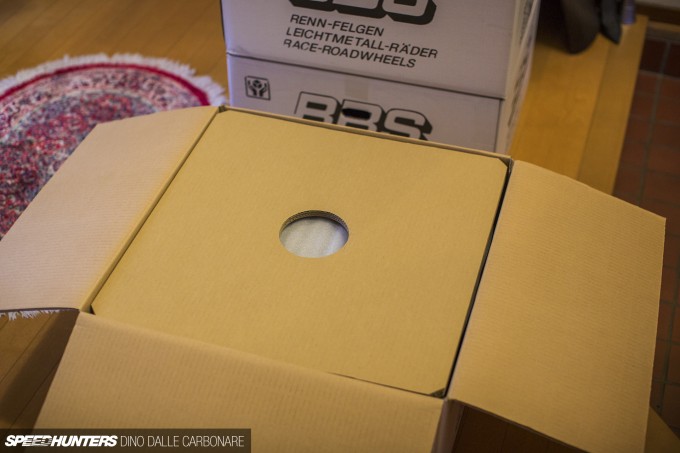 The un-boxing of something this special never get old. It's like Christmas day in the middle of summer!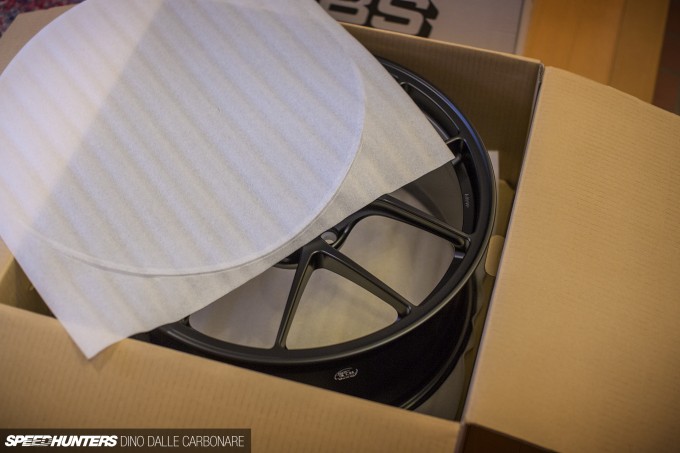 As I removed the final layer of protection – there to make sure the satin black finish of the metal surface comes to no harm – I finally saw what are by far my favourite modern BBS rims currently in production.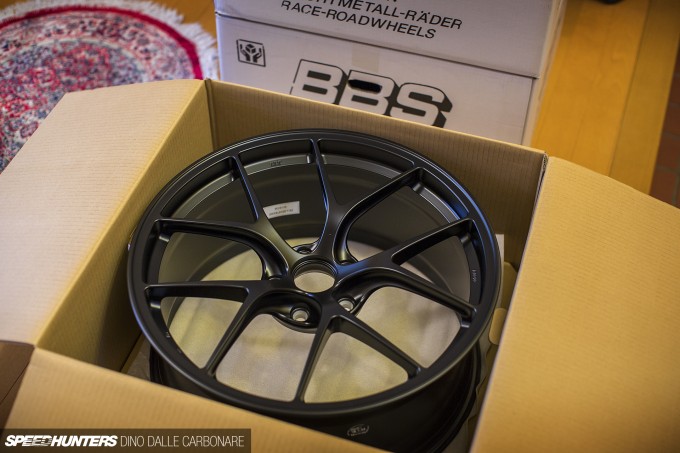 These RI-D wheels use a very thin split-spoke design that really highlights just how rigid the whole construction must be. Once you wrap your hands around the end of the spokes it's almost unbelievable to think they can stand up to the strength demands of a performance wheel.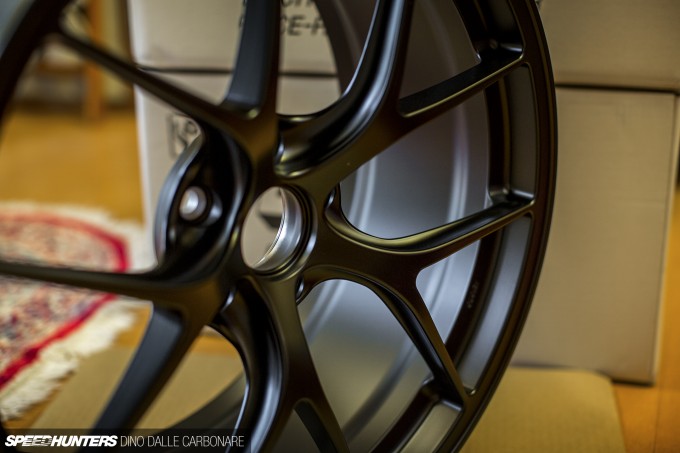 Each of the spokes are ribbed from the hub outwards until they meet the rim, adding stiffness to the structure.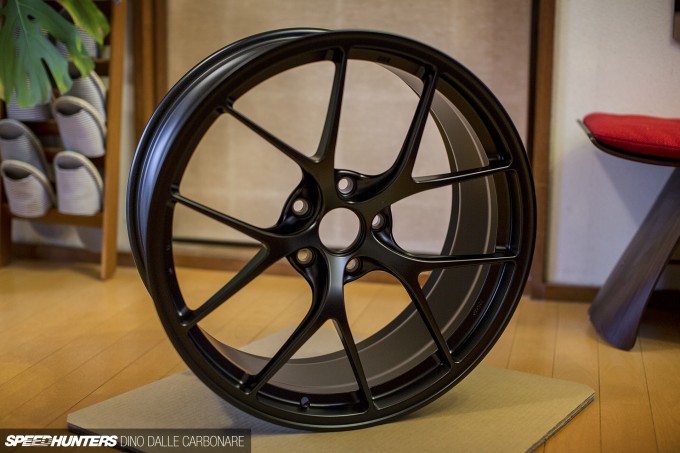 I went for the satin black finish as I've always been quite a fan of the black-on-black look. Now I get to enjoy this most badass of color combinations!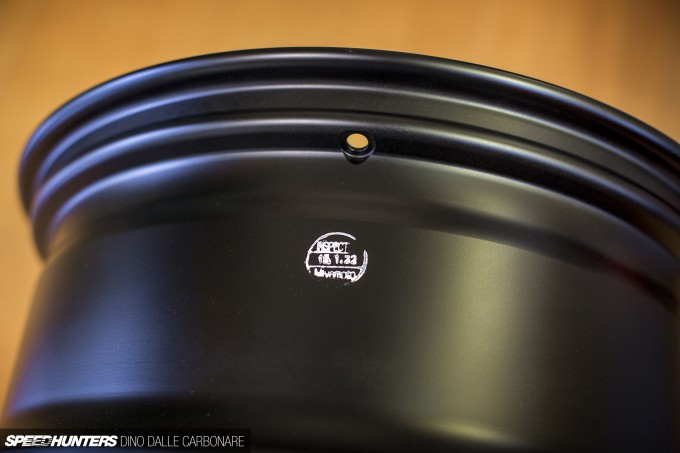 Like all properly-constructed and legitimate wheels out there, you should always look for a stamp of inspection.
Getting The Sizes Right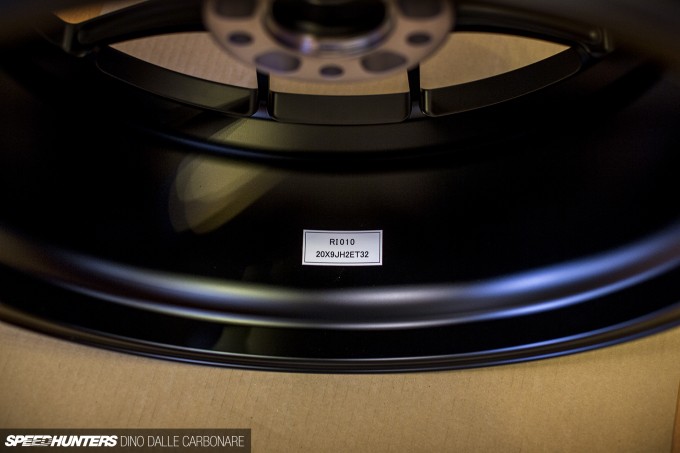 The 4 Series is a big car with large arches, so I knew I wanted to step up from the 435i's factory-fitted 19-inch wheels and go for 20s.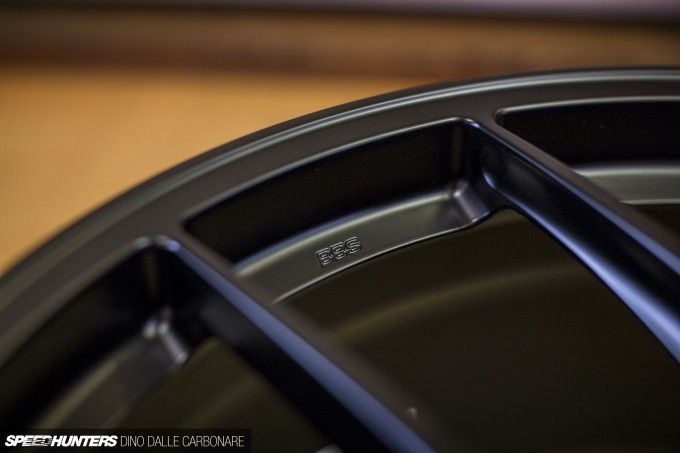 In deciding what widths and offsets to go for, I called in the help of Bob Suzuki – the man behind Studie and a wealth of knowledge when it comes to BMWs. We discussed how aggressive I'd like the car to sit and what sort of fitment I'd really like to have. Considering the the stock suspension will also be getting changed out for something a bit more performance-oriented, we decided that 9-inch wide fronts and 10-inch wide rears would offer the best look and not create too many issues with rubbing.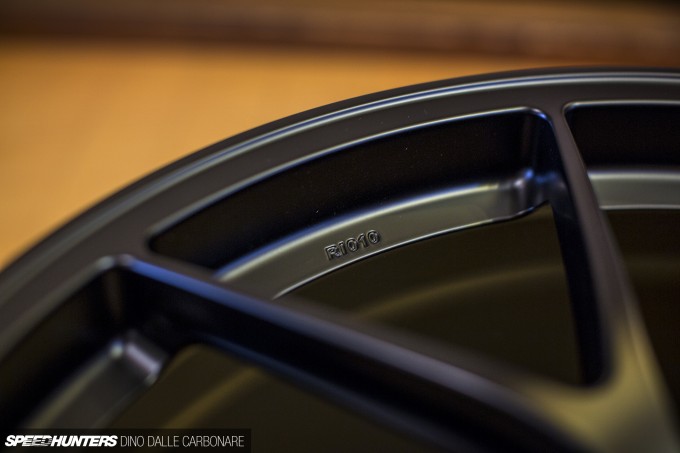 The RI-D with a 5×120 PCD isn't offered in many different offsets, but for the fronts I went for the RI010, which indicates +32.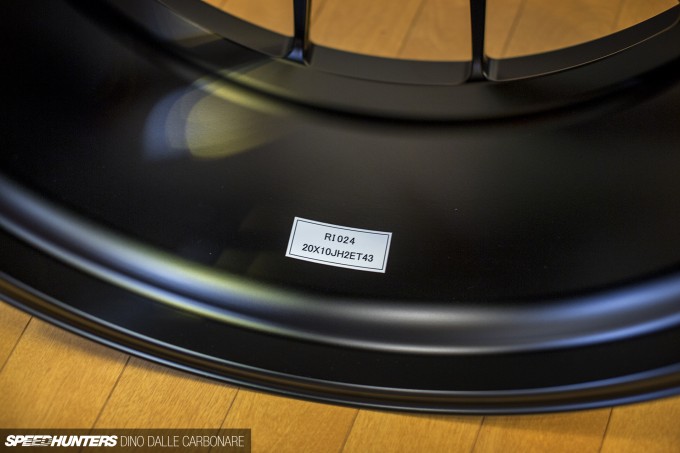 For the inch-wider rears I chose the RI024 +43 offset option, which should hopefully take care of filling up the back guards. The next step will be the tyres, and depending on how far out the rims stick once mounted on the hubs I will be selecting a model with an appropriately shaped sidewall, i.e. square or rounded off.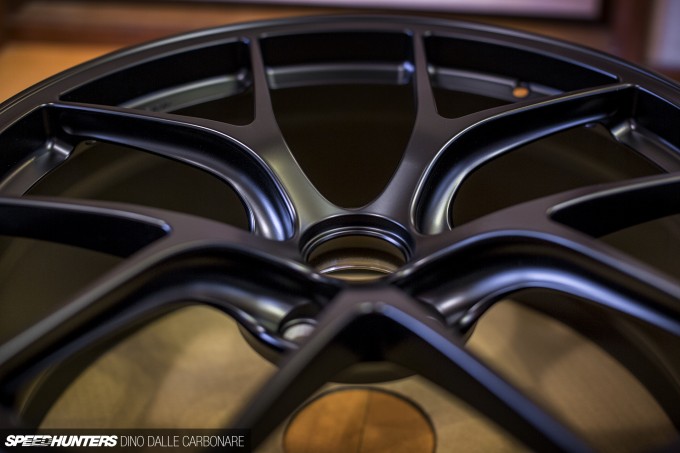 Having these sitting in my office until the tyres and suspension arrives is going to be nothing short of torture. But until then I'll just have to keep looking online at what sort of fitment and ride height 4 Series owners are going for.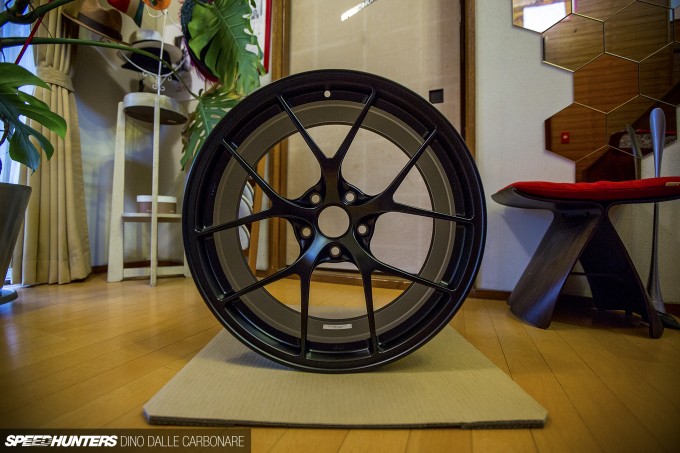 But it doesn't end there…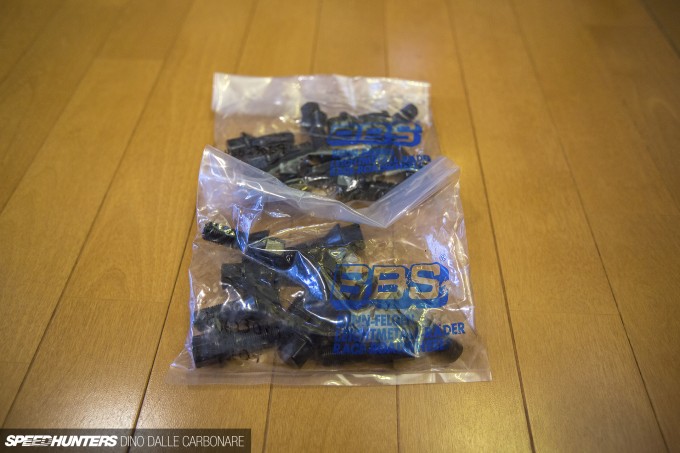 I've got pretty much everything that's needed for the complete mounting, including hub rings and embossed wheel nuts.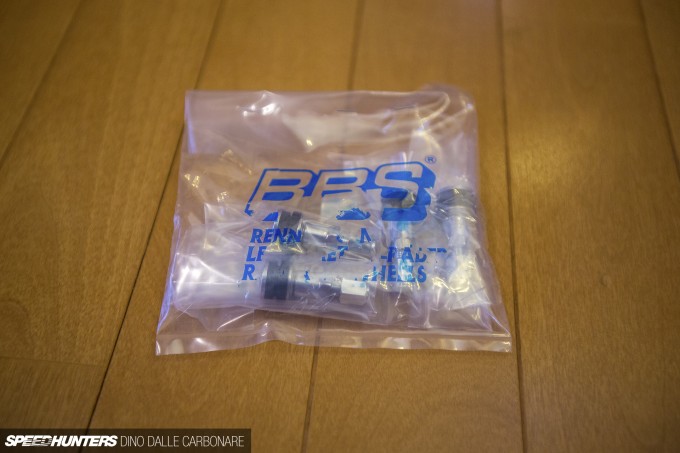 Valves too of course, but I may just have to spray these black before fitting them. What do you guys think?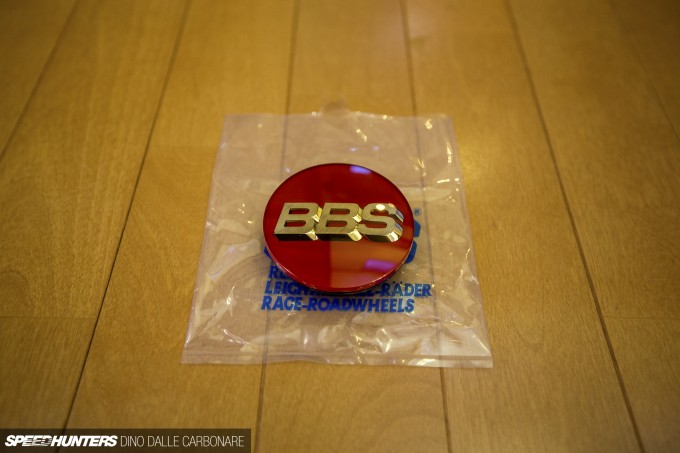 It may only be a badge, but I look at the red center caps as small detail that will help tie the whole car together. Going black-on-black is pretty straightforward, but I wanted to have one detail that would make a visual connection to the car's red interior. Hopefully these should get the job done! As you can see on the opening shot, I couldn't help but do a little test fit just to see what a cap looked like against the matte finish.
Potentially Lowering Unsprung Mass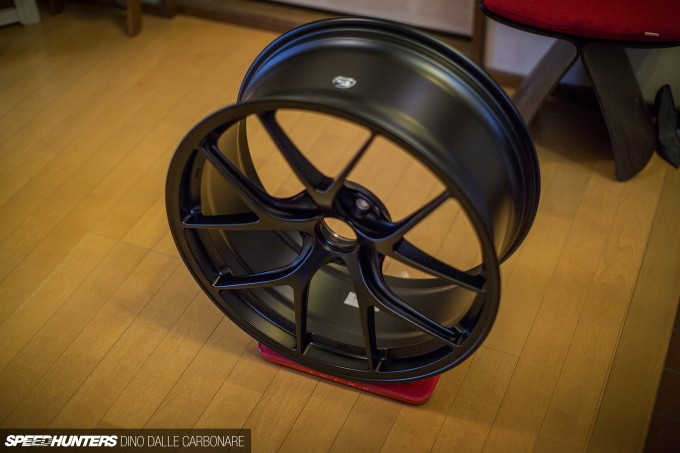 There's one other point in this exercise – potentially decreasing unsprung mass. You see, the stock 19s aren't all that light and the Bridgestone run-flat tyres they're fitted with from factory are heavier than regular rubber. So theoretically, I could get away with having taller and wider wheels with taller and wider tyres, and either match the stock weight per corner, or maybe even decrease it.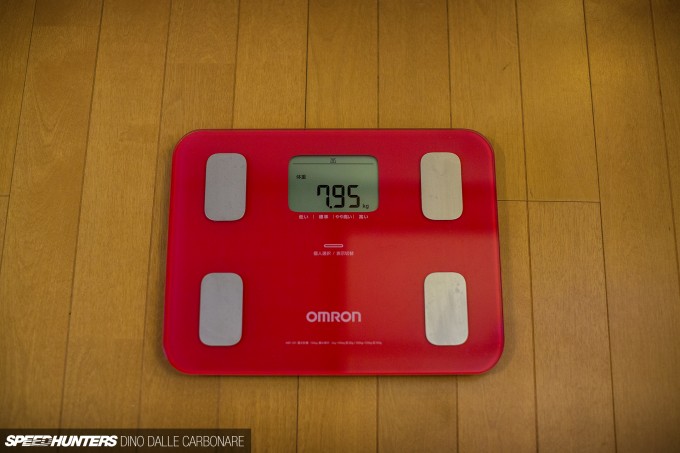 And I say maybe because the BBS RI-Ds are some of the lightest rims I have ever come across. The 20×9-inch fronts hit the scales at just 7.95kg (17.5lb) each, while the 20×10-inch rears are just marginally heavier at 8.60kg (18.9lb) apiece. If the tyres I go for are not too heavy I may get away with it, and that would make me feel rather smug. I'll get extra points too if the car rides better and is less choppy than it's proved to be with the run-flats.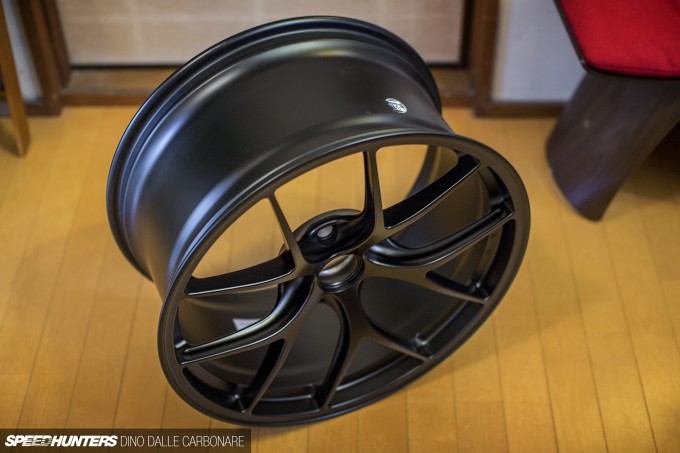 The only thing I'm worried about is that the thin spokes of the RI-D's are going to show far too much of the 435i's underwhelming stock brakes. I'm still furious that in Japan, despite forking out for an M Sport package, you aren't given M Sport brakes as you are in every other market. Perhaps BMW assumes that the Japanese don't drive their cars hard? Ah well, it's one other area I'll have to eventually figure out…
Dino Dalle Carbonare
Instagram: speedhunters_dino
dino@speedhunters.com