I was first drawn to Marcy Molkenthen's '63 Riviera 'X-11′ because of the 8-lug wheels, something I've always thought was a cool feature on '60s Pontiacs. Despite the custom Riv' being parked on a sloped hill and swarmed by people at the Lone Star Round Up, I still did my best to capture it, because there's way more custom work going on once you start looking around…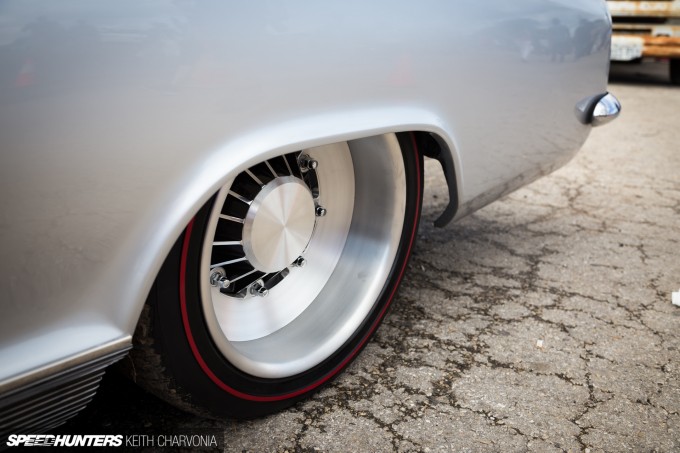 In the '60s some Pontiacs could be had with this wide 8-lug pattern. The finned centers are actually the brake drums, and Marcy went off and had custom aluminum wheels made for the obscure lug pattern.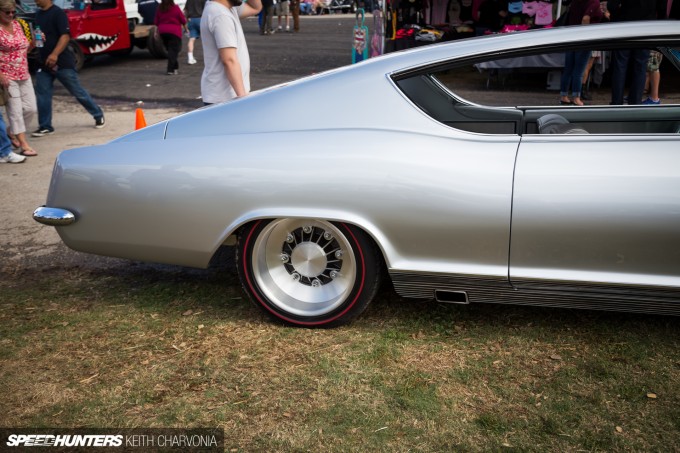 Cars of this era, the Riviera included, are known as factory customs. That is, the OEMs had looked at car customizing of the '50s and applied some of the same sleek tricks to factory cars. It was only when I looked up from the custom 8-lugs that I realized how customized Marcy's build was though, with a complete roof replacement from a '68 Mercury Cyclone!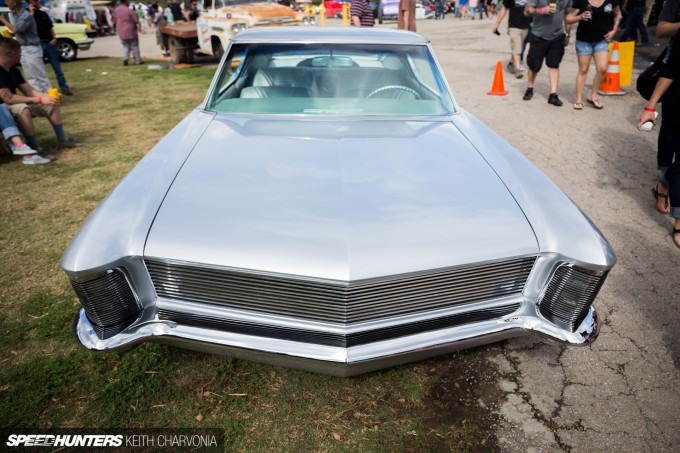 You know if they went as far as a roof swap then there are many, many more custom touches to be found. The hood was re-skinned with that of a 1961 Cadillac, which eliminated the fake Buick hood scoops and also added a peak running down the center. It's so clean most wouldn't even notice.
In fact, nearly every panel has been reworked in one way or another, courtesy of River City Speed & Kustom in Post Falls, Idaho. Guiding the aesthetics of the build was hot rod designer Jeff Allison, who brainstormed the idea with Marcy after she mentioned that she loved Rivieras, except for the square roof pillar in the back. Jeff sketched up some ideas and they realized that a Cyclone roof would flow perfectly with the Riviera's lines.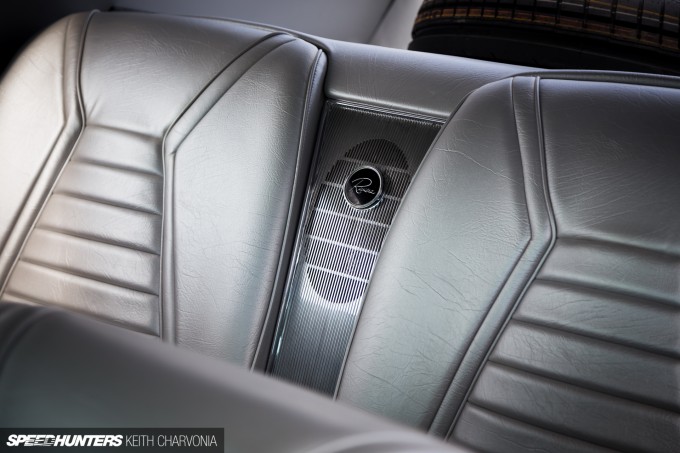 The interior was redone using the correct 1963 silver vinyl, but incorporating some updated styling such as stainless trim in place of the factory wood panels. Oh, and is that a tire I see back there?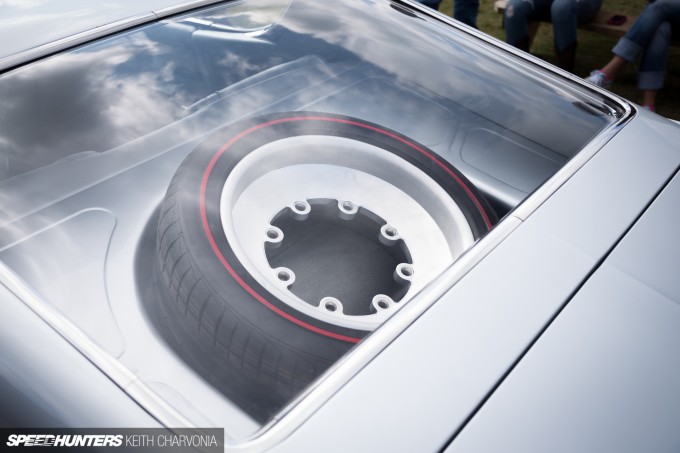 That's right. To drive home the unique wheel treatment, a spare wheel with a red-line tire was mounted under the rear window on full display.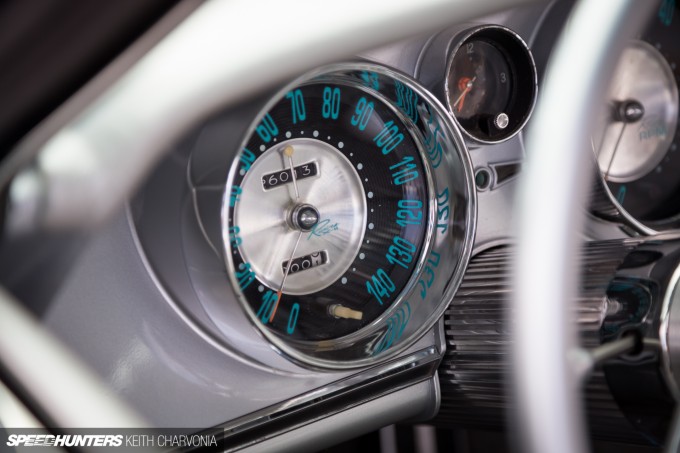 Custom gauges were also crafted, including a tachometer since Marcy's Riv' now has a Tremec 5-speed. Also notice the hand-painted Riviera X-11 logo on the speedometer.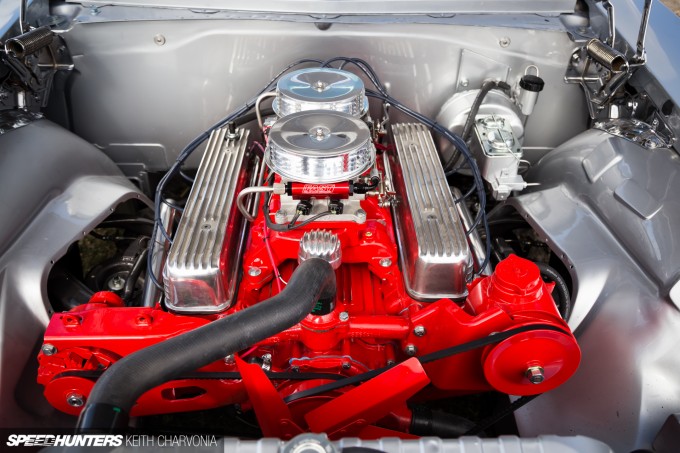 The factory Nailhead was retained, but obviously gone through and cleaned up. A rare Edelbrock dual-carb manifold was ground smooth, then fitted with FAST fuel injection – the only modern part on the car but a good choice for reliability.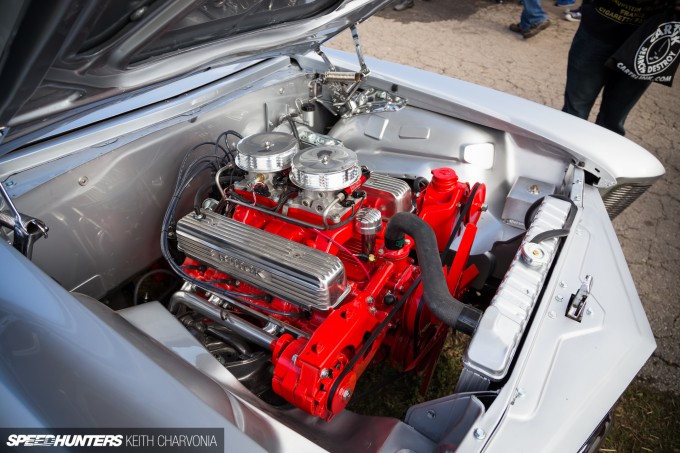 Like the rest of the car, the engine bay has been shaved clean with tons of custom touches separating it from a stock example.
With its solid silver paint and subtle, yet still radical design cues, I bet many folks walked right by Marcy's Buick thinking it was simply a slammed Riviera. I'm glad I took the time to meet her and look a little harder in this case, because this is the perfect example of a tasteful custom.
Keith Charvonia
Instagram: SpeedhuntersKeith
keith@speedhunters.com
Cutting Room Floor