Parts, Parts & More Parts
Welcome to Part 3 of the MCNSPORT.com Audi Drift Sport D-Mac S1 build. In this update we'll be looking at the companies that have made this project a reality, and their parts which will make this car so special. By the end of this update I hope you will agree that we could not improve further on any of the products being used. Power and reliability is the ultimate goal.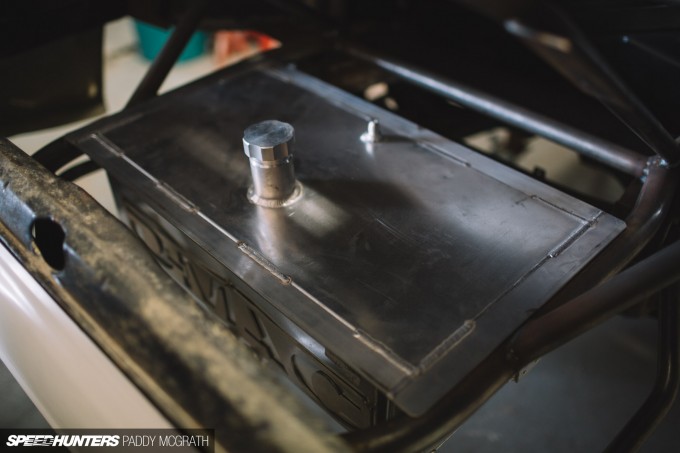 Of course, I will be adding as many of my own branded parts as possible, not only because they have my name on them, but because I designed them myself and trust them to do the job without any problems. For instance, my D-Mac Pro fuel tank features a built-in swirl pot and an anti-surge design, which minimizes the number of fuel pumps required. Fuel pumps are prone to fault, but we will only have one of them on this car. More on that later though…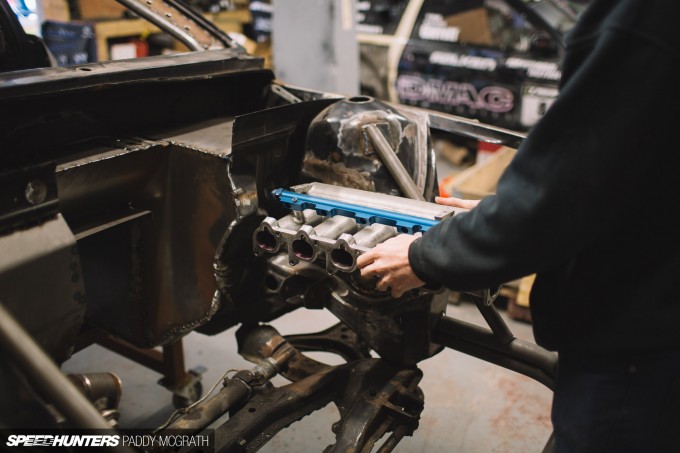 This is the inlet manifold that came with the engine I bought from KRB in Norway. It's a nice piece of kit, but before I can commit to using it I must build and fit the engine so I can be sure its long-runner design doesn't make it touch the suspension top.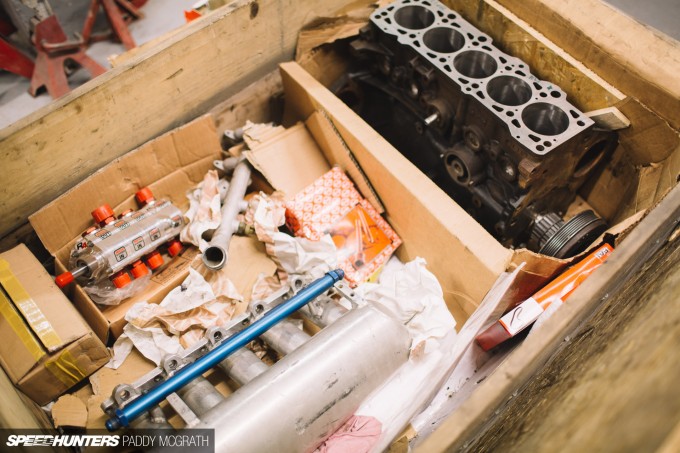 And here's the crate that come from Norway to Ireland with all of the 5-cylinder goodies inside. These engines are a rarity in Ireland and tuning parts for them simply don't exist here, so the best thing for me to do was try and get as much as possible from the Scandinavians as they have been beating on them for years.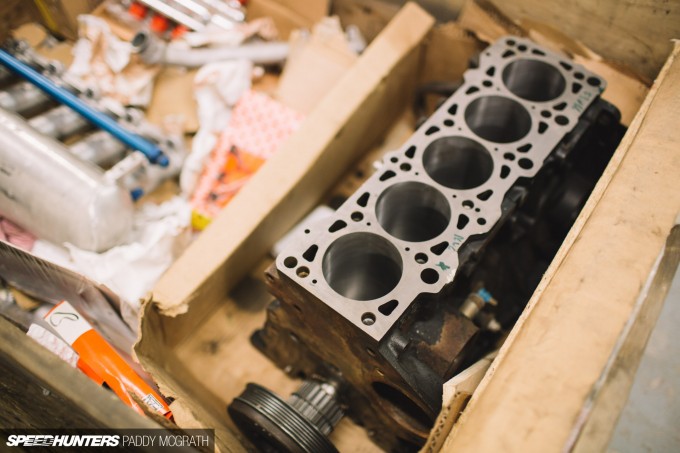 The Audi 2.5 TDi engine block I'm using has been welded (there's an extra water gallery that has to be sealed up to allow the petrol head to be bolted on, I believe) and machined, and is ready for assembly with JE 83mm forged pistons, which I'll show you later on.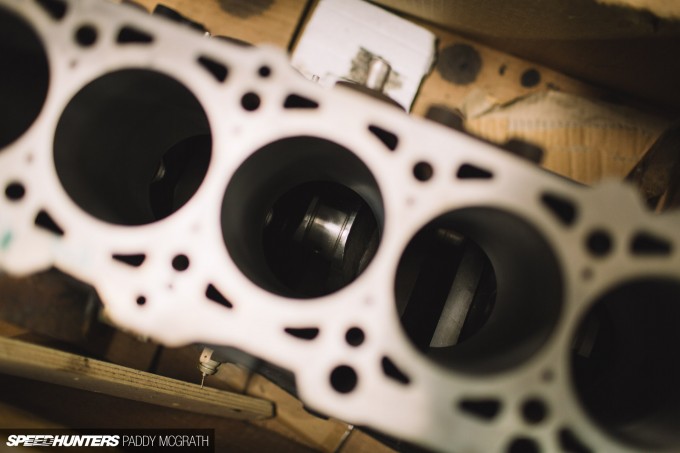 Through the cylinders you can see the forged 100mm crankshaft. As far as high revs are concerned, 83mm x 100mm is not an ideal bore and stroke measurement, so we are only planning to run the engine to 7,500rpm. On the other hand, I am expecting impressive torque figures.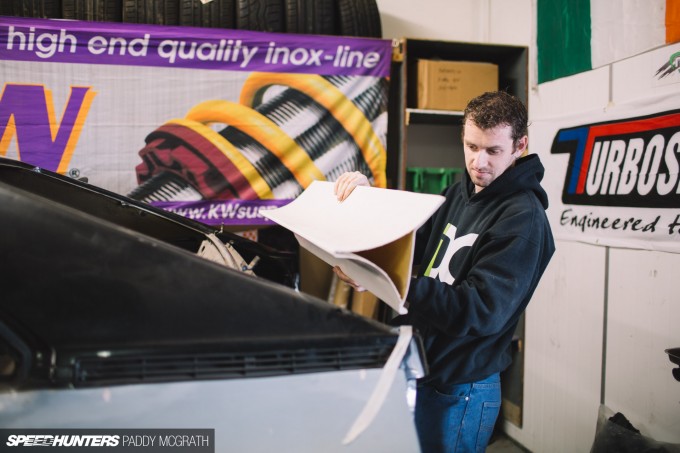 A very special part has also arrived from Germany – the air divider for the Group B rally car rear wing. This divider does exactly what its name suggests – dividing the air so that some flows down into the rear-mounted radiator and the rest gets forced upwards onto the rear wing elements, in turn generating downforce. It will be pretty cool to mount a camera on the roof and watch this thing divide the tyre smoke.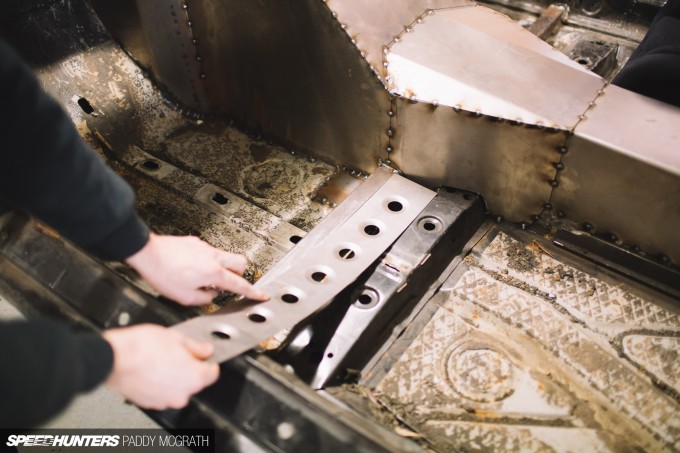 We still have some metal fabrication to do, and I need to sexy-up everything before paint. There's nothing worse than not being happy with some area after you've painted the car, so I'm going to do everything I can to ensure that doesn't happen.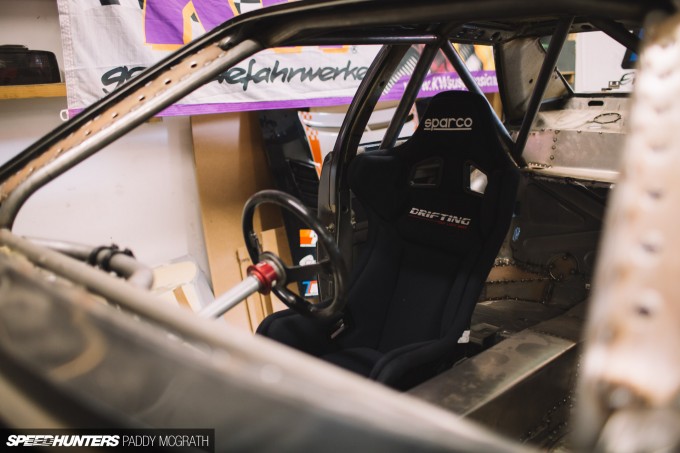 It's at this point that I'd like to welcome Sparco to the D-Mac S1 project. I worked with Sparco USA when I was driving in FD, but this is my first time partnering up with Sparco Europe, and it's a big deal for me. They have very generously provided a lot of product for the car, including a Drifting steering wheel and a pair of their new new Sparco Drifting LF buckets – complete with 13 separate cushion for all the contact patches of the body. These are the coolest seats I've ever seen, and what better car to promote them in than the world's coolest drift car!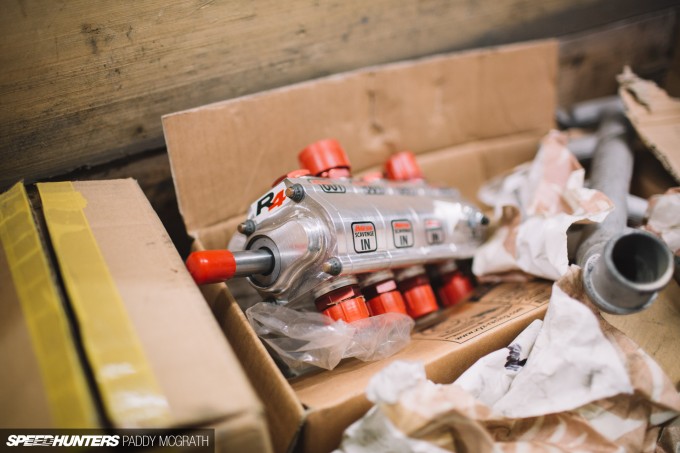 Another item you might have spotted in the crate shot a moment ago is the dry sump pump. Those of you with a keen of eye will also have seen the extra pulley on the crankshaft. Right now we are awaiting a dry sump pan from Bulgaria, and when OBP Motorsport in the UK is finished making a custom dry sump tank the oil system will be complete. We're only specifying the best as failure is not an option with such a rare engine.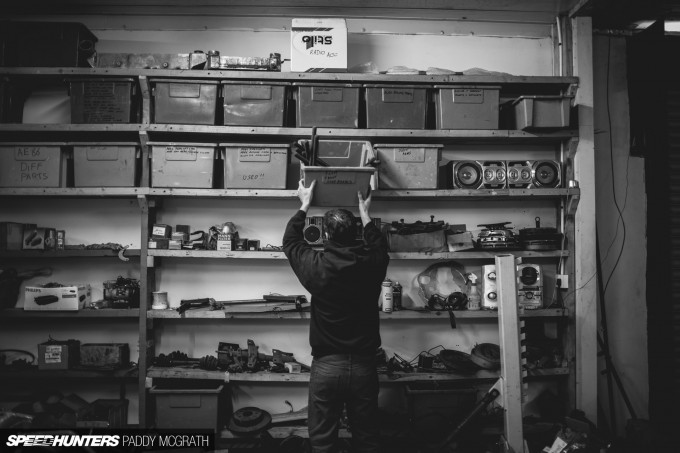 Trying to keep everything organised is a constant battle here…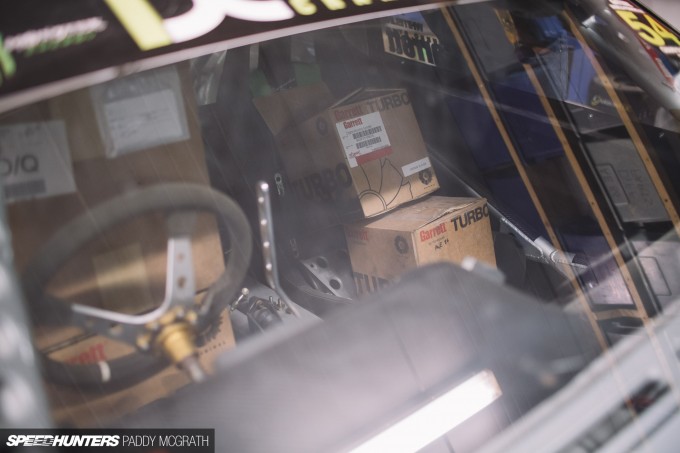 The old girl is lending us a hand by storing the Garrett GTX turbos while they wait to be fitted to the Audi.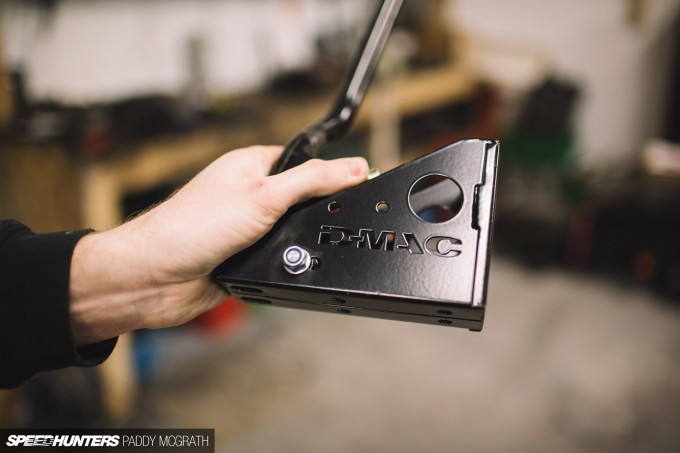 Another D-Mac product that'll be finding its way into this build is the D-Mac handbrake. These vertical handbrakes have a long, bent-lever design and are easy-to-fit, meaning you don't have to make and weld a bracket onto your tunnel to mount them.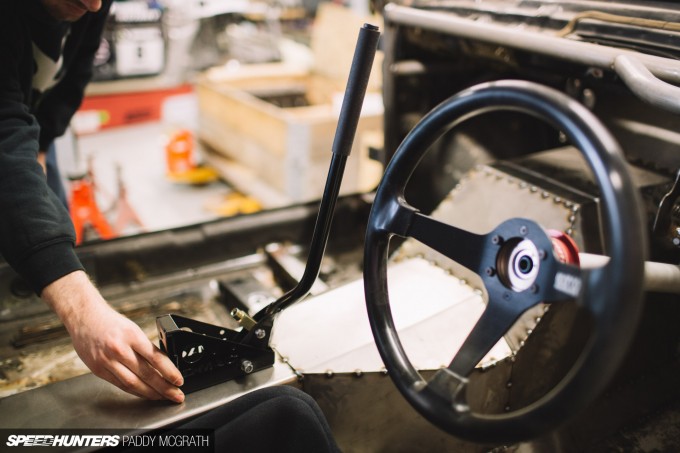 As you can see here, the handbrake can be positioned in the correct place between the gear lever and steering wheel and just bolted directly to the tunnel, saving a lot of time and hassle. We supply both right-hand and left-hand drive versions to suit every car. The Sparco Drifting steering wheel also sits in place here, and with a soft silicone rubber grip it sure is different from the norm.
Boost – We Have It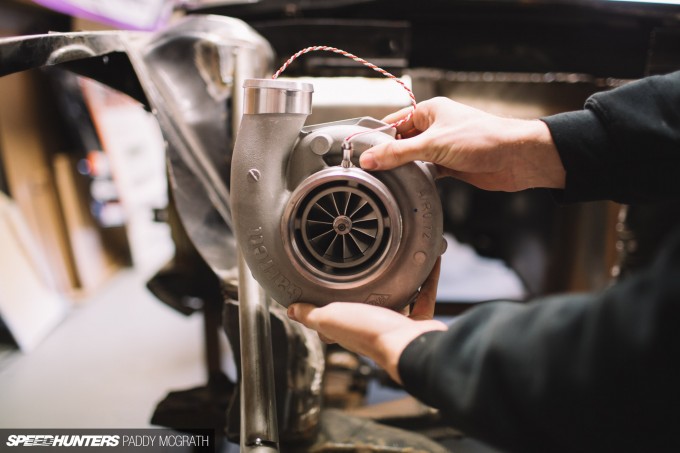 I mentioned Garrett GTX turbos earlier, and I am very happy to be once again working with them on this new project. Garrett have really stepped it up on this one and have given us a choice of turbos to test on the 5-banger so we can see which one works best. This beautiful GTX4088 is my first choice.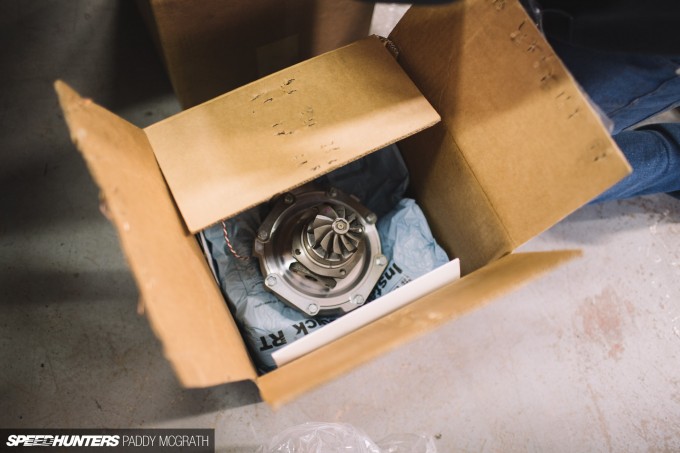 But what turbine housing to use is always the question. I am concerned about having too much lag, but we also need to keep up with the 2JZ and V8 brigade…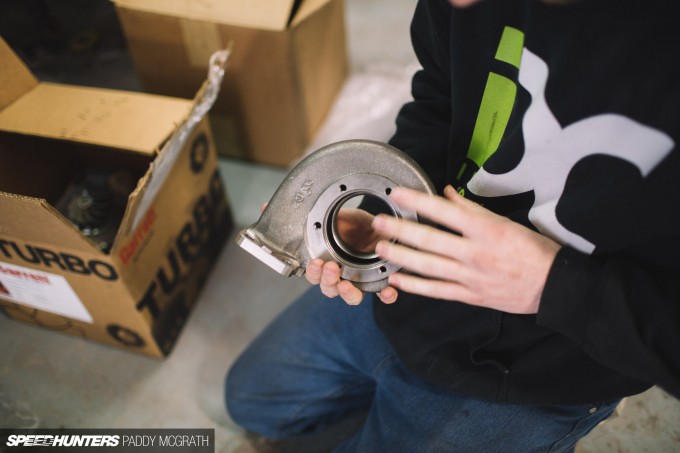 So with the help of ATP, I've decided to run the GTX4088 with a T3 turbine housing. I'm hoping the T3 will be able to flow the figures we are looking for, but also help with the response.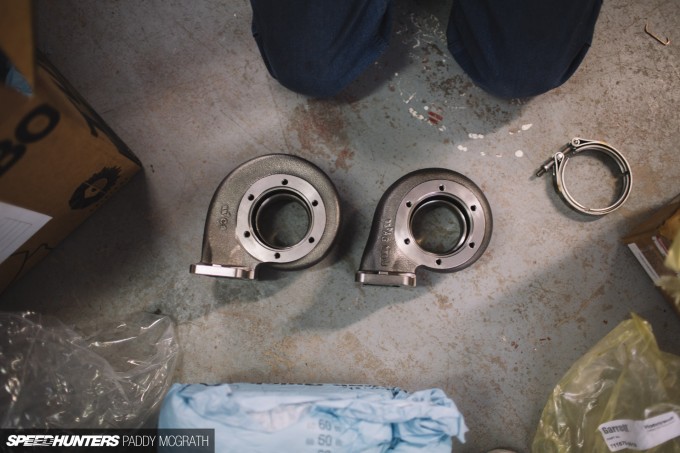 Here you can see the difference between the T3 for a GTX35 and a GTX40.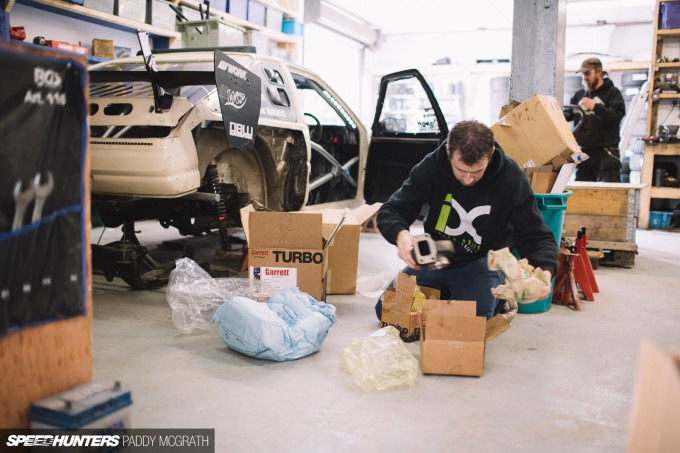 Of course, this is just all mad rambling in my head, and the true test of all this theory will only be realised when the car hits the dyno at West Coast Performance in County Kerry, Ireland. I am fully prepared to switch to a T4 if flow is too restrictive for the 700hp I am looking for.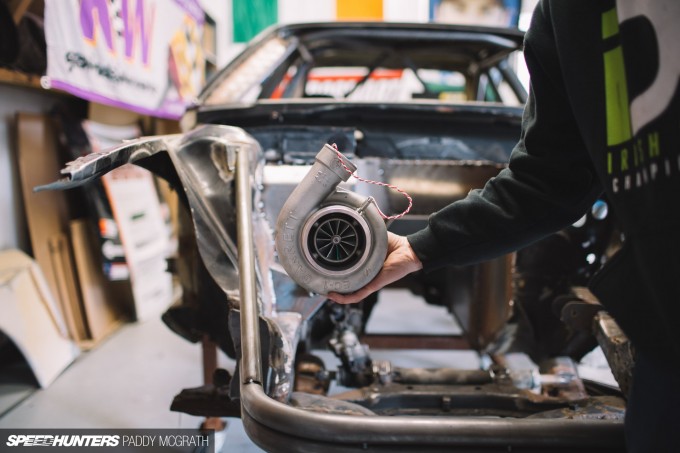 As a back-up plan – and also a possibility for small tracks or indoor arenas – we have the very popular GTX35 ready to be installed. All of the turbos we have are Garrett Supercore GTX spec with speed sensors. We will be monitoring the speed of the turbos as anti-lag systems can over-spin them and dramatically shorten their lifespan, and we don't want that to happen.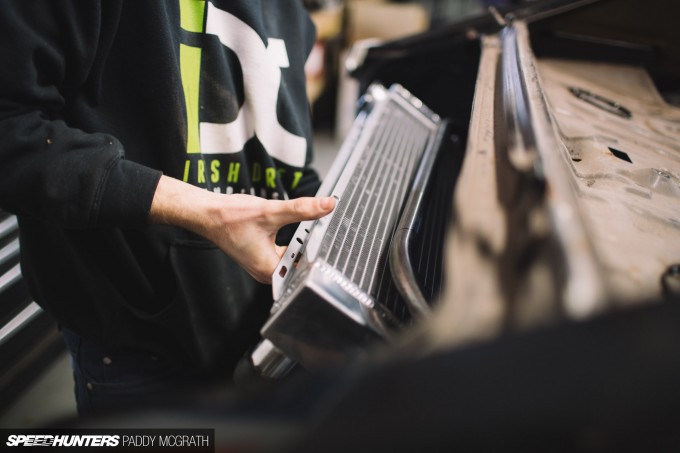 Back to the rear and another company that I've worked with in the past is Mishimoto. Once again, they've stepped up with all the cooling products we require. This race radiator will be mounted at an angle like this to take full advantage of the air being pushed down into the trunk by the aforementioned divider. I wanted to keep the radiator as far back as possible to increase rear weight, but seeing this is a drift car it also needs to be kept out of harms way, so this is my solution.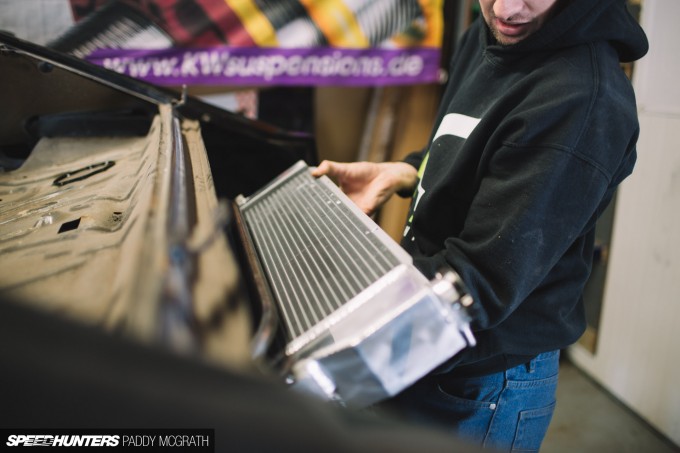 The final position of the radiator will be determined once the Group B spec trunk arrives, and we still need to modify the filler neck. Mishimoto is also providing the oil cooler and intercooler for this project, but we cannot mock them up until the engine is installed, so more on those elements later in the build.
All In The Details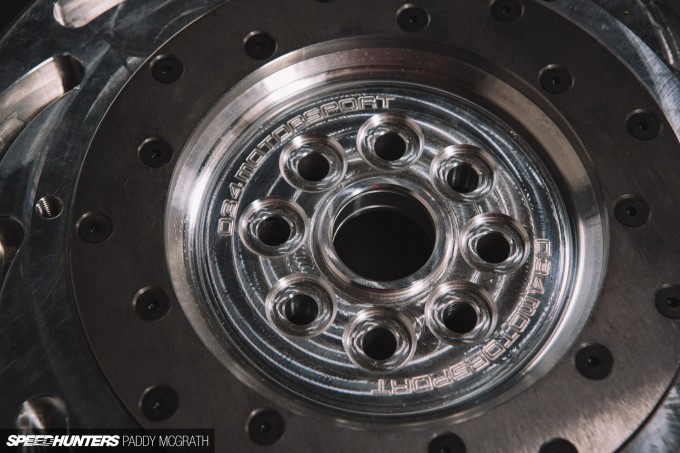 A new partner to the build is VAG tuner 034 Motorsports, and their alloy flywheel is possibly the sexiest car part I have ever seen. Designed to bolt on a 7.25-inch clutch, the flywheel weighs in at only 9.6lbs (4.4kg) and has steel pins inserted behind the ring gear for a 60-2 crank pick-up. So cool!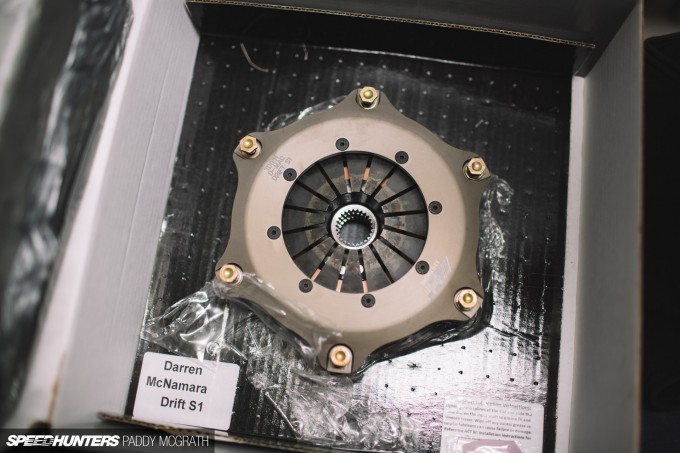 ACT are another new partner of mine and they've provided their top-of-the-line 7.25-inch triple-plate clutch kit for the S1. It's pretty cool that 'D-Mac Drift S1′ came etched into the pressure plate.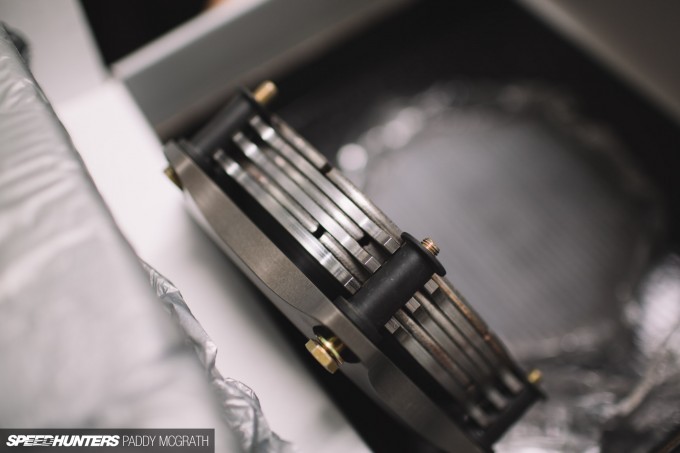 Here you can see the thickness of the clutch kit. It was very important for me to have a small clutch to reduce rotating inertia, which will be kinder on the dog rings in the gearbox.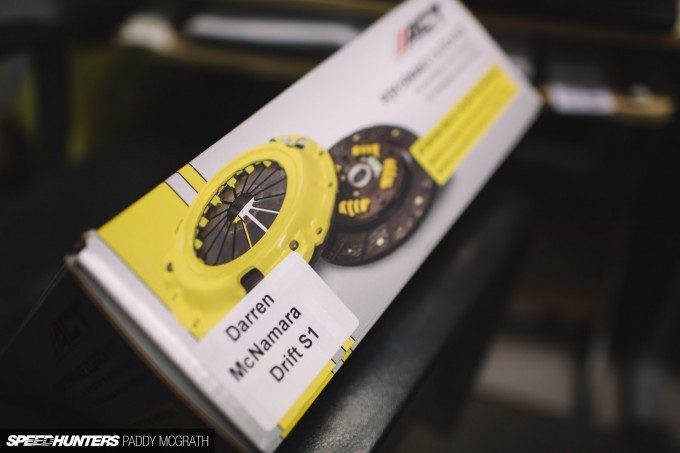 Again, it's the little touches that make all the difference. You know a company is as enthusiastic as you about the project when they spend the time to personalize the parts they send to you.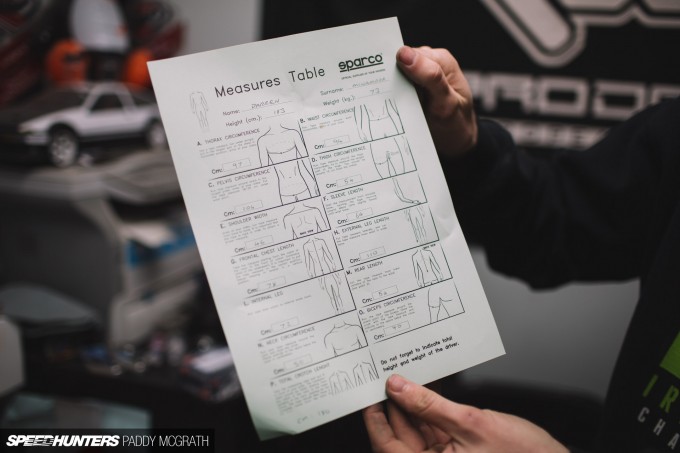 I mentioned Sparco above, and they're also providing a custom race suit for the project. Trust me when I say it's going to look pretty crazy – there definitely won't be another one like it! It felt pretty weird taking all these measurements, but a tailored suit makes a big difference.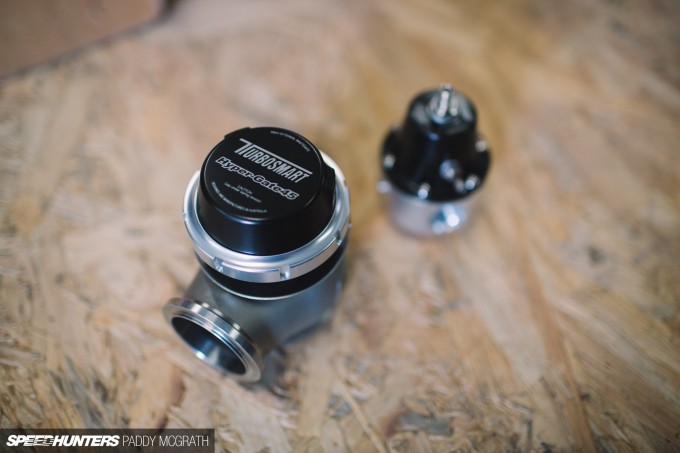 One of the top names in boost and fuel pressure control is Turbosmart. We used their exceptionally high quality products in the 1250whp Falken Tire S14, so they were definitely the people to go to when I decided to build my dream car. Excess exhaust gas will be vented through a Pro-Gate 45 wastegate, but with 2.0bar (29psi) of boost planned, this will stay closed a lot longer than most. An FPR2000 will control the fuel pressure accurately and reliably for us.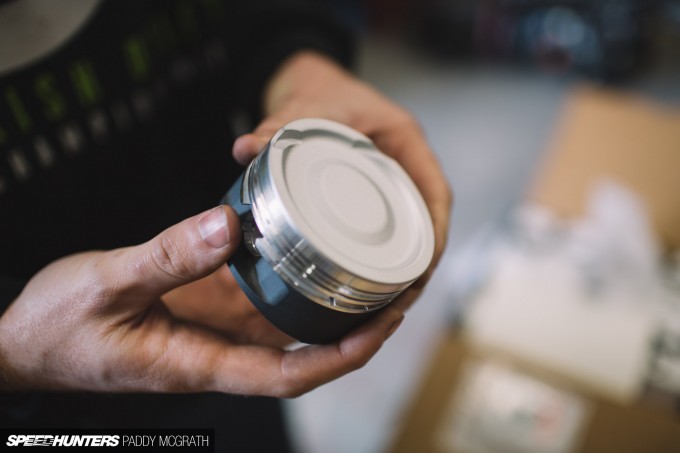 I also worked with JE Pistons on the FD S14 so we called on their expertise for this project too. They made 83mm pistons for the 5-cylinder with a hardened top ring and specifically-shaped crown to handle the anti-lag, and also applied their Tuff Skirt and thermal barrier coatings to increase efficiency. This is the ultimate piston!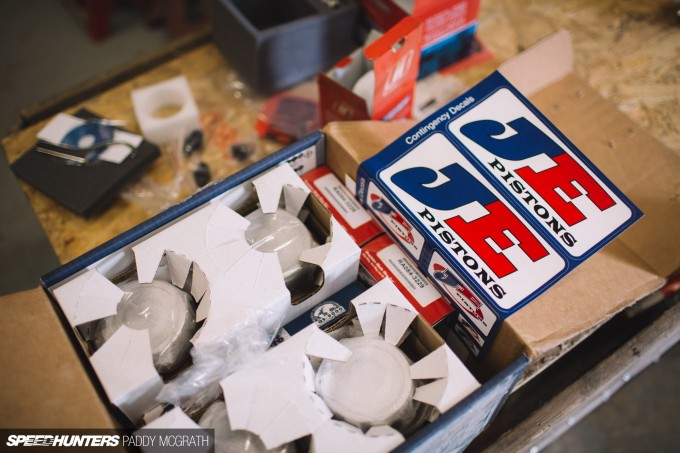 My pistons came in a 6-cylinder box with one space empty, which made me smile. Being different has always appealed to me, and 'off-the-shelf' definitely does not apply to this project. But there is no point being different if it's not spectacular. I am very grateful that all of the companies supporting this build feel the same about the project.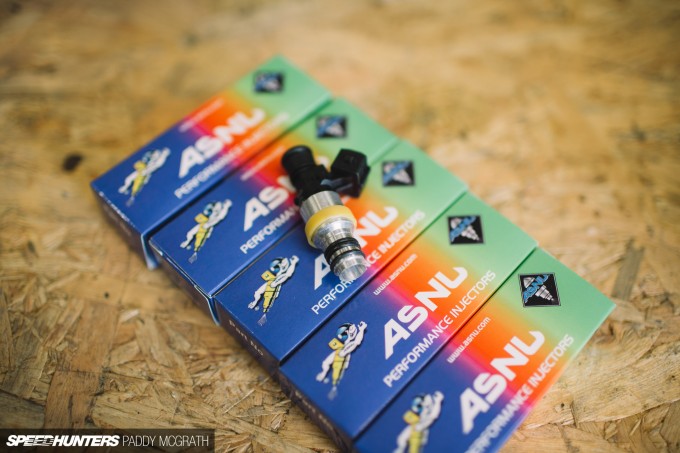 I spoke with a friend of mine about what injectors to use and he told me that ASNU in the UK make the best. So, after a few quick emails back and forth they were happy to supply these 1,300cc EV1-style injectors. With all the best possible parts coming together in this engine, I can't wait to hear it on full boost!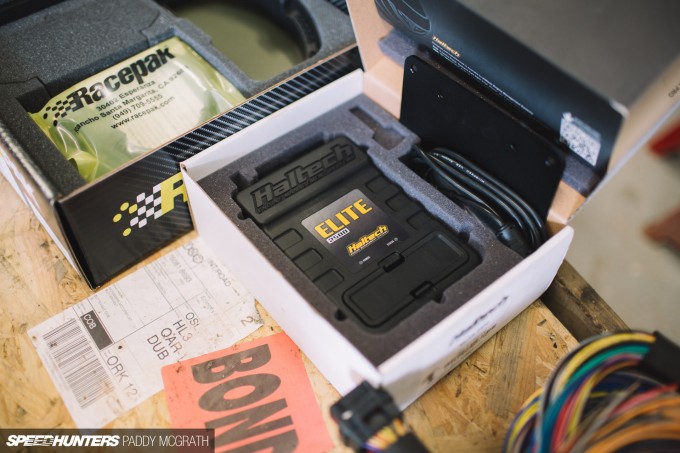 Haltech are another company that I'm very excited to be working with on this project. I briefly collaborated with them back in 2007 with my SR20-powered AE86, but things have moved on a lot since then and they have just launched their most powerful ECU to date. The Elite 2500 will be trusted with controlling everything on the S1, and it has a lot to do. Fly-by-wire throttle, anti-lag, flat-shifting and more will be made possible by this guy. There's a huge box of sensors here and we can monitor stuff like turbo RPM, exhaust manifold back pressure, wastegate spring life via the Turbosmart sensor cap, and my personal favorite – engine crankcase pressure.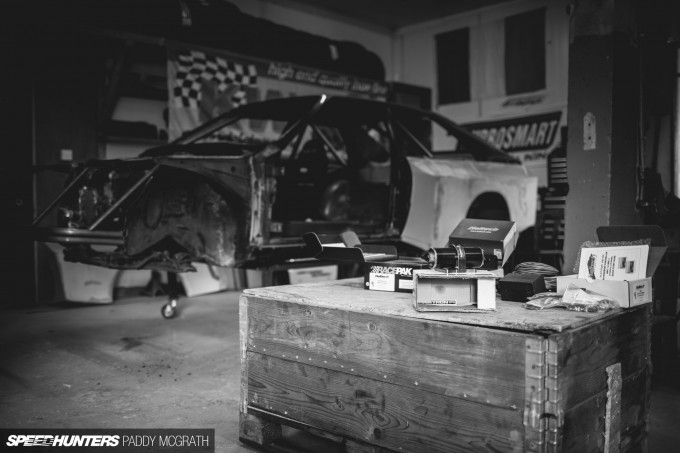 Time to take a breath after that and admire the glory of it all…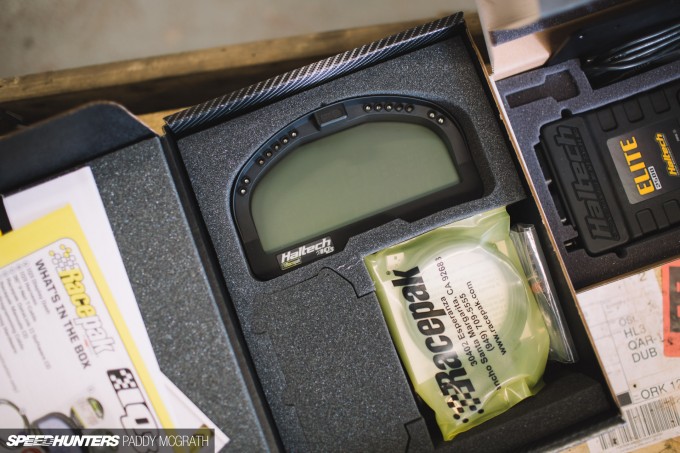 Haltech has also provided its IQ3 dash display, which connects to the ECU via a CAN hub with just a couple of wires and one plug. It then monitors everything from the engine, meaning that no other gauges are required. This setup is so simple it's ingenious. High and low warning LEDs can be set and pages of data can be displayed.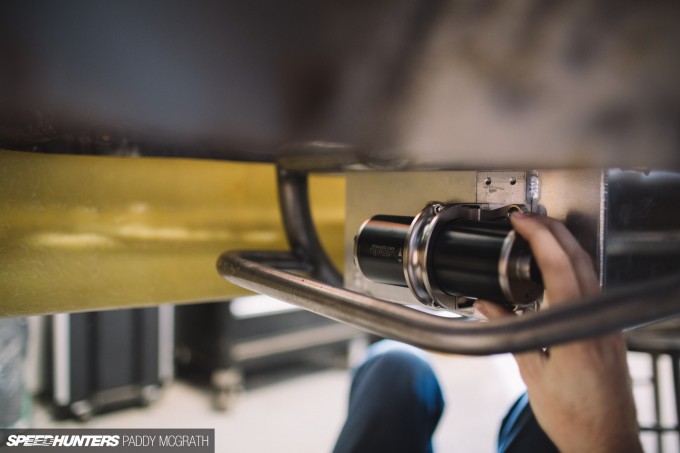 I mentioned earlier that only one fuel pump will be used to supply the engine, and here it is – an ASNU Veyron P1 pump. It'll mount directly onto the D-Mac fuel tank and has the same dimensions as the popular Bosch 044 unit.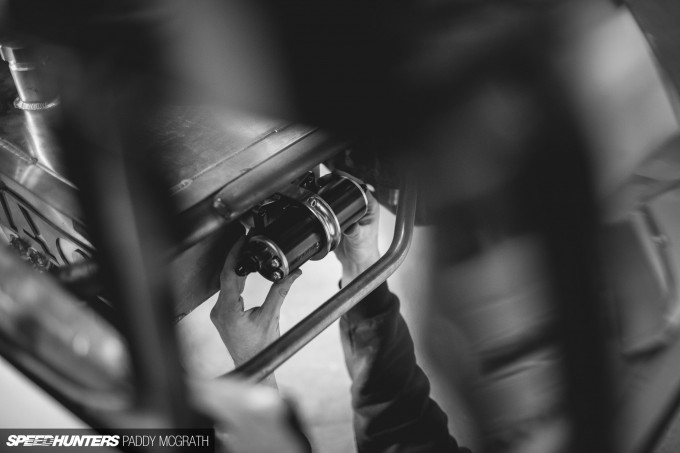 The difference is, the Veyron P1 can deliver up to 600lph (litres per hour) of fuel, which is twice as much as what the Bosch pump can. It also comes with AN fittings front and rear, making it ready for any proper fuel setup.
A Box Of Tricks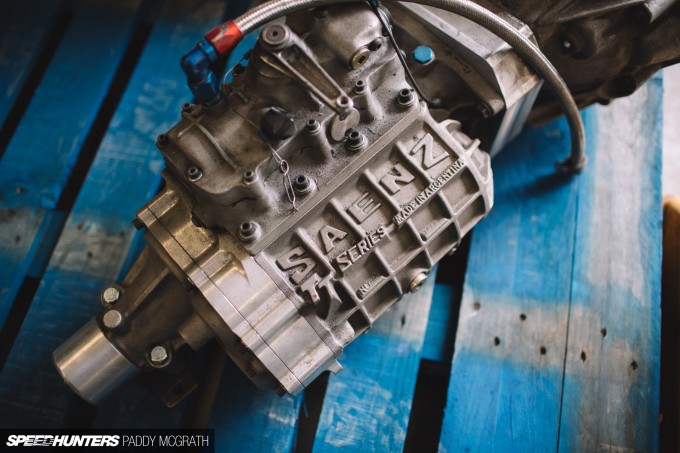 Once again, our transmission of choice is the Saenz TT3 6-speed sequential. This is the gearbox from the D-Mac 86, so I'm pretty used to it by now.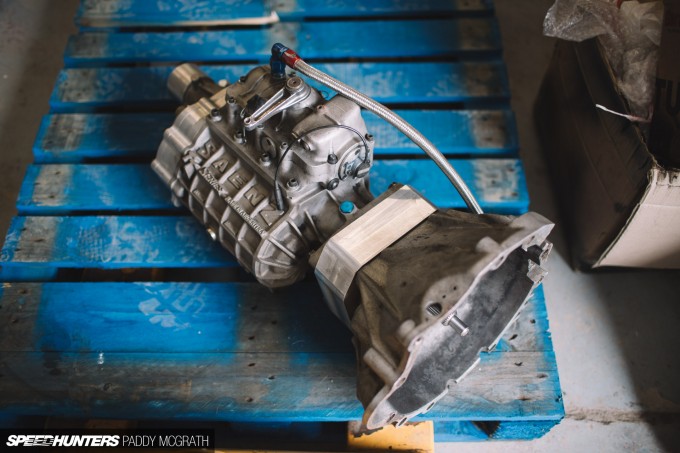 We have an adapter block made to bolt onto the Volvo bell-housing (yes, Volvo!), which fits the Audi 5-cylinder. The crank sensor will also be mounted on the bell-housing to pick up the crank signal from the flywheel.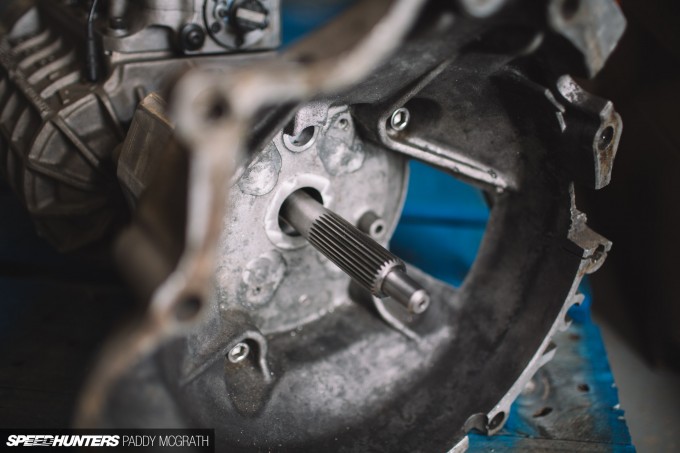 The input shaft is a 26-spline, the same as a Tremec, which made ACT's job with the clutch plates much easier. You can also see that the bell-housing has been drilled for a Tilton hydraulic release bearing.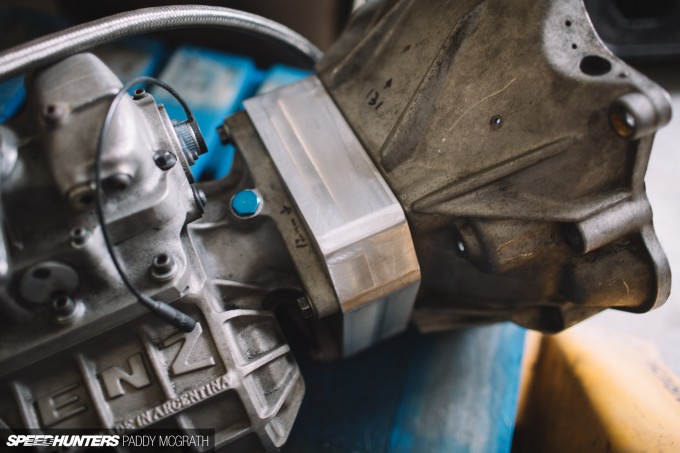 The only change we've made to the gearbox from when it was in the AE86 is fitting the longest and largest input shaft that Saenz make – which is why the adapter block is so thick. We did this to move the gearbox further back to improve weight distribution.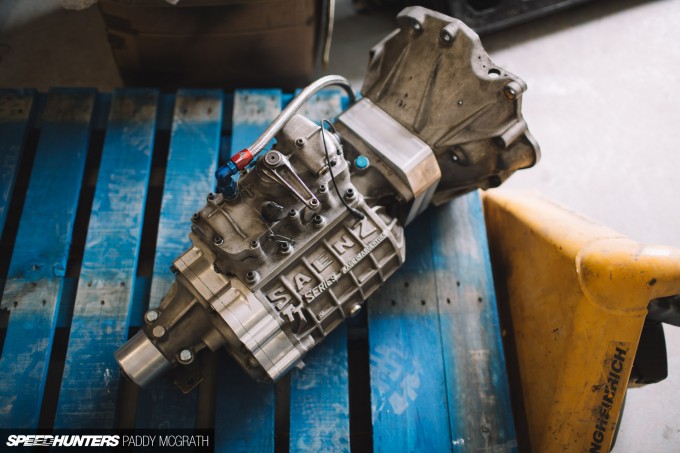 All the transmission parts being used in this build are so sexy that it's a shame they'll be covered up.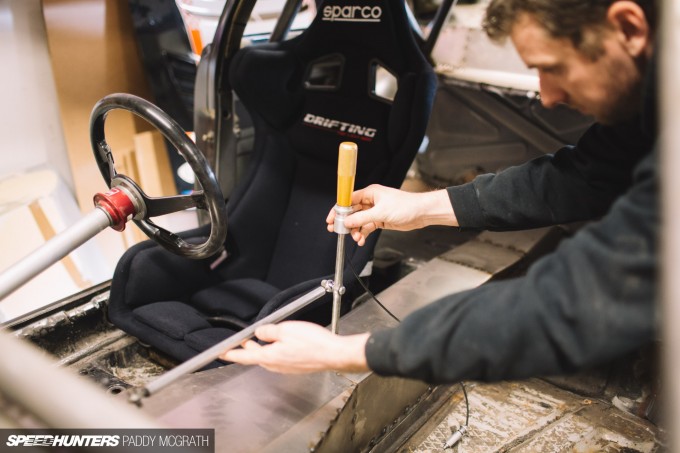 About here is where the shifter for the gearbox will sit.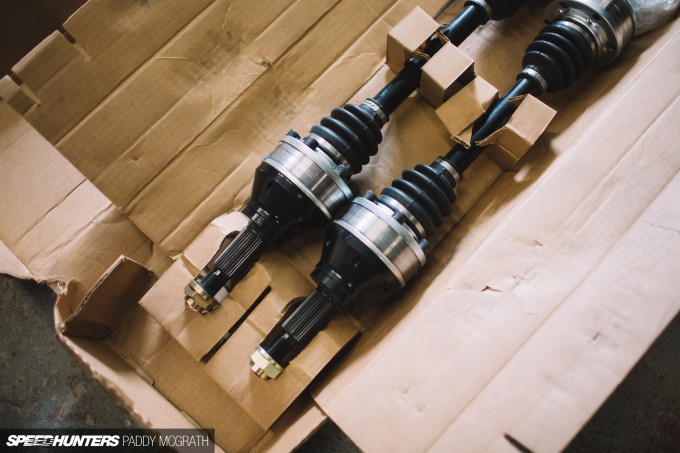 Again, only the best for this project, and The Driveshaft Shop will be a familiar name to anyone who loves big power. TDS has provided us with their 1,000hp axles for the Nissan rear end we are using. The quality of the parts is amazing and I already know what to expect from these guys having used their gear before.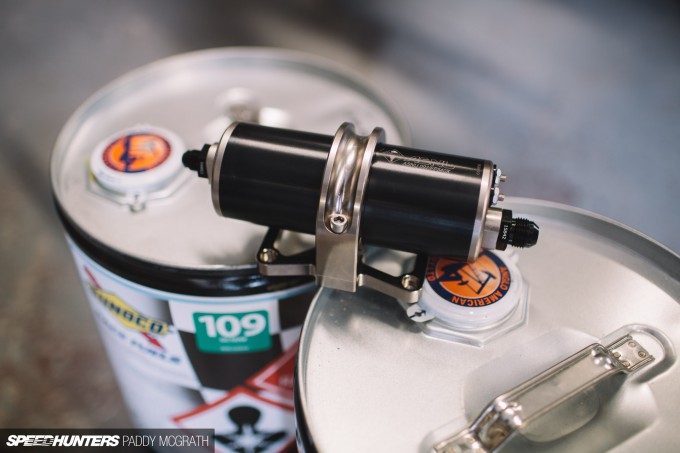 Fuel quality, consistency and supply are unbelievably important and probably account for an alarming number of engine failures. I trust only the best in the business and Sunoco have been supplying me with fuel for a couple of years now. We have had amazing results on our turbocharged cars using their GT Plus 109 race fuel, and running it in the S1 will definitely help the 2.7-liter engine punch above its weight.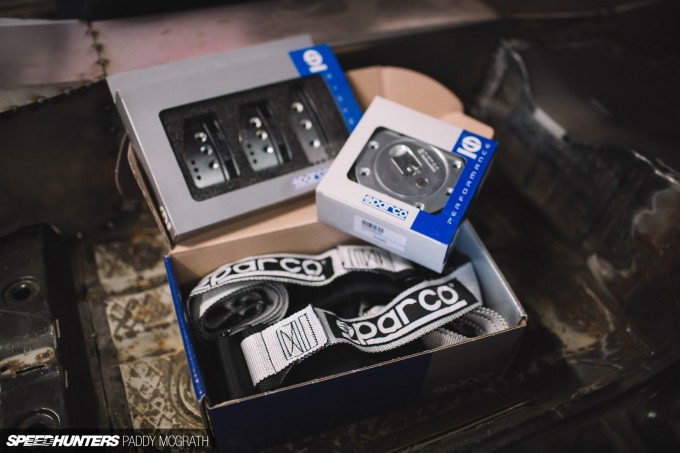 And finally we have the humble essentials. They may not be as glamorous as some of the other parts we have looked at, but regardless of the chassis and engine package, we all need stuff like bonnet pins, harnesses and fuel caps to go racing. Having the best products in the D-Mac S1 is my goal, and Sparco's quality is second to none. Now all we have to do is fit everything…
Until next time Speedhunters!
Darren McNamara
Facebook: darrenmcnamara86
Facebook: mcnsport 
Instagram: dmac86official
Twitter: dmac86
Photos by Paddy McGrath
Instagram: pmcgphotos
Twitter: pmcgphotos
paddy@speedhunters.com