Air Everywhere
The pictures I'm about to show you were grabbed in a little over an hour before getting on a flight out of Chicago. I've been sitting on them for a while, but I remember it being bitterly cold and time being painfully short. Because when I walked in through the door of the workshop, I knew I wanted to stay longer than I was ever going to be able to…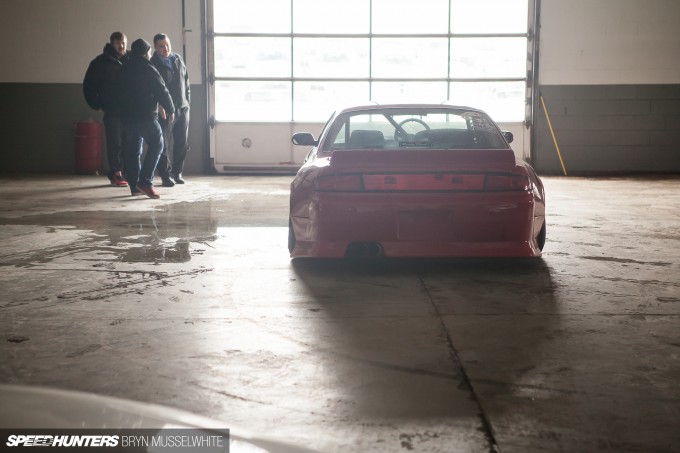 The primary reason for being there was to shoot Richard 'Fish' Fisher's S14 Nissan 240 – a big ol' badass, LS-equipped machine that oozes presence. Think about catching a strong smell of perfume or aftershave as somebody walks by and that's the feeling you get. It grabs your attention whether you like it or not.
But that was just the start of it. There's been a full feature on Fish's Rocket Bunny kitted BRZ in the past, but since then this garage full of interest has sat dormant in the archives, waiting for a reason to shine.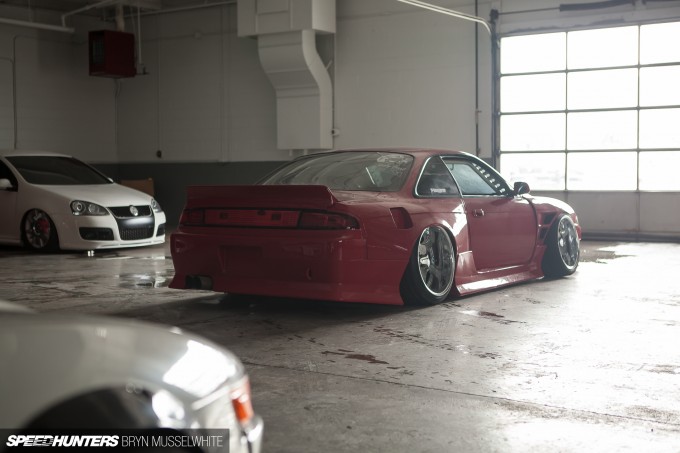 So when the On Air Only theme idea was floated, what better than a whole workshop full of it to show you guys? Although the S14 is very much the meat in this sandwich, there's plenty of pickle, lettuce and condiment to go with it. Or rather a whole slew of air-equipped projects…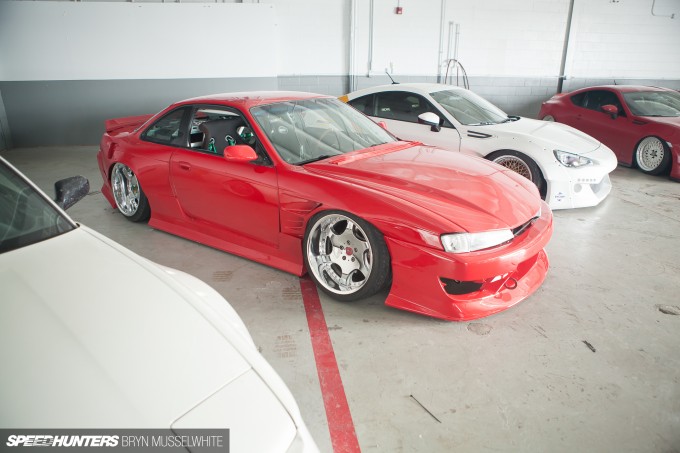 Fish has an enviable stack of cars, and virtually every one of them runs on air. Like many of the Risky Devil guys, he's a firm convert to the air suspension way of doing things.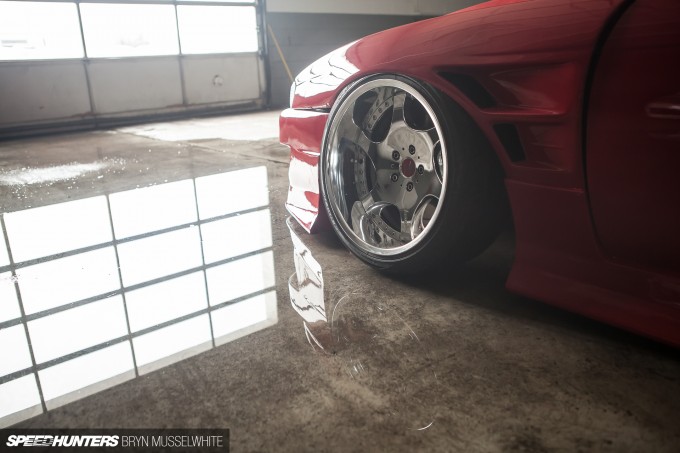 It aligns perfectly with the Risky Devil style: attention grabbing in a subtle way as opposed to using something like wild graphics. It's all about co-ordination for them, that and making stuff look 'right', which is why you'll find these huge Weds Kranze Bazreia wheels all around.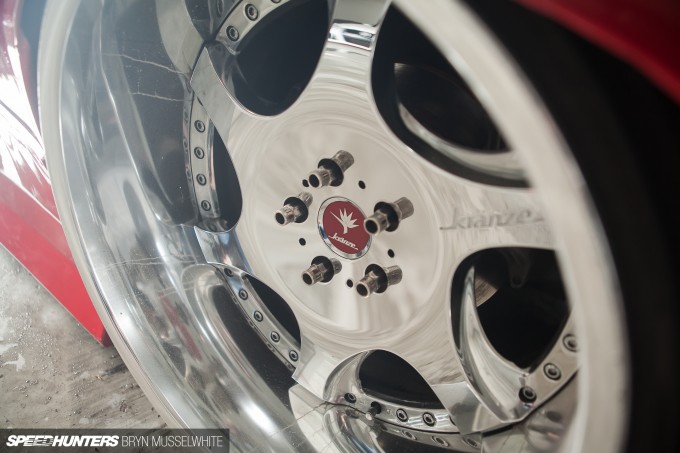 Fish had them built up to his specs, and now they measure 18×10-inch at the front and 19×11-inch in the rear – that extra inch each way adding to the visual impact. But for me, it's the hilarious -49 and -58 offsets they feature which makes them work so well. You'd more normally find this design of wheel on a VIP machine, but I love that feel they bring to this build.
Pork Rind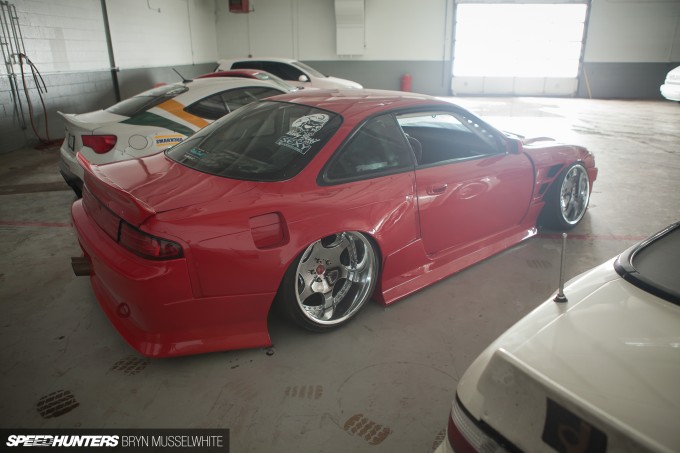 Originally bought as a bone-stock S14 from an older lady, but it didn't stay that way for long. "One of my best friends and I originally split this car," remembers Fish. "It was unmolested and we turned it into a beginner drift car with your basic SR20, coilovers, diff, and of course an obnoxious body kit. That was about five years ago now."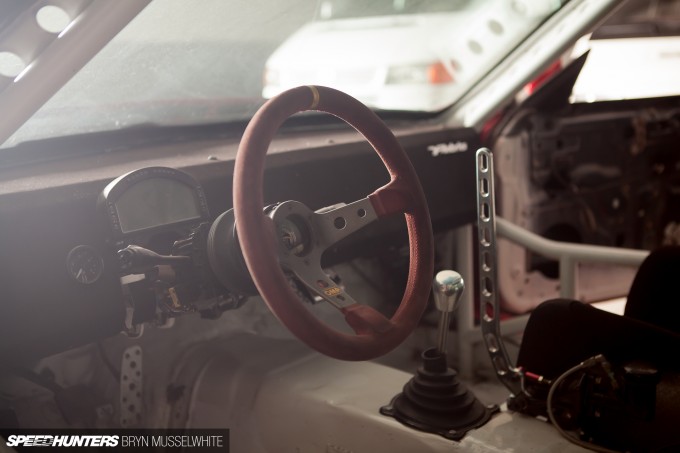 When that friend moved to China, Fish bought him out of the project and since then has developed the Nissan much further. You could say that it's become part of his furniture.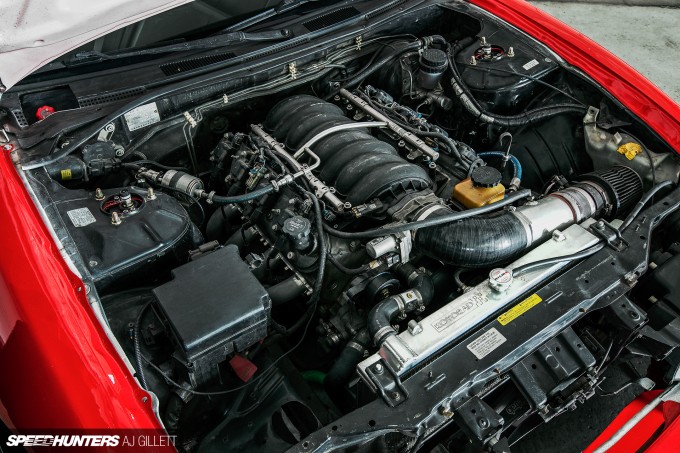 The SR got swapped out a while back and you'll find a familiar Chevrolet power plant in there now. "The reason I did an LS2 swap into the car is simple: power and reliability with ease," Fish says. "I don't care what anyone says – a nearly stock LS is as bulletproof as can be. It has been through hell and back with me, without a hiccup."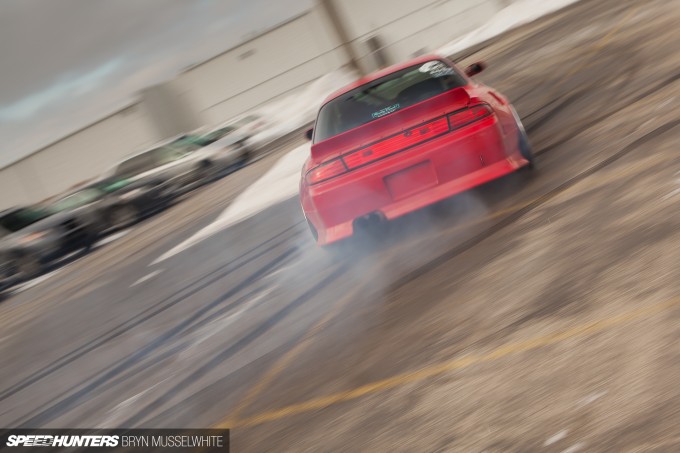 For all the jokes about LS engines being common as muck, and truck engines, they sure do the job well. The Nissan rips tyres and the reliability aspect means it's one less thing for Fish to break.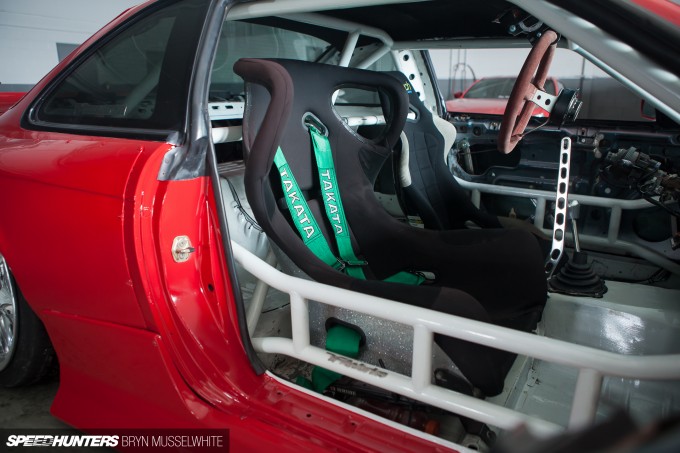 The project has become his campfire – the one that centres the collection. Fish sums it up best: "That car has taught me all I know about drifting and the culture behind it. It will always stay with me, no matter what condition. From tandeming with all my Risky Devil buddies to racing my father down the highway (and winning), the S14 has done it all."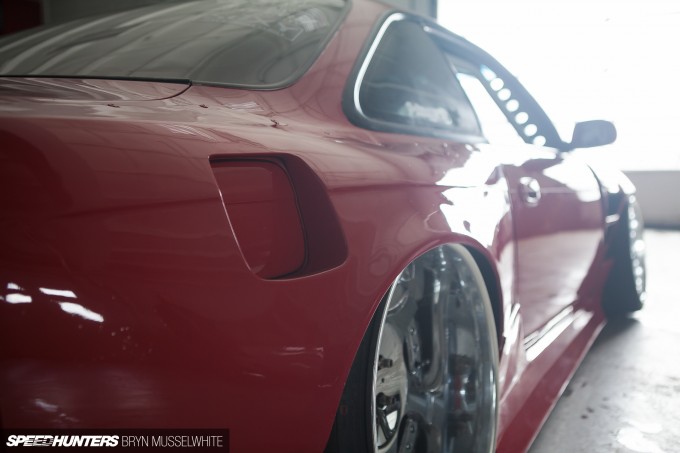 It sits so well thanks to a full setup from Air Lift Performance, which coincidentally is who we met Fish through. Seeing as they're just a few hours drive away in Lansing, Michigan, it's also where new purchases often get delivered for the relevant kit to either be fitted or sometimes developed.
As for drifting on air suspension, it works – it really does. If you have any doubts, then you need to educate yourself on the subject. Take a look at this short video from a grassroots bash and you'll see at least a couple of the cars from this garage – they show it's not going to kill a bus queue full of nuns or kittens if you try it!
Stood To Attention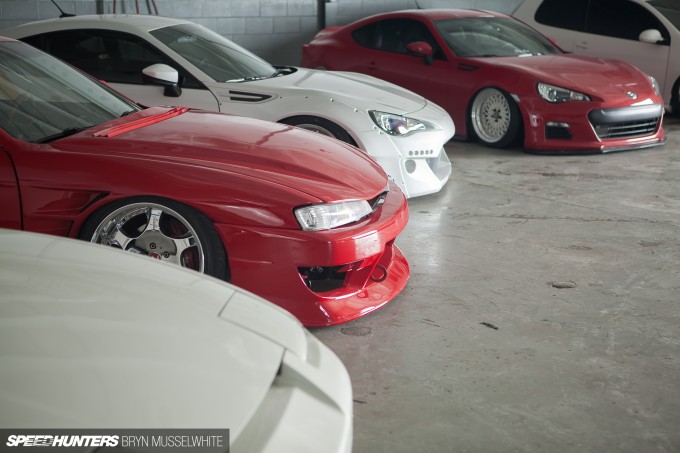 I've teased you for long enough with images of the other cars in the old car dealership workshop. Handily, that's Fish's line of business, so the space makes a perfect impromptu studio. The other ZN6 chassis you can see here belongs to AJ Gillet, one of the original Risky Devil founders, who also took the engine shots of Fish's S14 when my frozen brain forgot to.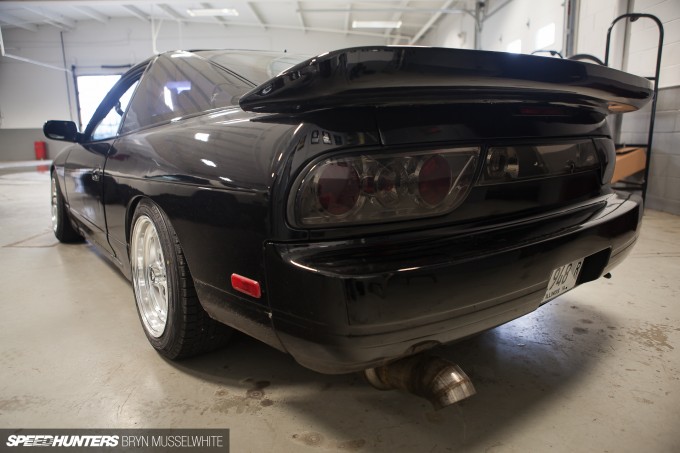 This Enkei wheel wearing S13 is a winter missile believe it or not, but that doesn't stop it from being pretty clean and detailed.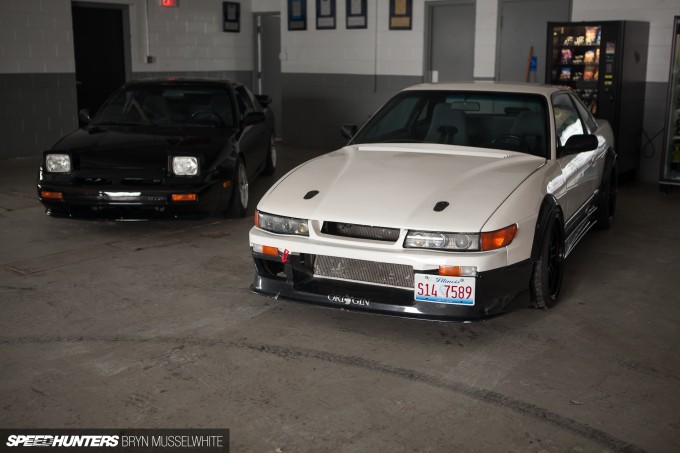 One other car that isn't on air in the garage is this PS13. I really like its panda-like paint scheme and low-key feel.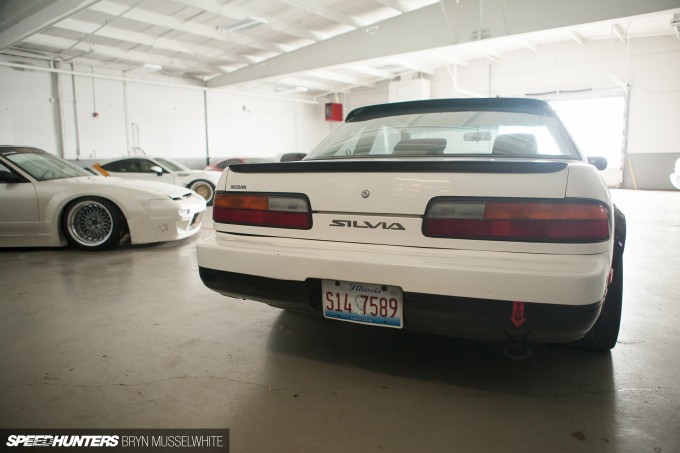 "This is my buddy Matt's car, we call him Taco Matt," Fish told me. "This was one of the first ever LS-swapped 240s – he did it before there was a kit or any real info for the swap. It must have been over eight years ago now, but I could be a bit off. The car is an OG in the Chicago drift scene and in the LS swap scene."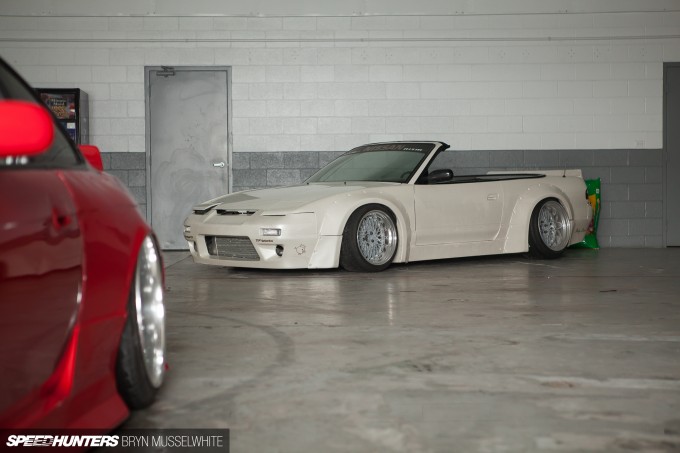 Back to the air-equipped fleet, here's a real rarity, which was built from the ground up with the help of TF Works in Chicago and some friends. Now, I know during summer Chicago gets some decent sun, but seriously, what prompted Fish to chop the roof off? "It started life as a bone stock S13 'vert and we turned into this absolutely gorgeous and useless creation," he says on the subject.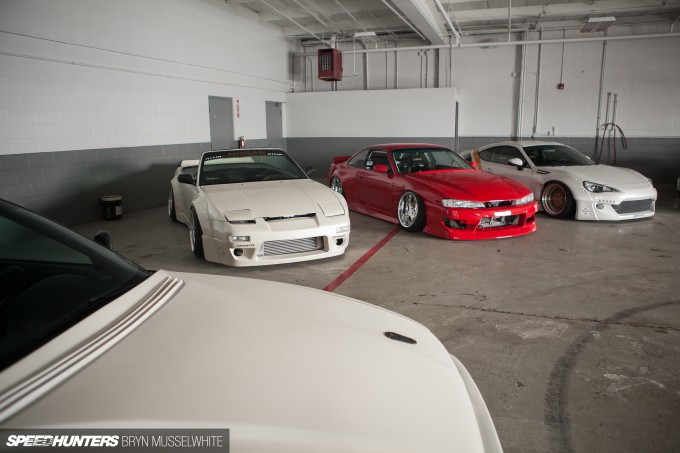 "My whole goal with the car was to try and build a 240 that no one else has [which is very tough nowadays]. I believe I succeeded though. It's beyond useless, but I was okay with that as I have the S14 as my functional toy."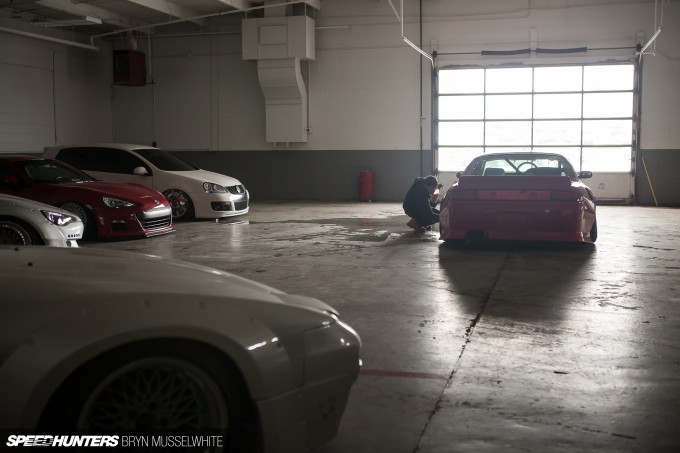 Going back to that thing about co-ordination, you'll notice that the Risky Devil signature colours are almost exclusively white or red. But as far as models go, pretty much anything goes. The white Mk6 Golf was originally Fish's but he sold it to good friend Niko. This is a complete build that I'm kicking myself now for not taking more pictures of. Fish saying, "If I had to say one thing about this car it would be 'dialed in'. The car is daily driven, thrashed, abused, and it loves every minute of it. The Air Lift kit handles like no other, and although it just looks like a wide-body Golf R on air and wheels, it isn't. Pushing a little over 300 wheel [horsepower] and with fine tuned air, it moves in every which way."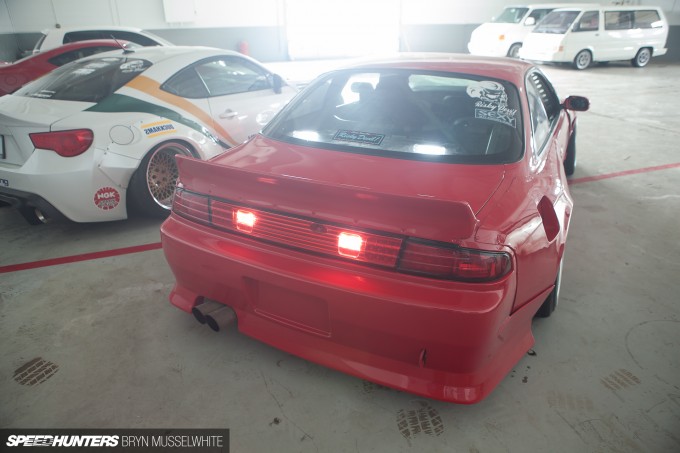 Another car I should have shot more of is the Nissan Van in the background here. We had a quick and hilarious ride in it, Fish telling me, "It's the rarest car in the building. The Nissan Van [that's the model name – just Van] is the only, or first car in US automotive history to be fully recalled. Every Nissan Van was bought back from the owners and destroyed as they kept catching fire and that wasn't the most ideal situation."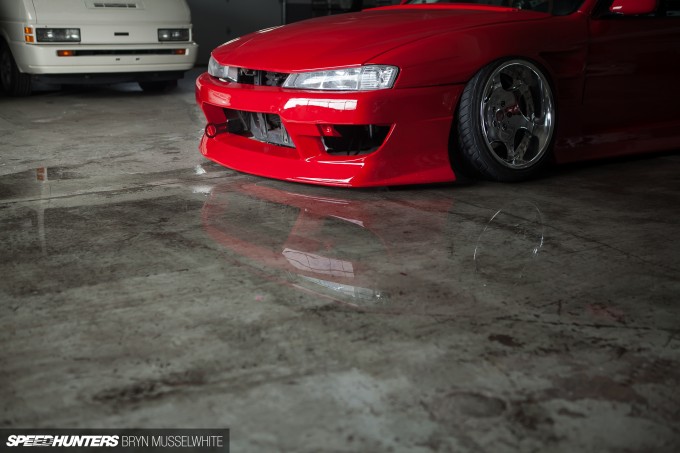 "This one was saved and swapped with an SR20 to try and prevent the whole fire issue. It was absolutely spotless and was bought by AJ and I from California."
Seems Legit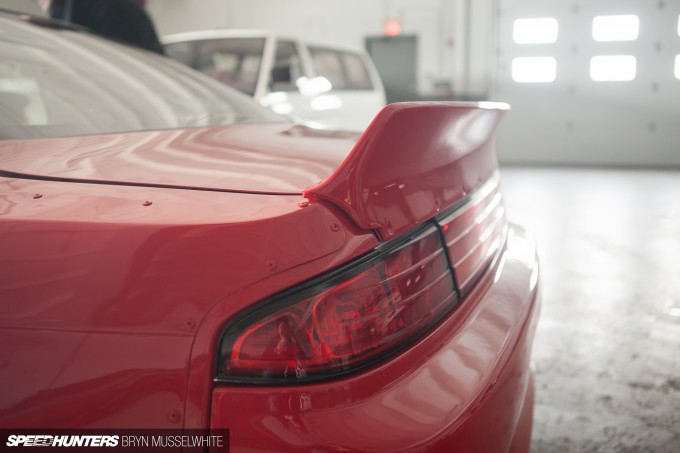 So what's the moral of this story? What ties this line-up together? That's what's been riding around my mind like a free-roaming unicorn as I write this. I know… all unicorns are free roaming, duh.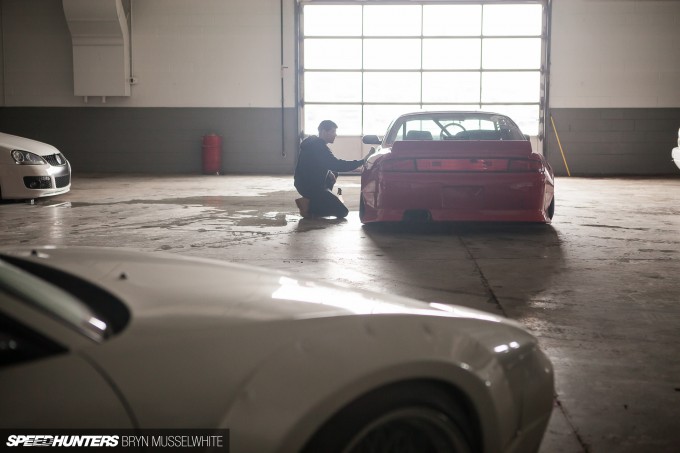 Well, for one, there's the passion – that's evident everywhere. Fish has got a lot of cars, and I know what you're thinking, because I guess everybody who sees this kind of line-up wonders the same thing – how does he pay for it all? By working long hours and being good at what he does.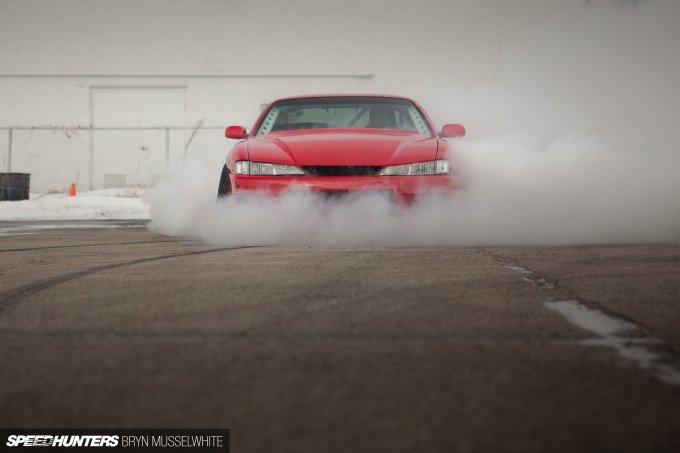 But it's passion that binds the Risky Devil together, and it's why I reckon their builds work so well. That common bond means you're building your car as part of a team, crew or whatever word you want to give a group of like-minded people.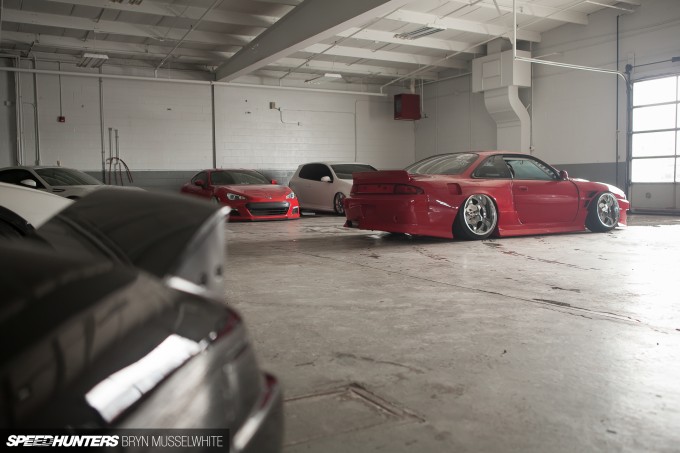 I think what I (and hopefully you) can relate to most, is that what although at first it might appear cliquey, is actually the opposite. Because where you might be honed-in on one model, your friends make you open your eyes to others.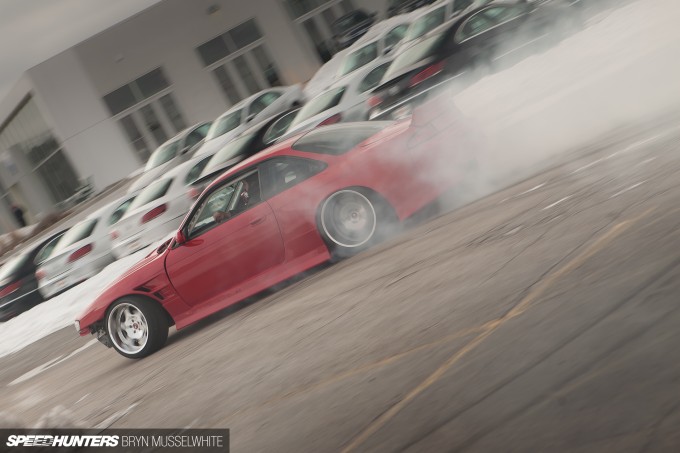 So instead of it being a one-make-only thing, there's a whole range of makes and models. It's the style that smooths it all together, bridging the gaps where you'd usually have to join another forum or owners club to be accepted.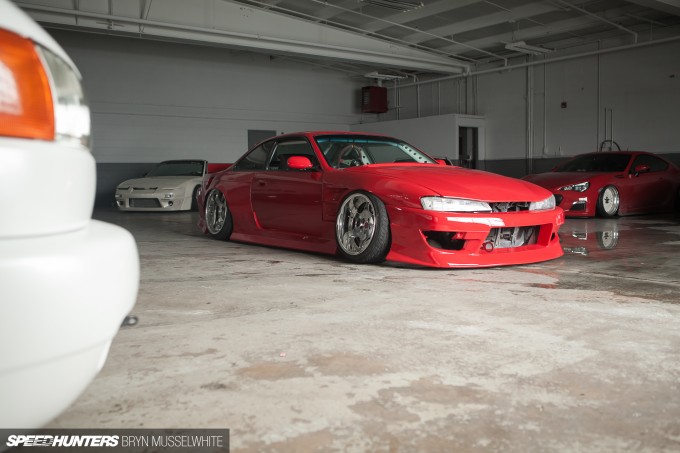 And the Risky Devil choice of air suspension is another important key in that ethos. Yes, I know as a modification you can choose to change the suspension on every car, but for too long air suspension in particular has been branded as a style thing. Just a 'look', a fad even.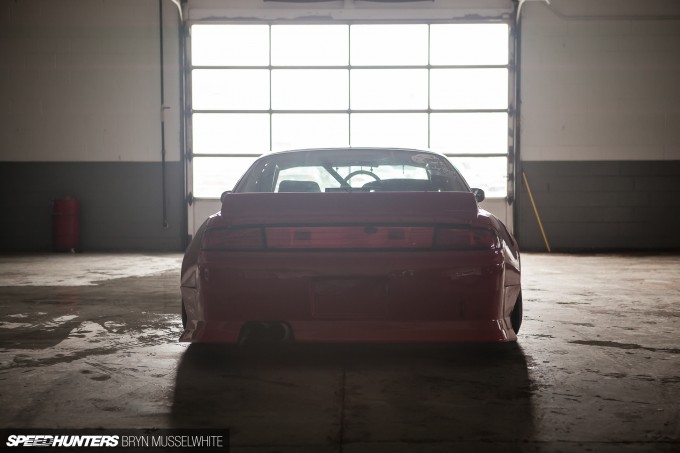 But it's so much more than that.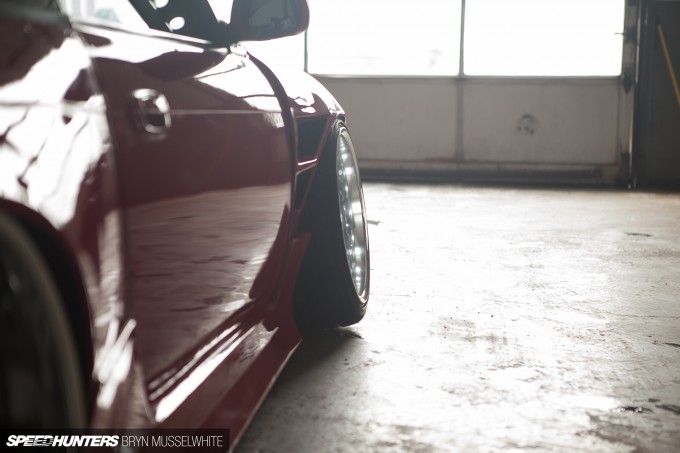 Its time is here and now – you can have your cake and eat it too. You can have your desired stance and you can drift it. So maybe that's why these pictures sat around for so long, waiting to tell the message that they really sum up.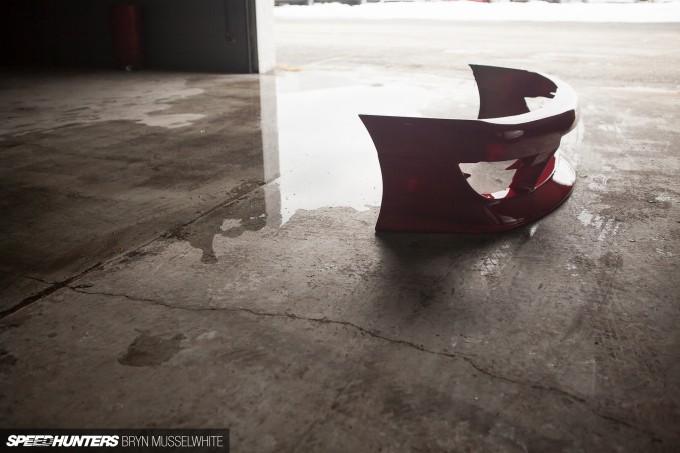 Things can go wrong and right in a heartbeat, so it's probably best to just get out there and have some fun. Sound like a plan? As the old saying goes, 'Don't take life too seriously. Nobody gets out alive.'
Bryn Musselwhite
Instagram: TwospeedBryn
bryn@speedhunters.com
Cutting Room Floor