Japan Tuned
Most car enthusiasts wouldn't really associate Japan with Porsche tuning. Sure, Nakai-san and his RWB movement has been at the center of countless exposure over the years with how he takes ordinary 911s and gives them a new, more aggressive visual presence. But actual engine tuning? Yep, you've guessed it – in a country that pretty much modifies anything on wheels, there are plenty of Porsche-specific workshops that specialize in performance.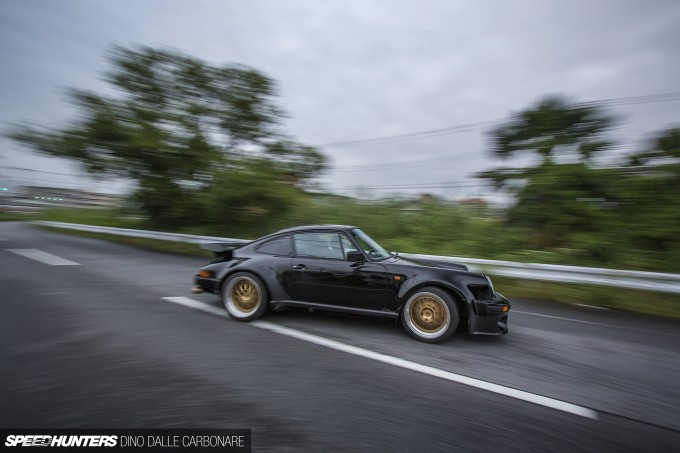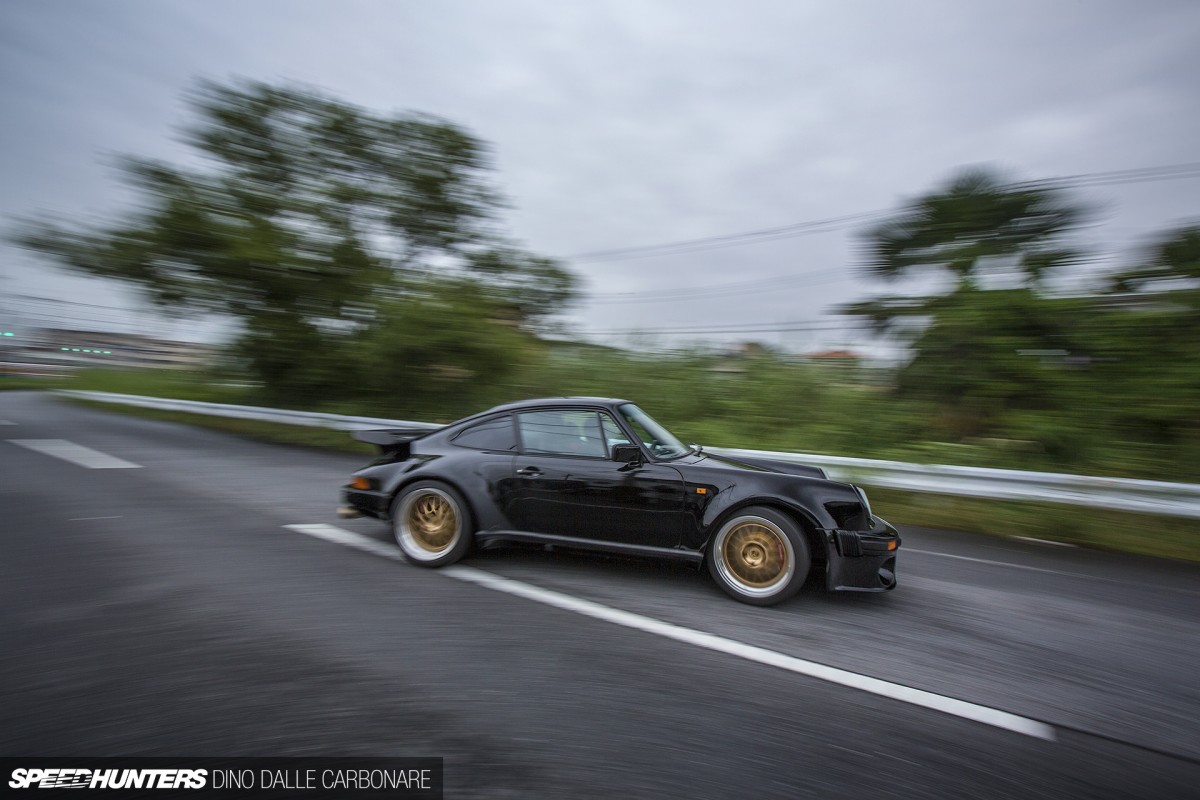 If you're into 911s then one name you might have heard of before is Promodet – a well known and respected Porsche tuner located in the Saitama-ken countryside. It's a shop I first visited a few years ago, and at the time I promised myself that I'd return to check out some of the cars they've built for customers. The funny thing is, the perfect car to showcase Promodet's talents actually found me – all thanks to Nathan, the owner of the red RWB 964 Carrera 2 that I featured back in May.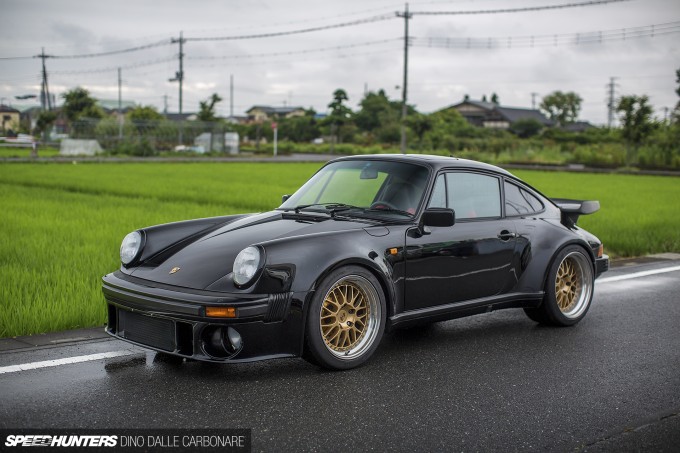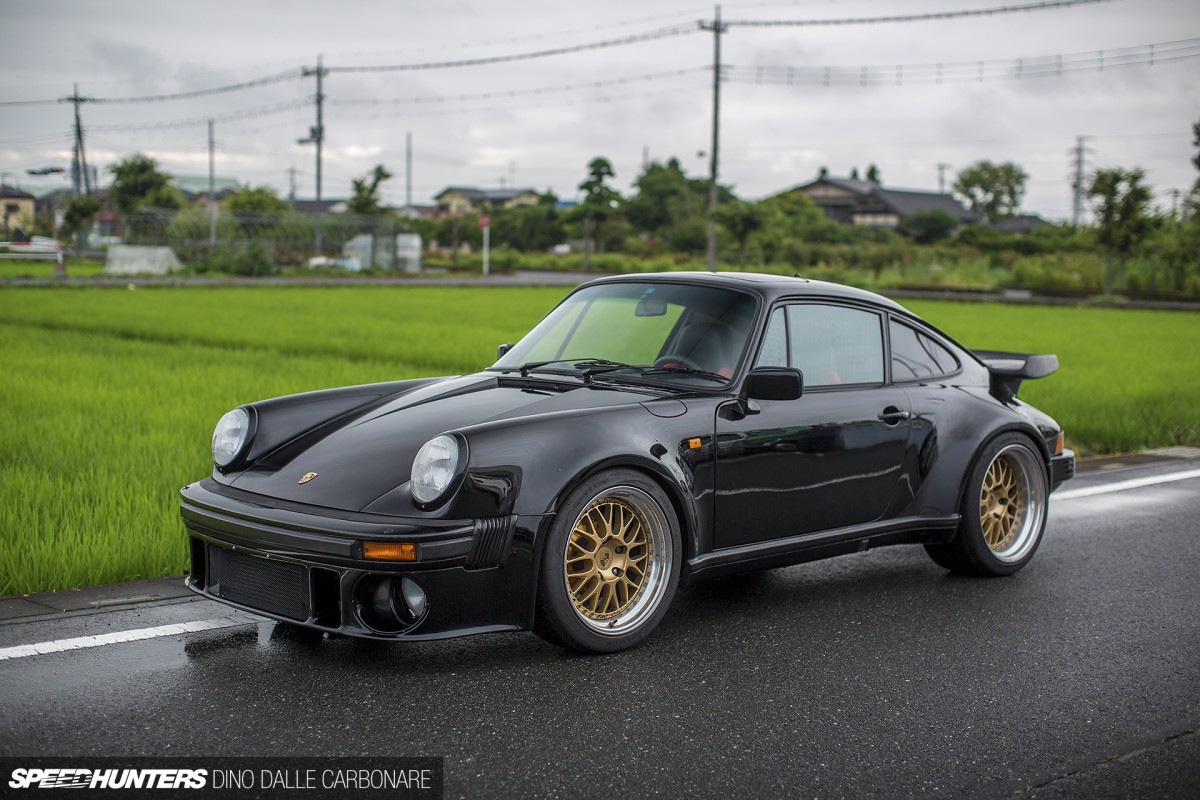 At the time it was Nathan's last few nights in Tokyo, and he was making the most of it prior to shipping his RWB creation back home to the States. But he had such a blast immersing himself in Tokyo's automotive nightlife and regular weekend events that he ended up extending his stay by a couple of months. And can you blame him? There was one more reason too: the final setup and prep of another car he picked up in Japan – this time for his father.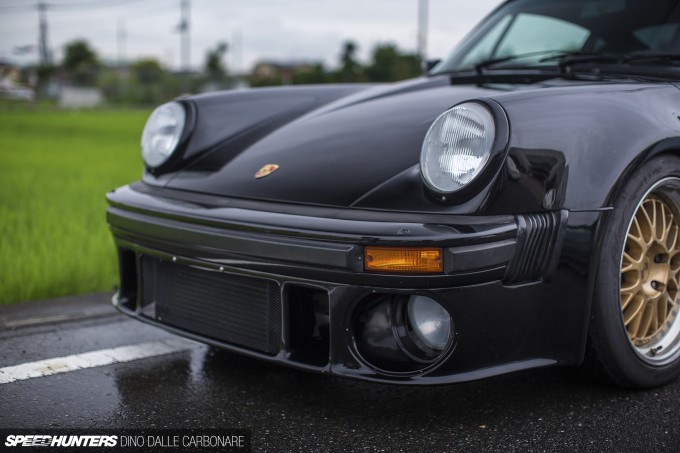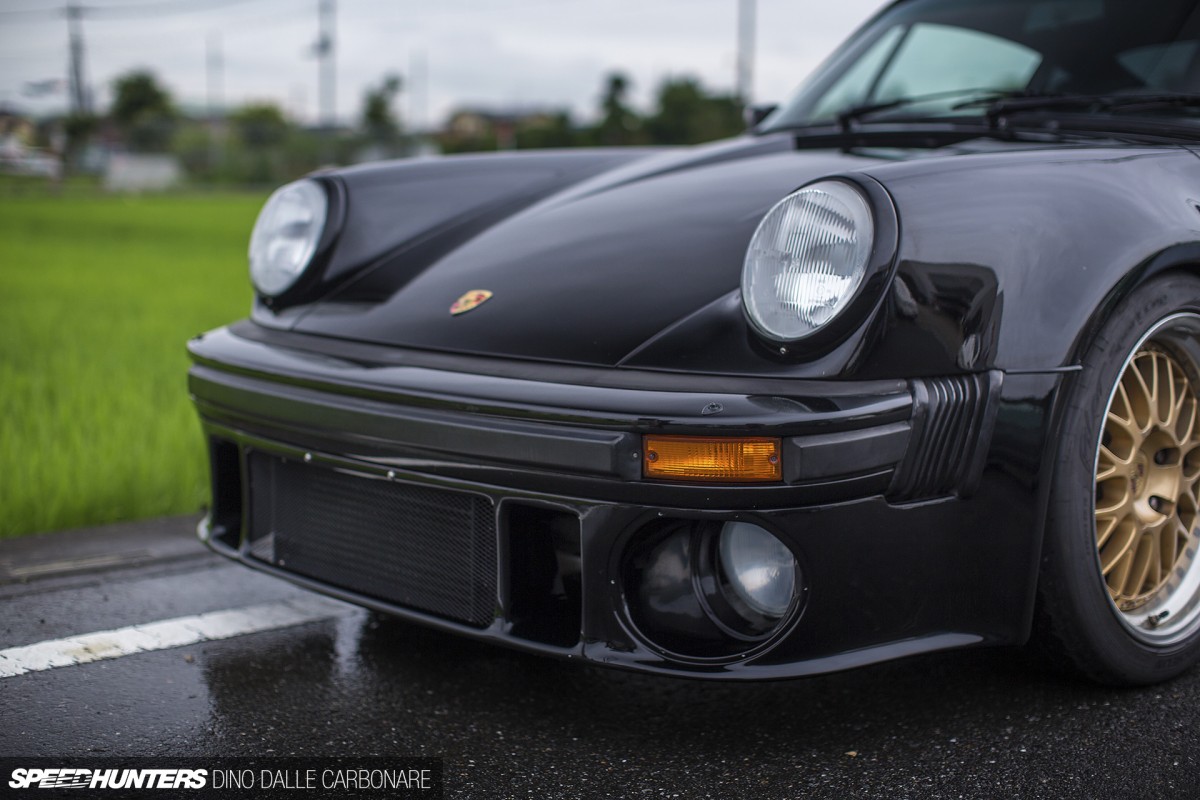 Like the base for his RWB car, this black 1986 930 3.3-liter Turbo was a bit of a chance find. Promodet originally built it for another customer, but when Nathan caught wind that the owner was looking to part with it, he jumped at the opportunity to purchase – and for good reason. Stock 930 Turbos are cool enough in their own right, but this particular car was pieced together in a specific way – that of the famous 'Black Bird' that Komine-san at Promodet built back in the early '90s to compete in the then popular high-speed challenges at the now defunct Yatabe proving ground. It was a beast of a machine – a true Wangan warrior packing massive horsepower and good for a 340km/h top speed in official testing. The 911 you're looking at right now might not be that exact car, but it's been built in the same way – by the same guy – so it's as close as you'd ever get.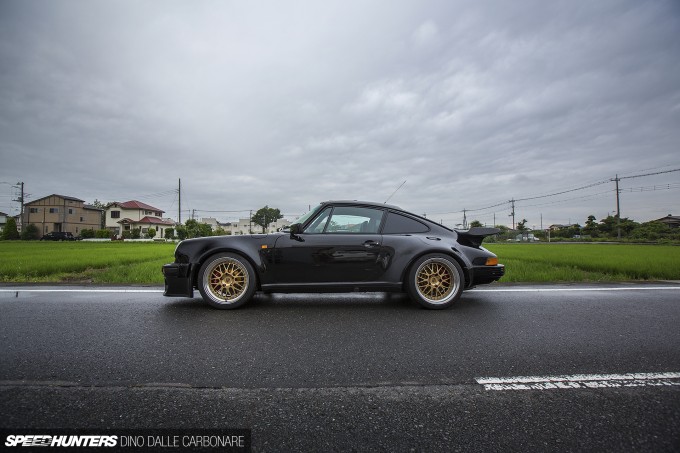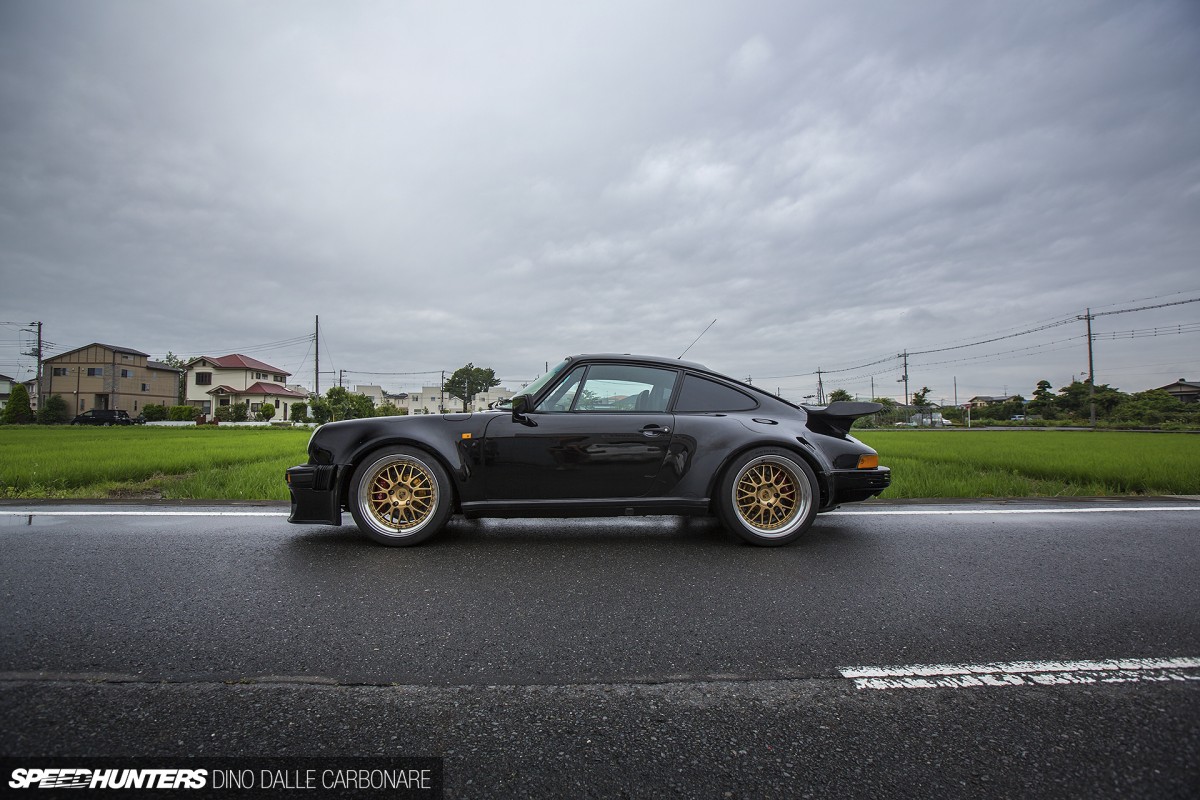 Like the RWB car, the plan was to export the Porsche to the US, but not before it was subjected to a thorough going over and overhaul where required. In this instance, Komine-san fully refreshed the engine and driveline to ensure the car was in optimum condition. When I received the call from Nathan telling me that the car was ready, there was less than 24 hours before it was due to be picked up by a transporter and taken to the port. There was no time to lose, but being right in the middle of the rainy season I was preparing myself for one hell of a wet feature car shoot.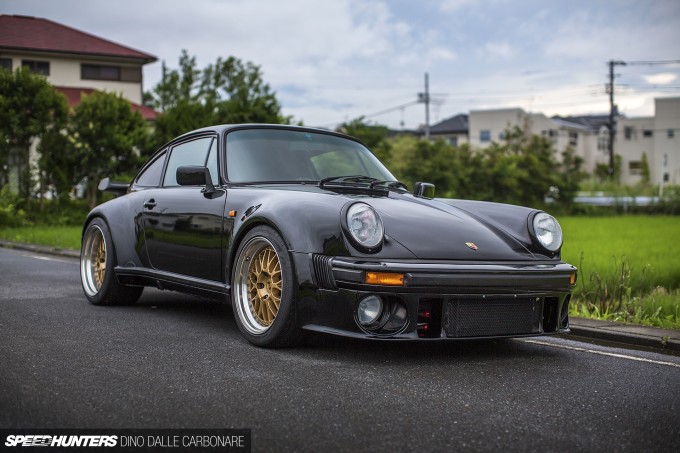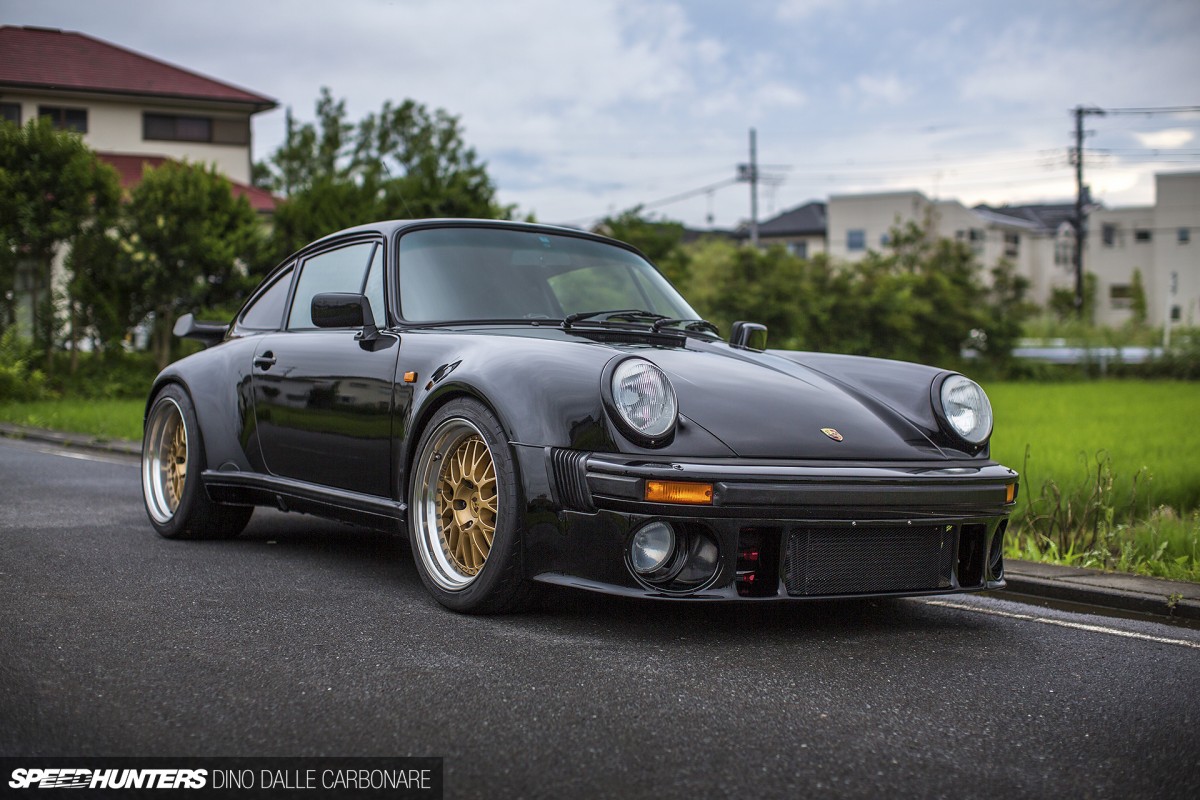 But amazingly, the gods of photography and guardian angels of Wangan racers were looking down on me, and when I pulled up at Promodet the rain miraculously stopped and the clouds even showed signs of clearing up.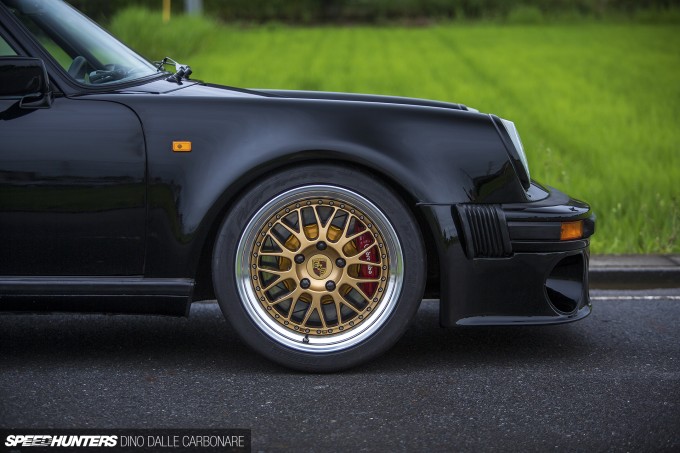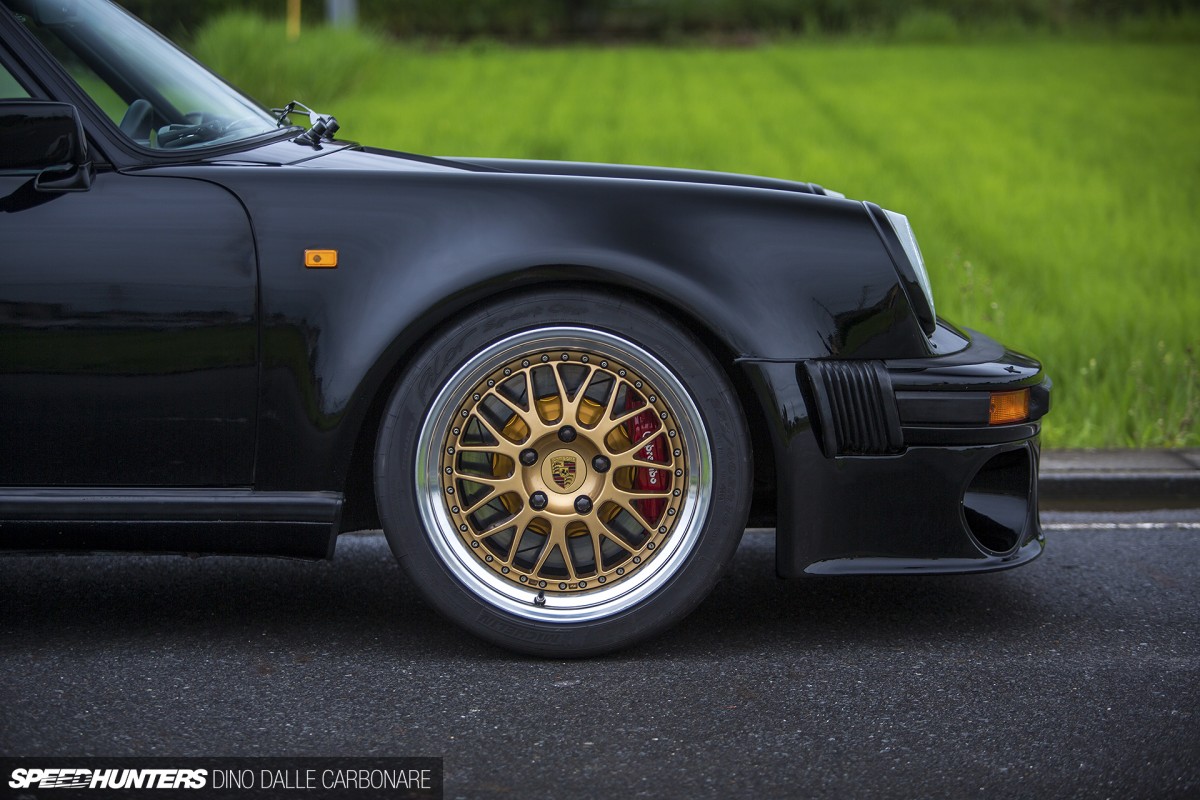 Seeing as the guys at Promodet had spent most of the morning cleaning and detailing the 930, it was great that their efforts didn't go to waste. Not that rain would have mattered, because no amount of water droplets would shake the badass presence this car exudes. The fact that the Porsche only really wears one main aesthetic upgrade – an Auto Garage TBK front bumper with massive projector housings and gaping air intakes – is testament to how right the folks at Stuttgart got the 930 Turbo's shape a whisker under 30 years ago now. It's that bumper which sets off the tone of this build: an unquestionably Japanese take on Porsche tuning, which starts with the wheels.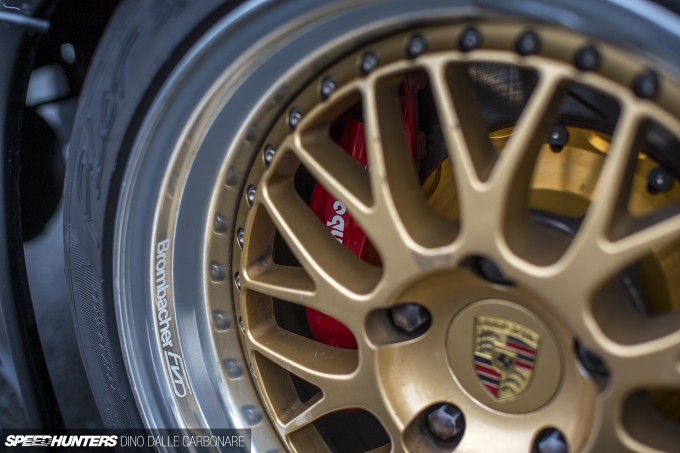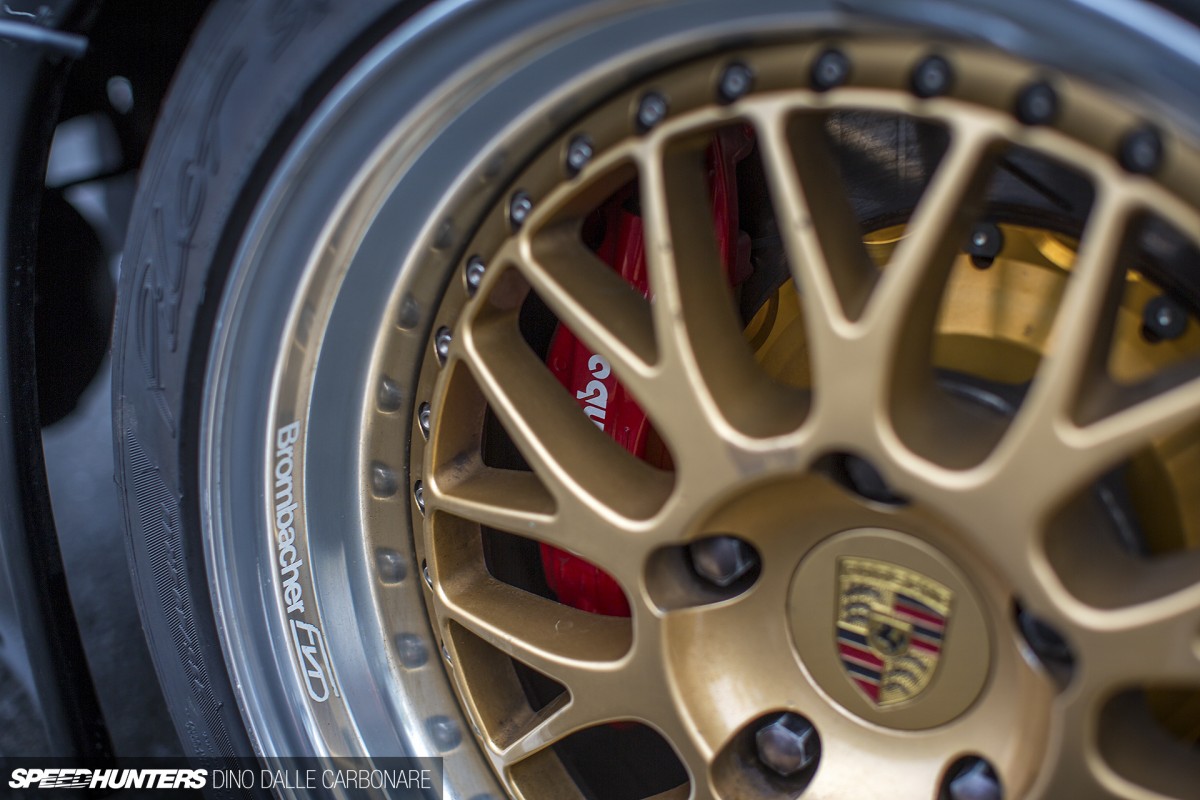 They may have a BBS LM look to them, but they're actually Japan-made Work Brombacher 2-piece wheels. The gold centers and polished barrels are a nice contrast to the glossy black 911's familiar silhouette, and one look at the braking system is enough to realize that the upgrades are more than skin deep.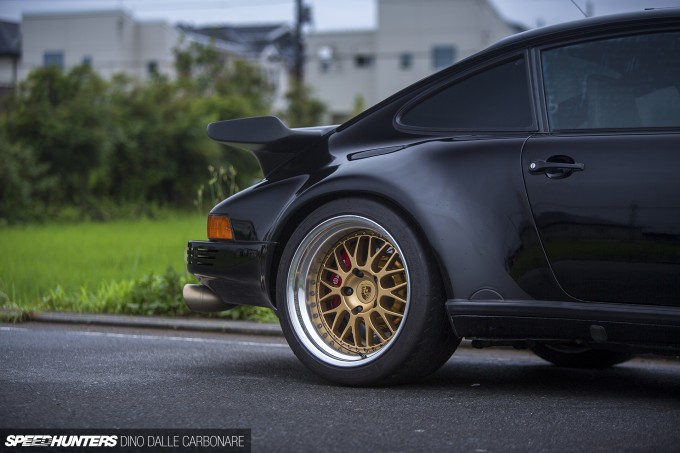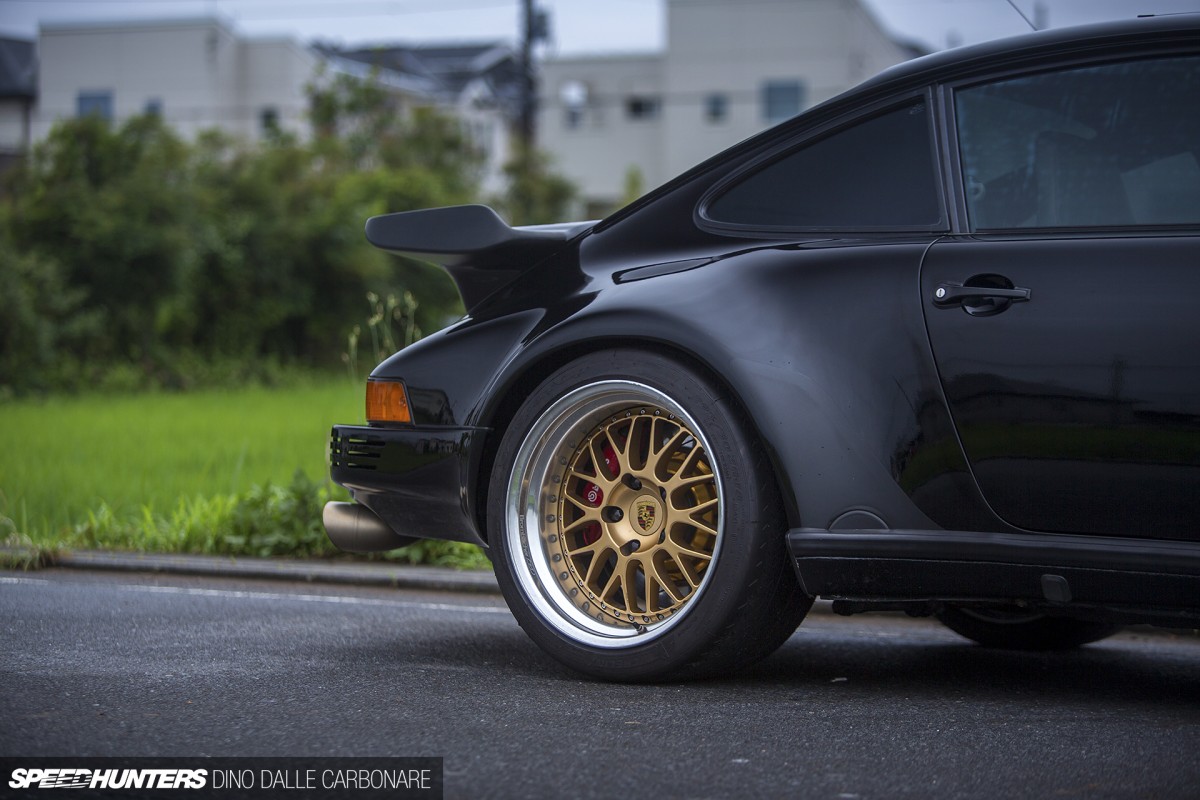 Brembo F50 calipers at the front are balanced with Brembo F40 calipers at the rear, and all bite down on slotted 2-piece floating rotors. Nothing is more reassuring than a braking package of this size and specification when there's explosive performance under the right pedal. And that's most certainly the case here.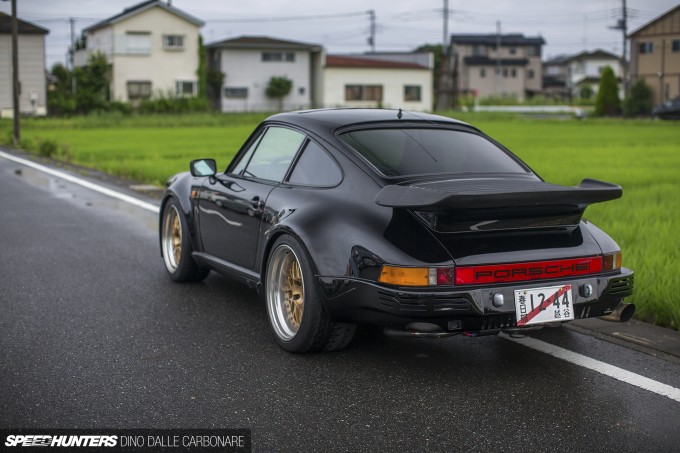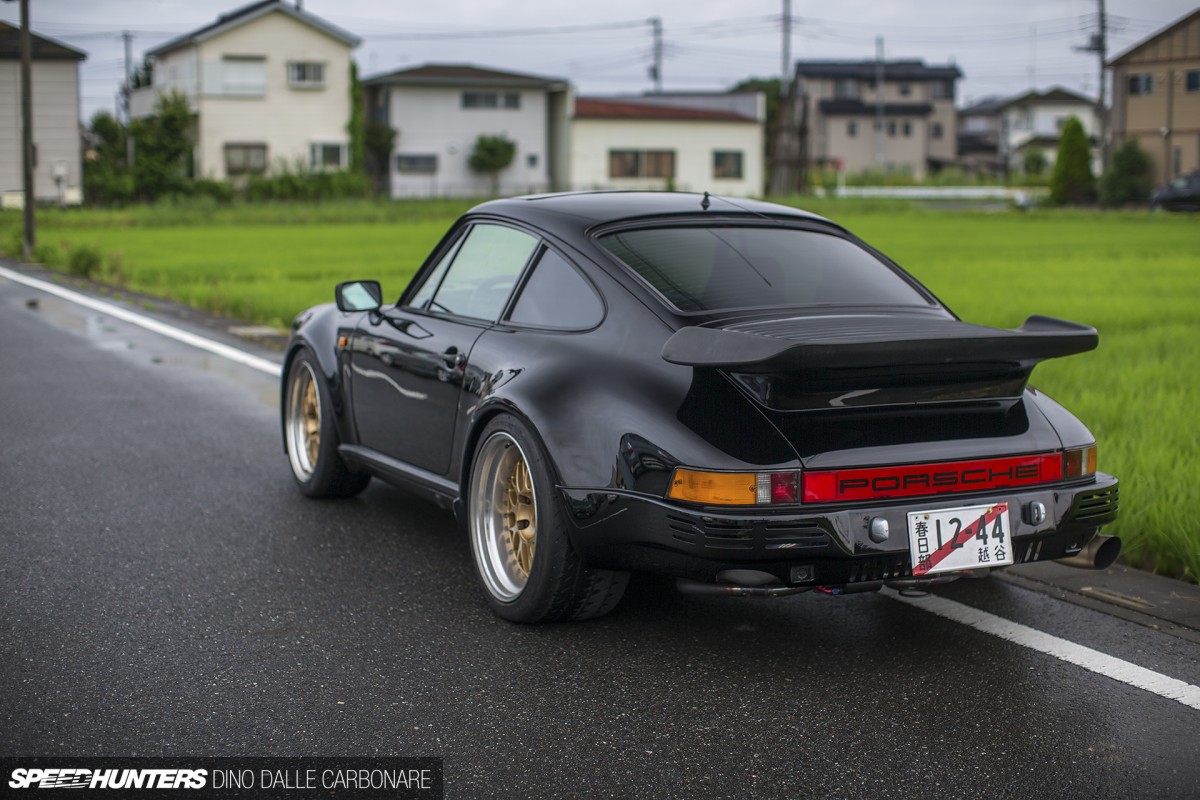 One thing I've always loved about turbo Porsches of most generations is how their exhaust manifolds, piping, and at times – turbo housings, hang just below the rear bodywork line.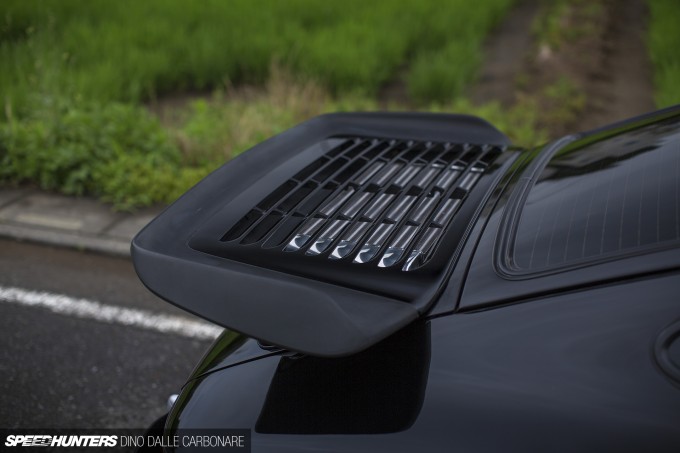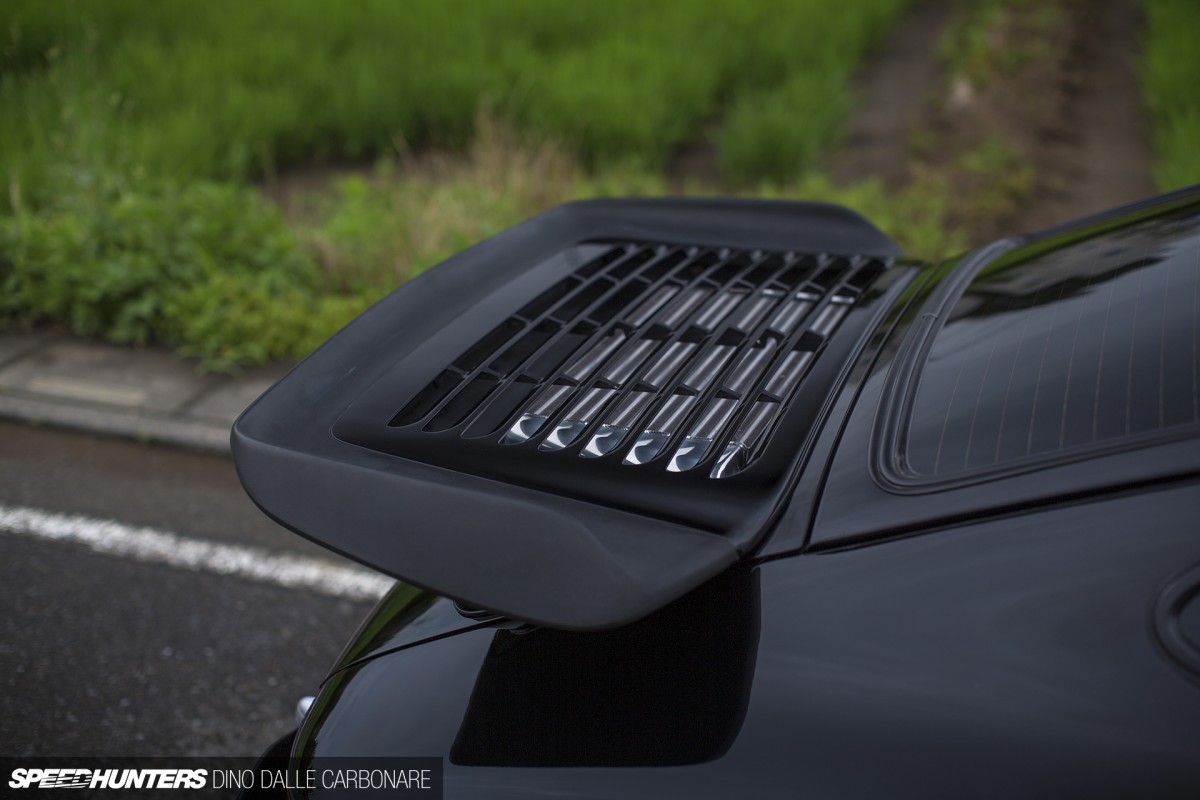 The whale tail hides some secrets too – if you know where to look.
The Pervert's Angle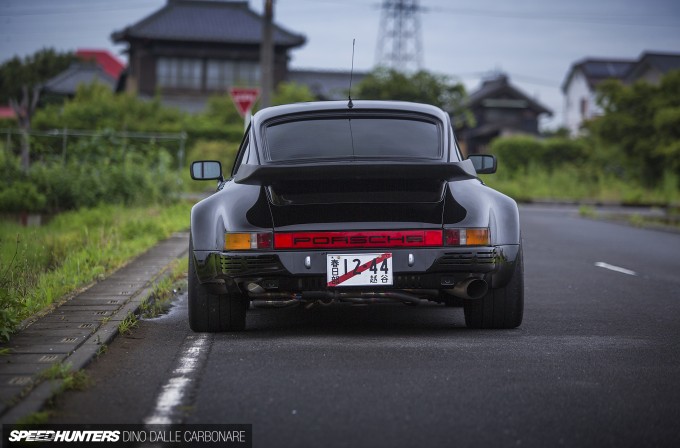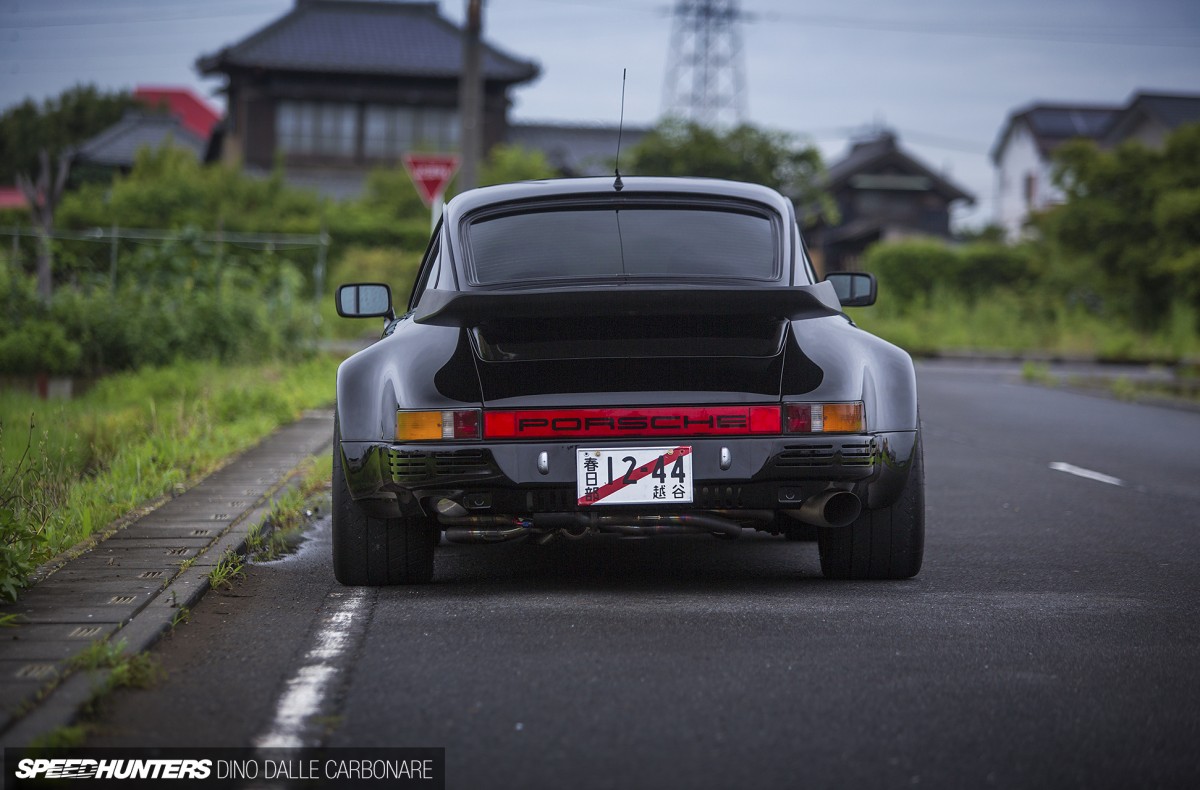 Could this be akin to an up-skirt shot? Is this the automotive equivalent of being a pervert? If it is, then I like it!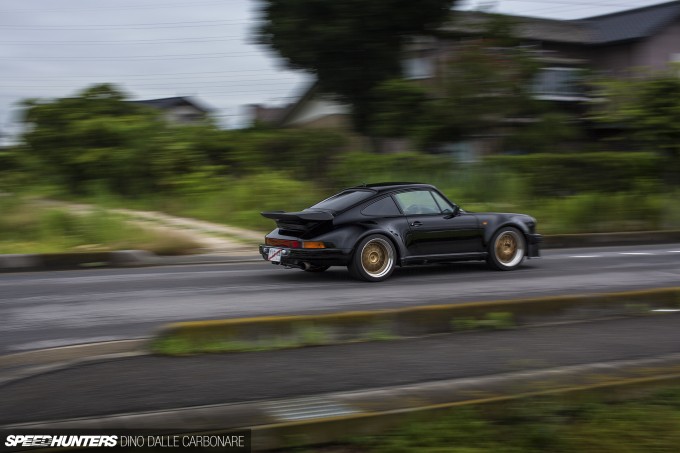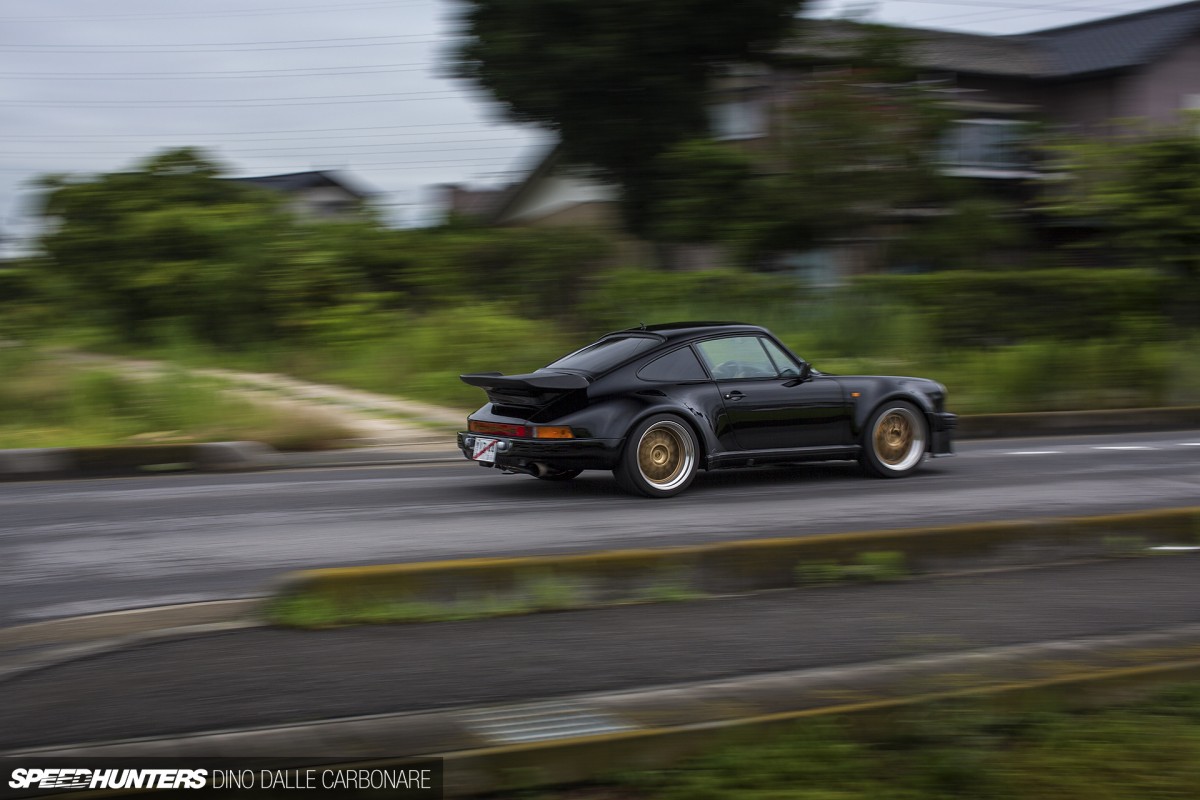 One twist of the key and the 930 cranked into life with that unmistakable air-cooled sound, settling to an angry idle emphasised through a one-off Promodet exhaust.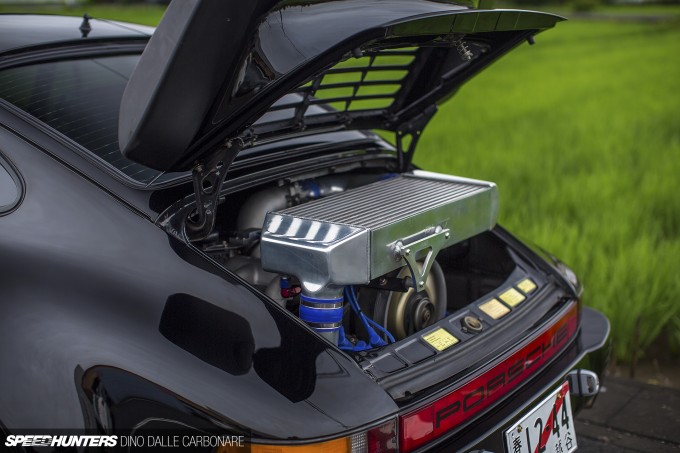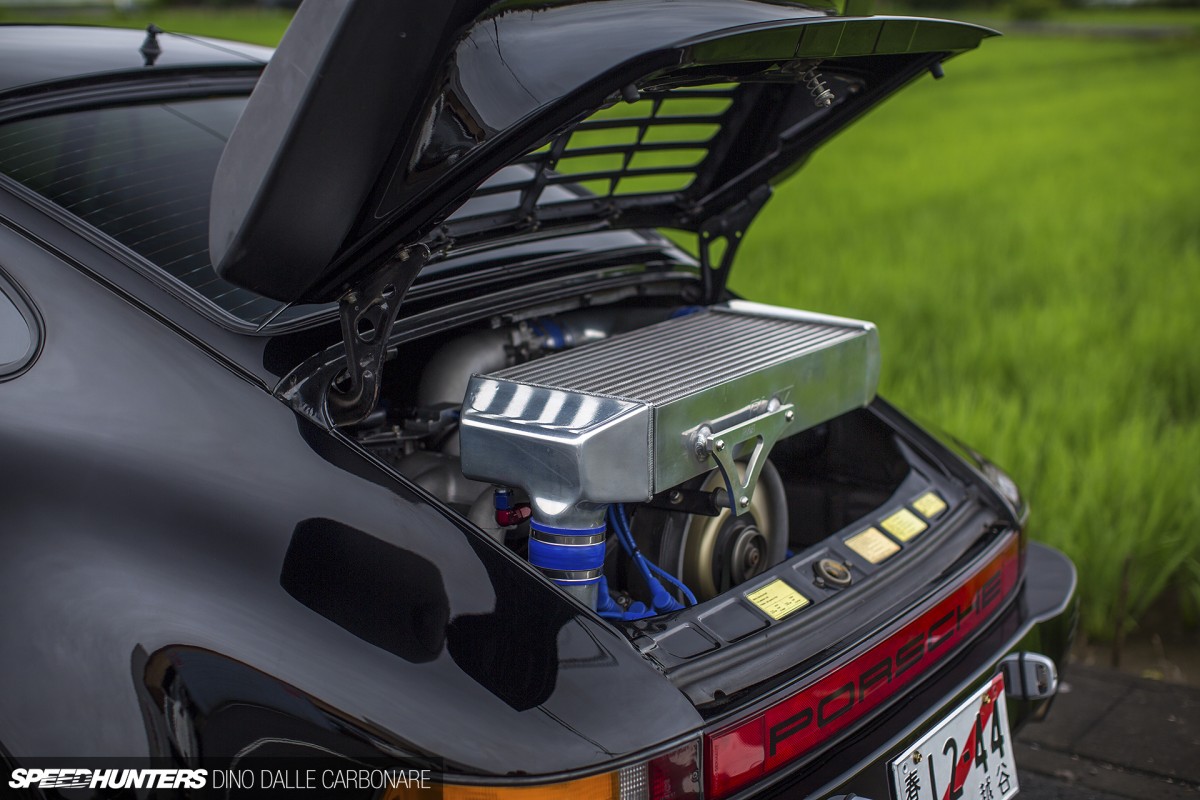 I recently spent a week driving the all-new 991 GT3 – arguably one of the best driving machines of all time. Yet, when I went to the back of that car and lifted the engine cover I was confronted with a plastic baffle and a pair of electric fans – no sign of the engine. The same certainly can't be said for this beast!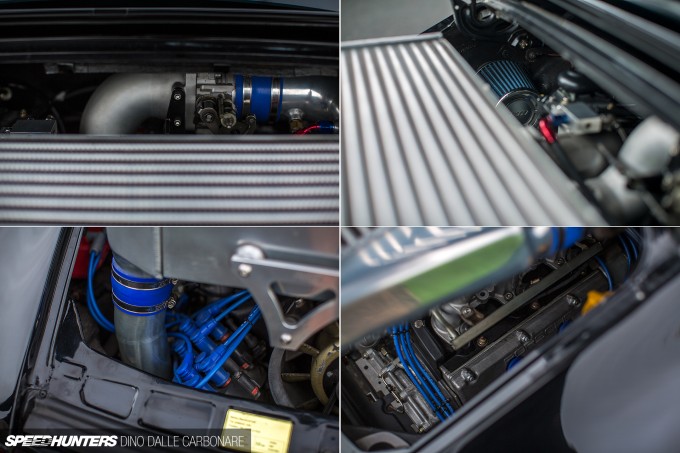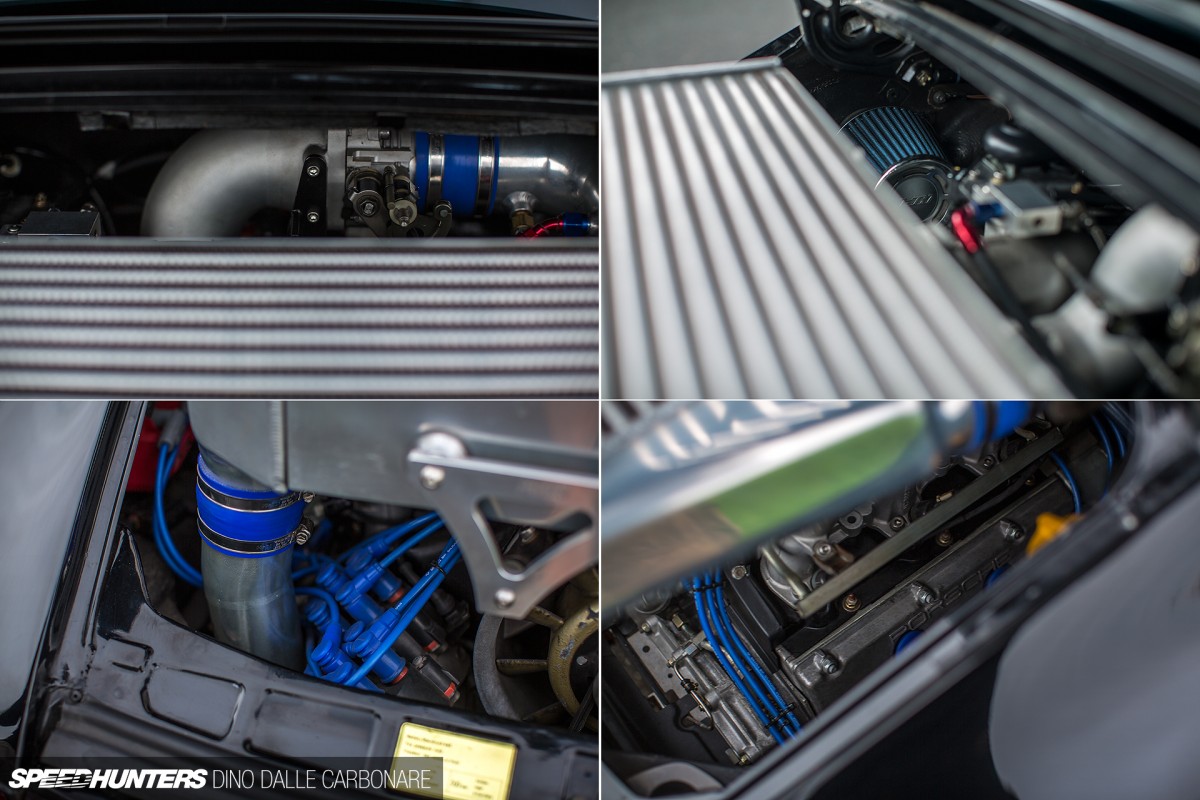 With a Blitz intercooler atop the flat-six, everything is plumbed in place through custom piping – right up to the mechanical throttle body. As Komine-san explained to me, the 3.3-liter engine was stripped down, fully balanced, blueprinted and strengthened to make sure it was up to task. There's RSR cams with higher lift in the mix, and Promodet hand-ported and flowed cylinder heads with upgraded valvetrains to ensure reliability with extended visits and stays at the 8,000rpm redline. As he did in the original Black Bird, Komine has raised the fuel cut threshold to suit – a necessary modification to maximise the car's top speed in top gear.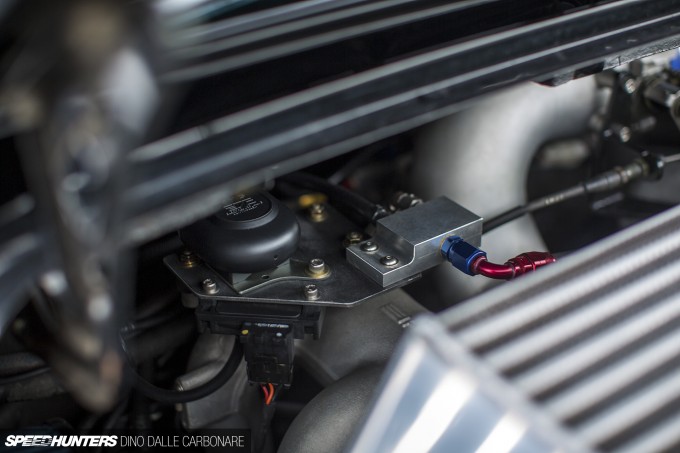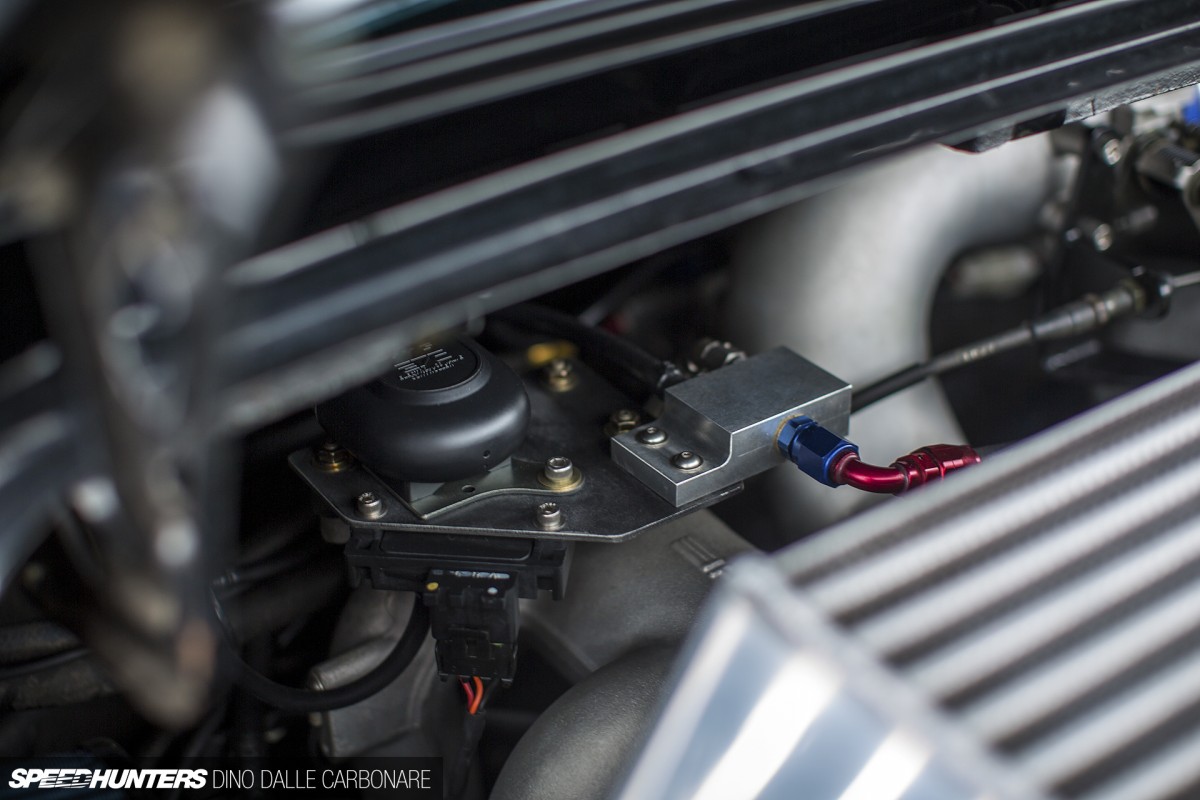 Komine also fitted later generation twin spark plug head covers along with MSD coils for strong and reliable ignition throughout the rev range and when maximum boost of 1.5bar (22psi) is dialed up through the HKS EVC 5 controller. A 71mm Precision Turbo turbocharger fed by custom Promodet equal-length manifolds is at the heart of the forced induction upgrade, and the whole package gets its firing orders from a MoTeC M4 engine management system that utilises the MAP sensor above.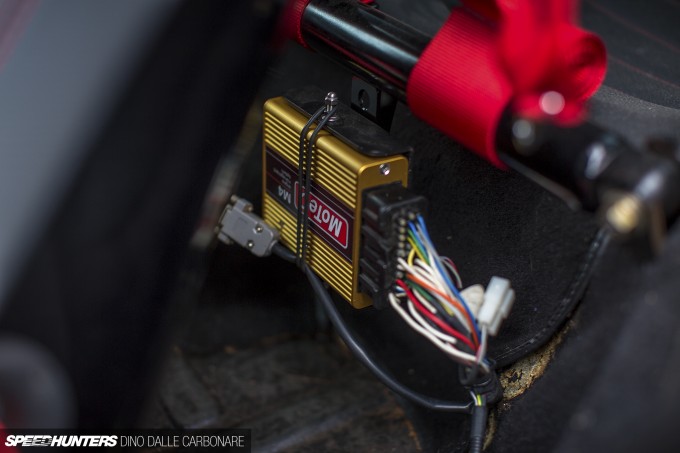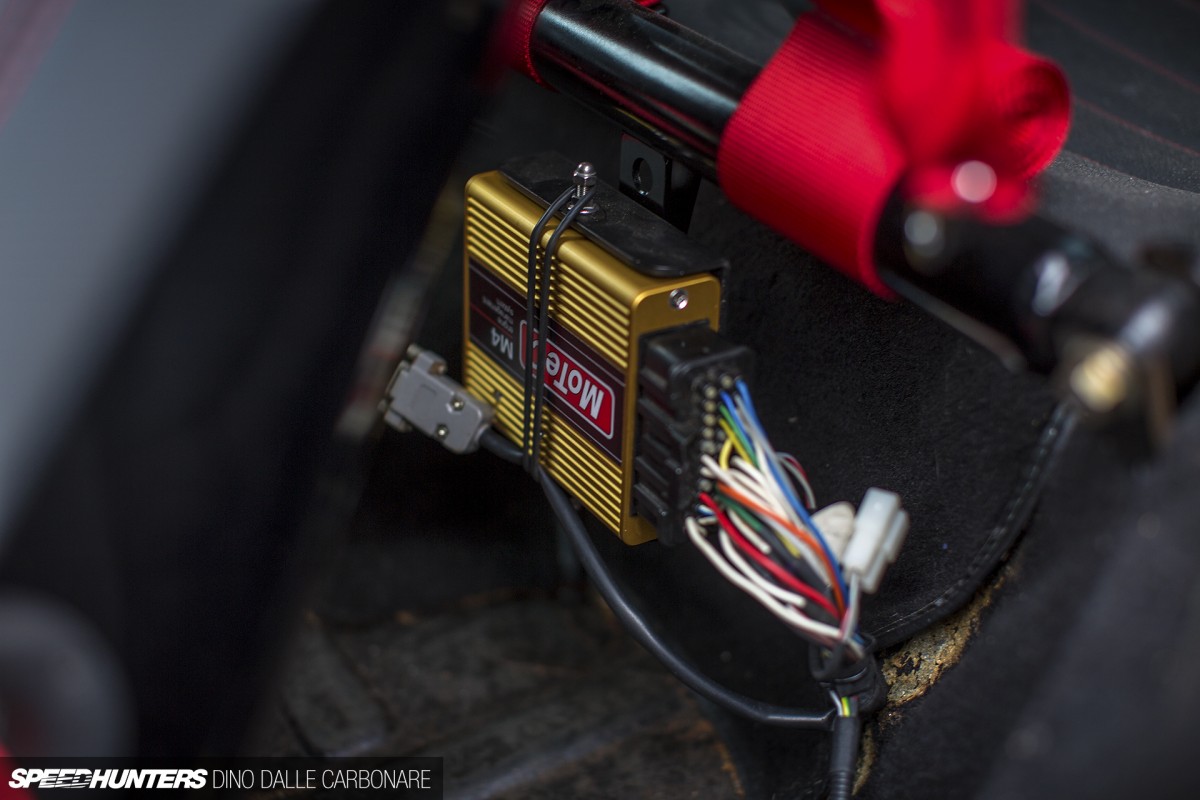 All told, the flat-six is good for 650hp at full boost, with a monstrous 95kg/m of torque in the mid to high rev range. After the engine rebuild, Komine spent one entire night out on the highway running the engine in and fine tuning the setup.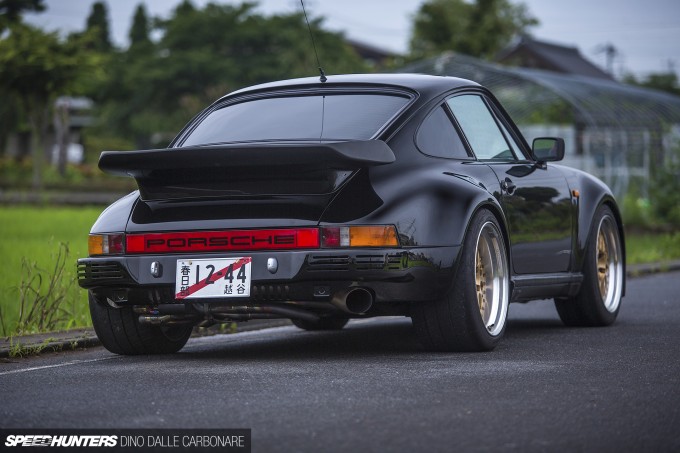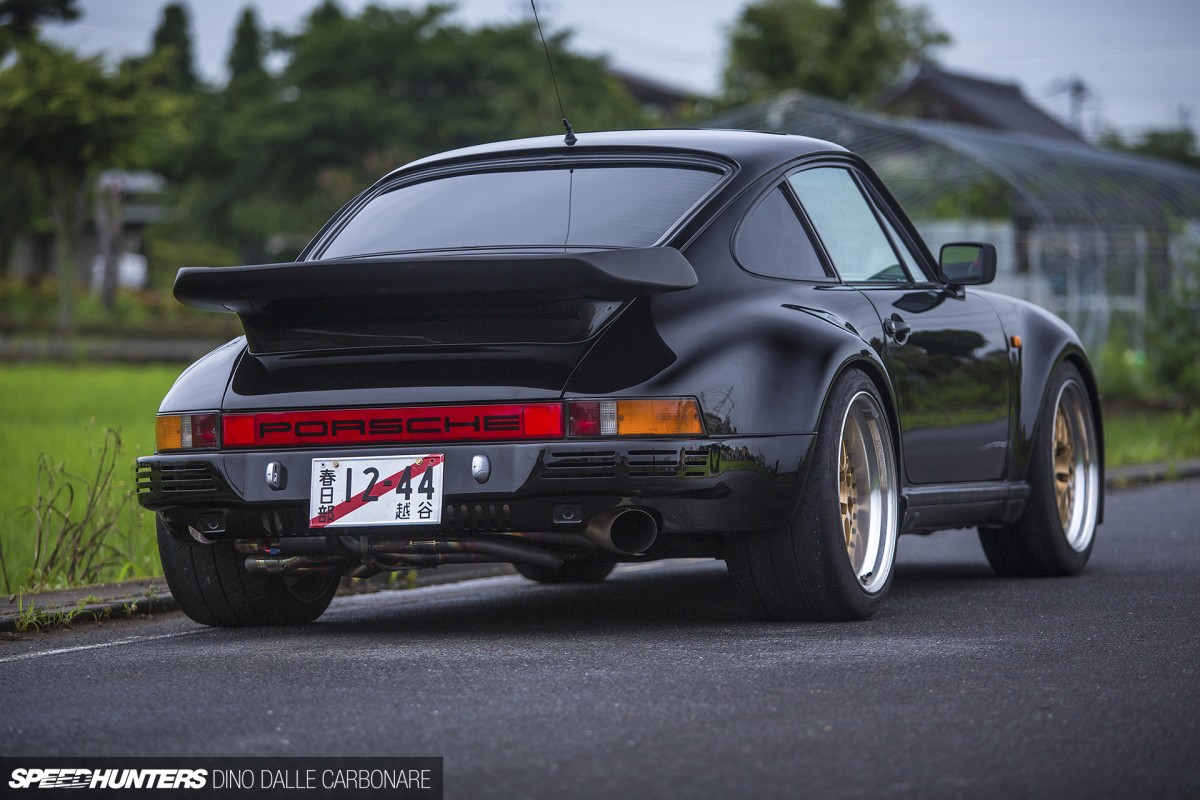 I was laughing as he was explaining to Nathan what to expect from the car. Precisely, "seriously scary fast, so please – please be careful."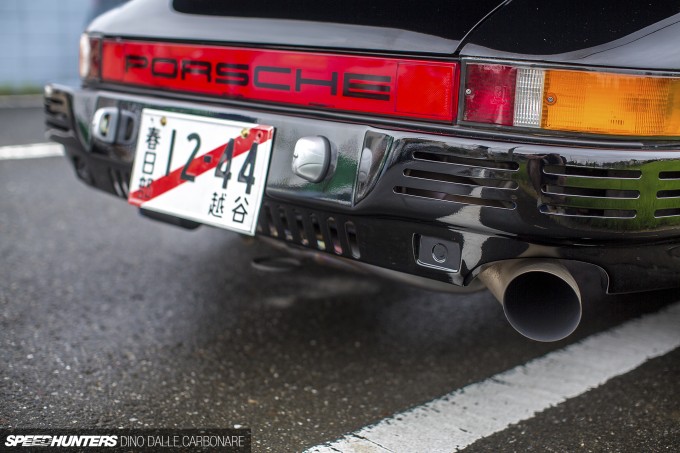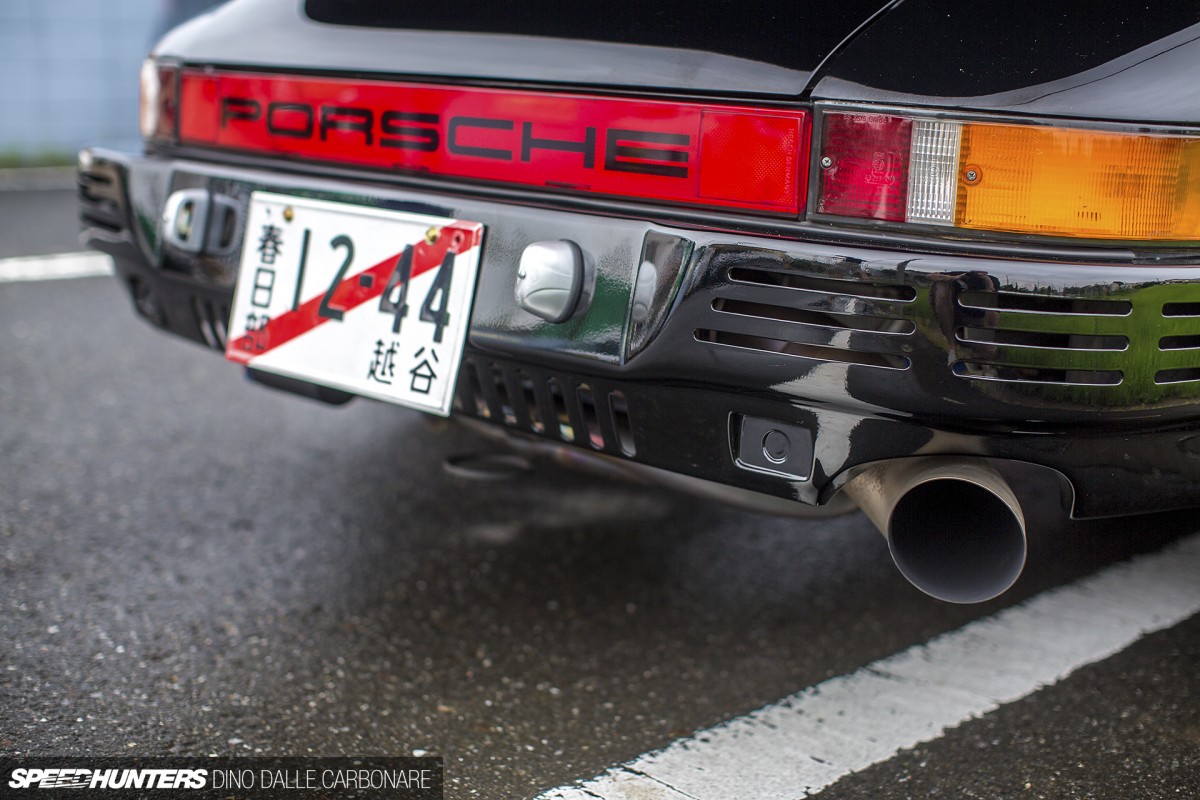 They're wise words too, because with a power delivery that comes on and takes the engine to redline in a split second with one mighty turbo-surging blow, you have to treat the car with the utmost respect.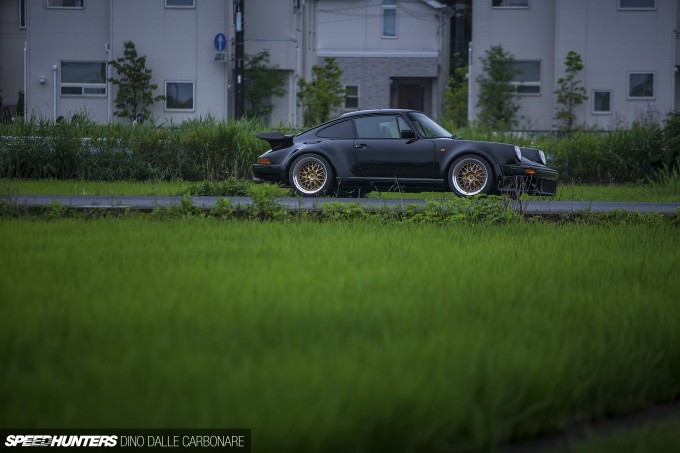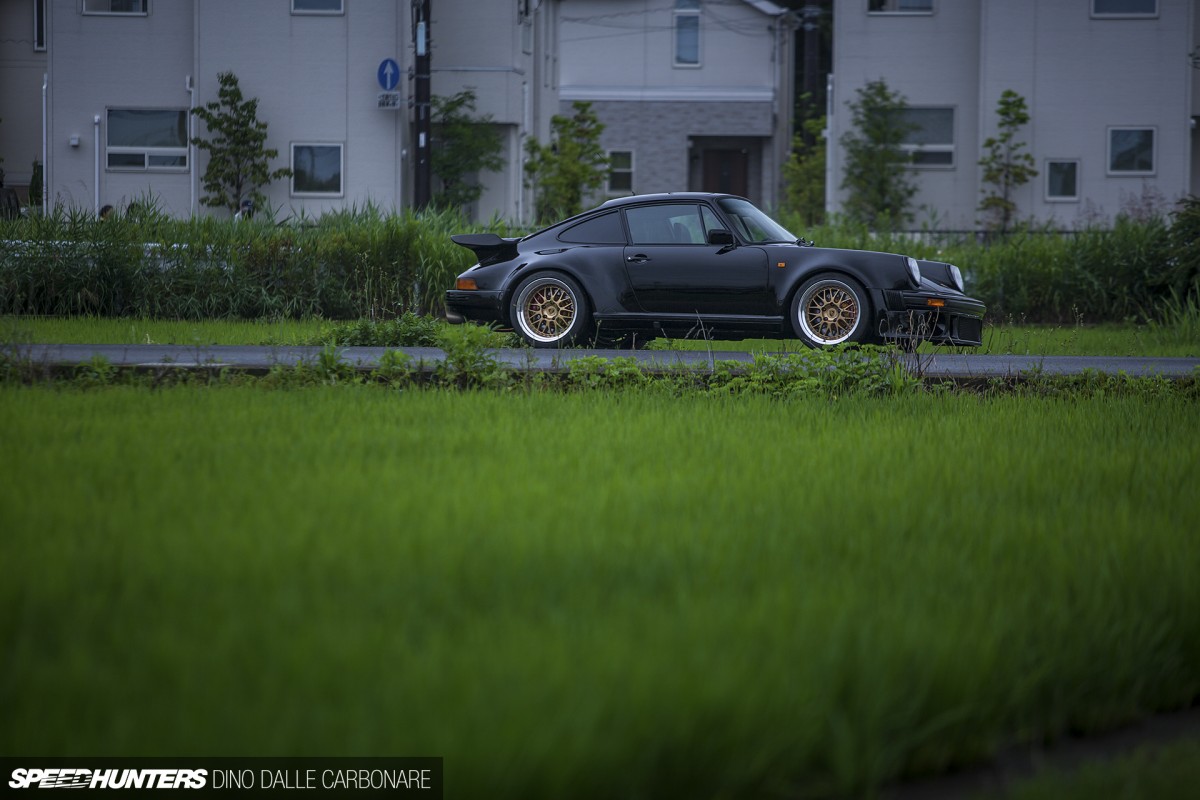 Don't, and it'll quickly bite back – something that Nathan's father will have to remember when he takes it out for weekend blasts.
Two Souvenirs From Japan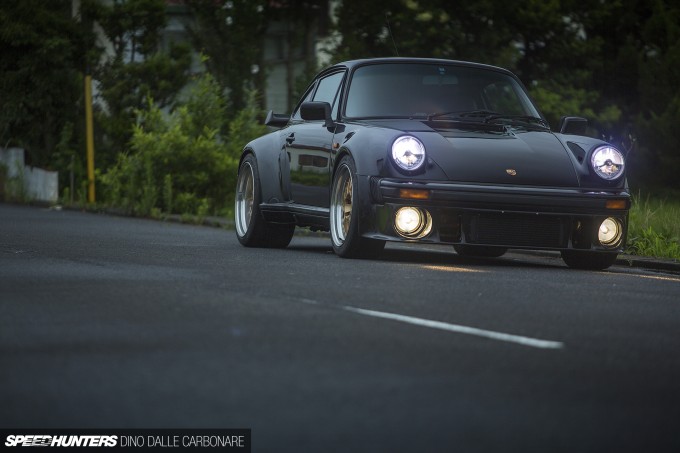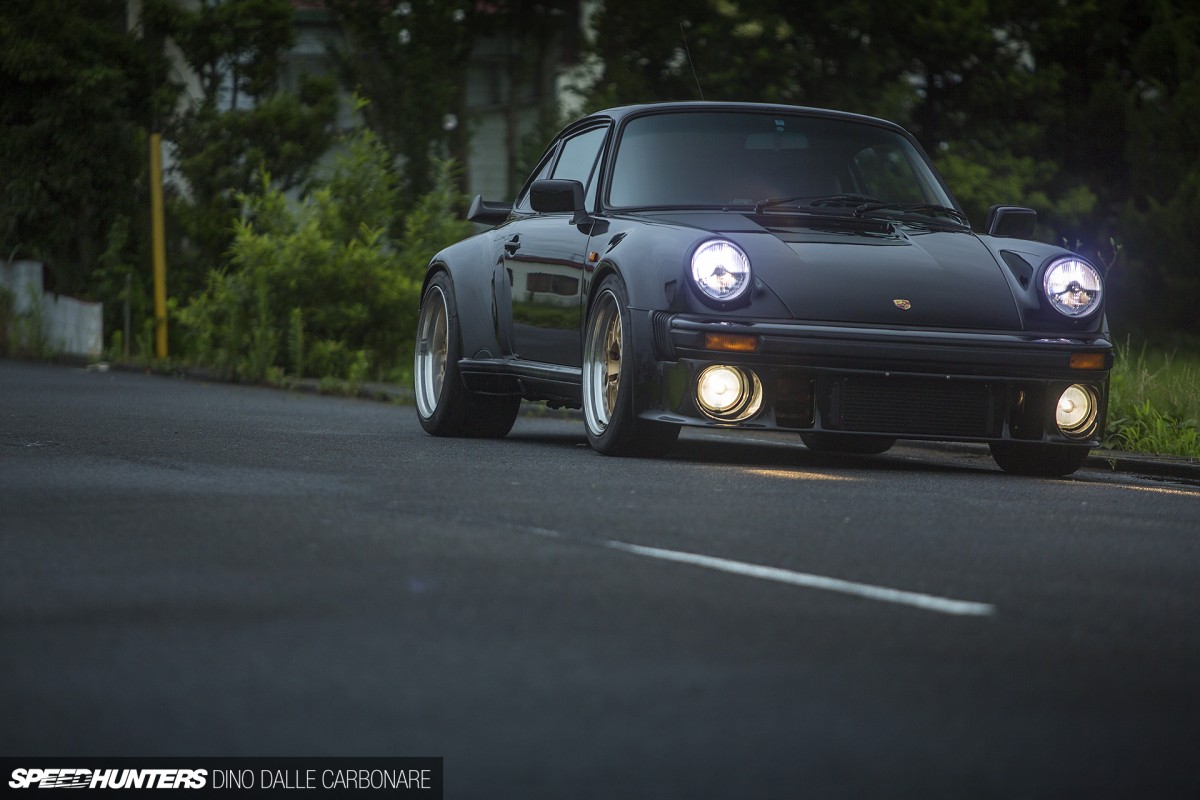 It'll be quite a sight seeing father and son driving the back-roads of Louisiana in their Japanese-built, German machines.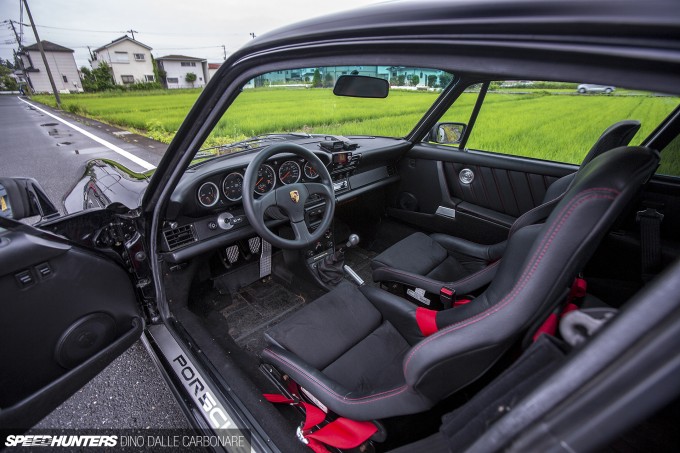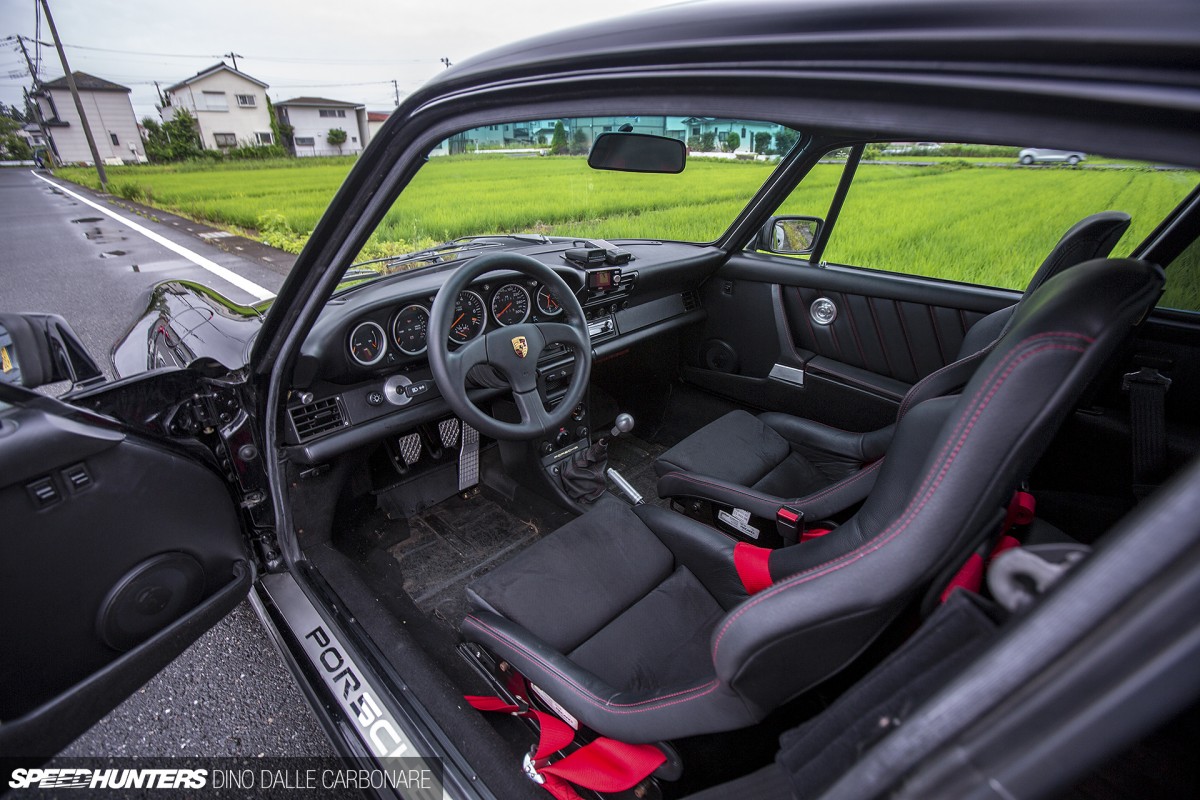 Porsches of this vintage were simply appointed inside, and it's good to keep them that way. This one's been subtly spiced up, which only adds to the overall ambience.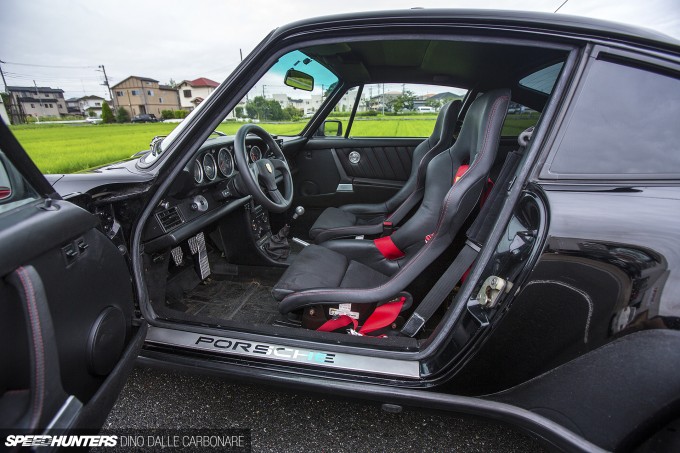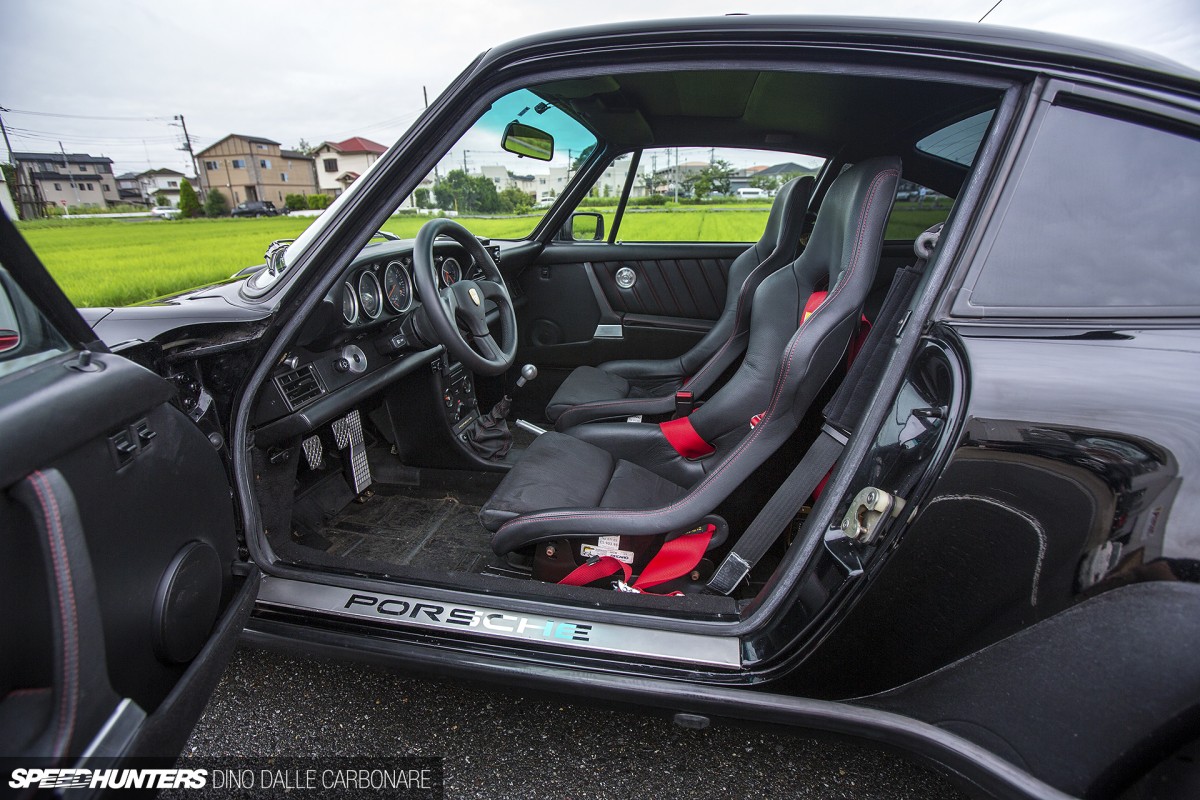 Again, it's all about attention to detail. The entire space has followed a black with red stitching theme – a tone set by leather and Alcantara-trimmed Recaro SPG-N buckets seats.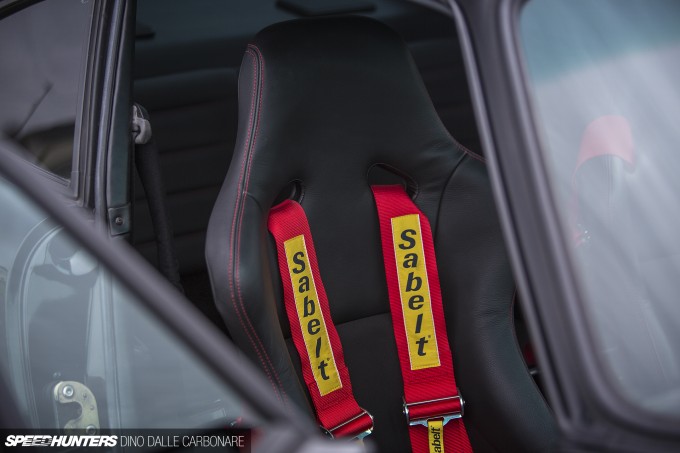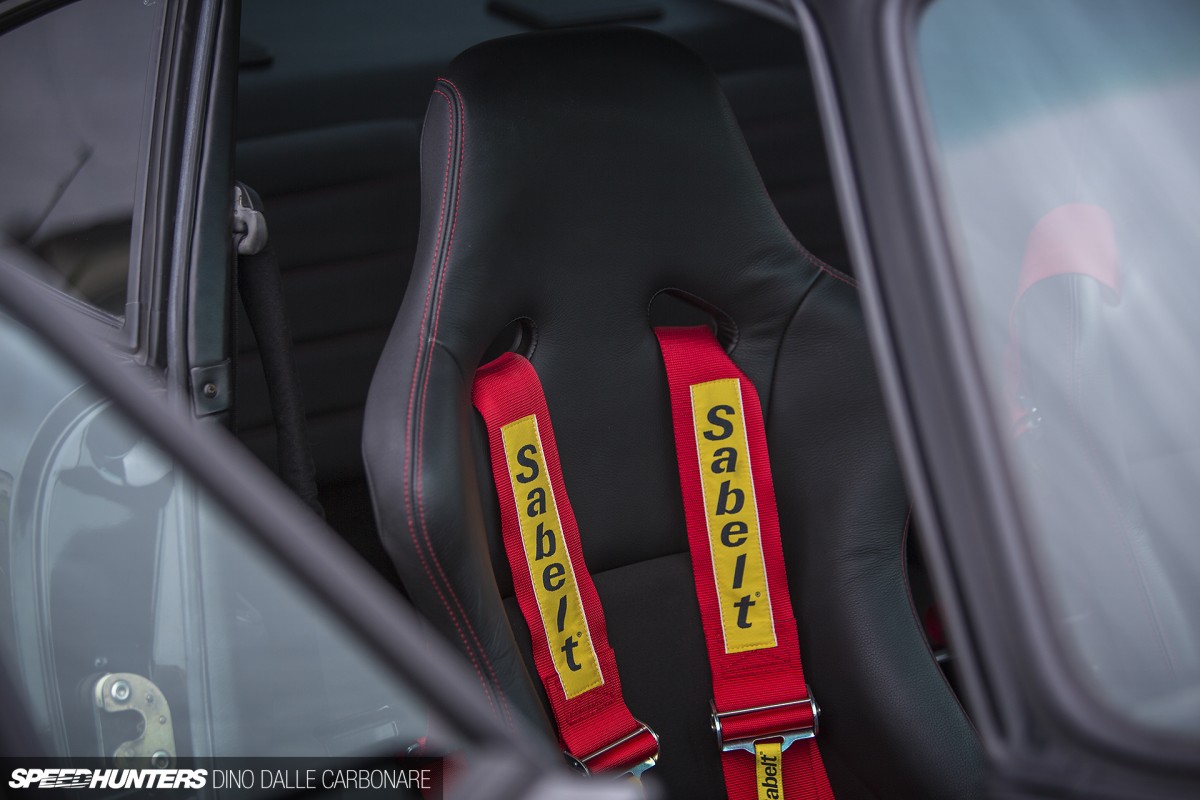 The Recaros may not recline, but they're fixed in a way to provide a comfortable driving position. Of course, harness belts are a must – in this case a set of red Sabelts that tie in rather well.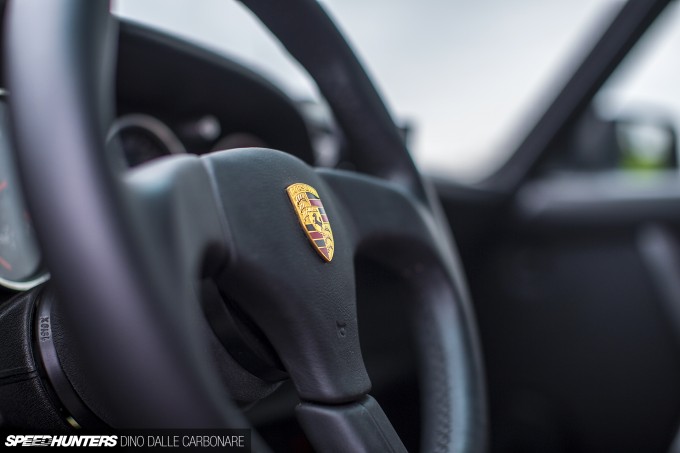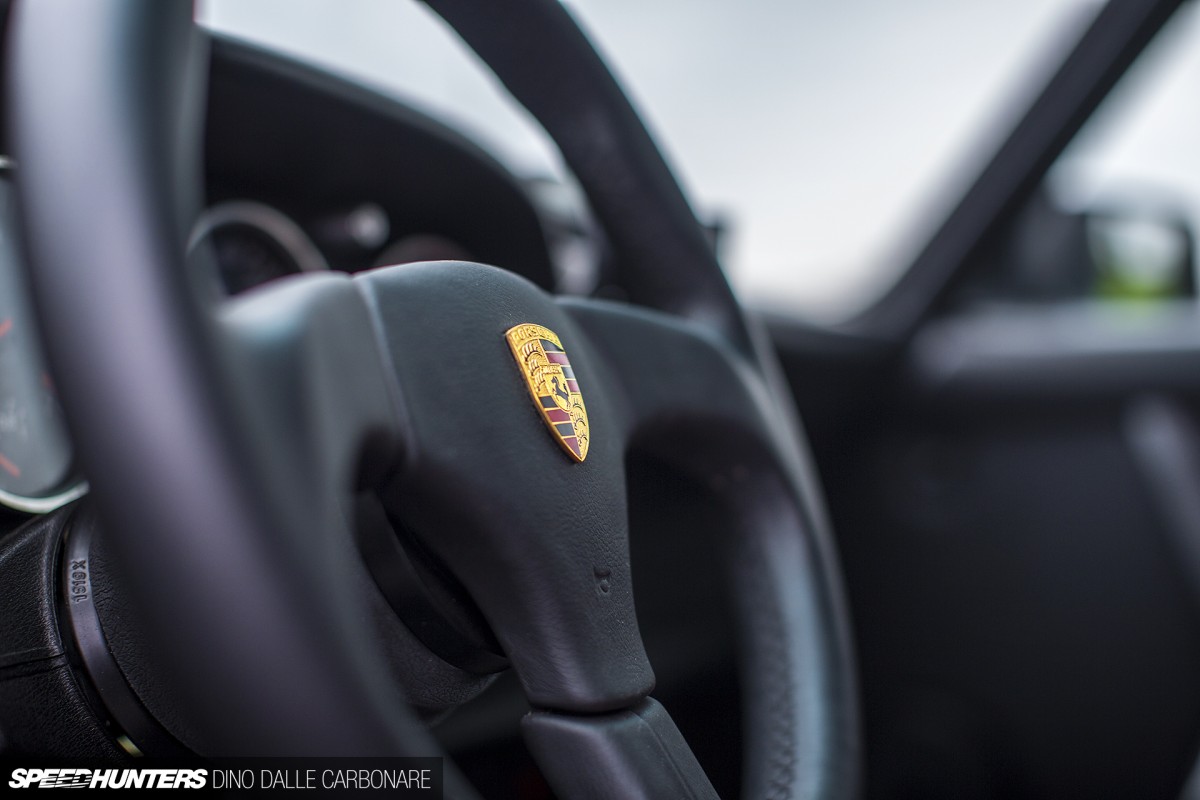 Komine had to work extra hard to source the new, old-stock 930S leather steering wheel, but it's something Nathan really wanted to complete the cabin. It adds the right sort of touch to the Turbo – a race-inspired shape and grip, but with a factory-like feel.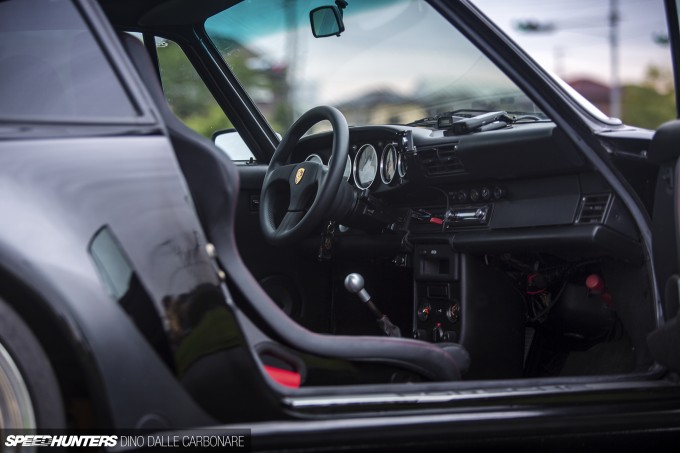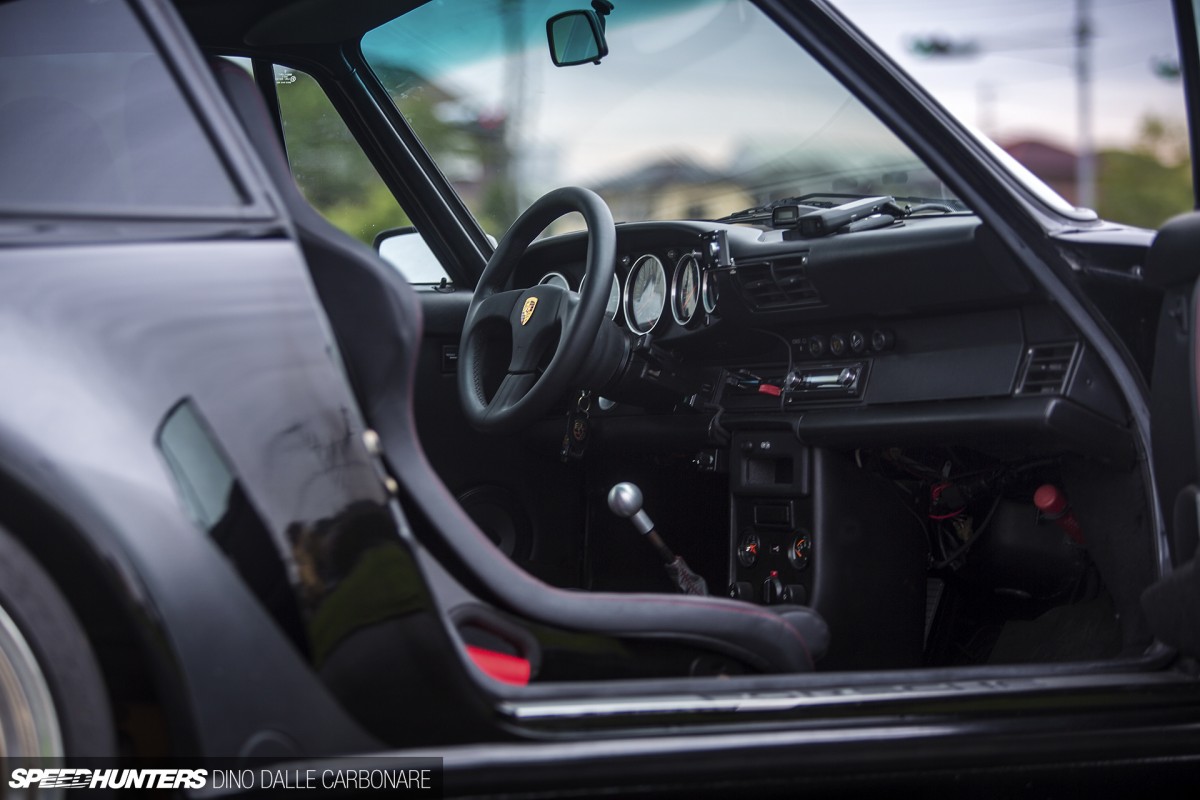 And it looks even better when you take a step back and view the cabin in its entirety.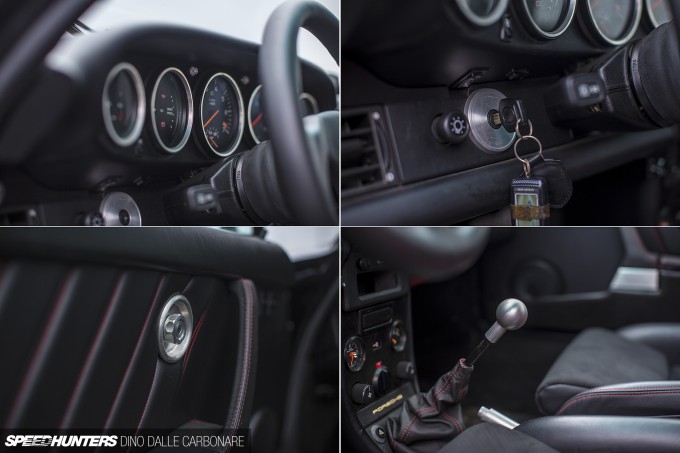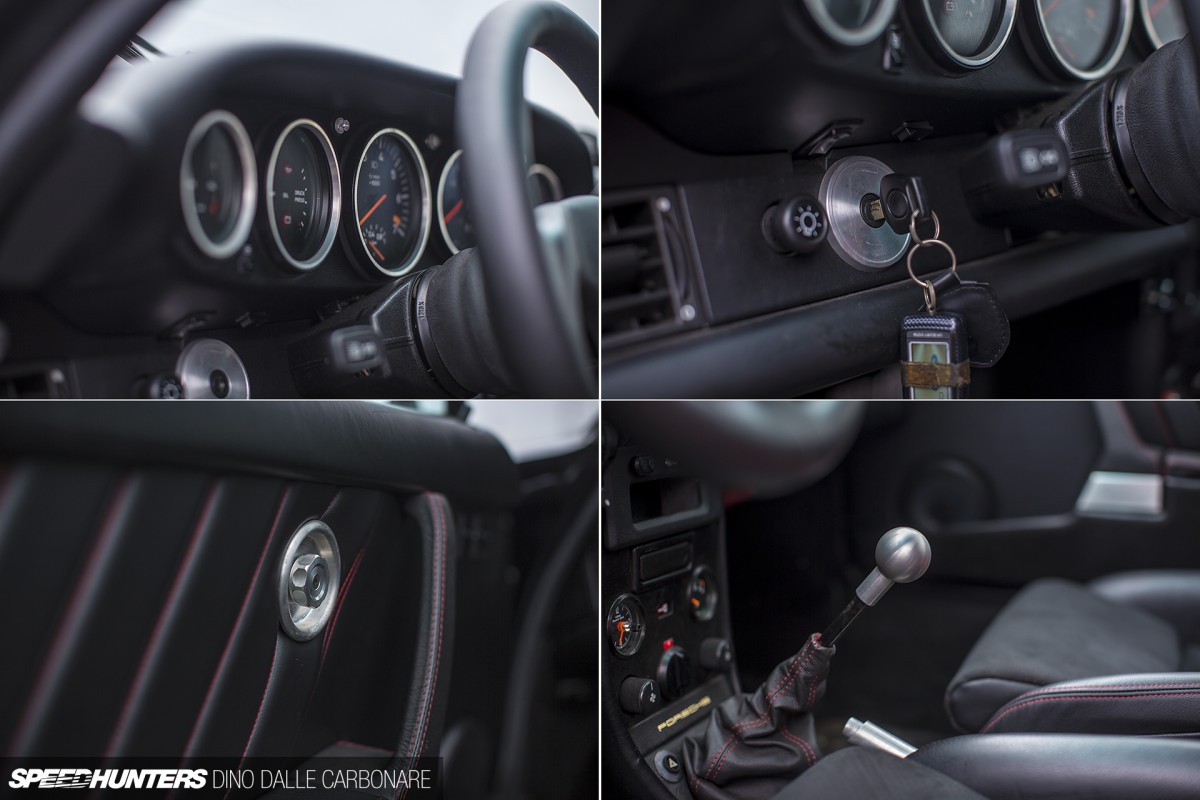 In another Japanese touch, Promodet fitted a full set of M's Machine Work aluminium gauge bezels and accents around the cabin, finishing up with the billet shifter knob. That actuates the 5-speed manual transmission, which itself features 964 3.6L Turbo gears inside a 3.2L Carrera housing. Aside from the reliability its brought to the driveline, the ratios are better suited for high speed purpose. According to Komine, not only does 8,000rpm in fifth gear equal 340km/h (211mph), but the car should be cable of quarter mile sprints in less than 10 seconds.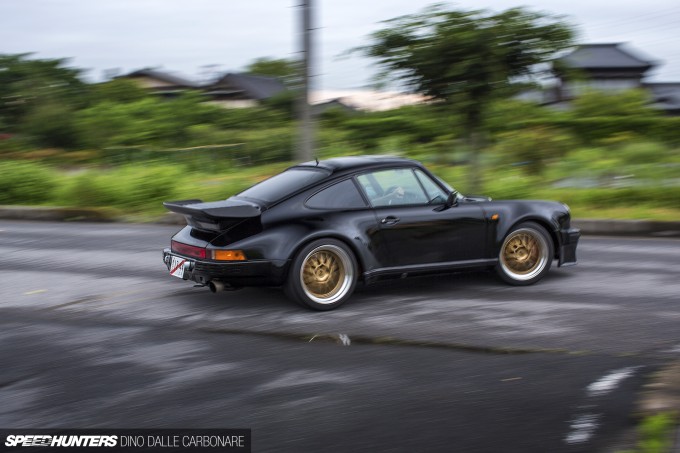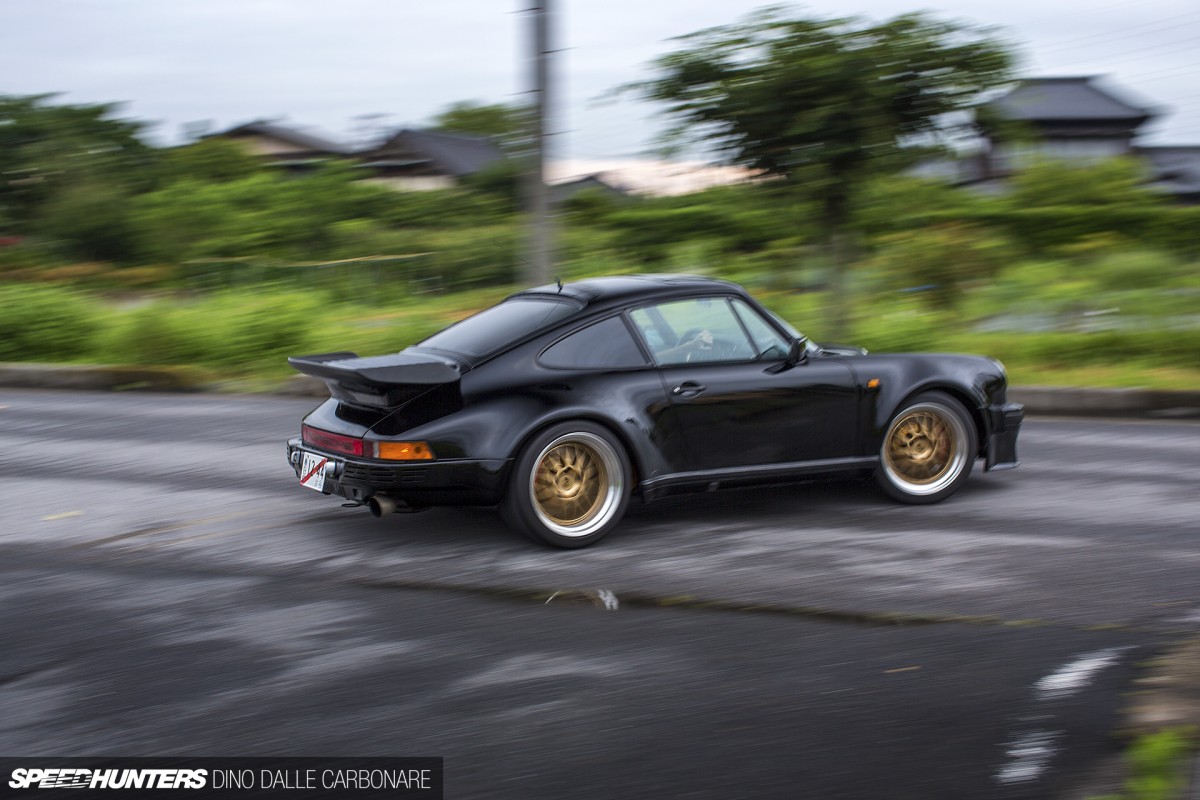 To handle the torque, there's a twin-plate clutch that only adds to the concerto of noises that are generated from this tough street machine.

Hit play on this quick video I put together and you'll get the idea!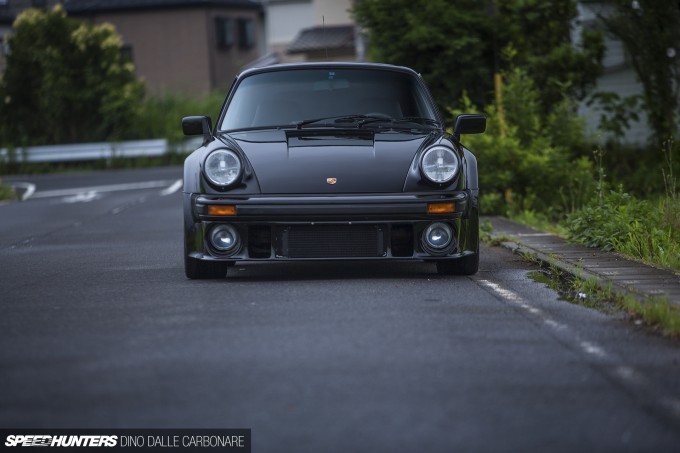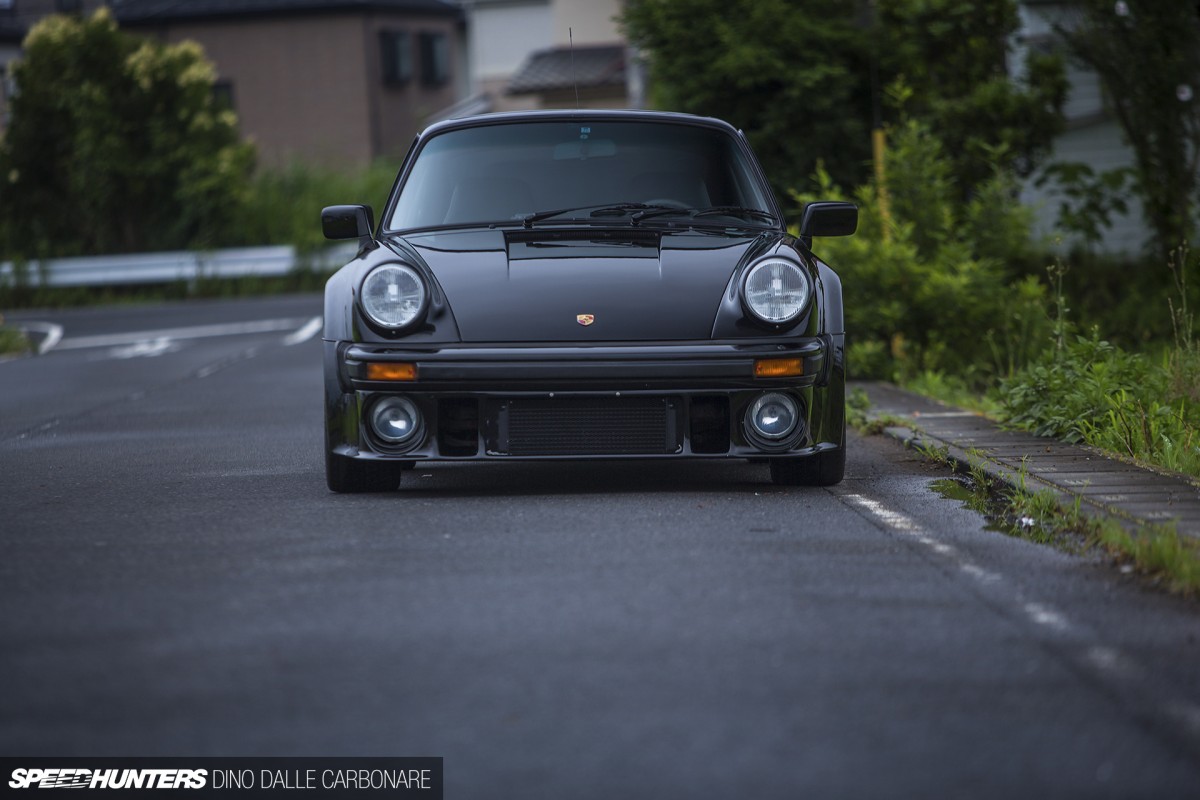 Komine still had a few finishing touches to make before the car was picked up the following day – one to fit clear covers on the massive Hella driving projectors fitted into the TBK front bumper. These work with retrofitted Belloff HIDs in the headlight housings to provide the sort of road illumination that Wangan racers of this pedigree truly need.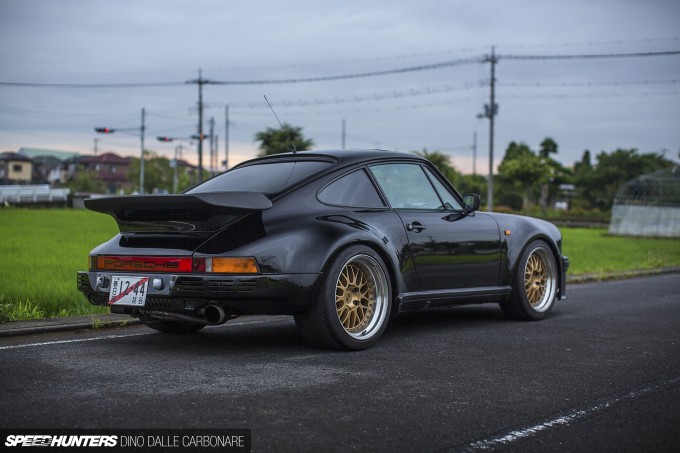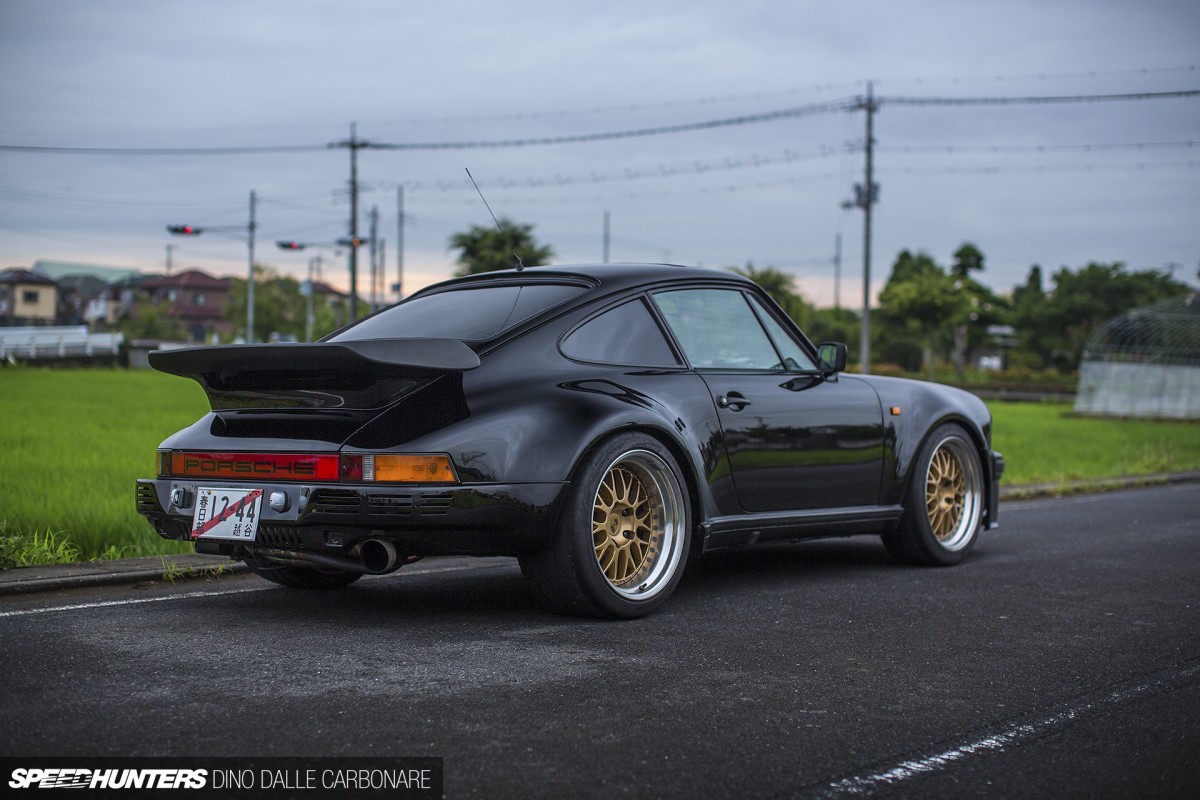 The unique history and purpose of this build will surely make it one of the more special 911s in the United States. Purists might not agree, but I don't think Nathan's father will be worrying about that in the slightest. And why would you with something like this in the garage…
Dino Dalle Carbonare
Instagram: speedhunters_dino
dino@speedhunters.com