9 To 5 Daily Grind
I want you to put yourselves in the shoes of a highly successful individual whose expertise and talent has earned a number of high profile clients across the globe. Your chosen vocation falls squarely into the creative category. With exacting attention to detail, a lofty standard of quality and a drive to create bespoke pieces catering perfectly to client needs. You're part of small group worldwide at the pinnacle of your game.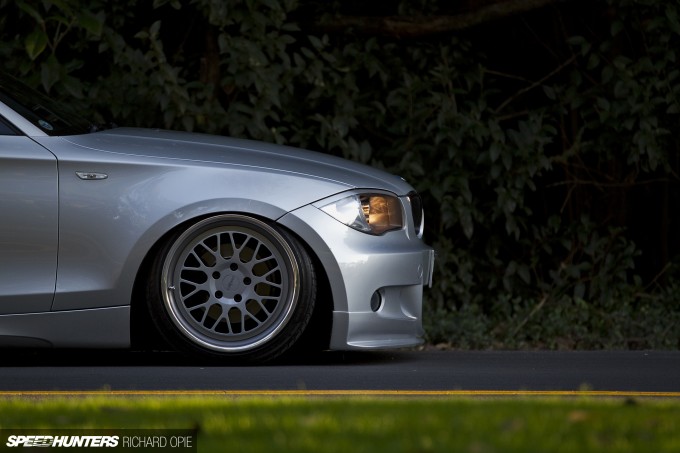 The shoes you've stepped into? Well, they're remarkably similar to those worn by Tyler Richardson, a young New Zealander with a modest demeanour and a huge talent in the field of custom helmet design. You can actually read all about it in Tyler's own words right here on Speedhunters. While Tyler's aspirations and talent reach skyscraper altitudes, his taste for cars – or more precisely, their proximity to the ground – is exactly the opposite.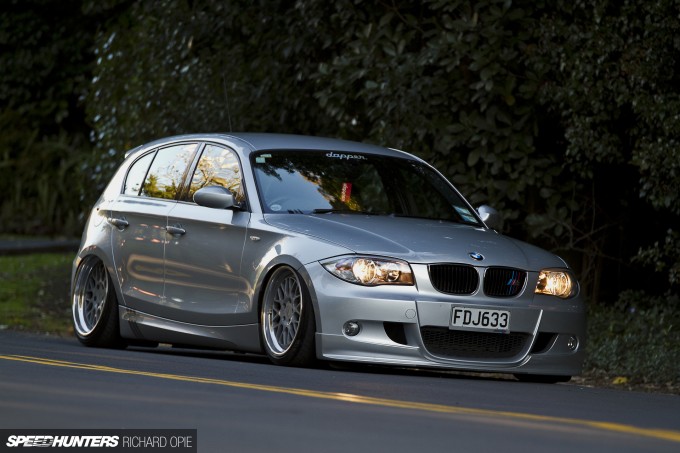 With a love for all things low and a requirement for an updated daily driver with practicality, Tyler's search led him to an unlikely platform (at least in this part of the world): a E87 chassis BMW 1 Series. More specifically, a 6-speed manual 118D (yes, that's a turbo diesel), sold NZ-new with a complement of optional M-Sport additions to enhance the model's polarising styling.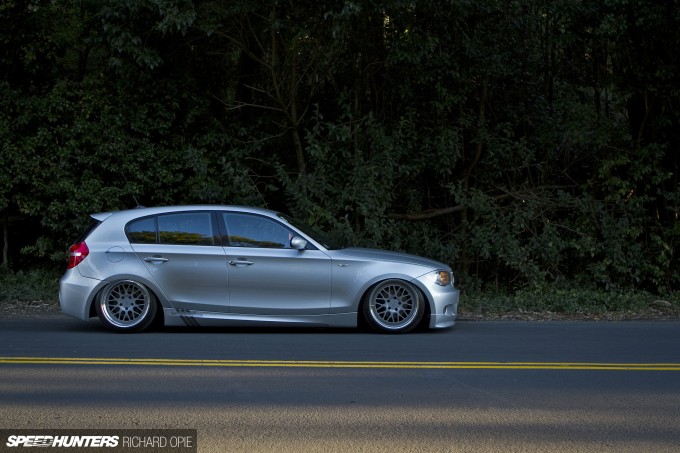 Less is definitely more when it comes to augmenting the lines of the E87 1 Series. Subtle M-Sport side skirts and a deep rear bar compliment the 2-box shape, while up front a Japan-sourced 3D Design front lip strikes a balance between class and aggression.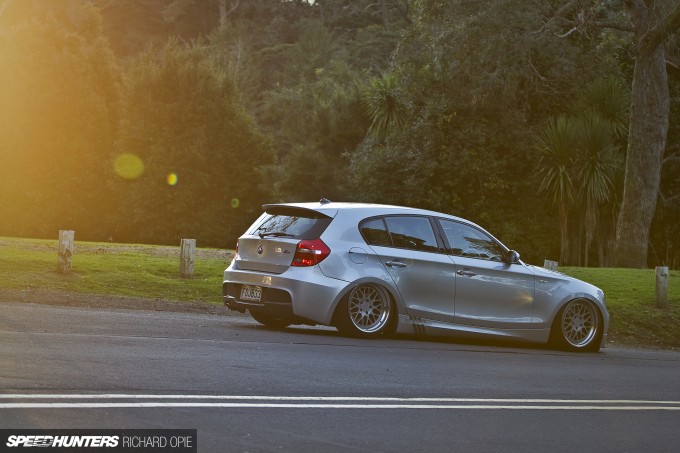 As subtle as the bodywork additions are, the ride height is anything but. But hey, wasn't this thing supposed to be a practical daily driver? Struggling over the ever increasing proliferation of speed humps while going about the humdrum daily chores life throws your way doesn't seem like fun, right?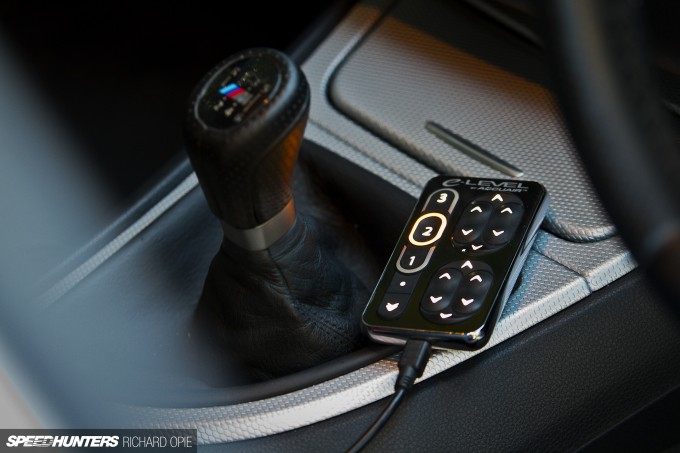 Enter the air ride. Enabling the best of both worlds, Tyler's BMW runs AirREX struts on all four corners with control by AccuAir's acclaimed e-Level management system.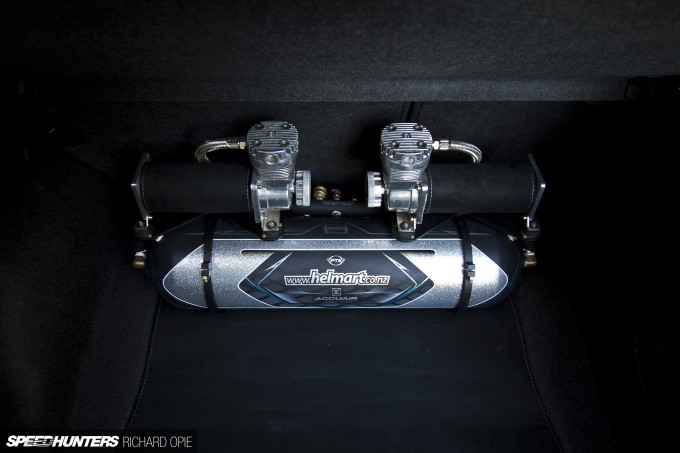 Sitting pretty behind the rear seats is a relatively unobtrusive, clean tank and twin compressor arrangement. Polished VIAIR 480C compressors feed a Specialty Suspension 5-gallon tank ensuring a constant supply of air is never in question. Utilising the considerable skill gleaned via his day job, Tyler treated the tank to a custom gloss, matte and metal-flake finish. Right down to the text, this is all paint – no vinyl, a technique practiced on clients' work.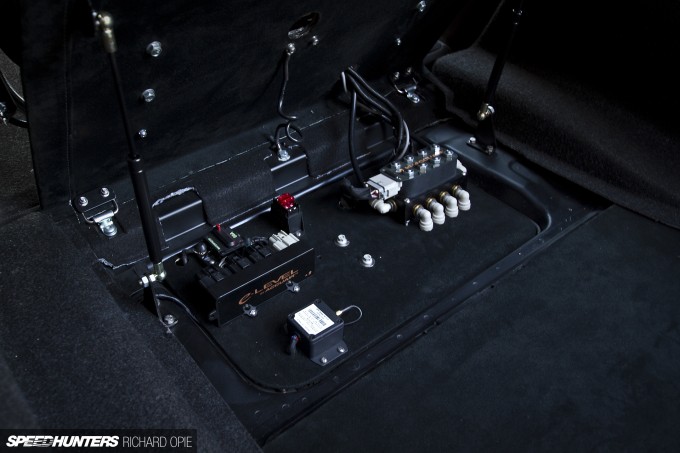 Neatly upholstered in Alcantara by good friend and accomplished auto-trimmer Greg, the mounting plate hinges forwards on a pair of gas struts to reveal the brains of the system. Tyler worked alongside his father Colin to create a cohesive install; the e-Level hardware and valve block all nestle neatly beneath the tank and compressor setup out of harms way, with the added bonus of maximising cargo space. You know, for practicality and all that…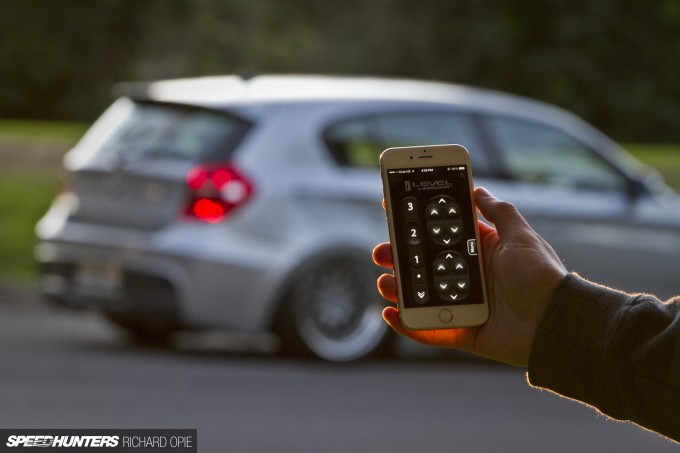 For legality on New Zealand roads, the system features a GPS-controlled lock-out, meaning it's inoperable above 20km/h. WiFi control via app is also a nifty feature of the e-Level, if only for inciting a few head scratches in the supermarket carpark!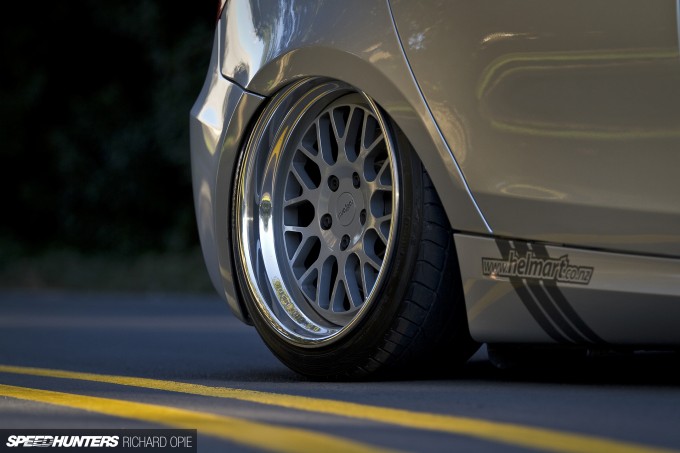 Tucking well into the 1 Series' cavernous wheel arches is a set of Rotiform LVS 3-piece wheels measuring 18×8.5-inch up front with the rears benefiting from some extra width in their 18×9.5-inch dimensions. Practicality again dictated the finer points of wheel choice – gloss body colour matched paint and the option of hidden hardware keep cleaning and maintenance tasks simple.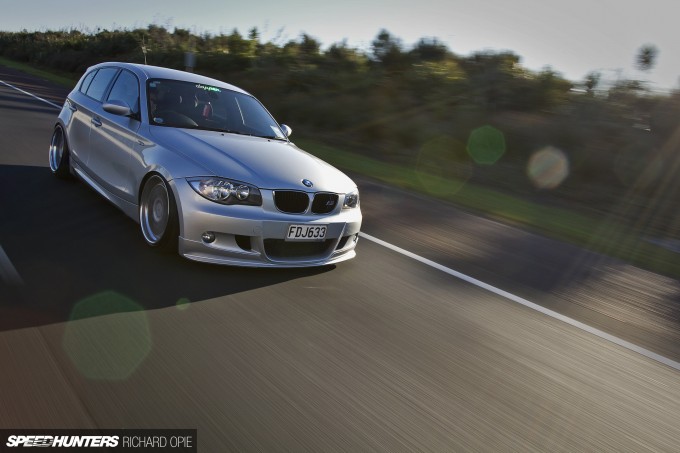 An eye for style, but with run-of-the-mill practicality? Tyler's E87 absolutely ticks the box. Not only that, but upon speaking with Tyler (who incidentally also has an extensive background in karting) I'm assured the car drives as well as it looks, with the e-Level working tirelessly to maintain correct pressures and heights, eschewing many fears of air ride giving handling characteristics less favourable than those of traditional spring suspension setups. I reckon I'll need a new daily soon – where do I sign?
Richard Opie
richy@speedhunters.com
Instagram: snoozinrichy
Cutting Room Floor