Don't Blame The Mini-Truckers
Air suspension as a method of vehicular support has been around since pretty much forever, but the idea of performance air suspension is still a relatively new concept. Whilst performance orientated air systems have been readily available for the last five years or so, the idea itself goes back further again. Unfortunately, there's still some misconceptions surrounding air. These misconceptions aren't necessarily wrong, at least on the surface, but have probably been acquired through negative experiences with poor quality air ride setups. Essentially, these misconceptions and prejudices are based on old technology.
So let's go back a bit in time, to around 15 years ago when the mini-trucking scene was enjoying its heyday in the United States. It was the mini-truckers that were amongst some of the first mainstream customers of air suspension systems on contemporary passenger vehicles.
"It was the dark ages of air," Brian Vinson, Performance Engineering Manager at Air Lift Performance, tells me. "These guys just wanted to go low, with little consideration for performance. They would remove shock absorbers, sway bars, basically anything that got in the way of laying frame."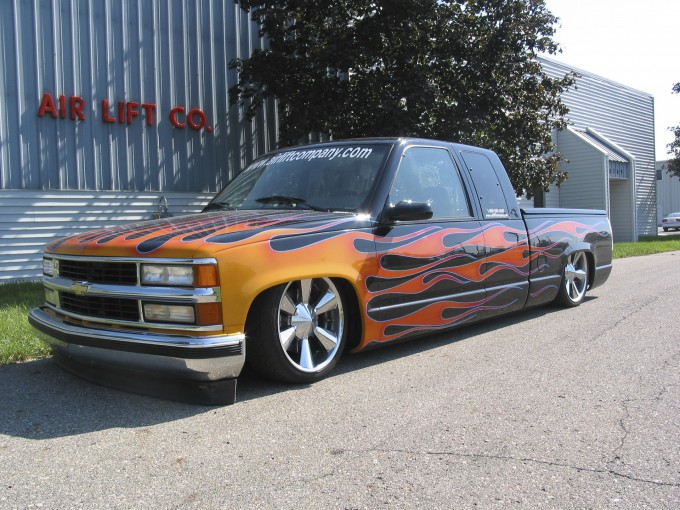 This was also a time before sophisticated and highly intelligent management systems. Instead, the mini-truckers were running big and bulky components and would often have to cut and weld the body and chassis to get things to fit. The bags were filled and emptied with manual switches and 1/2-inch lines which provided no smoothness or grace between going from aired-up to aired-out.
There was no real engineering or consideration put into the installs – people just worked with what they had and tried their best to make it fit. These backyard installs are so far away from what's on offer today, but this is where a lot of people got their first impressions of air suspension. Where these guys were hacking up their cars up to make things fit, anyone can now buy a dedicated air suspension setup off the shelf which has been specifically engineered and tested to fit their car.
By removing dampers, anti-roll bars and whatever else was in the way, and relying solely on airbags alone, performance didn't even come into the equation. The ride was bouncy, it was under-sprung and damping was sometimes non-existent. For a lot of people, this was their first experience. Unfortunately, this experience is now highly outdated.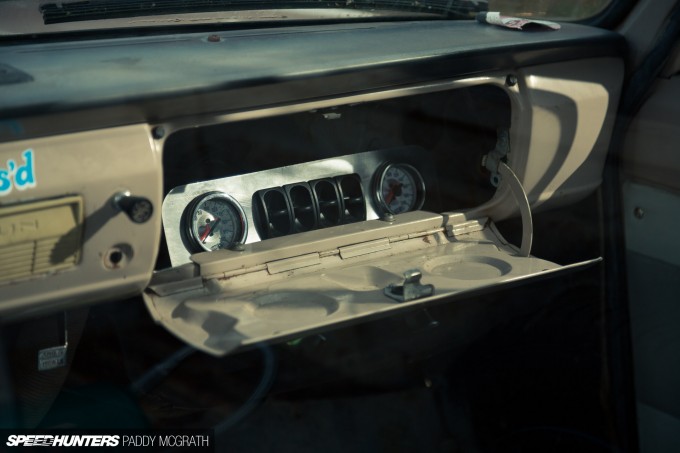 This isn't an attack on the mini-trucking scene, far from it. These guys and girls were just working with what they had and low and slow was the order of the day. They were just ahead of the curve in some regards.
The New Beginning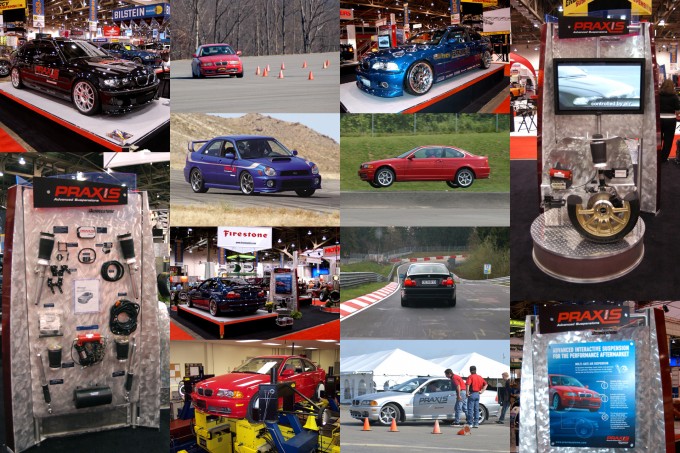 Not too far from this point, around 2004-2005,  a performance-orientated air suspension product, Praxis, which Brian was involved in, was introduced to the market. Whilst he remembers it as being quite good, he concedes that it was the right product but at the wrong time. The idea of performance air suspension was unheard of, and coming in at quite a high price point, it didn't appeal to consumers.
However, it was well received by the motoring press at the time. Larry Webster of Car and Driver compared two BMW E46 M3s with identical specs and rubber – save for one car being equipped with Praxis air suspension. The air-equipped car pulled 0.02g more on the skidpad and lapped their test course 0.3s faster than the stock M3. It might not sound like much, but the course was just under 50 seconds per lap.
It was the subjective aspect of the ride that really impressed the writer. "The differences were dramatic. Body roll was about nil in the track mode, and there seemed to be less lag between the time the wheel was turned and the car responded. The stock M3 is pretty good in this regard, but in track mode, the Praxis car had the sharpness and precision of a race car. In short, the Praxis M3 felt more comfortable on the track." This was 10 years ago, a figurative eternity when it comes to modern technology, and performance air suspension was already proving itself as a viable option to those who wanted versatility from their daily-driver track cars.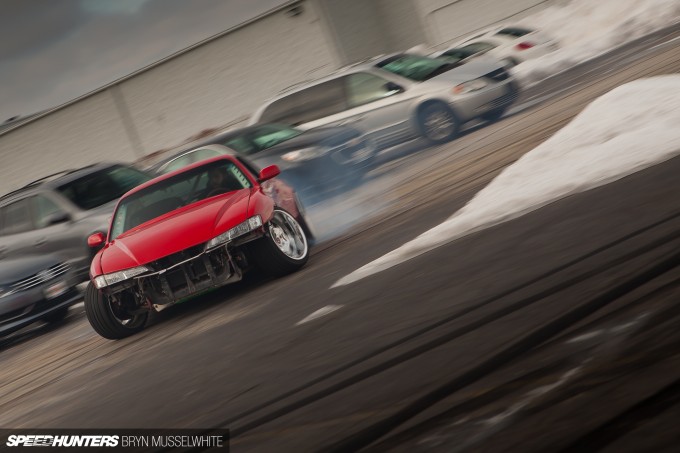 When Brian joined Air Lift in 2009, it was the beginning of the next stage of evolution for air suspension in a performance application. "I wanted to prove a point – that air could compete with a coil-over setup," he says. Brian's years of experience working with OEM manufacturers and his expertise in chassis dynamics would play a huge role in shaping the Air Lift Performance division. "When I joined Air Lift, they had all of the right ingredients, but were just short the recipe" he adds with a smile.
He's also quick to praise others within the industry – those with a similar determination to show people the capabilities and potential of a good air suspension setup. He reserves the most praise for Brett Voekel, who he describes as a pioneer for bringing air to the muscle car crowd. Whilst technically competitors in the market, Brian clearly has a lot of respect for what Brett has done and continues to do. I get the impression that Brian is all about proving a point and furthering the potential of air suspension above all else.
He went on to speak about how the industry as a whole has moved the game onwards. Competition has been stiff, but the consumer is the ultimate winner at the end of the day. Never before have end users had such choice in off-the-shelf packages, which now feature better reliability, sophistication, ease of installation and performance across the board.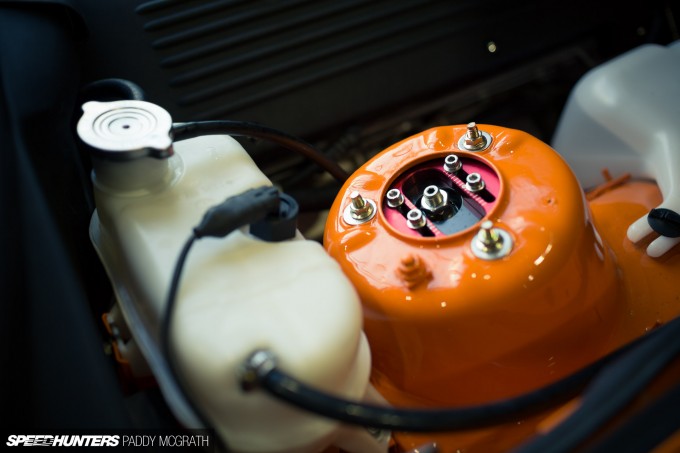 Brian believes one of the greatest advancements in air suspension technology was going from a bag and cup setup to a bag-over-strut assembly, which Air Lift had pioneered many years previous. What Brian and his team at Air Lift Performance did to prove its performance potential, was rapid prototype an air setup using their own bags combined with an aftermarket set of coil-overs that were lying around the workshop. It was clear from this moment that a high quality damper and bag-over-strut was the way forward.
But why air in the first place? Well, it all simply comes down to adjustability and versatility. It's about having your cake and eating it. Anyone who has run a car low on a static setup will know the pain of speed bumps, multi-story car parks and steep driveways. The ability to rise above these obstacles and drive in comfort at whatever height you want, whilst retaining comfort and performance is hugely appealing. The progressive spring rate of a double-bellow air bag allows a huge amount of compliance too – certainly more than a traditional steel spring. Whilst an air system is certainly more complex than a coil-over system, it more than makes up for it with its adaptability. With rapid advancements in technology, things can only get better.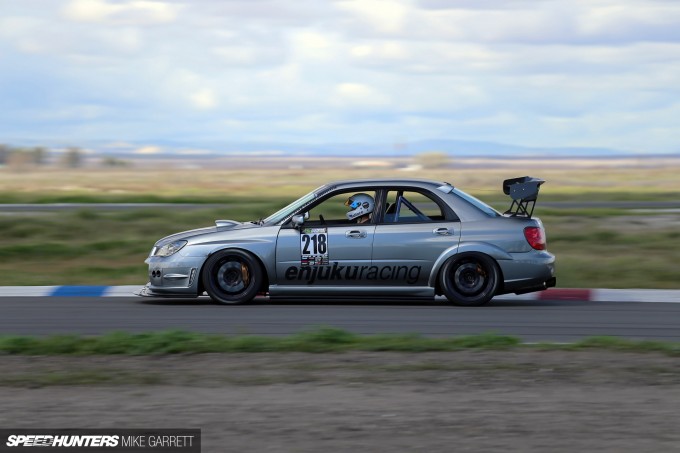 Let's come back to present day. Just how viable is air suspension for a performance-orientated enthusiast? I reached out to Cody Miles, who has won four out of five rounds of the 2015 Redline Time Attack Street Class AWD in his 2007 Subaru Impreza STI, which runs on Air Lift Performance suspension with V2 management.
"I chose air suspension when this car was still my daily driver. I'm obsessed with low cars, but I also didn't want to be scraping everywhere I go. The stress of being static-low almost isn't worth it to me. Although this car was my daily at the time, I still didn't like the idea of the car not performing to its fullest. The Air Lift Performance kit sold me on being able to do it all. So far I've put that to the test and have become partners with Air Lift Performance, which I couldn't be happier about. I think the advantage of being on air suspension is that it is simply convenient. I love being able to hook up to the air chuck in my trunk in order to quickly get tire pressure dialled in, and inflate the air bags on the truck when towing the trailer. Also, even with my front splitter, I'm not scared to approach driveways and speed bumps knowing that I can always air-up to safely get over them."
The only downside to running air in a competitive environment, is being the first to do so. This means that Cody has to learn and create his own setups for each track as he goes. It's a learning process but one he's clearly comfortable with. His worst result of the season so far is a second place finish at Streets of Willow.
Of course, I couldn't talk to the Air Lift Performance team without mentioning that video before we finished our conversation.
In the video (above), air suspension comes out the clear victor in a test against a premium coil-over setup across three cars and multiple tests. "When we came up with the idea for this video, we just wanted to show that air was at least as comparable to a good coil-over. We were genuinely surprised at the result." They stressed to me that the coil-over system used was high quality system, if it had been a budget coil-over, the gaps would have been consistently larger throughout the test. I had to ask them that if the test was performed again tomorrow, would air still come out on top and they were confident that it would, but in another four or five years that air would fare even better again.
In a relatively short amount of time, air suspension has come a long, long way. From the bouncy and performance-sacrificed backyard home builds, to dedicated performance-engineered setups designed and tested for specific vehicles which almost anyone can install. Coincidentally, we can thank those mini-truckers for being the early adopters of air suspension and creating the wow factor before it spread across to the hot rod and custom scenes, and then the VW movement.
Whatever your preconceptions and misgivings are about air, I think it's about time that we research, experience and come to our own conclusions. I know I am.
Paddy McGrath
Instagram: pmcgphotos
Twitter: pmcgphotos
paddy@speedhunters.com
Additional Photography by Mike Garrett, Bryn Musselwhite & Air Lift Performance