The Freelancer
Cody Walls is one of the behind-the-scenes builders who is destined to leave a big impact on the industry. Take one look at this '59 Chevy wagon and you'll see why.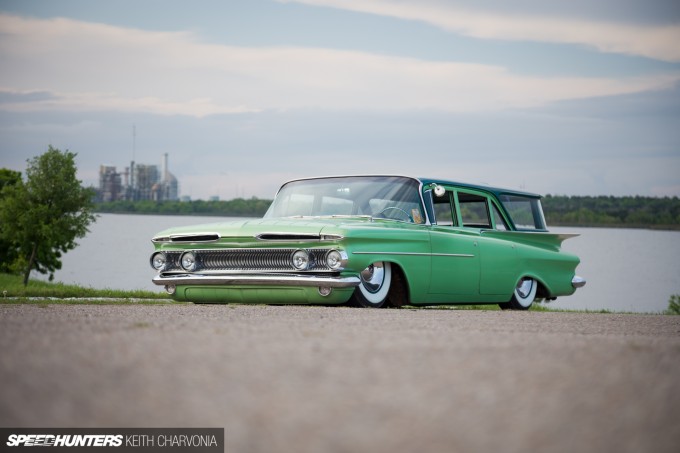 He knows what he's doing, and not just in the technical sense – although he covered those bases by going to technical school for body and paint years ago. Cody also has that rare eye for style, so when he's bending metal or spraying paint he knows how to make it turn out looking right too.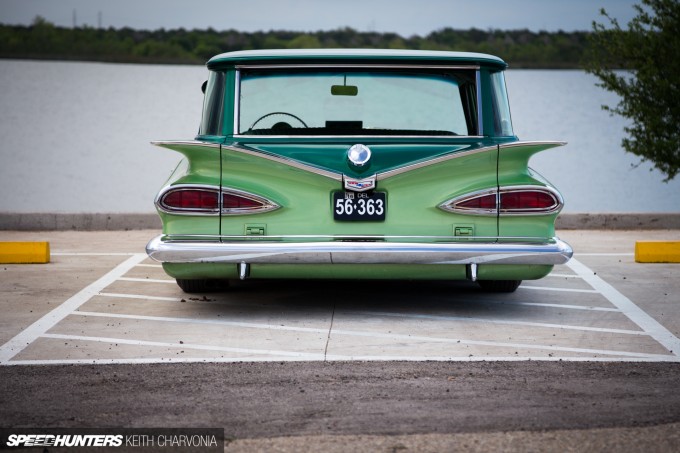 He spends his days 'freelancing' – as he calls it – for multiple hot rod shops. Using this career model, Cody is able to avoid the stress of running his own shop and go where the work calls him. He's always busy and he's always doing what he loves this way.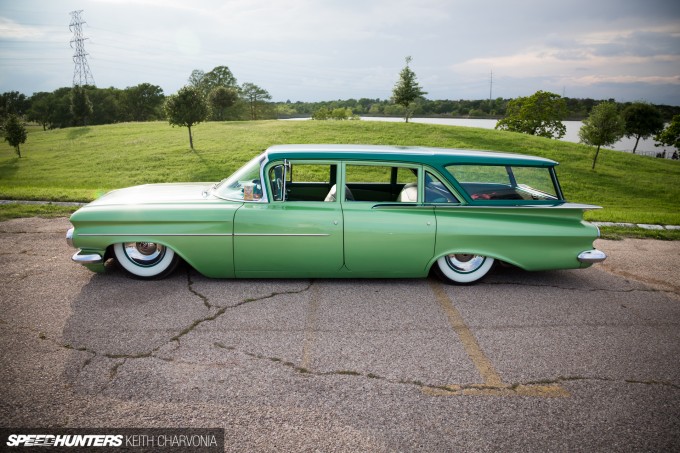 The '59 you're looking here is Cody's personal project – an eight-year one at that – in which every detail has been addressed to create his own perfect, customized version. Visually, it all hangs together quite nicely, which is the hallmark of a well-built kustom.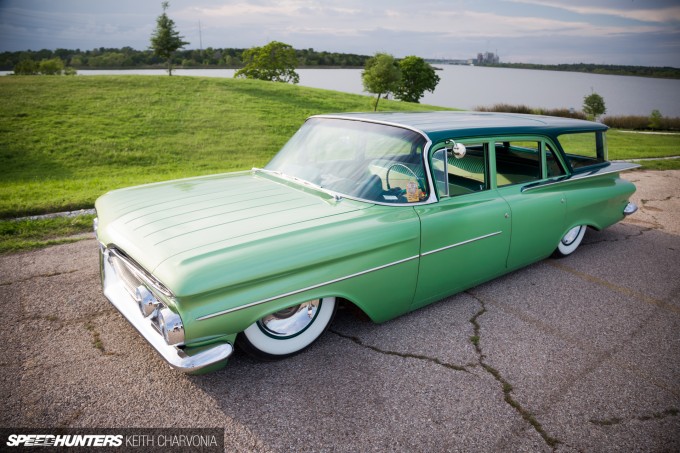 Despite the sheer volume of modifications, it still flows nicely as you run your eyes over the heavily-worked panels. 1959 Chevys are crowd pleasers to begin with thanks to their beautiful lines, and Cody has only enhanced the styling into a super-slammed longroof.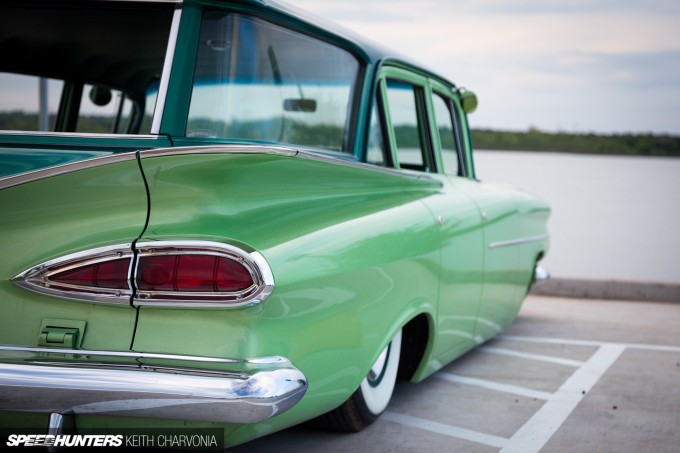 When I got the chance to catch up with Cody, it was only because he had the stones to drive his kustom halfway across the country – something in the order of 1,500 miles – to attend the Lonestar Round Up. It was a worthwhile venture, because each day at the show a constant stream of fans came by to shake his hand and check out the wagon for themselves.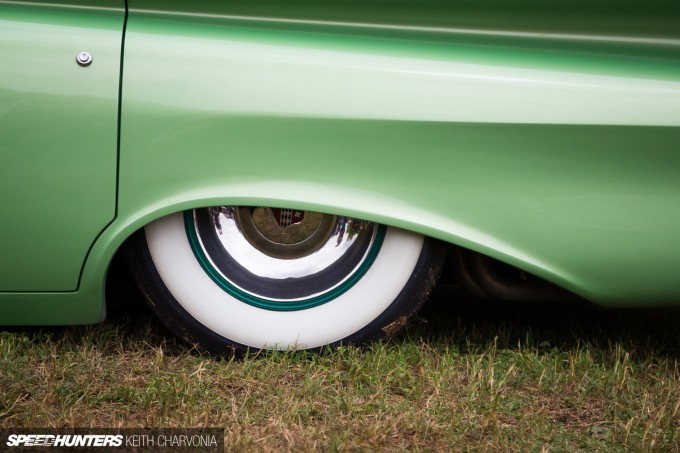 Likewise, it gave me the opportunity to photograph a true 'East Coast channel job,' as his Instagram handle announces.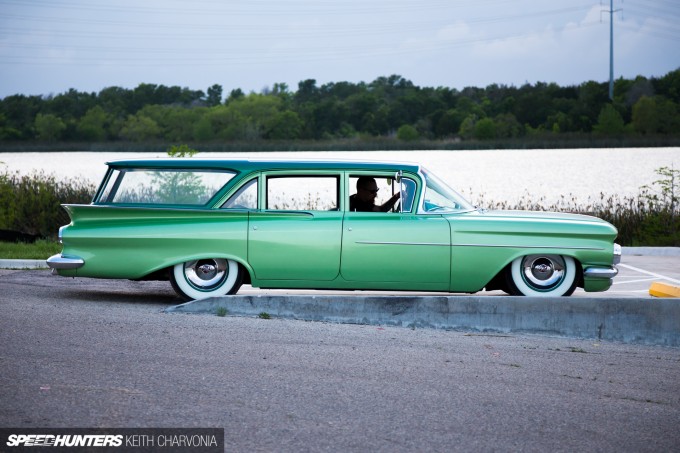 You'll notice that when aired up, the frame rails are not visible below the rockers at all. This is the product of a four-inch wedge channel to get the body down over the frame.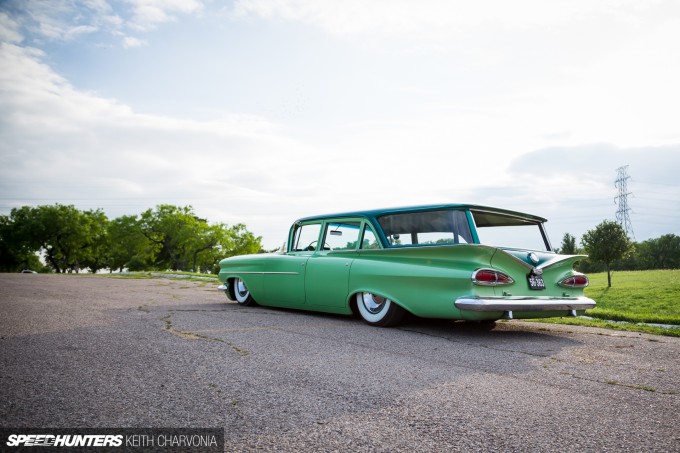 The rear is actually slightly raked, sitting higher than the front. Typically, a kustom would just lay-out level all around, but like I said, Cody has an eye for these things and this was very intentional.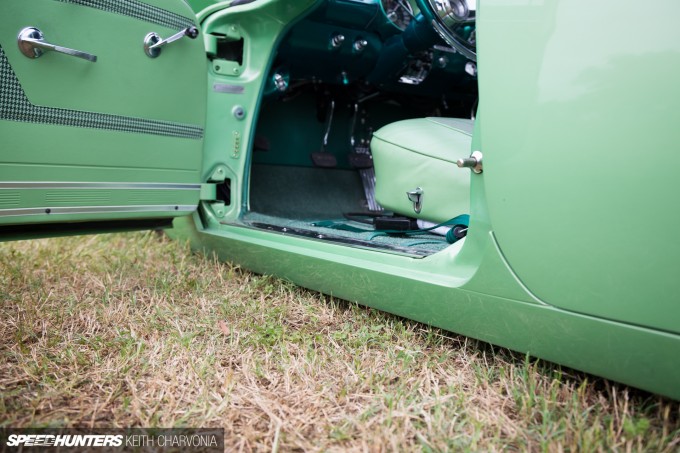 You might expect to see a monster step in the floor with the door swung open, but actually it's still flat as stock. The frame was cleverly reworked to avoid hacking up the floors in such an obvious and rudimentary manner.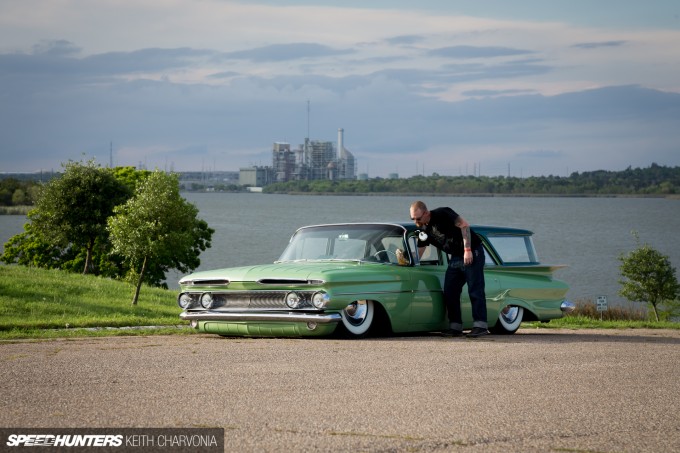 For shows and magazine shoots (see Rodder's Journal #64) Cody can lay the car out at will.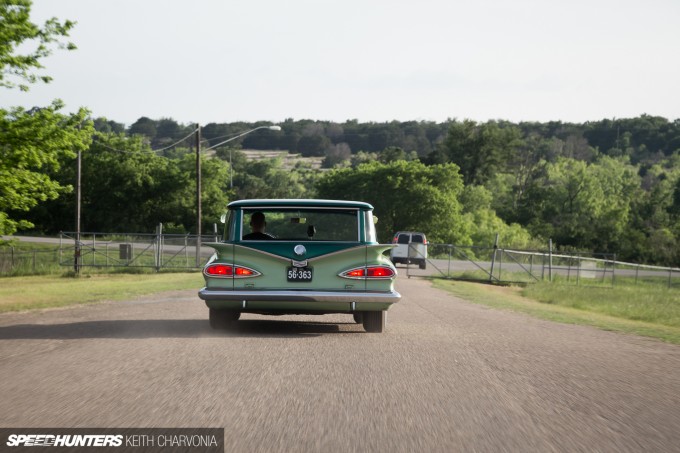 But when it's time to travel hundreds or thousands of miles, the car can be lifted up on its Slam Specialties SS7 air springs to a reasonable ride height too.
No Panel Untouched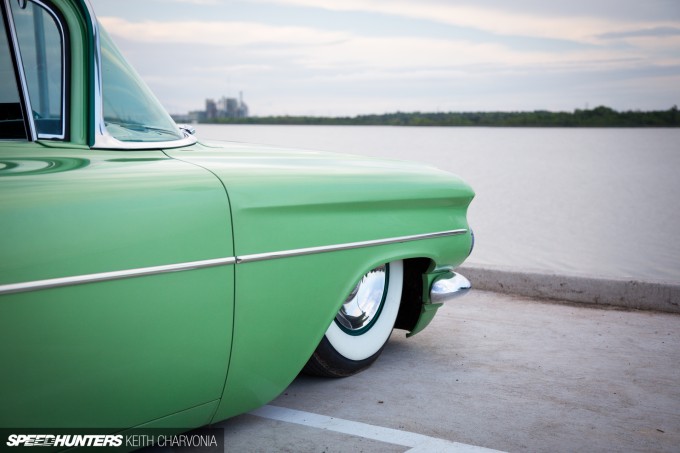 Cody gets comments like 'sweet wagon' all the time, but the hasty passerby will never know the amount of work that's gone into this one.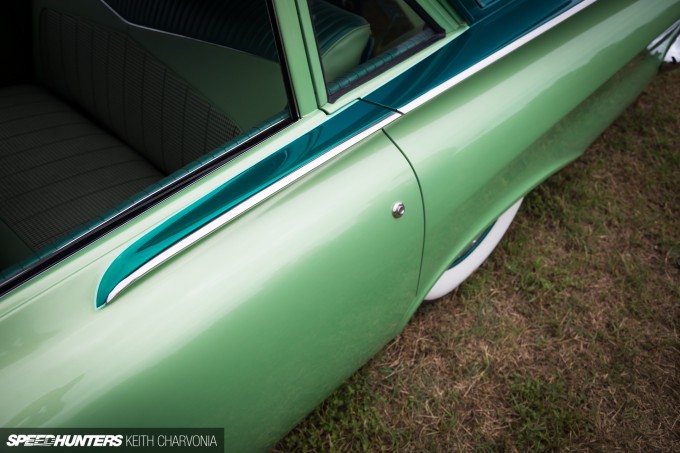 The two-tone paint is a more obvious feature. Cody actually did all the paint and body himself.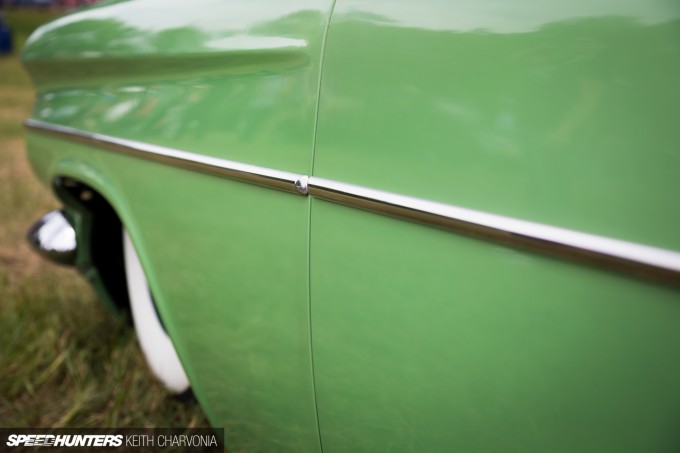 He also made the stainless trim by hand. Looks stock, doesn't it?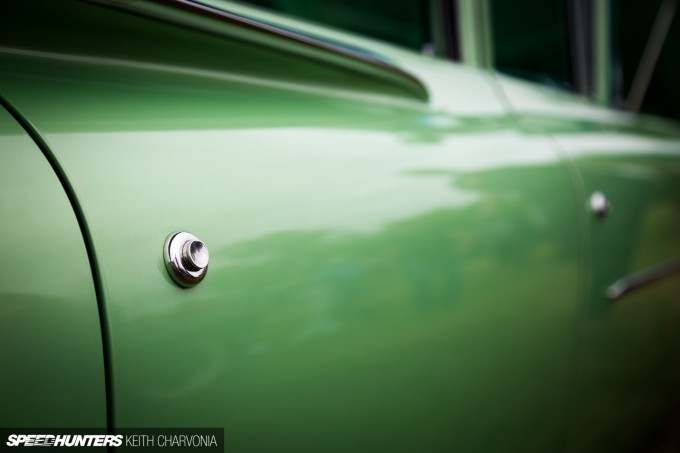 If you follow the custom stainless to its end, you'll find push buttons that open the doors. Lots of hot rodders adopt these from '46-48 Lincolns, but Cody went off and made his own. This is the kind of stuff that would cost a fortune if you commissioned a shop to make them, but they're virtually free when you're building for yourself.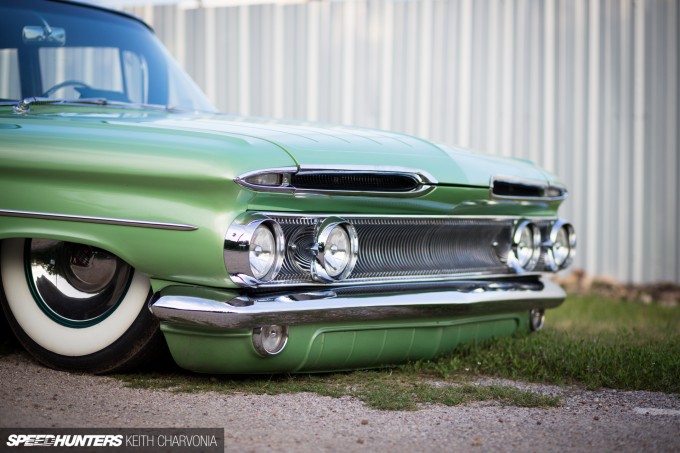 The grille is from a '60 Mercury, and looks right at home.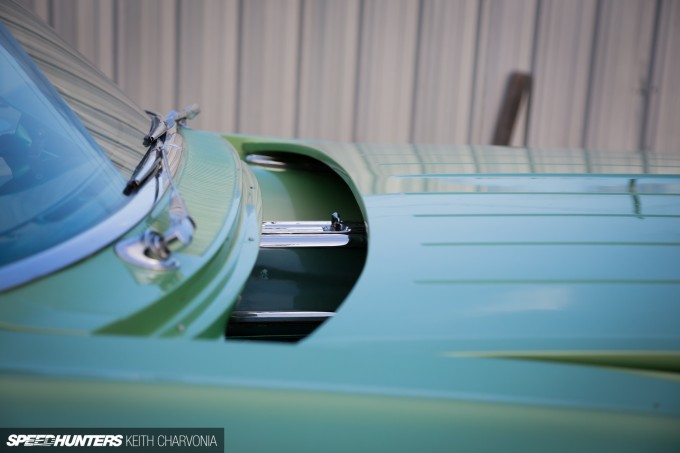 When Cody pops the hood, something weird happens and crowds start to gather.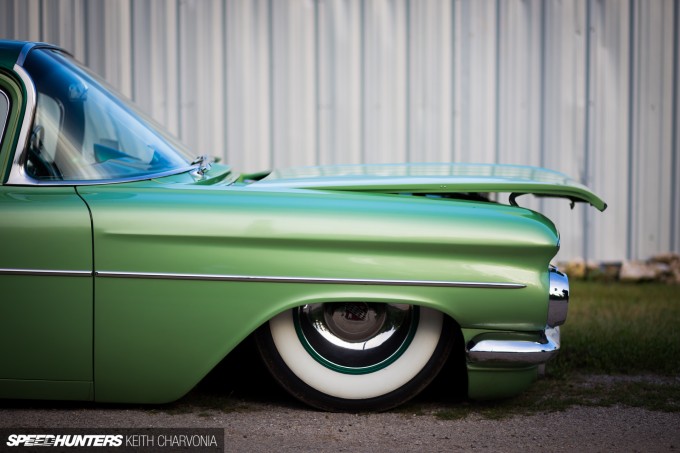 First, the hood slides forward and bumps up slightly at the front.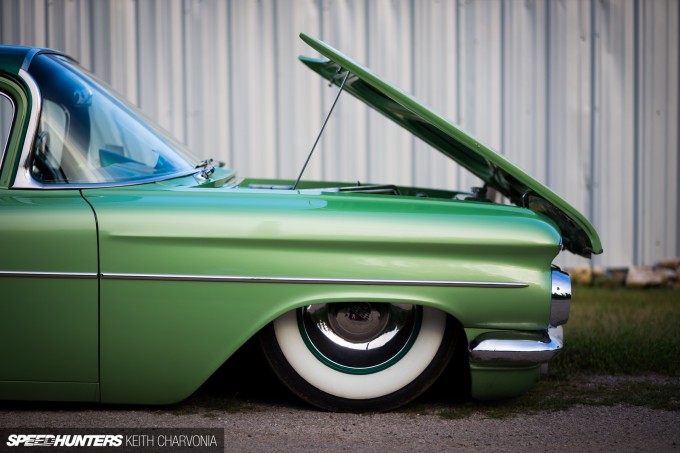 From there, it can be lifted and supported with a custom prop rod.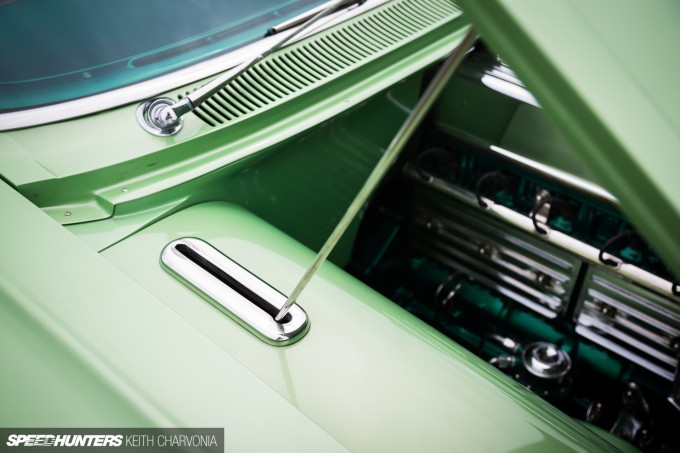 Of course, the hood prop is trick too – custom built just for this car.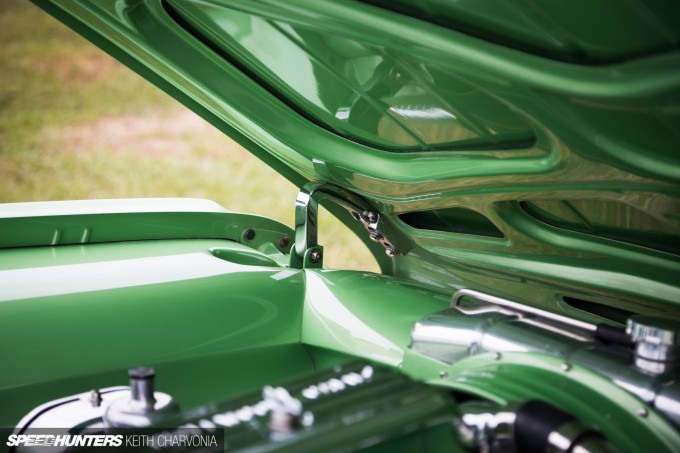 The hinge mechanism was inspired by a clothes dryer, the last place you would usually look for custom car ideas.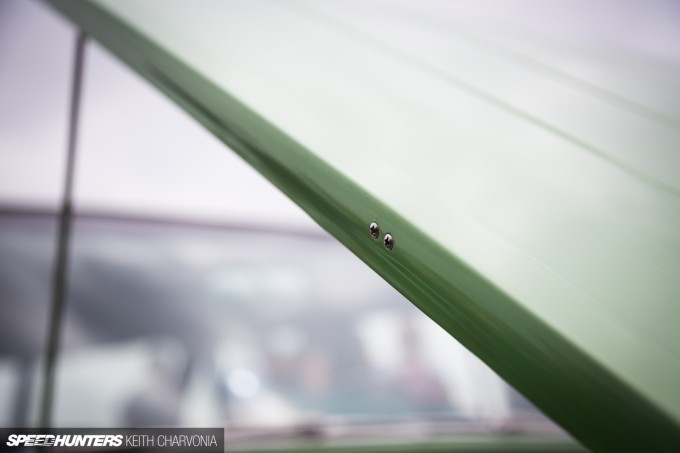 Even the detailing of the screws on the side of the hood is immaculate, a sign of the quality that exudes from this wagon.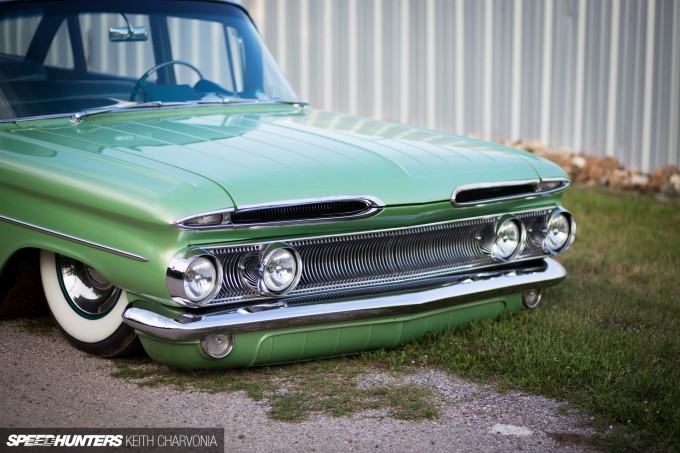 Below the Merc' grille is a hand-made valance that's actually pretty wild when you get to looking at it.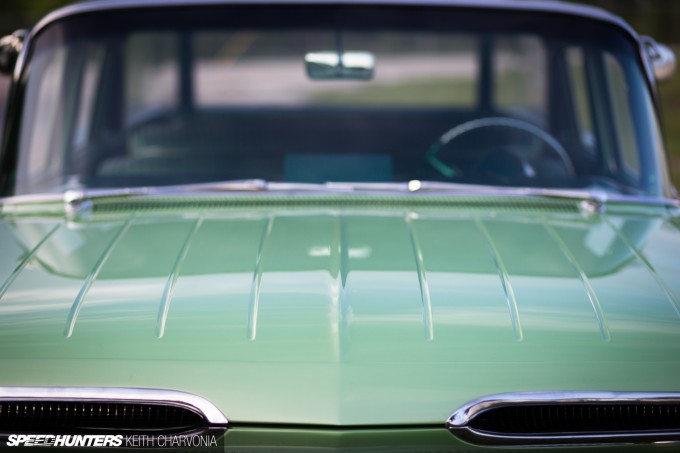 The hood is also ribbed, accomplished by taking roof sections and TIG welding them in, all the way around. There's a ton of welding on this hood!
Straight Six
Did you catch a glimpse of the valve cover when the hood was open? This might appear to be your run-of-the-mill Chevy straight six, but Cody has gone to great lengths to hop it up.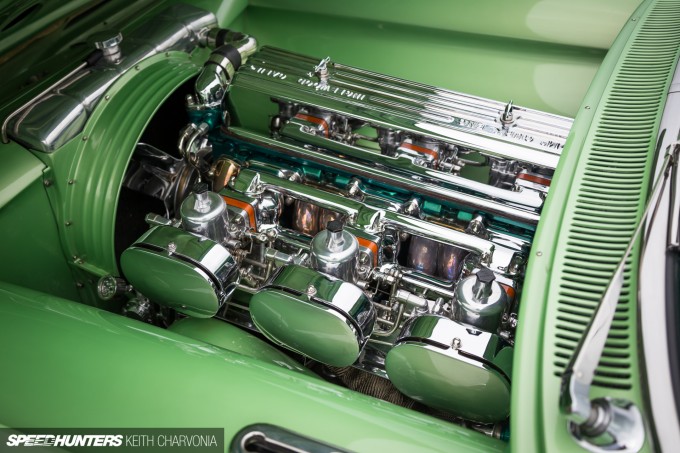 For starters, there's the rare 12-port Brazilian head, ported and polished of course. Three SU carbs were sourced from a Datsun 240Z and adapted to fit with an aluminum intake manifold that Cody fabricated. Also notice the inner fenders, made from a sacrificed pair of front '59 panels.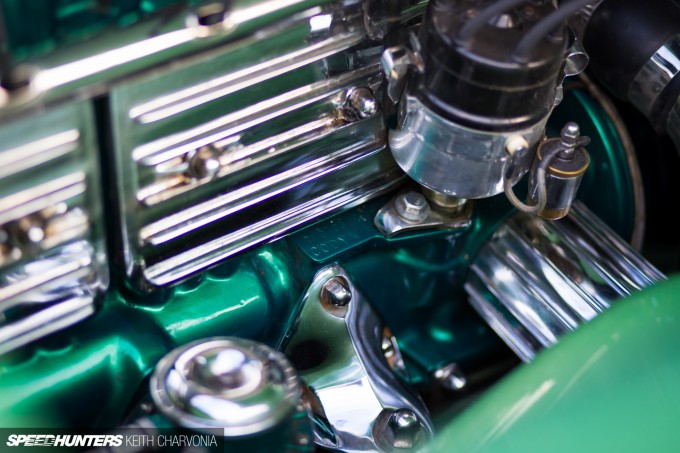 The block was bored .030″ over, making it a 296ci, then the engine was built up with all the 292 performance parts you can find. Cody also made the motor mounts, and stamped his name into the block after smoothing out every imperfection.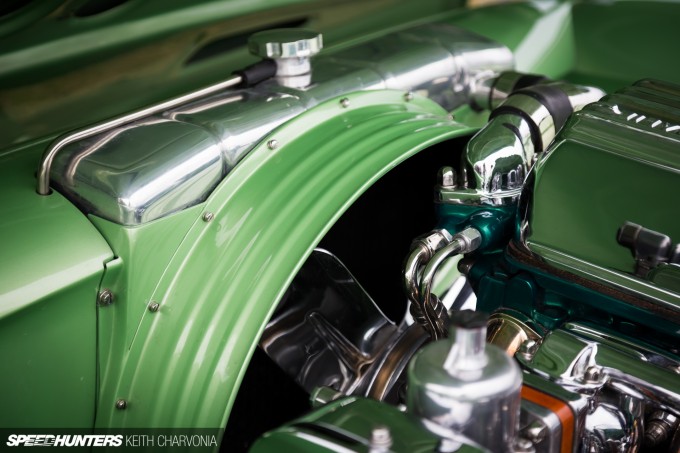 The stock fan was chromed and a '56 Thunderbird radiator fitted up front. Then Cody made the fan shroud, ribbed to match the hood and with flat-head screws all perfectly rotated to align around the shroud.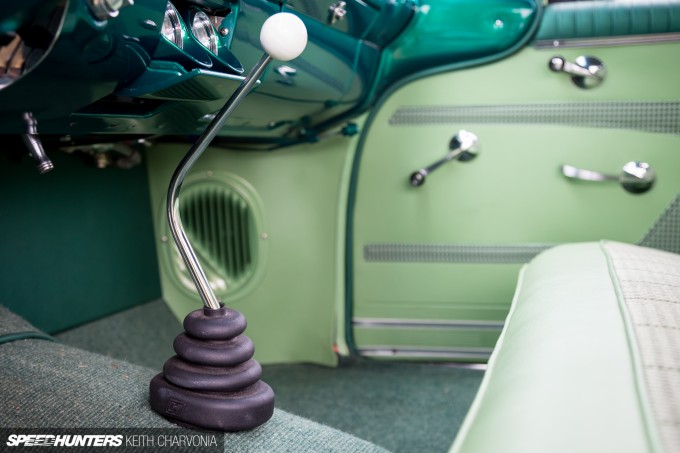 The six is backed by a T-5 transmission, which is controlled by a '62 Impala Hurst shifter.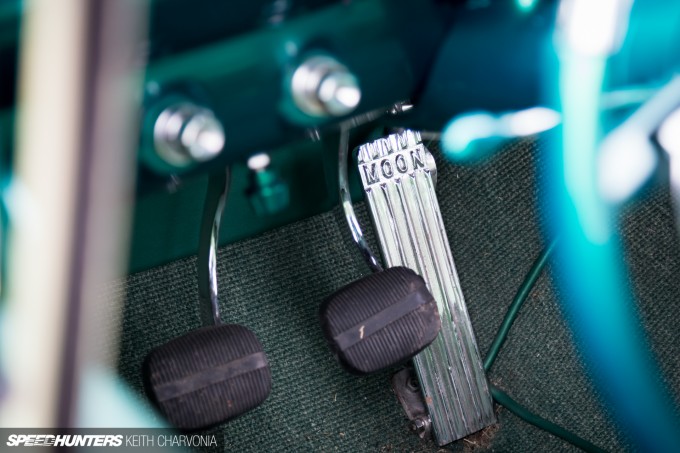 Next to two factory pedals sits the ubiquitous cast aluminum Moon gas pedal.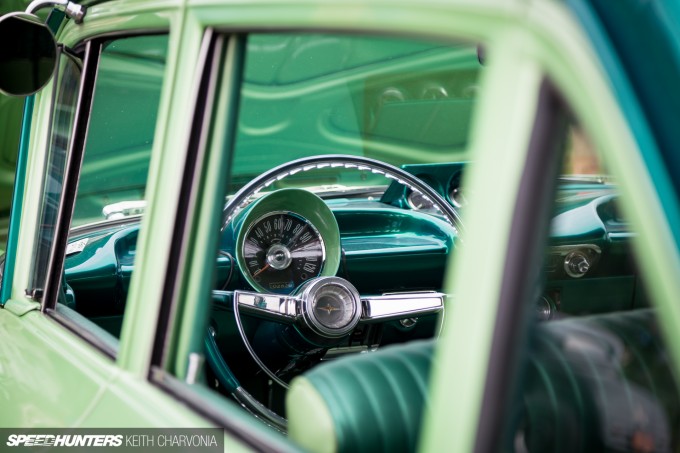 The '64 Pontiac steering wheel was re-cast by Dennis Crooks, which cost a small fortune, but just look at it.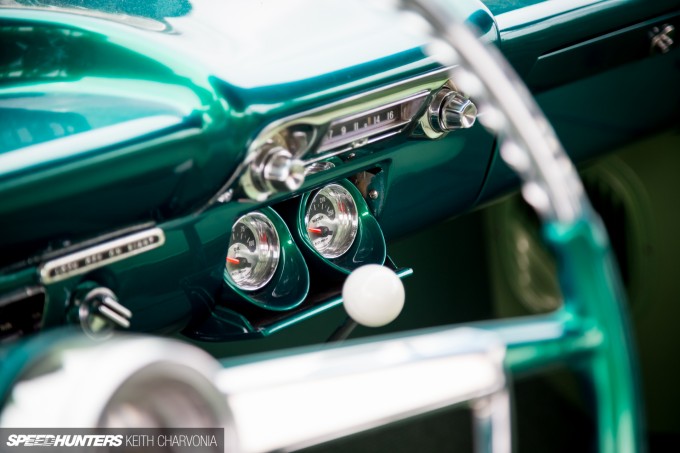 The hooded instrument clusters that come in '59 Chevys are certainly cool looking, so Cody took the styling and applied it all over.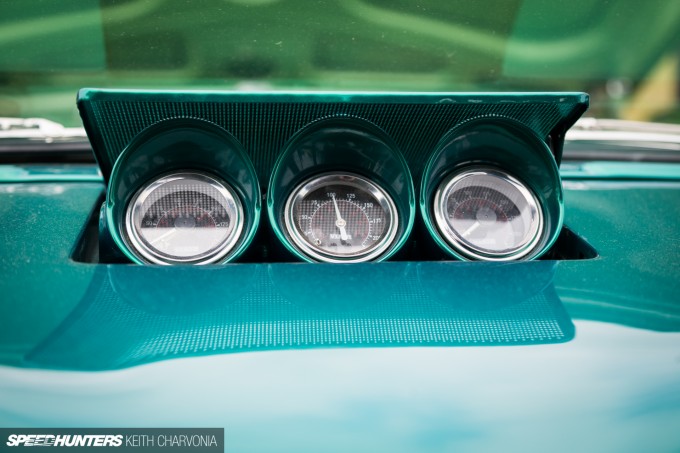 Even the hidden air gauges got their own '59 pods.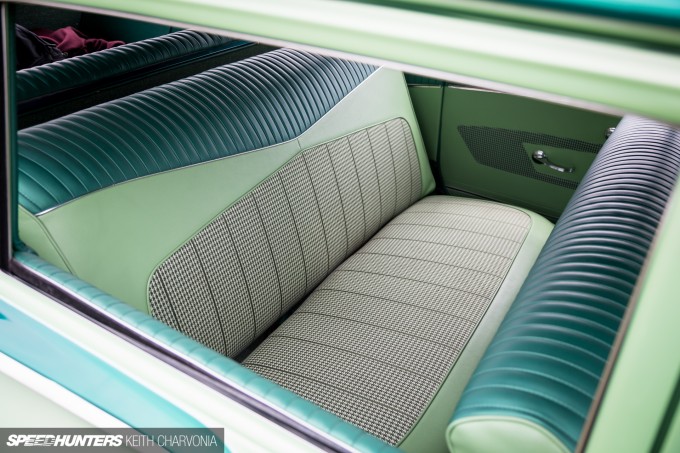 As custom as it looks, the upholstery is actually a kit you can order from Ciadella Interiors. Cody was able to spec which material he wanted where, then he installed it himself, getting everything stretched so tightly that it looks like a custom job.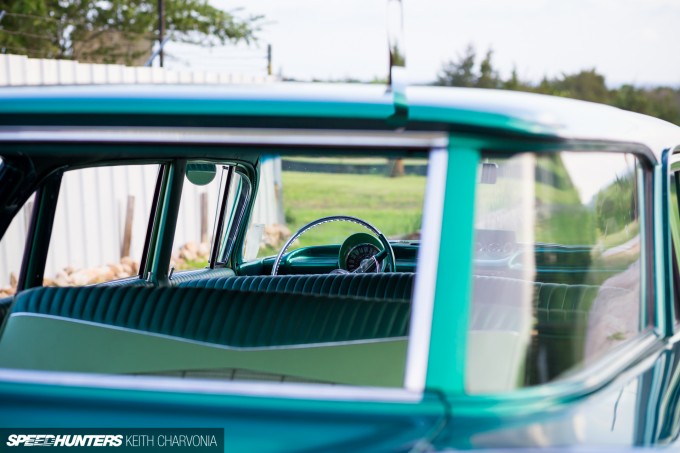 Like any good, old school wagon, there's a third row bench seat – facing rearwards of course.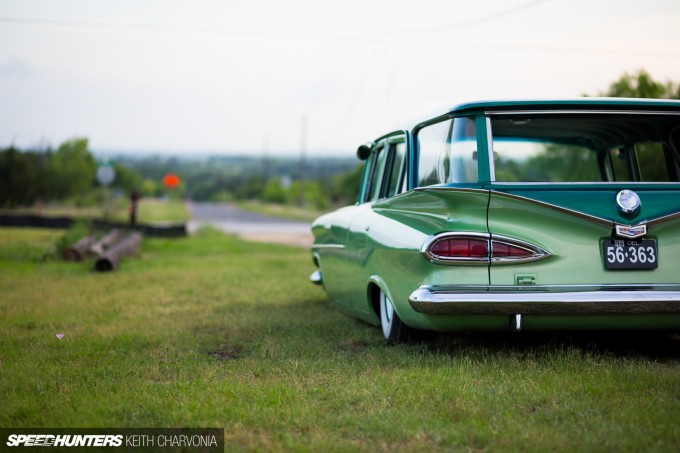 These '59s had massive tailgates that fold down just like a truck.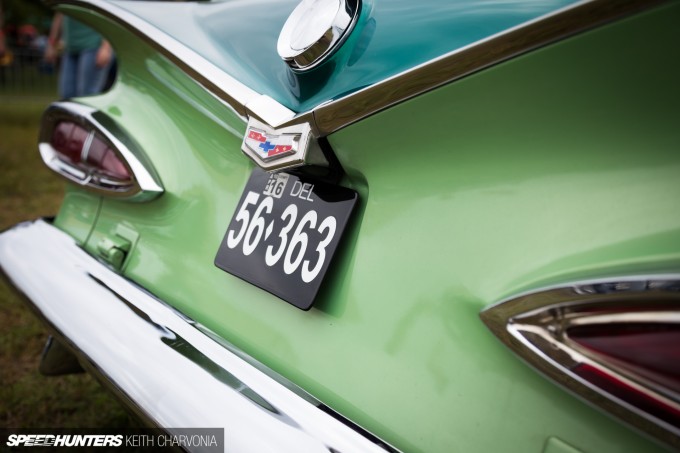 Cody's tailgate wears a rare Delaware black plate, but his has been custom made and coated in automotive clear to make it shine like the rest of the car.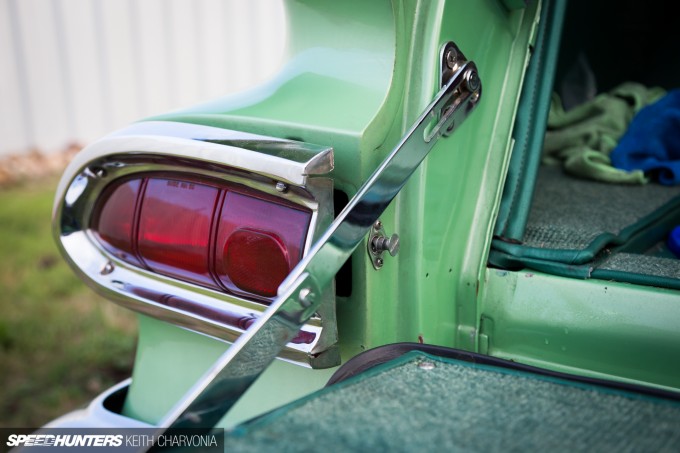 With the tailgate down, you can access a quarter-turn fastener to unlock the hinged taillight.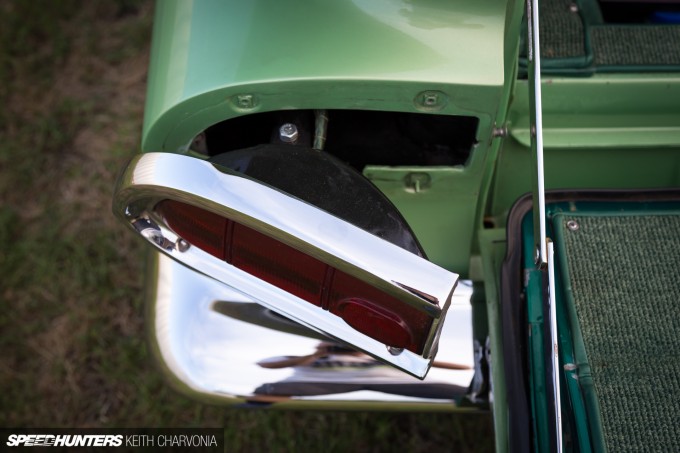 Then swing the light away to fill the gas tank. As I shot this Cody sighed, "ah damn, I should have welded up those holes!"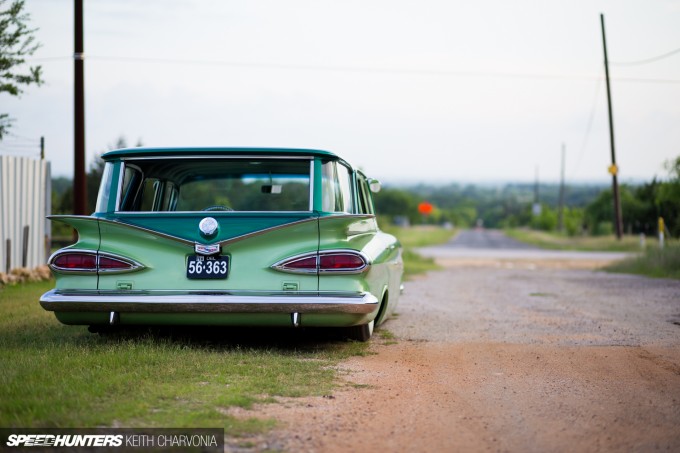 I understood perfectly. Even though his wagon looks absolutely flawless to all of us, Cody can pick out every last flaw and shortcoming.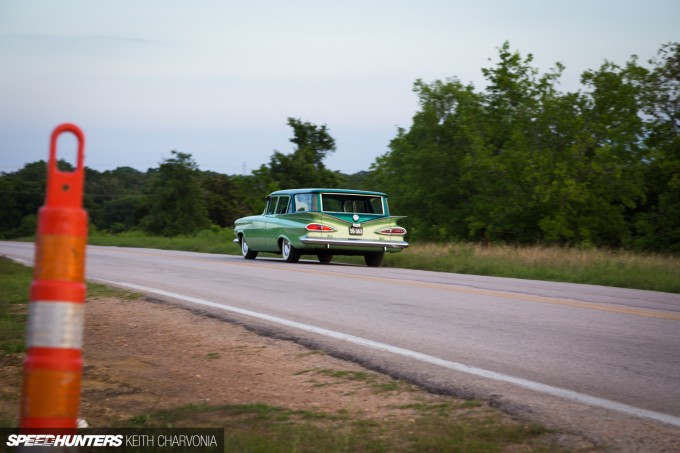 It's just that when you've cut, welded, body-worked and painted every panel, then removed and replaced every last bolt, you think about these things.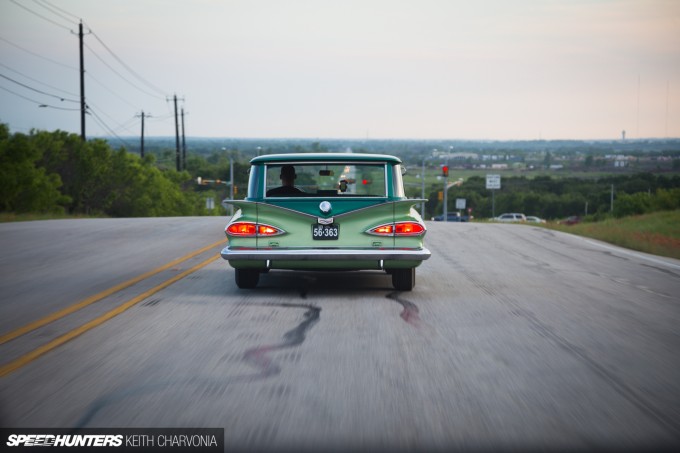 And Cody has plenty of time to think too, motoring across the United States behind the wheel of his eight-year creation.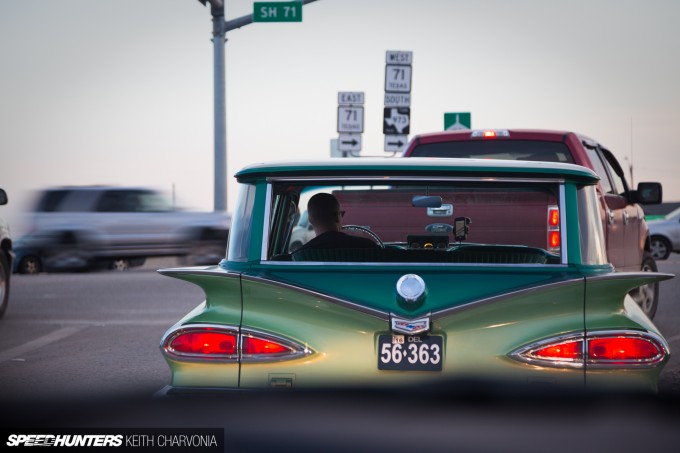 Besides the sheer effort and beauty of his custom build, I'd say the next best thing is the fact that he's not afraid to drive it.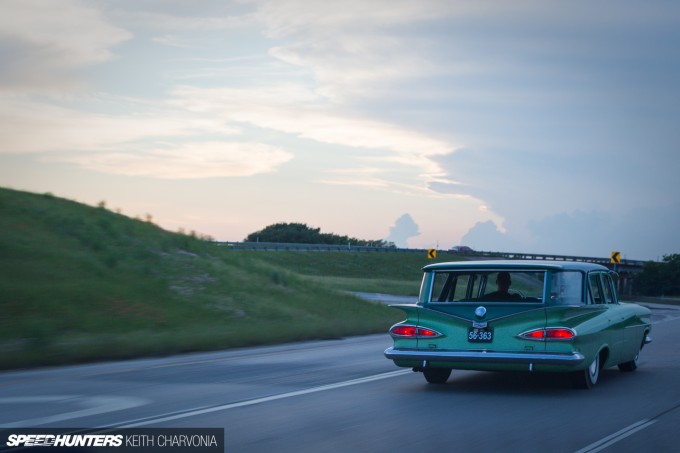 It's certainly not what you'd expect to see rolling down the interstate, but when you see it you can't help but smile.
Keith Charvonia
Instagram: SpeedhuntersKeith
keith@speedhunters.com
Cody Walls' 1959 Chevrolet Brookwood Wagon
Engine 
Chevy straight six, 296ci, ported and polished 12-port head, 9.0:1 compression, Schneider cam, springs & lifters, Smith Bros. push rods, engine machine work by John Emory, exterior of block smoothed & painted, hand-built engine mounts, fuel rail and intake manifold, 3x SU carbs from a Datsun 240Z, 1 7/8-inch stainless header built by owner, 2-inch stainless exhaust made from leftover dairy tubing, Porter 2-inch glass pack mufflers, vintage Mallory dual-point distributor, MSD 6AL ignition control, Braille battery, heavily modified oil pan, '56 Thunderbird fuel tank & radiator, stock chromed mechanical fan, stainless radiator hoses made by owner, American Autowire harness
Driveline
T-5, Inline Empire 2-piece driveshaft, Hurst shifter from a '62 Impala
Suspension/Brakes
Slam Specialties SS7 air springs, C-notch, 2-linked rear, front GM metric disc brakes, rear stock drum brakes, stainless lines, modified '62 Chevy master cylinder
Chassis
'34 Ford, sectioned 2.5-inch to drop cab, boxed from firewall back, shortened wheelbase
Wheels/Tires
Wheel Vintiques 15×7-inch Gennie chrome wheels, Coker G-78 bias ply with 3-inch whitewall
Exterior
All work done by owner, 4-inch wedge channel, custom ribbed hood, front tilt hood mechanism, hand-made stainless side trim, shaved doors, hand-made push buttons, inner fenders built from outer fenders, '60 Mercury grille, custom lower valance, shaved gas door, hinged tail light gas filler, BASF Glasurit paint, Cyber Green Metallic bottom, custom mixed dark green top
Interior
Ciadella custom upholstery kit installed by owner, '64 Pontiac steering wheel recast by Dennis Crooks, modified dash with custom gauge housings
Cody Thanks
Rusty Walls, Chris Layton, Nate Moore, Brent Moore, John Emory, Ciadella Interior, Emory Chassis Works
More Kustom stories on Speedhunters
Cutting Room Floor