What's In A Name?
It's been a while since Speedhunters graciously let me pen an article, and in that time I've watched the diversity that keeps me coming back to this site steadily increase.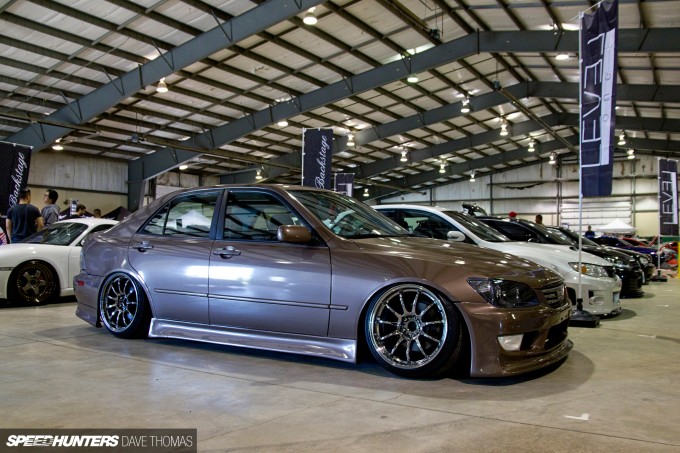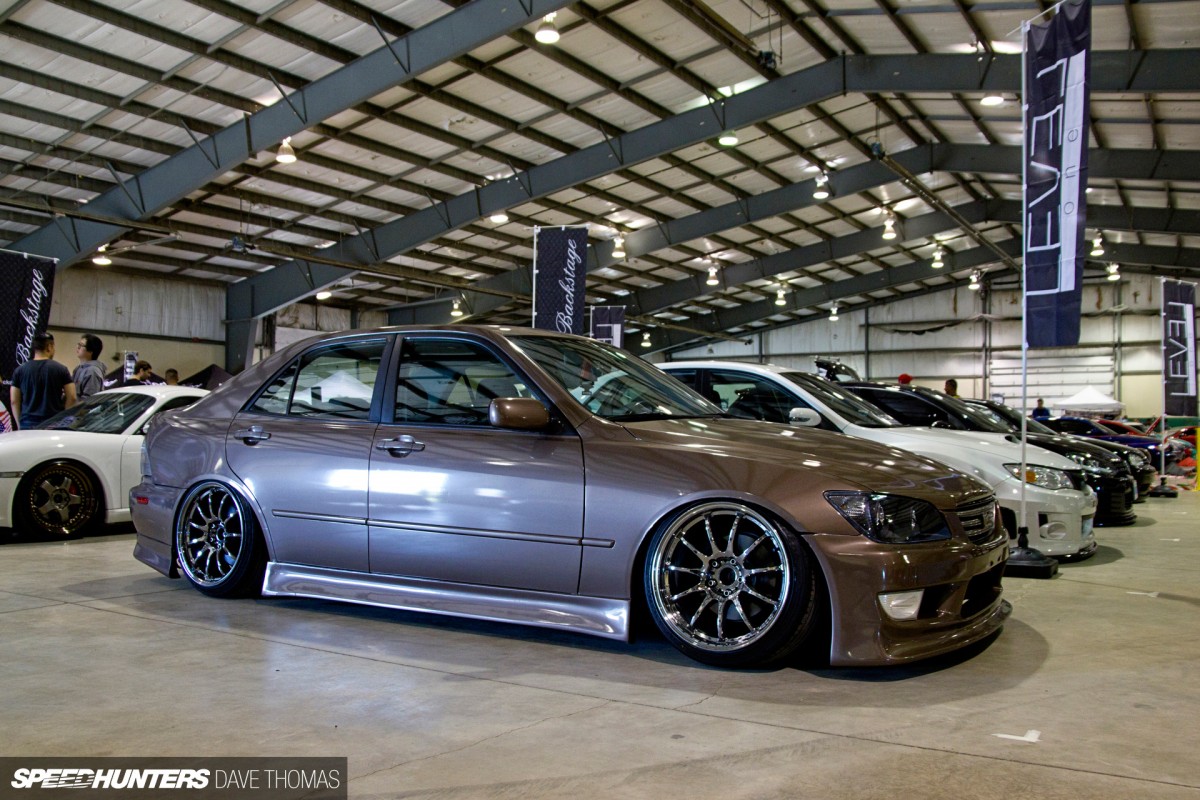 Yet no matter how varied the content is, when a post appears even slightly dedicated to the land of the low, grumblings of 'Speedhunters not Stancehunters!' appear in the comments.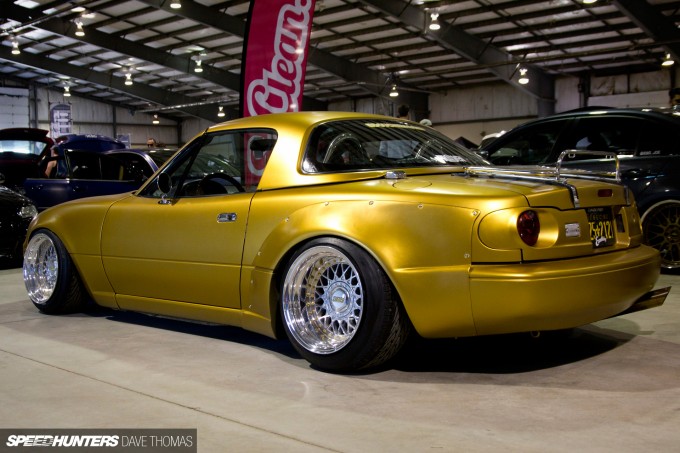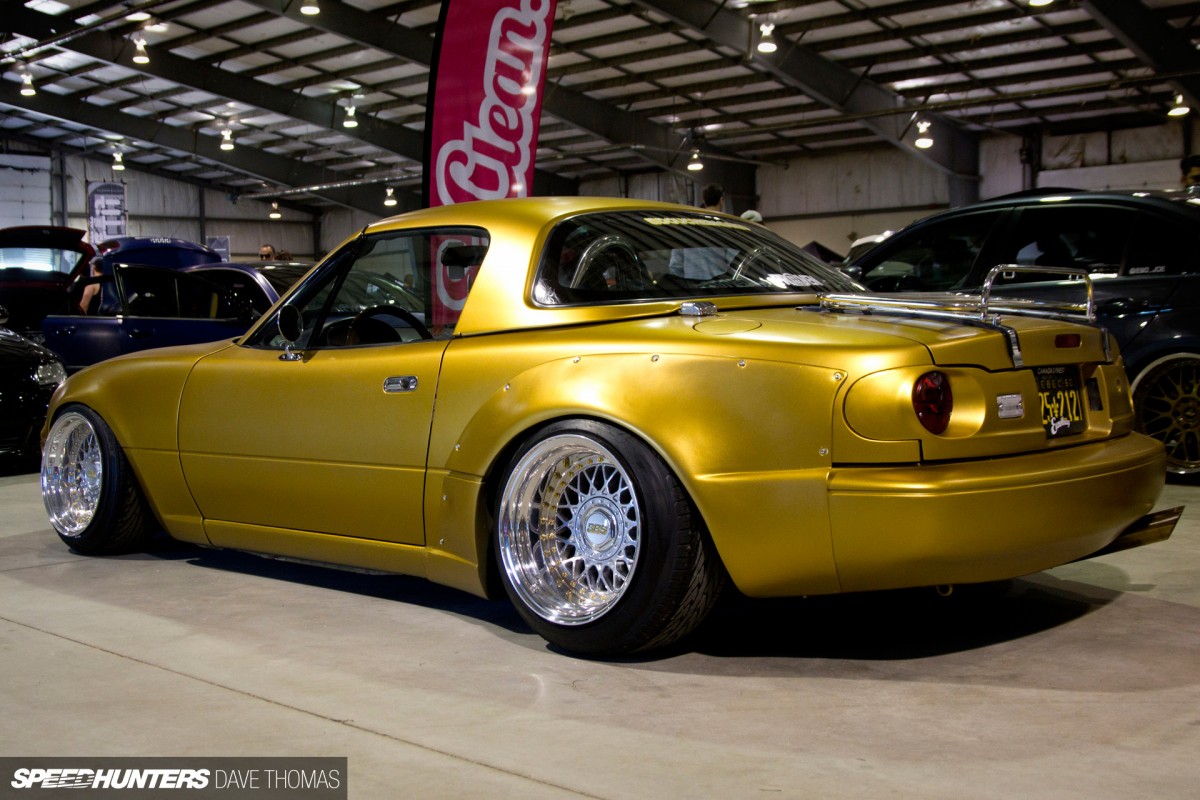 However, located in the homepage title bar, not all that far from the Speedhunters masthead, is the the tagline 'Car Culture at Large' and hate it or love it aggressive fitment has become a highly relevant part of today's car culture.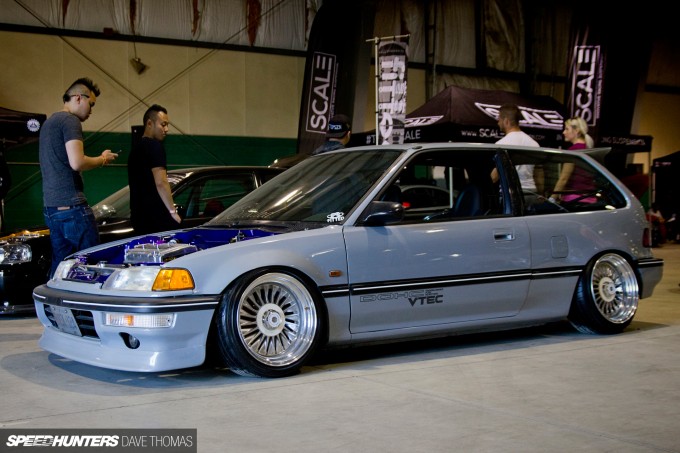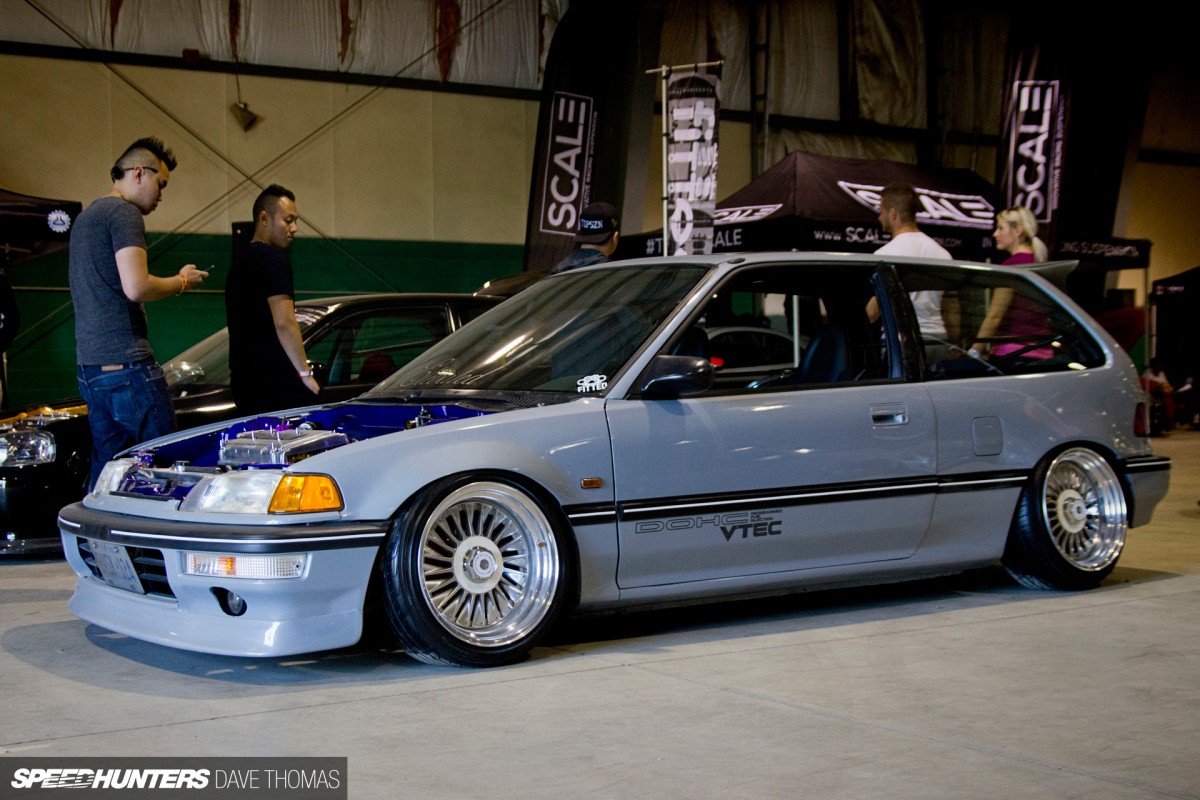 Aesthetic-first car modification is really nothing new, and aggressive fitment is just the current evolution of the path started by builders whose eye for style often yielded a few performance sacrifices.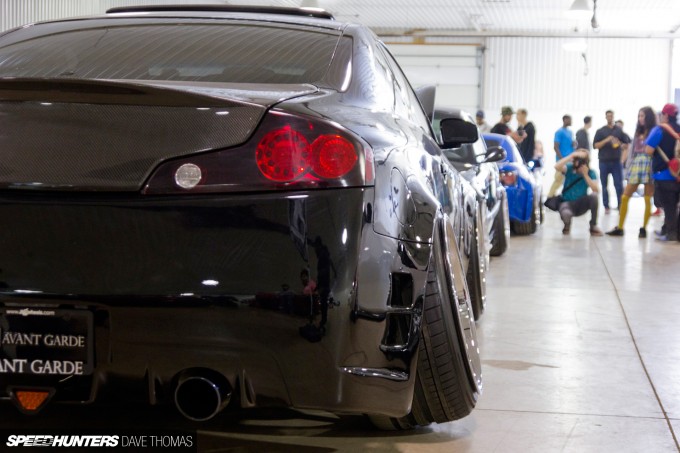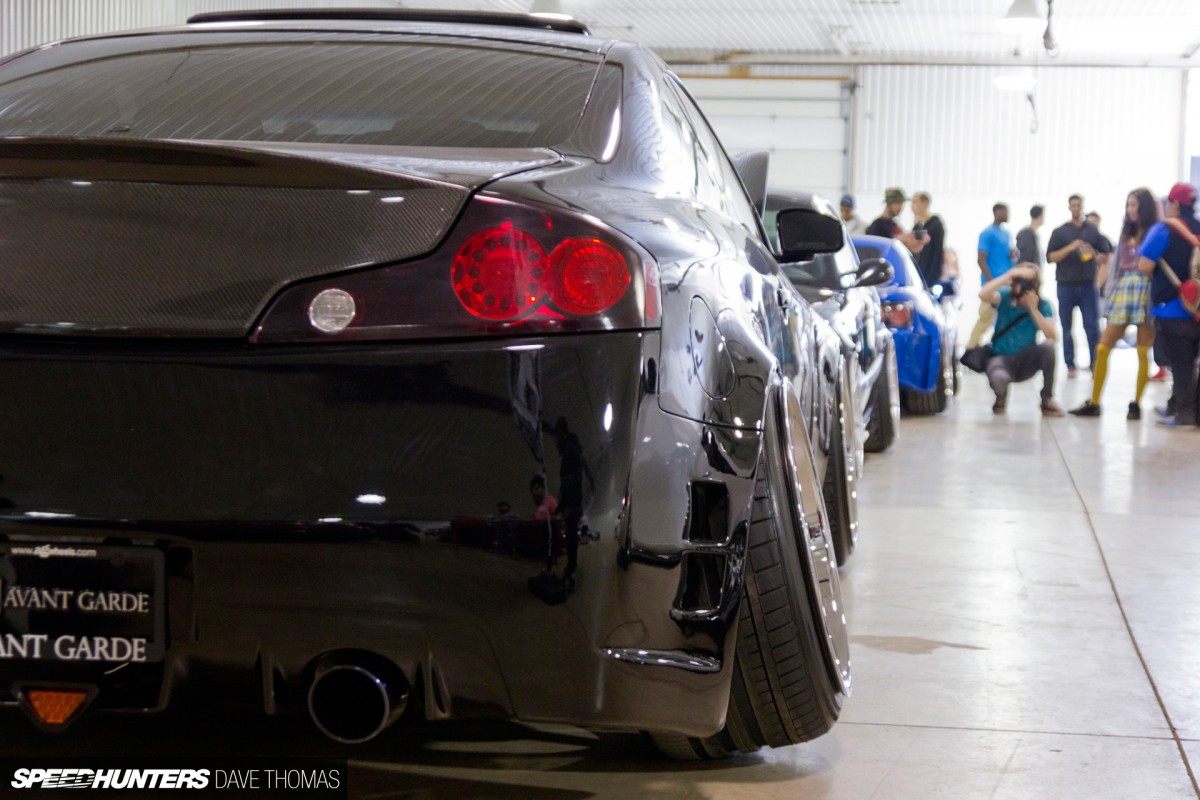 Here in Ontario, Fitted Lifestyle has established itself as the event catering towards individuals who like to push the boundaries of ride height and wheel fitment.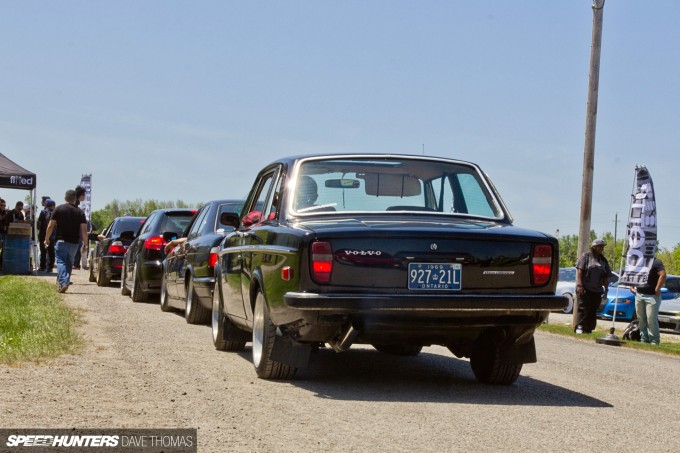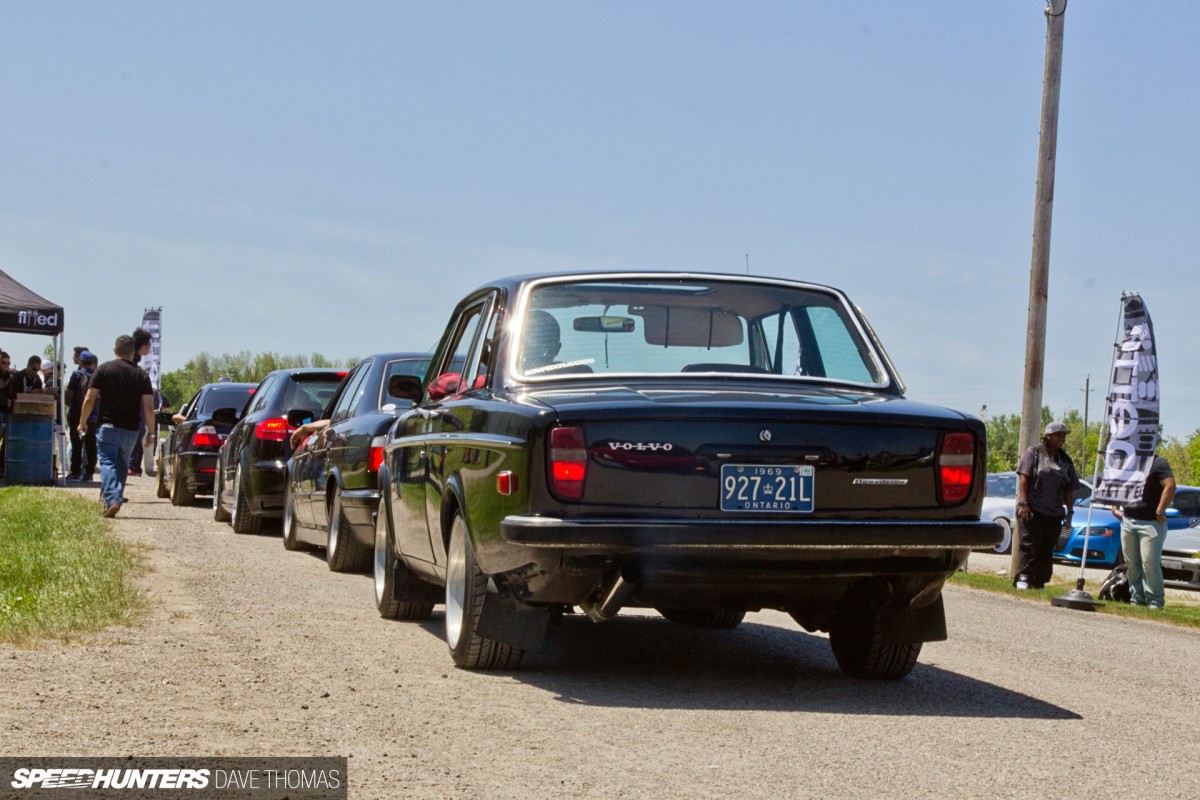 The Toronto stop is their flagship show and what makes this event so great is that while its main focus is a fairly niche group, its audience is wildly diverse.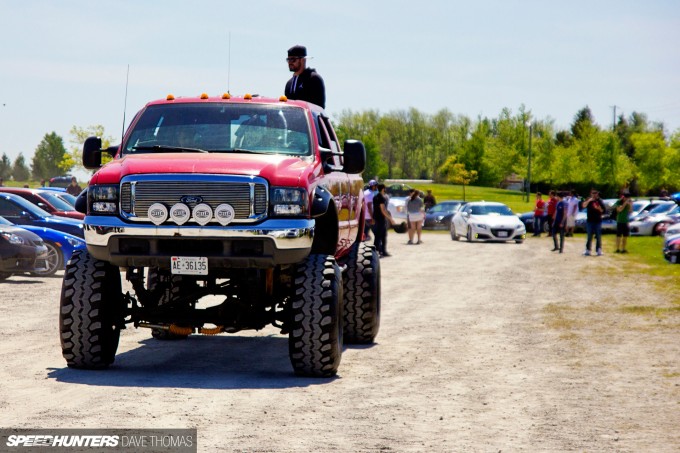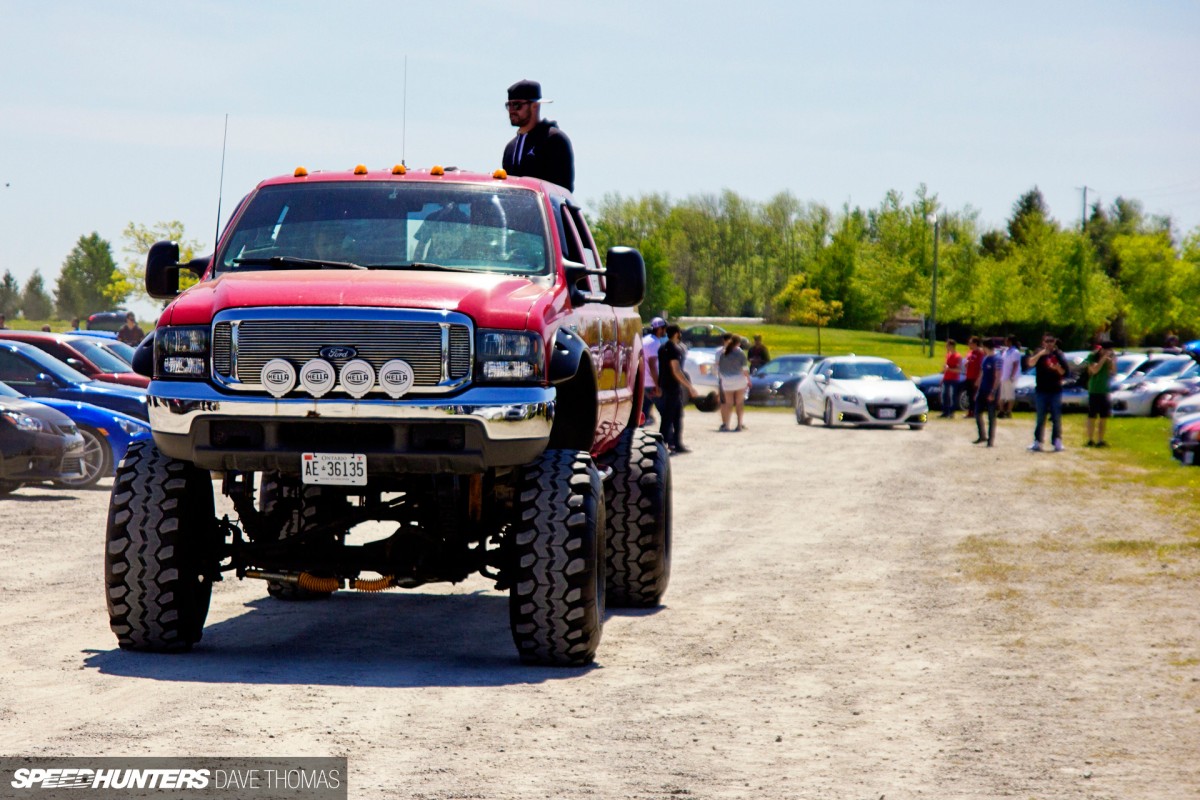 There are few shows in the greater Toronto area where you'll find the owners of a '69 Volvo 144, a barely street legal Foxbody Mustang and a near monster truck status Ford Super Duty all gathered to look at the same cars.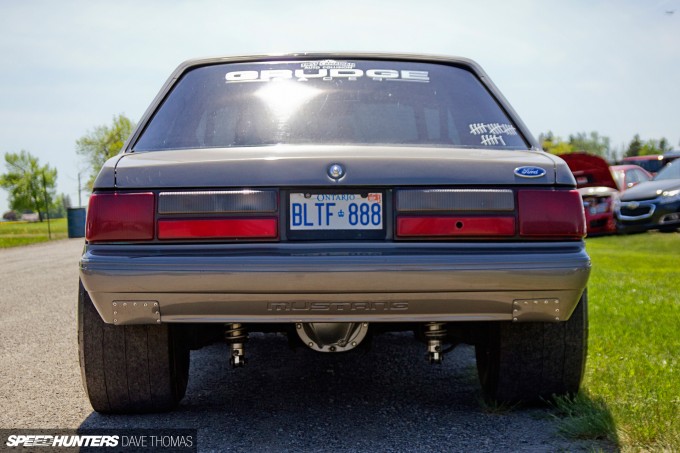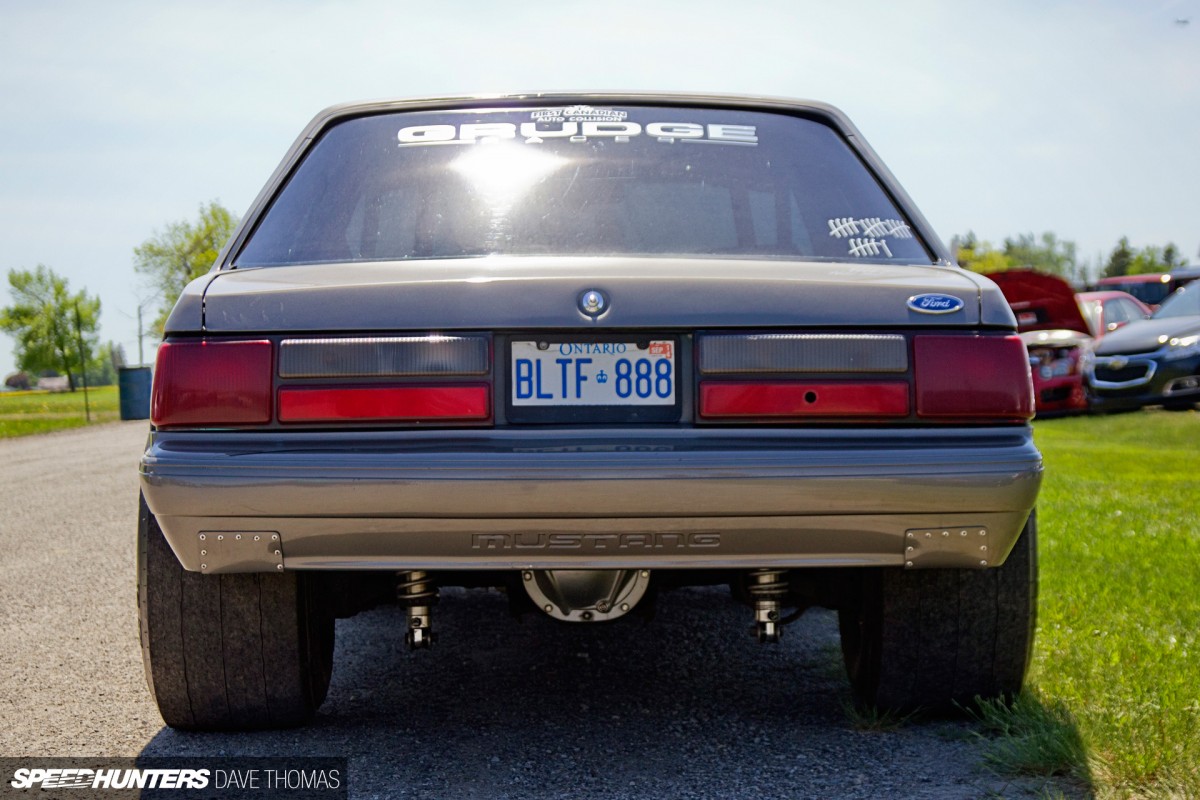 But respect for all car culture, and the fact that the Fitted staff are doing their part to keep it alive is what draws people back to this show year after year.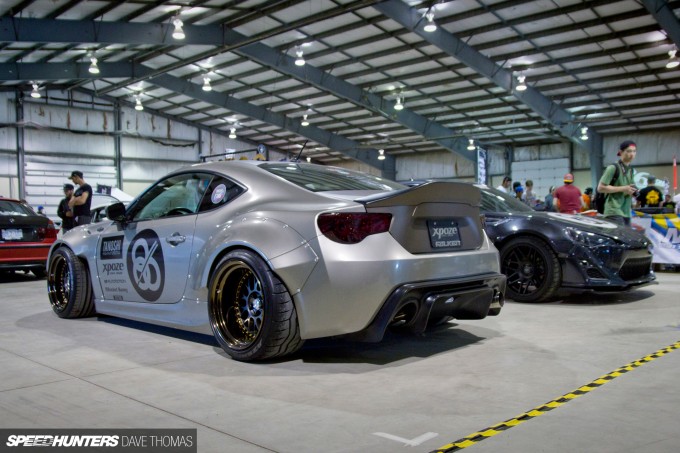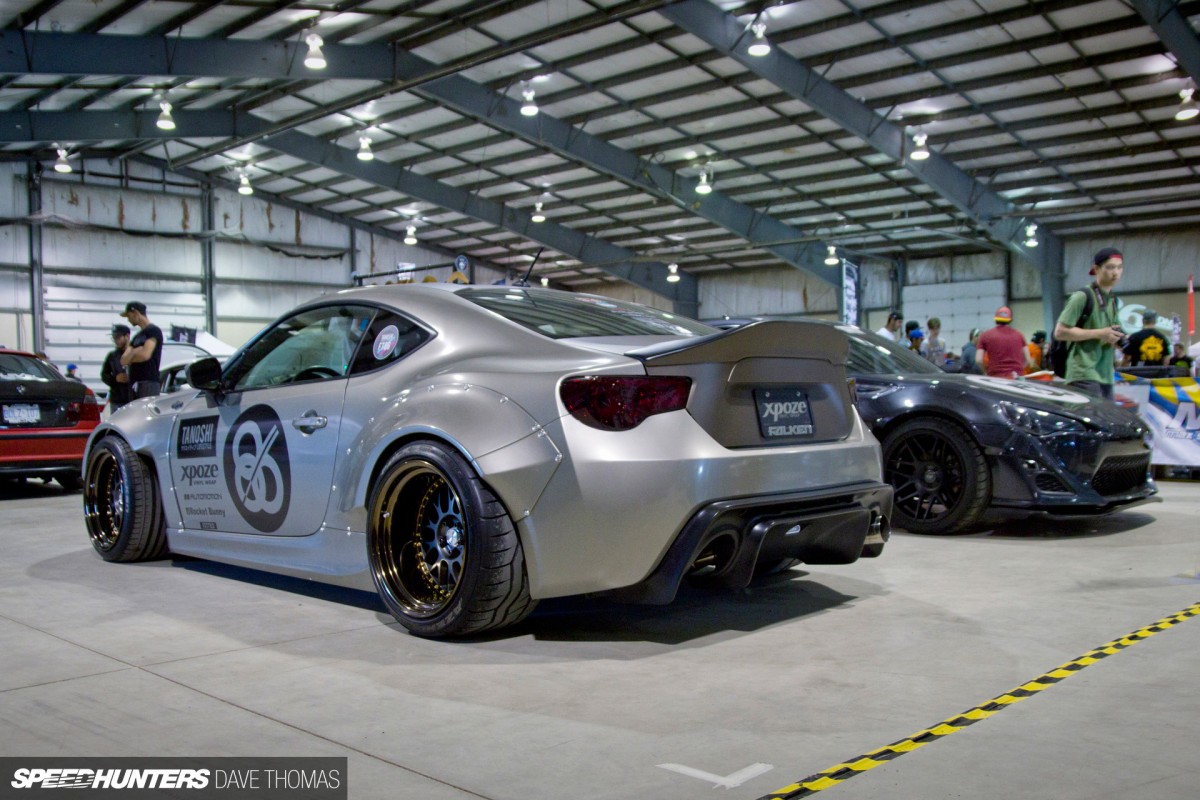 Today, instead of going through an all-encompassing rundown of the entire show, I've been tasked to deliver a sampling of the cars that make this event so great.
Parking Lot Super Stars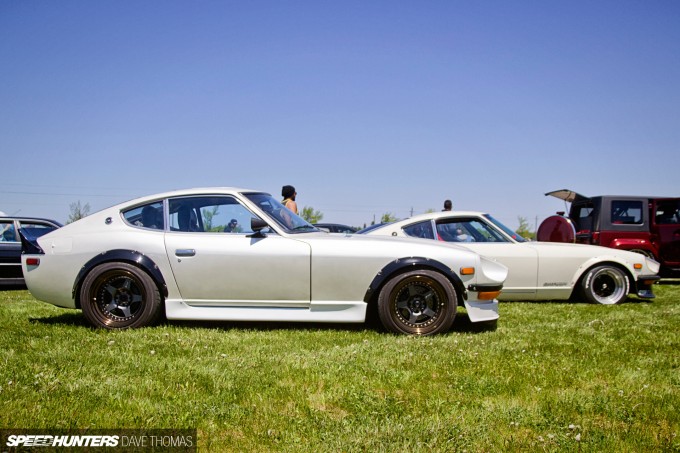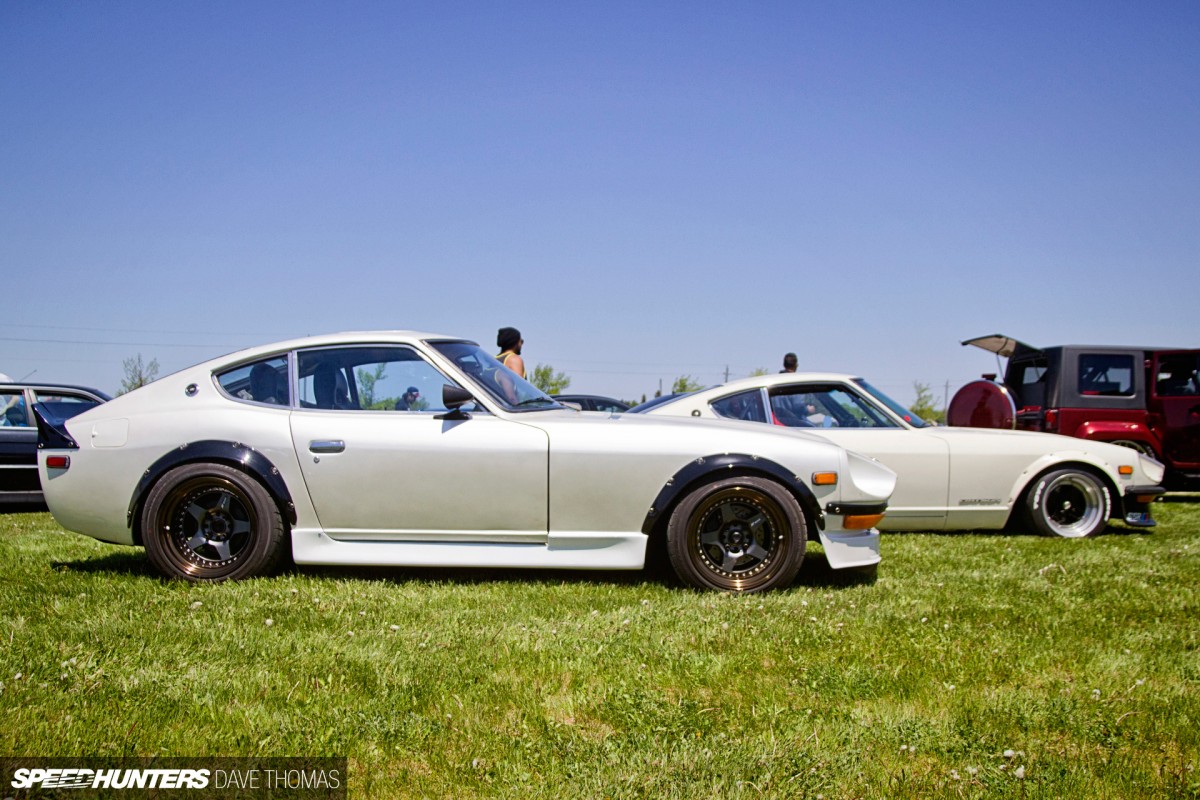 While doing my initial walk through the show halls I caught a glimpse of two cars outside that simply had to be photographed – regardless of the fact they were not officially entered.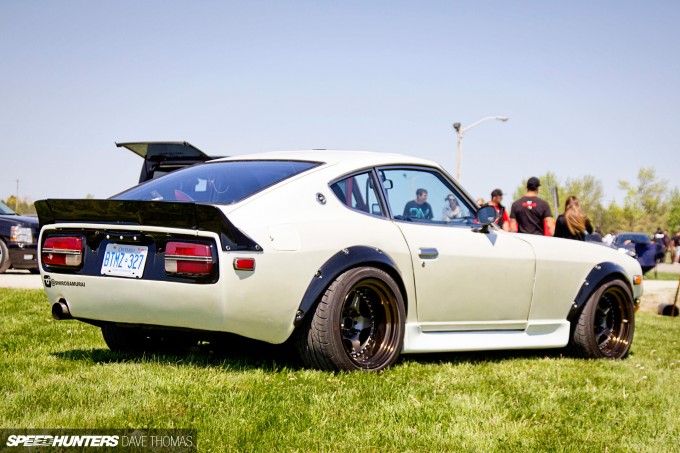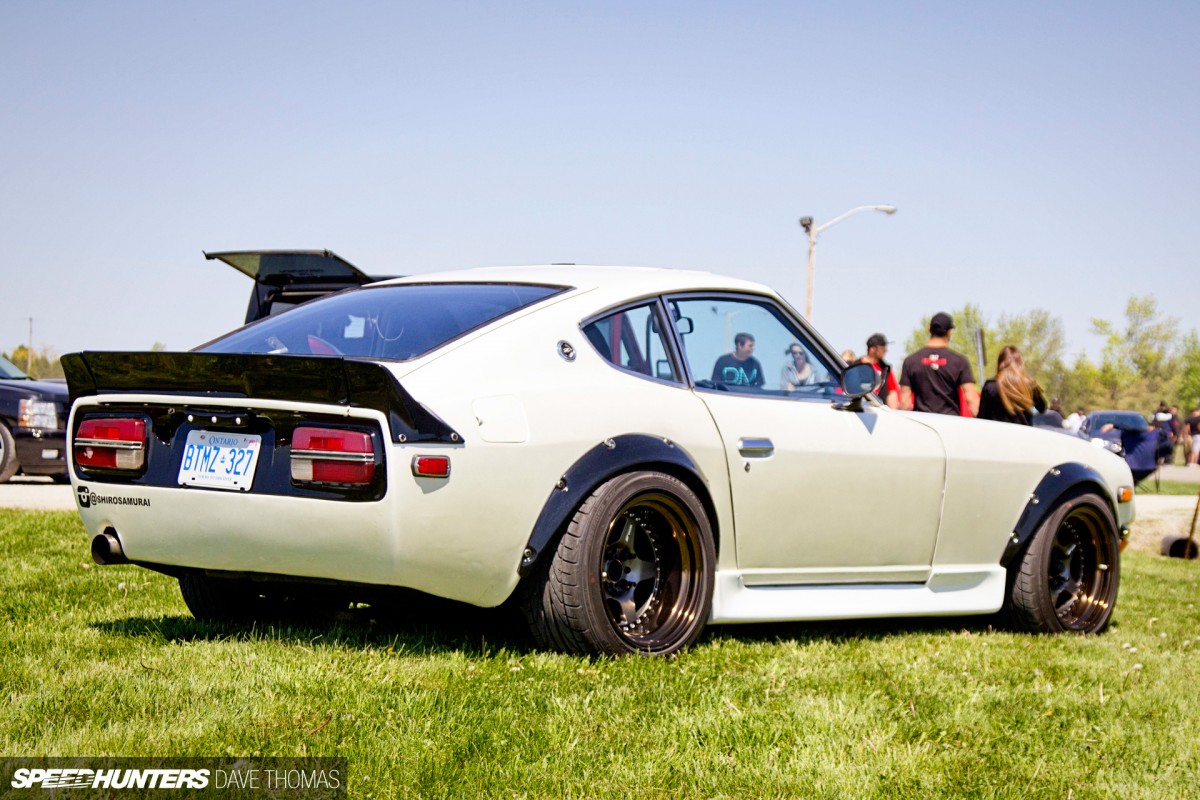 If I owned either of these two Datsuns I probably wouldn't want to see them sitting stationary for the better part of a beautiful day either, so I can't really blame the owners for opting to park them on the grass instead of the show floor.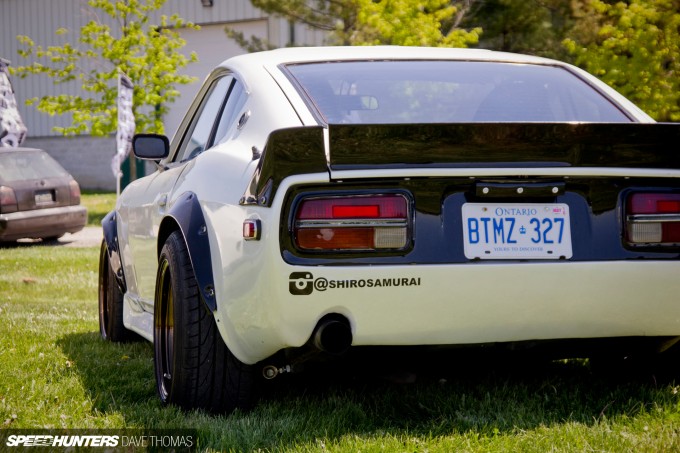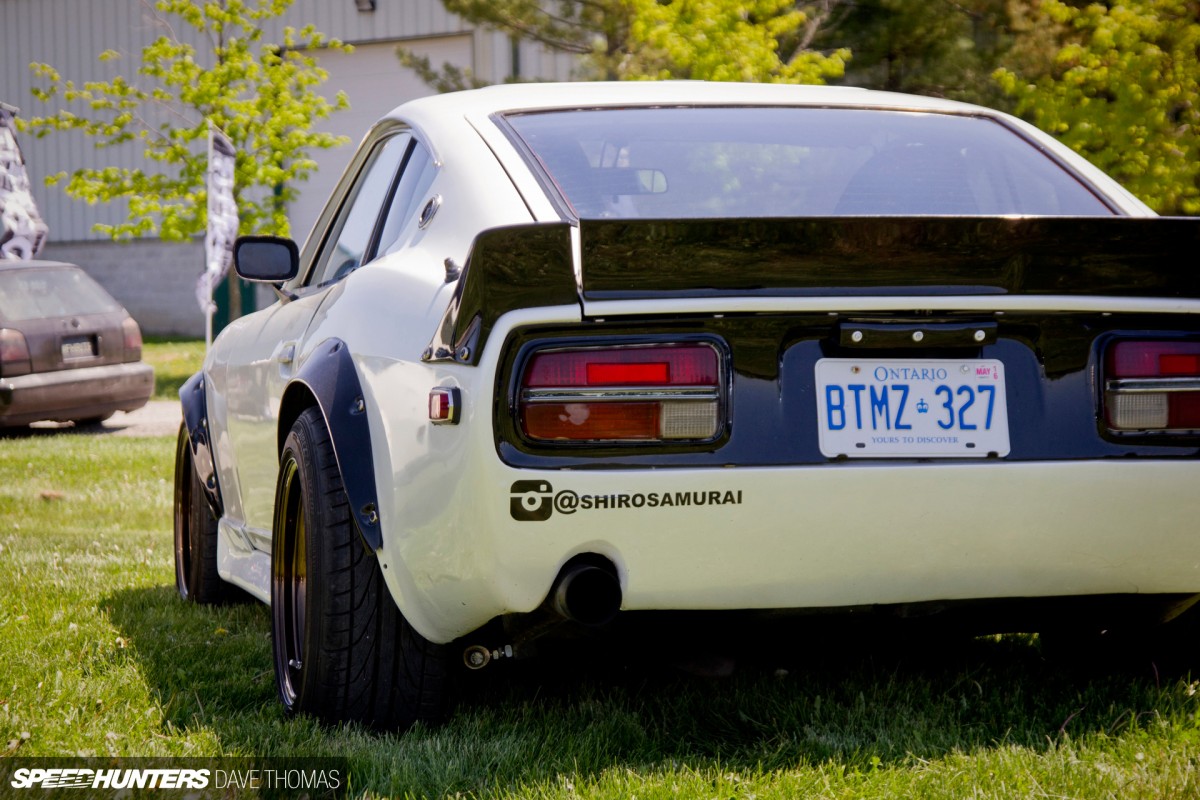 Both cars struck the perfect balance between function and form. The 240 had body-matched flares hugging a set of healthy-spec vintage SSR MKII wheels.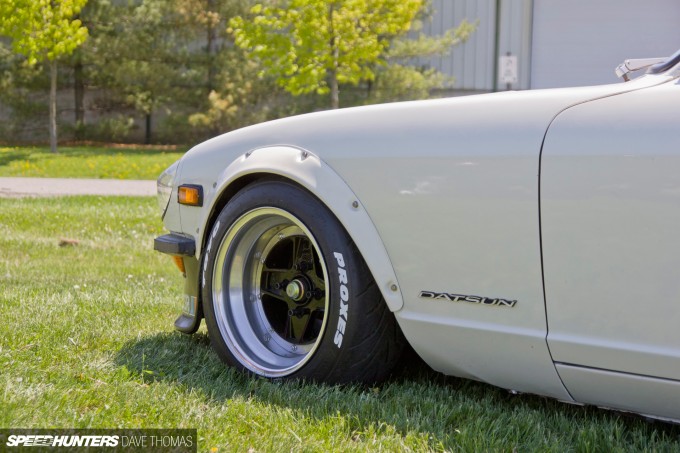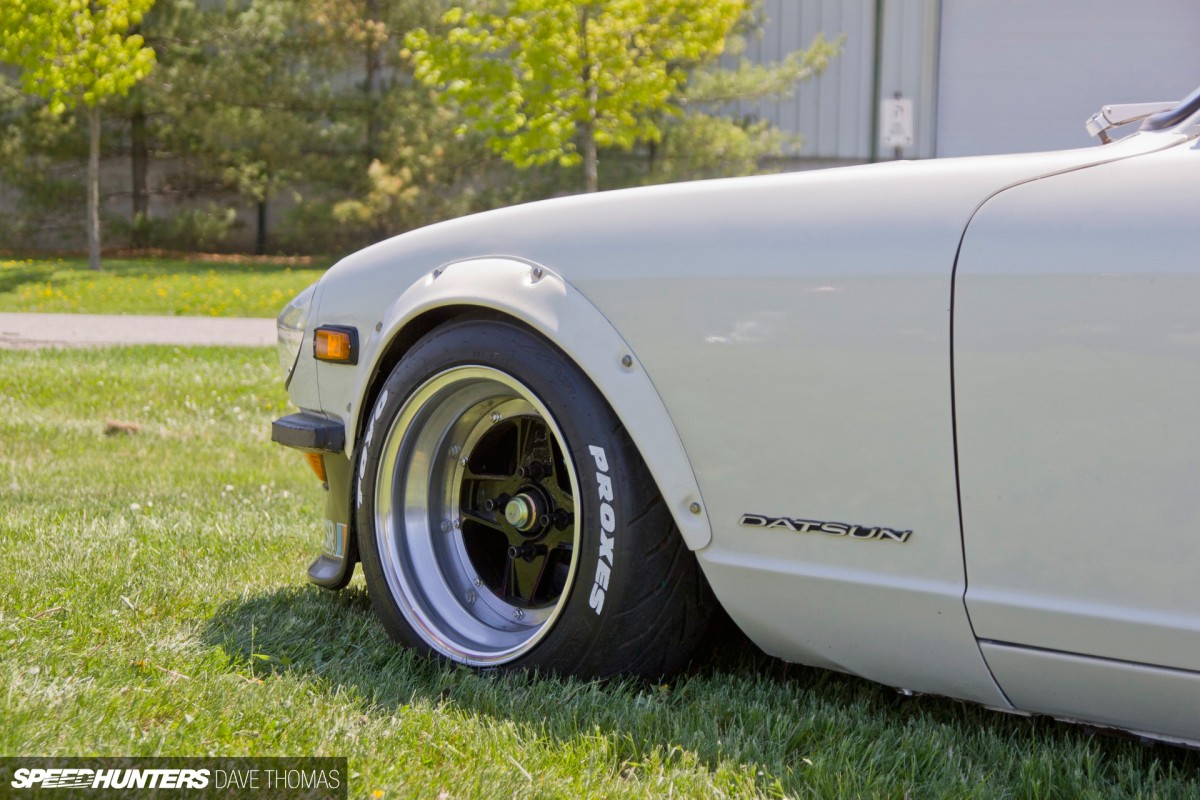 The 280 had contrasting flares and sat low on top of more modern Work Meister CR-01 wheels.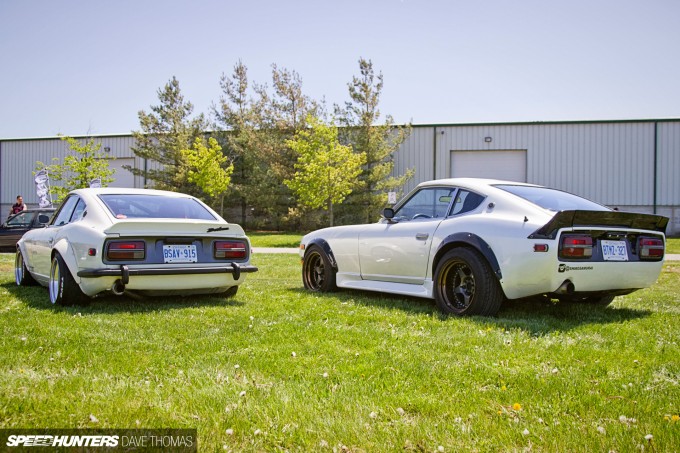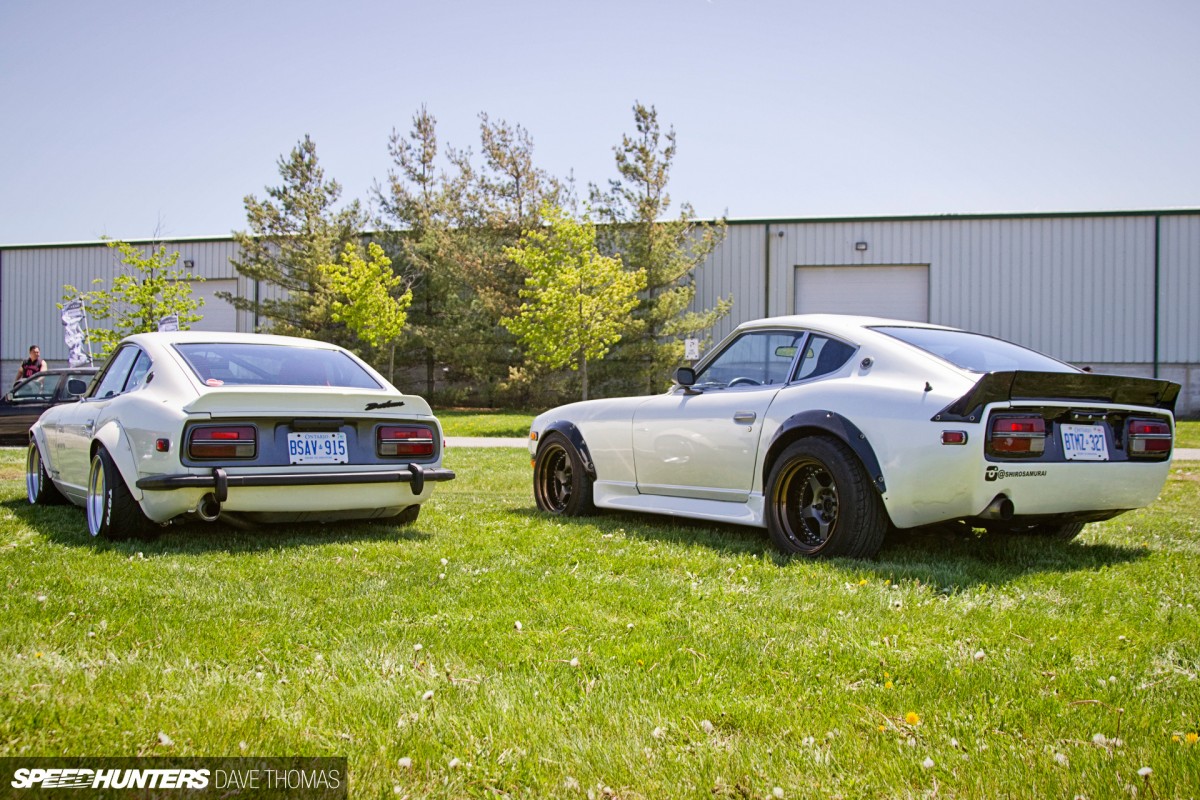 The 240 managed to sneak away without my noticing, but I did hear the 280 start up and drive off, and I'm pretty sure a very healthy L-series motor remains under hood.
The Colour Of Royalty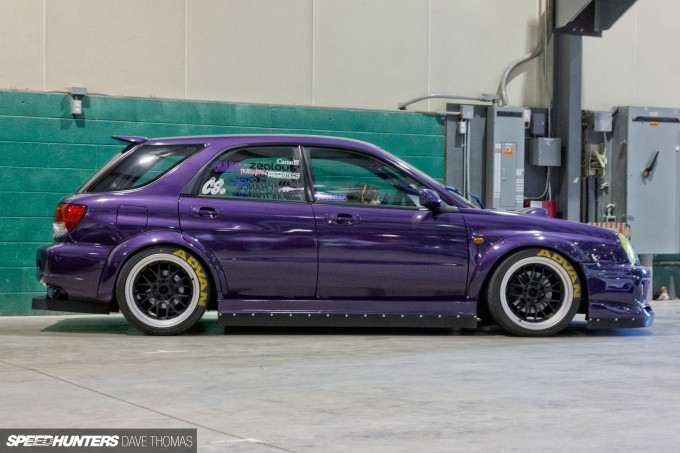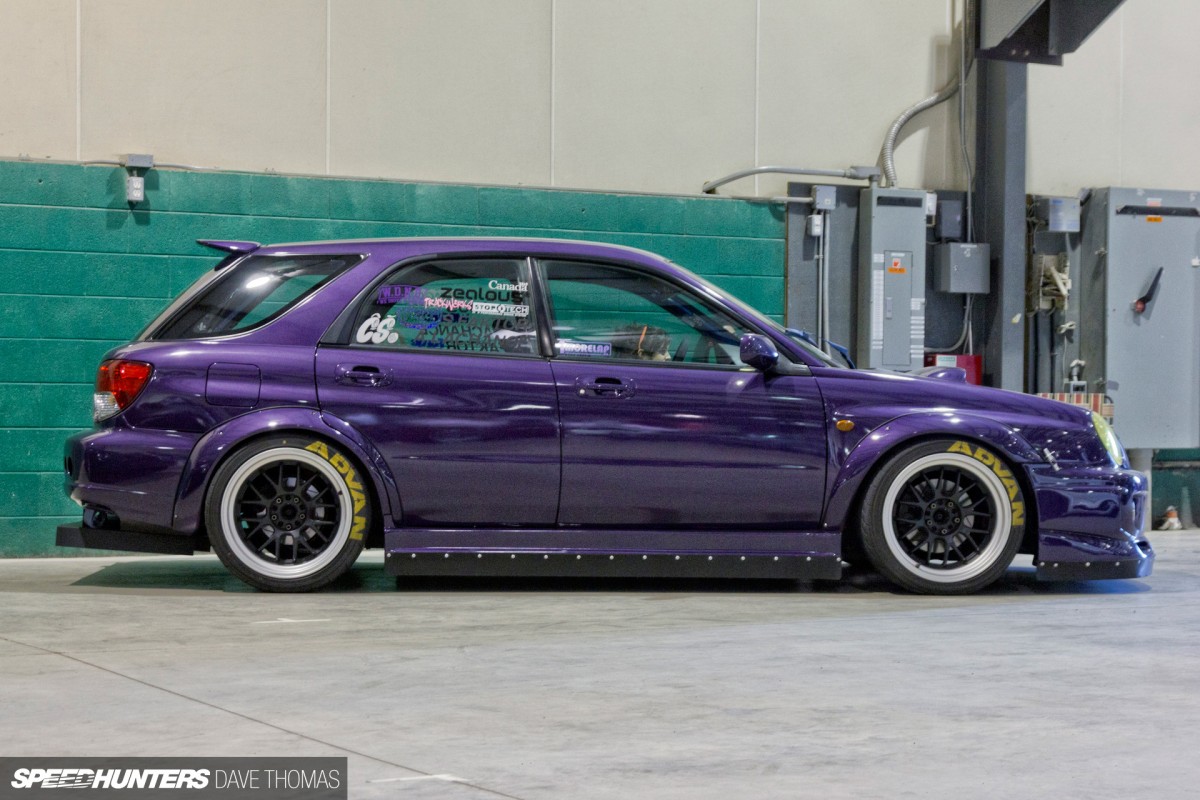 Moving inside once more, the next car I decided to take a closer look at was this outstanding Subaru Impreza WRX wagon.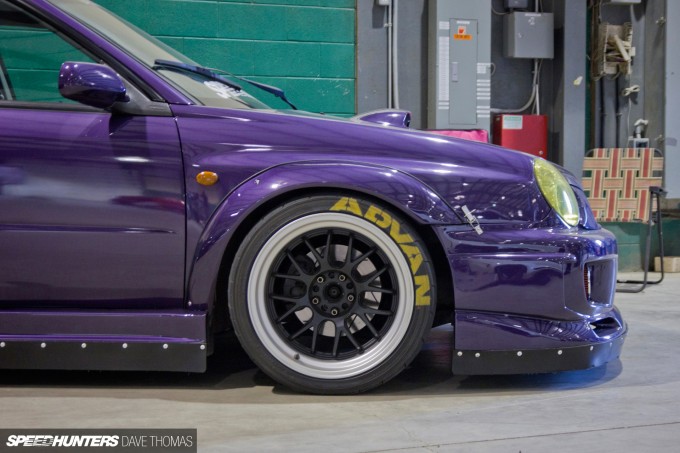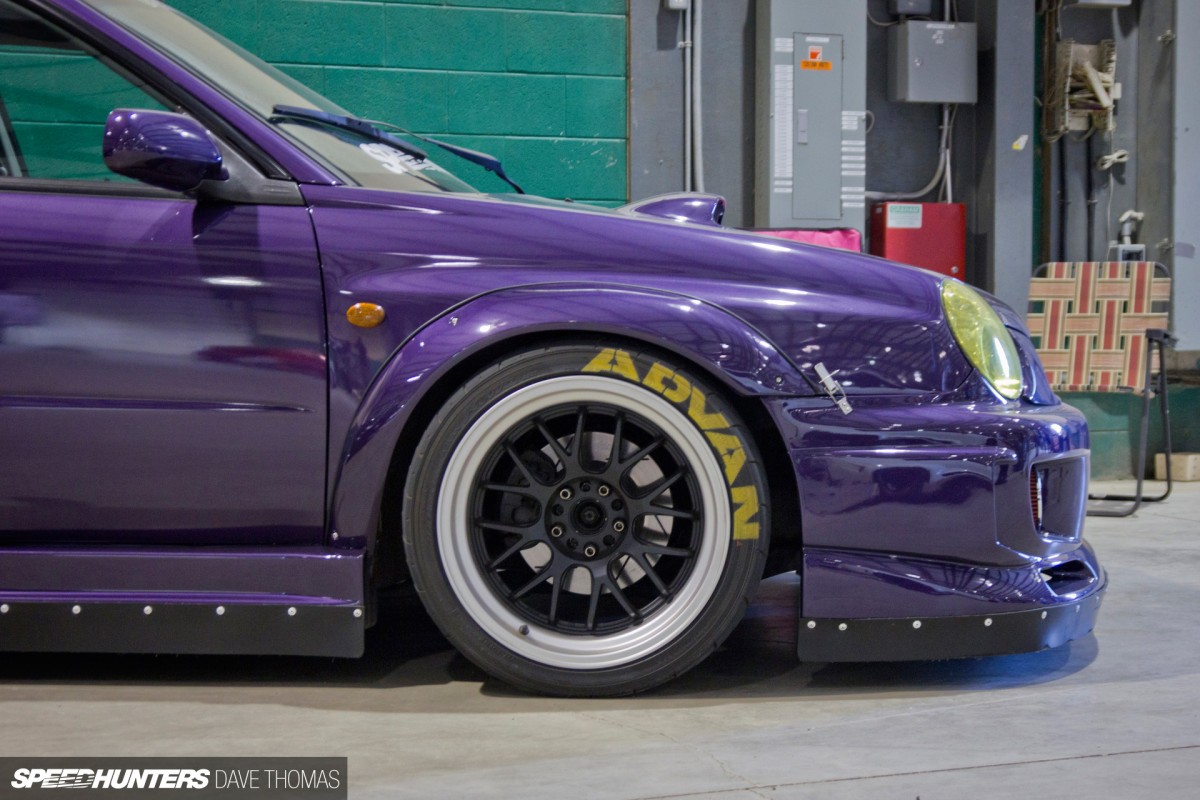 Like several other cars at the show it had fender flares on all four corners, but unlike most of the competition these were not affixed unmodified. The owner, Alex Lachance, widened each flare 1.5 inches before adjusting the radius to better suit his tastes.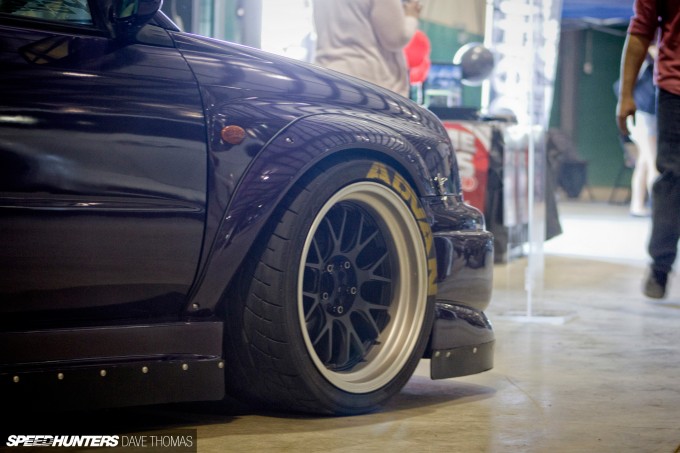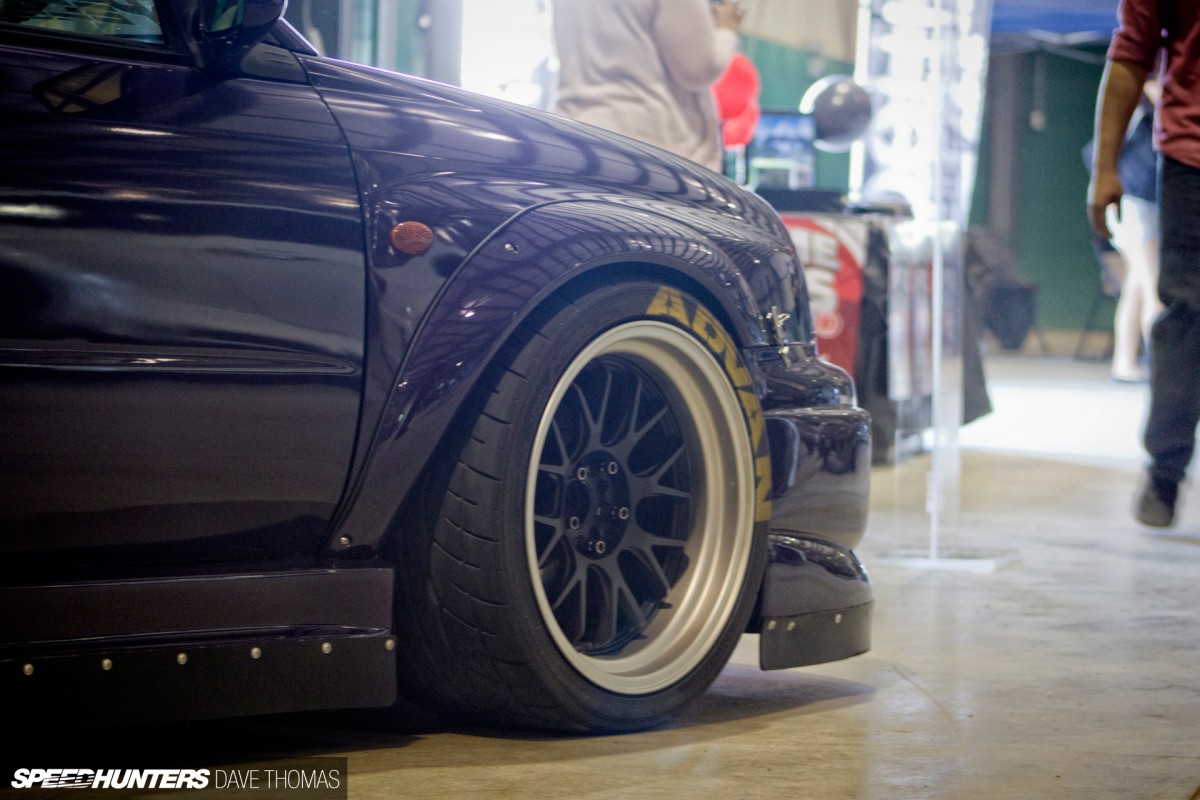 The flares alone couldn't house the 295-section Yokohama Advan rubber he was intent on running, so Alex replaced the factory fenders with JDM V7 STI units.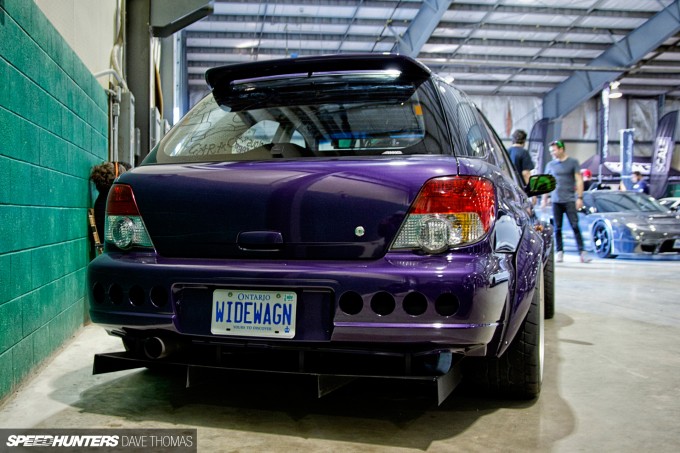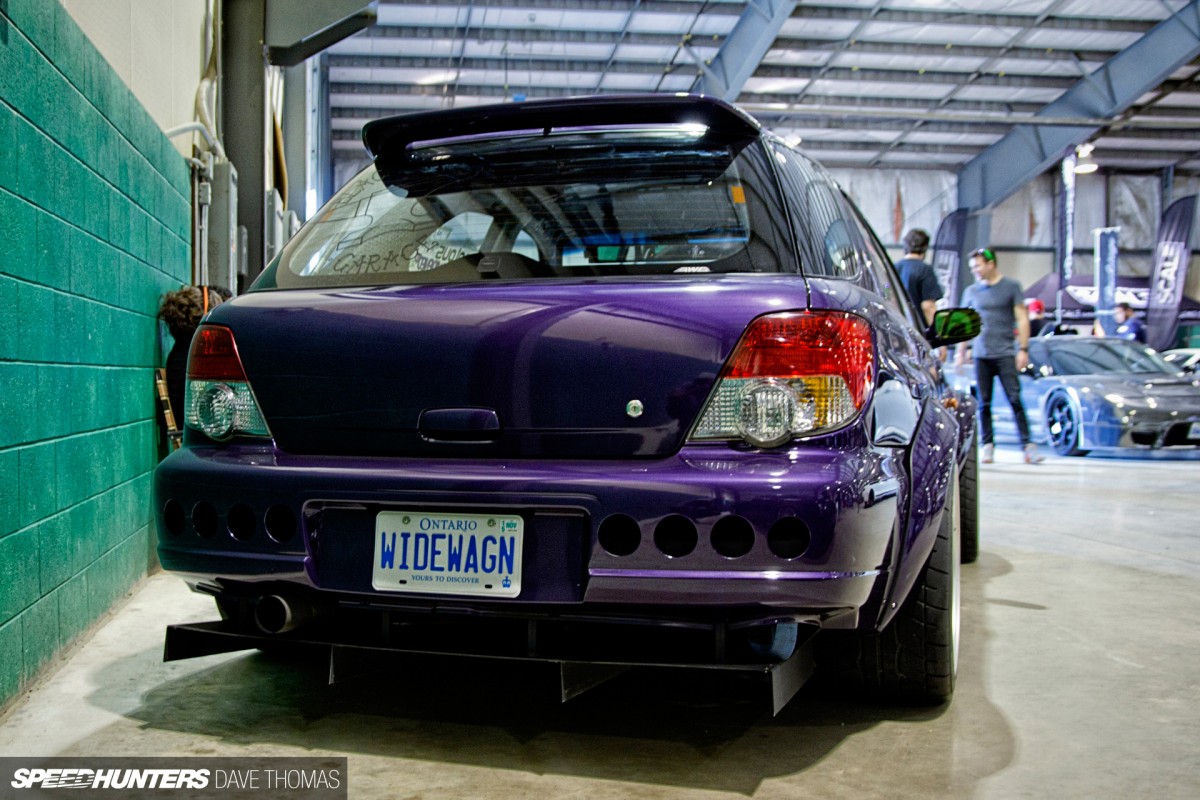 In the rear he went through the labour-intensive task of fitting sedan doors and quarters onto the wagon in the confines of his own garage.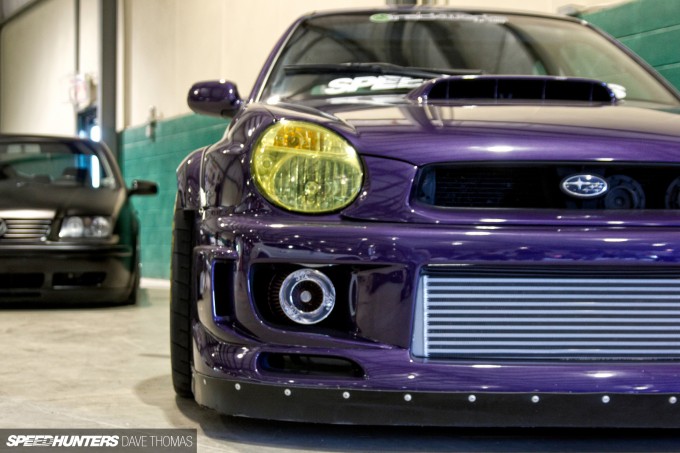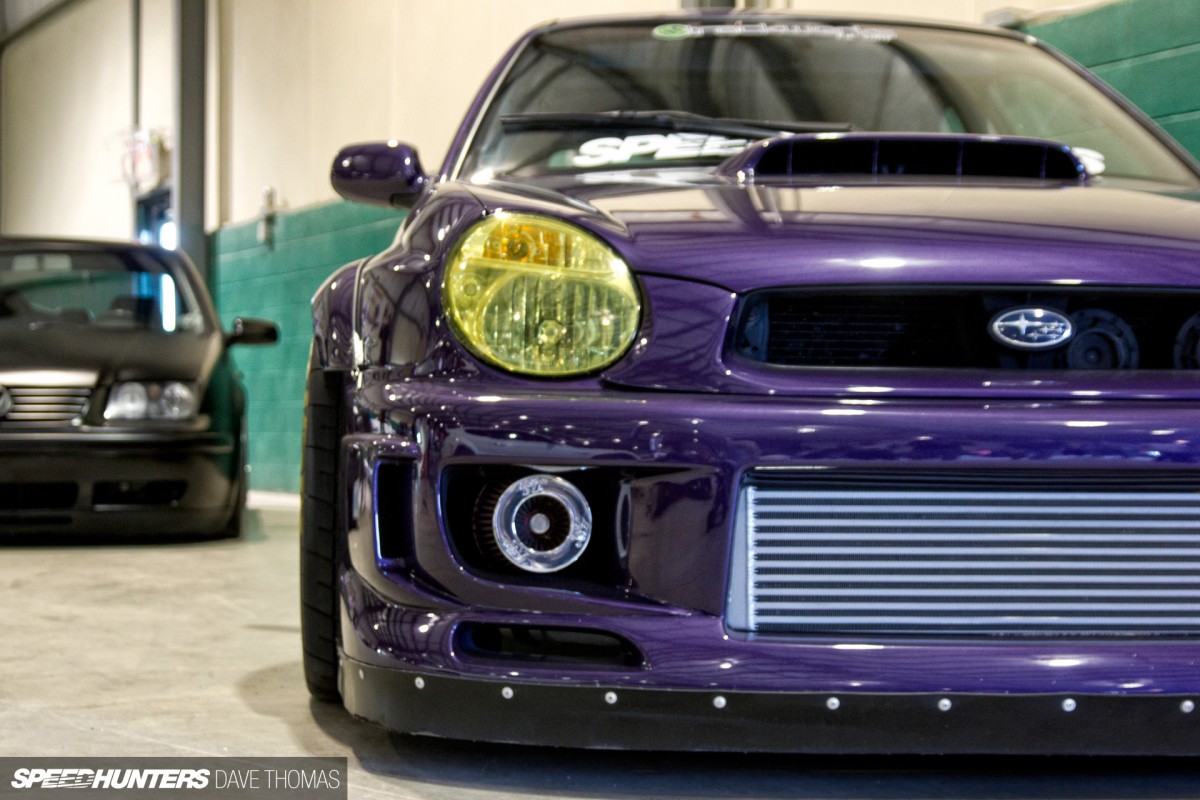 The refined fit and finish might give off the look of a race-inspired show pony, but make no bones about it – this car gets driven! Just recently it left its mark on Calabogie race track, proof of which can be found on Alex's Instagram feed.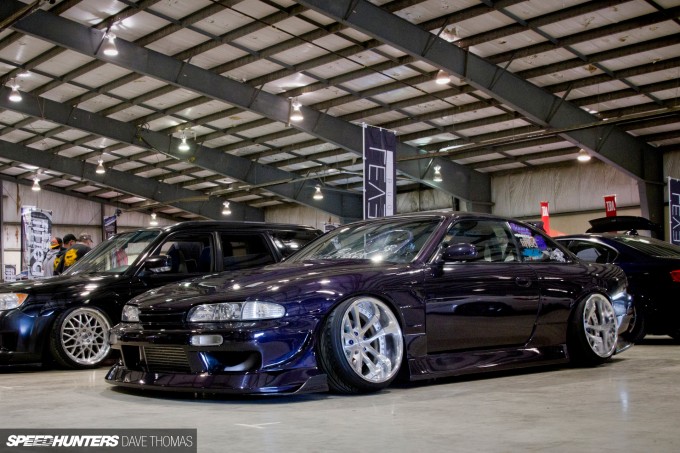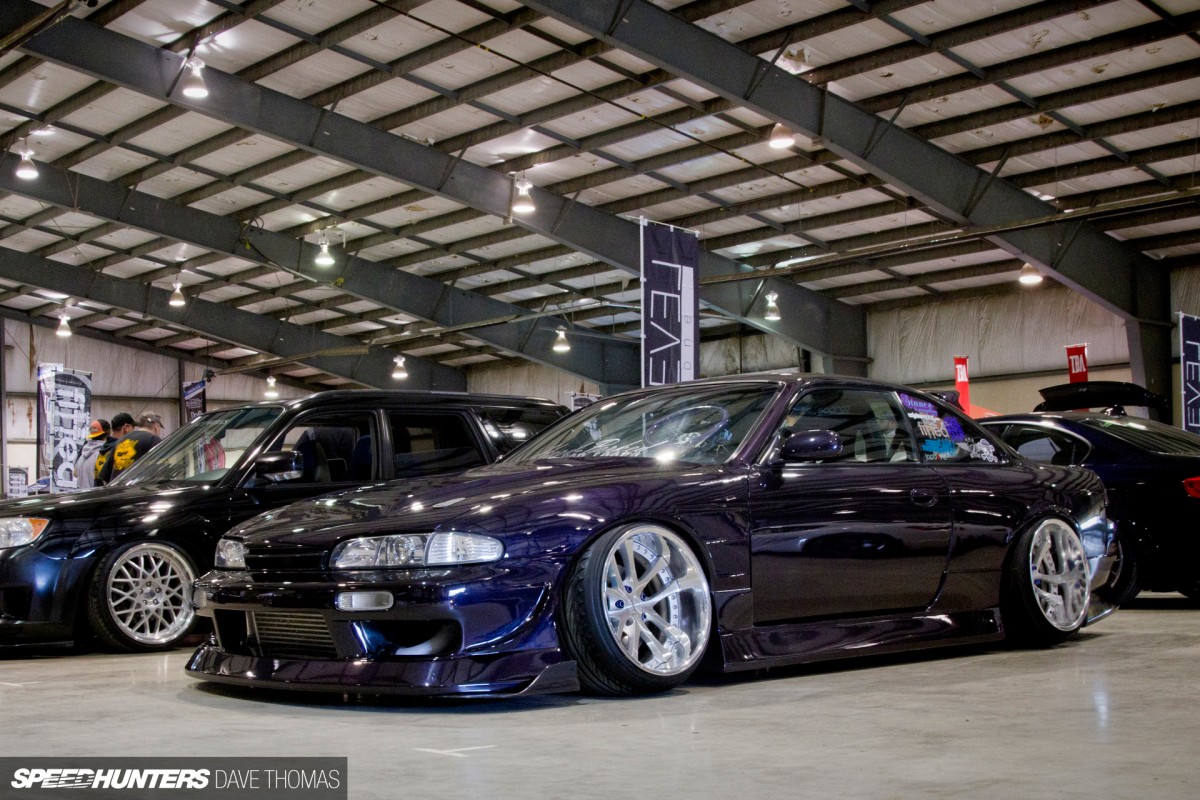 After finally convincing myself to move on from Alex's Subaru, I spent the next few minutes pointing my lens at the S14 above.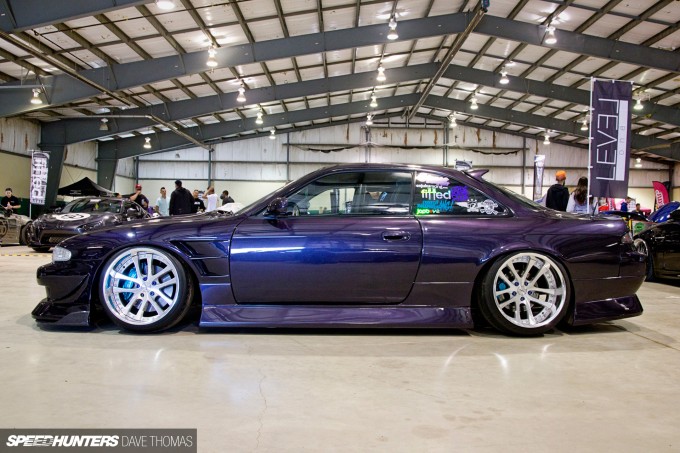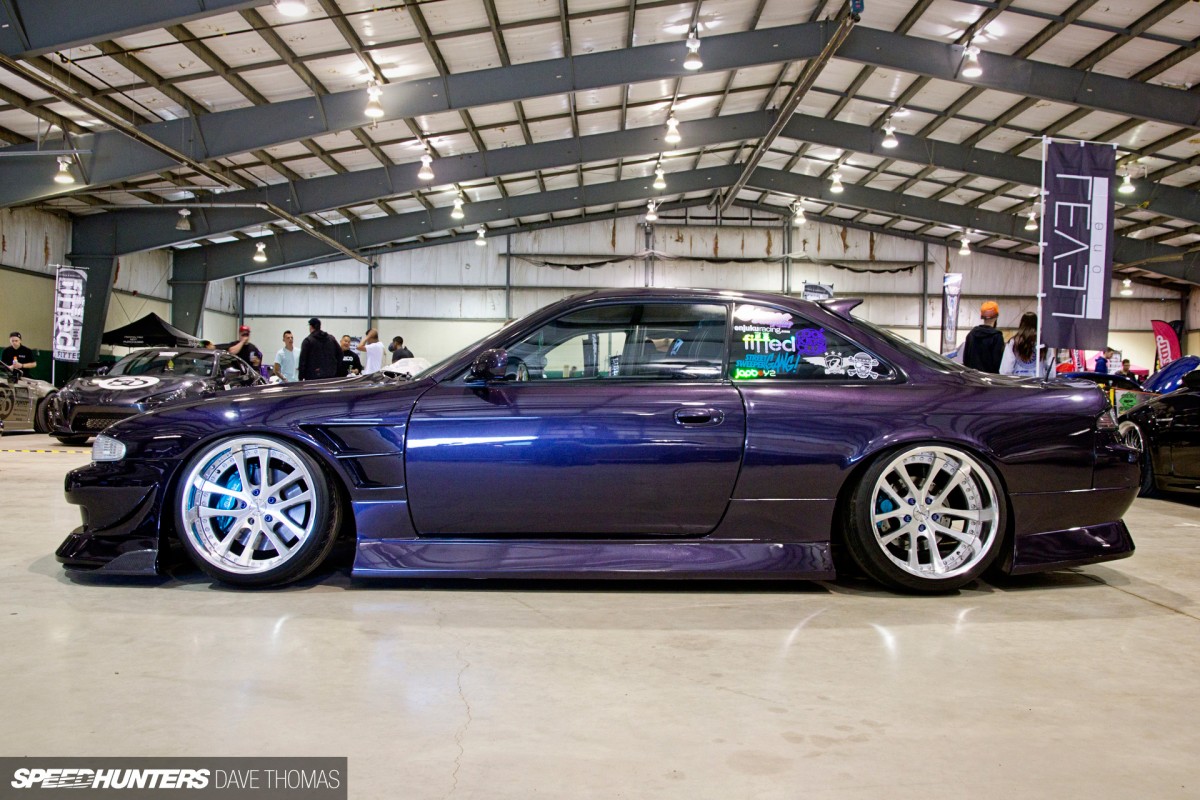 I don't know about you, but I could easily picture it sliding alongside a few of the cars pictured in Mike's most recent visit to Fuji Speedway.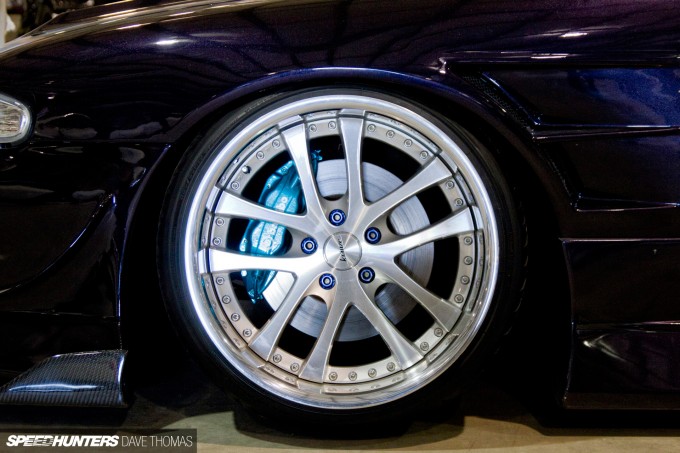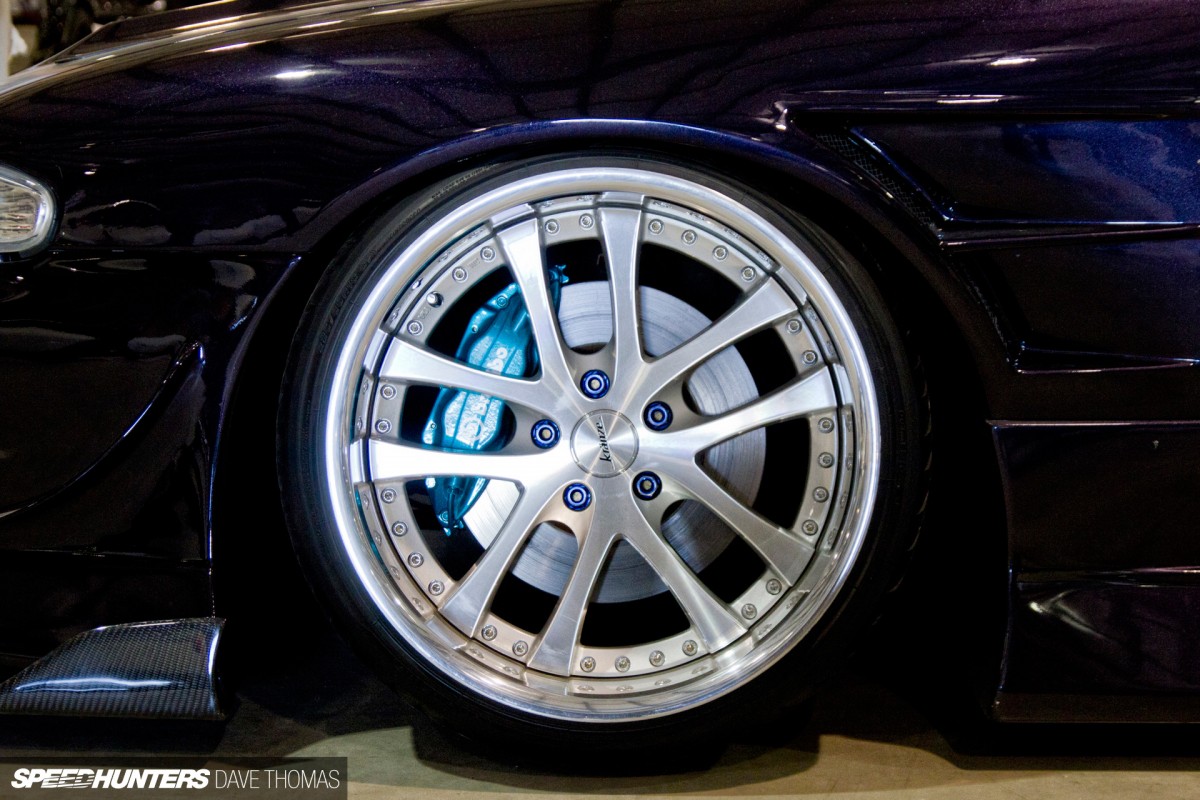 The fact that the Nissan's owner, Jon Prem, recently switched from bags back to coils for a firmer ride at this low height suggests that local drift days might not be out of the realm of possibility.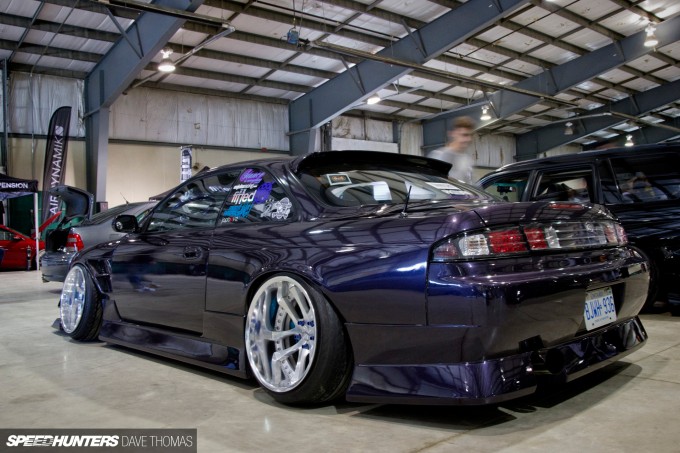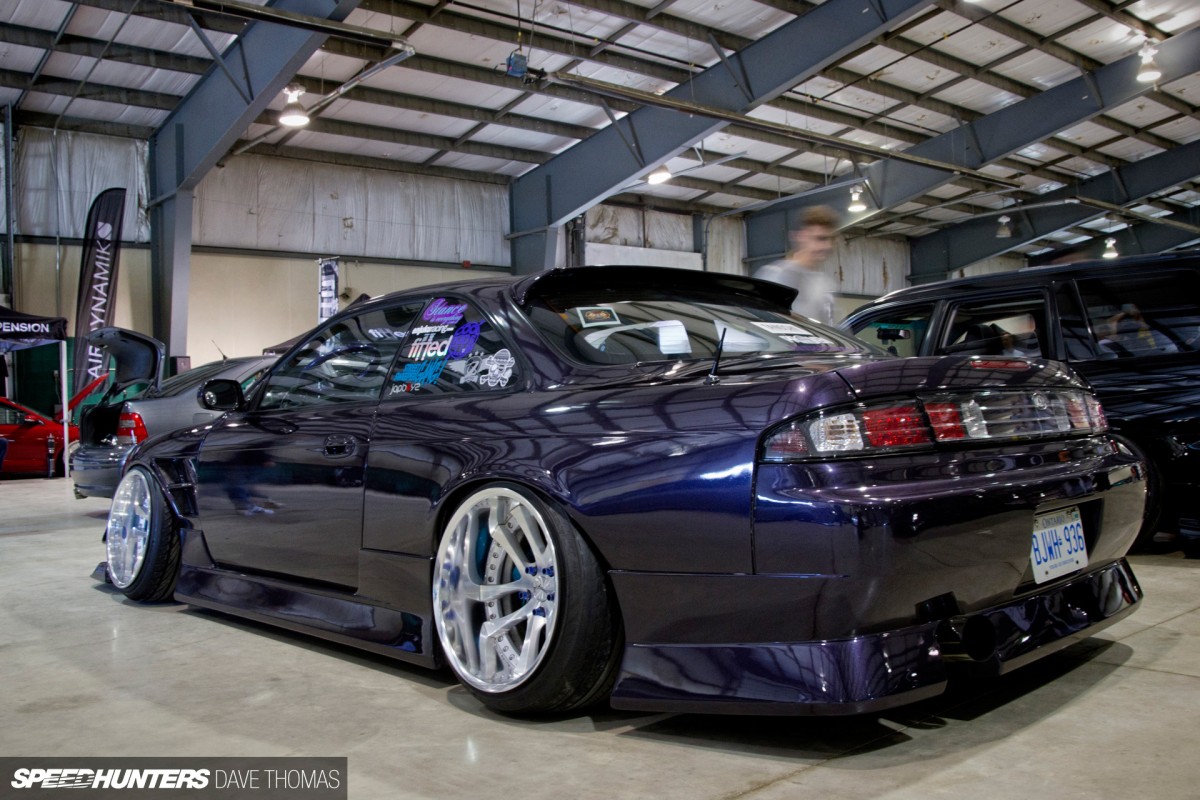 A favourite to the judges as well, this car took home third place Best of Show.
The Pursuit Of Perfection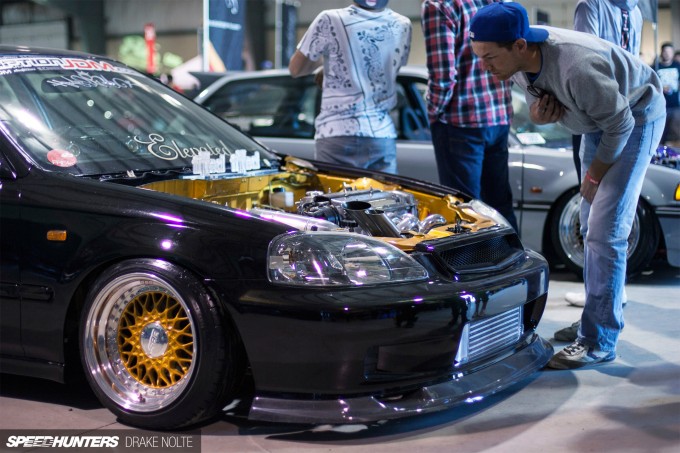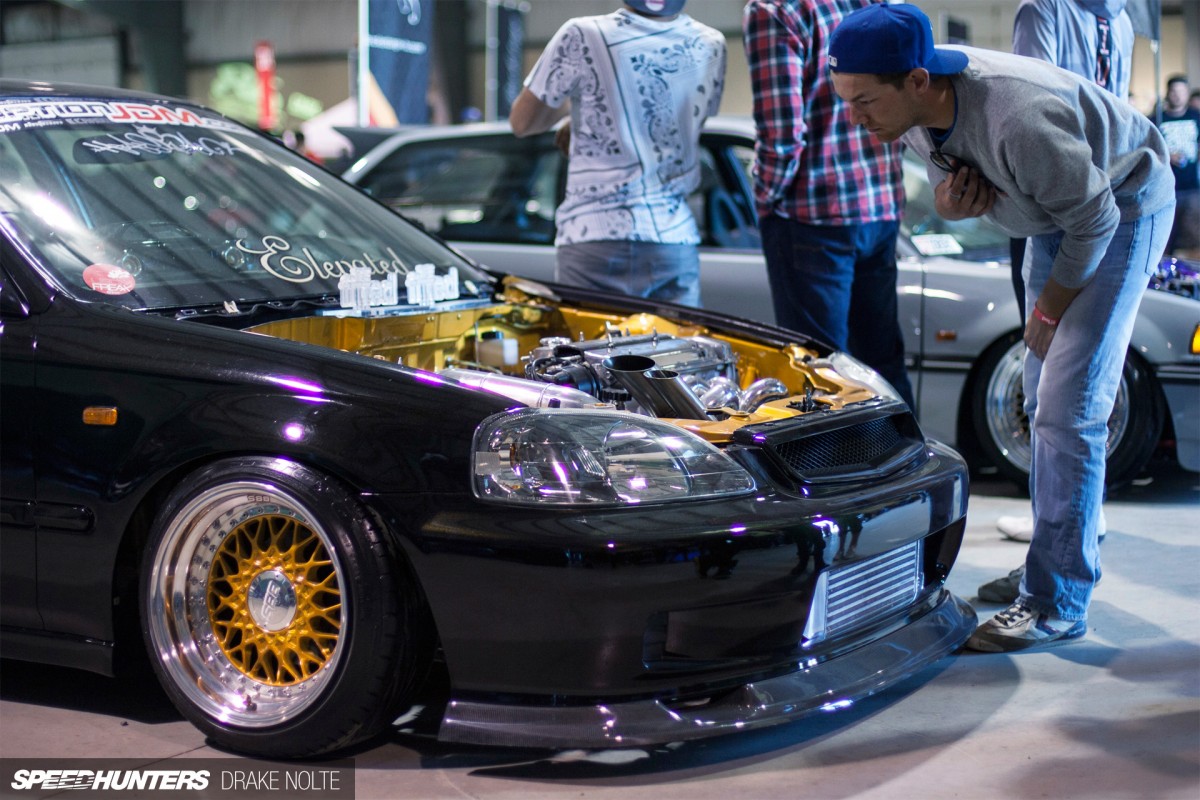 The next car I'd like to present is one that has won awards at this event as far back as I can remember, and has honestly deserved every single one.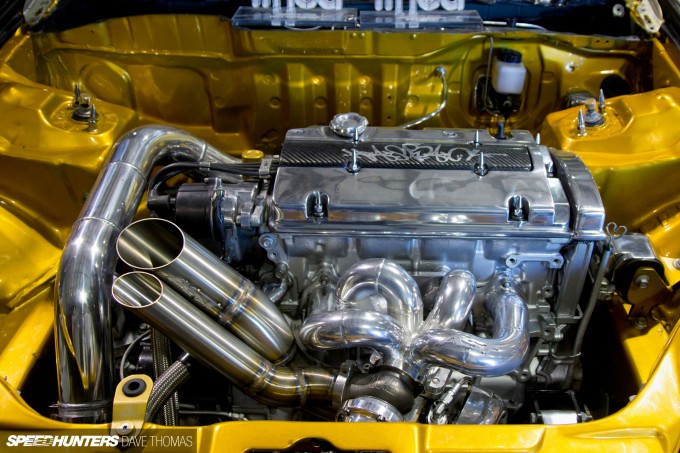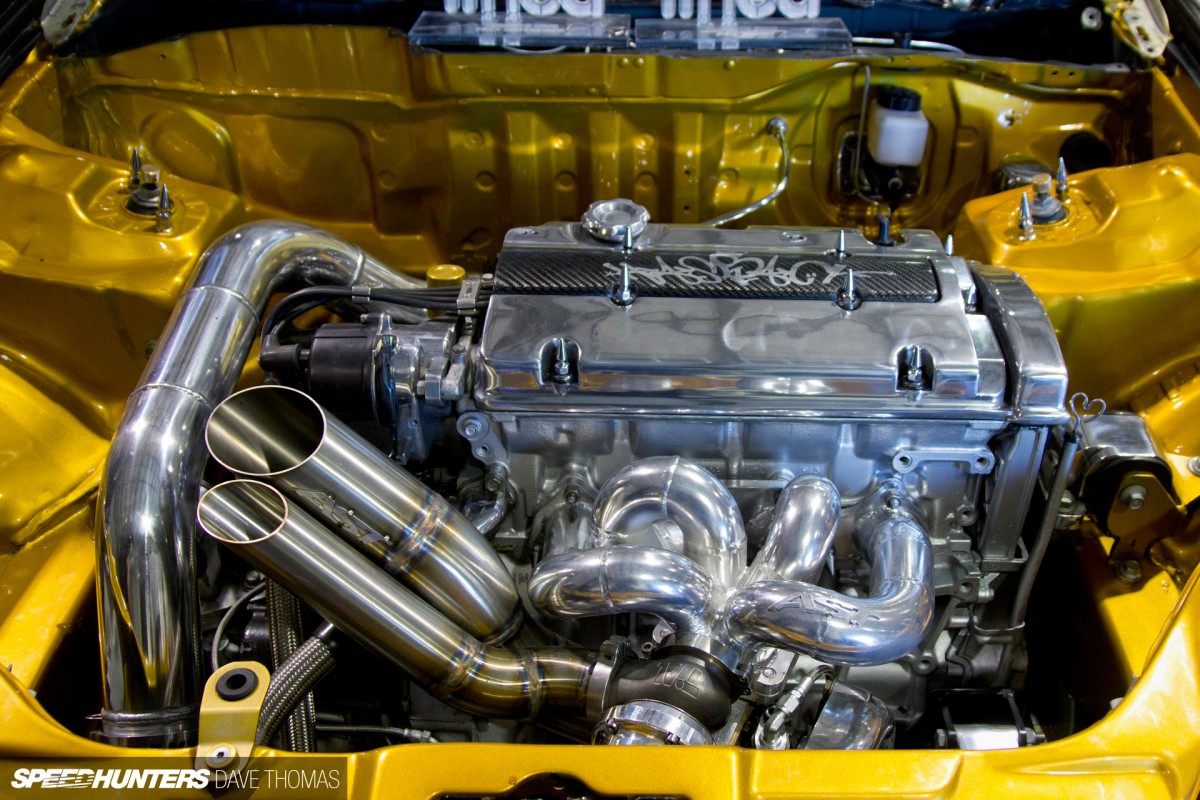 However, today I won't be showing you the entire Civic. Instead, I'll just be focusing on the recently-overhauled engine bay.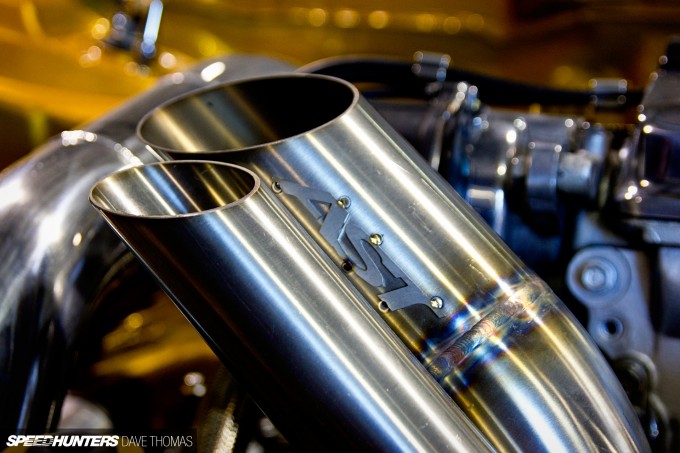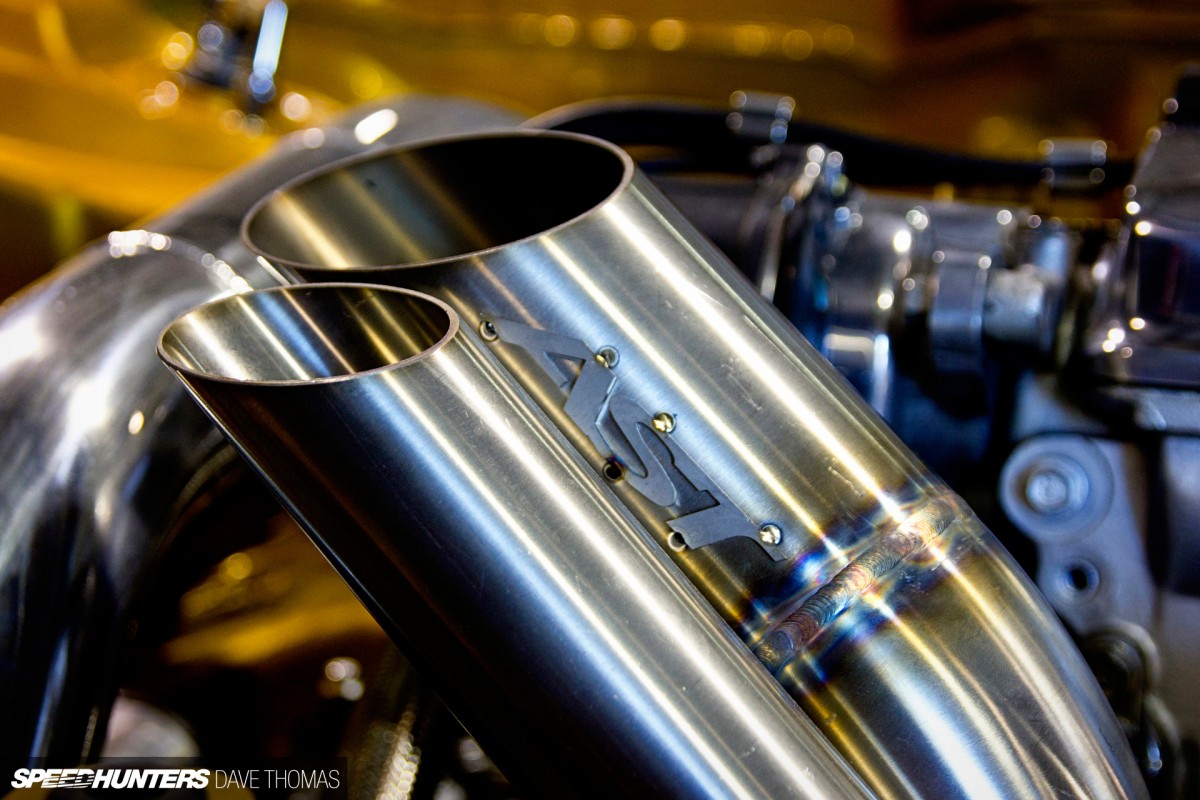 The previously-swapped H22 motor's transition from naturally aspirated to Precision 6076 turbo fed couldn't have been cut any closer to show day, with owner Brian working alongside Will of Auto Select Tuning until 4:00am show day morning in order to get the car presentable.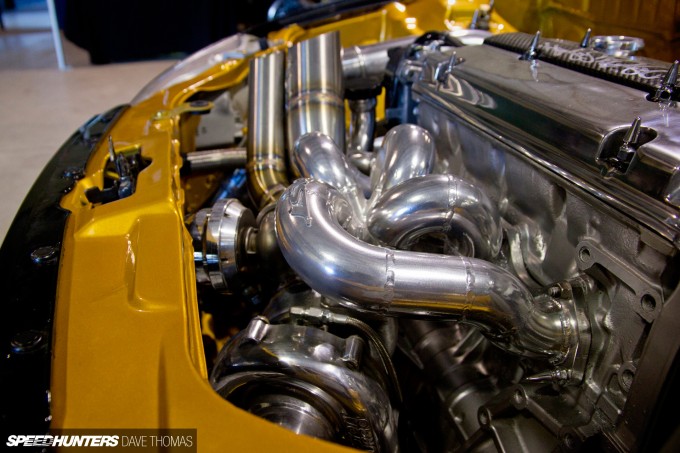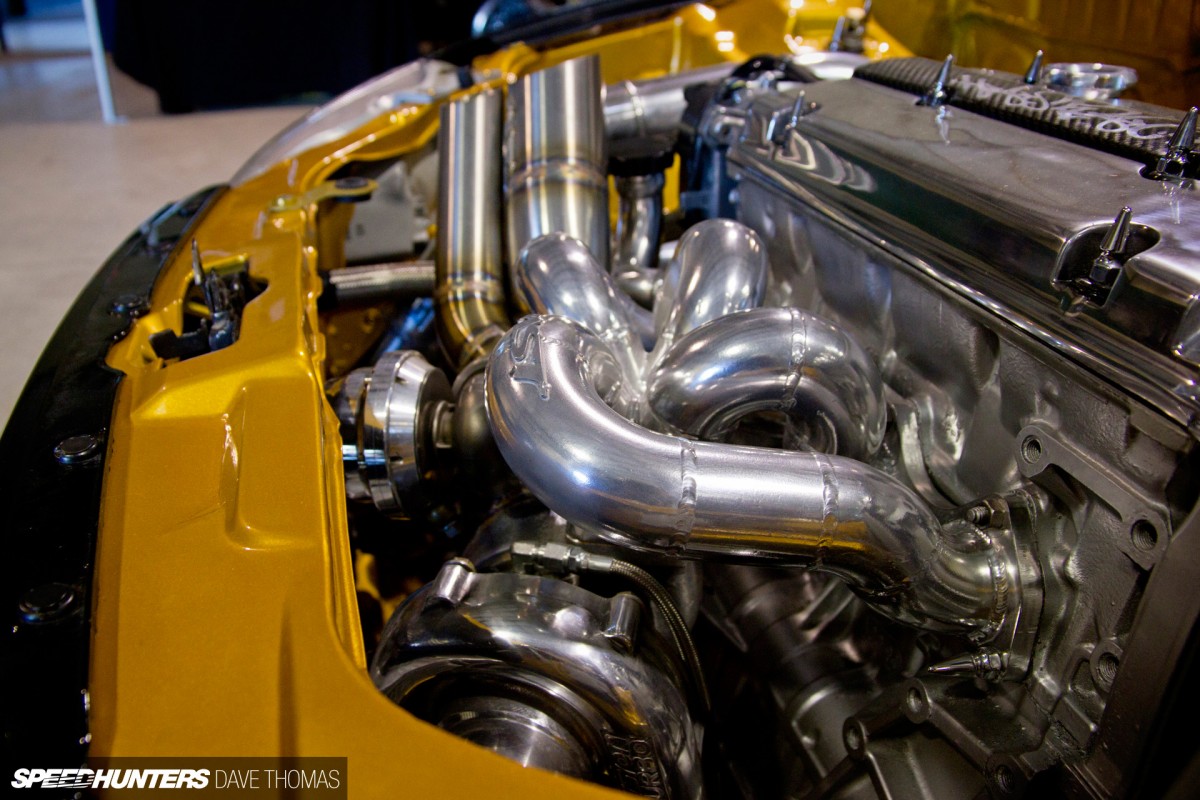 Notice how in the cover photo you can't see much at all in the engine bay besides the motor itself?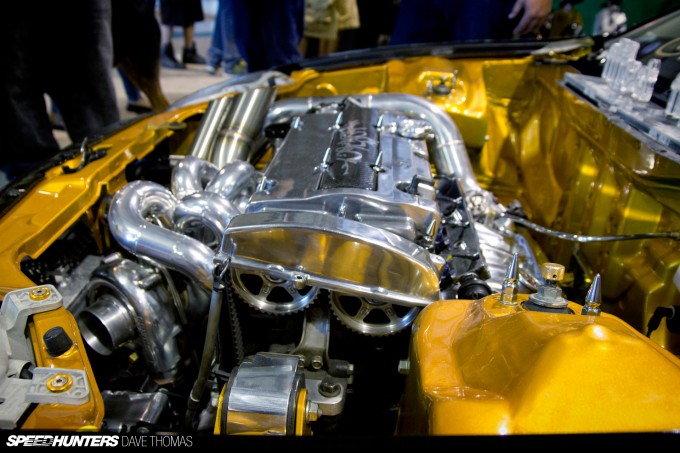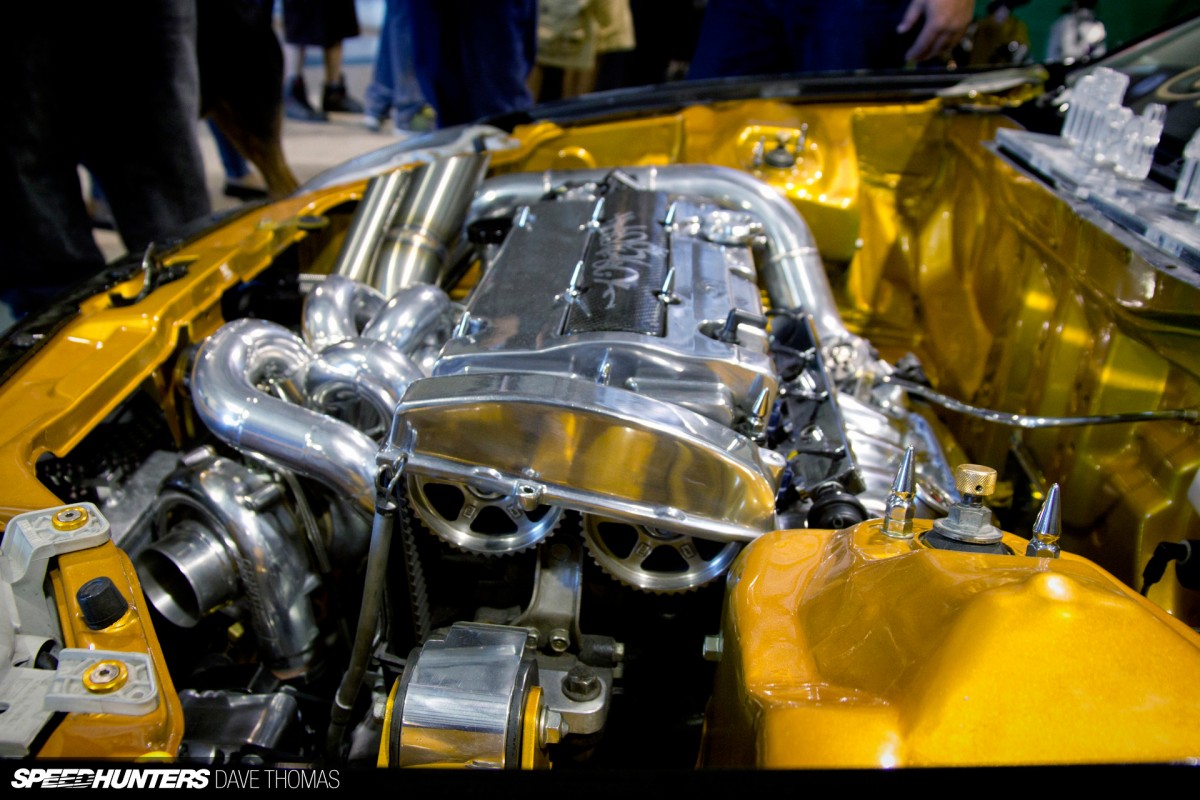 That's because everything else has either been eliminated, tucked, or hard-lined.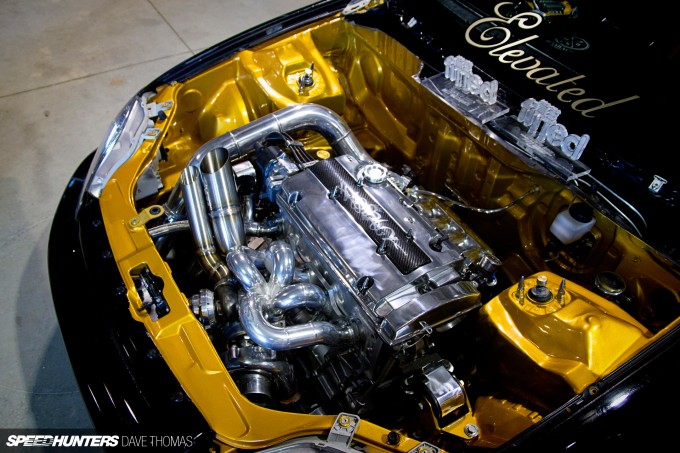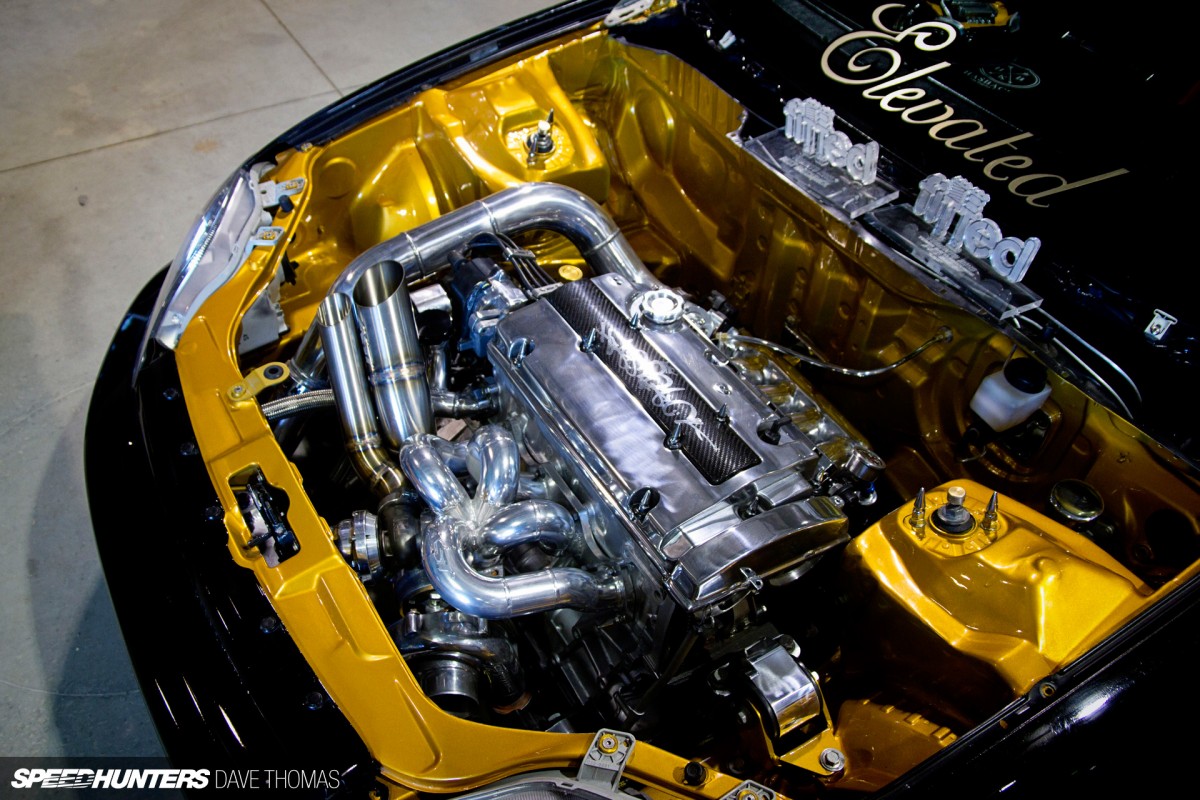 The end result is akin to a ring sitting in a jewelry box, though it probably cost significantly more!
Bavarian Brawlers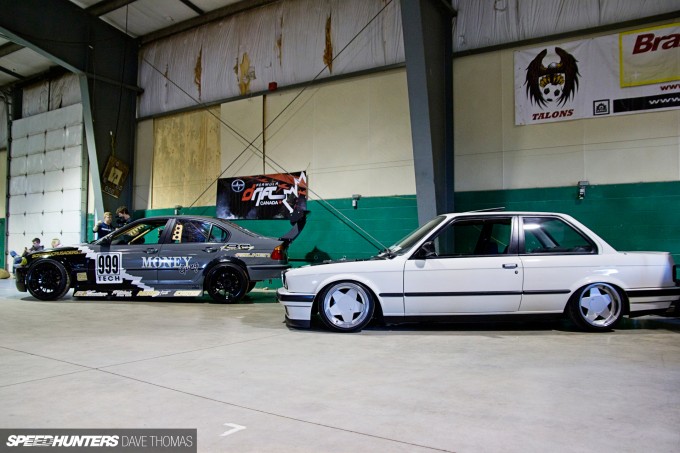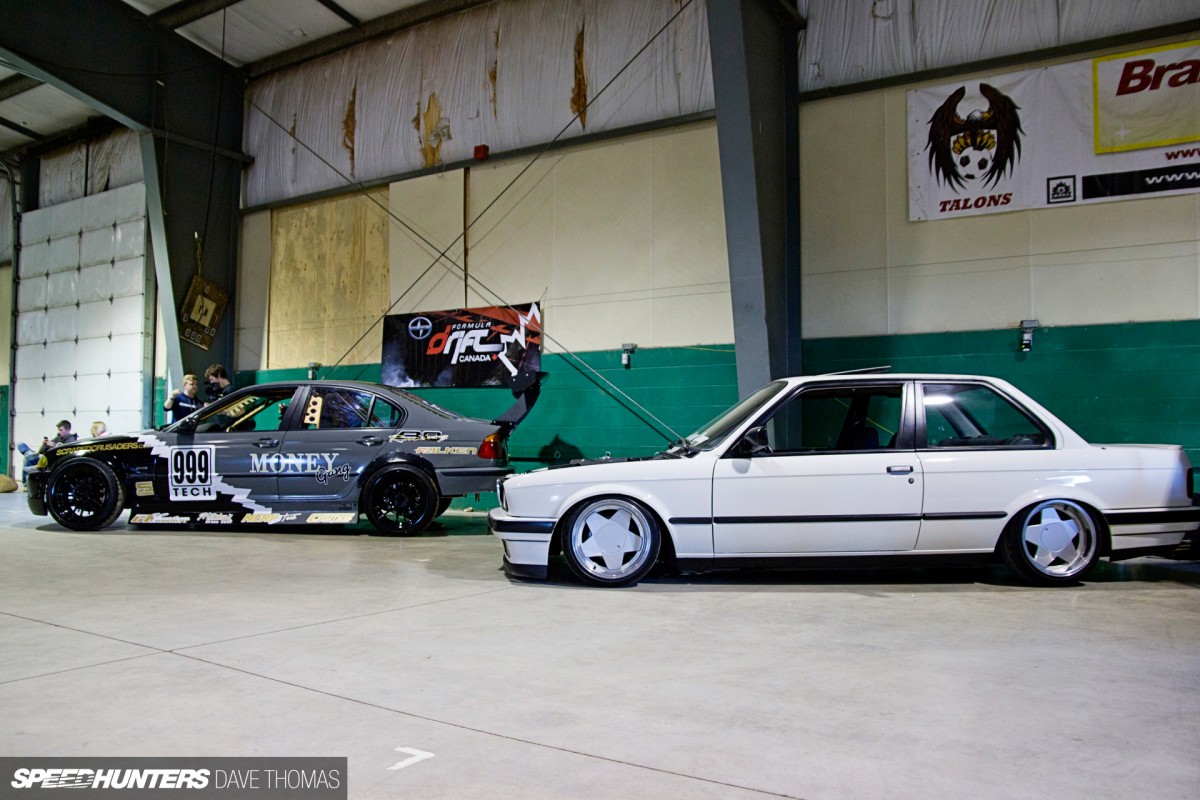 The final two cars I'd like to show you sat in the booth of local media outlet, and all around great crew, The Scraped Crusaders.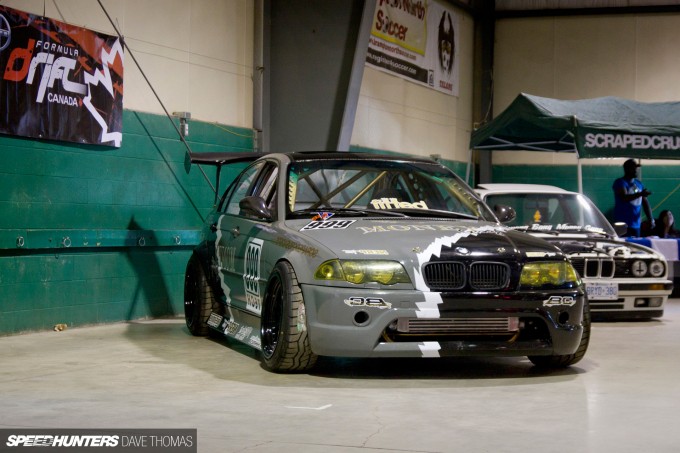 I'm sure some of you are looking at the pair above and thinking, 'Yeah sure, I get why you would want to showcase the E46, but why the E30?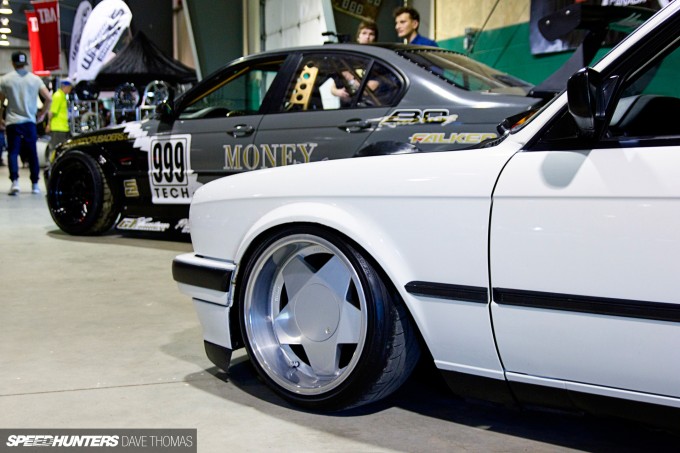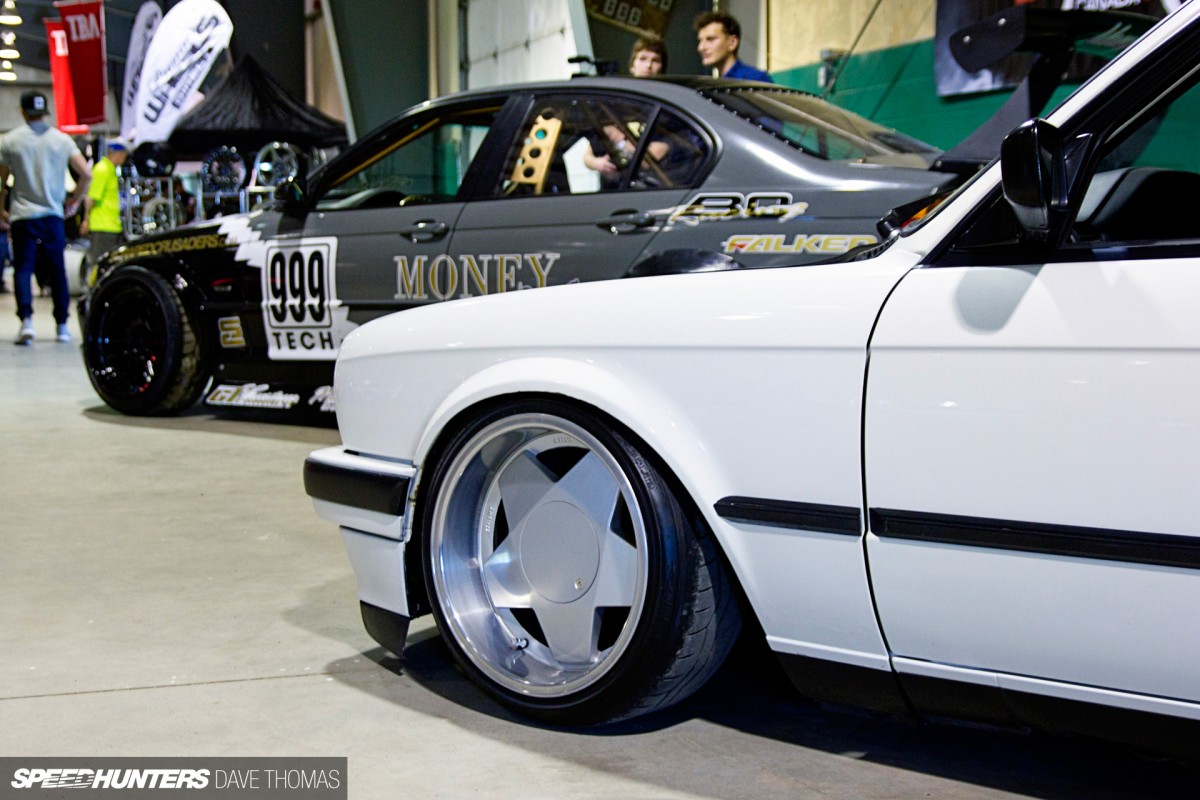 That would be a fair call too. There is actually nothing new about an E30 on Borbet Type A wheels, but as clean examples become rarer by the day, sometimes you just need to step back and appreciate the simple things.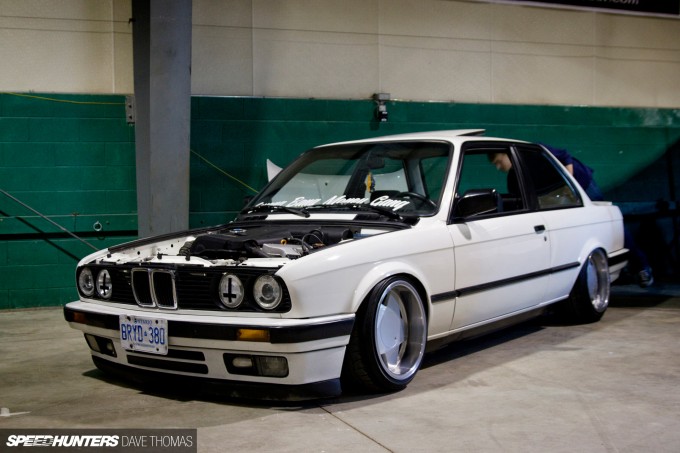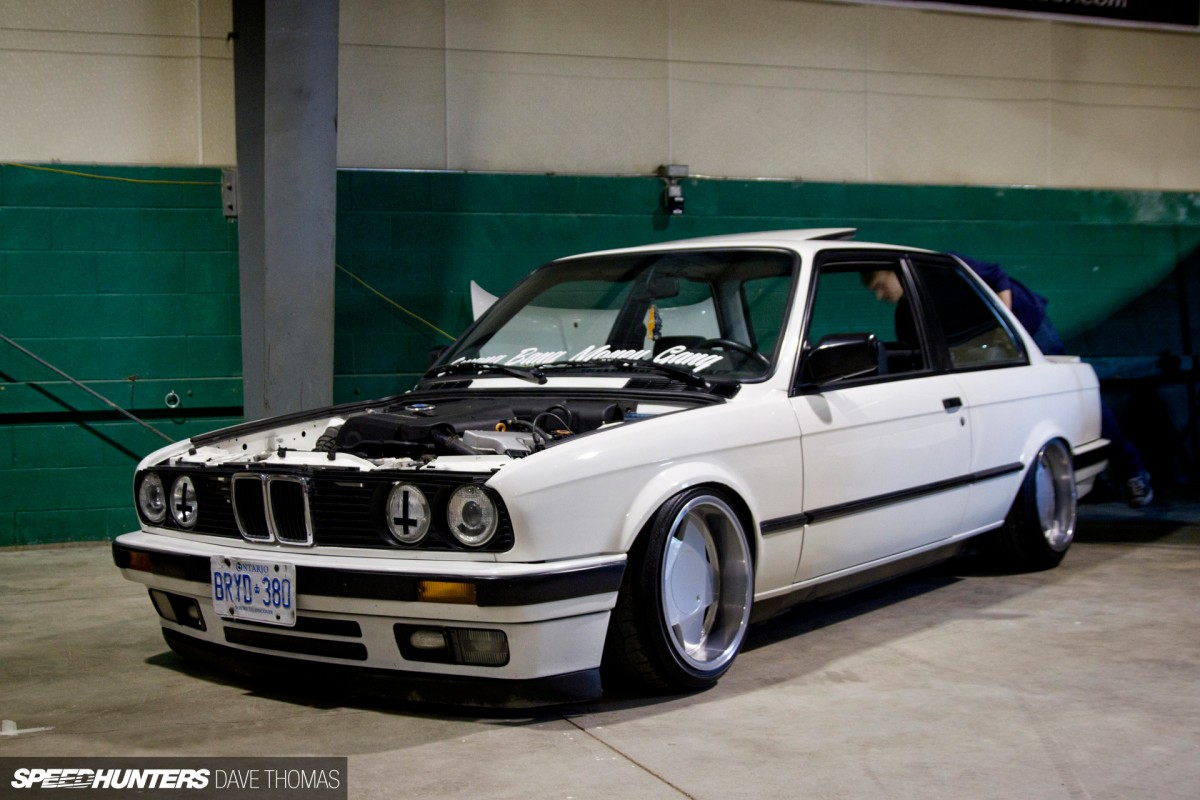 But other times you really just need to take a look under the hood and have your socks blown right off.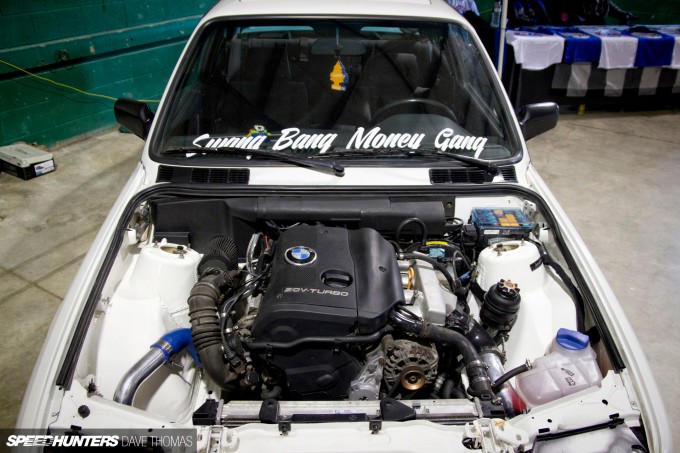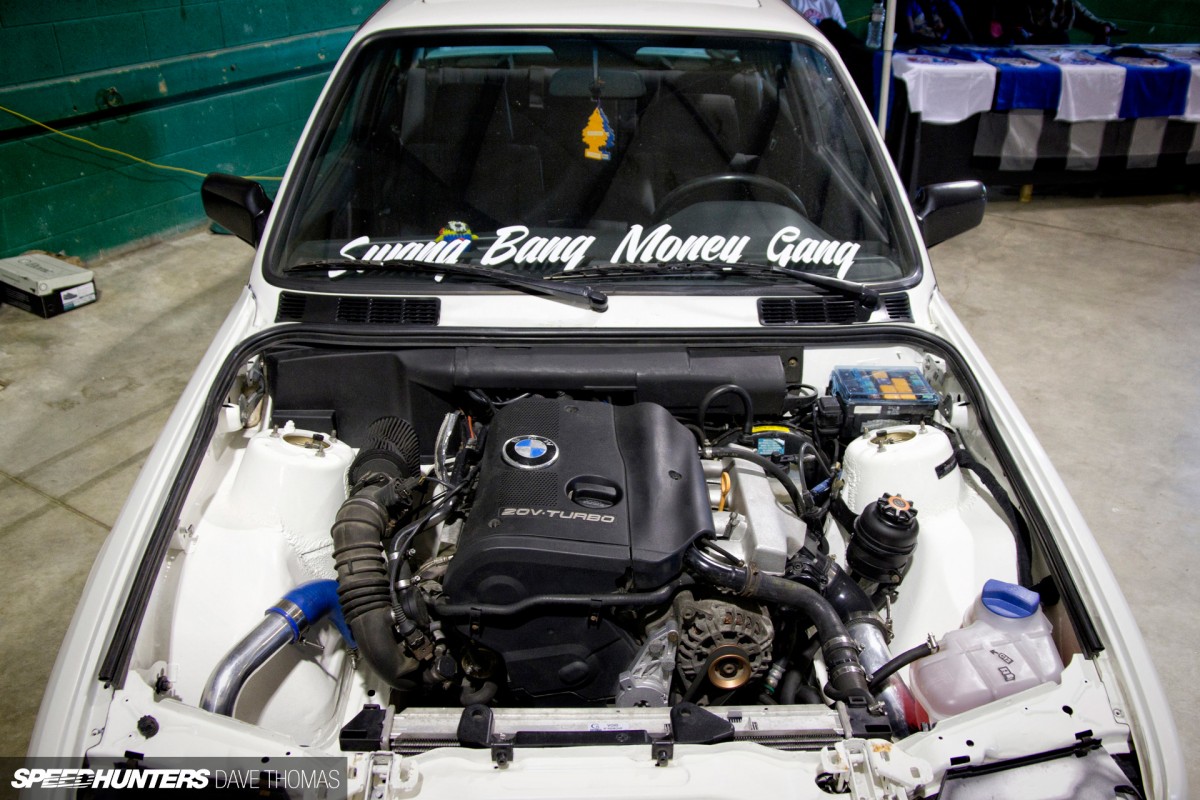 Yep, what you are looking at – despite what the tongue-in-cheek badging says – is a VAG 1.8T motor sitting between BMW strut towers. It's not the first swap of its kind, but it is the first one in Ontario and I do believe the first one to be showcased here on Speedhunters.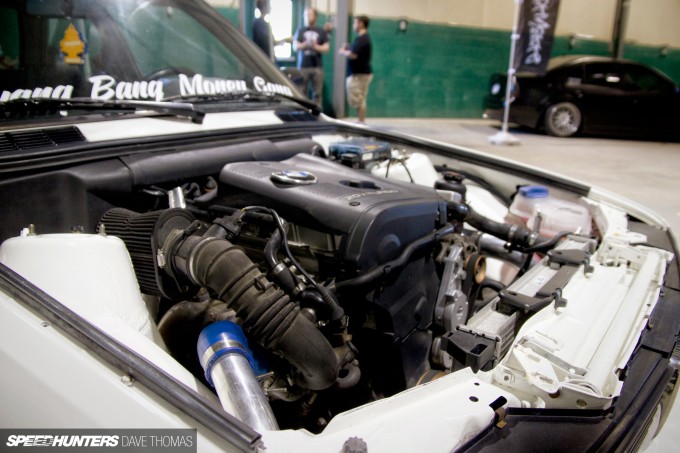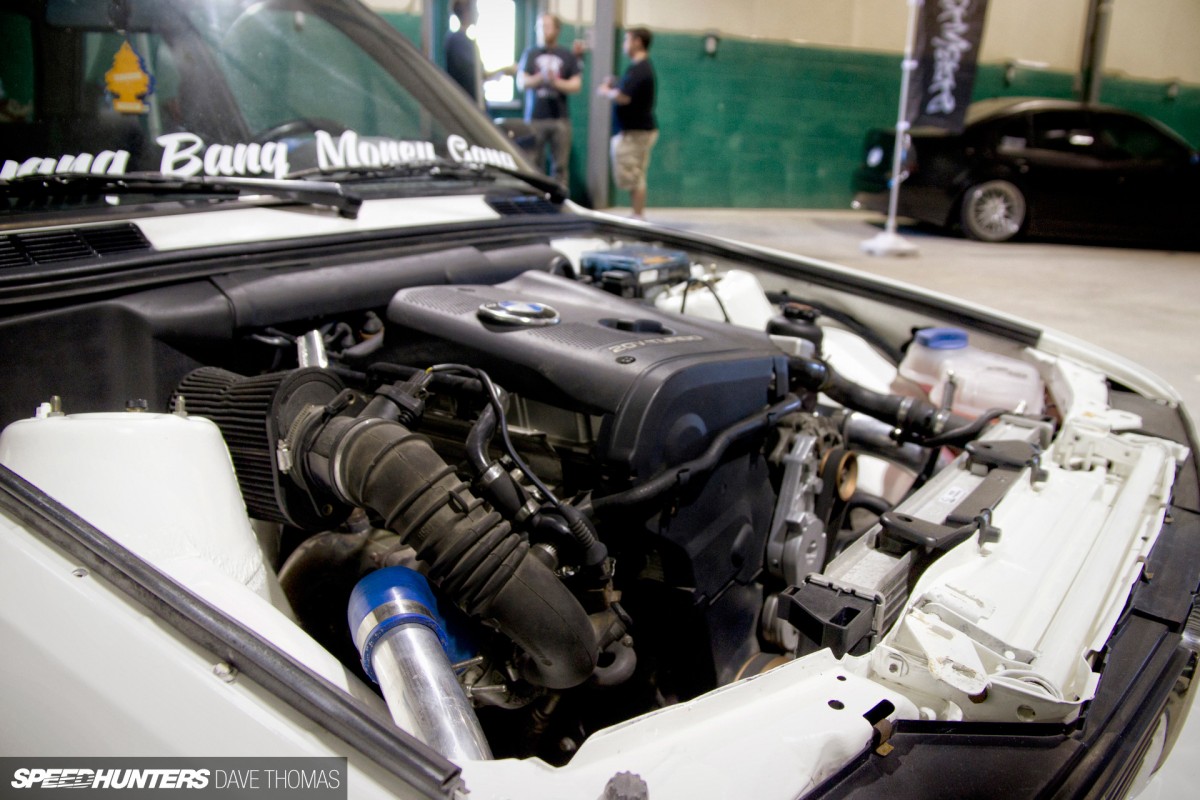 The motor isn't the only thing borrowed from a different maker either. Behind the VAG engine sits a Toyota Supra transmission amounting to a pretty unique and effective mix of kit.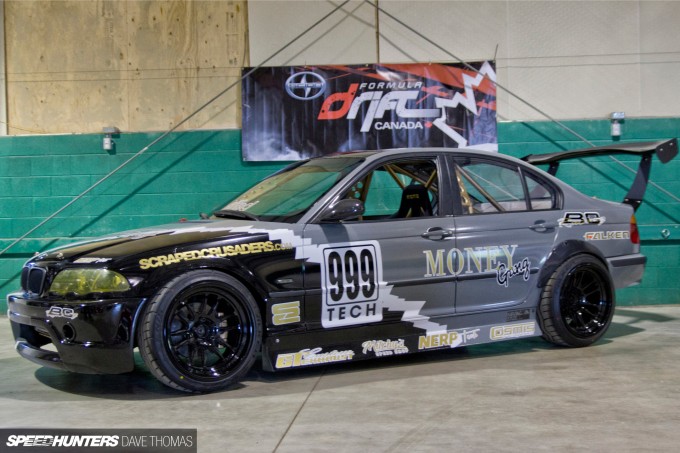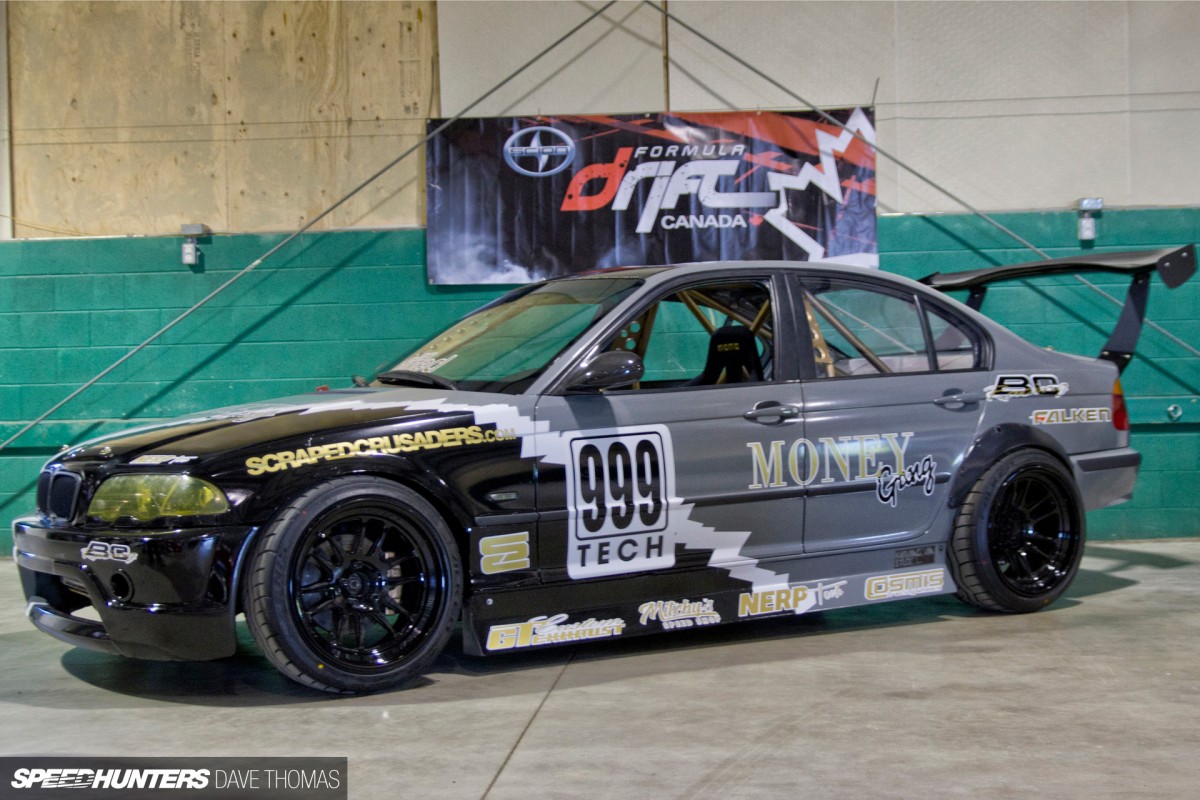 Now onto the E46… What you're looking at is Stephen 'Money Gang Steve' Van Sleuwen's newest Formula Drift Canada bound competition car.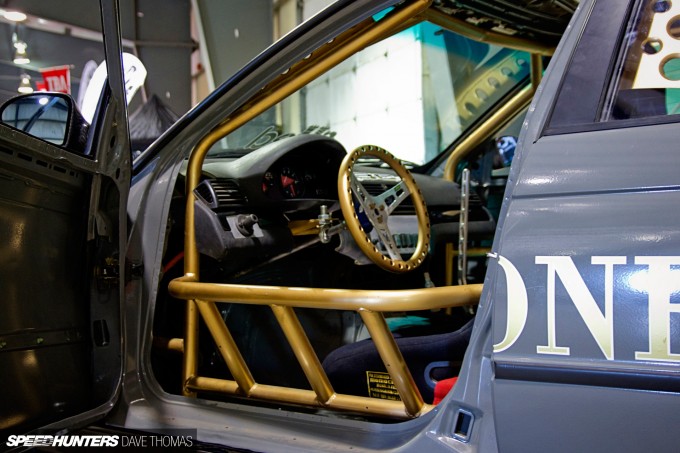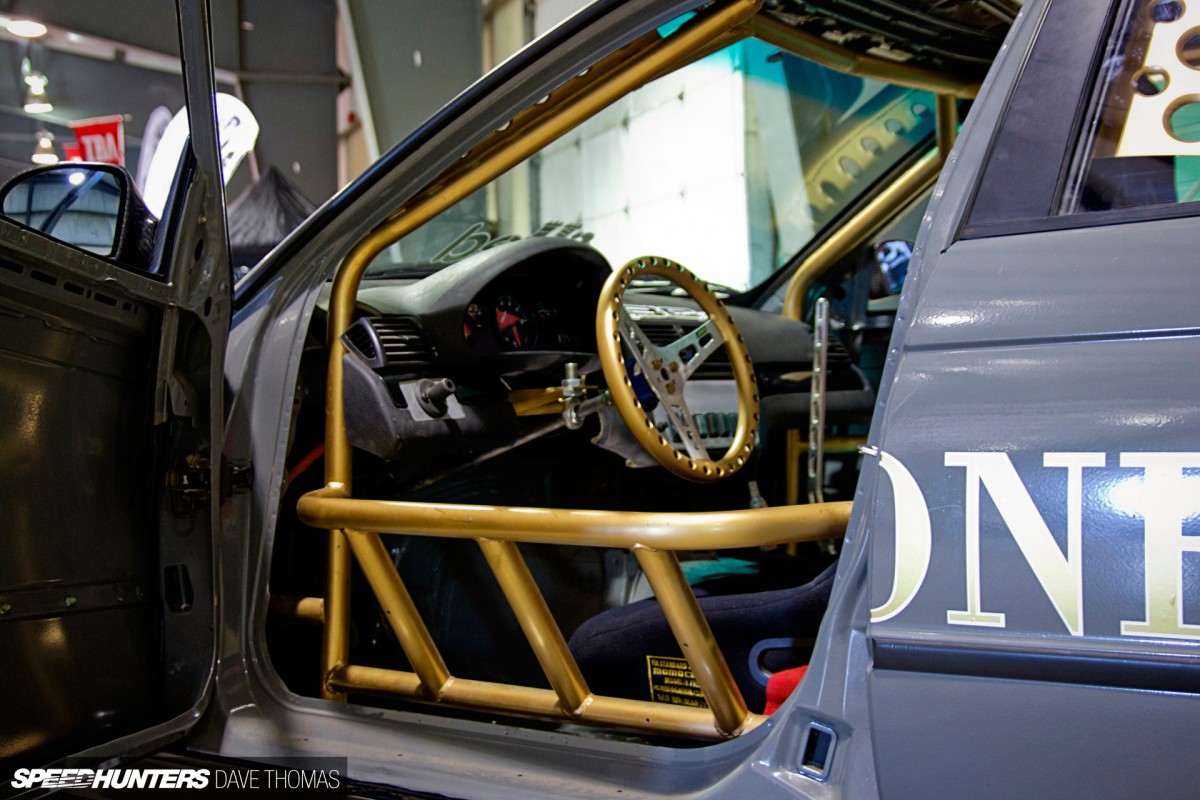 Built by himself and a few trusted friends, Steve's car features a Formula D spec Mitchy's Speed Shop cage, BC Racing suspension, Cosmis Racing wheels, and a bevy of NERP Tech suspension components.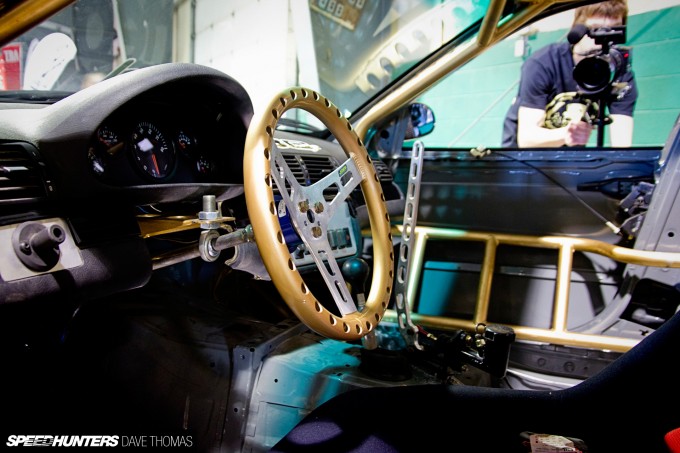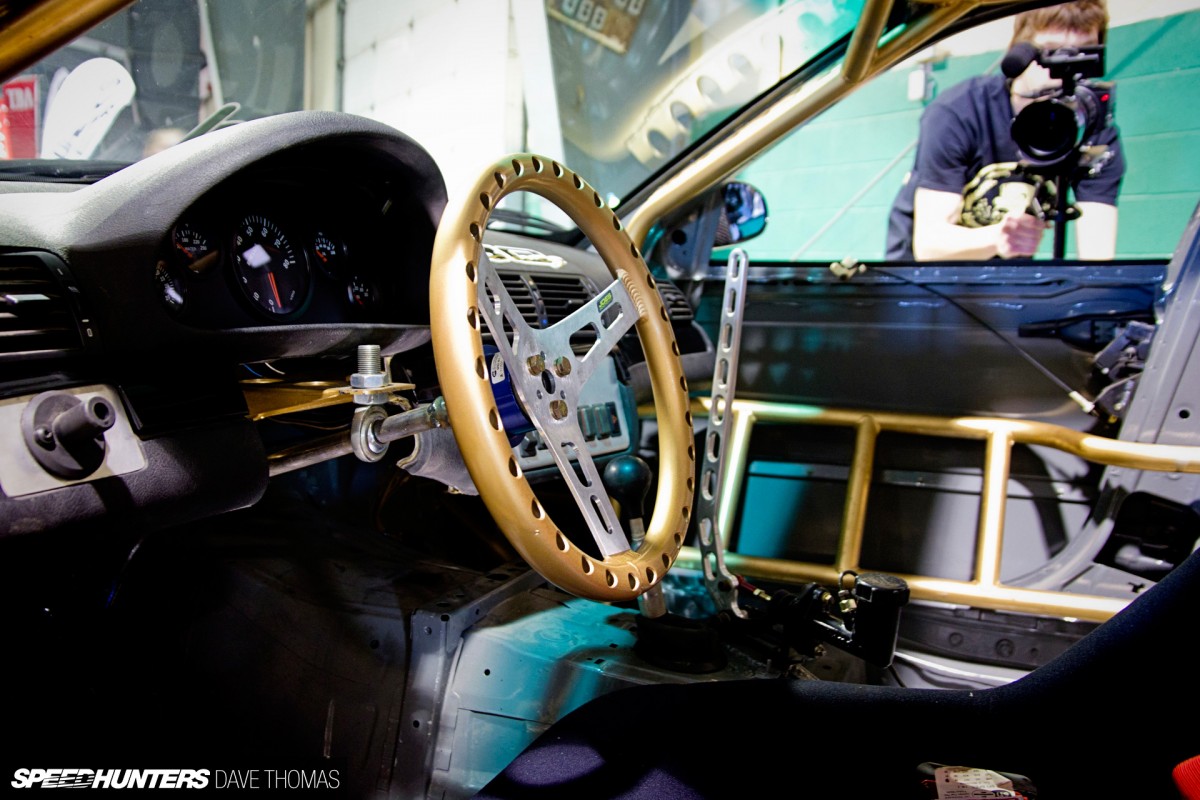 As equally interested in style as he is in function, Steve has also dedicated a fair share of his time to making the car looking as good as it will drive. That's where the flares, ride height, and towering wing come into play.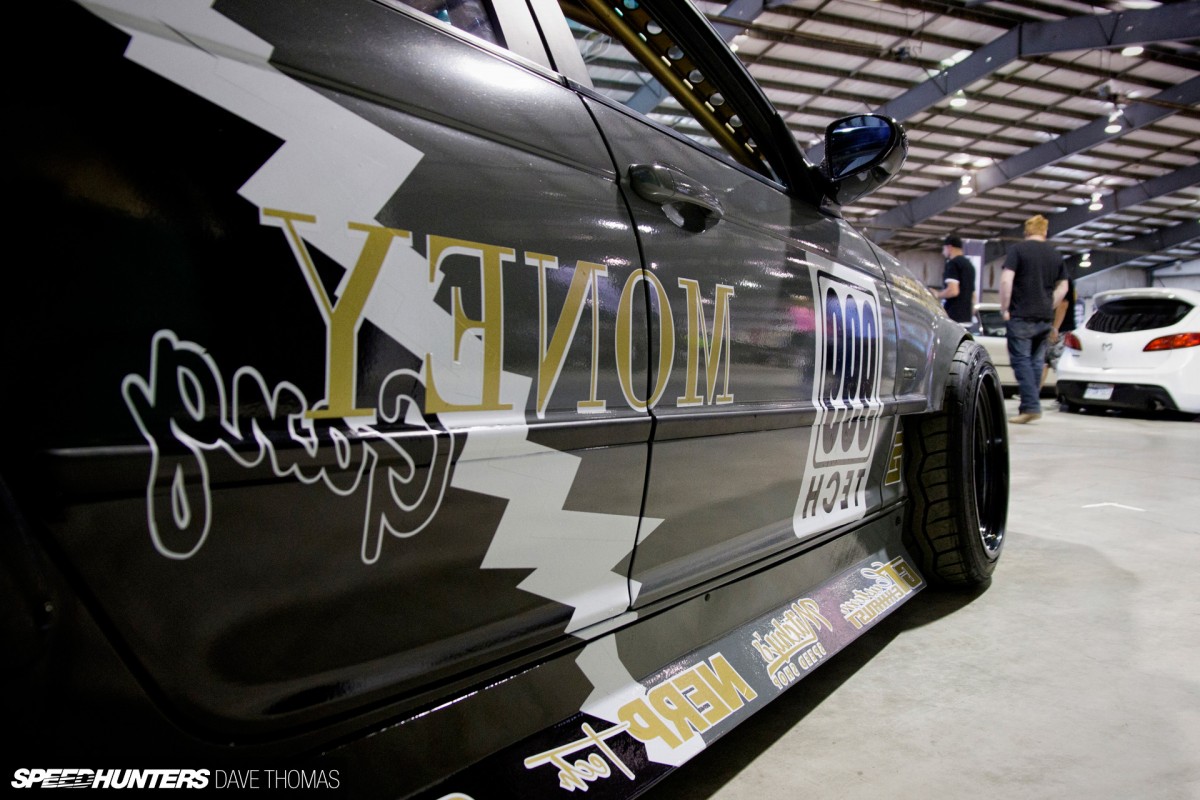 While getting the look sorted he noted a lack of aggressive side skirts available for the E46. To fix that problem he made his own, and they'll soon be available through his brand: 999 Tech.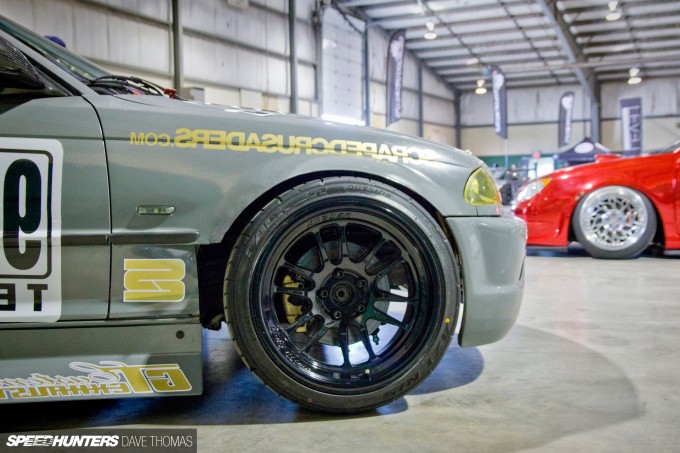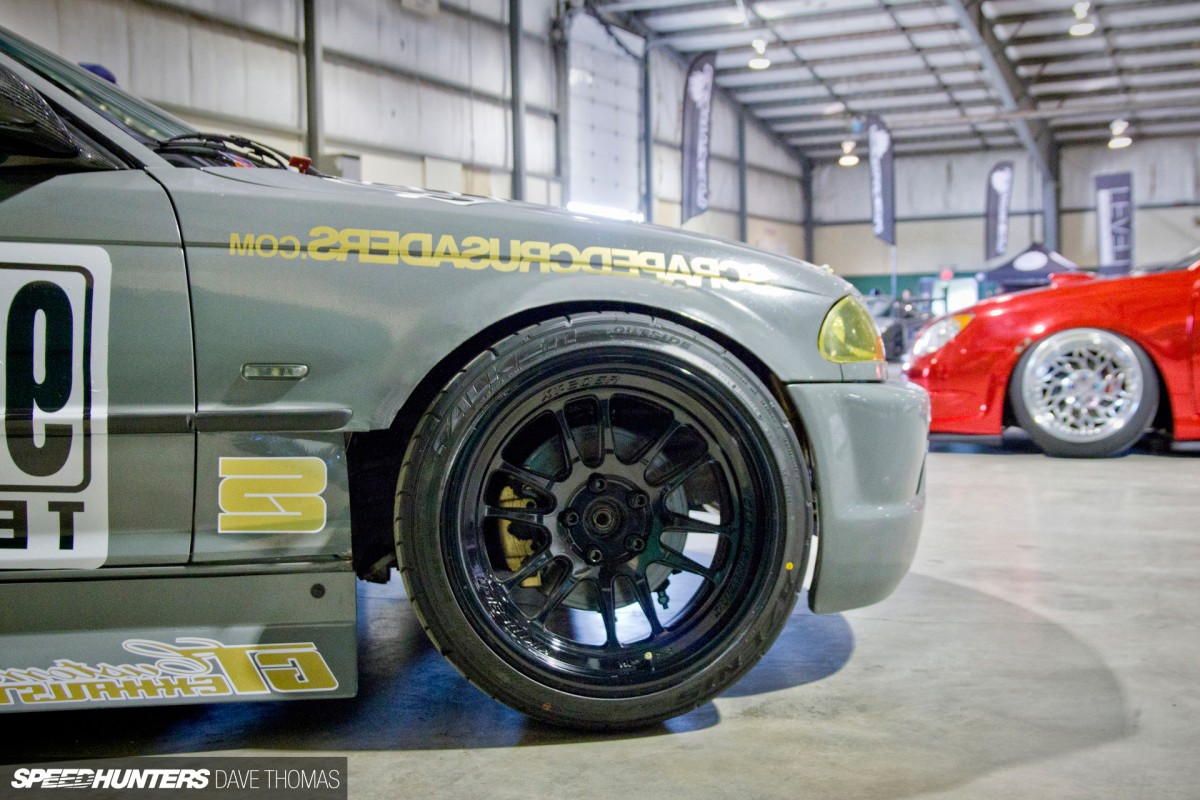 The livery was completed by friends Lucas Stanois and Mitch Amoyette, and would you believe this is their first design?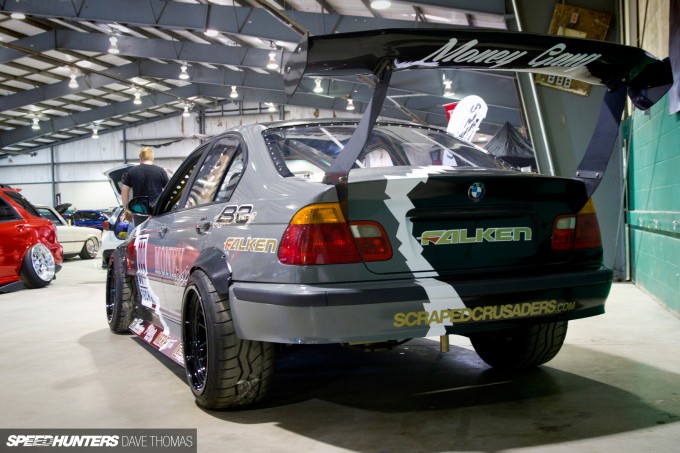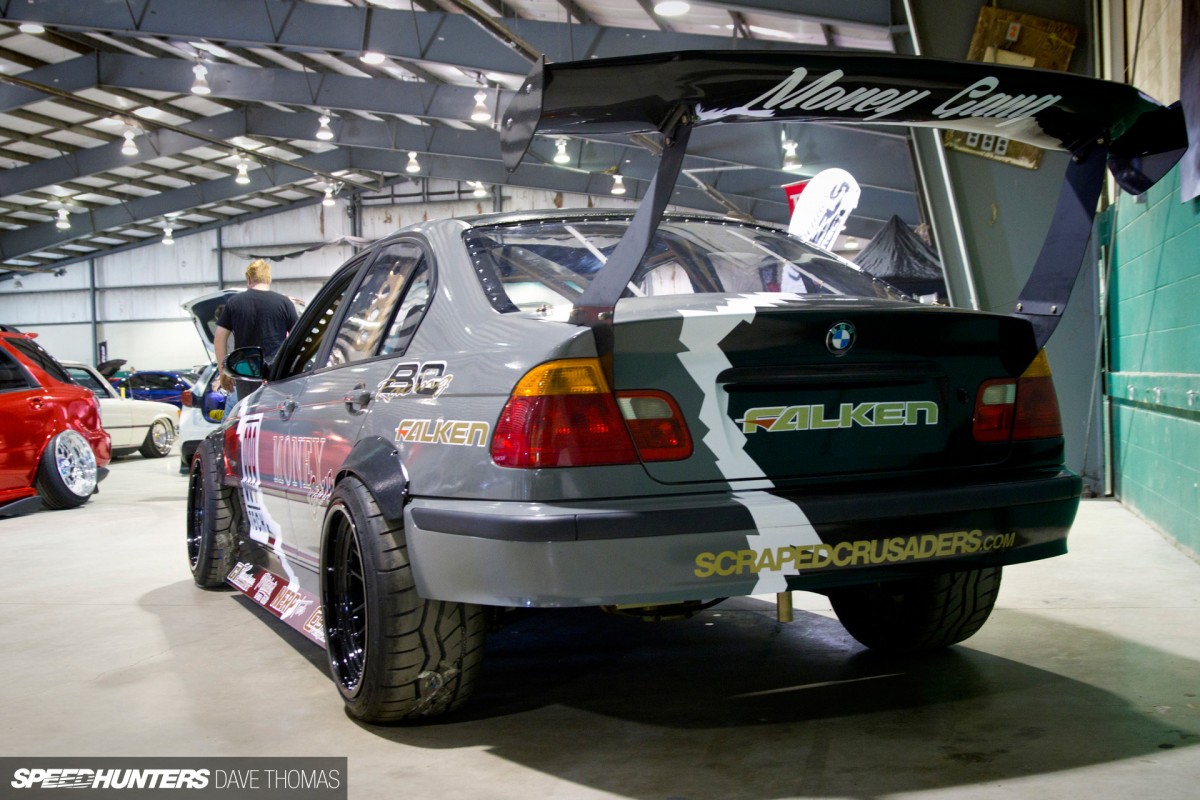 The car is currently a roller, but don't go thinking that an LS motor will not be the powerplant of choice. Instead, Steve plans to run a M52 BMW motor with a Garrett GT35 turbo hanging off the side
And with that we are at the end of my look at Fitted Lifestyles' 2015 event – hopefully you enjoyed it. And who knows, maybe Speedhunters will tap me on the shoulder once more for an even closer look at one of the cars from today's post…
Dave Thomas
instagram @stanceiseverythingcom
stanceiseverything.com

Additional Photography by Drake Nolte