Often Go Awry
The plan seemed solid – really solid. When we first made the impulsive decision to head to Japan for three months and buy a drift car, as detailed in my recent introduction post that you should absolutely read if you haven't already, we were originally looking at Toyota's excellent JZX90s and JZX100s. But the more we thought about it, the more we figured that it would make sense to get something later model with lower mileage. We are only in Japan for three months after all, so there was no time to waste, and a newer model car that had traveled less roads was the best bet for getting set up with a good square one, in order to get straight into the action.
Well, we've been here for nearly a month now, and unfortunately things haven't gone to plan. Not only have we not ventured anywhere near a circuit with our JZX110, cancelling on track day after track day over the last few weeks, but we've barely driven the car at all. And that's because it's spent most of its time sitting dormant or being limped around the city to workshops.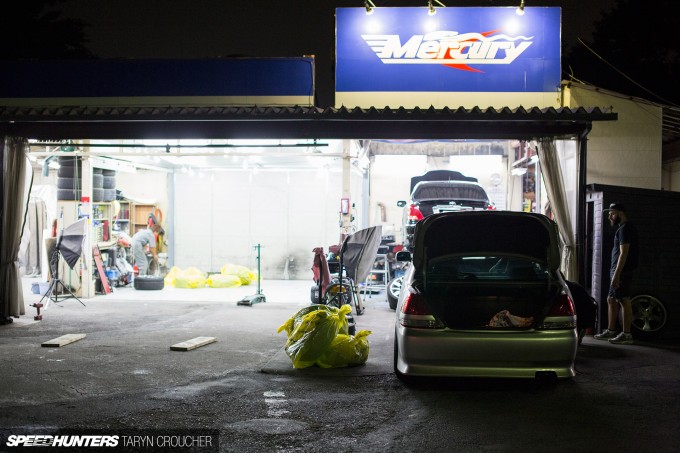 I never intended to portray ourselves through these project stories as sideways rockstars, waltzing into Tokyo and becoming the next drift king (and queen). After spending quite a bit of time in this city in the past, we knew that buying and going drifting with a car in Tokyo was going to be hard, and I always wanted to be honest about that. This was always meant to be a 'warts and all' story – I just didn't realise how many warts… So let me catch you up on the last few weeks as we claw our way towards driveability, with the clock ticking incessantly in the background, a reminder of the quickly increasing number of days that contain zero track time.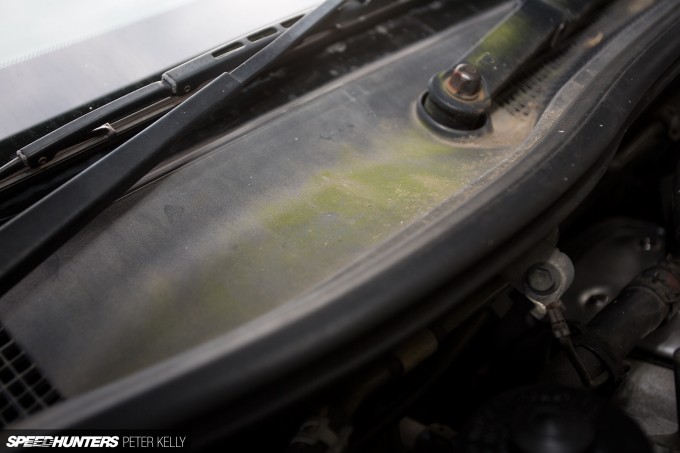 To make this very brief, I'll simply say that my definition of 'checking out a car' and other people's definition of the same thing must be different. After getting the Toyota inspected and test-driven by a contact, we bought the JZX over the phone and were raring to go. But after arriving in Japan and picking it up, Masato-san from My Break, who had very kindly taken delivery of the car and sorted all the paperwork for us, had some bad news. Far from being ready to go, the car needed a lot of work to even get it to the point where it would be okay just to drive on the street, let alone the track.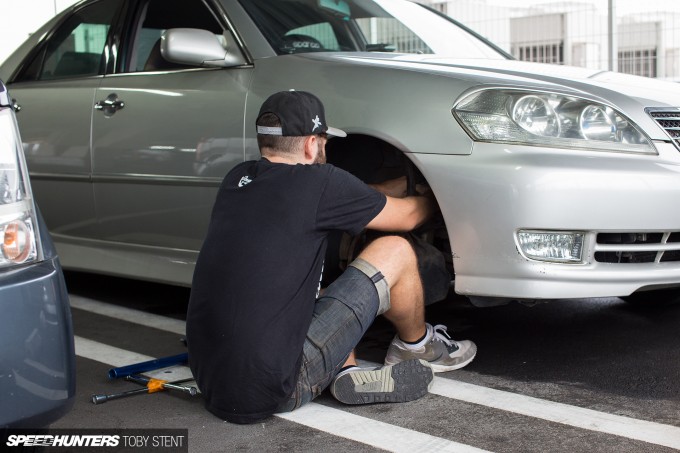 Sure, it had an Ogura heavy-duty clutch, but it was completely fried and wouldn't hold any power in any gear. Something at the front of the engine was making a fairly nasty rattle, and a quick look in the engine bay revealed a list of other issues that only got longer over the next few days. Cracked and leaking silicon joiners, worn and cracked bushes everywhere, completely destroyed diff mounts, a damaged MAF sensor, half the AC controls not working, a battery with no securing posts and more.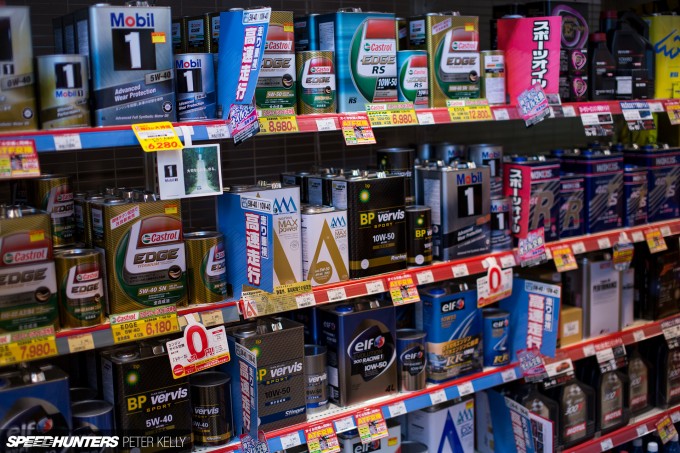 I do like a project as much as the next man, but with the limited time frame involved, we had to just suck it up and move fast. So it was off to Super Autobacs to pick up some essentials, including a tin of high quality oil and a filter to replace the sludge.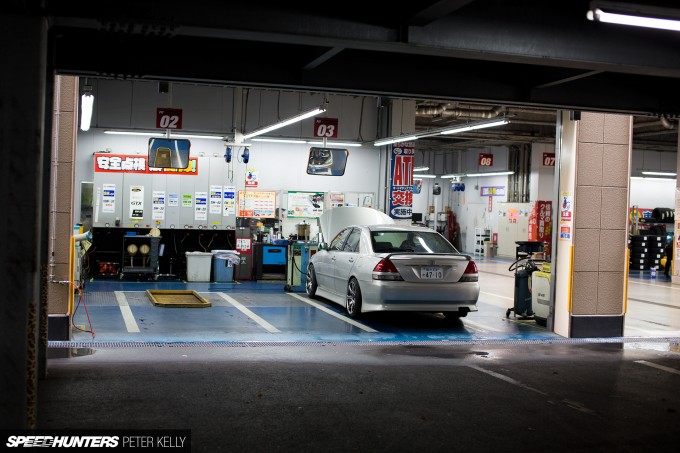 When the girl at the counter then offered an oil changing service, I was a bit weary, as that's how they normally get you in my part of the world. But this is Japan and it was only an extra $10, although they were a little hesitant once they actually saw the car. Apparently they're not allowed to work on anything that wouldn't pass inspection, or shaken, and the wheels were sticking too far out for it to be considered roadworthy. I'm pretty sure the idea of trying to explain that to a couple of foreigners seemed too hard to the mechanic, and thankfully the job was quickly taken care of. I'm super-glad they did too, because working on cars yourself in Tokyo flat-out sucks, as I was about to find out.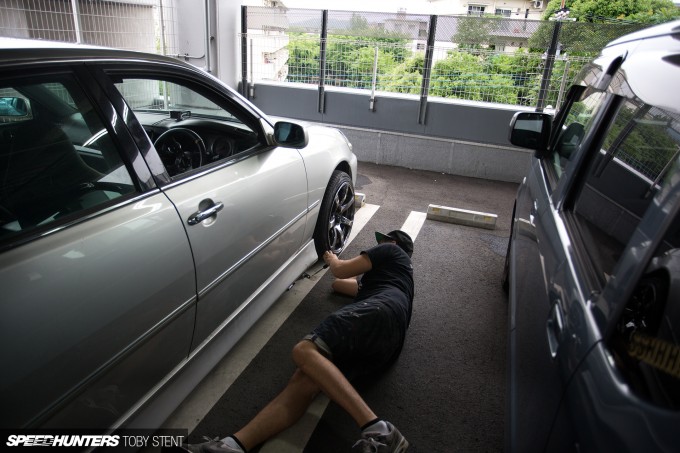 My Kiwi friend Toby and I were committed to fixing a bunch of the smaller issues ourselves before heading to a workshop for the big jobs, and here in Tokyo that means trying to find a quiet car park with a trunk full of tools and hoping no one will call the cops. With the rain coming down, we first found ourselves in the parking building of a furniture store being stared at by every single customer who came past.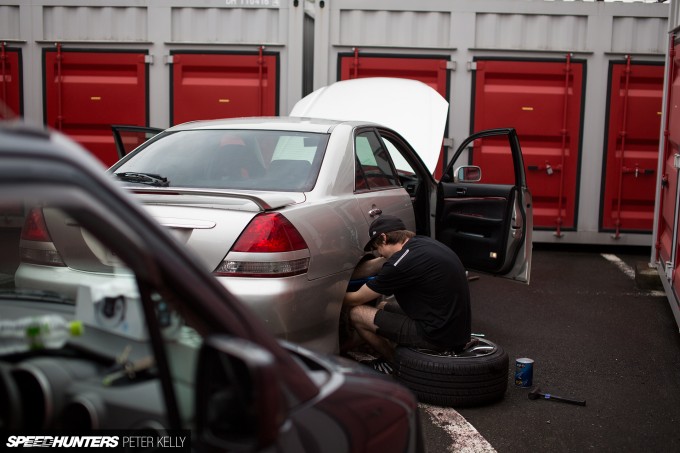 Eventually, the rain stopped and the staring became too much, so we moved to a storage facility where Toby has a small lock up to keep all his drift spares. But it wasn't to last. Another customer didn't like the look of what was going on, and although very nice to our faces, quickly scuttled away and called both the storage company and the police. Good times!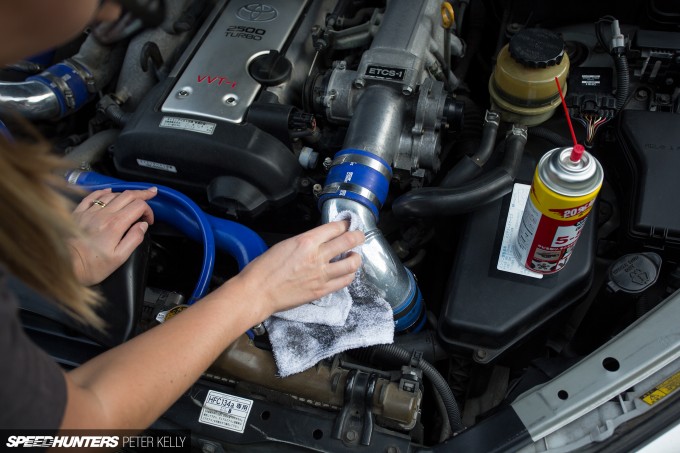 Things are slowly improving however, and Taryn and I have spent a fair few hours going through the car and cleaning it all up whilst everything else has been going on.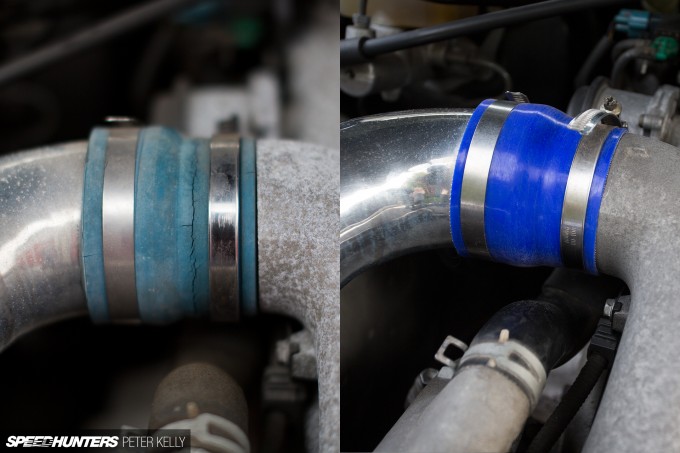 No vacuum leaks is always nice!
The Big Jobs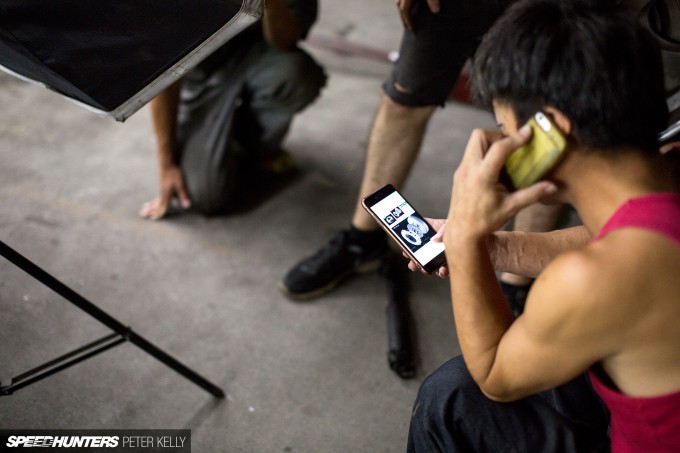 It's the big jobs however, that have really hurt. The burnt out clutch was the first major issue that needed addressing, and I turned to the guys at Mercury for help. When I first arrived, Totani-san, who both drives Mercury's Z33 pro drift car and helps build Daigo Saito's cars, was hanging around and thankfully informed me that this car would need another expensive Ogura clutch, because it has an Ogura flywheel – something I hadn't thought of.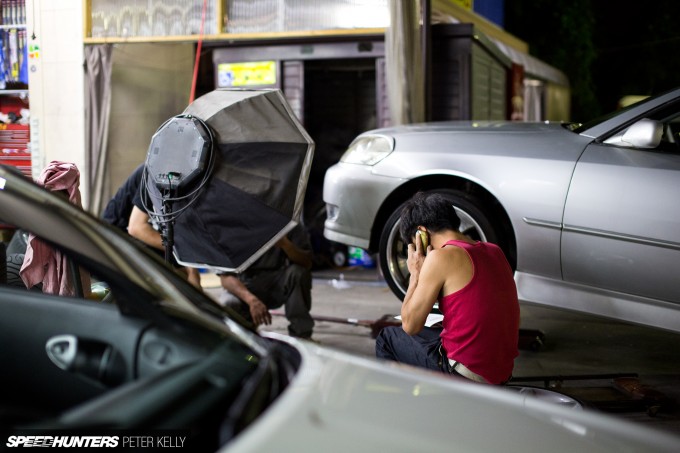 A few calls were made, the clutch was ordered and our bank account was getting smaller and smaller. You might notice it's night time in these photos, and that's because Mercury, like a lot of workshops, work late into the night. In fact, you can usually find staff here until around midnight, six days a week.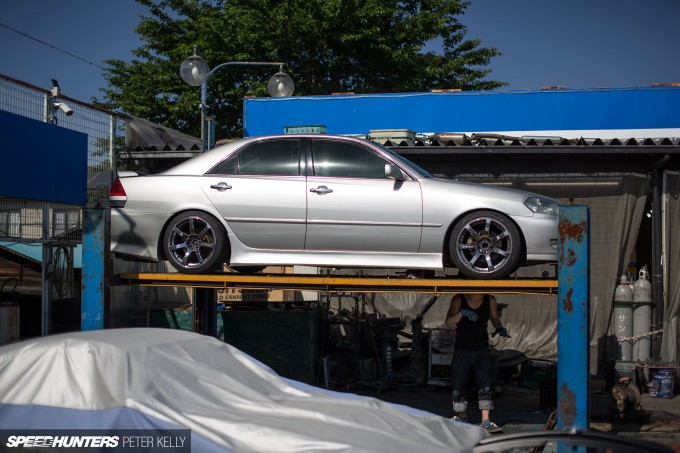 I've been very lucky to make friends with these guys, but in saying that, I'm fairly sure they're pretty sick of me at this point, and probably wish I never wandered in looking for help a few weeks back. Why? Well, I'd estimate that I've had to come back to the shop about eight times so far with various issues, and every time they've been good enough to lend me another car so I can still get around while they try to work out what the problem is.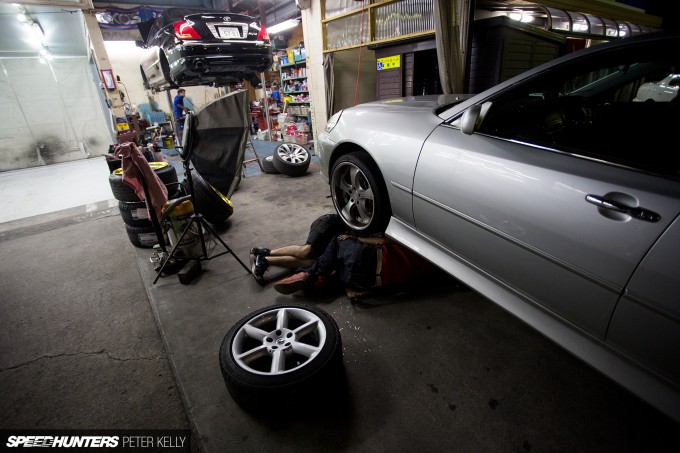 From trying to find the source of mystery death rattles…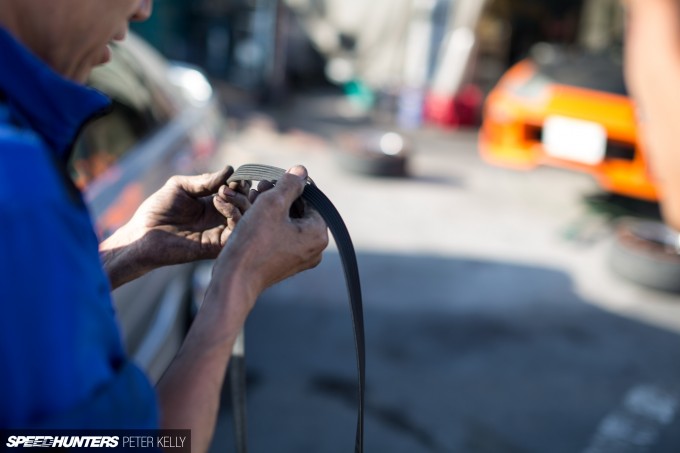 To replacing flogged tensioners and belts…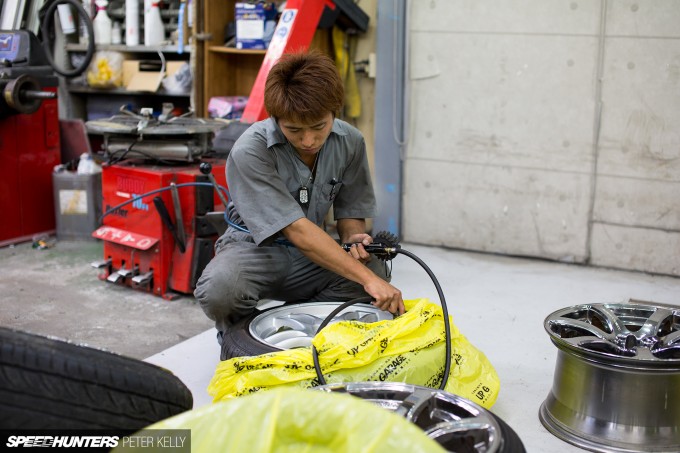 And fitting up wheels and tyres, including the set of R33 GT-R drift spares we picked up at the local Up Garage for cheap.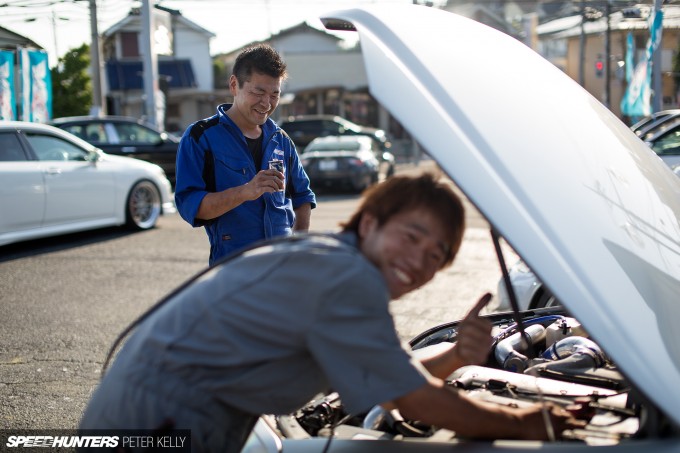 Although I speak very little Japanese, I'm pretty sure I got the gist of what Mercury's Nobu-san is saying here… 'Hahaha – this is f*#ked.'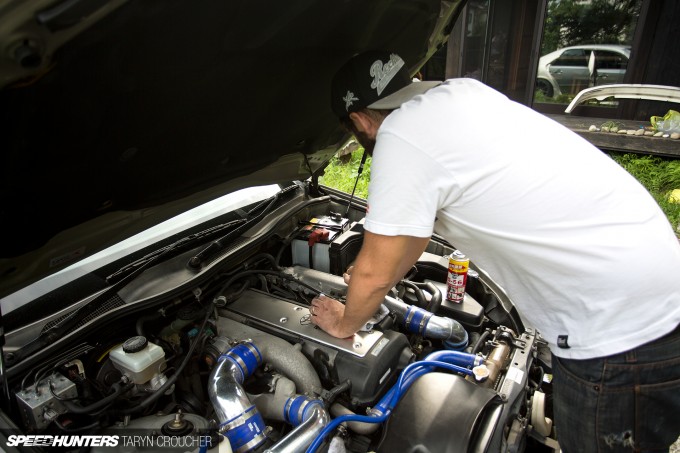 So where does that leave us now? With our funds running on below empty, although the JZX is hugely improved with all new fluids, a fresh alignment and a multitude of issues fixed, we're still struggling to get to square one – the main problems left being absolutely wrecked diff mounts and a very scary rattle somewhere in the driveline. Before anyone comments, yes, we've learnt our lesson… I guess we just put too much trust in people we didn't know, which seems a little stupid now. Maybe it was just a severe communication breakdown due to the language barrier, but either way we're all the wiser for it and working towards a track-worthy car is the only way forward now.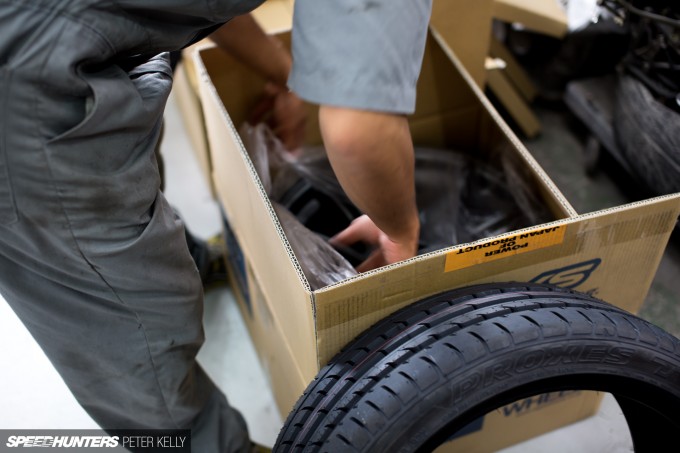 It's not all doom and gloom though; we did manage to get ourselves a fairly epic set of wheels and tyres thanks to our friends at RAYS and Toyo Tires – but more on that in the next post, which will be coming up very soon. Stay tuned for hopefully a little less sulking from me, and a little more smoking from the rubber!
Peter Kelly
Editor-in-Chief
Instagram: speedhunters_pedey
pedey@speedhunters.com