The Alfa Spirit
An Italian shooting Italian cars halfway around the world in Japan. It's a thought that kept running through my mind when I dropped by the Daikanyama T-site to check out an Alfa Romeo meeting on Sunday.
I have some fond memories of cars sporting the 'Il Biscione' brand. Back when I was learning to drive, it was my father's Alfa 75 that I often got to play with. Being rear-wheel drive, it taught me quite a lot about car control, and of course I did some silly things with it. The 75 came and went, replaced by a 164 that my family kept in Italy for when we returned back there for summer vacation. There's not many nice things I can say about that 164 – it was built badly, had every electrical problem you could think of, and the handling was questionable at best.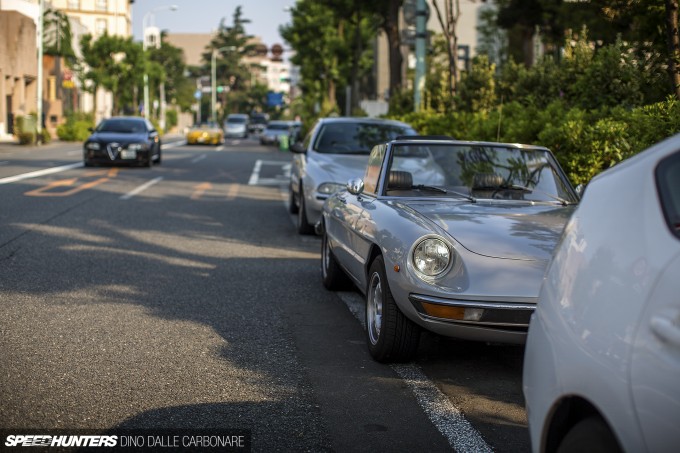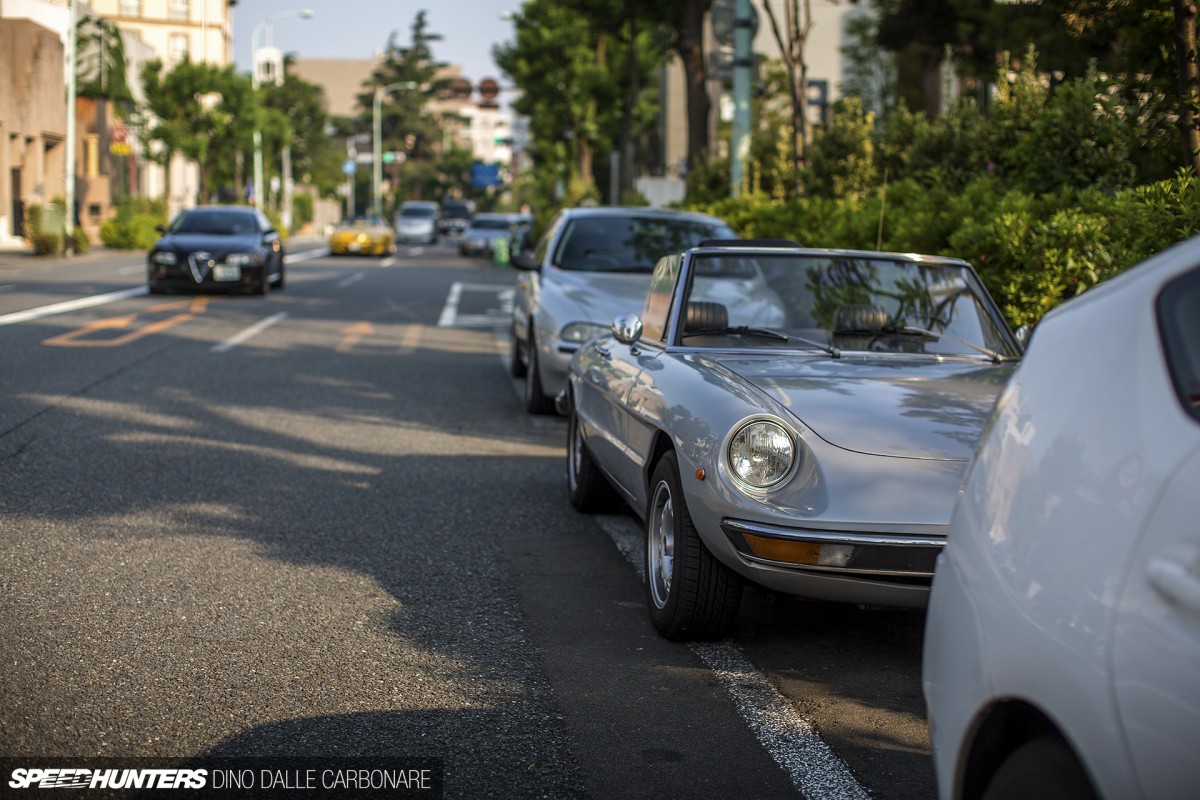 Despite being pretty chuckable, you really needed to concentrate at the 164's wheel, otherwise you'd easily fall pray to its shortcomings – like the worst torque-steer imaginable, zero traction in the wet and snappy lift-off oversteer. That all said though, on a good road it was still fun. The Twin Spark four-banger had plenty of low-end grunt and bucket-loads of character. You could say that attraction counts for a lot, and I guess that's what keeps the Alfisti so loyal to this brand.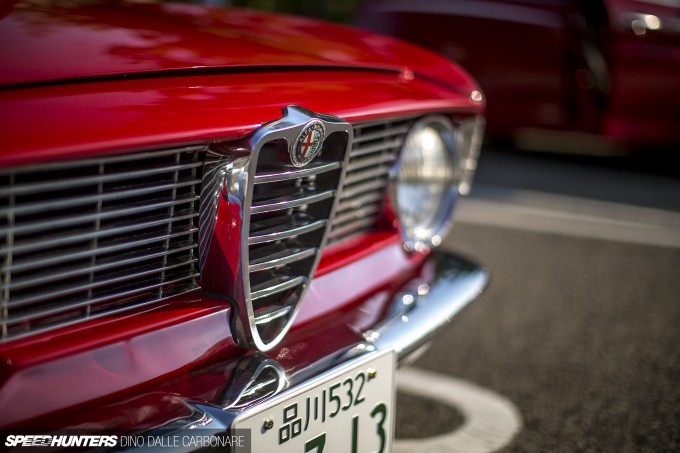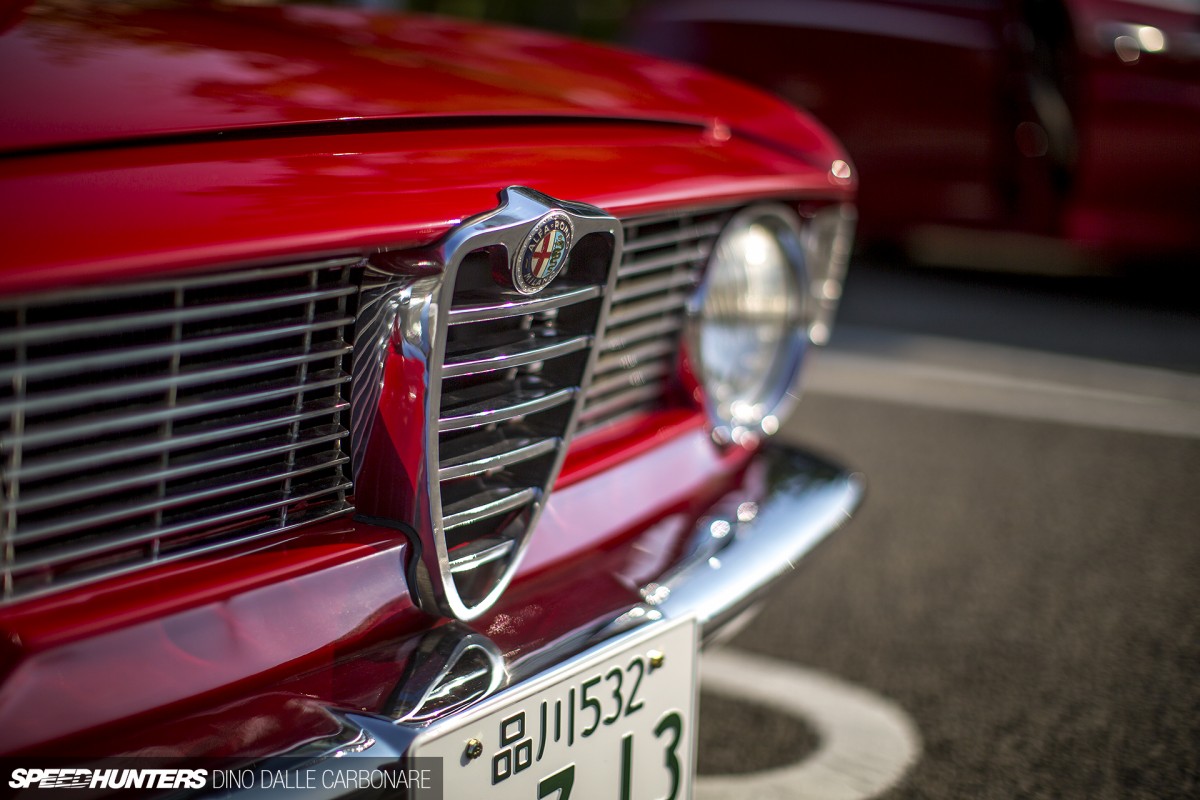 And in Japan the attraction is phenomenally strong.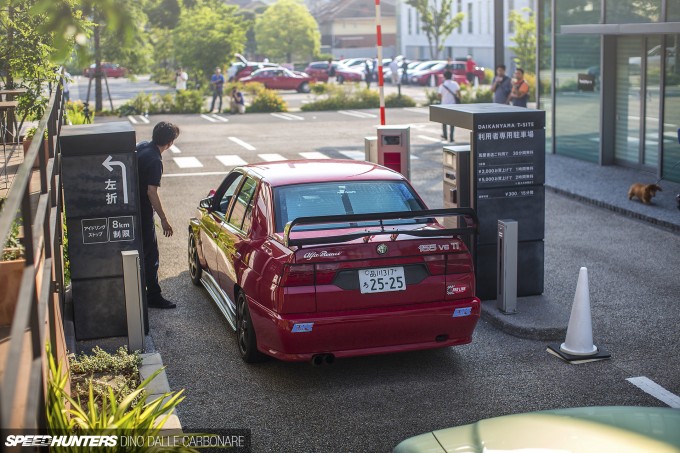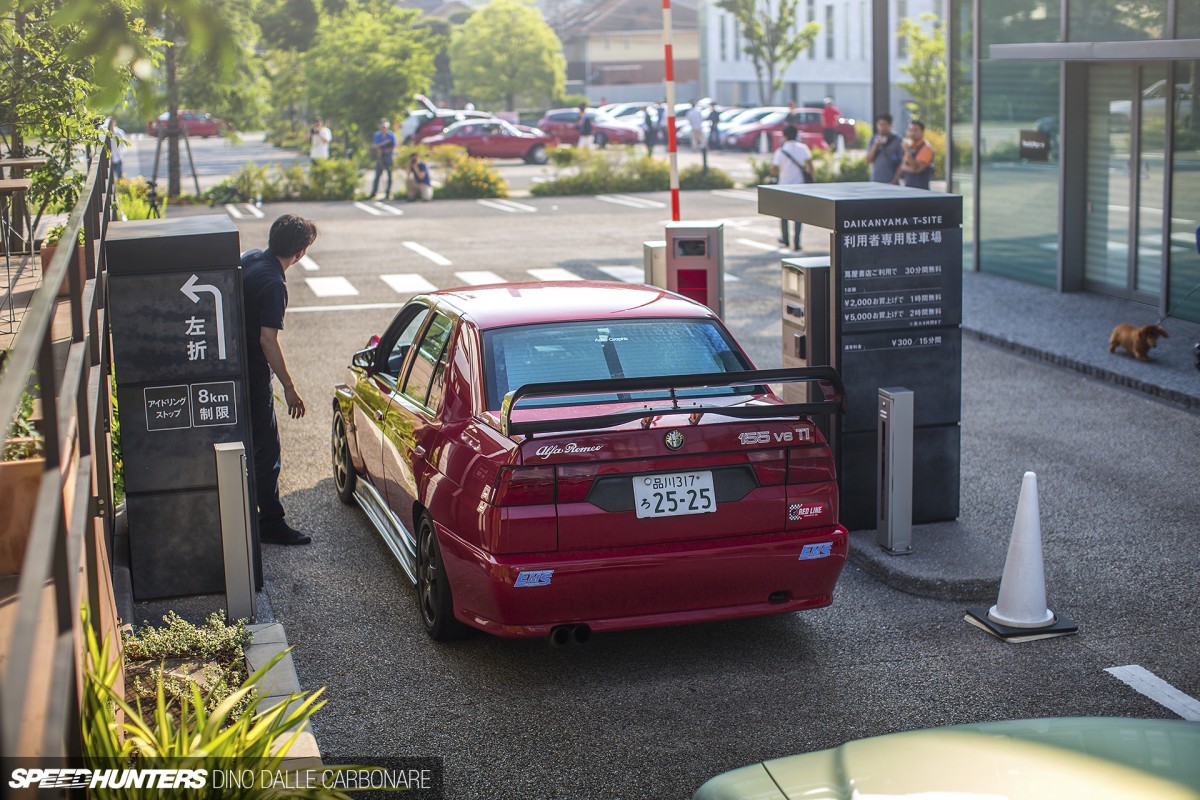 It had been a while since I'd checked out a themed Cars & Coffee style meeting, but those that are regularly held at this location in the heart of central Tokyo rarely disappoint.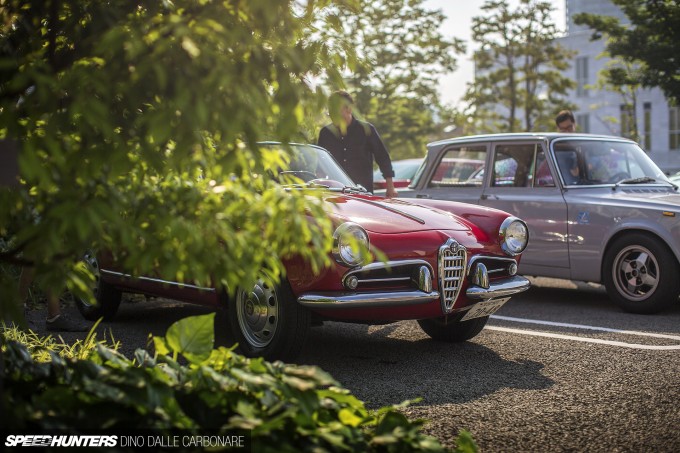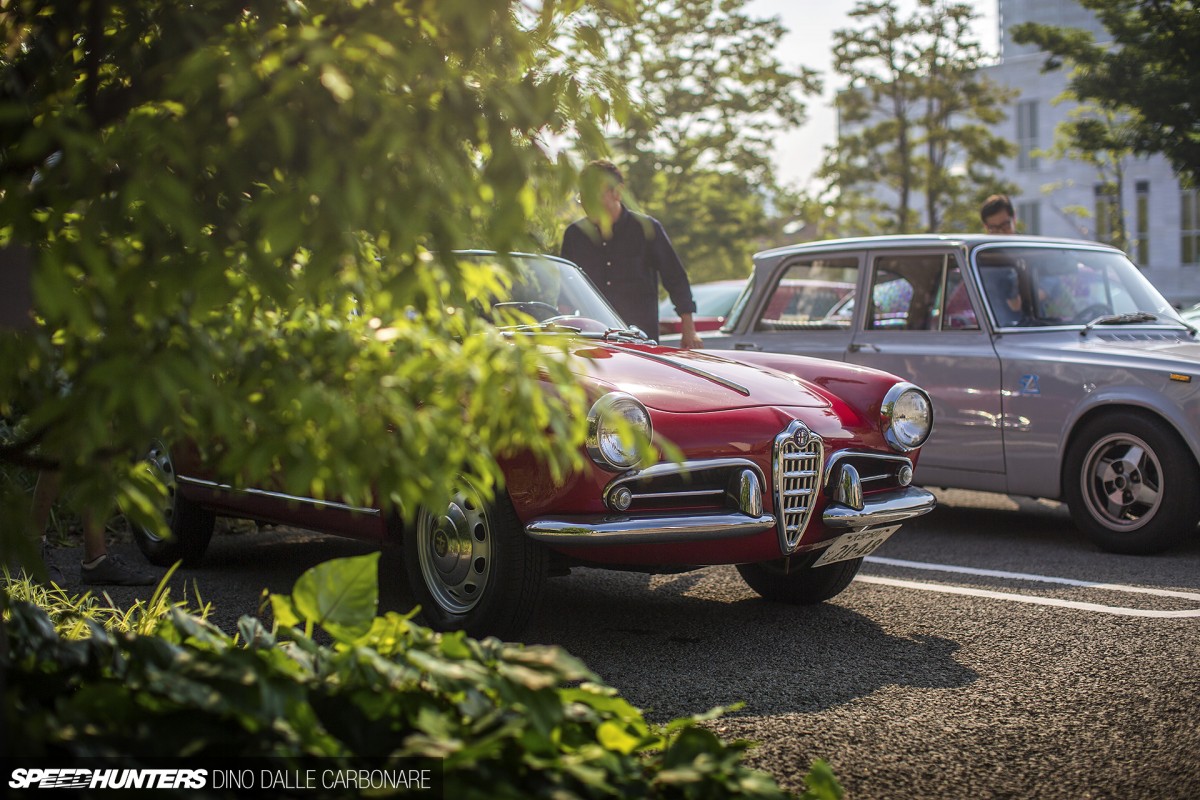 Actually having a space like this to hold events of this nature is like a godsend to car otakus living in and around the metropolis – even if they only happen once a month on a Sunday morning between 7:00am and 9:00am.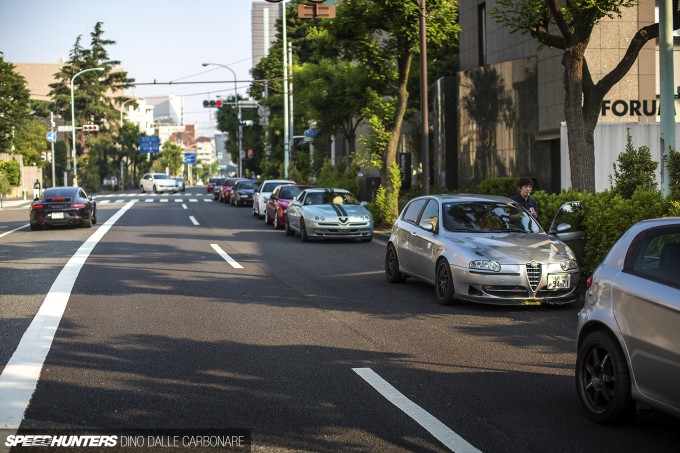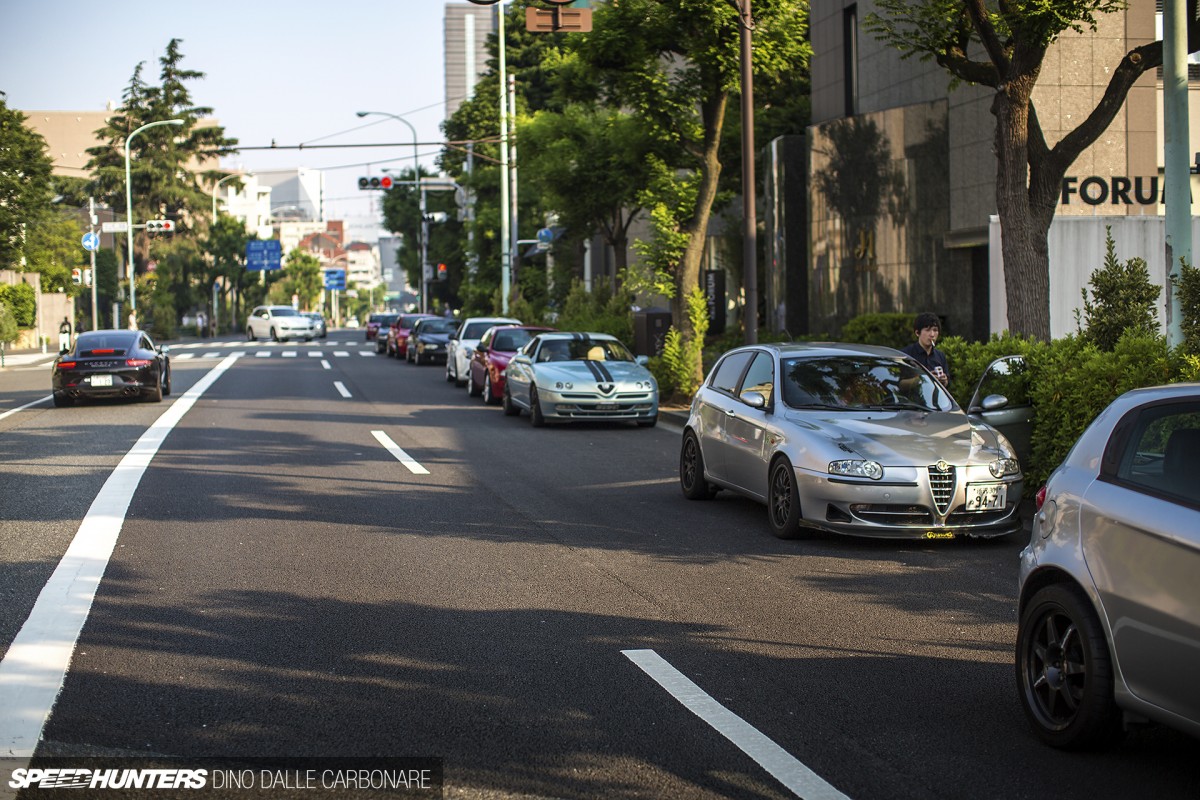 Despite getting there 15 minutes before the T-site carpark opened, there was already a long line of Alfa Romeos patiently waiting on the side of the road. With the parking quite limited, it was obvious some cars weren't going to make it in, which is always a pity.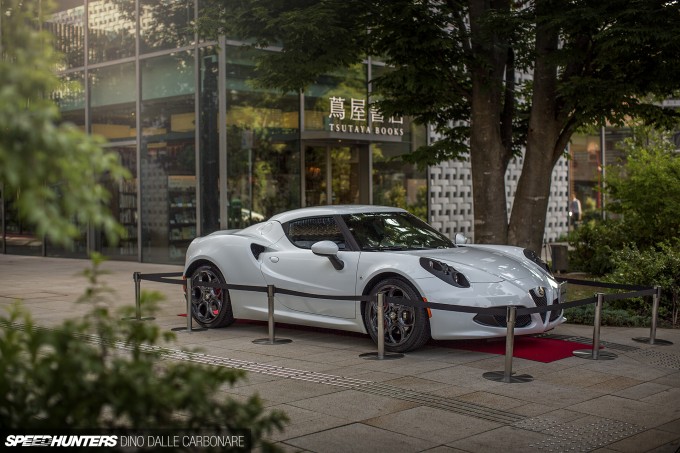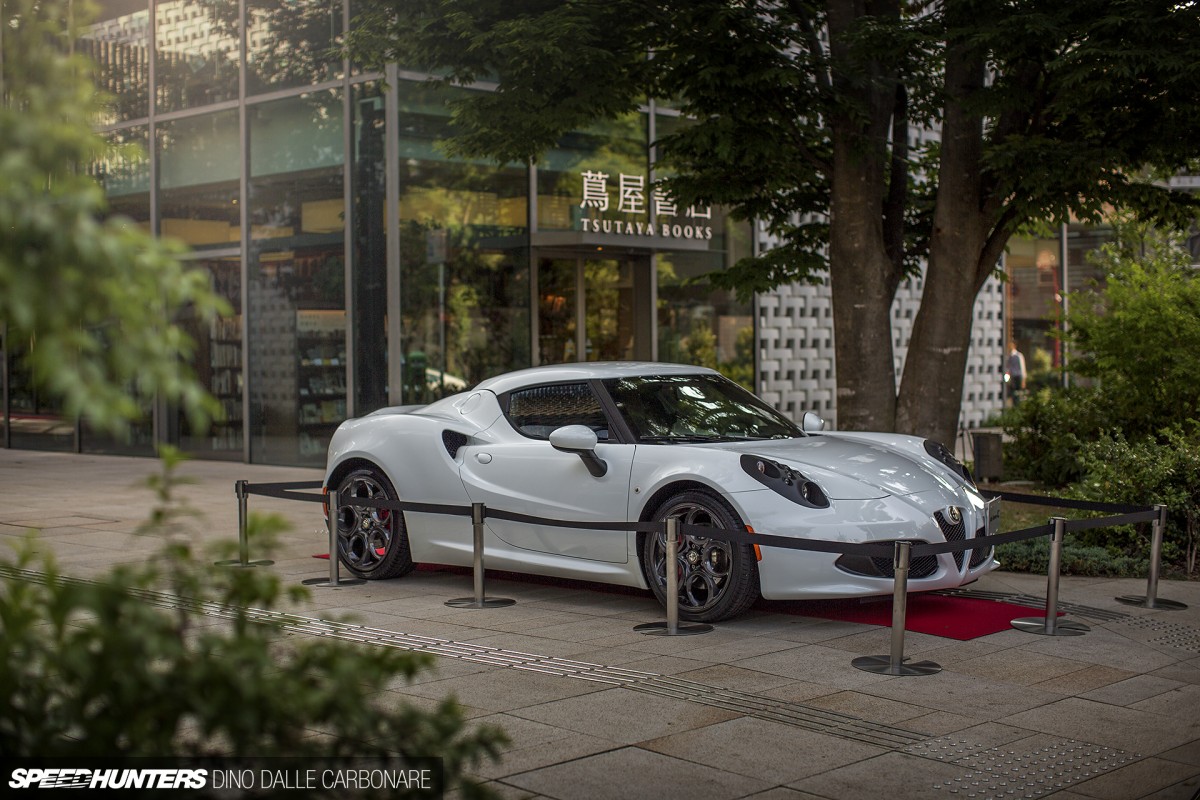 Given that this event was dedicated to Alfa Romeo, the carmaker got in on the act too and had its latest and most desirable car right there on display. The 4C is a beautiful thing to look at (minus the Morette-like headlights that have since been fixed with the drop top version of the car), and one that after a short taste of recently, I'm really looking forward to driving.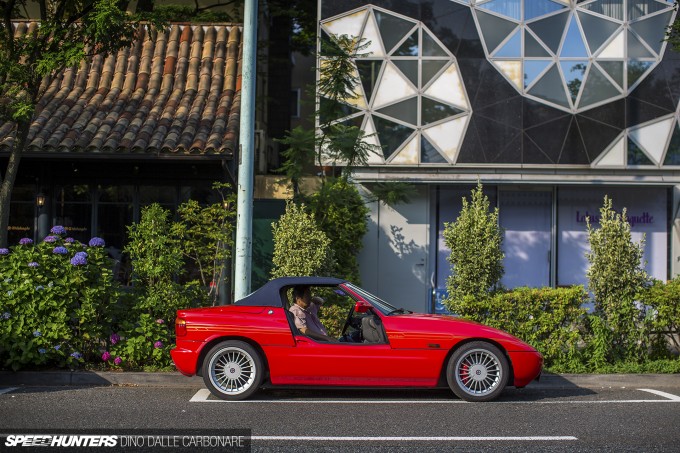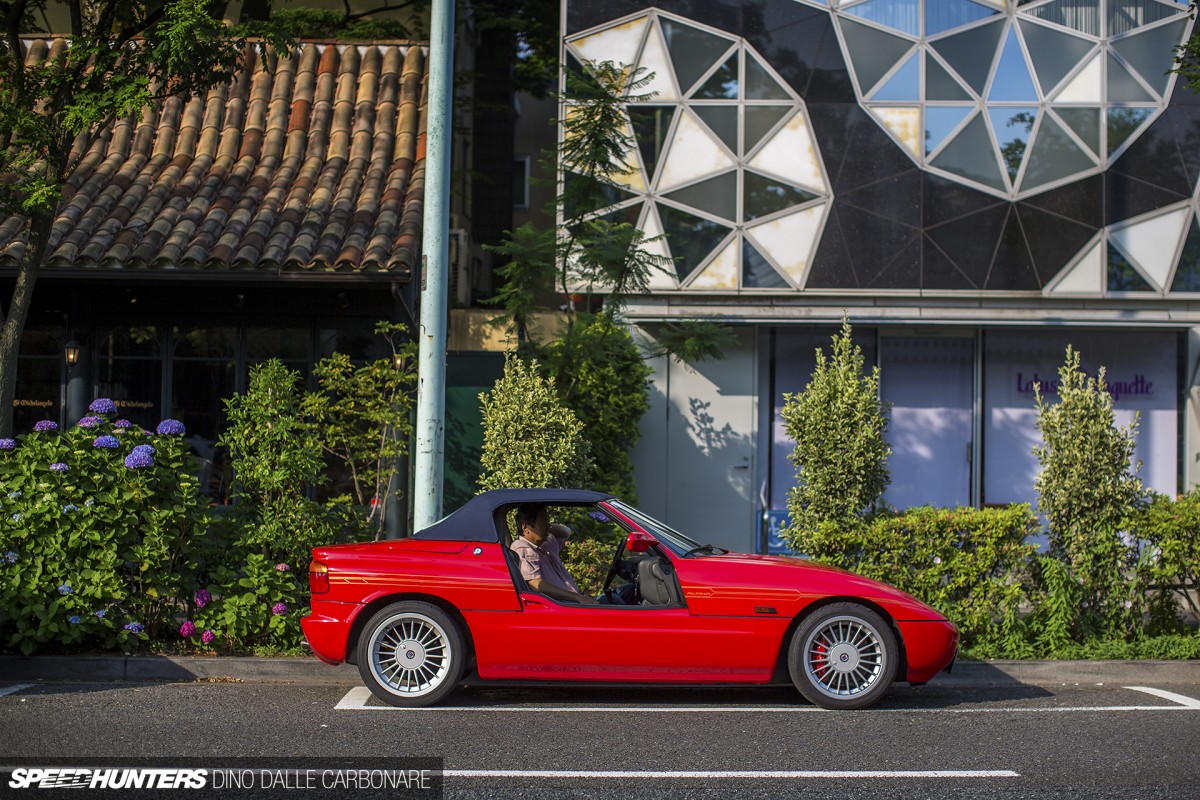 As I waited for the carpark gates to lift its barriers I took a quiet walk down the street. No matter what time of the day or night it is, you're always guaranteed to find some cool and interesting cars here – mostly because T-site has an awesome automotive section in its bookstore which attracts enthusiasts from all over. Case in point, this rare BMW Z1 on 15-inch Alpina wheels.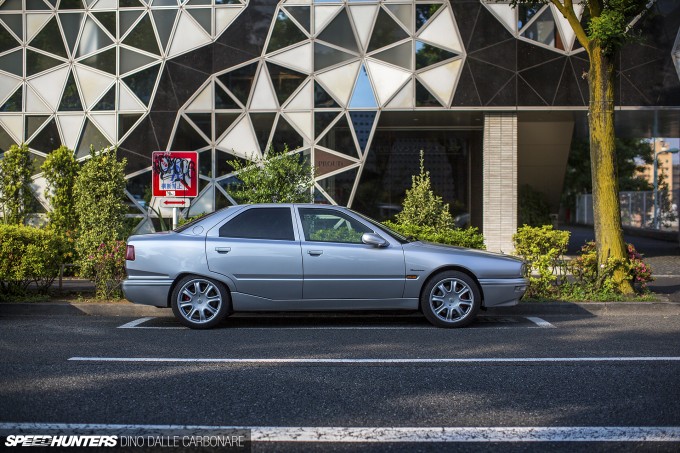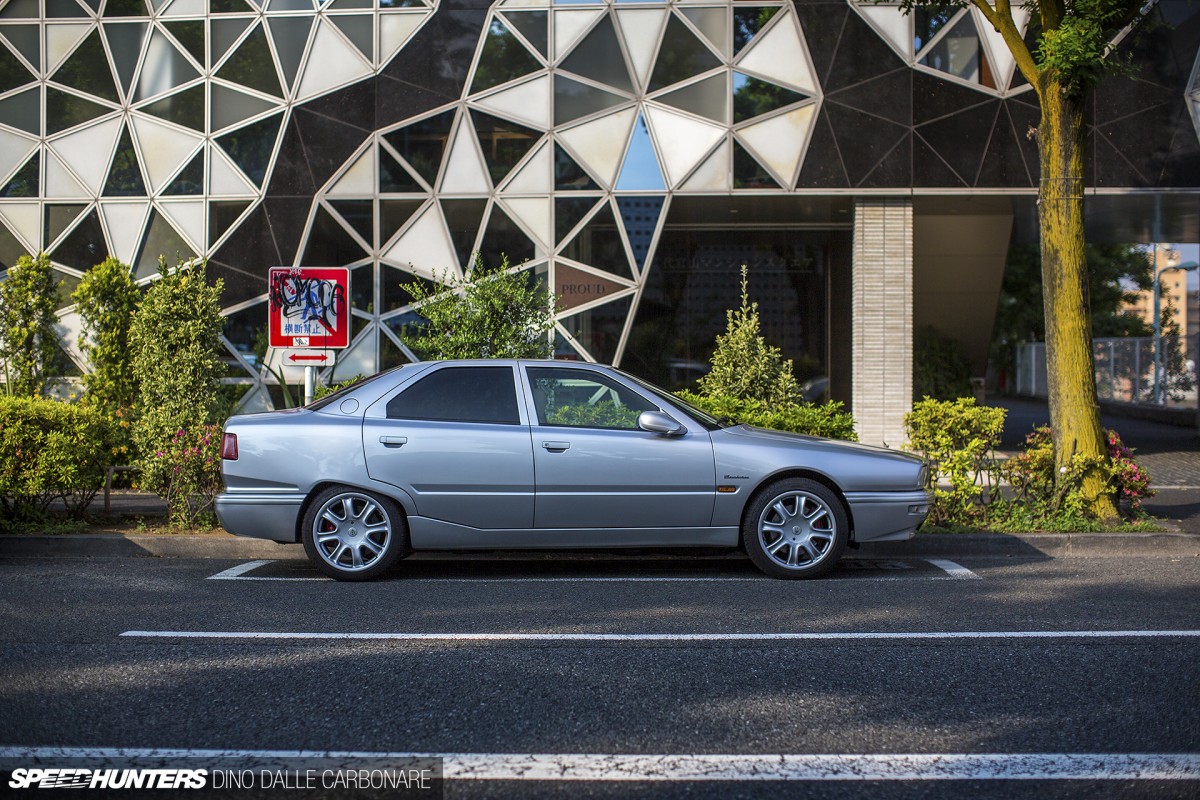 The event's theme spread to other Italian brands, and on top of seeing quite a few Maseratis drive by, this older Quattroporte secured a parking spot early on.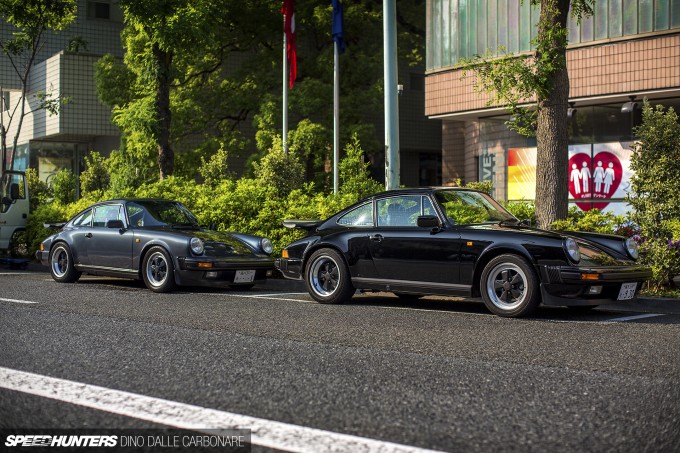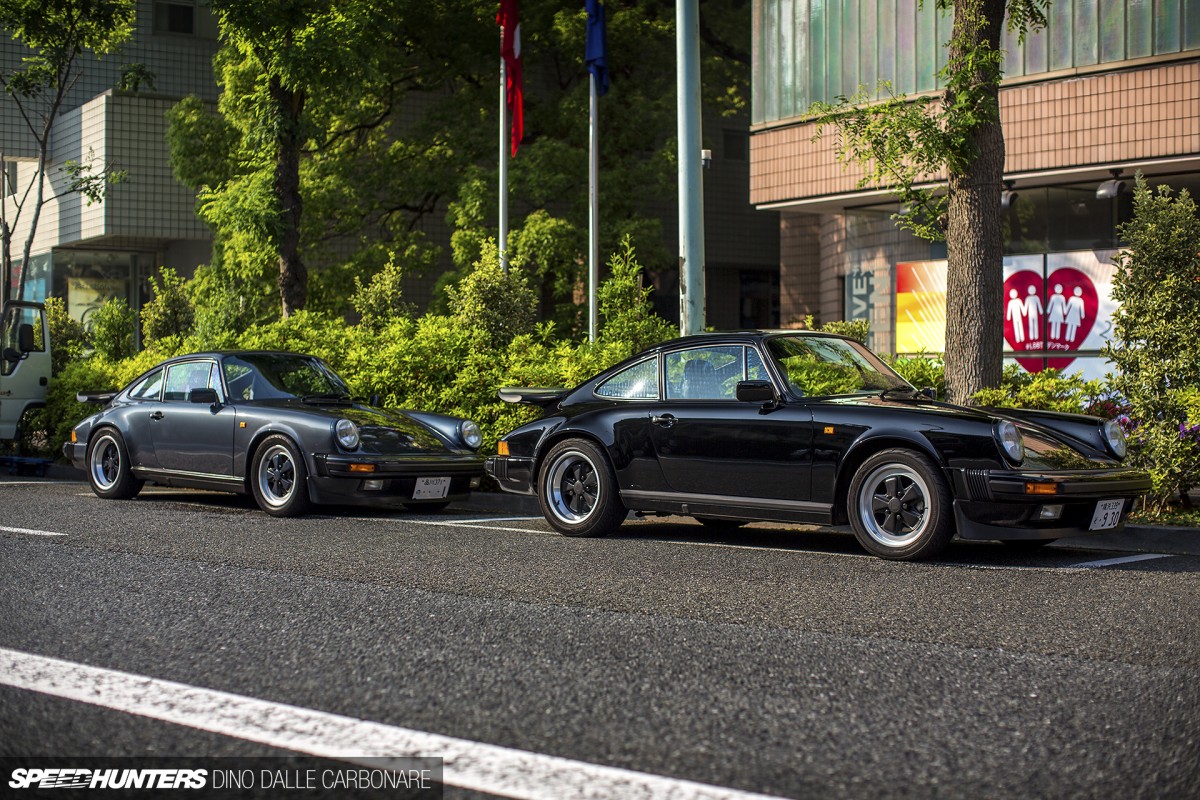 A bit further down the street this 930 Turbo pairing had me drooling profoundly. Tokyo is indeed hiding away some of the world's rarest, nicest and coolest rides.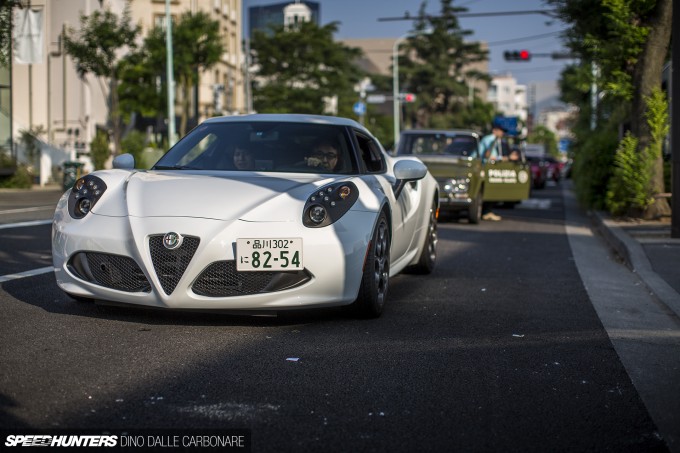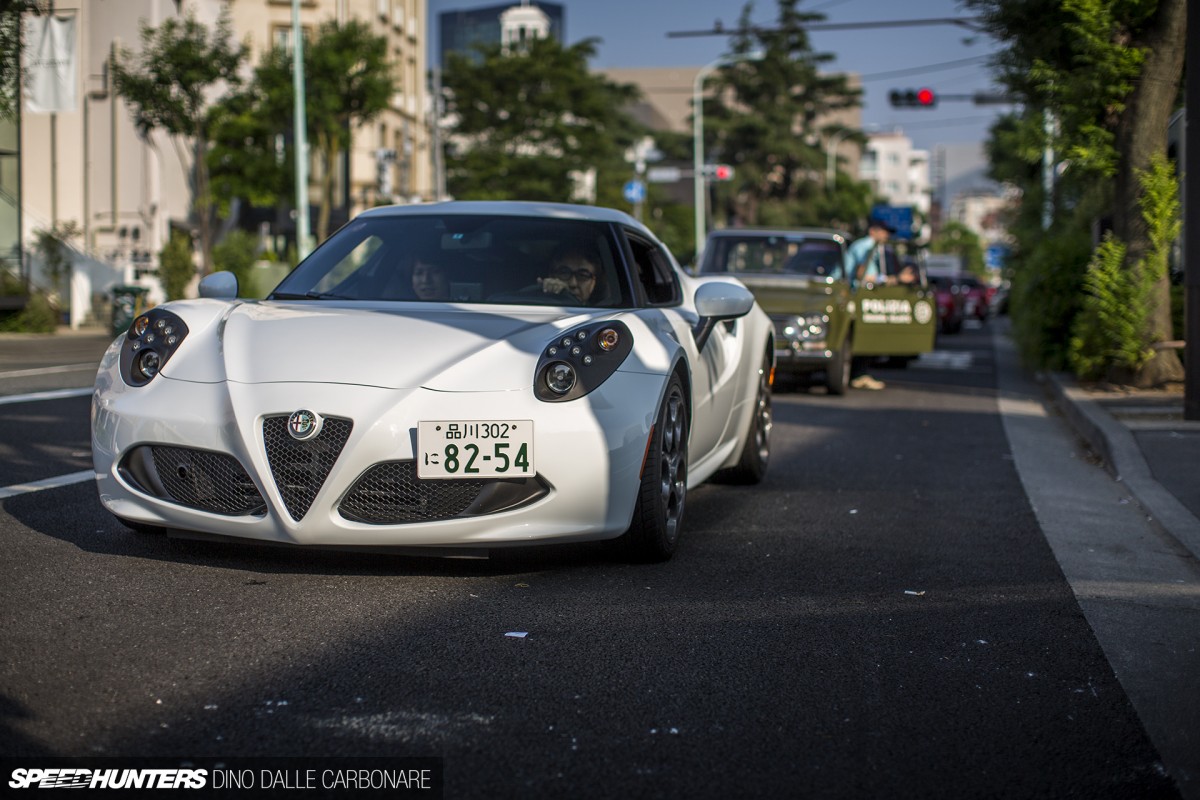 I spotted the first 4C to arrive at the meeting further down the line, but believe it or not, it was the car behind it that I was actually more interested in…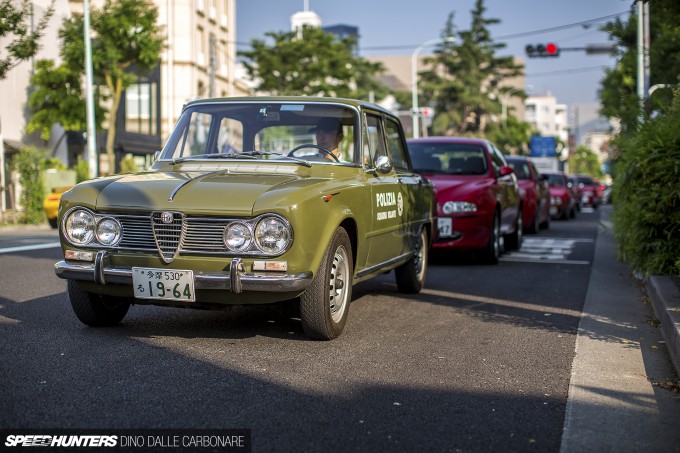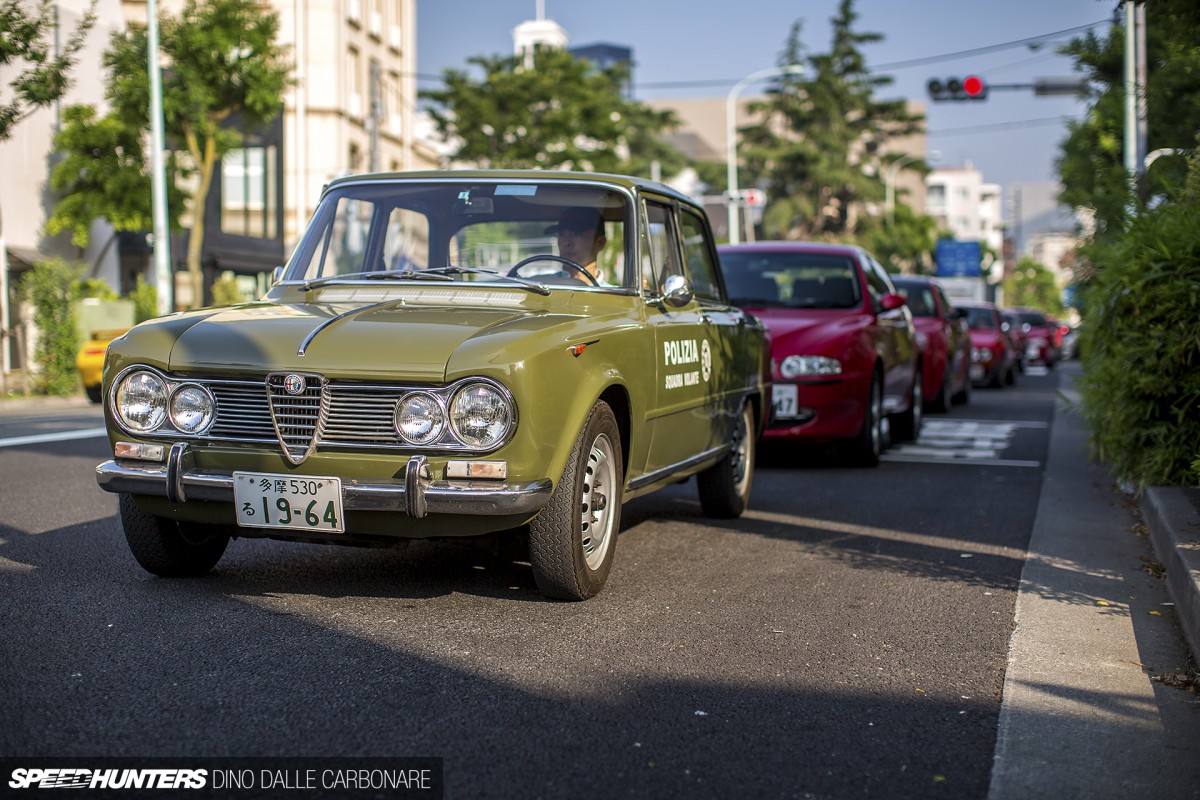 Between 1964 and 1975 the Alfa Romeo Giulia was the patrol car of choice for the Polizia, and this example even sported the right grigio/verde color. The guy even pulled out a blue flashing light later on in the morning!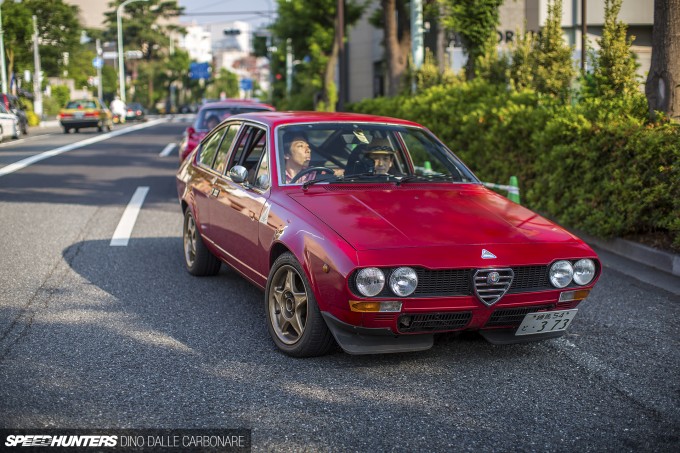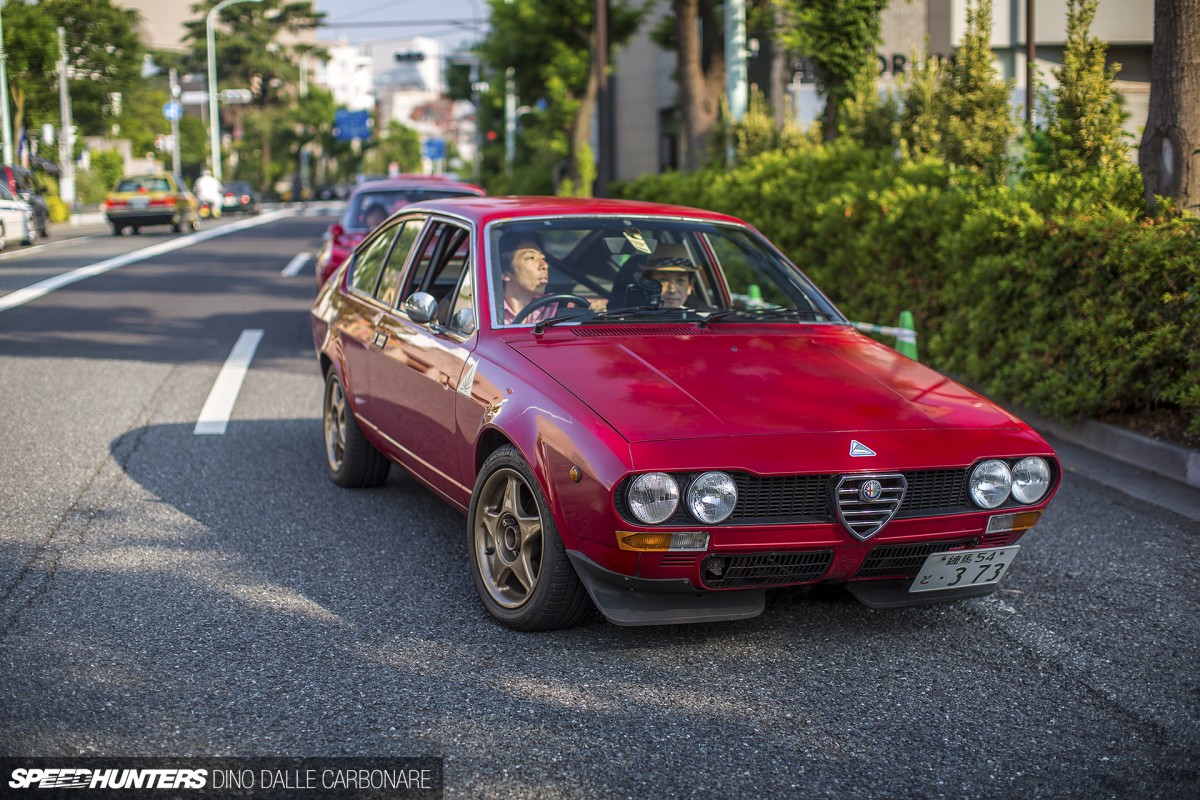 More history arrived too, and many cars had the Japanese touch which generally consists of a meticulously looked after interior, the right suspension drop, aftermarket wheels, and as this Alfetta shows – a rollcage.
That Feeling Of Nostalgia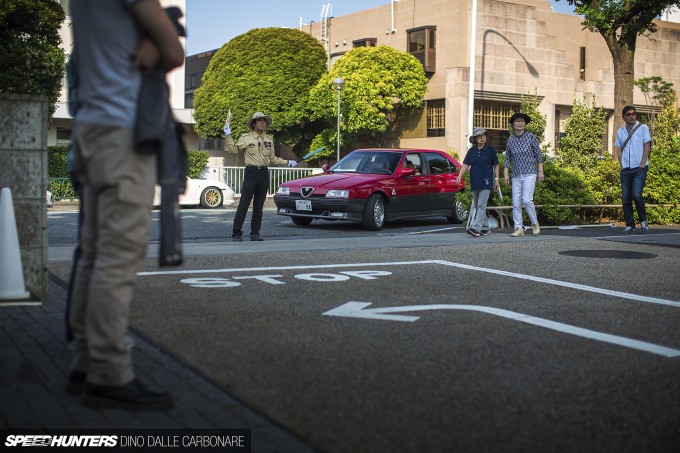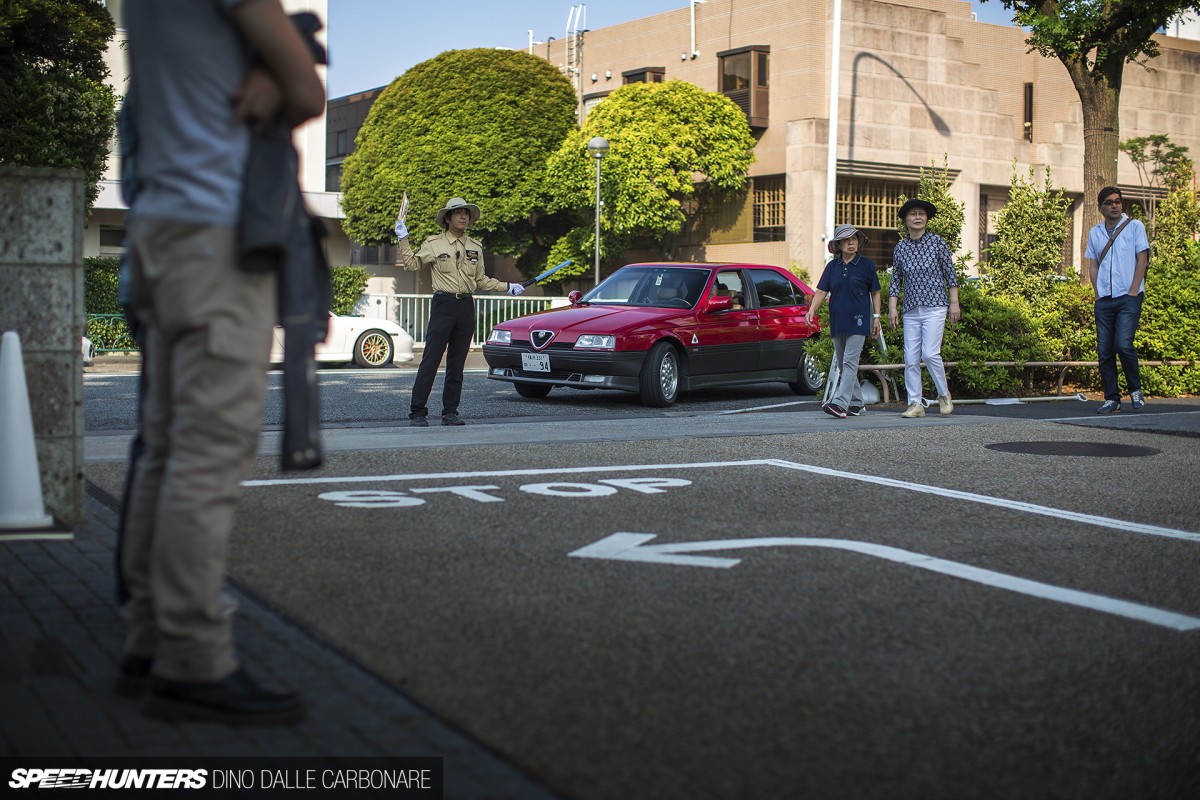 And there it is – the 164! In this case it was a fully-loaded 3.0-liter V6 finished off in Alfa Romeo's signature deep red hue. This was only one of two 164s that showed up, so you can imagine that it was hard for me to contain my feelings of nostalgia. I may have shed a tear. Or not…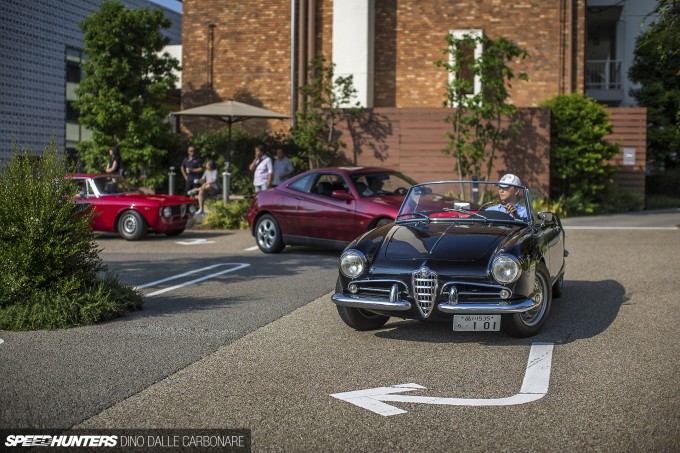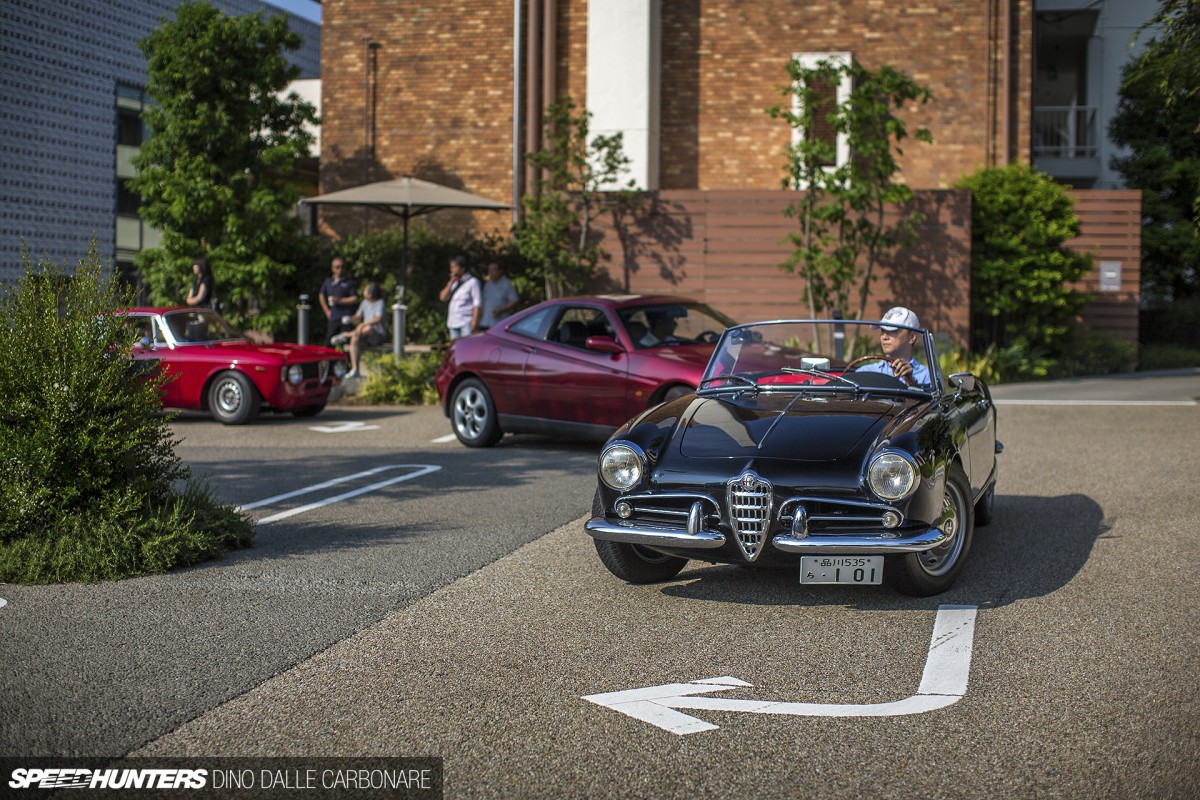 Inside the carpark there was already some pretty awesome rides present, and more on their way as the line slowly flowed in.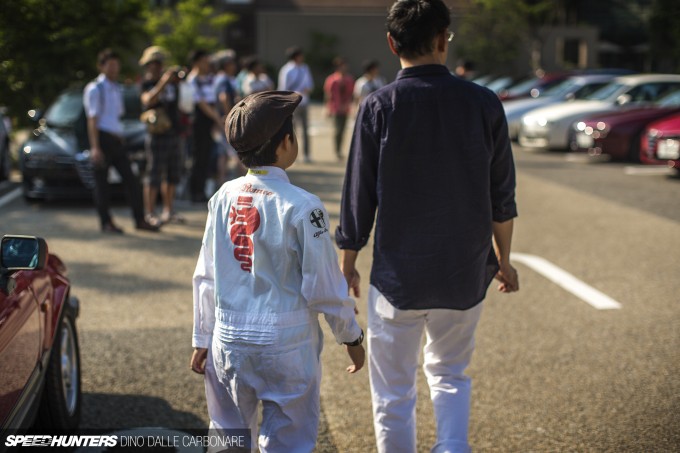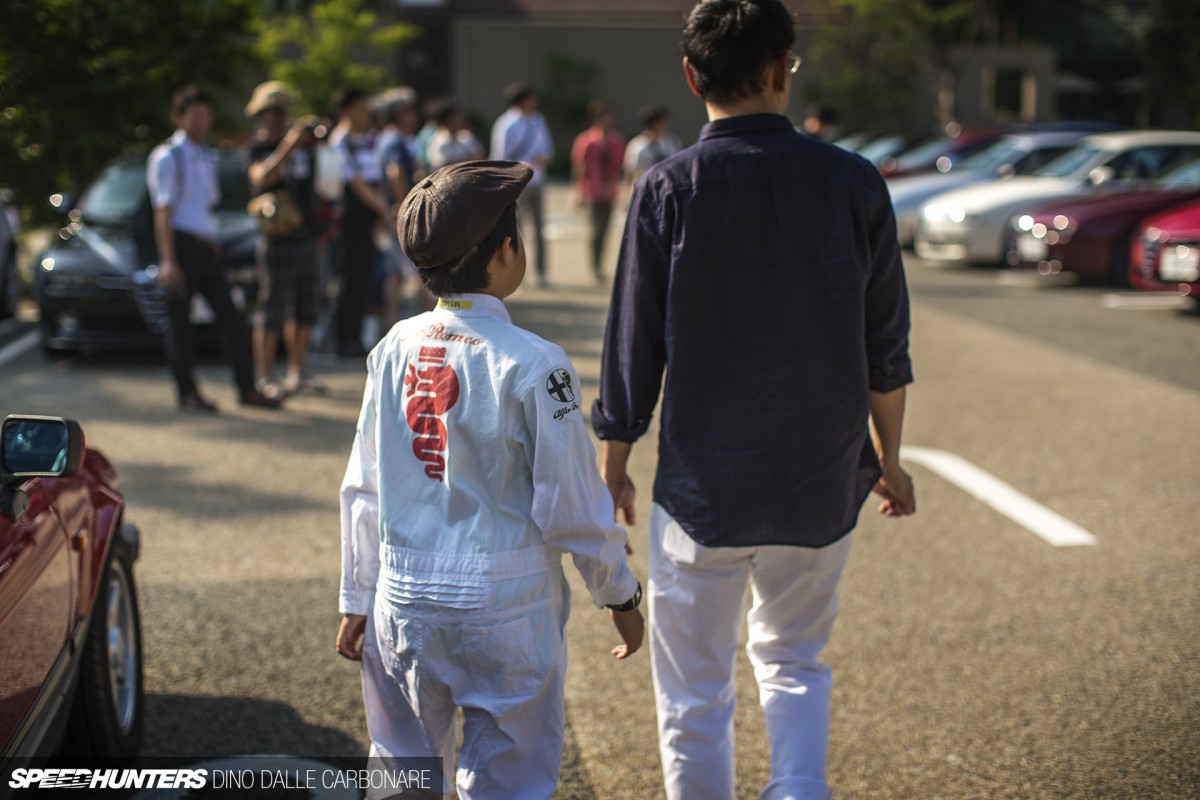 Some attendees were really embracing the feel of the meeting too.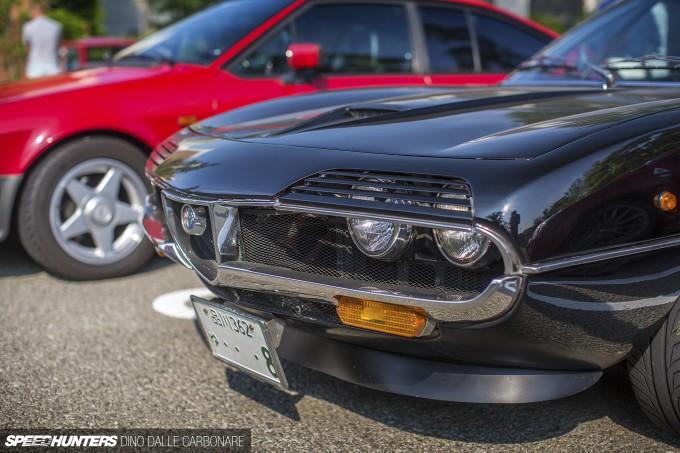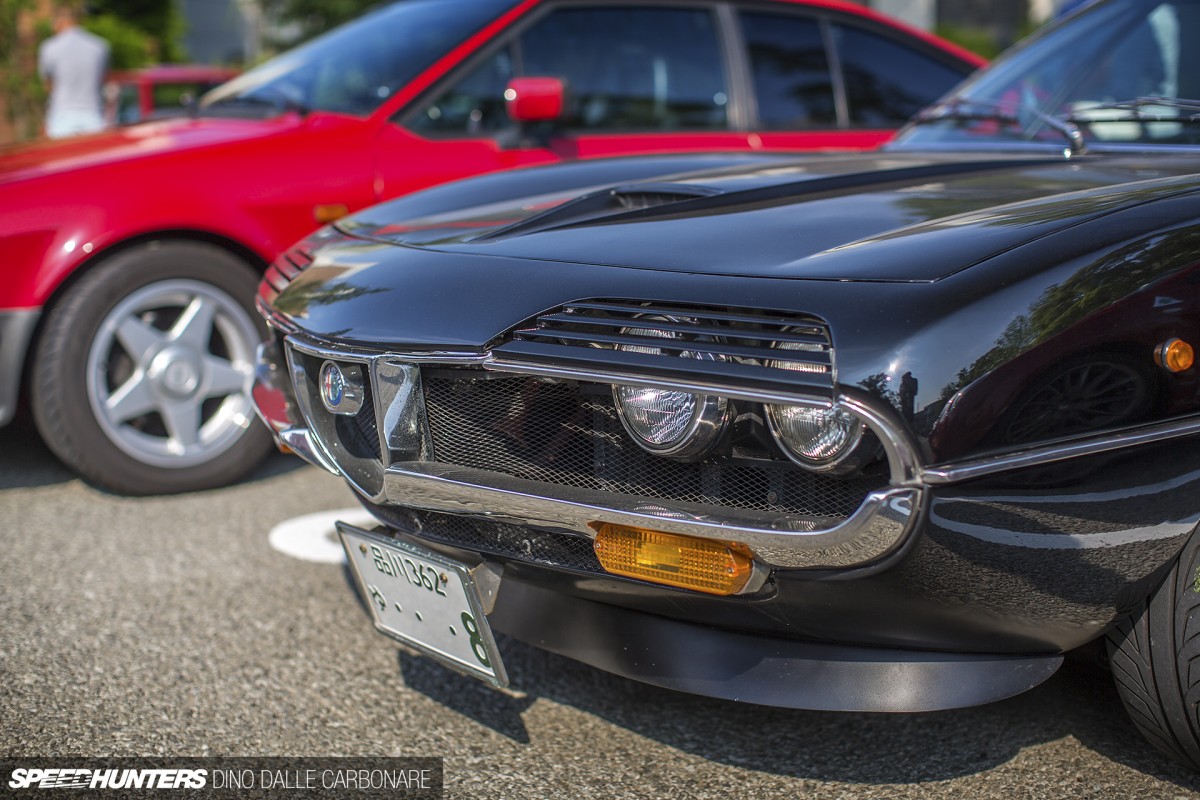 It was nice seeing familiar cars again, like this Montreal which has been present at every single supercar meeting I've ever covered at Daikoku PA.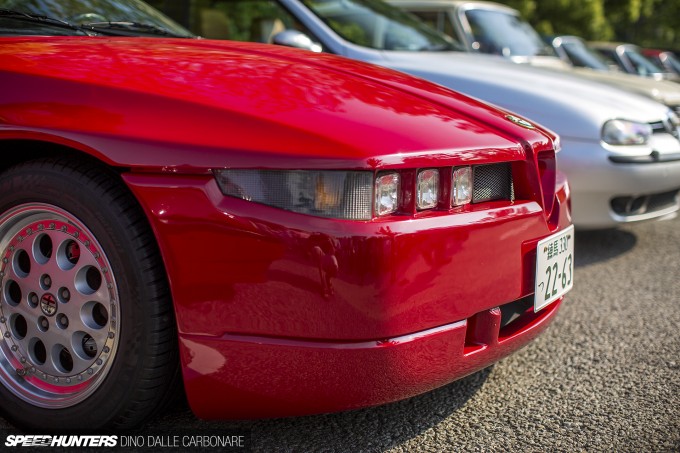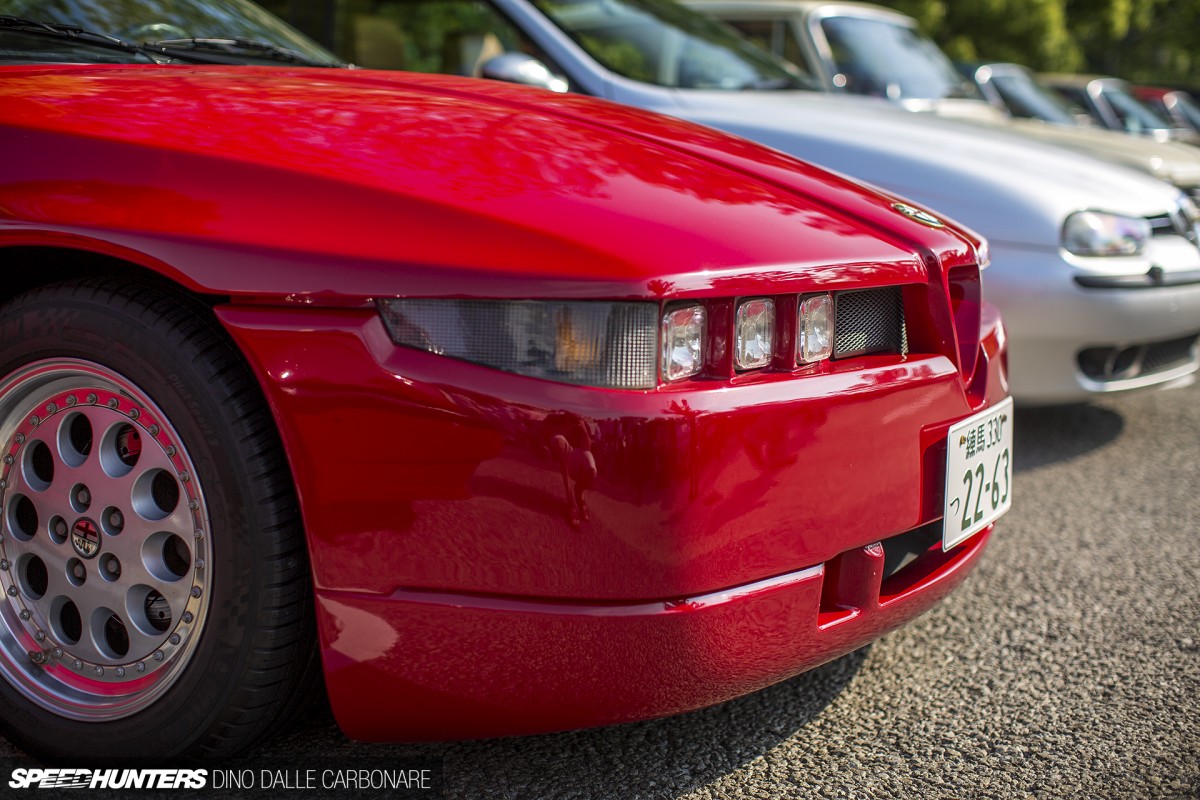 As you'd expect at a meet of this nature, there were Zagoto specials to admire – their angular and square lines still as awkward looking as they were all those years ago, but somehow still managing to work well.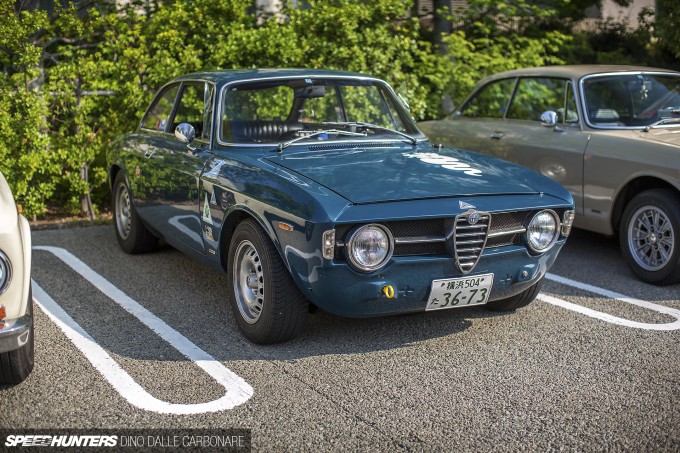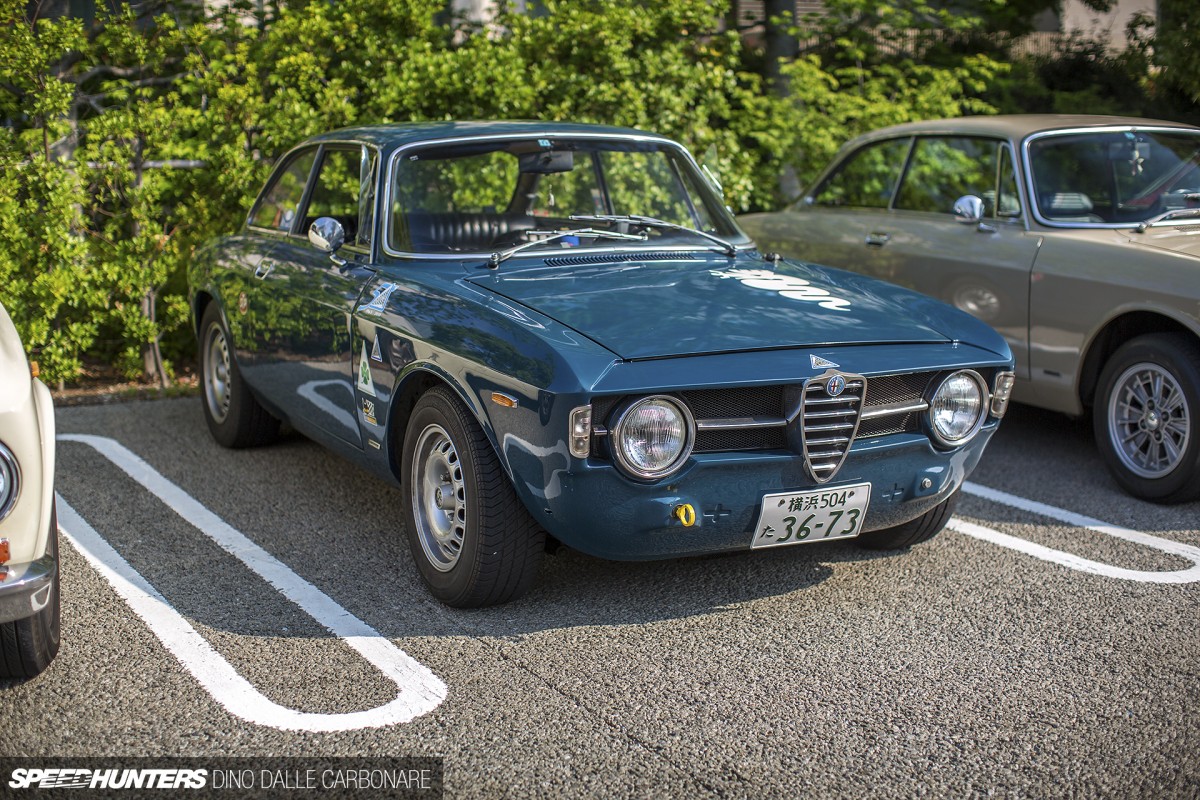 Then as some might argue, the best of them all – the Giulia. These cars reinforced Alfa Romeo's racing DNA, and as a proud Italian I'm so glad that at least some people within the Fiat Group understand the importance of making cars like the 4C to continue that.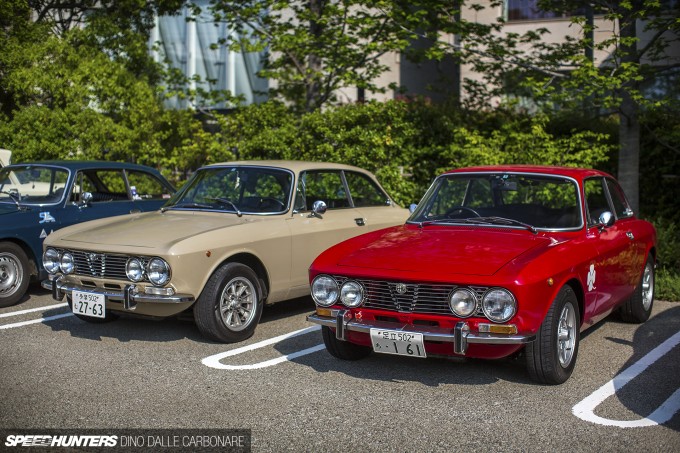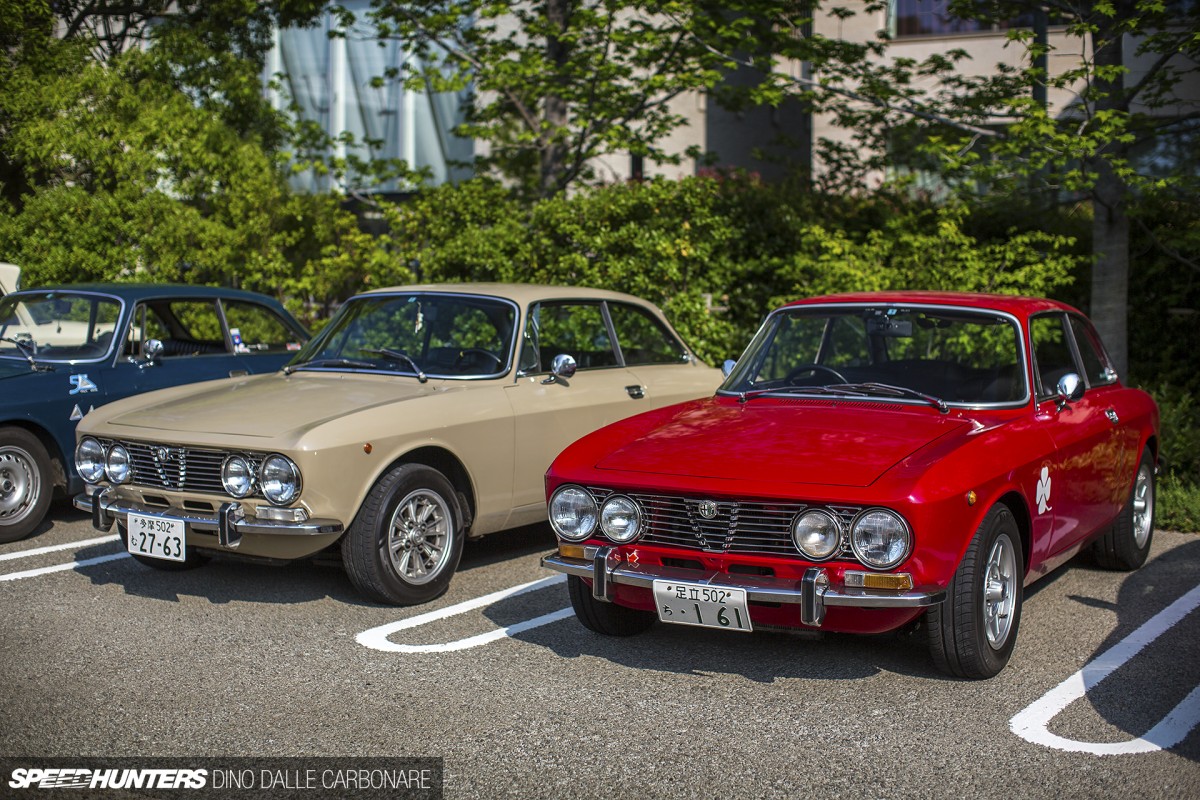 Imagine if they made a proper remake of the Giulia – a light, nimble and beautiful rear-wheel drive 2-door coupe. If only…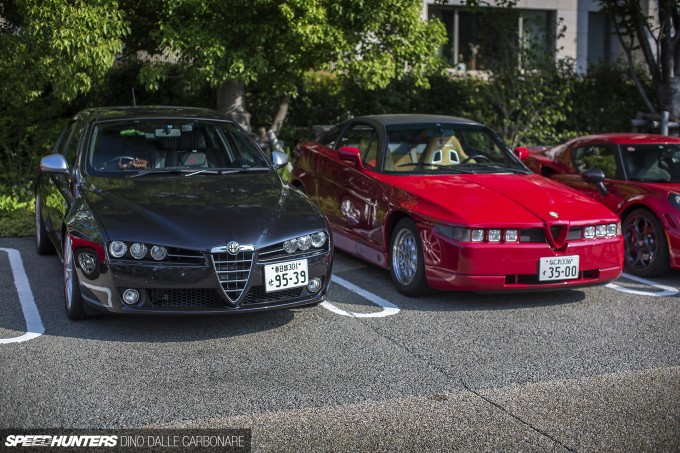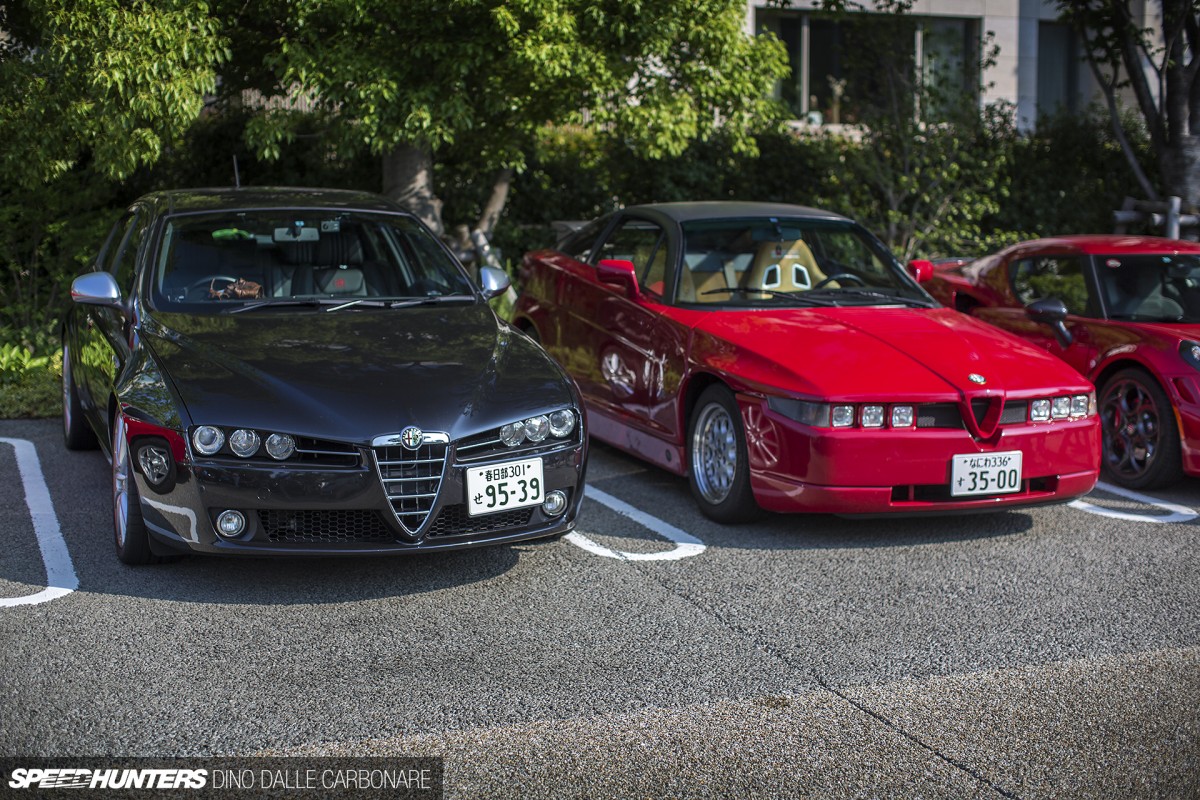 But I'm still optimistic. It's still early days, but I think Alfa may have found the right spark to start turning their production around. Presently there are only three cars in the line-up, so there's only one way it can really go!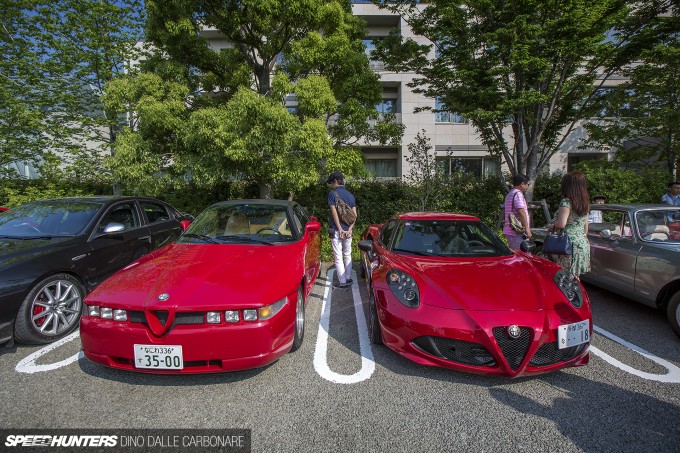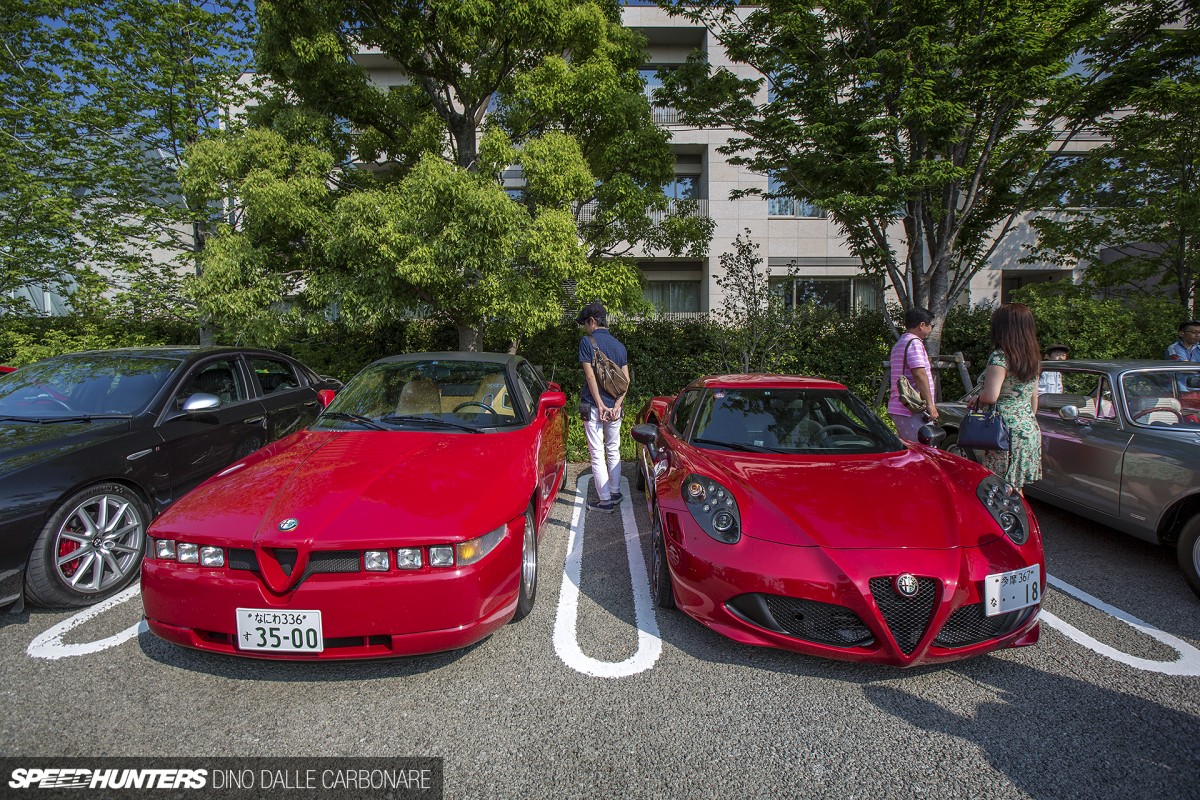 Old and new. Which one would you go for?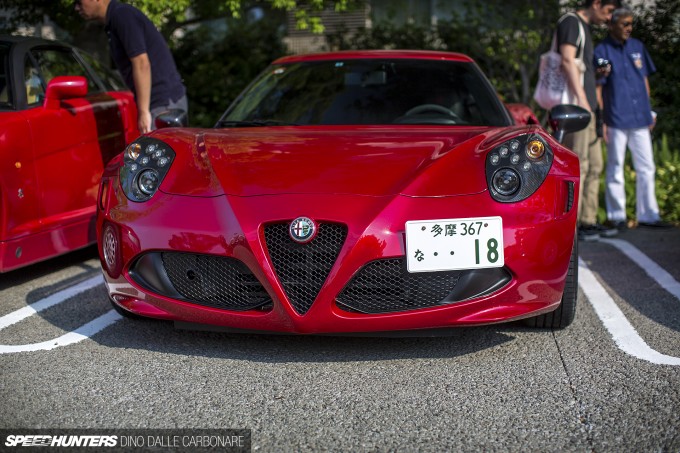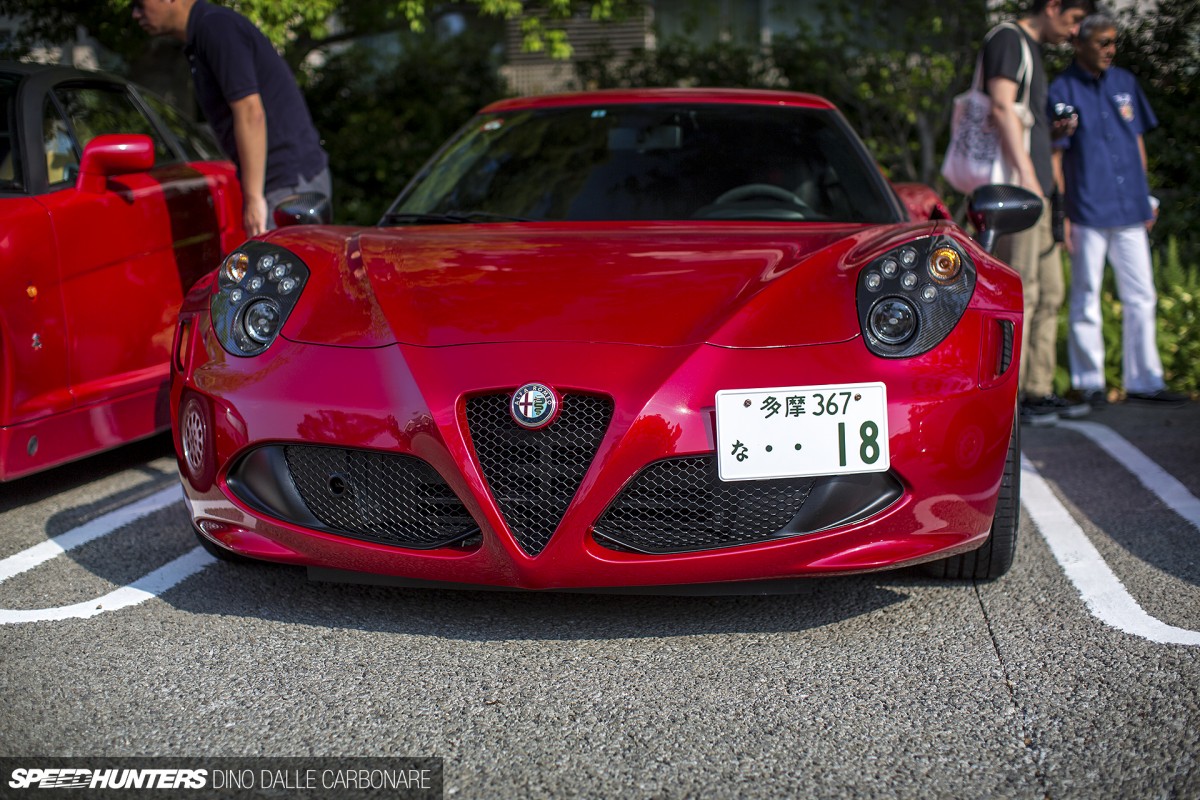 The more I look at the 4C, the more I want to put it through some corners and see what it can really do. I've heard mixed reviews, so it only makes me want to drive it even more and really see what it's capable of. Looks-wise, there's no denying its beauty. Except the headlights of course…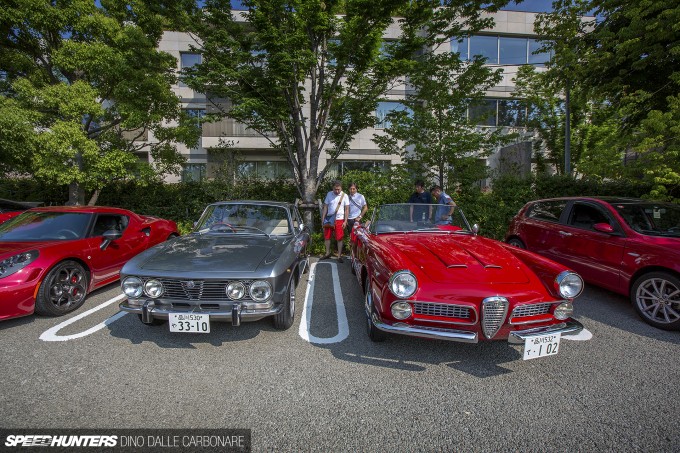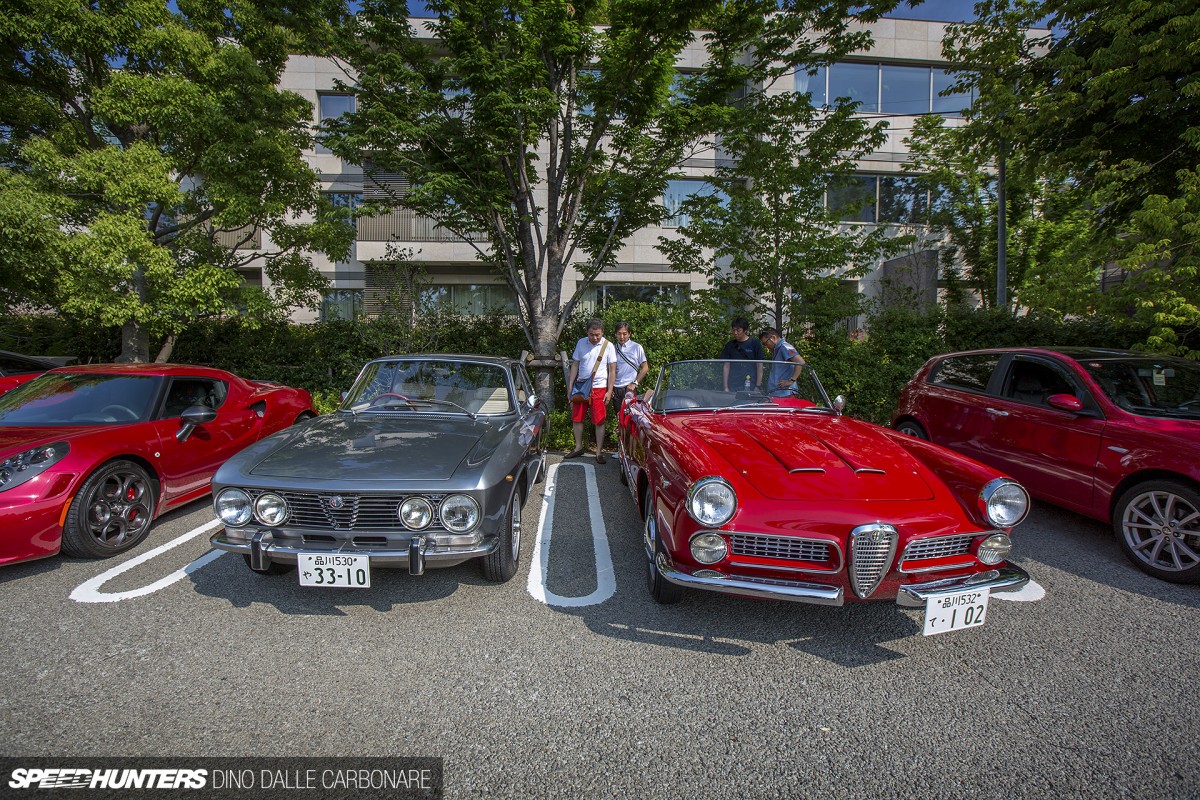 While Giulias are a common sight in Japan – especially at historic car events and idlers races at Tsukuba and Motegi – the 2000 Touring Spider was a bit of a treat.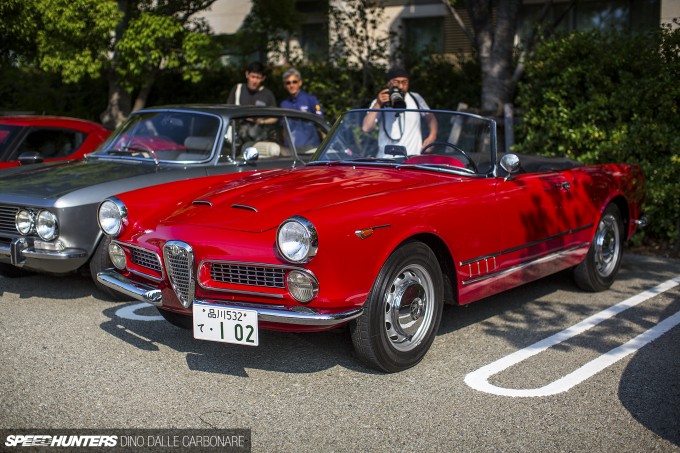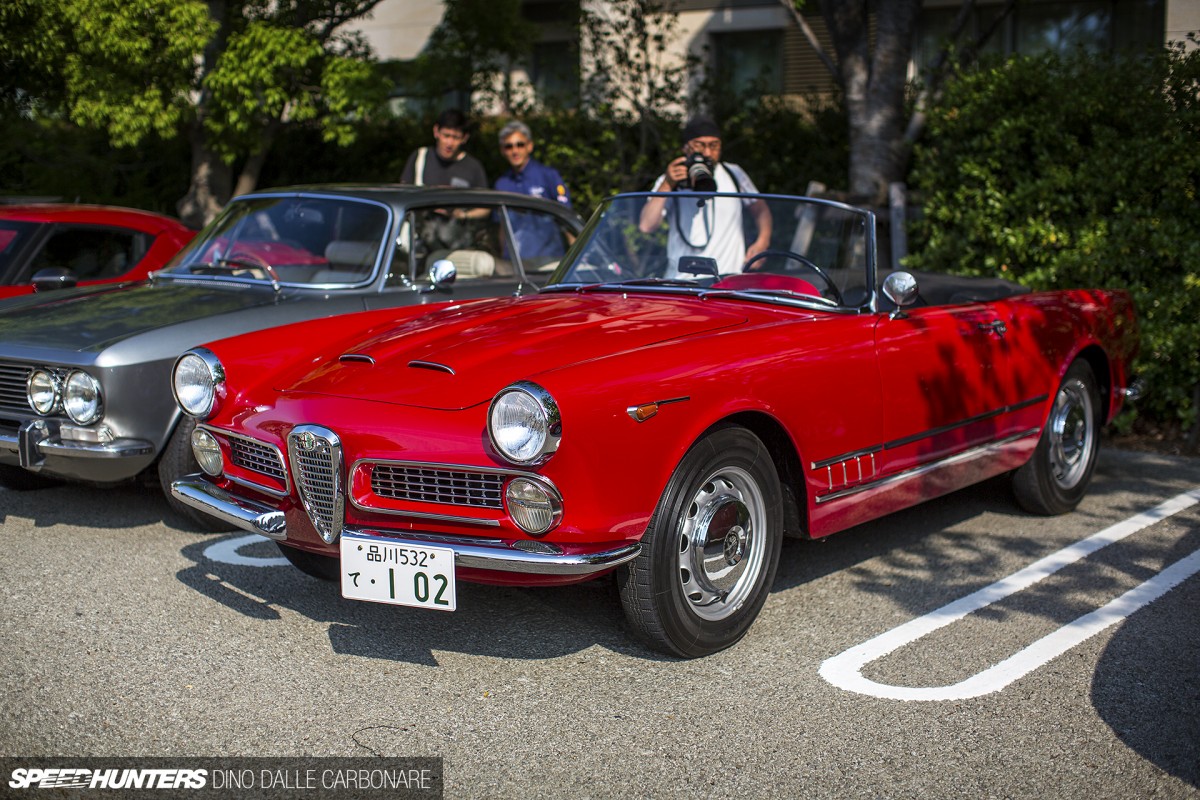 The big convertible towered over some of the other cars with a presence all of its own. I can't even imagine what it must have felt like to steer a car like this through some scenic Italian costal roads in the late '50s.
A Lesson In History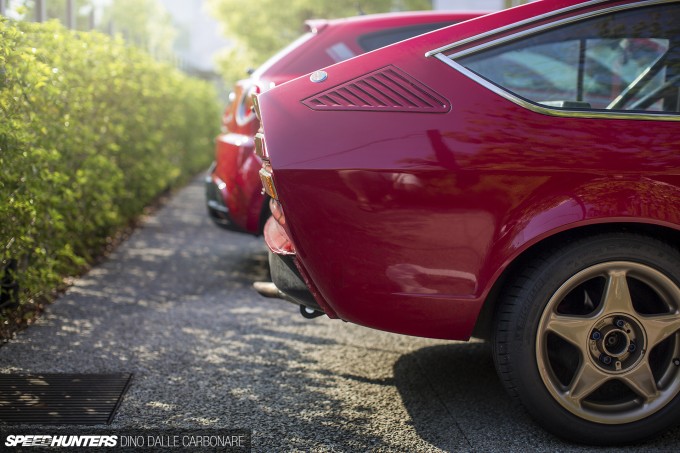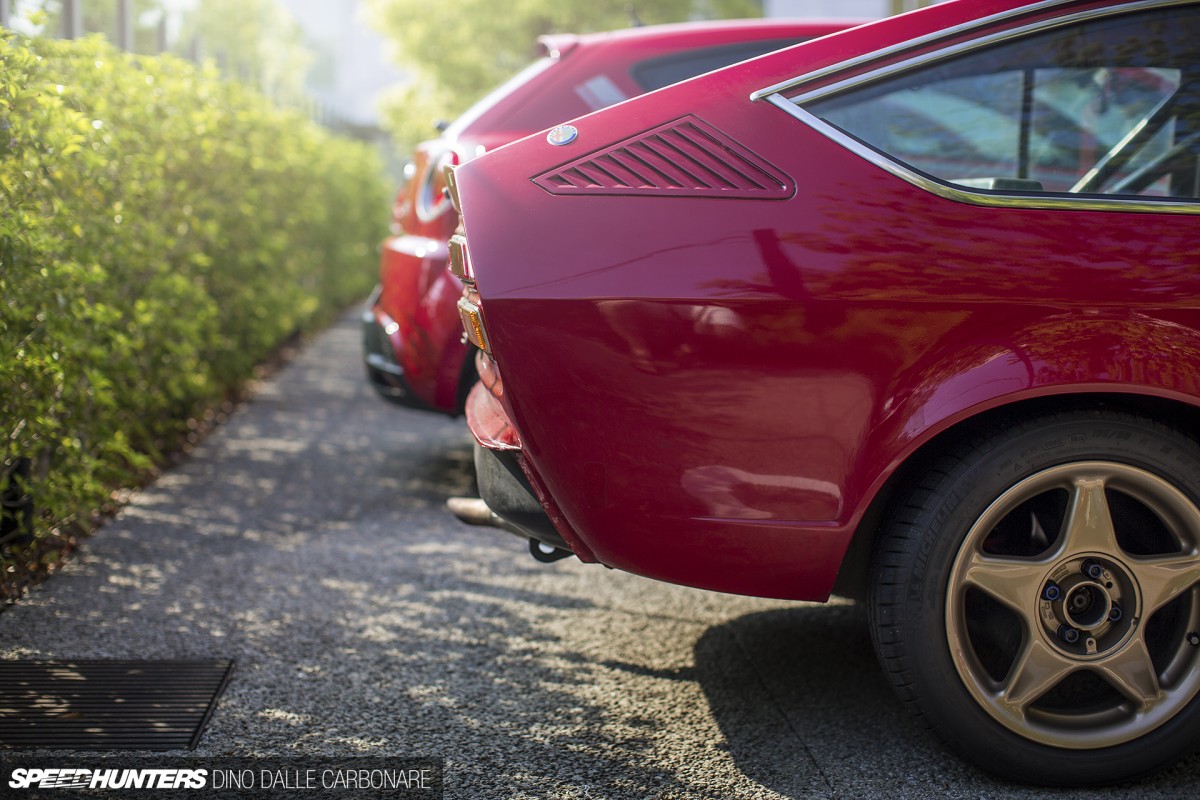 Here's is a closer look at the rump of that caged Alfetta GT we saw coming in.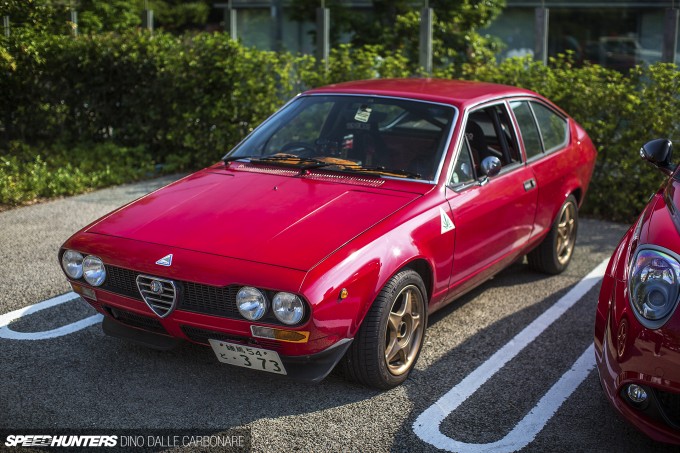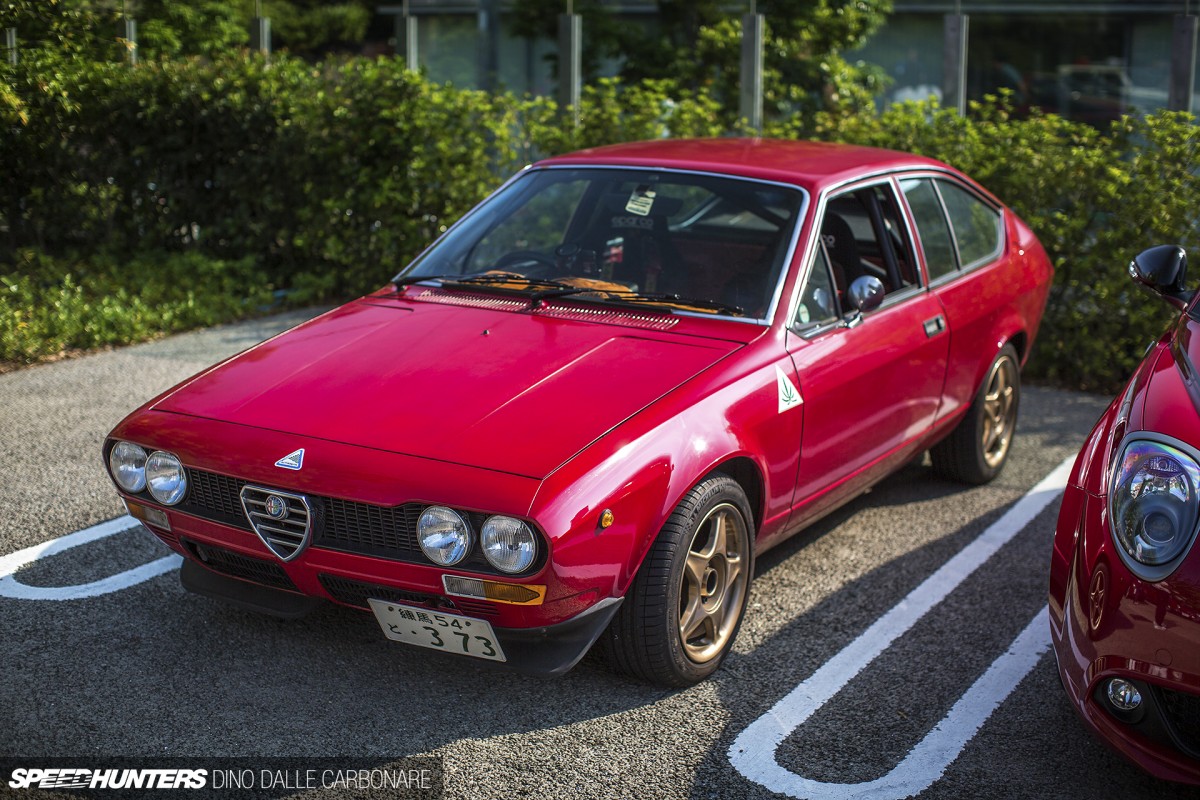 The more time you spend looking at these models from the past, the more you realise what an absolute pity it is that Alfa Romeo doesn't bring these awesome cars back. There is so much history and awesomeness from what they made in the '60s and '70s that you could create a line-up with proper Cuore Sportivo – or sporty heart as the slogan goes.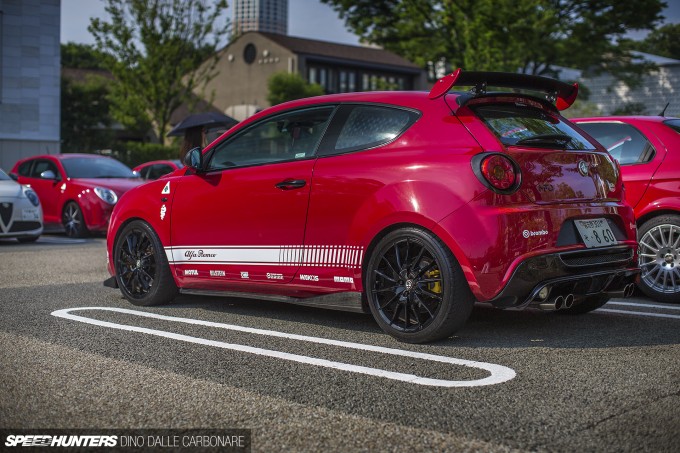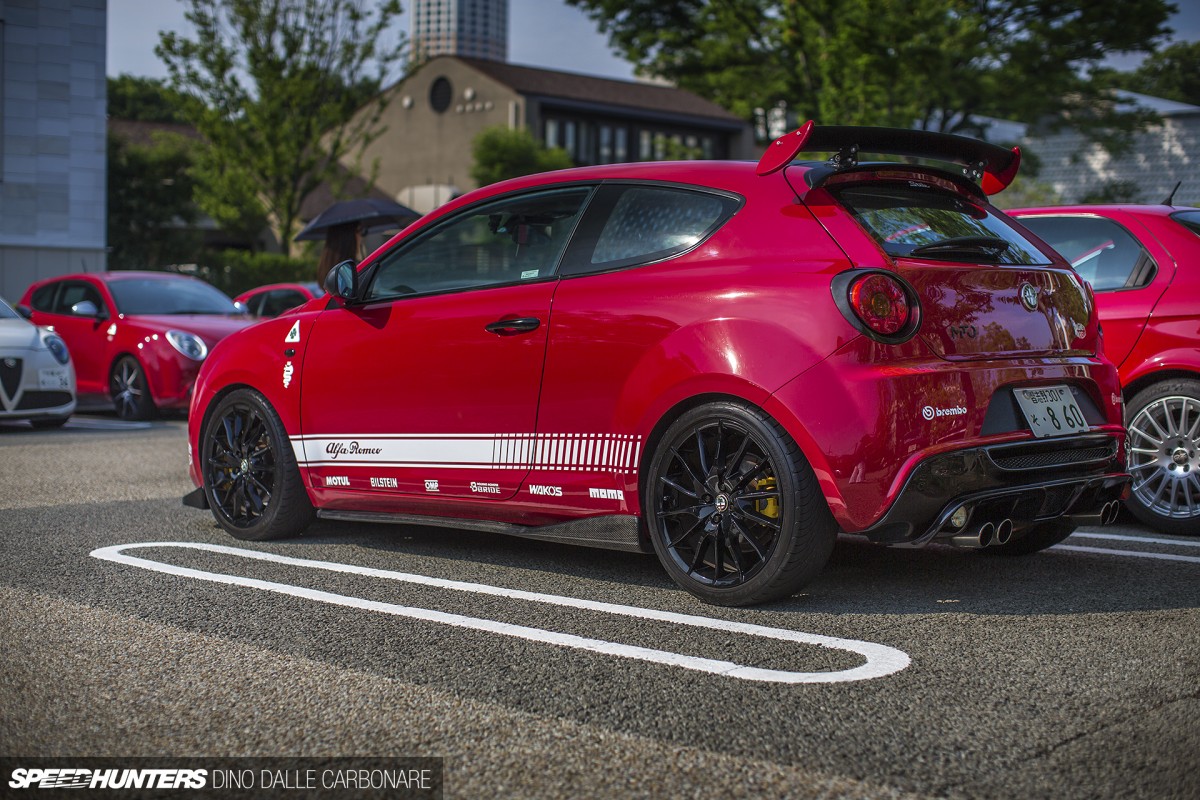 I have nothing against the Mito and Giulietta from the current line-up as those are cars that can exist, but to me Alfa should be something along the lines of a junior Maserati brand. Yeah, now that would make a lot of sense! We can only dream… Still, it's great to see that the Japanese have embraced the newer cars and tuning shops like Girasole really do get the best out of them.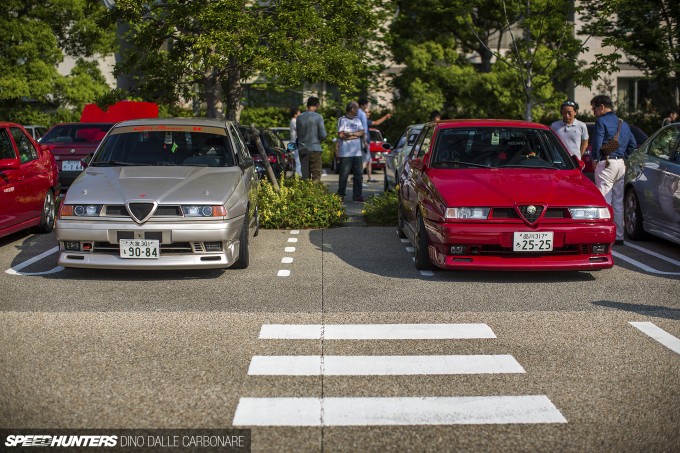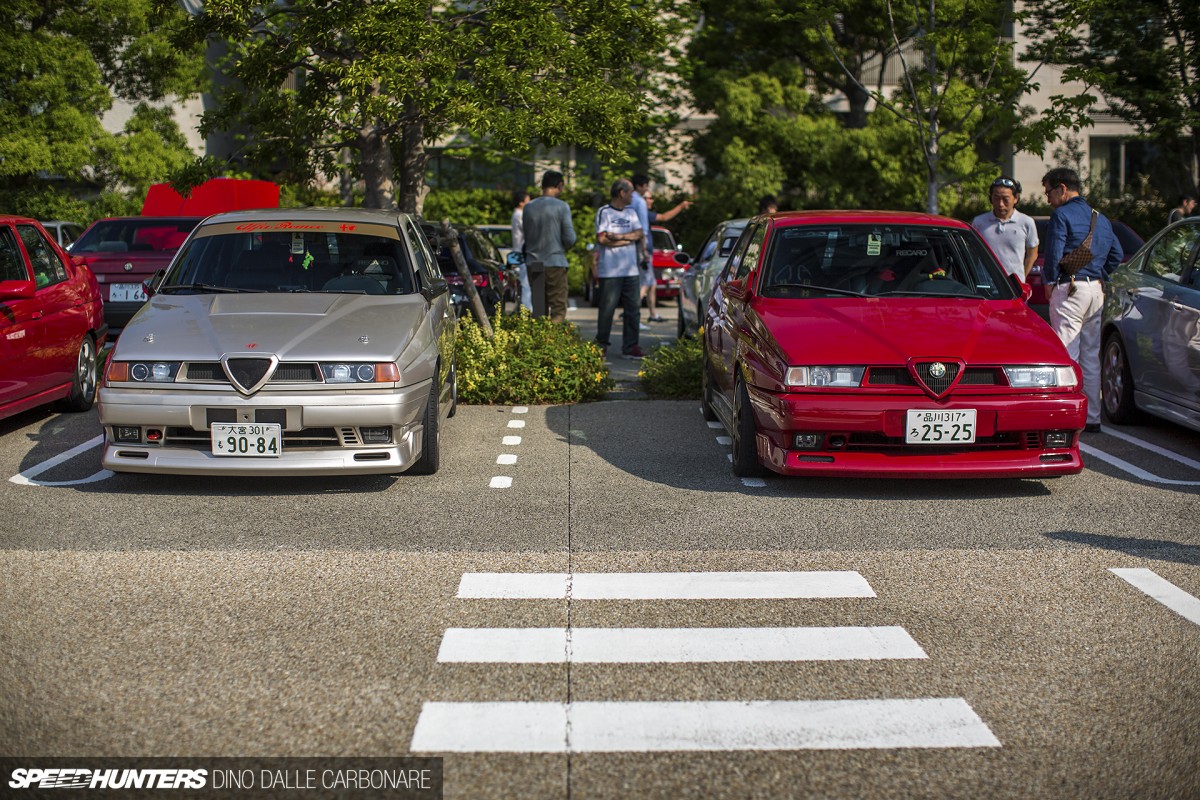 The DTM link is real. The 155 was the replacement for my beloved 75, and the only way I ever forgave the jump to a front-wheel drive platform was that the car was used in proper racing. Mind you, it shared very little with the actual road car!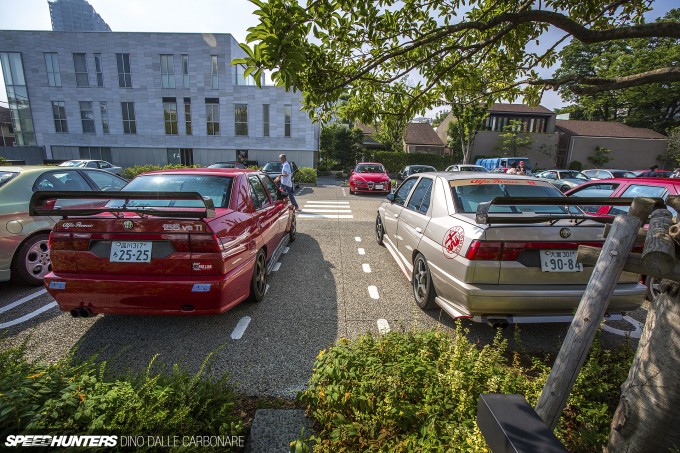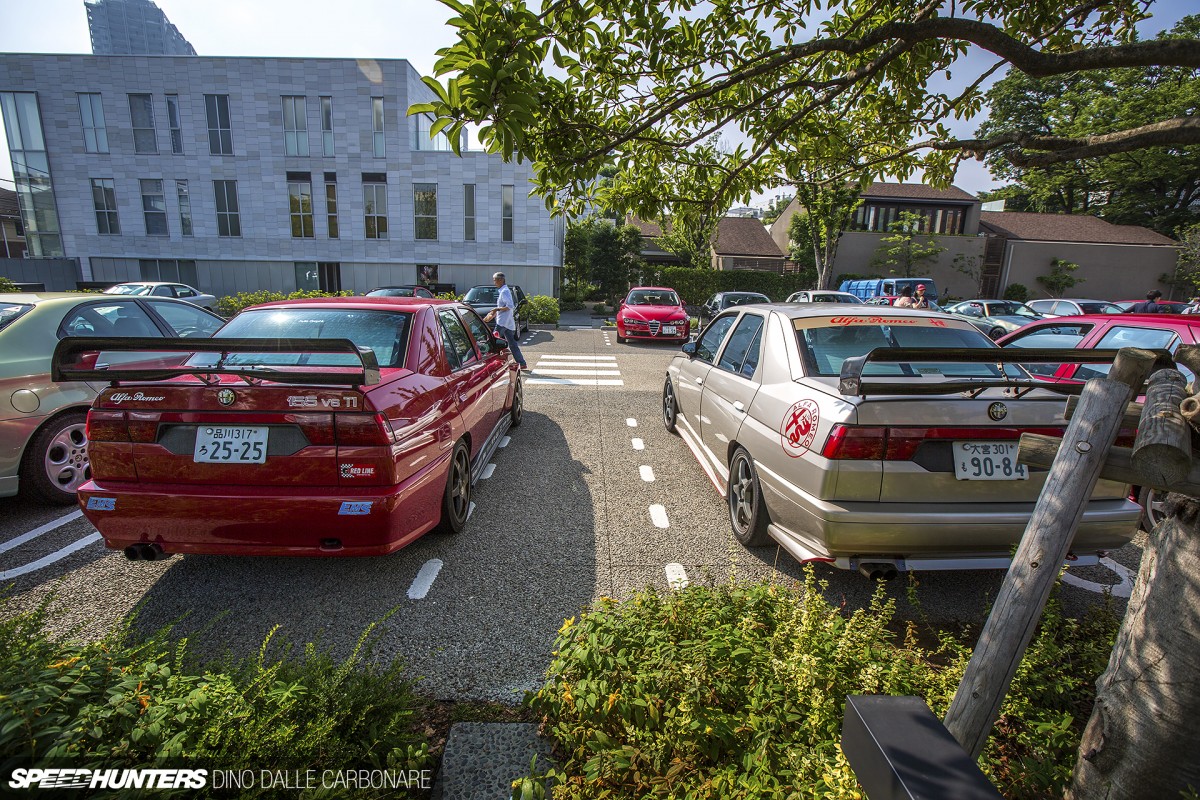 But still, these cars do have that extra something. Links like this just don't exist in the current line-up. And there's another great idea for Alfa, after they come back with a proper rear-wheel drive sports sedan and coupe, they can take it racing. If that wouldn't reinvigorate the brand, I don't know what would.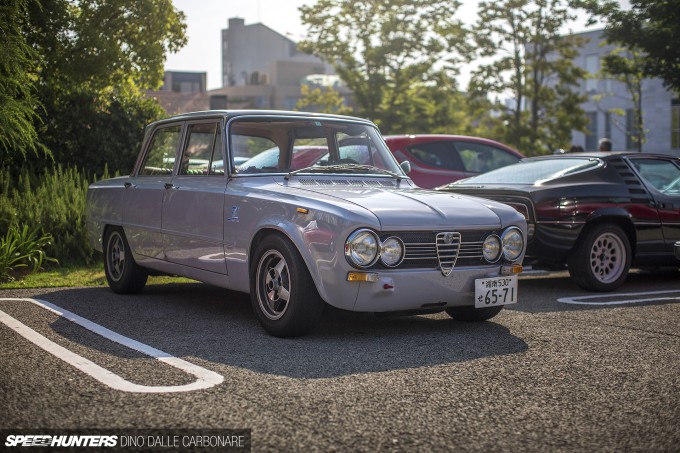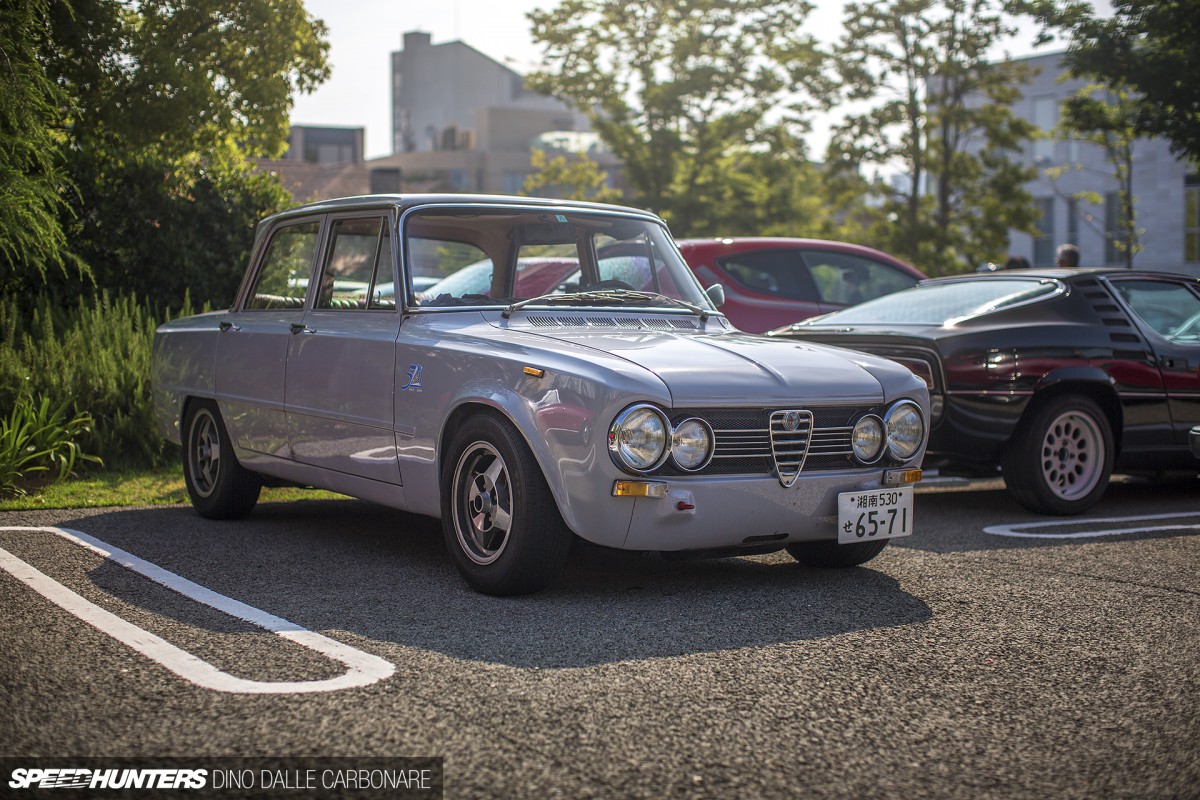 These old Giulias are going to go the way of the 911 in the next few years. They might still be affordable now, but their collectability is on the rise – the four door saloons a little less than the coupes obviously.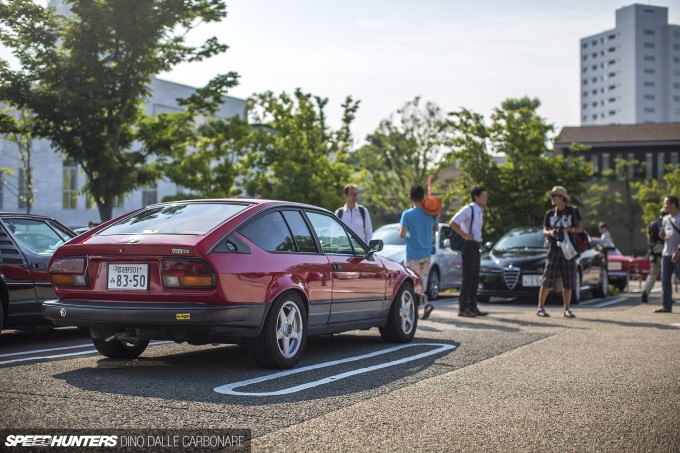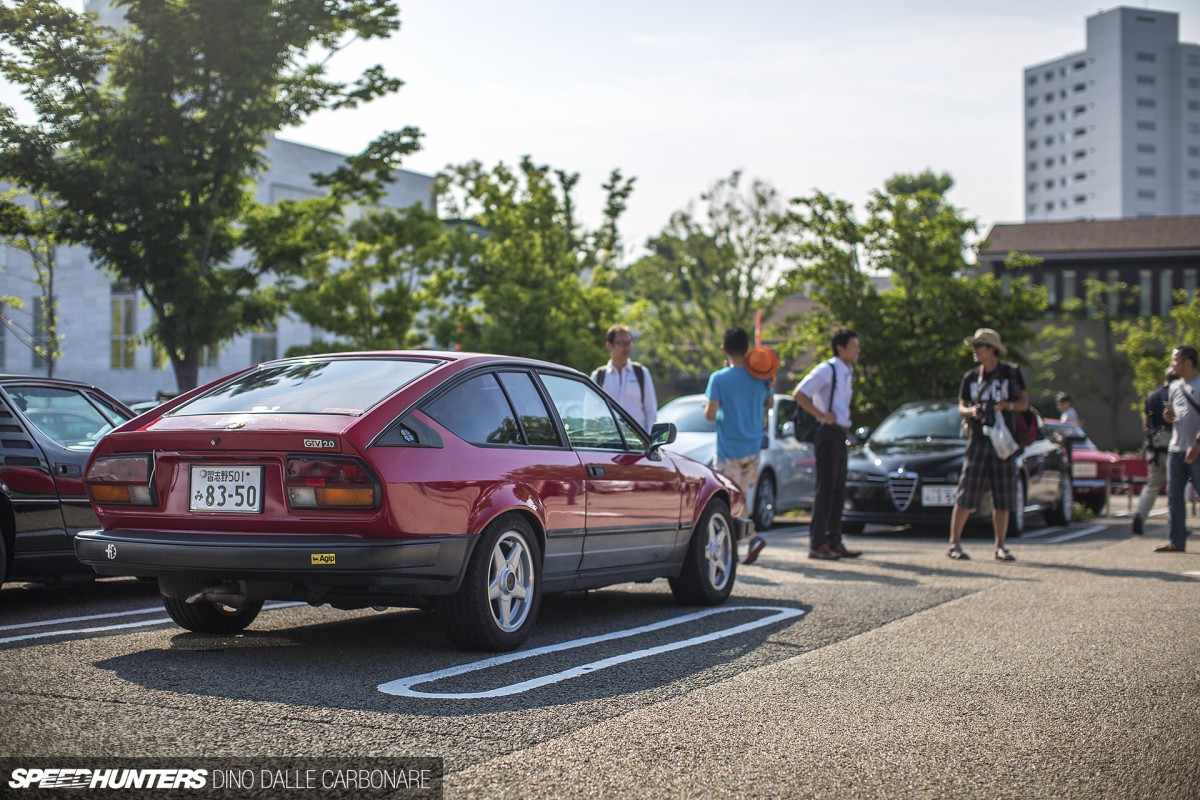 By 8:00am the carpark was completely full, making this meeting quite a success.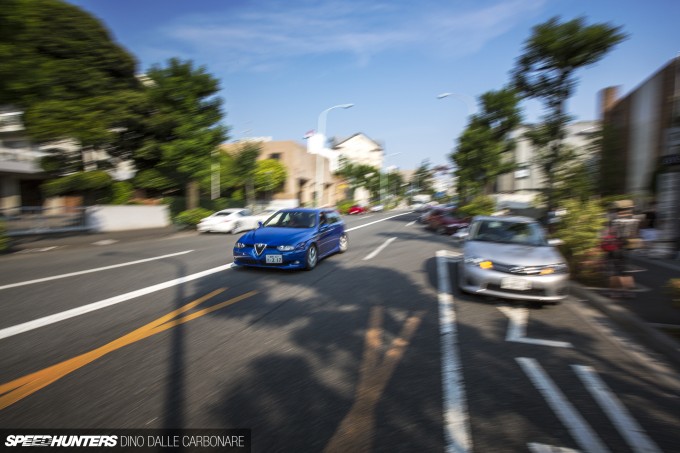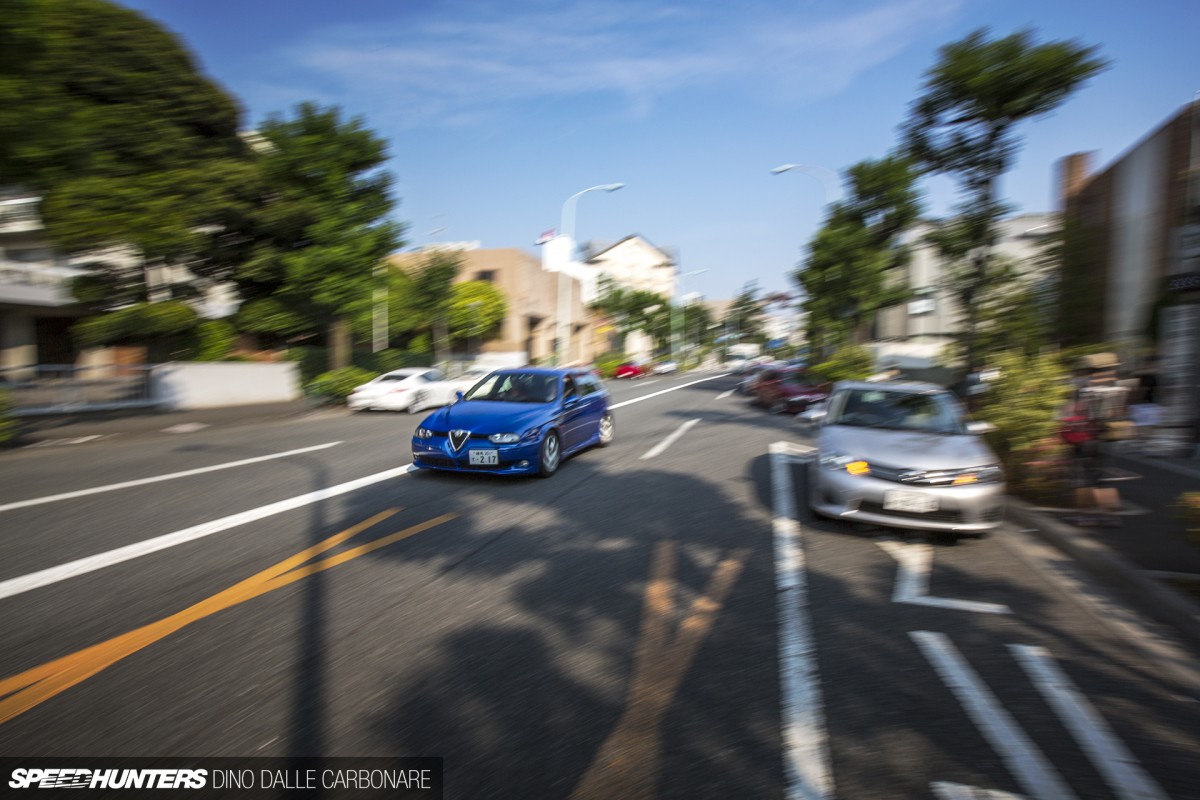 There were still plenty of cars waiting to come in, and they'd drive past the T-site and then turn around in the hope that a parking spot on the street had opened up.
Full House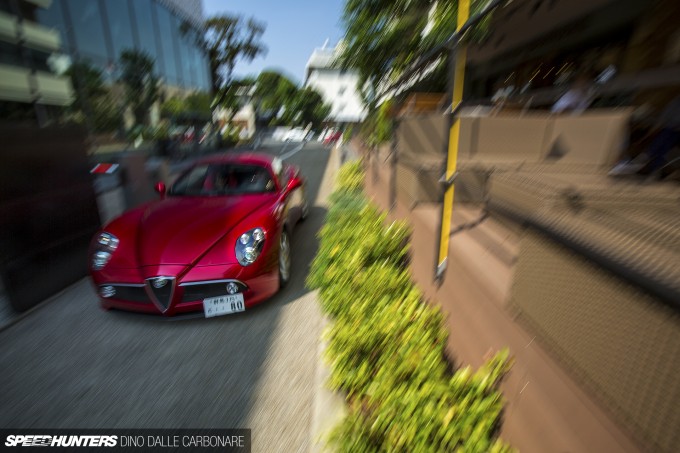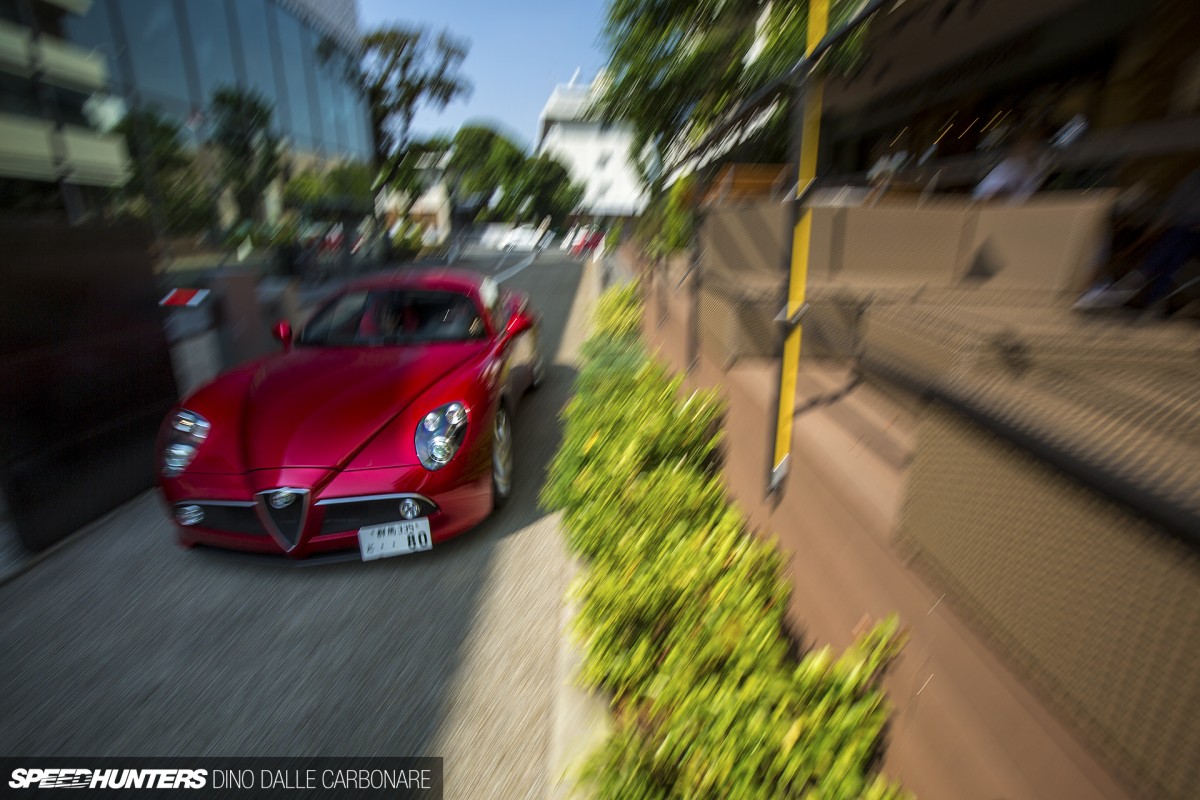 As one car left, another would be allowed in. Although this 8C had been kept waiting for a while, it was finally let through – the cherry on the top of what had quickly developed into a proper epic meet.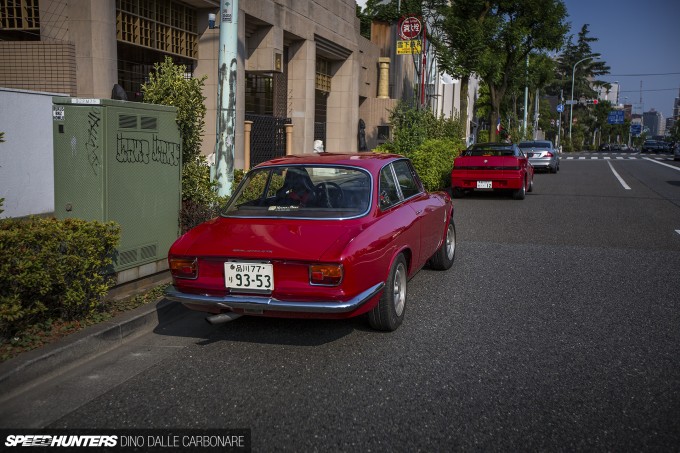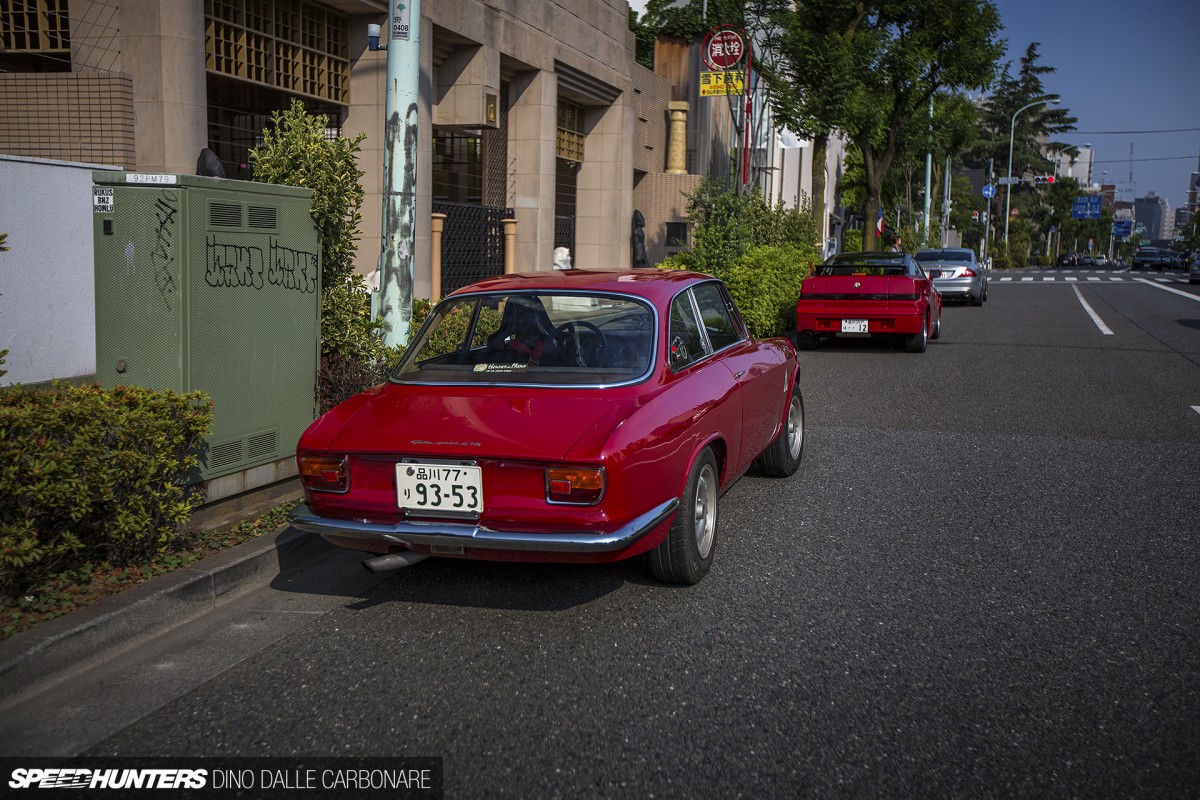 The cars that had to resort parking along the main road certainly deserved a look too, so I did my best to keep an eye on what was arriving.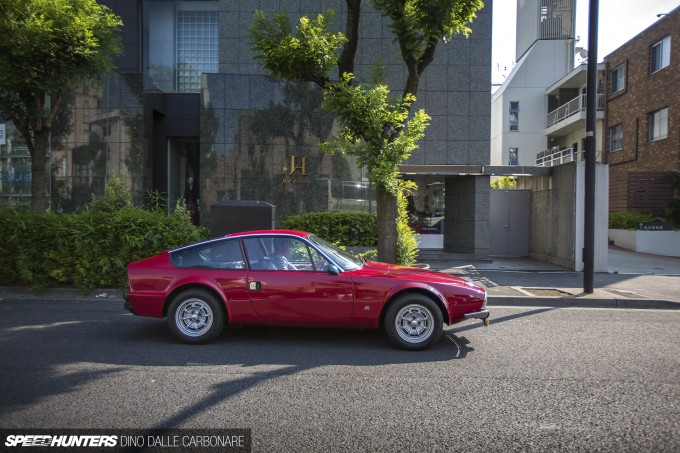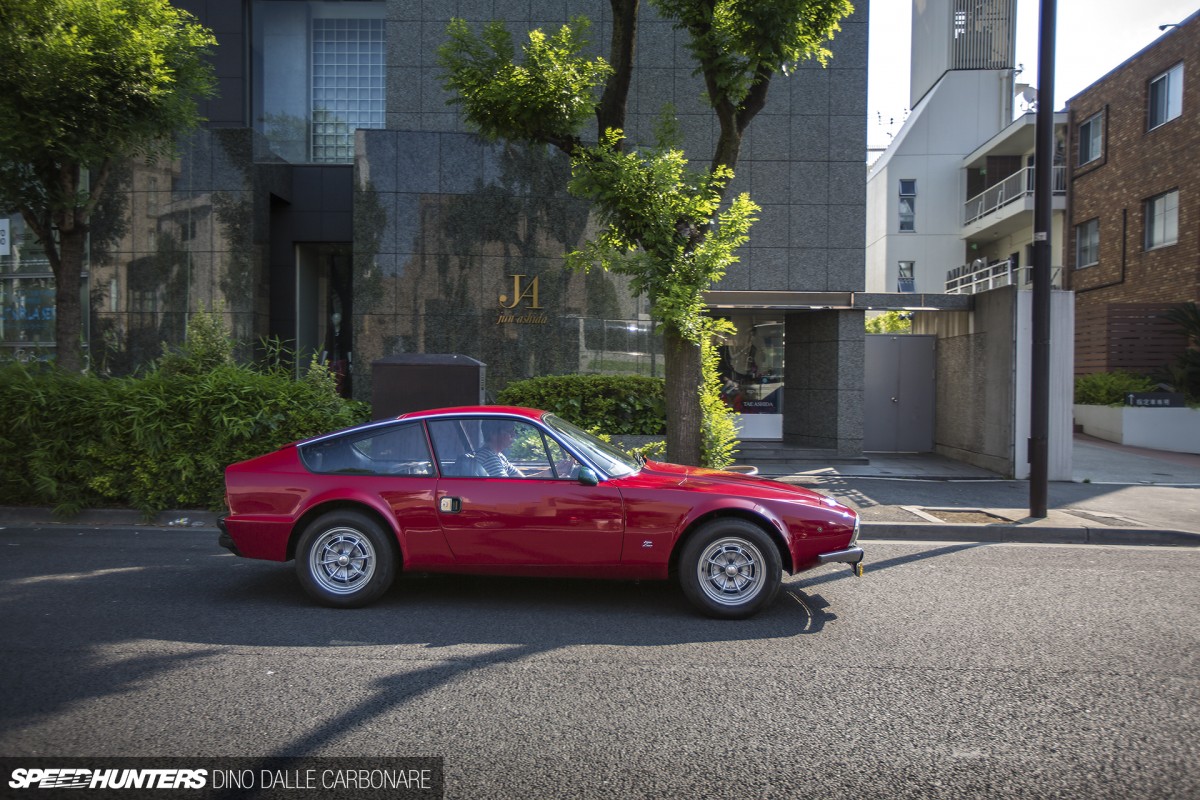 I'm glad I did, because there were some true rarities waiting patiently in line – like this little 1300 Junior Zagato, yet another car that perfectly exemplifies all that was right with Alfa Romeos in the '60s and '70s.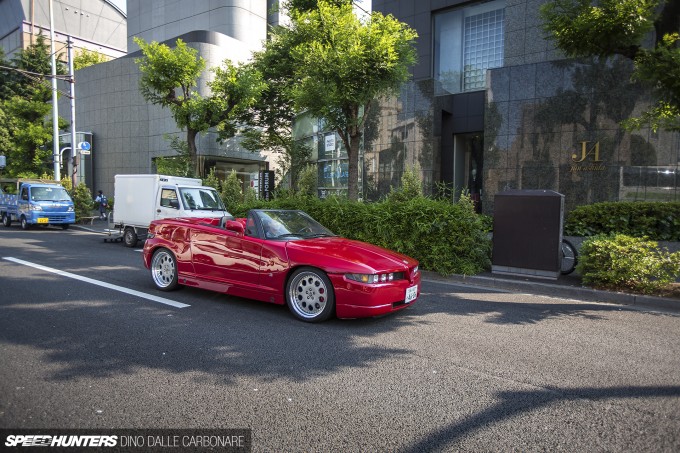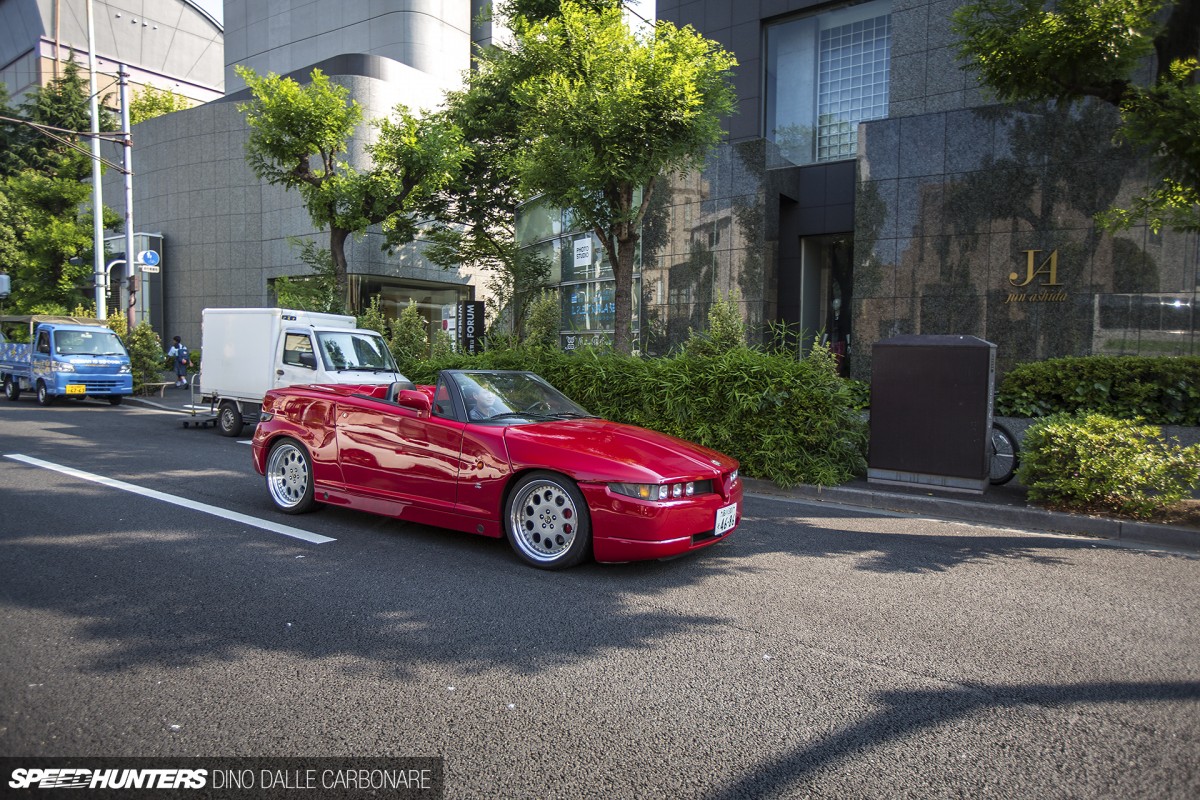 Of course, sitting right behind it was the Roadster Zagato – the open-top version of the SZ, and another rarity.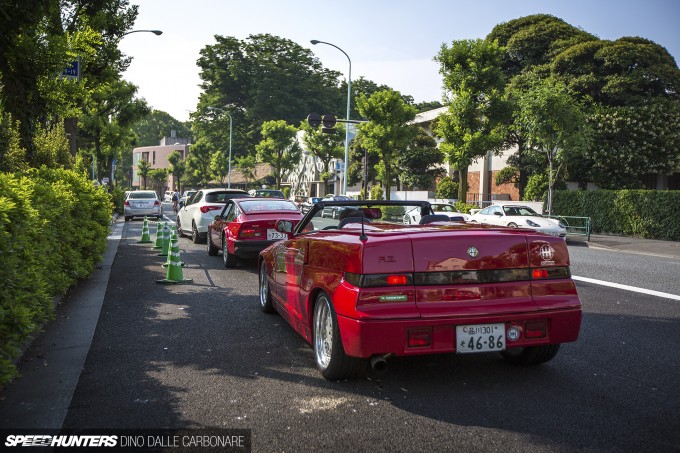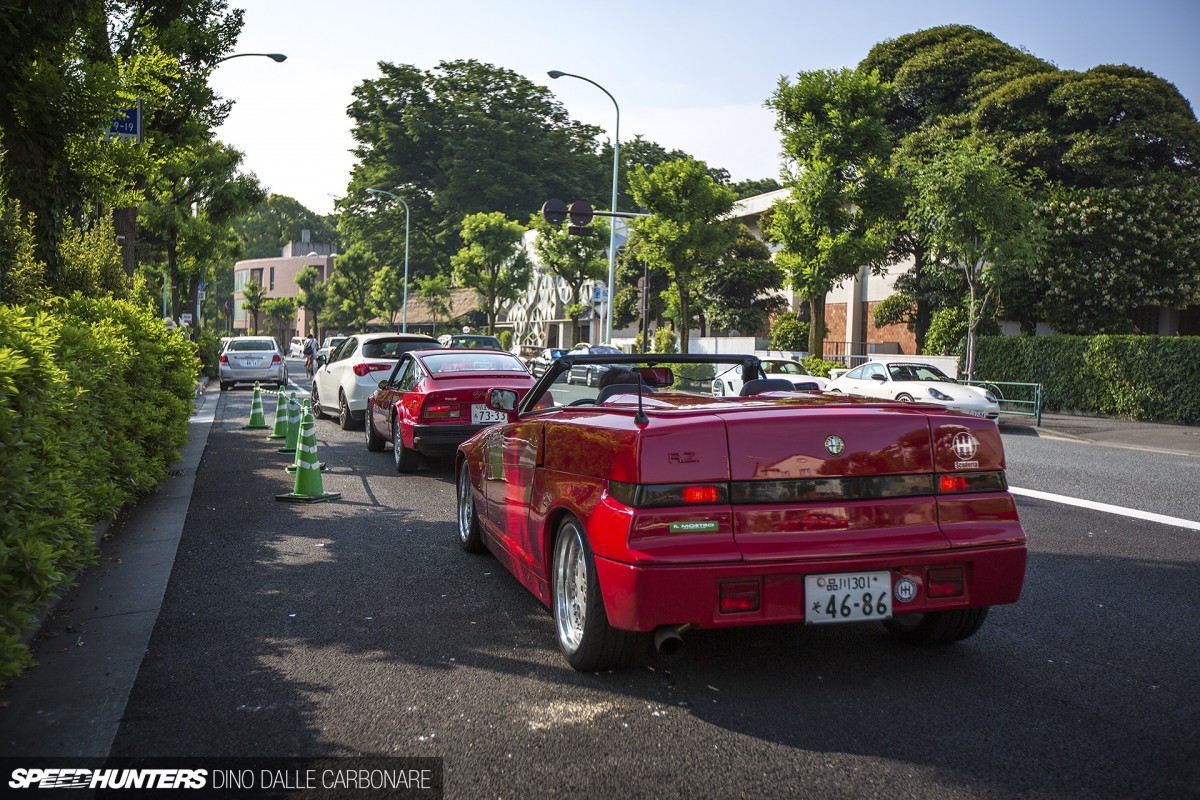 Two real Alfa Romeo rarities within shouting distance of each other – it was pretty mind-blowing.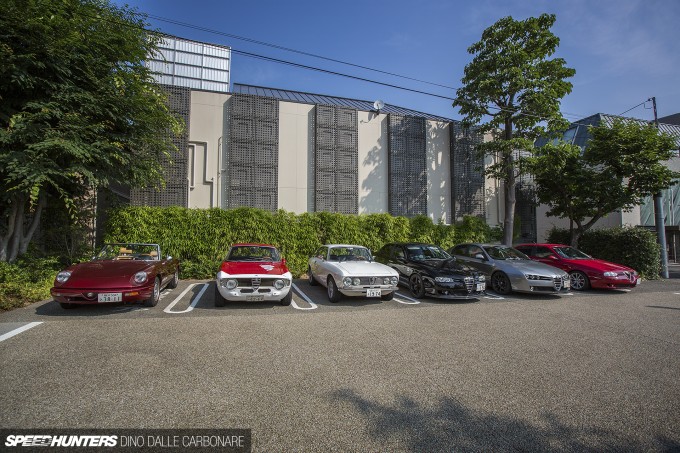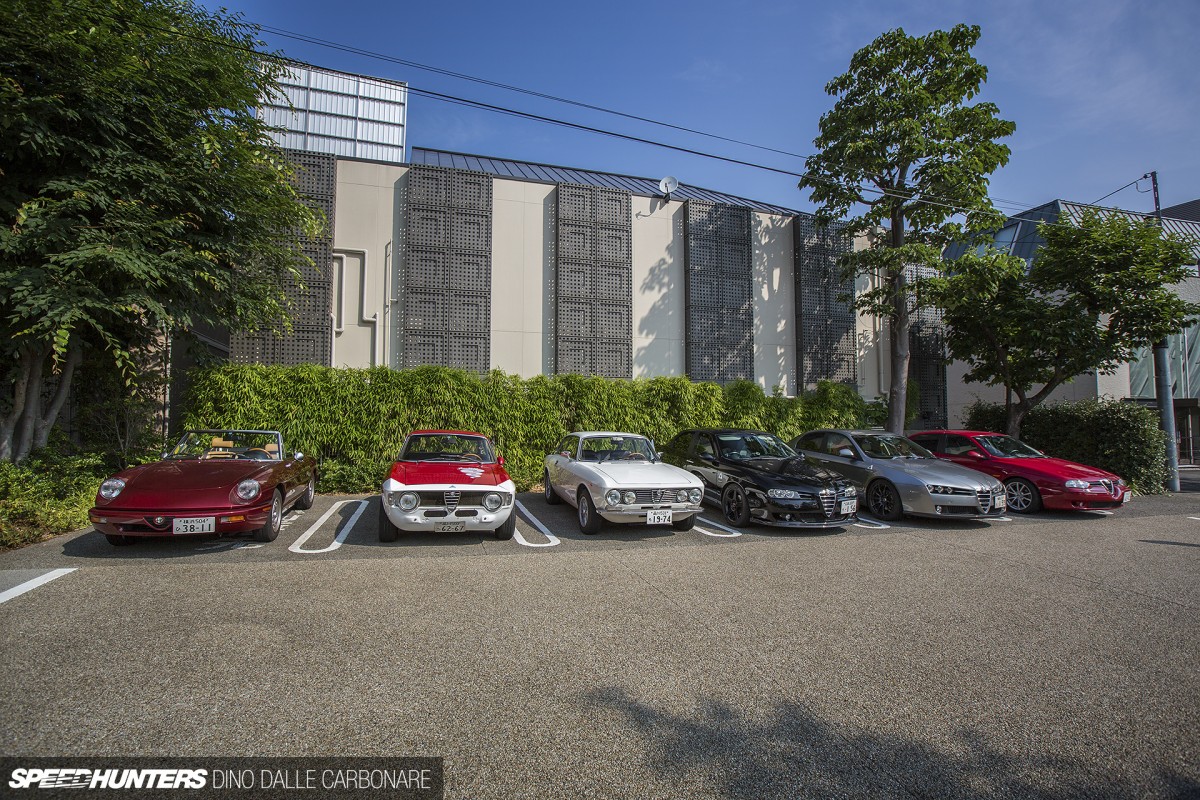 This was a rear-wheel drive versus front-wheel drive line-up, and it really made me think even harder. Old versus new – a perfect example of the way Alfa has gone.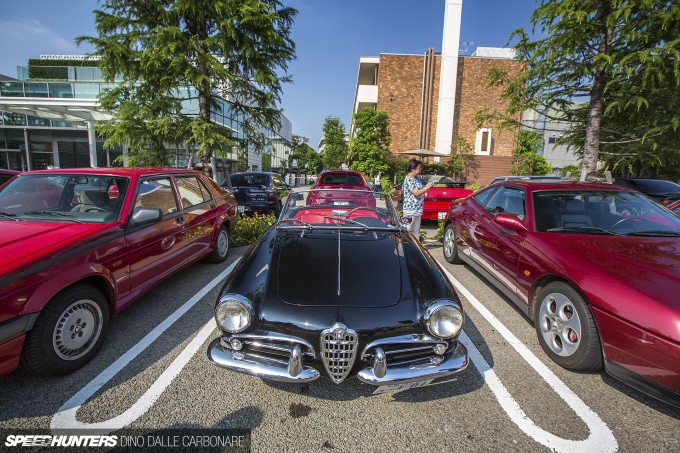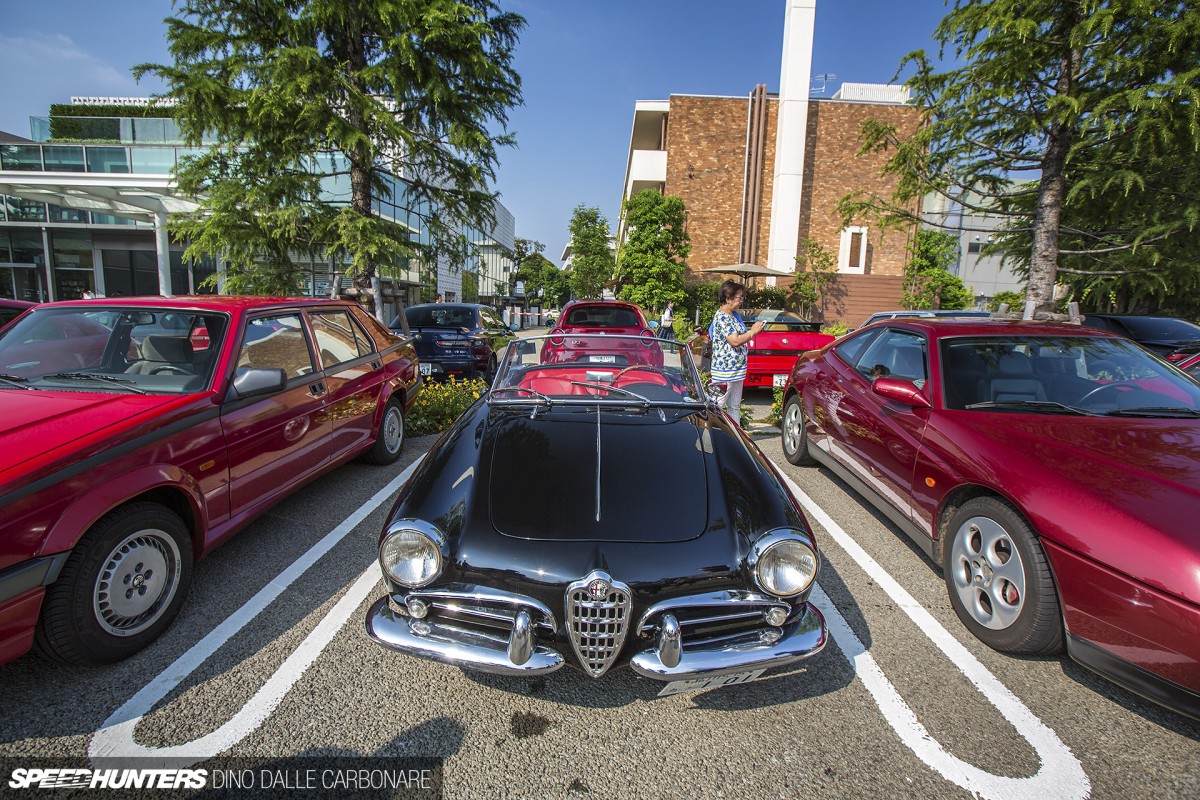 Alfa Romeo really had it all, they were synonymous with sportscars and racing, and the characteristics of their race cars filtered down to their road cars. At the same time they grafted some of the most emotional designs into their cars, and the Giulietta is the perfect example. This Spider version was one of two that showed up, but unfortunately no coupe 'Sprint' was present. In my opinion, that version remains one of the most beautiful cars Alfa Romeo have ever made.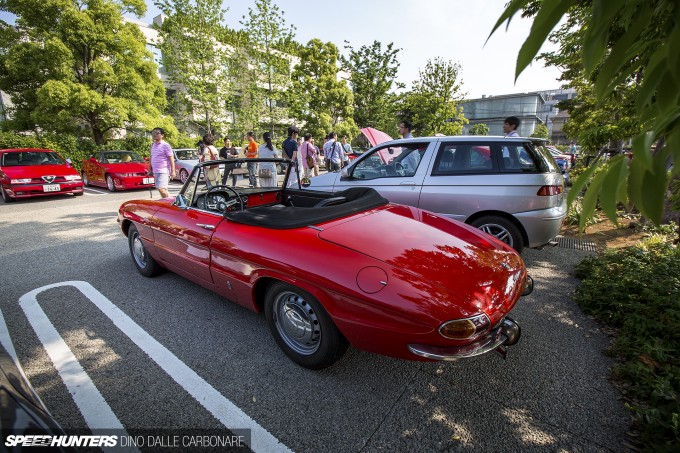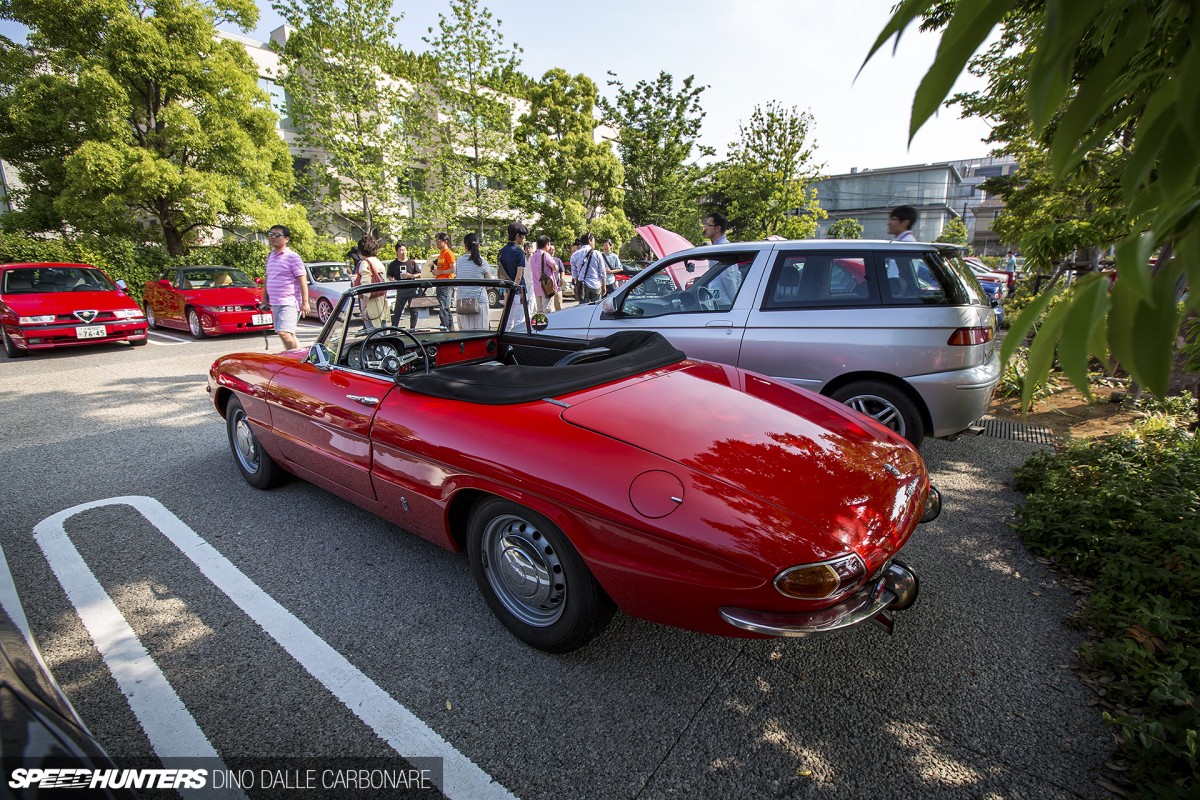 Speaking of drop-top Alfas, this Pininfarina designed 'Duetto' is the Spider to have. It's nicknamed osso di sepia – or squid bone – which describes the swooping rear end that seems to drop down and thin out. Absolutely stunning!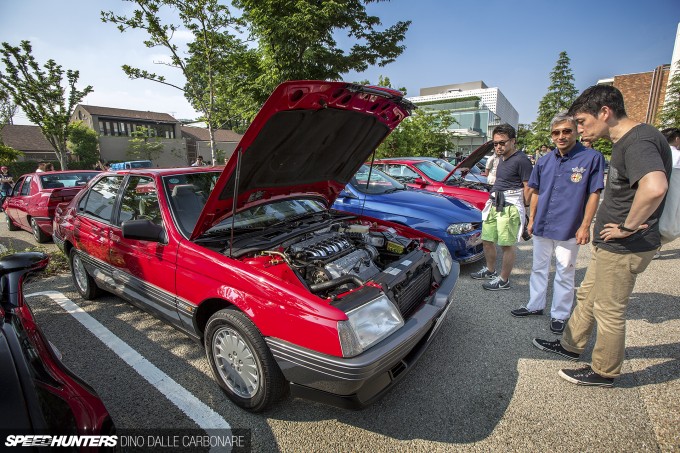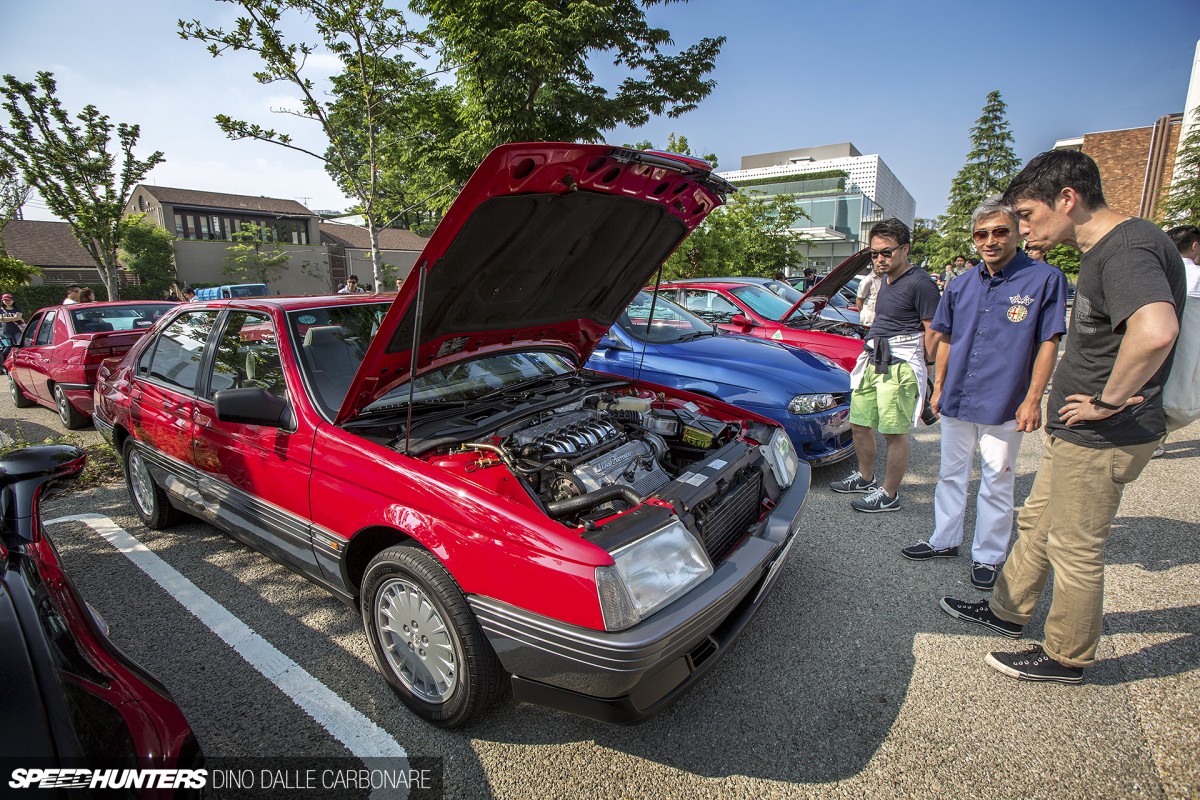 Yes, you know I couldn't keep away from the 164 – especially when its owner popped the bonnet.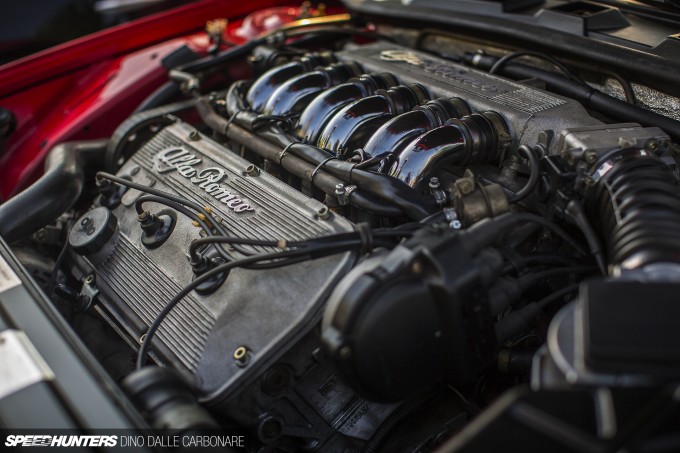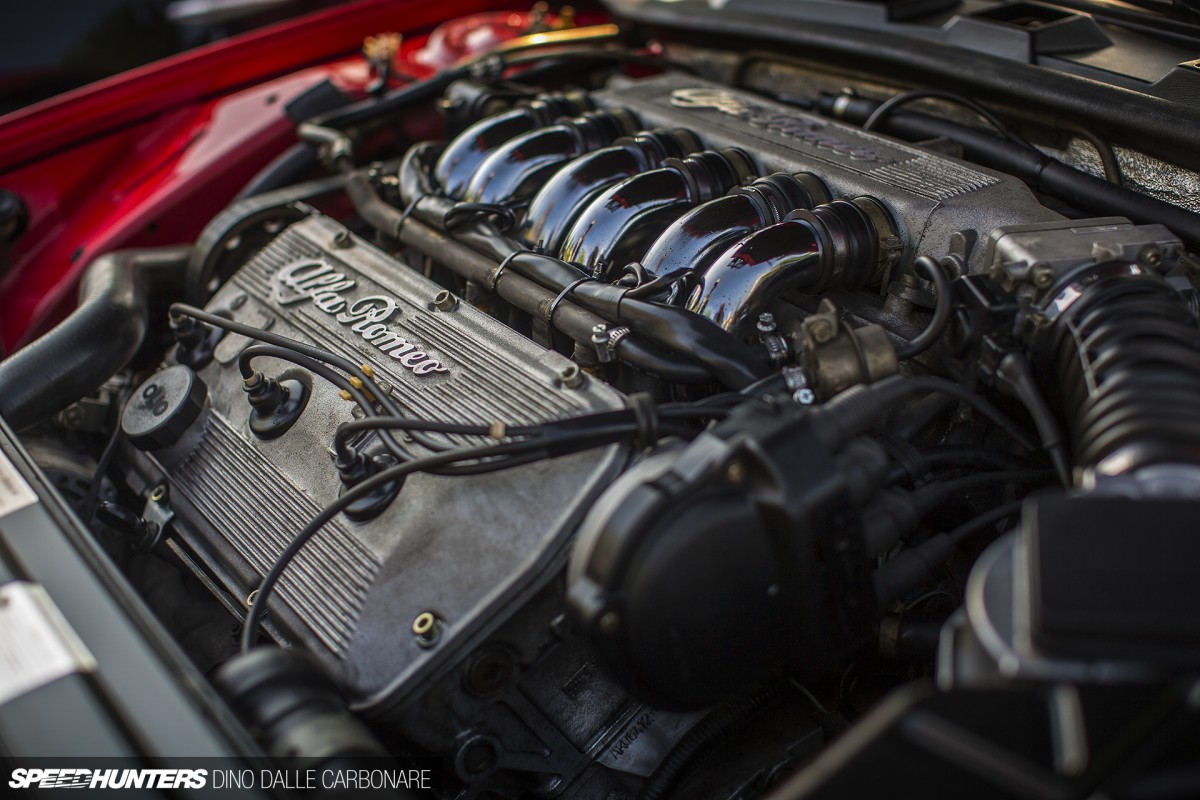 The 2.0-litre Twin Spark four cylinder I have so many 'fond' memories of felt front-heavy and unbalanced, so I can't even imagine how having a big 3.0-litre V6 transversally mounted up front would upset things even further. But once you hear this engine, I don't think you would care… It's definitely one of the good ones – it's just too bad Alfa Romeo put it in a wrong-wheel drive chassis.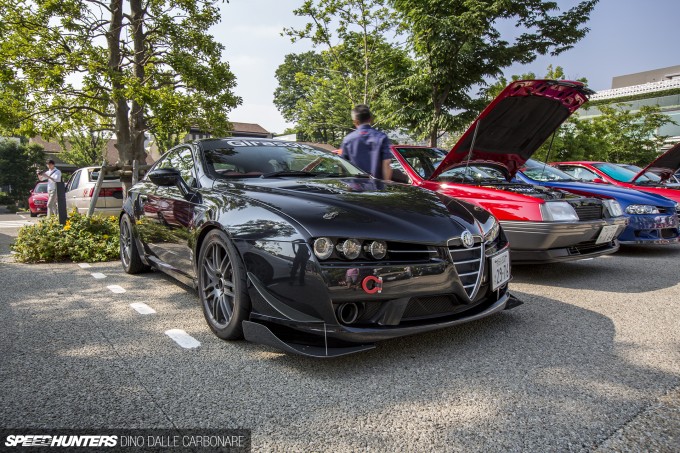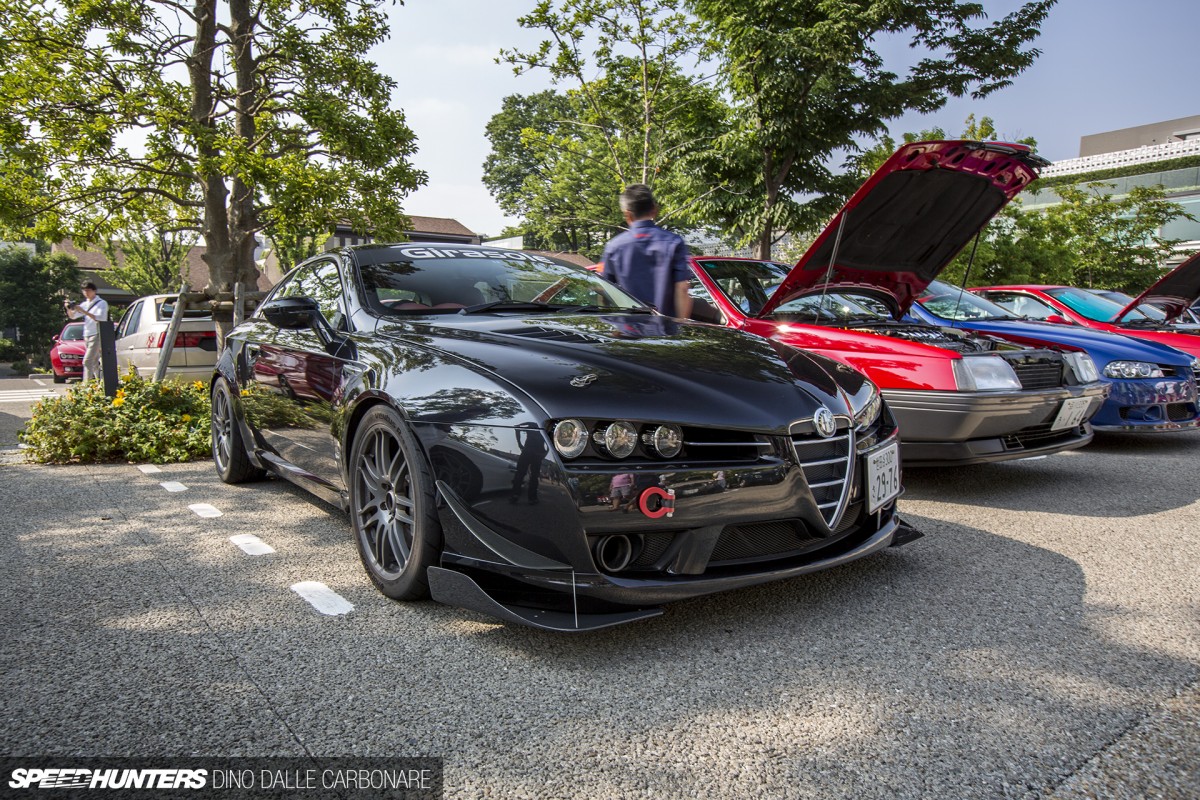 The Brera, along with the Spider drop-top, were two cars that Alfa quietly phased out along with the 159. It was an interesting looking car and quite a decent attempt at making a sporty coupe/spider combo, but it didn't sell well for the simple reason that it was just not special enough. Still, it's not like the Japanese care. This one looked like it was set up to hit the track and do a bit of time attacking!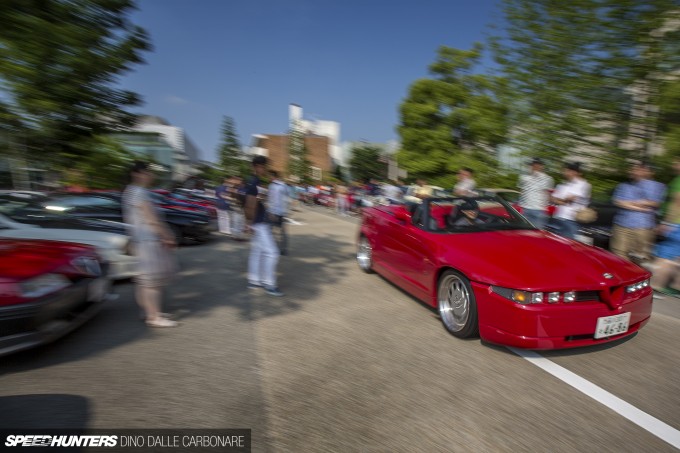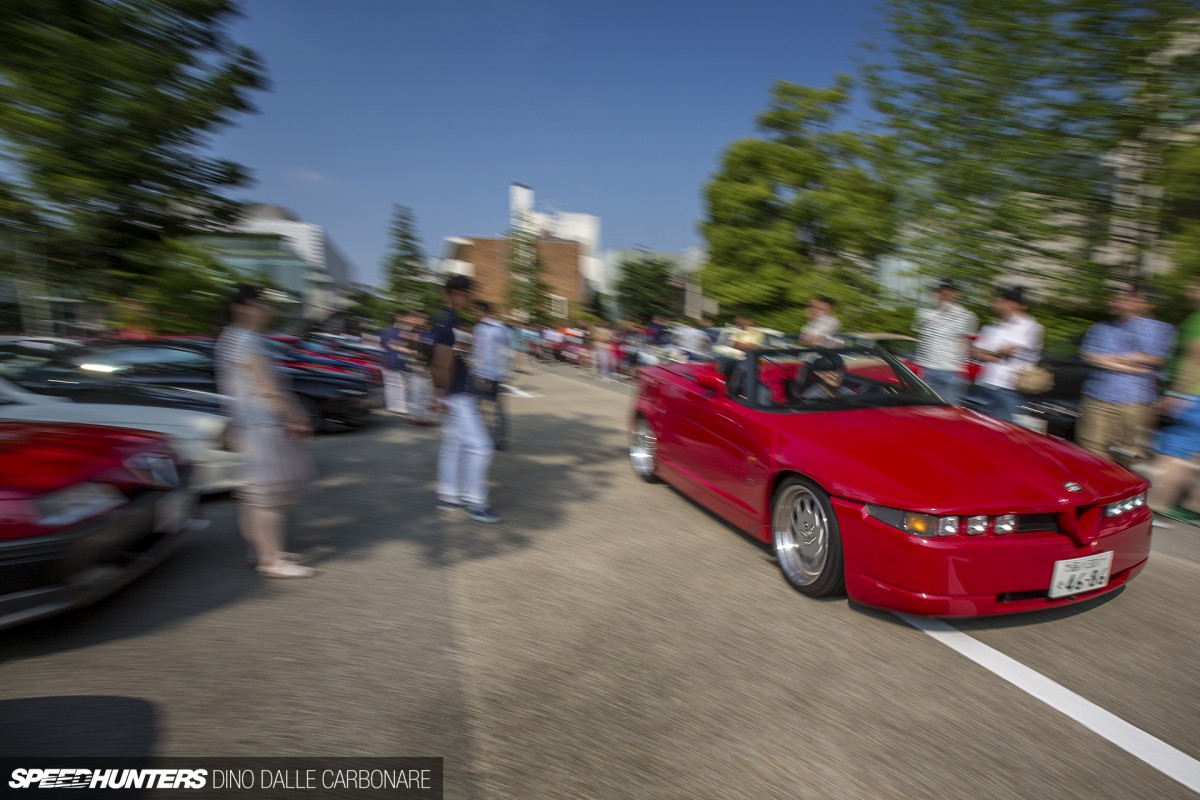 Towards the end of the meeting at the RZ finally made it into the parking lot – a must-have addition to complement the four other SZs that had turned up.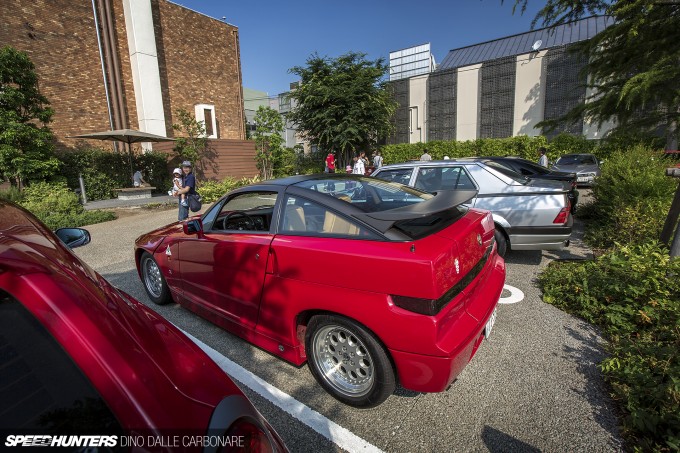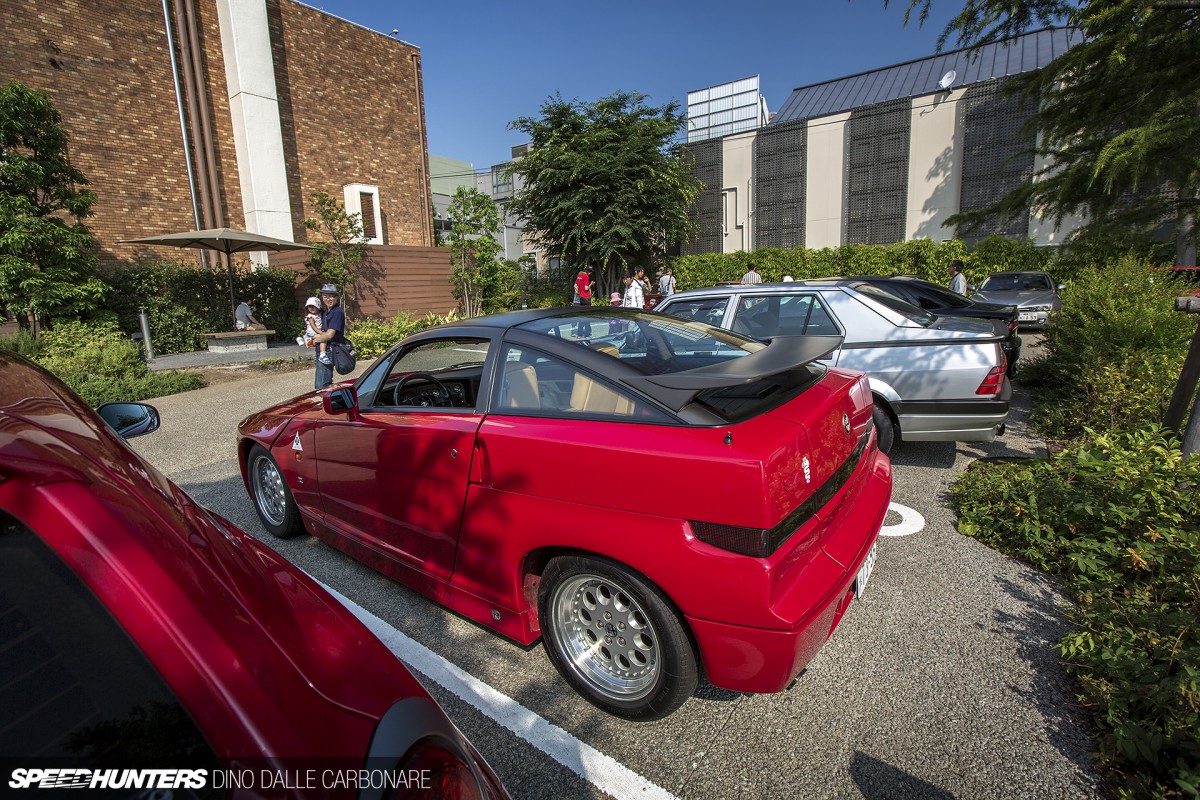 Here is one of the last to roll in sitting next to a 75 – the model it's based upon.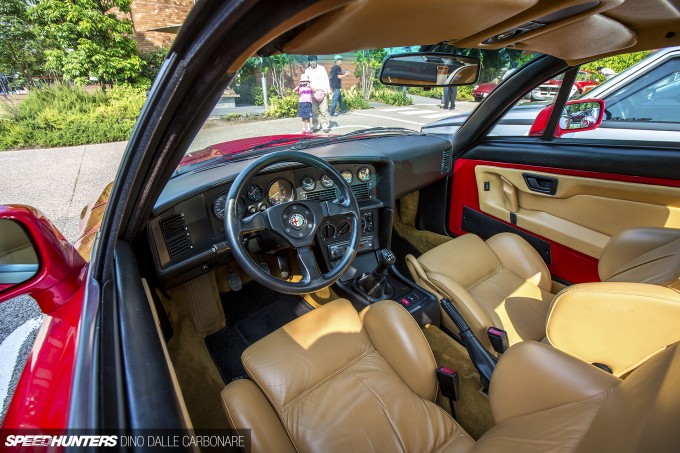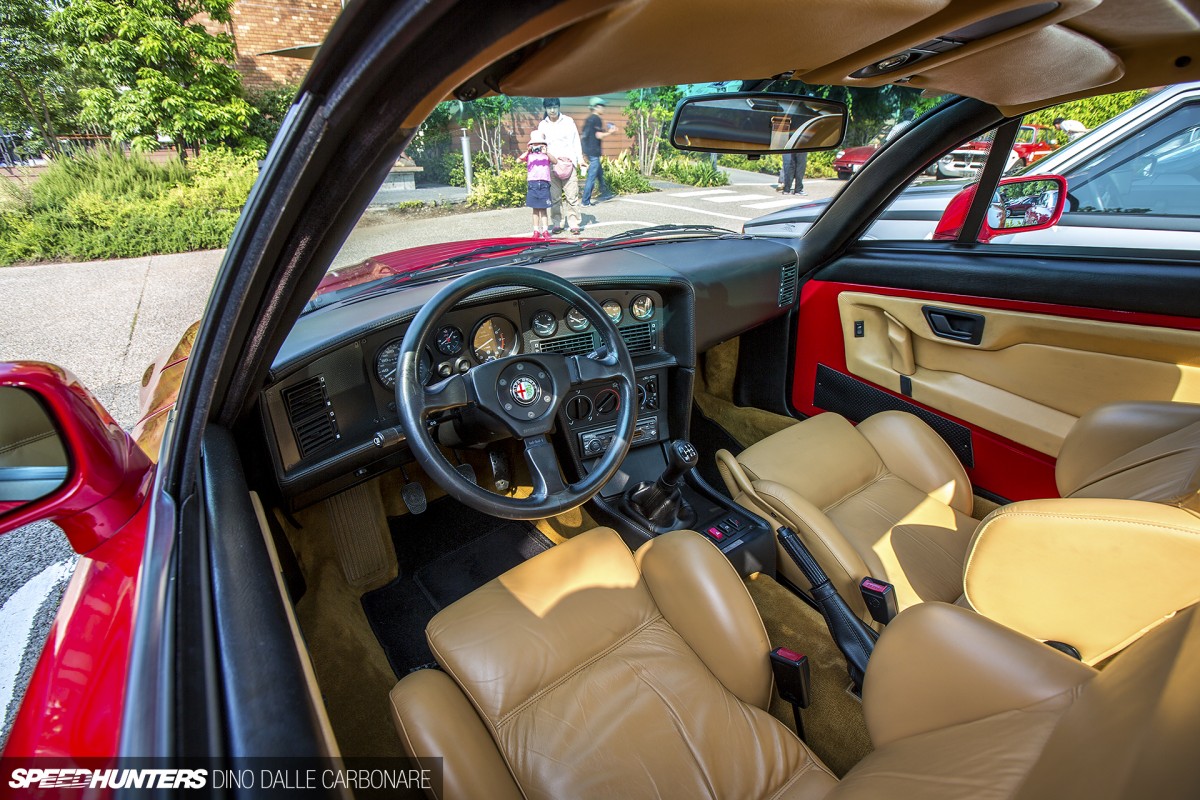 I was 12 years old when this car came out, and I can remember the time that my father took his 75 to the dealer for yet another speedometer change (as I alluded to earlier, the car was riddled with electrical issues) and I got to sit in the SZ they had on display for a good 10 minutes. I thought it was the most incredible car back then, and that interior still has something special about it.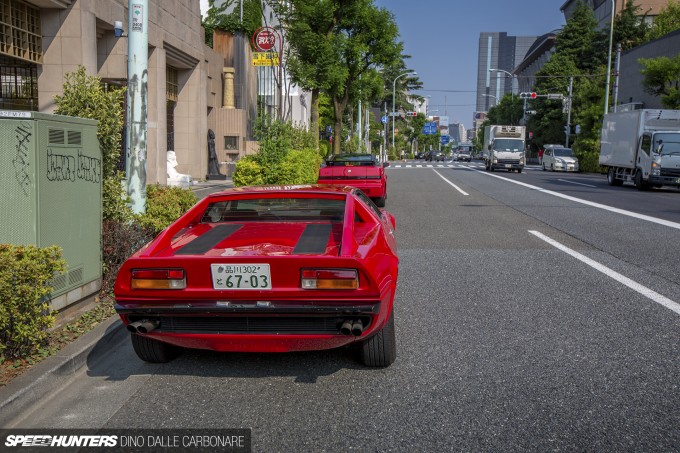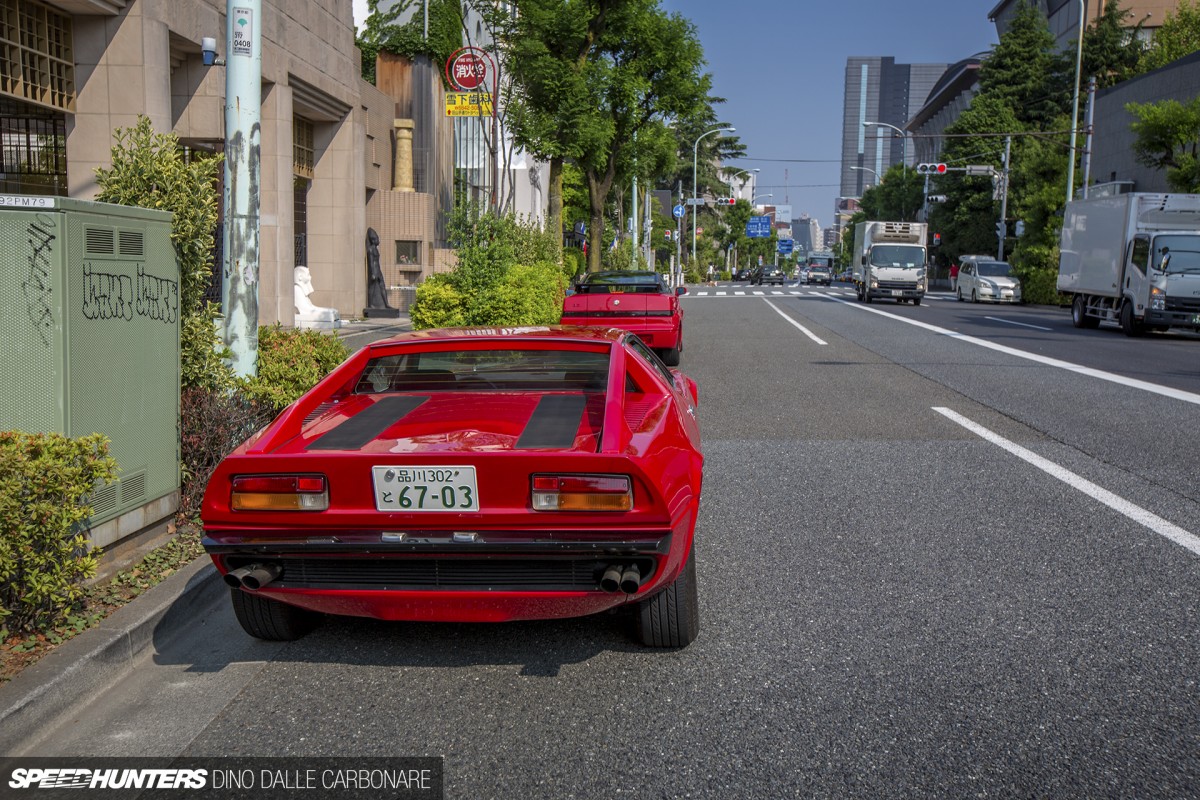 I don't know why there were so many Maseratis out on this particular morning. I mean, the central city is full of them, but to see a Merak parked like this on the side of the street, well, it's not an everyday occurrence – even for Tokyo!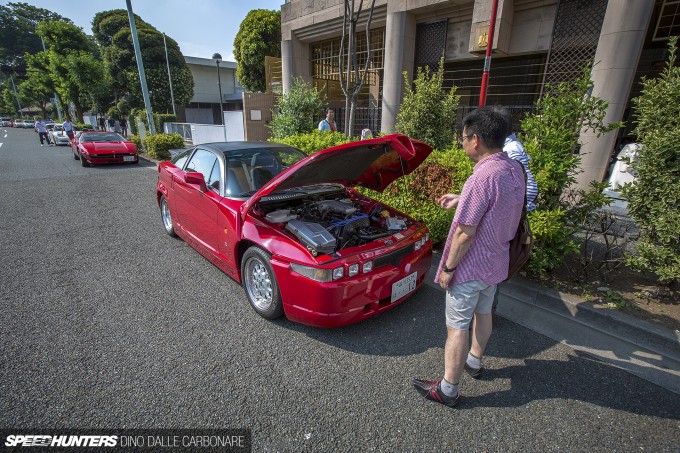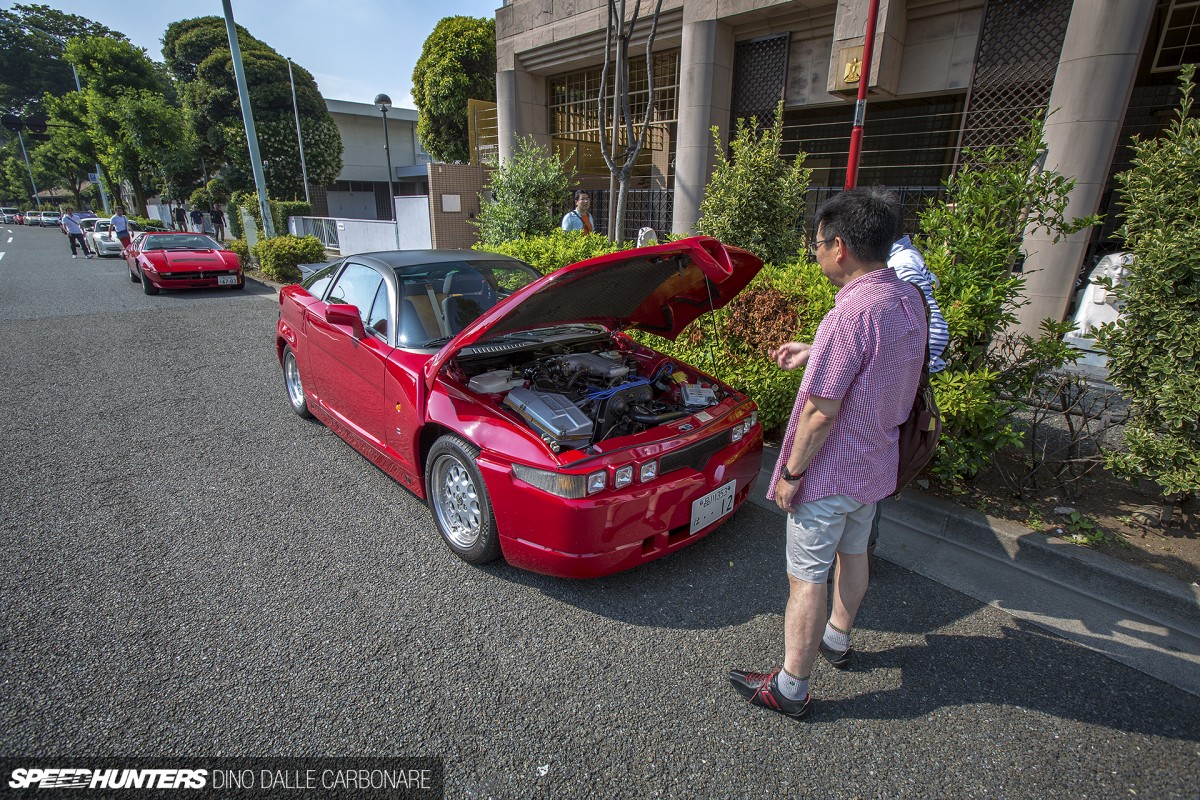 Ever seen the engine bay of an SZ? Neither had I until this moment! The 3.0-litre V6 with its '6C' emblazoned intake plenum almost sits entirely behind the front axle line, so it must actually give the car decent balance.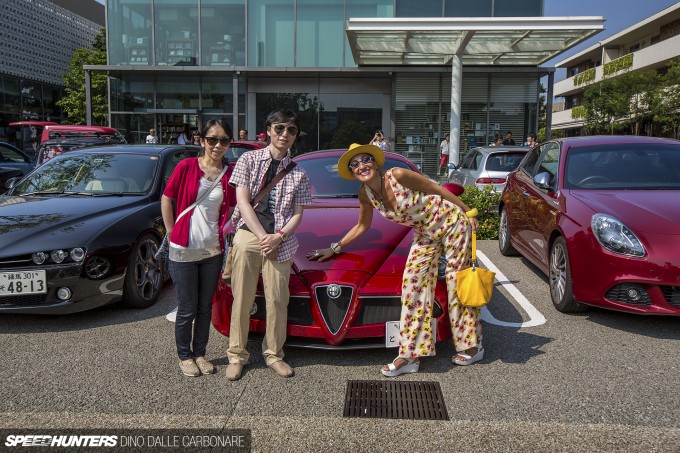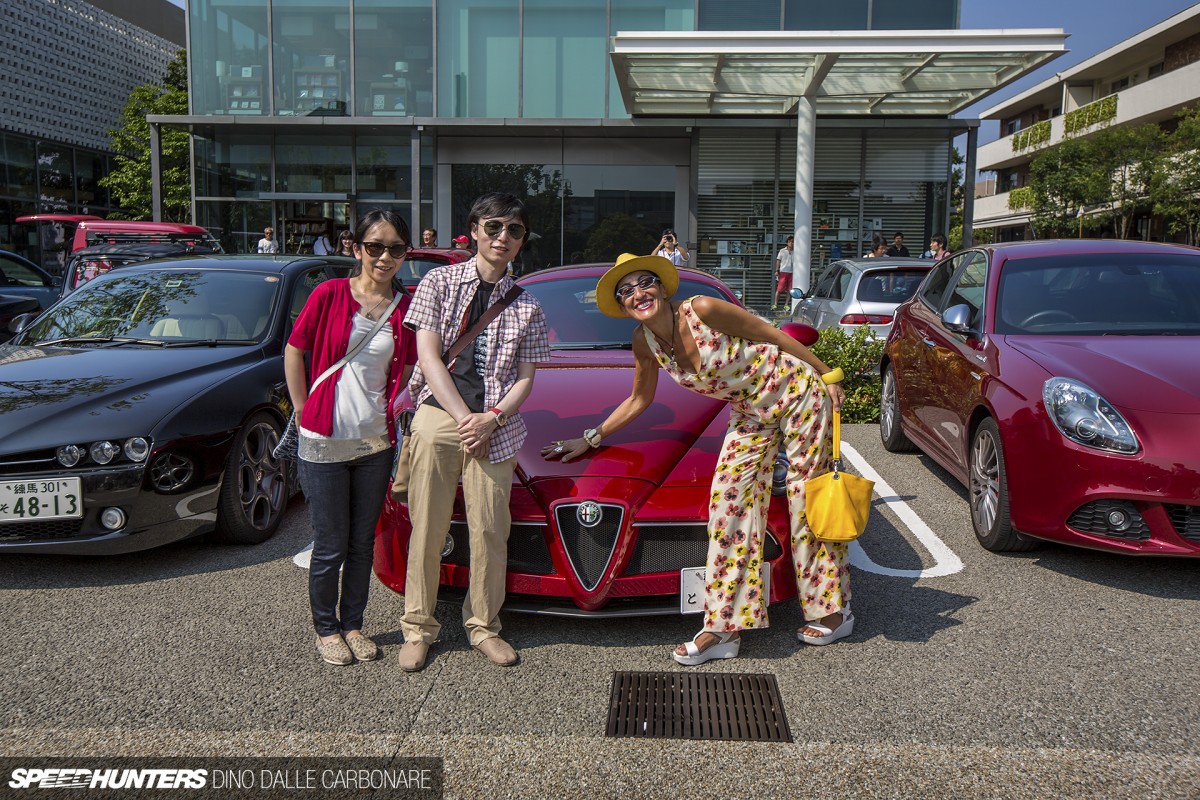 The FCA Group president even came out to the meet to show her appreciation for all the support and following that the Japanese Alfisti give the brand in Japan. It all made for a great Sunday morning, that for me at least combined both nostalgia and great memories at the same time. I hope that this great brand will once again shine in the future. Here's to Alfa Romeo!
Dino Dalle Carbonare
Instagram: speedhunters_dino
dino@speedhunters.com
More Alfa Romeo related posts on Speedhunters
More Daikanyama T-site related posts on Speedhunters