Your VTEC-Powered Rides, Featured!
Whenever we publish anything Honda-related here on Speedhunters, we notice that these stories always seem to provoke requests for more Honda content. You spoke, we listened; and as a result, let us present you with this special 'VTEC' edition of #IAMTHESPEEDHUNTER.
For those that aren't so big into the Honda scene, maybe this story isn't for you. But if you think of yourself as an open-minded person, who knows – perhaps  you might actually see something that you quite like? It is said that inspiration can hit when you least expect it after all.
So without further adieu, it's time to give back to the Honda community and show off some of your builds! Warning: High amounts of VTEC awesomeness ahead…
Alex Pope, Australia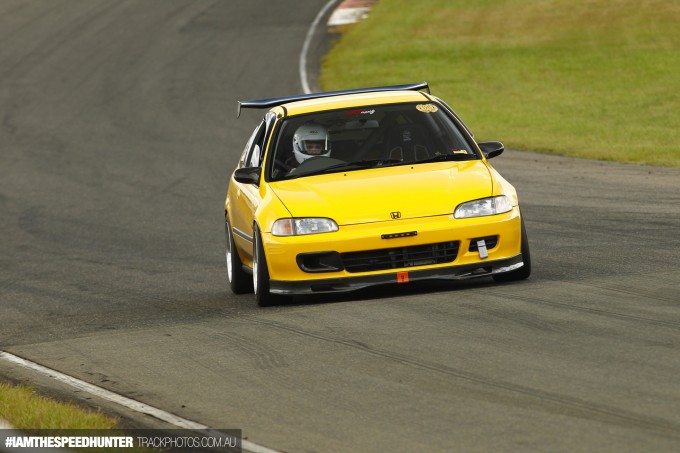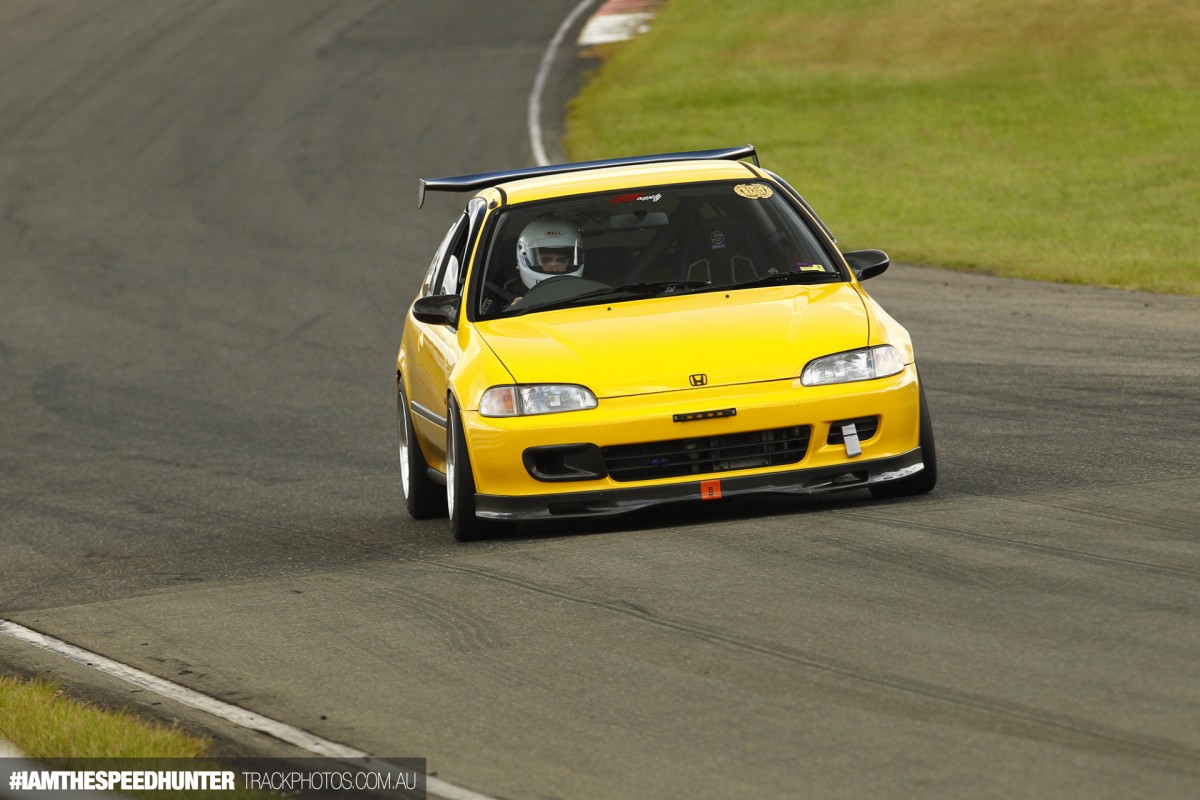 Let's kick things off with Alex Pope's super-clean '94 EG Civic track toy from the Land Down Under. This isn't the first time Alex's car has popped up on Speedhunters, but it's gone through a few changes since then – the biggest being a conversion from his old B18C setup to a larger hybrid B20 VTEC engine.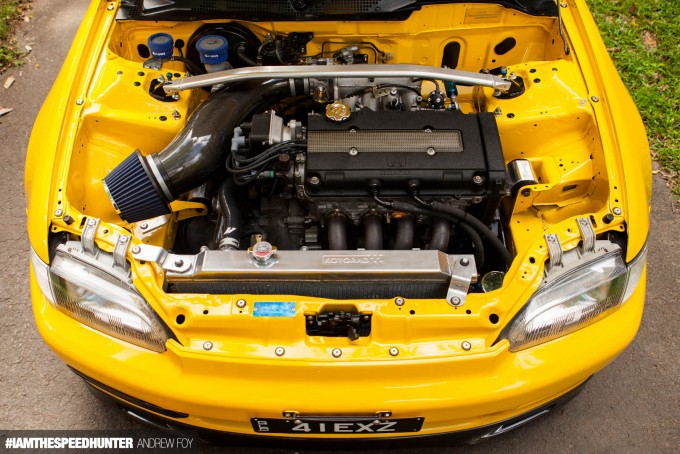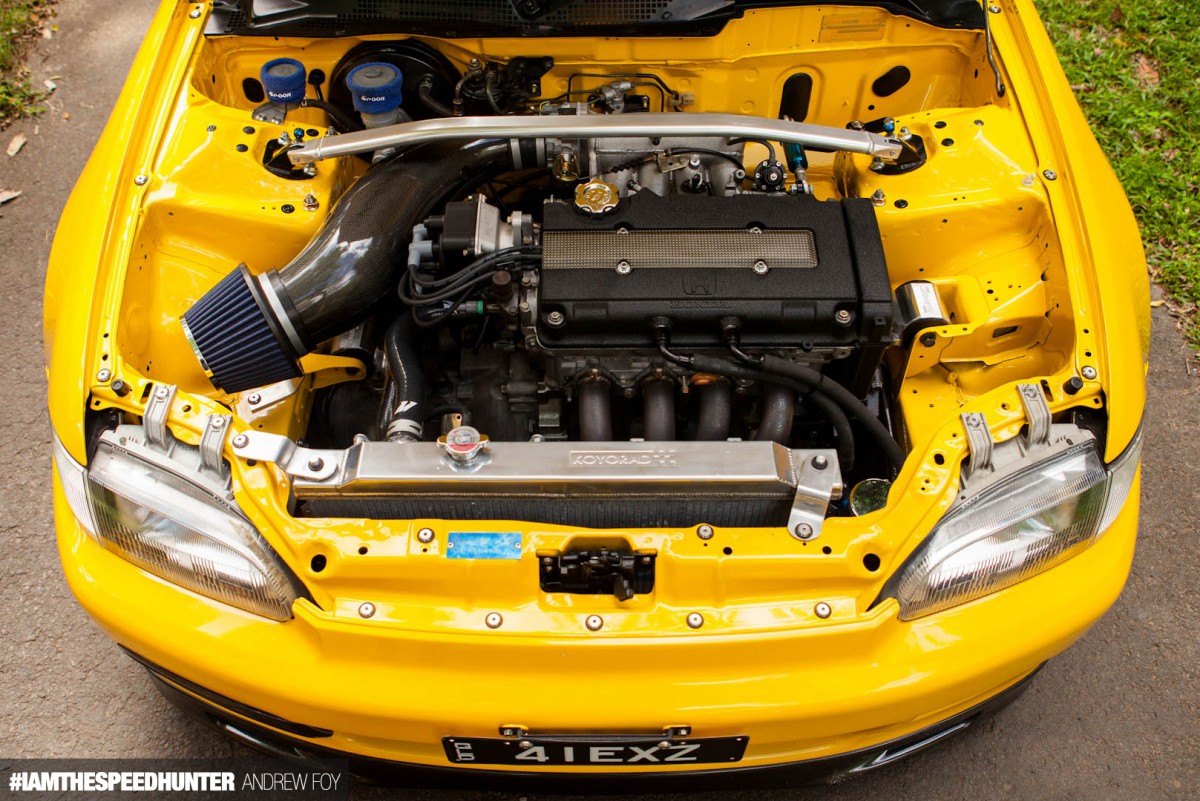 Alex explains that he's gone through many different parts over the years, but he's finally at a place now where he's happy with how the yellow hatchback is performing. As he puts it, "I've got it to the point where I have no further plans for the car, other than driving it more." Some of those parts include Zeal suspension, Regamaster Evo wheels wrapped in Advan rubber, various goodies from Spoon, a rollcage and a Voltex wing. Good on Alex for building such a clean looking track car that gets driven hard on the regular!
Benoit Lefebvre, Québec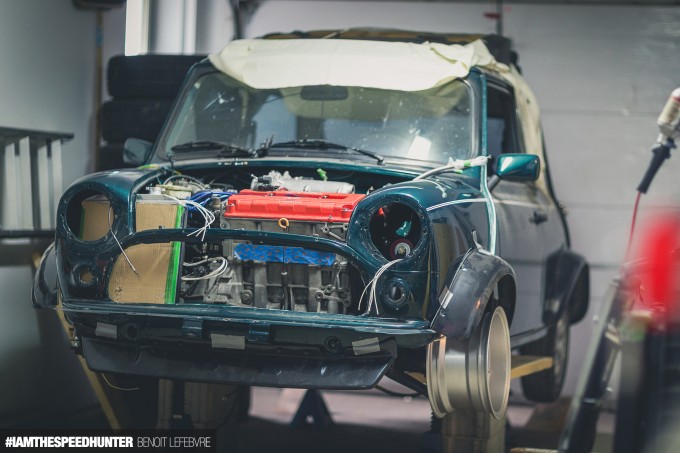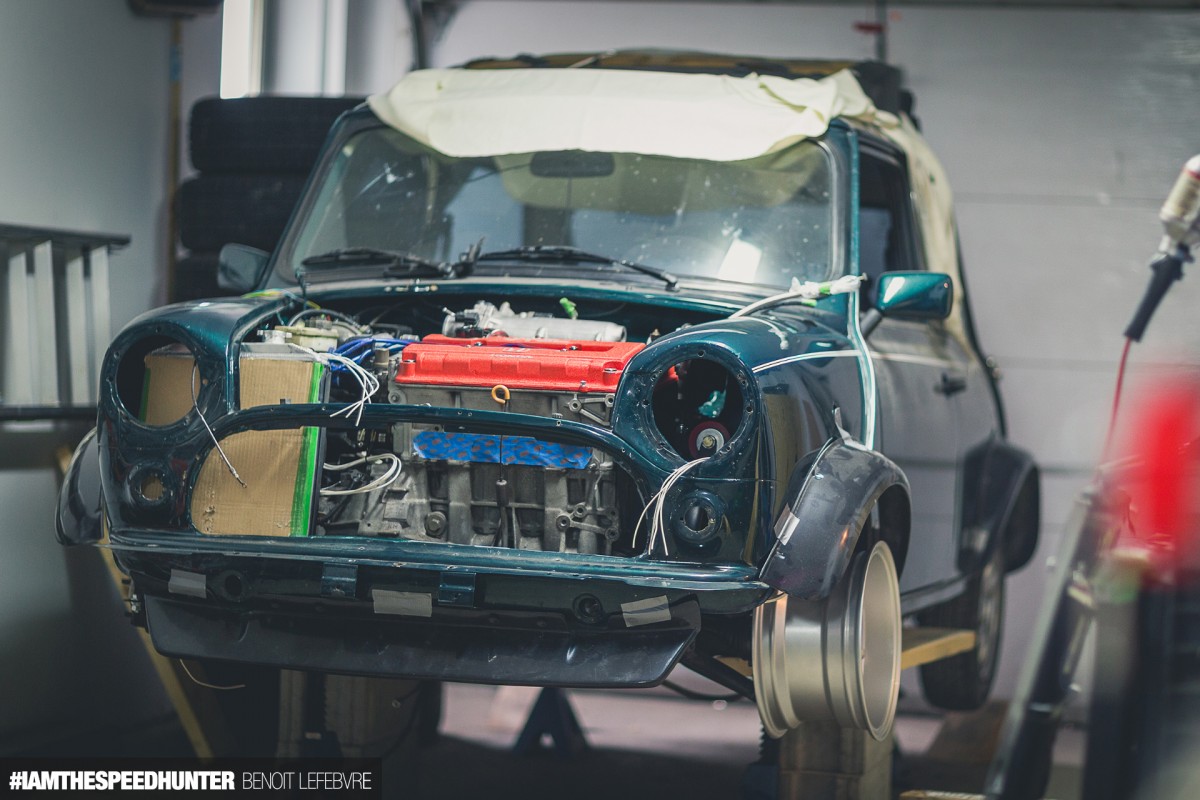 Next up, Benoit Lefebvre has been working on this Honda-powered classic Mini project for almost six months now, and he's already made some stellar progress. He admits, however, that he hasn't always been a big Honda fan. In fact, he confesses that he used to participate in a bit of 'Honda bashing' when he was younger. He's a bit older and wiser now though, and has recently succumbed to the strength and reliability of Honda's B-series engine.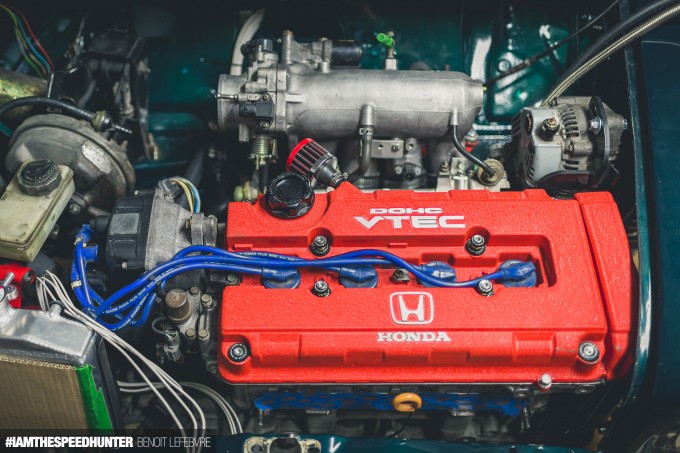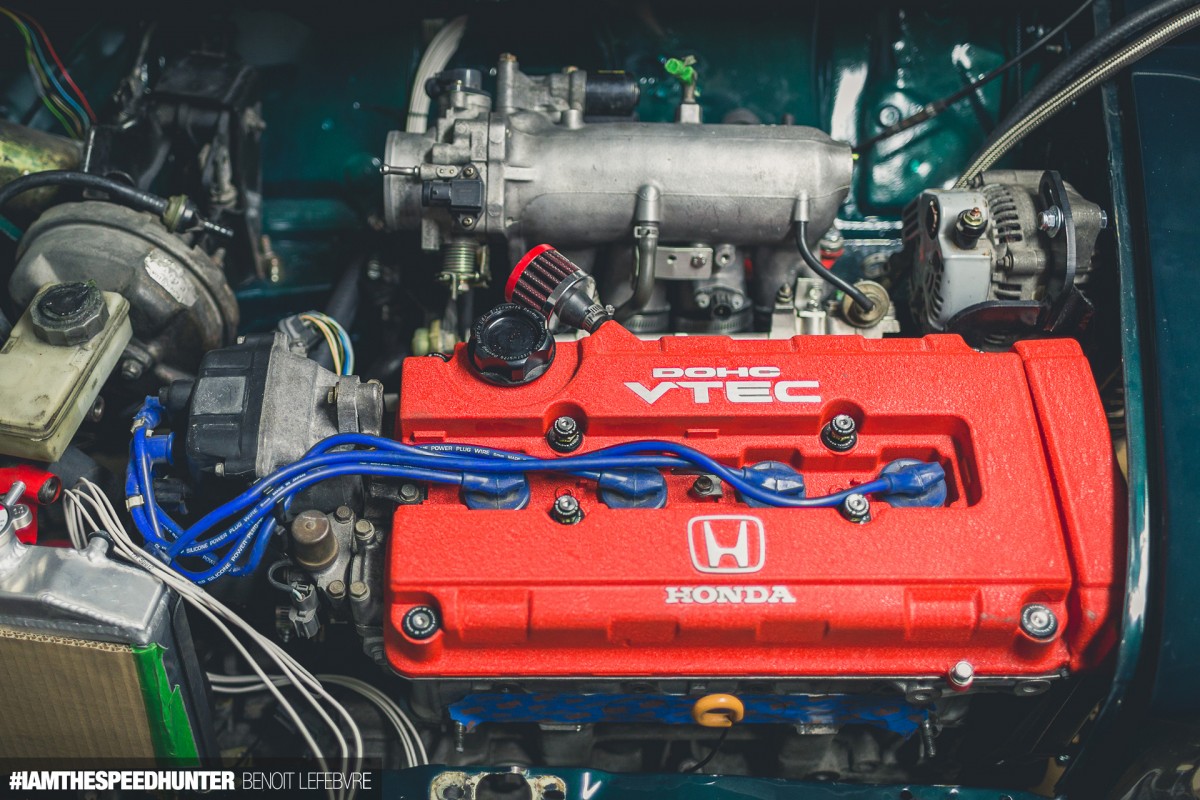 Benoit was originally inspired by another Honda-engined Mini build he spotted on Speedhunters a few years back. It was that car that influenced his choice of a 210hp B18C Type R engine fed by a Skunk2 throttle body – a pretty serious upgrade from the original 50hp, 1275cc motor it replaced! Benoit has switched to a Minitec MTB2 subframe to hold the newly-fitted B-series motor in place, and transmission-wise the final drive has been replaced with a longer Team M Factory 4.00 ratio to compensate for the 13-inch wheels. Next up, the fuel system is getting a full overhaul, and a new exhaust system, wiring harness and brake upgrade are all on the way. If you're interested, you can follow his build thread here.
Geoff Jacobson, Minnesota, USA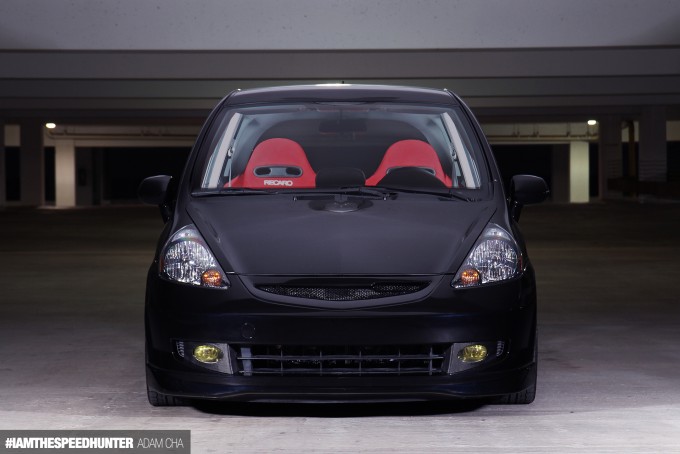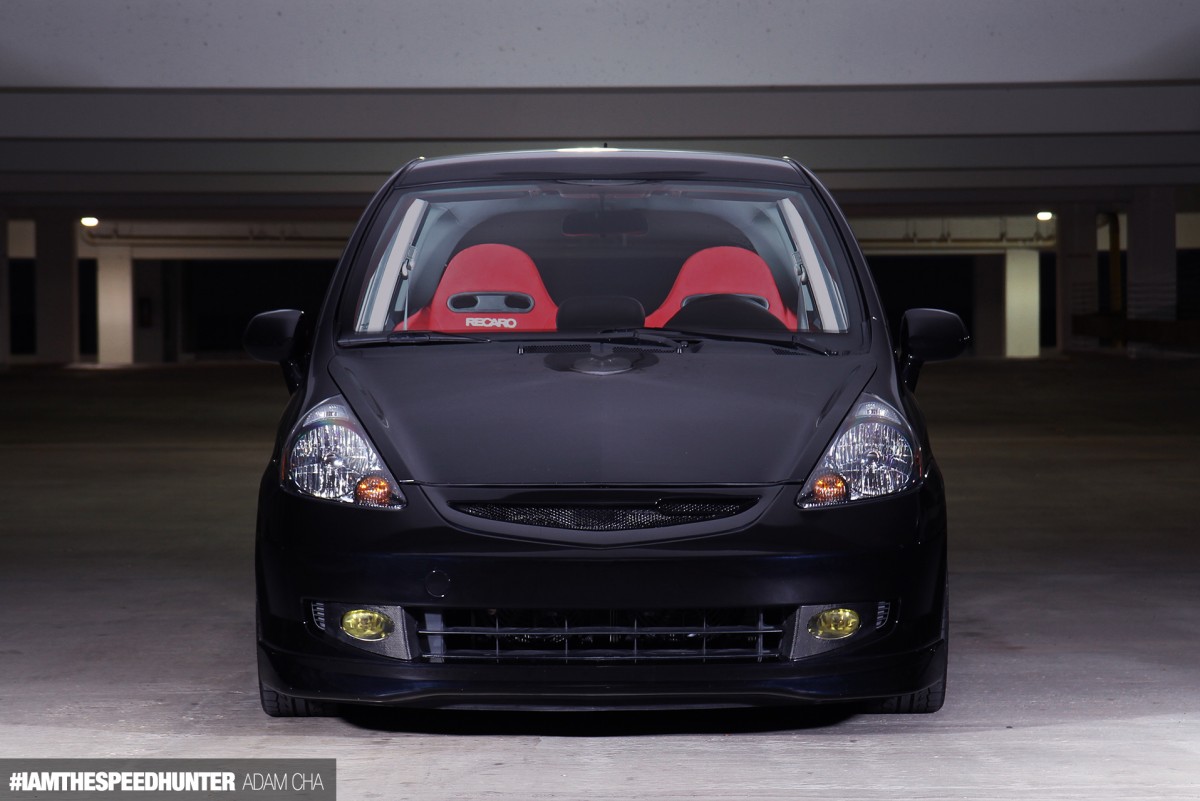 Back in 2007 Geoff Jacobson purchased the Honda Fit you see pictured above; although it now looks and sounds a bit different than it did then! Starting life with an automatic transmission and powered by a 85whp 1.5-litre SOHC engine, the Fit wasn't really meant to be anything more than a daily commuter to which Geoff could perhaps perform a few light modifications. He started by upgrading the suspension, adding RAYS Volk Racing wheels and a Spoon exhaust, but Geoff soon caught the modifying bug and kept on going…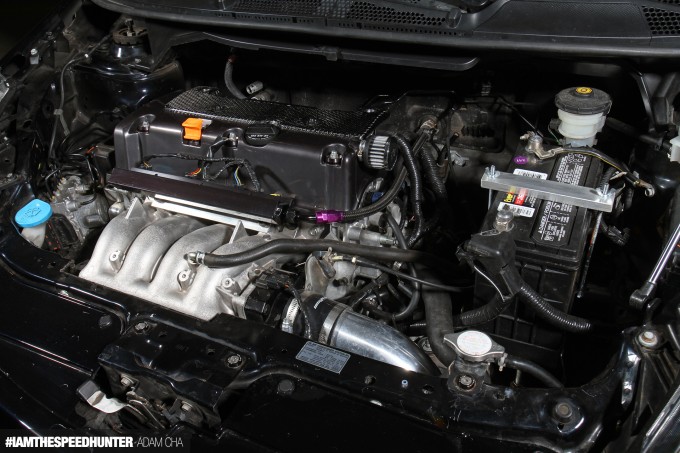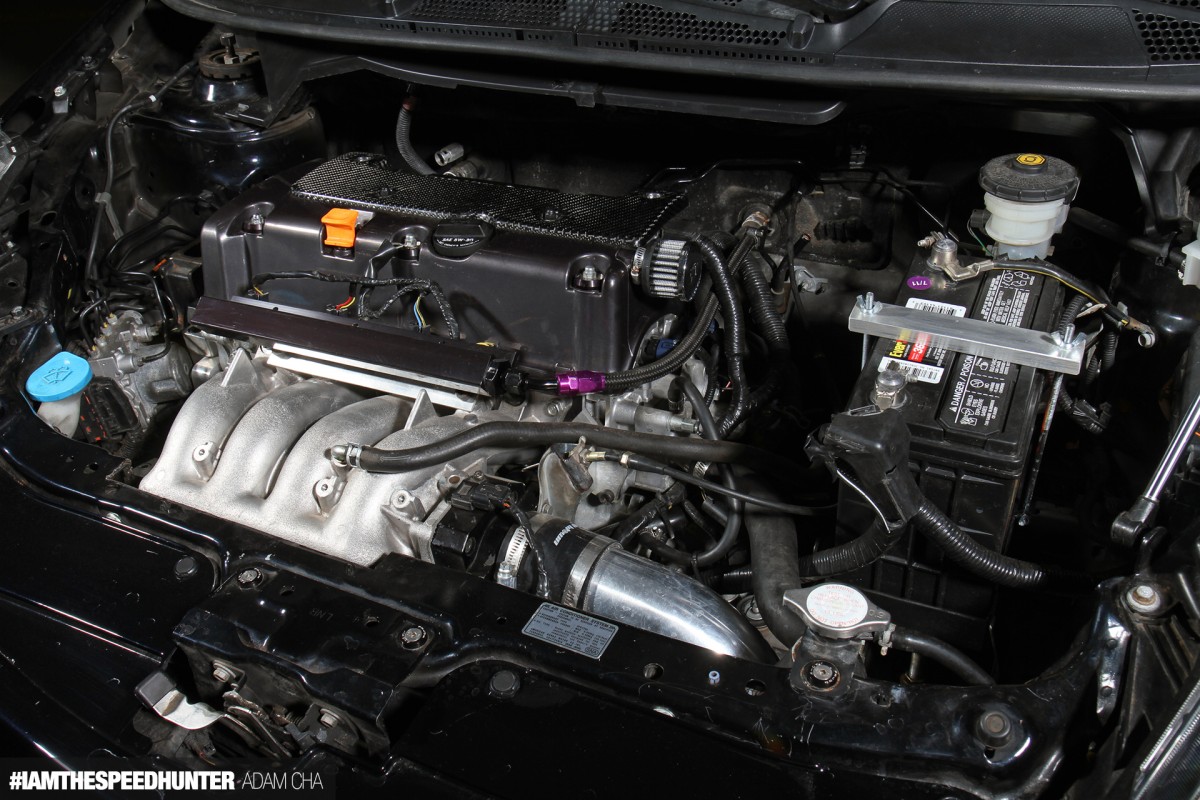 Fast forward three years later, the Fit was supercharged and had just about every bolt-on part available – but it still wasn't enough. Geoff made the decision to swap out the auto transmission for an Si 6-speed, and while he was at it, swapped in a much more serious powerplant – the K24A2 pictured above. Now packing a 220whp punch along with 244Nm of torque, Geoff has the ultimate Honda Fit commuter!
Dimer van Santen, The Netherlands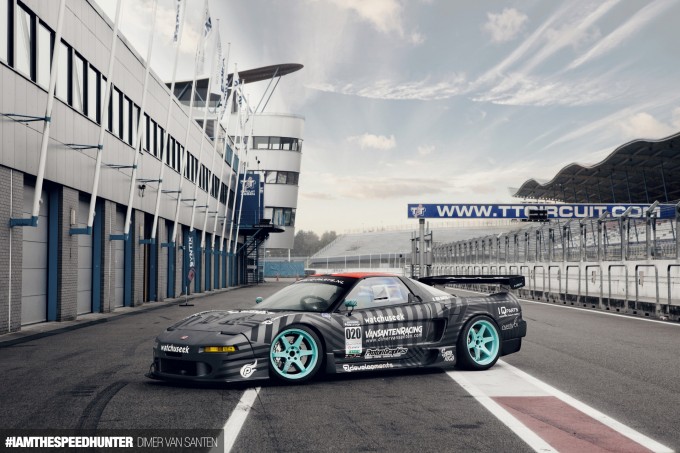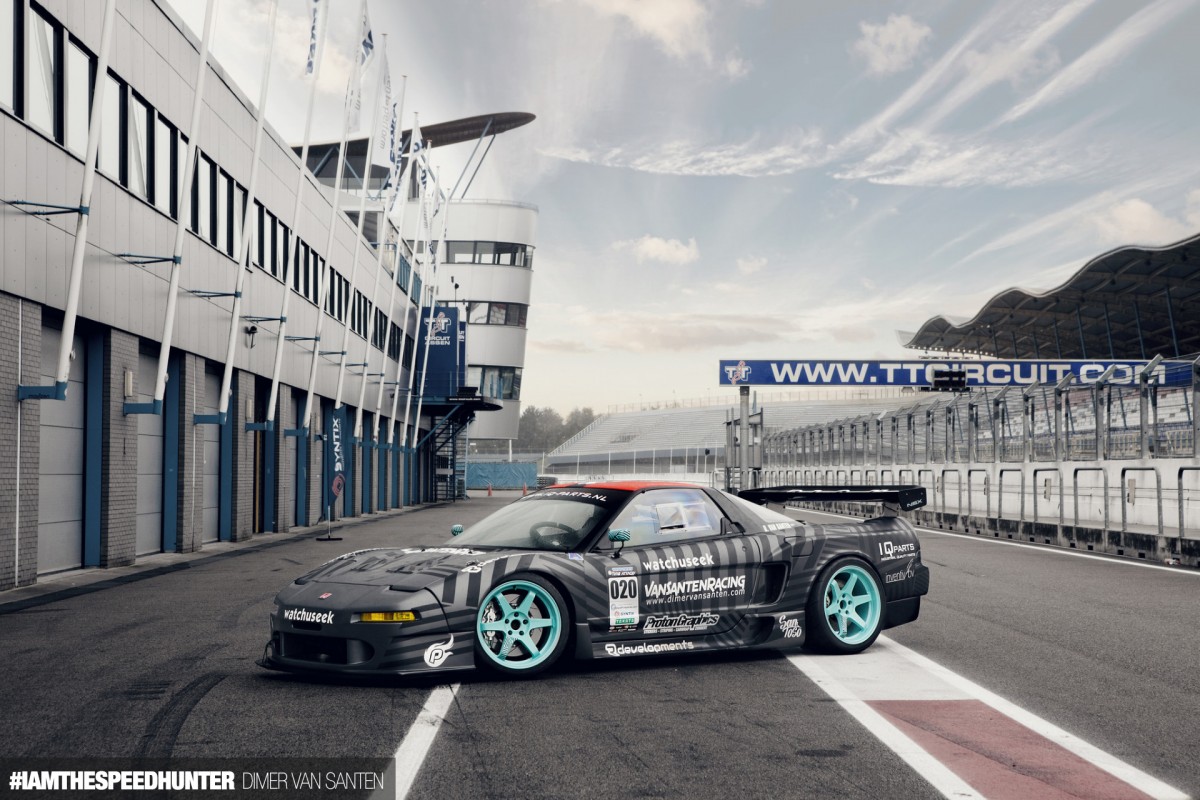 We couldn't run a VTEC feature without at least one NSX, right? This is Dimer van Santen's supercharged NA1 NSX project, and not only does it look cool and been built to perform, it has a pretty neat story behind it too.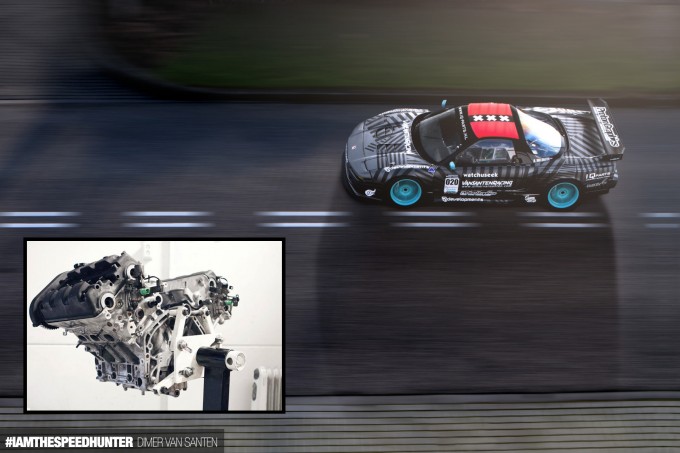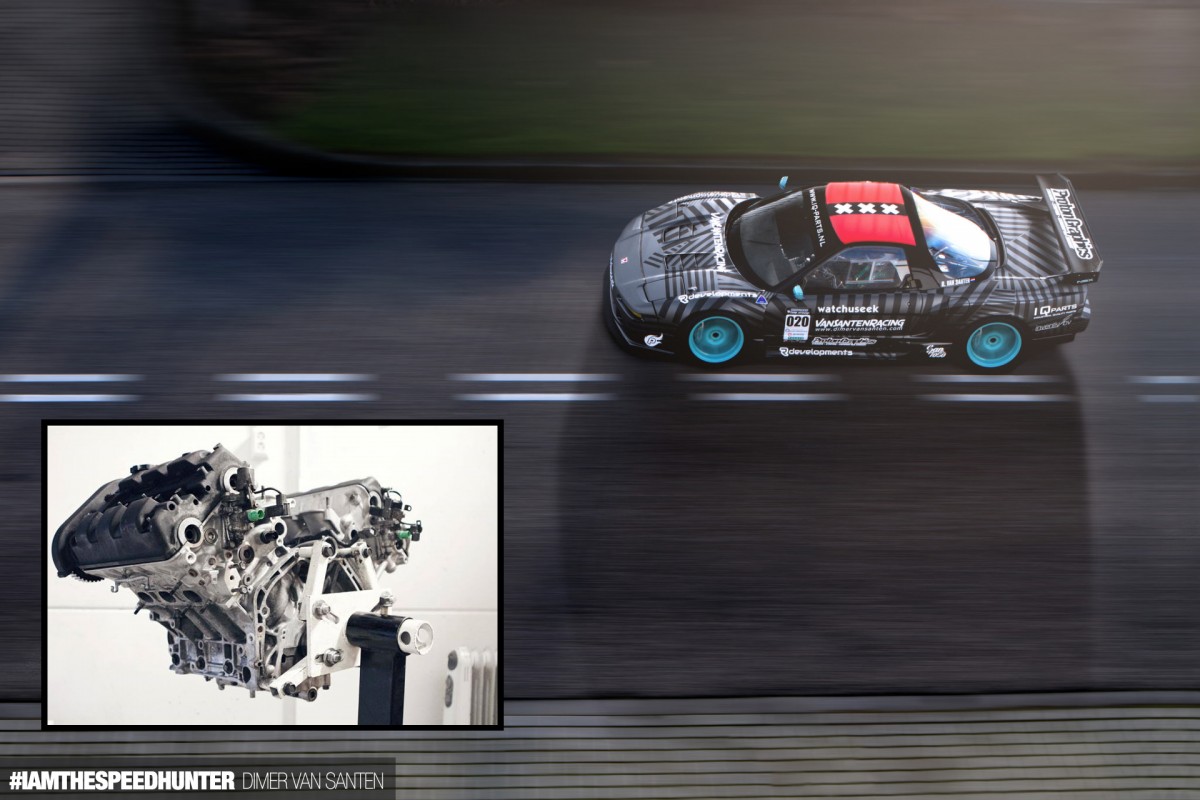 Dimer's NSX used to belong to his father, who raced it in the NSX Trophee in Europe. After 10 years of racing, Dimer took over the project and rebuilt the car to compete in time attack events. Along with the help of friends, the C30A engine was torn down and rebuilt with all new parts, and now produces 460hp and 465Nm.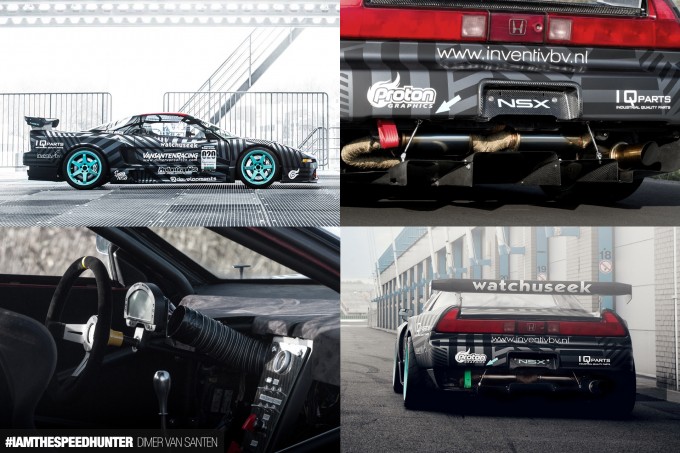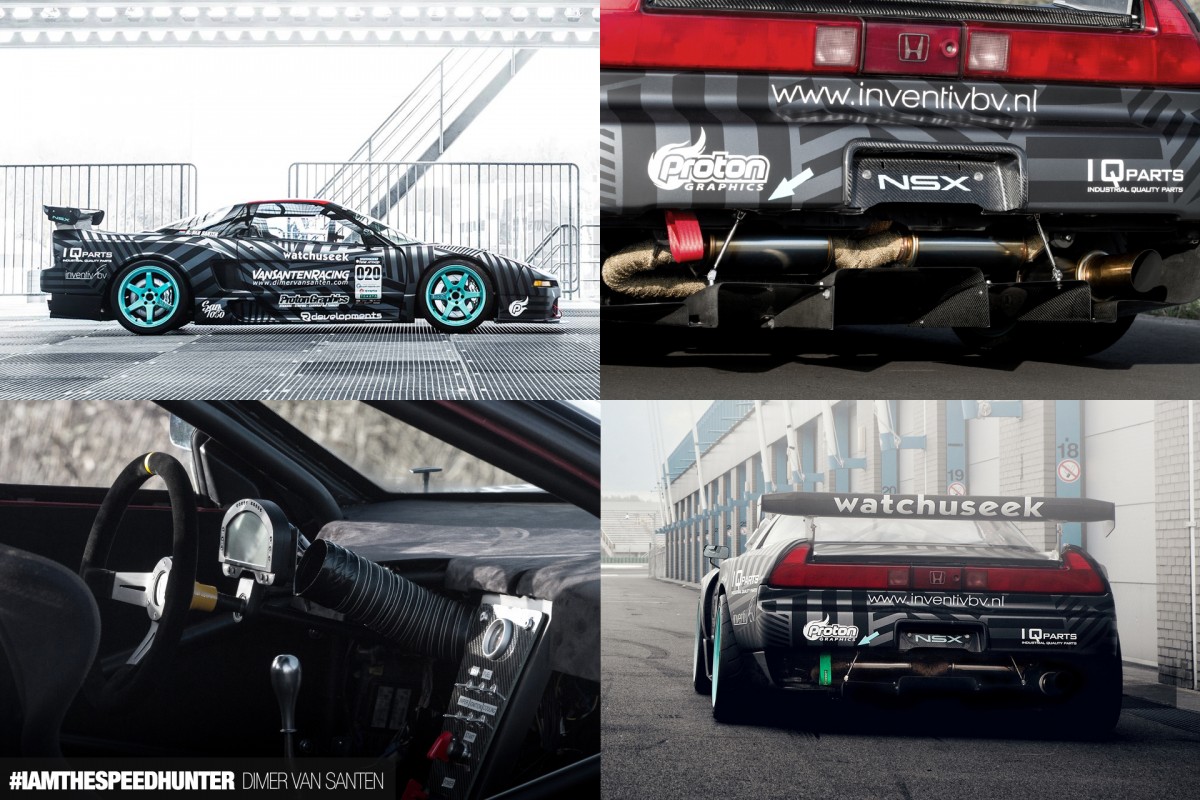 Dimer's NA1 boasts a massive spec list, highlights of which include a CT Engineering supercharger, a VEMS ECU, Wiseco 9.5:1 pistons and Science of Speed forged valves, a Gruppe M Kevlar intake, a Super Taitec C3 model exhaust and CT Engineering headers (both titanium heat-wrapped), KW V3 Clubsport coilovers and a smorgasbord of exterior body mods from names such as Taitec, Seibon, Yokota, Marga Hills, Gruppe M, Downforce and Purple Haze. Dimer also has his eye on a new set of BBS Motorsport centre-lock wheels, which we definitely like the sound of! Full specs and some old photos from his dad's racing days can be found at Dimer's website here.
Kerwin Perez, California, USA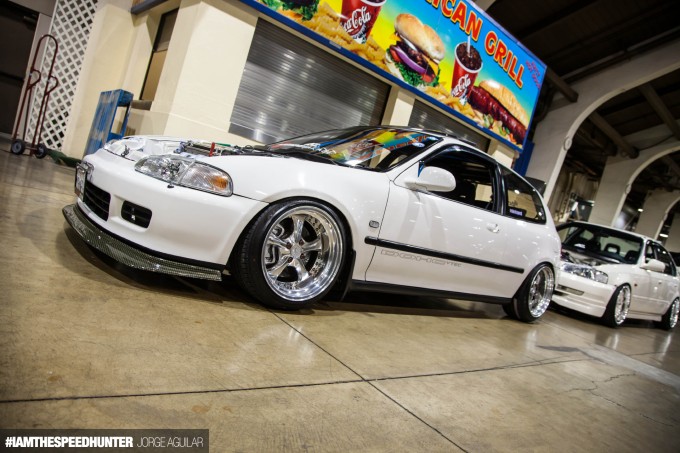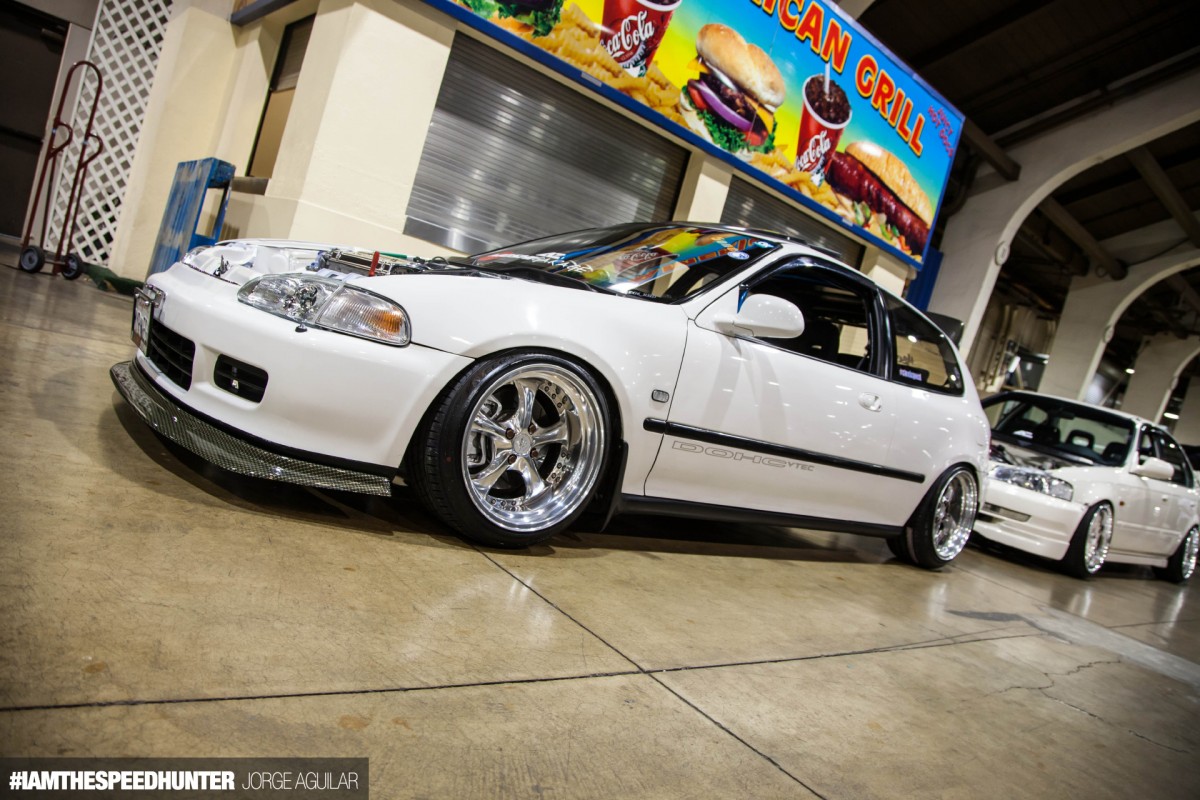 Next up we've got another super-clean EG Civic owned by Los Angeles resident Kerwin Perez. Kerwin has gone all-out with customising his right-hand drive Civic to his exact personal tastes, and those shiny re-barreled Work VS-KF wheels are just the beginning…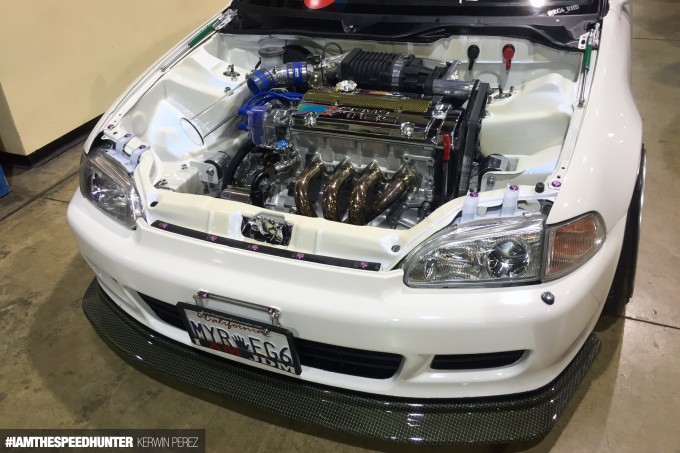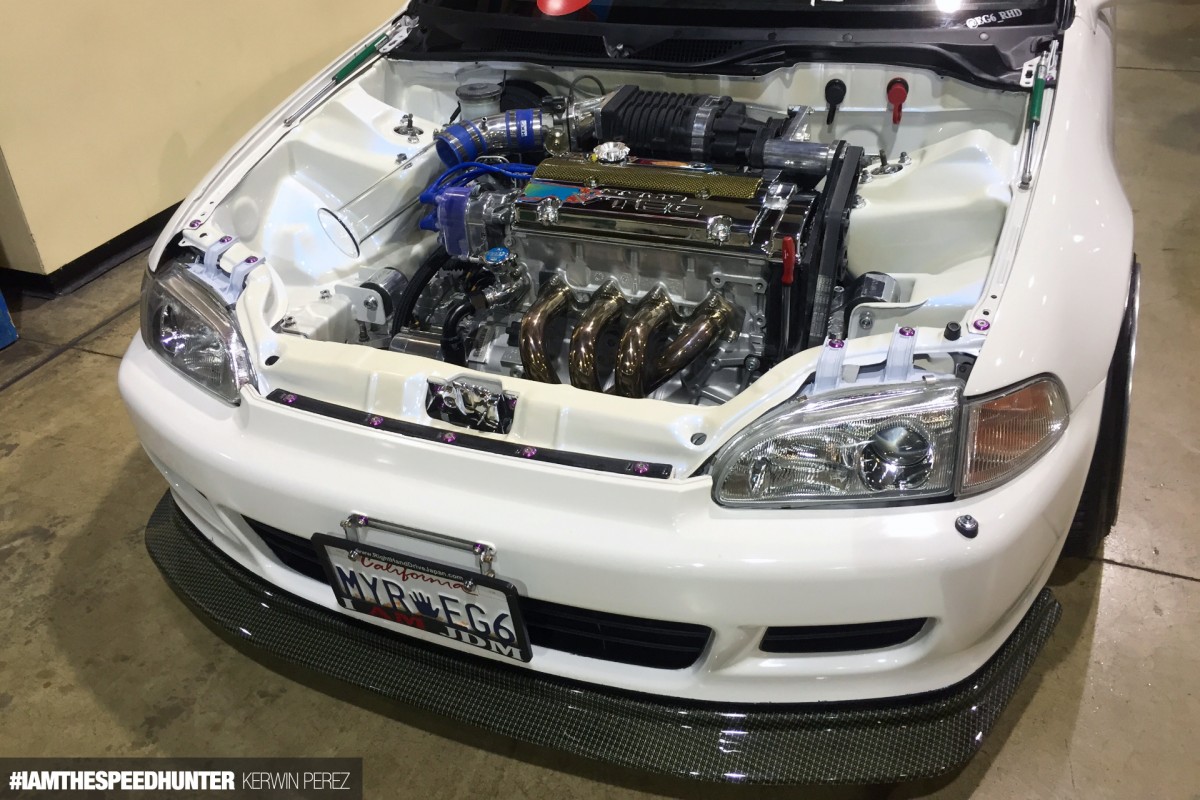 Kerwin's main goal with this build was to do something that would really stand out, and although it might not look that different from the outside, things definitely get a bit crazier when you pop the hood. Kerwin tells us, "K-series engine swaps are great, but they're quite common nowadays. The Honda H-series engines are often overlooked, so I decided to go with a supercharged H2B setup – it's not something you see that often". Kerwin's engine bay sure does look pretty, but the real eye catcher has to be that glass intake!
Hondas Gone Wild
Frederic Jean, Québec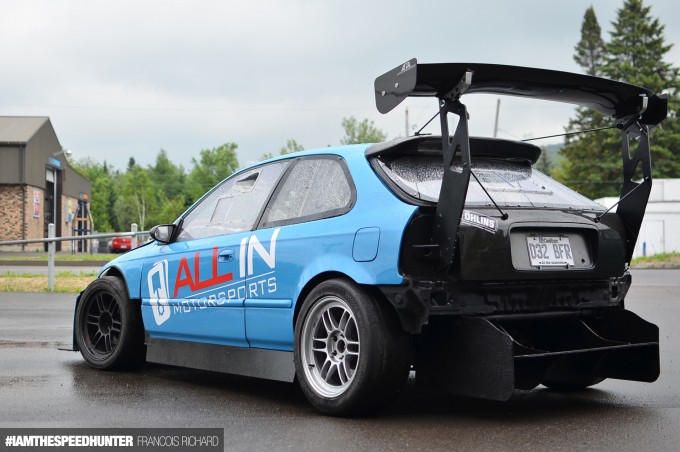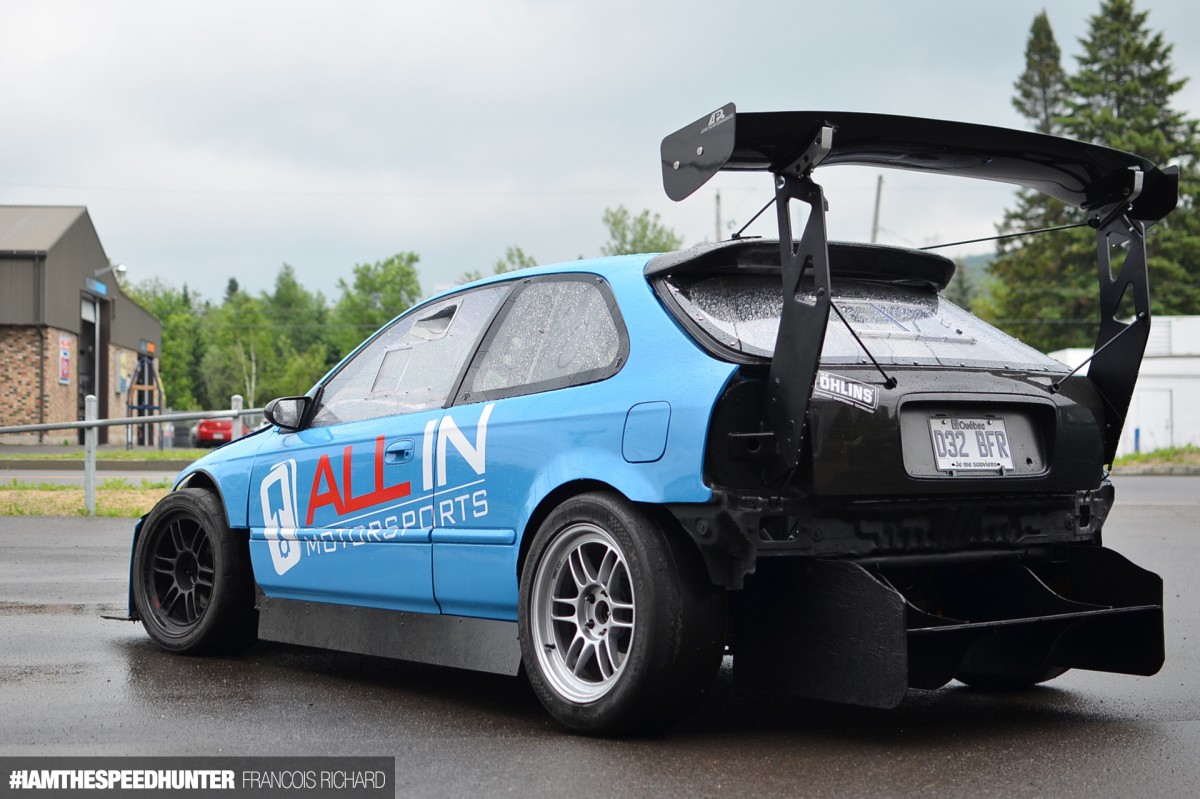 Onto something a bit more wild now… Frederic Jean has shared with us these images of his Honda EK Civic project, which as you can see is sporting some pretty crazy aero! Keeping to a strict budget, Frederic has built everything himself, with the goal of a lightweight, well-balanced and highly-strung track racer in mind.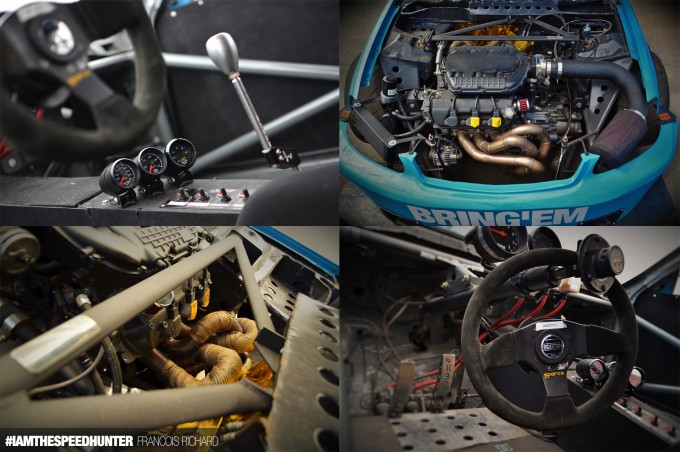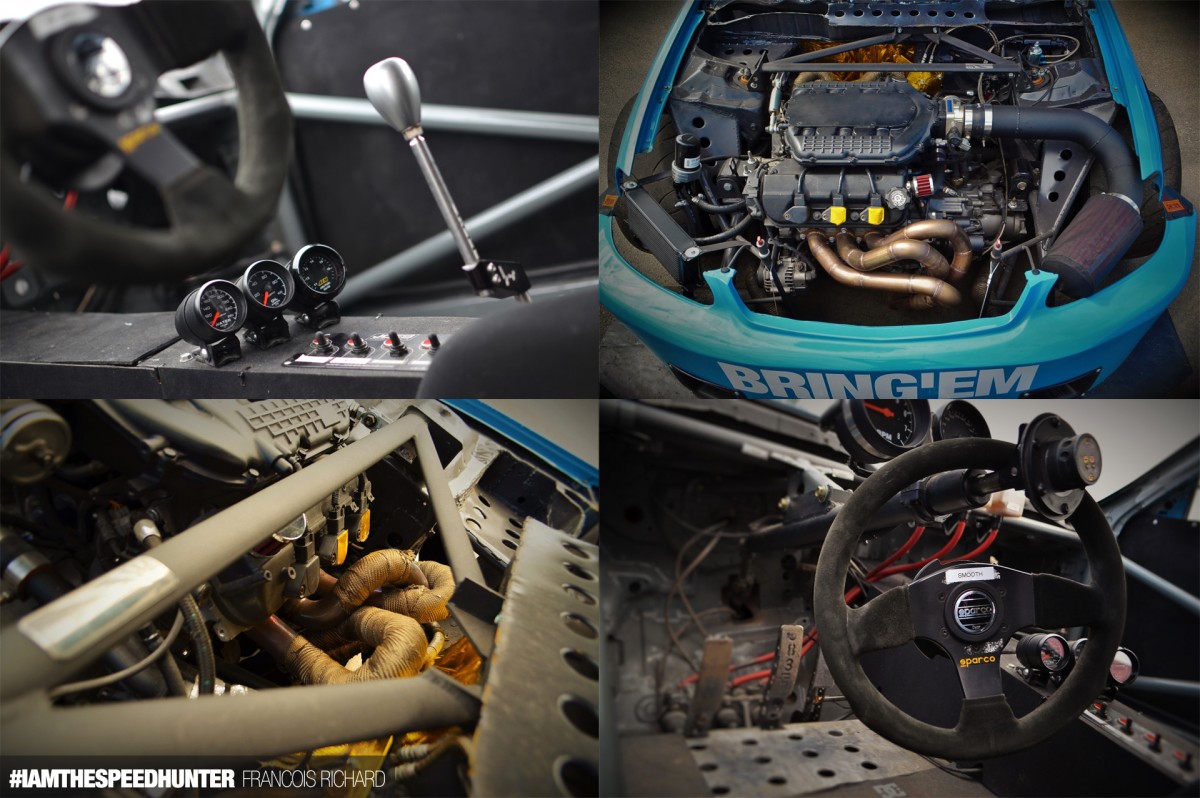 The EK is powered by a high compression 3.6-litre Honda V6 with a big throttle body, cams and custom headers, and is good for a cool 360whp – pretty impressive for a 930kg car! The front consists of a tubular chassis with the radiator relocated to the rear of the car, and the driver seating position has been moved as far back as possible for better weight distribution. It also features Enkei RPF1 wheels, (18×10.5-inch and 17×9-inch front and rear respectively), with stopping power from Wilwood 6-pot brakes up front and STI Brembo items at the rear. So, what's it like to drive? Frederic uses the words 'raw' and 'aggressive in every way' – a pretty good indication of how nuts this hot little hatch is!
Jet Rabe, Philippines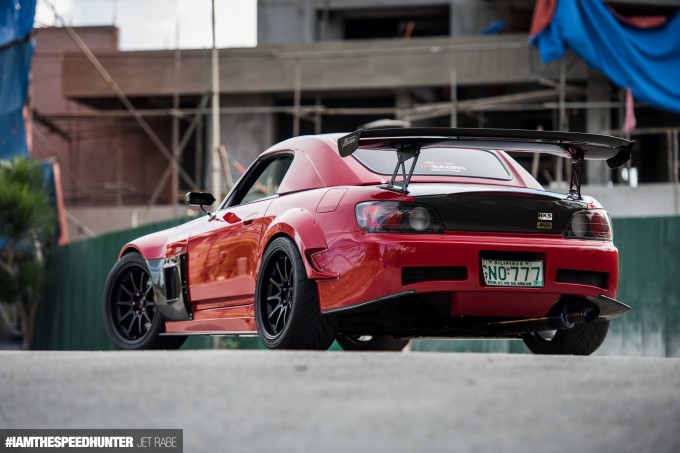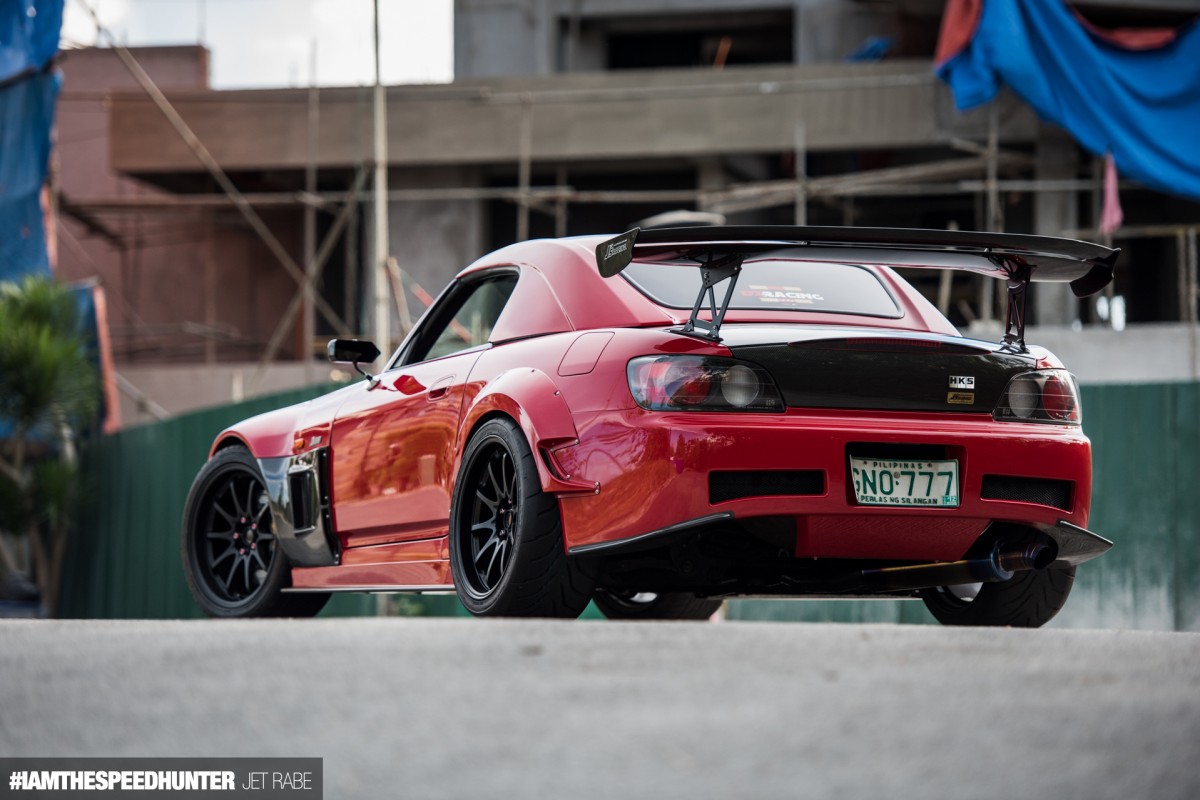 Next up, we've got an aggressive Honda S2000 submitted to us by photographer Jet Rabe. Jet writes, "Although I'm not the owner, I recently had the opportunity to shoot this car and couldn't resist not submitting it. It has to be one of the finest Honda S2000 builds here in the Philippines!". The J's Racing body kit and aero accessories give this convertible a different look, but what about power? That HKS badge on the rear might give you a little hint of what to expect inside…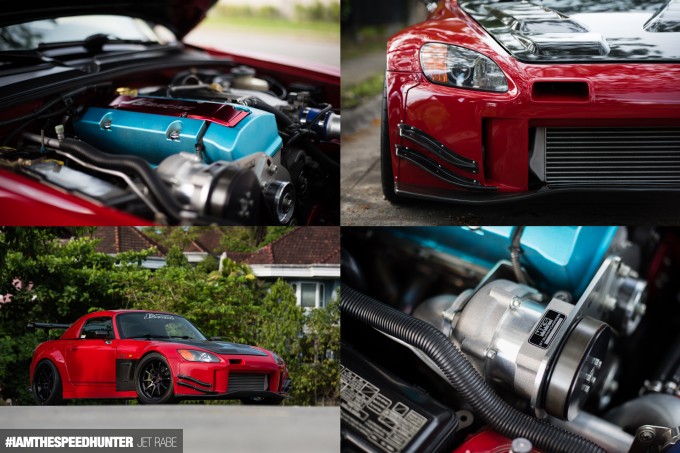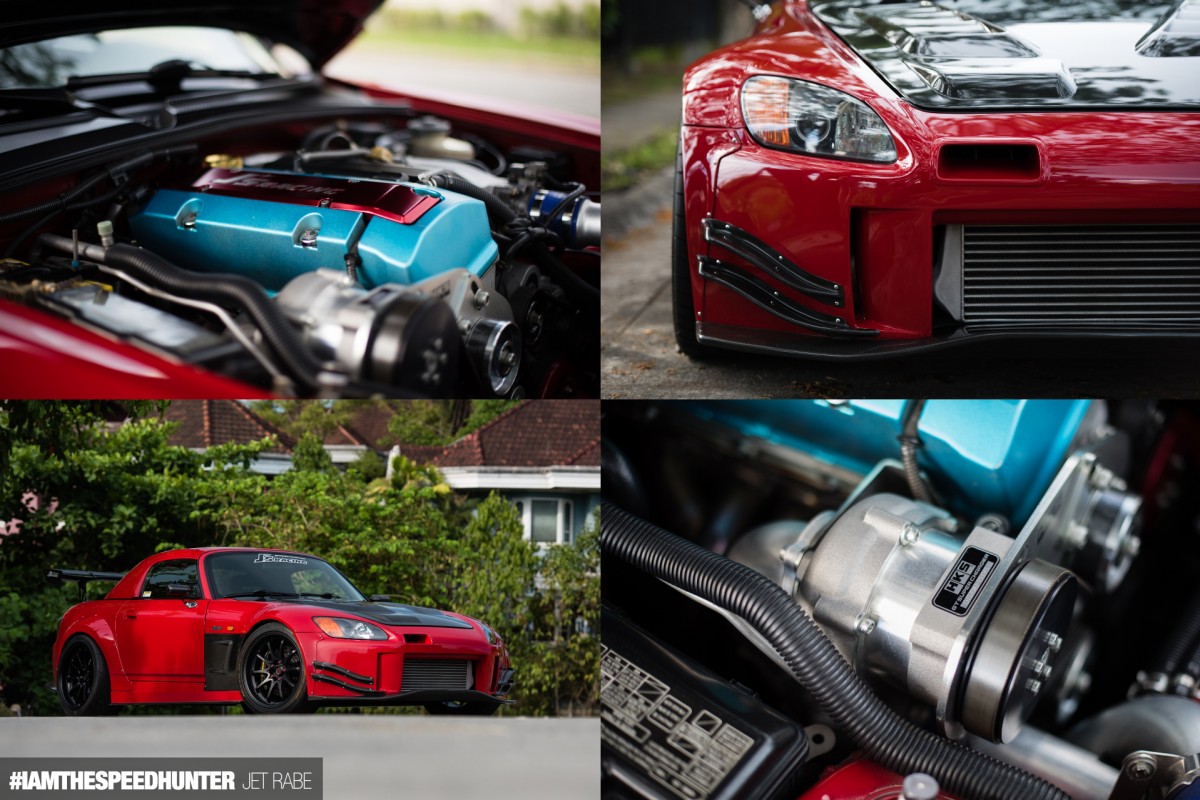 Under the hood, an HKS GT supercharger kit gives the F20C motor an extra kick, while other goodies include an OS Giken twin-plate clutch, BC Racing coilovers, a J's Racing 70mm full titanium exhaust and a Mugen hardtop. The RAYS Engineering Volk Racing CE28N wheels are a tasteful choice too. Owner, Paolo Enriquez writes, "I'm a big of the high-revving F20C engine – the sound of a naturally aspirated Honda is like music to my ears! My S2000 is an ongoing build and it's currently making around 340whp with the supercharger, but I plan to keep modifying it over time. Every time I open the garage, seeing this car there makes me happy." That's the dream, right? Overall this is a simple, well-executed build with a great balance of form and function. Nice one, Paolo!
Chris Weston, United Kingdom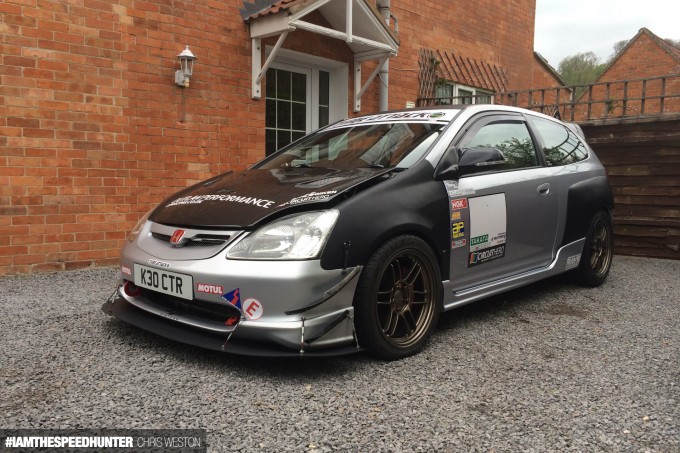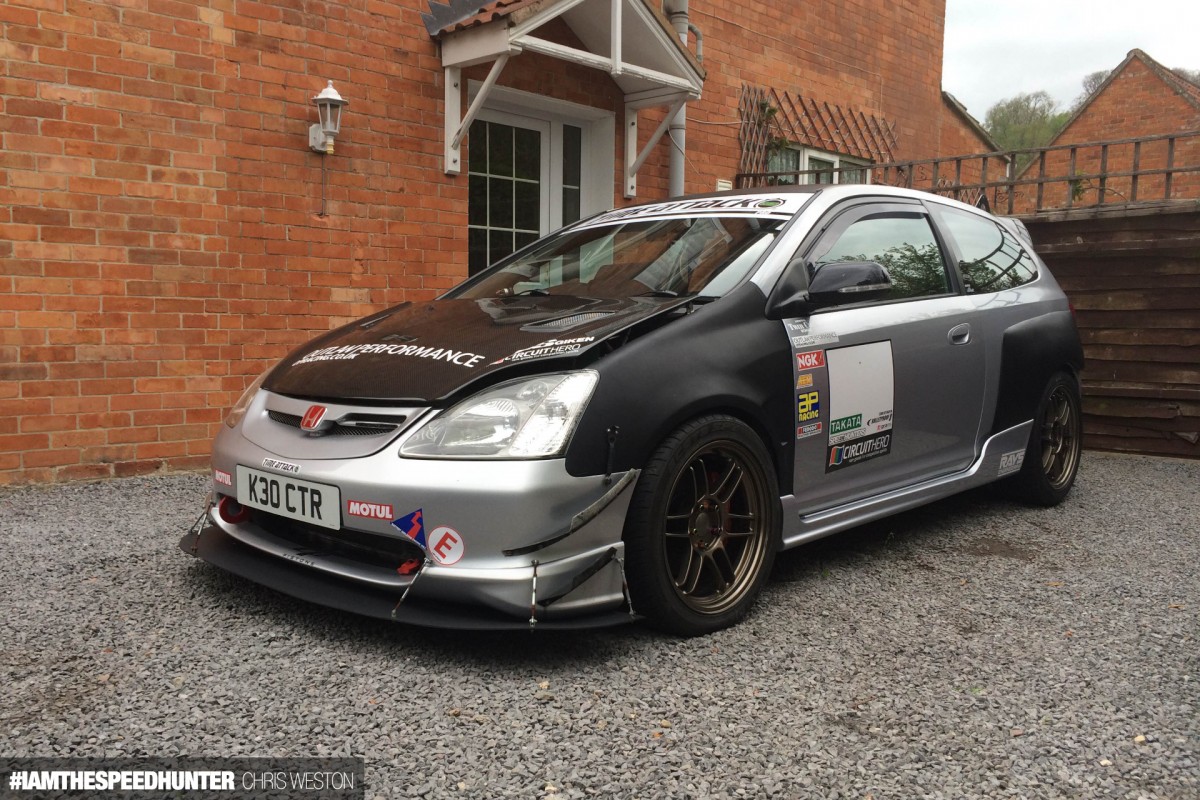 From the Philippines to England now, meet Chris Weston's wide-body EP3 Civic. Chris has spent the last six years modifying his Honda hatch for time attack racing in the UK; a labour of love and devotion that has taken the car from completely stock to the 352hp, fully-forged, 13.5.1 compression, K25-powered car it is today.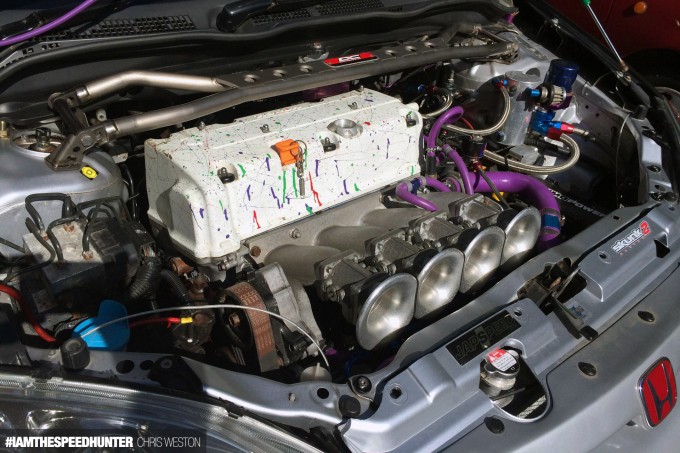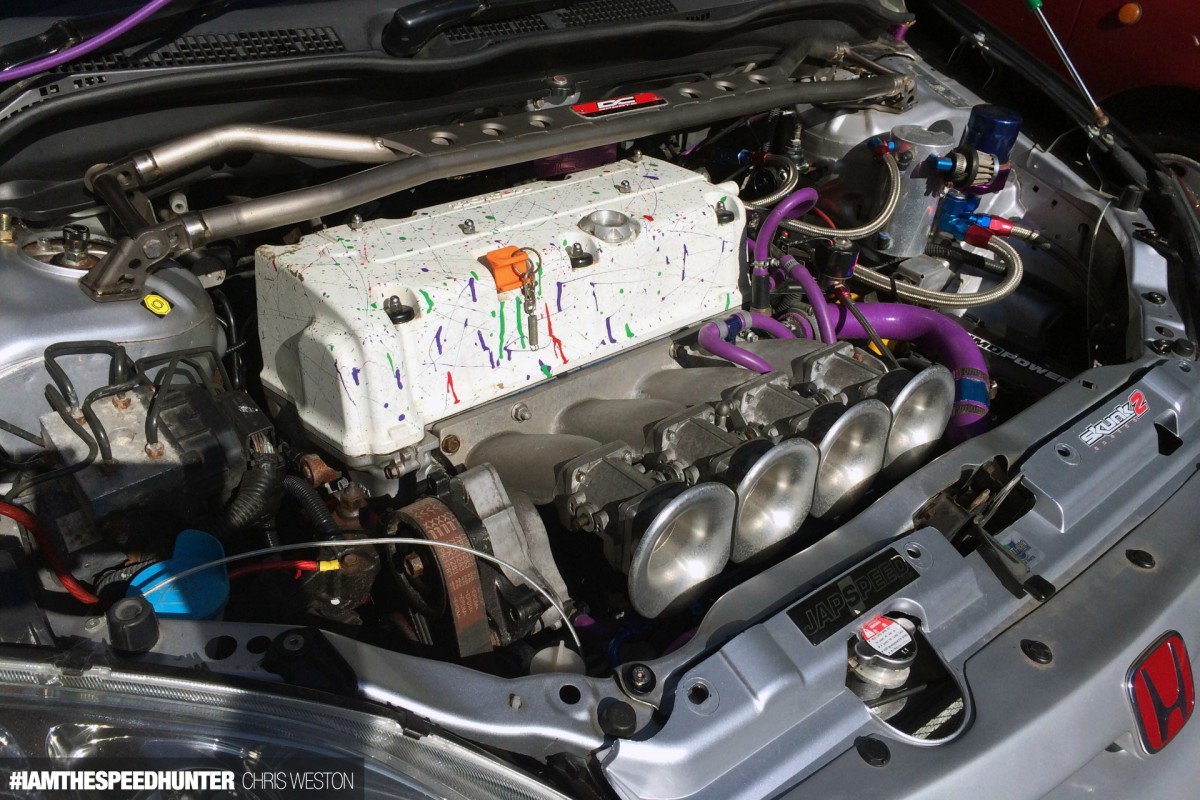 Custom work has been carried out to smooth the head, enlarge the valves and add oil channels to the block, which Chris has done himself along with the help of friends on his driveway and garage at his home near Bristol. With his main source of inspiration coming from time attack events in Japan, Chris plans to keep evolving the EP3 to become lighter and faster and pushing his own limits. If you're interested, you can check out more on his Instagram channel here.
Conor Merrigan, Australia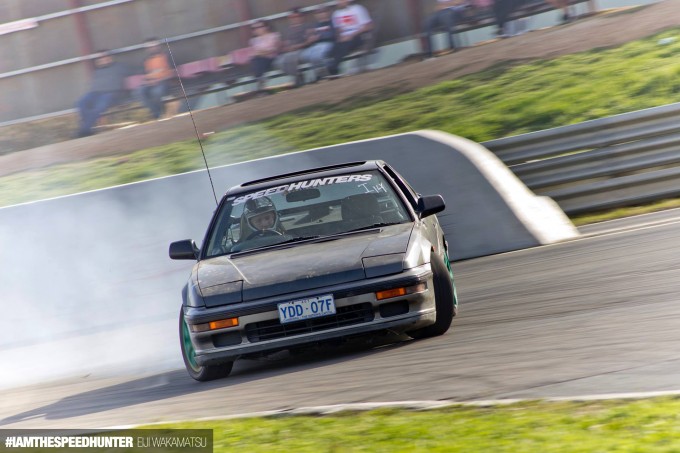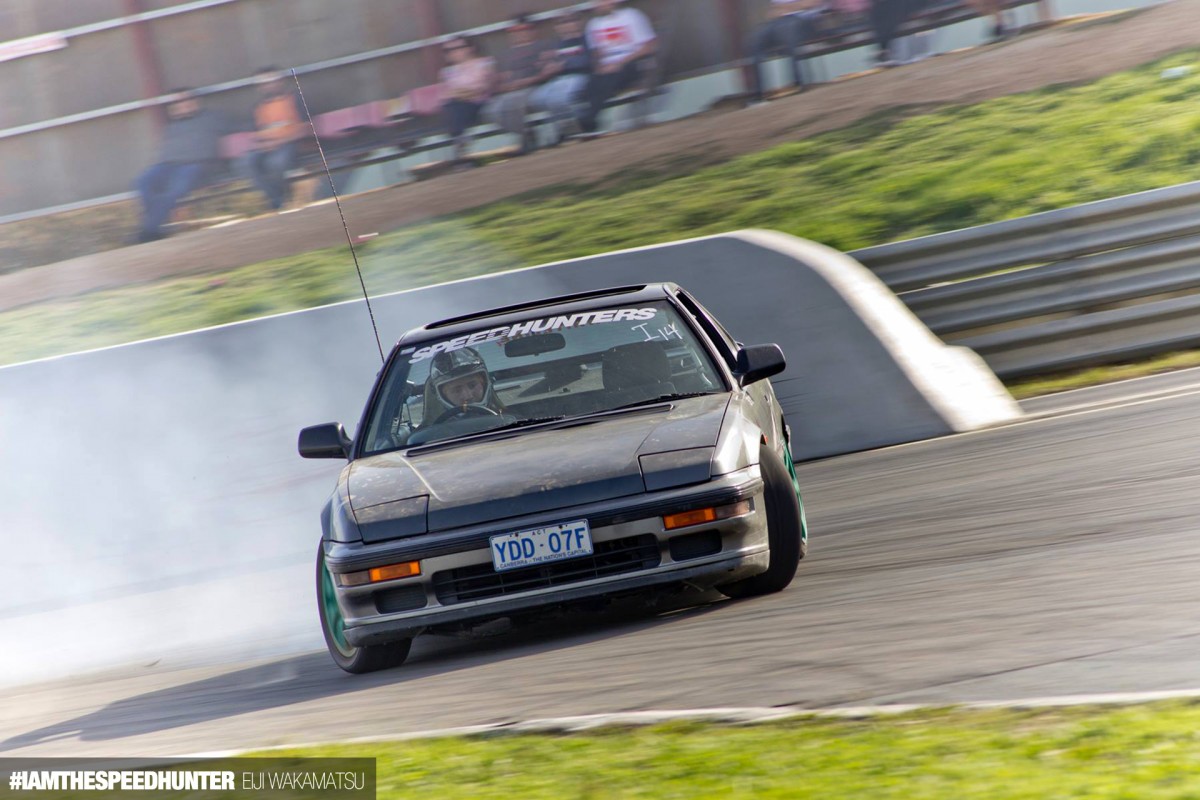 We recently showcased a grassroots Honda drift car here on Speedhunters, which naturally sparked discussion about the 'definition' of drifting. The question is, when you're having this much fun, does it really matter which wheels are driving your car? Back in 2013, Conor Merrigan picked up this '88 Honda Prelude for $700 with the intention of using it as a cheap daily driver. But when his friends started getting into drifting with their Skylines and Silvias, Conor didn't feel the pressure to convert to something rear-wheel drive. "I've just never really got into Nissans, and although I hadn't really seen anyone else drifting an FF car at the time, that didn't really worry me. I thought, why can't I take my car out there?" he explains. Conor's friends were supportive, so he started taking the Prelude along to some track days to see what would happen.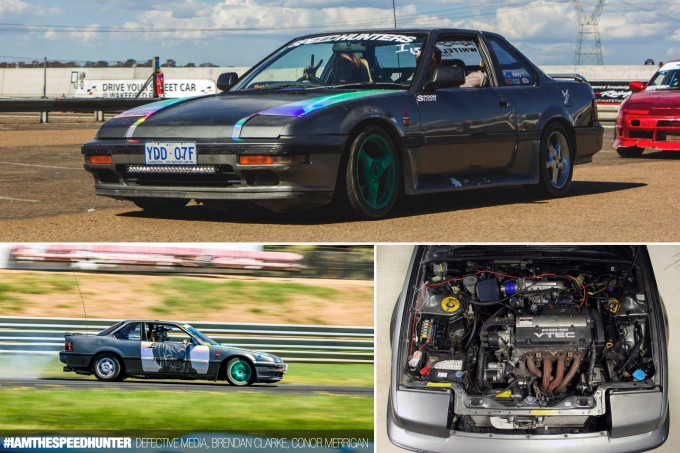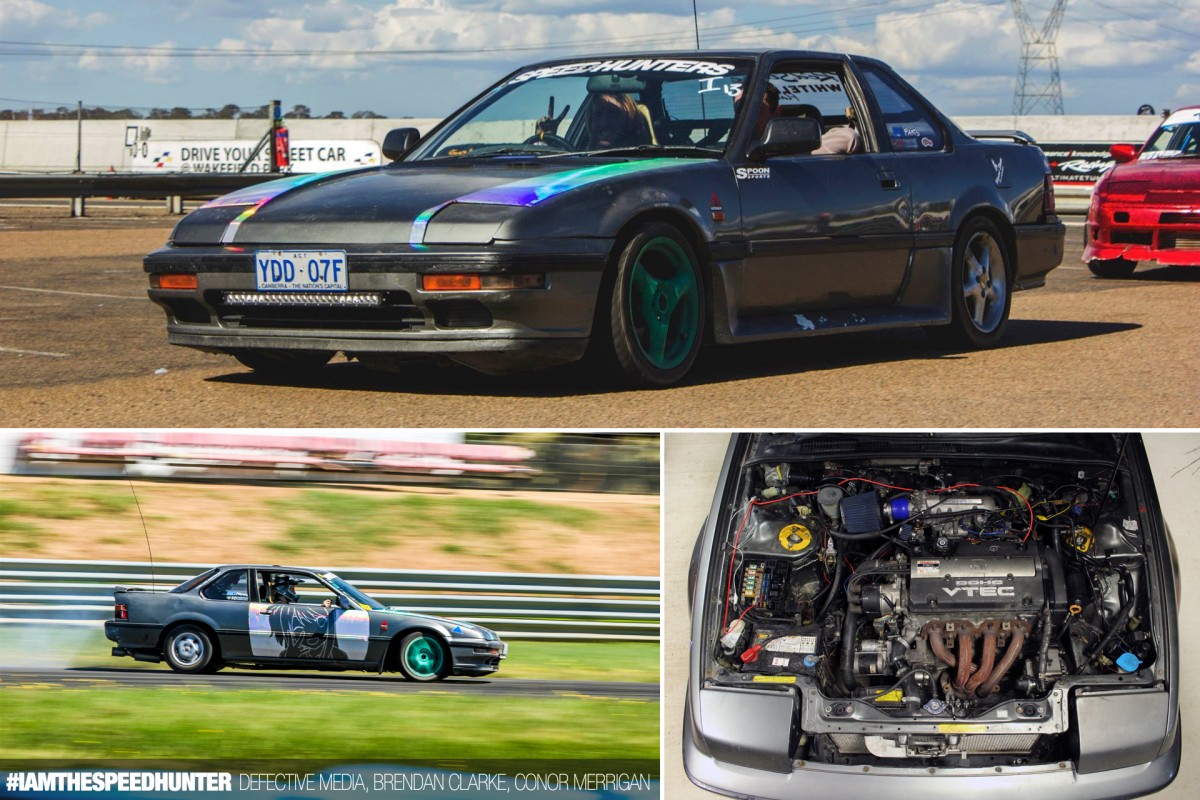 Conor continues, "It was awesome, and I knew I was doing alright because people were constantly asking me if the car was RWD. I even had people looking in the engine bay and asking me how an east-west layout engine was RWD!" As Conor improved, the original 75kW B20 motor wasn't really cutting it for him anymore, (despite it having travelled over 400,000km without having any issues!), so he managed to source a 5th generation Honda Prelude with an Aussie-spec H22A4, which he managed to shoe-horn into the third-gen Prelude's much smaller engine bay.
Conor tells us that it took quite a bit of work to get the H22 motor to fit, but with the help of bonnet spacers he got there in the end – his trusty Prelude still has to serve him as a daily driver, after all. The swap looks far from tidy, but that's never what this project has been about. Whether it's 'counted' as proper drifting or not, Conor doesn't really care – as long as he's having fun getting sideways out on a race track, he's happy!
Jon Hsu, Colorado, USA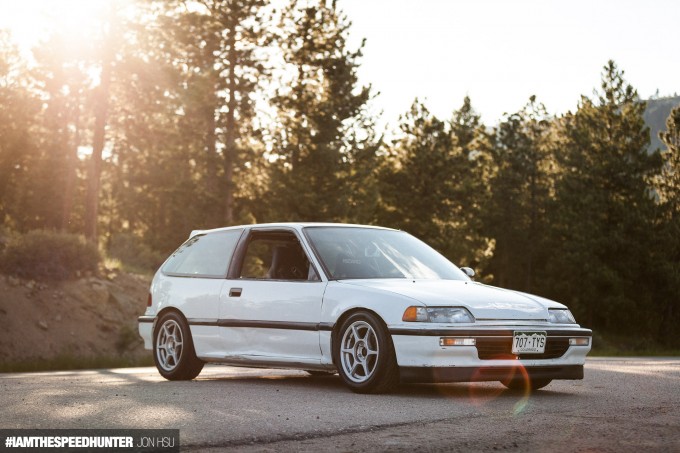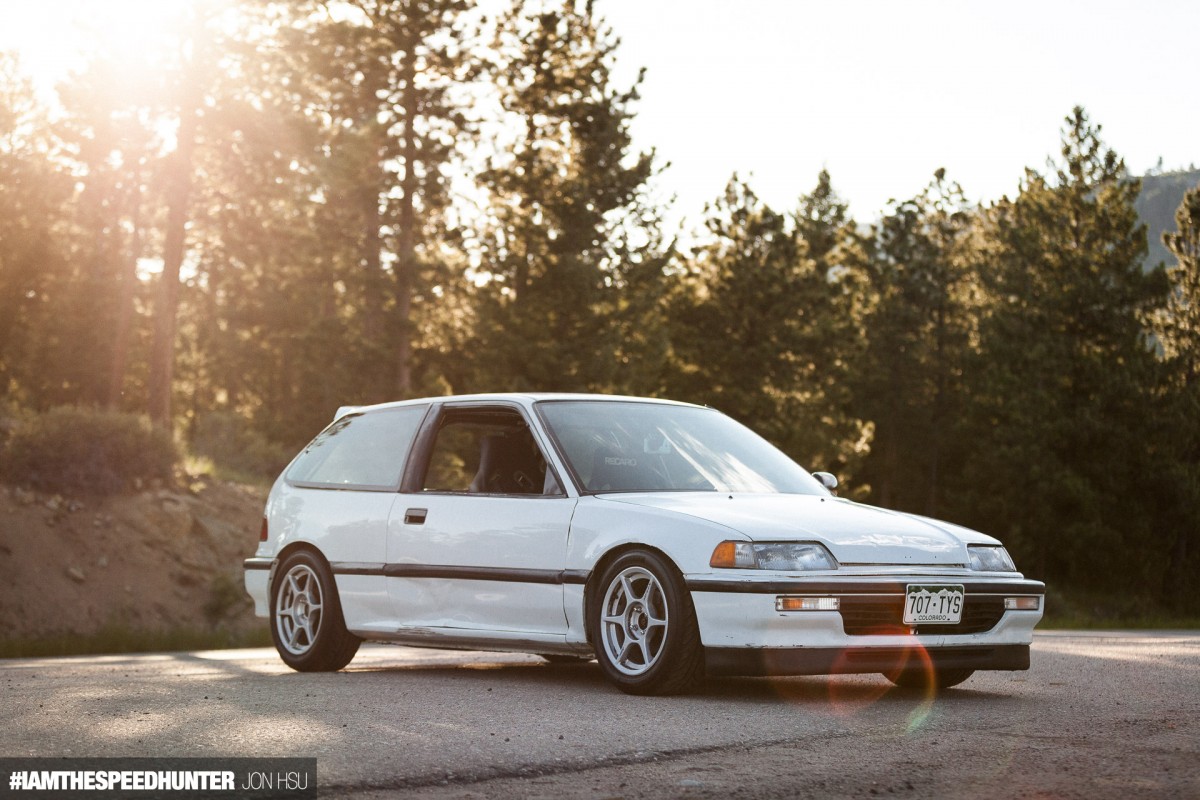 Last but not least, we've got Jon Hsu's '91 Honda Civic DX hatchback from Colorado. Built as a dedicated track toy, Jon has modified his Civic around a very simple idea – he wanted to have as much fun as he could, for the smallest amount of money possible. Jon writes, "There isn't a straight body panel on the whole vehicle. But because the entire car was built for around US$6,000, it has enabled me to learn to drive at a limit I would not be comfortable driving a $30,000-plus car at."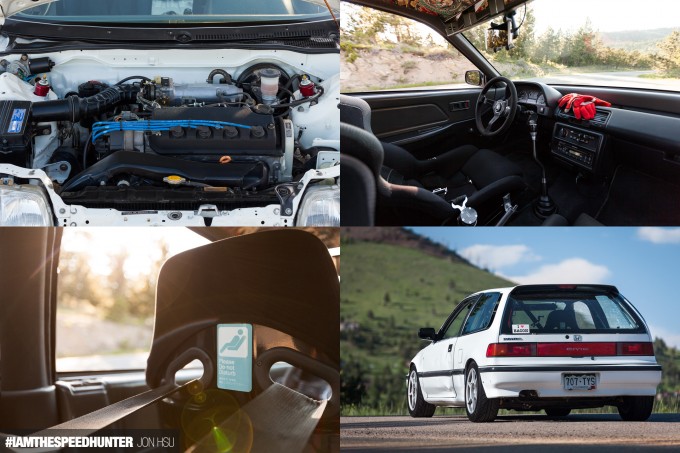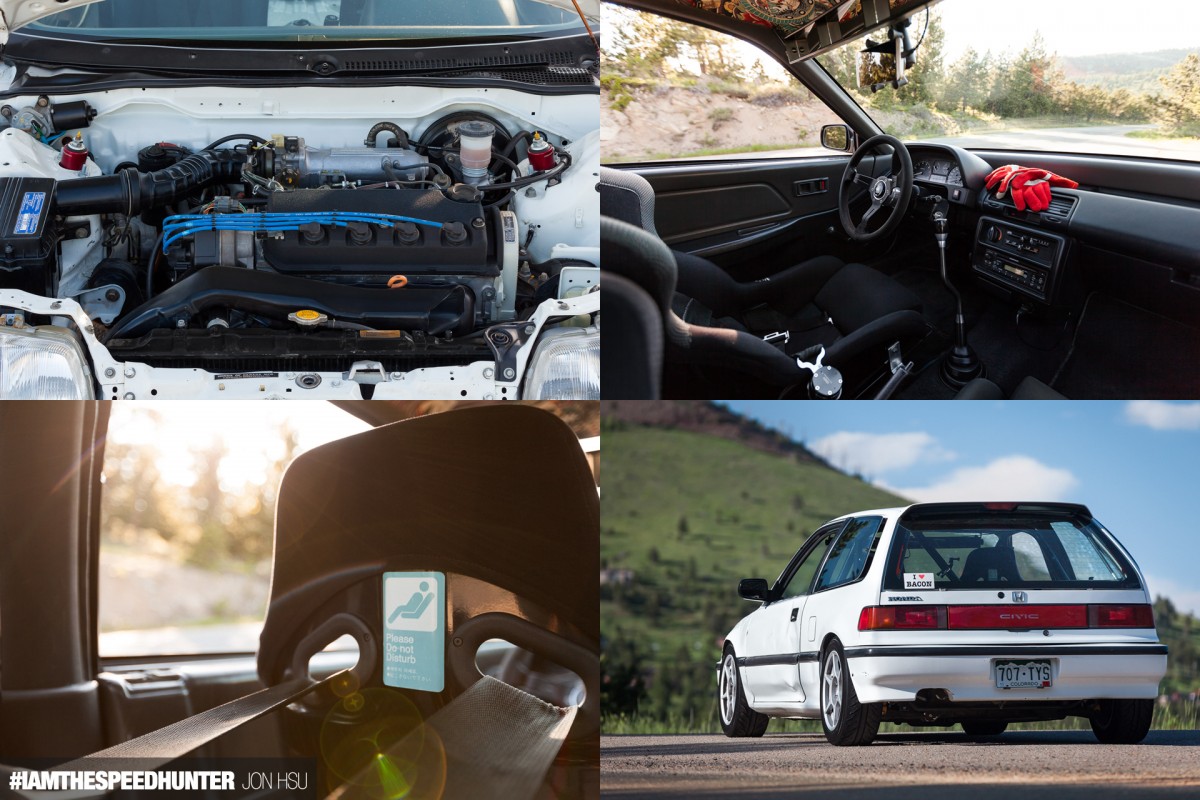 It's an extremely simple setup: a D16Z6 VTEC motor from a '93 Civic EX with some mild head work, a '91 Civic Si transmission, upgraded suspension and brakes, with a bolt-in roll bar, bucket seats and harnesses for protection. It might only make 98hp at the front wheels, but weighing only 900kg the Civic still gives bigger and more powerful cars a good run for their money out on the circuit. Jon writes, "This car puts the largest grin on on my face, and has never had to ride the tow truck home. I can't imagine anything else that could be as cheap, fun, or reliable!" It's by no means the prettiest Civic we've seen, but it sure gets driven to its limit regularly, which we think is awesome.
That's it for this VTEC edition of Reader's Rides, but if you haven't quite had enough yet, keep scrolling and you'll see some more VTEC-powered cars that we couldn't say no to including. Thanks everyone, and happy Speedhunting!
Words by Taryn Croucher
Instagram: taryncroucher
Twitter: @taryncroucher
taryn@speedhunters.com
About #IAMTHESPEEDHUNTER
We created #IAMTHESPEEDHUNTER to allow you the opportunity to share your skills and car culture experiences from around the globe with the rest of the Speedhunters audience. How do you get involved? It's simple…
Instagram – Follow us on Instagram at @TheSpeedhunters and tag your own car culture images with #IAMTHESPEEDHUNTER
Twitter – Follow us on Twitter at @SPEEDHUNTERS and share your tweets with the #IAMTHESPEEDHUNTER hashtag.
E-Mail – If you've been to a cool event and captured some amazing images, be sure to e-mail them to us on iamthespeedhunter@speedhunters.com and tell us a little bit about the event.
Bonus Hondas
Zack Serna, Utah, USA: '94 Honda Civic Cx – 420whp K20A swap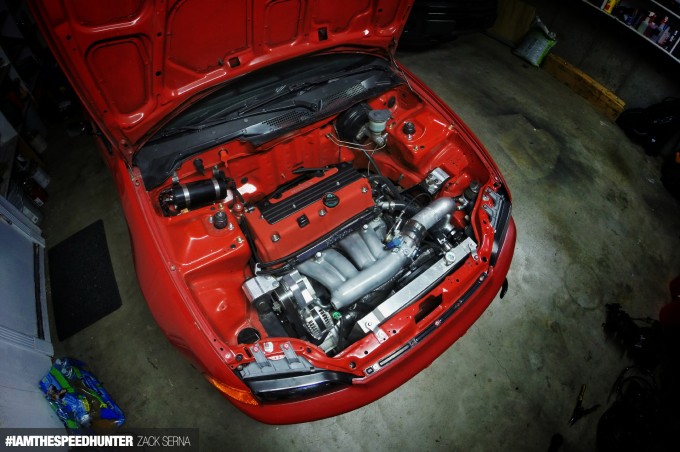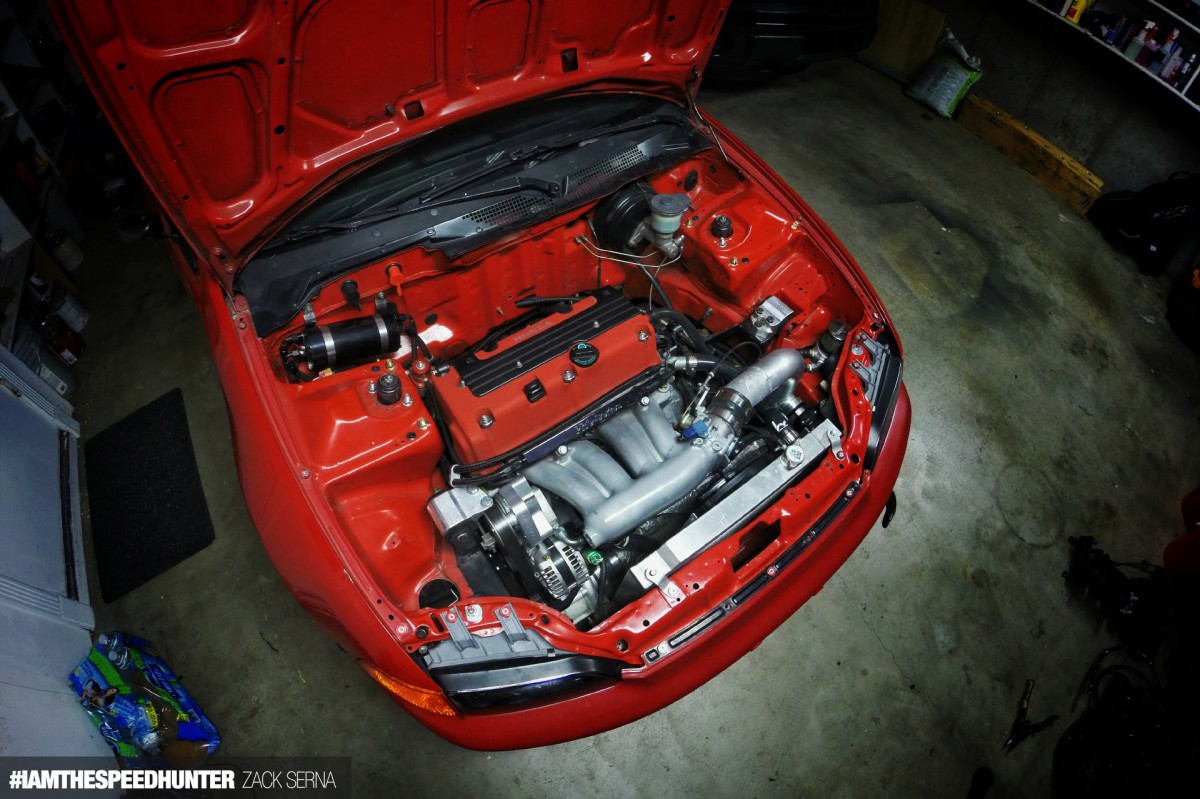 Ben Exell, Scotland: '93 Mini Tahiti – B18C6 swap with 208hp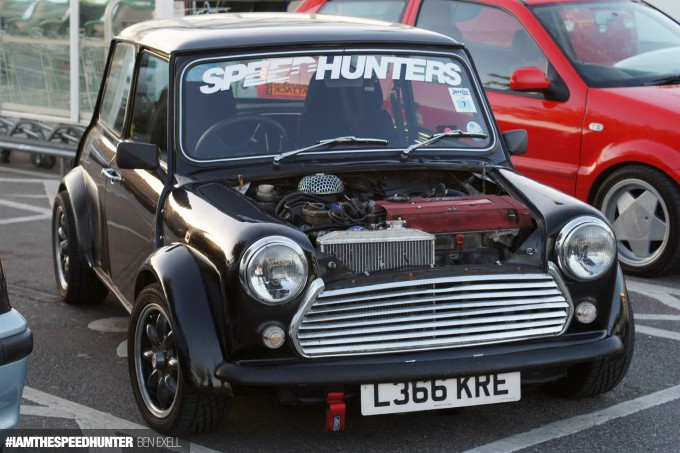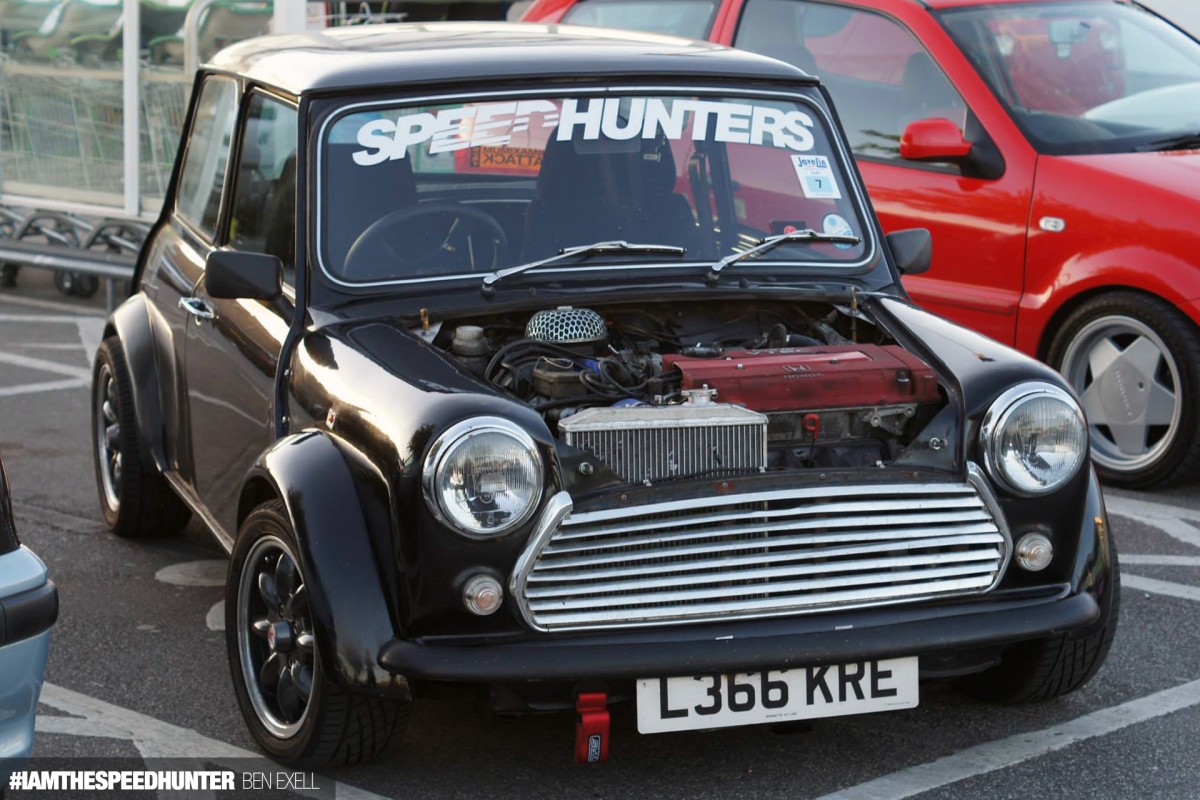 Leon Hartman: The Netherlands – '92 Honda Civic – D16Z6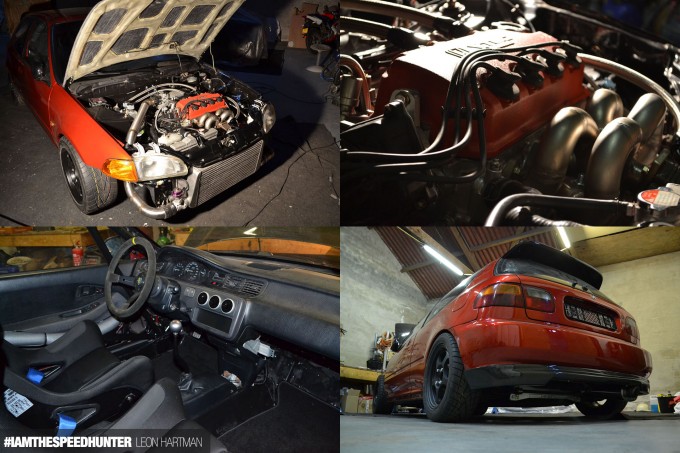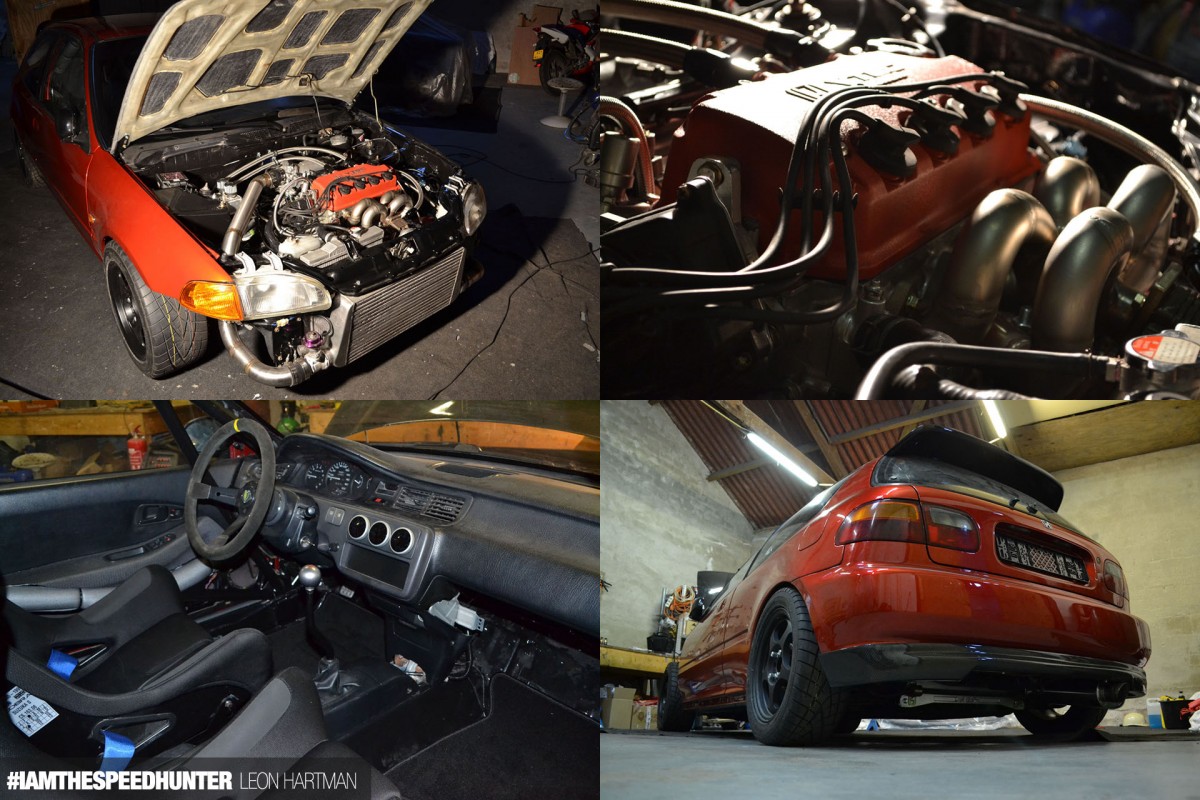 Allen Aznan, Kuala Lumpur: EK2 Civic – K20A swapped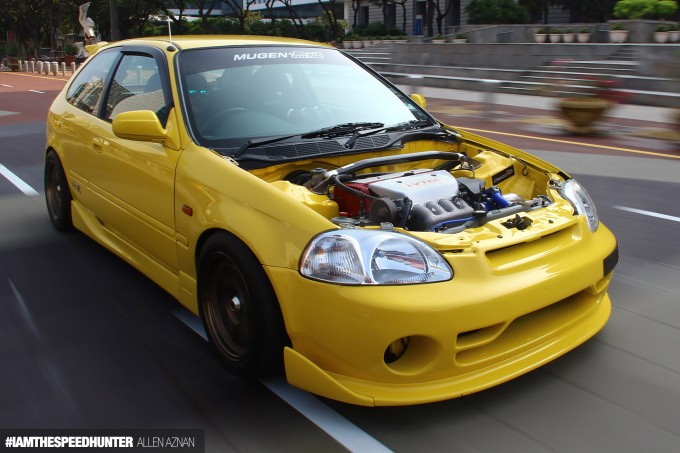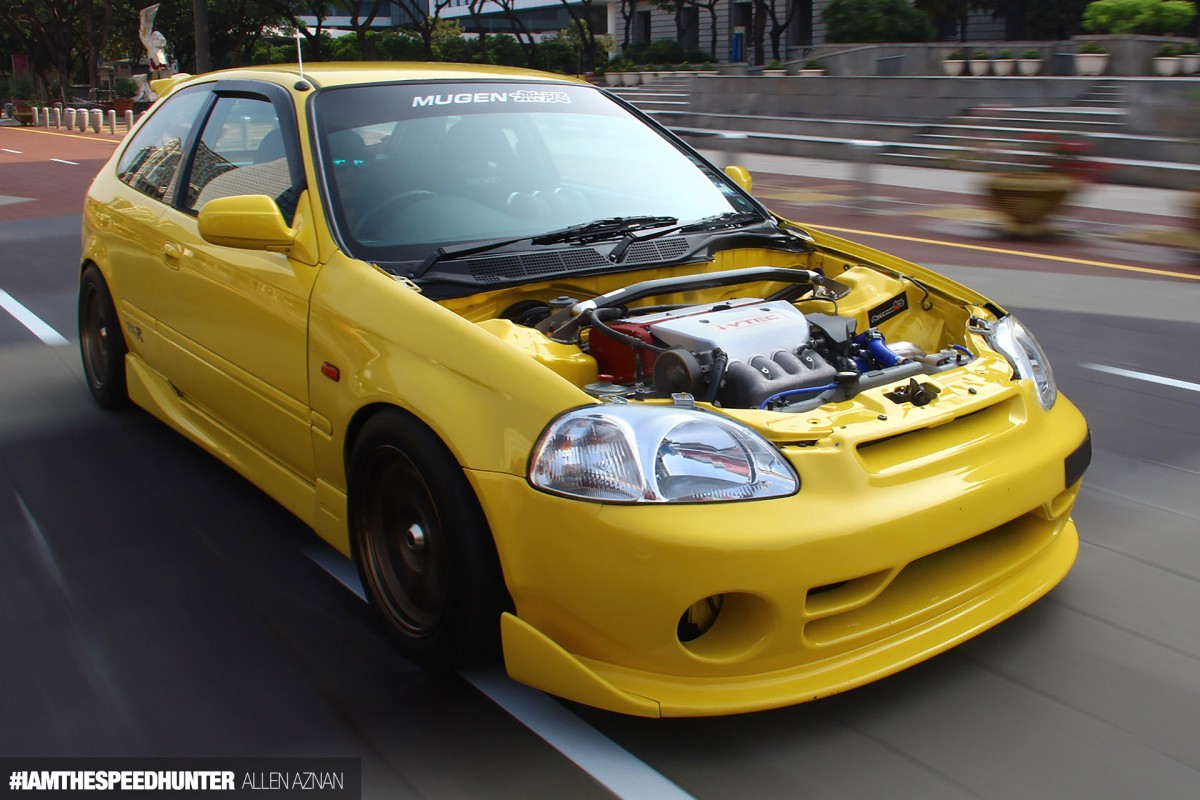 Ricky Dianto, New Zealand: FD2 Civic Type R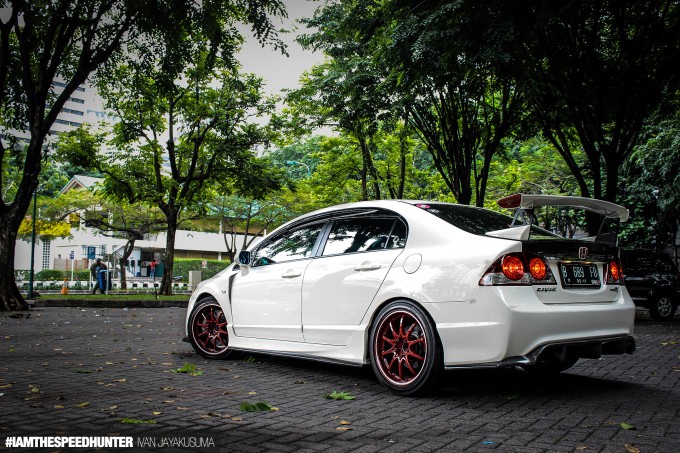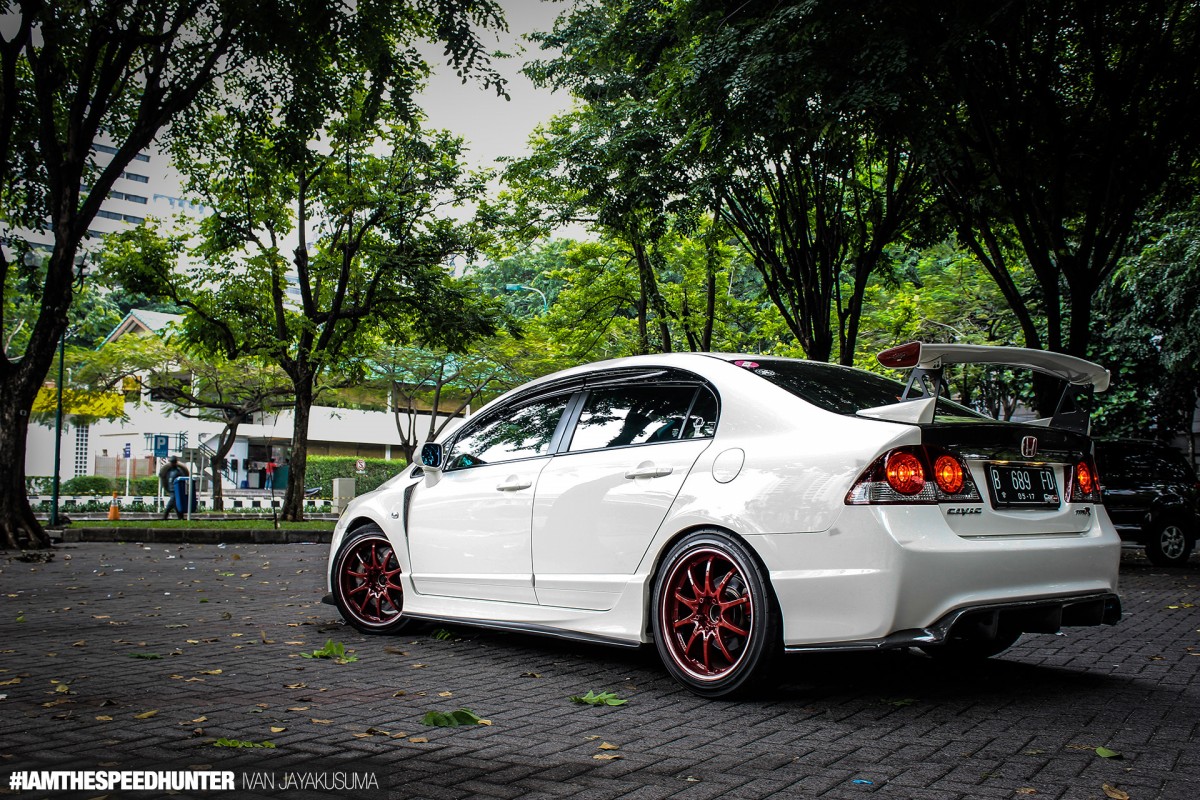 Jeff Tang, Singapore:  EG Civic – heavily modified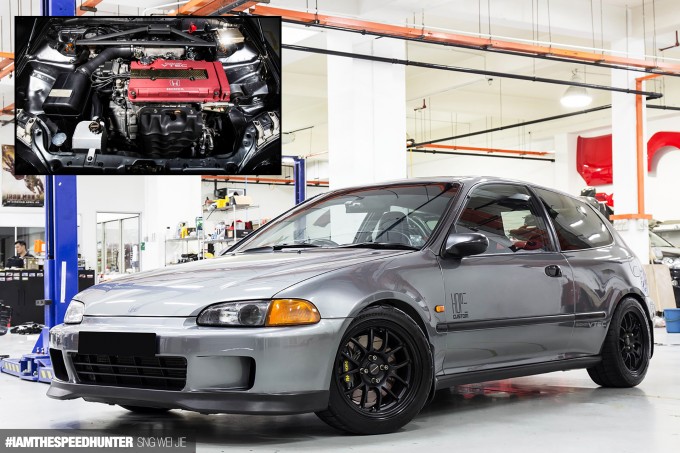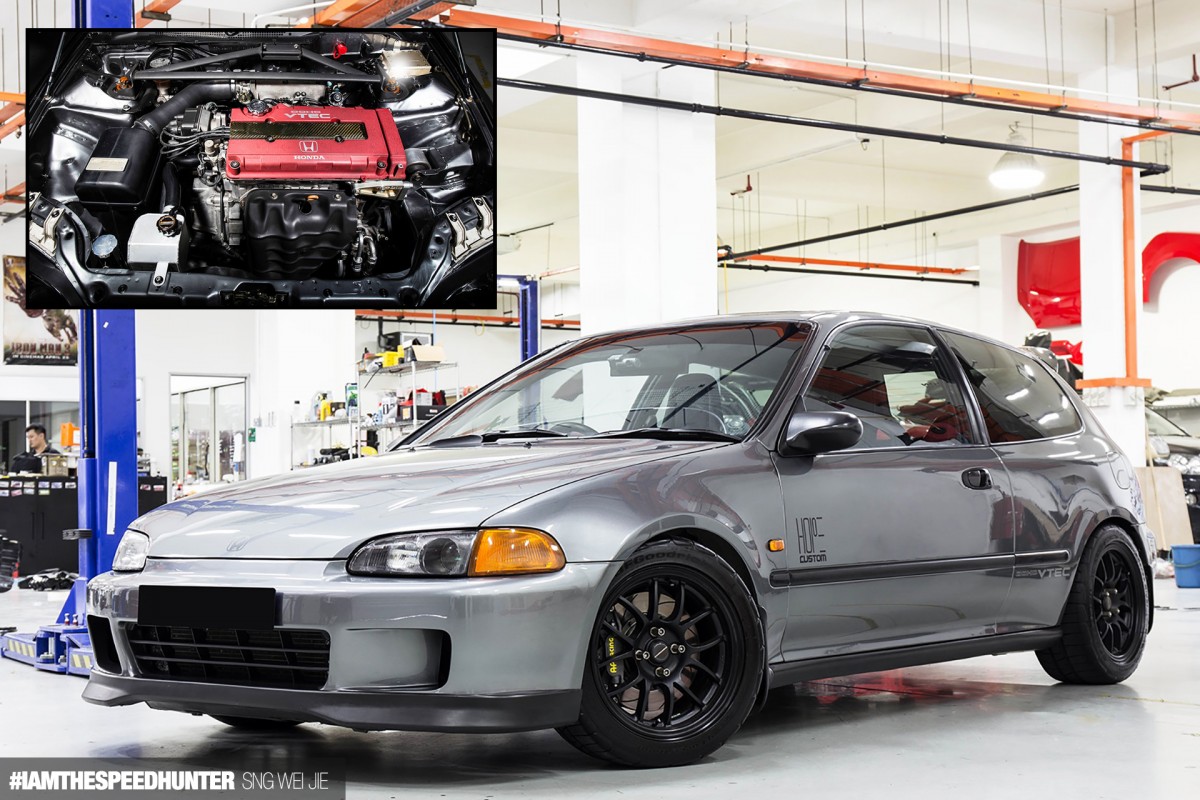 Alex Jones, North Carolina, USA: Del Sol – SiR-II B16A, '92 EG hatchback – K20A Euro-R swapped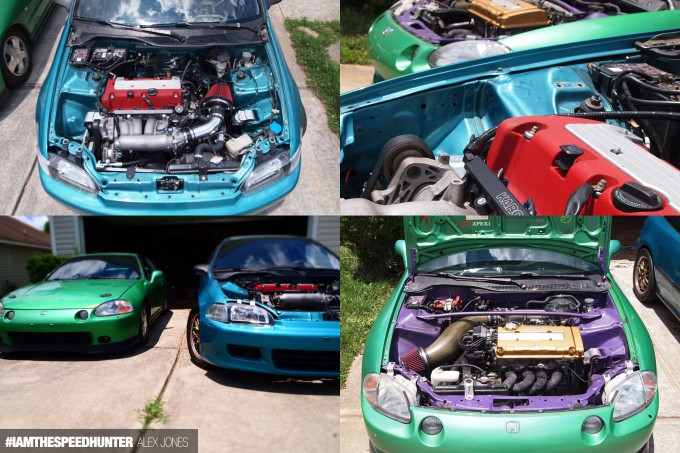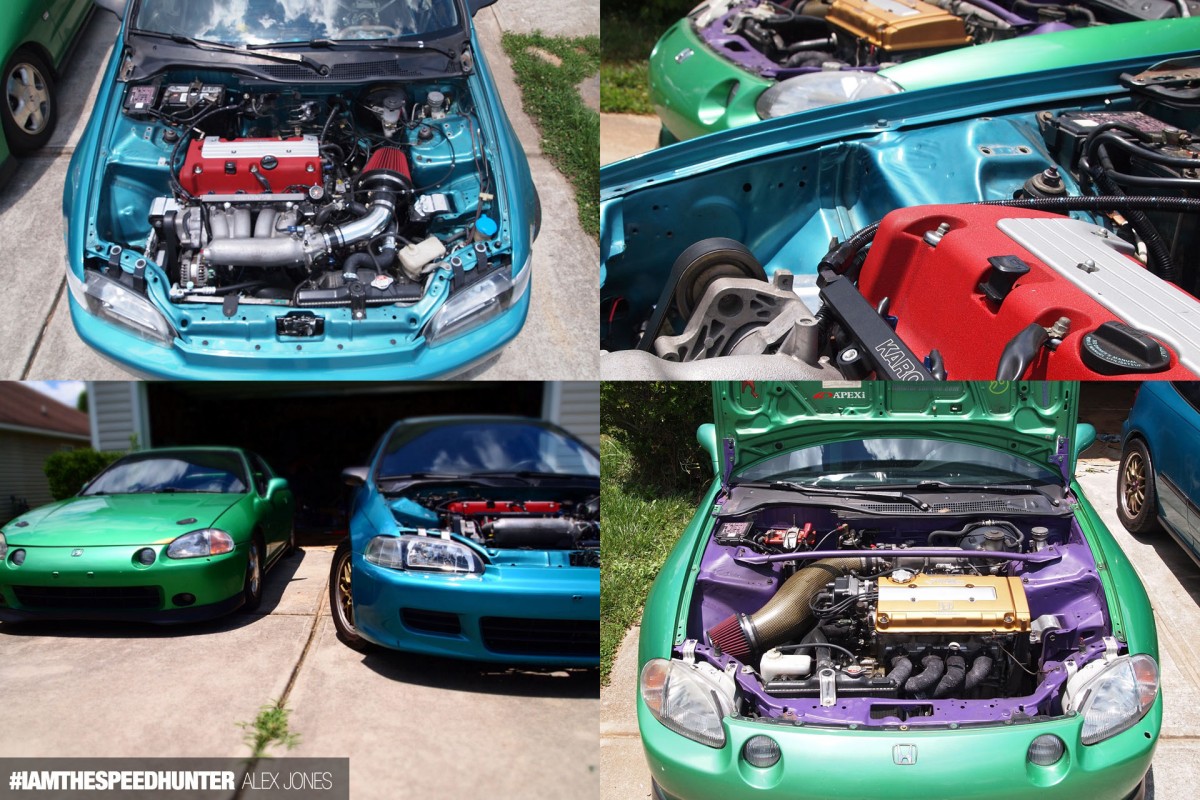 Dan Hayes, United Kingdom: JDM Integra DC2 SiR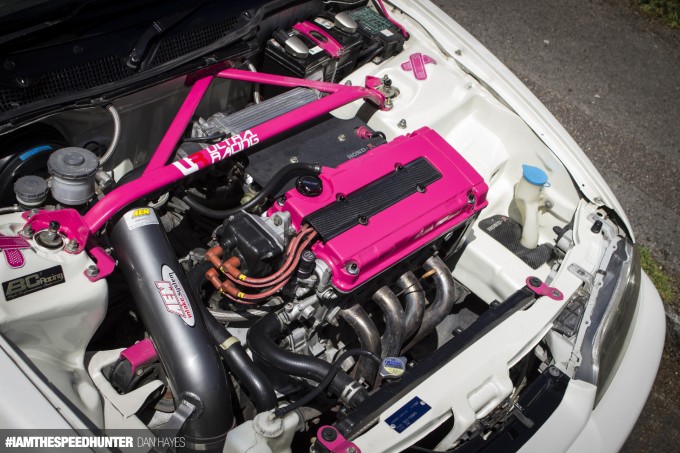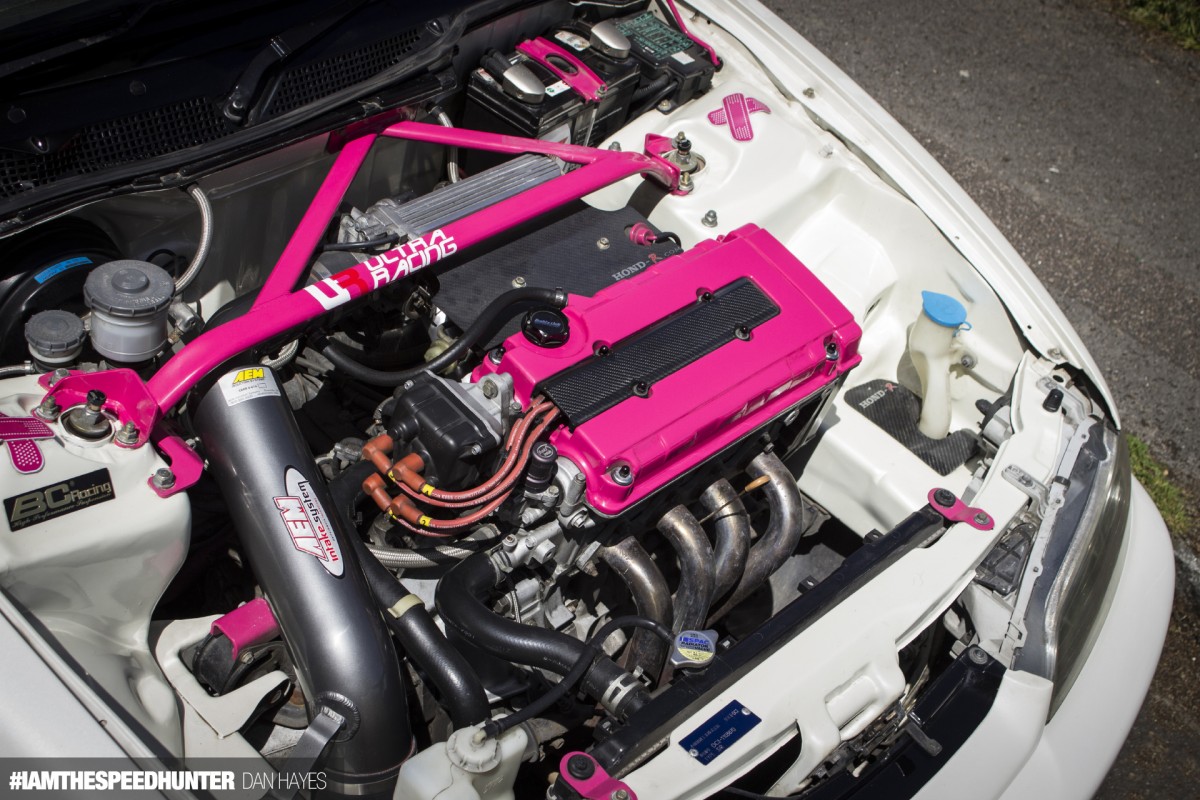 Cory Shifflett, Baltimore, USA: EG Civic – F20c Rotrex supercharged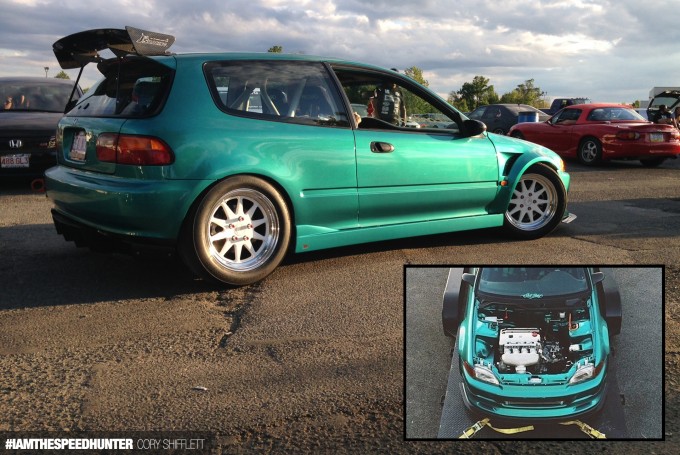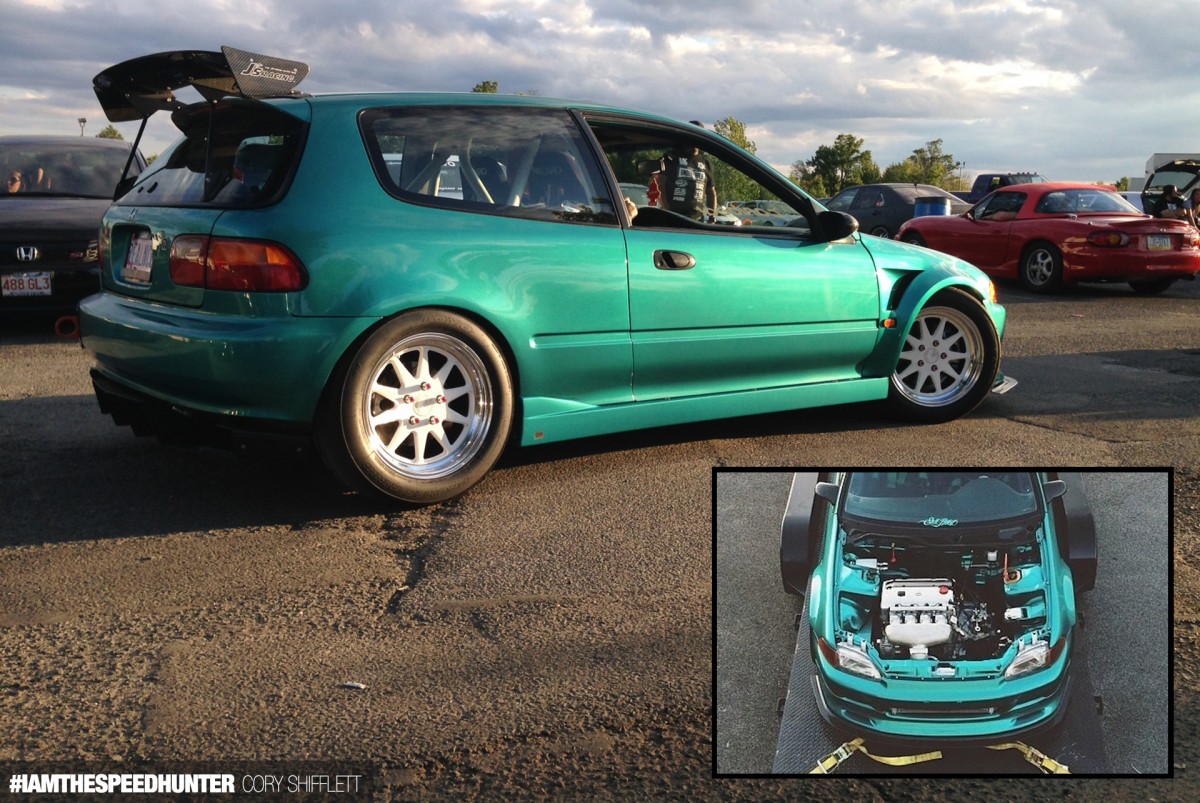 Cory Wells: '97 Honda Prelude – WRD spec