That Night On The Touge
Things in life happen for a reason, although it usually takes a certain amount of time to realise this. The notion is something Robert – the owner of the AE86 I'm about to show you – recently became aware of. Upon landing in Japan he had some clear intentions: get himself a Hachiroku, learn how to drift, and just enjoy the lifestyle while serving in the country.
It didn't take him long to find a nice Sprinter Trueno, and within a few weeks of ownership the chance came up to hit the local touge and see what the car could do. Drifting is a hard discipline to master – it takes dedication and a ton of practice to get to a decent level where you can hang the back out in total control. Unfortunately, Robert found out the hard way, and his first expedition to the mountains resulted in an unexpected encounter with a guardrail.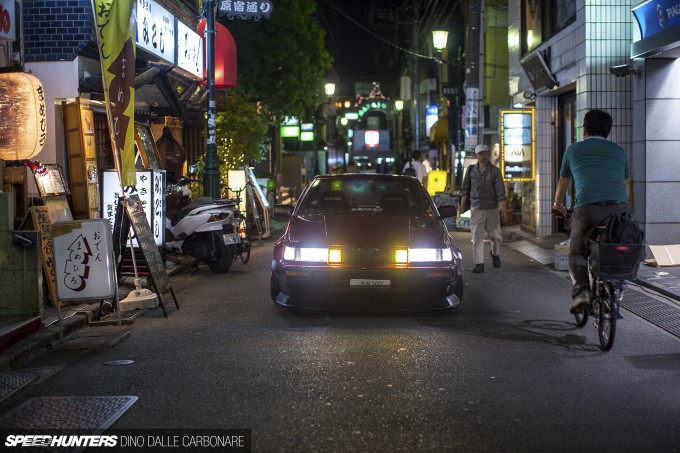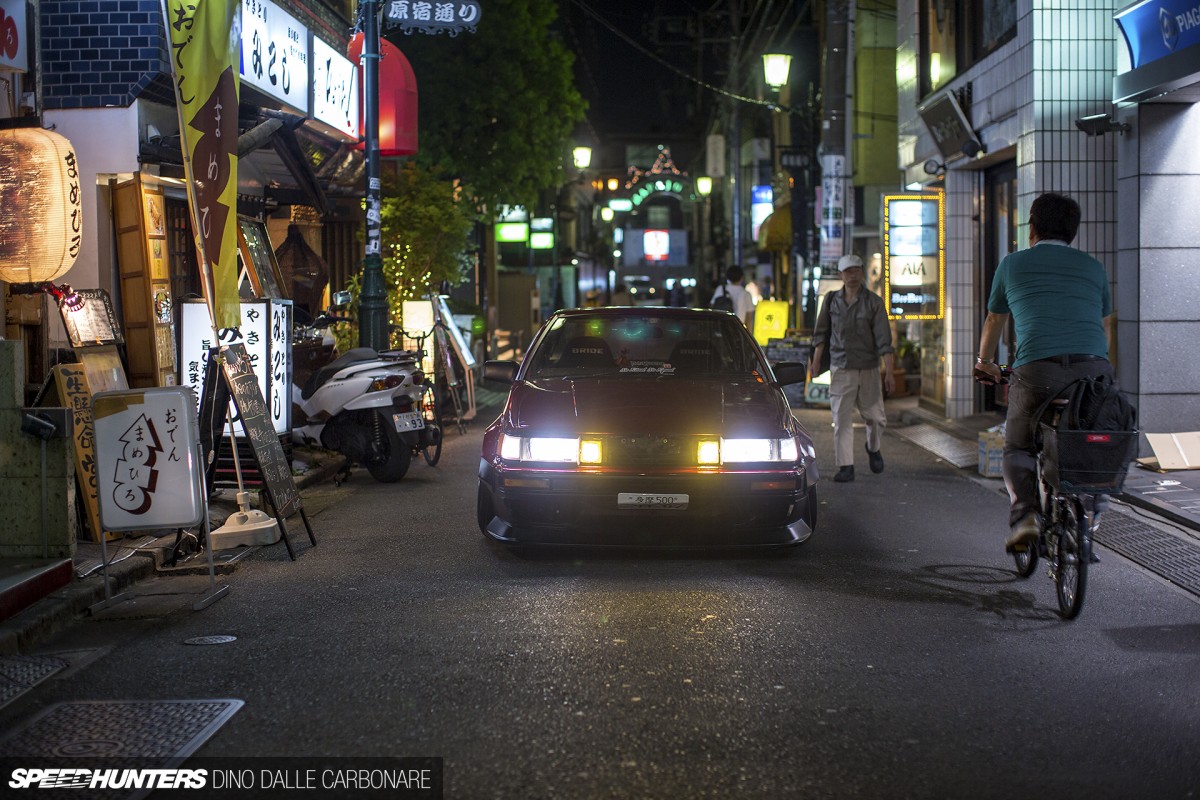 The front end of his Trueno took a real beating, but all things considered he was pretty lucky that no structural damage was done to the chassis. It was an unforeseen setback, but after swallowing a bit of pride Robert dived head-first into the task at hand – getting his Trueno back on the street as soon as possible.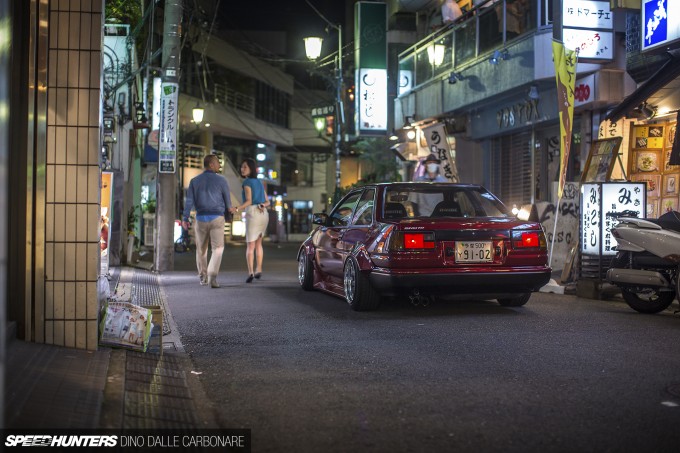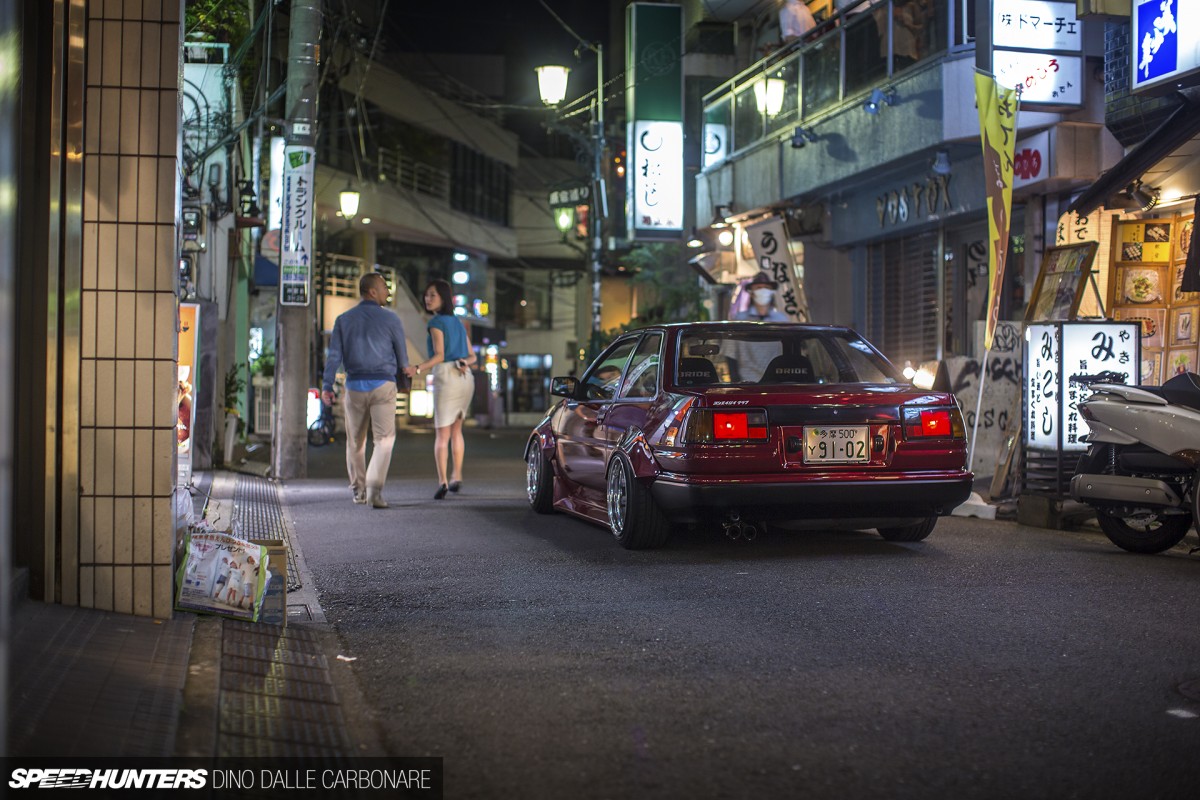 By the time the car was finished six weeks after the unforgettable night, it had something like six of seven different colours on it with panels and parts sourced from a variety of places.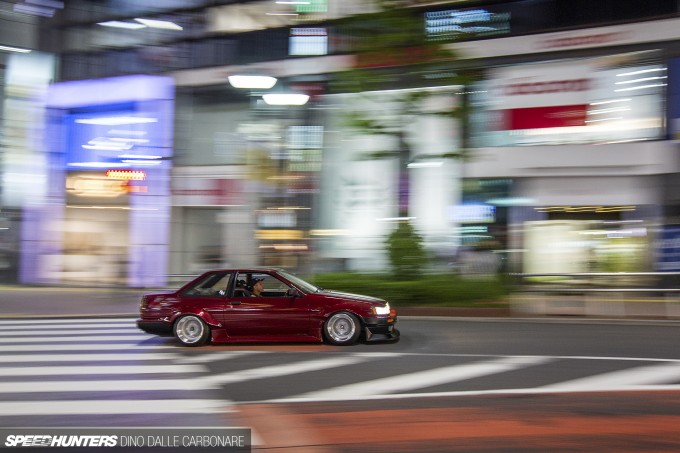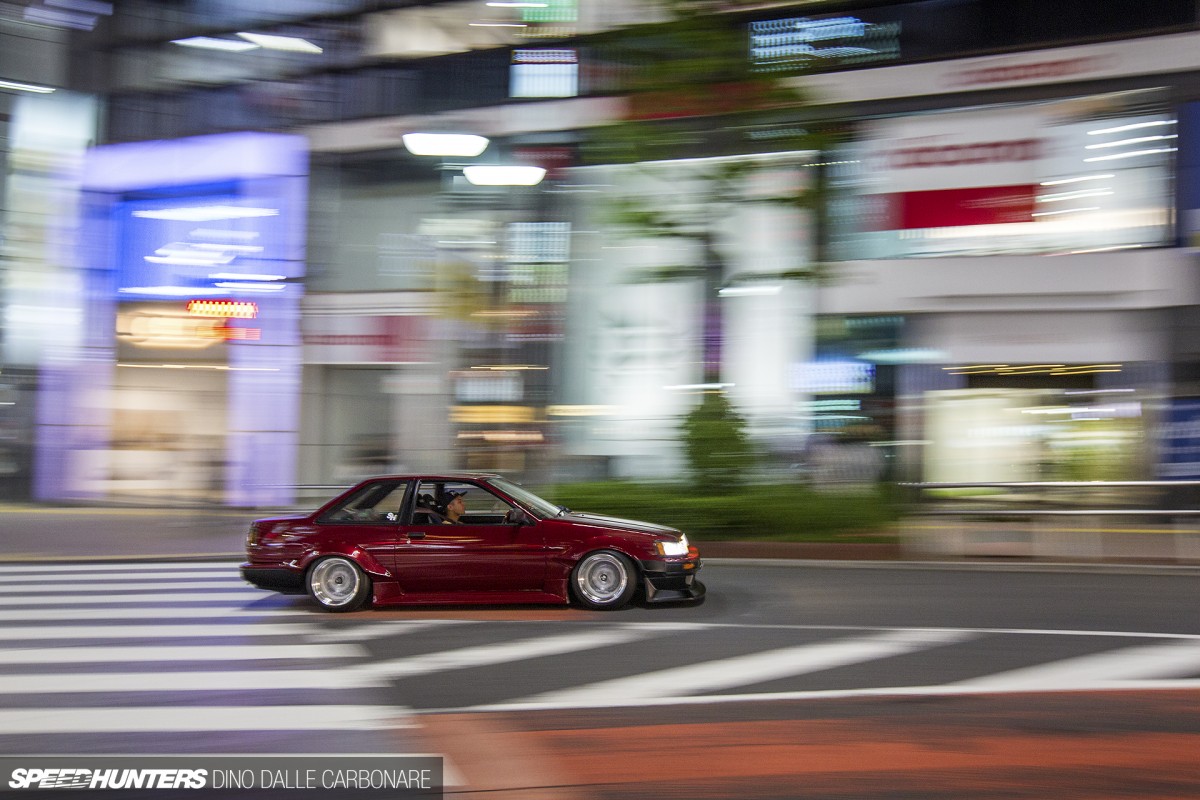 The biggest visual change, however, was the transformation to a fixed-headlight Corolla Levin front, which because of the difference in design meant that Robert also had to change out the bonnet and fenders. This was okay, because the latter were going to look cool with the Run Free flares that he had always pictured his car wearing. But just as he was about to order the aero parts, he had a change of mind.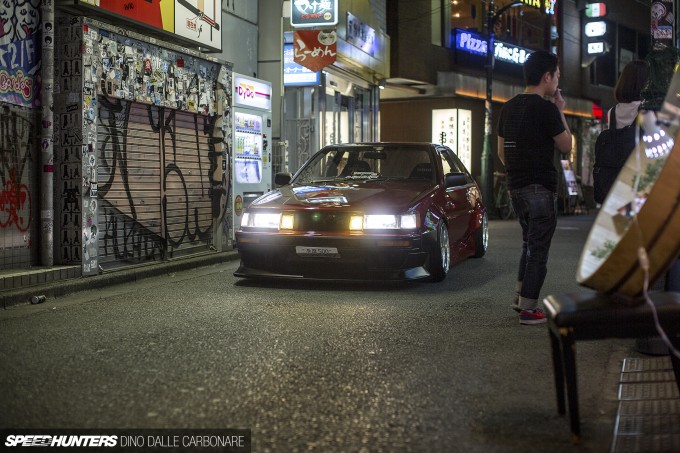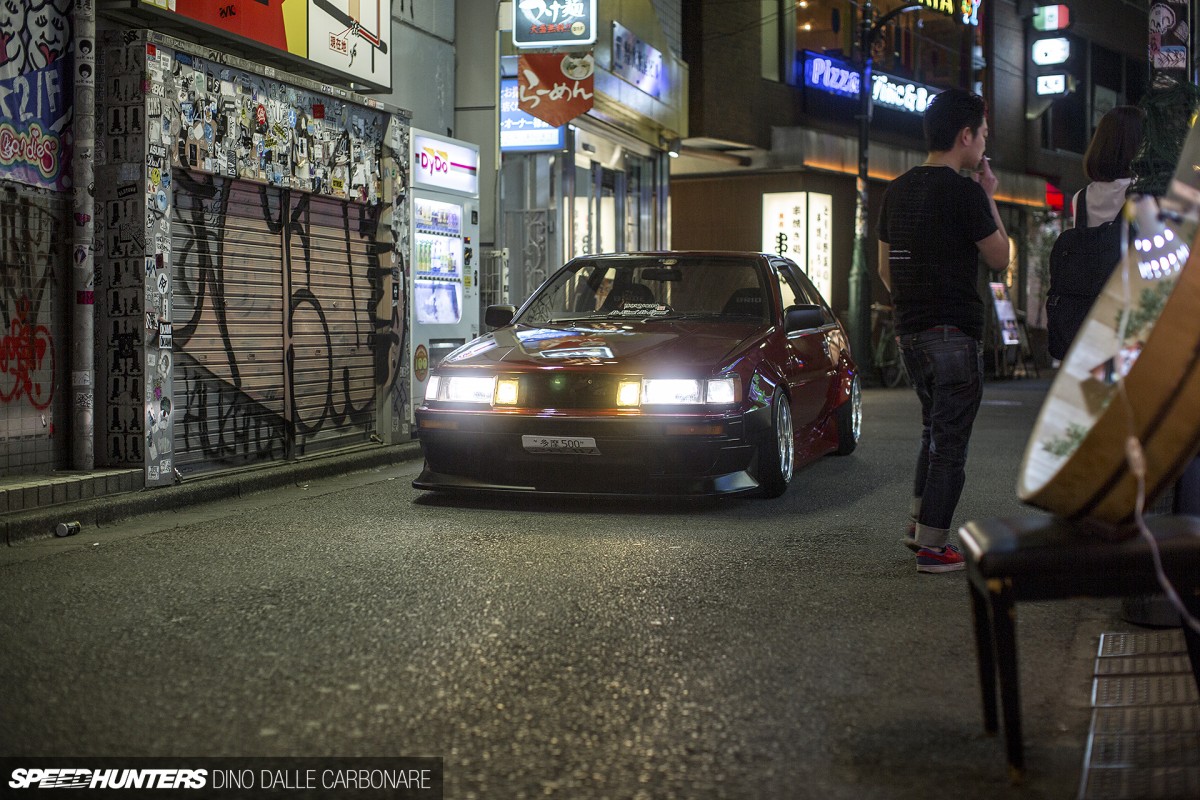 He noticed that Impulse had just released a set of new over-fenders that looked pretty fresh and unlike anything else out there for the AE86. Even better, they were only available for the Levin version, which made Robert smile for the first time in a while after all he had gone though with his car. He ordered the parts and sat back and waited, thinking about what single colour he would end up going with.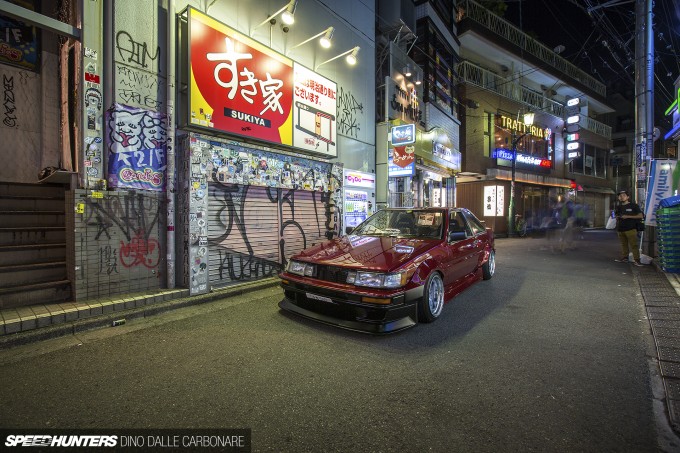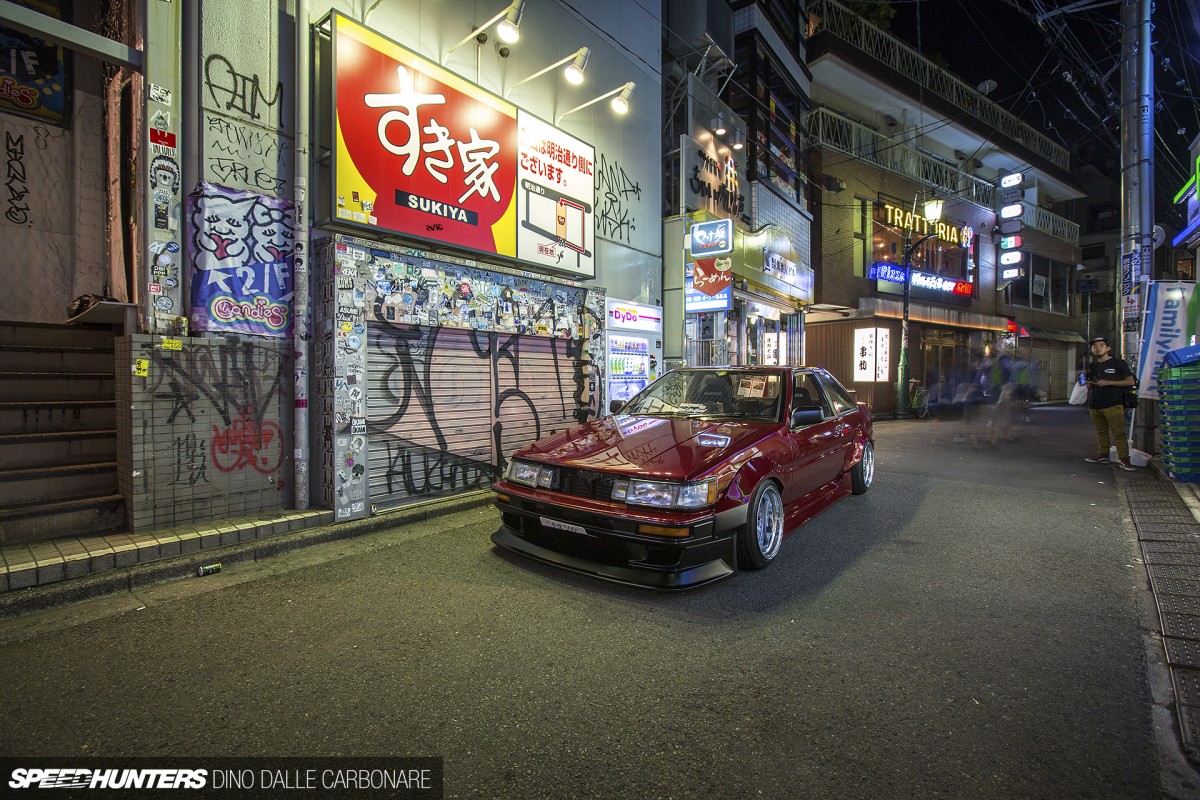 Fast forward a few more weeks – the fenders arrived and were quickly fitted, and at the same time Robert added a Run Free Type II front bumper and Origin side skirts.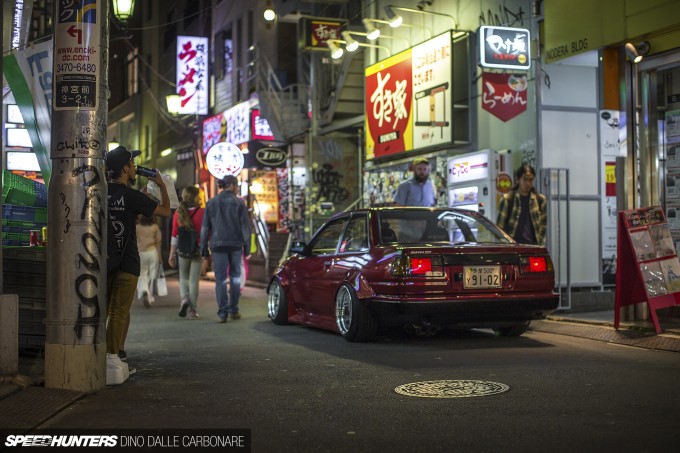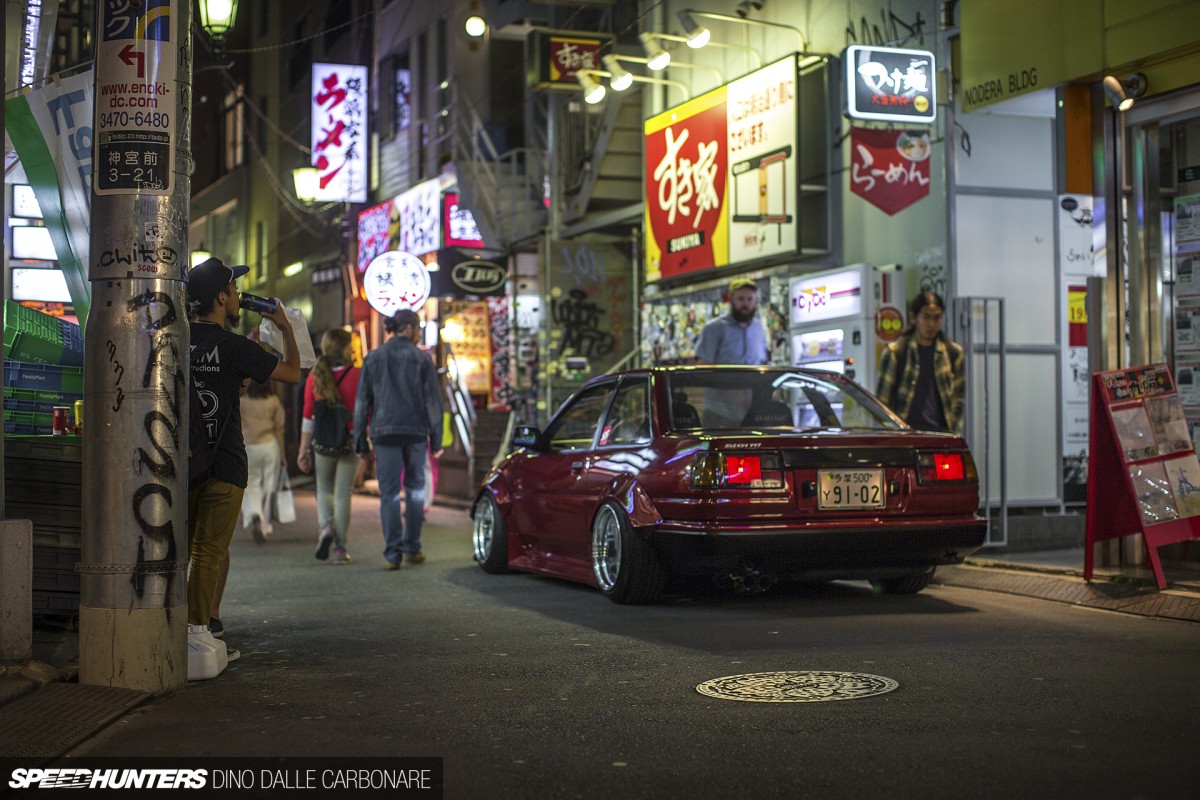 A zenki rear bumper completed the transformation and the car was whisked off to paint where it was sprayed in a deep red metallic Mitsubishi based hue.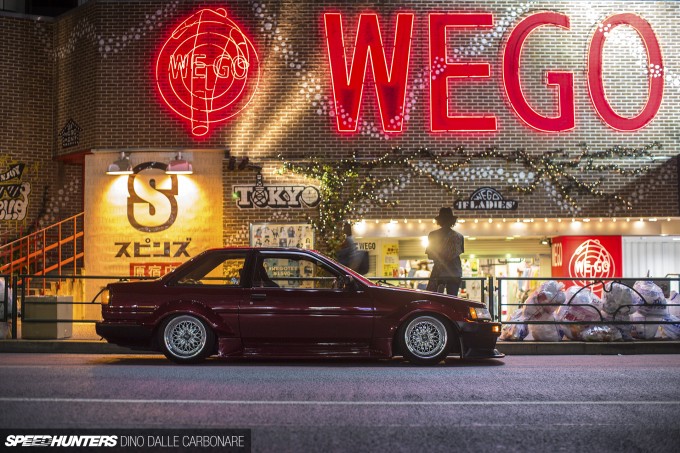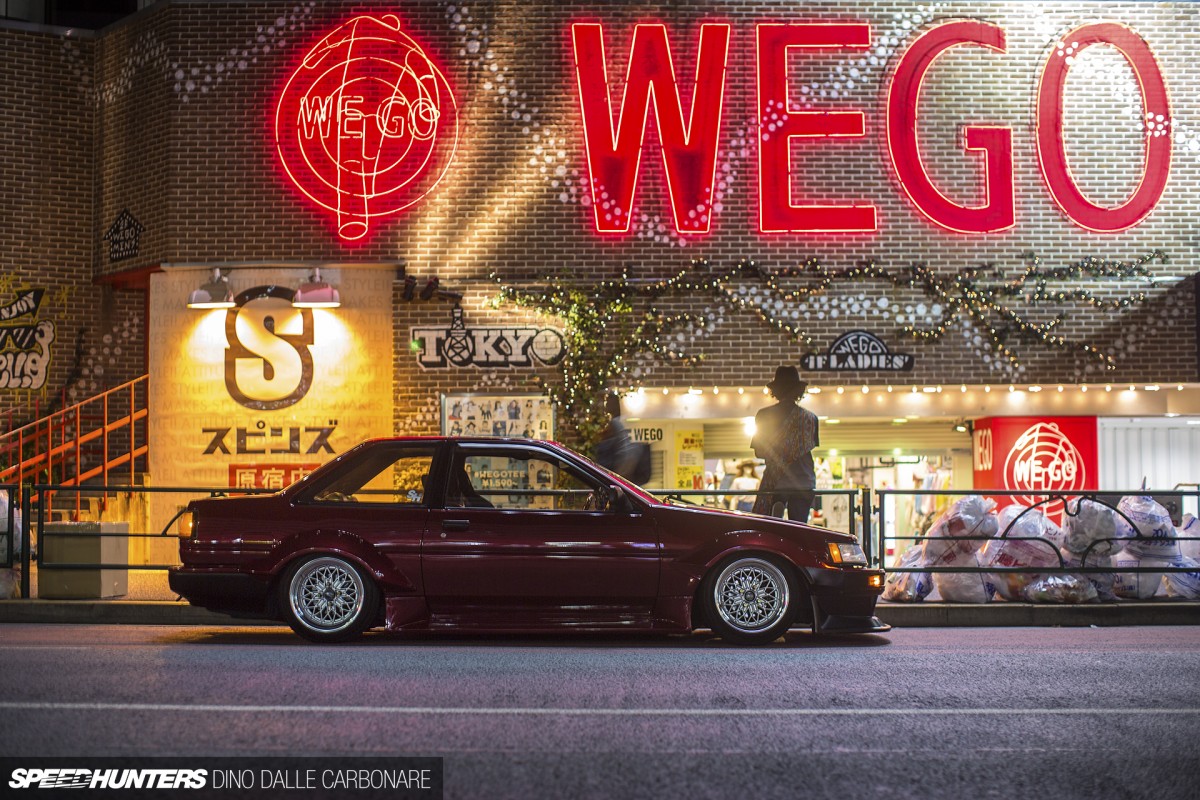 It was a long wait, but finally the car was looking as it was supposed to. That's pretty much when I first met Rob – first seeing his car floating around on my Facebook feed and then meeting him in person at Daikoku PA.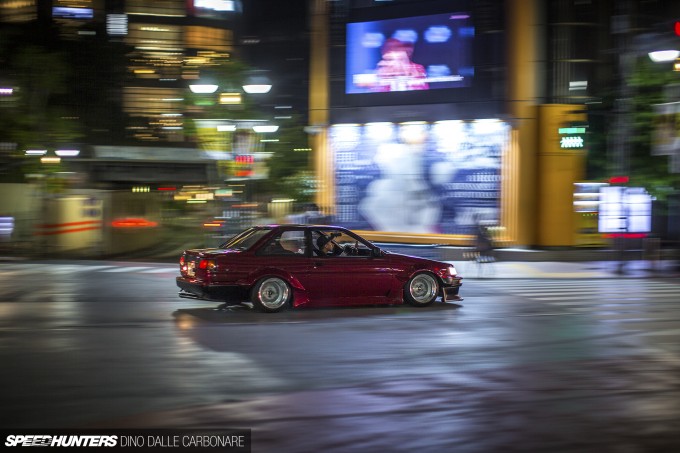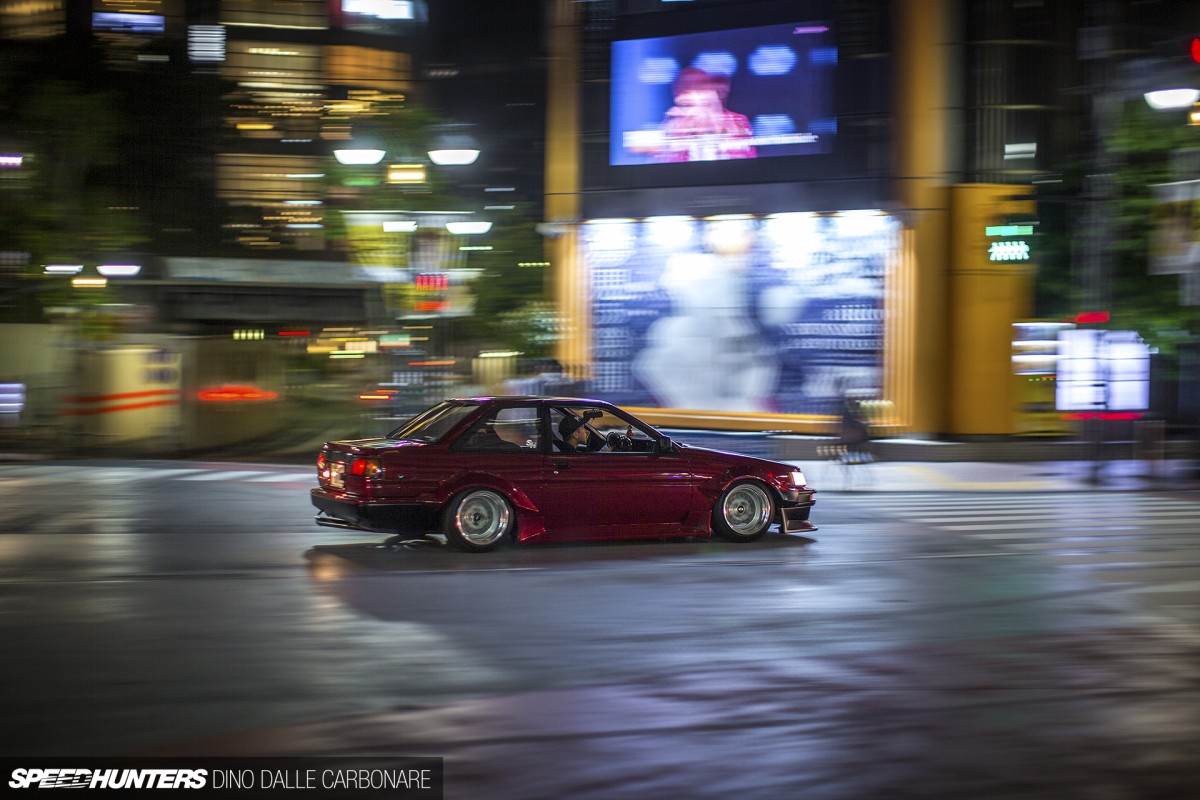 'Dude, we have to get your car shot as soon as possible', is what I remember telling him – something that he was down to do as soon as his new motor package was in the car. A few more months passed and I was glad I waited, because as with many of the coolest cars we feature here on Speedhunters, things aren't always quite so straight forward…
An AE86 In Shibuya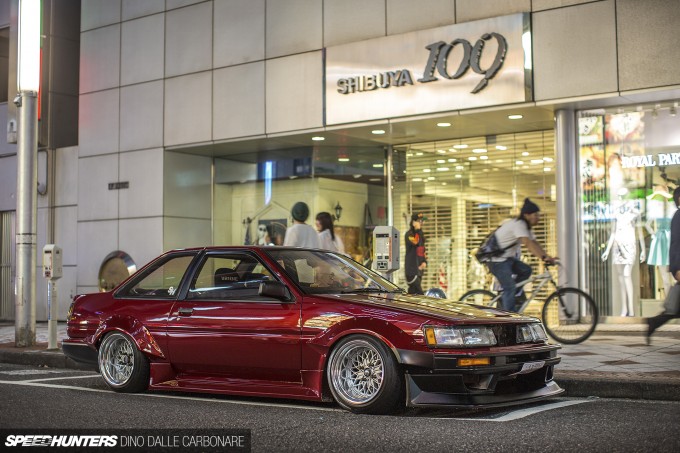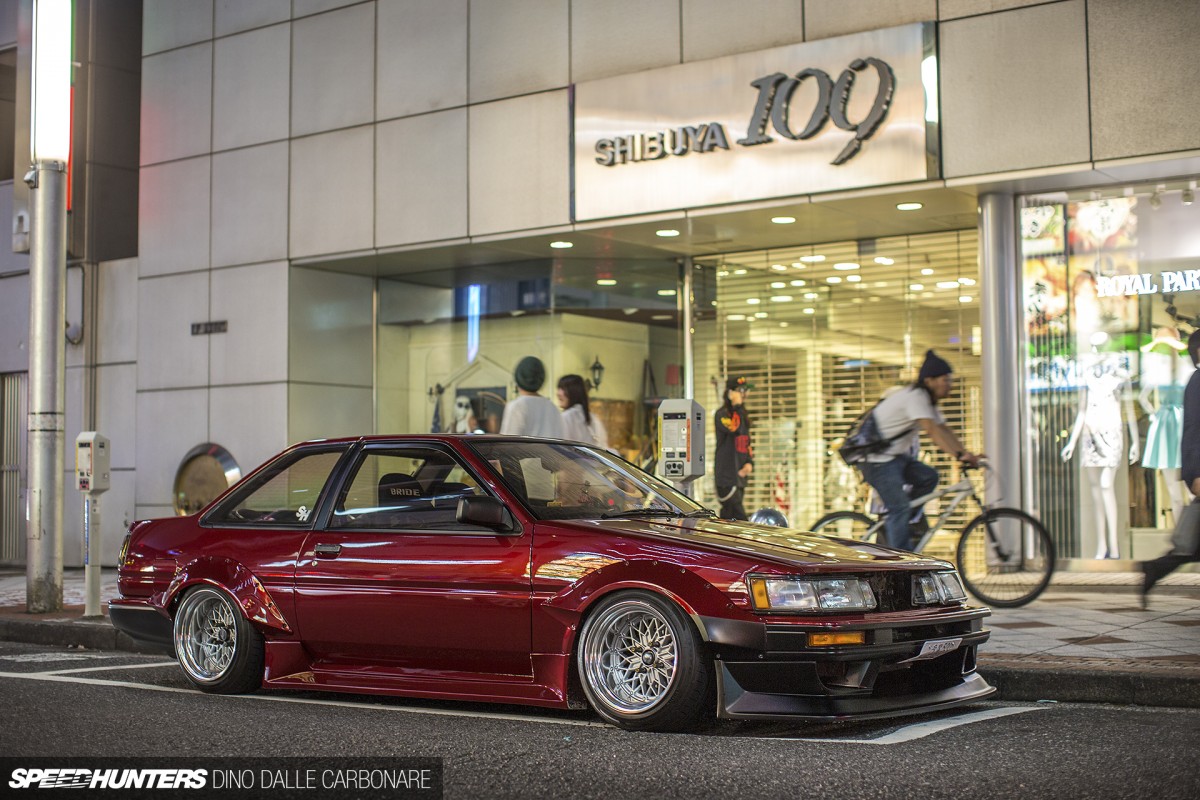 Robert and I decided to meet in central Tokyo and drive around to immortalise his car in the nation's capital – something that would also serve as a memory for him, as early next year he is due to move down to Okinawa to serve out the rest of his post in Japan. I love shooting cars in contrasting locations, and as we sat there looking at the AE86 under the glistening lights of Shibuya, it attracted more looks and attention than any shiny new European import could ever muster in this part of the city. The attention was also coming from the police who drove past a coupe of times, rubber-necking to get a closer look at the military-issued license plate that Robert has folded – I mean, accidentally bent up at the front…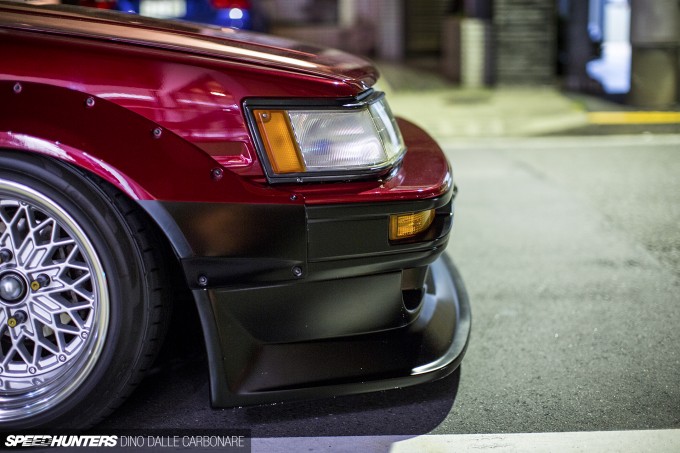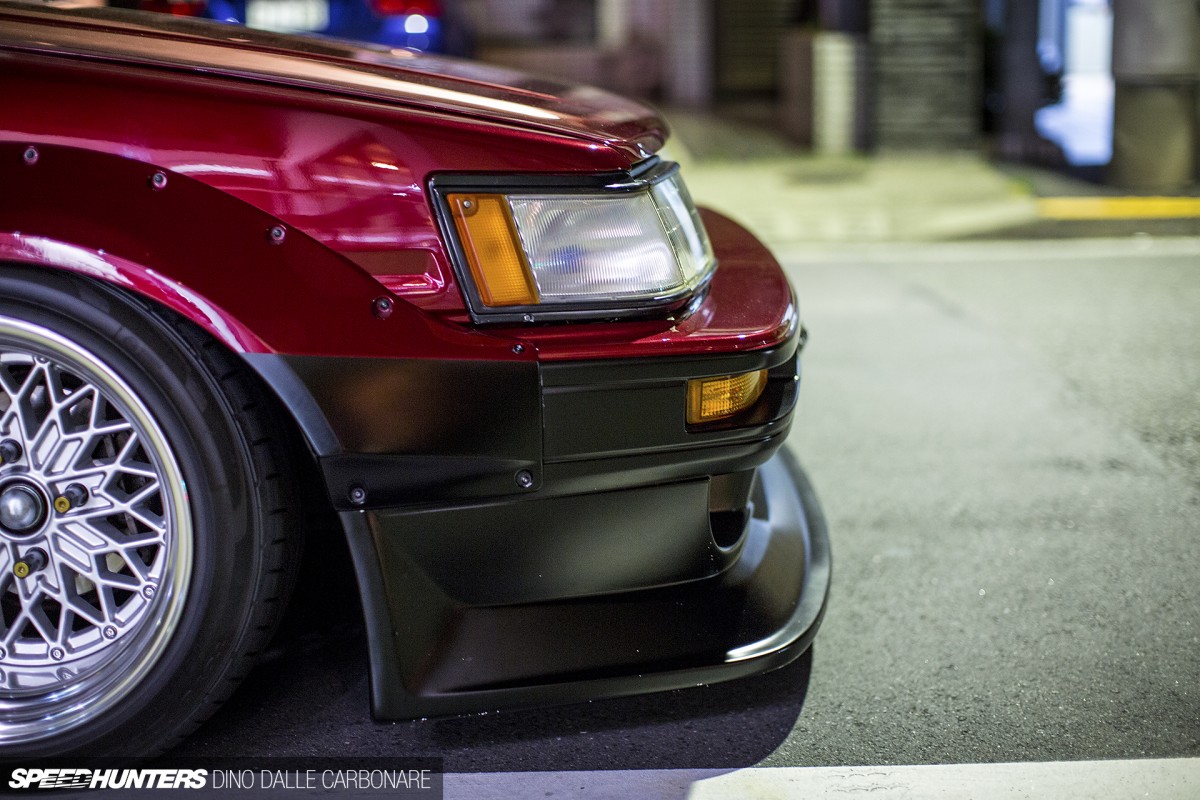 Under the combined neon glow that lights up this area of Tokyo after dark like it's daytime, the Levin front end truly looks its best.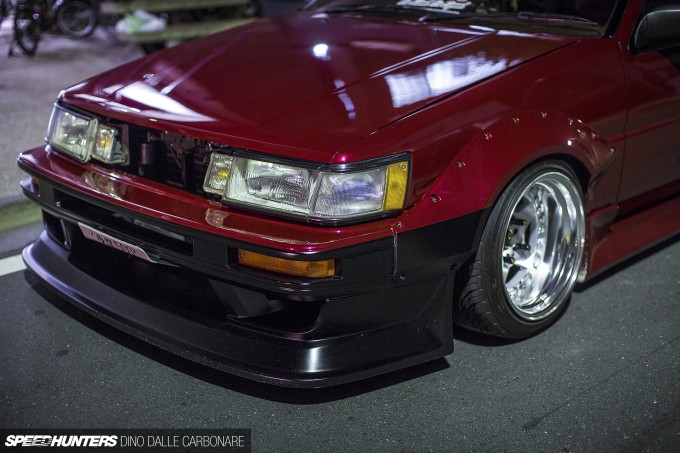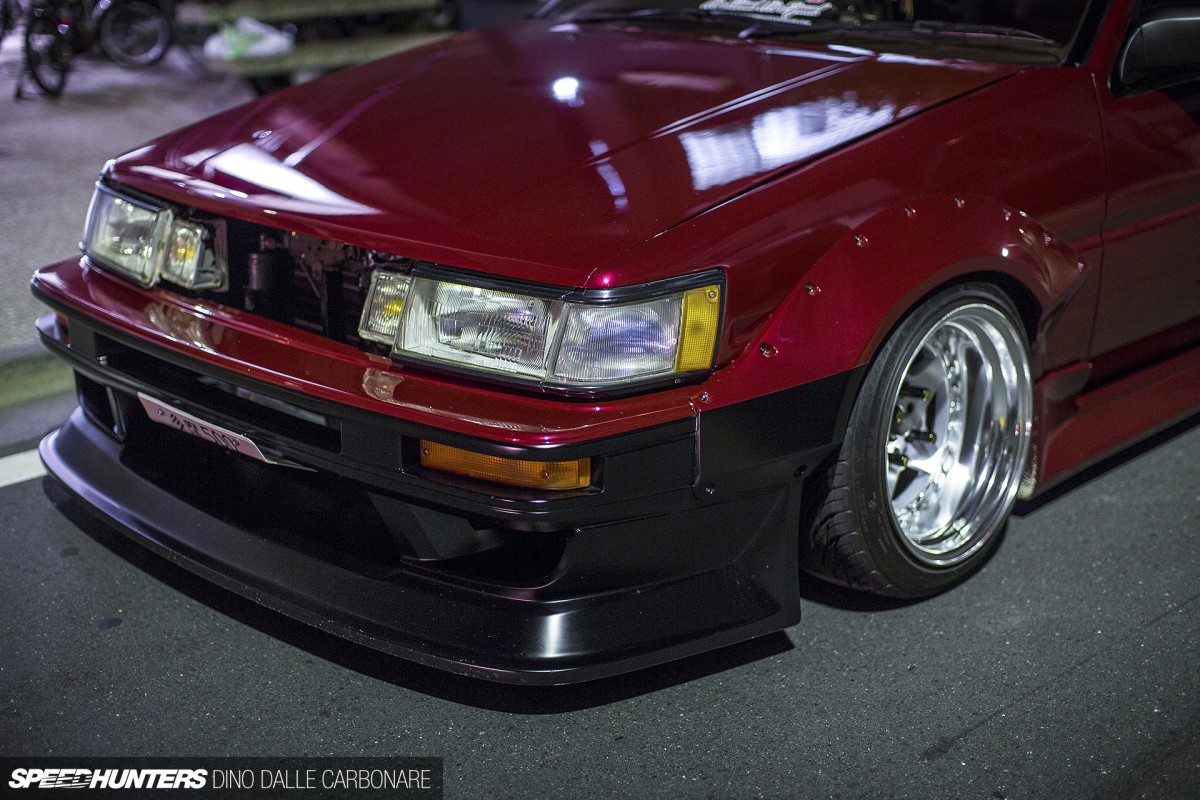 Thankfully, Robert opted to go for a two-tone motif on the front bumper, extending the black lower section into the bolted-on Impulse front flares.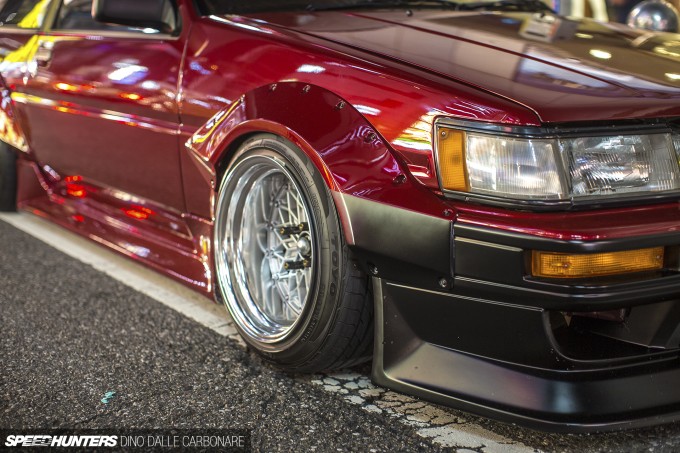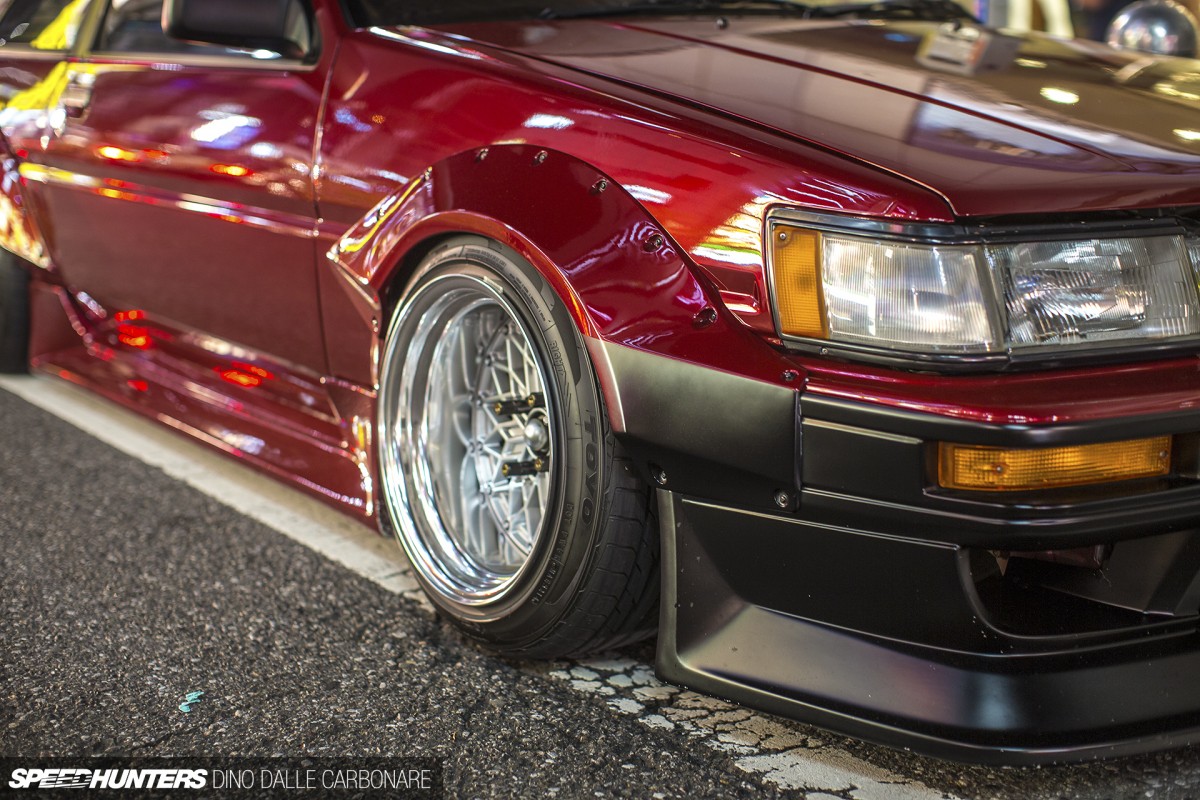 It's a great look and far better suited to the car than a single tone colour would be.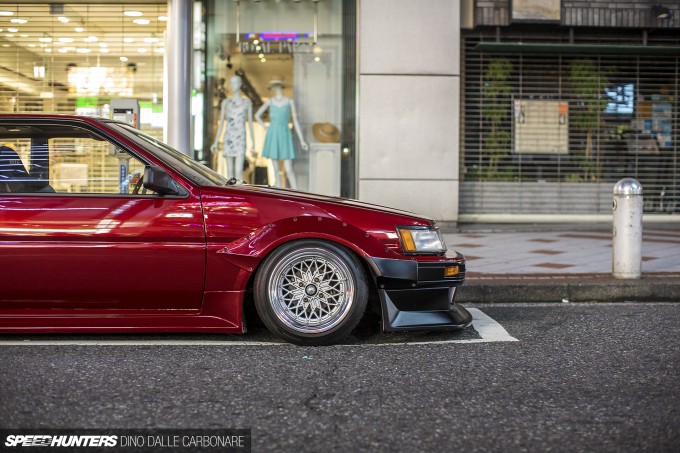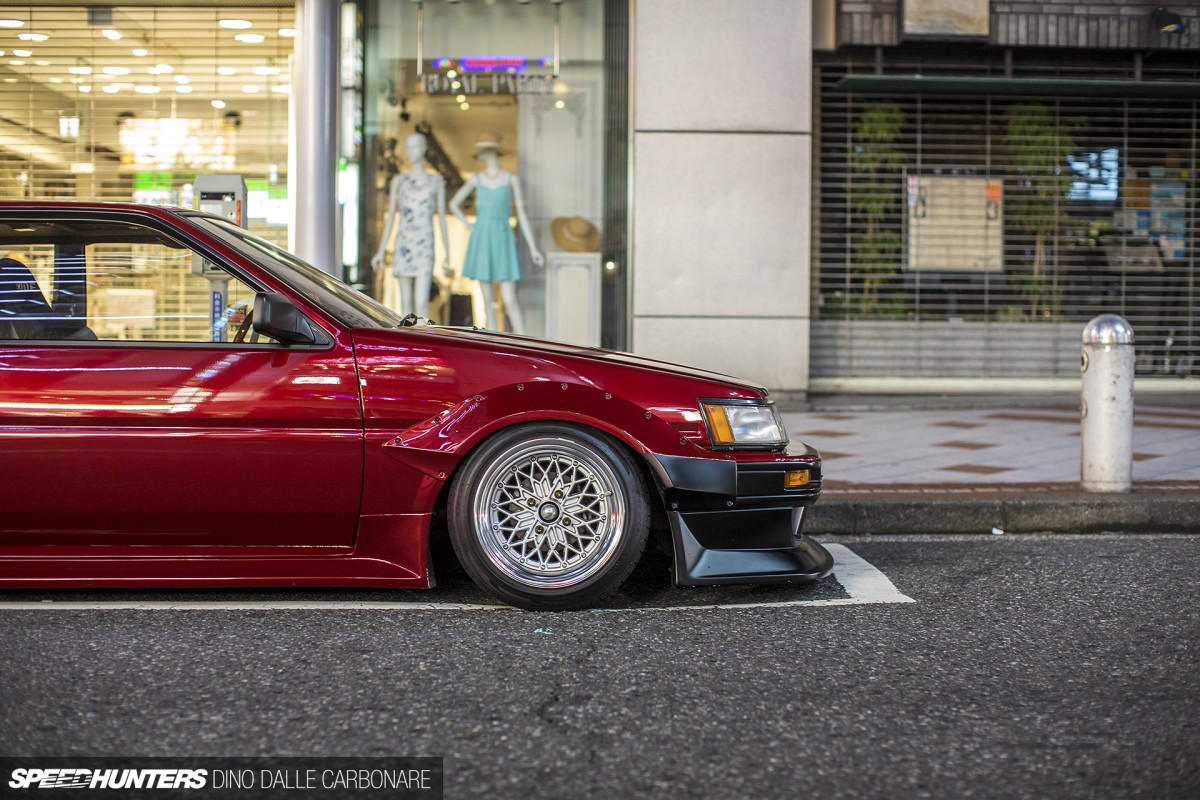 Nailing the right sort of stance was what came next. The car had to sit low for the obvious visual impact, but at the same time Robert didn't want it to be a pain to drive around. That's where the Run Free and Origin aero really help out.  Thanks to the flared-out lower section they make the car seem lower than it really sits, so it was only really the wheel fitment that had to be nailed. Up front, in went a set of Largus Spec S coilovers, with a short set of springs to get the fenders sitting just right with the wheels.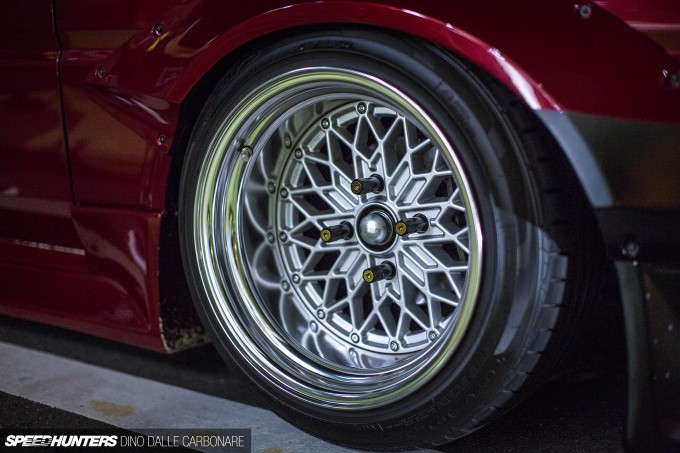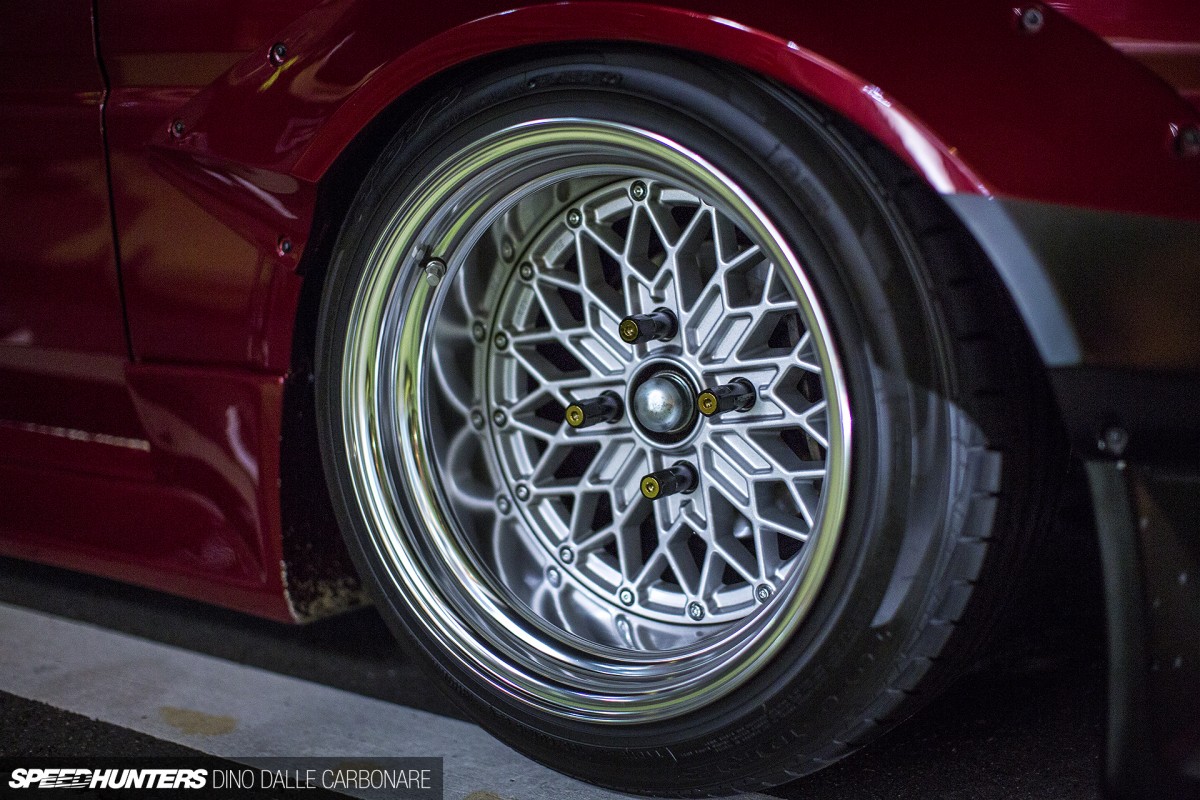 It's actually the first time that I've seen a set of Star Road Glow Stars fitted to an AE86, and the mesh look suits the Impulse over-fender-equipped car beautifully.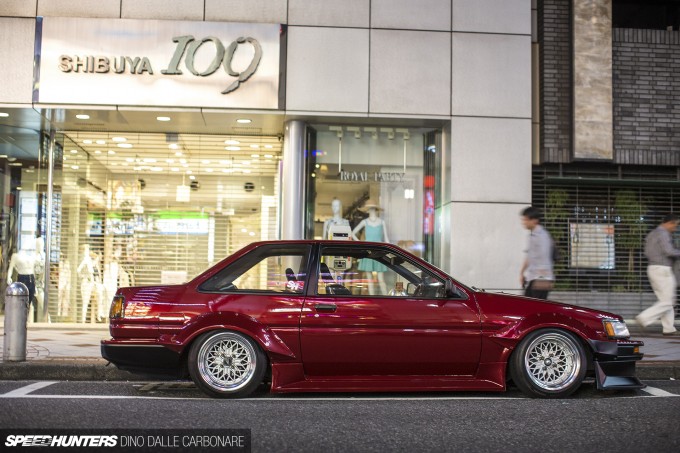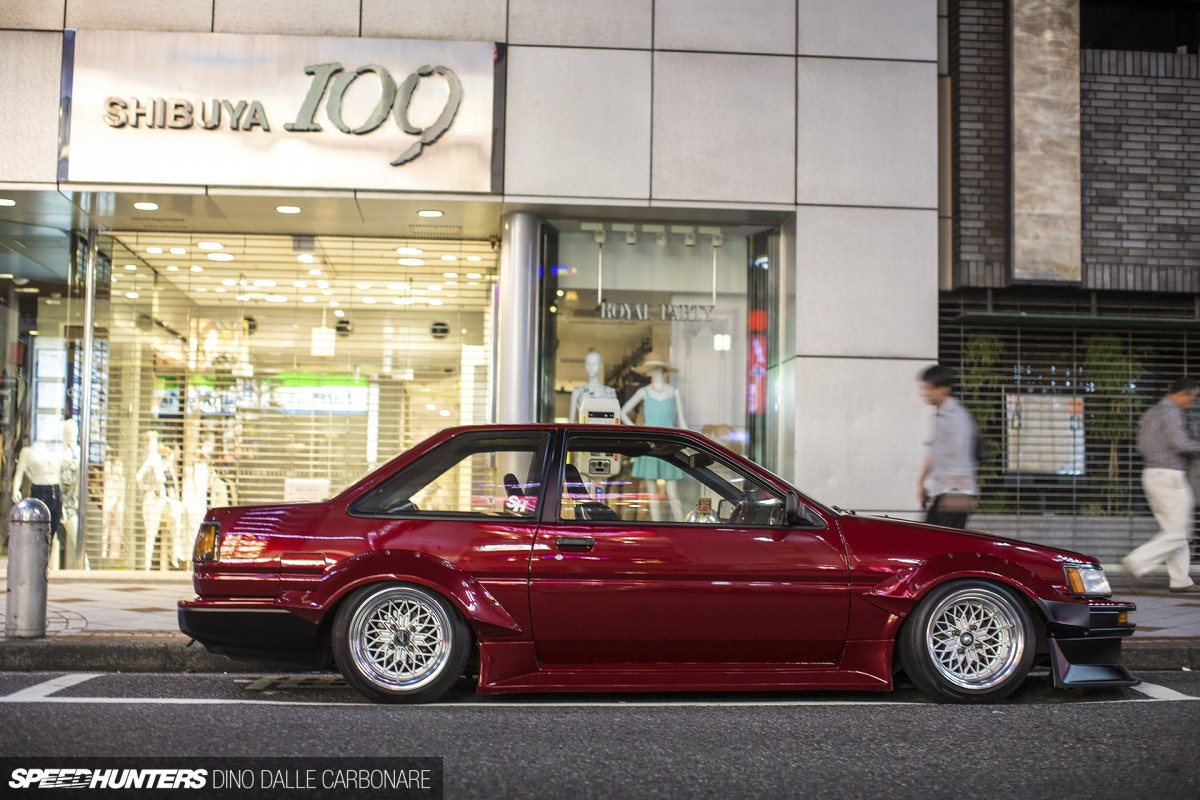 The Work-made wheels are fitted in 15×9.5-inch with a -22 offset both front and rear, and are shod in 195-section Toyos. To get the car to sit nice and flat, Robert resorted to a temporary fix by cutting the rear springs.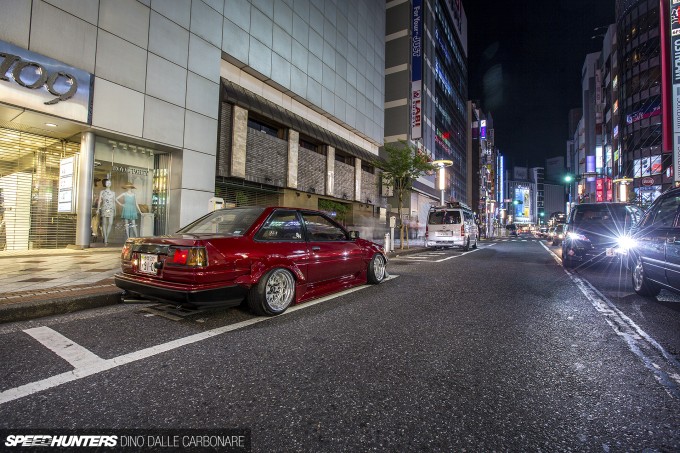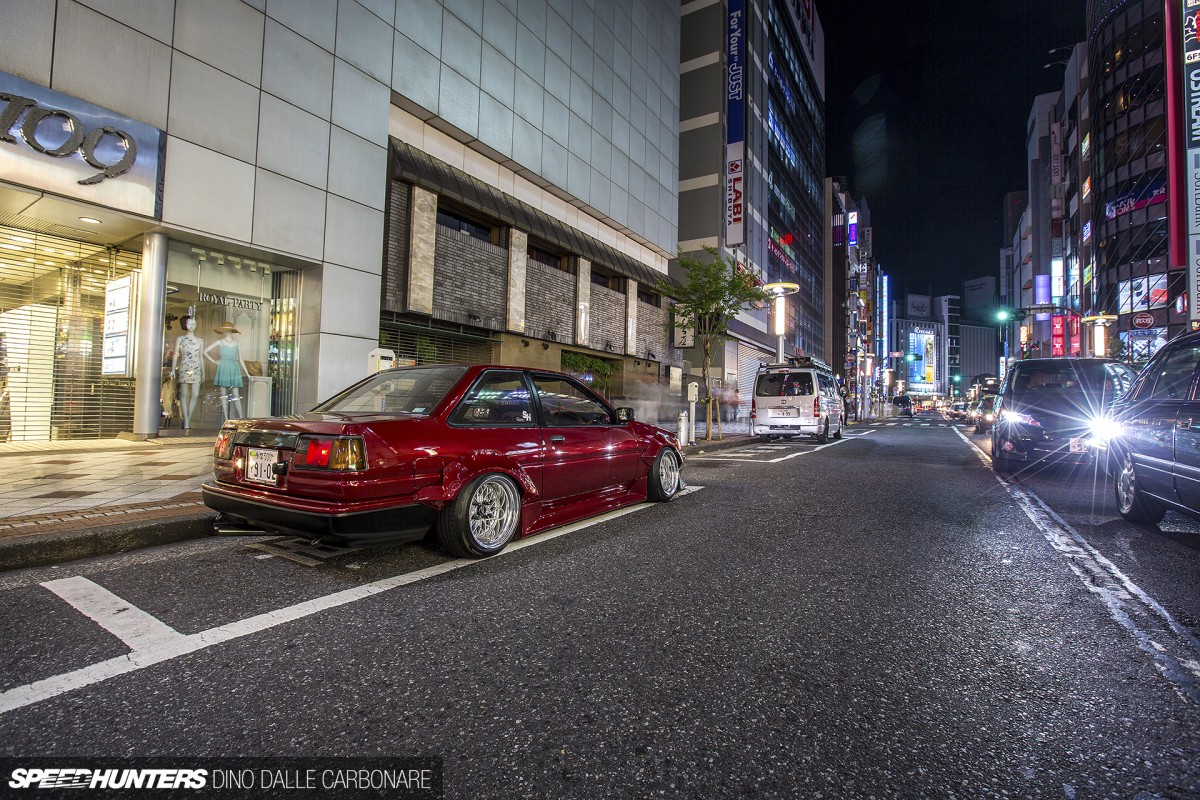 The idea was to get the car looking just right for Wekfest Japan in Nagoya at the beginning of last month, and worry about sorting that stuff out at a later date when time wasn't so much of a constraint.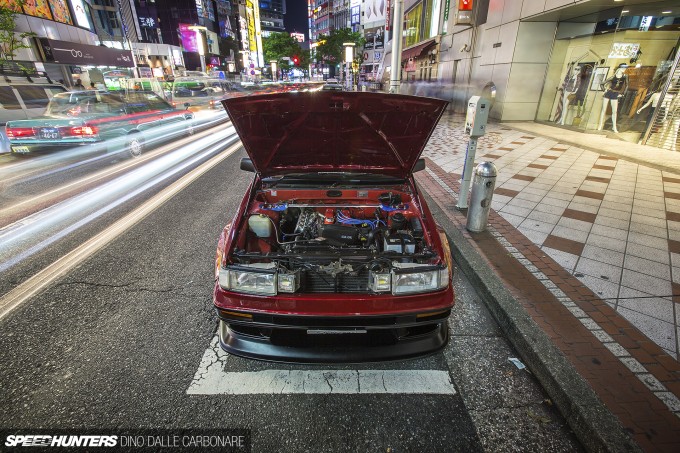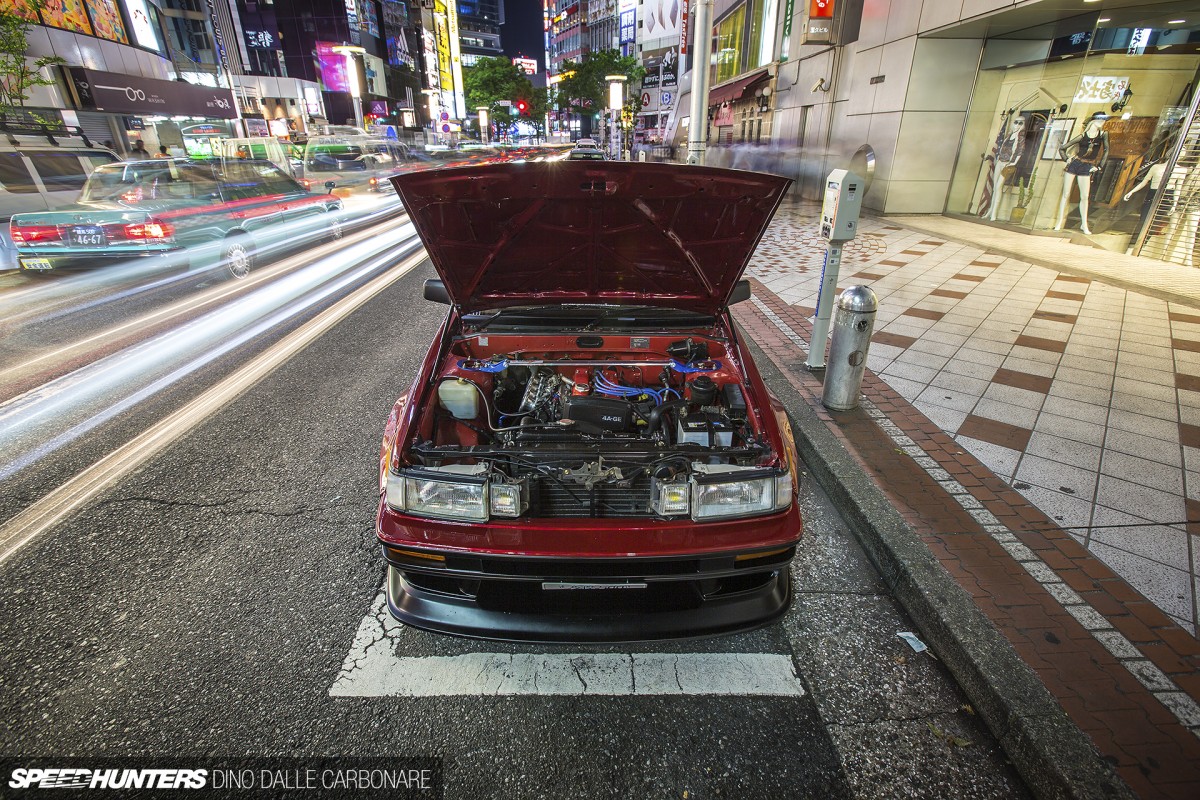 That's because Robert had other things to finish off first…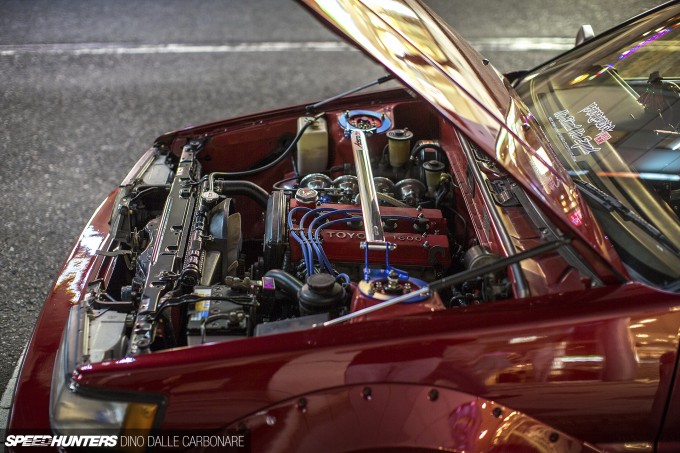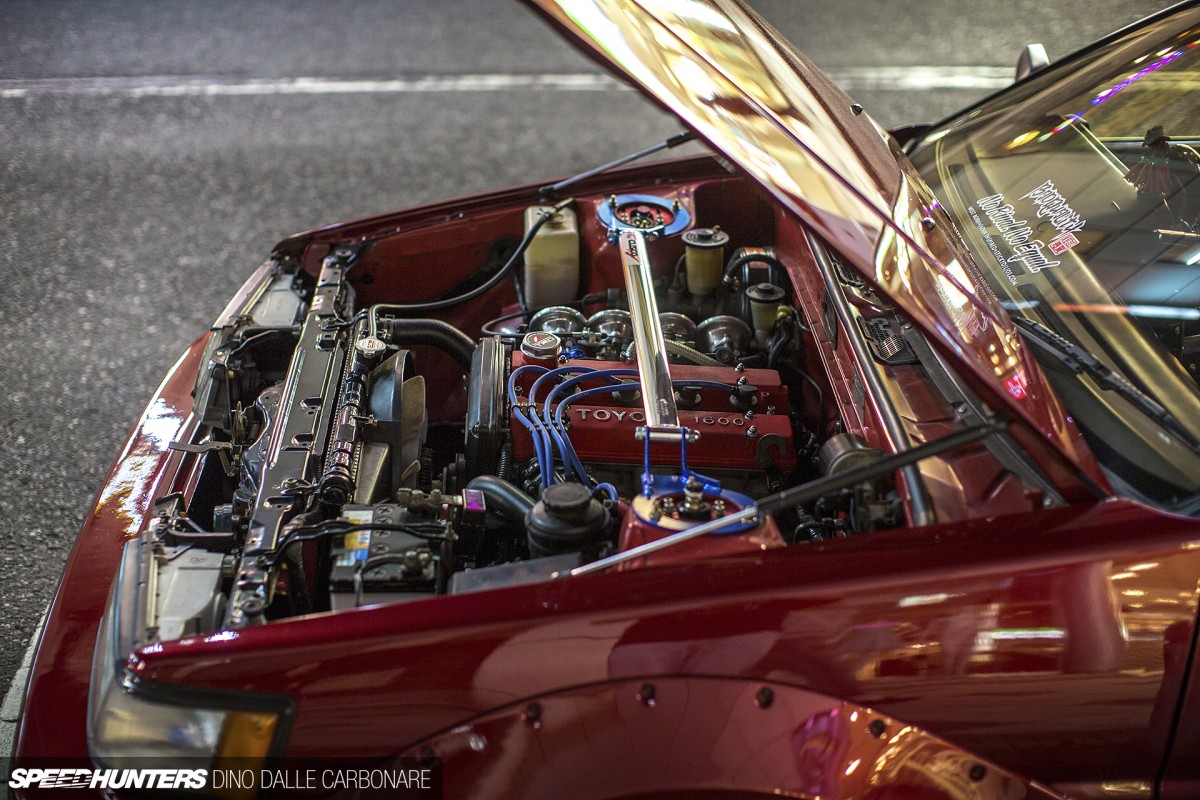 The engine – this is what I had been waiting for and I'm glad I did as the bay totally lives up to the standard set by the exterior.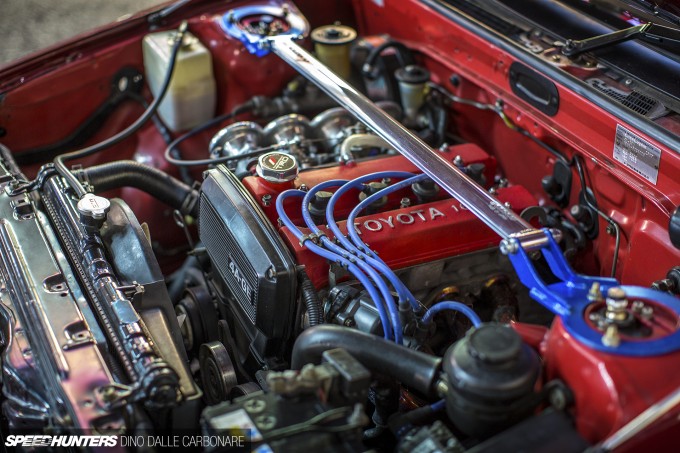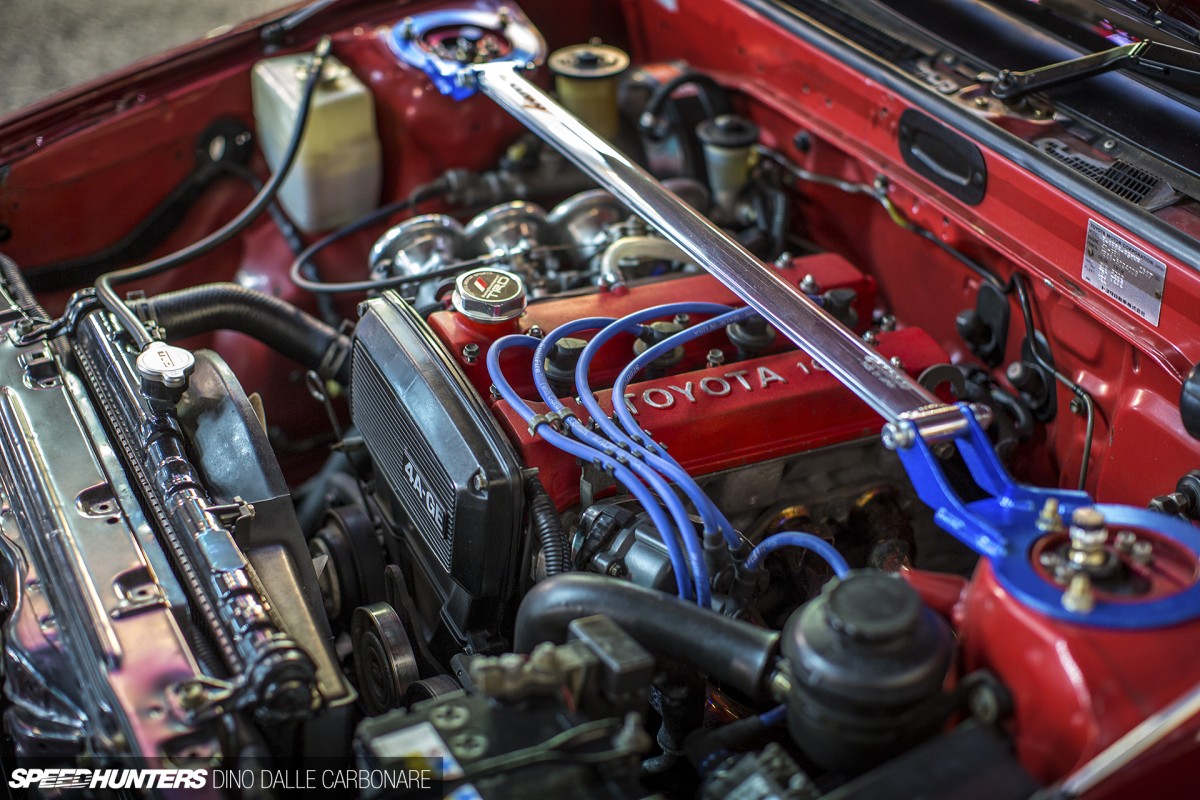 Robert picked up a fresh AE101 4A-G block fitted with 81.5mm pistons which was then mated to a 16-valve head – duly ported and polished to get the most volume of air in and out of the combustion chambers. The head also came fitted with a set of Toda Racing valve springs and a pair of HKS camshafts and adjustable pulleys.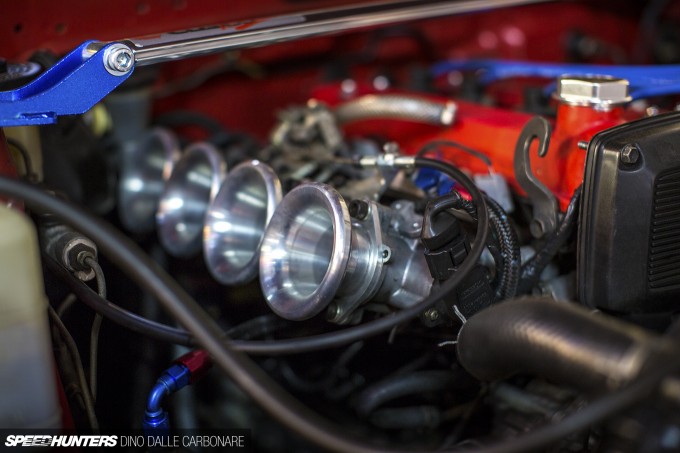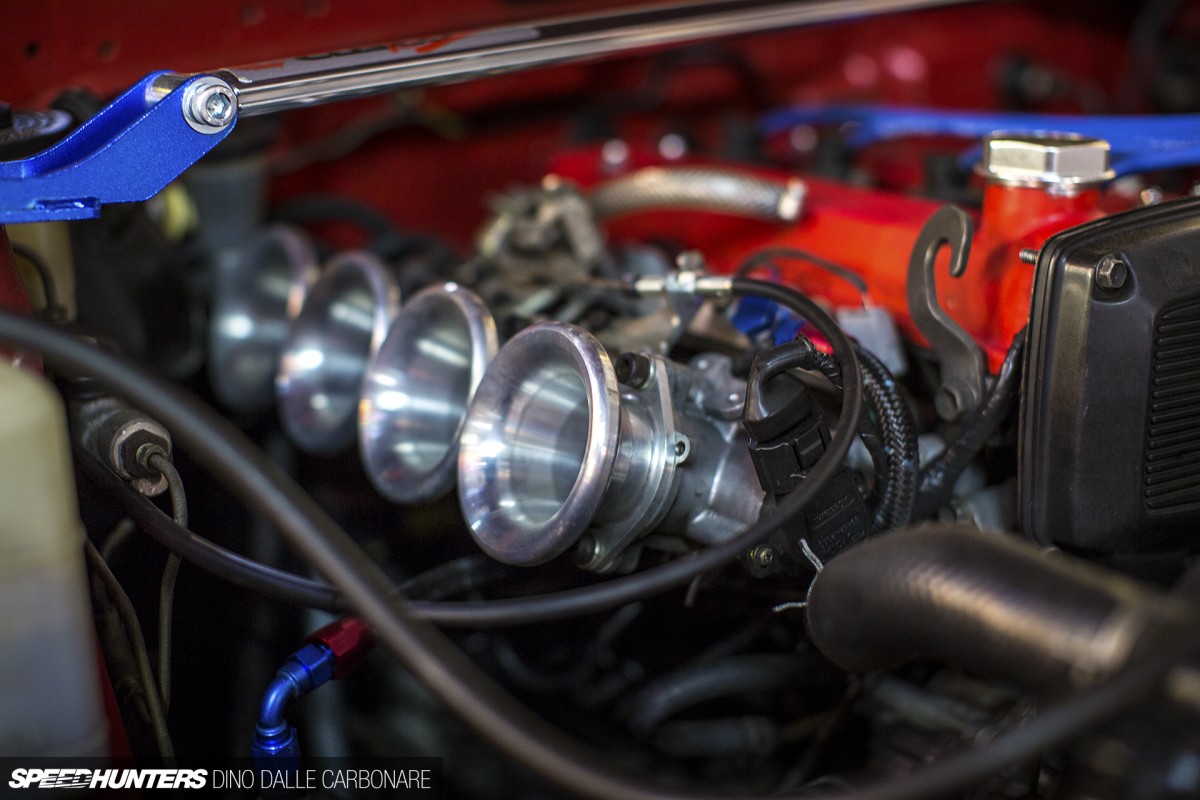 Channeling air into the engine are AE101 quad throttle bodies fitted with machined velocity stacks. These really come into action above 4,000rpm, delivering that unmistakably-intense yon-a-g induction noise.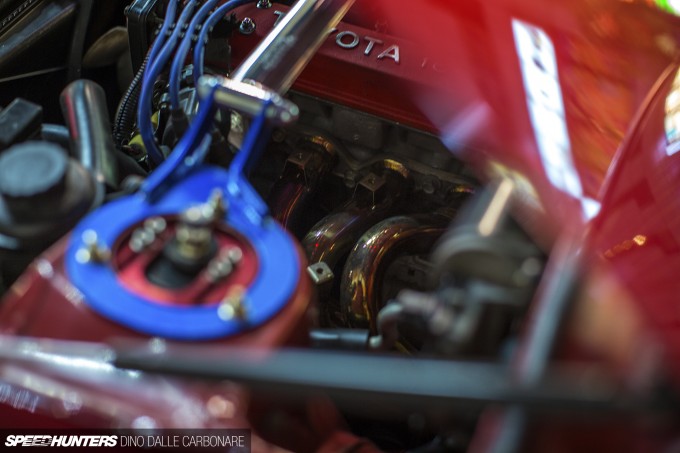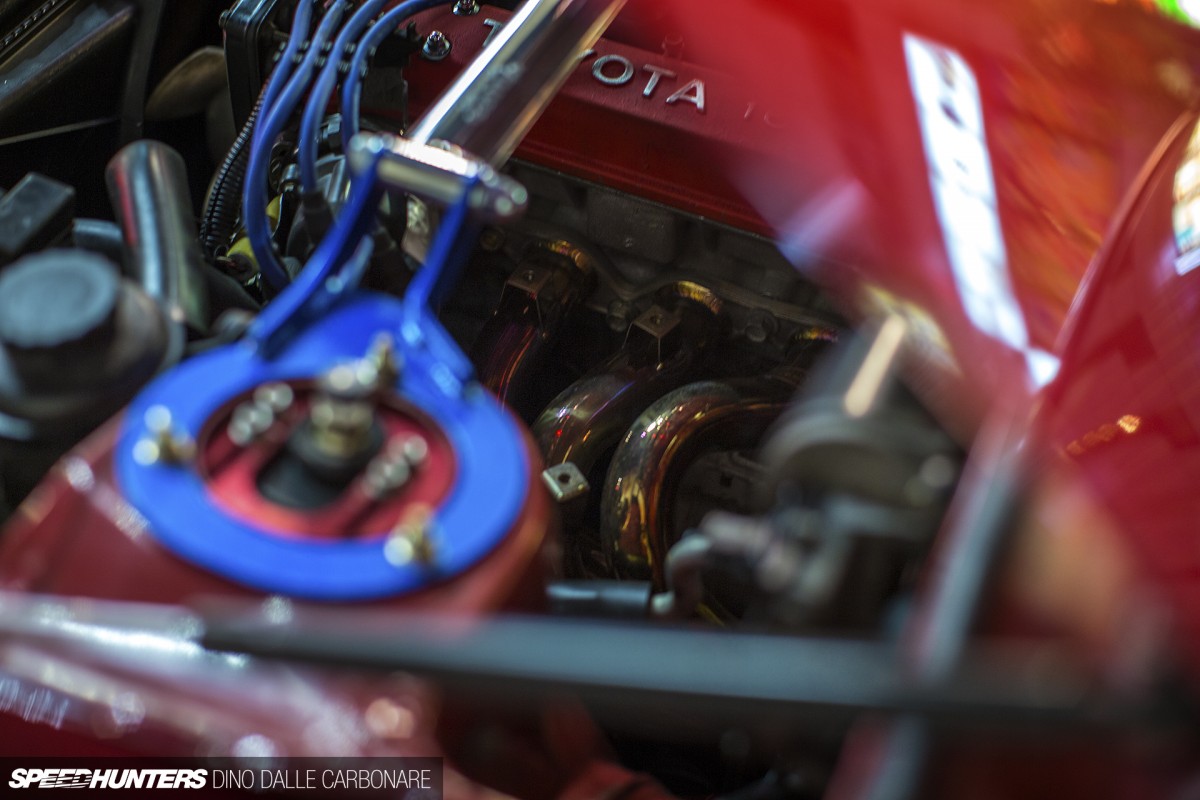 However, it's the exhaust side that really characterises this particular car – Fujitsubo headers running into a 60mm straight-through system. Let's just say it's far too loud for use in central Tokyo, but then again, that is exactly what made it so fun on this particular night.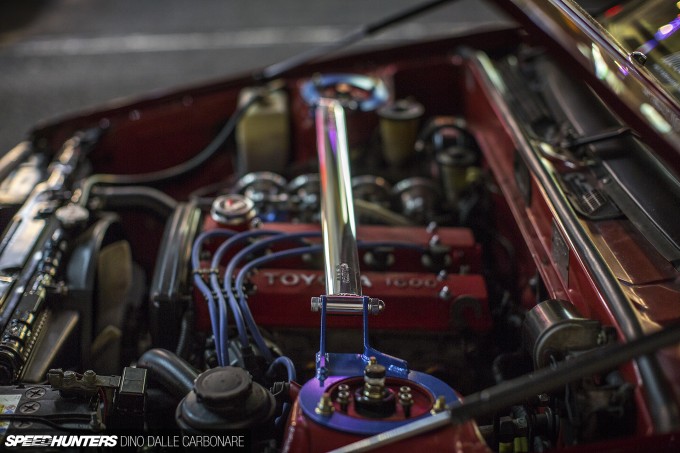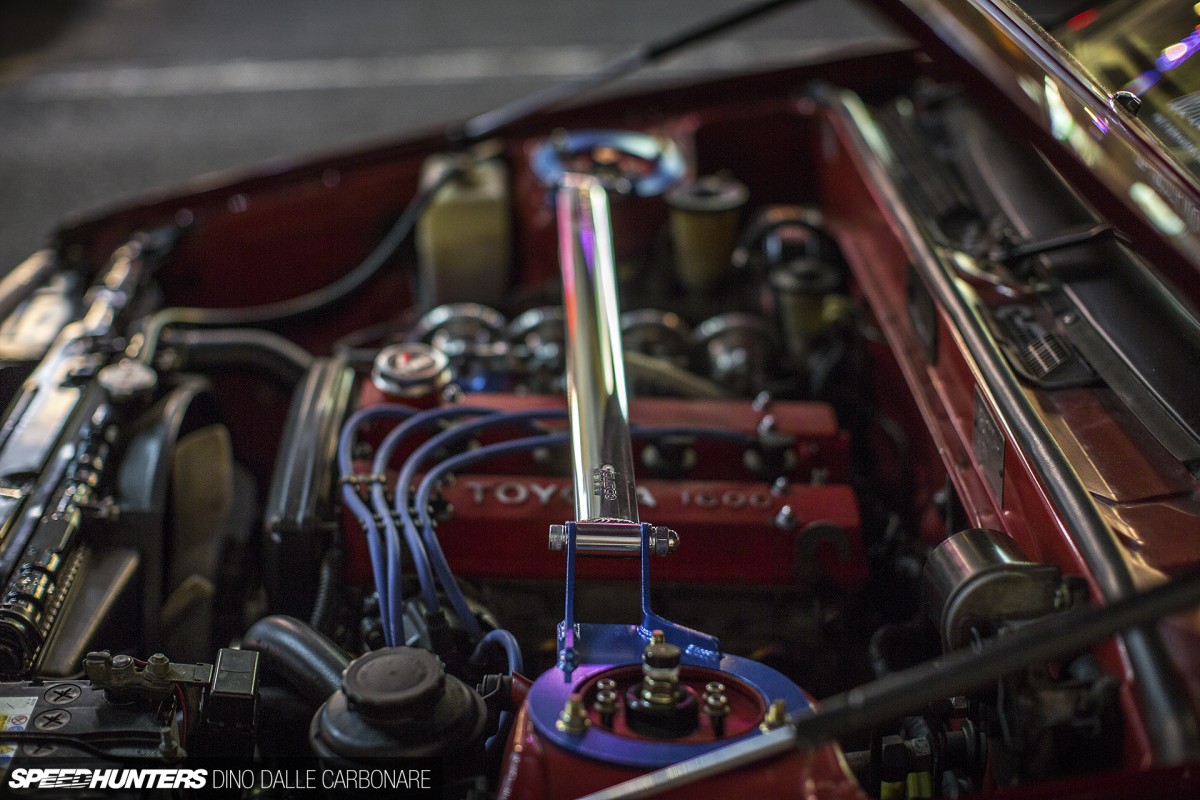 The rest of the engine bay has been cleaned up and fitted with quality additions like a Cusco strut tower bar and a set of Spitfire ignition leads.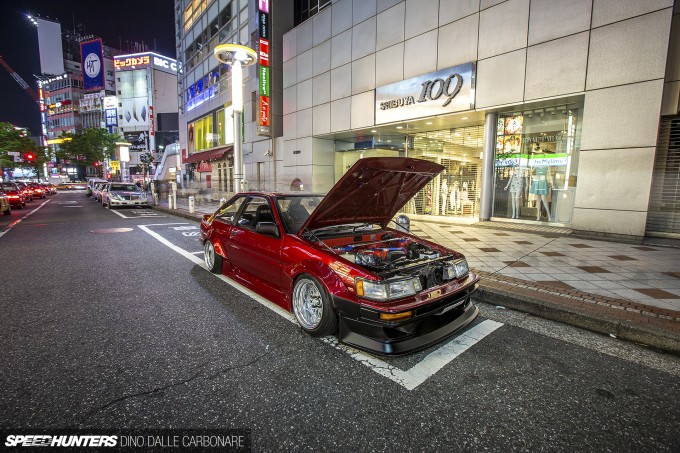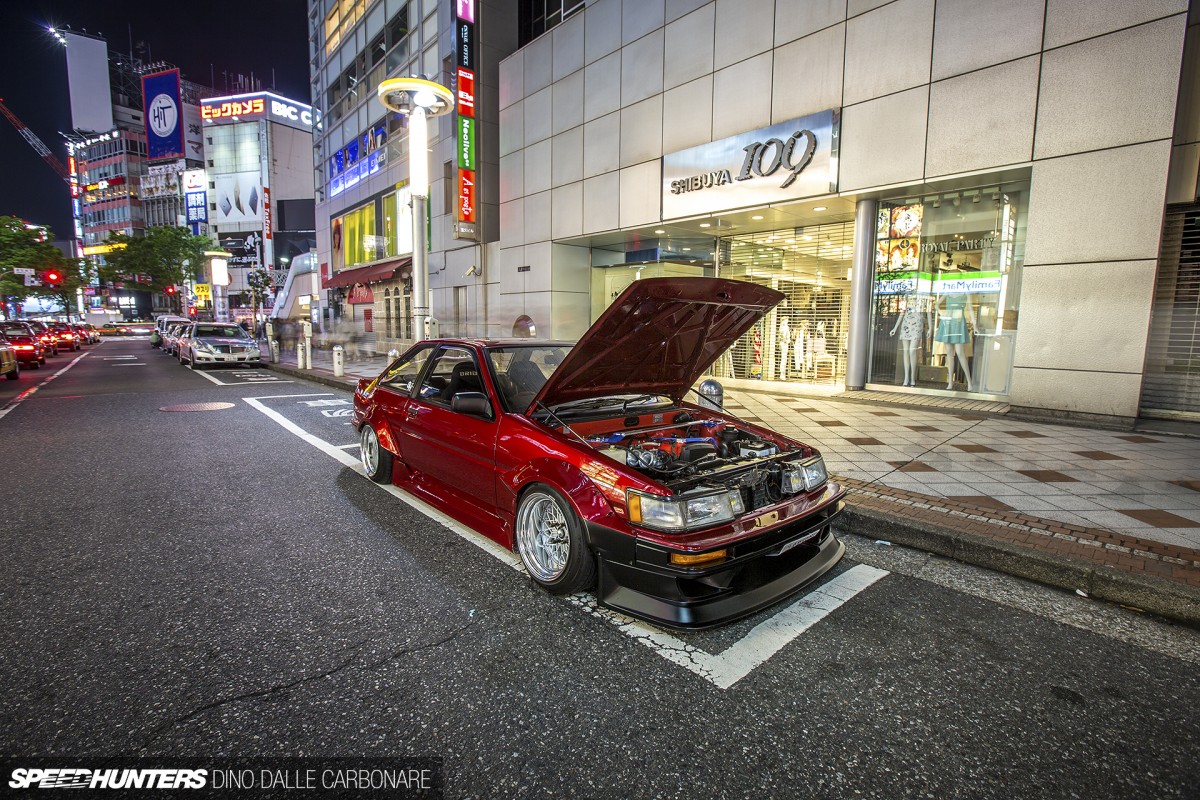 We could have stood there looking at the engine and chatting about future upgrades well into the night, but it was about time to drop the bonnet and get moving before the police made another appearance…
Reggae Soul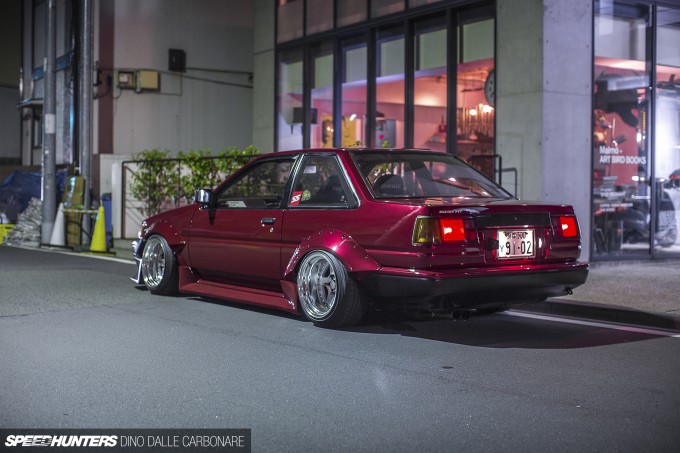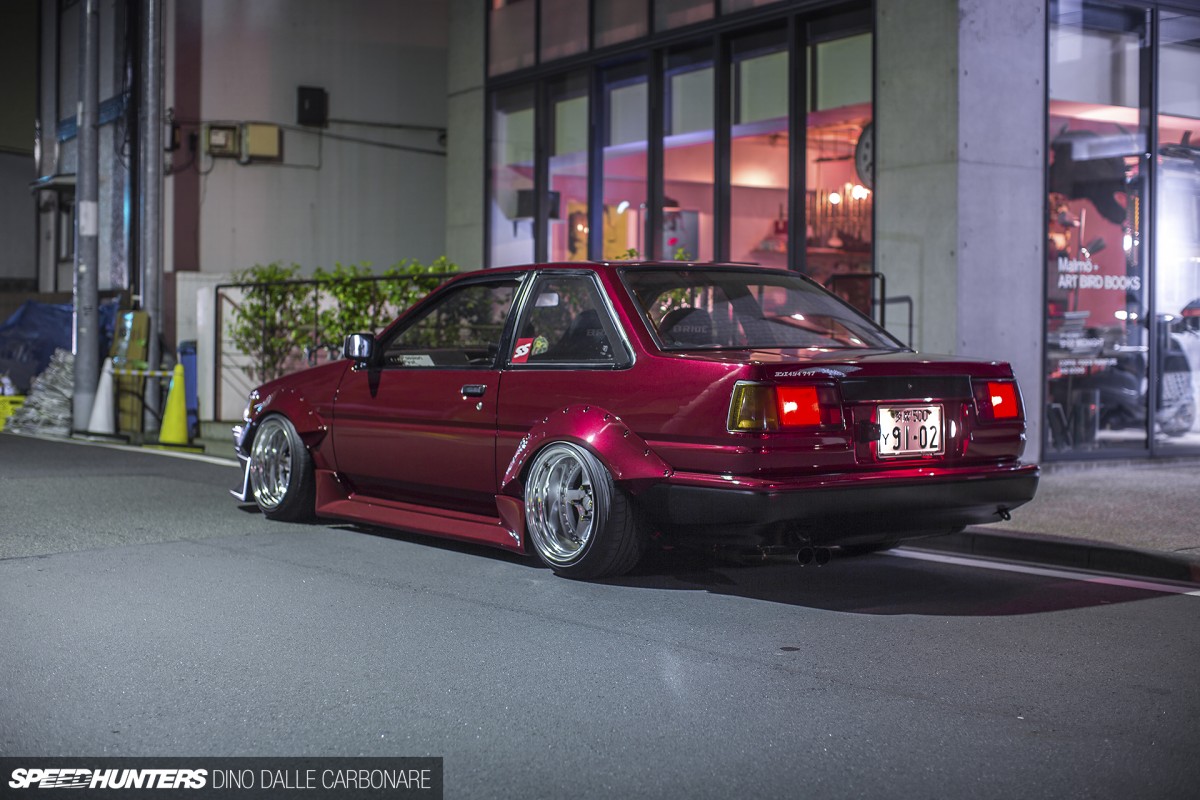 Our next destination was a quieter area of the city where I could finish taking a detailed look at the rest of the car without any interruptions.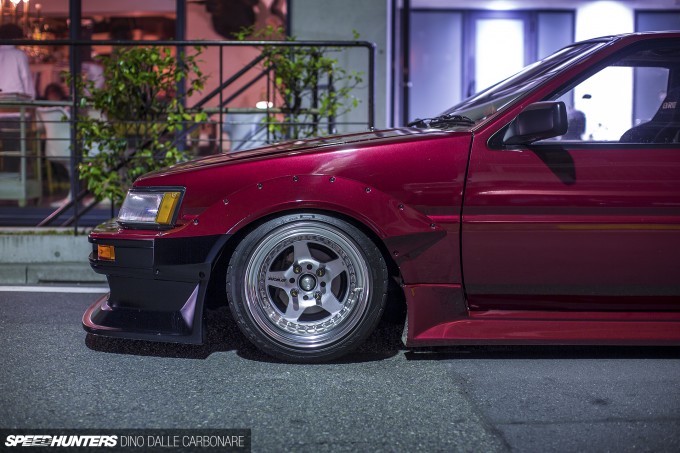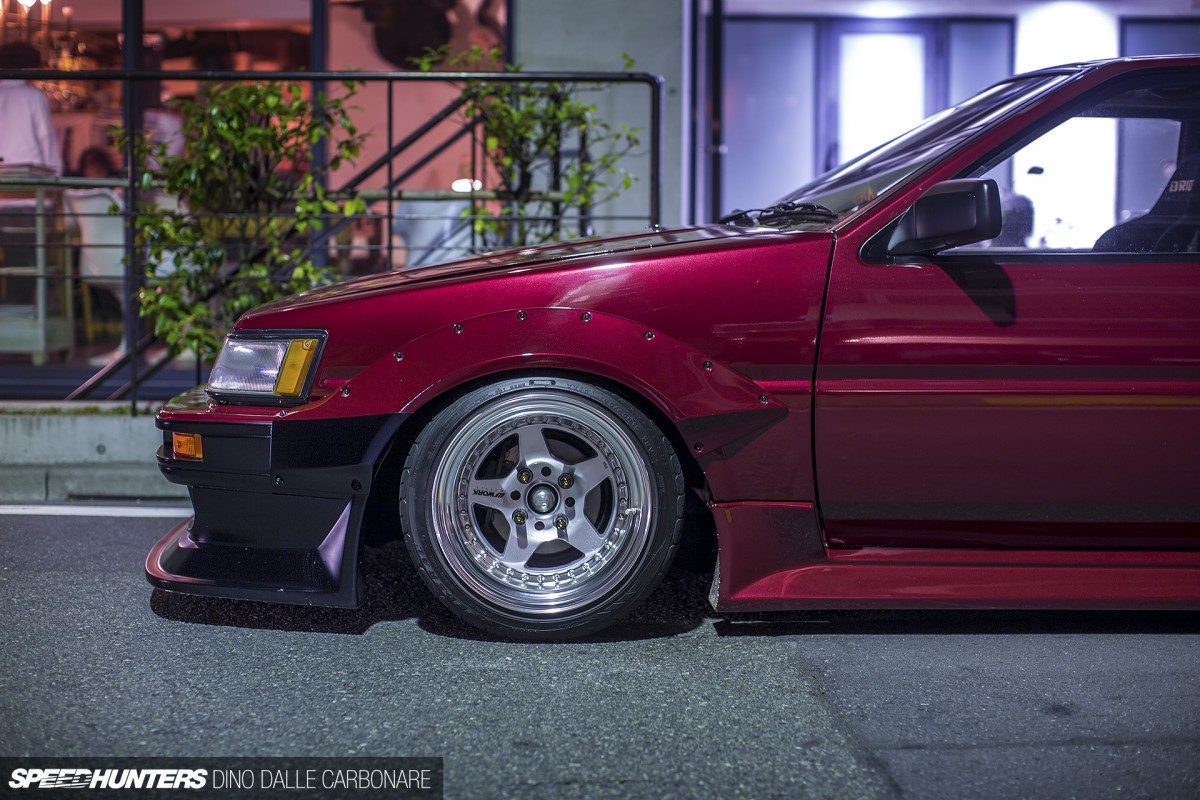 On the passenger side Robert runs a pair of Work Meister CR-01s finished off with silver centers. These wheels are so well suited to the AE86 that it makes picking a favourite side pretty damn hard, and perhaps the reason why Robert went for both sets! This is how the car was shown at Wekfest – a very show-oriented setup but one that adds rather than taking away anything from the car.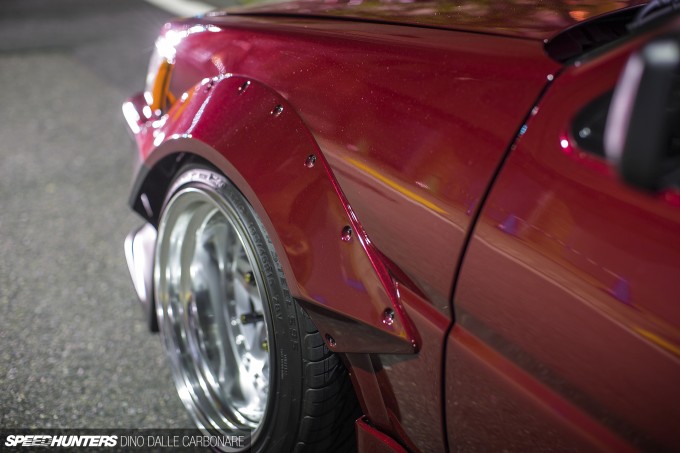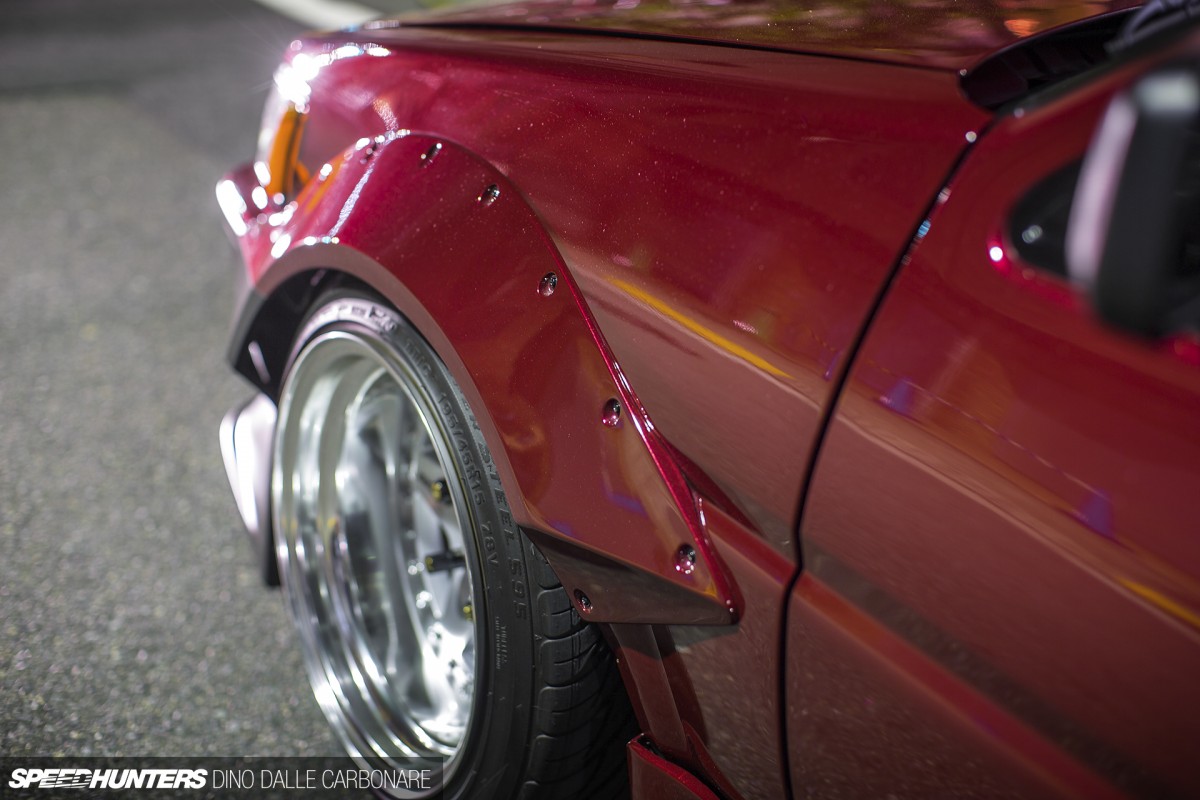 Robert plans to keep running the CR-01s as his main wheels but the Glow Stars will serve as the spare rears when he hits the track.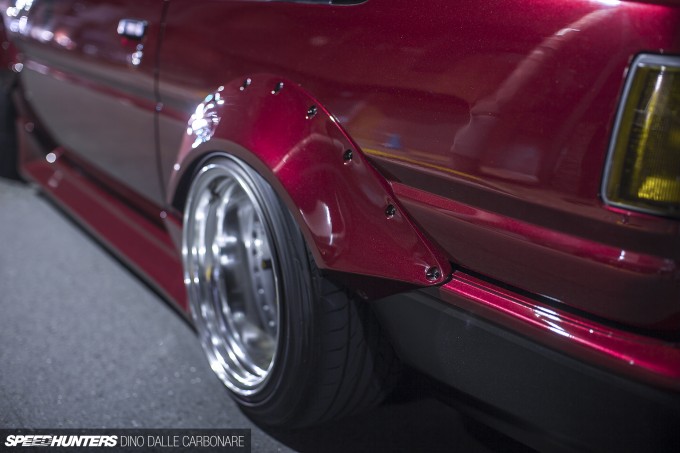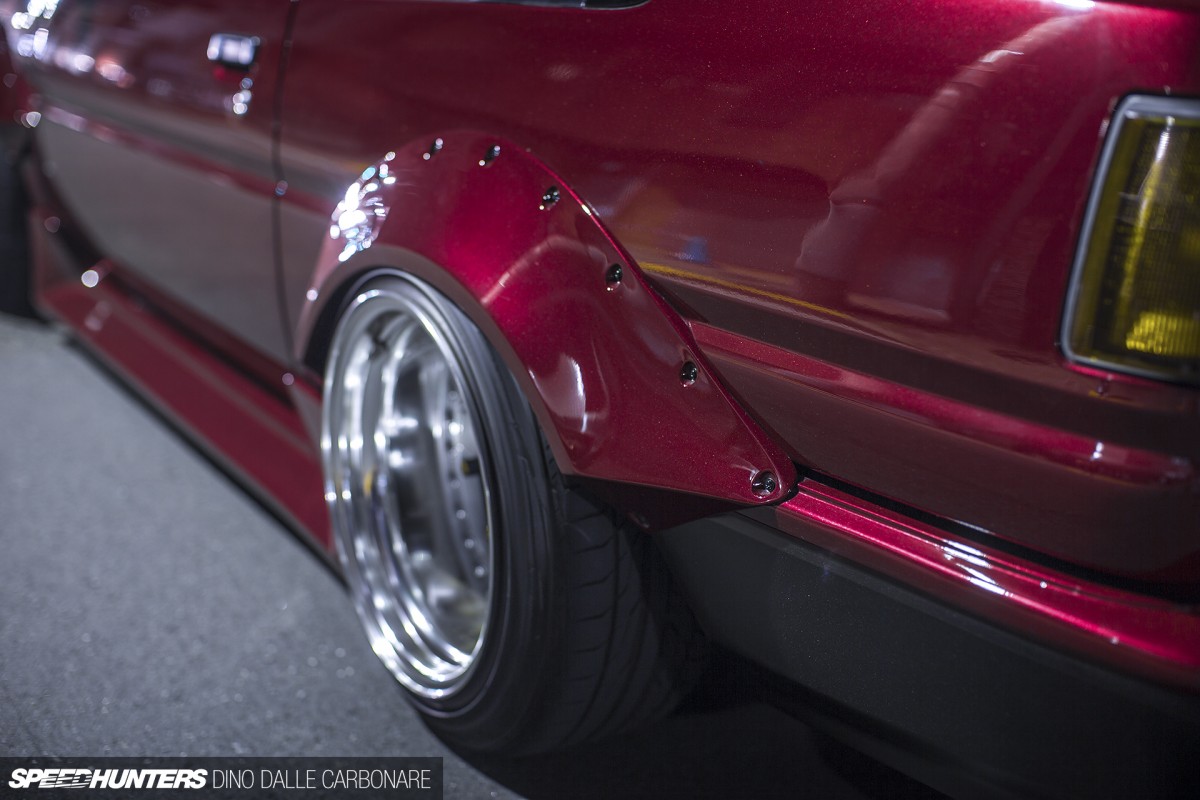 That's because, despite that little mishap that happen on the touge, Robert hasn't given up on the idea of learning how to drift. The only difference is, he will now do so on the track rather than out on the open road.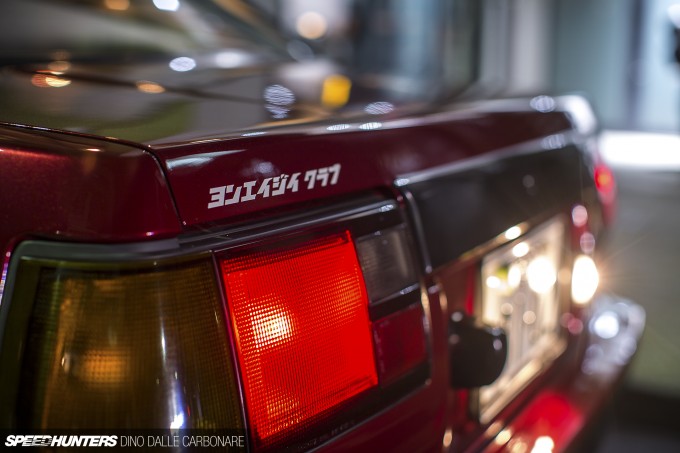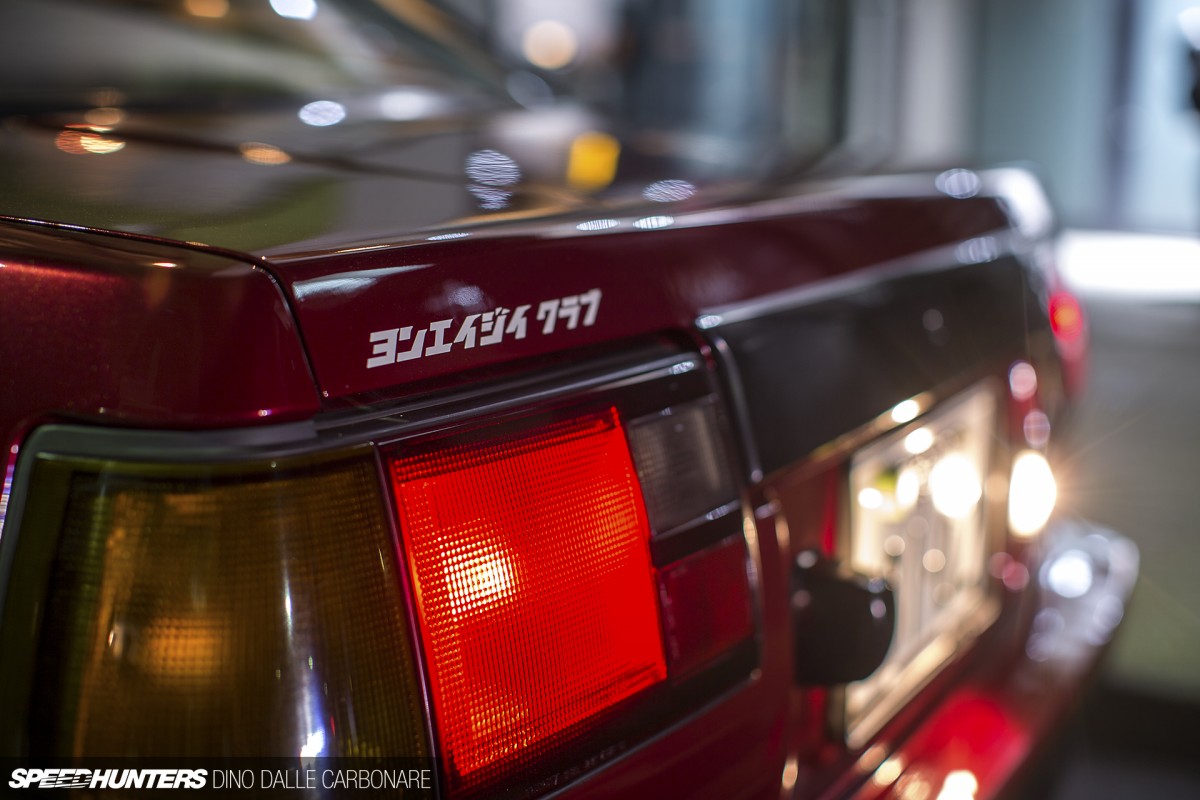 As we parked up in front of another spot I noticed the car runs a 4AG Club sticker on the back – a group that the guys from N-Style out in Gunma set up.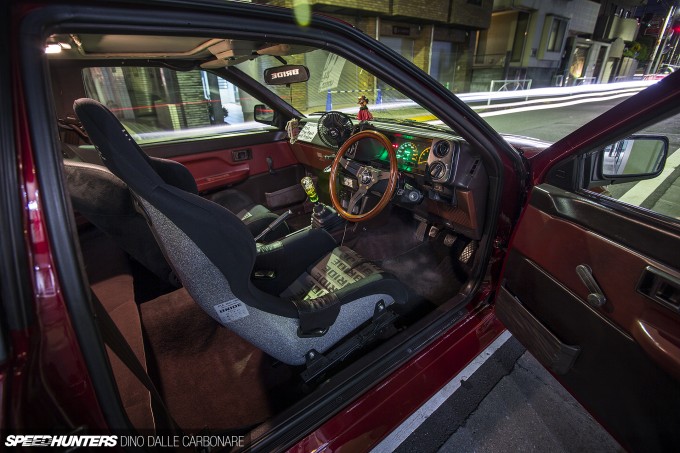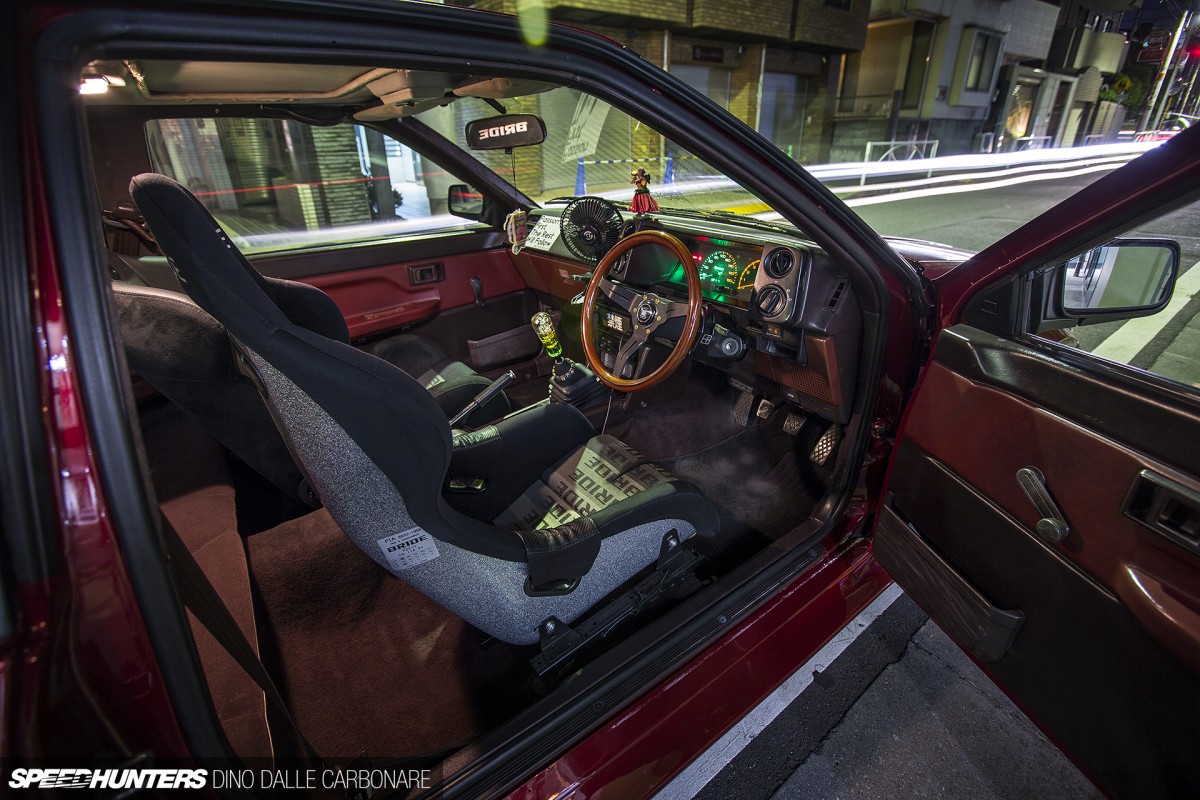 Robert's AE86 oozes character inside too. The maroon trim and carpeting is a great match to the color he selected for the exterior and it just screams '80s!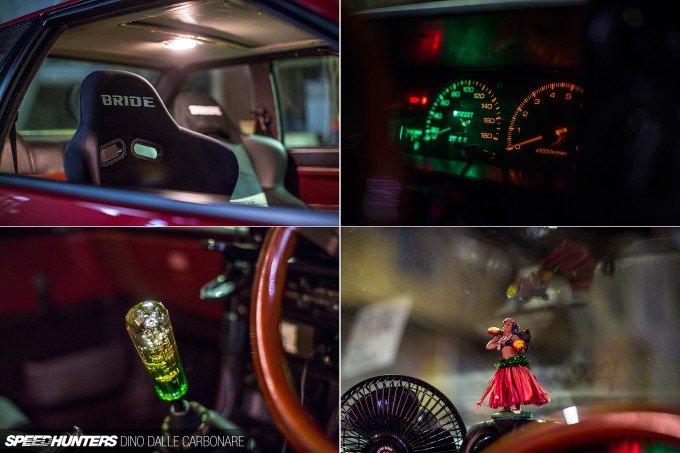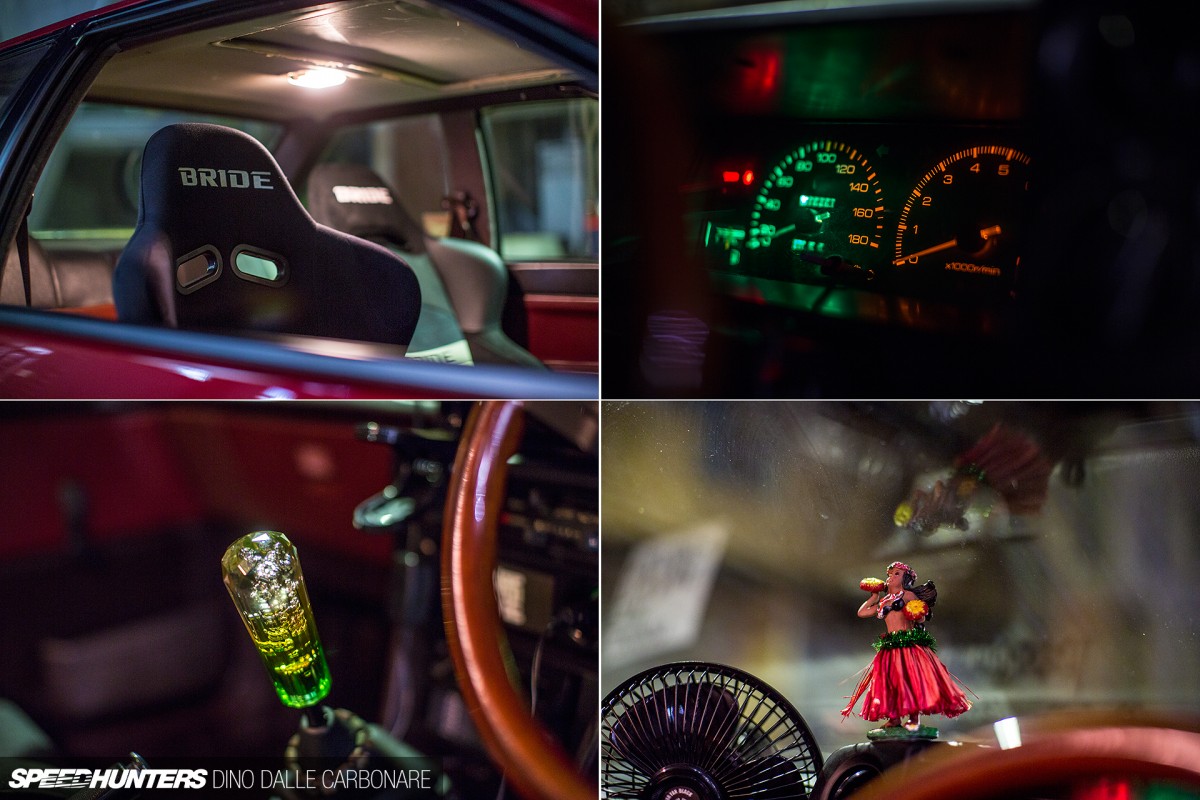 There are, however, some modern and not so modern additions that Robert has thrown in there to give it all a personal touch. The Bride seats, for example, are a necessity – they hold you firm and especially so for the driver thanks to the fixed-back design. Robert always keeps a steady stream of reggae playing through the Carrozzeria speakers – something that is echoed with the multi-coloured lights of the instrumentation.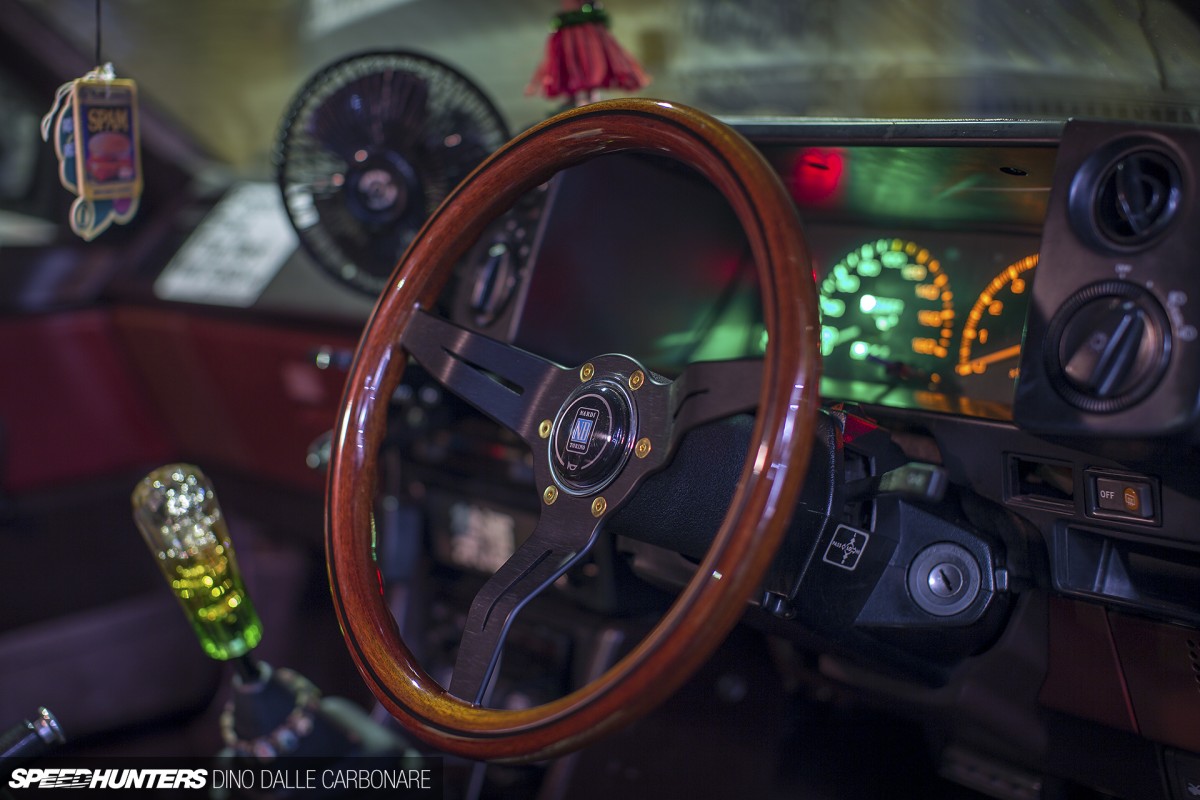 The wood-rimmed Nardi is a great final touch – a mix of modern and vintage all rolled into one.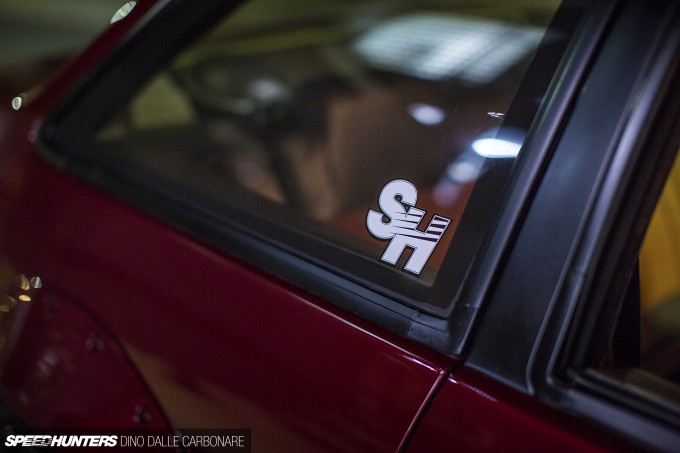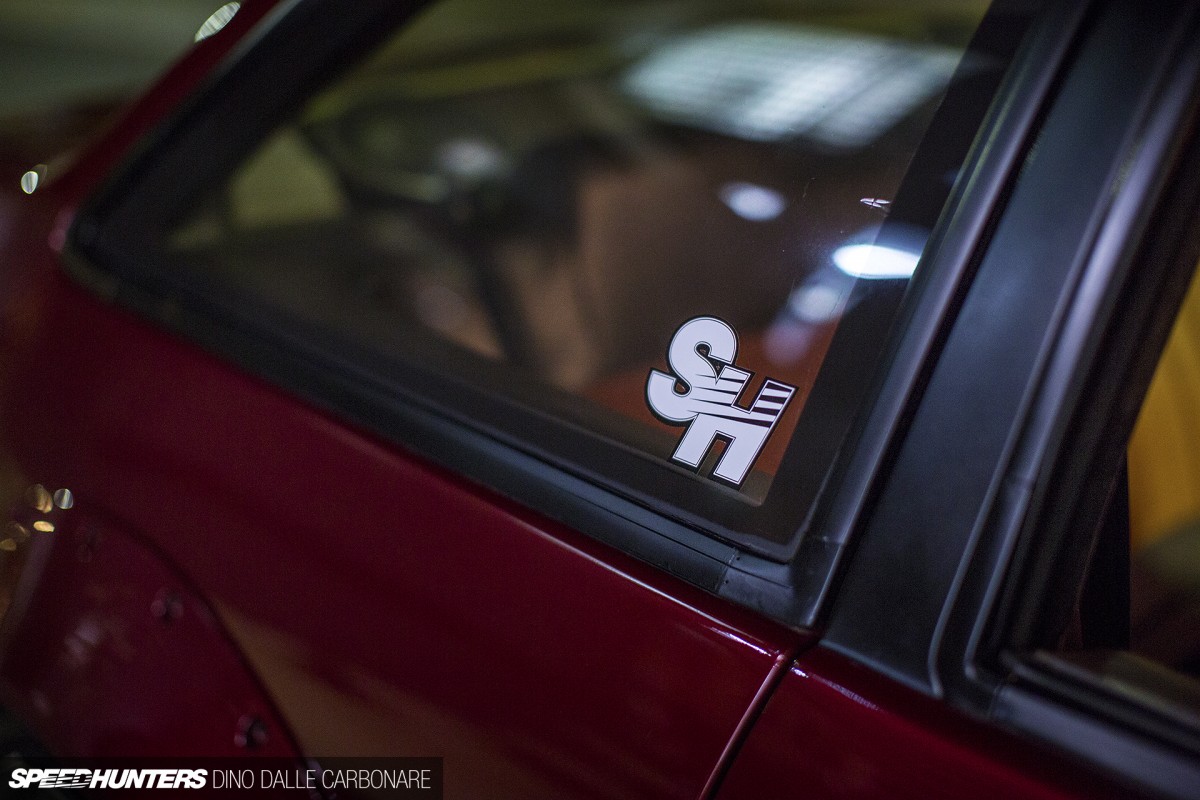 Robert also has a couple of #FeatureCar stickers as well now, but he couldn't quite figure out where to stick them that night.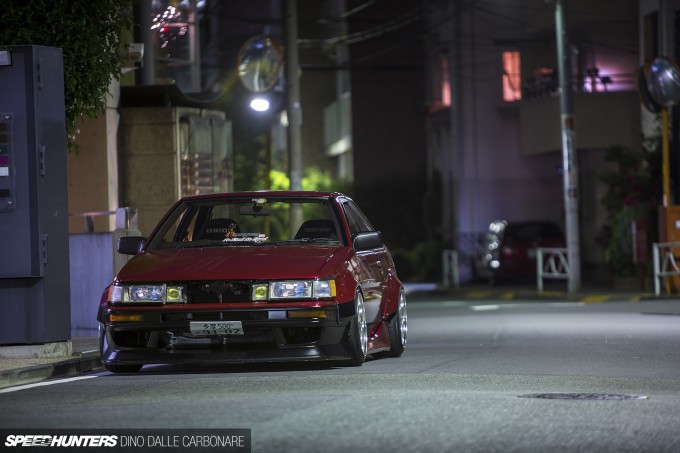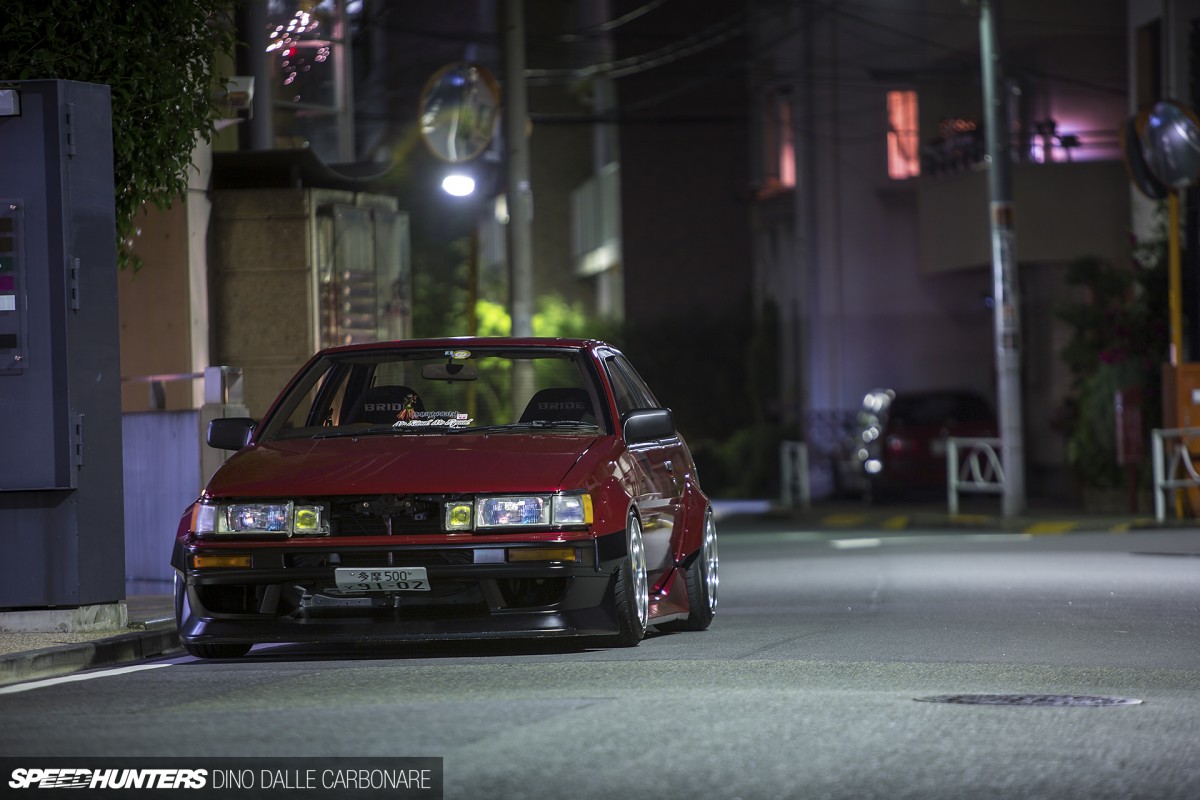 With the clock ticking away Robert has only one goal now that the AE86 is completed, and that's do a lot of driving. Before he journeys down south in the car he wants to attend as many shows, meets and trackdays as he can possibly can.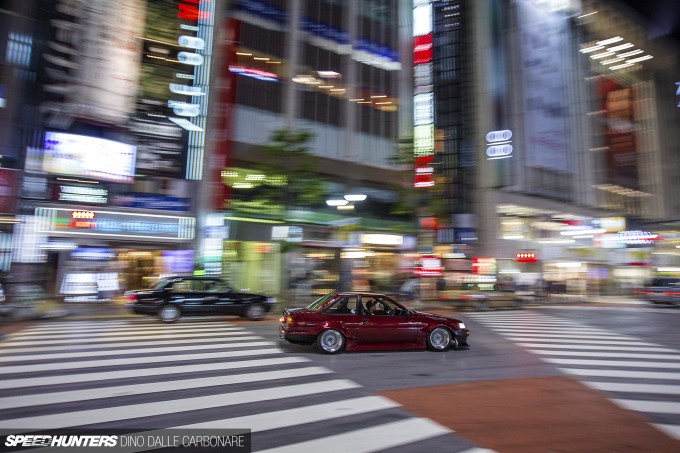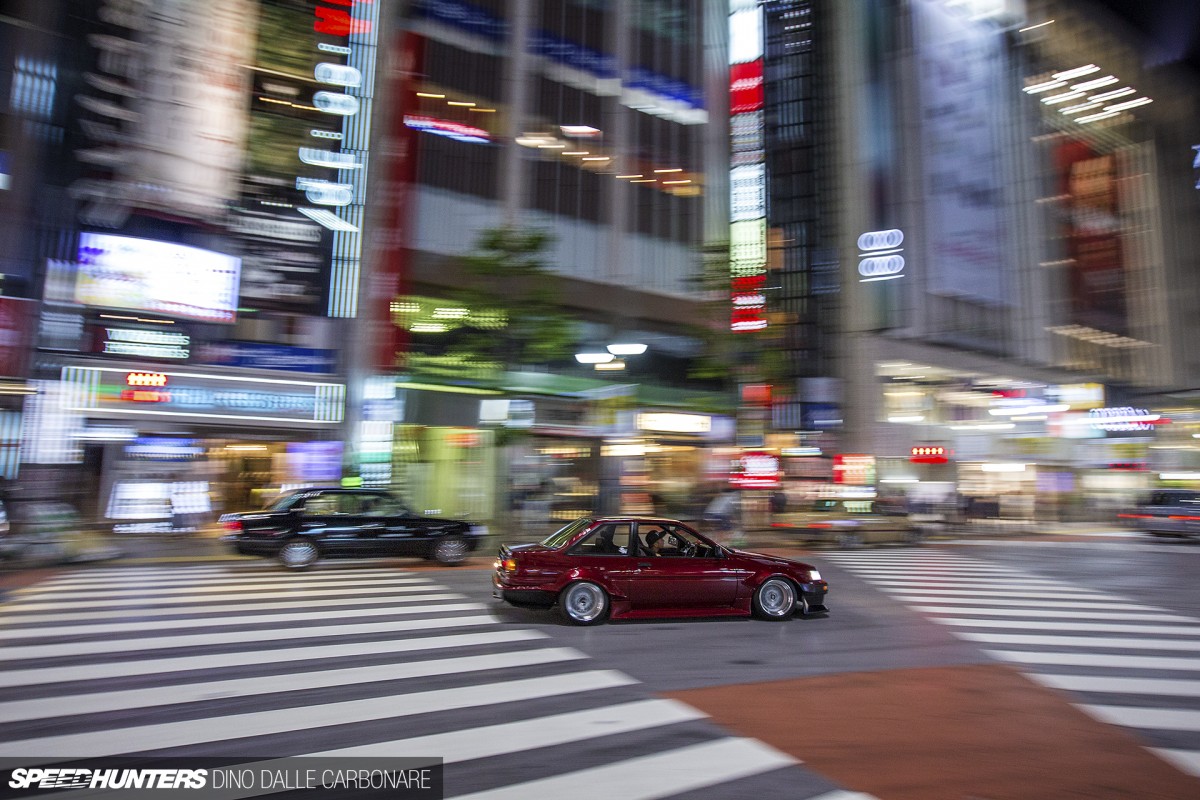 Had Robert not kissed the guardrail that night, the car would be looking rather different by now. AE86s are cool in all variations and styles, but it turns out that an Impulse-kitted Levin stands out a hell of a lot more than a Trueno running popular Run Free aero. It's funny how things happen sometimes, but a lot of the time you might as well just assume that it was all for a reason. It all makes sense then…
Dino Dalle Carbonare
Instagram: speedhunters_dino
dino@speedhunters.com