Behind The Scenes
Imagine for a moment that you are the organizer of the leading professional drift series in Europe. After several months of preparation for the British Drift GP on the streets of London, the excitement on social media among fans is starting to grow. Everything seems to be falling into place and you're ready to welcome the best drivers, teams, and thousands of fans. Then, out of the blue, an unforeseen situation forces you to change the venue. What do you do, knowing that you have only two weeks until the start of the season?
Without delving into too many details, this was the unexpected scenario that the organisers of Extreme Drift Allstars had to deal with. It's always good to have a 'Plan B' when you encounter such a problem, and in this case it was the Essex Arena Raceway – a popular speedway and stock car racing circuit in the UK. Seeing as the Extreme series is renowned for its custom track designs, there had to be few modifications made to the track layout in the very short amount of available time though…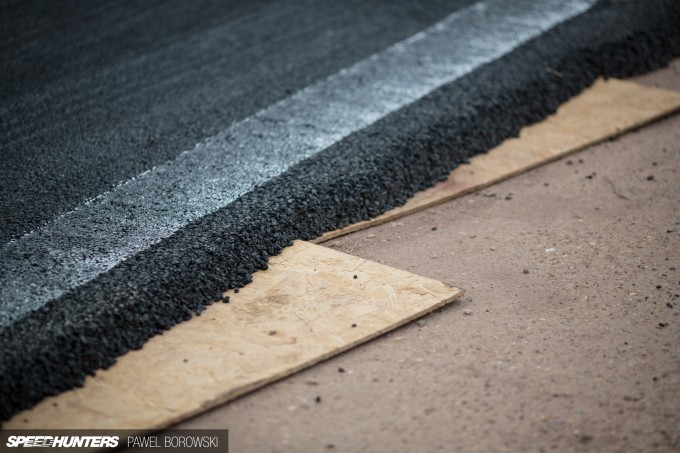 When I say a 'few modifications' I'm taking about 80 tonnes of asphalt laid inside the oval circuit for the one-day event. If you think that's crazy, then you're probably right – although there was a reason why the organisers went to such great lengths.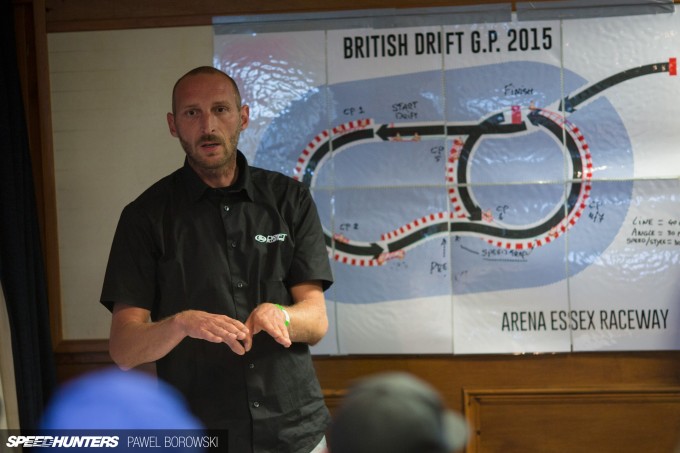 The new section of asphalt created an almost 360-degree turn that led drivers to the finish line. In my opinion it was a perfect recipe for spectacular battles.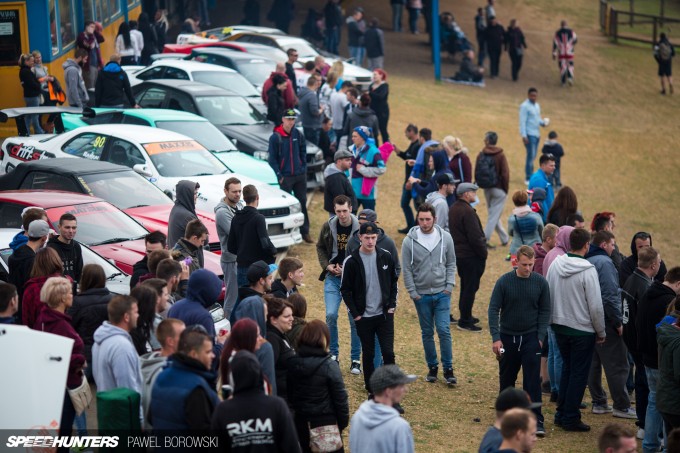 One of the benefits of an oval circuit is the fact that everyone can get really close to the action. Can you imagine a better place for a car meet?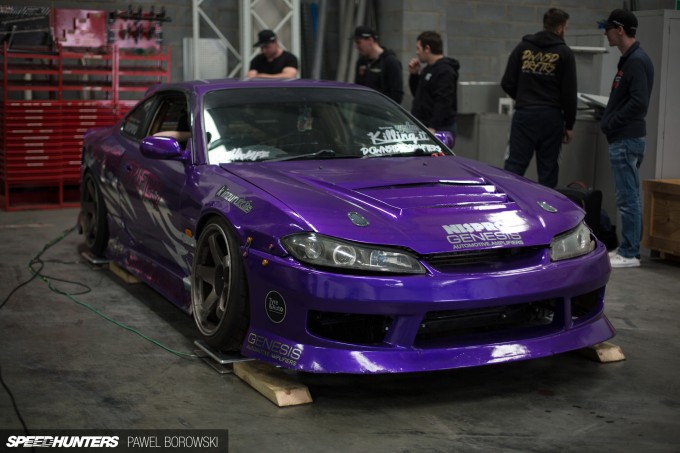 Before the competition started all cars were inspected to ensure they met the series' technical regulations.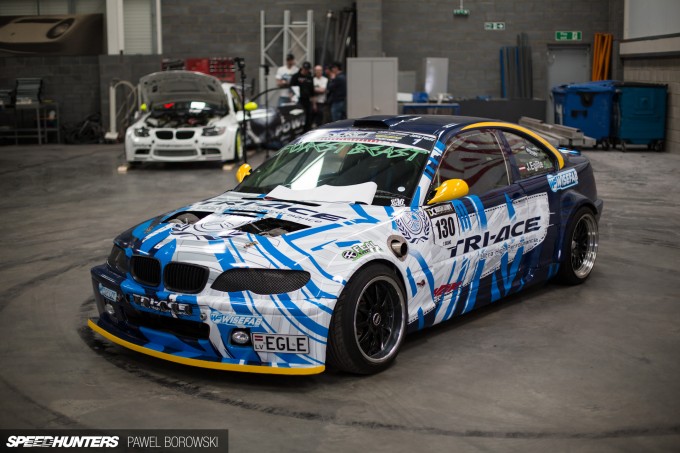 It's always exciting to see the newly-built cars before the season kicks off. As they're designed to battle against each other, there is no chance they will look so immaculate by the end of the season.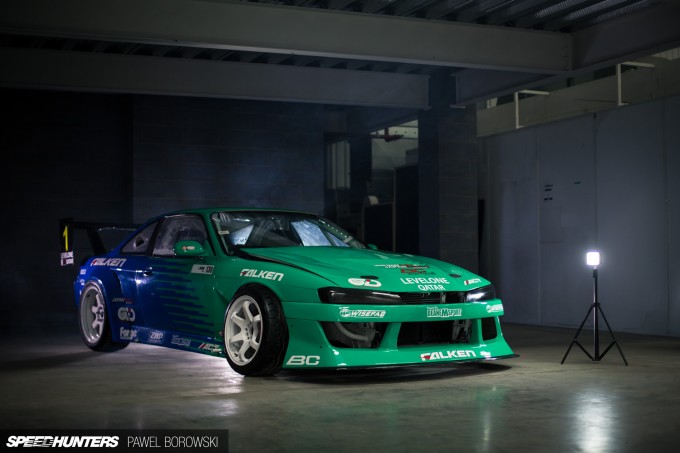 2014 Extreme Drift Allstars champion James Deane brought his car along to the media event the day prior. This is definitely one of my favourite drift machines on the grid for 2015.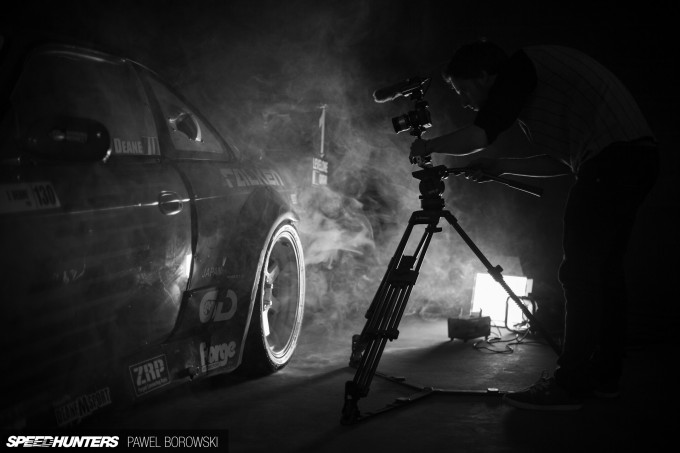 Lights, camera, smoke, action!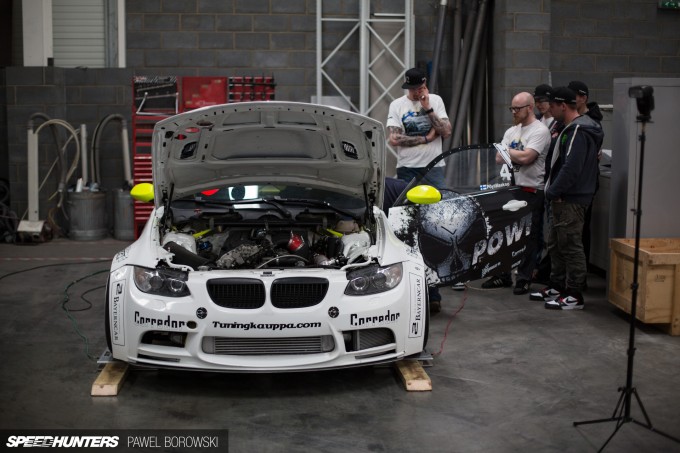 Juha Pöytälaakso of Finland is one of very few drivers who have beaten James Deane in his very successful career. Something tells me that it's going to be a big year for this E92.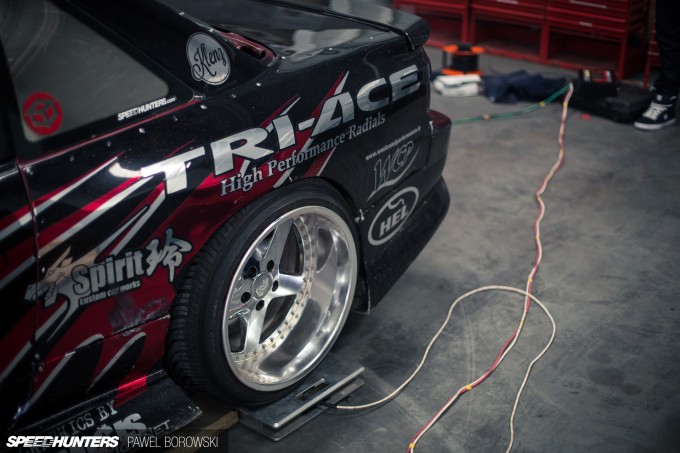 For team Low Brain Drifters, style seems to be almost as important as performance. There is literally no gap between the tyres and rear wheel arches on this PS13.
Kick Off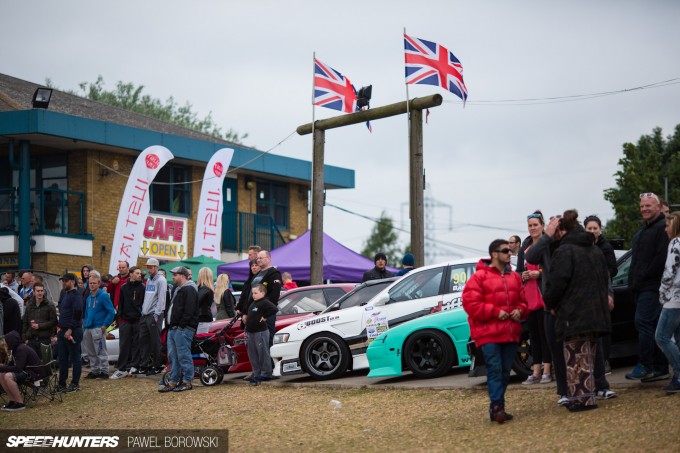 Drift Allstars received a plenty of online slack when the new venue was announced, but the team was still confident of delivering a world-class show despite the last-minute setback. After a long off season break it was finally time to see the drivers running the walls on this edgy track.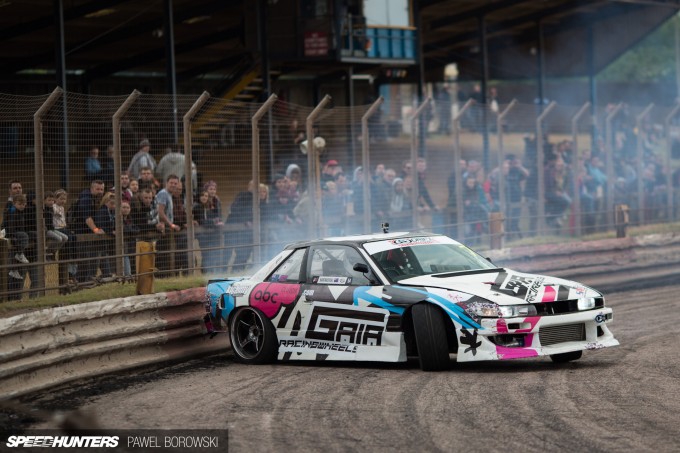 Due to the series being spread across six countries spanning Western Europe, Scandinavia and Eastern Europe, there are no less then 14 national champions contending the full series.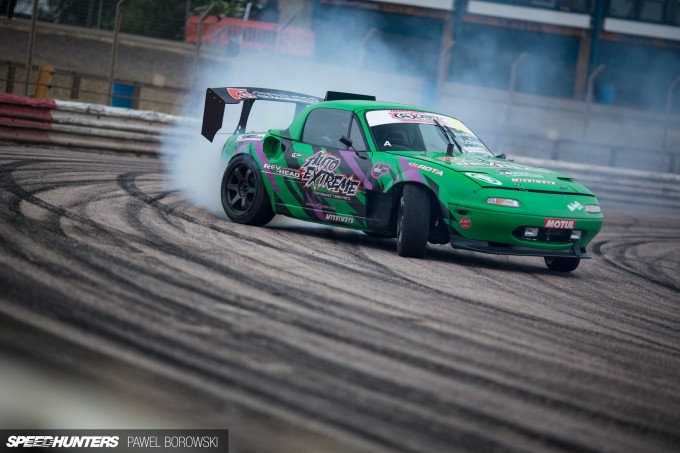 Also unique to Drift Allstars is the ability for drivers to drop their worst score, which aids the teams in funding this year. Many Scandinavian and Eastern European drivers will drop the first event in aid of campaigning the full championship.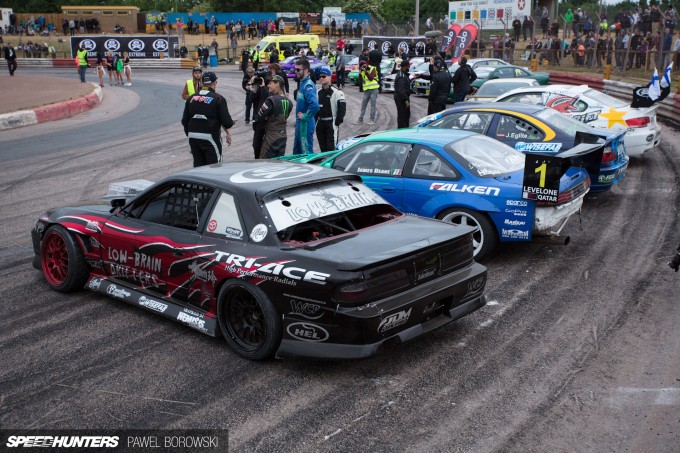 So let's take a closer look at the top qualifiers from the British Drift GP.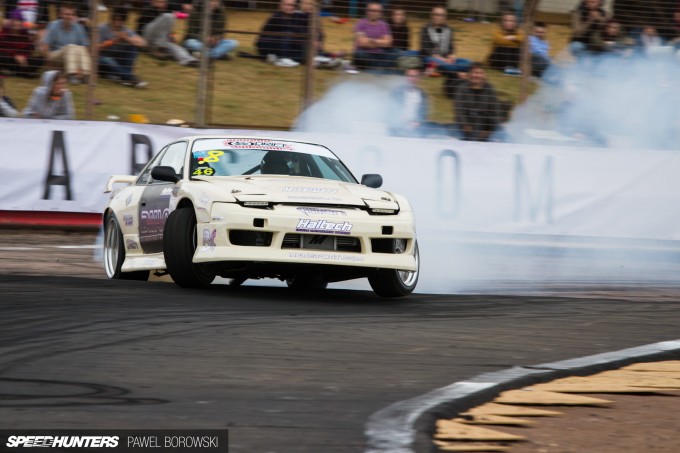 Sultan Al Qassimi, a UAE resident from Abu Dhabi, was running the 650hp 2JZ-powered Nissan Onevia under Darren McNamara's MCNSport team, and showed some great speed taking sixth.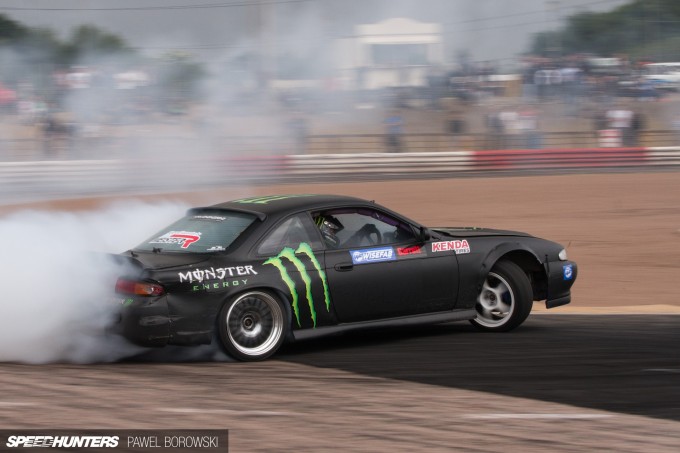 Ukrainian champion Dmitriy Illyuk is known for his crazy cars, and actually flew in a rented S14. He will soon be unveiling his 2015 Monster Energy twin turbo VH45 Nissan V8 S14 in Sweden, but here qualified in fifth place with style.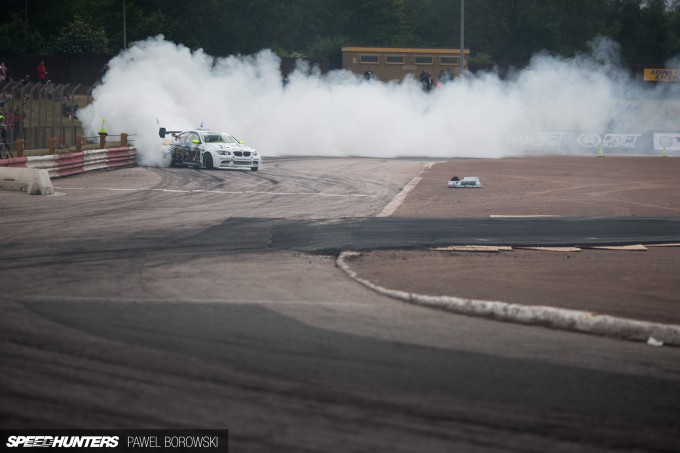 In fourth was Juha Pöytälaakso with his crazy 900hp BMW E92. The Finnish driver made his debut last year, but has seemingly found some big speed over the off season. He was consistently one of the fastest during qualifying.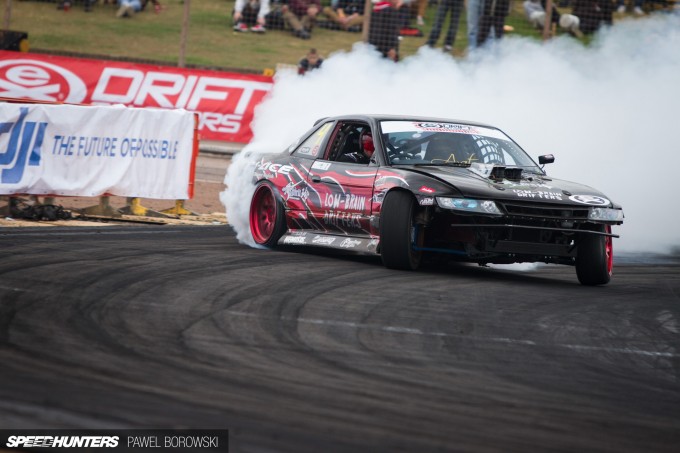 On his return to the series this season, third place was taken by past champion Luke Fink. With his former winning team LBD, a 650hp V8 and new Tri-Ace tires, it seems the Australian has the package to compete at any level.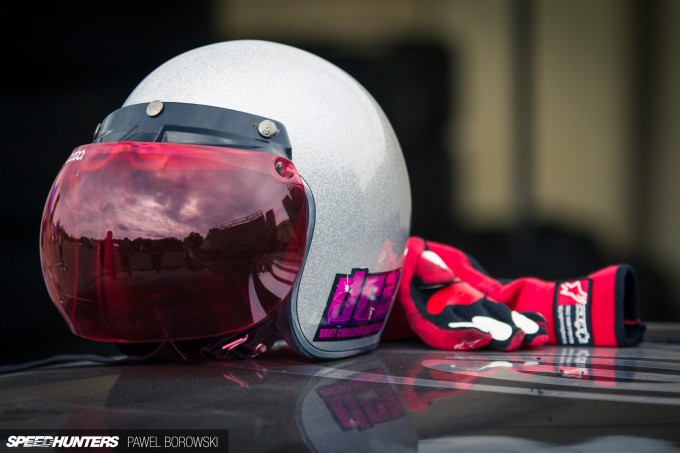 Fink is known for his fast and aggressive driving – and a good sense of humour. He is definitely one to watch this year and will surely be a stand-out character in the series.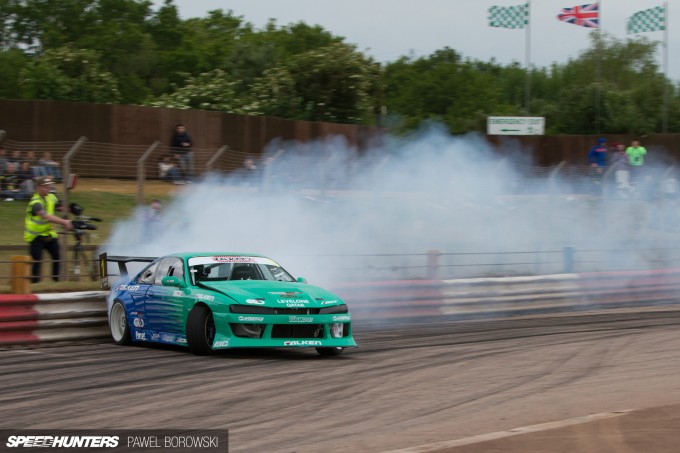 Returning champion James 'Machine' Deane took second place in his 2JZ-powered Nissan S14. Steady and not taking any unwarranted risks, he doesn't intend to give up his championship title just yet.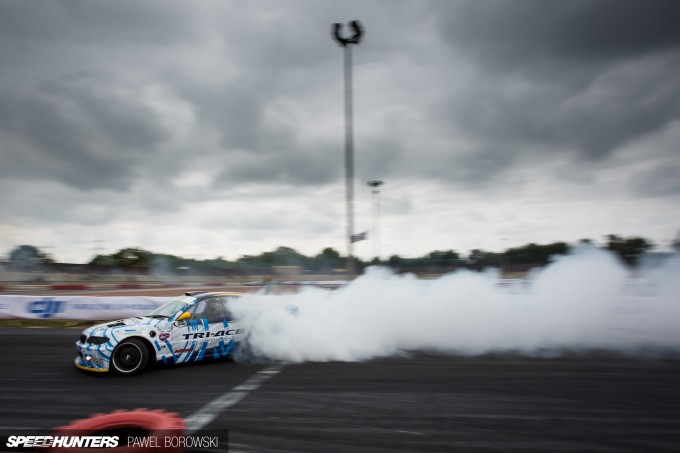 Multi-time Latvian drift champion Janis Eglite has joined the Tri-Ace tyres team for this season and straight away impressed the crowd and judges by taking the first place qualifying position in his amazing 800hp BMW E46.
Battles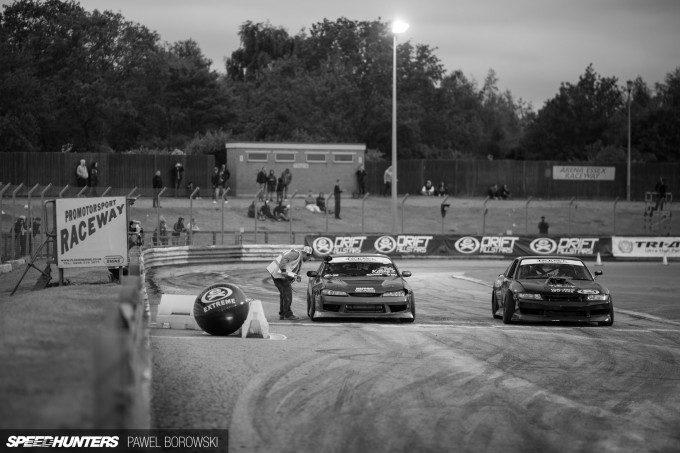 When night fell it was time for the main course: the battles.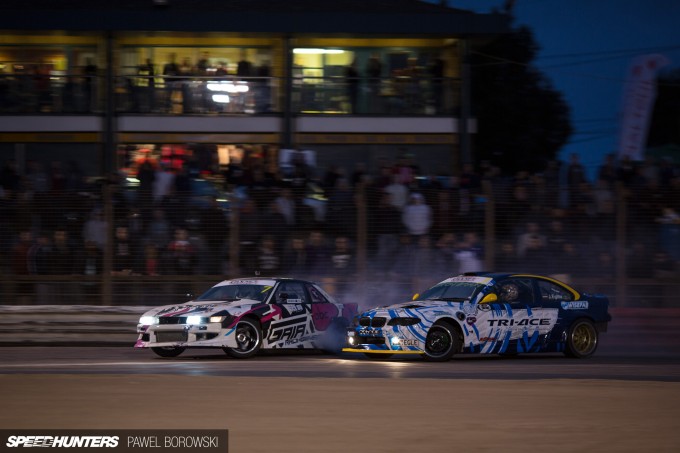 As I expected, the layout of the custom track was tandem-friendly, which obviously made the enthusiastic crowd happy. In fact, we were treated to some of the closest battles to date.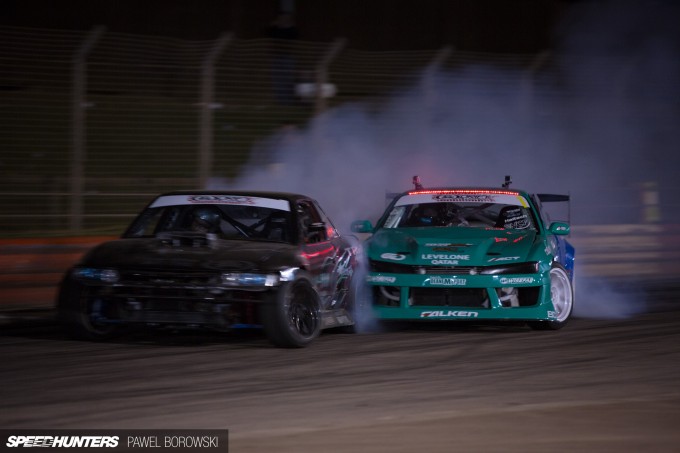 One of the highlights of the night was the Top 4 battle between two former champions – James Deane and Luke Fink.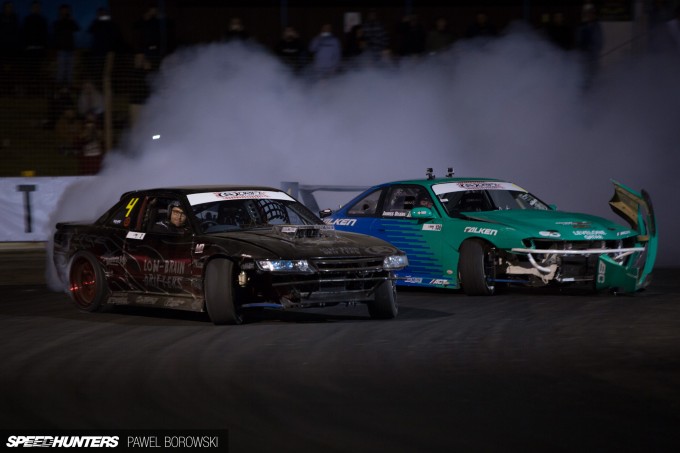 And the fans had been waiting to see this battle happen for five years. Fink had an amazing chase run which got all the fans on their feet, but when Deane chased he got too close and ended his event.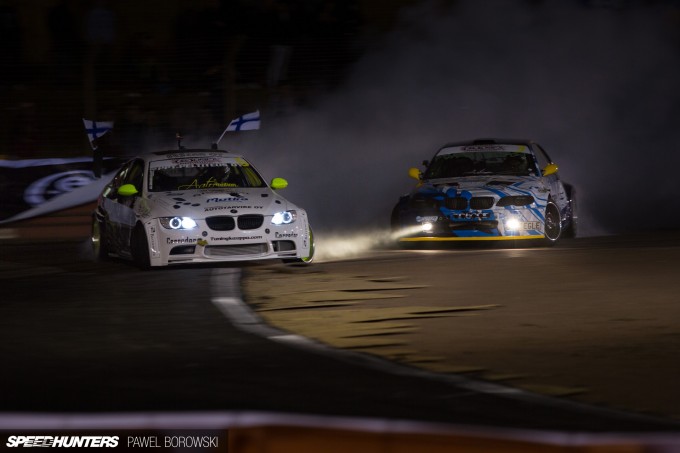 In the second Top 4 battle, Eglite from Latvia and Pöytälaakso from Finland pushed their BMWs to the limits resulting in a 'One More Time' call from the judges.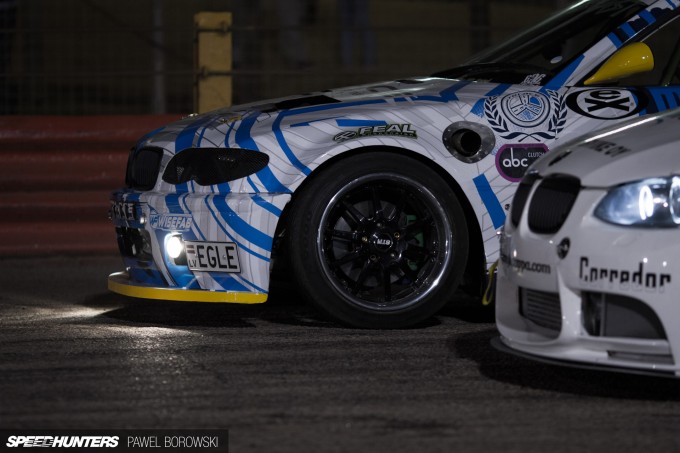 Janis Eglite took the win in the second set of battles and went straight to the final, proving just how on-form he is.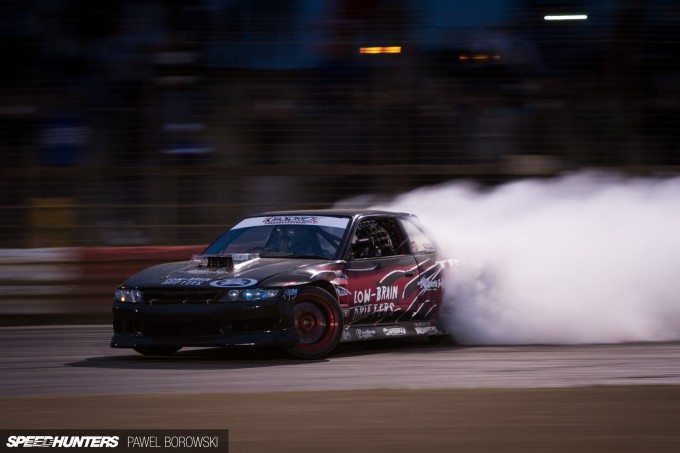 The final was a battle between team-mates: Eglite versus Fink. After beating his biggest rival in the previous battle, you could see the hunger in Luke's eyes.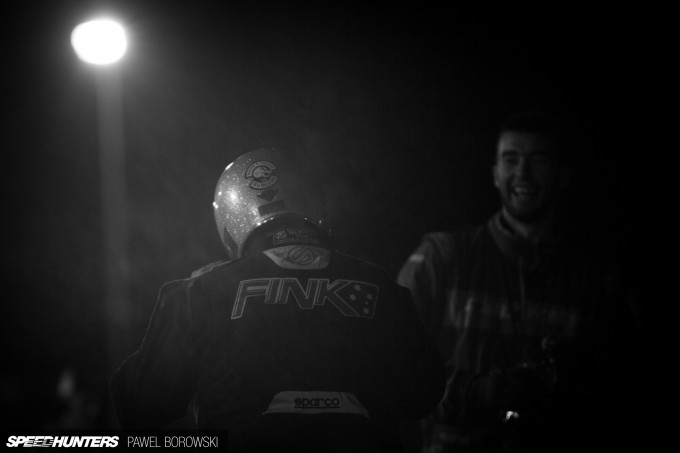 Fink would raise his level and Eglite slowed due to a clutch problem, meaning it was quick to see the Australian driver emerge as the victor.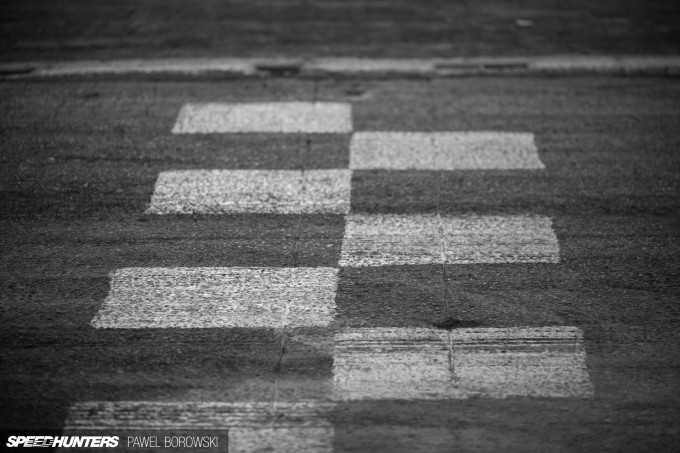 It was hard to believe that this event was turned around in just two weeks. We know the title contenders, but I have a feeling this is only the start of what's going to be a really closely-fought 2015 championship.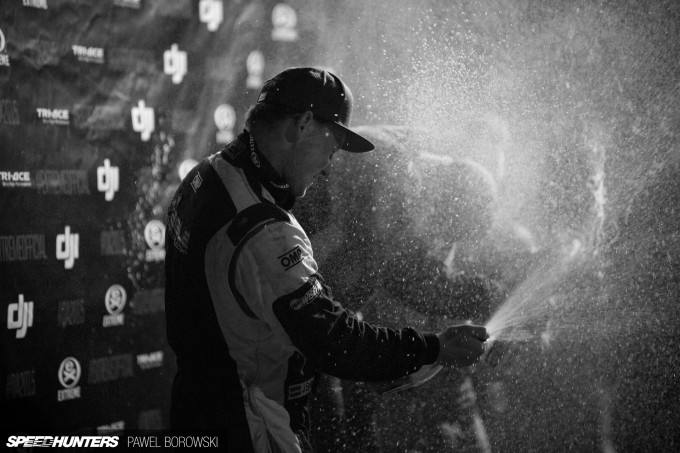 Luke Fink is a wild driver, and as he proved he's more than capable of winning. Janis Eglite is probably the best chase driver in the business, while Juha Pöytälaakso is an outsider who beat James Deane last year and certainly has one of the best cars on the grid.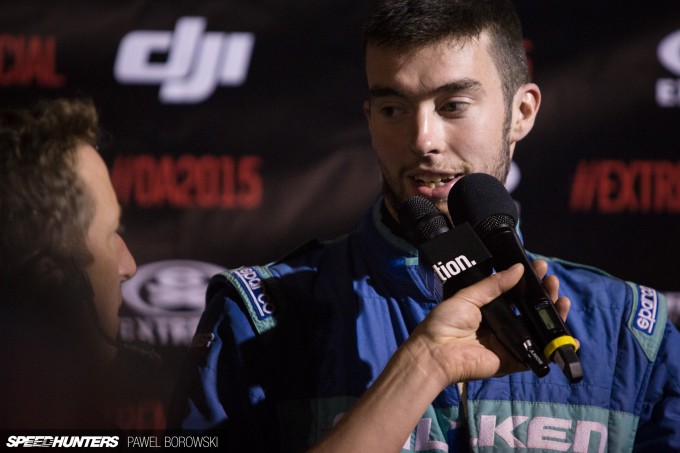 In stark contrast, Deane might be three years undefeated on home soil in Ireland, but Europe's seemingly on a totally different level. He took two wins, and we have yet to see what his biggest rival, BudMat Auto, will bring to the next event. And then there are the rejuvenated Scandinavian drivers… 2015 could be the biggest year for Extreme Drift Allstars yet.
Pawel Borowski