Let's Go To Finland!
We'd heard rumours about Finland. Apparently people are 'pretty into' cars there – but we didn't know it would be this good…
A few weeks ago, Speedhunter's EIC Pedey and I hopped on a plane to Helsinki – a short 50-minute journey from Stockholm where Speedhunters' headquarters is located. It was all thanks to a chance meeting a month earlier when we'd got chatting with a couple of guys from Finland at the Bilsport Performance & Custom Motor Show, who had told us that if we ever wanted to visit, they'd be more than happy to give us a Speedhunting tour of the local car scene. How could we say no to that?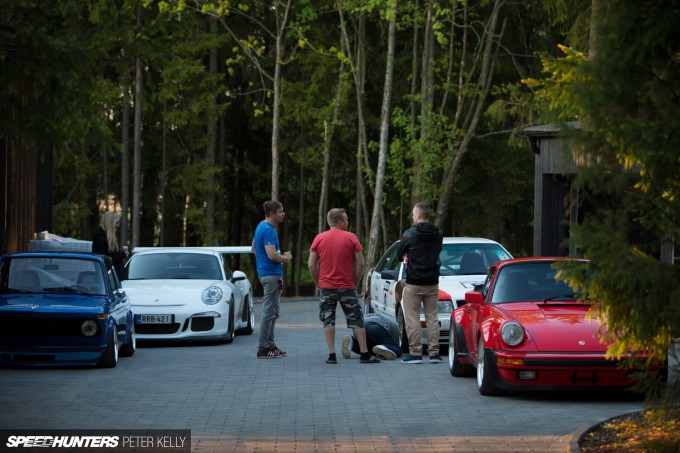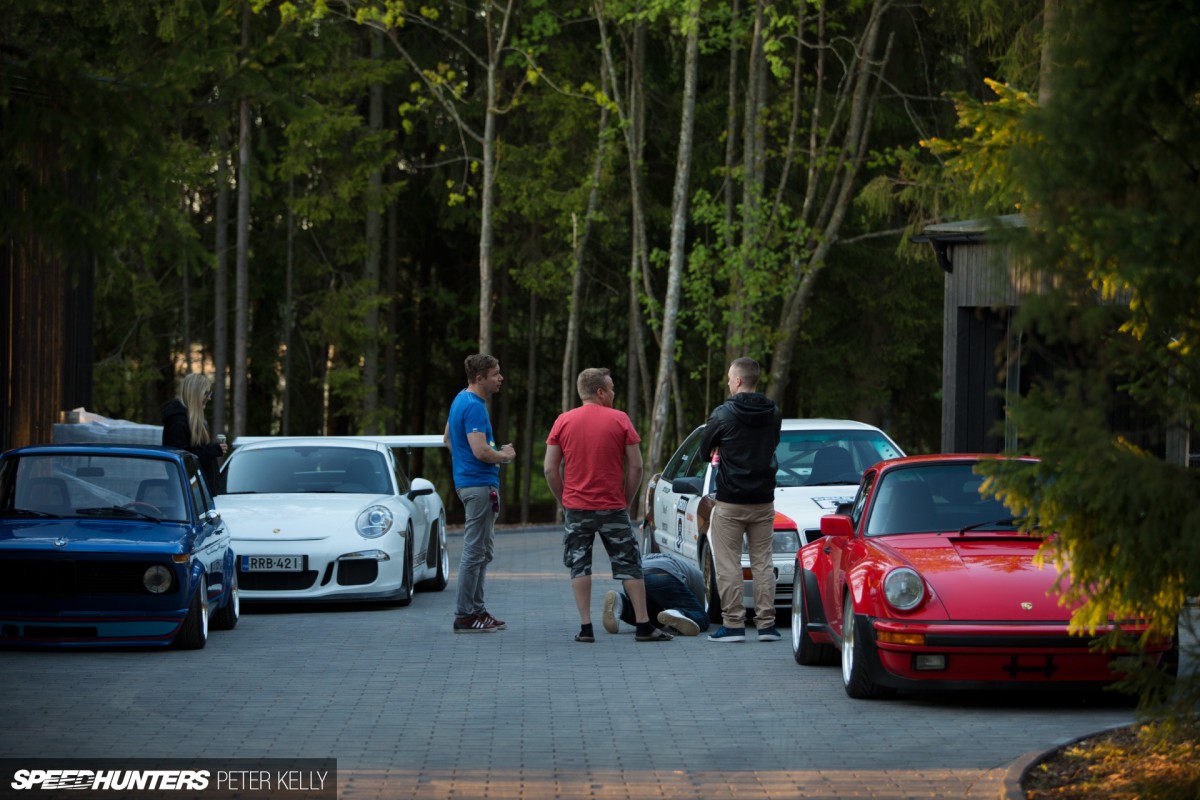 I'm so glad we didn't decline their kind offer too, because it turned out to be right up there as one of the best Speedhunting weekends I've ever experienced. The sheer amount of cool cars we got to enjoy in such a small time frame was actually quite ridiculous, and as we found out, Finnish car enthusiasts don't just like cars – they're completely and utterly obsessed with them!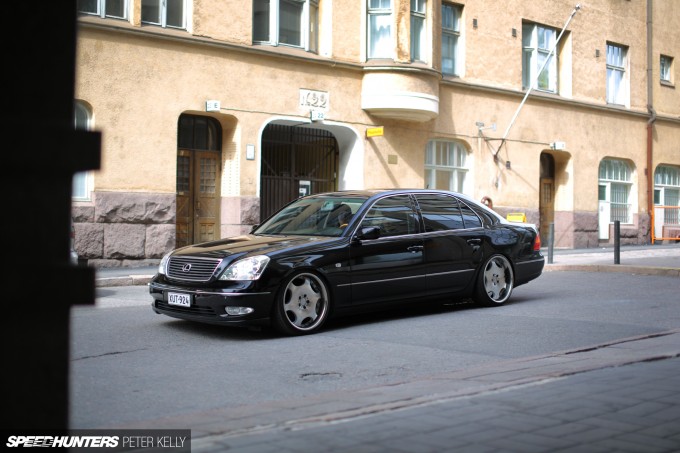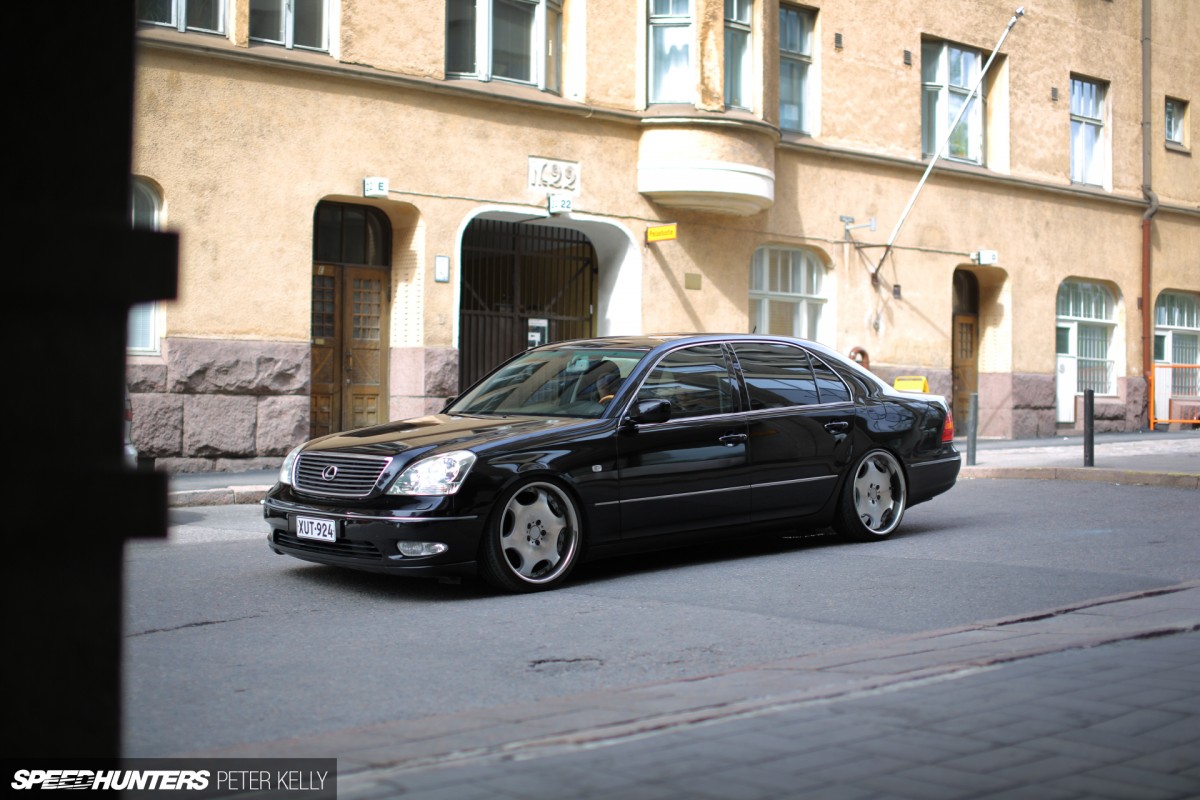 Speaking of cars, our weekend started off with this slick VIP-style Lexus that turned up at the airport to collect us on a sunny Friday afternoon.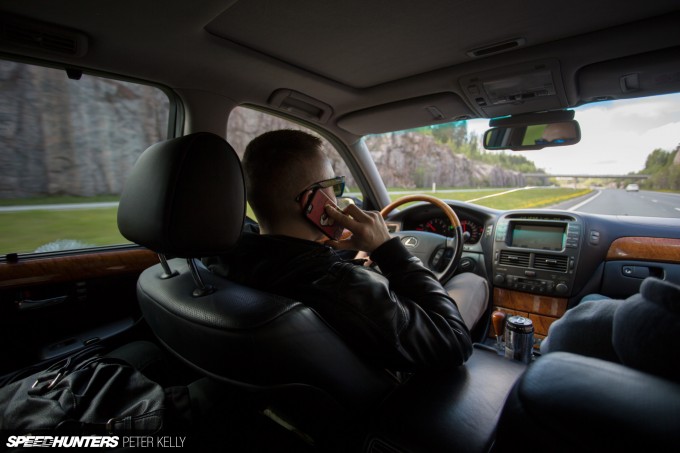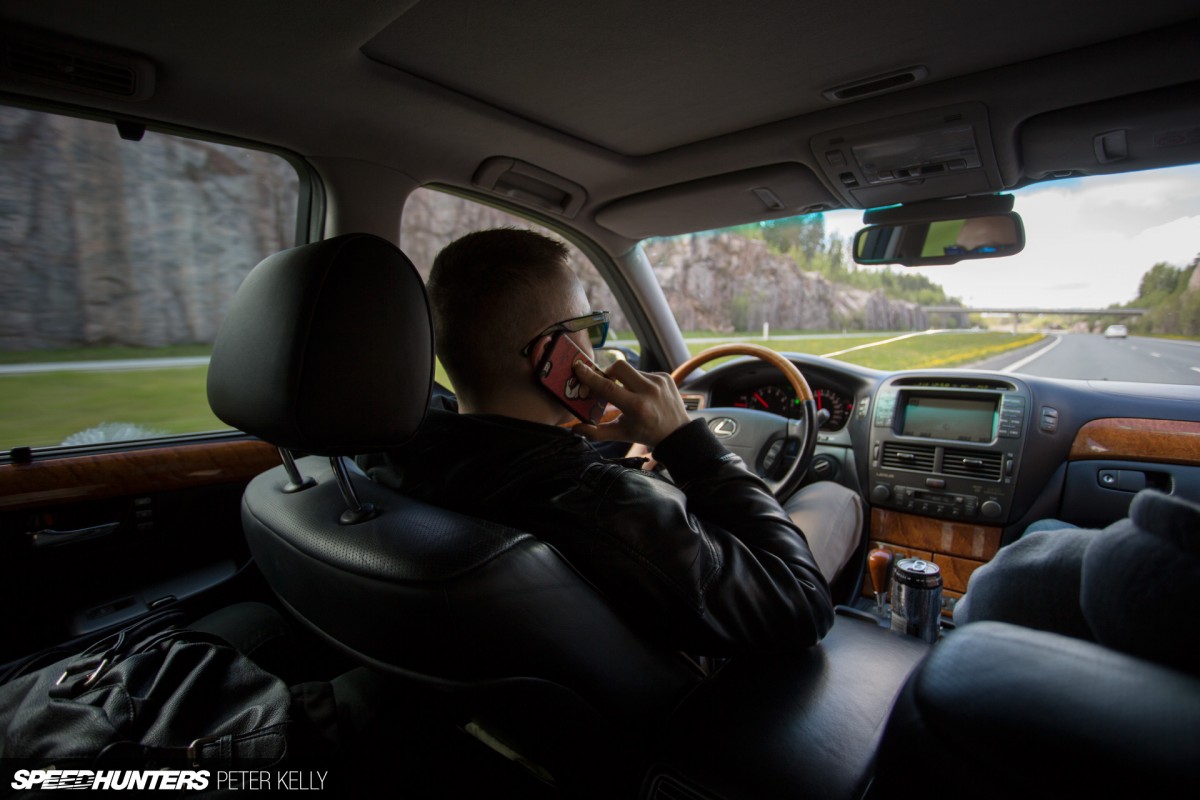 Meet Toni Yläranta, who practically organised our entire weekend for us. Toni really should start up some sort of Finnish Speedhunting tour guide company with his awesome planning and networking skills. I also developed a bit of crush on his daily driven LS430 over the course of the weekend, and you would too if you got driven around listening to the purring 3UZ and sitting in that plush black leather interior. It even had massage seats!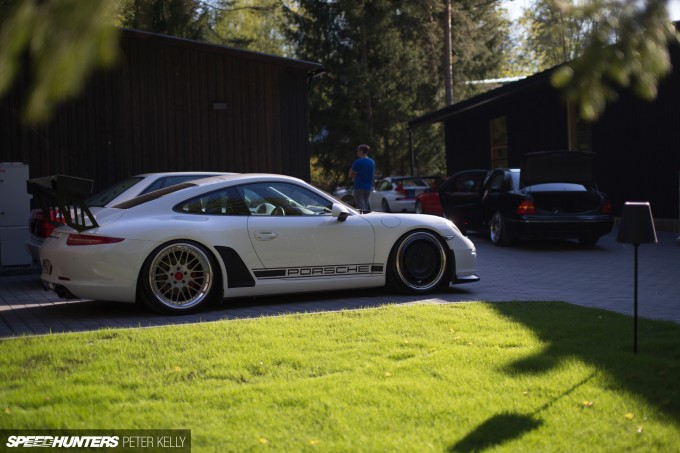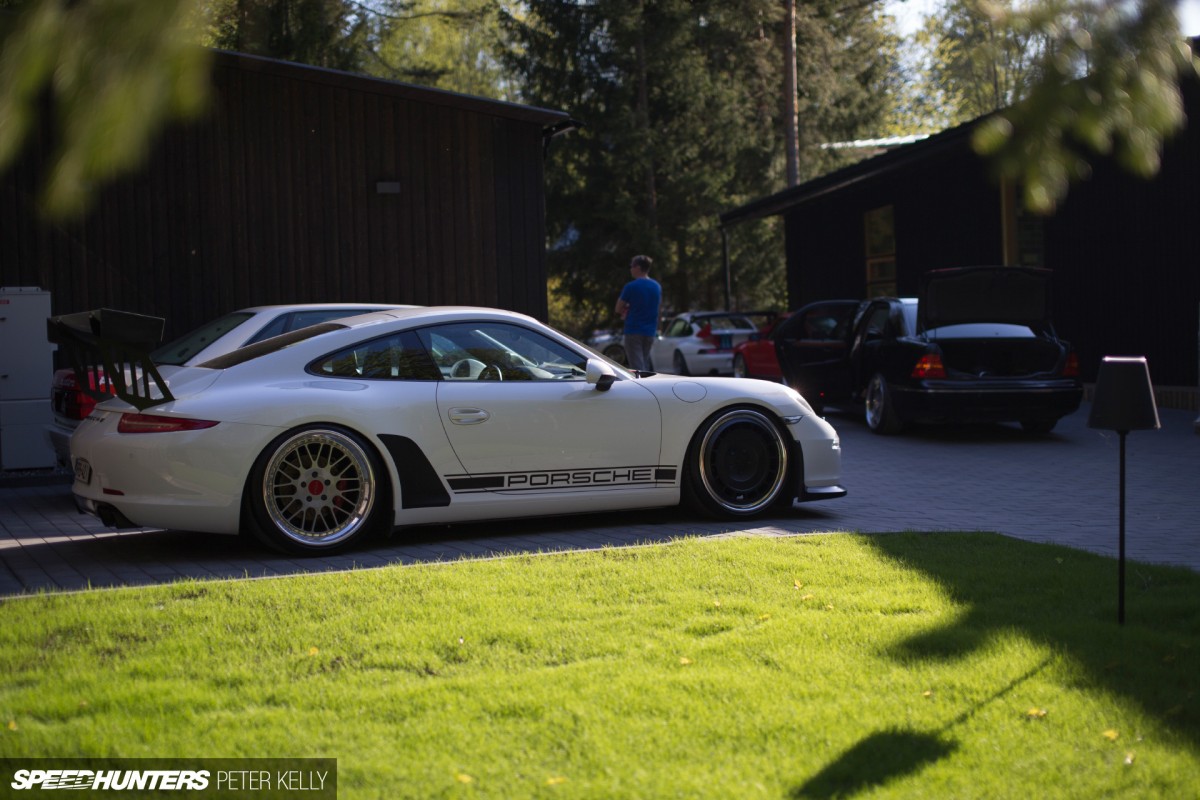 We drove straight from the airport out to Porvoo, a beautiful medieval town around 50 kilometres east of Helsinki. Toni hadn't really told us much about what we were doing there exactly, but he'd muttered something about a small island and a private car collection, which sounded promising. But as we drove over a series of bridges along a skinny road in the middle of a boggy wetland area, I started having doubts. 'Where the hell are we?', I thought to myself. Not long after that, we turned down a private tree-lined driveway to be greeted by this view. Now we're talking!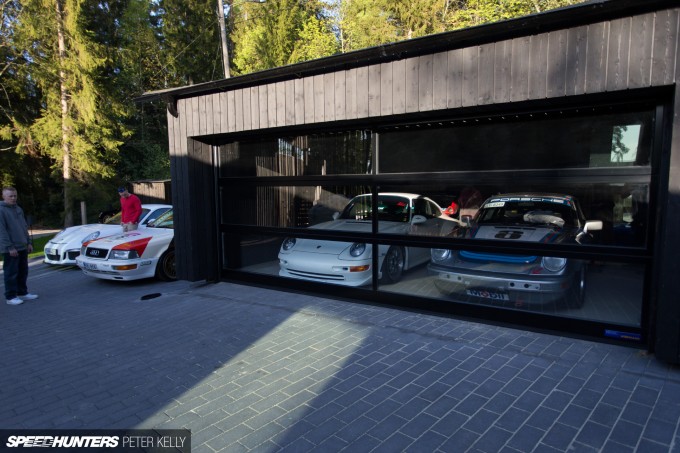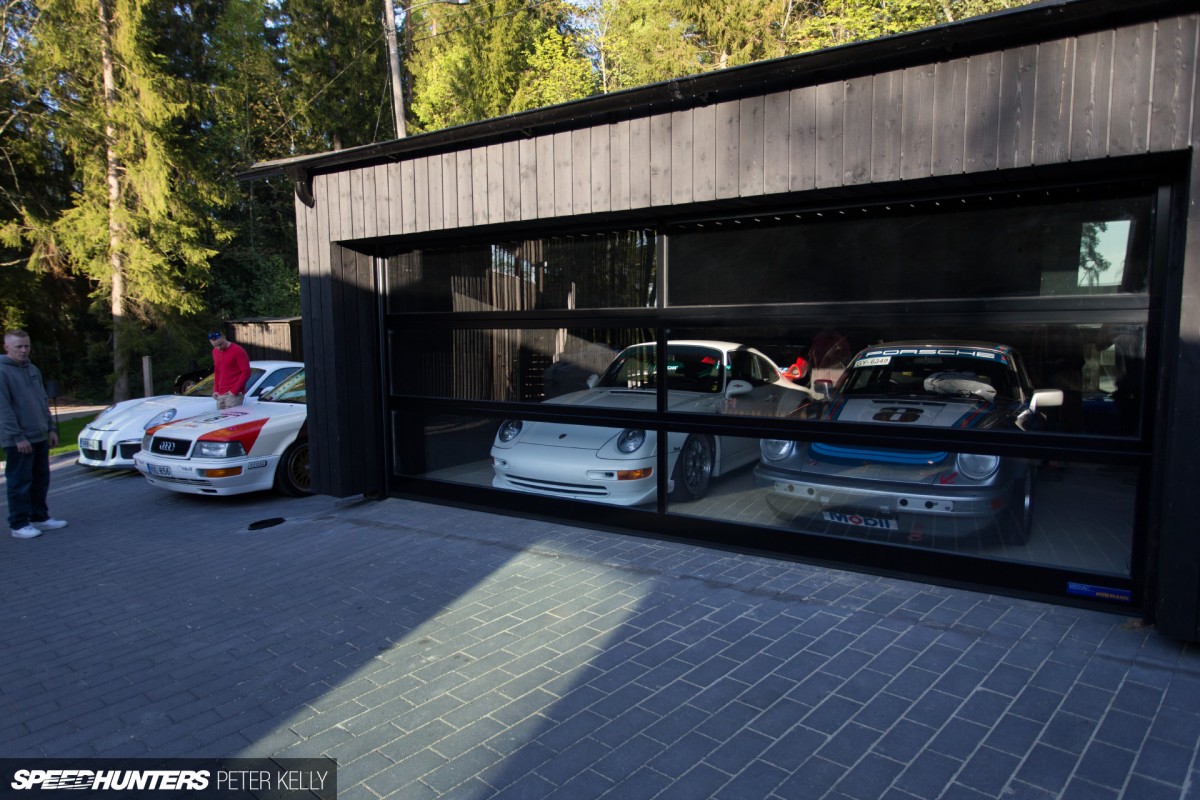 If you're a Porsche lover, this would be a terrible time to stop reading this story. In fact, you should definitely read it all, because the people we were about to meet that weekend were all absolutely Porsche crazy.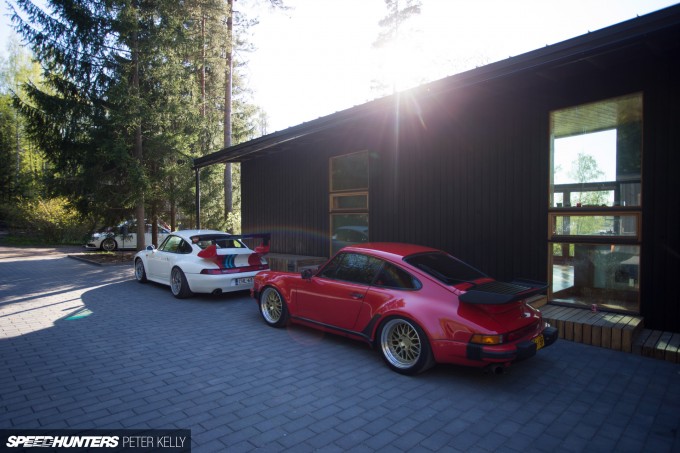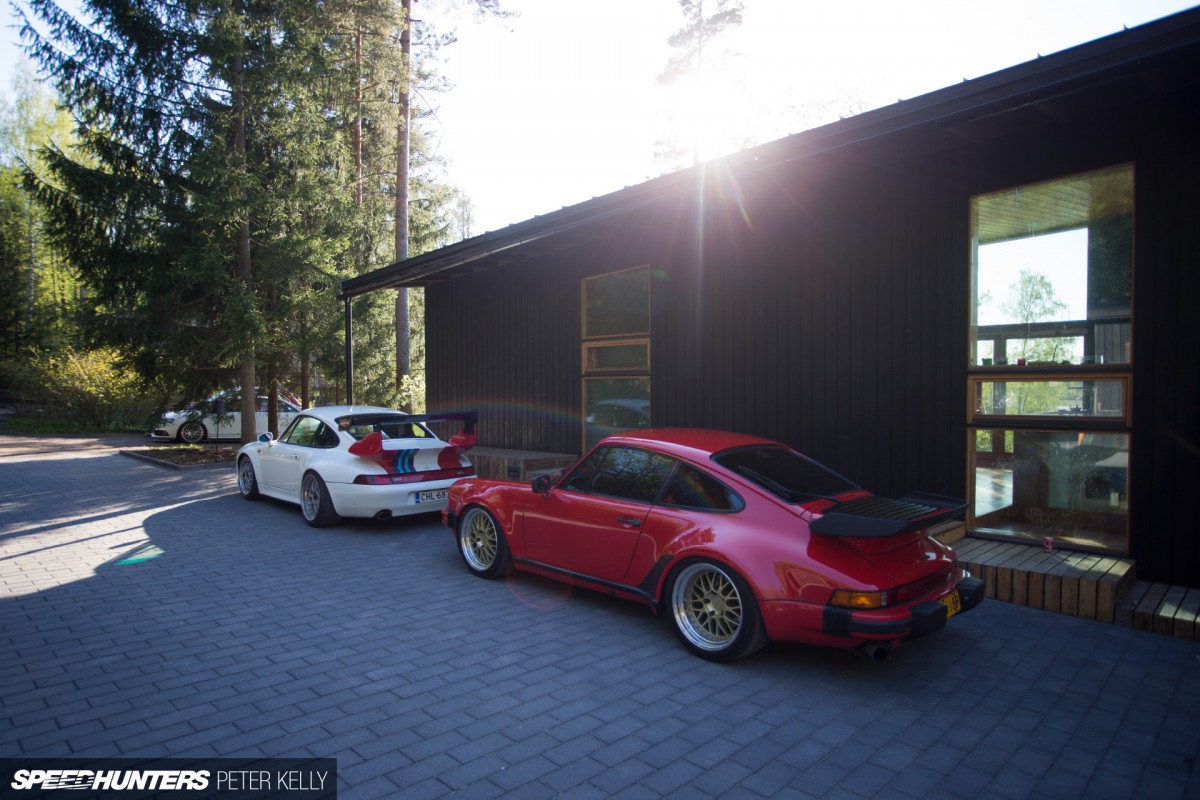 We had arrived at the beautiful home of car collector and major petrol head, Roni Collin. My initial feelings of jealousy over Roni's dream car collection (and not to mention stunning lifestyle property overlooking the water), vanished as soon as we got talking to him and found out how much of a down to earth guy he was. Anyway, the cars: up front you'll see Roni's race-spec Porsche 993 (which he has since swapped with a car he had previously built and on-sold), and an absolutely gorgeous Porsche 930 Turbo.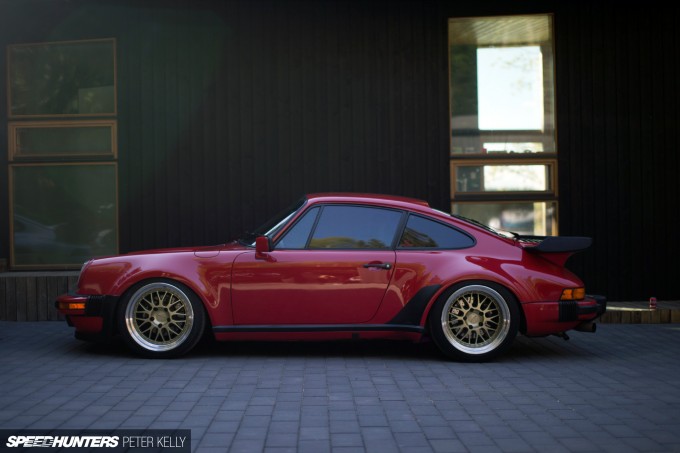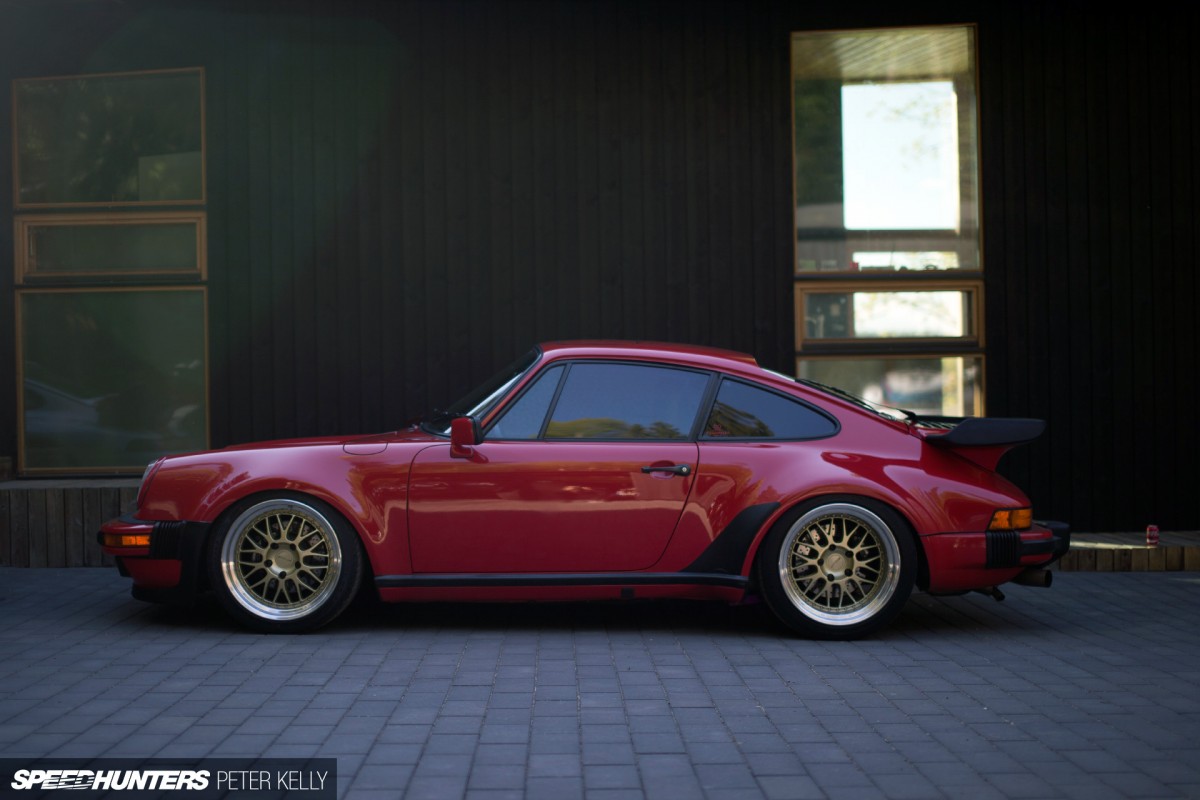 This car was actually owned by Roni's friend, Björn, who tinkers in a local workshop of which Roni's cars spend a good amount of time – as you'll soon see. I could have stood there all day admiring its flawless glossy red coat, wide hips and deep Work Brombacher wheels. It's hard to imagine how a thing of such beauty could be given the nickname 'Widow Maker'. But when I asked Björn what this modified example was like to drive, he just smiled and said, "scary fast".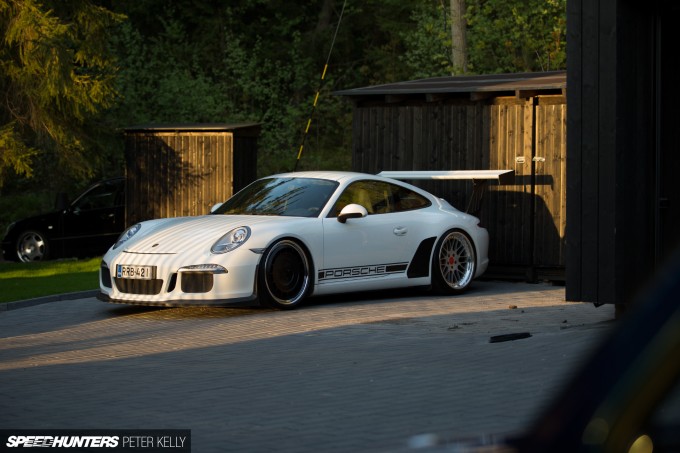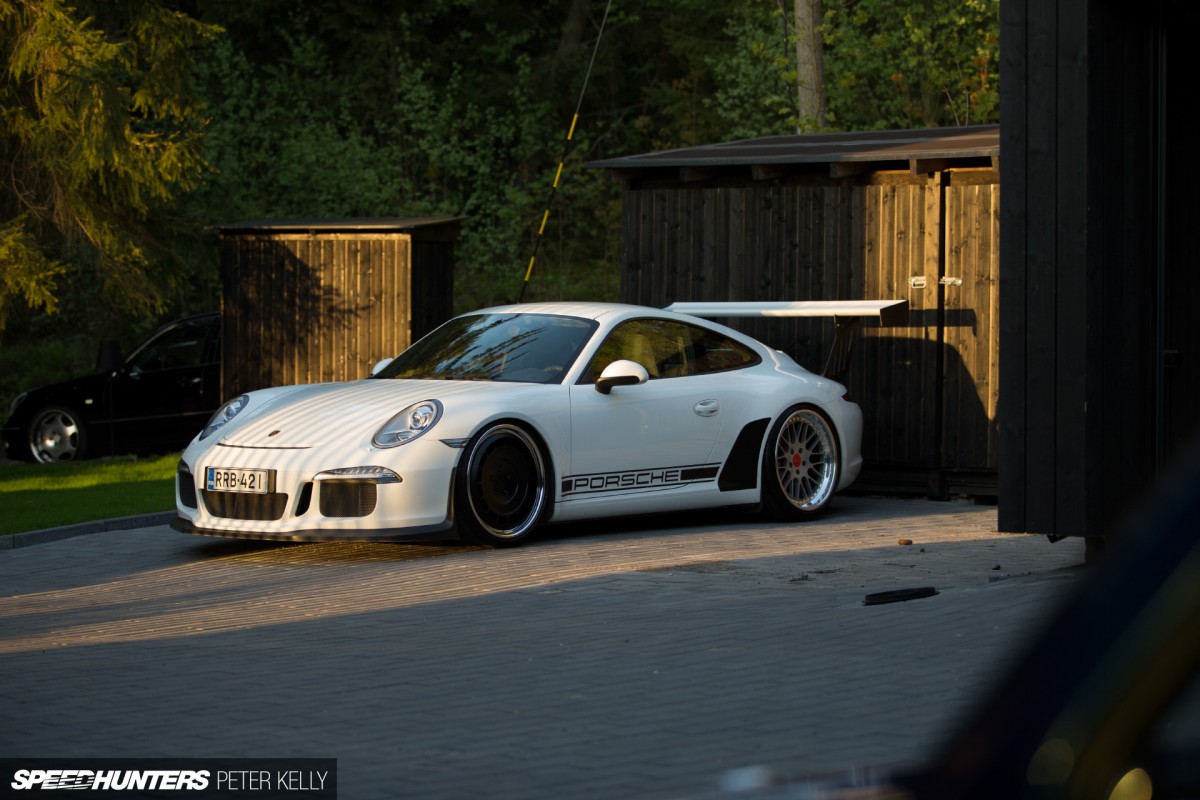 Roni's current daily driver is this modified Porsche 991 on mismatched Rotiform wheels, which was capable of making some seriously good noises with its iPE valvetronic exhaust system. Perhaps the most non-Porsche sounding Porsche engine I've ever heard!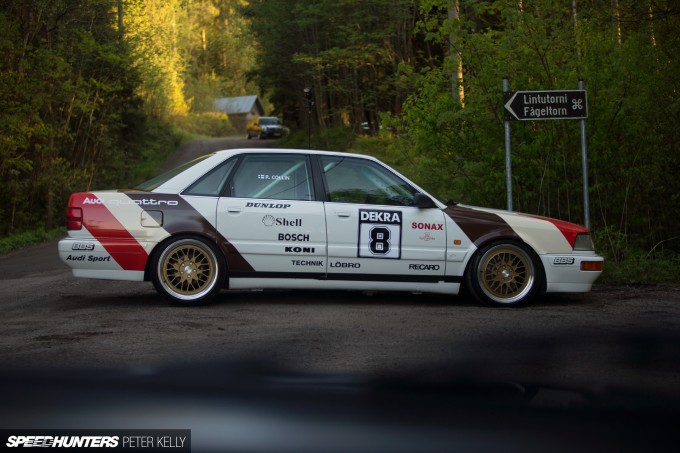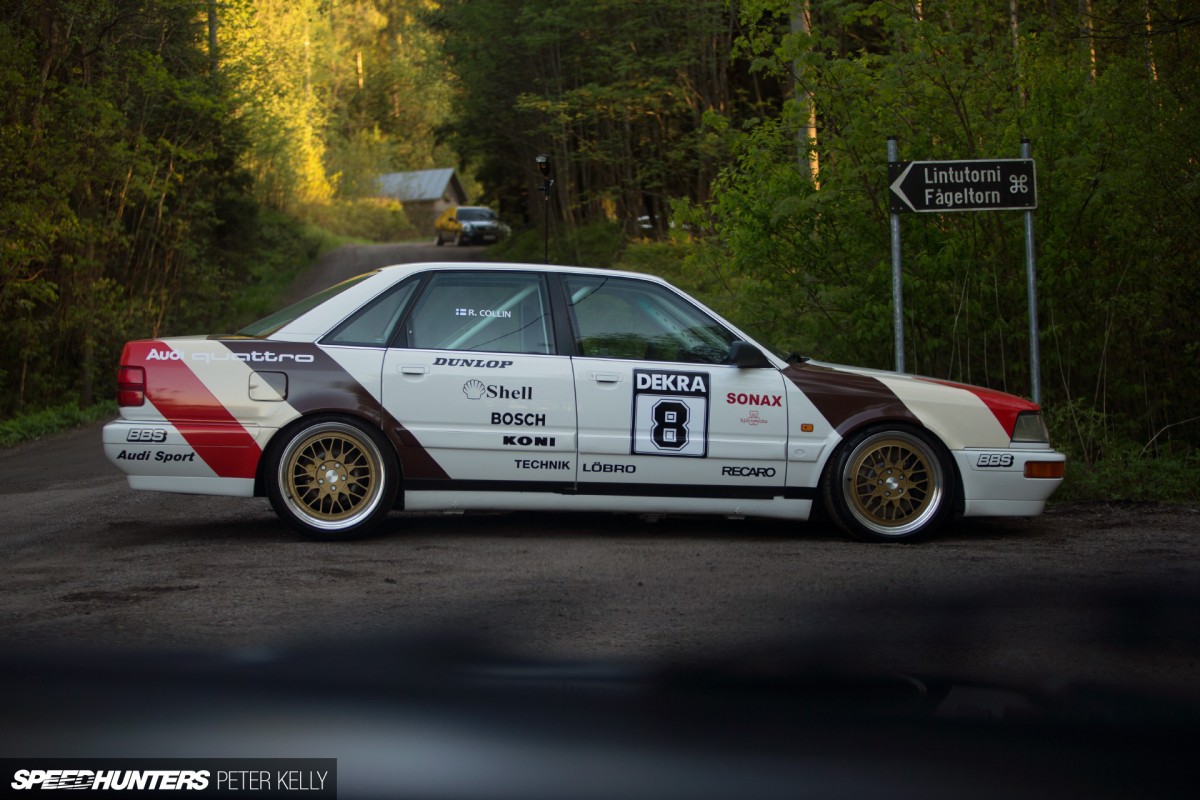 Porsches weren't the only cars there – this Audi V8 Quattro DTM tribute car is just another one of Roni's many track toys. How good does this retro livery look? Roni admits that it's not actually that nice to drive as it's definitely on the heavy side, so he's been entertaining the idea of an RS6 V8 bi-turbo swap.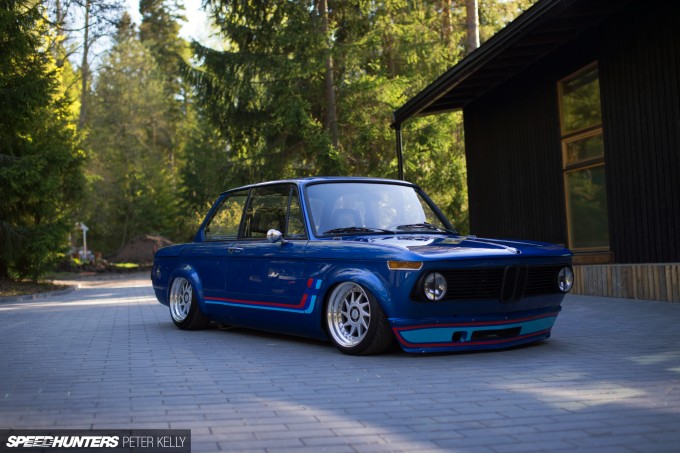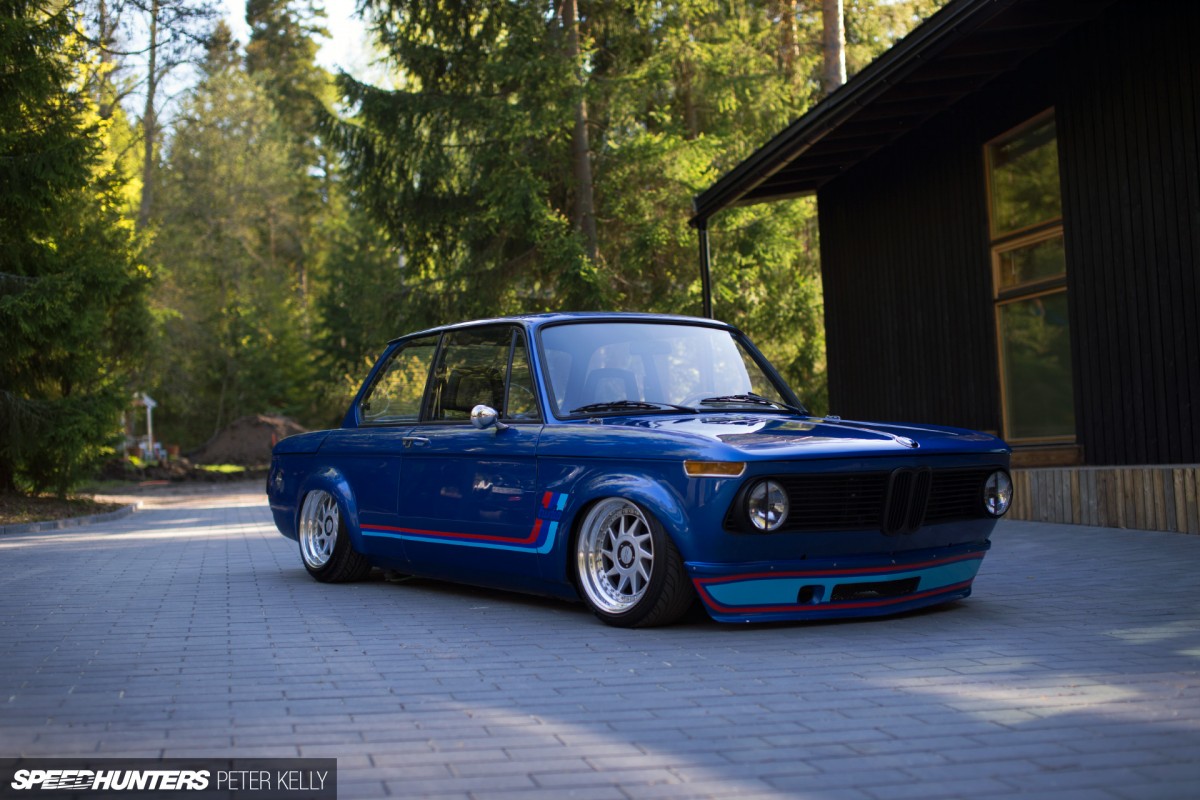 And then there was this extremely cool F20C-powered BMW 1502, which Roni recently purchased from its original creator, Tony Suominen. You can expect a full feature on this car from us very soon!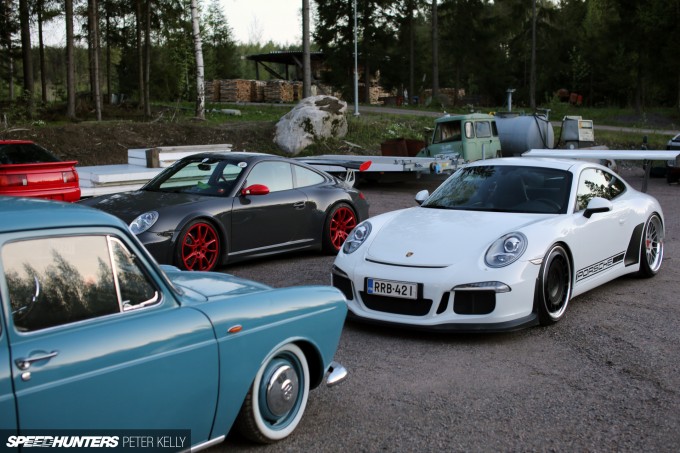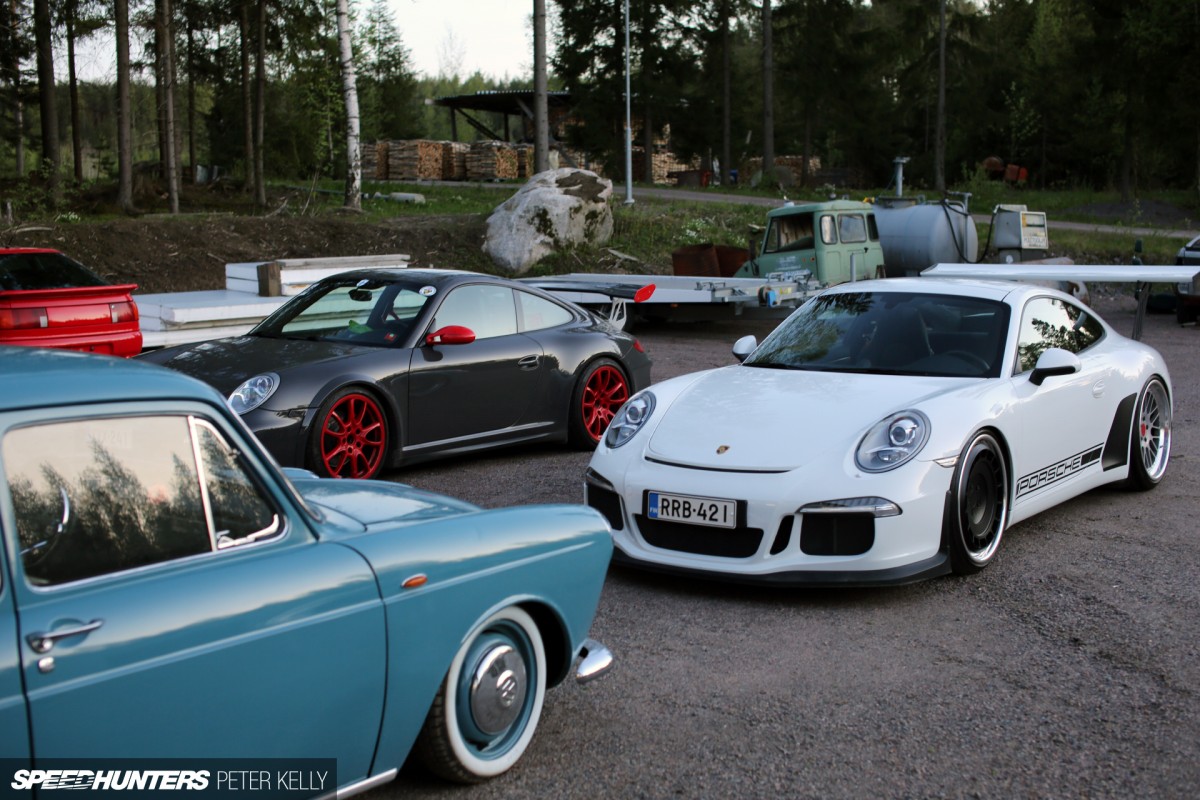 After shooting the BMW 'S2002′, we headed further into the countryside to Björn's workshop, also known as Björnwerks. Just like Roni's place, there was a whole lot of cool machinery hiding within…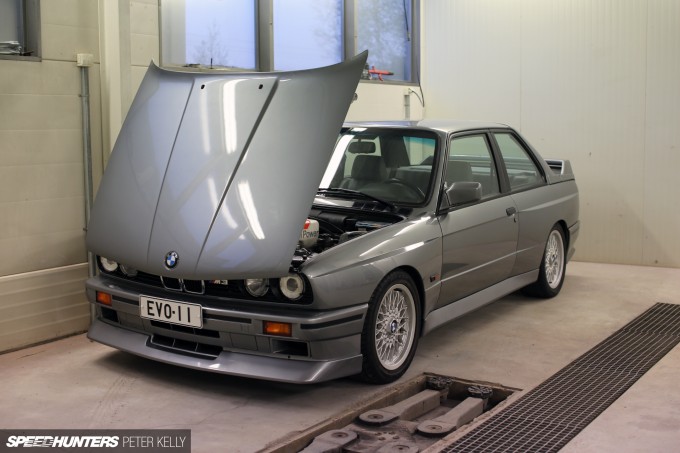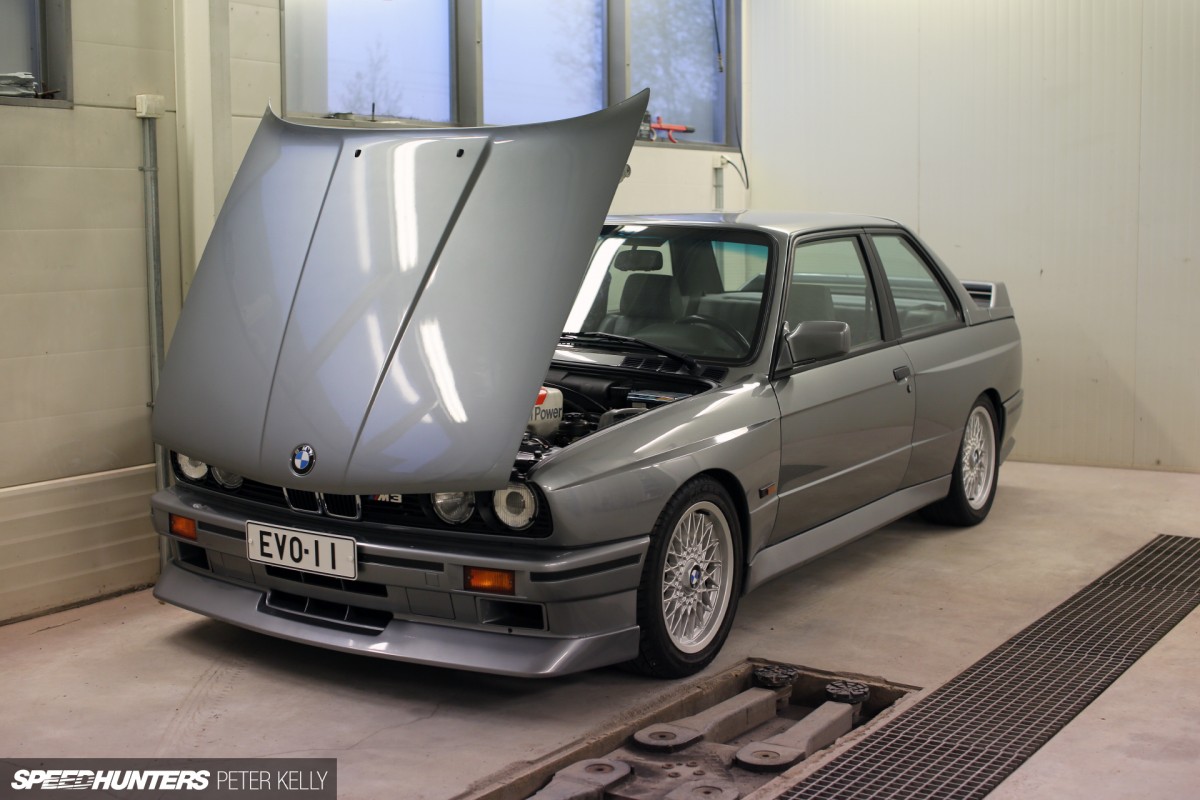 Including this super-rare E30 M3 Evo II in completely original condition. Wowsers!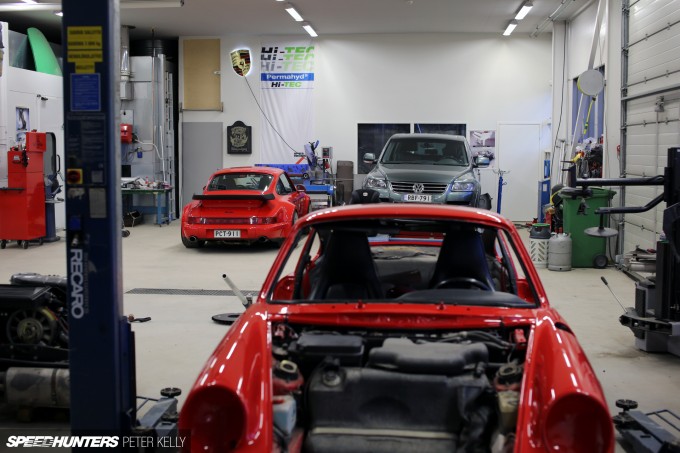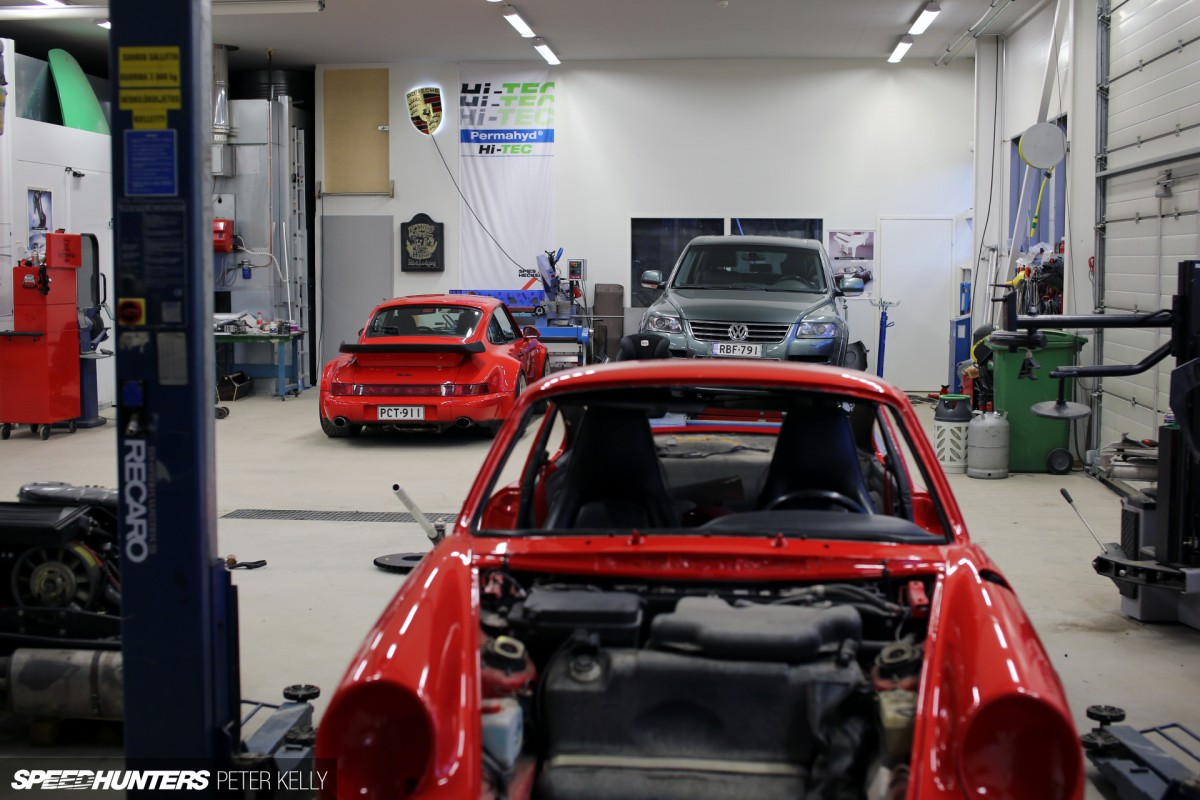 Björn's workshop setup was pretty awesome, and it had everything you could possibly need to work on and build cars in – including a hoist and a paint booth. Then he went and dropped a bombshell on us: this isn't even his workplace, this is just his 'fun' garage. His actual business is around the back!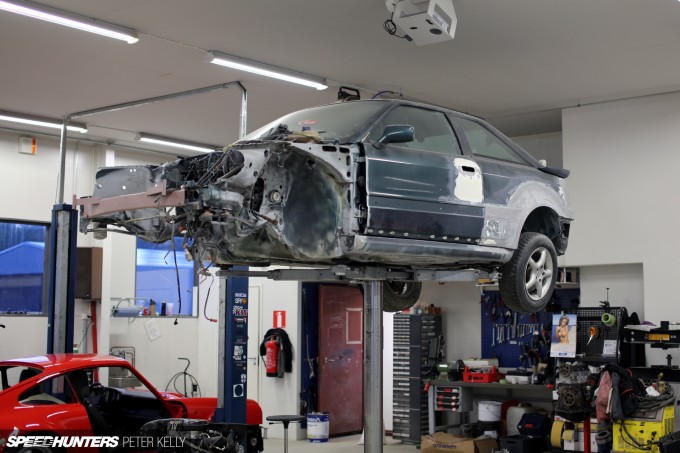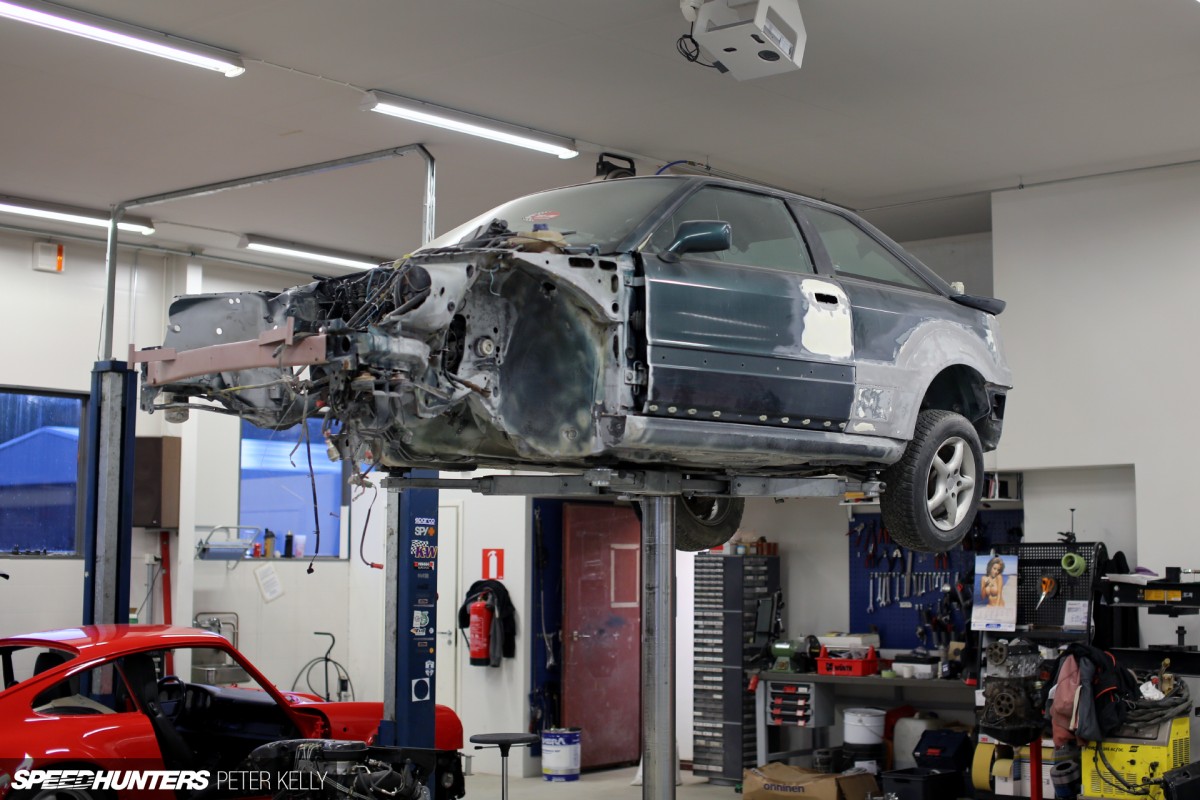 Roni has owned this Audi Quattro S2 for over 12 years now, and sadly at some point in its life it had some extremely poor rust repair work attempted on it. So he and Björn are in the process of completely rebuilding it and turning it into their vision of an 'RS4 B5 coupe'.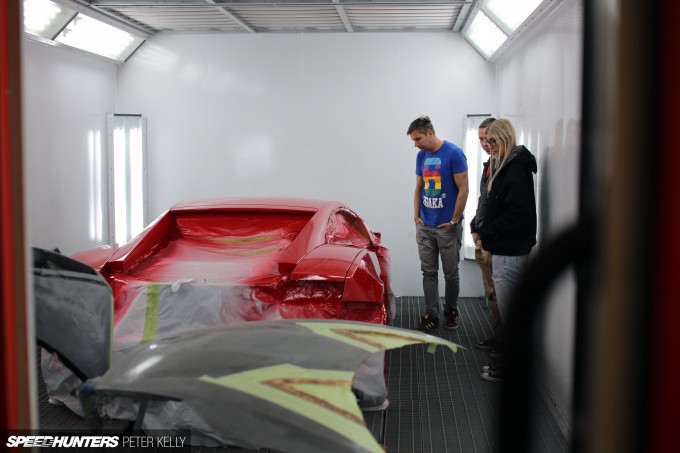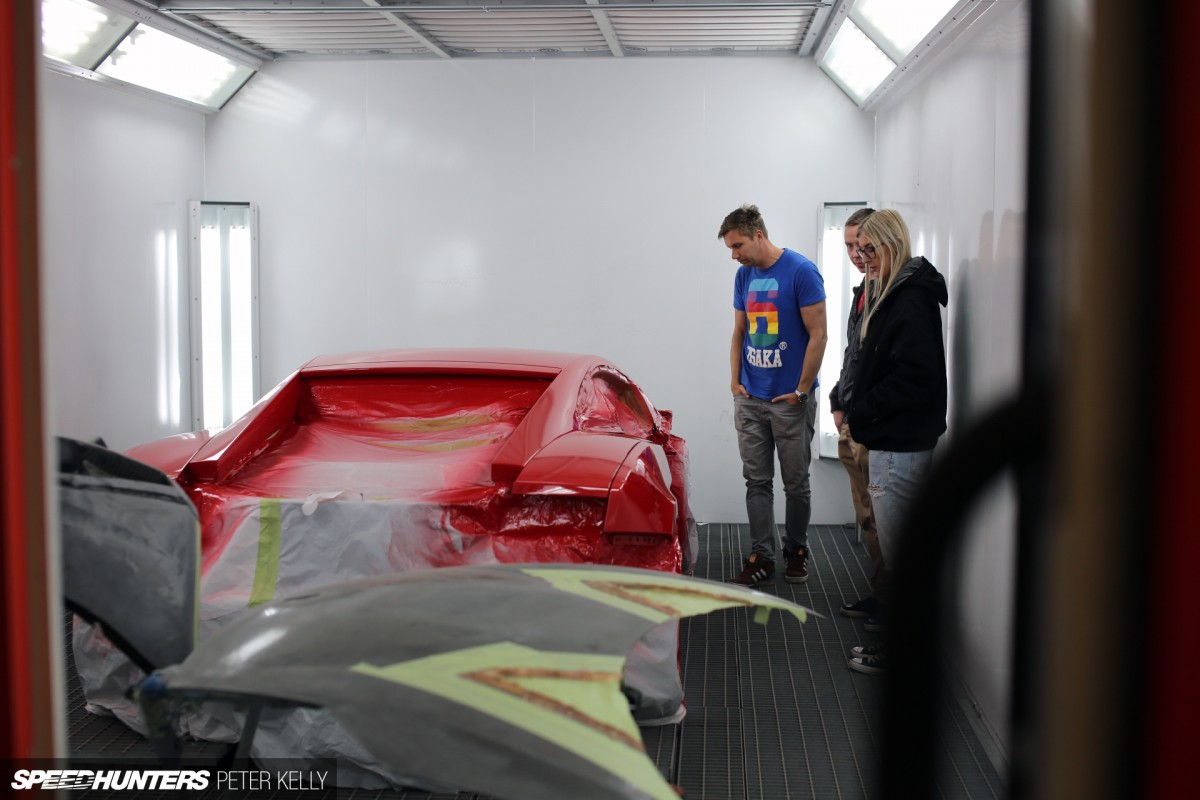 Over in the paint booth, Roni's Gallardo Superleggera was in the process of being painted – yep, you guessed it – Lamborghini's striking shade of Rosso Mars. You might also spot some carbon fiber parts in the foreground, which will also be added to the LP570-4 very soon – along with some aggressive wheels too, of course.
I just have to say, it's easy to feel envious of someone who's a similar age to you enjoying so many incredible cars like this, but Roni's simply a smart guy who started his own company and ended up selling it for a healthy profit, and who just happens to be absolutely crazy about cars. If this happened to me, I know I'd be doing exactly the same thing!
Speed & Style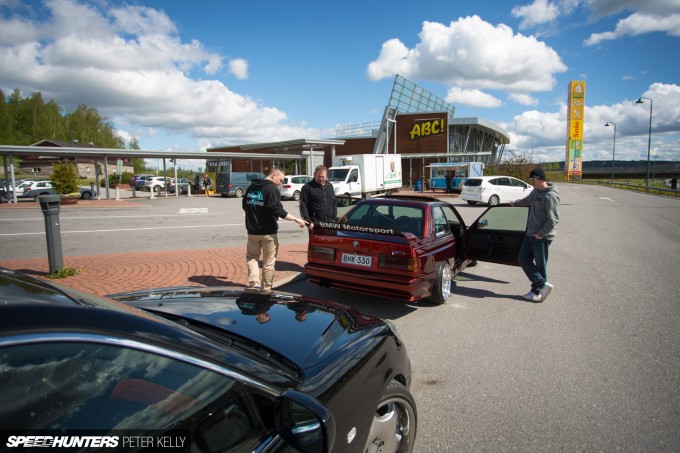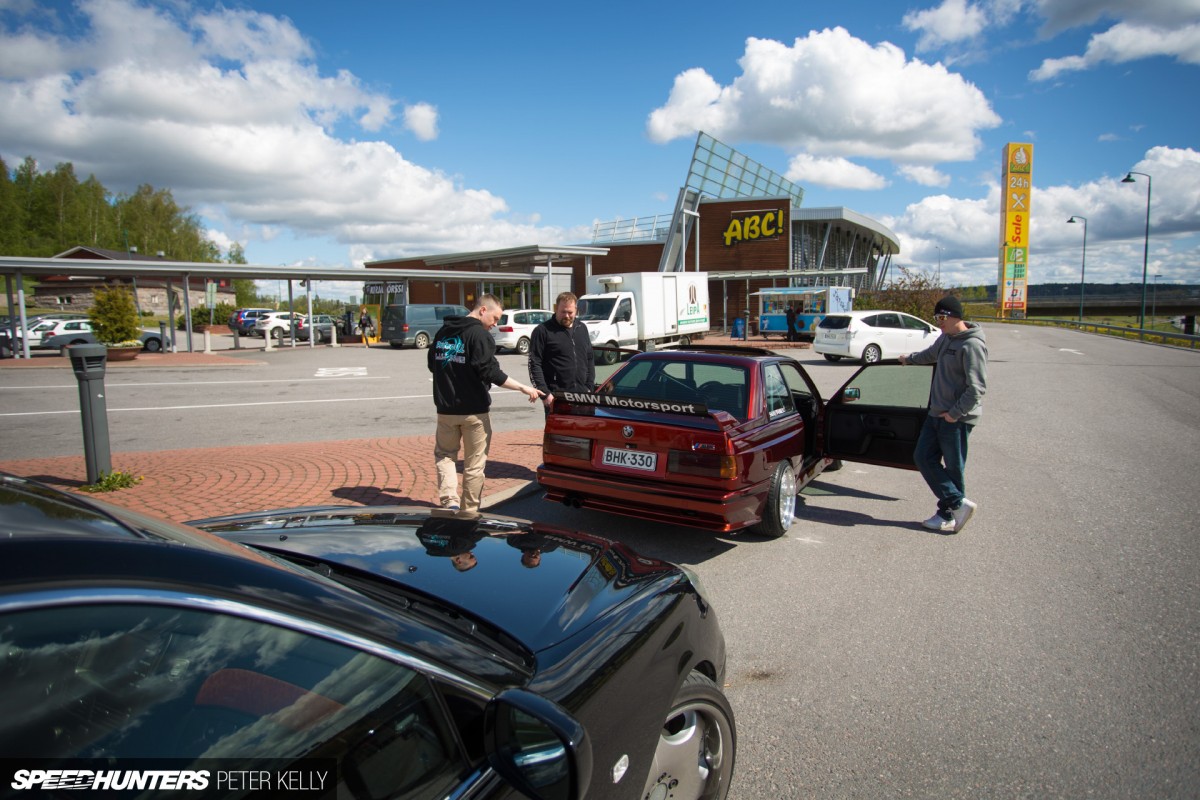 With Friday done and dusted, it was a great feeling waking up on Saturday knowing that we still had two full days of Speedhunting adventures left to go. Our next destination was a town called Salo, where we would meet a BMW fanatic by the name of Matti Jussila. Matti has built quite possibly the most beautiful E30 M3 I've ever laid my eyes on.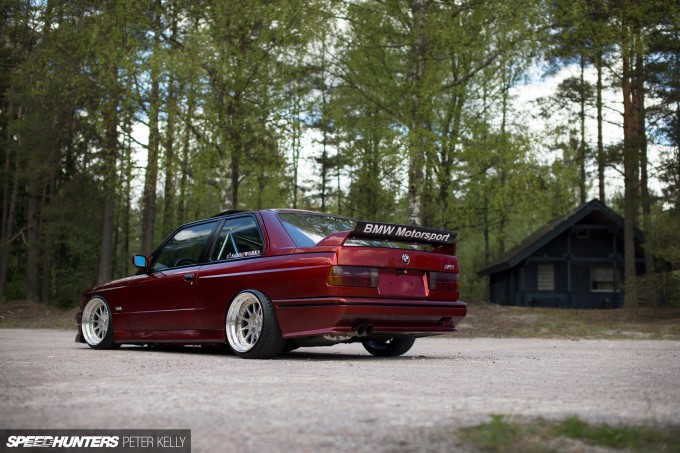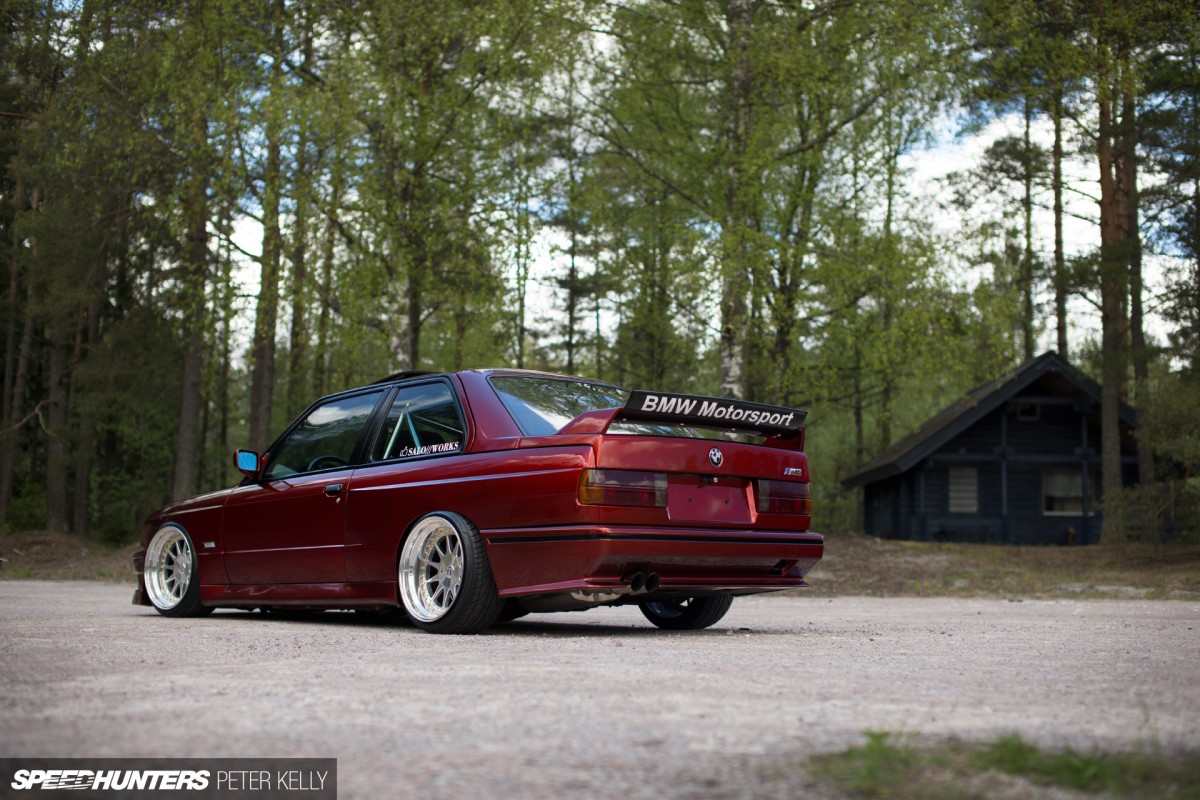 You'll be pleased to hear that we took a huge selection of photos and will be bringing you a full feature on this car as well. Here's a sneak peek to whet your appetite.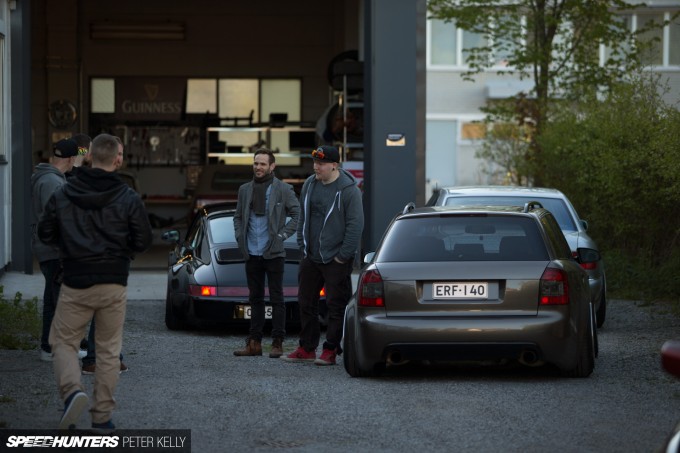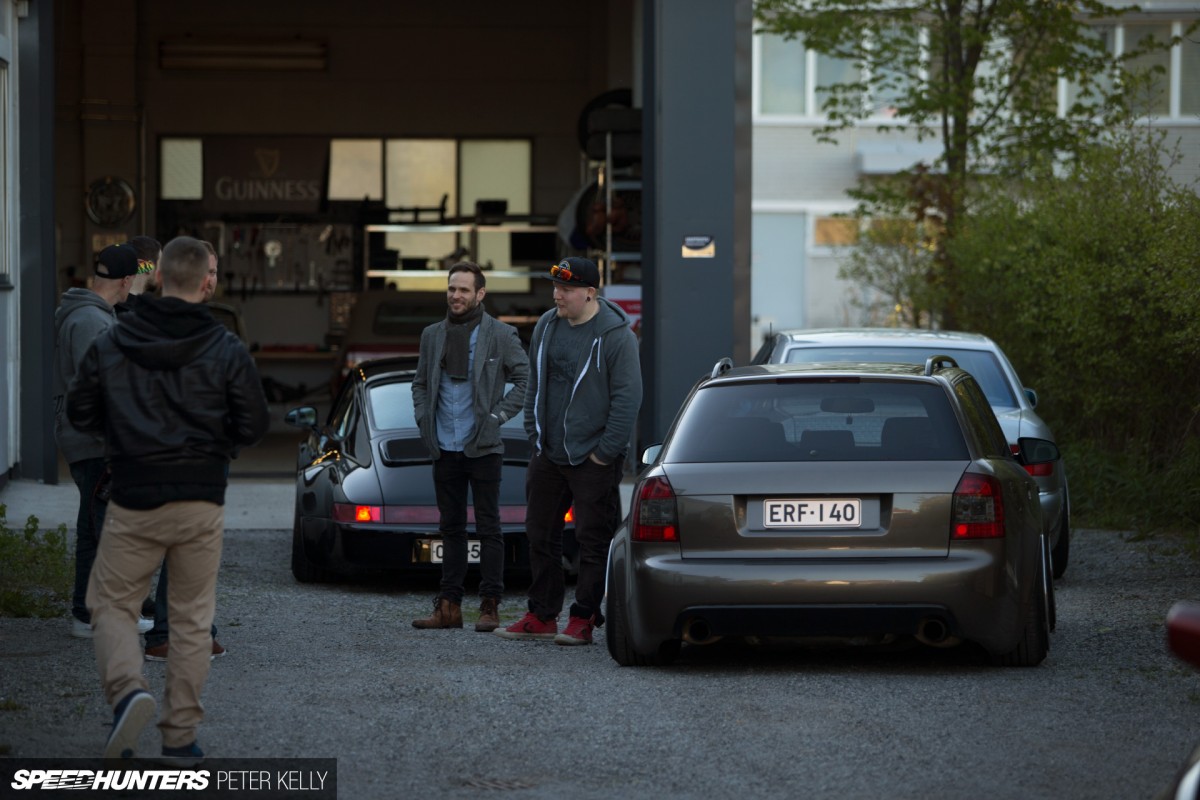 After our quick stop-off in Salo, we headed further west to the beautiful city of Turku – although we weren't there for that kind of sightseeing.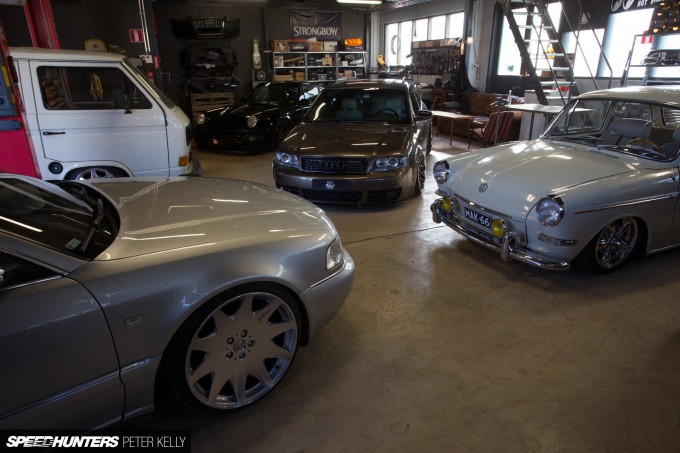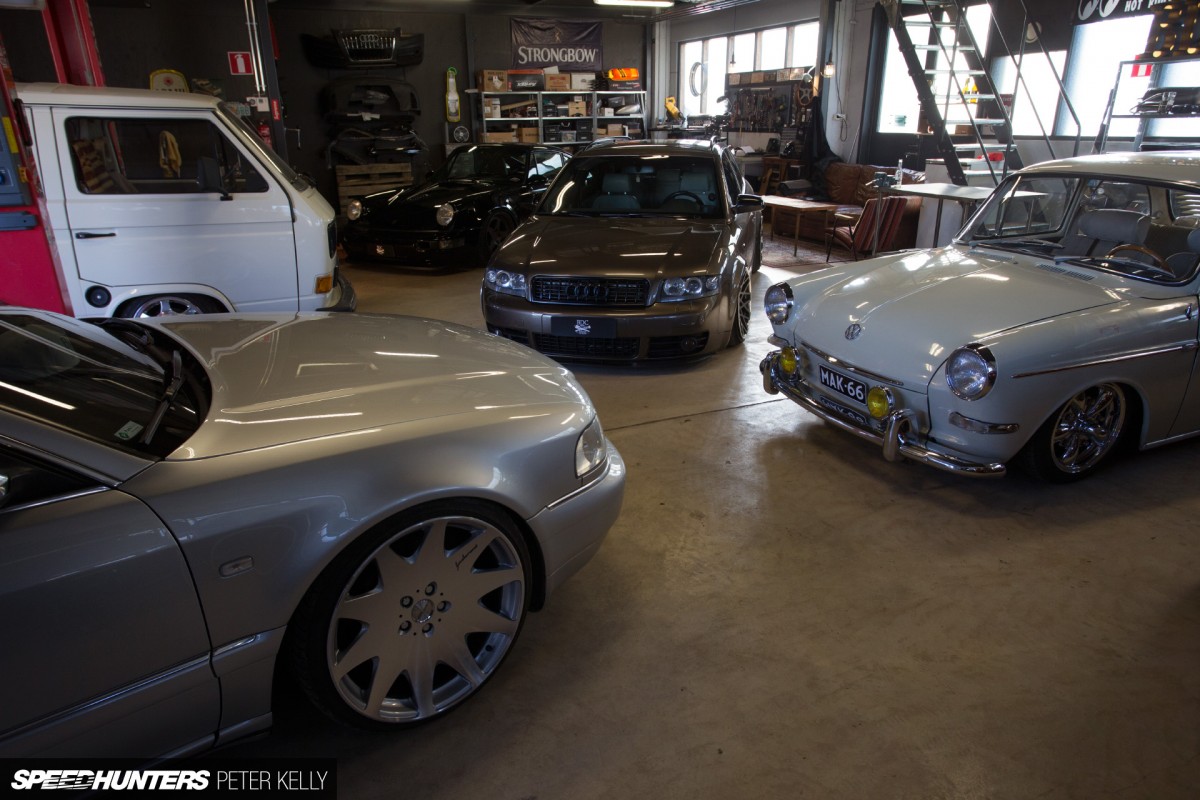 We were however, checking out the HQ of a local car club known as the BDC Familia, who eagerly welcomed us into their garage to show us some of their rides. The BDC – which stands for Balls Deep Crew (obviously a reference to how deeply involved and passionate they are about car culture!) – are all about cool styling, high quality wheels and just generally hanging out with cars and having a good time.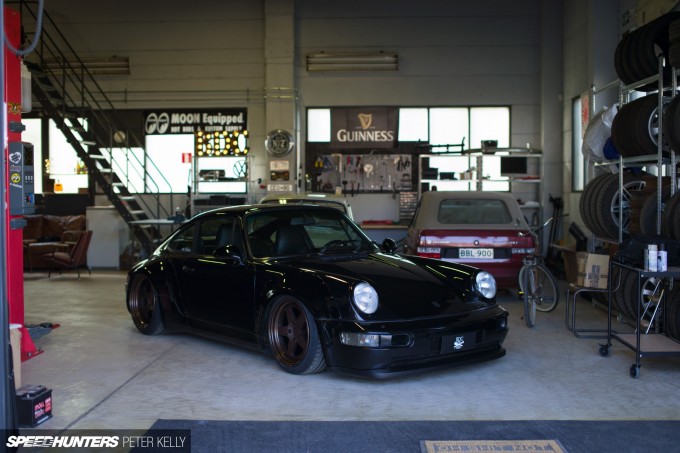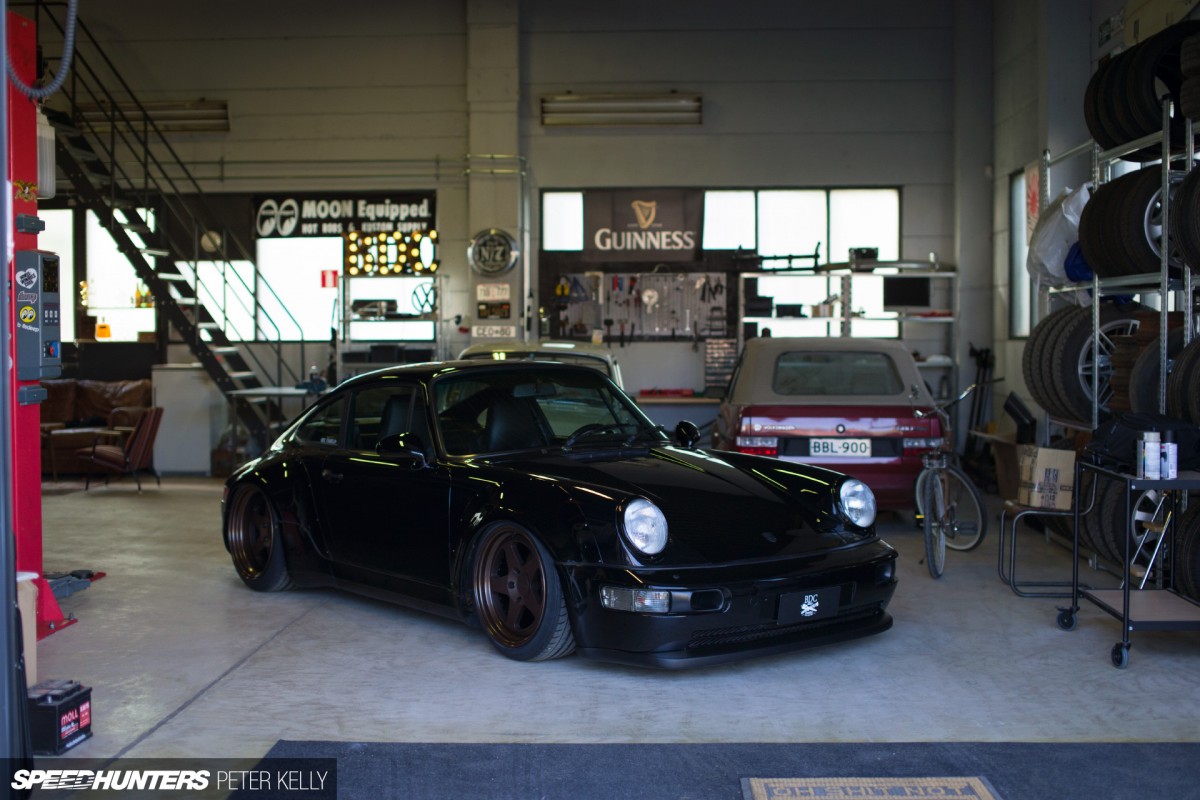 A theme was definitely starting to emerge by this point – the Finns really do seem to love their Porsches. This stunning black 964 was owned by BDC member Arto, and damn it looked good with those steel 930 turbo fenders and bronze Rotiform ROC wheels!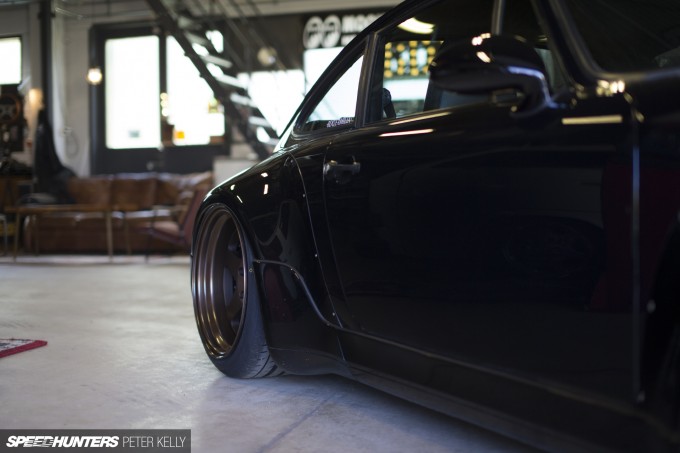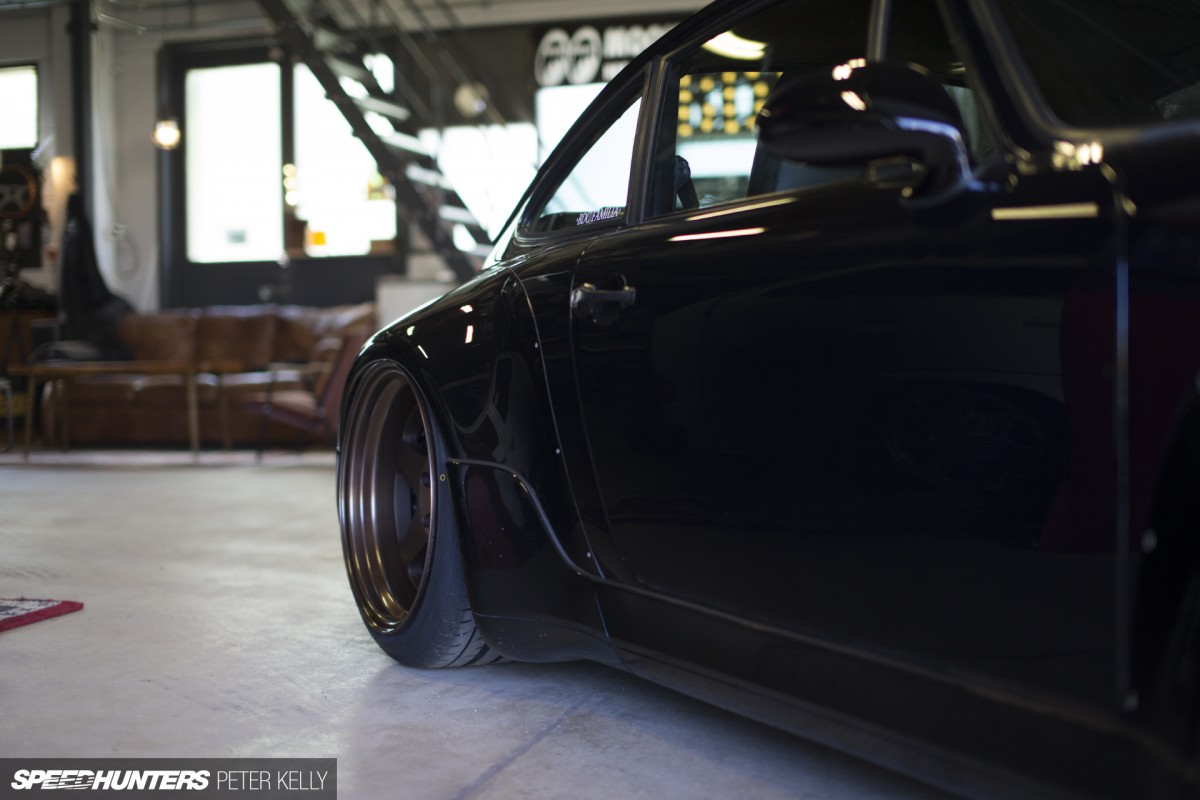 Arto's Porsche is definitely a more style-orientated build at this point in time, but who knows – that might change in the future. It currently rides on air suspension to achieve this millimetre-perfect stance, and there's no denying that it looks good. The ride is really smooth, and Arto says that at the moment he's simply enjoying driving it as much as he can.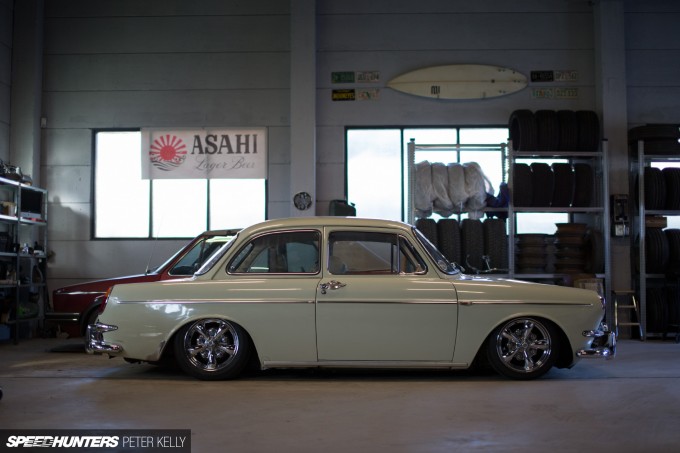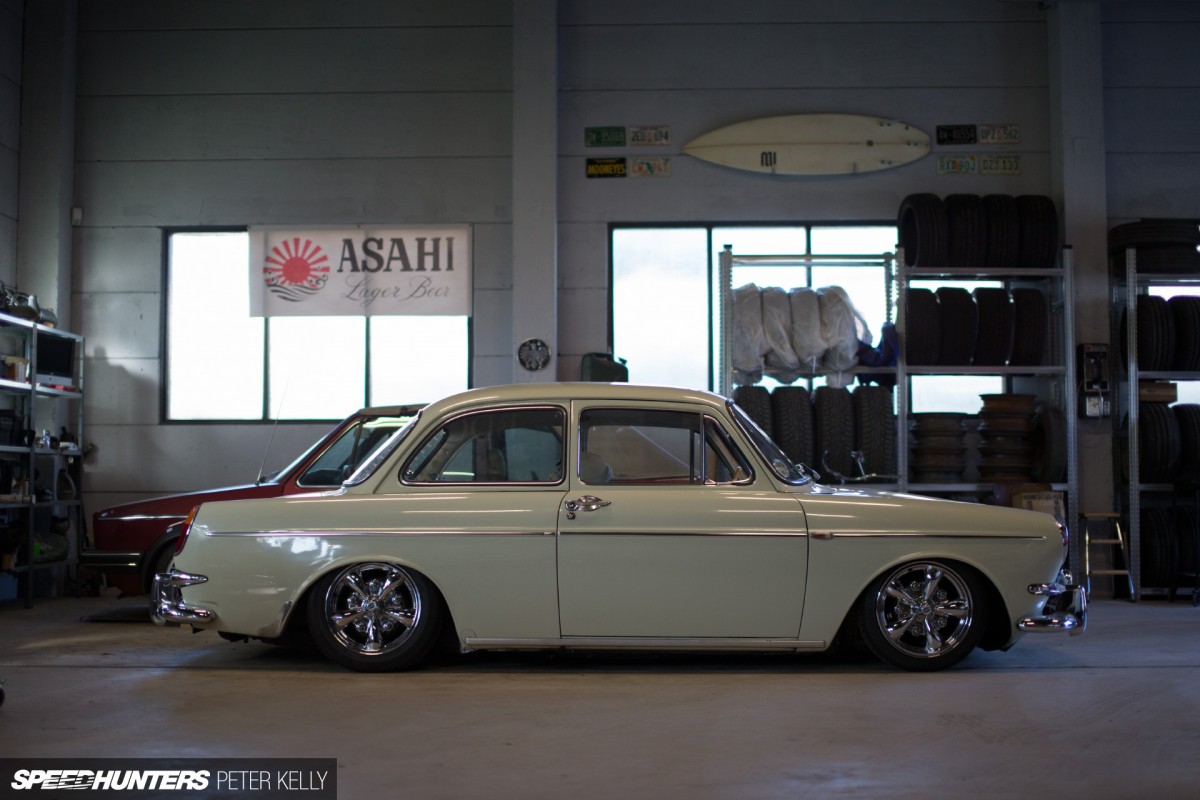 I'd never actually seen one of these in person before, but this super rad Type 3 Volkswagen Notchback was in the process of getting kitted out with air suspension too. With its original '60s interior and vintage chrome trim, it'll make an awesome daily driven cruiser once it's back on the road.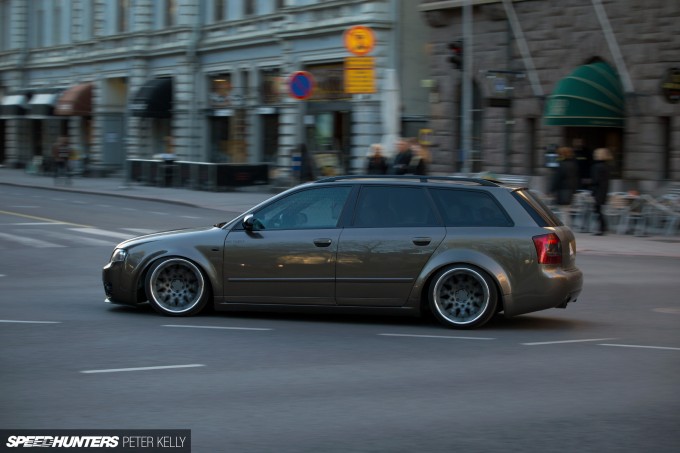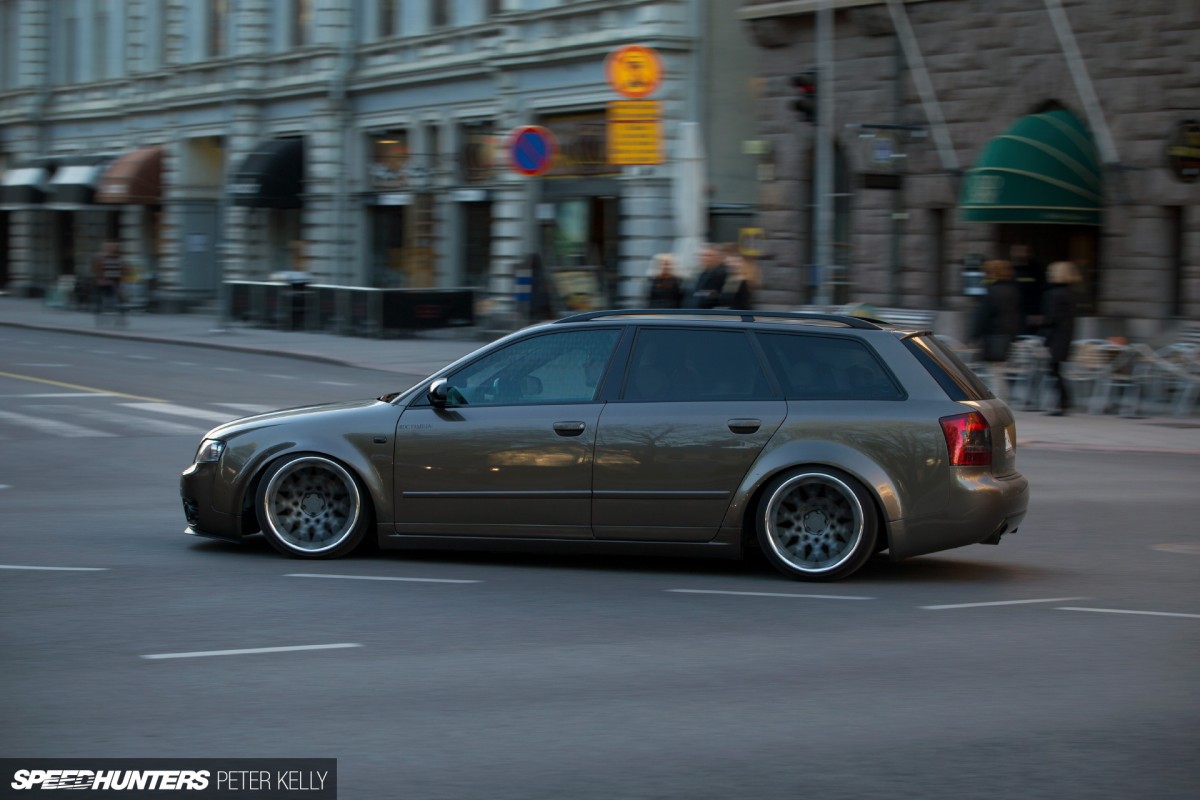 After checking out the BDC's sweet pad, we headed out for a quick cruise around town before driving back to Helsinki, as although it was still light, it was already closing in on 10:00pm. This bagged Audi A4 Avant was another car that came along for the ride; those massive custom fenders look great with a wide set of Rotiform wheels filling them out, don't you agree? It might look like more of a 'show car', but it also was running an APR Stage 3+ turbo kit and some other performance goodies too.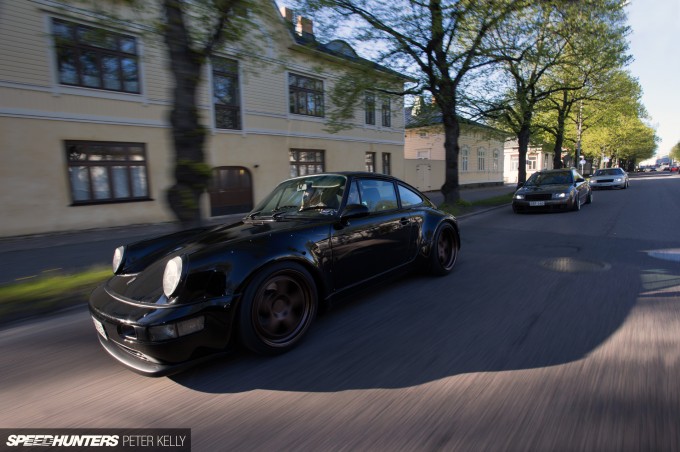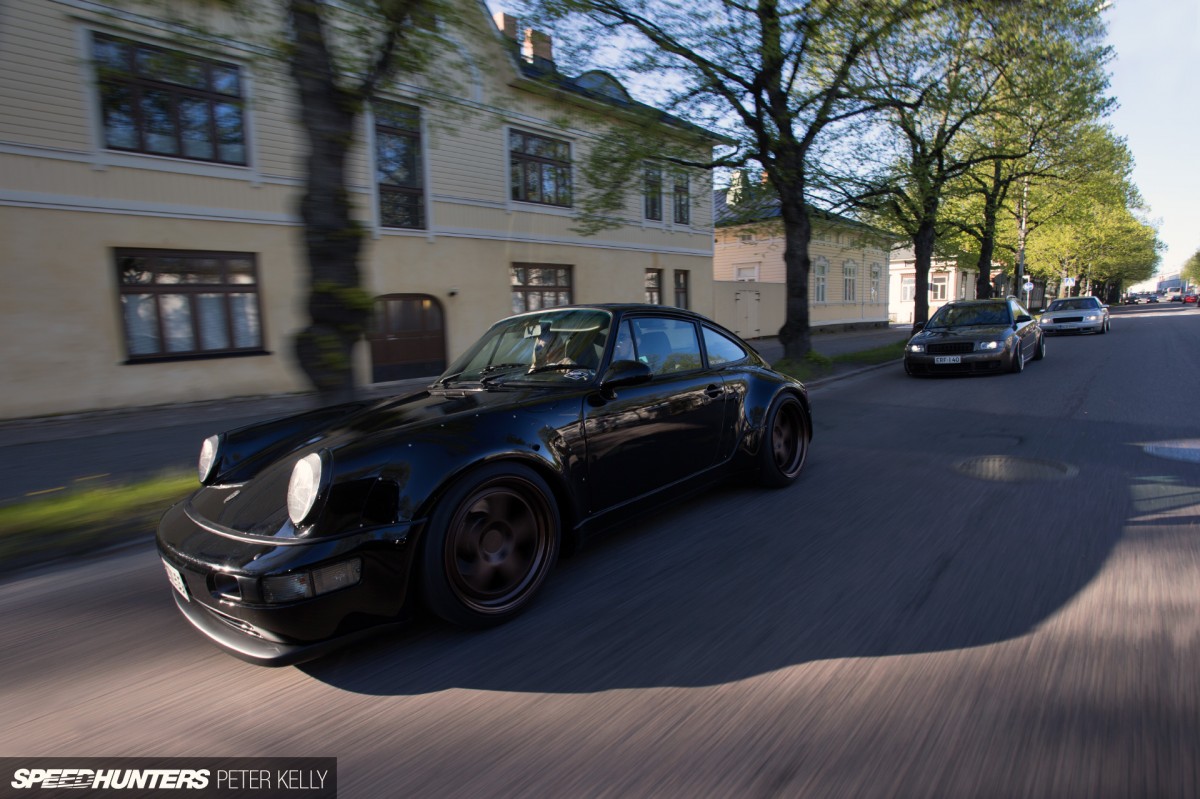 It was time to say näkemiin to Turku and the BDC, and to start wondering about what Toni had in store for us for our last day in Finland. This is Toni we're talking about though, so obviously it was going be a Sunday full of boost, burnouts and a whole lot of horsepower…
First To The Finnish Line Wins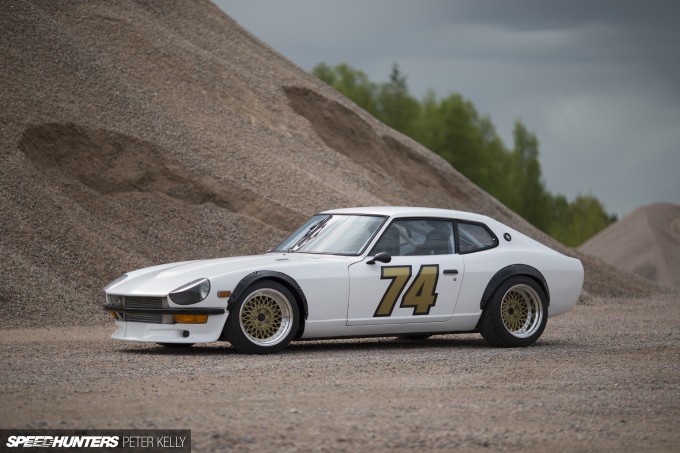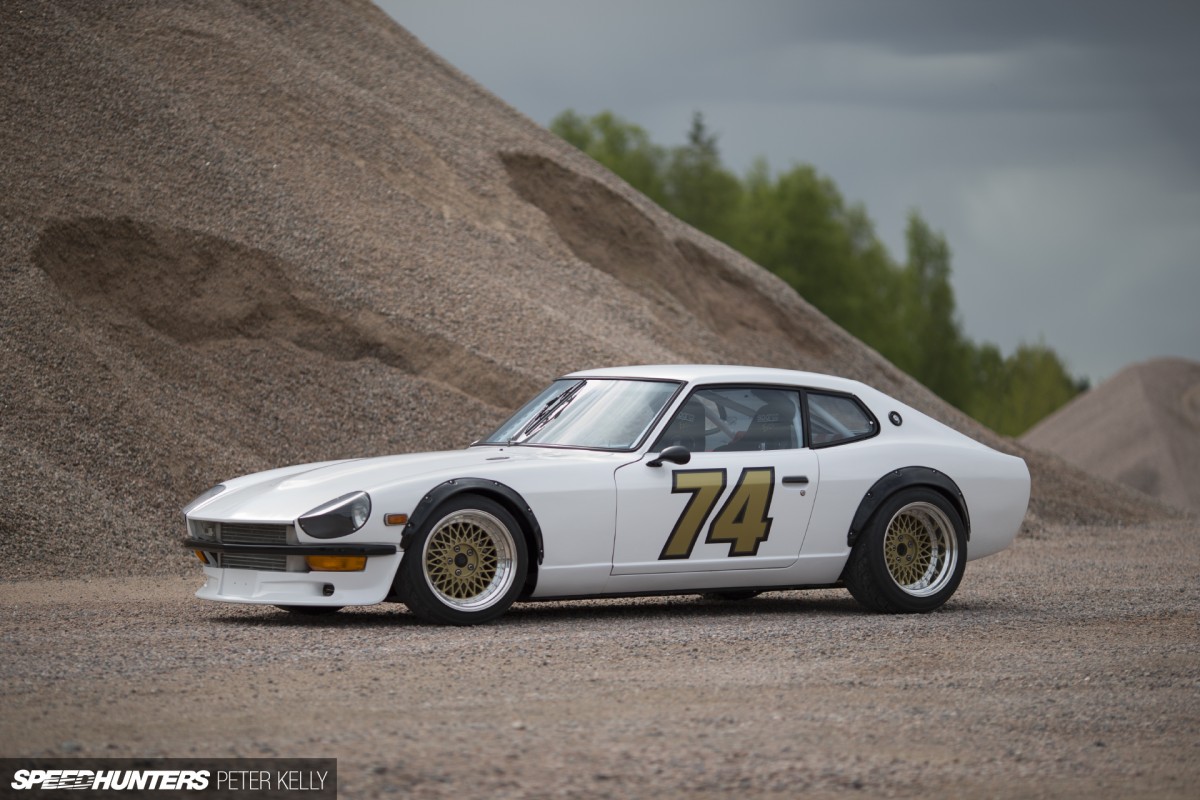 On Sunday we got up bright and early to shoot our third feature car, which also happened to be the coolest Datsun 2+2 we've ever set eyes on. Oh, and it's good looks are just the beginning.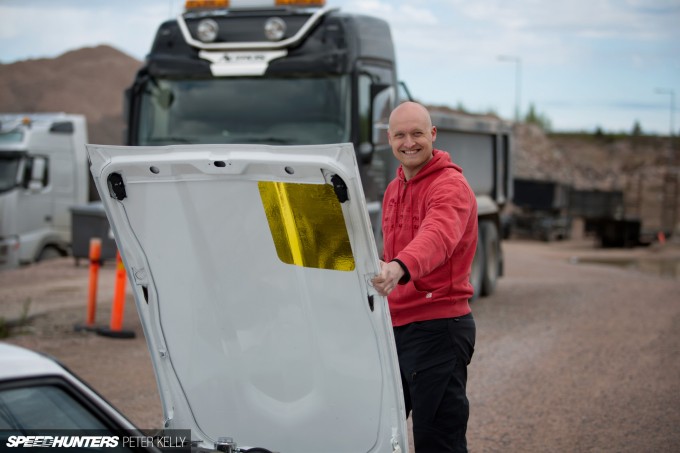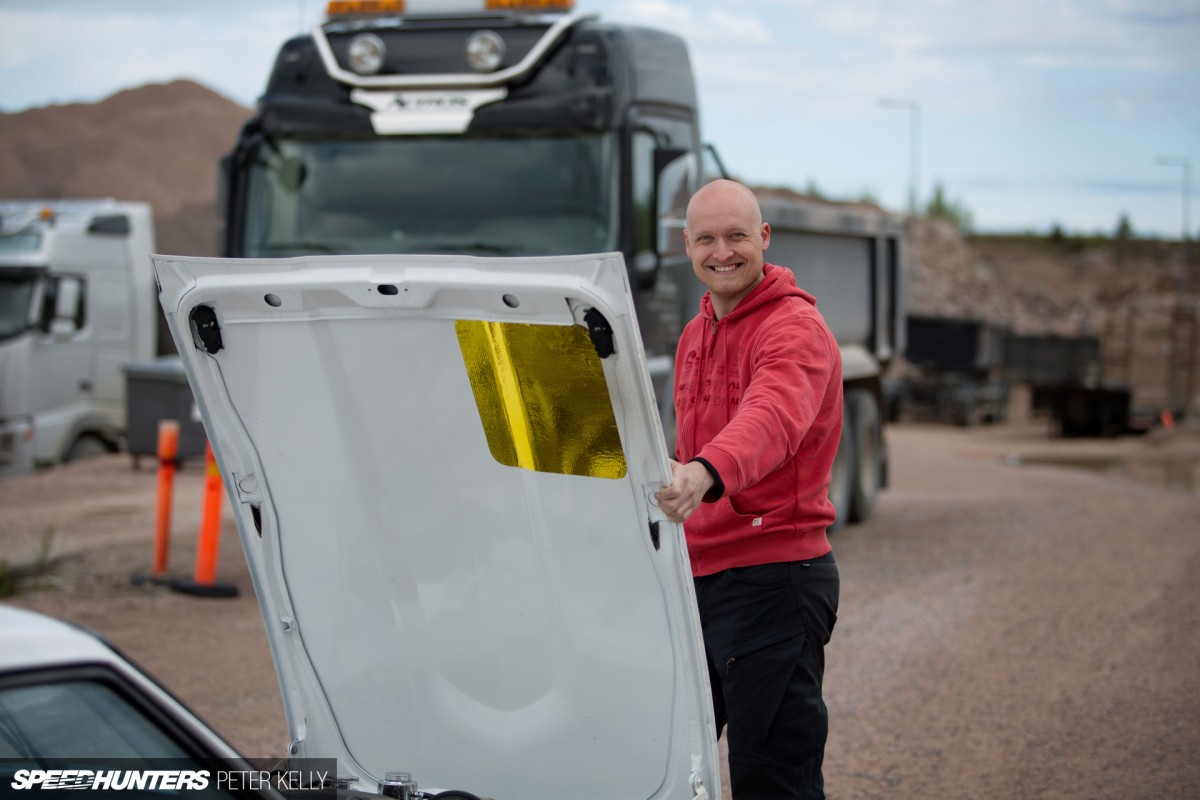 Here's the owner – who's also confusingly enough called Toni – and there's a good reason why he's smiling…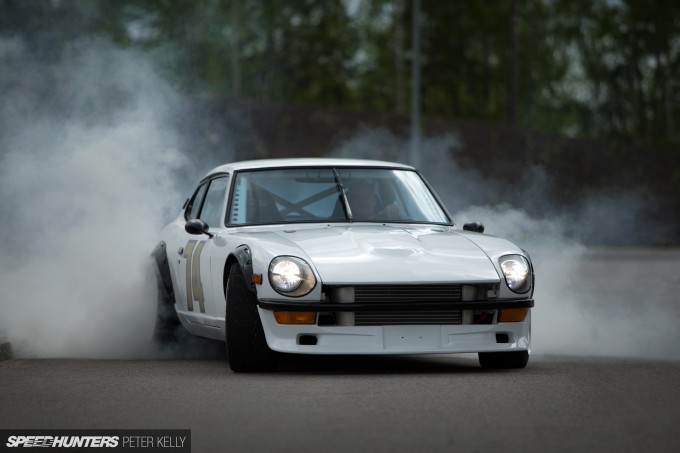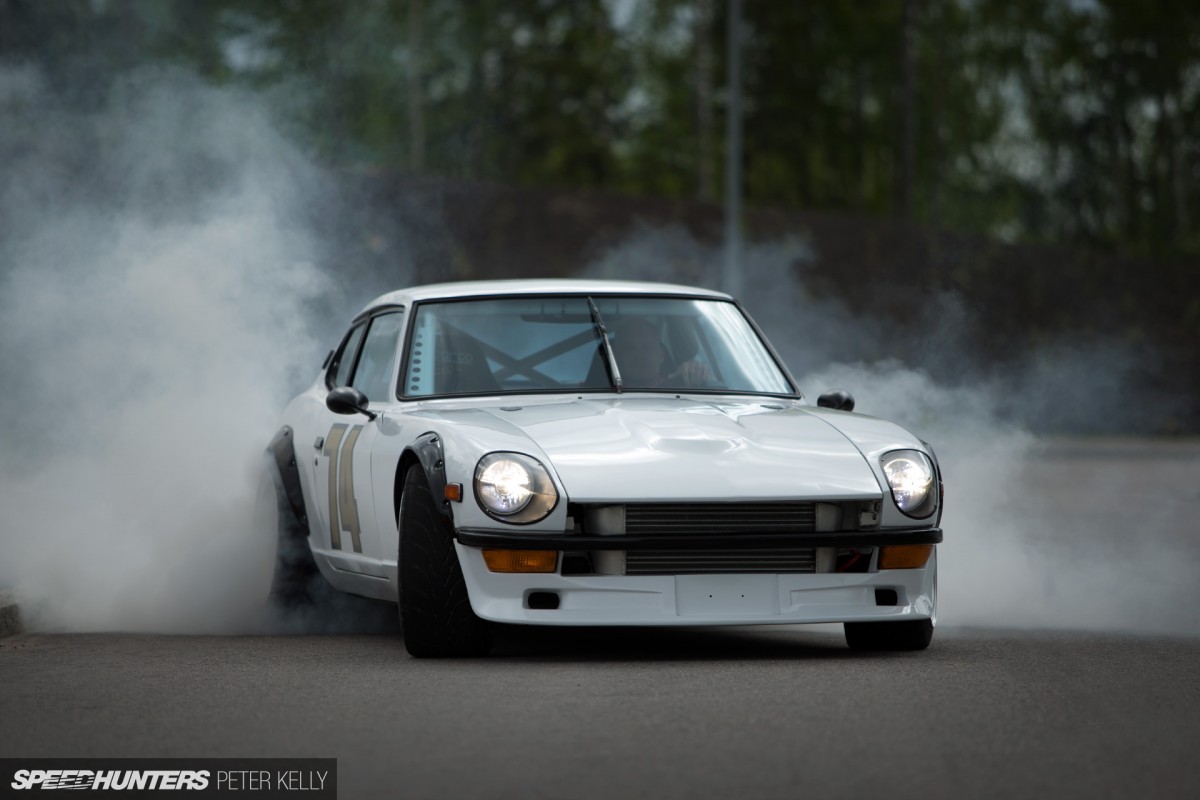 After seven long years this was Toni's first time driving his Datsun 260Z project, which runs a turbocharged Toyota 2JZ making just under 1,000hp. Being a Datsun owner myself, I couldn't help but get incredibly excited about this car, despite the fact that I'm a bit of an L-series purist – that's how cool it was! Stay tuned for a full feature in the near future.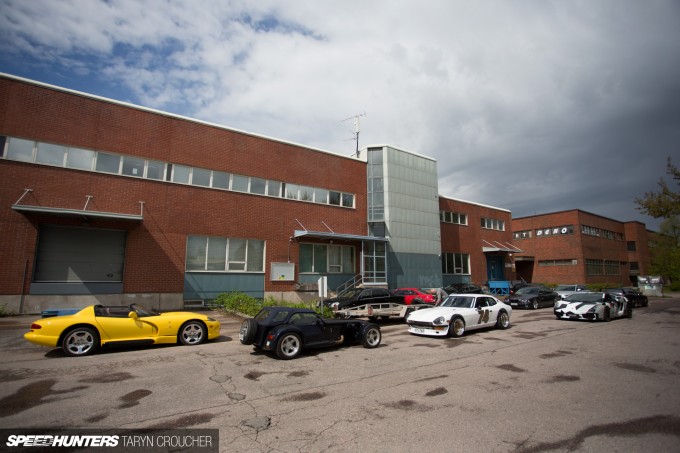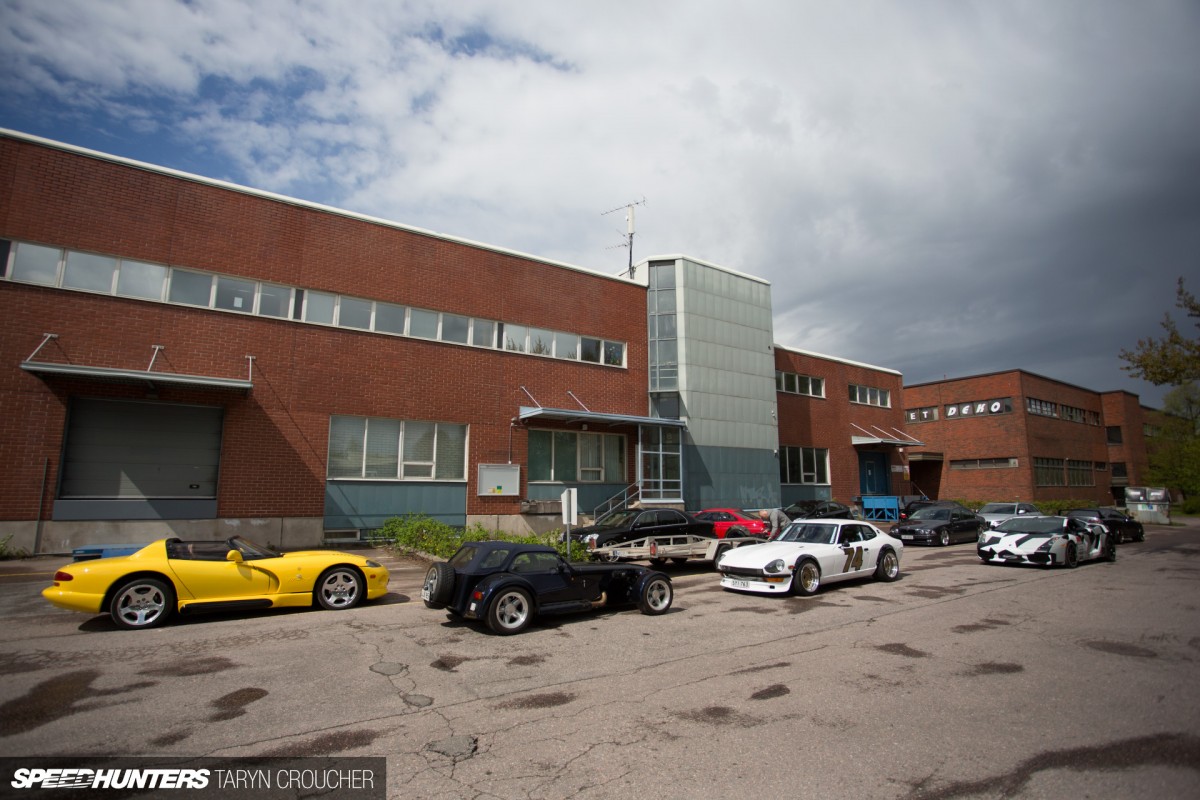 Next up, I called shotgun in the Z and we headed over to a nearby industrial area where Toni had organised a casual meet-up with some local car enthusiasts who all seemed to have one thing in common: they were all absolute automotive otakus.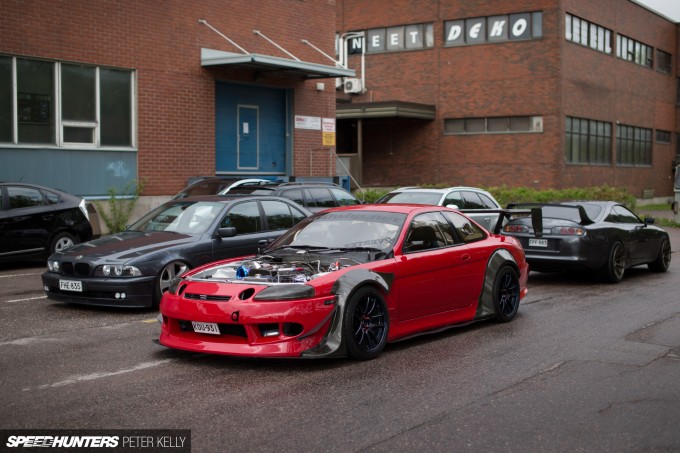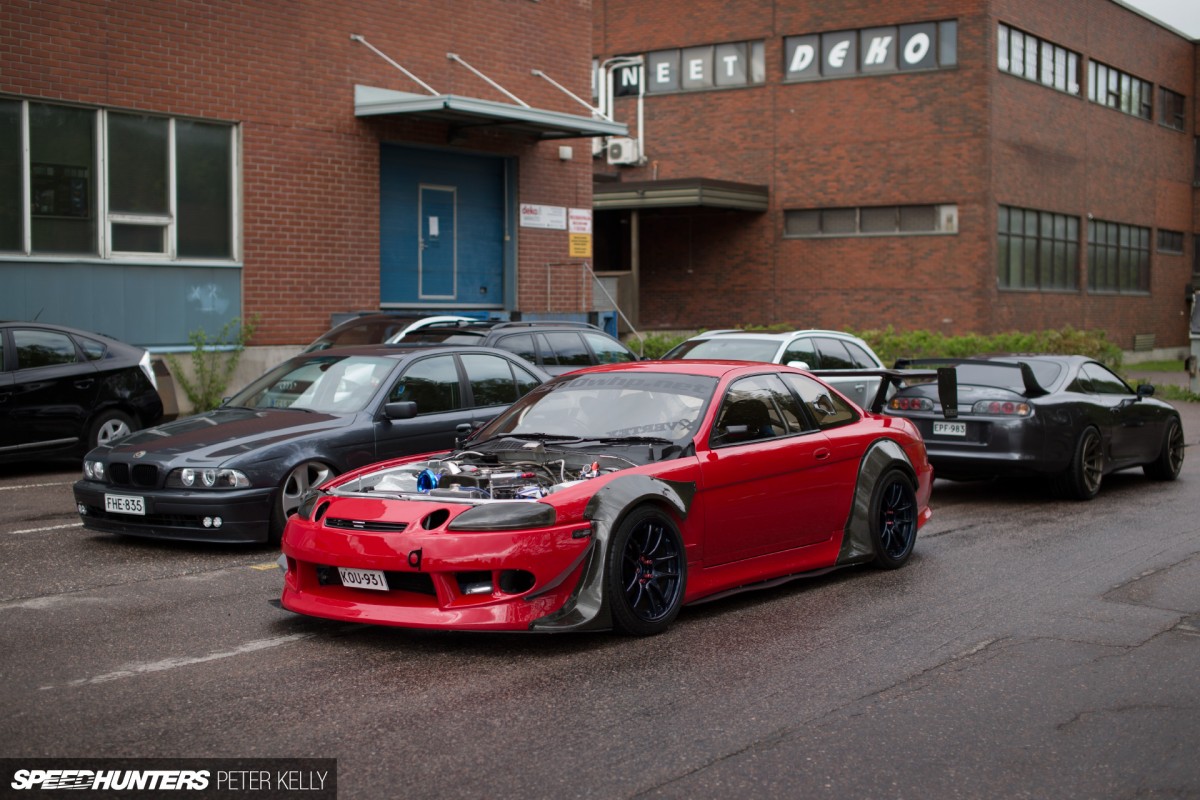 Some extremely cool machines had turned up – so many in fact that I'll have to save the full story for another time. But here's a peek at one of my favourites – Toni Mård's 950hp 2JZ-powered Toyota Soarer streeter. Yep… another Toni!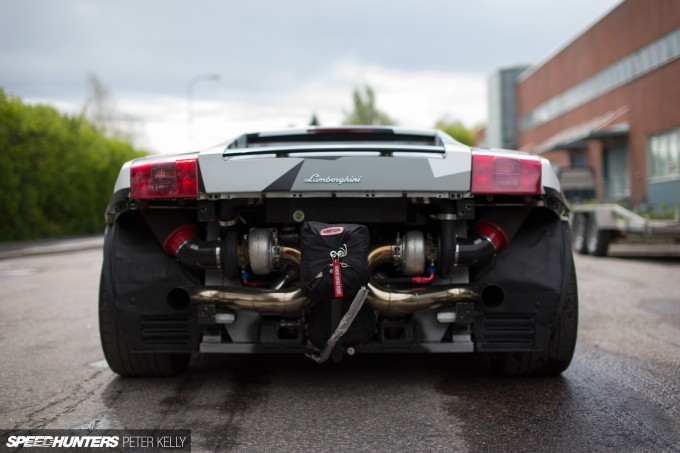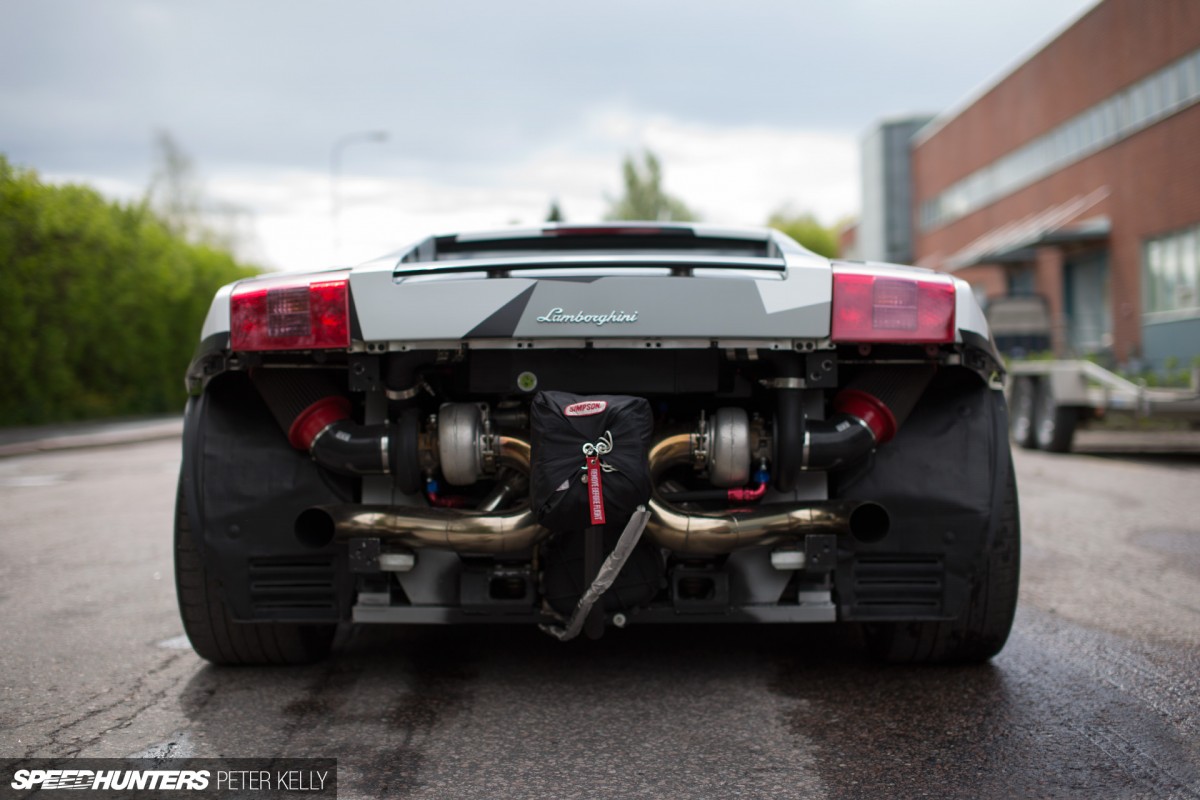 Our weekend in Finland was a total whirlwind, and I still can't get over how many incredible cars we were spoiled with. The Finns don't just like cars, they live, love and breathe cars, and their infectious enthusiasm for all things automotive – not to mention their intense addiction to horsepower – has me absolutely hooked. Perhaps next time we'll have to go back in winter for some ice driving, what do you guys think?
Stay tuned for several car features and more stories from our Finnish adventures over the next month or so!
Words by Taryn Croucher
Instagram: taryncroucher
taryn@speedhunters.com
Photos by Peter Kelly
Instagram: speedhunters_pedey
pedey@speedhunters.com
Cutting Room Floor