Usually, when we cover a show, festival, or other such event, we really need to think of the 'greater good'. Because we all have particular tastes, it would be all too easy to bring you only the cars we ourselves are interested in. To combat this, we have to try and force ourselves to go beyond our own preferences to identify cars that you, the reader, would prefer to read about.
This is not one of those occasions.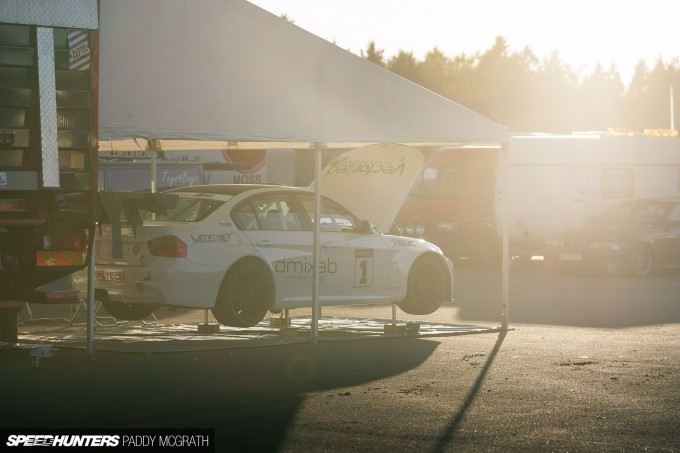 I have a little bit of an affinity to the BMW E90 chassis, having just sold my car after four years of ownership. They're still a rare enough sight on race tracks or at events, which is a surprise considering both how good they are and how cheap they've become.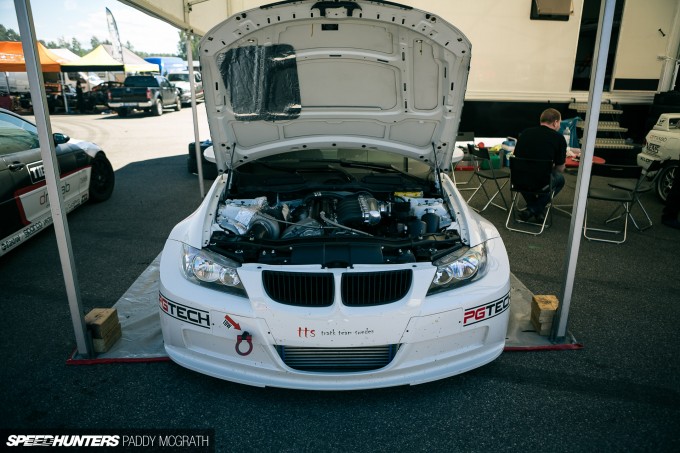 So, when I spotted the familiar saloon from across the paddock at Gatebil Mantorp, I had to investigate. Gatebil being Gatebil, I didn't really know what to expect from the rear. It was wide – likely a WTCC or BTCC kit – and painted in the ultimate motorsport colour. But with the bonnet open, I could tell on approach that this was still an all-BMW affair…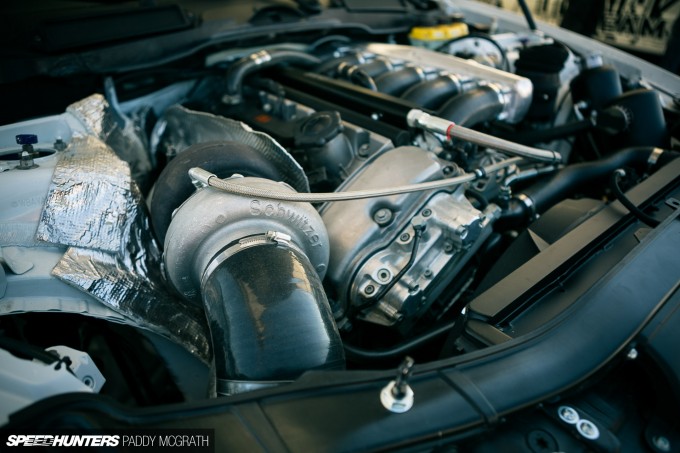 Albeit with a large turbocharger. The Schwitzer unit was attached to probably the pinnacle of naturally aspirated inline sixes: BMW's 3.2-litre S54, as found in the E46 M3.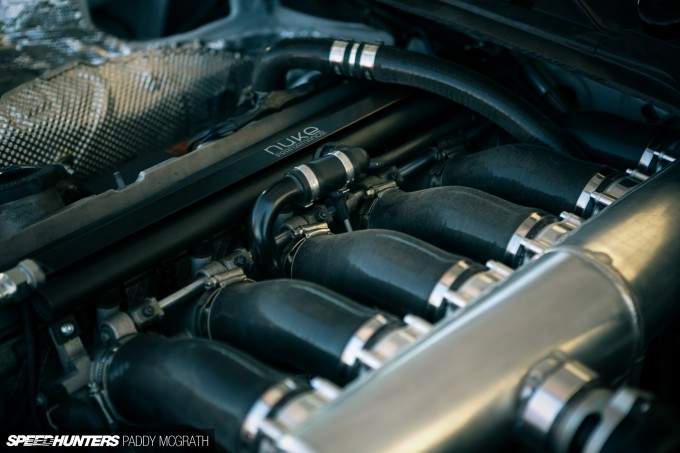 The car was fitted with a lot of parts from the Nuke Performance catalog, the owner, Joakim Birgersson, showing his patriotic loyalty to the Swedish company.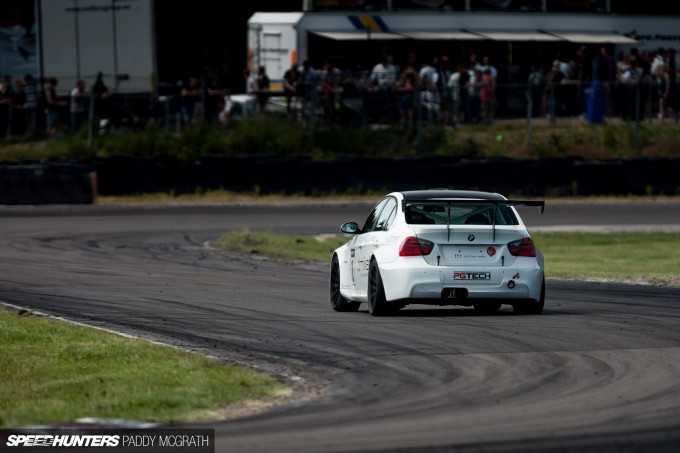 The build of this BMW is just as impressive as the final result. Over the course of two years, Joakim built this E90 at home in his own garage. When I asked him about the intended purpose of the car, he was happy to explain how it was engineered for both drifting and time attack. Essentially, Joakim has built a 'Gatebil' car – that is, one for having fun in.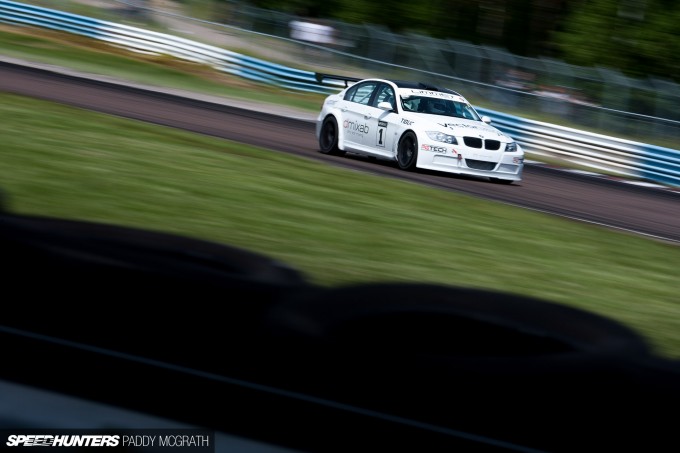 The turbocharged S54 is certainly capable of both anyways, laying down a horsepower figure in the 800 region. It also had no difficulties keeping pace with Gatebil's Extreme class over the course of the weekend.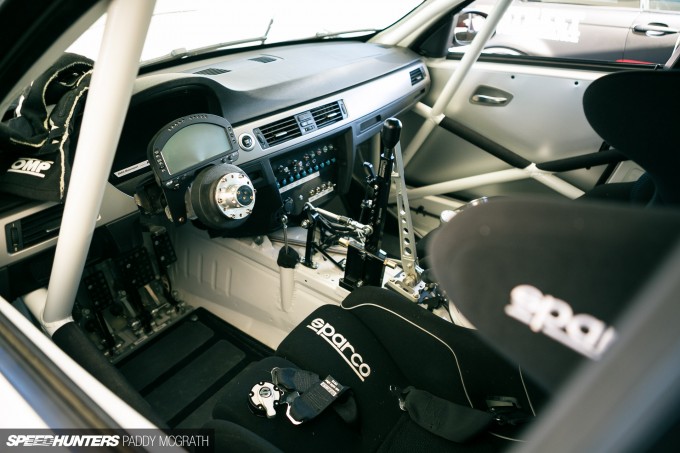 The interior is of course a perfect reflection of the car's intended purpose. A floor-mounted pedal box, MoTeC engine management, AiM MXL digital dash, Tractive sequential gearbox and a hydraulic handbrake are amongst other well-implemented modifications. It all results in a build that's just as much about quality as it is about ultimate numbers.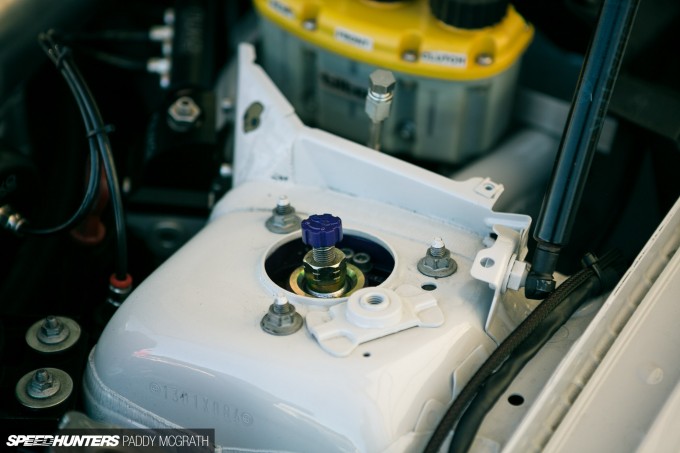 Turning and stopping are catered for by D2 suspension and brakes respectively, whilst the power is sent to an E39 M5 differential with a completely customised E90 rear subframe. Extra lock for its drift setup has been provided by a custom steering system built by Limmet Speed Factory.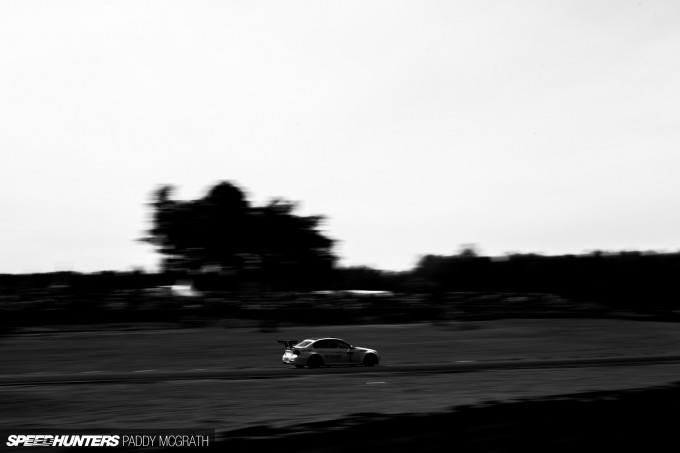 Whilst a turbocharged S54-powered E90 isn't the most radical sort of build you'll find at Gatebil, it is a superb example of a home build and just how high the quality of workmanship can be in Scandinavia. The long winters allow plenty of time for patience and when they result in such impressive cars, almost become a blessing in disguise.
I think I might allow myself just one more indulgent spotlight…
Paddy McGrath
Instagram: @pmcgphotos
Twitter: @pmcgphotos
paddy@speedhunters.com