Someone Once Said The GT-R Can't Be Tuned
It's images like the one above that make me think back to the ridiculous statements that Nissan made in 2007 when it first presented the R35 GT-R. They were along the lines of, 'don't tune the engine, we'll void your warranty,' and 'it's already developed for optimal performance'. Whichever official made those comments must be feeling a little silly now, because as we've seen over the last eight years, with a serious dose of tuning the R35 can be made as fast as a Bugatti Veyron. Or, if you're like Robbie Nishida, transformed into a stripped-out drifting beast.
That's why I chose the VR38 twin turbo V6 in his Liberty Walk R35 as the opening shot to this post, which is dedicated to the engine bays I came across at Formula Drift Tsukuba last weekend.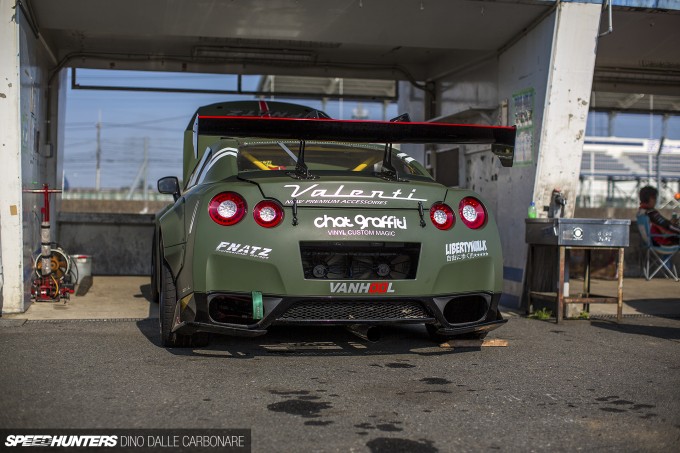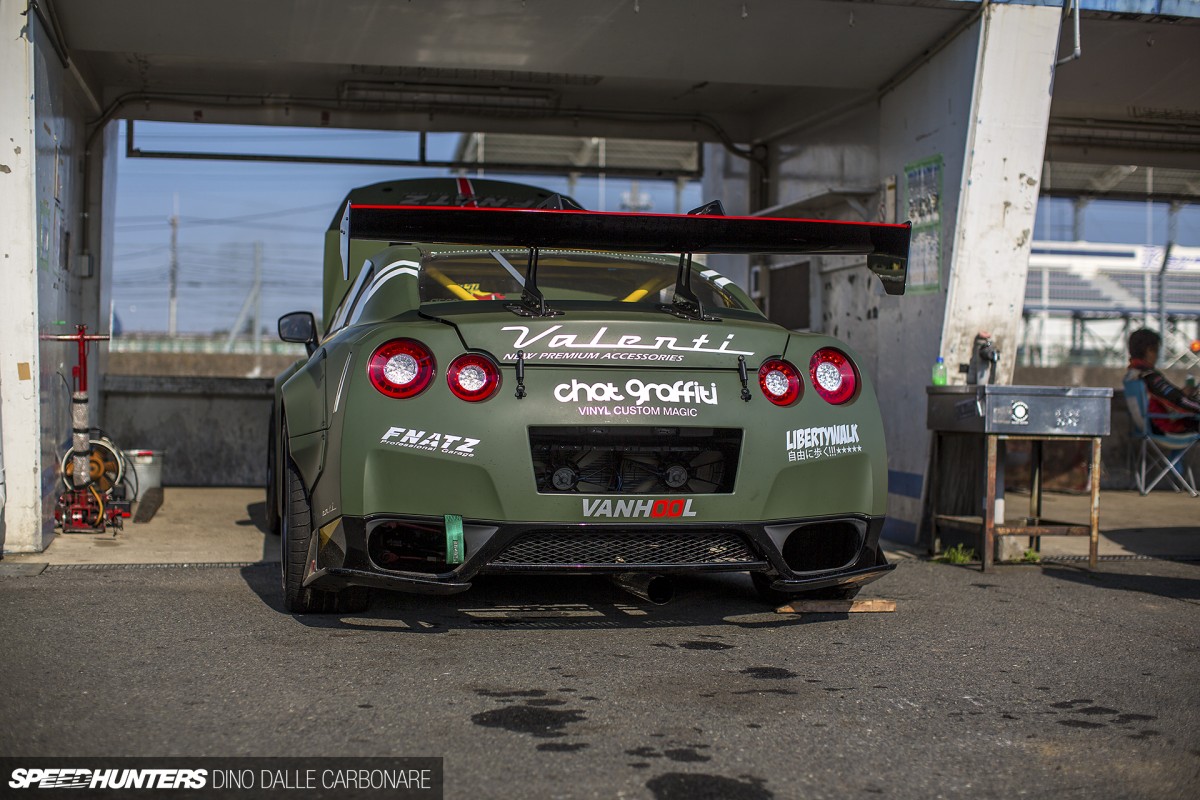 Robbie's R35 is a collaboration between Liberty Walk and FNATZ – a shop that I really have to put on my 'must-visit' list. FNATZ's Funatsu-san is nothing short of a tuning master, and you would have seen his engine building talents before in many of Daigo Saito's drift machines.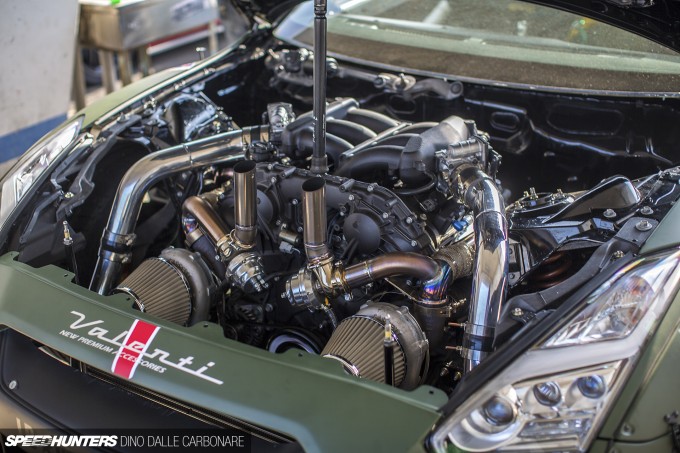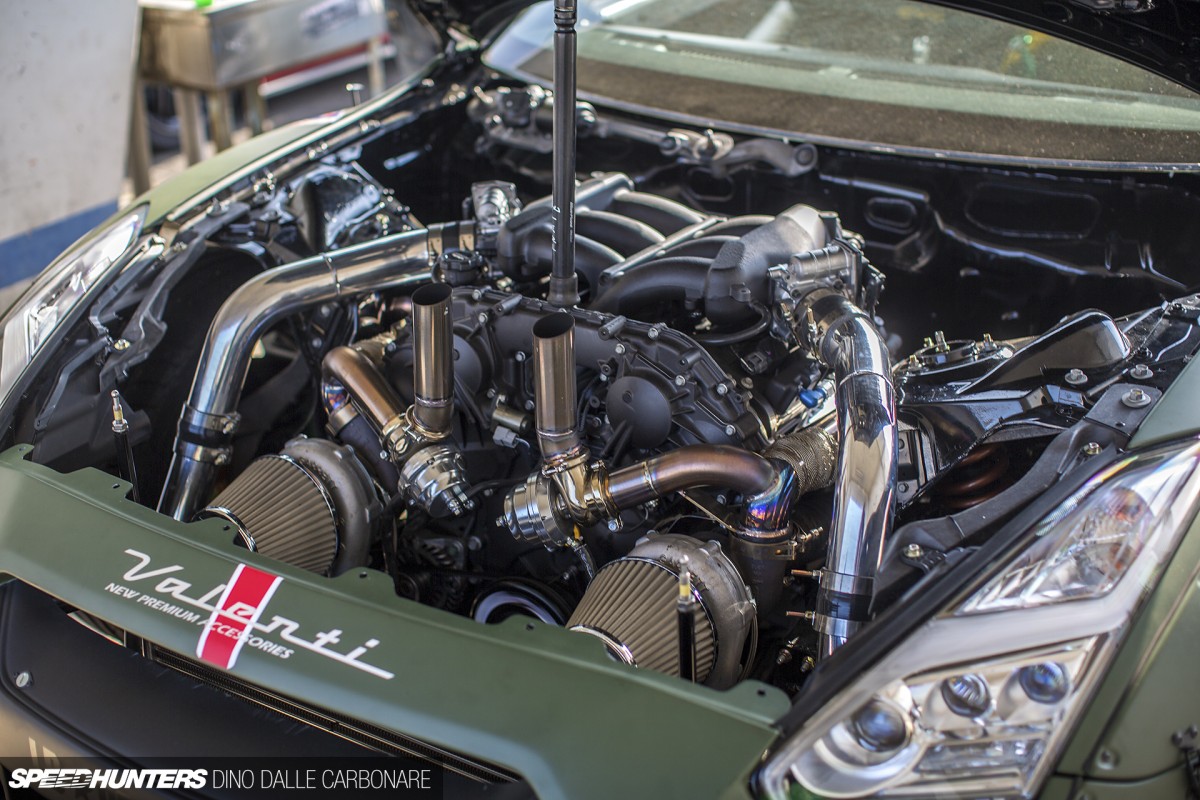 Obviously Funatsu-san doesn't just specialise in the trusty old Toyota 2JZ – he's handy with anything he's requested to work, and this VR38 he's put together is pure awesome.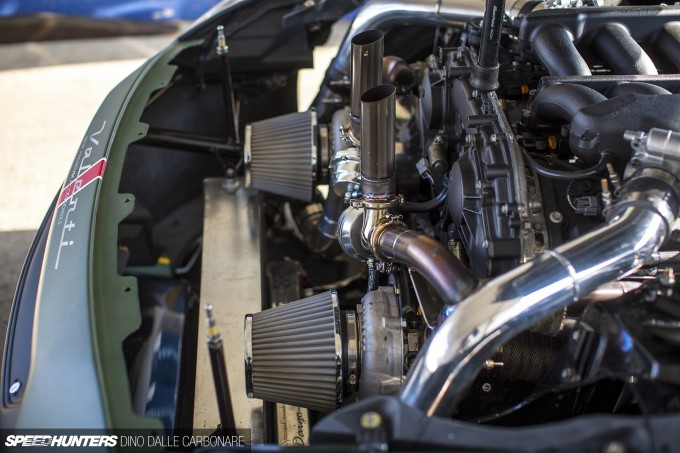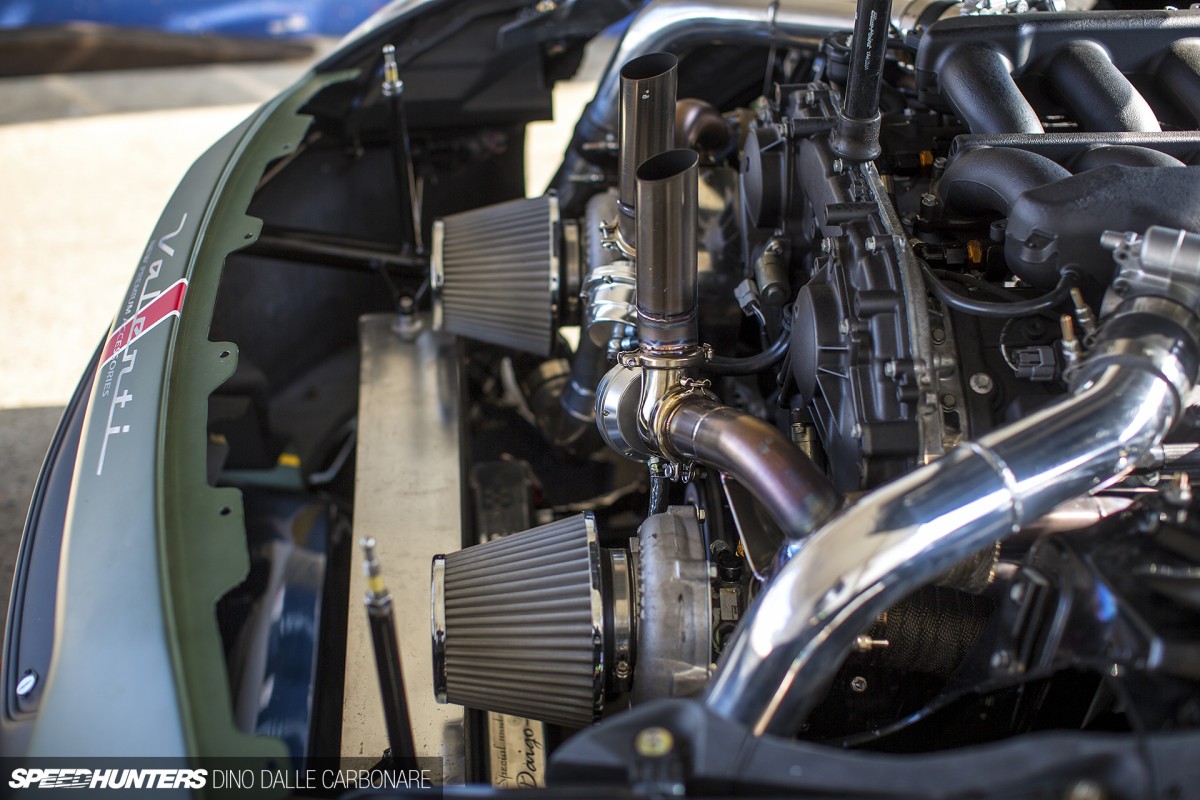 Similar to the setup in Daigo's Formula Drift GT-R, the relocation of the radiator to the back of the car has freed up some space in the engine bay. In this case it's the massive custom intercooler, mounted low to take full advantage of the air coming in through the front grille, that takes up most of the space. The Garrett turbos are mounted ahead of the engine and cross-feed alternate banks of cylinders. The obvious party trick here is the positioning of the external wastegates and the respective screamer pipes that vent right through the bonnet!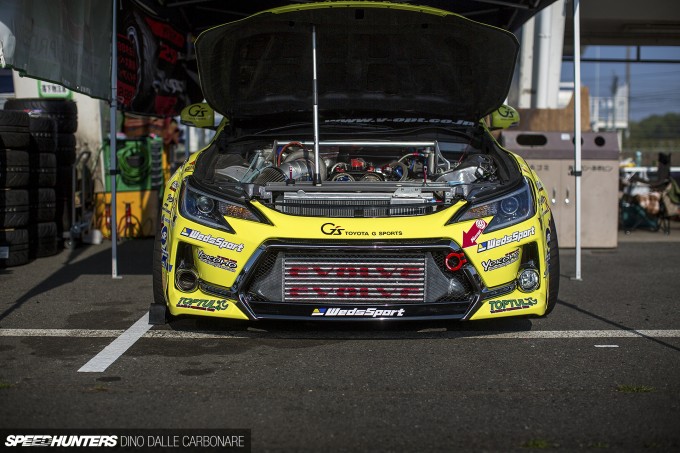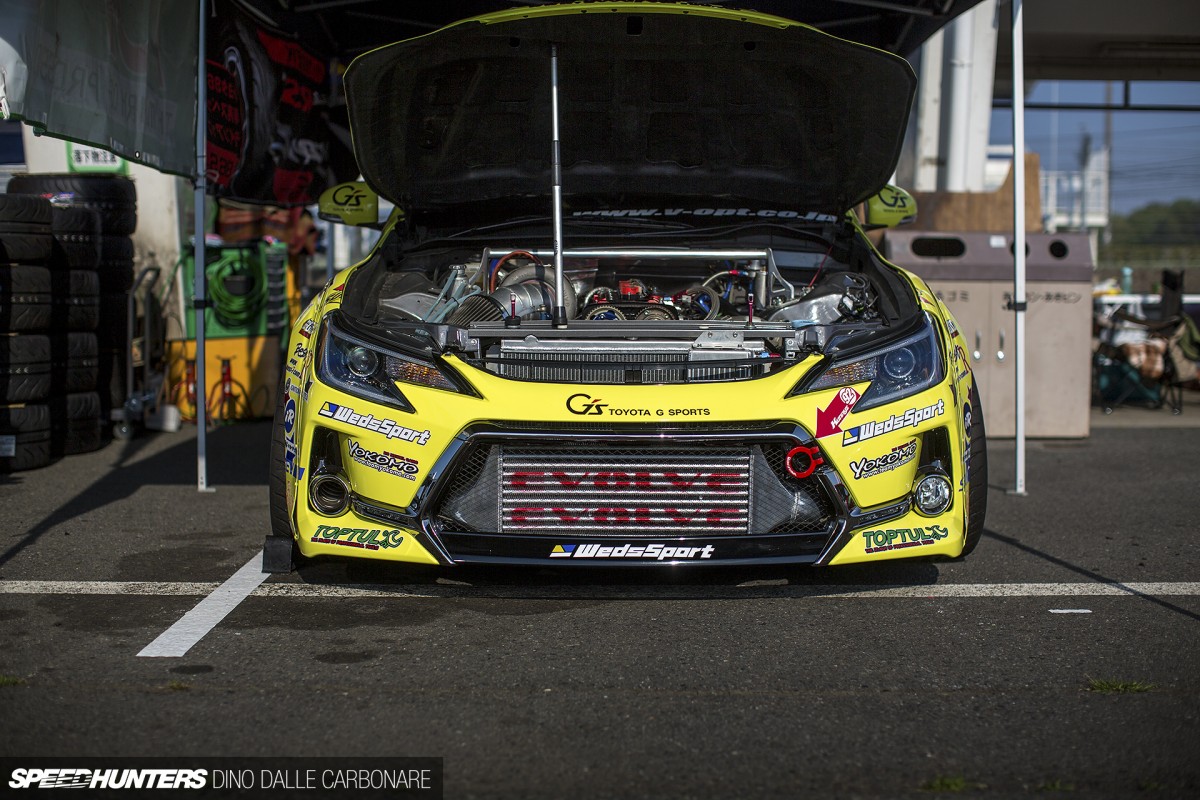 One pro-spec Japanese drift car that has really impressed over the last couple of years is Kunnyz' Toyota Mark X. Aside from the fact that it's a cool and modern-looking car, it's also done away with the mass-produced V6 that Toyota usually stuffs into this chassis.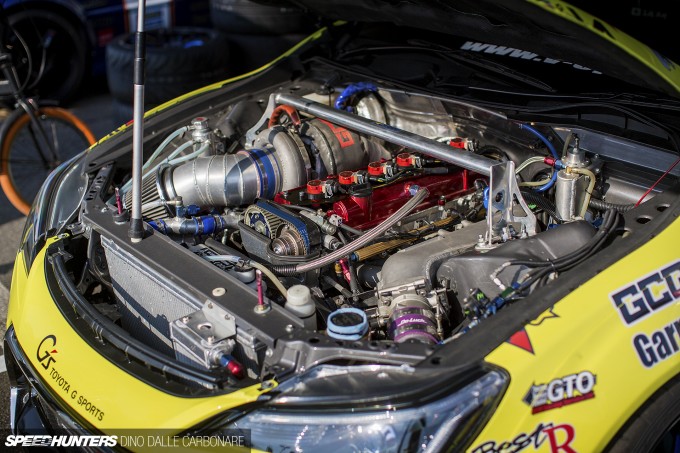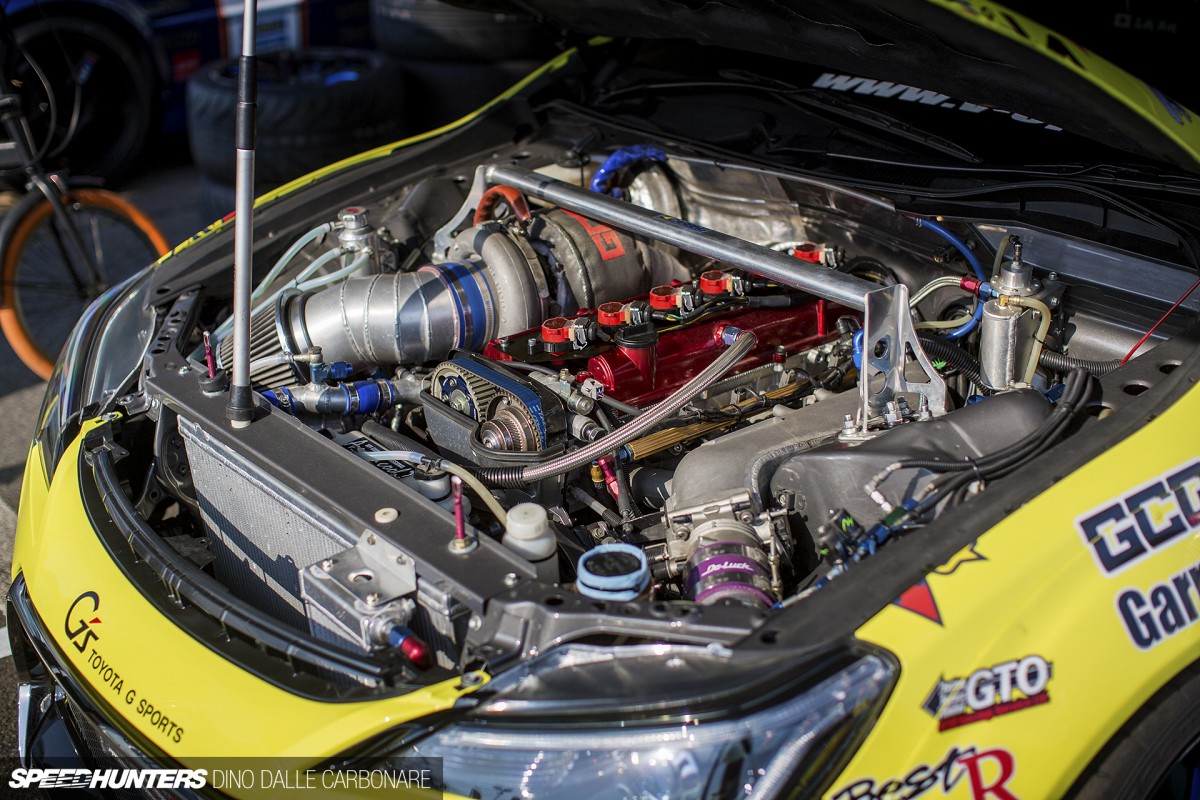 In its place is a 3.4-liter stroked 2JZ custom tuned by Do-Luck. Enough said!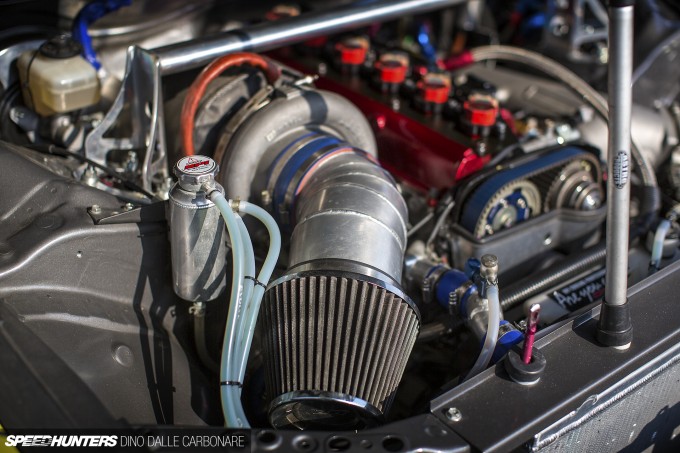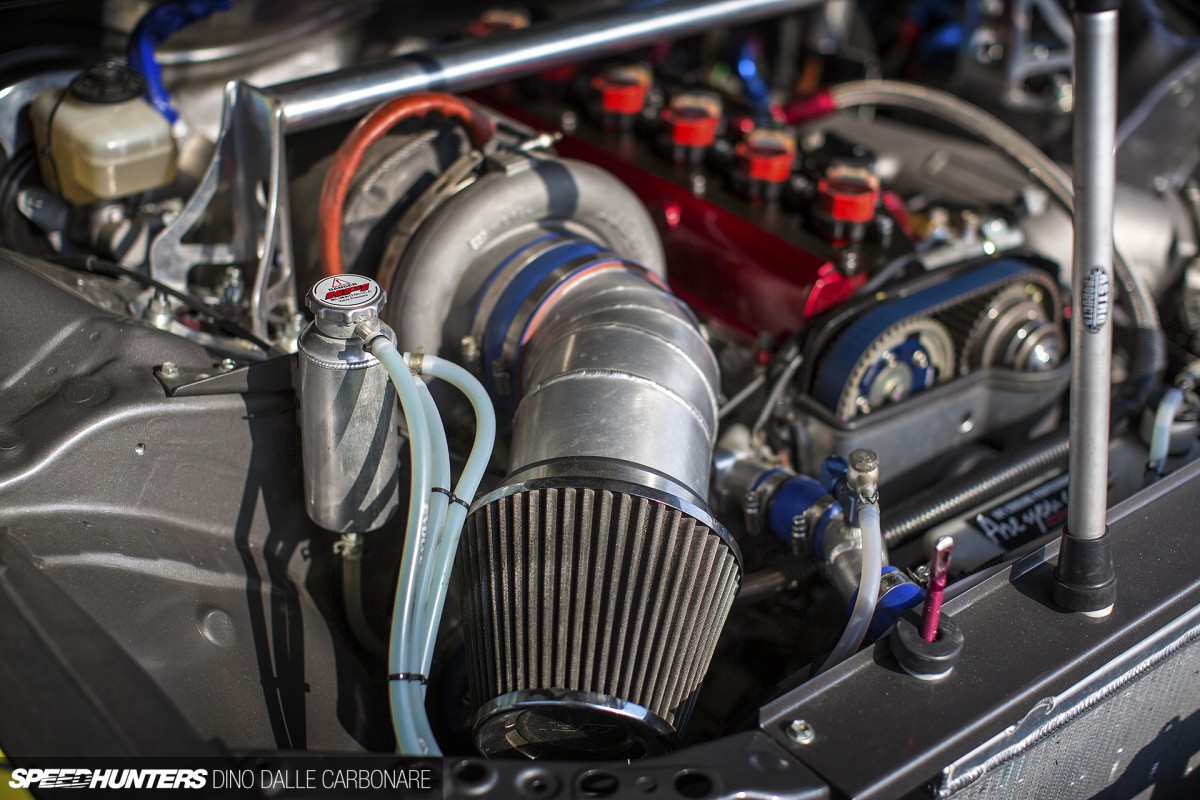 While an adequately-sized GCG/Garrett GTX turbocharger takes care of supplying the engine with all the boost it could ever require, there's an additional nitrous oxide system there for when Takahashi needs that little extra boost in power, which is usually in the lower RPM range before the big turbo comes on song.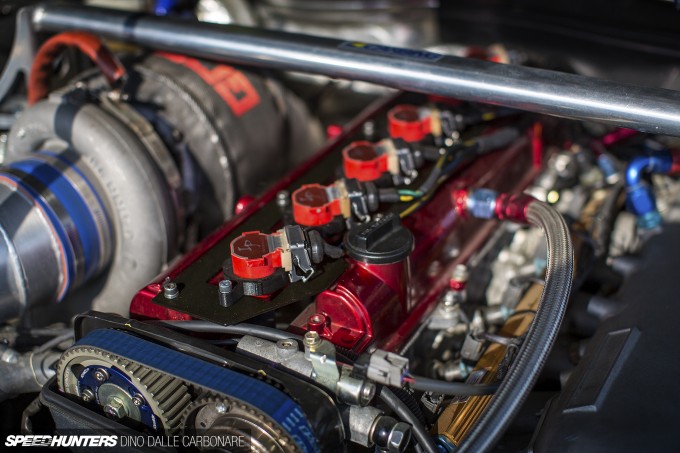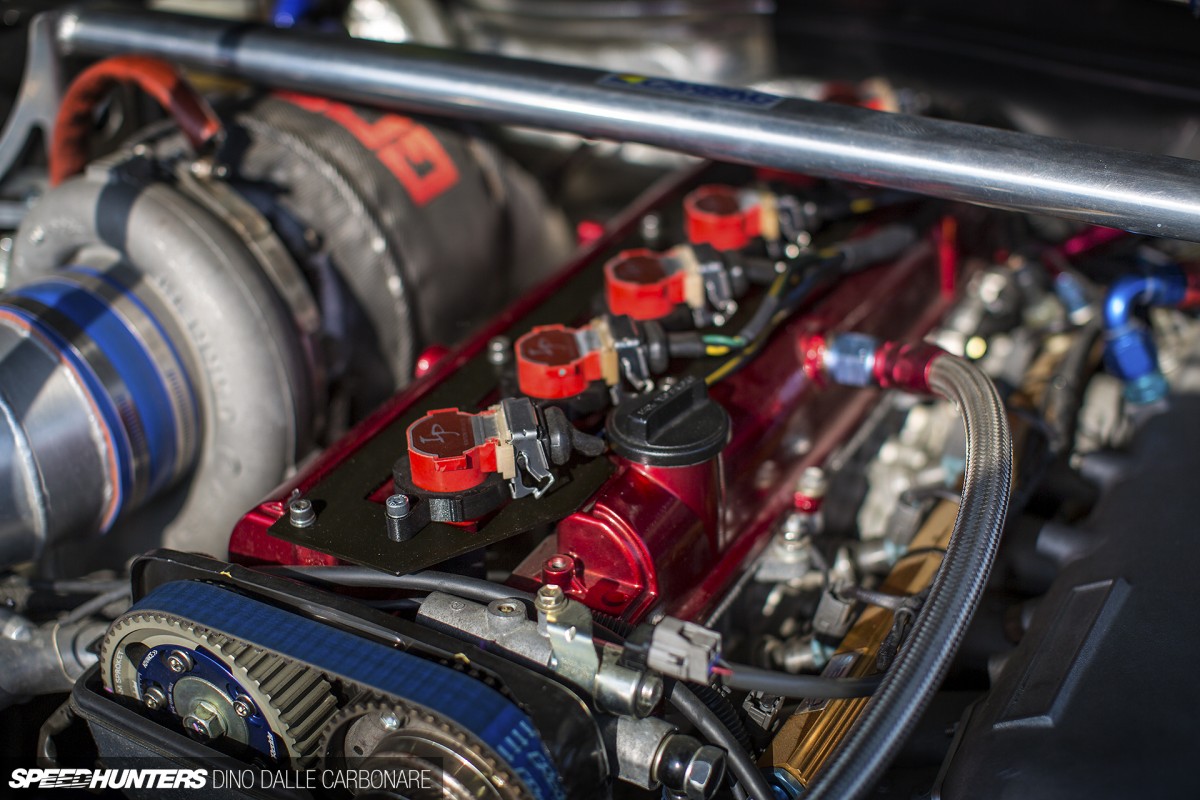 Similar to the ones I recently fitted to Project GT-R, new high-intensity Ignition Projects coils have been added. When you run serious boost and require faultless operation right up to the rev limiter, these things really come into their own.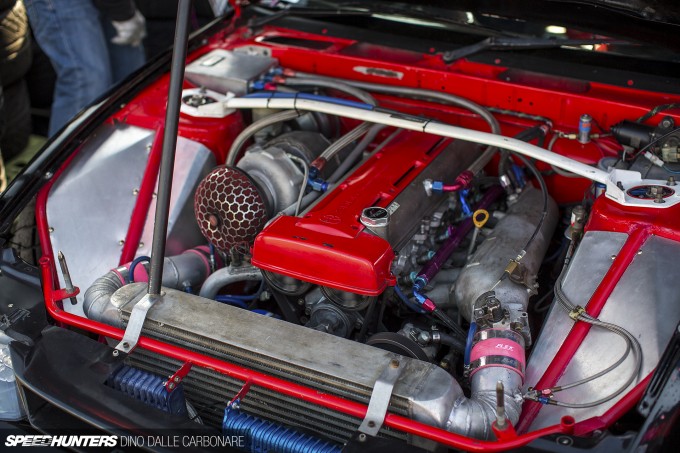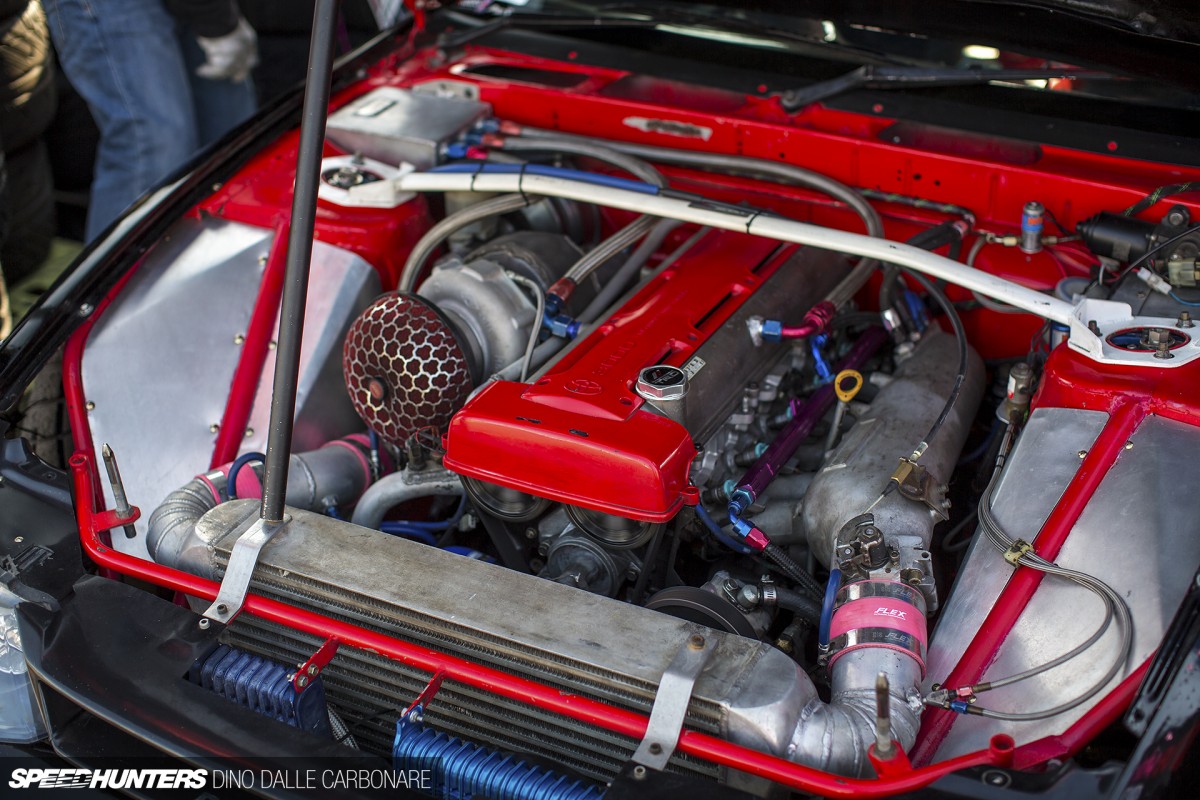 More Toyota straight six right here in Daivide Dorigo's 'Odevia'. Visually, it's more of a simple swap than the one in the Mark X, but what I like here is the positioning of the intercooler. Although there are quite aggressive curves in the intercooler pipes, they're rather short which is always good for throttle response.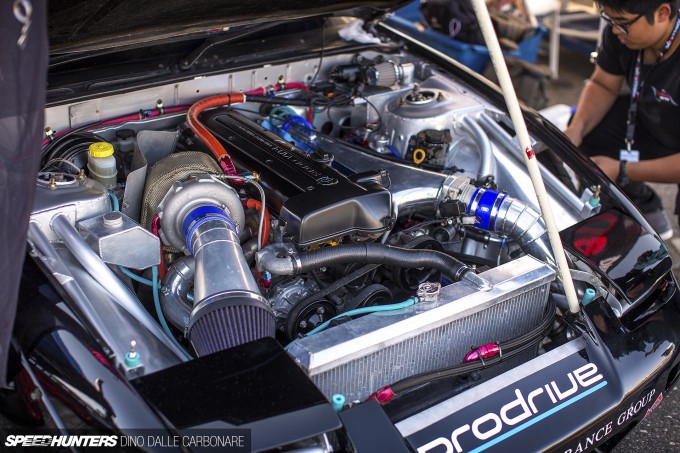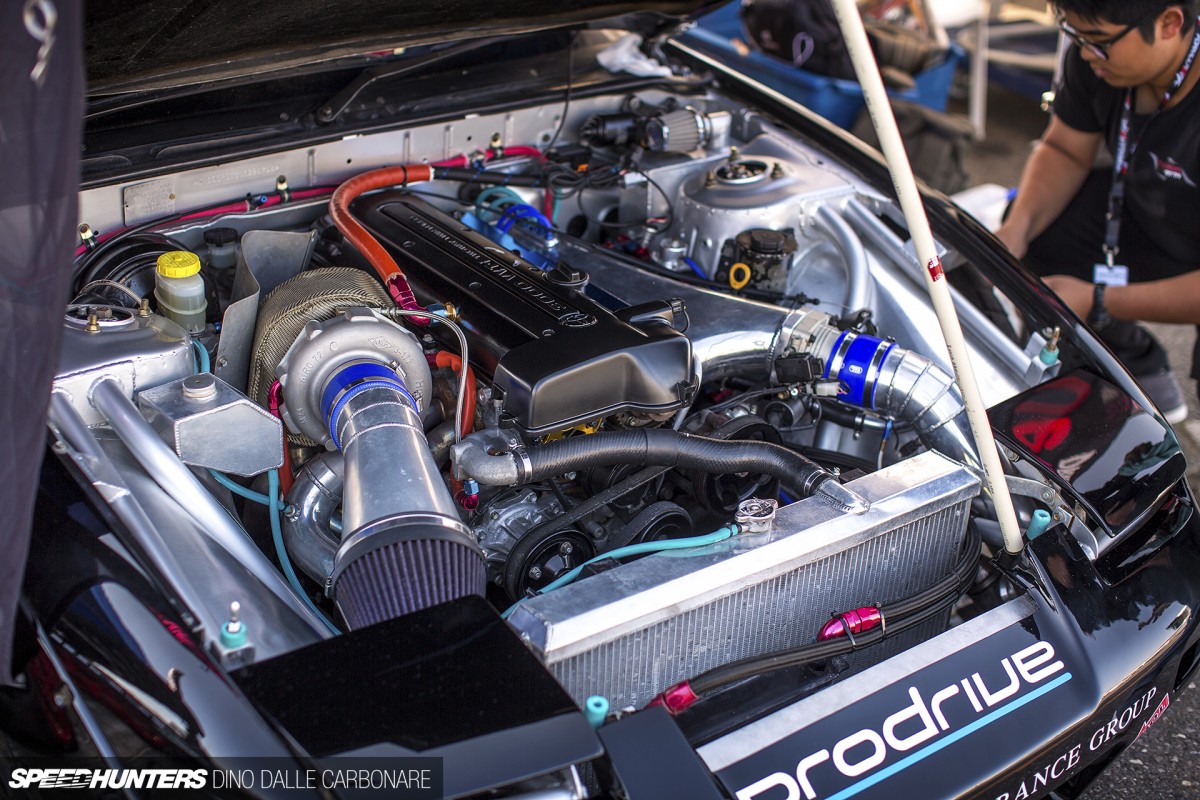 Parked next to Dorigo's S13 was the other car from Thailand. And you guessed it – Chiaravanond's RPS13 features another beautifully-executed 2JZ swap.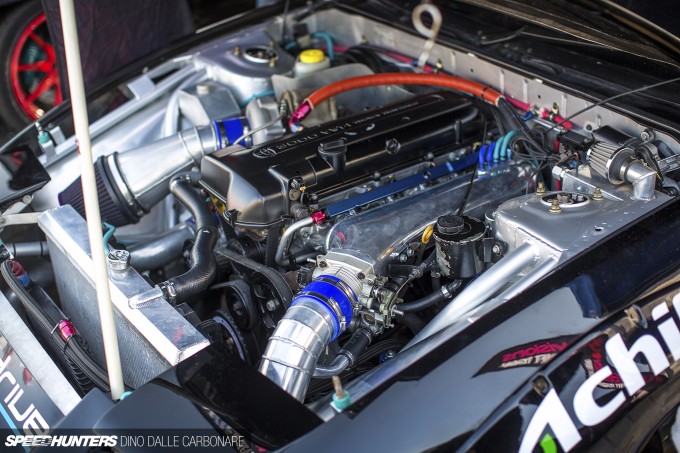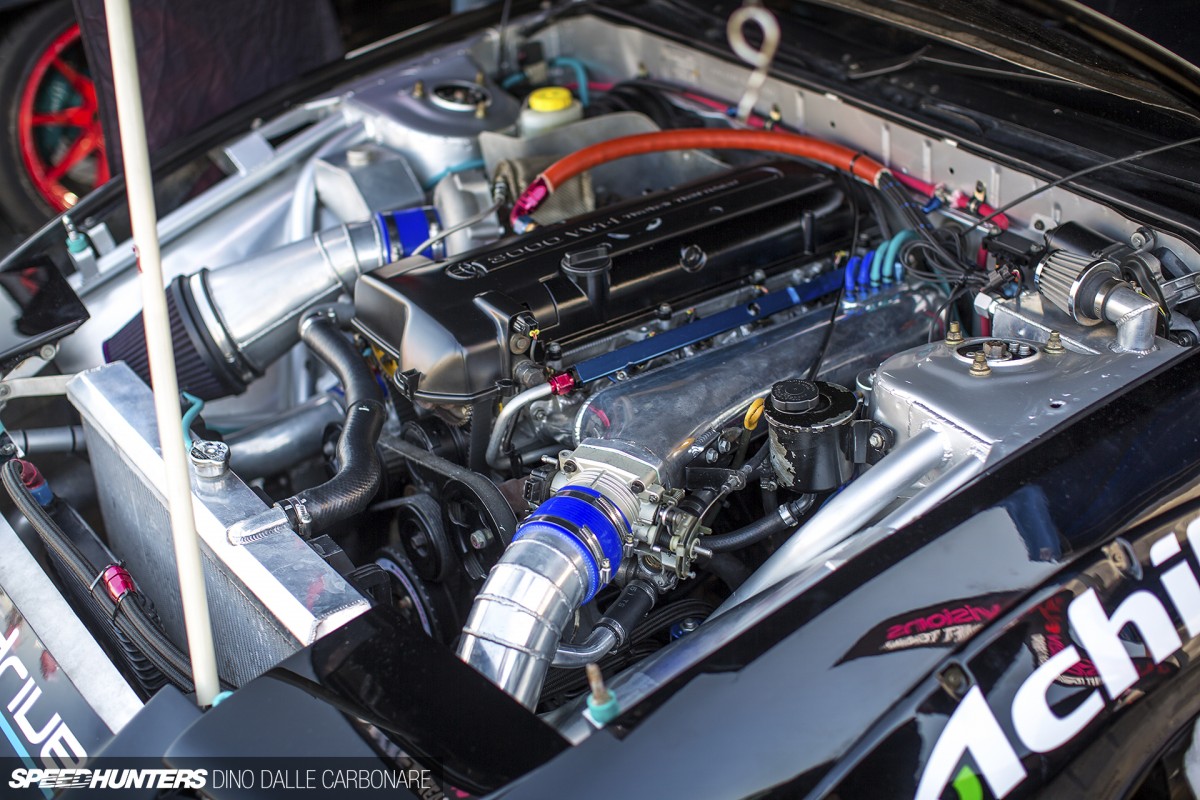 A lot of work has gone into the chassis of this car, including a tubular front section and tubbed front inner arches to free up as much space as possible.
A Lonely V8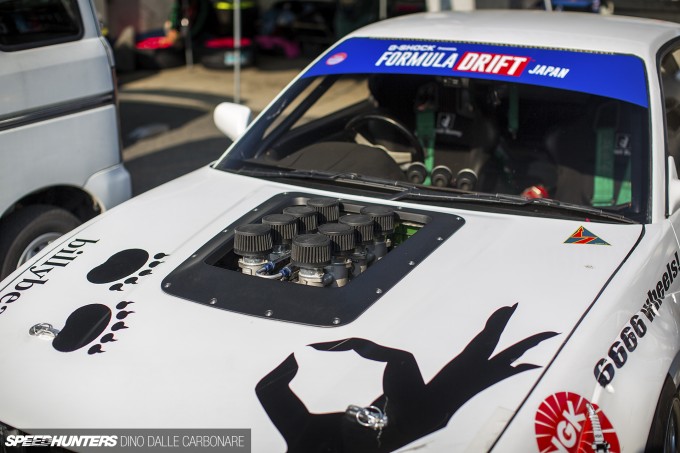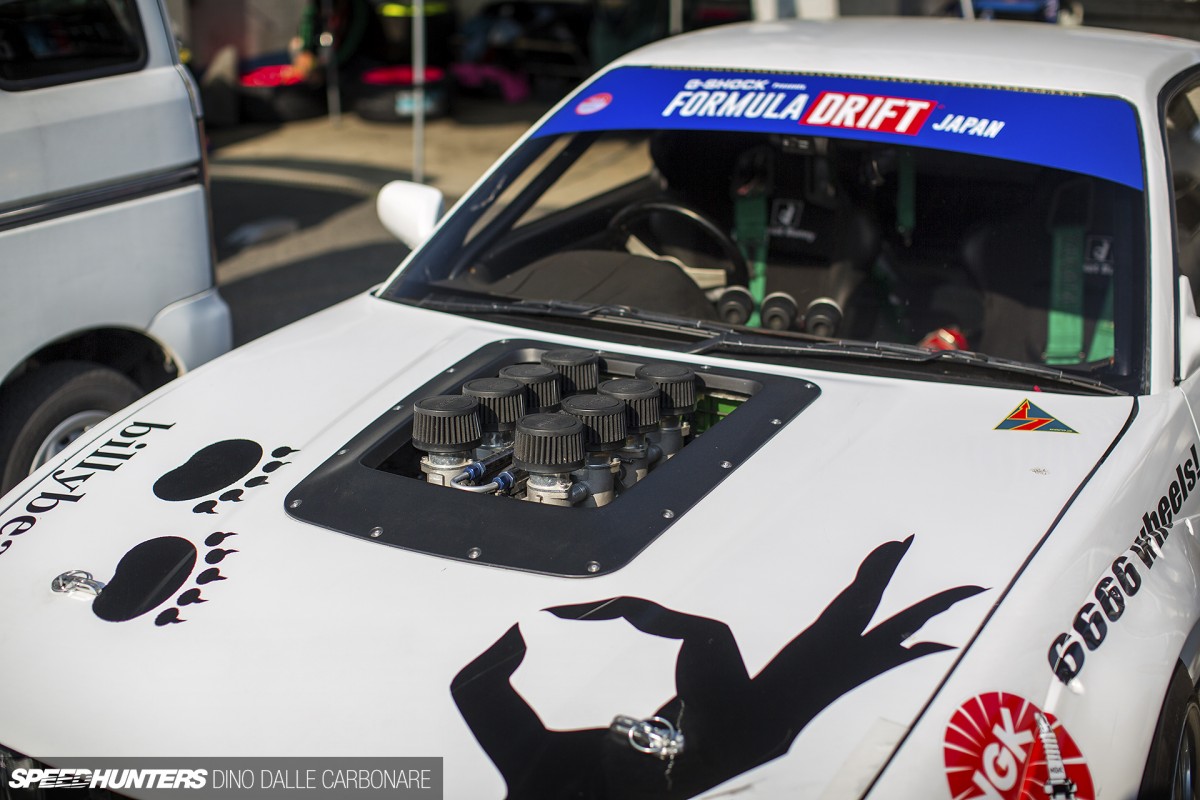 We checked out the LS-swapped Stance S13 in detail last year, so it was no biggie that I never managed to see it with its bonnet up in the Tsukuba pits. Maybe it's a sign of just how reliable big-capacity V8s are? Regardless, this was one of the loudest and coolest-sounding cars entered in the competition, not to mention the only naturally aspirated engine package present.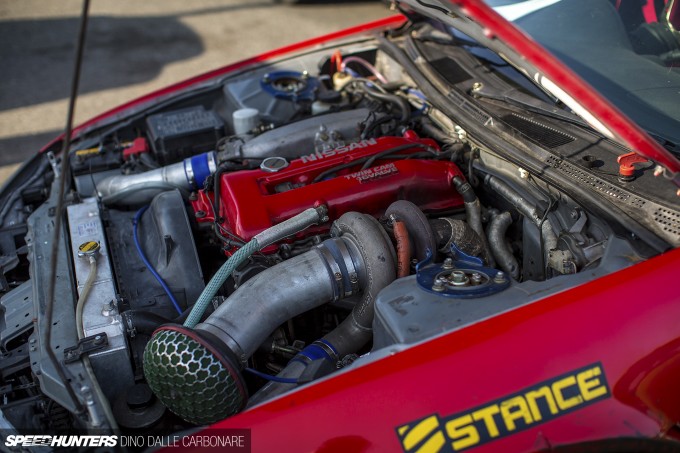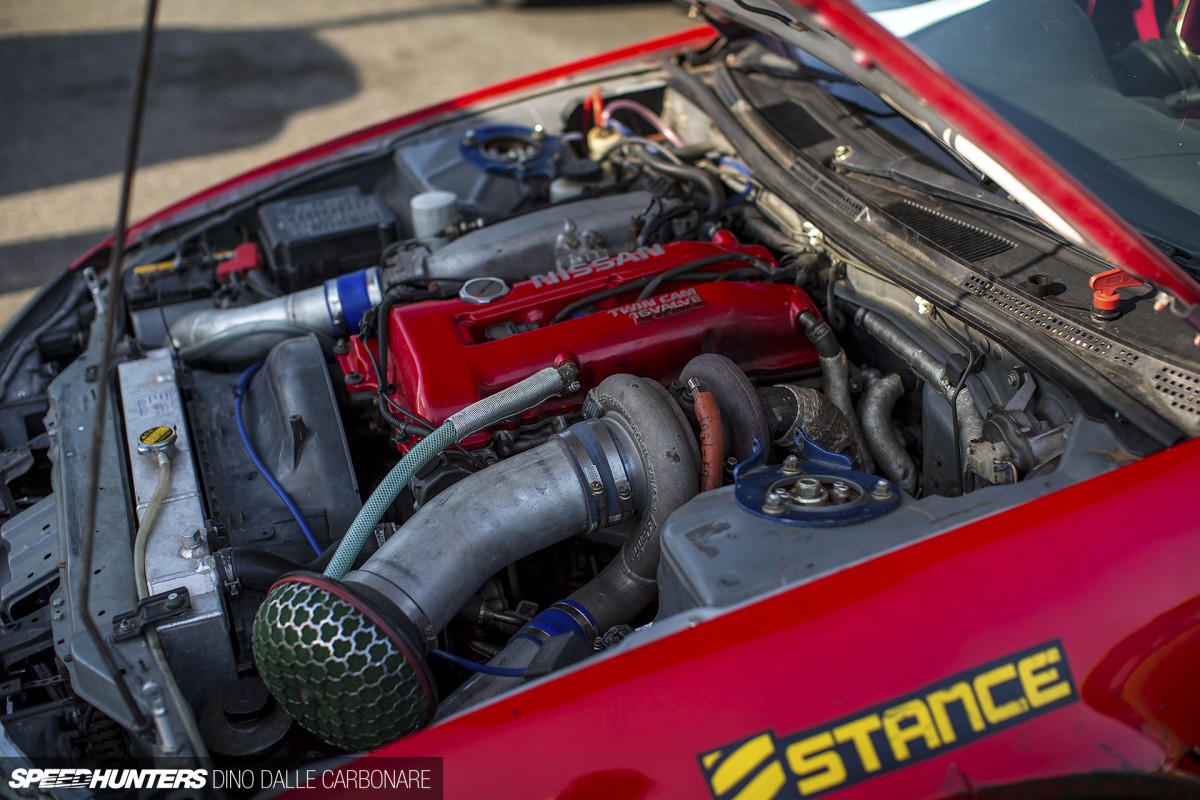 I couldn't possibly dedicate an entire post to engine bays without at least one SR20DET setup, right? Nissan's iconic four cylinder might be losing out in the power war against the 2JZ, but that doesn't mean they've gone the way of the dinosaur in Japan pro competition. Case in point – Nakamura's Stance Onevia, which features a fully-built SR with a massive Trust turbo. This thing can definitely keep up with the more powerful cars on the grid.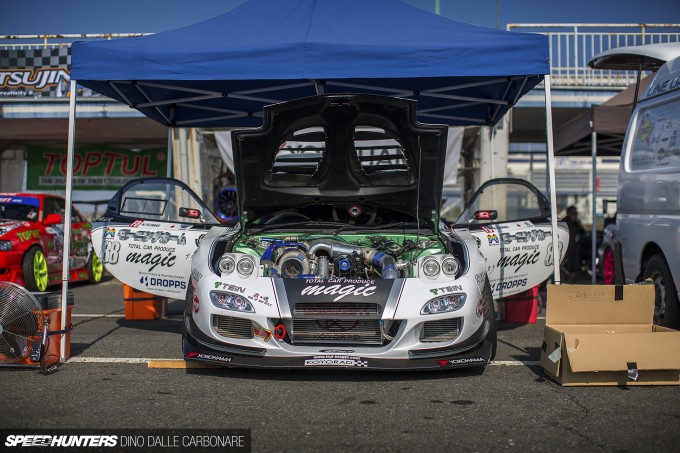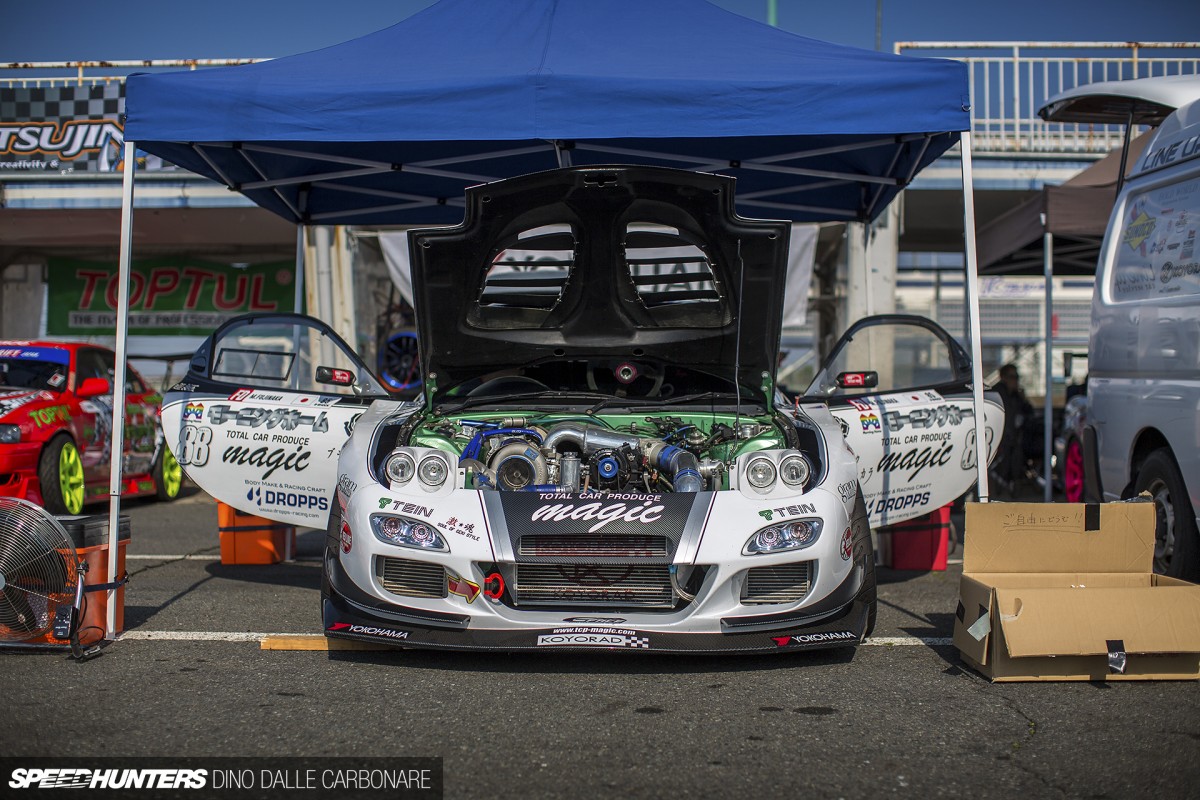 From straights sixes, to inline fours and even naturally aspirated V8s – there's nothing that sounds so distinct as a rotary. And even more so if it happens to be a triple-rotor 20B.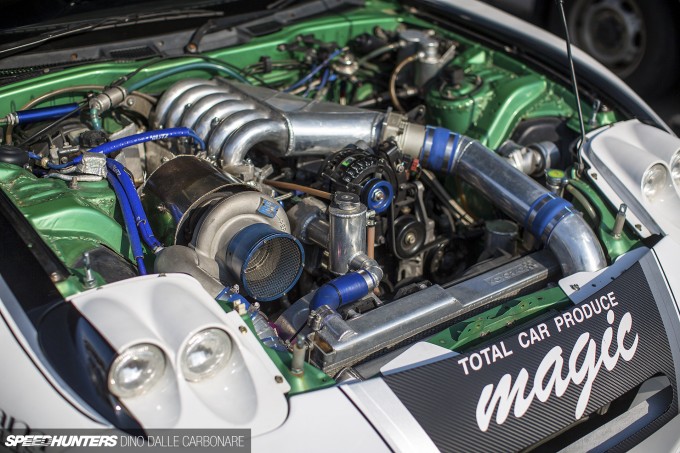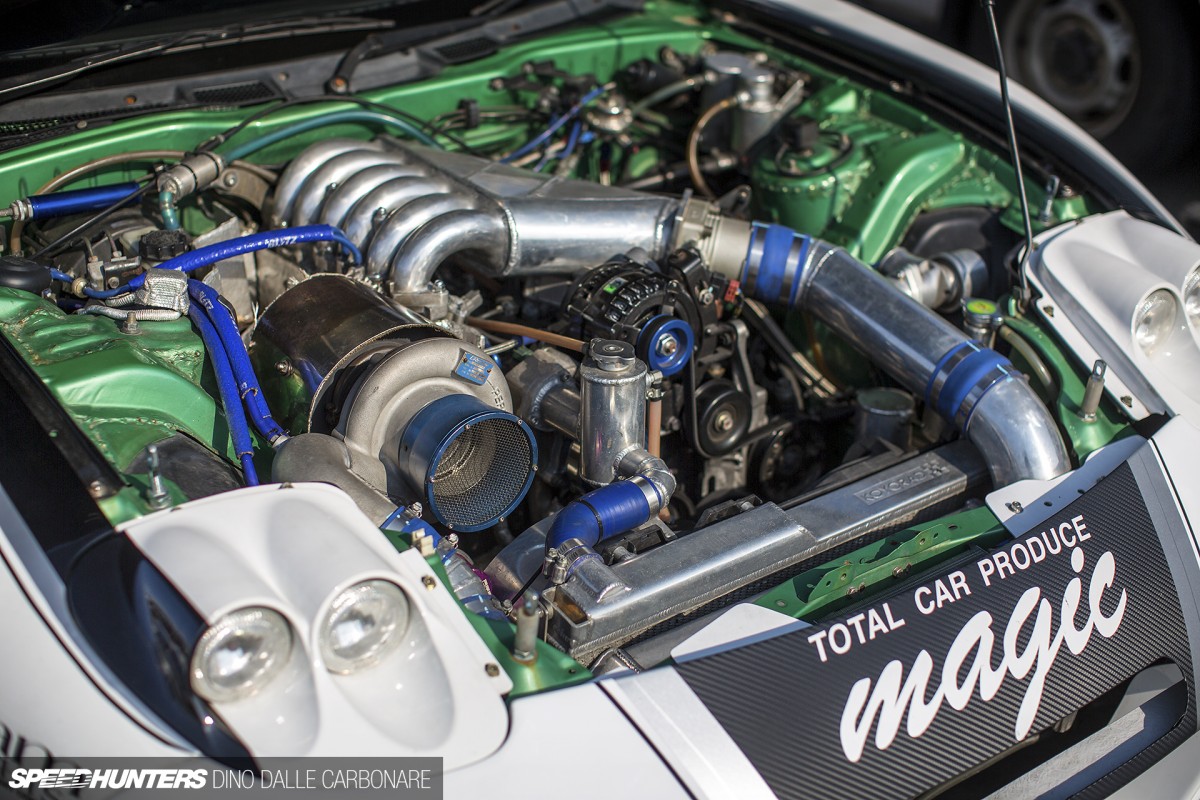 It's been a while since I had seen Fujinaka out on track, but he sure as hell knows how to handle the ferocious delivery of his Total Car Produce Magic tuned motor.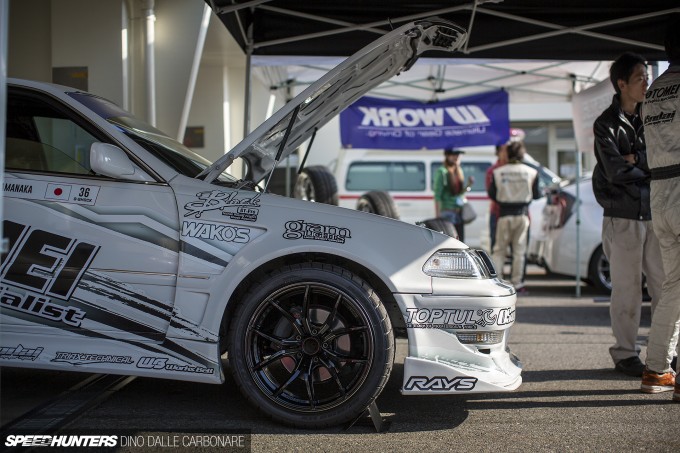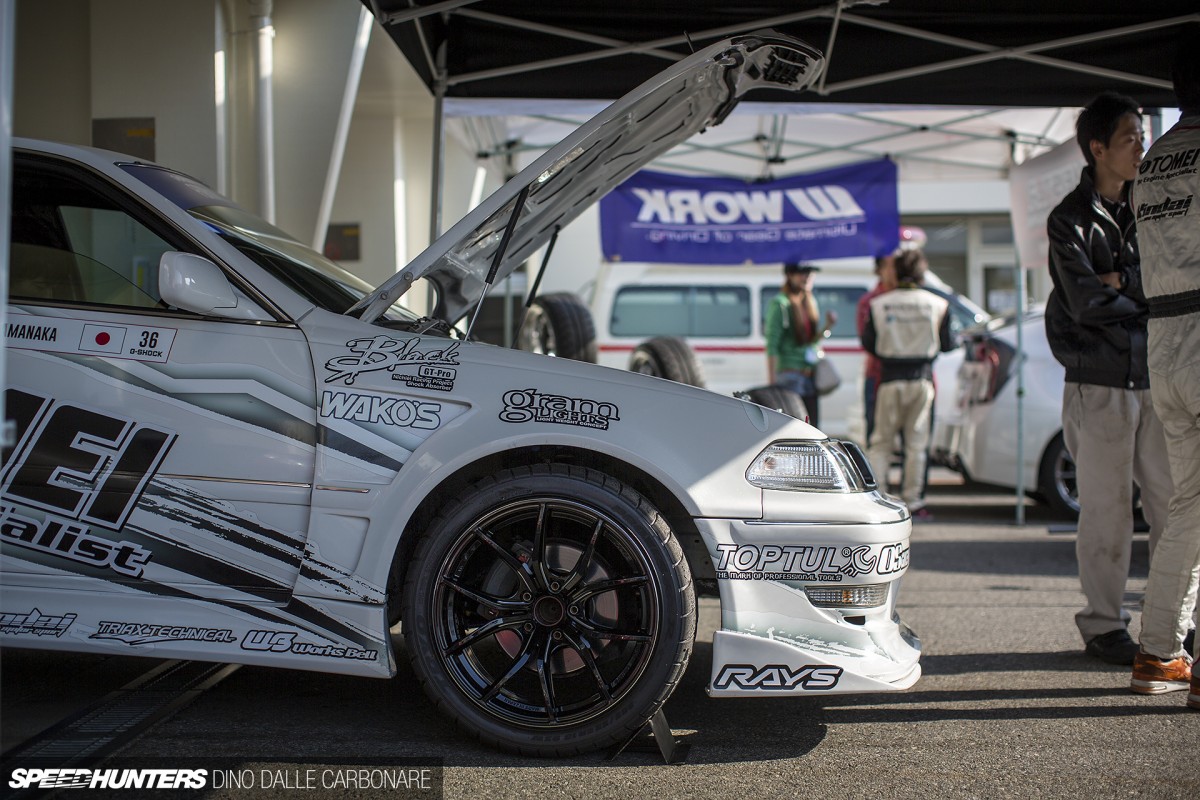 As I mentioned in the first post, it was very nice to see the Tomei Powered name back at a pro event again. After years of absence from competition they returned with this JZX100 driven by Kenji Yamanaka.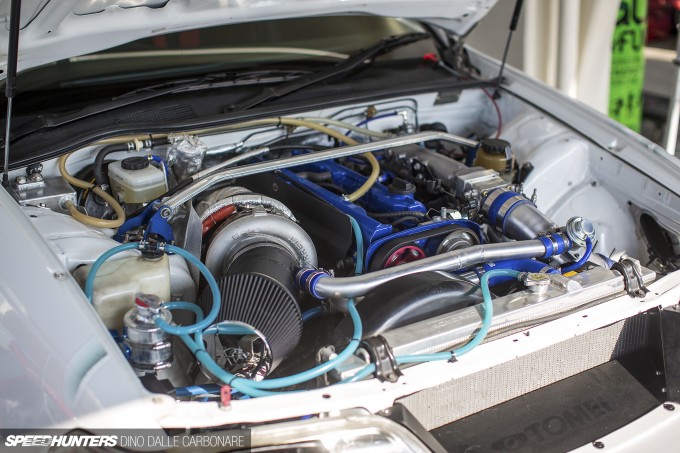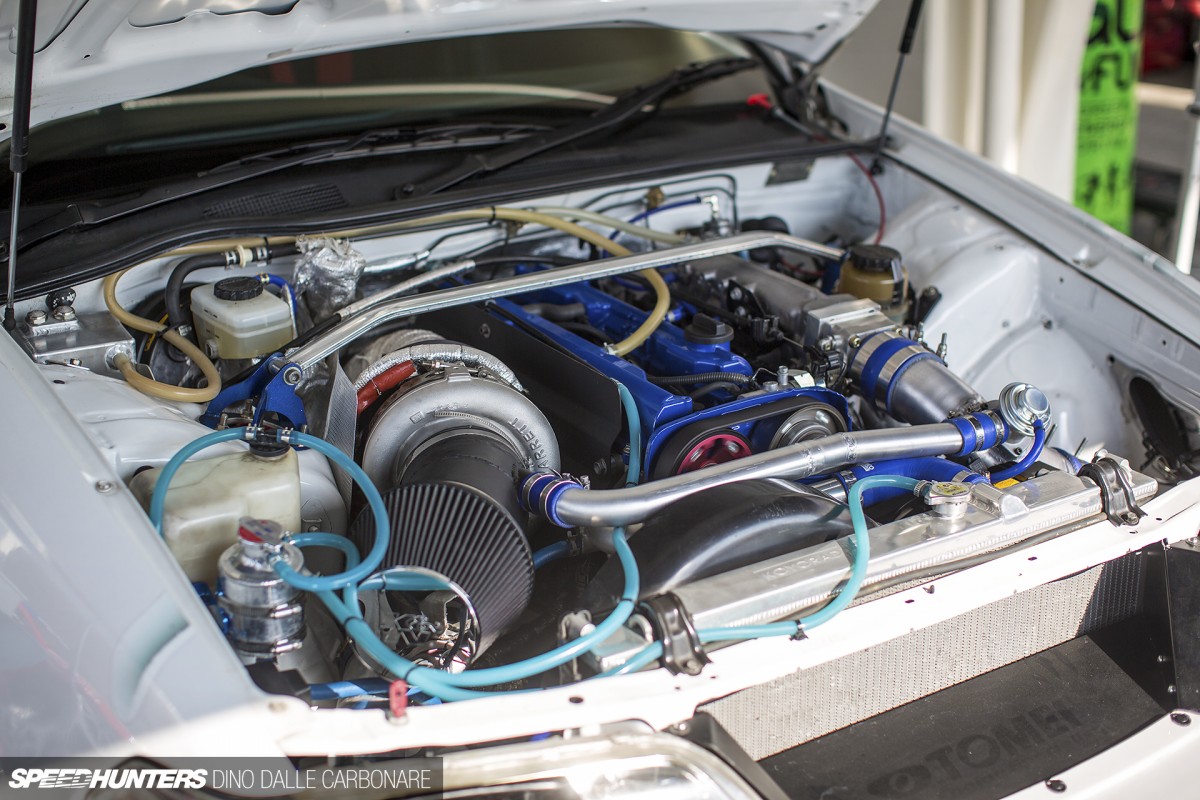 Under the hood is a 2JZ built up around Tomei's new 3.6-liter stroker kit and a big GCG/Garrett GTX turbo.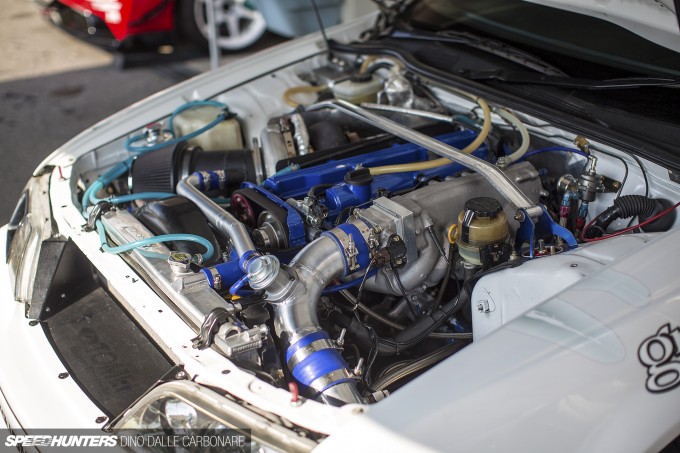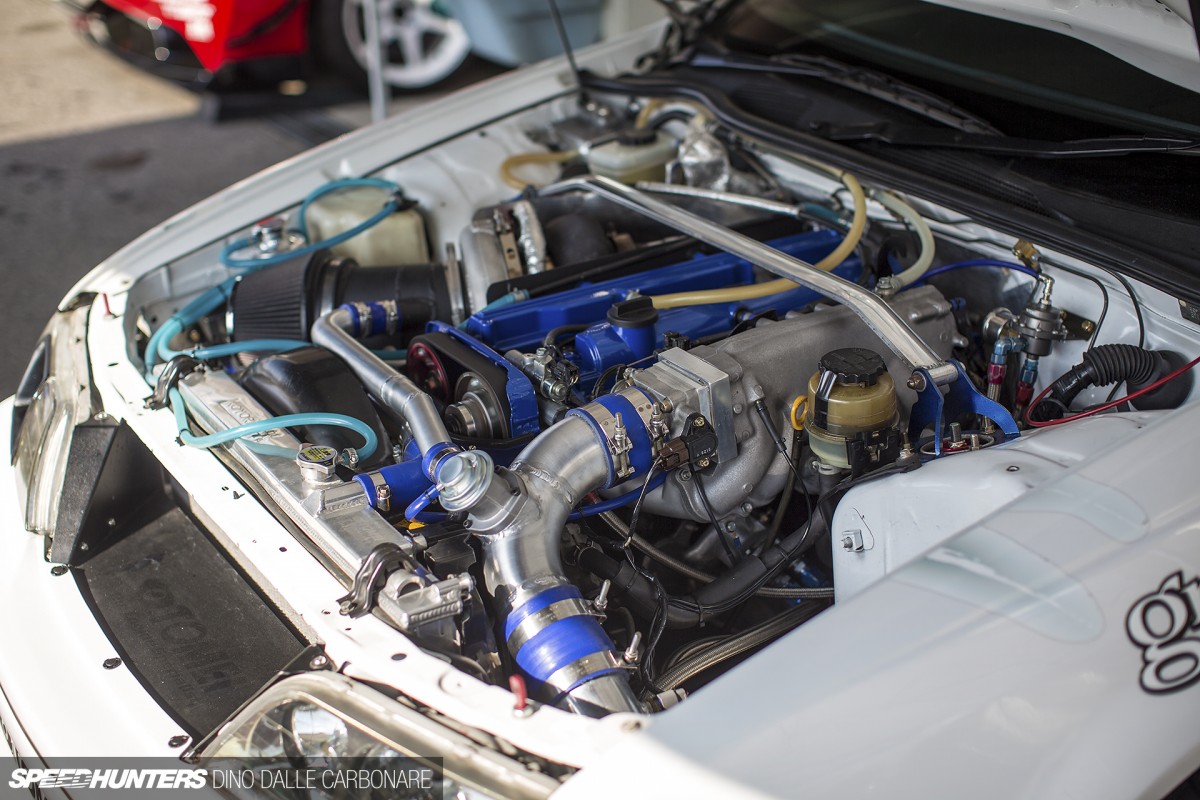 It's pretty crazy to think that this straight six's capacity is a whole liter bigger than that of the Nissan RB26! It's also interesting to see that they've opted to stick with the stock intake manifold – at least for the time being. Also it's quite rare to see a blow-off valve being recirculated into the intake at these sorts of power and boost levels. As Tomei never stops coming up with cool parts, this is one car we'll have to keep an eye on as its development continues.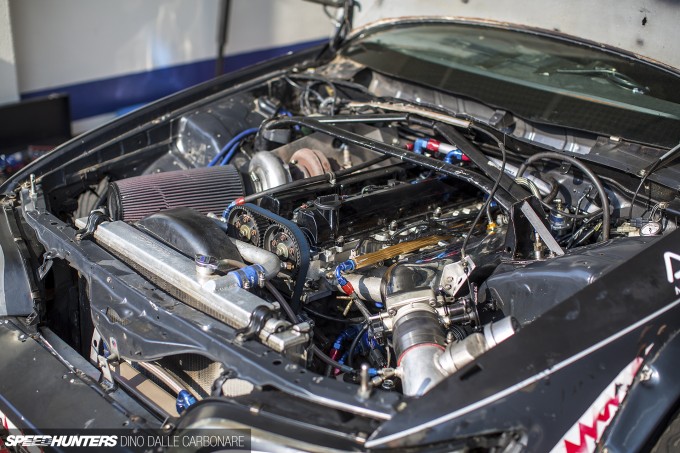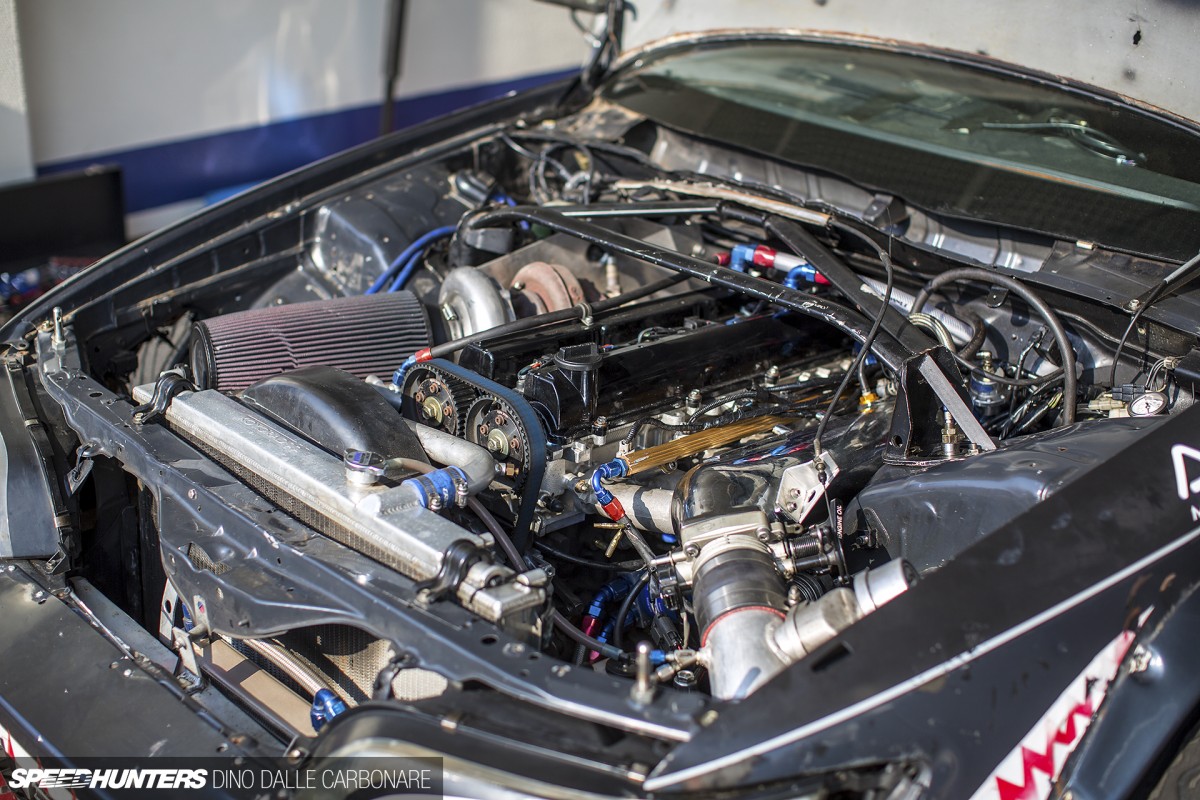 A few pits up was Masuda's 'Shark' – a machine that at first glance looks more like a hacked-together missile rather than a pro build. But appearances can be deceiving and all of the important bits are accounted for here.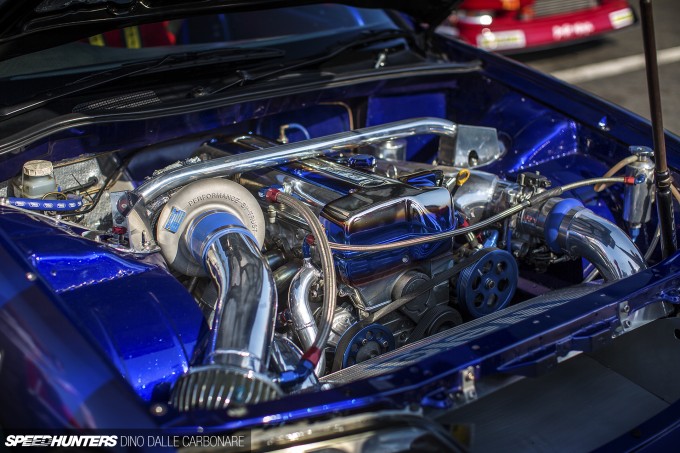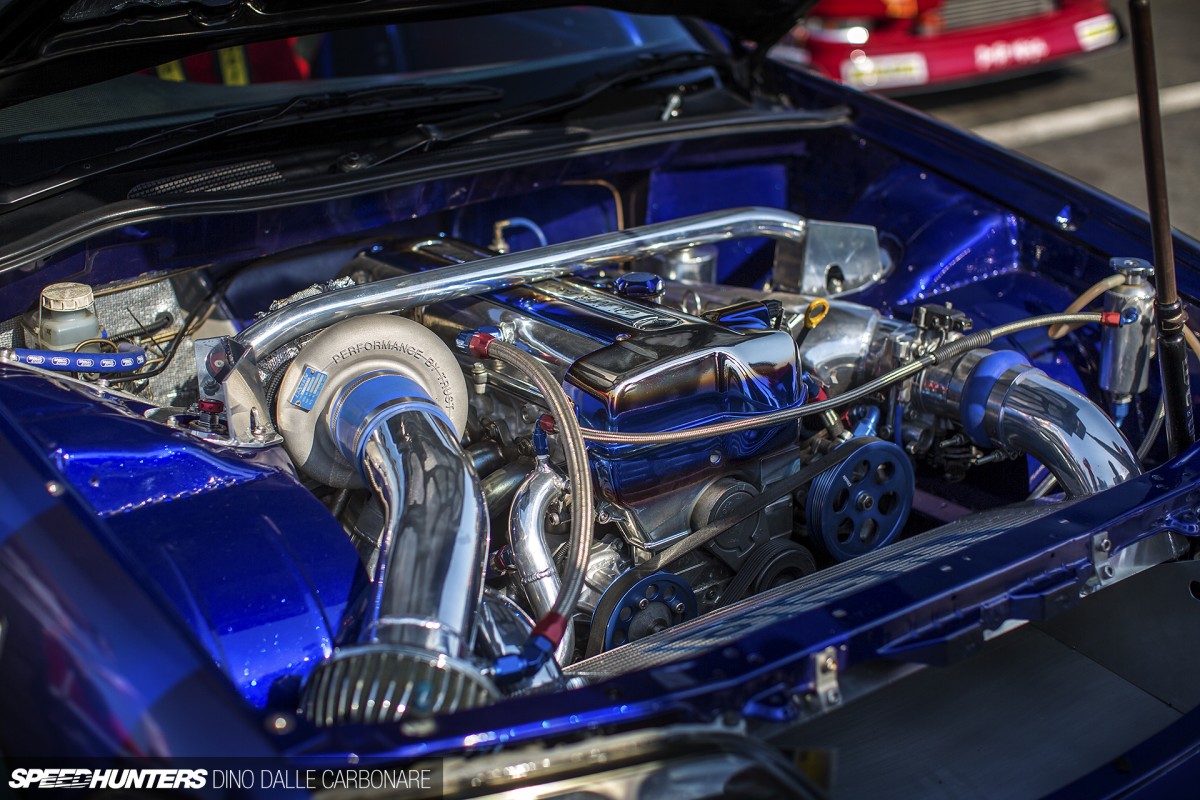 Next we move onto what is probably the cleanest 2JZ-powered car in Japan: Johnny's Weld JZX100 that Yamashita was putting through its paces. In Japanese drift circles show car finishes aren't something we're used to seeing as most shops concentrate on the functional side of things, but there's been some amazing work put into this car.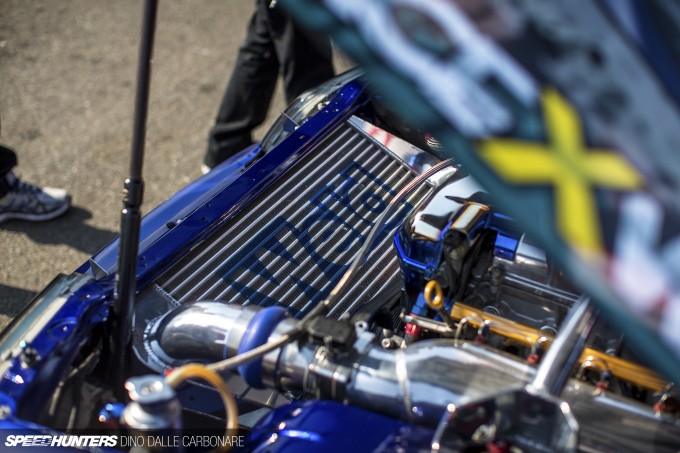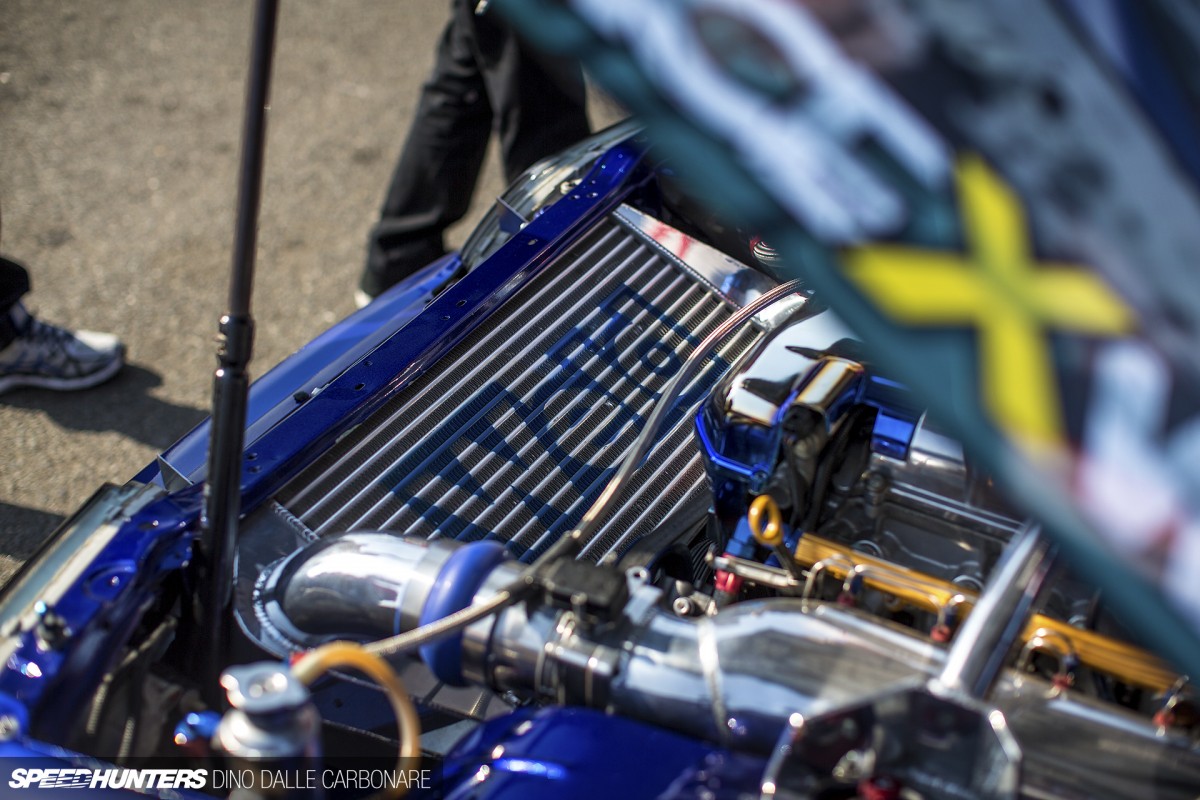 During the build they were even able to free up enough space to horizontally-mount a custom-made intercooler.
Toyota Wins The Engine Battle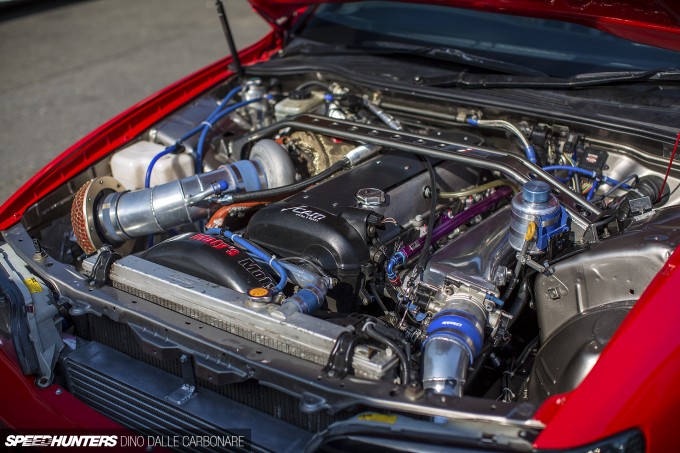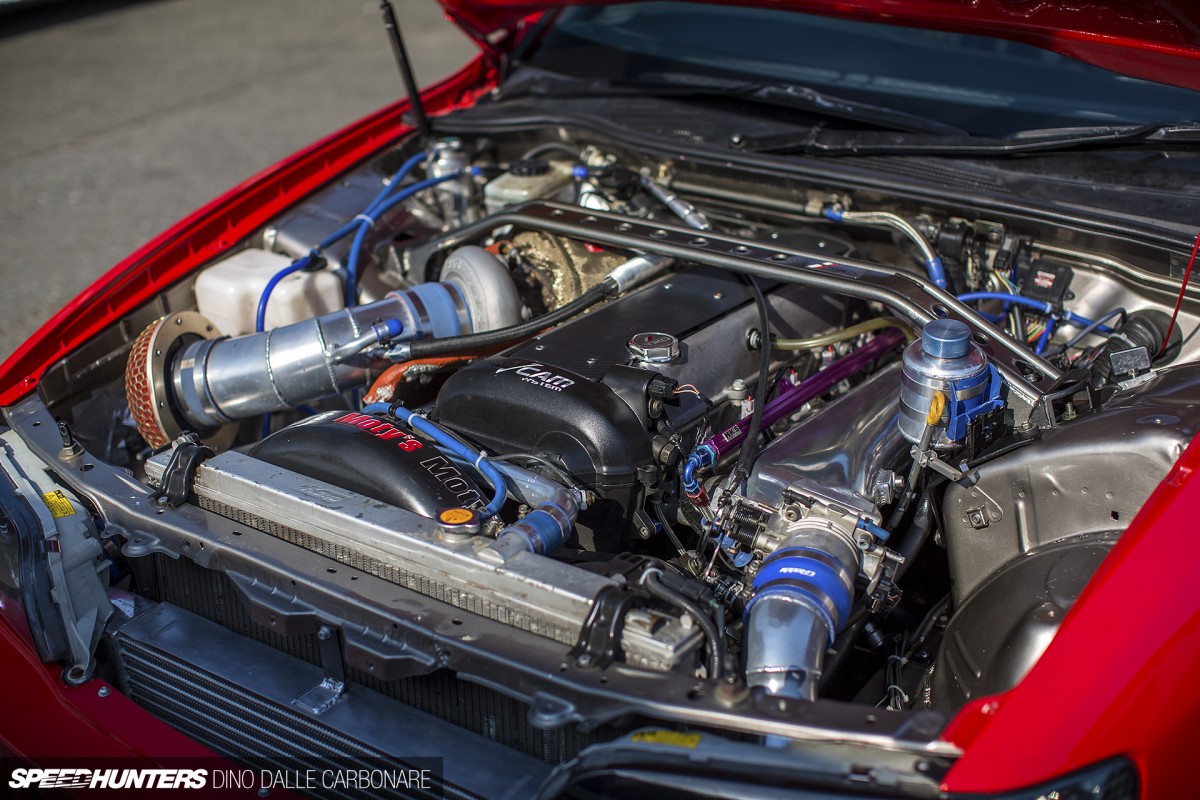 Not too far away were the Power Vehicles guys, including Andy whose JZX100 still looks great inside and out after years of hard use. Its 1.5JZ (2JZ bottom end, 1JZ head) is stroked to 3.1 liters and mated to a G-Force 4-speed gearbox.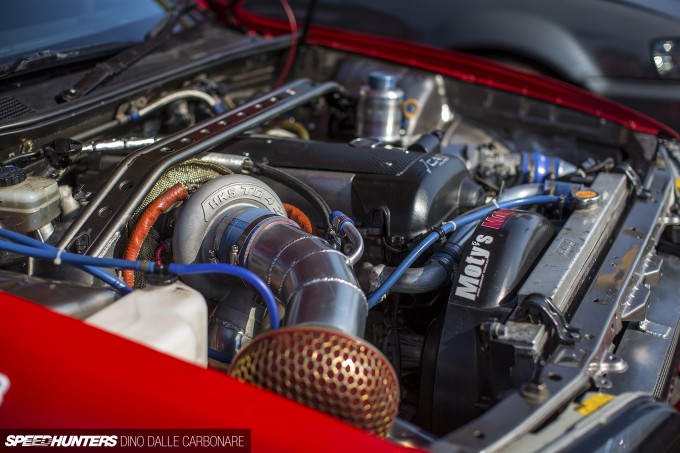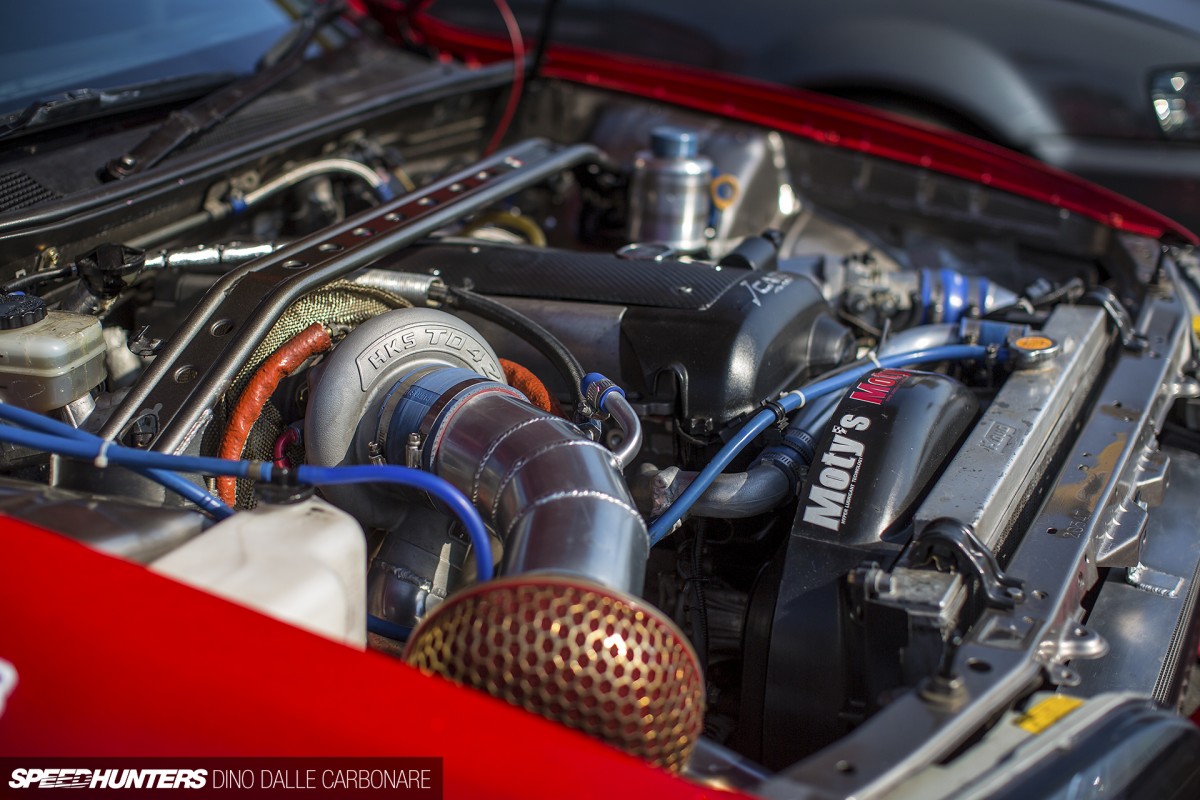 Providing the surge of power is a an HKS T04Z, a turbo we are beginning to see less of now that GCG has taken over the Japanese market.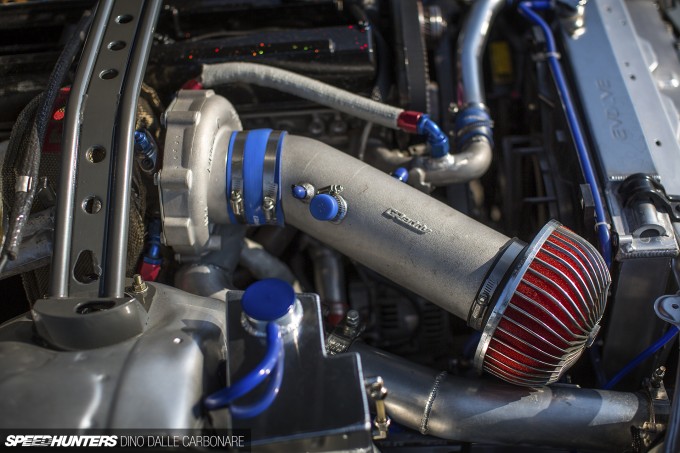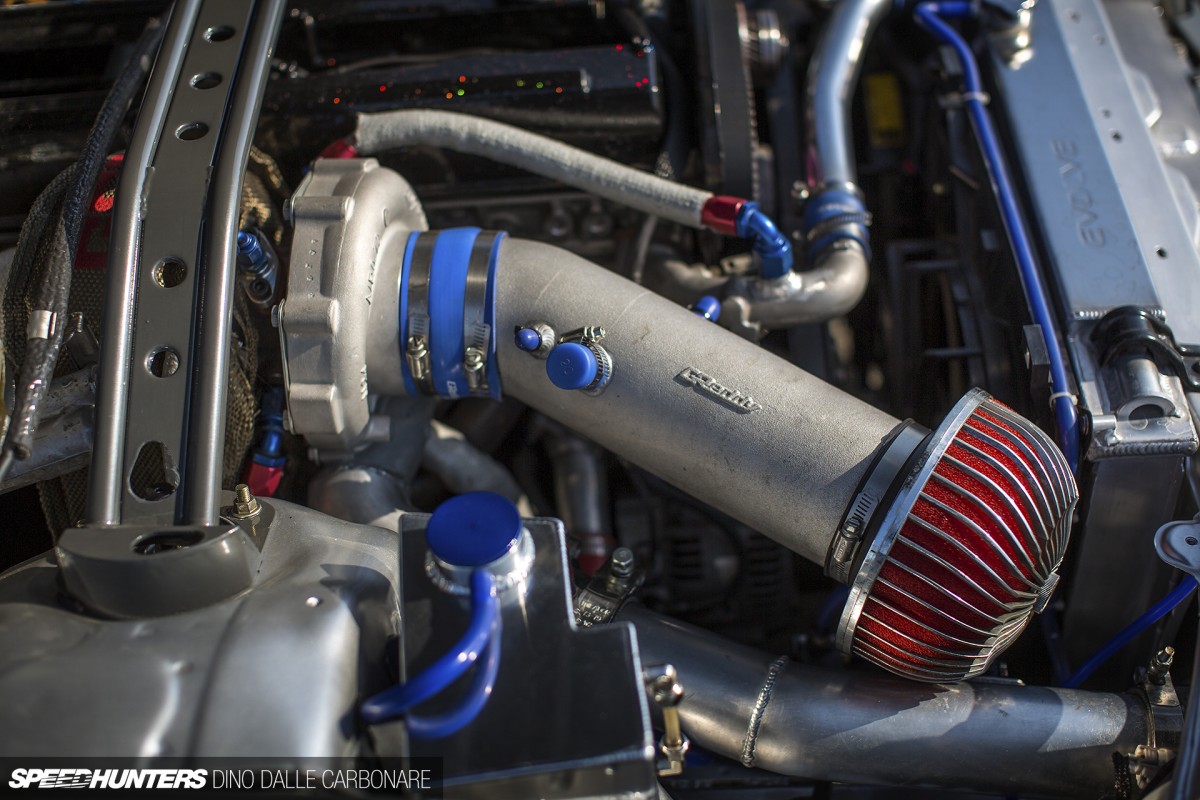 And a GCG turbocharger is exactly what's being used in the JZX100 Power Vehicles just finished building for Sheng Nian.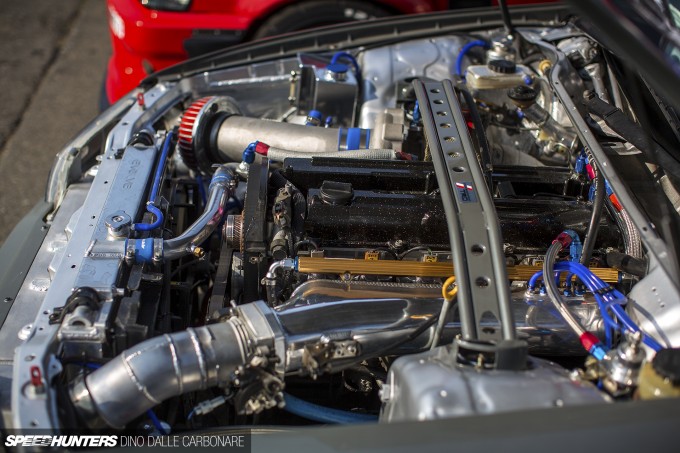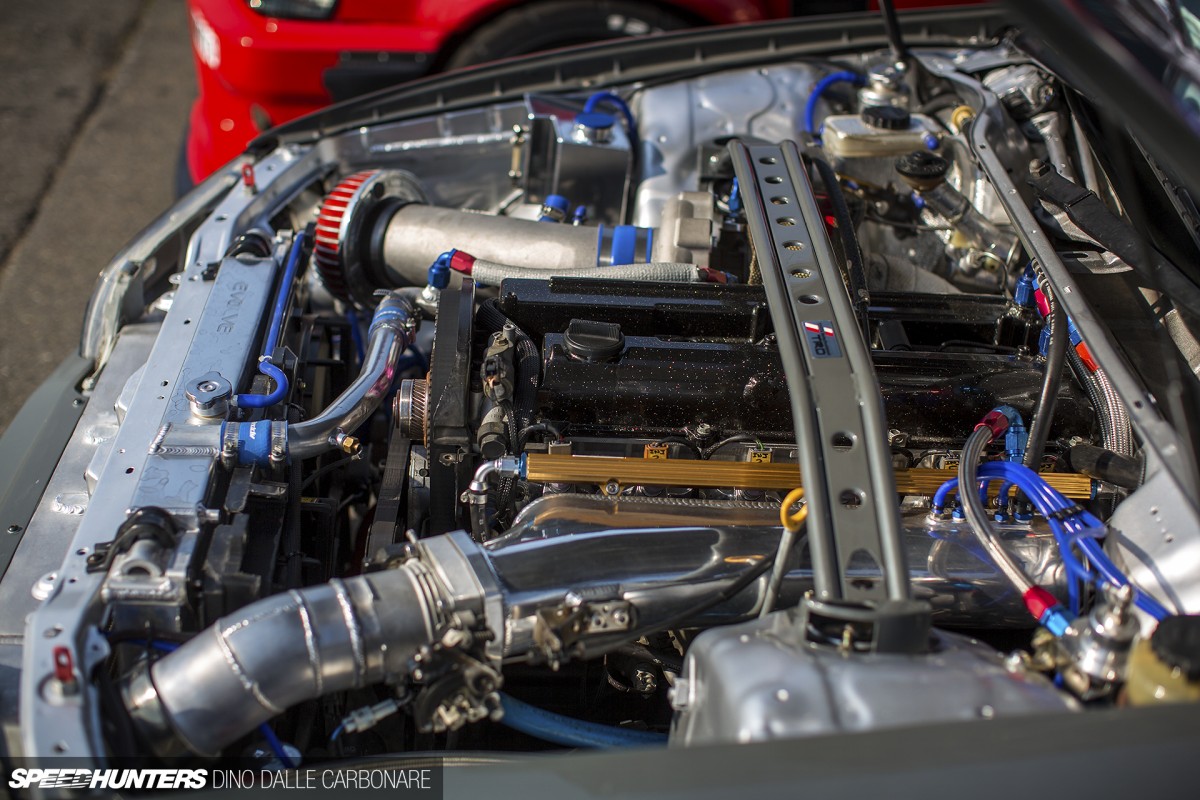 This car runs another 1JZ pushed out to 3.1 liters, a G-Force gearbox, and a fully-engineered chassis that was first stripped down to bare metal before being built back up with all the necessary stiffening additions a pro car requires.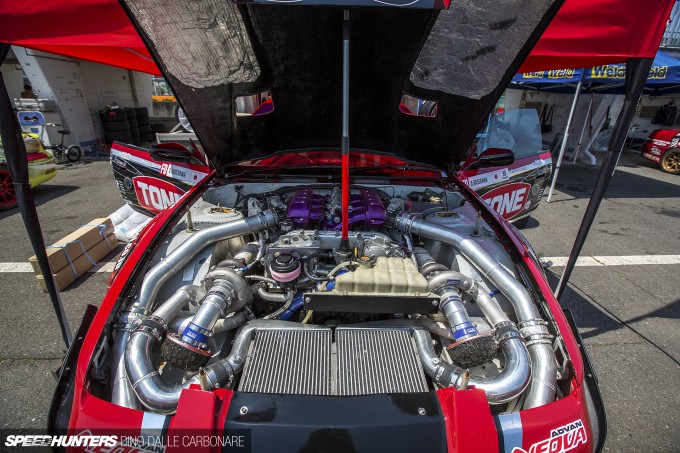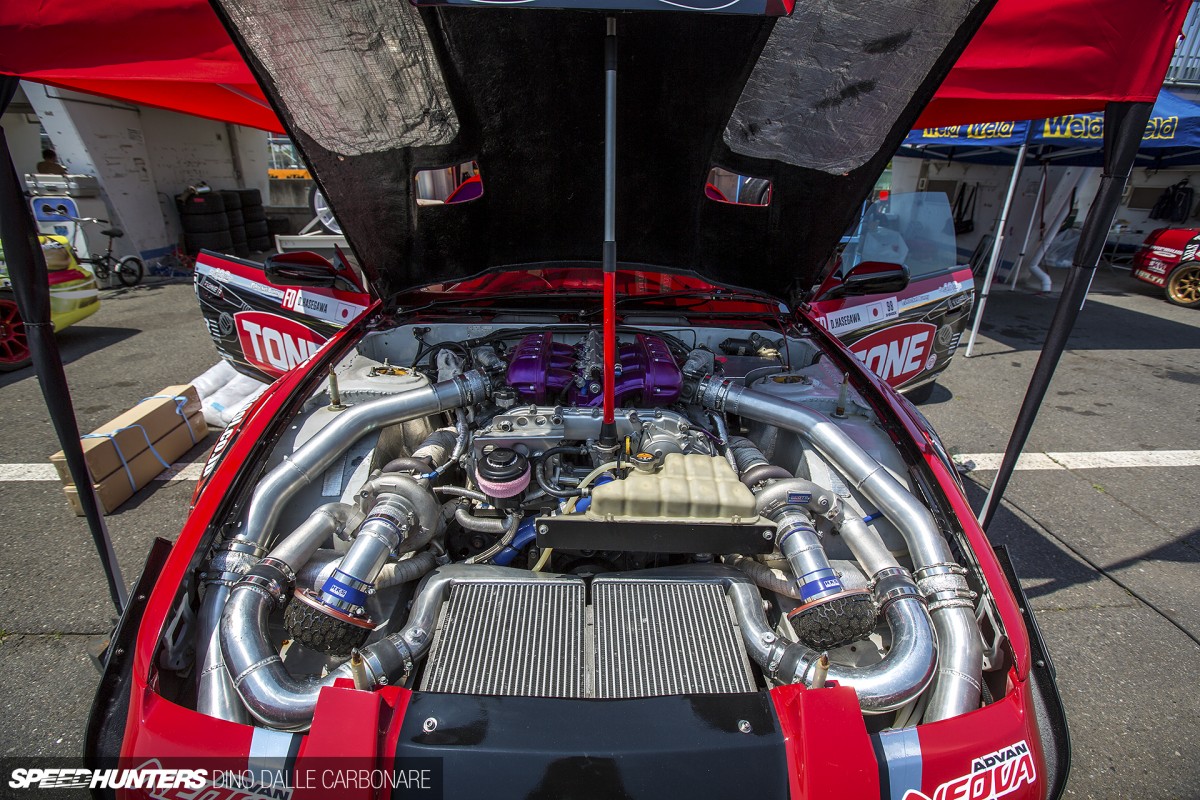 It's good to see that the old BenSopra 380SX has been put to good use after it debuted a few years ago at the Tokyo Auto Salon. Once destined for a top speed run at the Nardò Ring in Italy, it's now a fully-fledged pro drift car. Under the hood is a much more refined VR38DETT featuring a 4.1-litre HKS stroker kit, as built and maintained by GT-R specialist MCR.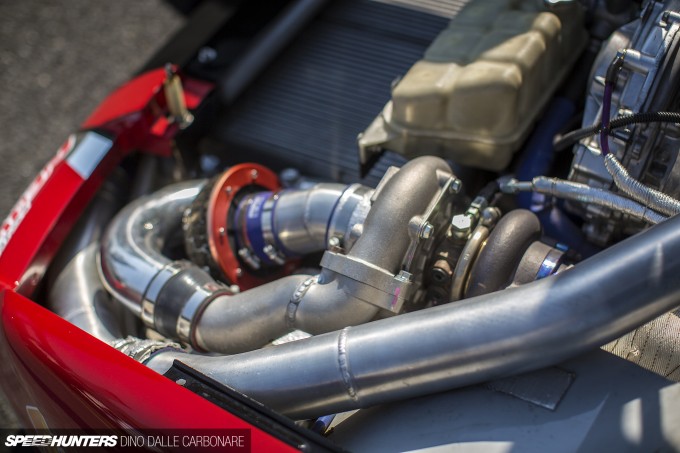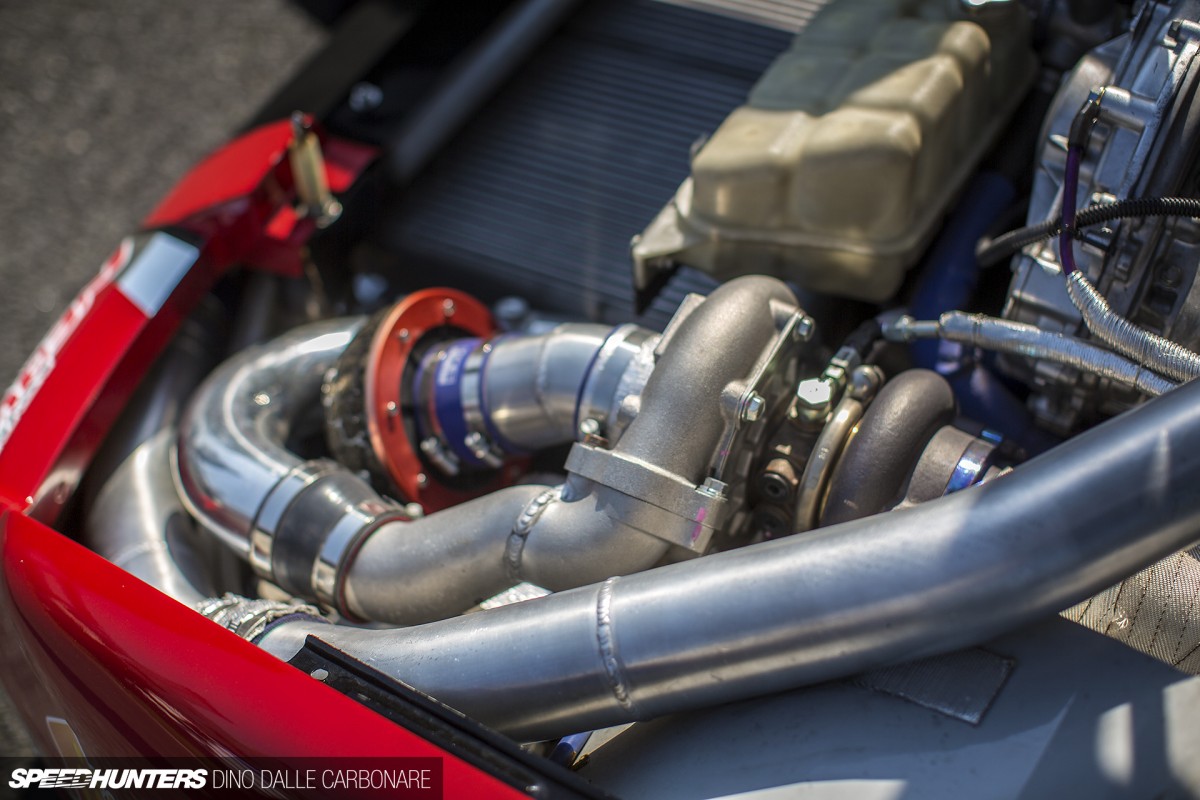 Seeing there was no physical space left in the usual positions, the HKS turbos have been mounted at the front corners of the engine bay and fixed into position with some nifty plumbing.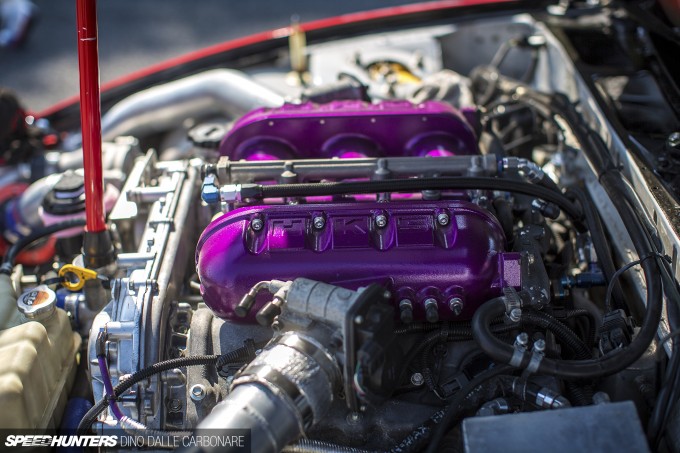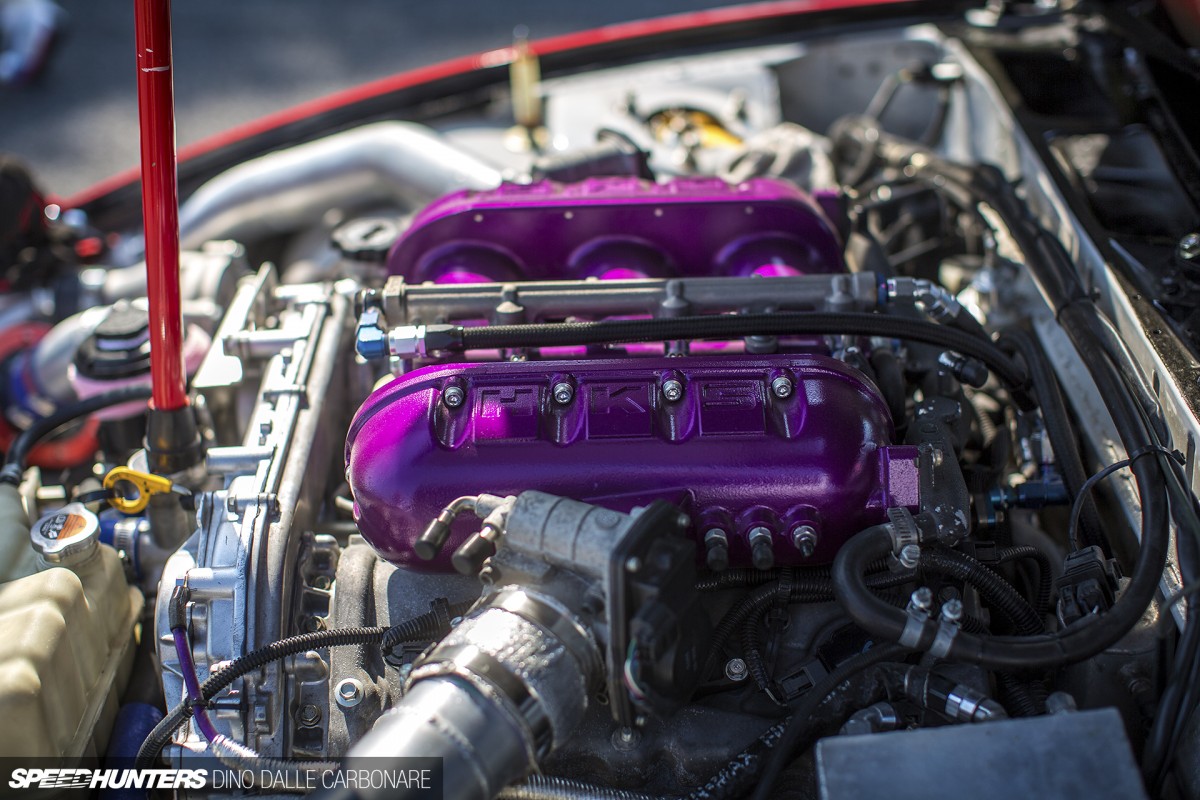 The big VR is supplied air through an HKS intake upgrade, which is easily identifiable thanks to cast-in trademarks and the purple hue.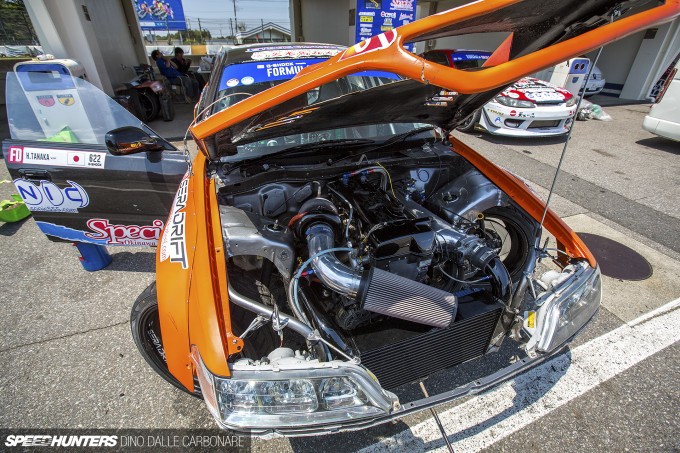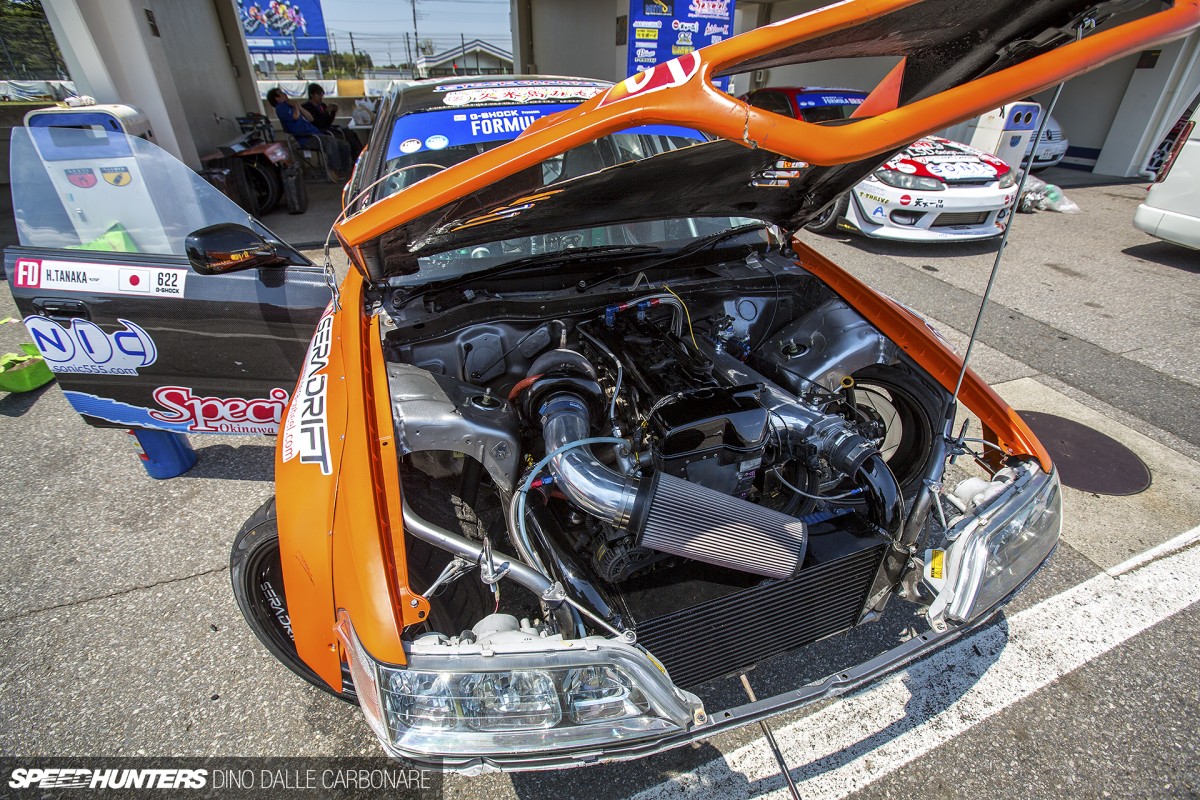 I'll finish up with another take on the 2JZ courtesy of Tanaka's JZX100. This thing is fresh out of the shop and looked very serious with a monster angle kit for the front wheels that gave it almost 90 degrees of steering, some aggressive chassis work ahead of the suspension turrets, and a fully-built engine.
I hope you enjoyed this post on the engines bays of Formula Drift Japan. With all the V8 love that's going on in the US right now, I thought a take on the JDM side of things would bring a breath of fresh air. The question is though, which setup would you want in the drift car build of your dreams?
Dino Dalle Carbonare
Instagram: speedhunters_dino
dino@speedhunters.com